Today's Palm Springs wedding is all kinds of wonderful, with 1940's retro influences, entertainment in the form of synchronised swimming, goats and a breathtakingly beautiful pool party backdrop.
Please meet Emily, a UX designer at Google and Alex, an independent filmmaker and screenwriter, who wed at Ace Hotel and Swim Club, Palm Springs, California on 15 March 2020.
Photography by Carr & Senteno
The couple chose their photographers, Carr & Senteno, for their sweeping, cinematic style.
We are so happy to recommend Carr & Senteno on our Love My Dress wedding directory.
"I can't remember exactly where I found their work but it was on a wedding blog and I was immediately struck by how artistic and cinematic their work was."
"It wasn't the typical 'soft' wedding photography style. Their engagement shoot of a couple at Griffith Observatory was so stunning and is really what sealed the deal for me.
"They also put us at ease a few months ahead of our wedding when we did an at home shoot with our cat Olga."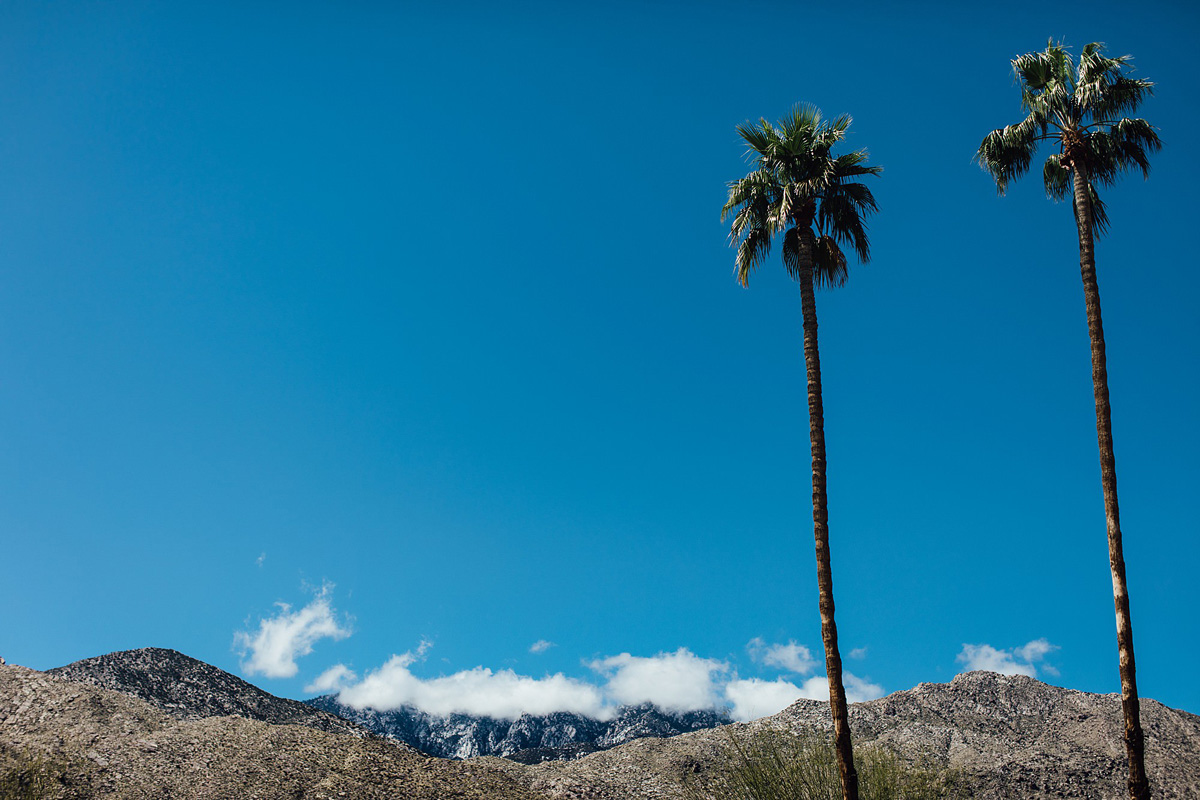 Their wedding, held on that last precious weekend before the pandemic hit in full force, had an Old Hollywood aesthetic and the oasis-like venue was the perfect location for the couple's vision of a glamorous 'Palm Springs pool party' celebration. 
"When we arrived to tour the Ace, we immediately had a good feeling. Everything just felt right."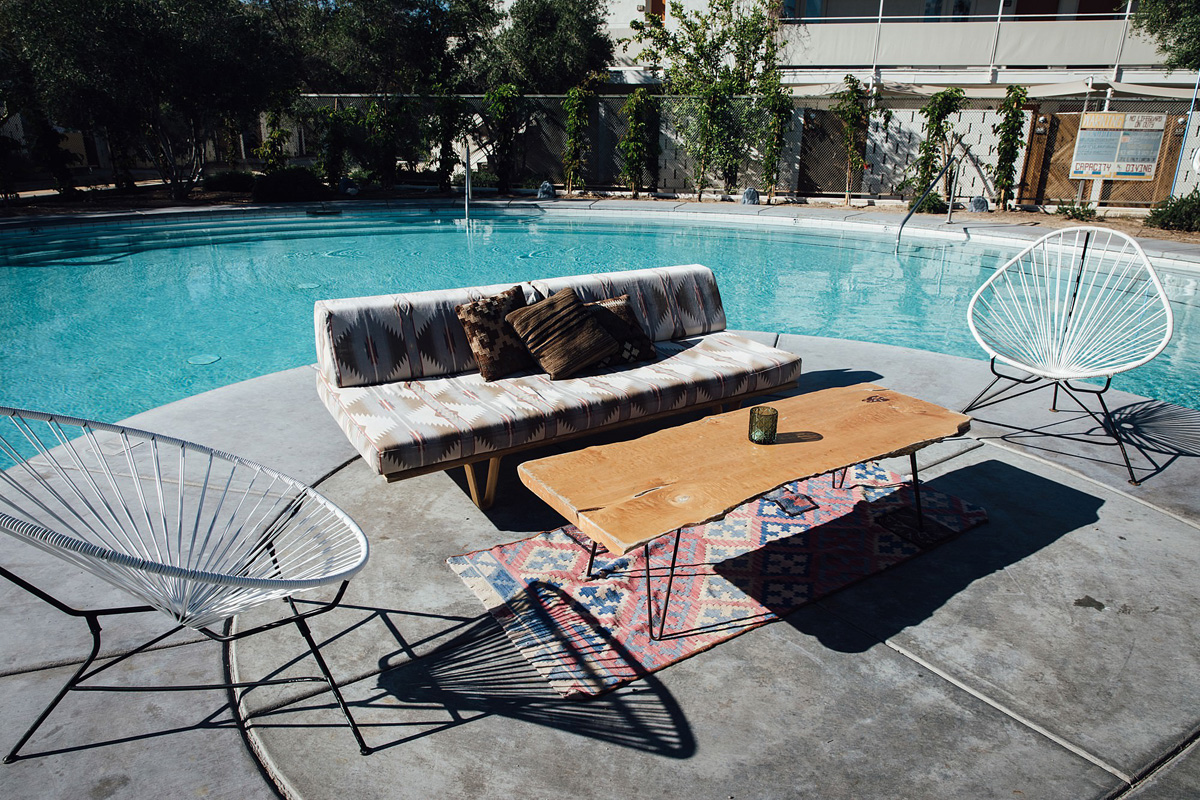 "The property is a retro Howard Johnson turned into a mid-century desert oasis, and the staff is beyond kind and helpful."
"I've always had an affinity for Old Hollywood and the idea of getting married in Palm Springs felt very glamorous and fitting."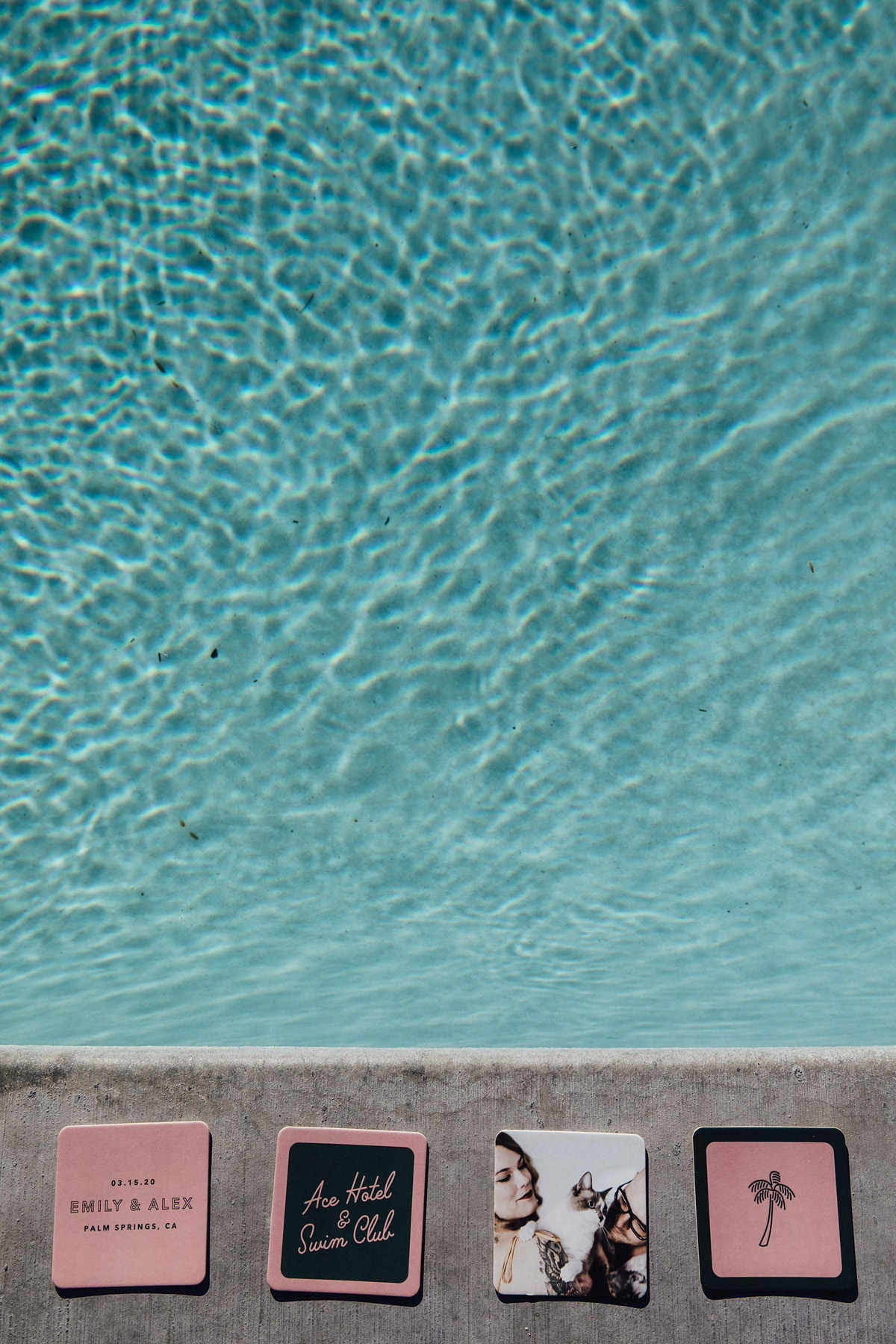 "We also wanted to choose a place where our guests would feel comfortable and relaxed. We live in LA but the thought of all of our out of town friends and relatives sitting in gridlock traffic stressed us out, so Palm Springs felt like the perfect (but nearby) destination."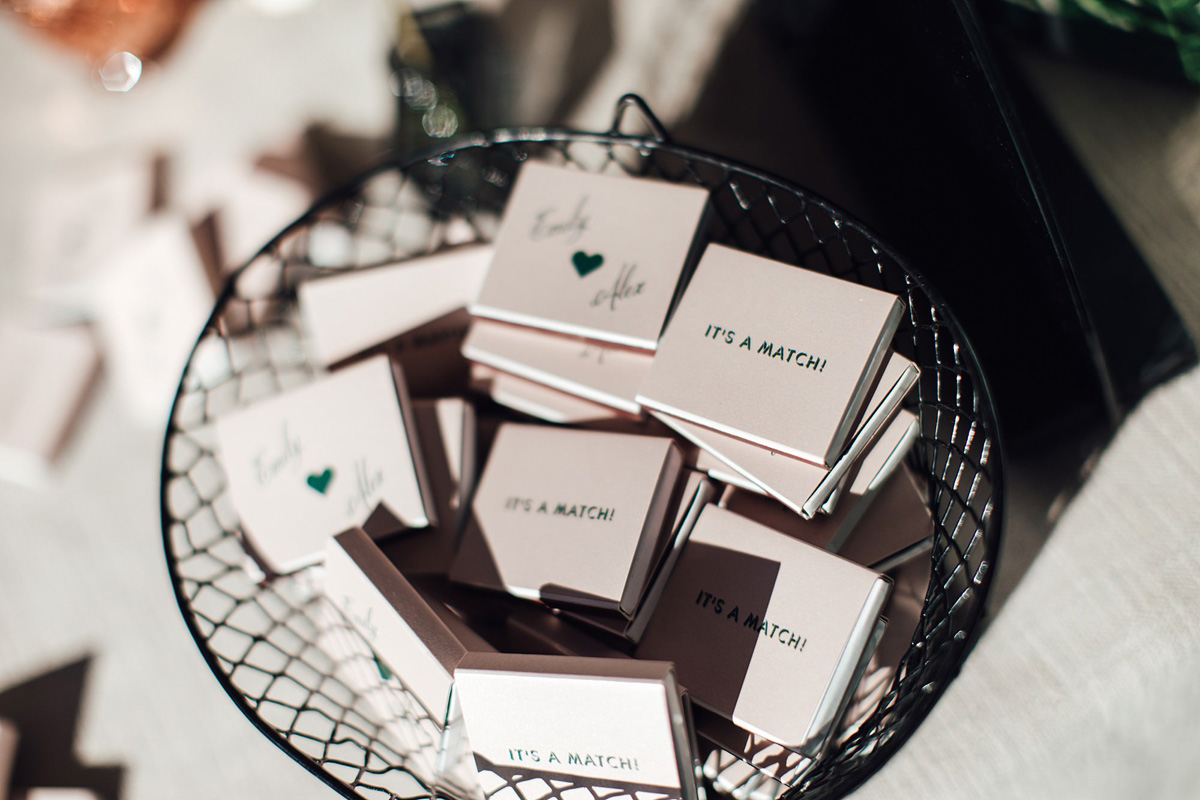 The bride designed the stationery suite and signage herself, combining a simple style with subtle hints of palms and pops of gold.
"It was such a creative outlet for me outside of my day job. I really wanted custom letterpress invites so I found a printer, Czar Press, who could make my dreams a reality."
"I absolutely love the way our invitation suite turned out. I used retro Palm Springs as an inspiration source and brought in the patterns seen in iconic walls, hints of palm leaves and, of course, gold."
"I wanted people receiving the invites to feel like they were going somewhere special. I also designed a custom suite of coasters (prominently featuring our cat Olga on one of them), and food menus for the tables.
"Last but not least, I love the look of acrylic signage, so I found another printer, Happily Ever Etched, to fabricate my designs for a seating chart, wedding sign, and cocktail menu."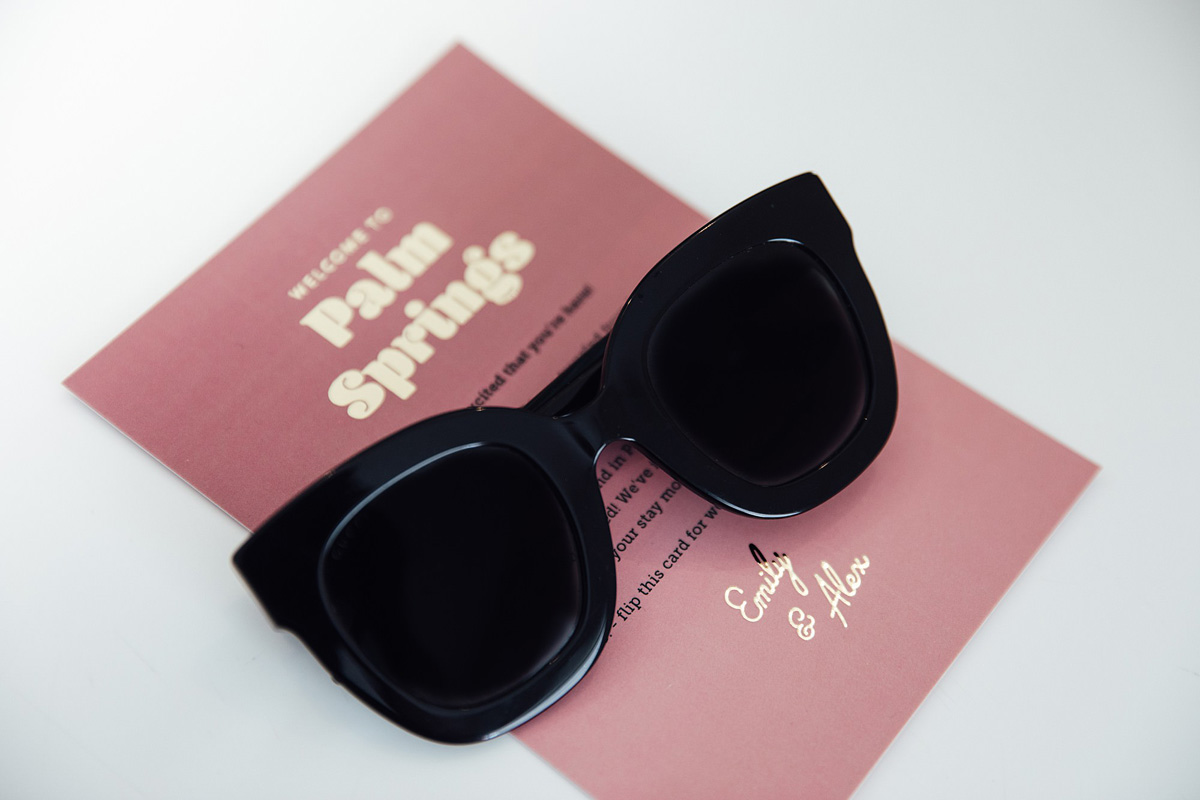 Emily looked every inch the screen siren in her cap sleeved, open-backed gown from Mikaella by Paloma Blanca.
"I got my dress from NWLA Bridal in Santa Monica. NWLA was the first shop I went to and I ended up returning the same afternoon to get the dress."
"They are a very small shop but have a great collection. The owner, Nadia, was very involved in the alteration process and would even walk over to the tailor to check on me during appointments."
"I felt so good and classic as soon as I put my dress on at the shop. I have a lot of tattoos, so I knew I didn't want to wear lace or anything overly ornate that would compete."
This dress and silhouette are very timeless and I knew I could style it in a way that brought the 1940's glamour element."
"I didn't want to wear anything super trendy that I'd look back on in twenty years and think to myself, 'Why?'."
The bride's blonde hair was styled into classic Hollywood waves and accessorised with a 1930s-style, gold tiara from Agnes Hart.
"Nikki Ferris, owner of The Dollhaus Beauty Co., did our makeup and Melissa Firestone did our hair. I wanted to find a makeup artist and hairstylist who really understood and specialised in vintage looks."
"They were both so talented and really helped make my Veronica Lake dreams come true."
"I wore Chloé Eau de Parfum. I just love the light floral scent plus it's in a pretty bottle."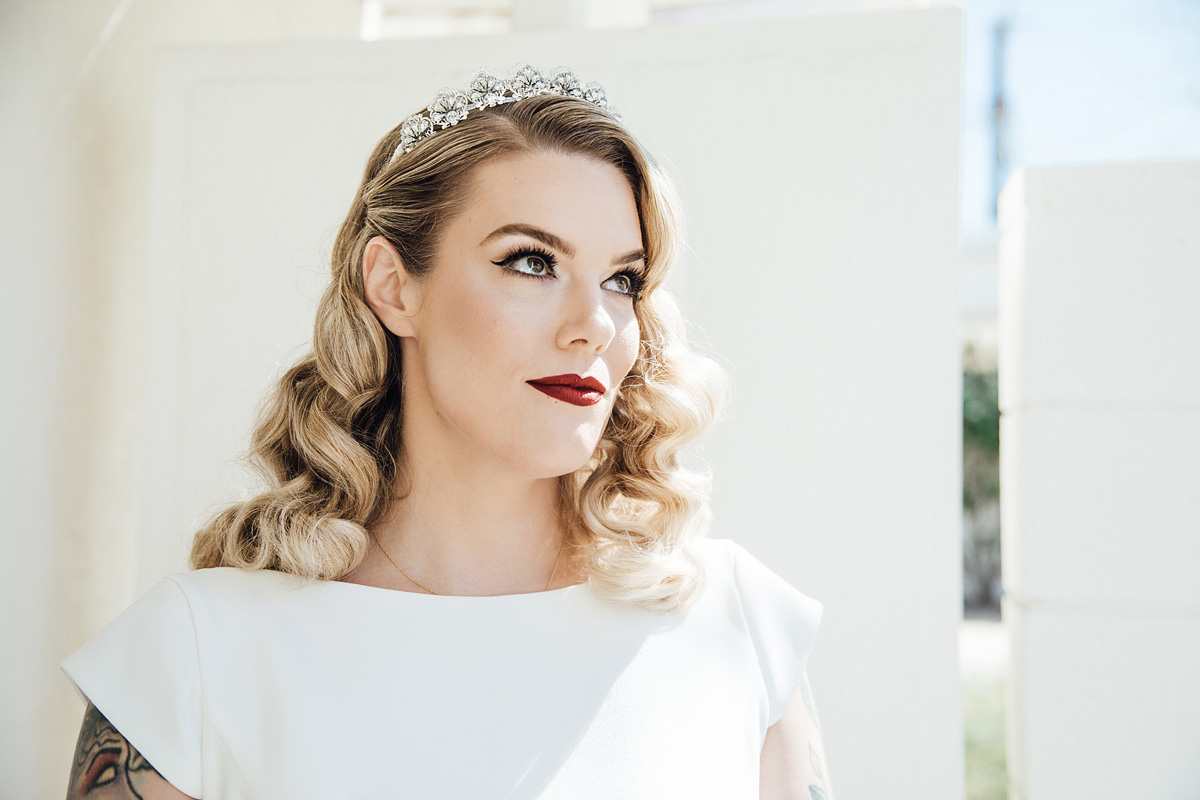 Suiting the Old Hollywood vibe, Alex chose a Midnight Pin Dot Tuxedo by The Black Tux.
"The groomsmen wore Rose Shawl Jacket Tuxedos by Black Tux. Everyone looked so handsome and suave."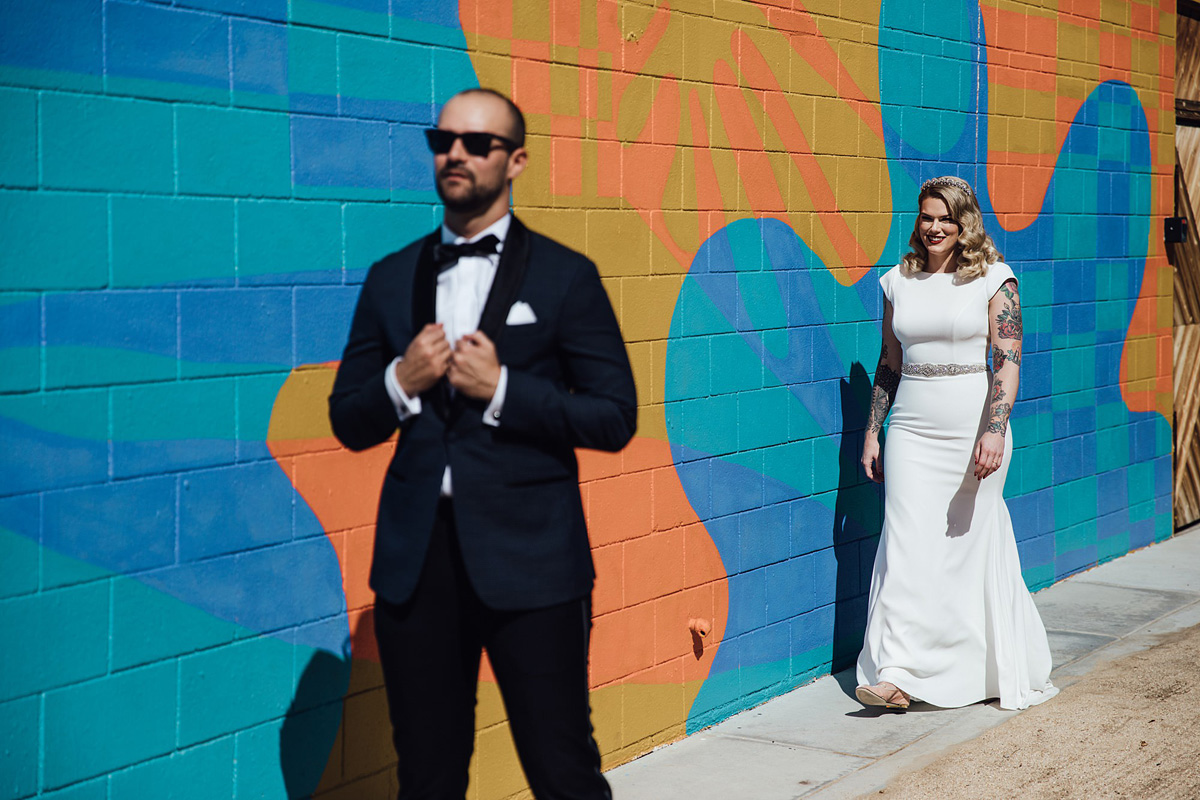 "I wore one of my mom's rings around my neck on a gold chain tucked into my dress for 'something borrowed', along with my grandmother's blue rosary for the tradition of 'something blue'."
"At the last minute, we decided to wrap it around my bridal bouquet. It felt very special having those pieces from the women in my family with me when I walked down the aisle."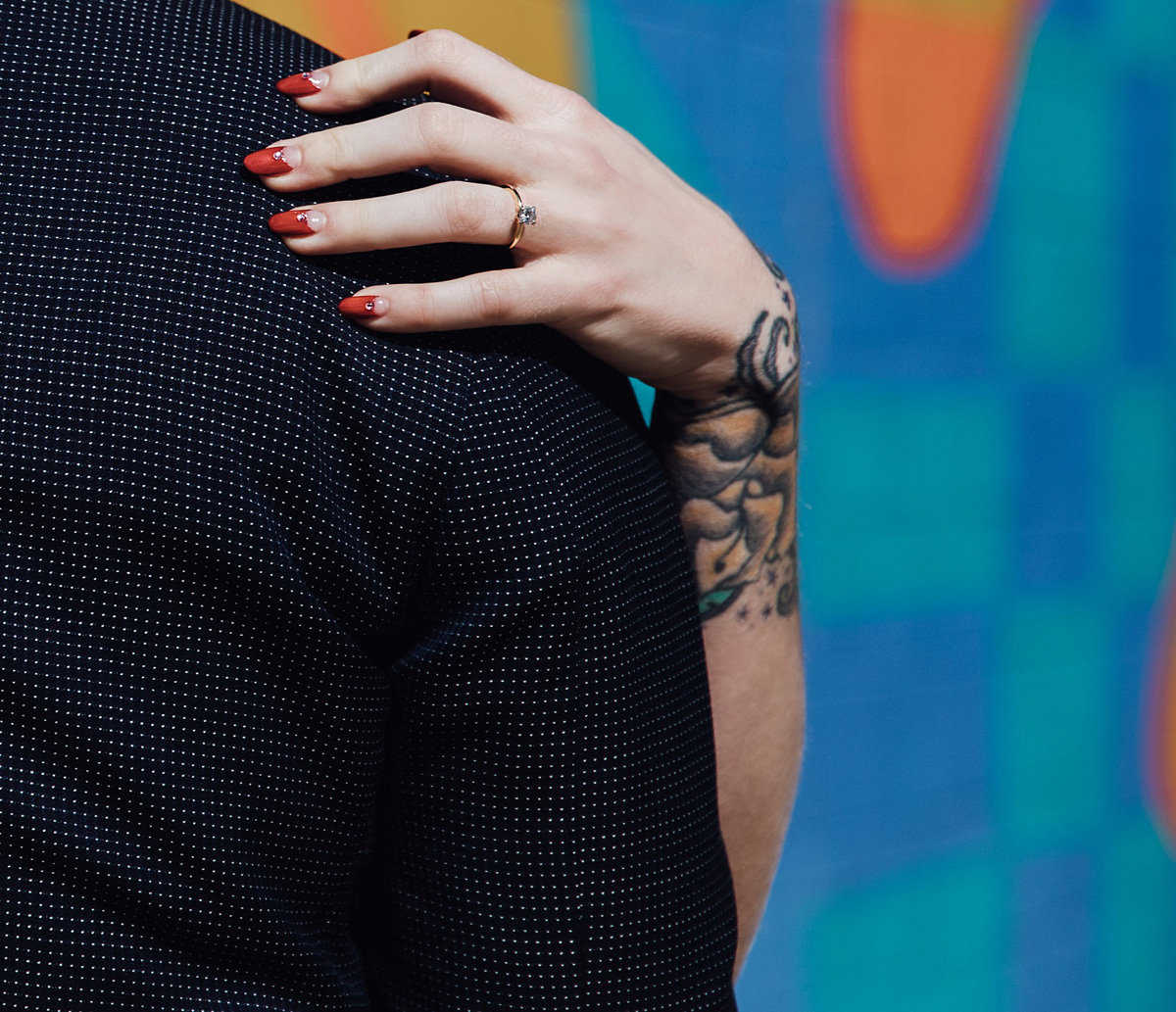 The couple met in March 2017 after connecting on OKCupid and were engaged for just over a year before they got married.
"I knew from our first date at Velvet Margarita in Hollywood he was special. We bonded over music, art, film and books. He even bought me a single red rose when a vendor walked by our table."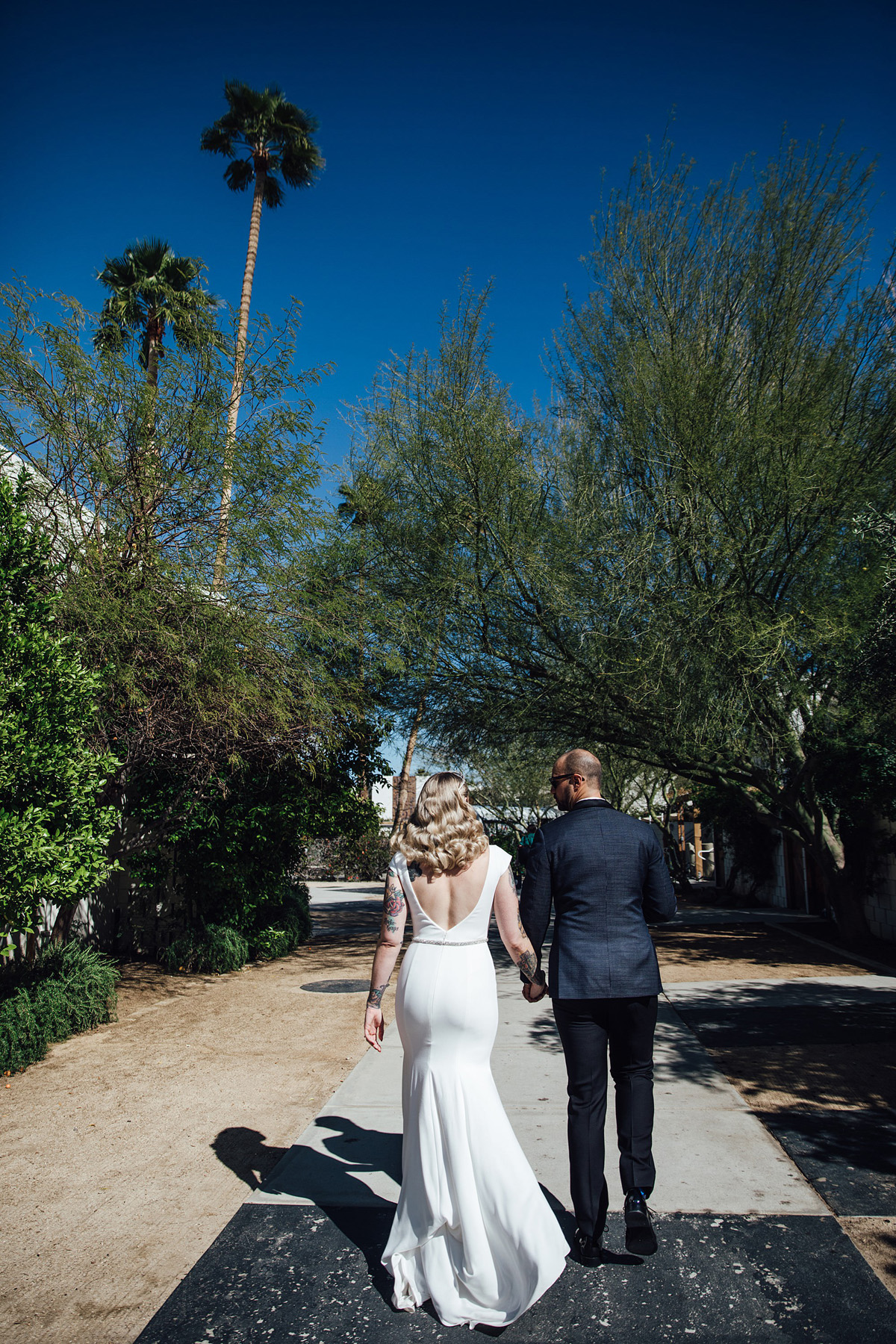 She added a two-tier, chapel-length veil, also by Paloma Blanca and pale pink, suede 'Kitty' flats from Charlotte Olympia.
"When I put the veil on I loved the drama and the way it framed the dress. I am quite tall and wanted to be comfortable so I opted to wear flats. I'm also a self-proclaimed cat lady, so the Kitty flats just made sense."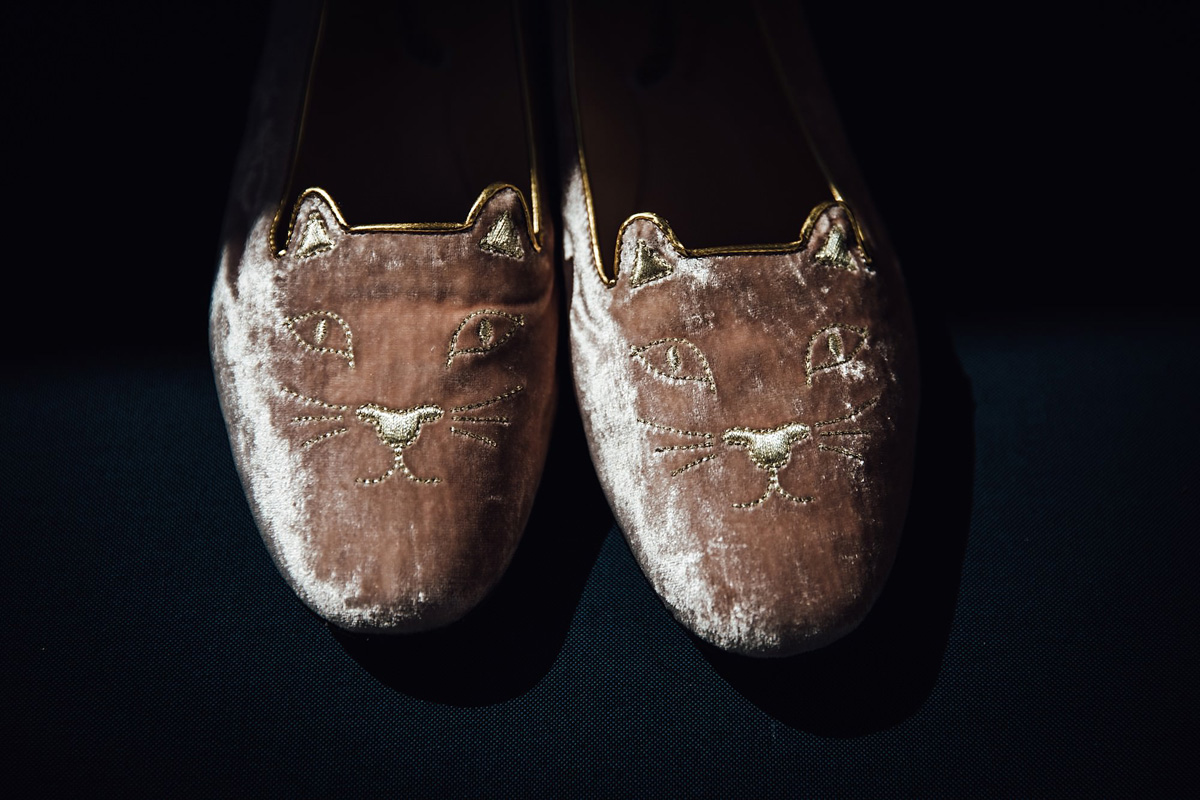 "We've been together ever since that night. We got engaged in December 2018 after about a year and a half of dating."
"Alex took me out to dinner at a nice restaurant in Hollywood and then told me we should walk to Velvet Margarita for old times' sake."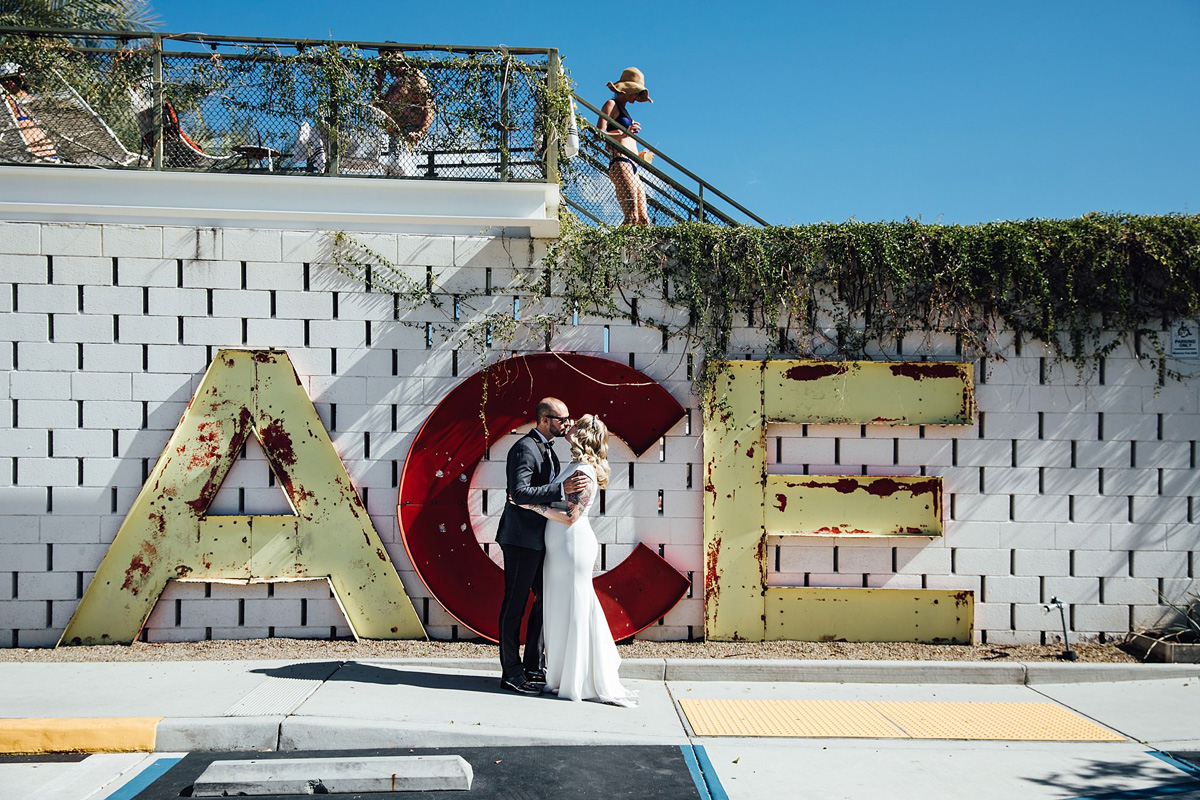 "As we walked from the restaurant to the bar, he got down on one knee along Sunset Boulevard and asked me to marry him."
"I was totally surprised and a few people walking by even clapped for us."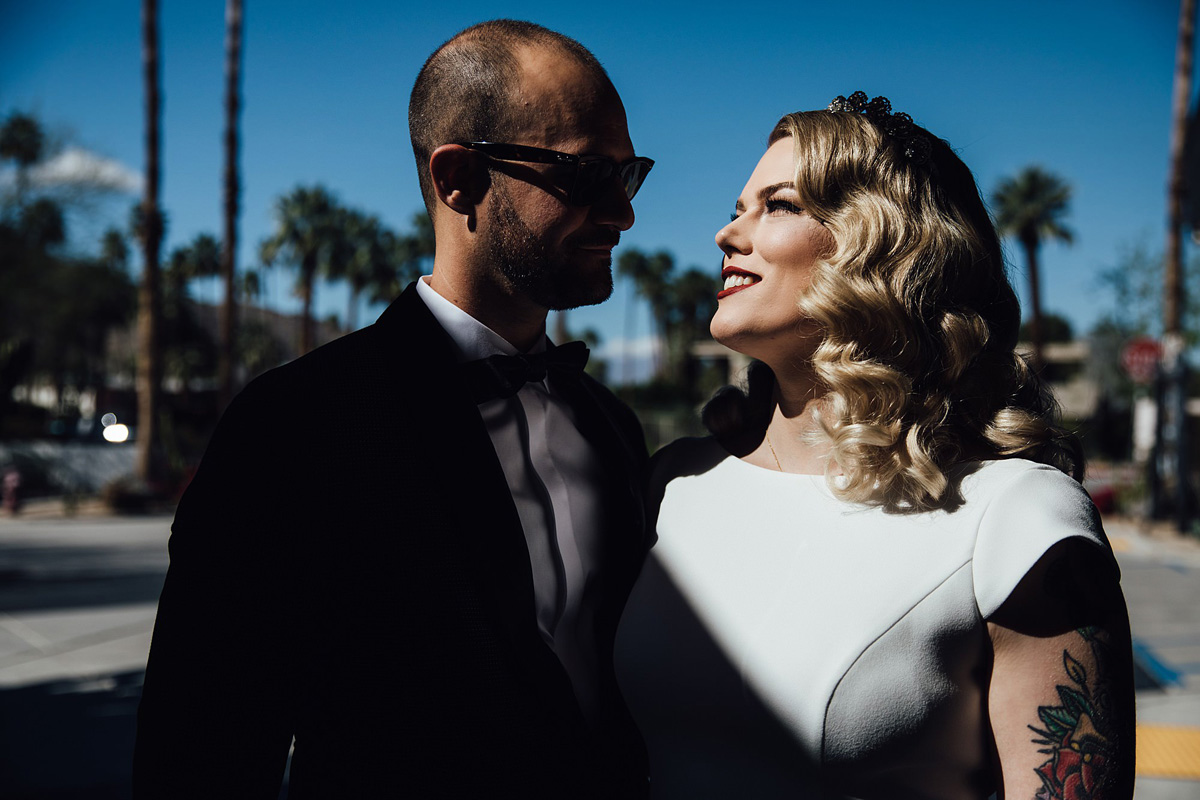 "I like to tease him that he chose the most scenic liquor store in all of Hollywood to propose in front of."
"The rest of the night I felt like I was floating and when we arrived at Velvet Margarita, he had arranged for all of our close friends to be there to celebrate with us. He even got a cake with a cat on it!"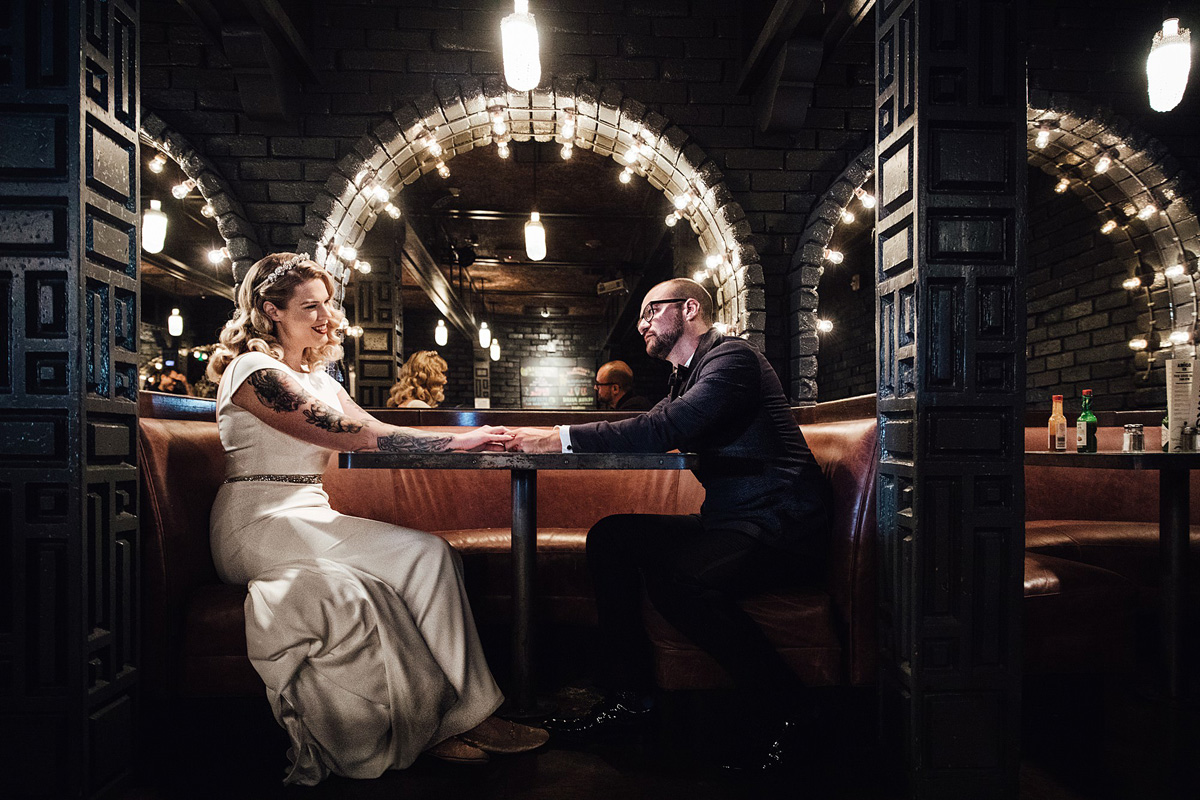 In the immediate run-up to the wedding, the pandemic was taking hold meaning that the couple had to deal with changing rules and uncertainty and a few changes had to be made.
"When we got married, Coronavirus was already in the US in small numbers. Our wedding took place on the last 'normal' weekend in California."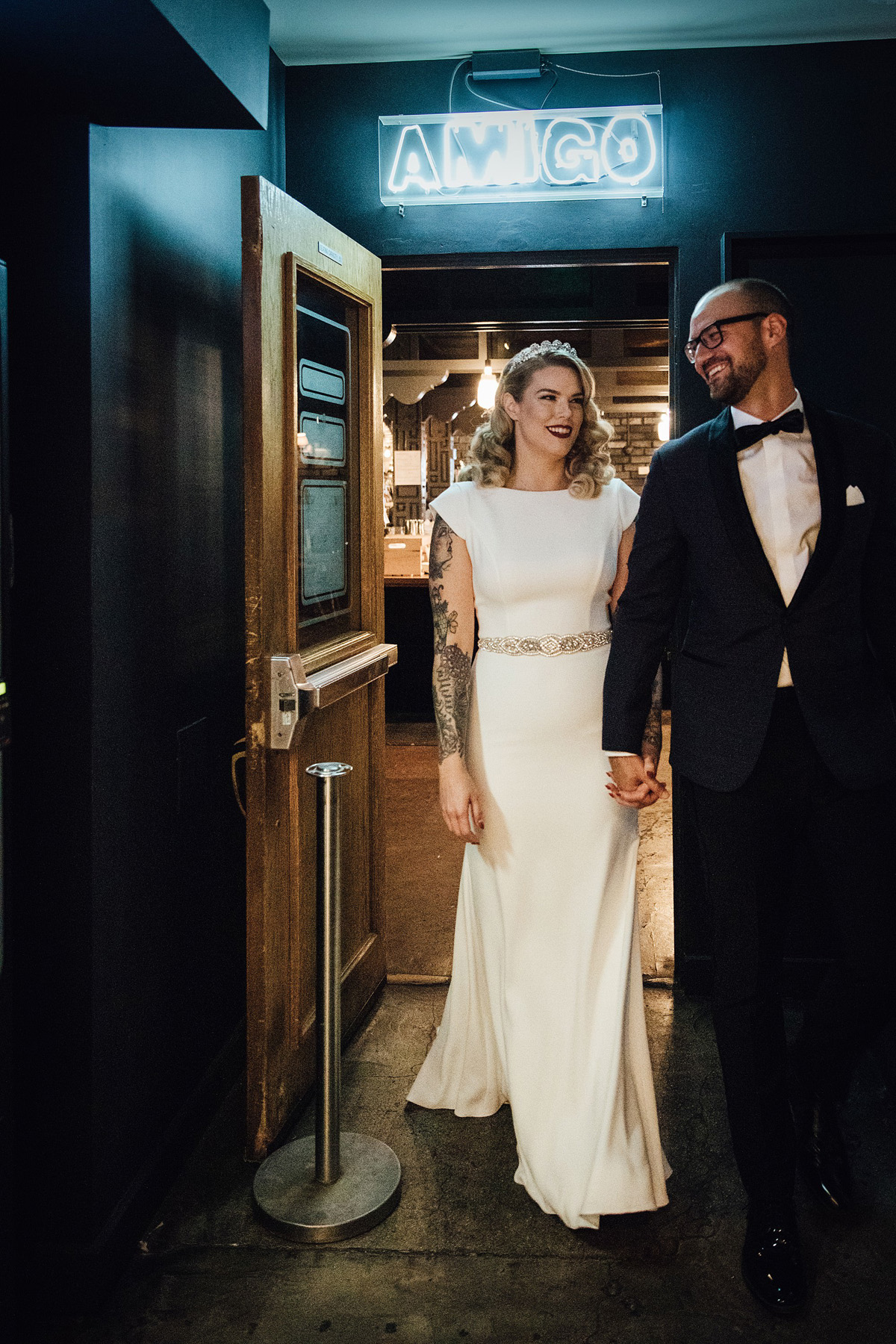 "I had a lot of anxiety going into the wedding weekend and we had a few guests drop out at the last minute out of concern about the virus."
"We arrived in Palm Springs on Thursday and each day the situation was evolving and shifting."
"By Saturday, the Ace had decided to close down its bar, The Amigo Room, but assured us we would still be able to have our wedding on Sunday."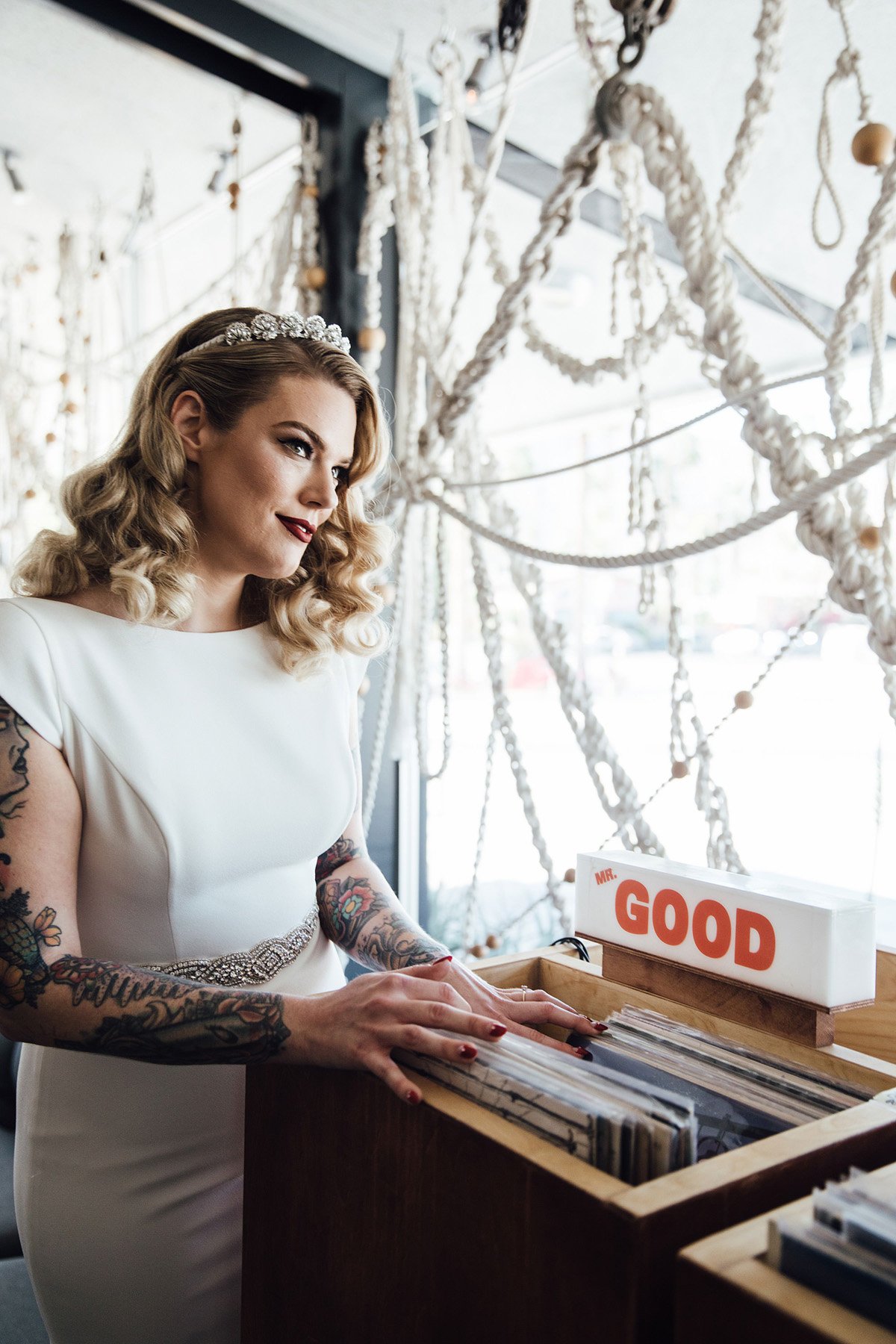 "Towards the end of our reception, Emma came up to us and informed us that the governor had ordered all bars to be closed down by midnight and told us how lucky we were to have our wedding."
"The bartenders at the reception started talking about how they thought this would be their last shift for a long time."
"The next morning when we woke up, restrictions on capacity had already started. Our guests were starting to panic about getting home before travel restrictions set in."
"Almost everyone cut their trips to California short and headed home out of caution. Thankfully, no one who attended our wedding got Covid. The two weeks afterwards we nervously waited to hear if any of our guests had got sick."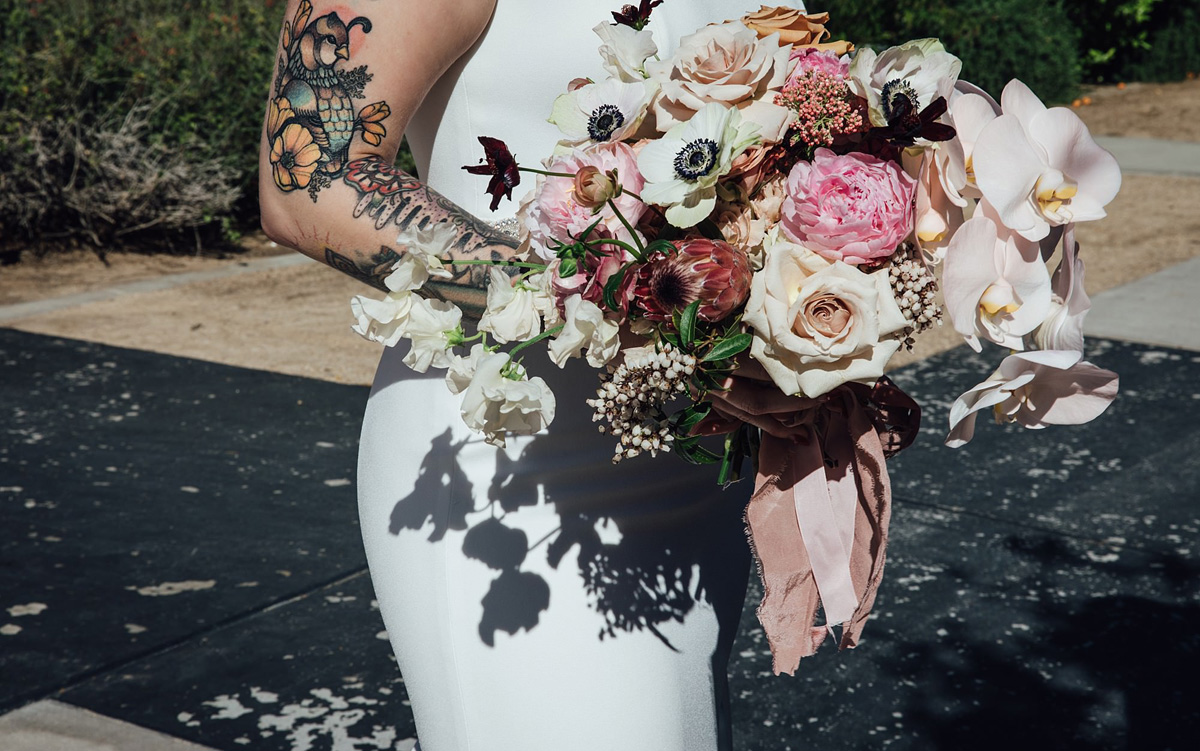 "I felt a heaviness when I woke up the next day. I could sense life as we knew it was about to change drastically. After the high of the wedding, we had to make a quick decision to cancel our honeymoon."
We feel very fortunate that we were able to have our wedding and events before all of the closures."
"Once all of us began social distancing and went into quarantine mode, we realised how special it was to have one last evening shared with all of our closest friends and family."
"We joked that we inadvertently threw everyone an 'End of the World' party."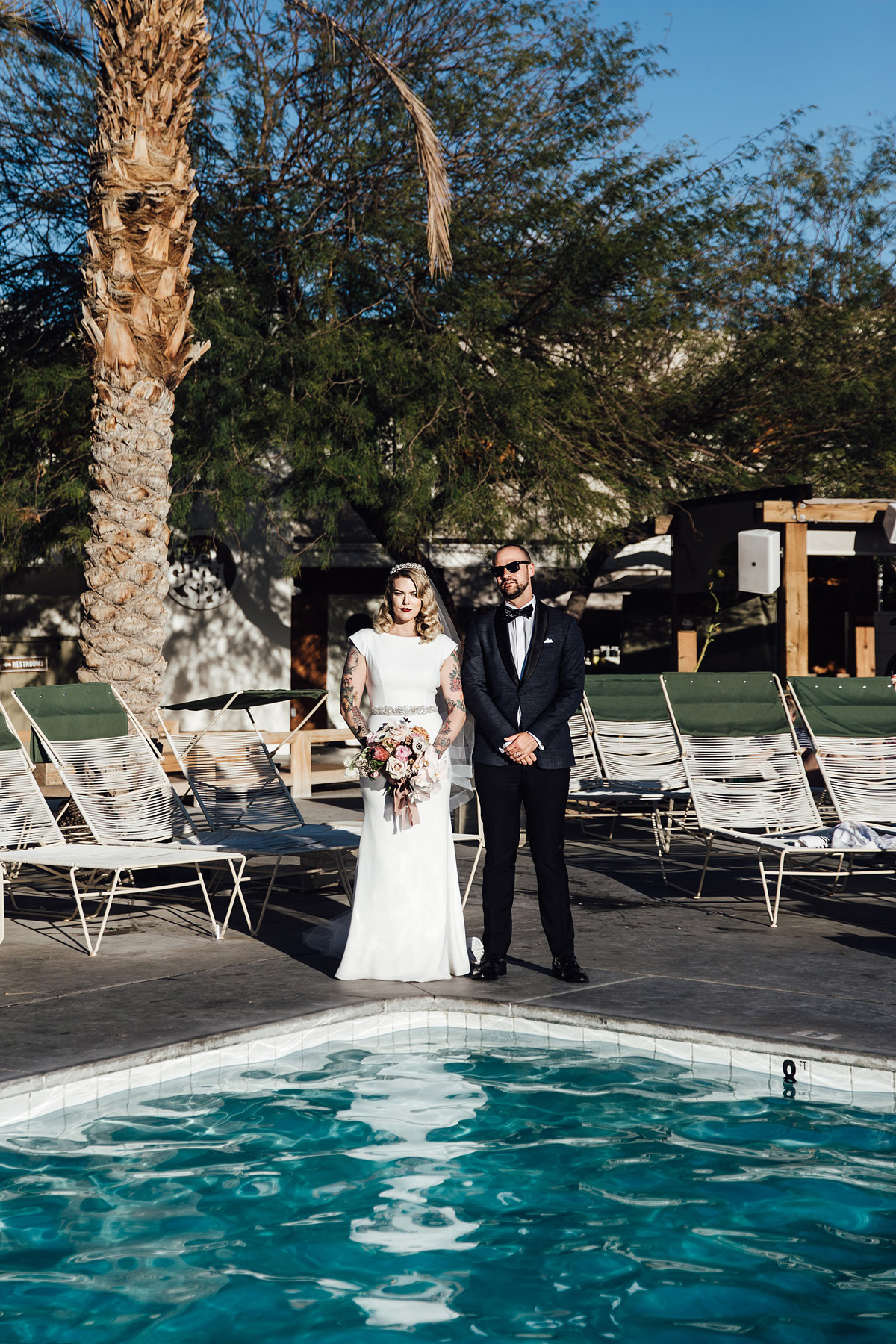 The bridesmaids looked striking in their elegant, black gowns.
"I had my bridesmaids wear black so that they could buy dresses they might actually wear again. They avoided anything overly trendy and opted for classic looks."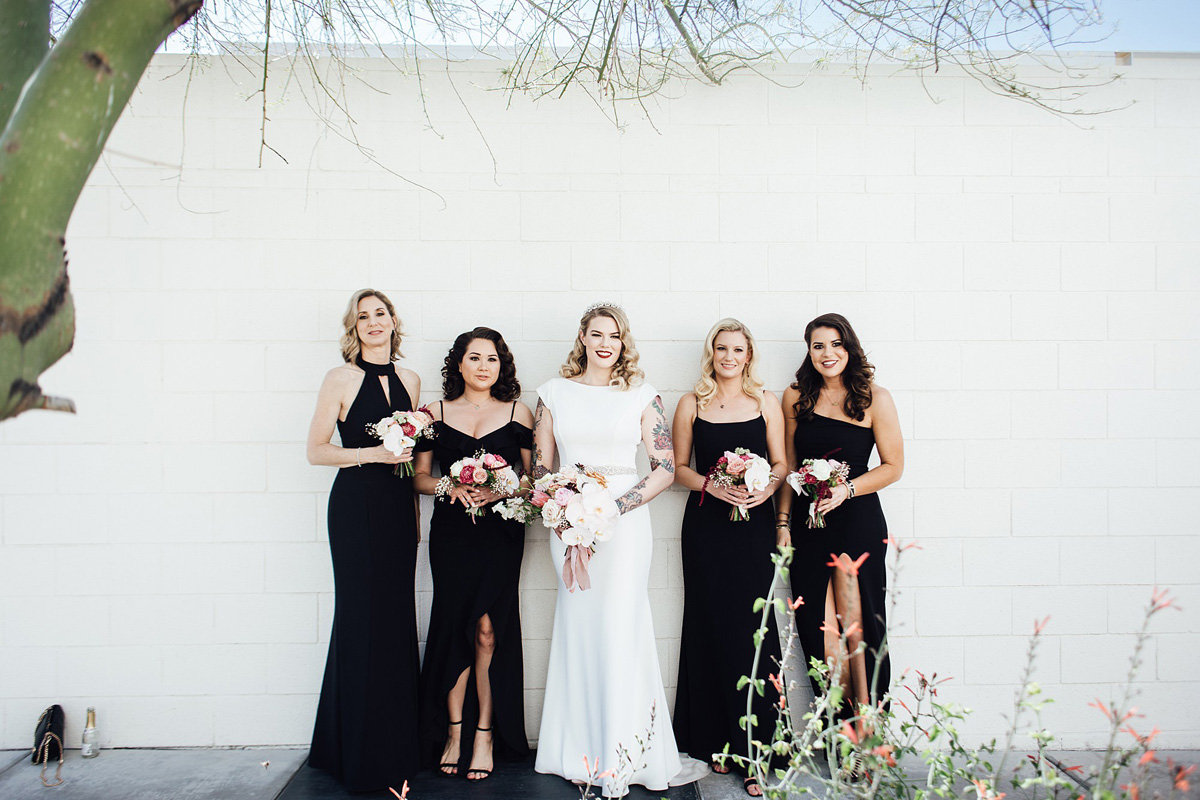 "I wanted them to feel glamorous, comfortable and beautiful in what they wore so each of them picked out their own styles."
Sarah and Angela got their dresses at Bella Bridesmaids. Natalie got hers from BHLDN and Nina found hers online. My matron of honour, Sarah, looked stunning in Hayley Paige Occasions."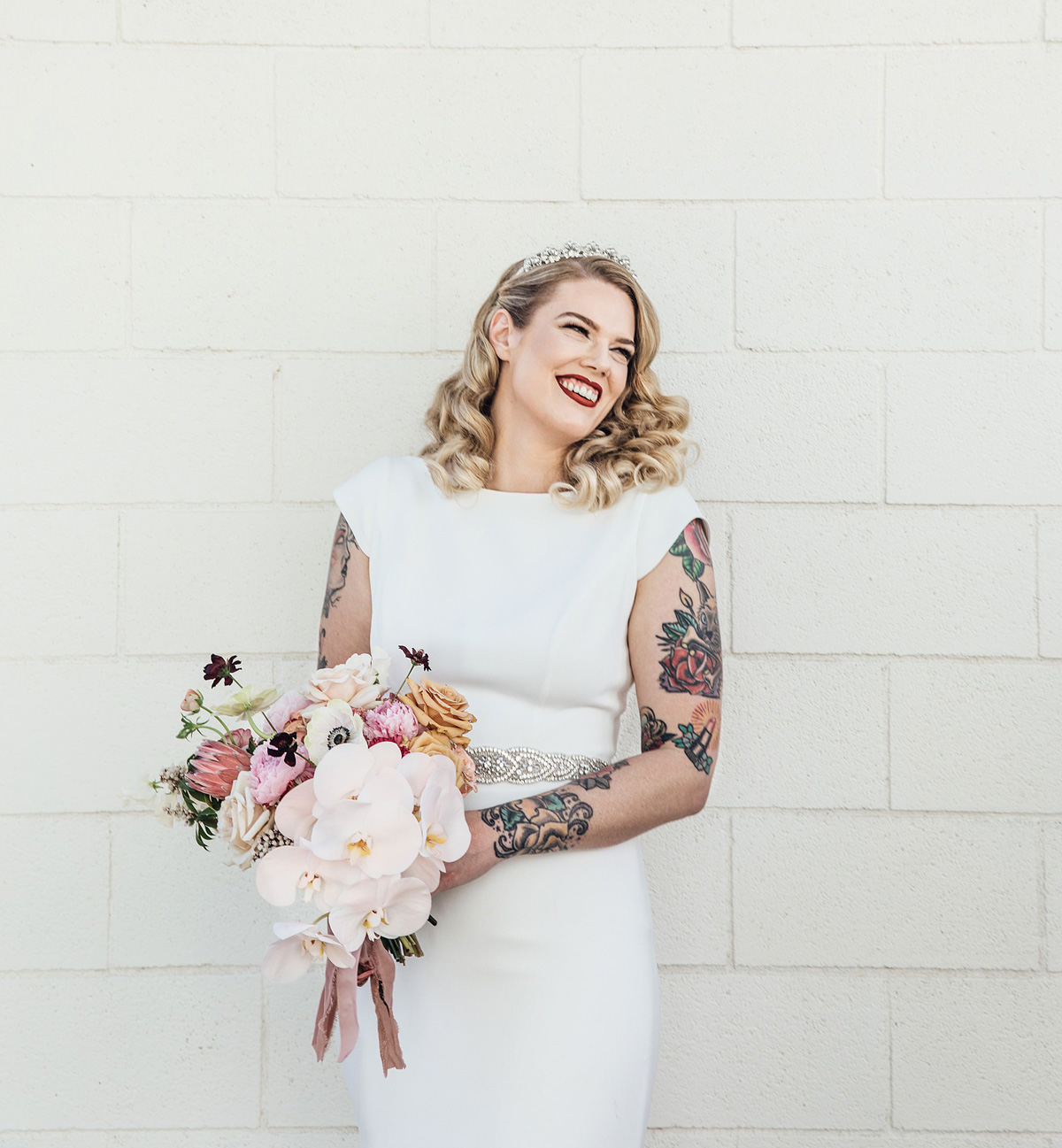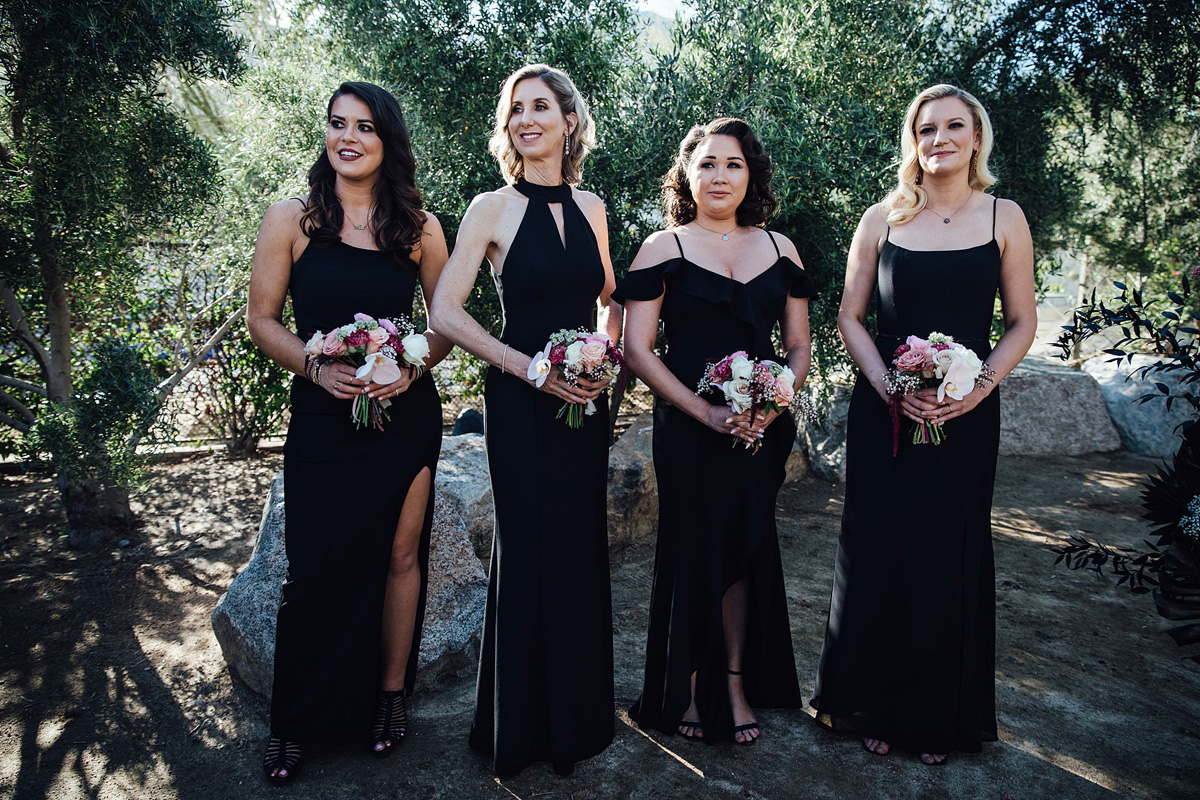 The couple chose to have a non-religious ceremony, held outside in the warm California sunshine.
"I asked my cousin Jessica to officiate our wedding. She did such a great job and had everyone laughing. I'm so grateful she agreed to do it."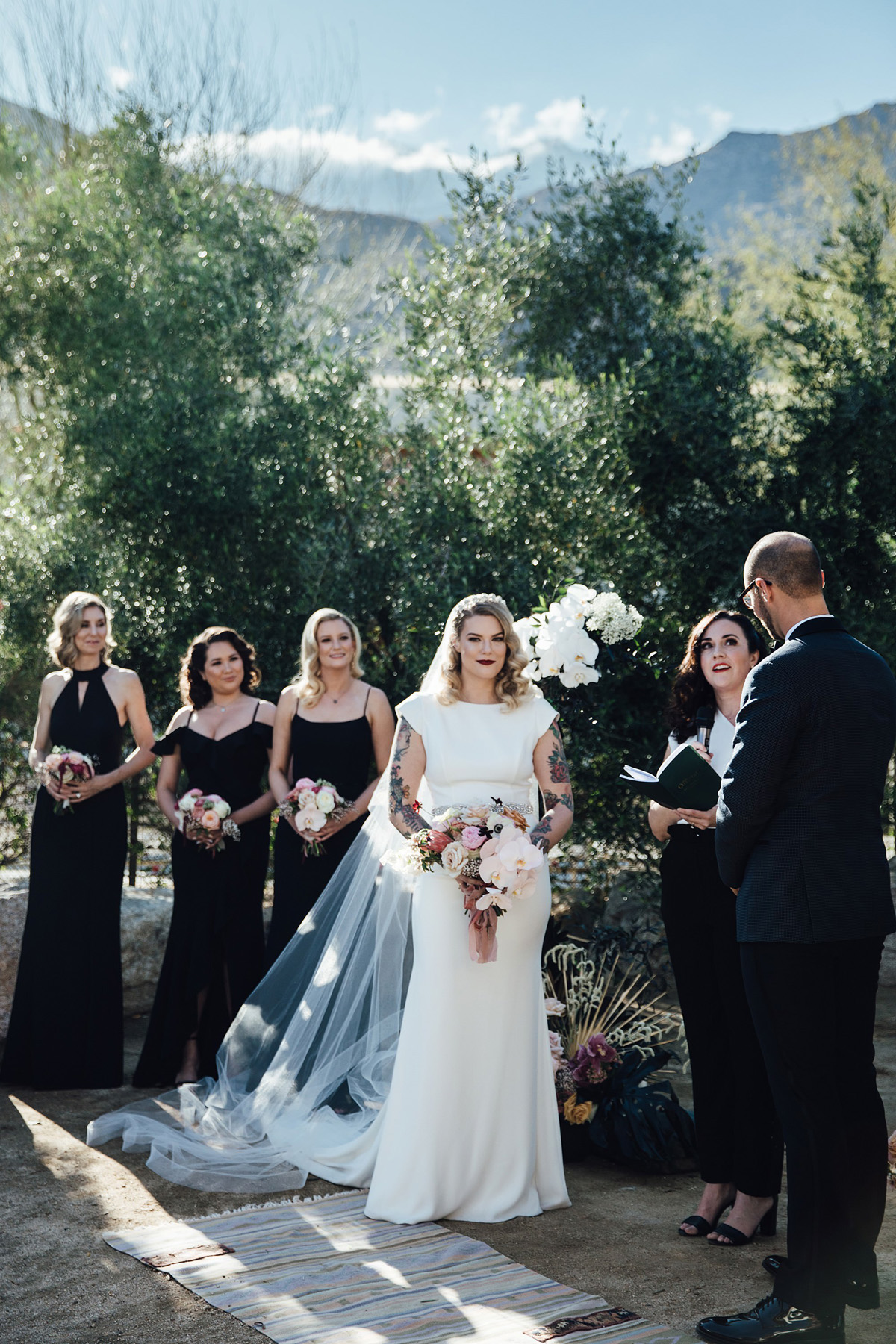 "Alex and all of the wedding party walked into 'I Walk the Line' by Johnny Cash, and I walked down the aisle to 'Can't Help Falling in Love' by Elvis Presley."
"My mom and stepdad both accompanied me down the aisle. My stepdad is the man who truly raised me and my mom has been there for me through it all, so it felt like both of them should be with me."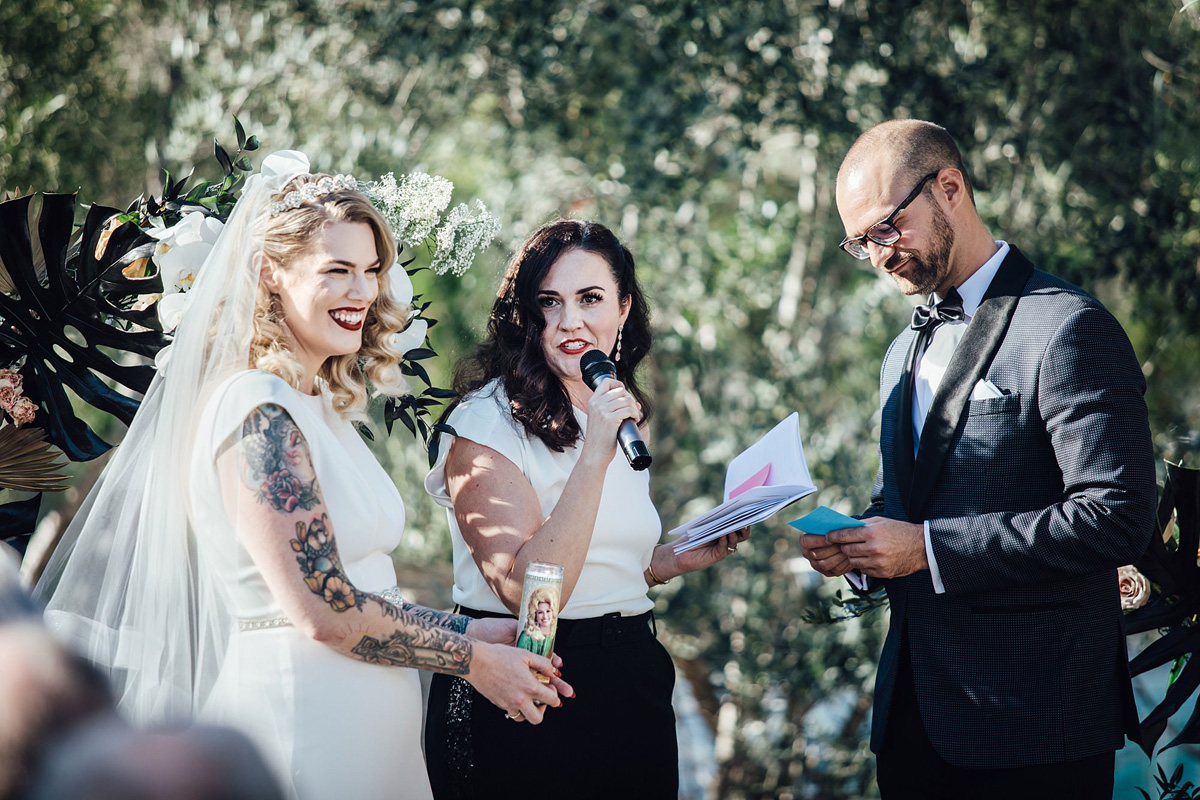 "We opted to write our own vows. It felt more personal and meaningful to us. I had an idea of what I wanted to say but wrote them the morning of the wedding."
"It was nice to have some quiet reflection before everything became a blur."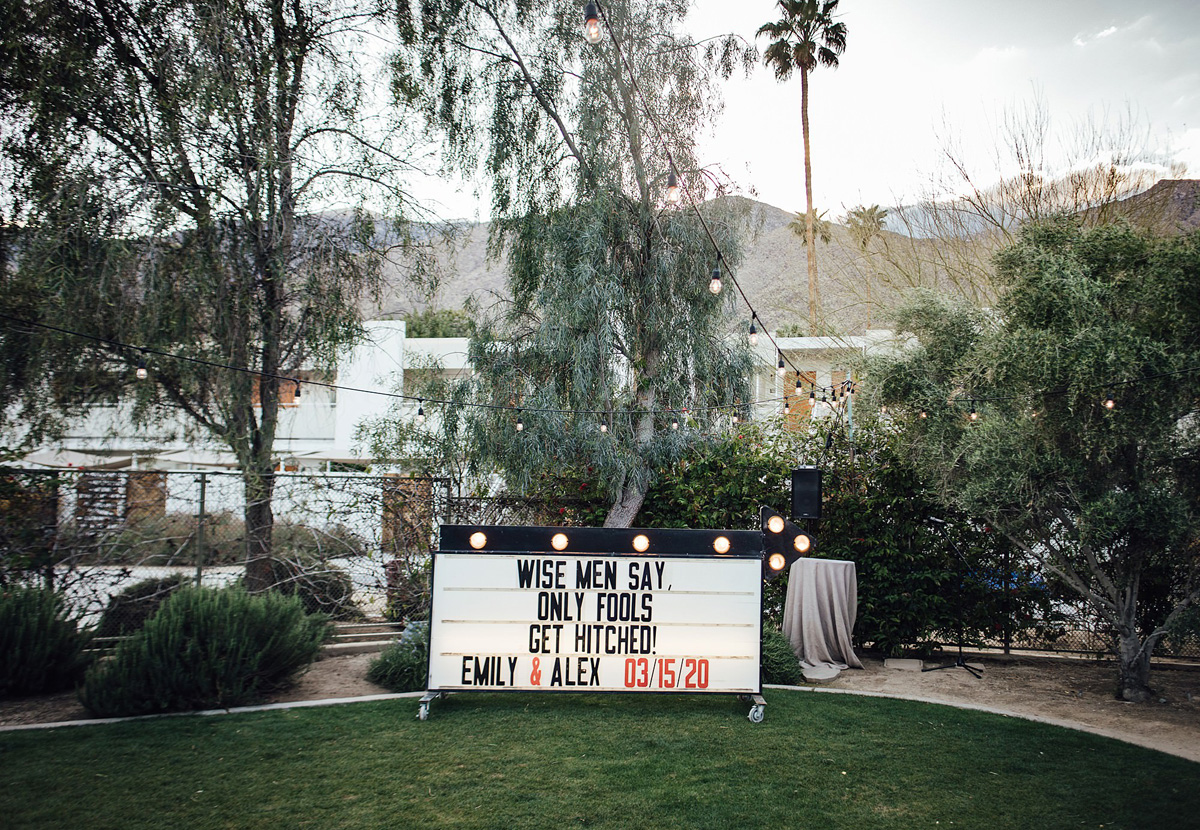 "Alex wrote his vows over the course of a year when he felt inspired."
I think that sums up our approaches to life pretty well. I work under the wire and Alex is more methodical."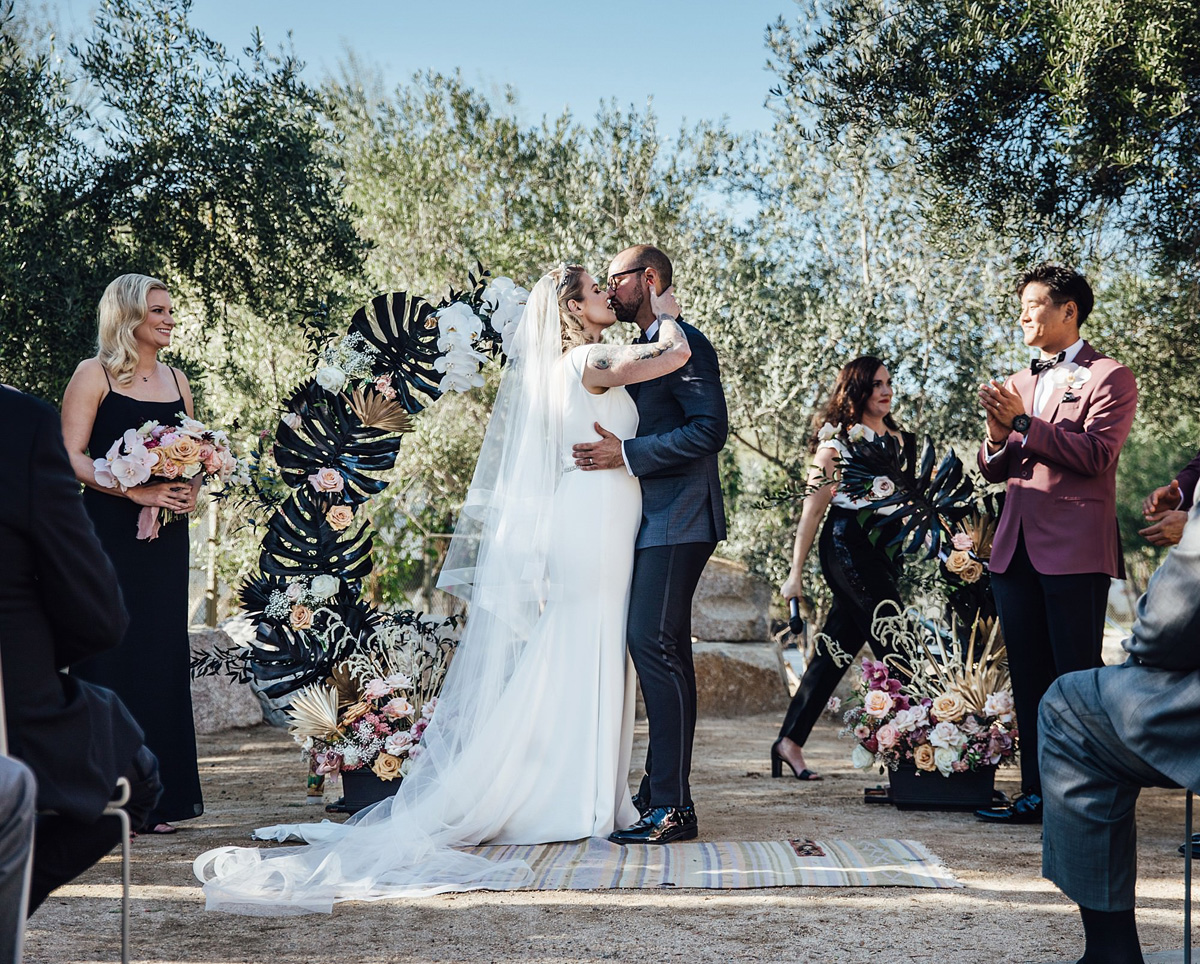 Together, the couple lit a Dolly Parton Unity candle and had two readings during the ceremony.
"Alex found two beautiful passages that felt perfect; 'Letter to His Son' by John Steinbeck and 'On Love' from 'The Prophet' by Khalil Gibran."
"My engagement ring was custom-made by Hyde Park Jewelers and set in a thin gold band with a diamond that belonged to my mom."
"My wedding band is a petite diamond band ring by Hello Noemie. I tend to gravitate towards simple and delicate styles. Alex's wedding band is a matte ring in platinum from Blue Nile."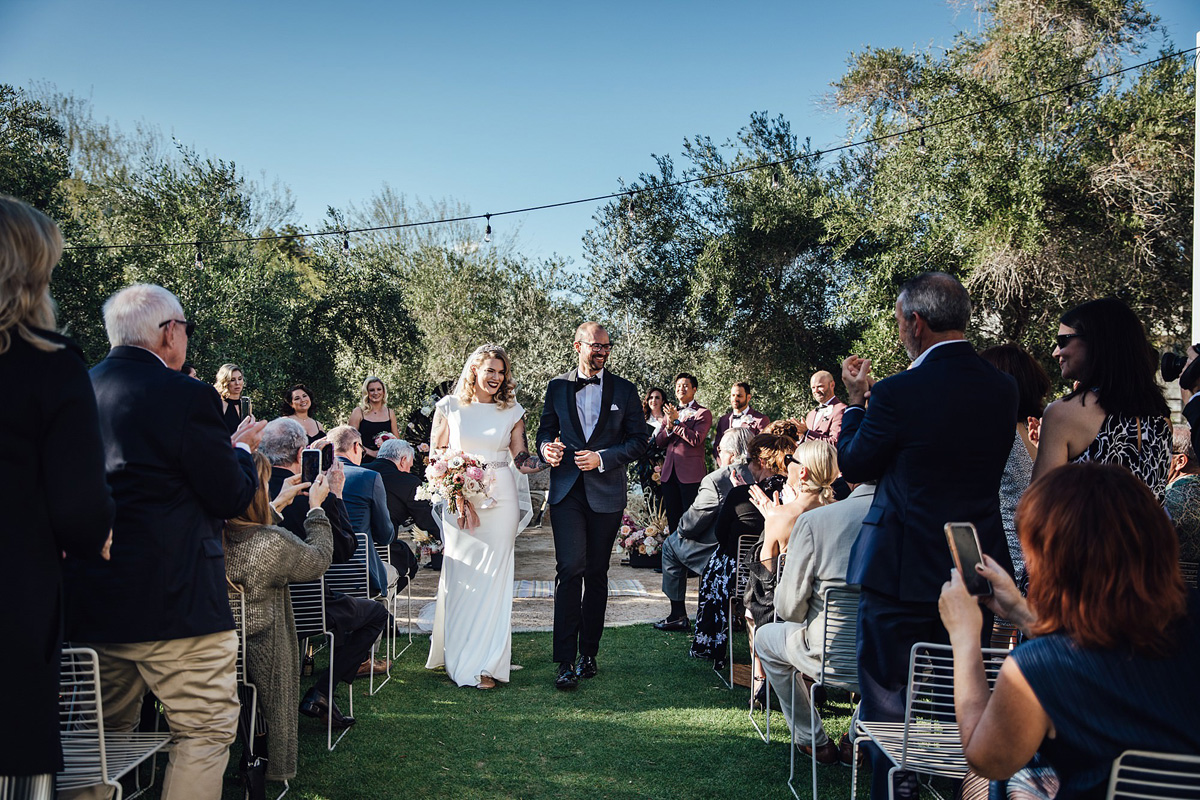 After being declared husband and wife, the couple walked back down the aisle to 'You Never Can Tell' by Chuck Berry, before taking some epic newly-wed shots in and around Ace Hotel.
Meanwhile, for the guests, there were plenty of surprises to keep them entertained.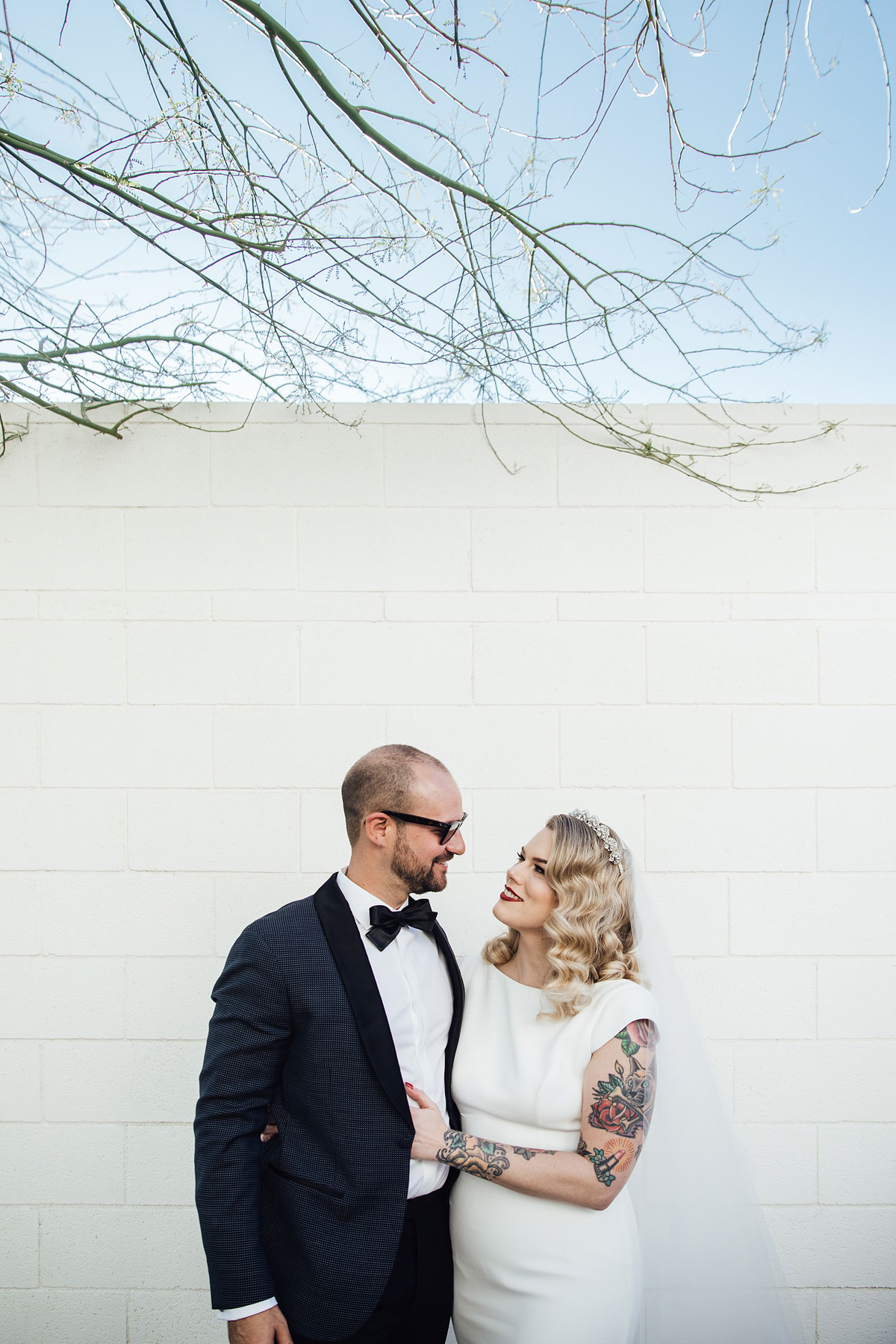 "We had lots of entertainment and surprises! Music and atmosphere were among our top priorities when planning."
"During cocktail hour, my parents surprised us with an absolutely iconic, synchronised swimming performance by Aqualillies."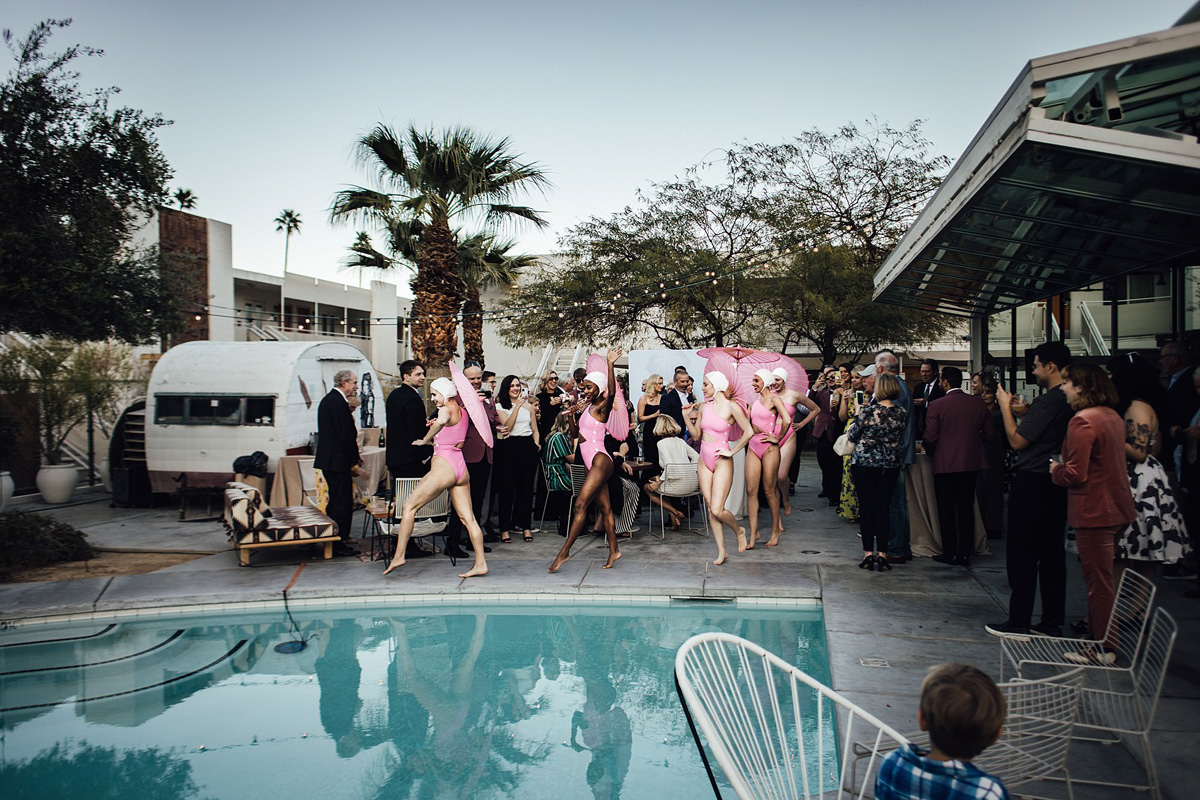 "It was one of the most beautiful spectacles I've ever seen and I was in absolute heaven. It totally took me off guard but in the best way possible."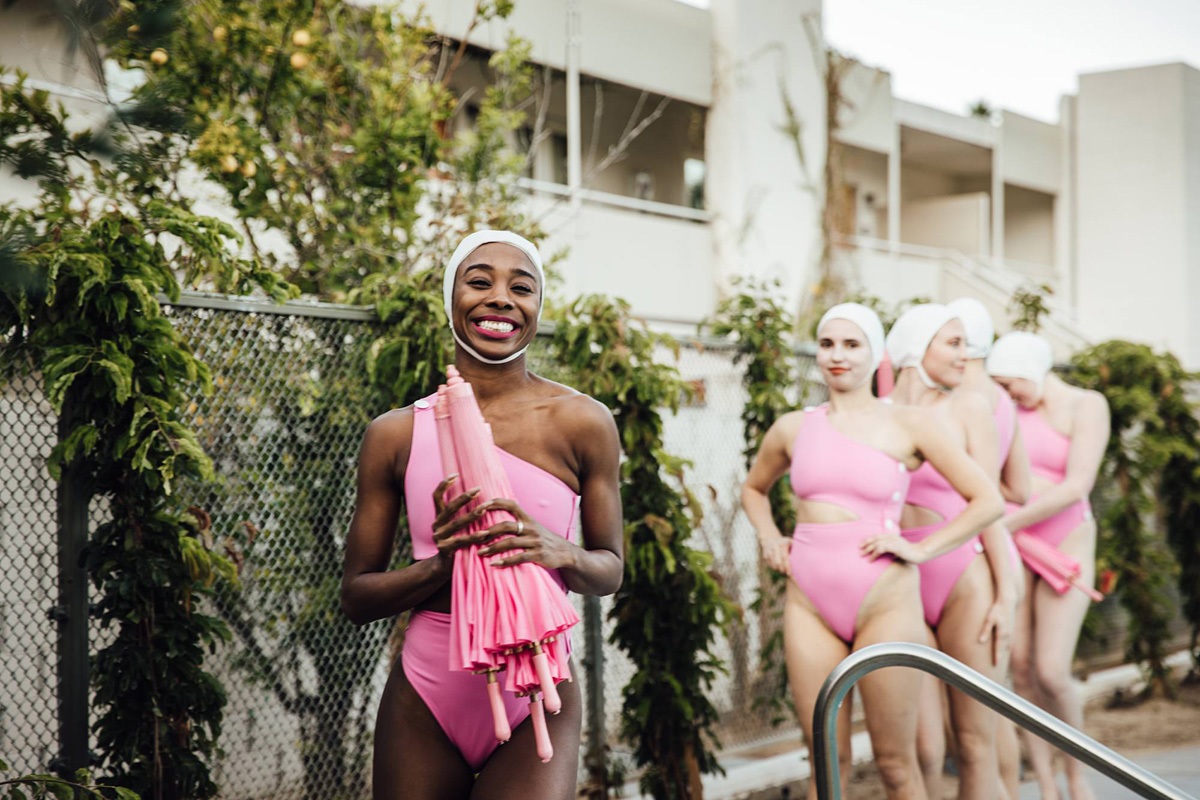 "Alex surprised me during the reception with a duet with one of his groomsmen, Nate Sacks. They played 'Harvest Moon' by Neil Young."
"Nate sang and played guitar while Alex added in funny spoken-word interludes."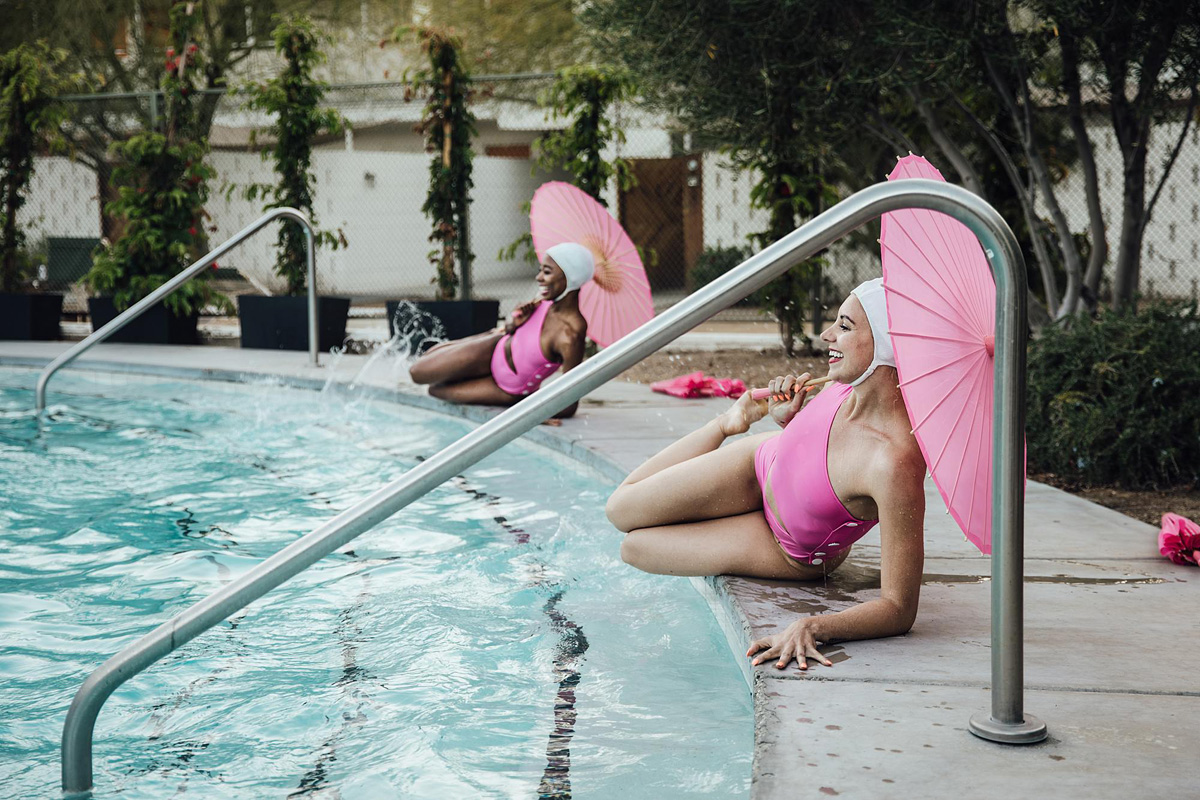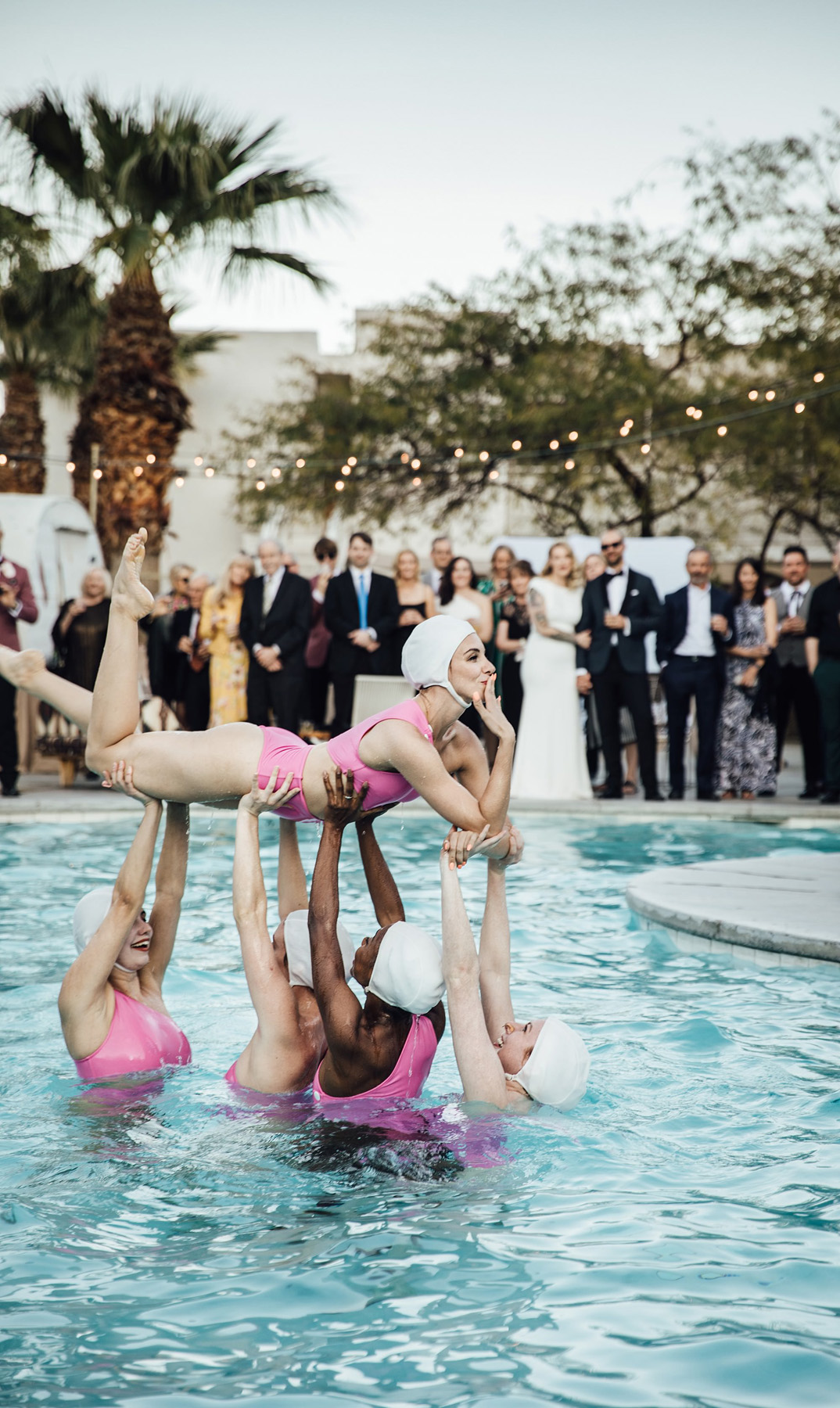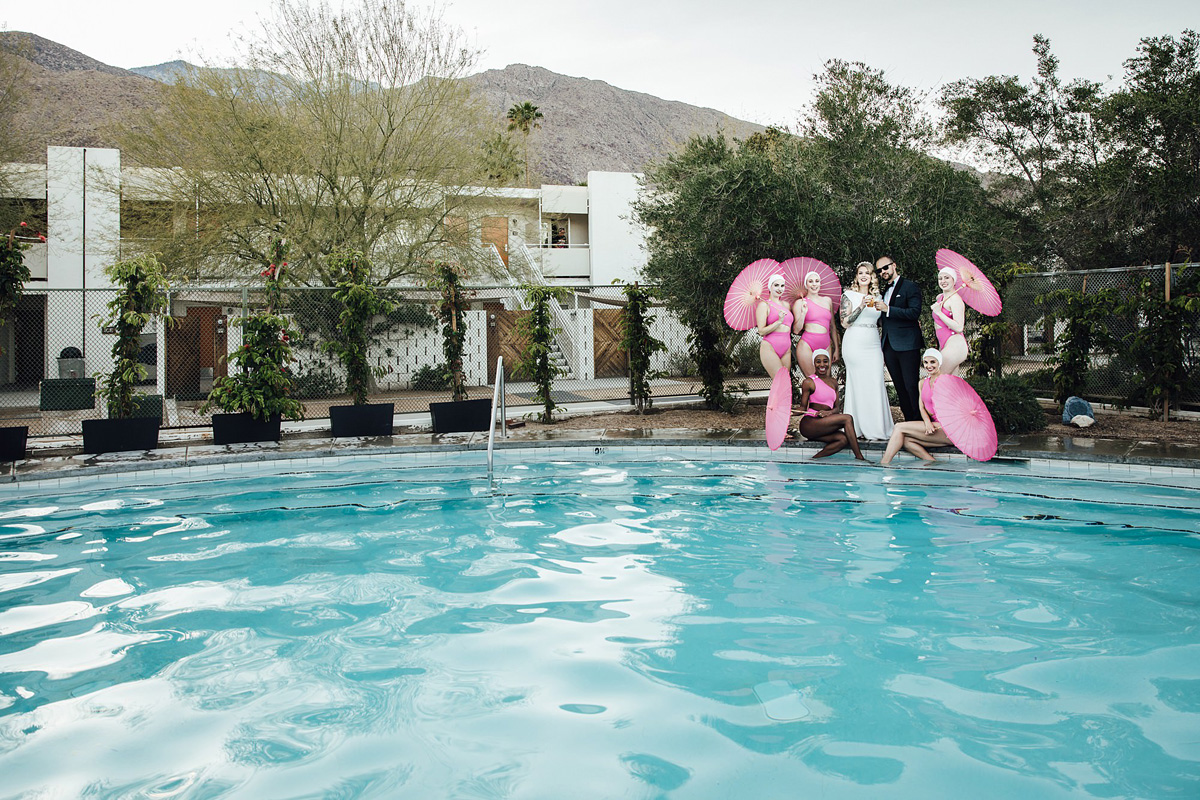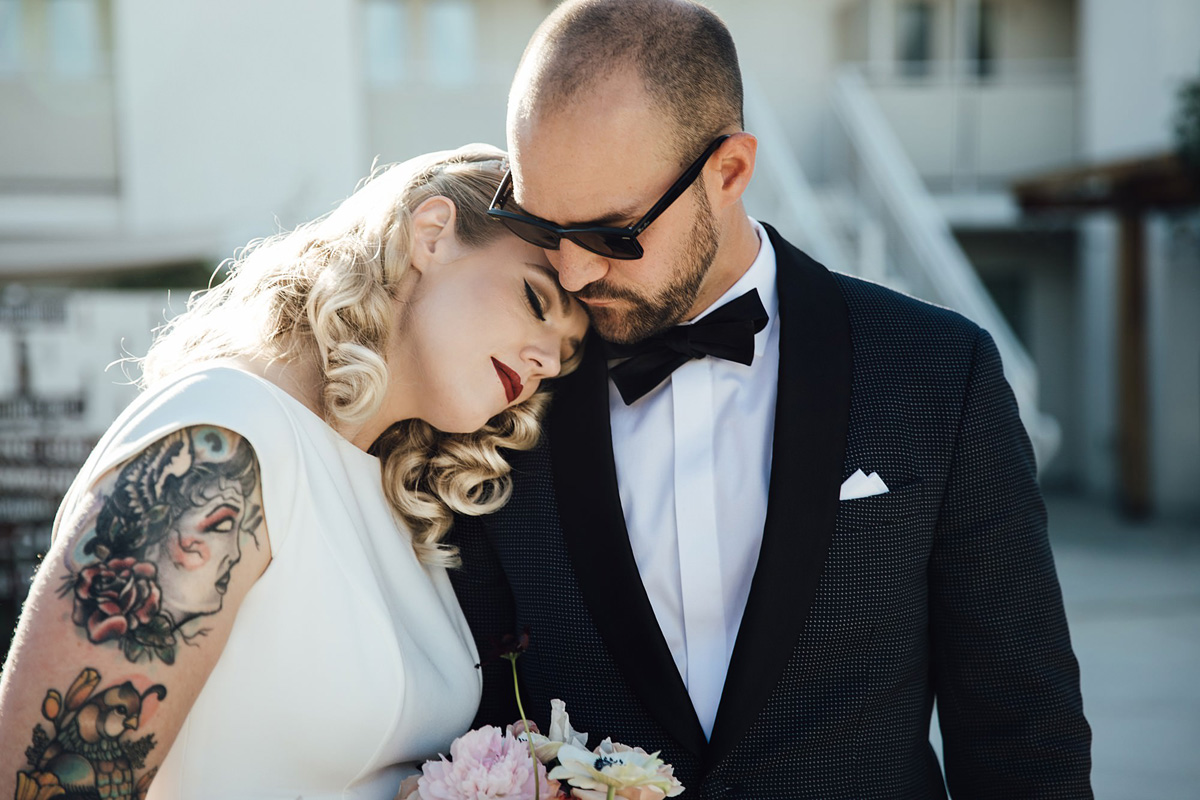 I love every single decor element at this wedding so over to Emily to tell us more.
"We rented blush silk table cloths, black napkins, and gold silverware from Signature Party Rentals. Emma provided all of the vases and decor pieces."
"She also created stunning florals with monstera, orchids and roses. We also relied on the acrylic signs and coasters to create some of the vibe."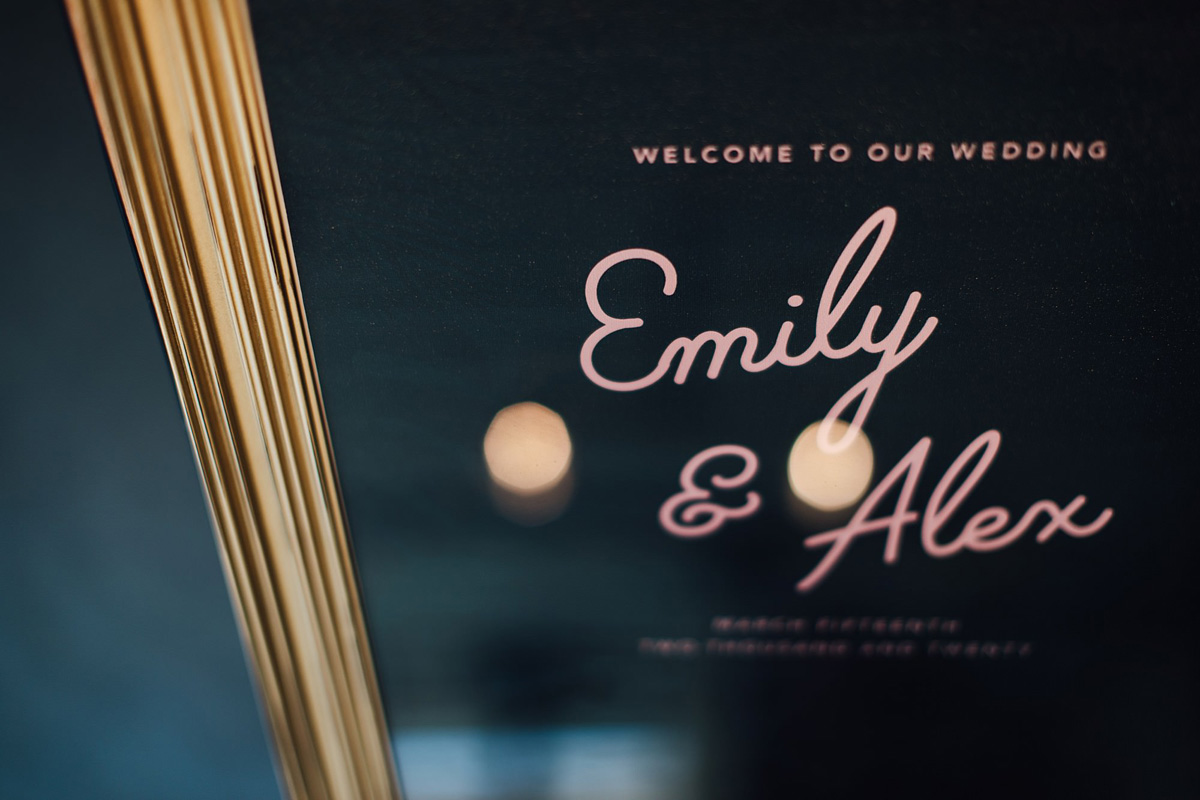 "I designed tote bags and welcome postcards for all the guests staying at the Ace. I decided to make it more like a souvenir bag for Palm Springs than a tote that was obviously for a wedding."
"I still use it to this day! We included mini bottles of champagne, sunscreen, snacks and Advil inside the bag."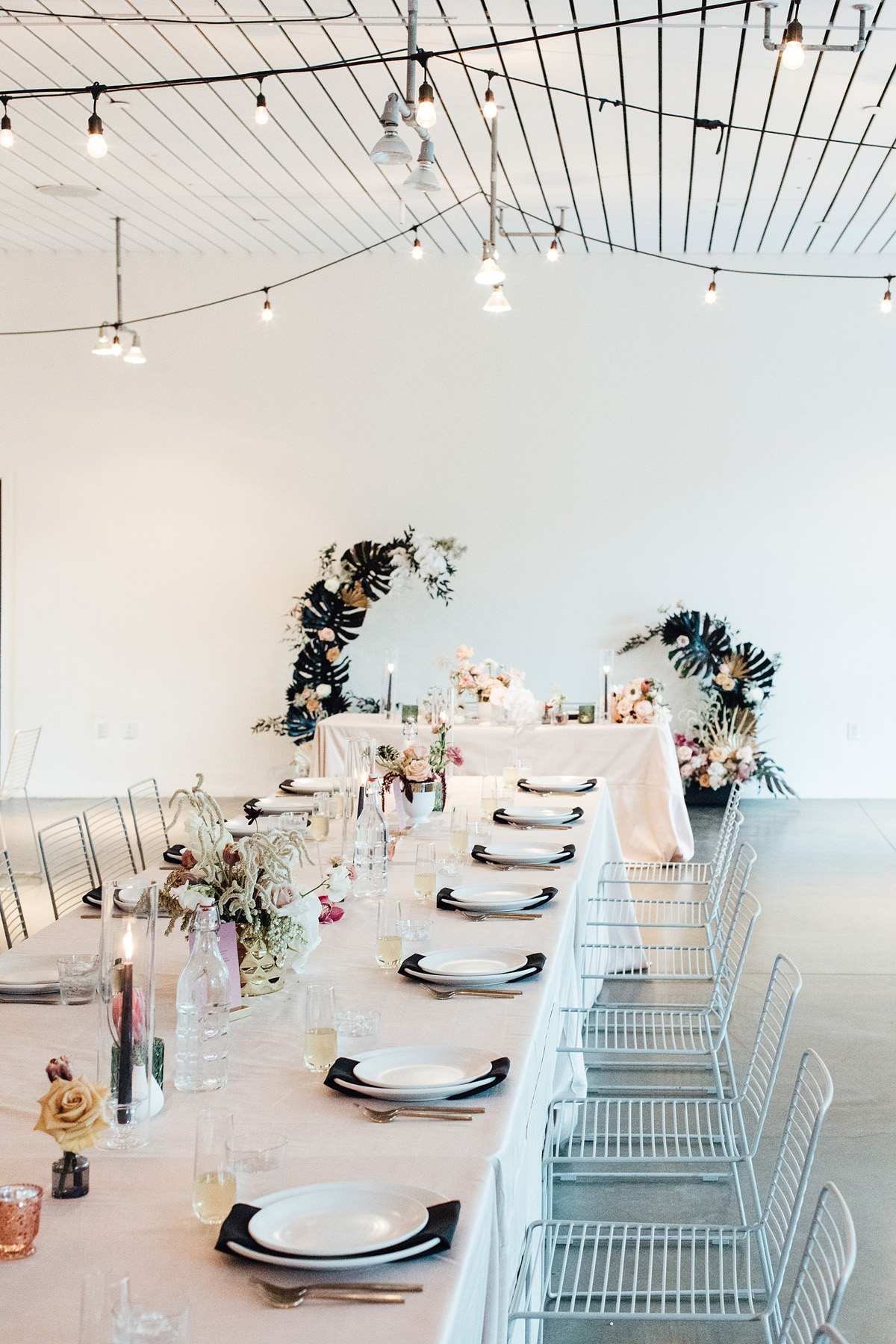 As a designer, Emily had a clear idea of what she wanted their wedding to look and feel like, hiring event coordinator Emma Seitz of Leta Verbena to help them plan and style.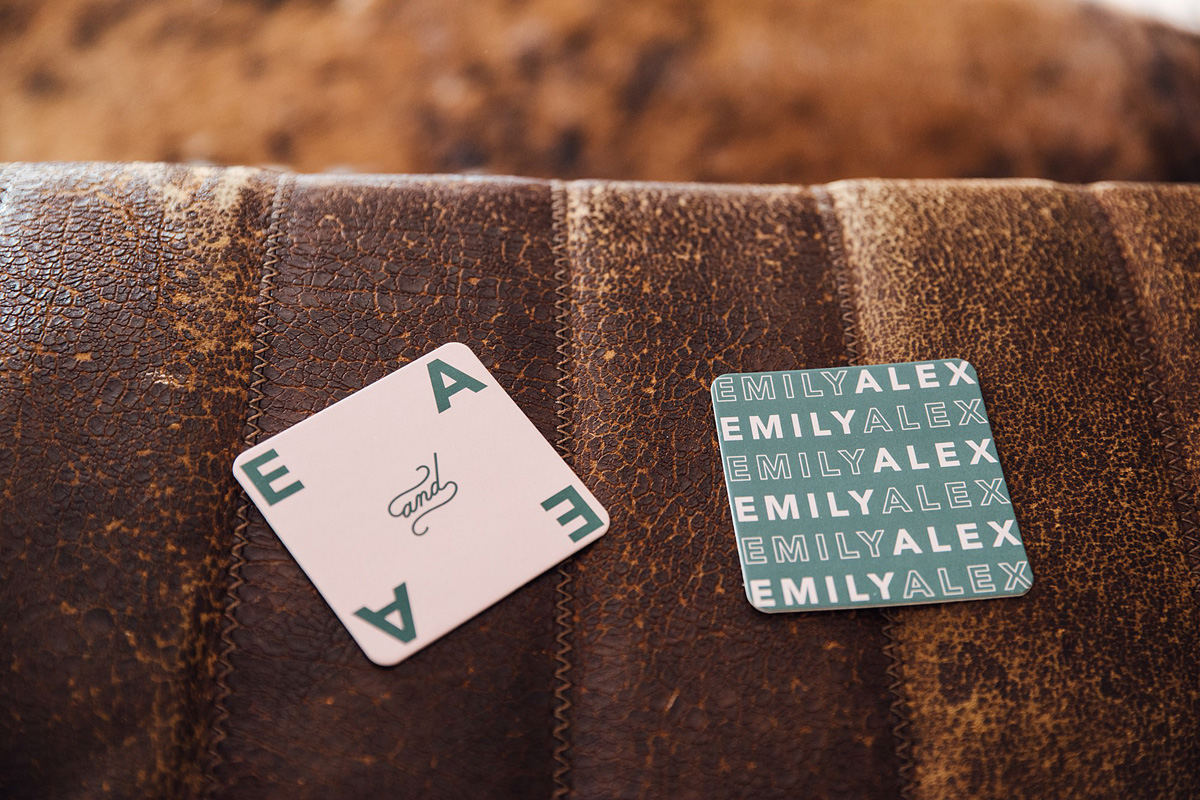 "I've always had a love of 1940s glamour and actresses like Rita Hayworth and Veronica Lake. Alex and I both love old movies, so he kind of let me run wild with the idea."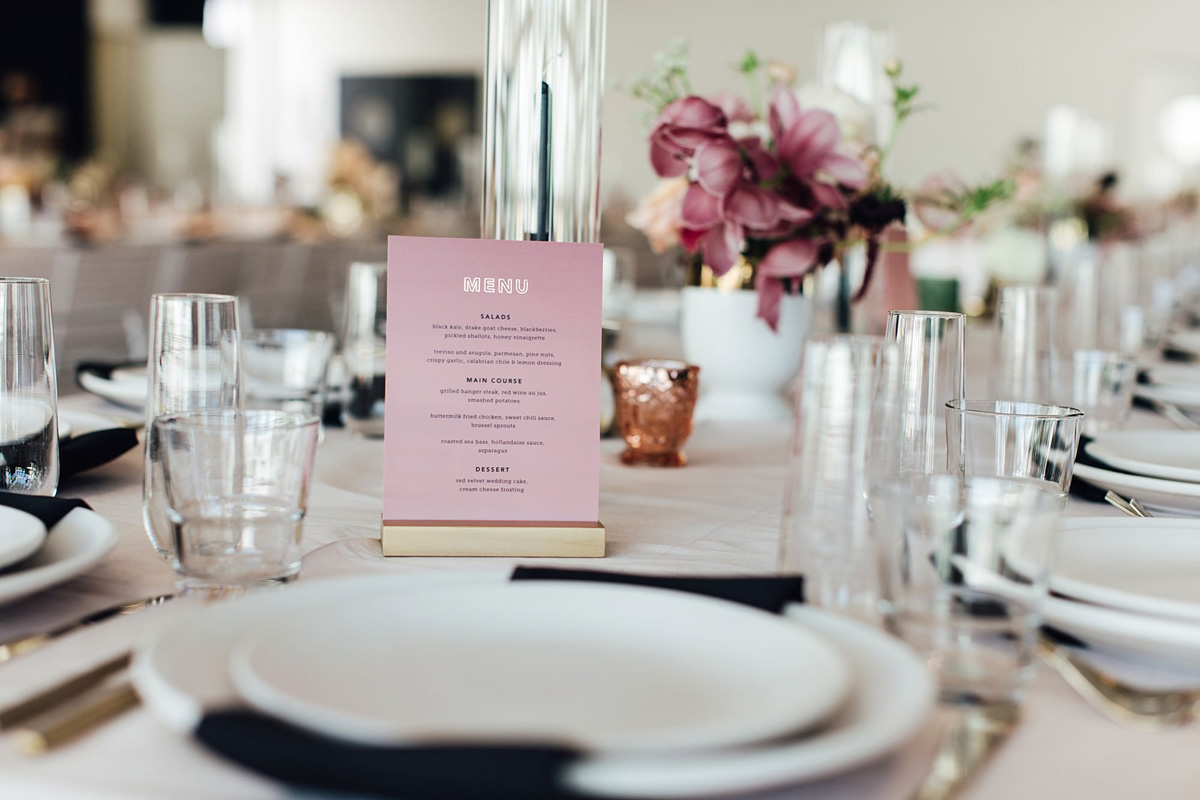 "My goal was to have our wedding feel like an old Hollywood Palm Springs pool party. I'm a designer by day so I had a clear vision in my head of how I wanted everything to look."
"Having Ace Hotel as our venue felt like a neutral backdrop that we could truly make our own."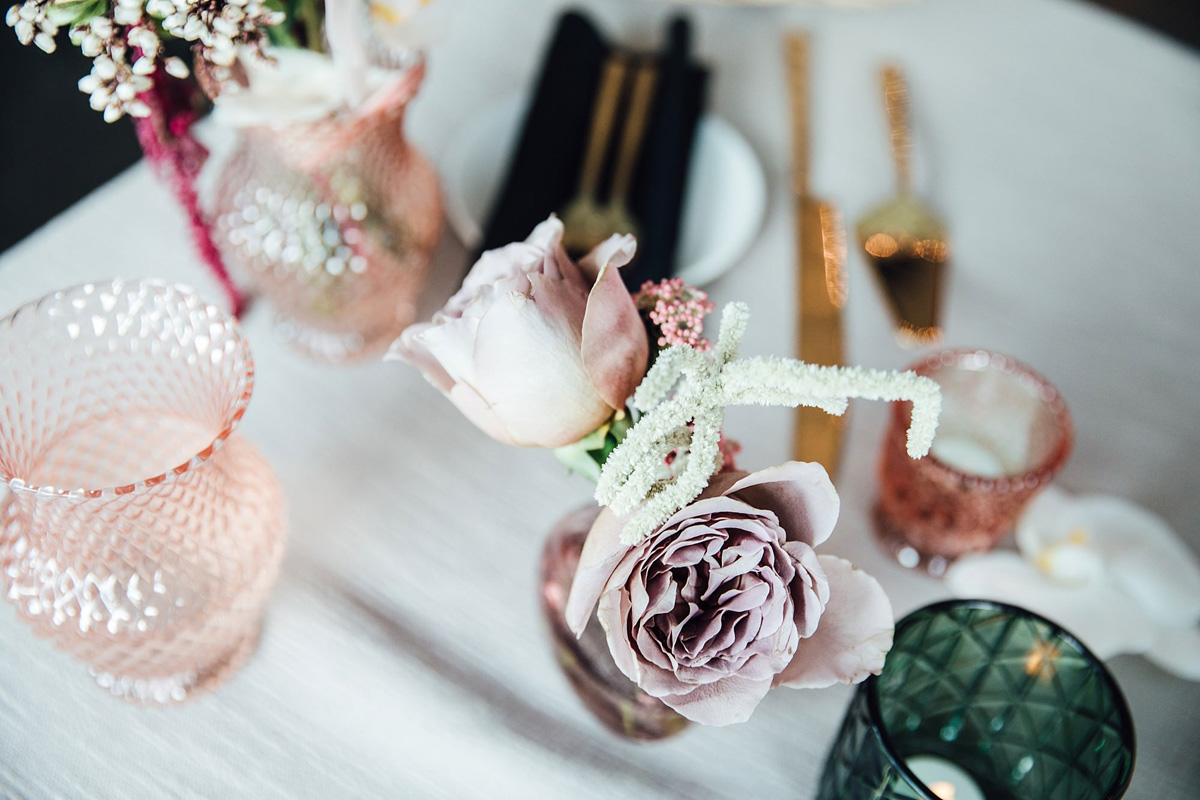 "Emma is incredible and did all of our decor. It was a relief to eliminate the need to hire additional vendors since she was able to wear so many hats."
"We were true collaborators and she helped bring my vision and ideas to life. Hiring her was one of our best decisions."
"She also did our florals. I wanted a muted palette with blush, gold, neutrals, black and white."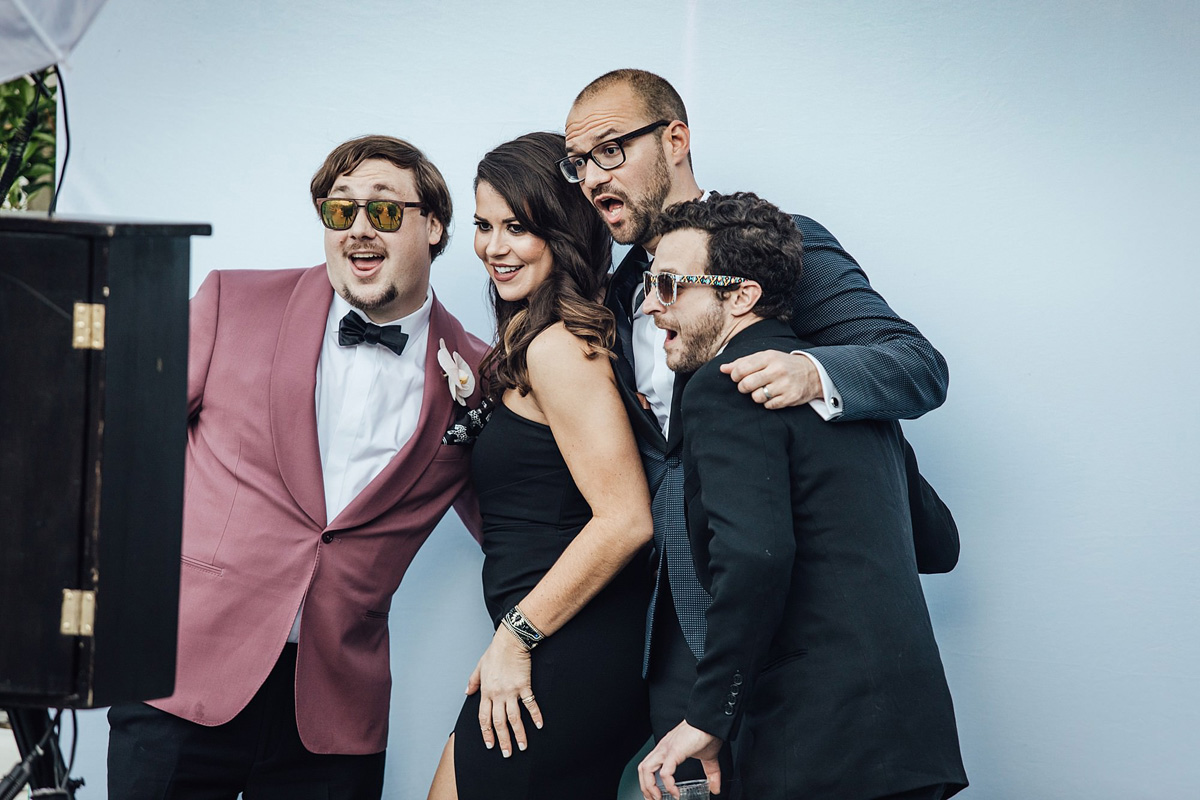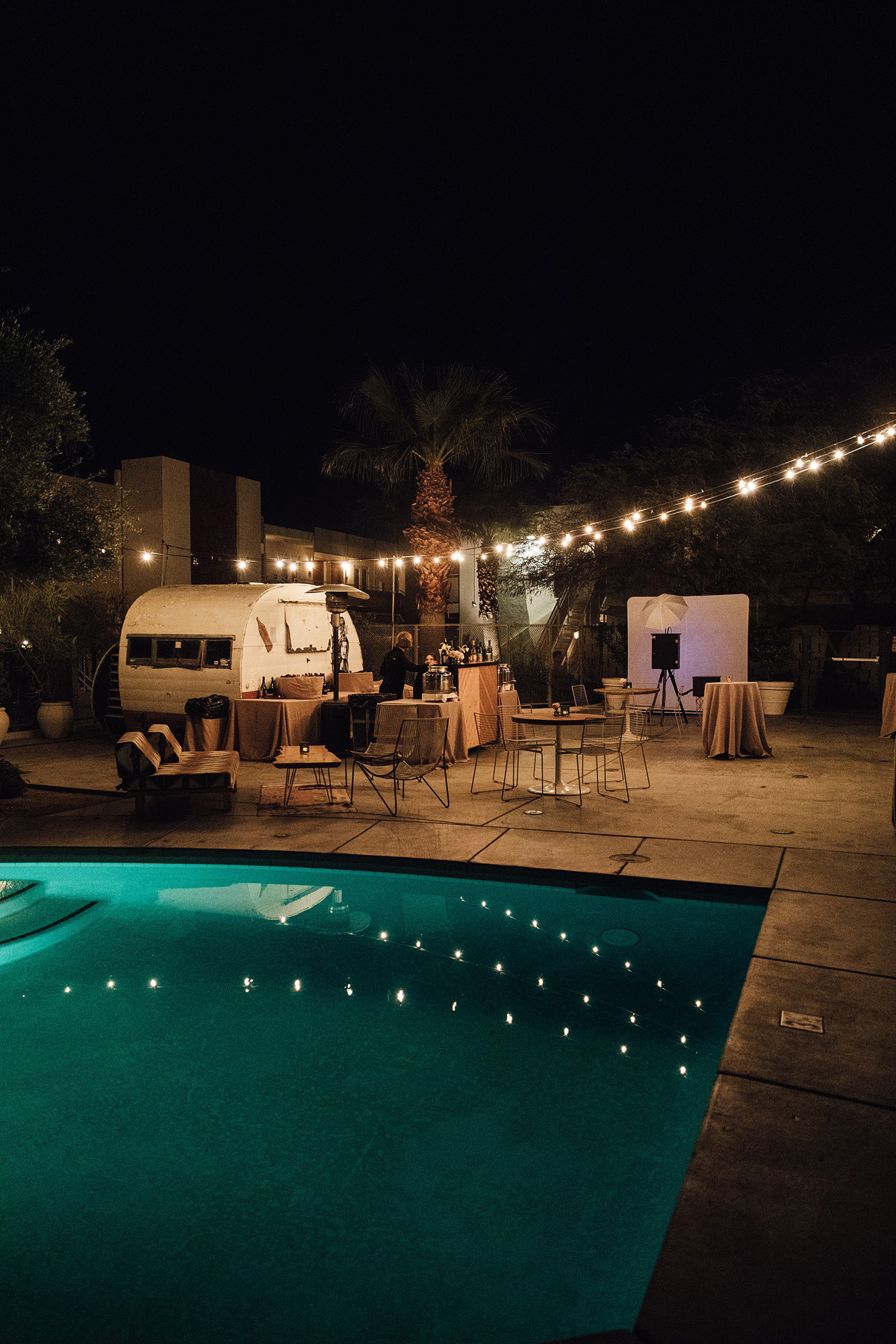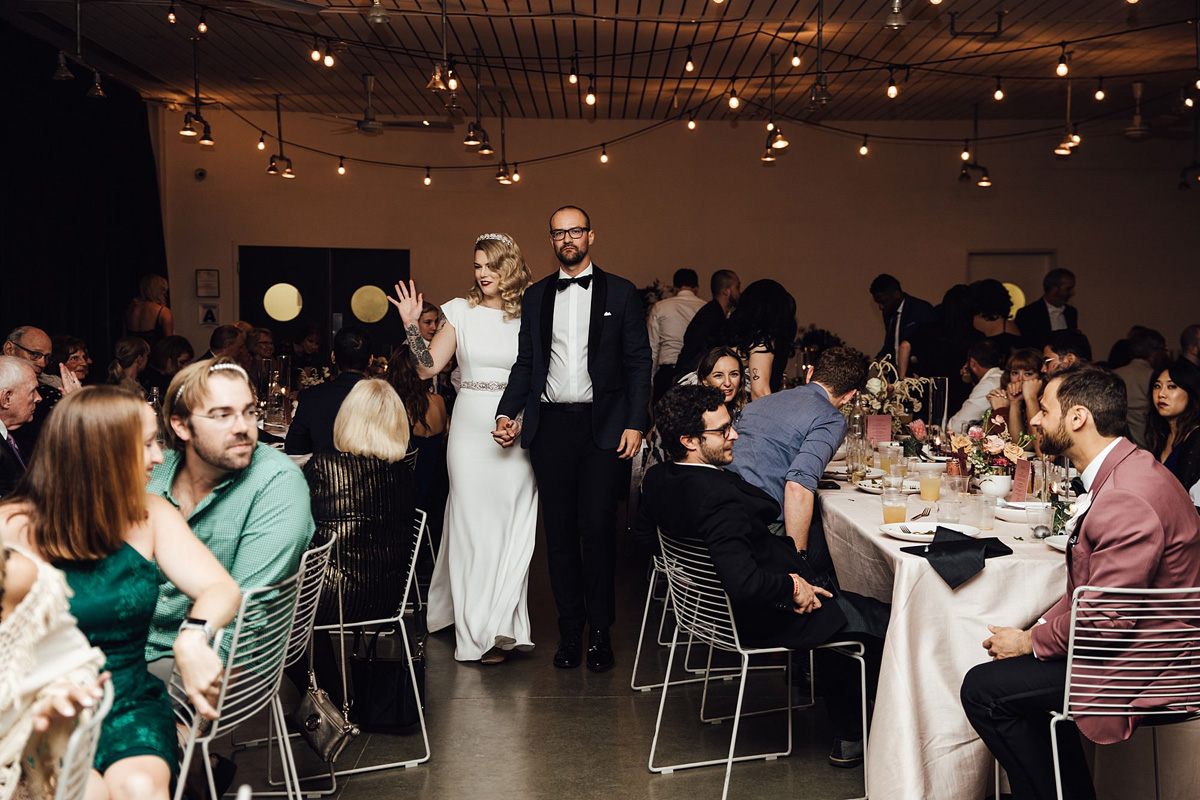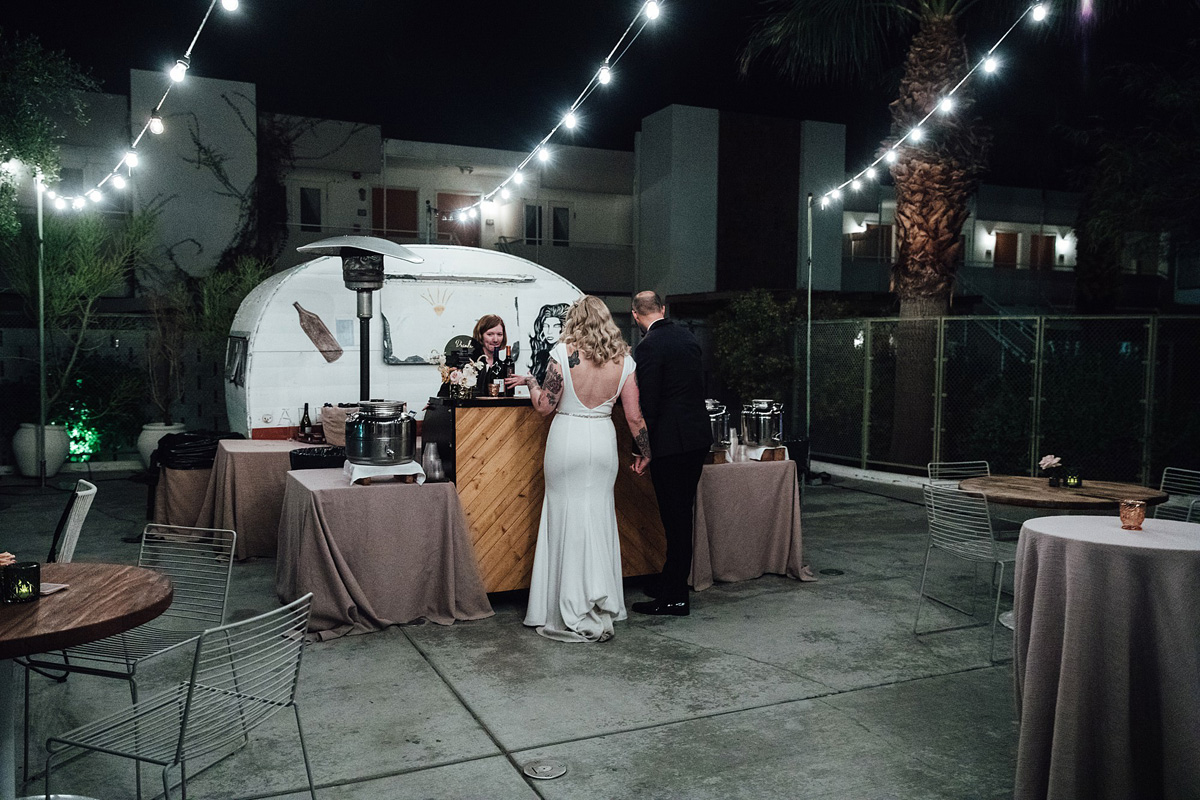 As night fell, the couple took to the dance-floor for their first dance.
"We danced to 'What a Wonderful World' by Sam Cooke. Both of us love Sam Cooke and felt drawn to the song. It's a very simple and sweet love song with a message that resonated with us."
"Our DJ was James Thomas of Peach & Gold Event DJs. We were drawn to him because it seemed like he shared our love of music, and wouldn't just play basic songs."
"He even made us a sample playlist that we absolutely loved. He really worked with us to create an incredible vibe."
"I made two playlists on Spotify of songs to give him inspiration for the final set."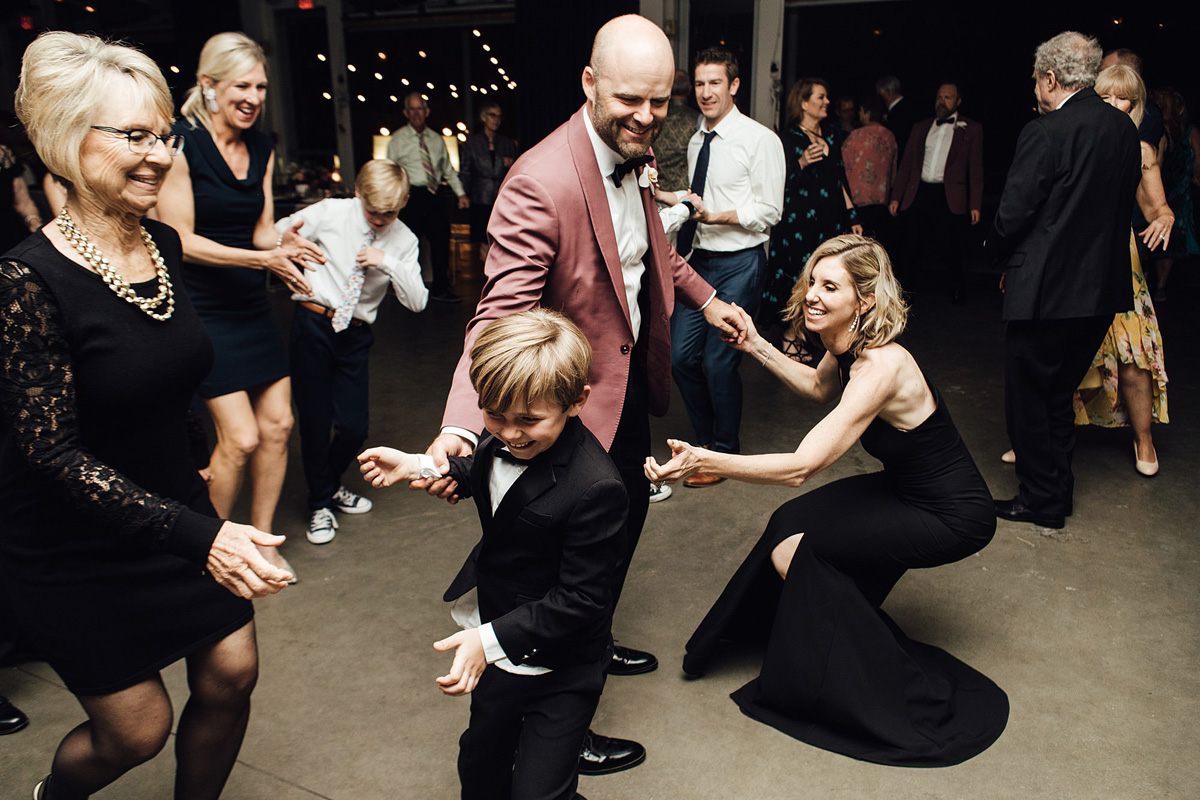 The guests sat down to a wedding breakfast catered by Ace Hotel, who also designed the tiered wedding cake.
"Everyone commented on how good the food was! The Ace made our cake, a delicious red velvet. Emma adorned it with a few flowers."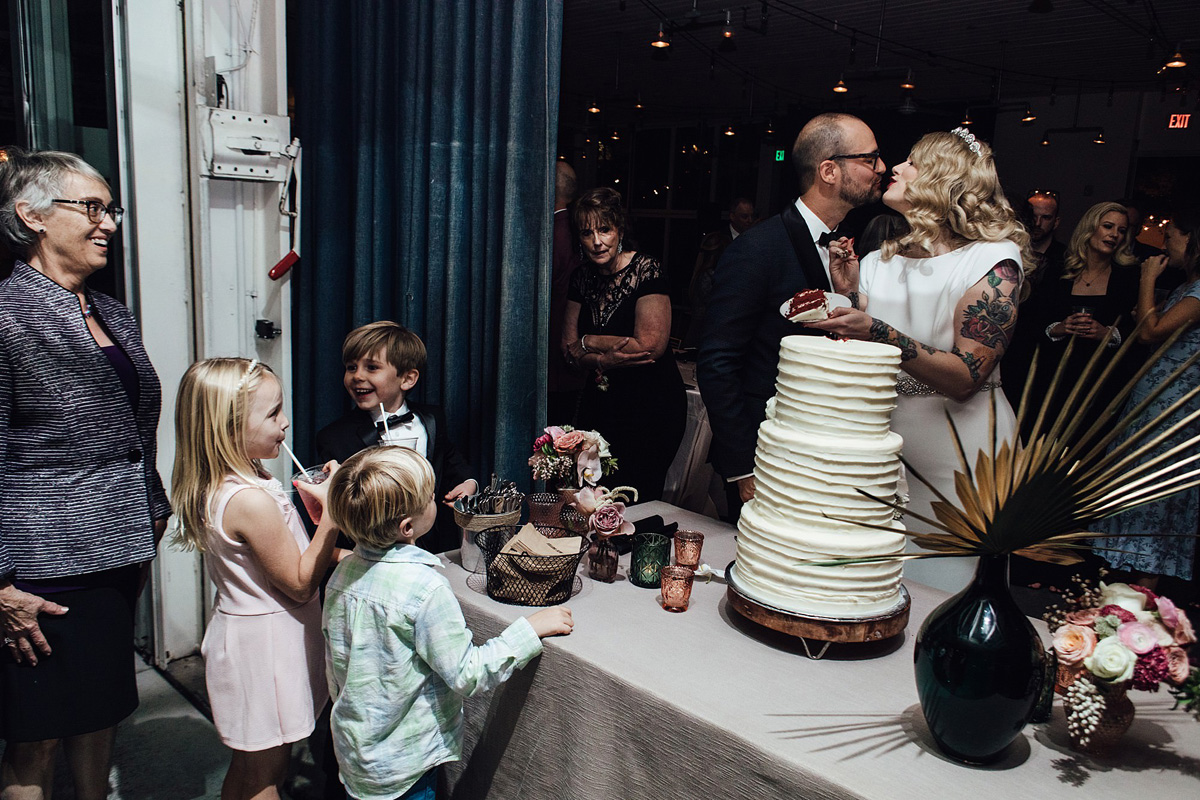 "There were so many wonderful moments, it's hard to choose a favourite. I loved how personal it felt to us. We really made the whole day our own. The Aqualillies performance, the ceremony and the performance of 'Harvest Moon' really stand out to me. I wouldn't change a thing. We did a lot of planning and the day felt like a dream."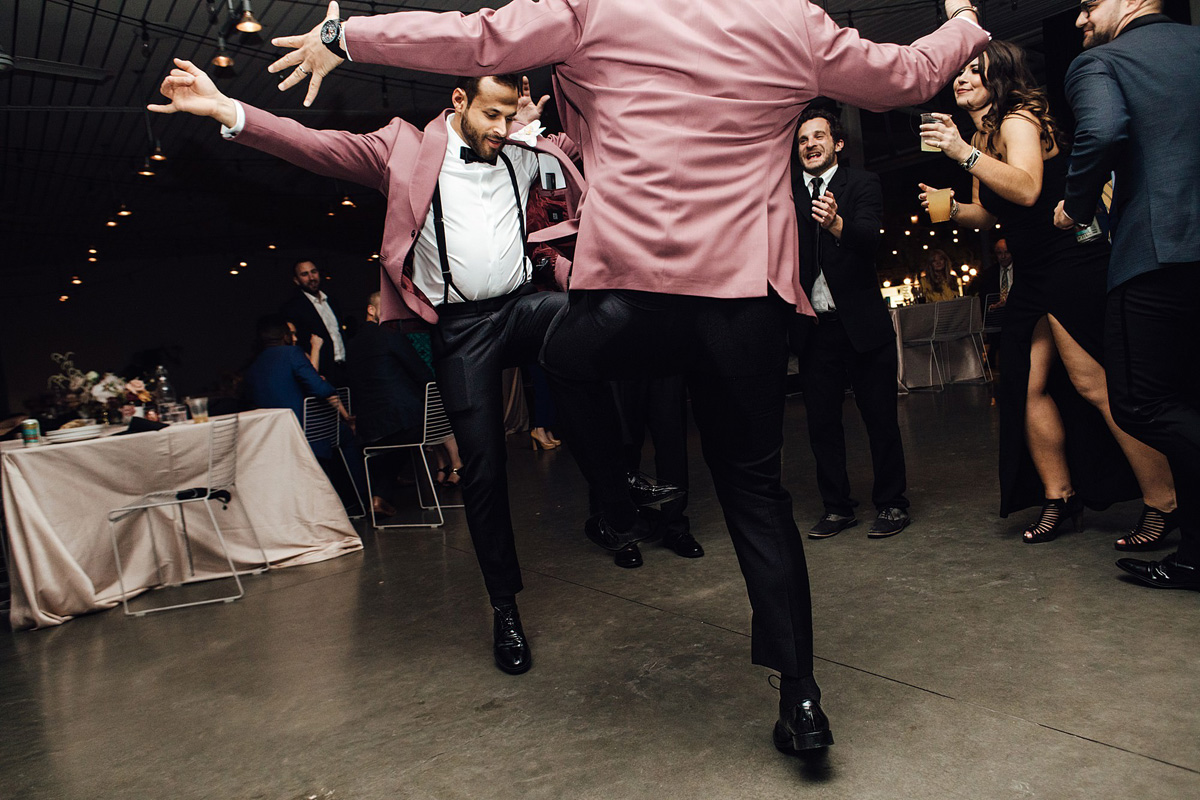 "For a little extra fun and weirdness, we had Party Goats LA on the lawn by the marquee during the reception. Everyone loved them!"
"It just felt right having a duo of small goats to stand around and look cute. Our photobooth was Classic Photo Booths."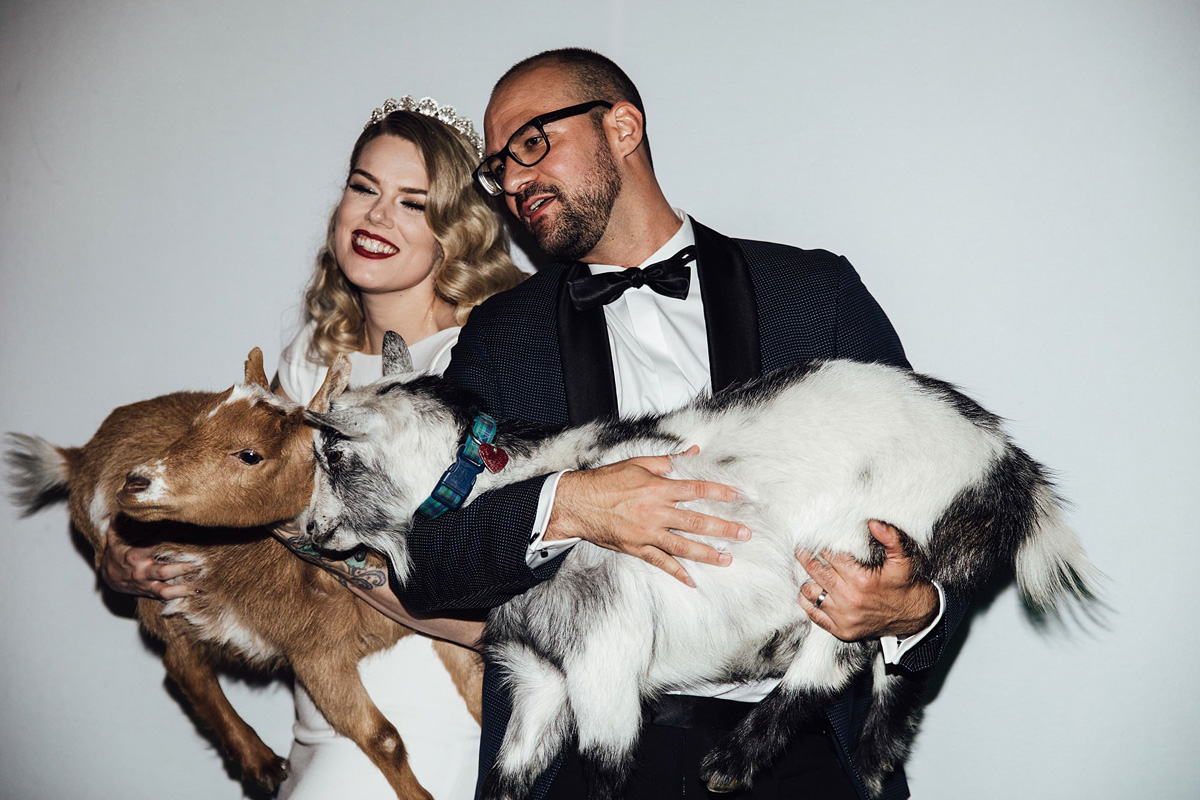 Words of Wedded Wisdom
"Put in the work to find the vendors who can make your vision come to life. It took a lot of research and time but we were so happy with each person who helped us bring our day together."
"Don't be afraid to do things that may feel a little eccentric. Those were the things that made our night so memorable."
"I shared my Pinterest board with most of our vendors to communicate the vibe we were going for, from hair to nails, to florals and decor."
"Everyone gives this piece of advice, but slow down and really enjoy quiet moments between the two of you. We felt so connected and close throughout the day, even when we were chatting with guests on opposite sides of the room."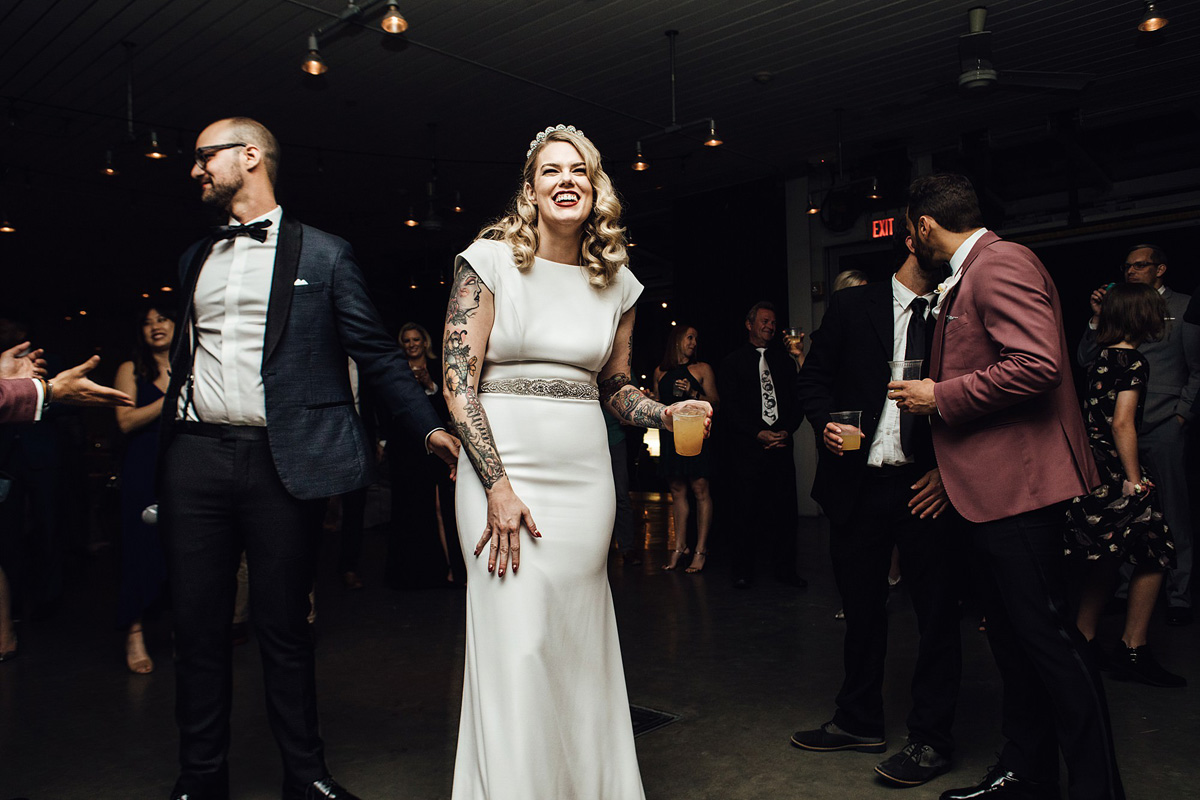 Emily and Alex, your cool, glam wedding was just what I needed today. Thank you so much for sharing it with us and, as always, thank you Carr & Senteno for your iconic photography.
For more weddings with subtle movie inspiration, take a look at this selection.
Ele xx