One could easily assume these incredible images are from a Vogue editorial, but that would be wrong.
These sublime photographs are from Martine and Rio's very real elopement, that took place in the beautiful Tuscan hills in a pre-covid world back in September 2019.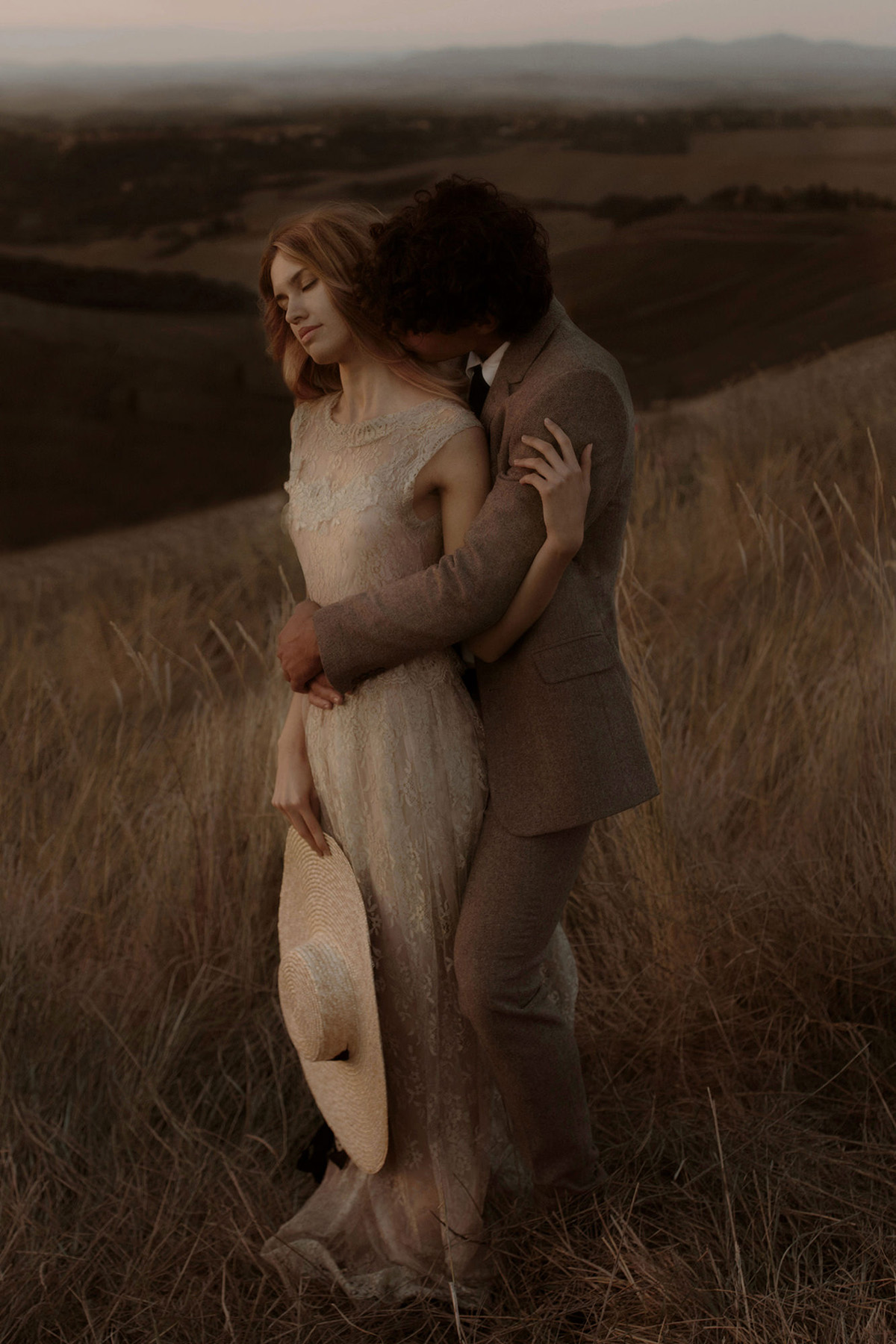 The couple hired Scotland based destination photographers, The Ferros, to capture their day.
"We actually wanted to keep everything as simple as possible, giving priority to the things that matter the most for us, as photography. So we basically just focused on the research of that."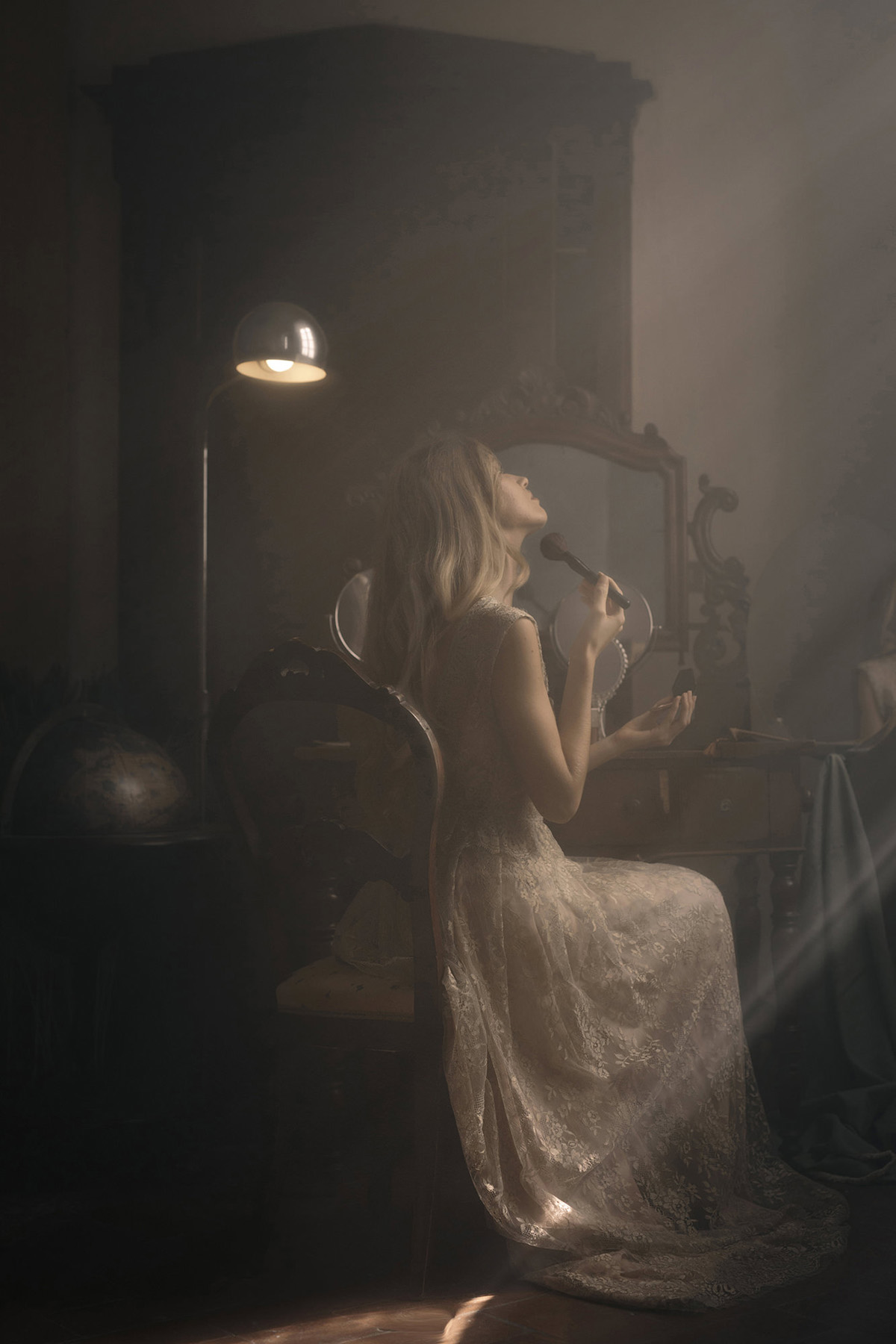 "Having Nico and Vinx on our day has been the best thing we could have done. Really, they are the most caring and fun people ever."
"Of course we've chosen them because of their talent and incredible photography, but discovering the beautiful human beings behind the cameras made the whole experience a unforgettable day to treasure for ever."
"We honestly have been blown away by our photographers style – looking at their photos gave us already a lot of inspiration from the very beginning."
"We have always said to each other that being together sometimes feels like we're in a movie."
"So were the pictures we saw our photographers website – all of them looked like stills from a movie."
"Rio and I are from the same city and we never met before until we were both invited to a party. Rio did the first move and I honestly fell in love very quickly because of his charisma."
"We have been together for a few years but it took a very short time to understand we were meant to be together."
"I was wearing a handmade dress by Anna Fucà, a bridal dress designer based in Florence, Italy. I also wore a vintage straw hat that belongs to a collection I have since I was a child."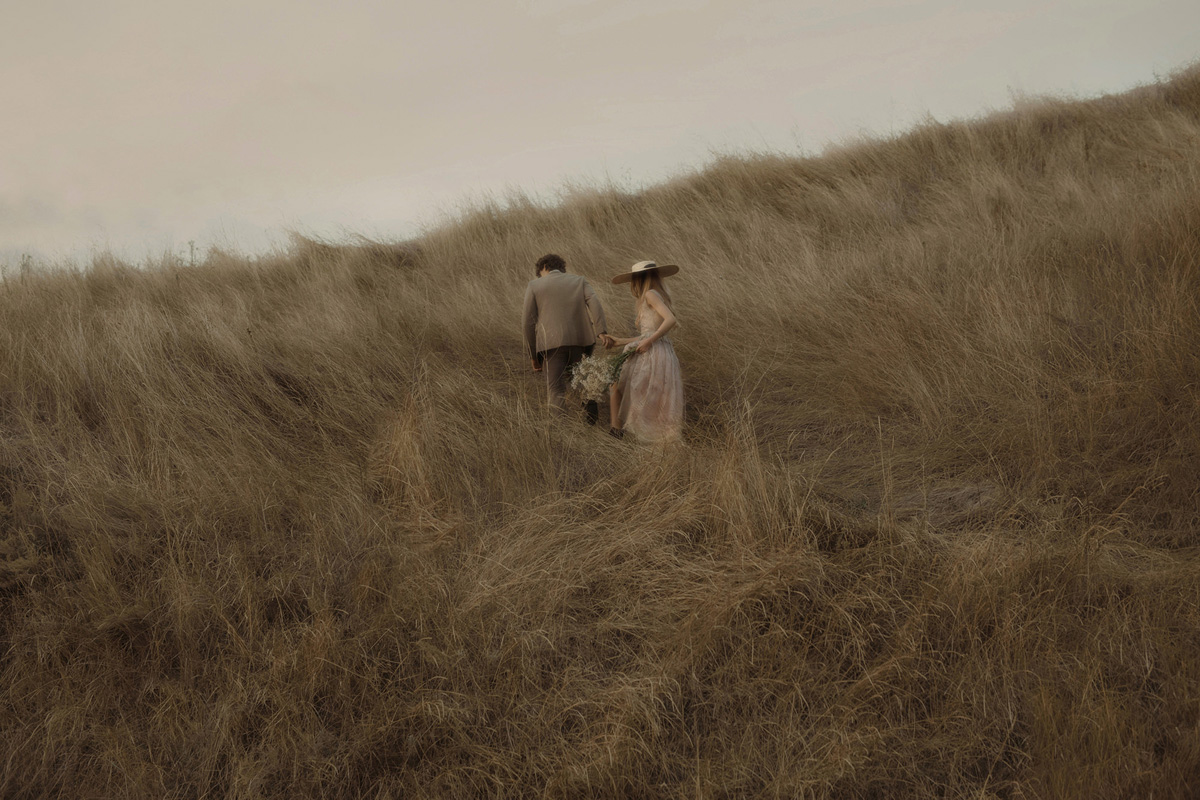 "I was dreaming of something simple yet personal, so I asked Anna to create something that reminded me of the colours of Tuscany, and my love for old movie costumes."
The Tuscan hillside provided the most sublime backdrop for this couple's romantic and intimate elopements. The images that follow tell the most beautiful love story…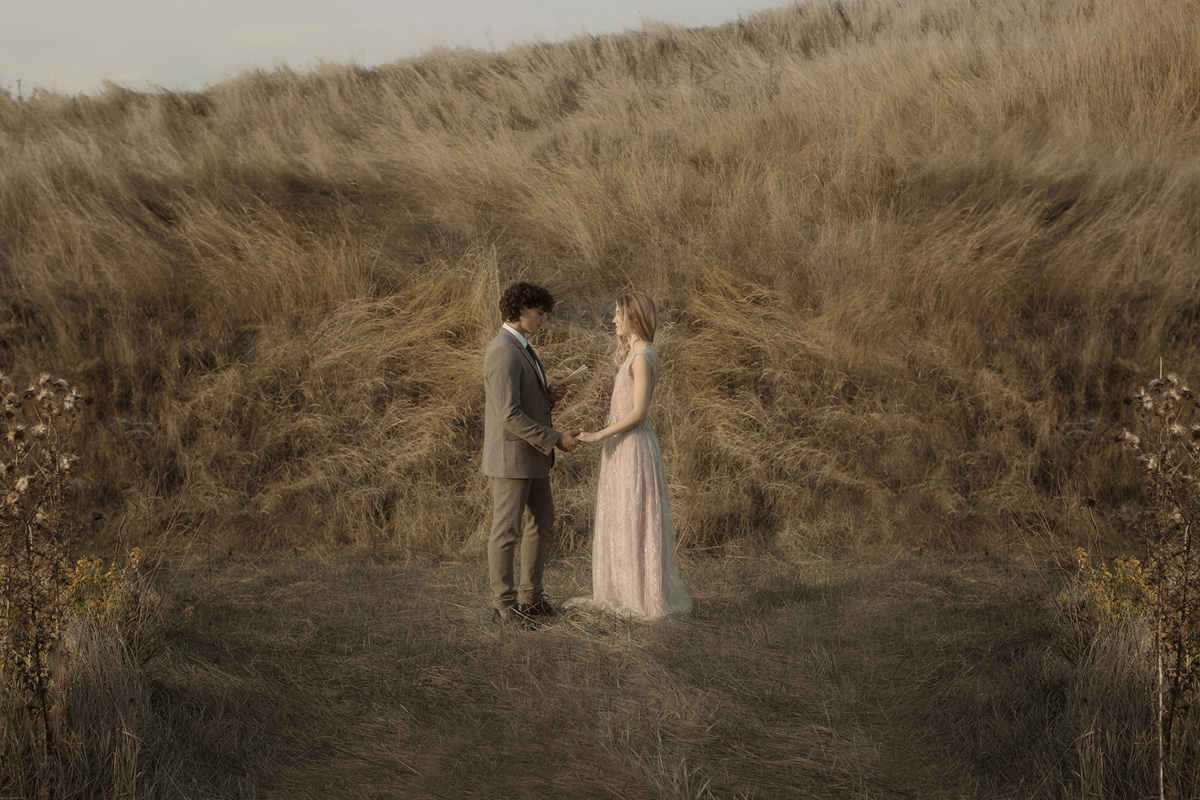 "My vows were actually a poem that is very dear to my heart and that describes my feelings for Rio better than anything I have read or that I could have written. It is by one of my favourite authors, 'On Love', by Kahlil Gibran."
"I have a big passion for those old romance movies where you can feel the passion among two lovers and enjoy also the costumes of those timeless eras."
"We wanted a day that was natural that could reflect us and they way we conceive our story, that is why we decided to have the most intimate celebration ever, being just the two of us.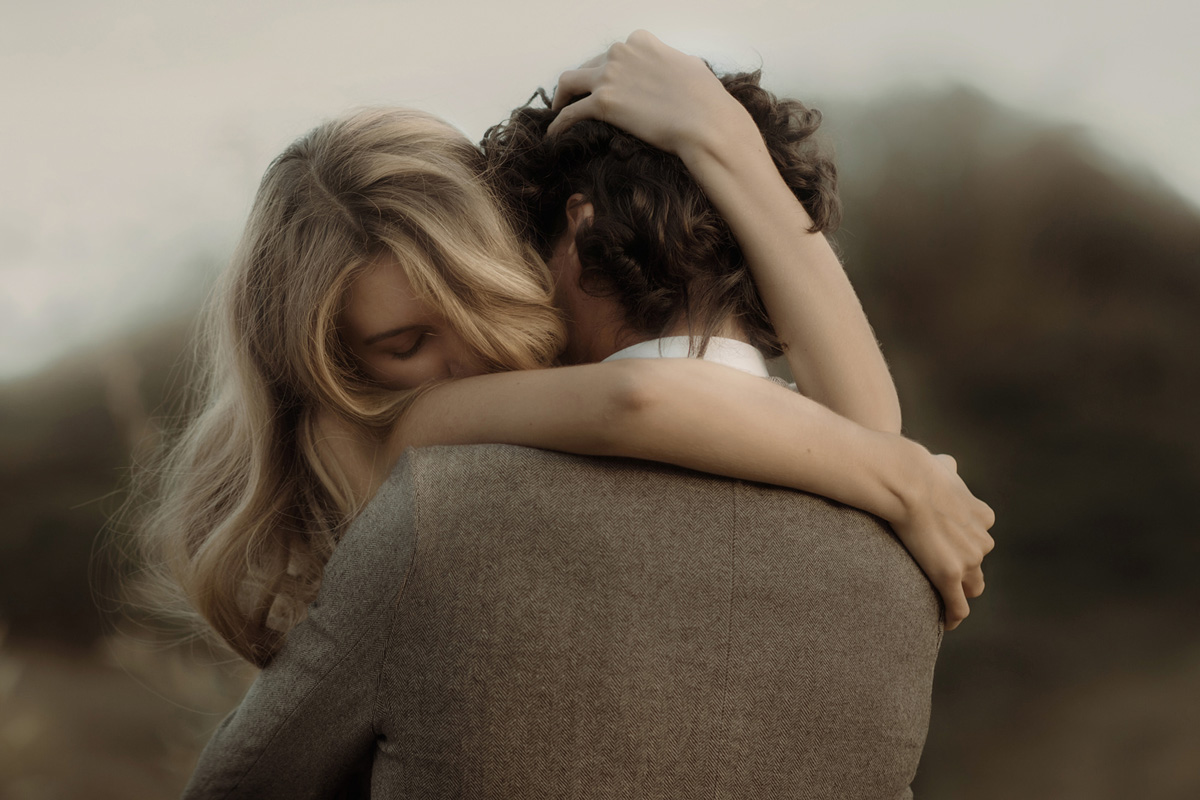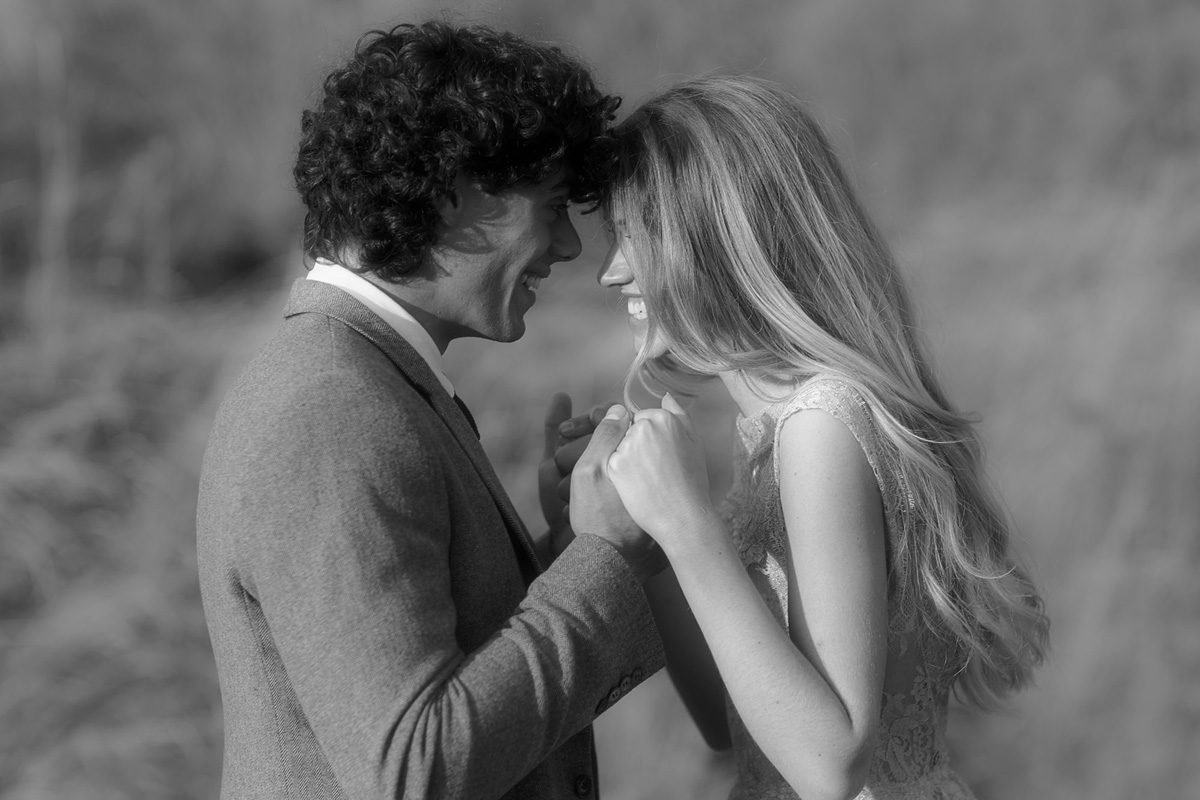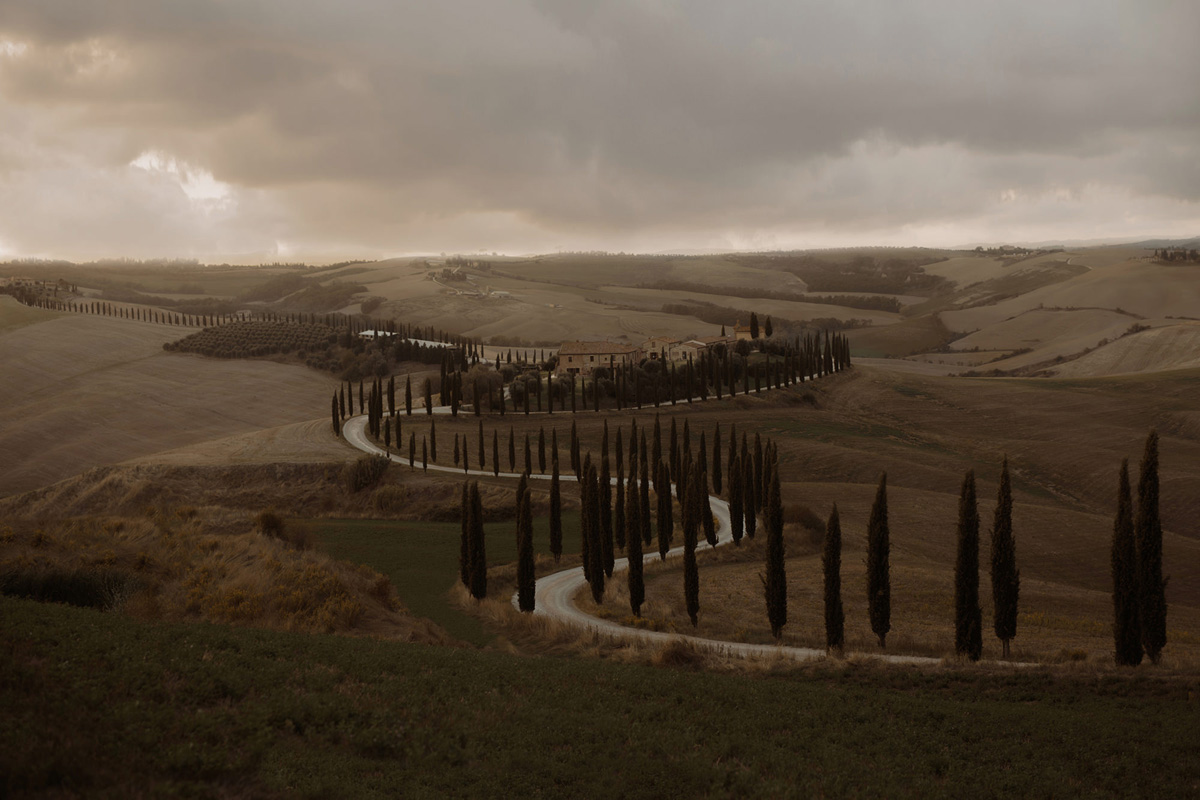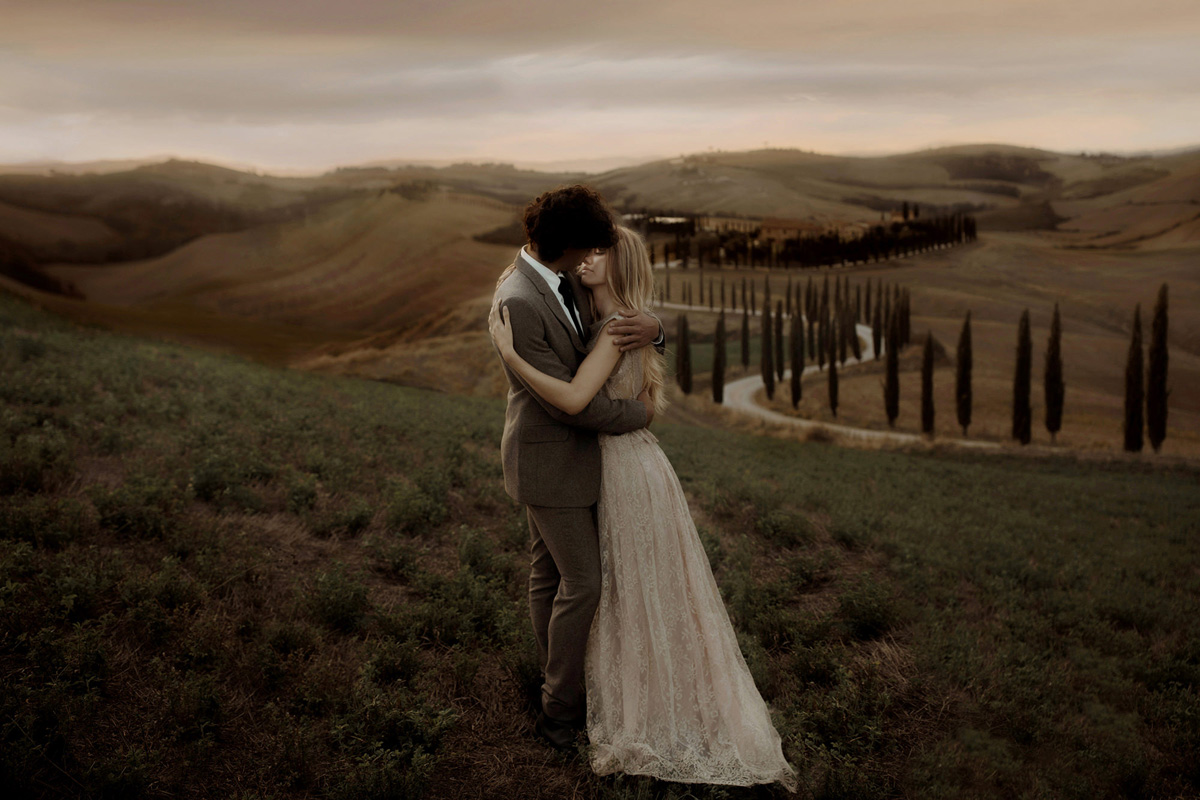 "We found just on the wedding day, around the corner of where we were staying, a cool florist designer, Fiori per te, and it turned being the loveliest bouquet I could have ever wished for, it was simply made of white gypsophila."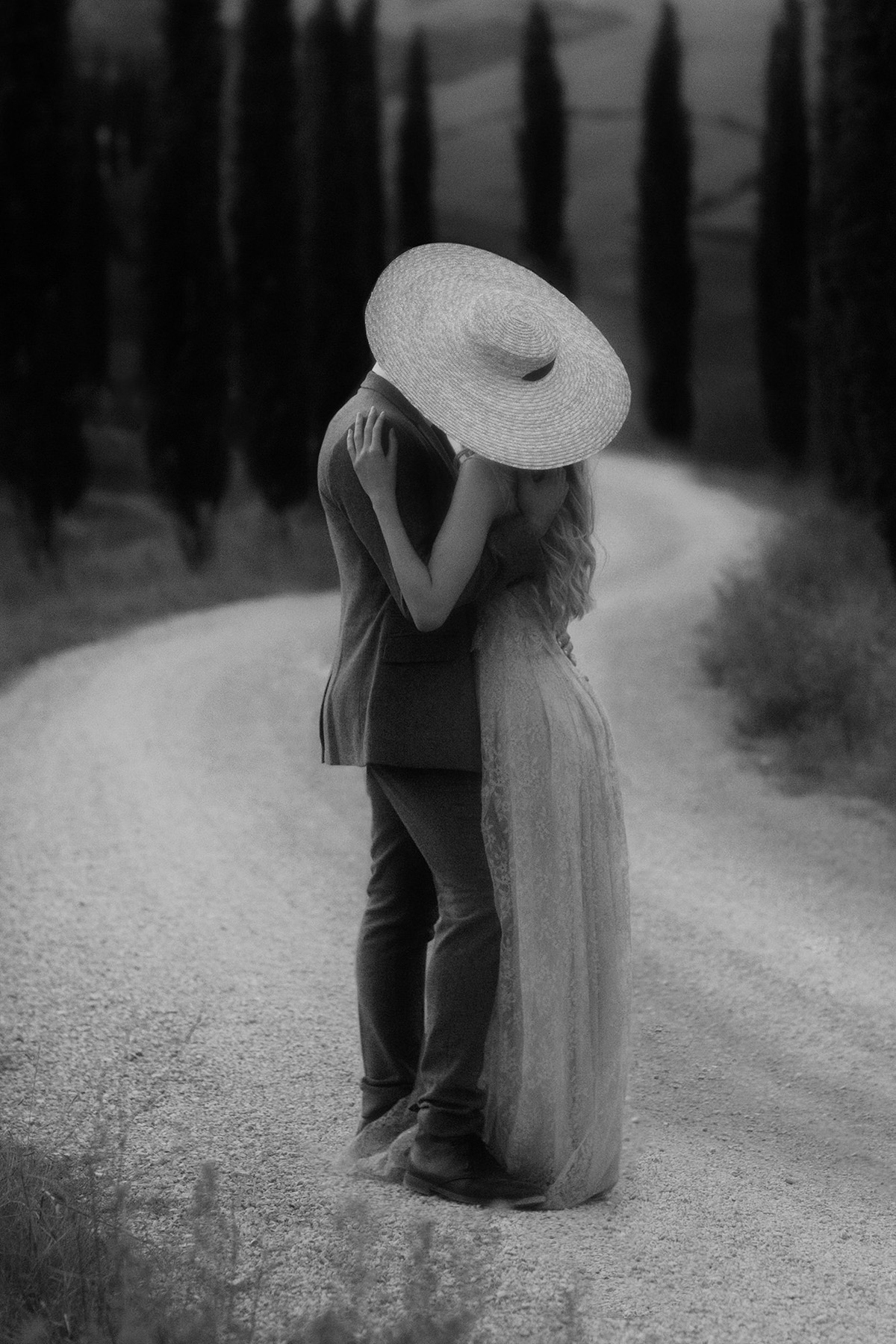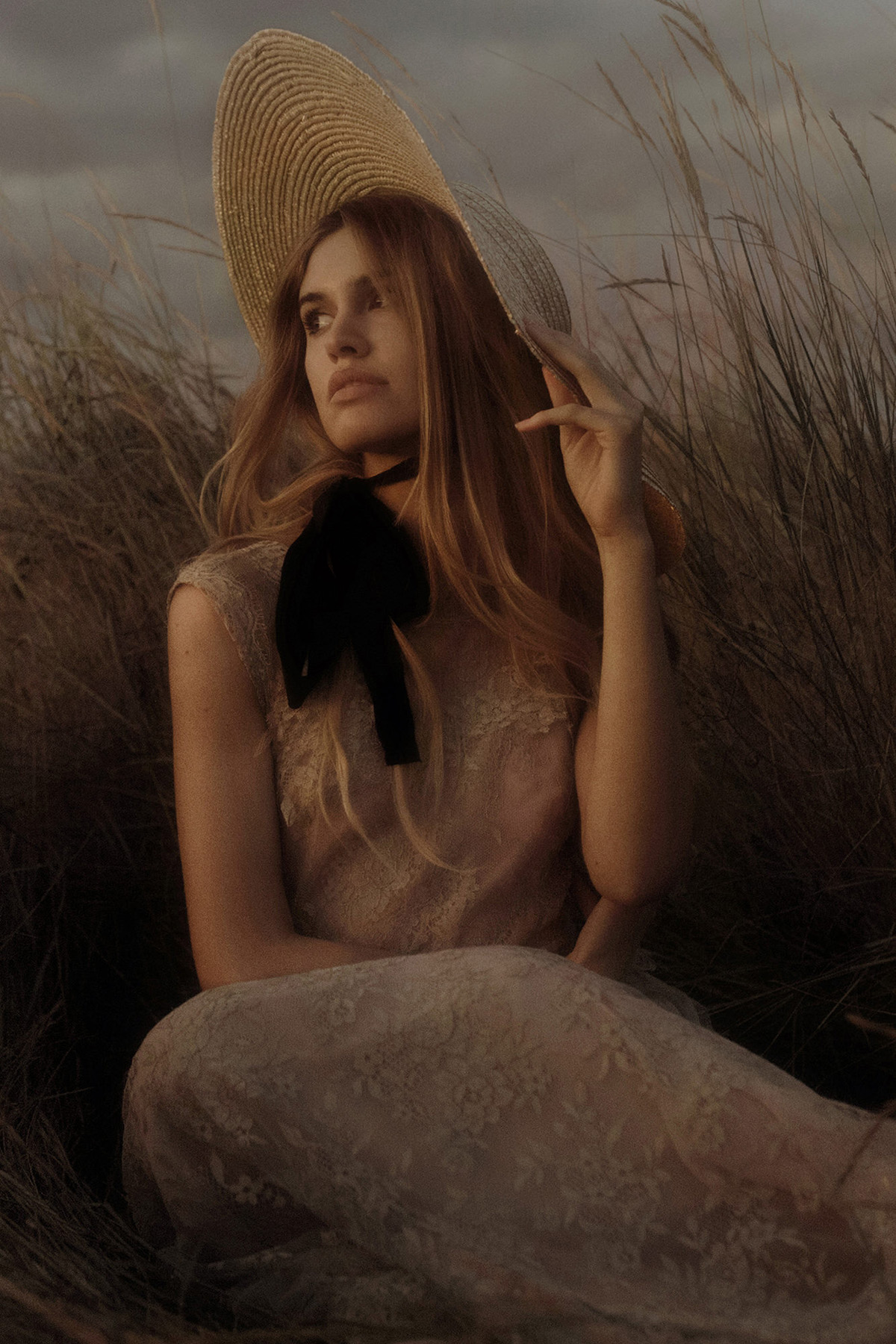 "It has been an amazing day, but we were all surprised by an incredible sunset at the very end. It has been the most mesmerising sunset ever seen."
"Rio and I were sitting and we just stopped for a moment to enjoyed that, while admiring the colours that were in the sky – it was like looking at a living painting."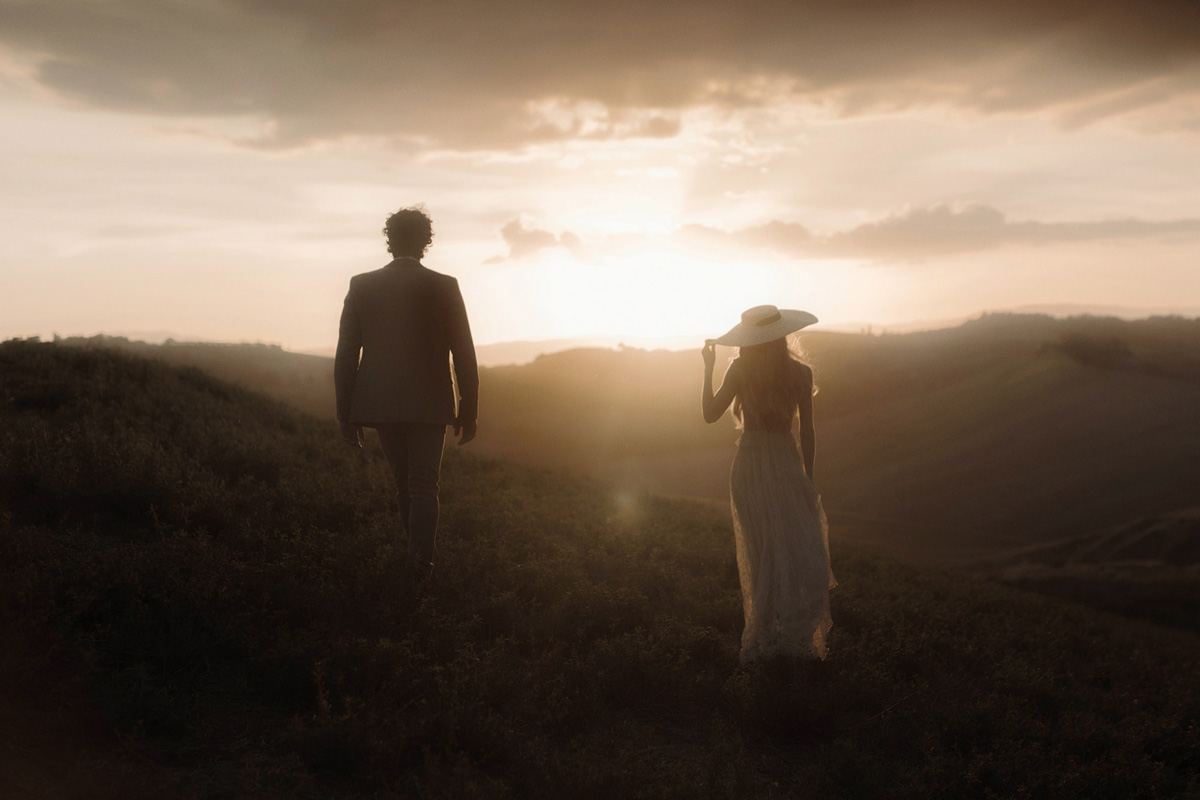 Words of Wedded Wisdom
"Follow your guts, don't be afraid to make your dream come true."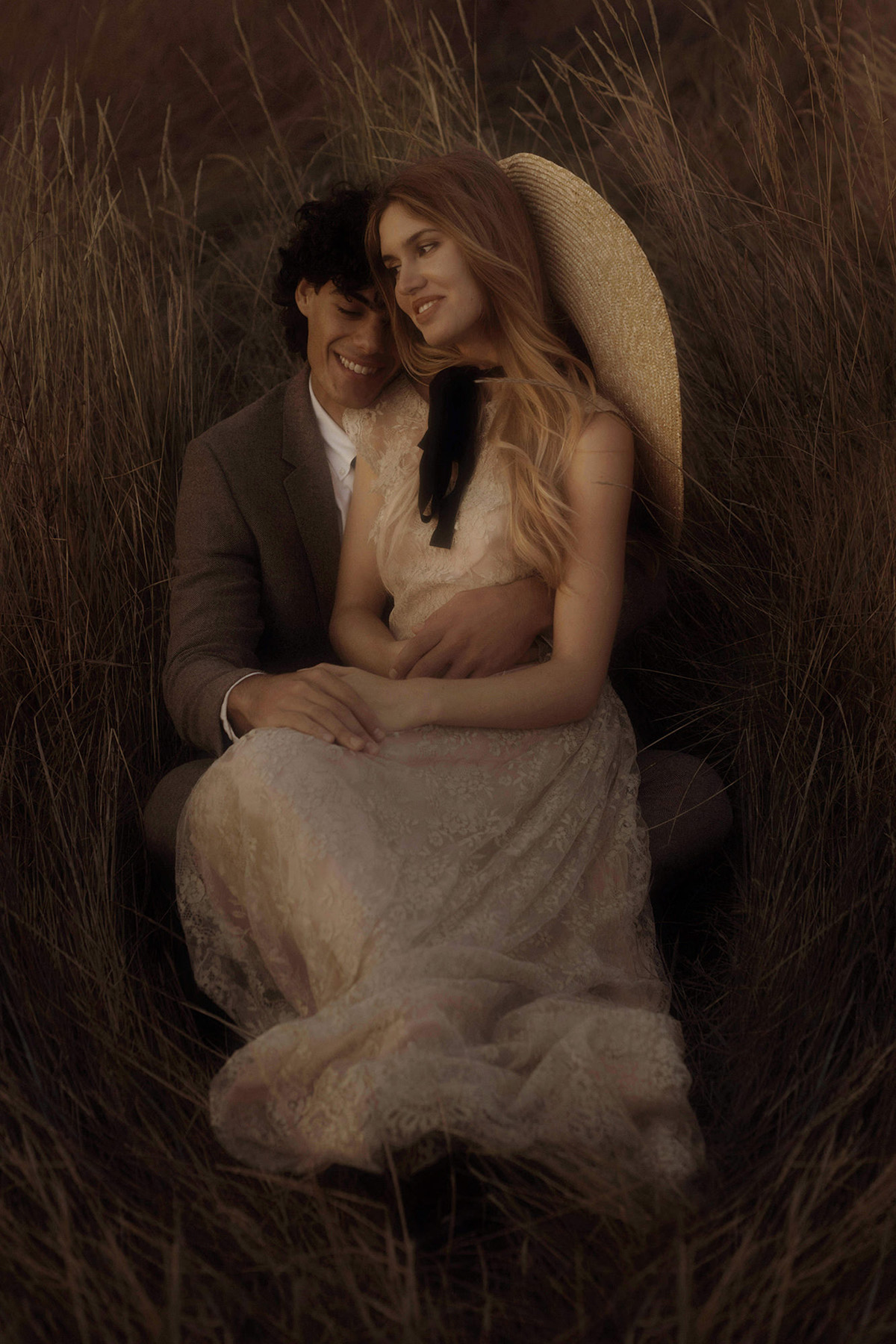 From The Photographers
"This is the story of Martine and Rio. Their love for ancient times – as the wedding rings who Rio secretly kept in an old envelope sealed with his family crest or Martine's vintage straw hats collection – simply blew our minds. So there it was, Italy, like an enchanting and mysterious old lady, she showed off in all its precious and great beauty in front of us."
"Simply the best location for a timeless love story: we suggested Martine and Rio to have their intimate elopement in the luxuriant lands of Val D'Orcia. A slow and peaceful day for the two of them where to enjoy the atmosphere of an Italian Wedding. The most romantic and impalpable colours, a warm and gentle summer wind, created such perfect yet nostalgic vibes. Our heart desperately fell in love with their love and gestures for each other."