This lovely September wedding at Launcells Barton in Bude, Cornwall, a favourite Love My Dress recommended venue, made the most of the wild, rugged beauty of the Cornish coastline.
Captured beautifully by McGivern Photography, the couple, Lauren and Stuart, who met online, tied the knot on 2nd September last year, in between lockdowns, but when wedding attendees were still limited. The bride wore an ASOS wedding dress and looked fantastic for it too.
Launcells Barton

+ Follow
"We chose Cornwall almost immediately after getting engaged as it feels like home (even though we live in Essex, a six hour drive away) and we chose Launcells as there was just something magical about it.
It just felt right as soon as we got there."
If you love the look of this charming Cornish venue, please follow this link to find out more about it on our Love My Dress Wedding Directory.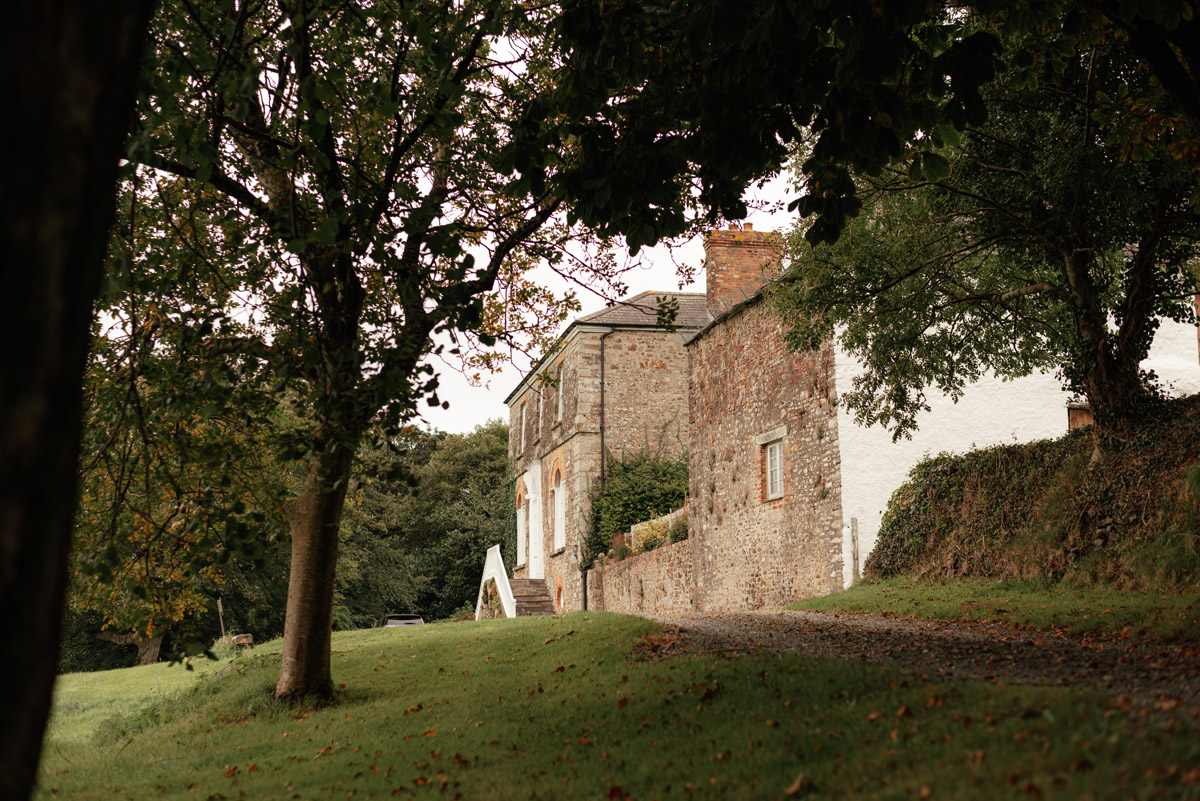 Stuart chose a luxe suit and bow-tie from Jaeger.
"Like me, this was a spare suit. He wasn't planning on wearing this but when we were buying his suit he really loved this one too so kept it anyway and ended up wearing it."
It's almost like we knew we needed two wedding outfits. We were ironing Stu's suit the night before the wedding and we had a power cut which couldn't be fixed until the next day. So, we had to drive to my dad's cottage and iron everything there."
"Stu's front tooth broke whilst brushing his teeth five days before the wedding (due to the global pandemic there were NHS dentists able to sort out cosmetic work) and private practices were closed over the weekend."
Monday was bank holiday so he had to call on the day before the wedding around lots of practices hoping he could get in somewhere. He had to drive an hour to get to one but he did manage to get it fixed less than twenty-four hours before we got married!"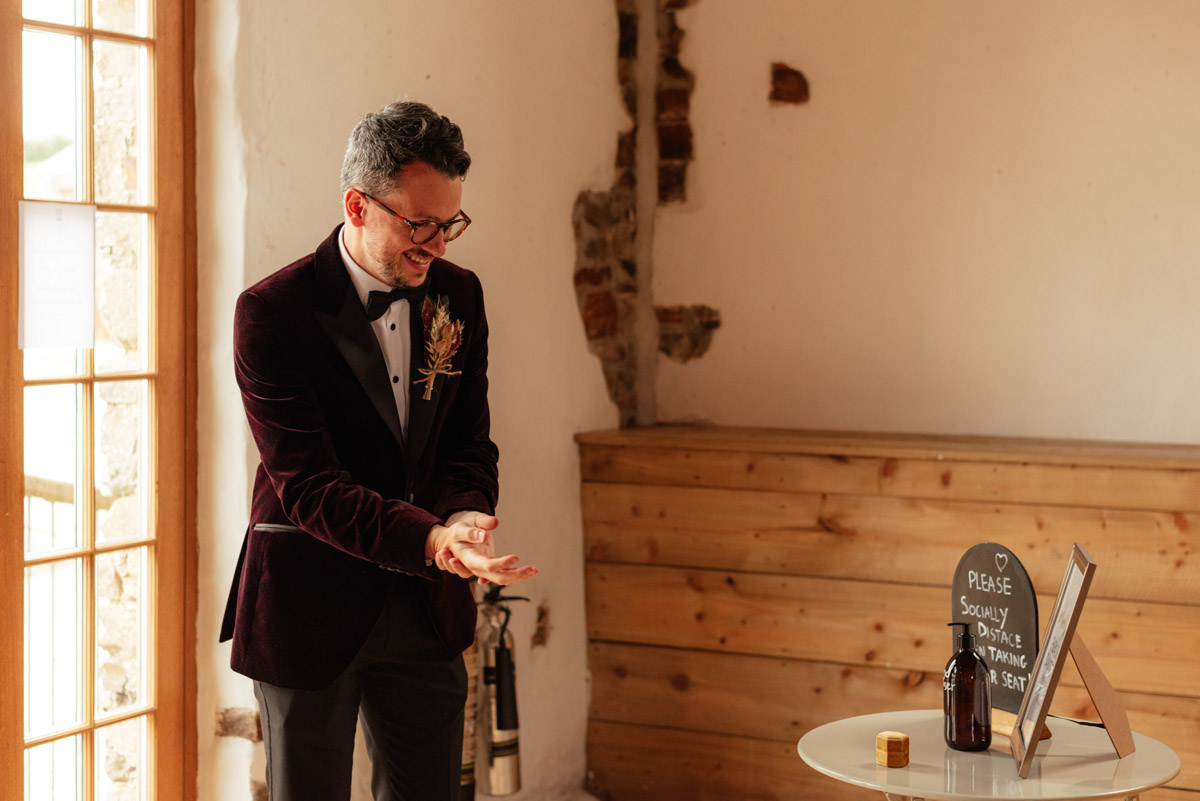 "Our plan was to have our ceremony on the original date and the big celebration with everyone in 2021."
"So, we actually get to have two weddings which is pretty awesome! We're really excited for the celebrations with everyone this year."
The ceremony was held in the spacious hall at Launcells Barton and was led by a Cornwall County Council registrar."
There were a few procedures they had to follow to keep it Covid-safe.
"We added nothing to the decor but it was beautiful. It was such a good venue that you don't even need to decorate."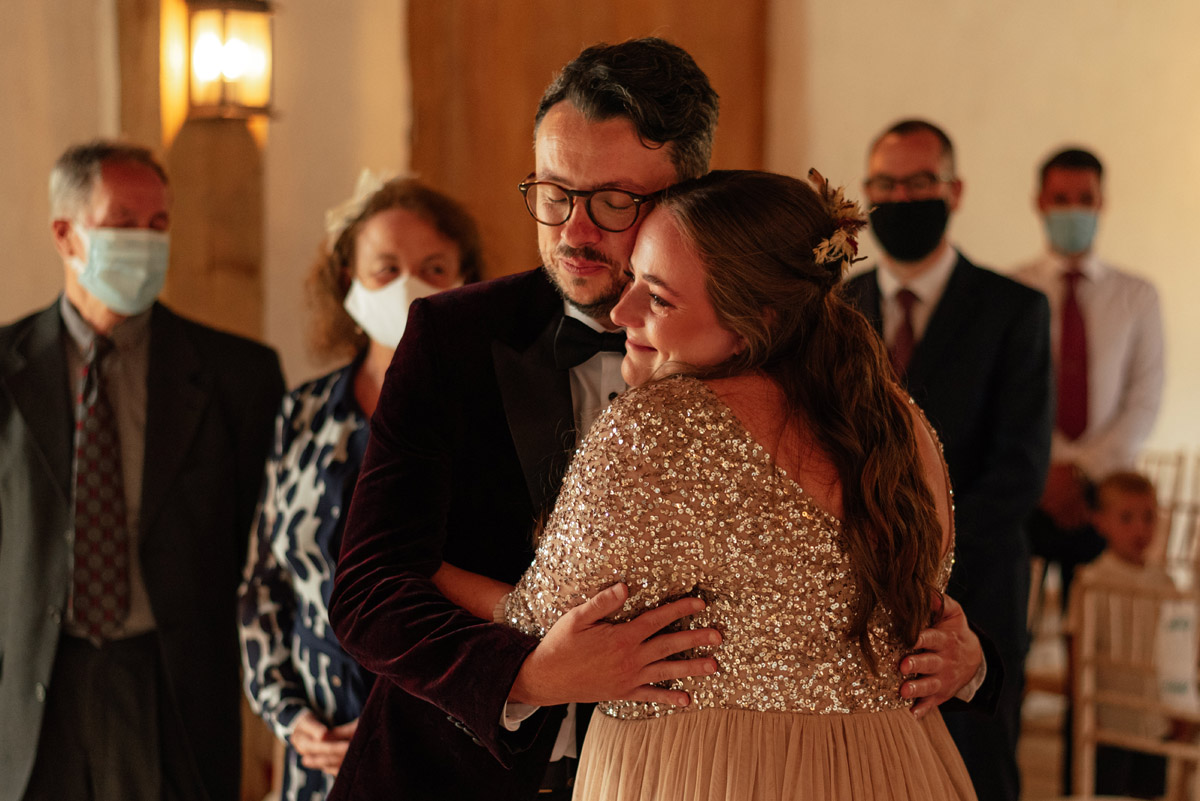 "Procedures we had to stick to were social distancing, keeping to just one family per row and having very spaced out chairs."
"Obviously, there were limited guests; we had 25 in total. Face masks had to be worn during the ceremony which made for some very interesting wedding pictures!"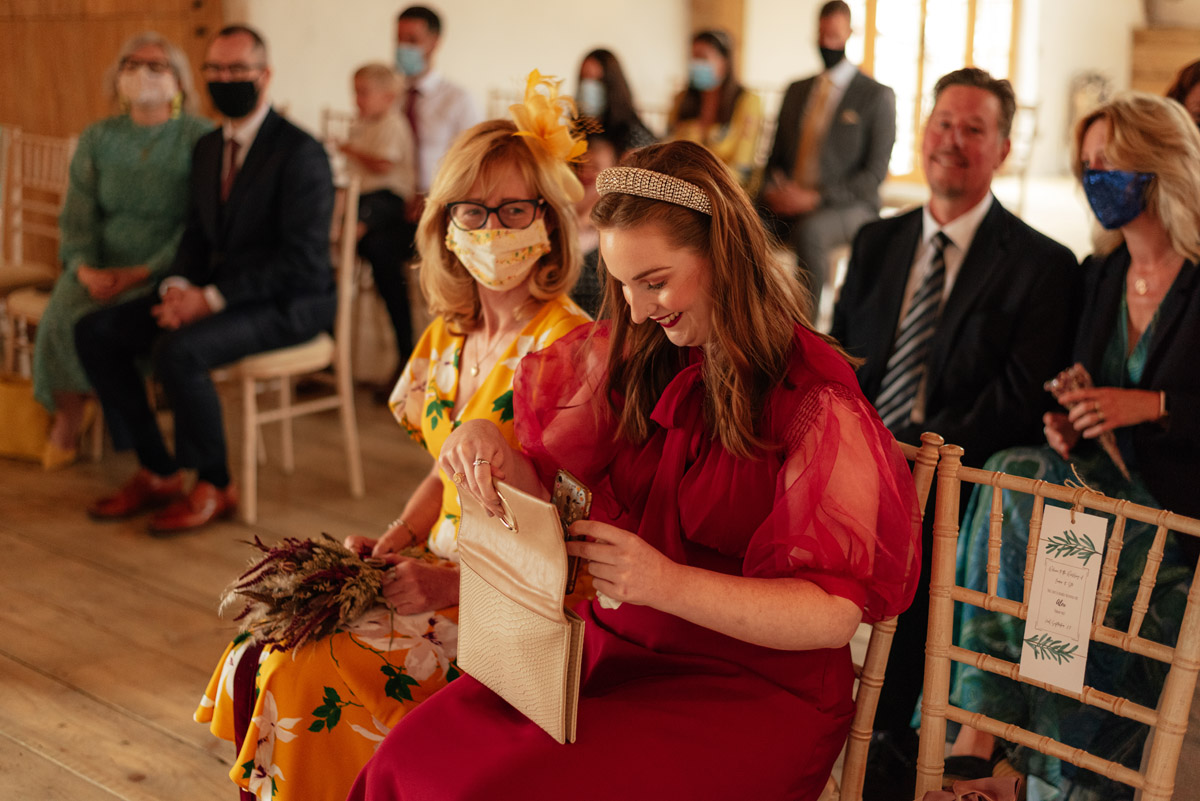 As the bride's dad walked with her down the aisle, Mcfly's 'Love Is On The Radio' (the Mr & Mrs Fletcher acoustic version) played.
"We wrote our own vows and I think it added to the magic of the day."
"As much as it can be quite hard to read them because it can be so emotional, it really is a lovely personal touch."
"We are so glad we did this. My favourite part of the day was hearing our personalised vows as they were both a surprise for each other."
"My sister did a surprise reading for us which we loved and it was so nice to have a surprise on the day. It was called 'Marriage Is Ugly', author unknown."
The couple exchanged rings from Laura Vann and Goldsmiths.
"I designed my wedding band with Laura Vann, an incredible jewellery designer from Birmingham. I found her on Instagram and was so pleased that we decided to design my wedding ring."
"My engagement ring is so unique and individual that picking something already made just wasn't really an option."
"Laura was so brilliant and it was a lovely experience. Stuart bought his wedding band to match mine in some of the style from Goldsmiths."
"We both have them engraved with the lyric 'We Got All We Need' which is from the song we walked out to after the ceremony, Dave Barnes' 'Good Day for Marrying You'."
Lauren and Stuart met in 2012 on Plenty of Fish, and got engaged on the six year anniversary of their first date.
"We were on a cruise to the Caribbean, on the balcony watching the sunset and looking for flying fish (which you can see the closer you get to the Caribbean).'
"It was incredible! About five-ten minutes afterwards the Captain announced that we were exactly halfway between Madeira and St Lucia, so we got engaged in the middle of the Atlantic Ocean. Pretty epic!"
"We had been engaged almost two years when we got married."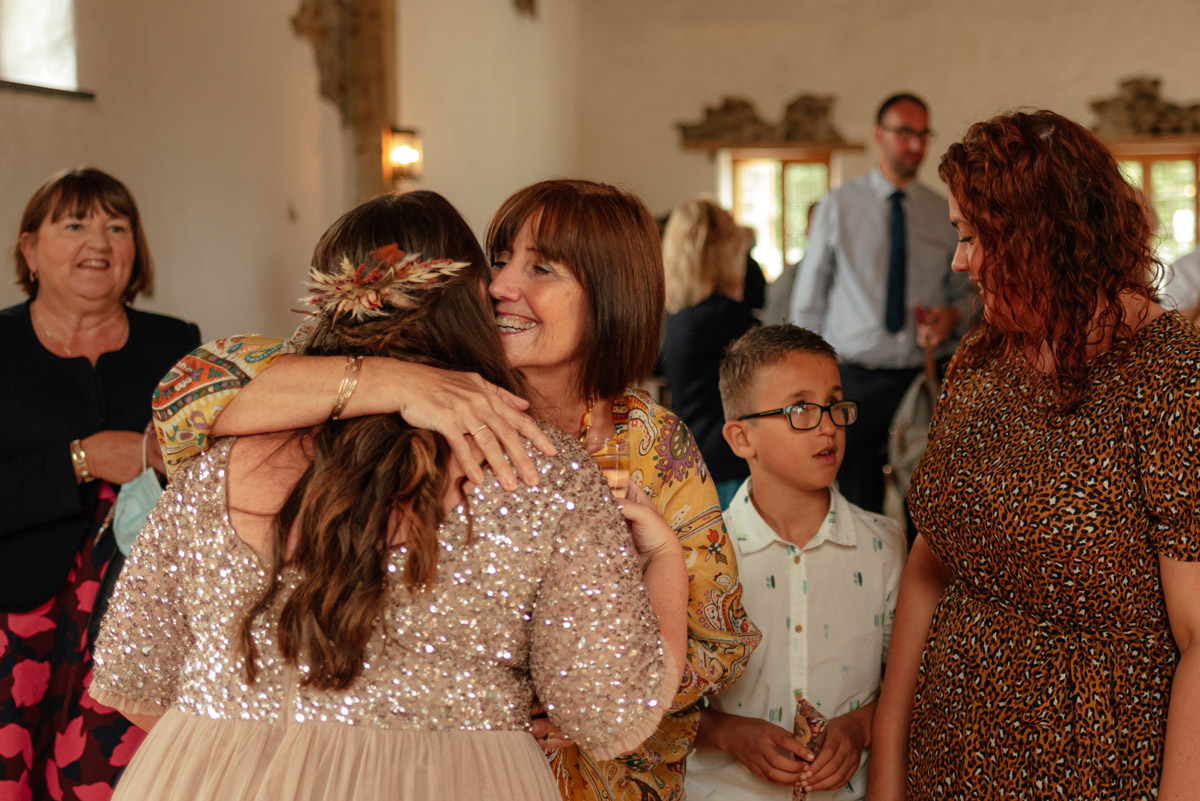 The couple chose dried flowers and grass arrangements instead of fresh flowers, ordering them from Essentially Hops. The bride's bouquet was tied with a vivid crimson ribbon for a splash of colour.
"They hand-made my bouquet, Stuart's buttonhole and my hair piece, all matching with dried flowers. We've kept them all."
"We ordered them online a few weeks before the wedding (as we had to plan everything really quickly once we decided to go ahead with the ceremony) and the lady who made them was away on annual leave until two days before we were leaving for Cornwall but I had ordered about ten minutes before they had removed these flowers from their website."
They ended up sending us their sample pieces of the items I ordered, but they were all lovely so we were really happy."
"We didn't really plan too much of a theme for our wedding – it was more just the place. We first went to Cornwall in 2016 and have been back every year since, multiple times."
"There's something about it that feels like home and I think we will end up moving there one day. When we got engaged we immediately knew we wanted to do it in Cornwall."
The couple planned their wedding during the pandemic, only making the final decision to go ahead with the wedding five weeks before the day.
"From 21 March 2020 up until the end of July 2020 we were in limbo. We had no idea if the wedding would go ahead and weren't able to cancel or postpone until we were closer to the date and hopefully had a clearer picture from the government."
"Because our wedding was so far from home, we had family and friends asking all the time about updates as they had accommodation already booked and wanted to know if they still needed it or would need to cancel or postpone it."
"We weren't sure if we should continue to plan and make decisions and put things in place."
"Planning a wedding is stressful anyway – so many decisions to make, lots of people to please – and it's a day you have been hoping for and dreaming of for many years and you want to get it just right."
"So, planning a wedding that you're not sure is going to go ahead during a global pandemic is like stress on steroids."
It was, honestly, awful, so much so that both my husband and I ended up in therapy a couple of months afterwards due to stress and anxiety."
"It's just the unknown that's so hard to contend with. When it got to five weeks before the wedding date we decided with Lara from Launcells Barton that not much was going to change and we should postpone it to 2021."
"However, after telling all our guests it turned out that our parents, siblings and closest family were still planning on going to Cornwall for a holiday as they had the accommodation booked, as were we, so we decided to just get married anyway."
"We contacted Lara and organised our ceremony on the original date with just 25 guests. We had no reception organised afterwards and were just planning to head to the beach for a picnic with everyone."
"However, it was forecast rain – of course it was! It was hard trying to organise a reception at a rented cottage garden, finding a marquee, decorating it and getting food for everyone, but we did it and it was awesome."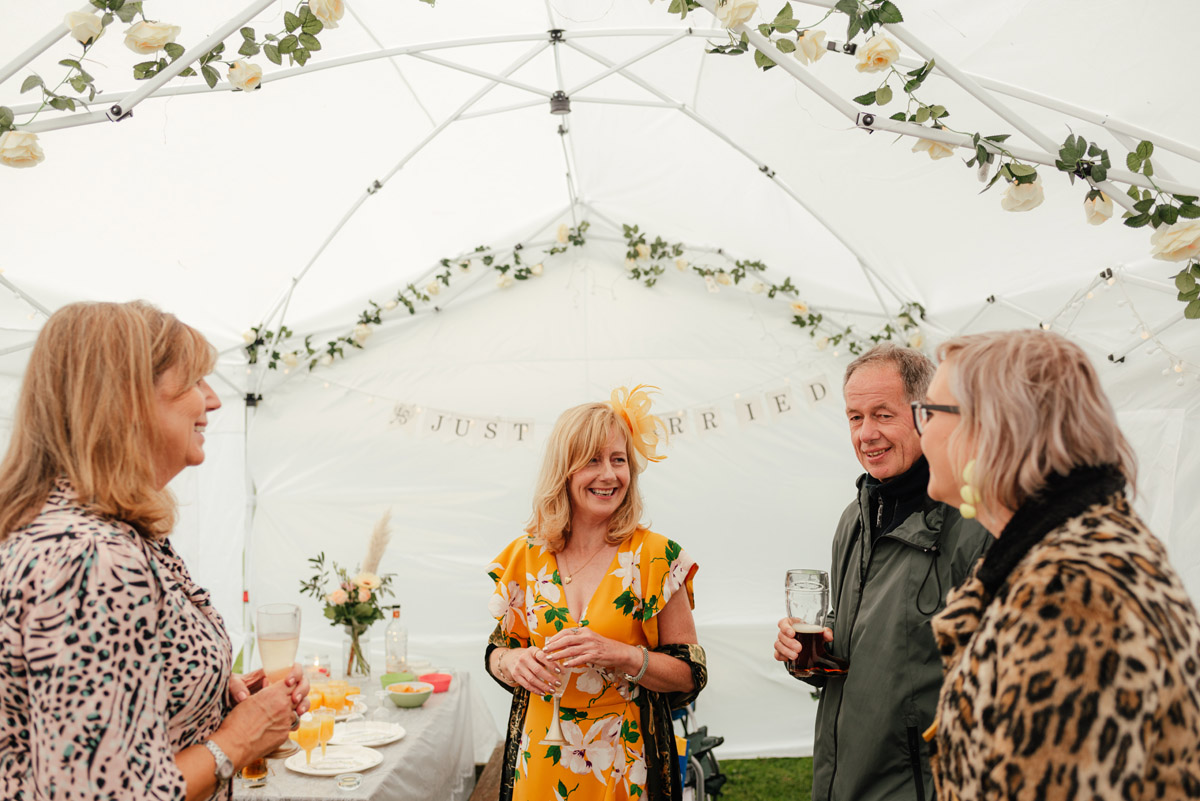 After the ceremony, the couple escaped to the wild beach for some newly-wed shots, before hosting a chilled-out garden reception at the bride's dad's holiday cottage.
"Stu and I went off to take some lovely photos on our own with the photographer. I borrowed my mum's wellies to get up the hill not wearing heels and I forgot to take them off for most of the shoot – no-one told me!"
The photographer for the day was McGivern Photography, whose raw, natural style is perfect for the coastal venue. My own favourites are the newly-wed shots on the beach.
"We found Oliver McGivern through our venue. We were shown some photo albums of previous weddings held there and we both kept picking out photos that we liked and they were all by Olli."
"That was our easiest decision, supplier wise. We had our photographer come all day as we wanted to capture it all. "
The couple plan to have a second celebration in 2021, for which Lauren saved her original choice of wedding dress, so she wore a sparkly, rose gold number from ASOS for their first ceremony.
I love how its relaxed feel is perfect for the late summer celebration.
"I bought this dress as a potential bridesmaid dress back in 2019. It wasn't quite right for the bridesmaids in the end but I loved it so much that I kept one for myself."
"I didn't know why as it was like a gown and I had no reason to wear it but I just loved it."
"I ended up wearing it on the wedding day. I didn't want to wear my actual wedding dress as I wanted to save that for the big day in 2021, so this was perfect."
She wore burgundy, strappy shoes from New Look and had her hair caught back and fixed in place with a hand-made, dried flower, hair piece from Essentially Hops. Ione MakeUp & Hair Artist styled her long hair into this breezy style and applied her fresh, glowing make-up.
"I borrowed the beautiful earrings I wore from my lovely friend and boss Sarah Varney who couldn't be there on the day."
"I wore Jo Malone Osmanthus Blossom Cologne and Stuart wore Jo Malone Cypress & Grapevine Cologne Intense."
"We always wear Jo Malone scents and so wanted to both get something new for the wedding day that will remind us of the day whenever we smell the scents again in future."
Words of Wedded Wisdom
"Be as present as possible in your day. It goes by so fast, try and soak in every moment and definitely get at least twenty minutes away with just you and your partner to have a little time just the two of you – it's really special."
"We had an hour away from everyone where our photographer took us to a really cool beach and we did a photoshoot in cloudy horrible weather and climbed a big hill."
"It was one of my favourite parts of the day; just us, smiling from ear to ear, right by the sea in our favourite place in the world."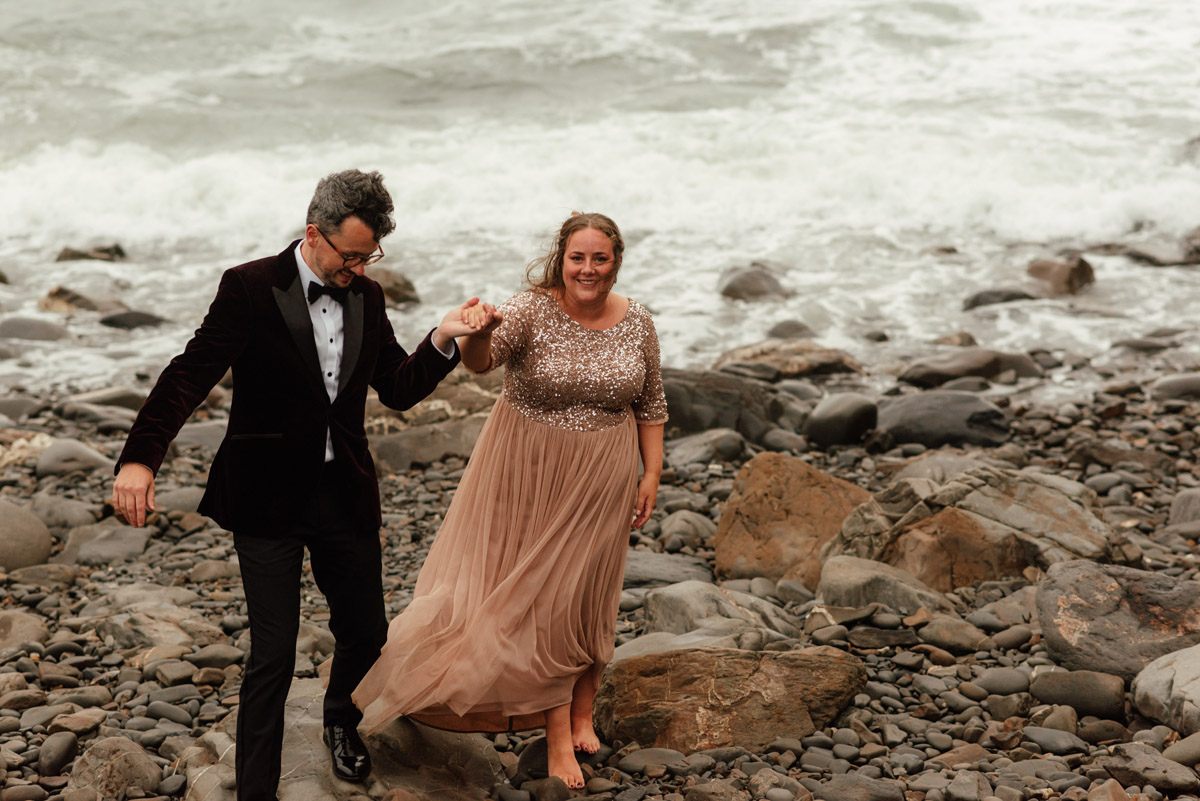 I've thoroughly enjoyed this lovely insight into your coastal Cornish wedding, Lauren and Stuart, so thank you for sharing it with us. It's been a pleasure to see your work, McGivern Photography, and I look forward to sharing more soon.
For more coastal wedding inspiration for your own celebrations, please check out these other Love My Dress weddings.
Ele x