We're visiting Hereford today for a whimsical, relaxed and utterly romantic country house wedding in muted, pastel tones, held in the sunny days of May.
Marketing manager Charlotte wed CrossFit Gym owner Will on 22 May 2021, in an intimate outdoor ceremony and Java Tipis tipi reception in the grounds of Broadfield Court near Hereford. The day was a relaxed, romantic affair, with the muted colours of dusky pink, peach and cream and pretty, handmade macramé elements to charm their invited group of thirty guests. Photography by Hannah Miles Photography
Hannah Miles Photography

+ Follow
Charlotte selected her classic Maggie Sottero gown from Hill Bridal in Hereford and wore it with a simple, flowing veil by Lace & Favour.
"I wanted a classic, elegant and timeless wedding outfit – nothing too fancy or out there yet something that was still special."
"Hill Bridal doesn't just supply the most beautiful range of dresses, they supply an experience! On arrival, I was greeted with a personalised welcome sign and bubbles (or tea if we wanted)."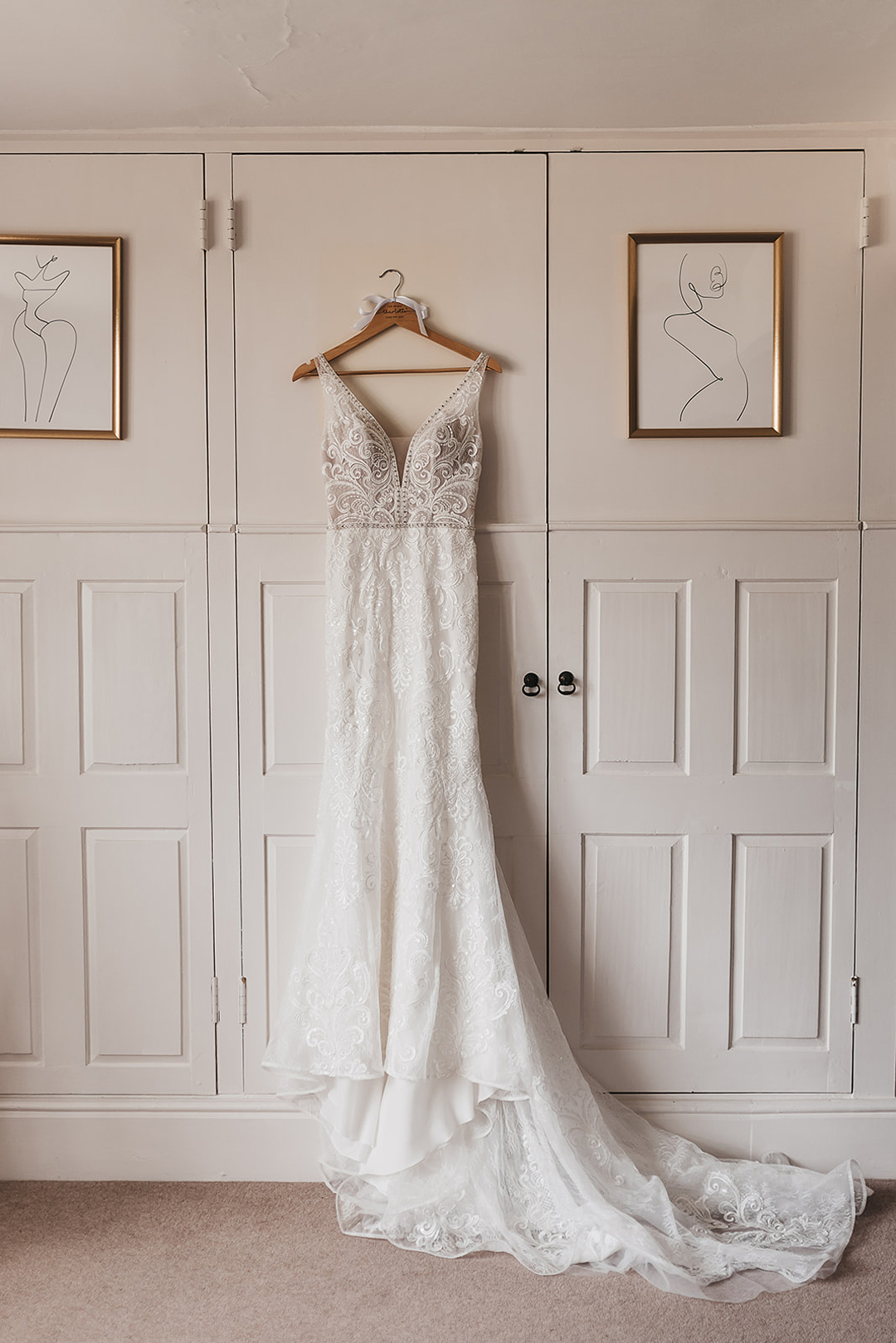 "Sally, the owner, is so lovely. There's no pressure and she makes you feel like you've known her for years."
"She was so helpful in helping me to choose my dress, honest yet diplomatic. I would 100% recommend her to other brides."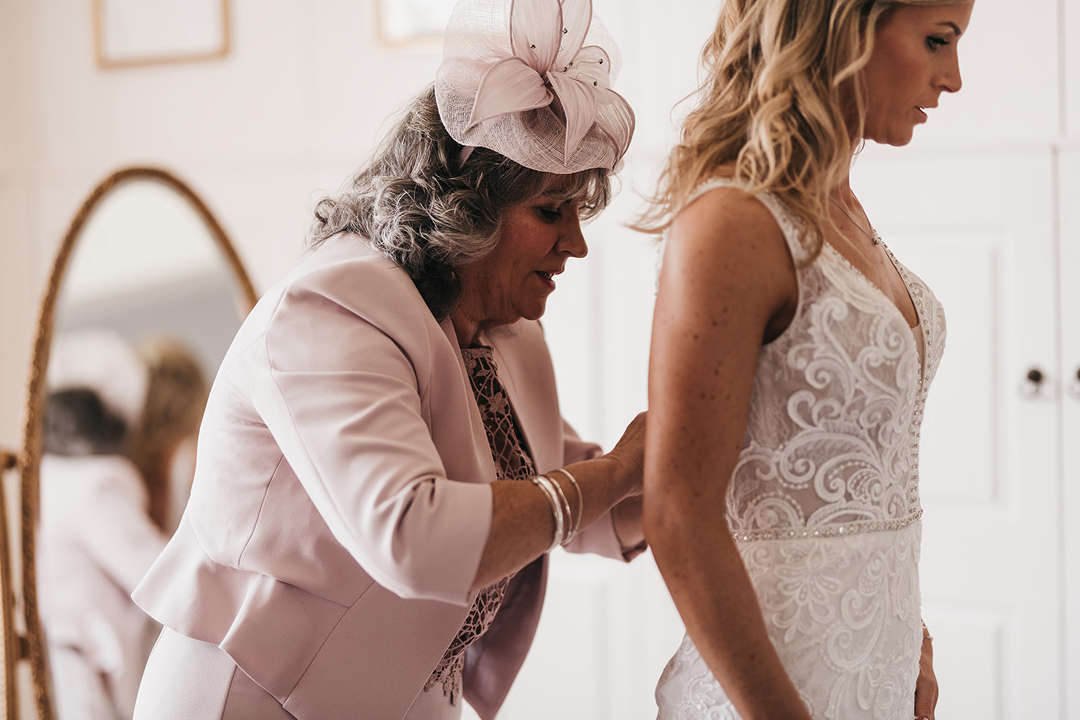 The style for the day was romantic and relaxed, with plenty of fresh blooms in muted pastel colours as well as dainty fairy lights and candles.
"Lou from May Rose Floral Design is a local florist who I'd known about for years."
"The theme was relaxed, elegant and pretty – Lou's style all over."
"I love muted colours, dusky pinks, peaches and creams and wanted a messy, whimsical look to the flowers. Lou nailed it."
"I knew my veil would be coming off as soon as we sat down for the wedding breakfast. Because my dress was quite detailed, I only wanted to plain veil so I didn't put too much focus on it and it ordered one online from Lace & Favour."
"All my jewellery was a gift from Will. He gave my sister a necklace and earrings to give me on the morning of the wedding to wear. These were from Pleasance & Harper."
She slipped on a pair of Dune London heels and wore her hair down in romantic waves, styled by Rebel Rock.
Her natural, glowing make-up was applied by Nicola Harrison MUA and she finished with Jo Malone's Pomegranate Noir perfume.
Will and Charlotte met through a mutual friend on a night out and kept bumping into each other for a couple of months before finally going on a cinema date.
"The rest is history. Will proposed on a glamping trip in Pembrokeshire."
"We were only supposed to be engaged for 18 months but because we had to postpone it three times, it ended up being two and a half years."
"We moved our wedding from June 2020 to August 2020 to May 2021. The most important thing for us was that the venue, tipi and caterers could do our date."
"We were lucky that at the time of rearranging, most our guests couldn't do or book anything because of lockdowns so we knew most of them would be able to make whatever date we set."
"On the day, we were only allowed thirty guests."
"That was the hardest part as we ended up only having immediate family and close friends with the view we can have another big party with everyone else later down the line."
Charlotte's bridesmaid wore a pale dusky pink gown from TFNC London.
"My Bridesmaids shoes were from New Look, to keep costs down and I knew she'd be in flip flops as soon as she could be."
"Her accessories were a present from me, which included rose gold, drop earrings in a tone to match the colour of the dress and a rose gold bracelet."
Will was dapper in a navy suit and tie from Reiss with a contrasting, light grey waistcoat.
The page boy was in cute dungarees and shirt from Next whilst the flowergirl wore a white Monsoon dress.
The bride walked down the aisle with her step-father as Etta James' 'At Last' played and the service was led by Hereford Registry Services.
"My ring was purchased from a local jeweller, Pleasance & Harper."
"My engagement ring is a classic, single-stone diamond ring so I knew my wedding ring could take some sparkle so I went for diamonds all the way round."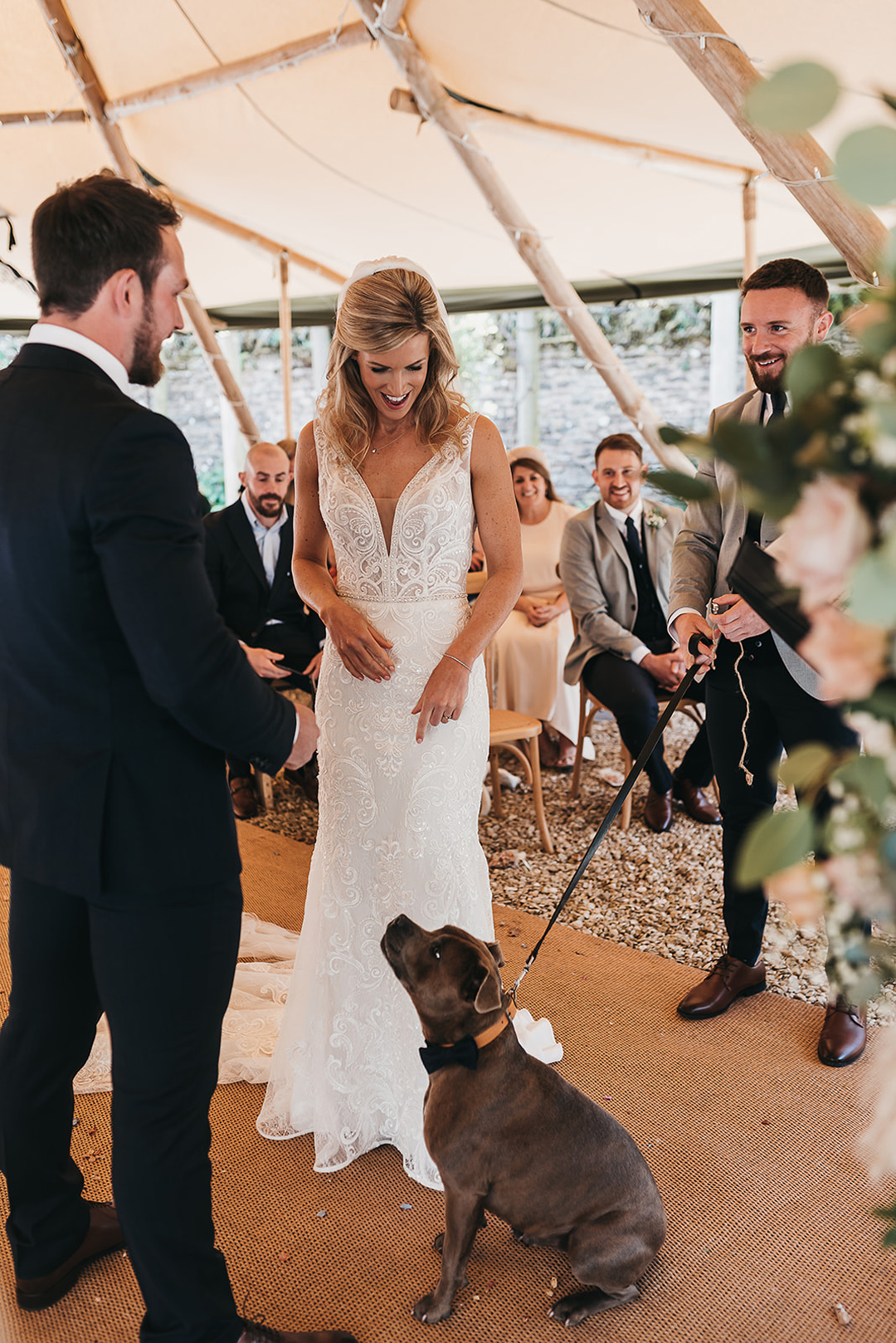 "As a CrossFit fanatic, Will knew he'd be wearing a rubber ring most of the time so we didn't want to spend much on his ring."
"He found out that a very well-known CrossFit brand, Rogue Fitness Europe, did rings so we got his from there."
After the ceremony, the newly-weds and guests made their way through the house for the drinks and canapé reception in the rose gardens, with live music from Busk Until Dawn.
"My favourite part of the day was the reception drinks. The sun was shining, it was the first opportunity I'd had to speak to the guests and see some of them in a very long time and I knew I had the rest of the day still to come."
Hannah Miles Photography was on hand to capture every element, and her relaxed, fine art style suited the wedding to a T.
"I found Hannah through Instagram and loved the style of her photos straight away; so magical and relaxed and the lighting she used was just captivating."
"They had such personality and they felt so real. On the day, she was incredible. I felt like she was one of my bridesmaids, helping out wherever she could and just getting on with it."
"I didn't even notice she was there until I needed her. She captured every moment. I didn't need a videographer – she got it all."
"I was so, so happy with all my photos.  Me and Will aren't the biggest fans of having our photos taken but she made us feel so relaxed, it was easy. I can't recommend her enough."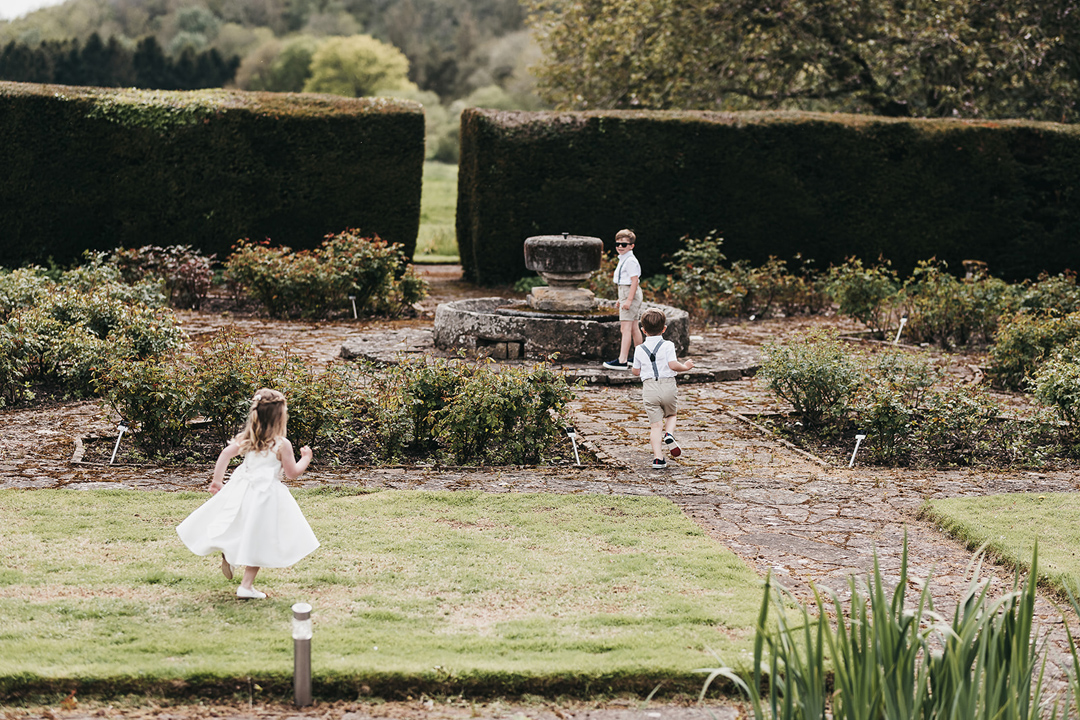 "We fell in love with Broadfield Court the first time we saw it. The house and its grounds are beautiful, to say the least."
"It's so tranquil yet grand and is full of character so you get that homely, relaxed feel."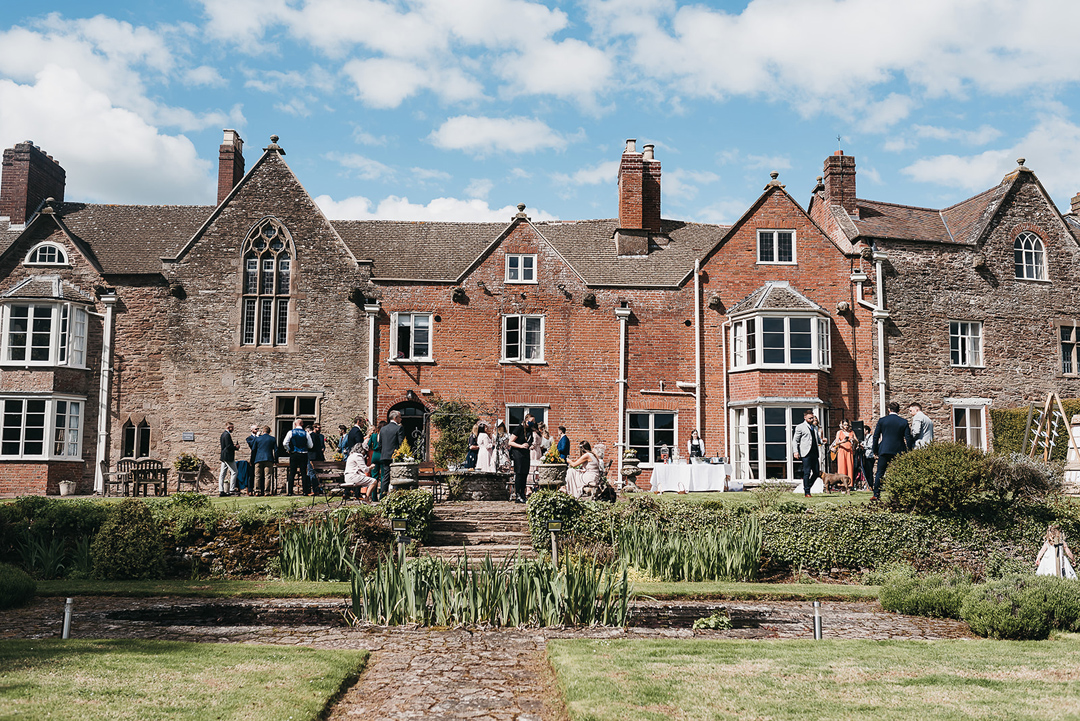 The tipi was set out beautifully with picnic tables, candles and fresh flowers, ready for the wedding breakfast provided by Your Plate Or Mine.
"Broadfield also has a great flow; we got married in the stunning fold yard and then guests walked through the house to the gorgeous south-facing rose gardens for drinks and canapés, then onto the lawn which has breathtaking views for our reception."
"It meant guests were always mesmerised by each stage of the wedding which is what I wanted."
"I knew as soon as I met Fran that she'd make sure we had the wedding of our dreams – organised yet relaxed!"
"We made some homemade damson gin and bottled these up in vintage bottles with ribbons on."
"A friend of mine makes cakes for a living and promotes and sells them through her Facebook account."
"We had a round, two-tier cake – dusky pink on the bottom and cream on the top with a velvet ribbon and a few flowers added for decoration."
Due to the Covid pandemic, the couple had to follow governmental guidance which meant that there was no dancing or first dance.
"We weren't allowed to have beers and ciders in ice buckets like we wanted. They had to be served and we had to sit down to drink."
"Canapés were allowed but only because we were lucky enough to do this outside, but again we had to sit to eat."
"Masks had to be worn when not sitting down eating and drinking during the wedding reception."
"Dancing was advised against and we weren't allowed a dance-floor. None of these we felt particularly impacted our day."
On the subject of Covid, Charlotte has some advice for other brides.
"Don't put too much pressure on any of it. On the day, the most important thing is you have your nearest and dearest there."
"We were all so grateful to be able to celebrate together. The Covid restrictions in place were worth it and didn't impact our day's atmosphere at all."
"We had a budget of £25k and came under at £20k because we had to reduce numbers
Words of Wedded Wisdom
"Make one hell of a spreadsheet and detail everything down in there so you've got it all in one place."
Charlotte and Will, so many congratulations to the both of you, and thanks for sharing your wedding with us here.
Hannah Miles, I've loved seeing your beautiful work, thank you. Lovelies, for more brides wearing Maggie Sottero designs, take a look here.
Ele xx