This moody, Renaissance inspired and luxurious editorial is the most breathtaking example of the magic that happens, when talented creative individuals gather to share their creative energies.
The words that follow are by luxury stationery designer, Rubana Gaspar, of Crimson Letters – who was also behind the original vision for this suite of divine images.  Rubana worked with an incredible team to bring her vision to life, including a personal favourite photographer of mine, Katie Julia.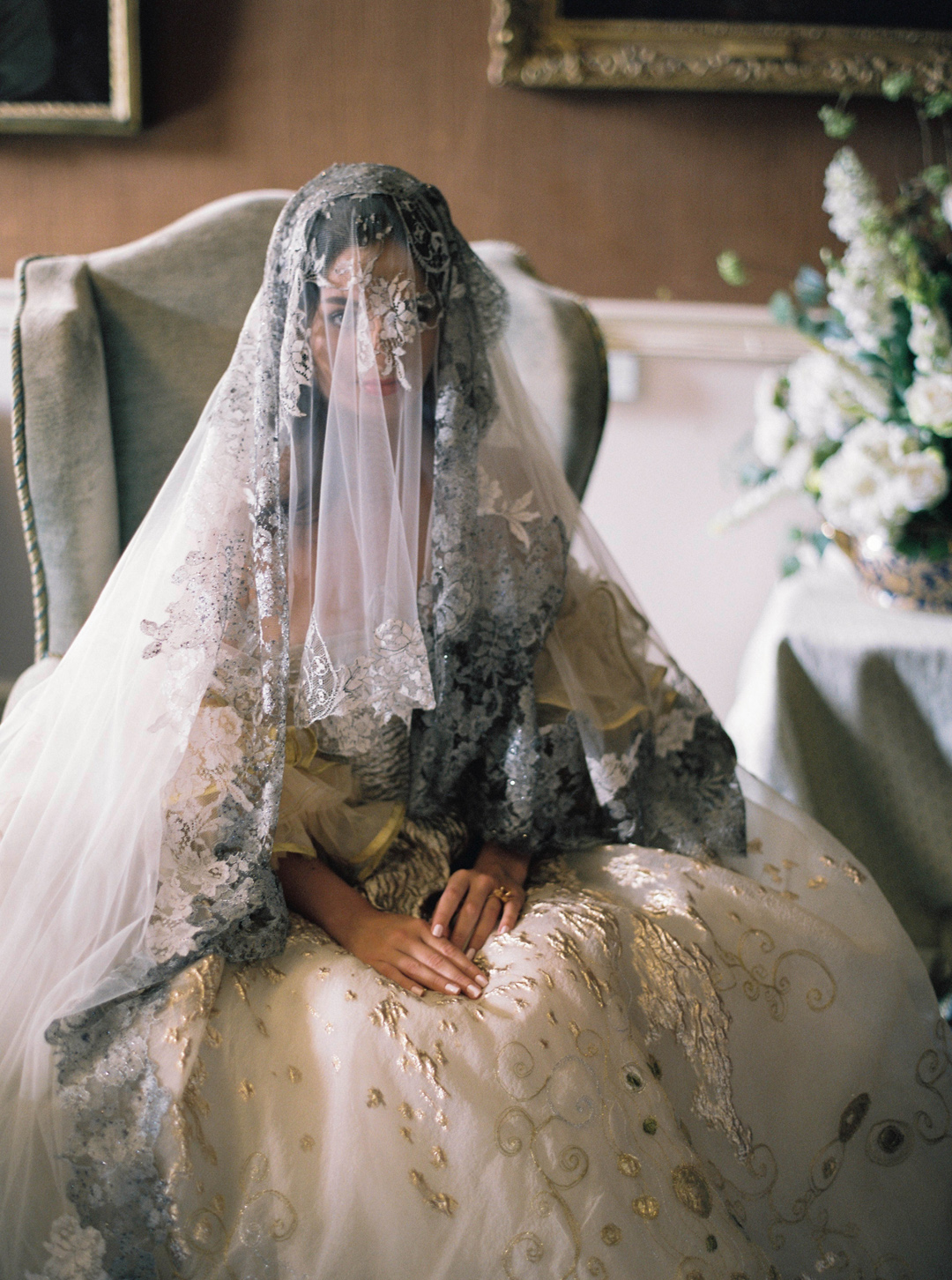 And this is more than an editorial – it is a story of how, so very often, pushing through resistance leads to the most incredibly rewarding breakthroughs in our creative lives. Over to you Rubana…
"As a creative, luxury stationery designer, I had a deep inner yearning to fashion a totally dynamic, stationery focused and highly artistic editorial that encapsulated everything that I wanted to see in this industry."
"I have been soaking up editorials for five years now and often see repeats of the same themes being repeated over and over again."
"My vision was clear, I wanted to direct and produce my own moody production, I wanted to be free to create from the heart without boundaries or limits and play with the idea of light and dark contrasts and jewel toned hues."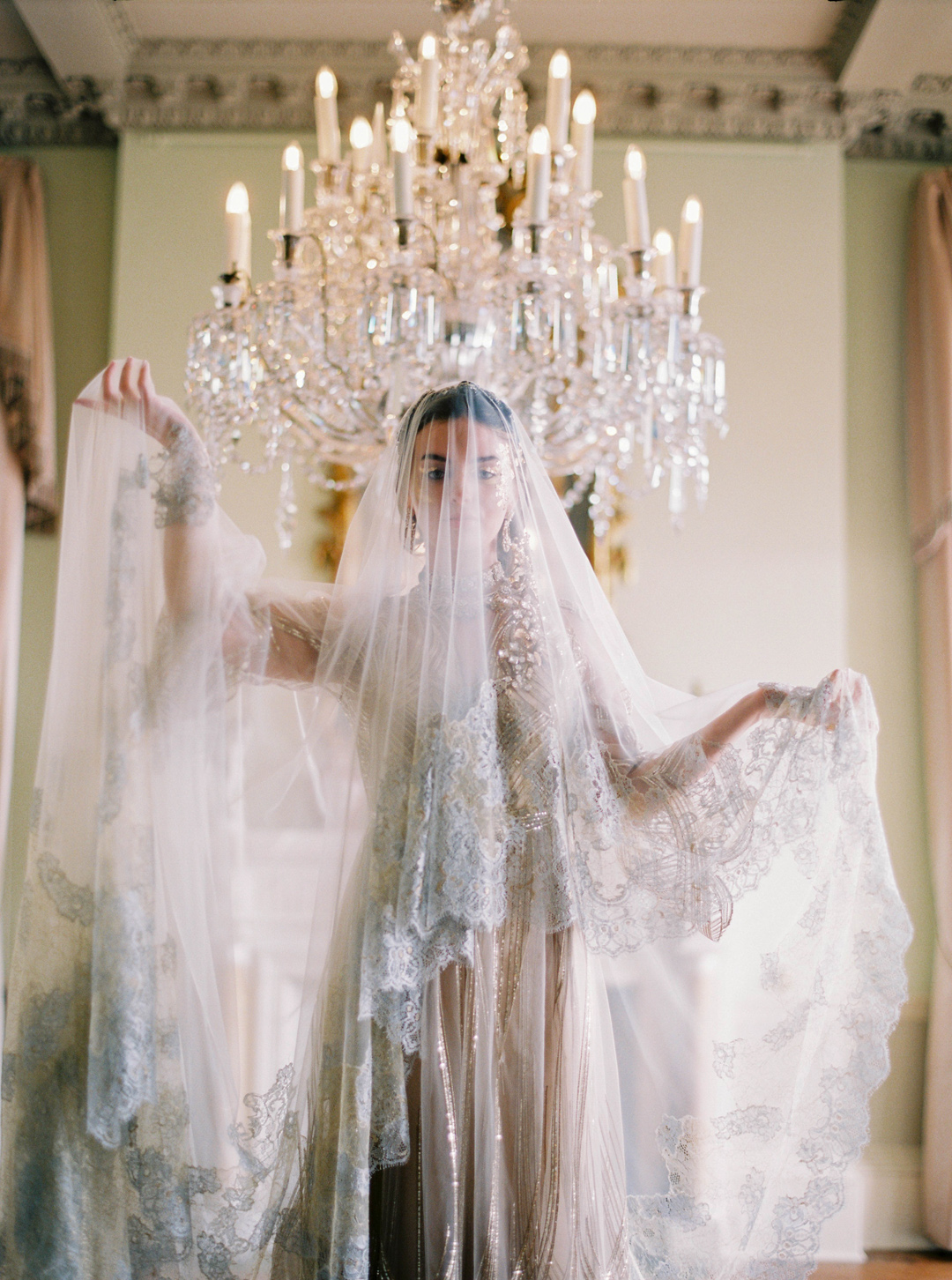 "I wanted to create a vision art voice within this industry and show that it's possible to combine art and culture to shape a profound statement."
"What inspire my editorial? Gustav Klimt & old world European, Renaissance design. Gustav Klimt in not a creative concept that I have seen used before and it aligned so well with the gold and moody signature style that I have come to be known for."

"This editorial was one of the greatest challenges of my career so far. Not only had I no idea where to start and what to design but the shoot was postponed three times due to Covid and weeks before the shoot date many main vendors started to drop out."
"Pushing through all the obstacles, I'm so tremendously happy that I finally see this enticing editorial come to fruition."
Venue
"I had considered many venues from castles to small cottages but nothing quite made an impression on me as Prestwold Hall did."
"Even though this venue has received a lot of attention with other editorials, the rich yellow marble walls were often over looked and in fact never used – it was simply the most perfect backdrop to echo through the creative concept of Gustav Klimt and all that I had designed."
Backdrop
"In an effort to ramp up the drama, I set to work to hand paint a two-metre high, black backdrop with brown branches and gold hand painted flowers with crunched up gold foil leaf centres."
"This backdrop was to act as an extravagant, yet highly sophisticated canvas that would call for attention and make statement any area of the room. Quite often flowers are thrown away. A large piece of large artwork like this will be framed and kept upon the walls of my villa in Portugal."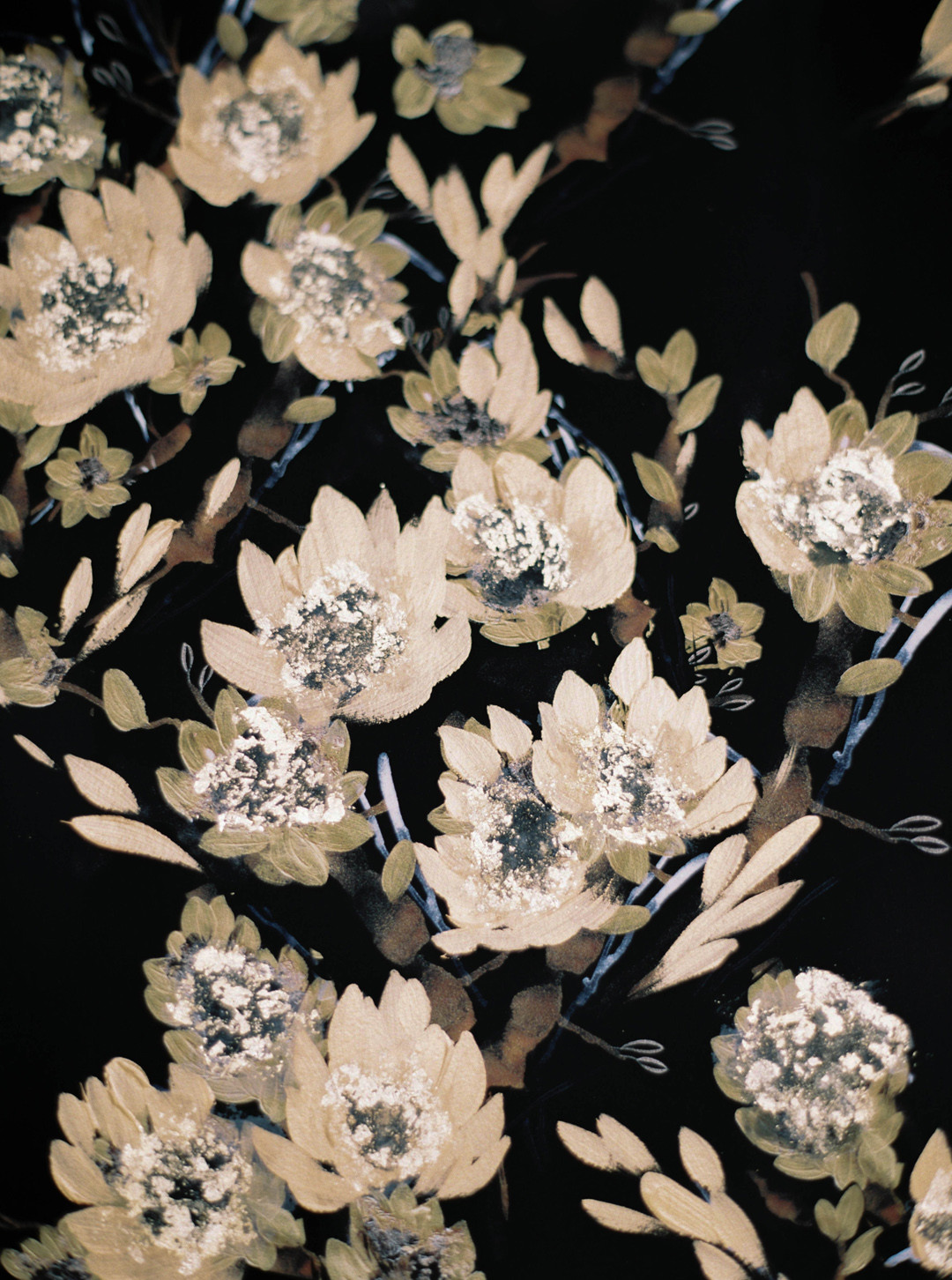 Couture Stationery
"It took a long time to be able to start the design process. I kept self-sabotaging myself by piling on the pressure. I wanted to create stationery that re-evaluated conventional stationery design."
"Stationery that was much more than simple piece of paper, but brought together my desire for mood, depth and highly artistic renaissance design."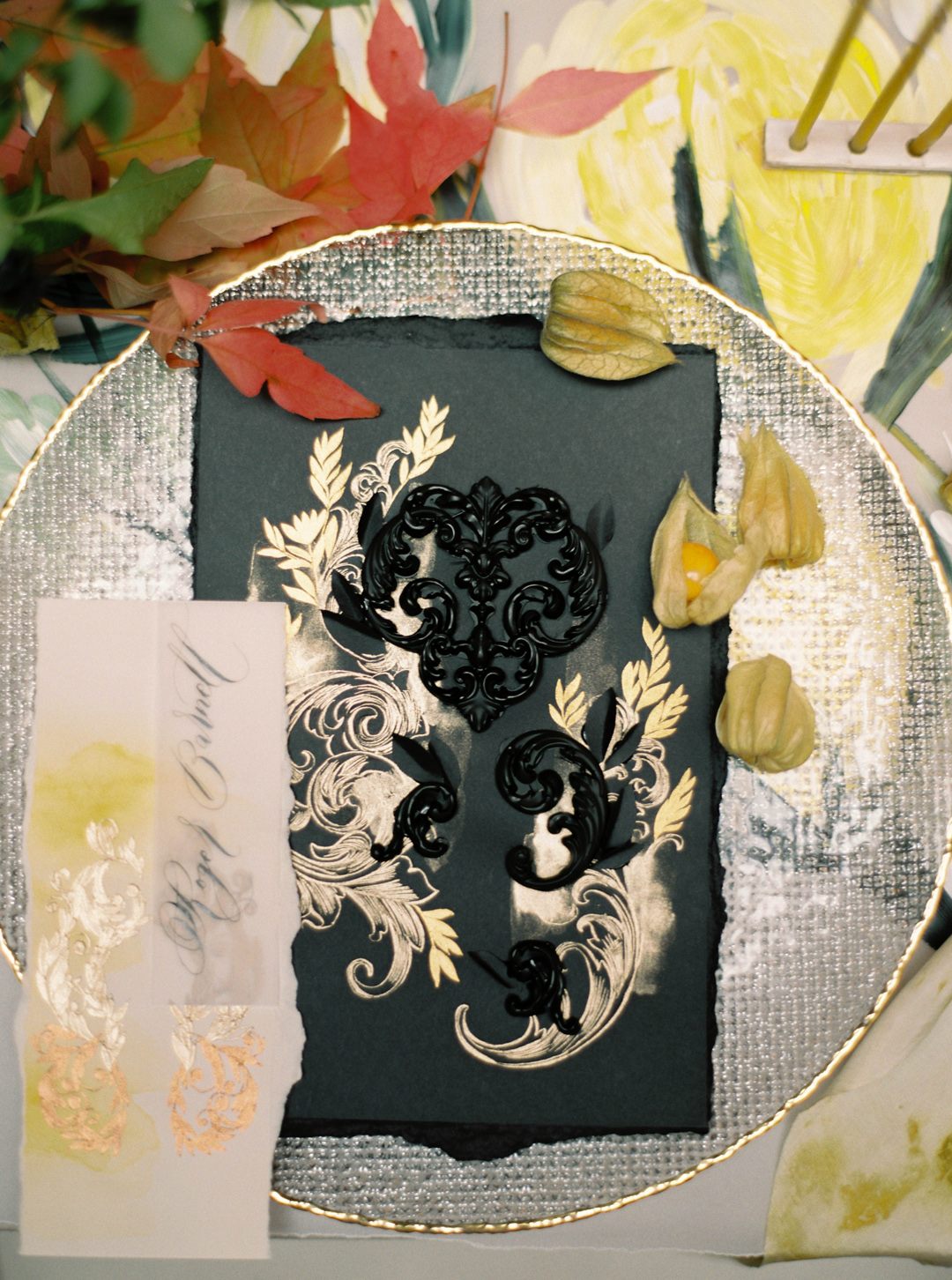 "I want my work to exude a feeling of enchantment and awe and build a sense of great anticipation of what is to come as well as be pieces that inspire, intrigue and entice."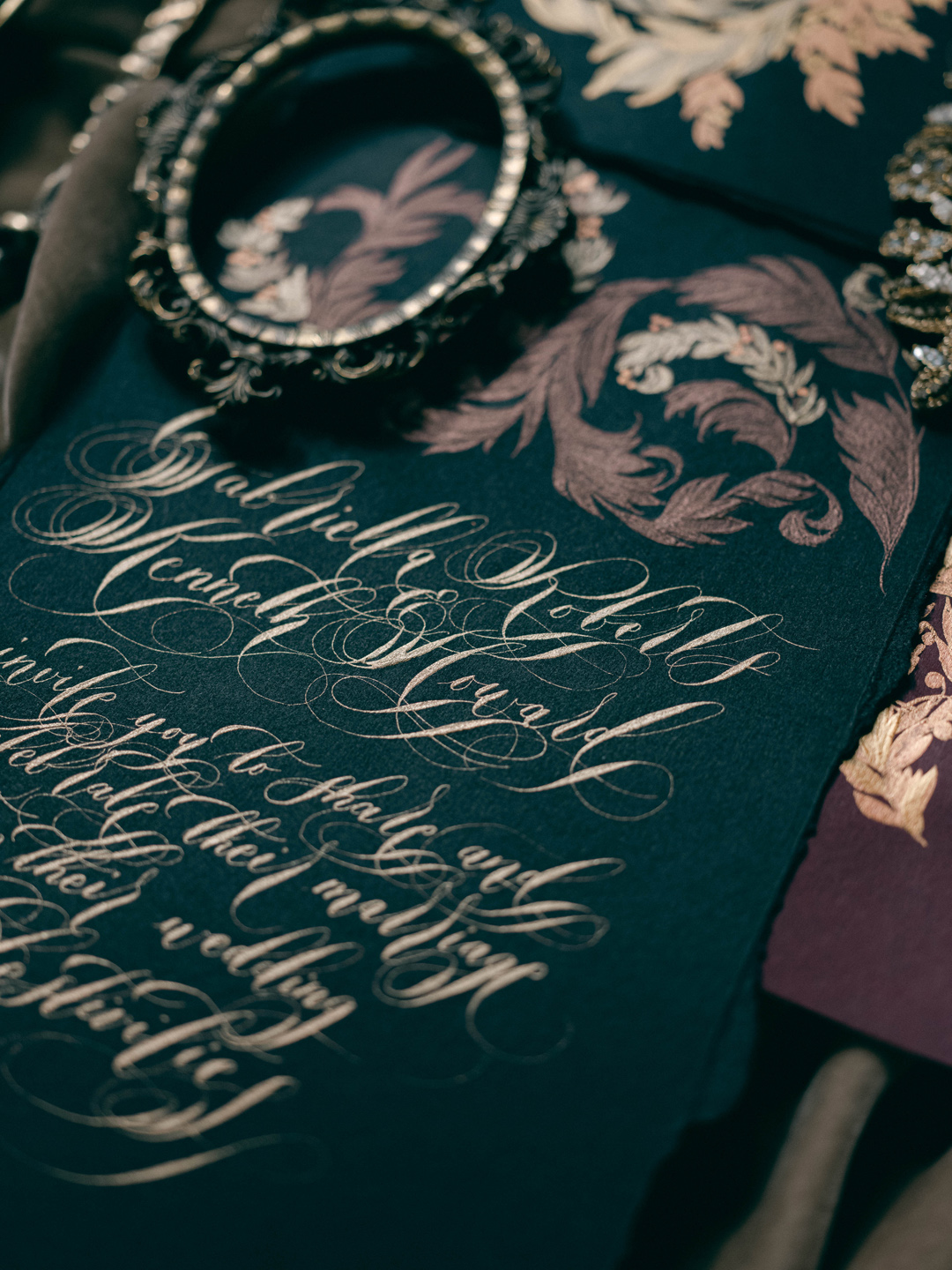 "I took several months to slowly work away on several pieces that would pull together and combine beautifully with Cristin Francis styling antiques that she very kindly shipped over from Portugal."
"Her styling antiques have catapulted the flatlays that I styled to another dimension."
Gown & Veils
"Joanne from Joanne Fleming Design created three gowns being initially inspired by gold and black shimmery fabrics, focusing on unique sequin embellishment and embossed gold fabrics."
"She created a chic range of gowns that aligned with both the dark and moody and light and airy that run throughout my creative vision."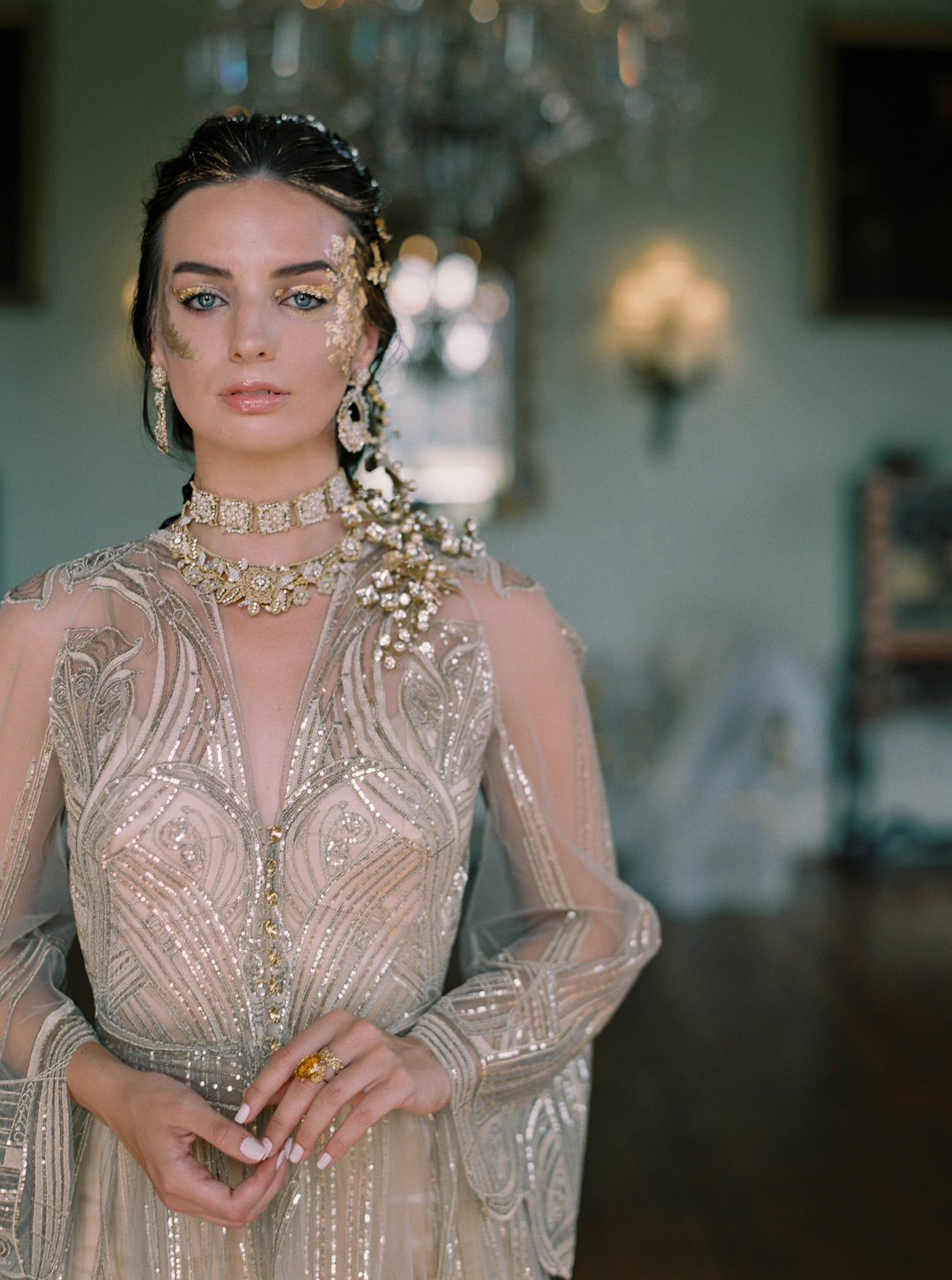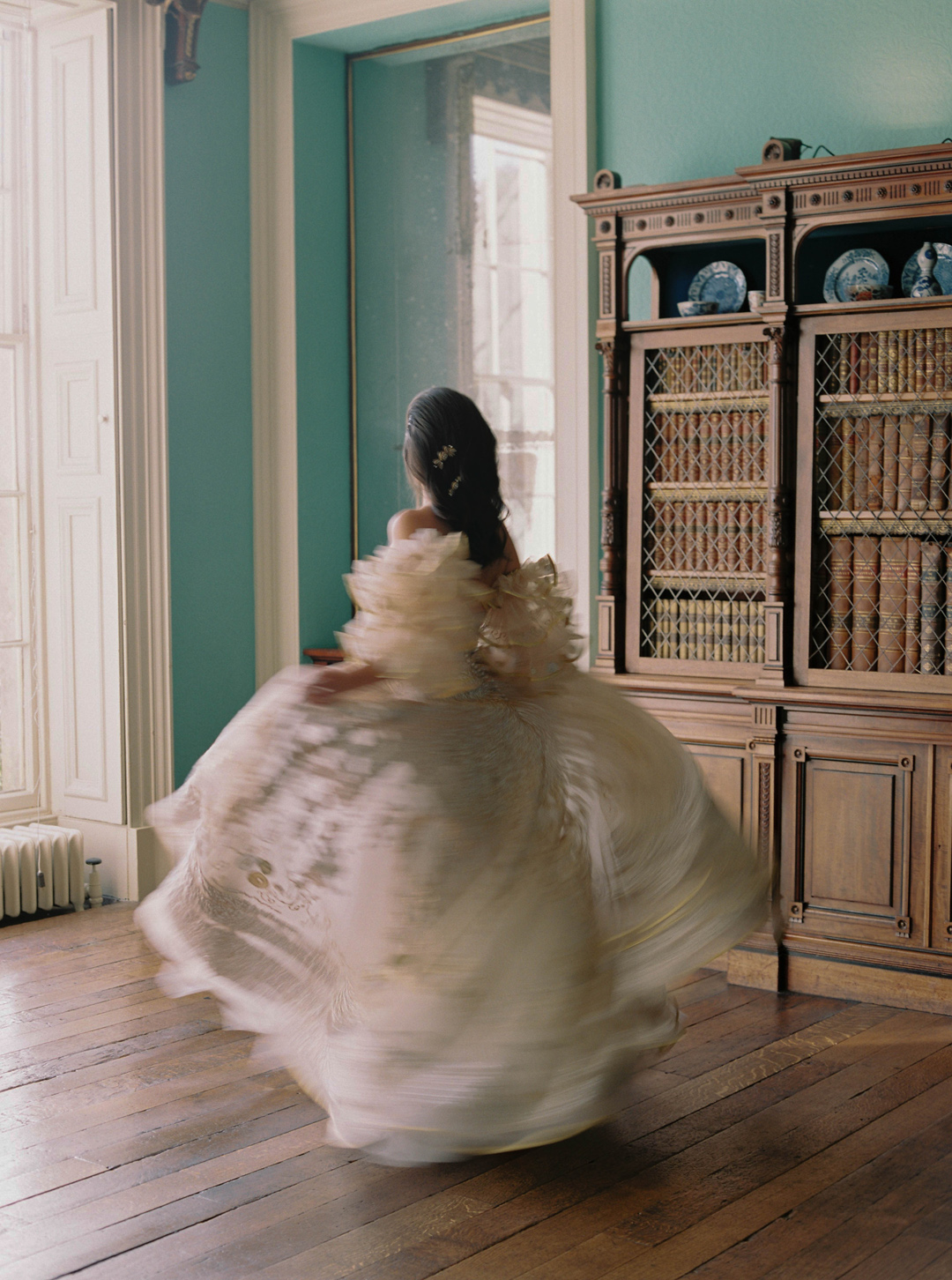 "I knew from the get- go that no one but Monvieve's veils would do. Alison Miller was inspired by the mood boards and designs I had sent over and she very kindly sourced 4 impeccable veils, edged with luxuriously thick Chantilly gold, white and deep grey lace, created in the finest French houses and paired with tulles custom design in Italy."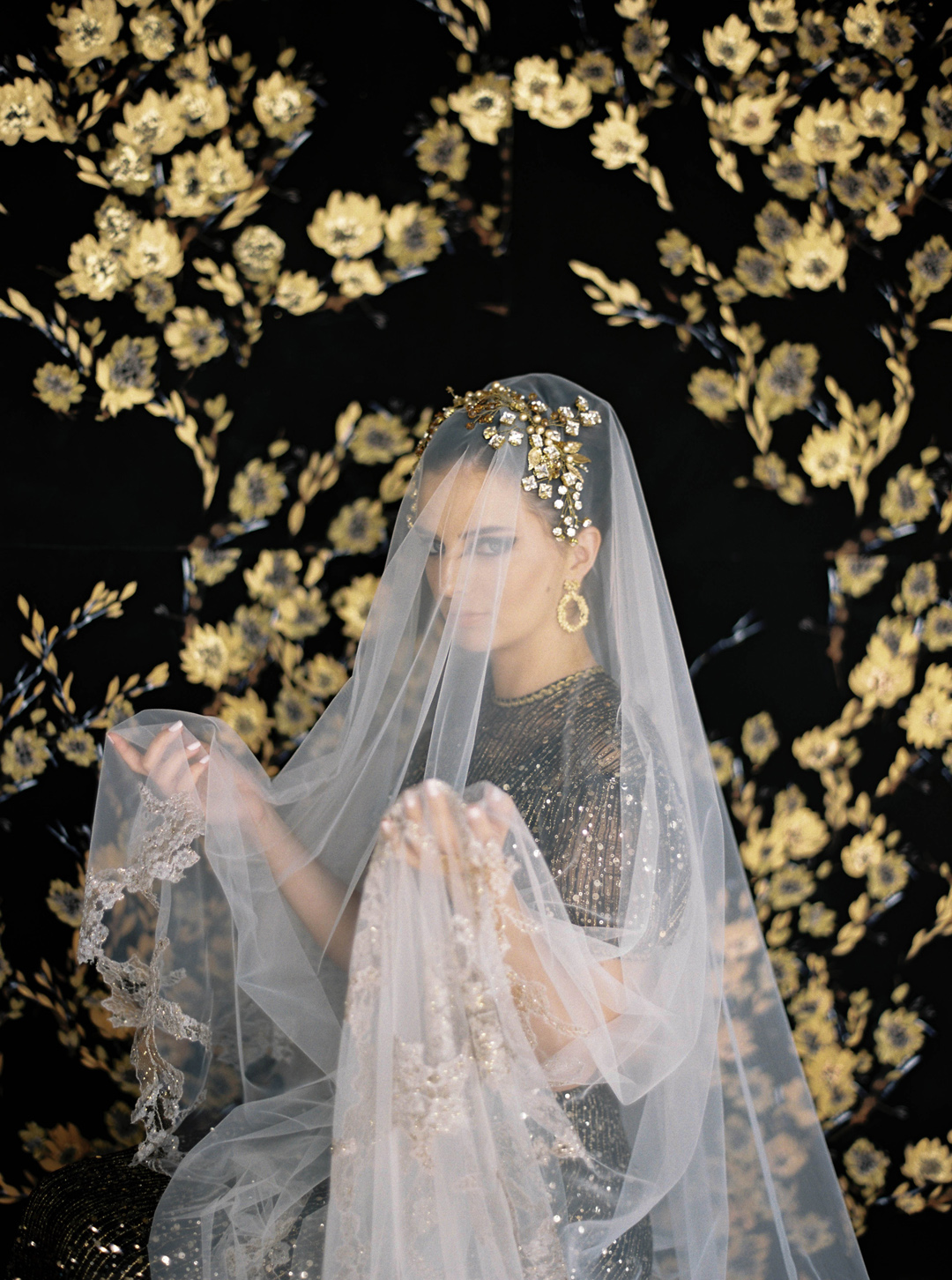 "One of the most iconic looks where the model is seated uses two veils. I wanted to use a layering of the veils to create extra depth and a build-up of sophisticated detail."
Photography
"The wonderful Katie Julia shot the entire editorial exclusively on film. She is an artist through and through and thrives at her craft, whether it's capturing the details, playing with movement, or drawing from lighter or moody settings."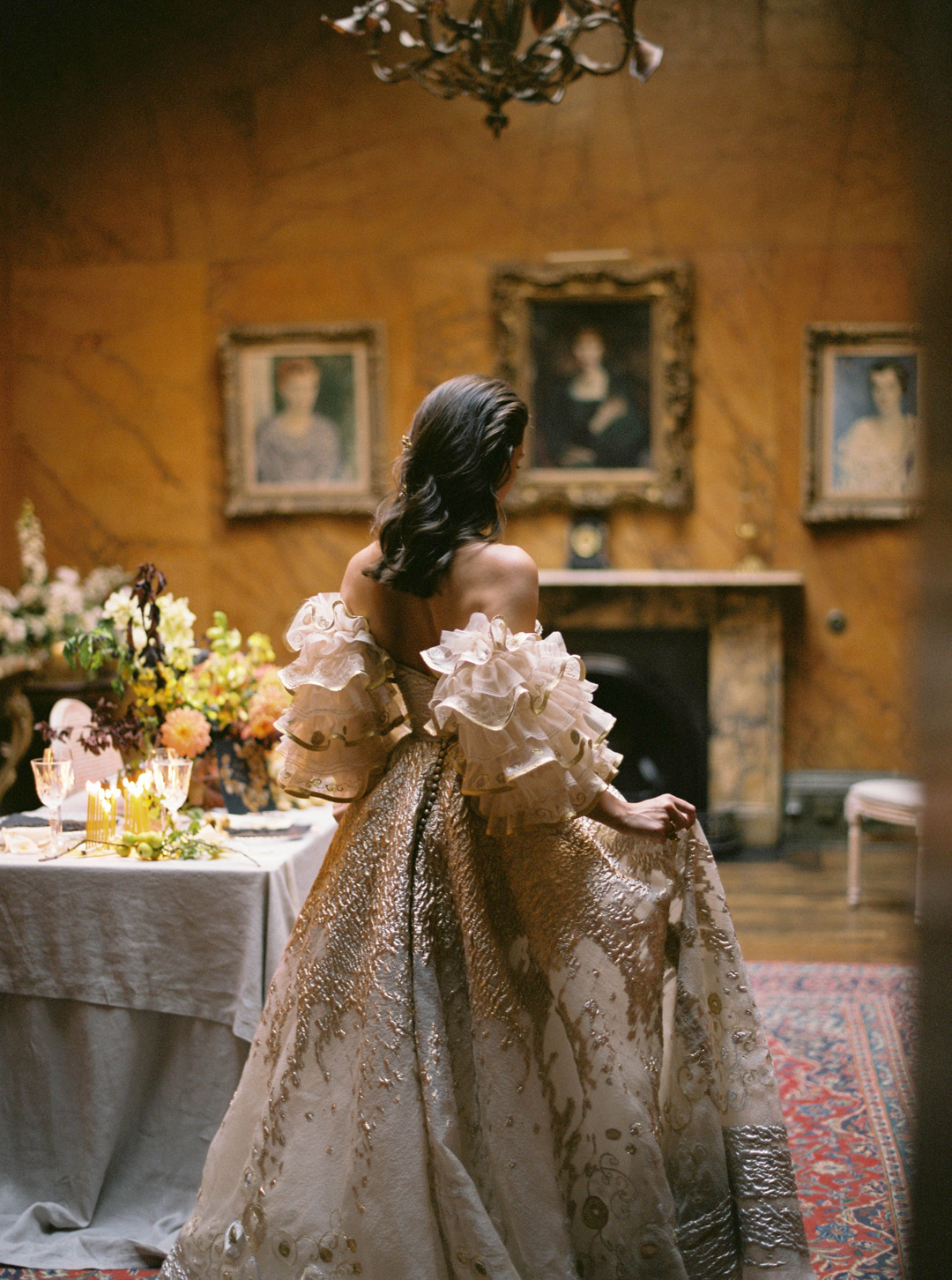 "Film has such a timeless, classical quality to it. Katie brought a wonderful collaborative and creative spirit on the day and created the most extraordinary, high-fashion images."
Cakes & Biscuits
"Monika Kos really brought her A game. She was inspired by my stationery to create two 'stationery papers', that had torn, rough edges and were displayed prominently of the bold design."
"Using monochromatic colours and adding delicate yellow, edible hand-made poppies to finish her cake perfectly marrying elements of dark and moody and renaissance style."
"Her biscuit design perfectly complimented the wax ornate elements of my stationery."
Jewellery
"For maximum impact, I sourced the most intricate pieces from talented jewellery artisans around the world."
"Edera Jewellery provided some intricately made items including, a crocheted metallic choker, necklace, earrings, hair comb and hair pins."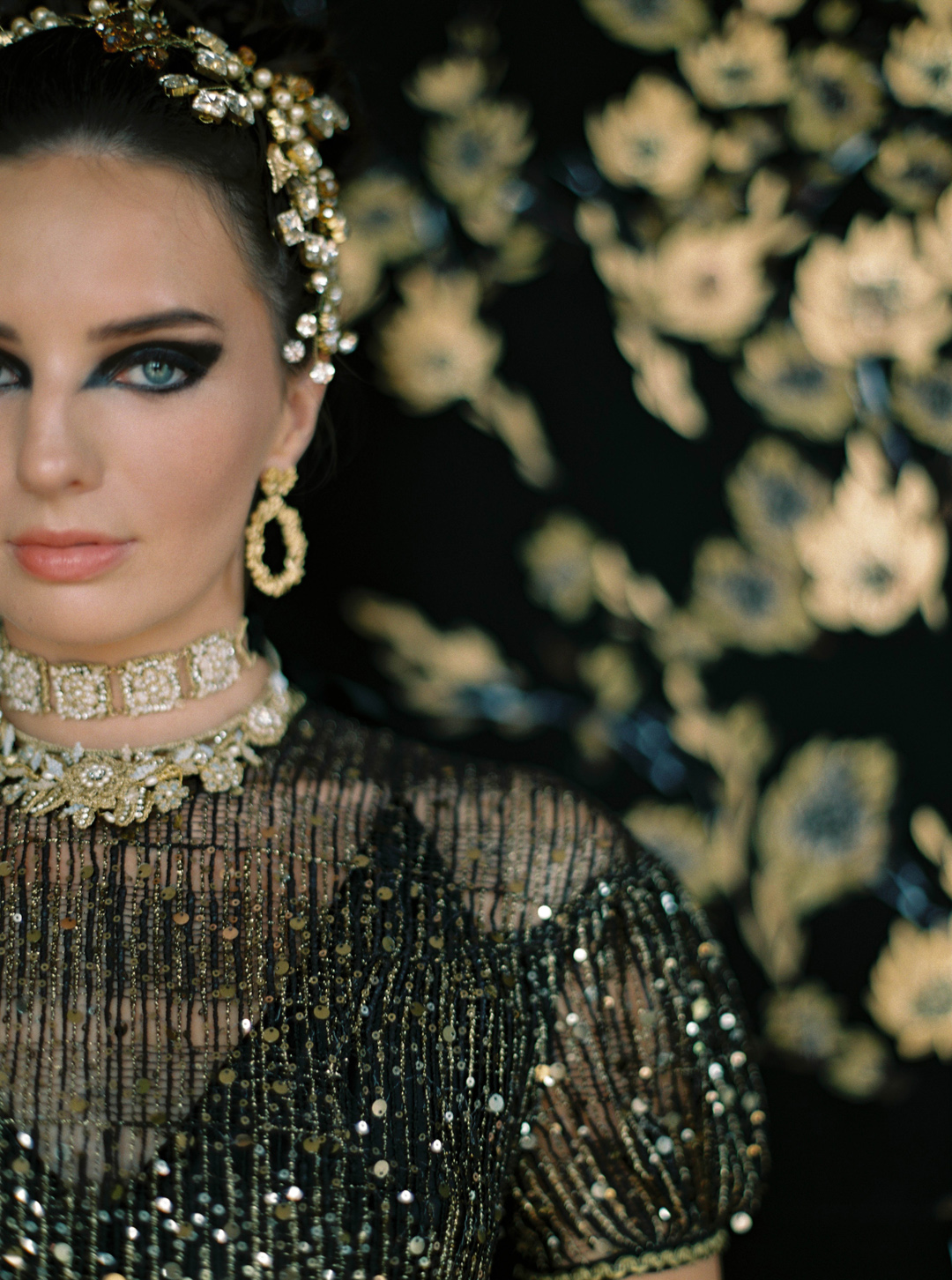 "Gibson Bespoke from Ireland, provided a sublime, embellished black cape to take you seamlessly from day to night wear, emerald cut Austrian crystal earrings, one lavish gold and crystal headpiece and black headband."
"Cremilde Bispo, from Portugal took it upon herself to hand crafted a large custom made crystal ring, especially for this editorial."
"Alongside that beauty, she also provided hand-made gold loop earrings and a second gold lace ring."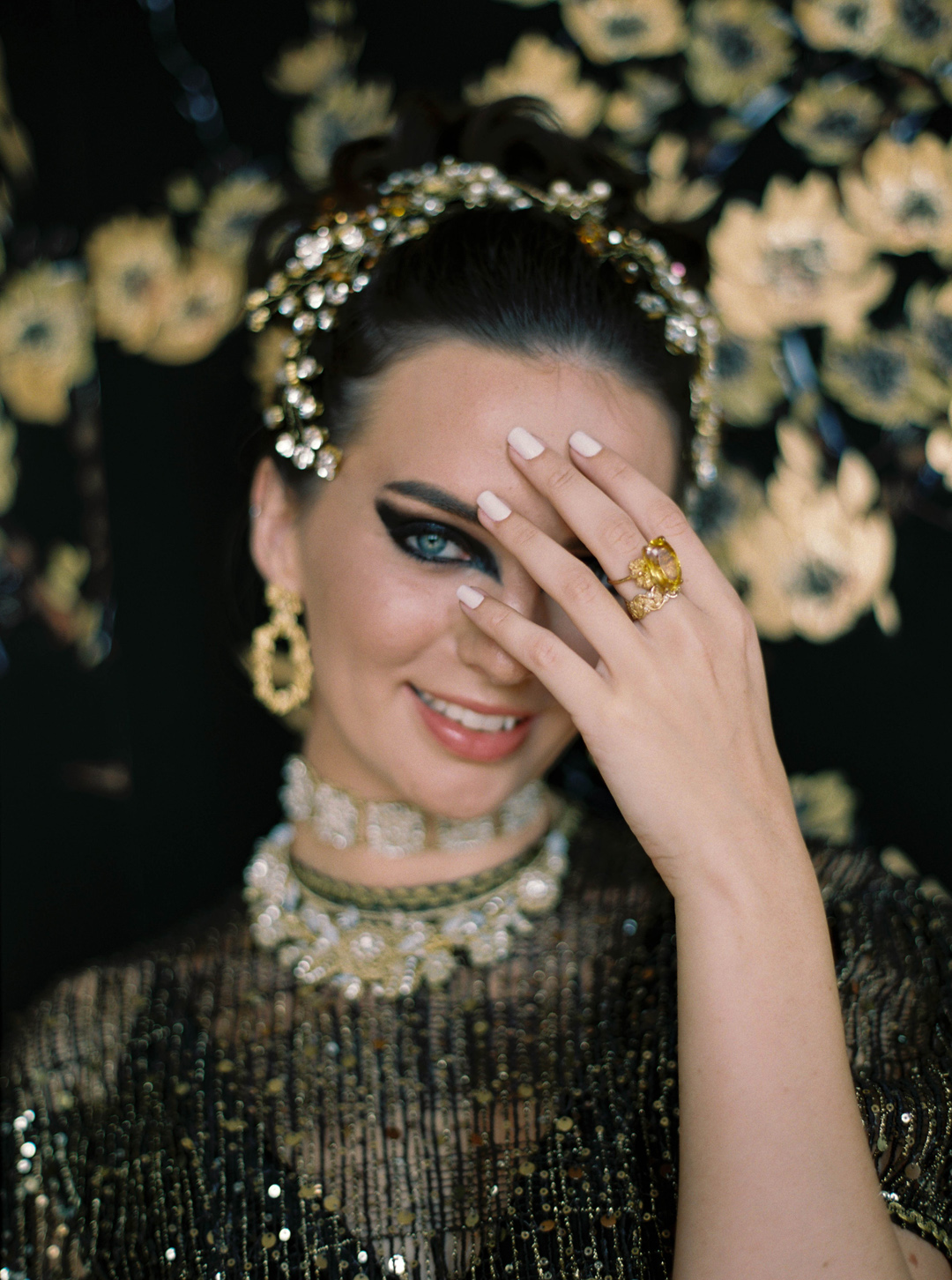 You will find Rubana of Crimson Letters as a recommended supplier in the Love My Dress directory.
You can also find her sharing her creativity over on Instagram and TikTok.
Enormous thanks to the entire creative team for entrusting me to share this completely sensational body of work.