It thrills us to see so many more bride's opting for ethical and sustainable wedding dresses.
Today's bride wore a gown by our dear friend, Sanyukta Shrestha, a designer of sustainable bridal fashion who we've had the pleasure and privilege of working with on Love My Dress for many years. Sanyukta is passionate about using ethically sourced and produced materials from Nepal and produced this exquisite gown worn by bride Sophie.
Sophie and Olly wed on 25 June 2021 at All Saints' Church in Sutton Courtenay, Oxfordshire followed by a garden celebration at the bride's family home.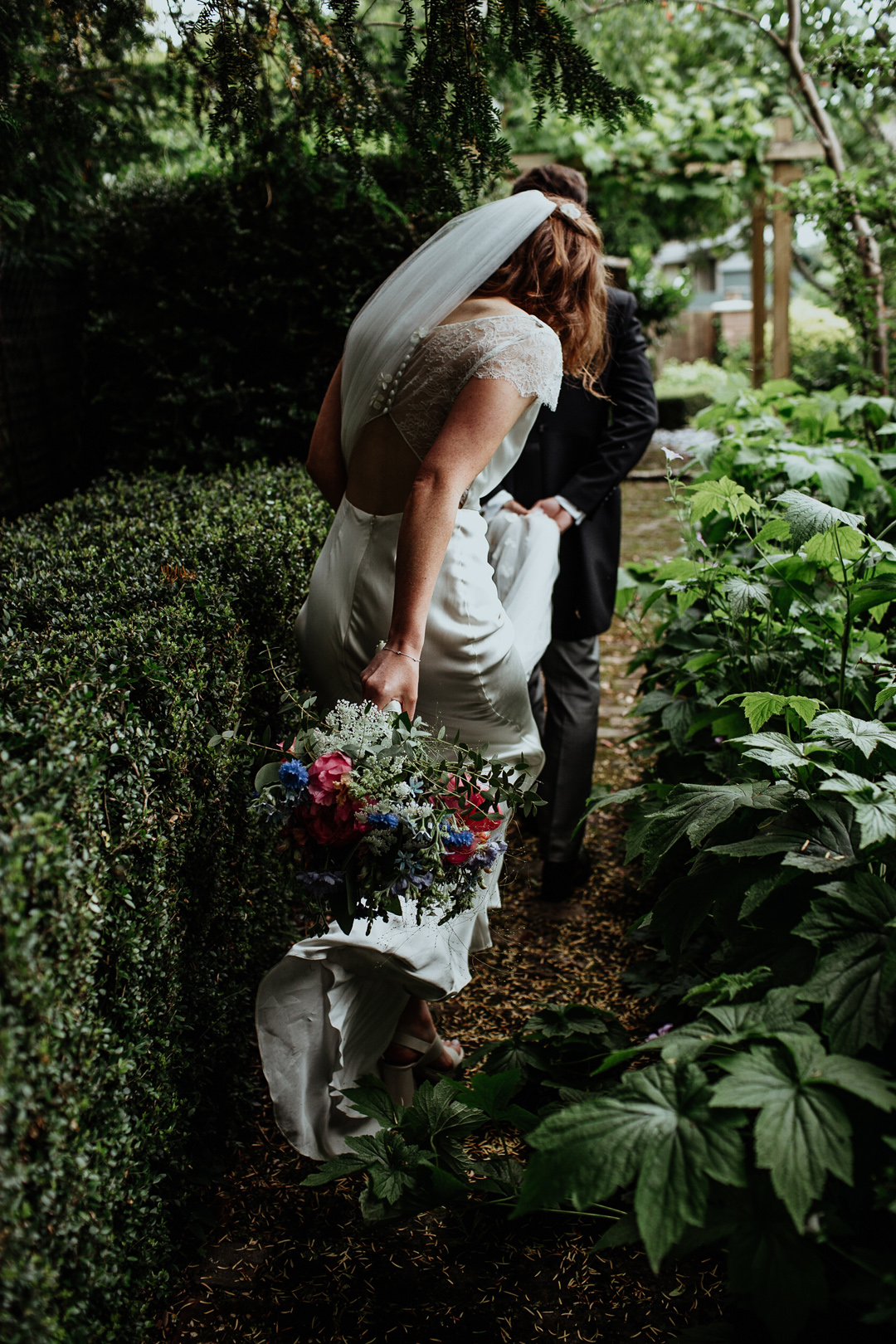 Inspired by the beautiful, English country garden setting, the Ten By Fifteen marquee and the lawn outside were styled with lots of fresh, colourful flowers and some personal touches for a relaxed, laid-back feel.
"We chose the family garden because we have a lot of special memories there and also because my sister had her wedding there a couple of years before us."
"It was so beautiful and provided us with a great blueprint. We also knew that doing it at home would mean we could add some really personal touches to the day which was great."
"We didn't really have a theme or style but through the process of planning we found little bits and bobs that inspired different aspects."
"We wanted to keep it quite relaxed and personal so quite a few of the details were inspired by our interests and trips we had been on together, or little nods to family jokes or stories."
"We knew we wanted it to feel colourful and blend in with my mum's lovely flowers around the garden, so that definitely led the floral side of things."
Sophie visited Sanyukta Shrestha's Lincolnshire boutique to select her divine gown. I love the pleated V-front bodice, the intricate open back and the delicate lace cap sleeves.
You can find out more about Sanyukta and her ethical, sustainable approach, as well as see more of her designs, on our Love My Dress Wedding Directory.
"I found my dress at Sanyukta Shrestha's boutique. All the dresses there are designed by Sanyukta and are ethically sourced, using beautiful materials from Nepal."
"Because Sanyukta designs all the gowns she knows exactly how they can work on your figure."
"I didn't want to try too many dresses as I am terrible at making decisions but the moment I tried that particular dress at Sanyukta's boutique I felt so comfortable and it just felt like the right style for me."
"I loved that the design had a slightly art deco feel which matched the style of my engagement ring too."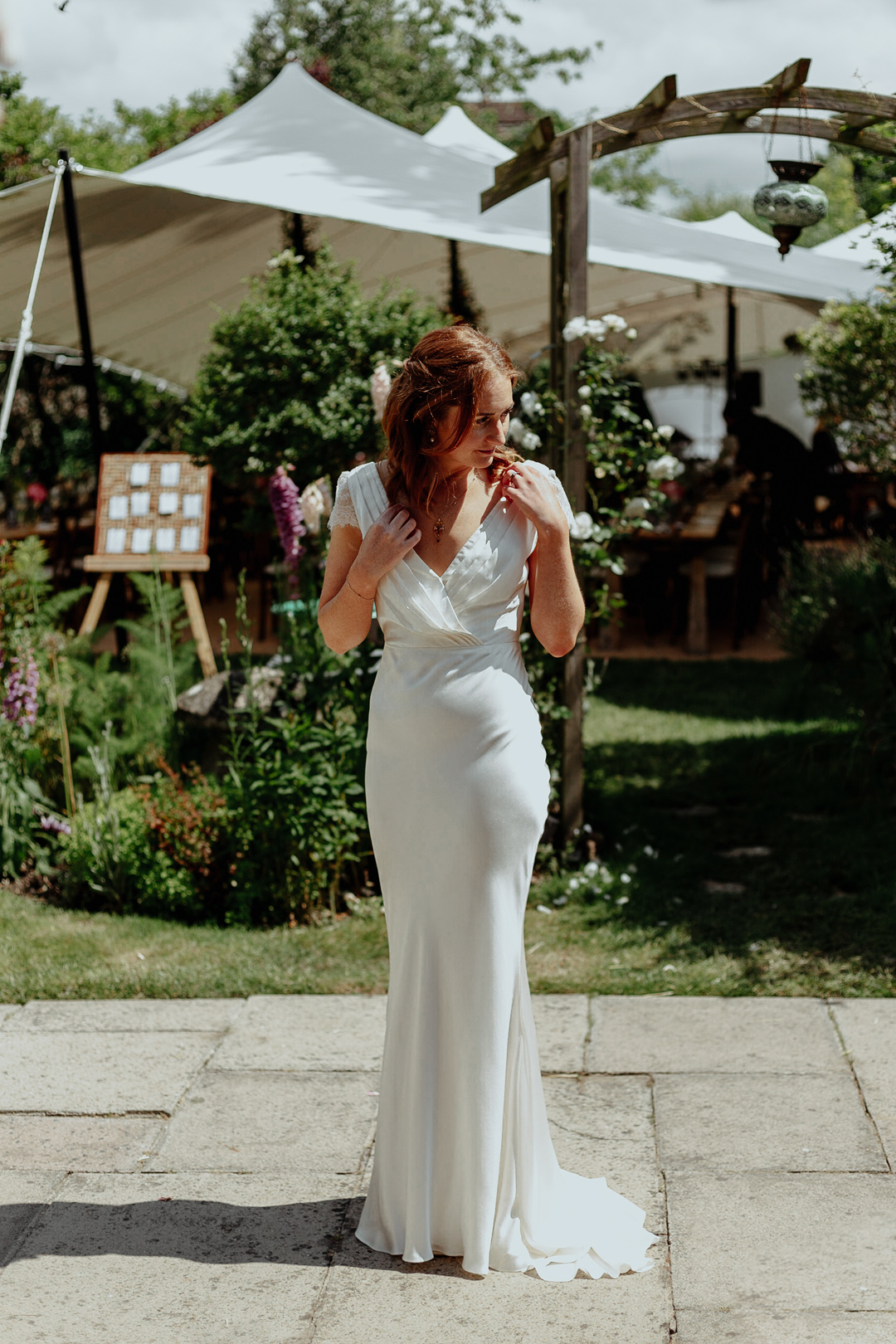 The bride's sheer veil was scattered with hydrangea flowers and came from Sash + Veil.
"I found Sash + Veil on Instagram and fell in love with idea of having real flowers decorating the veil, which Heather does beautifully!"
"I asked Heather to add some of the same real flowers to hair pins for my bridesmaids and I."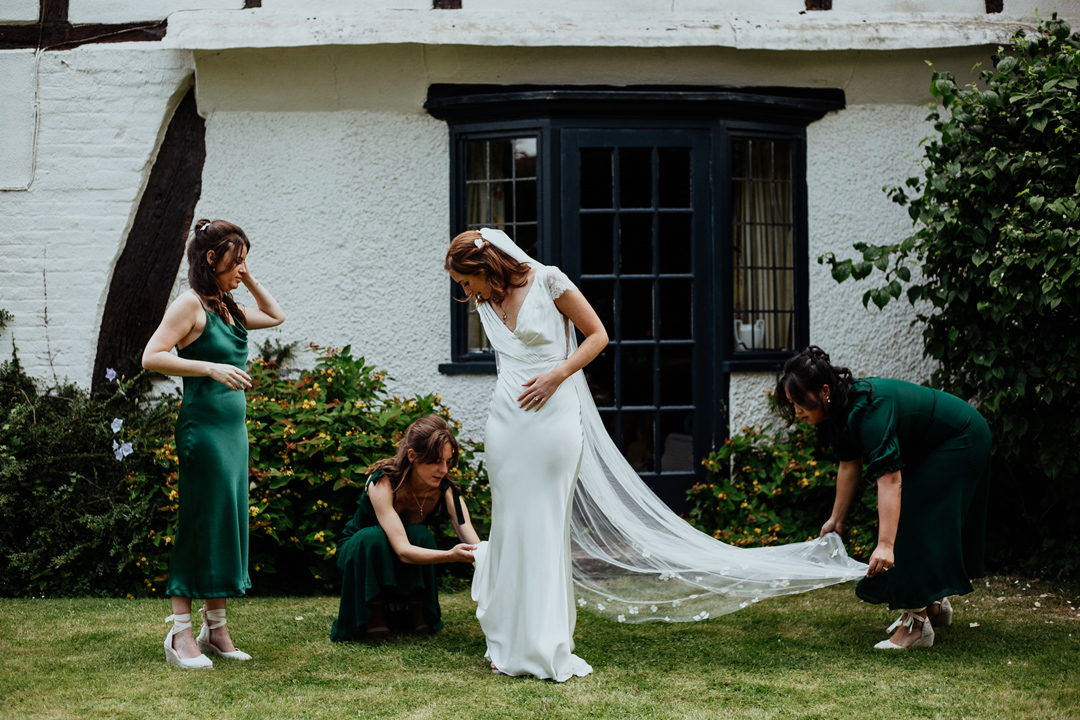 Olly wore a morning suit from Hackett, a waistcoat from Favourbrook, tie from Kiton and shoes from Grenson.
"I had a set of plain gold cufflinks which originally belonged to my dad, engraved with our wedding date, which Olly wore on the day."
"The cufflinks had all the scratches and scrapes of a well-worn and well-loved item which made them feel even more special."
Sophie and Olly met at school and were friends for years before their friendship developed.
"Somewhere along the way we became more than friends and I guess the rest is history.  Olly proposed in our flat in London."
"He knew I hated the idea of a public proposal so it was the perfect place for us."
"We were only supposed to be engaged for a year but due to Covid we had to move things, so in the end we were engaged for two years."
The couple's June wedding was a case of 'third date lucky' as they had already postponed from their original August 2020 date.
"We moved things back when it became clear that we were unlikely to have the day we wanted."
"We were lucky in so many ways, because the marquee we had already selected was pretty much fully open and the space we had meant we could have closer numbers to our original plan."
The bride and bridesmaids carried a wild and colourful bouquet of seasonal flowers from Fabulous Flowers.
"They have a studio local to my family home and we wanted to use as many local suppliers as we could."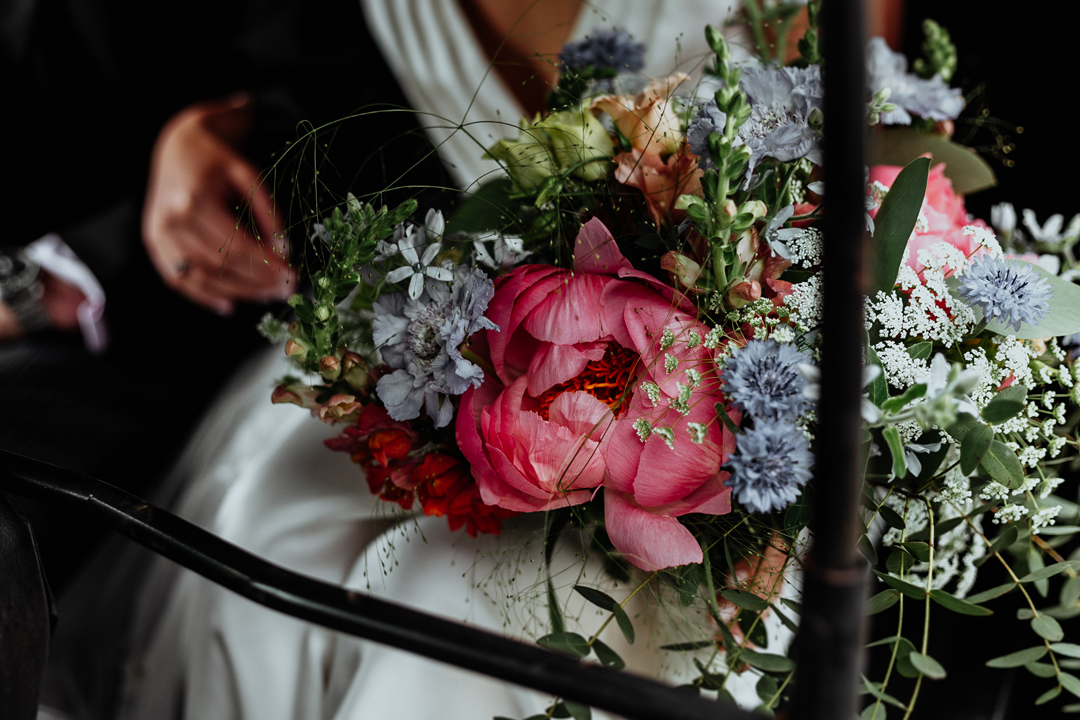 "It helps that they are also brilliant. We wanted to keep the flowers colourful and very loose – nothing too rigid."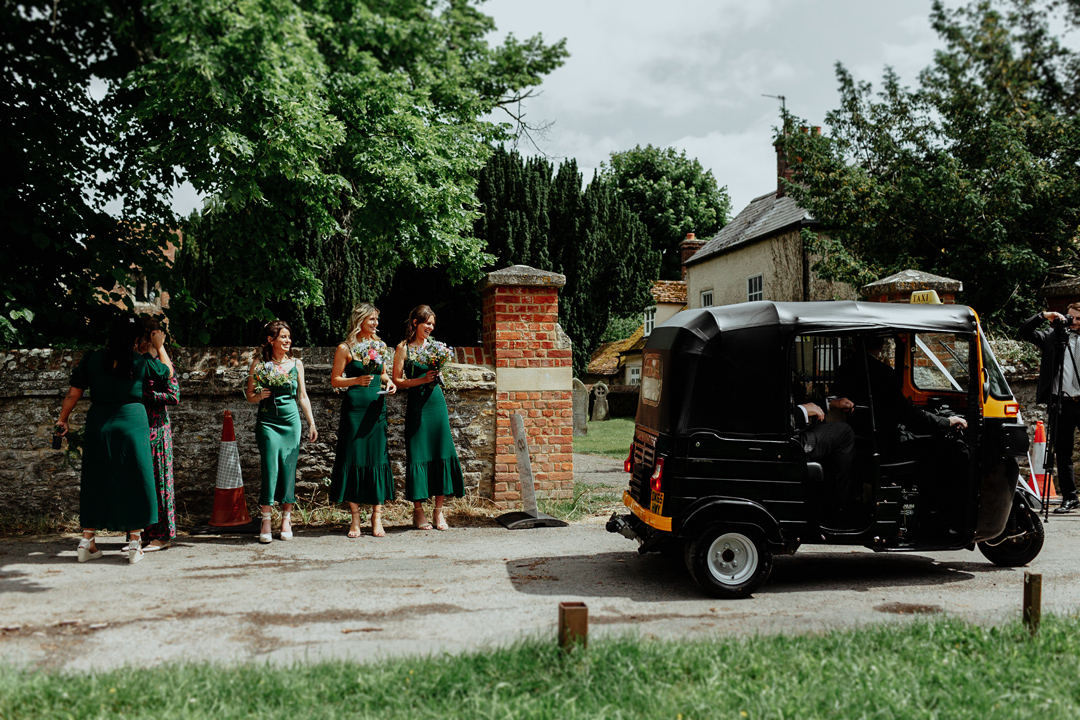 Sophie's block heel shoes were from & Other Stories and she wore a necklace and earrings belonging to her mum.
"I have always loved these pieces; her earrings especially are something I remember her wearing a lot when I was growing up."
"Olly's mum also surprised me with a lovely, delicate bracelet of hers to be my 'something old'. It felt so special to be wearing items from both mine and Olly's mum."
Her bobbed hair was pulled back from her face into a pretty half-up/half-down do by Emma Jane Brides, who also applied her fresh make-up.
The couple's ceremony was held in the village church and Sophie walked down the aisle with her father.
"It was to 'Blackbird' by the Beatles, which Olly's brother played on the guitar."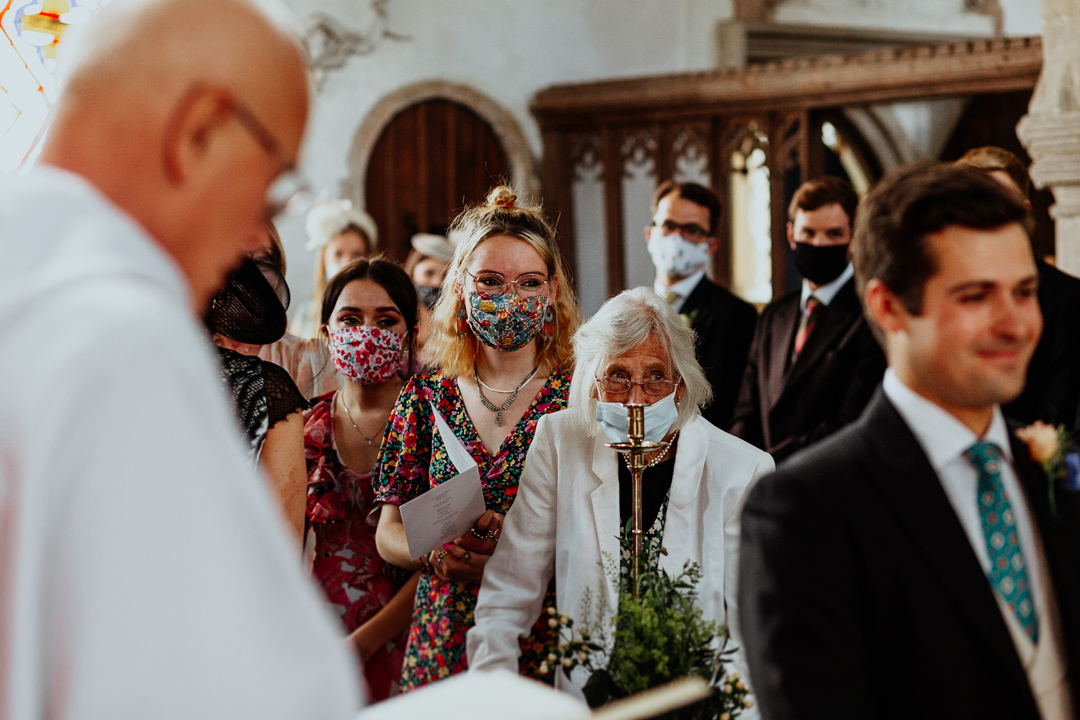 "The priest who married us is a good friend of Olly's family and he actually married Olly's parents too. It was lovely having someone so close do the ceremony."
"My sister read a lovely extract from 'Wild Awake' by Hilary T. Smith, which she and her husband found for us."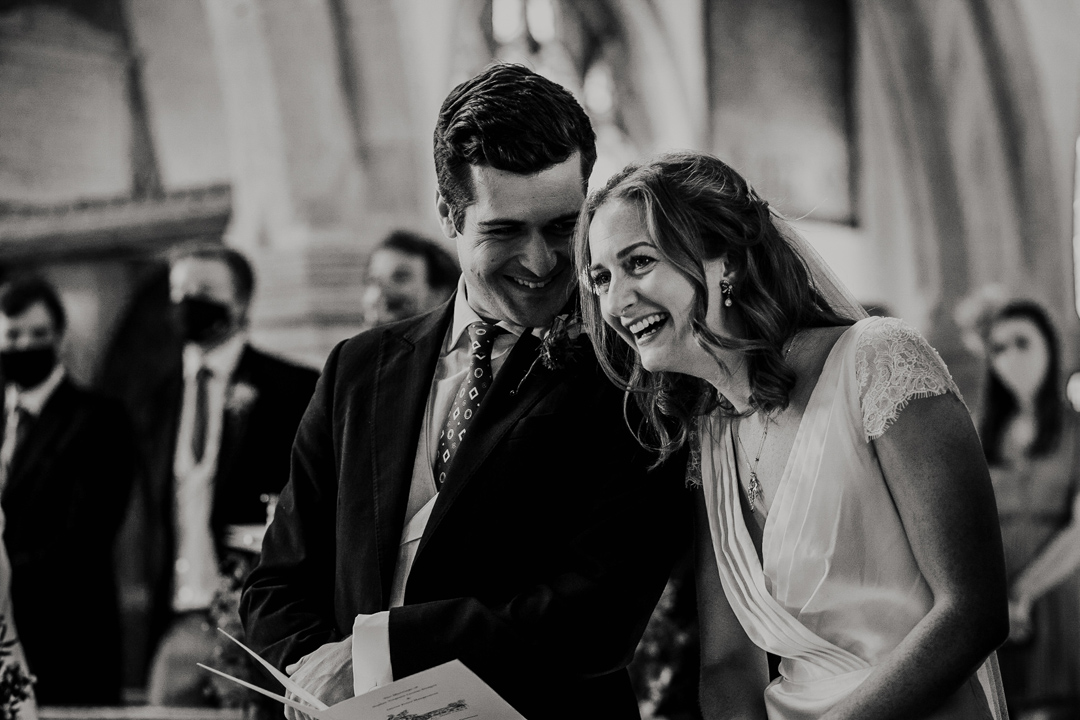 The couple's rings were crafted by jeweller Sam Hunter.
"Olly had my engagement ring made by Sam. It is so unlike any ring I've seen before (I'm sure everyone says that!) so we just knew he would do an amazing job on our wedding bands."
"He is a very talented guy."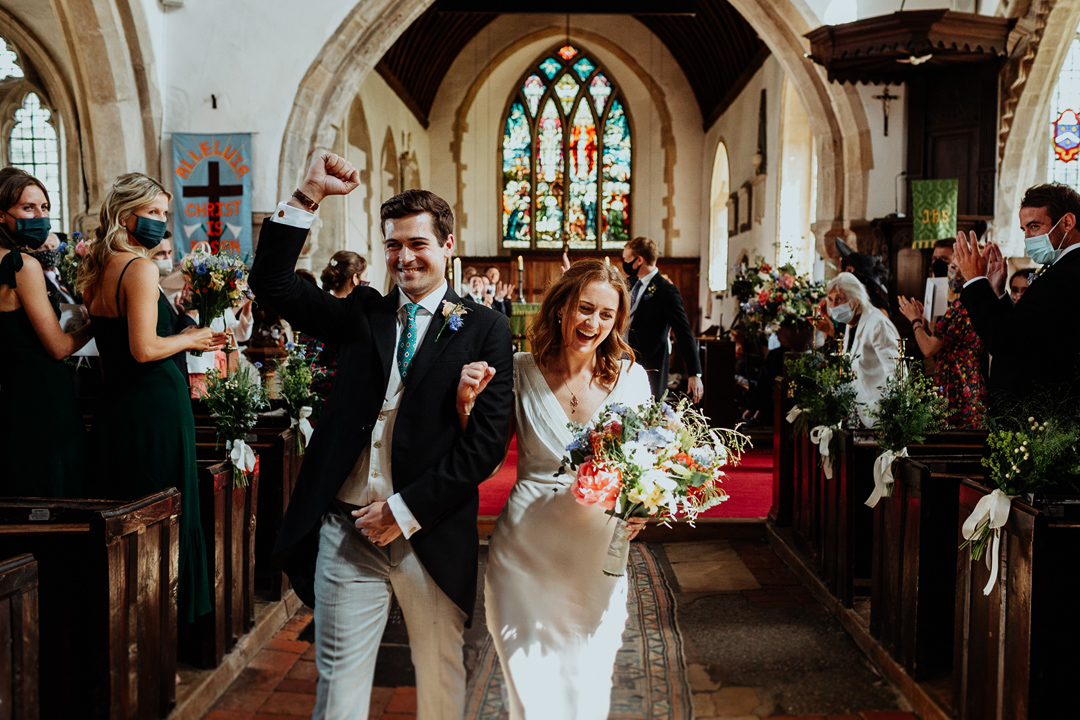 The newly-weds emerged from the church into a shower of confetti before getting in to a tuk tuk to be transported back to the garden marquee reception.
"We borrowed a tuk tuk from a family friend. I partially grew up in India, so it felt like a nice little hint of my past."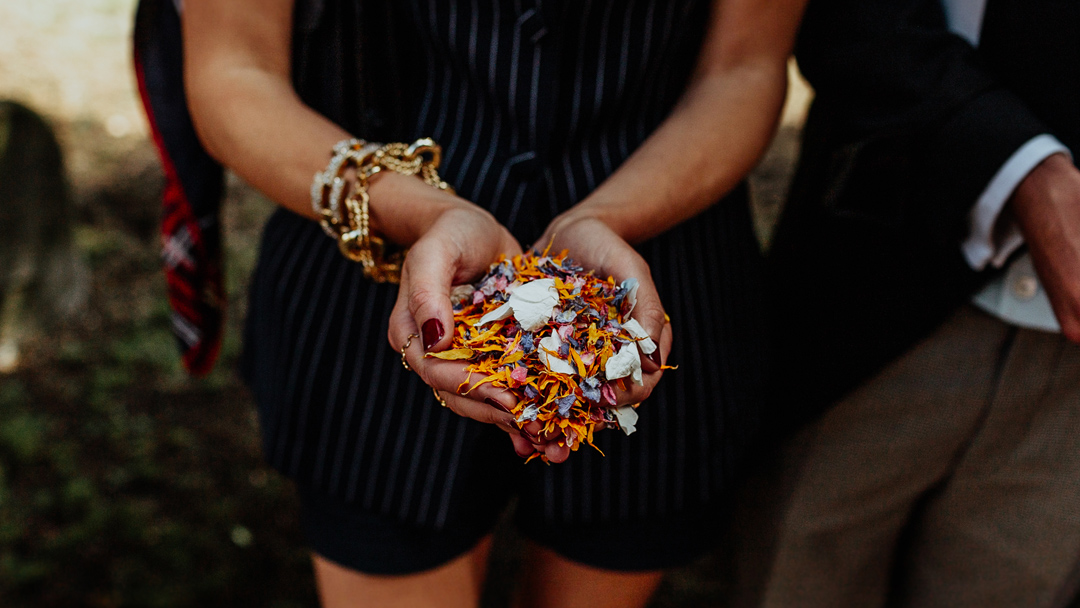 Photographer Luis Calow recorded the day on camera in his signature crisp, modern style.
"Olly and I stumbled across photos of a friend of a friend's wedding that Lu had shot and we knew straight away that his style of wedding photography was special."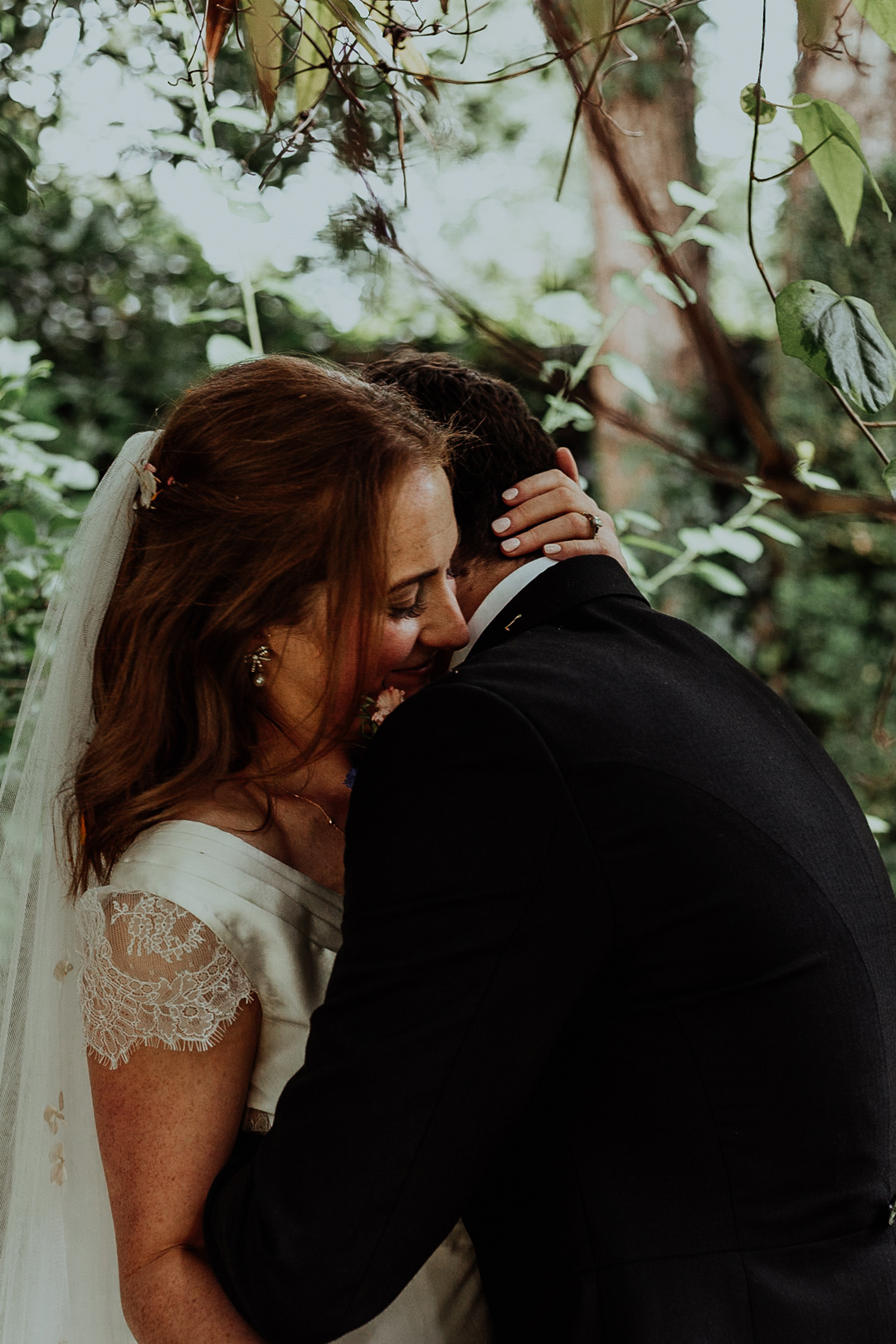 "From the word go he was a joy to work with, giving us all the information and advice that we needed, helping us to think through the shots and the style of shots that we wanted and showing incredible patience with us throughout all the ups and downs of planning a wedding during a pandemic."
"Every time we spoke to Lu he was enthusiastic and completely lovely, which was exactly how he was in person."
"Lu made us and all of our guests feel totally at ease throughout the whole wedding and he captured the joy of the day so wonderfully."
"We could not be happier with the photos we have of our wedding day."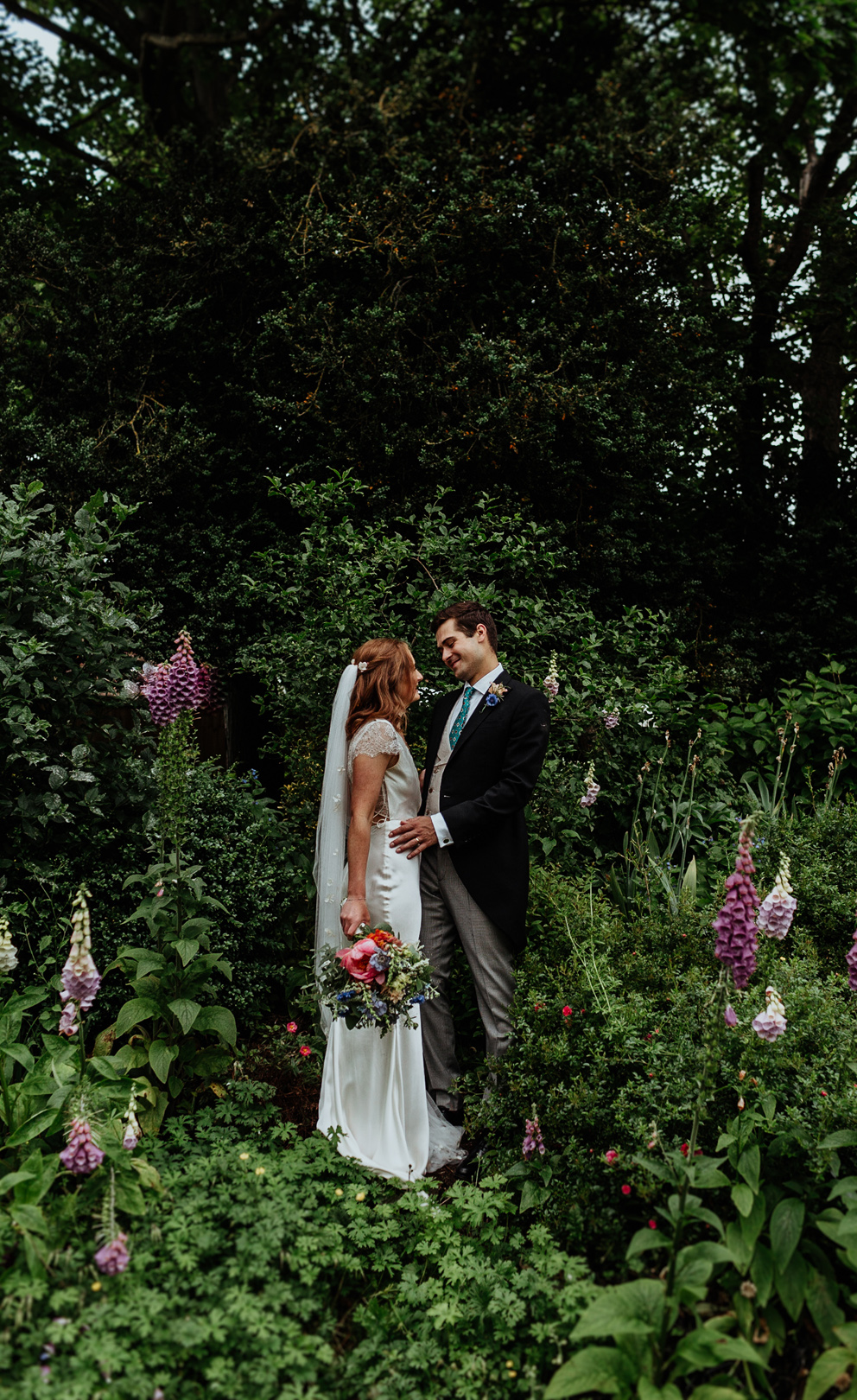 Olly and Sophie brought all of their creative talent into play to transform the blank canvas marquee into something personal and welcoming, working with trusted suppliers for stationery and the sound system.
"Most of the lighting was provided by 10×15 but we also used Oxford Sound Hire for some extra lights and a speaker system."
"We went on an amazing trip to Mexico a few years ago and fell in love with all the amazing glassware and tiles we saw in various restaurants and shops."
"We ended up buying a bunch of Mexican tiles from Milagros on Colombia Road, which we used as coasters on our tables and which were also our wedding favours.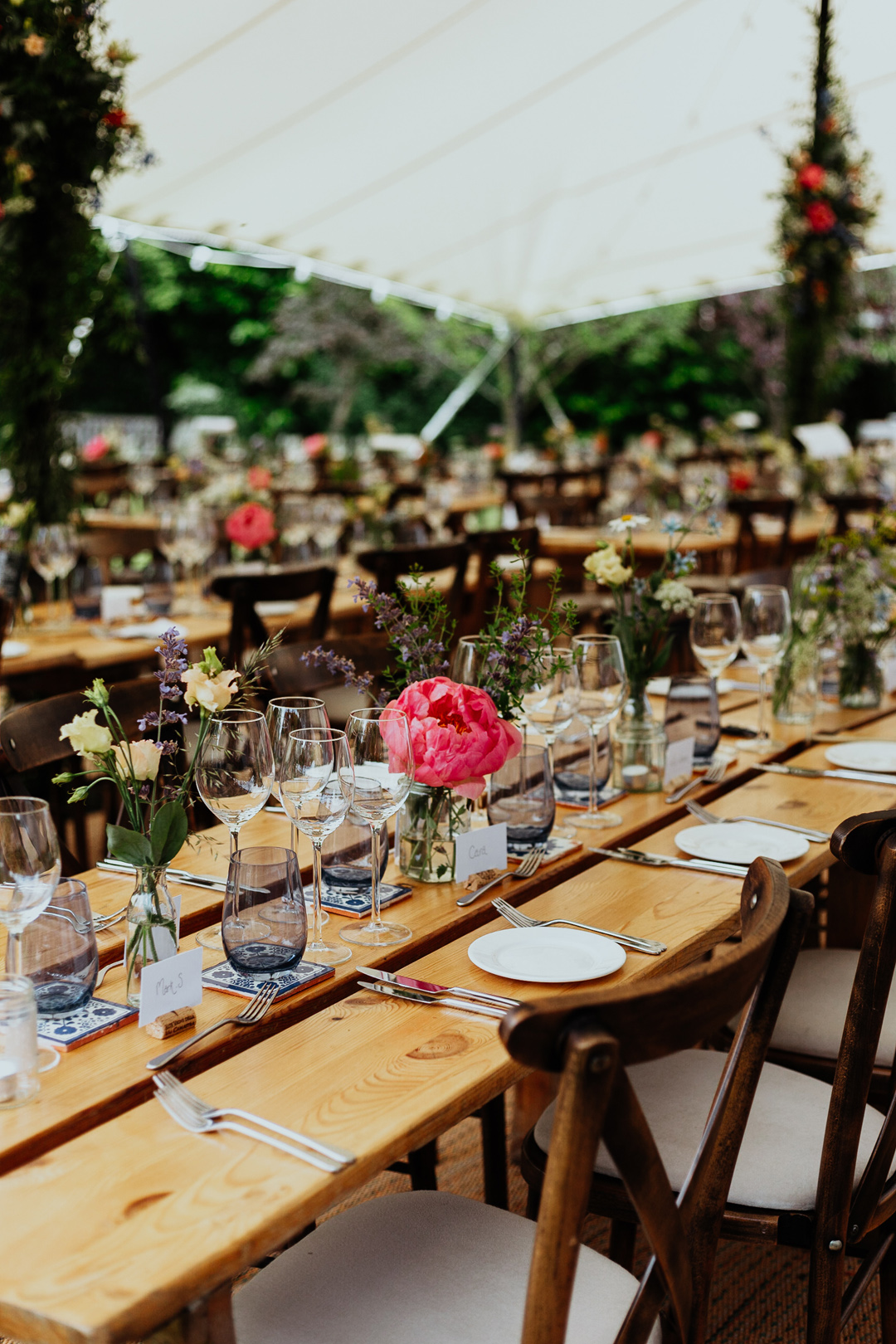 "The two decorative pieces that felt particularly special to Olly and I were the palette bar for our reception and the cork board we used for our seating plan."
We wanted to build a palette bar that could work as a focus piece in the garden and we wanted it to be covered in wild flowers and foliage."
"It was so nice putting something together ourselves. The day before the wedding our ushers and bridesmaids helped do the finishing touches, which felt so special."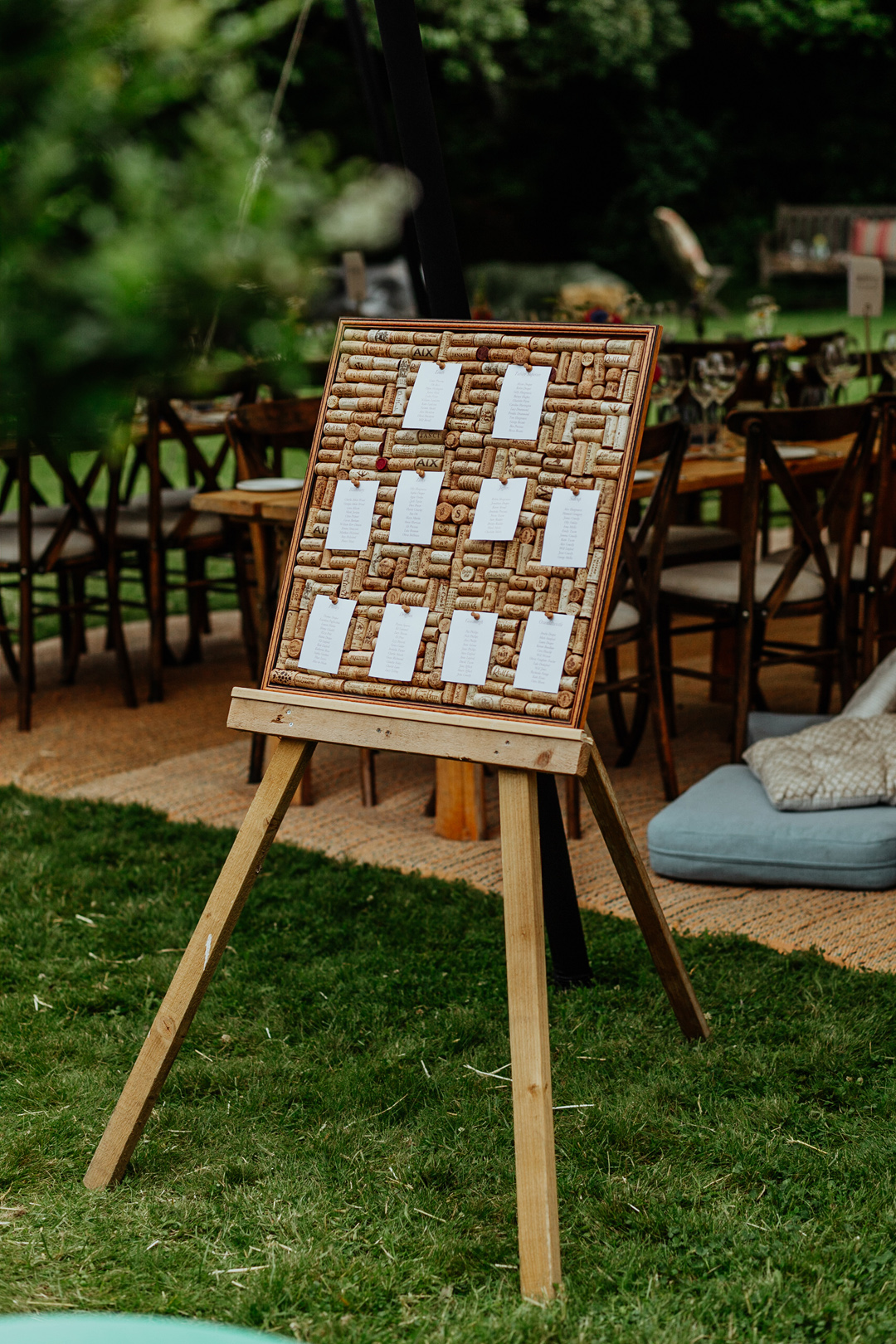 "The idea for the cork board came from one that Olly's parents own, made up of wine corks."
"We decided to make one of our own and used a collection of wine corks which we collected over the time of our engagement, very much helped by both of our families, keeping to one side those from special occasions and using the rest for our place name holders."
Isobel Bakes created the colourful cake, daubed with multi-coloured icing and flowers.
"My sister's wedding cake was done by Isobel and so we knew we wanted to use her. All her cakes are gorgeous."
"We ended up going for three different flavours and to keep things colourful picked a paintbrush-type icing design."
"Isobel based the colours on my bouquet and then added loads of amazing flowers and macaroons."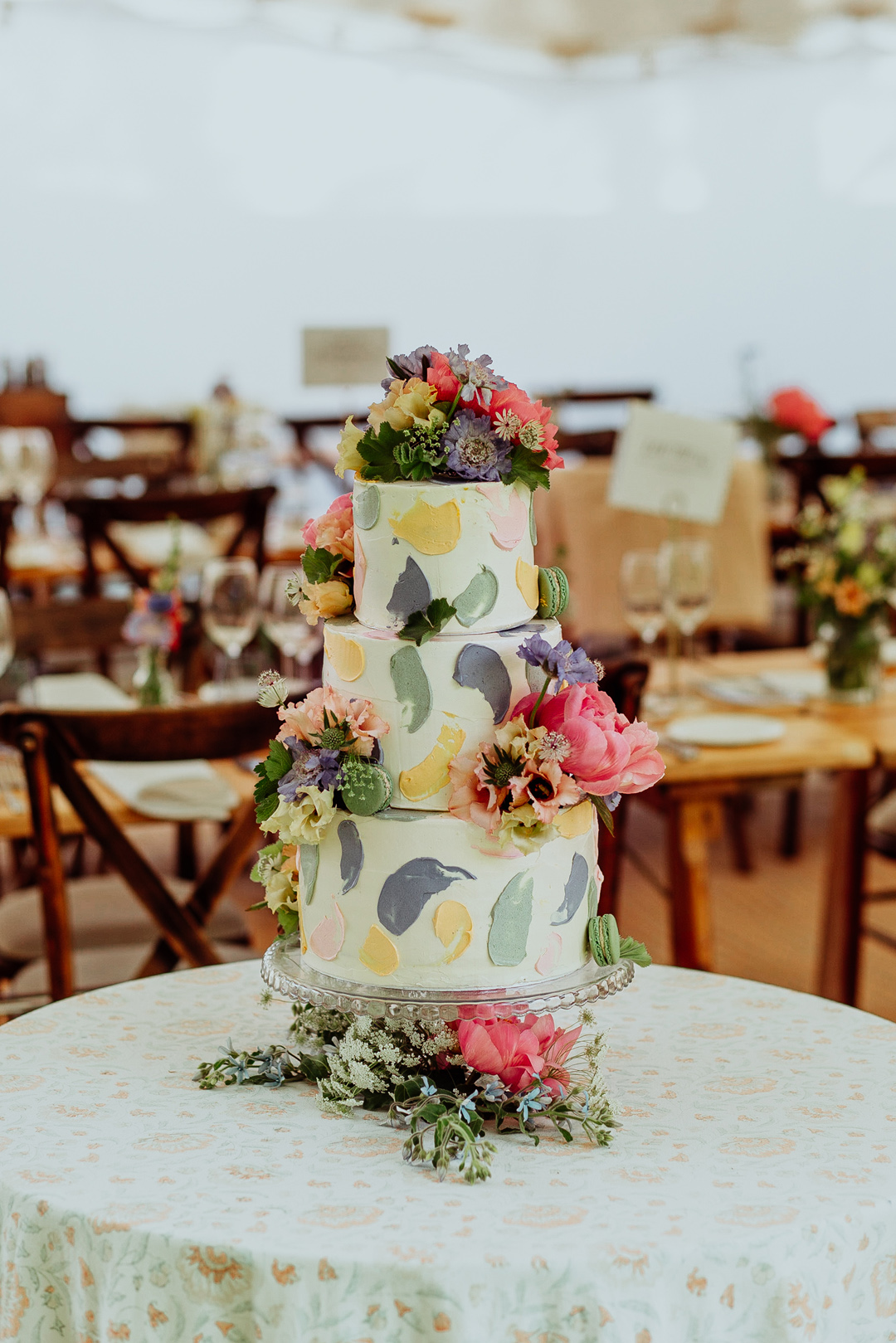 "Sister Press did our invites and menus for the table. We wanted something quite understated and contemporary and Polly's style matched our vision perfectly."
"She was also incredibly helpful throughout the whole invitation planning process."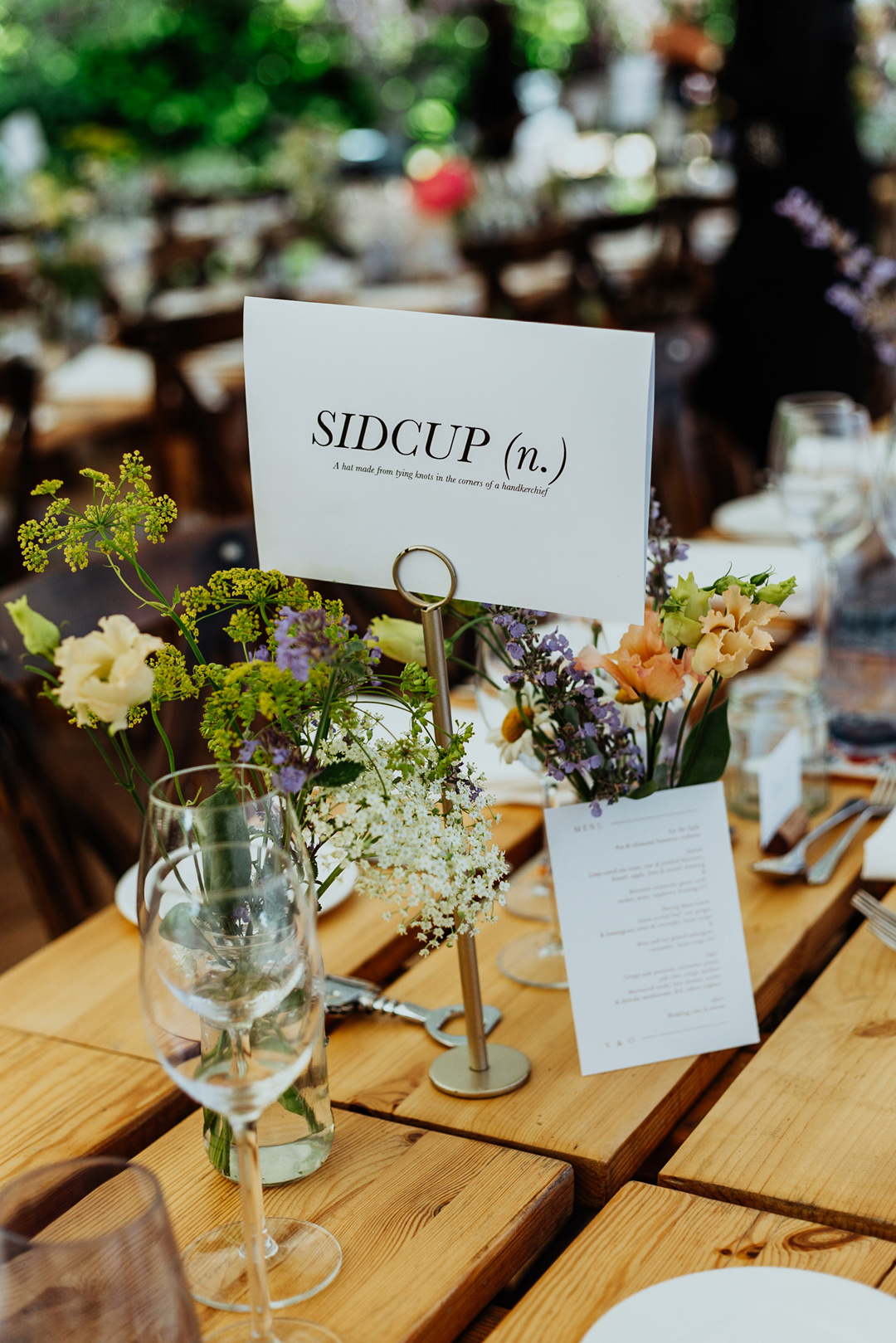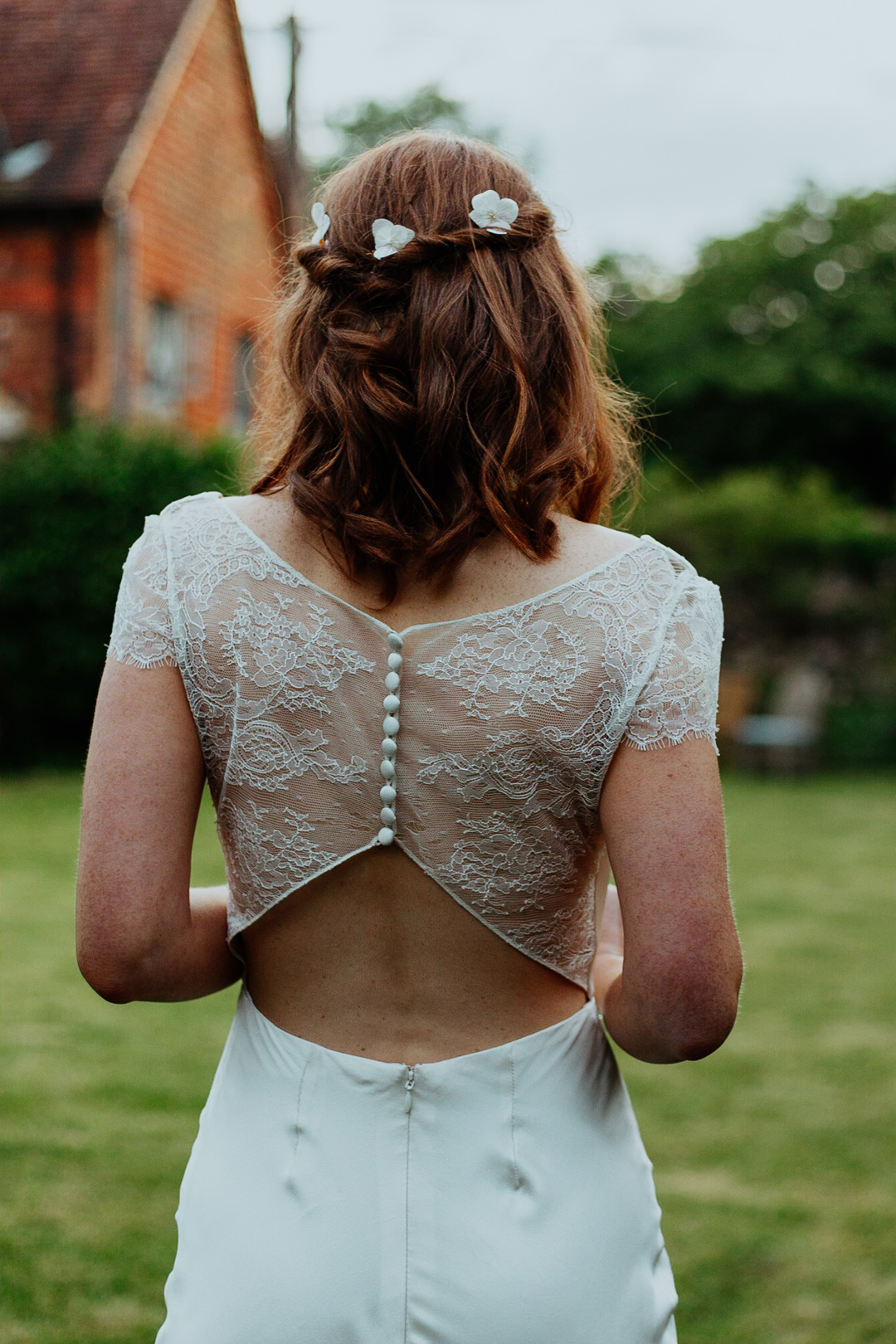 The wedding breakfast was catered by Dinner Ladies, who also helped run the wedding day itself.
"Dinner Ladies were utterly brilliant. Olly and I are really into our food and so it was really important to us that the food was a highlight, which it really was."
"We had a lovely lady called Zoe, part of the Dinner Ladies team, help run the day and the day before."
The bridesmaids wore a variety of gowns in a rich jewel green hue.
"I wanted them to choose their own dresses so they wore a mix of different styles and brands. My sister's was from Rixo and the others were mostly from Reformation."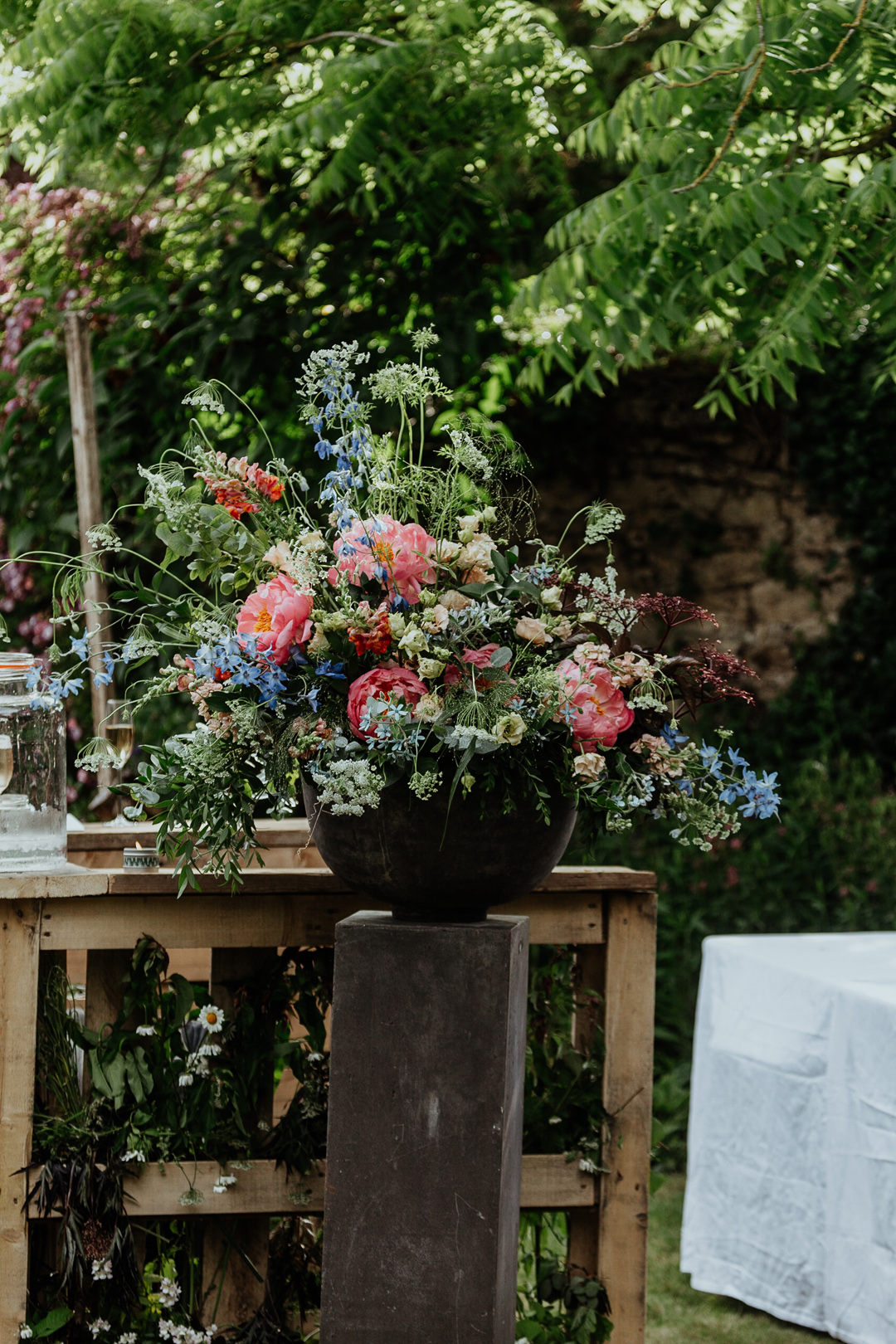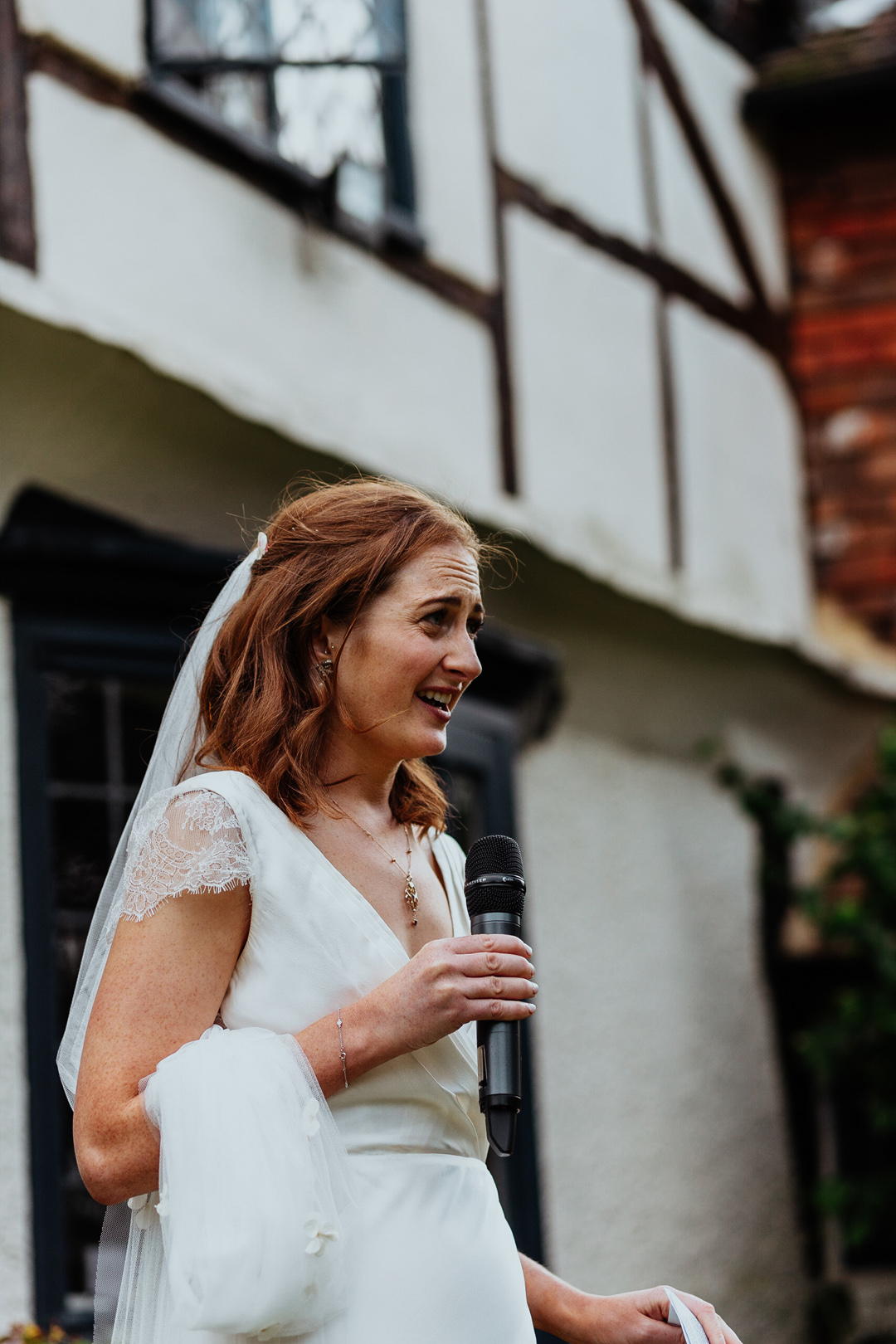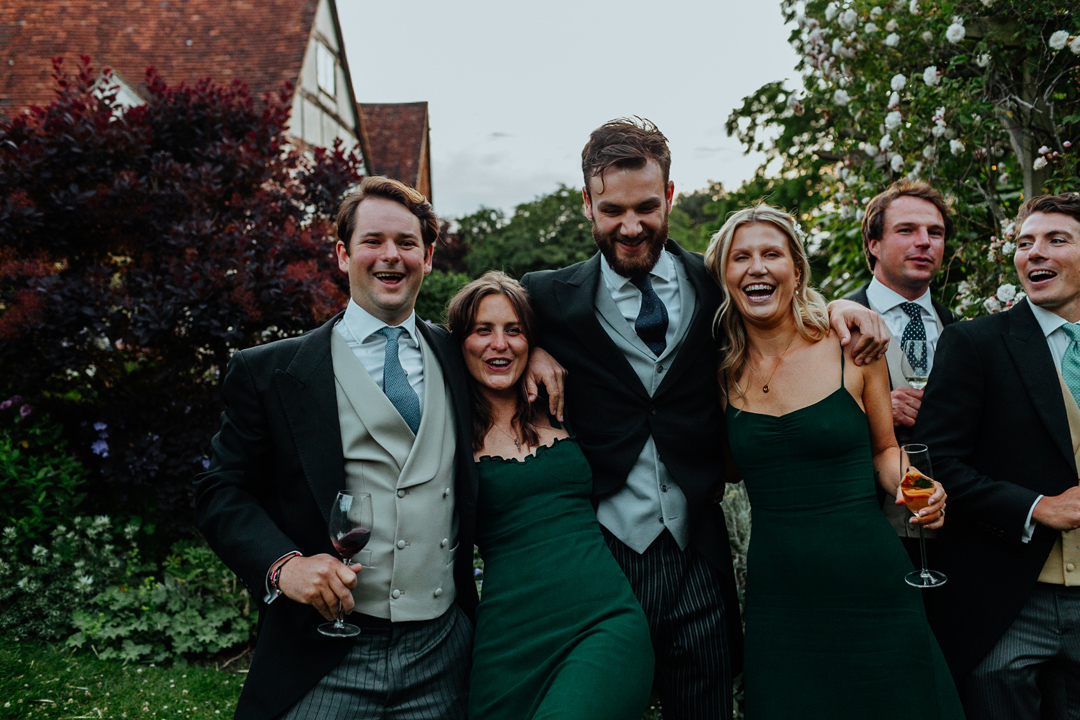 The evening party had live music from band The Low Riders.
"Our guests are still talking about how great they were! Our first dance was to 'Volare' by the Gypsy Kings."
"We have seen them live and always loved their music. It's a great song to dance to and comes with a lot of fun memories for us."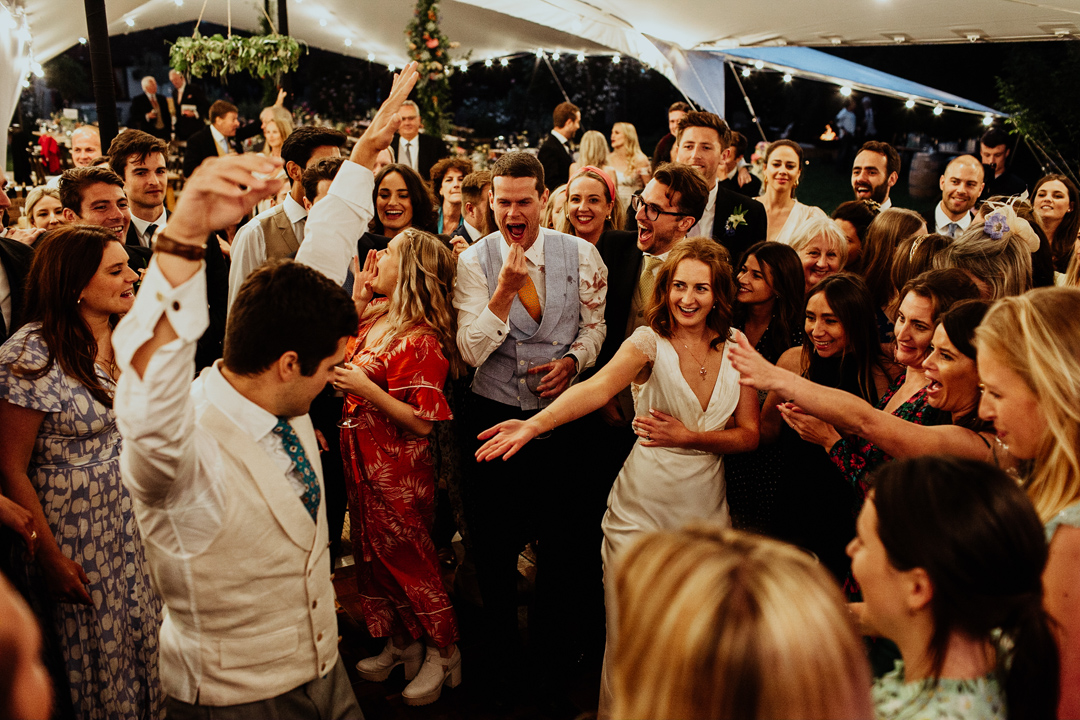 Words of Wedded Wisdom
"The day will fly by so try not to cram too many different things in. Lu (our wonderful photographer) was amazing at reminding us that group photos, for example, can take up quite a bit of time, so to make sure to have a short priority list in case you decide you would rather be doing the rounds and nattering with friends and family… which your photographer will capture amazingly."
"Some things will inevitably not go to plan but the likelihood of people noticing is very small. Our electricity went out at one point in the evening. Olly, my family and I were trying with fix it as quickly as possible and we suddenly realised that other than us no one had even noticed and everyone was still having a great time."
Olly and Sophie, congratulations on your wedding and thank you so much for sharing it with us. I love the beautiful garden setting and the vibrancy of the summer flowers.
It's been wonderful to see a creation by the wonderful Sanyukta Shrestha and lovelies, if you'd like to see more of her gowns, please take a look at these other Love My Dress brides.
Ele xx