There's such an easy elegance and beauty to the wedding we have the pleasure of sharing with you today; at its heart, a couple who wished to be married simply – in a city they both know and love.
This is the wedding of Tracy and Jasper, who were married on the 7th October 2019 at The Old Council House – Bristol Register Office, which they followed up with a post-ceremony stroll through the city, culminating in coffee at Full Court Press. We're delighted that our recommended suppliers, Taylor-Hughes Photography, captured this beautiful wedding.
Taylor-Hughes Photography

+ Follow
Bristol based Taylor Hughes are a skilled real life duo who love to create modern wedding photography for stylish couples.
They work all over the UK and world and we thoroughly recommend you take time to explore their work if you are looking for a good wedding photographer yourself

"We considered several locations (Scotland, USA) but Bristol chose itself for us; ultimately, there was no real need to travel and it already had everything we needed: the right budget, the right timeline, it was convenient, and we genuinely love the city (having had several of our early dates there)."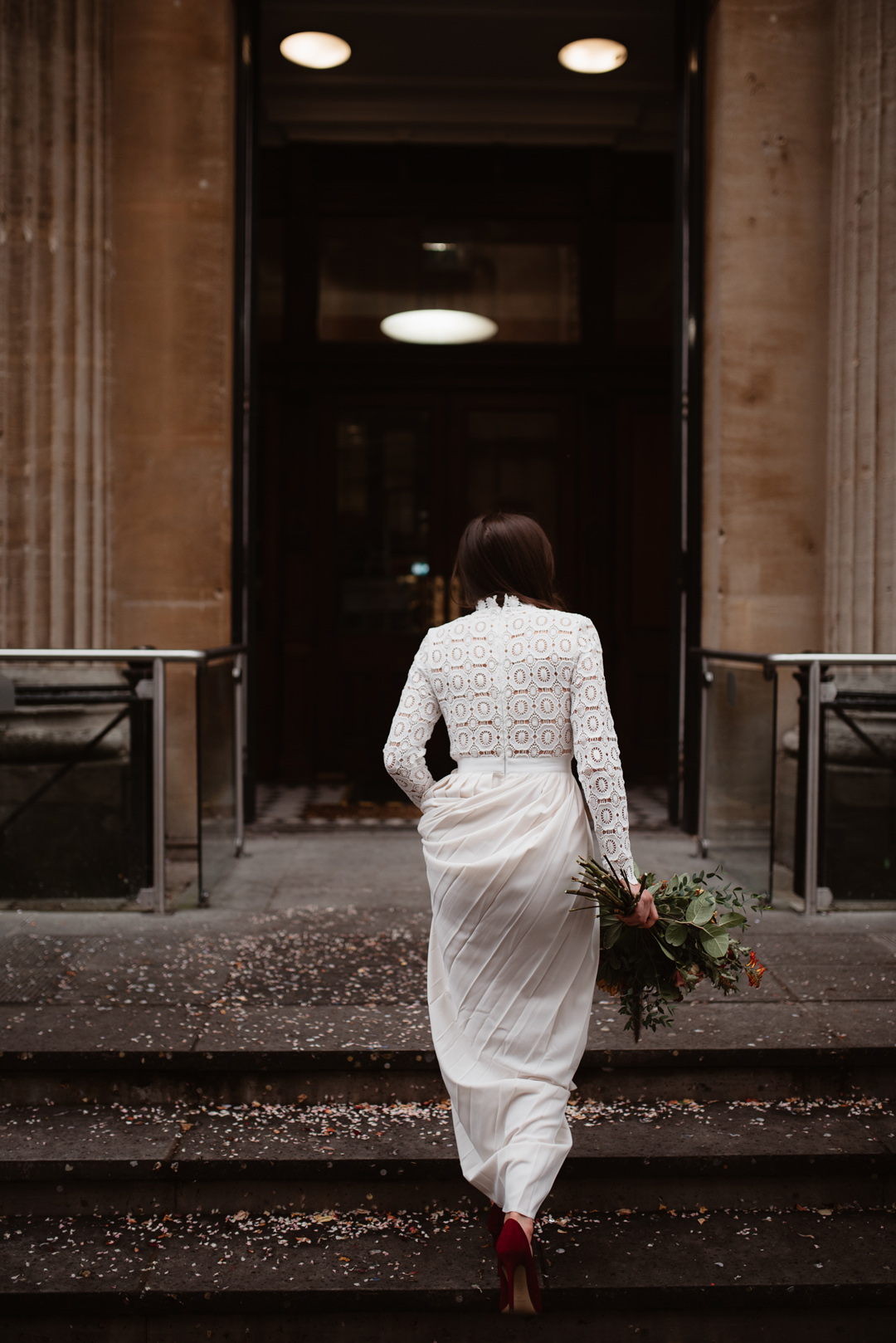 "We have family and friends scattered all over the world, and were lucky to see most of them at a family wedding earlier in the year."
"It seemed practical, and we had all of their support and love."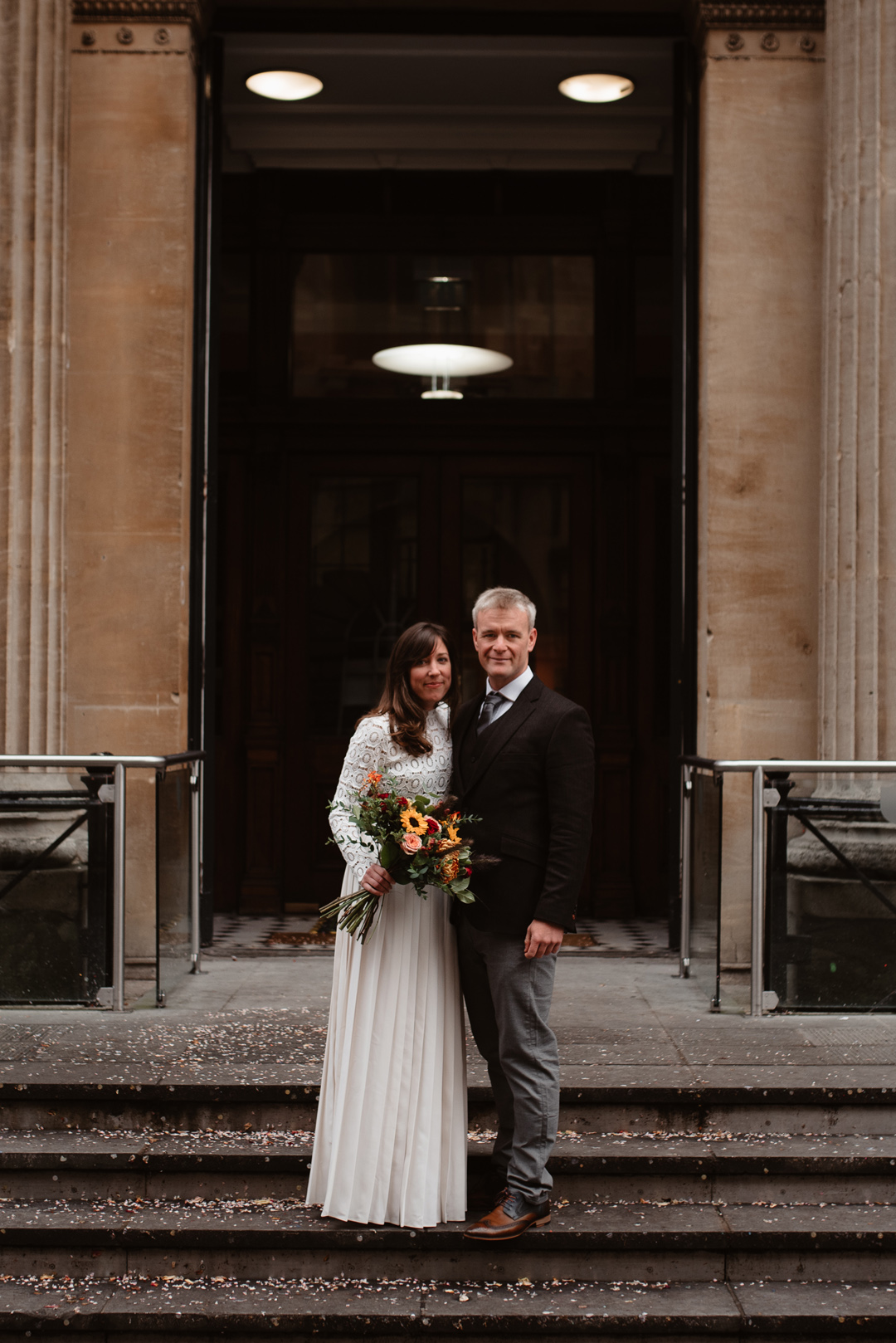 Jade and Jack from Taylor-Hughes Photography exemplified what Bristol meant to the couple, through their beautiful photography style.
"If you're on the fence in a sea of wedding photographers, I can't recommend Jack and Jade enough."
"Besides their photography talent, they're incredibly kind and consummate professionals, detail-oriented and fit easily into a personal event in one's life."
"I sincerely appreciate their adaptability and considerations, we're lucky to have had them document the day – again, I'd recommend them to anyone."
The couple walked into The Old Council House together, climbing the stairs to their ceremony room and walking down the aisle to begin their short, sweet and laughter filled ceremony.
"My engagement ring is made of Canadian-sourced diamonds and is meant to look like a flower, this was chosen as I have strong ties to Canada and completed school there, and I'm a keen gardener lover of the outdoors."
Jasper's smart attire of grey trousers, black jacket, silver-grey cravat, shoes and shirt were all from a little suit shop in Bath, which the couple dropped into on a whim one day – essentially to look for something else. Sadly they can't recall the name of the shop, but do remember what a great time they had there!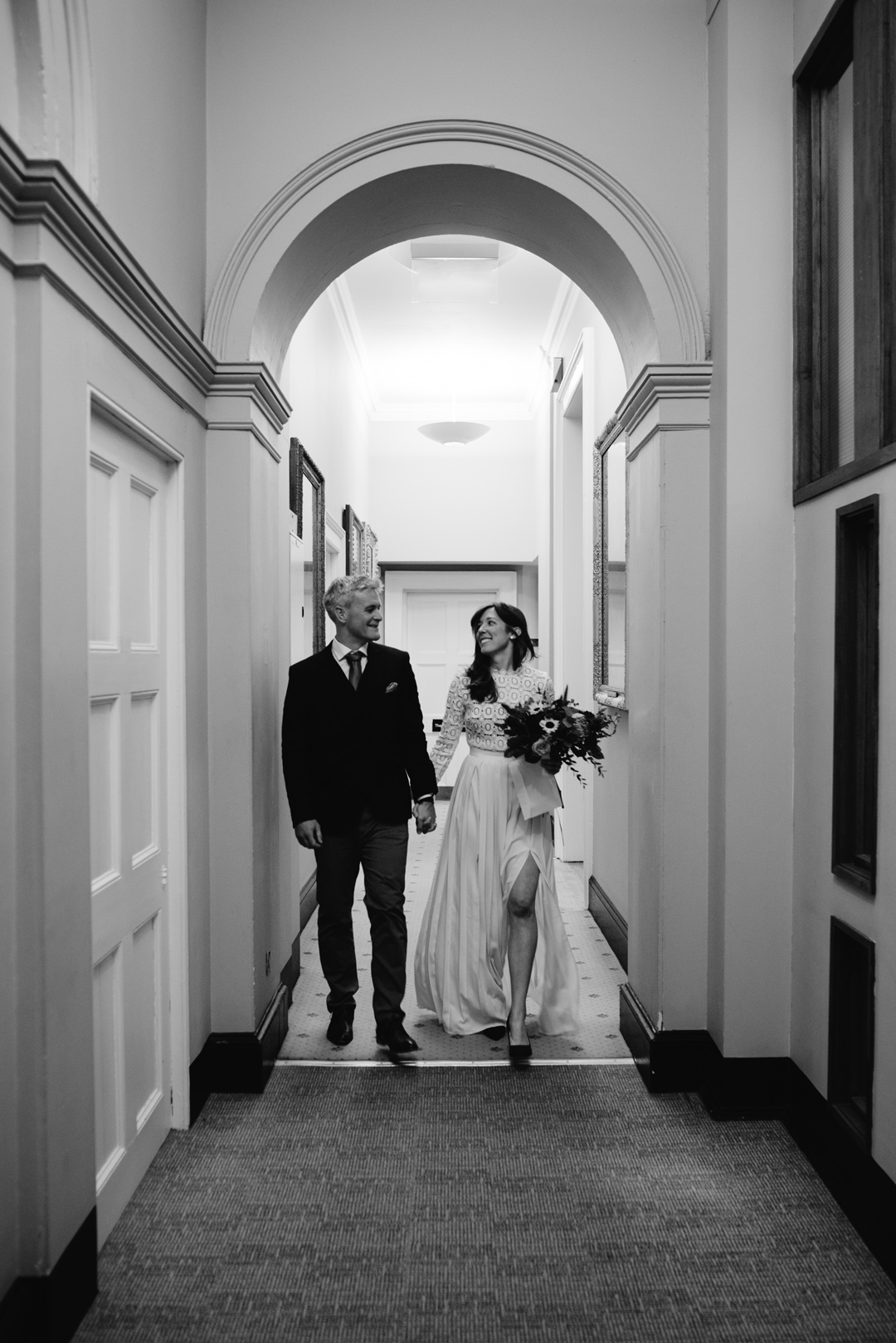 "The owner was an excellent dresser and performer, and before we knew it, he had Jasper decked out from waistcoat to shoe, amending it when scrutiny prevailed. It was great fun."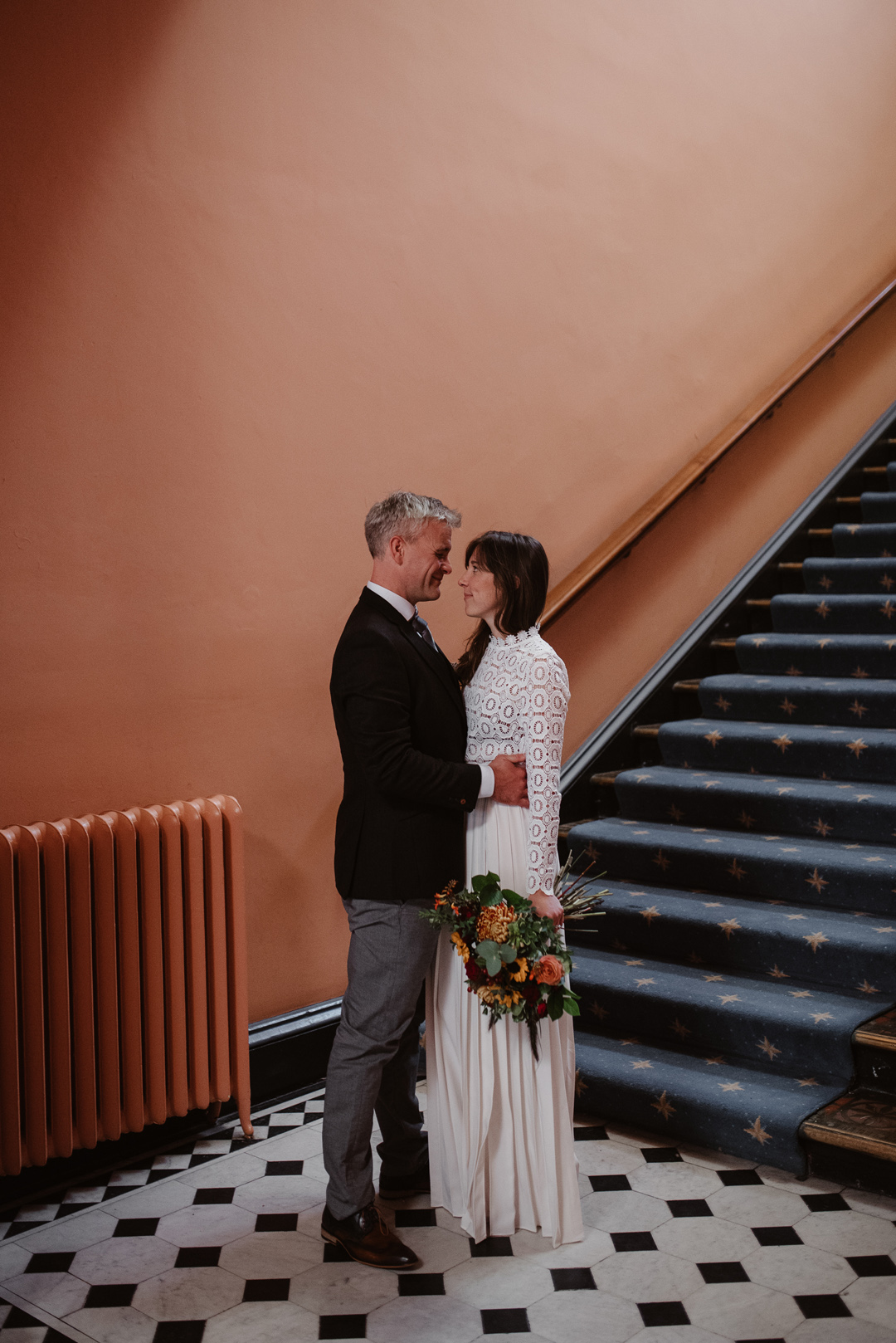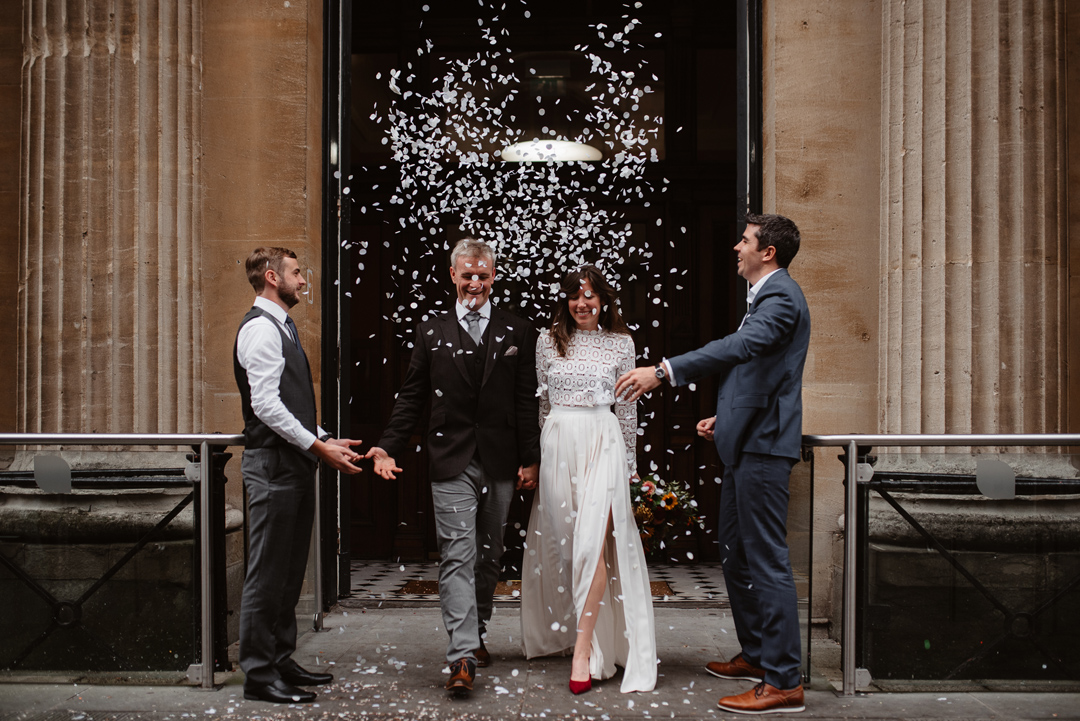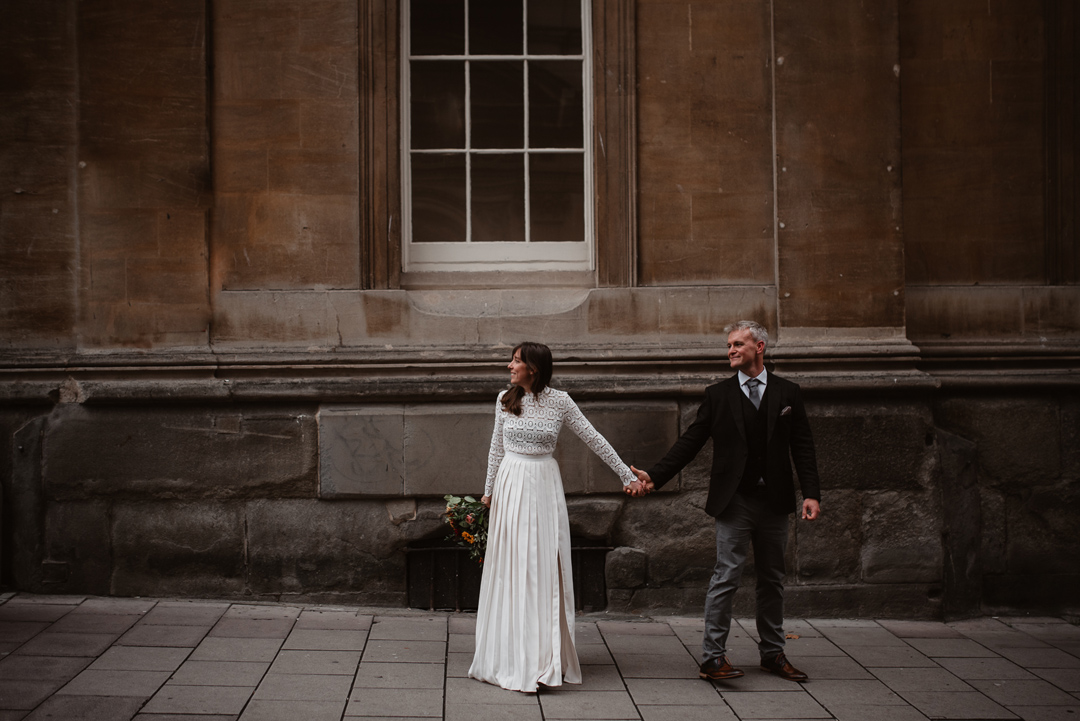 After a shower of confetti outside the registry office, Tracy, Jasper and their loved ones walked over to Full Court Press for cosy afternoon coffee, and delicious cake, courtesy of Cakesmiths.
"These cakes are delicious, that is the reason we chose them – and they can be bought by the slice, too."
Tracy's autumnal hued bouquet of roses, chrysanthemums and sunflowers was a ready-to-order online arrangement from artisanal florists Bramble & Wild in Frome.
"I left the florist arrangement a little too late! I found Bramble and & Wild online, and they had a ready-to-order arrangement in lovely colours. I asked my Mom to pick, as I couldn't decide."
"It's the most beautiful shop to visit."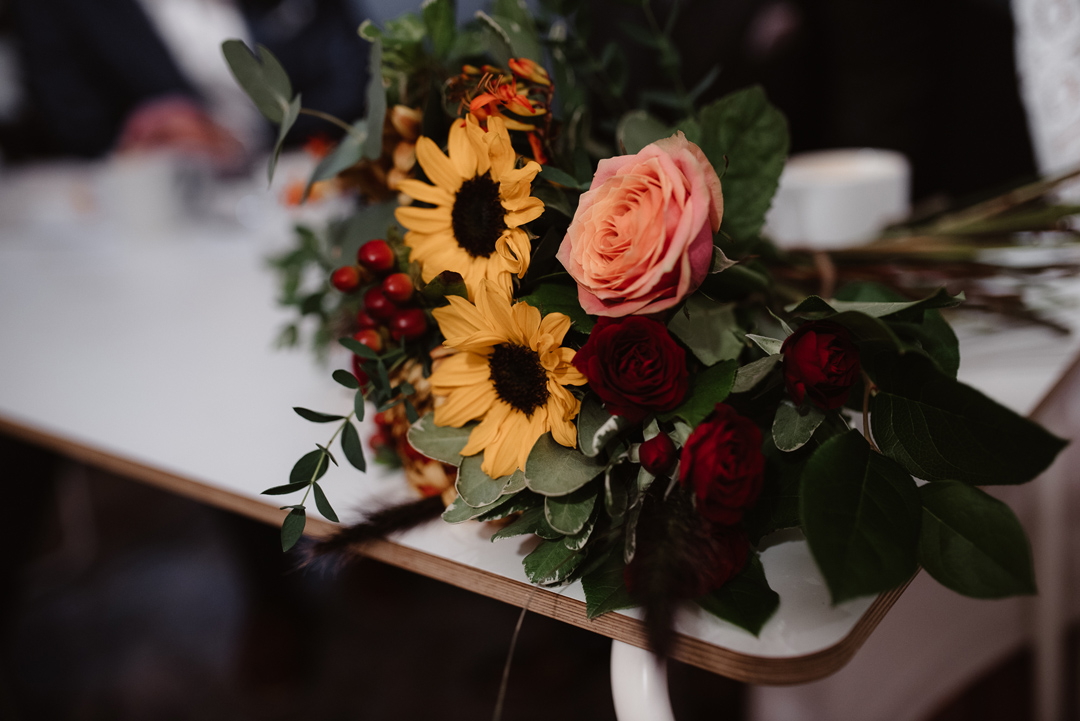 The post-ceremony coffee was fitting, given where Tracy and Jasper went for their first date.
"We met online and struck up a conversation before arranging to meet up for a coffee."
"Jasper proposed in our back garden, as an outdoors area we both had ties to and loved. We elected to have a short engagement."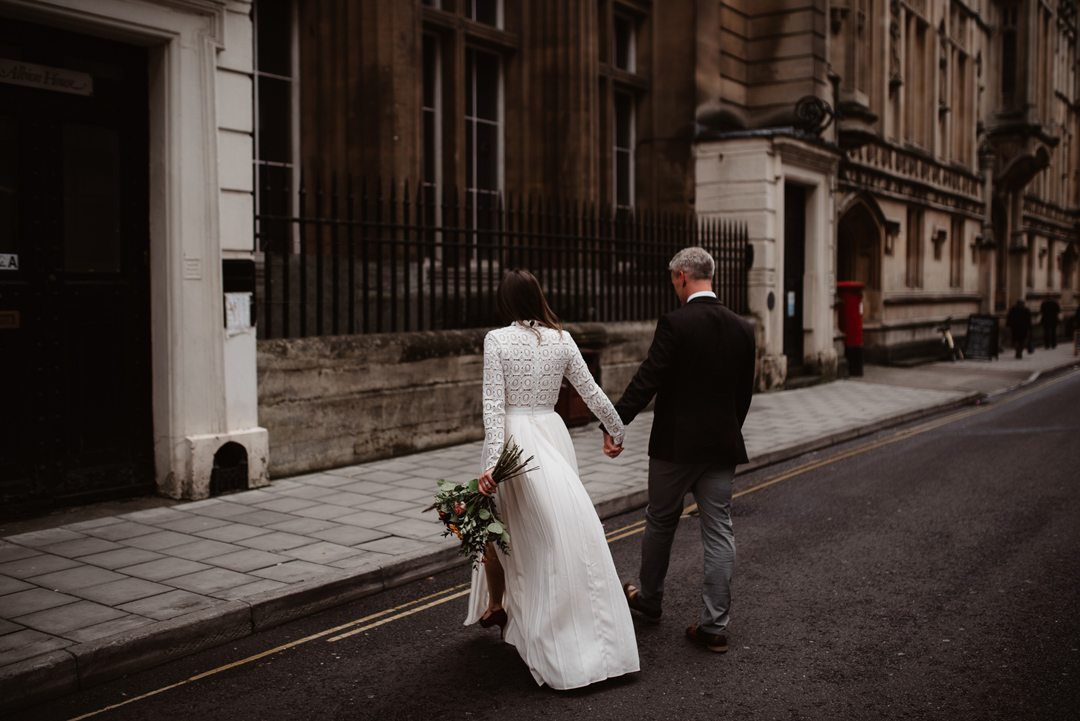 Self Portrait make the most wonderful, whimsical, floral inspired dresses in beautiful fabrics, and Tracy's incredible dress – a maxi dress with flowing, pleated skirt and 1960s inspired floral crochet bodice – was chosen online by Tracy and her Mum.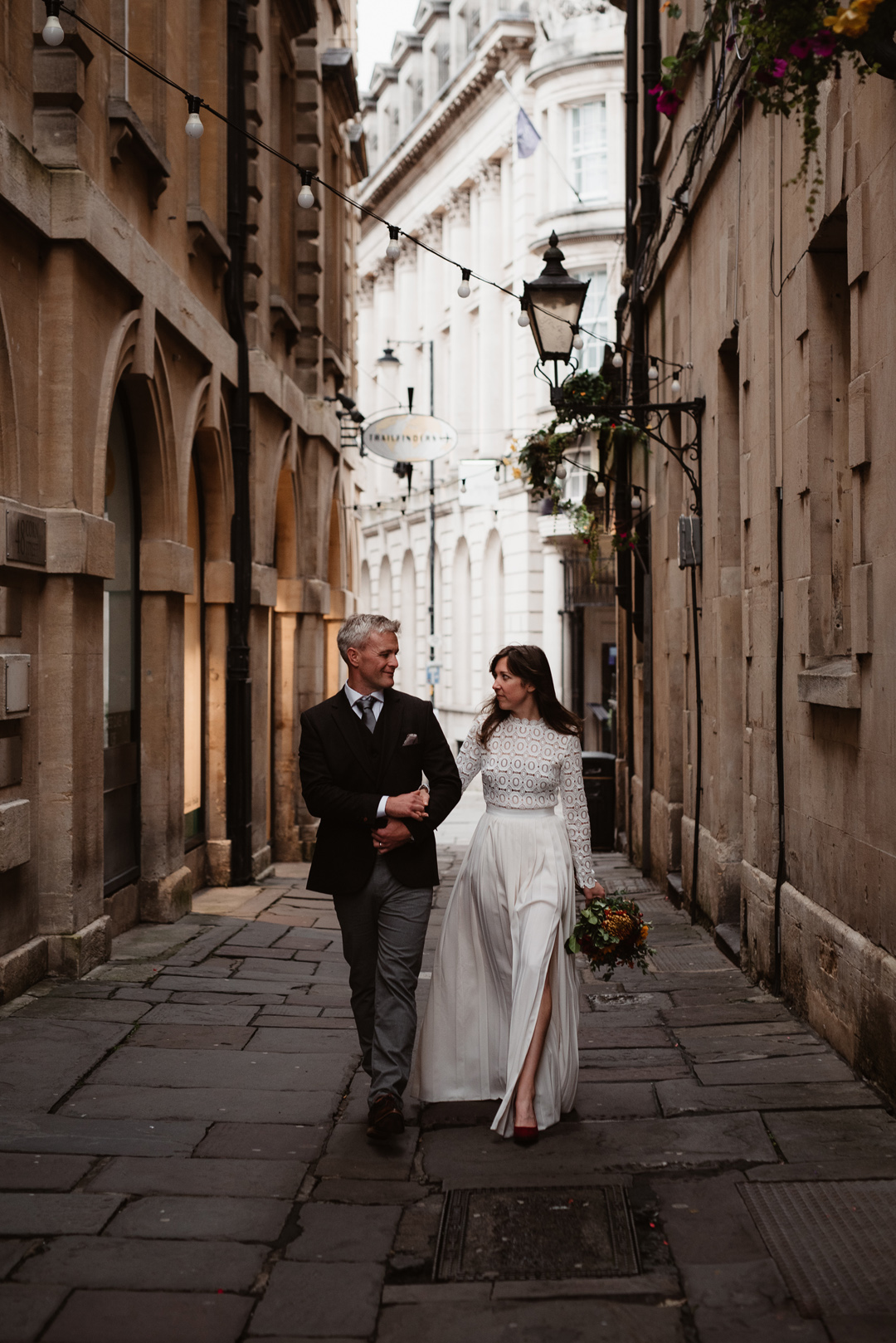 "My original plan was to wear a silk and linen skirt I already loved and owned with auburn scrolls, but my Mom and I found my dress on the internet while looking for a lace or crochet top."
"It looked a little modern, but still classic – and we really liked it."
Cardiff Alterations – Rhiannon J Ltd advised on hemming (and zipping up!) of the dress, too. Tracy's favourite part of her outfit were her luscious red heels from Nine West.
Red is her favourite colour, and these beauties were another find by her Mum, too!
"I have an old pair of red cowboy boots that have travelled the world with me, so I'm partial to red shoes."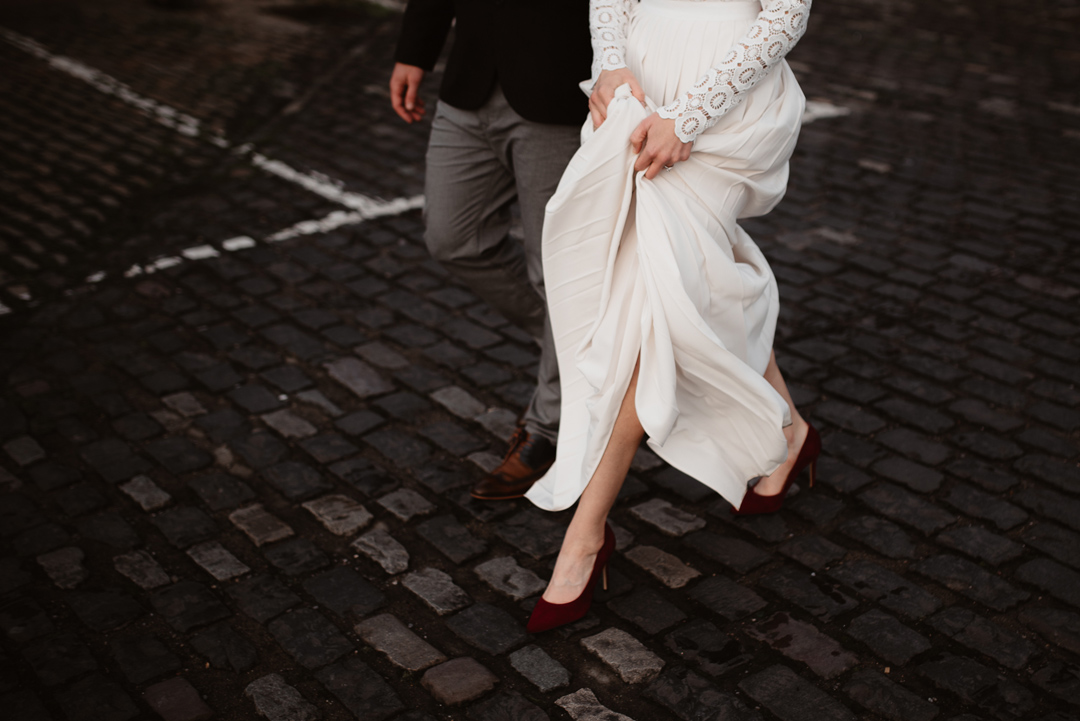 To complement the crocheted daisies on her dress, Tracy wore a pair of silver daisy earrings chosen at a jewellery shop in Frome, Somerset.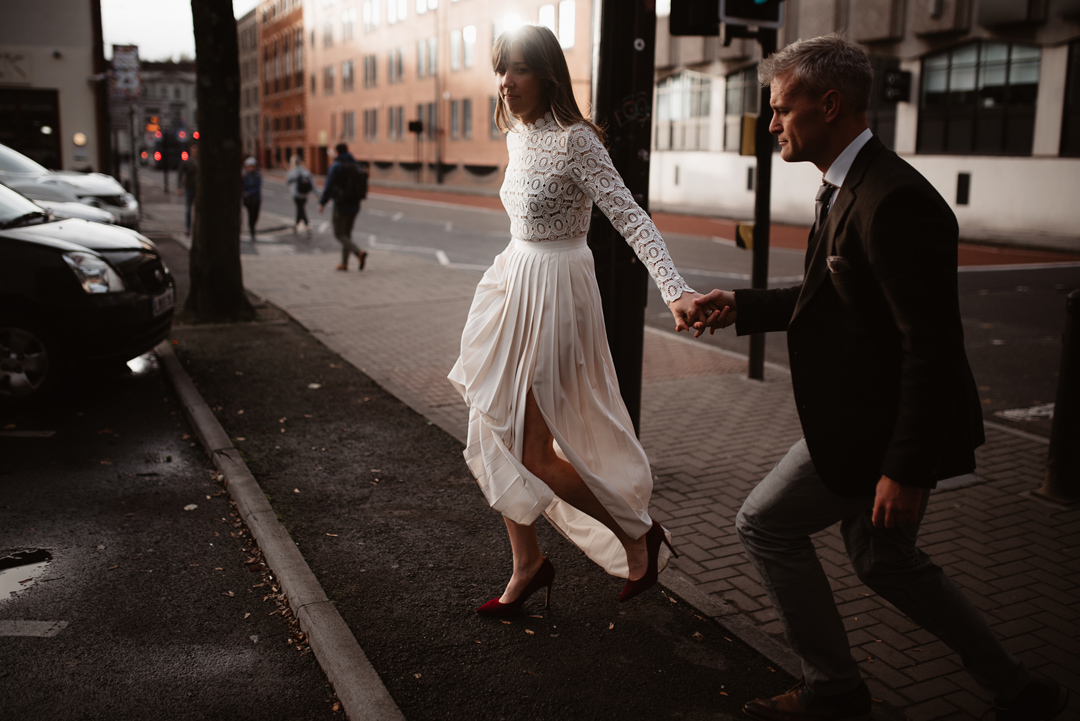 "I scheduled a blow-dry with permission from Bonomini Hair (Victoria). She handled it with absolute grace and did a fantastic job, trying to get the hairstyle to last some car travels and a few hours."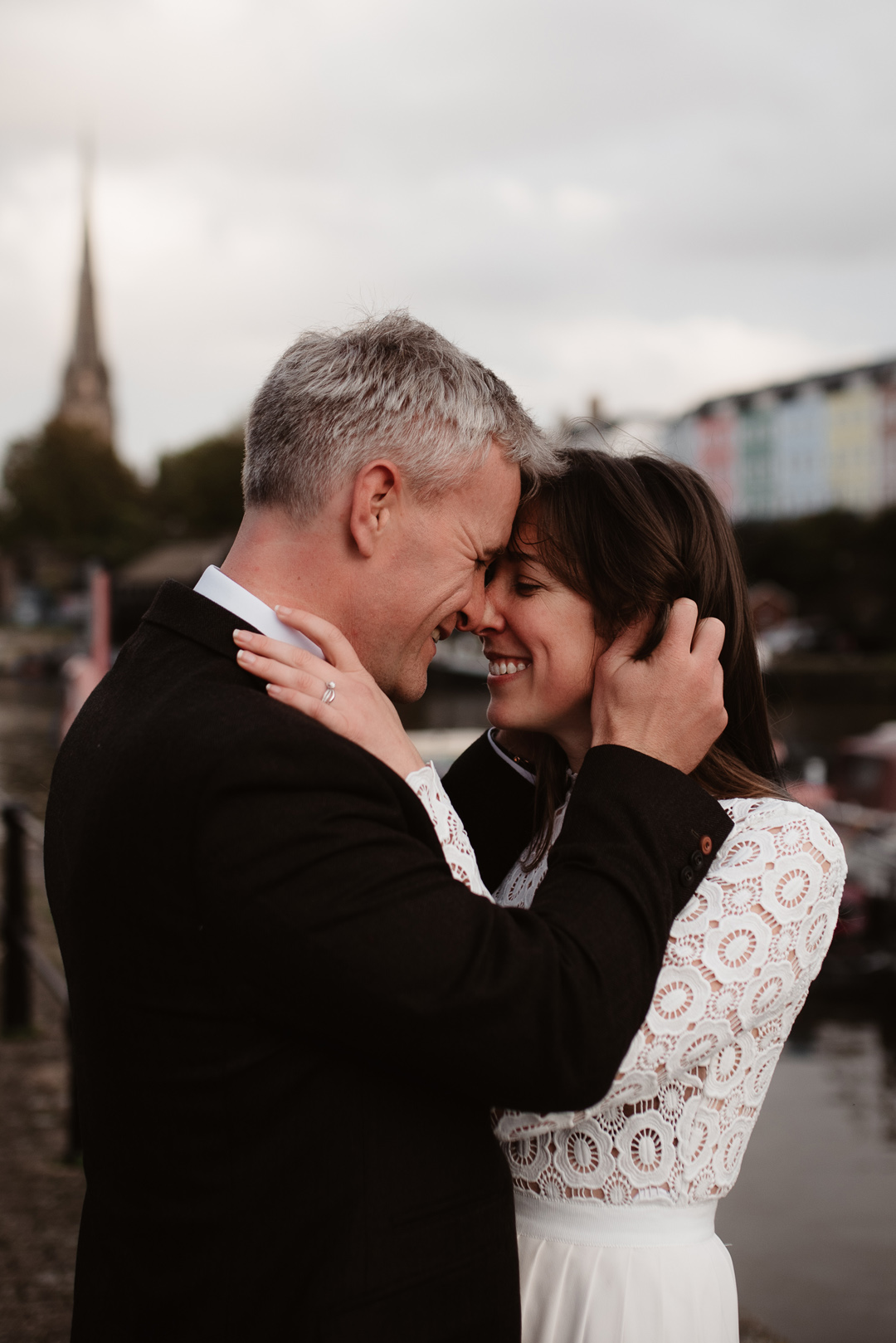 Although there wasn't an evening reception, the couple still had the chance to enjoy a first married dance together, to the song Old Pine by Ben Howard.
"We love camping and the outdoors, so it seemed fitting. Jasper wanted to dance, so Jade our photographer helped me find a little spot in Bristol to play the song on her phone."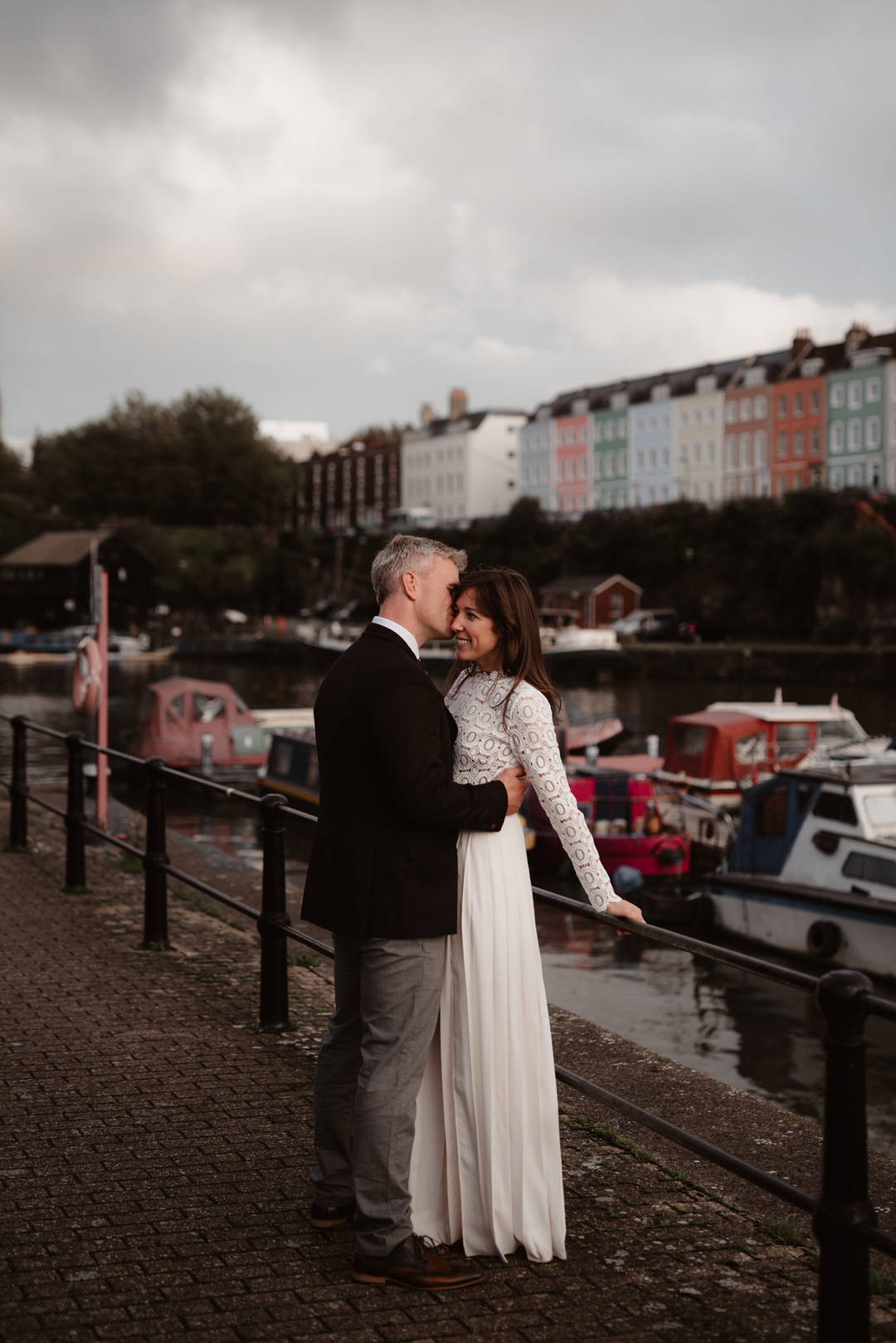 "The data connection kept glitching, which is also when you realise this is a really long song!"
"We had fun all day and in part that was thanks to the photography team and our friends; it was very relaxed and personal."
Words of Wedded Wisdom
"Plan to the level of detail that makes you happy, but leave room for imperfection."
Well, that was just lovely wasn't it? Many thanks Tracy and Jasper, for sharing the joy and intimacy of your day here.
Huge thanks of course also go to photographers Jade and Jack for their brilliant images.
With love,
Laura
We recommend Bristol based Taylor-Hughes Photography to our readers. Jack and Jade shoot weddings all over the UK and world. Drop them a line on [email protected].