If you're inspired by non-traditional and unconventional weddings, I have just the thing for you. Today's wedding was a relaxed pub affair with tones of pink running throughout.
Please meet Maddy, a strategy lead, and Daniel, head of brand marketing, whose casual and relaxed, non-traditional day on 18 September 2021 was held at Islington Town Hall with a dinner reception after at The Mitre Lancaster Gate, London. The couple wanted their celebration to reflect their personal style, choosing non-traditional tones of pink for their wedding attire, fitting in with an overall colour scheme of burgundy, pink and touches of rose gold.
"I'm a very down to earth, casual person and wanted the day to reflect that. We both always enjoy spontaneous, relaxed days the most so we wanted to ensure our wedding reflected this, hence our choice of town hall and pub wedding."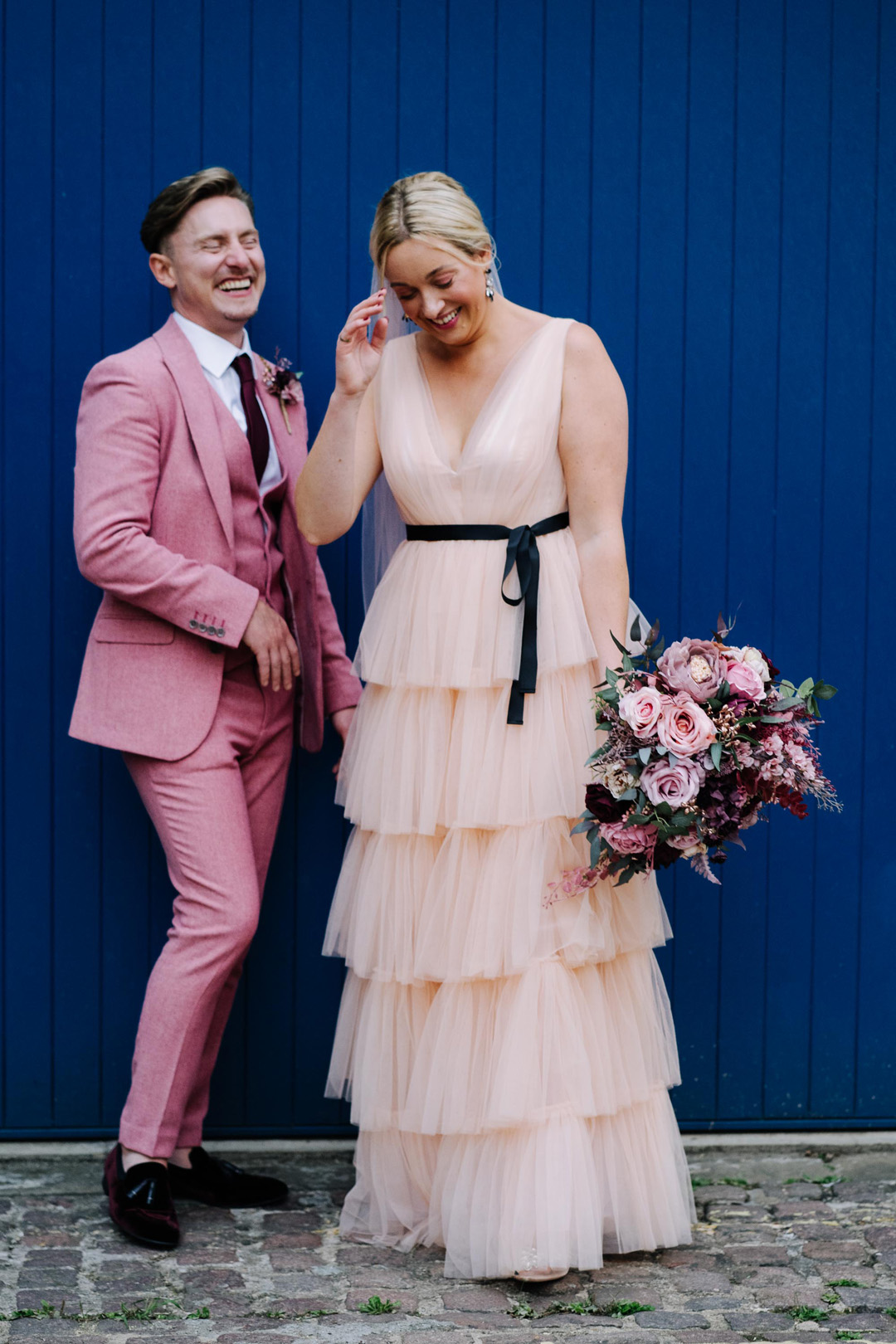 "We wanted a day about laughing and sharing in the love of our family – something that became more important during Covid."
"We also wanted our wedding to feel unique and like ours and not look like other weddings."
The bride wore a fun and flirty, full-skirted dress in pink, from Coast.
"I didn't want a traditional white dress, partly because I don't wear white or cream on a day to day basis as it doesn't suit me, so why would I choose that for such an important day?"
"I went with a colour that I like, in a dress I felt genuinely comfortable in. I was able to wear it all day without any discomfort, which was really important to me."
"I found my dress by total fluke. I clicked on a dress from an email from Coast and it took me to a different dress. As soon I saw it I thought, 'Hey, maybe this might'."
"As soon as it arrived I instantly loved it and once I tried it on I felt like I never wanted to take it off."
"For me, this was my 'dress moment' albeit a very non-traditional one alone in my bedroom with packaging around me!"
The bride finished off her outfit with a full, lush bouquet of faux flowers from FlowerDreamsBoutique via Etsy.
"I opted for fake flowers as I have really bad hayfever. I also wanted something I didn't have to worry about leaving on the table or the floor or something."
"The flowers we chose matched the colour scheme of pink and burgundy with elements of rose gold."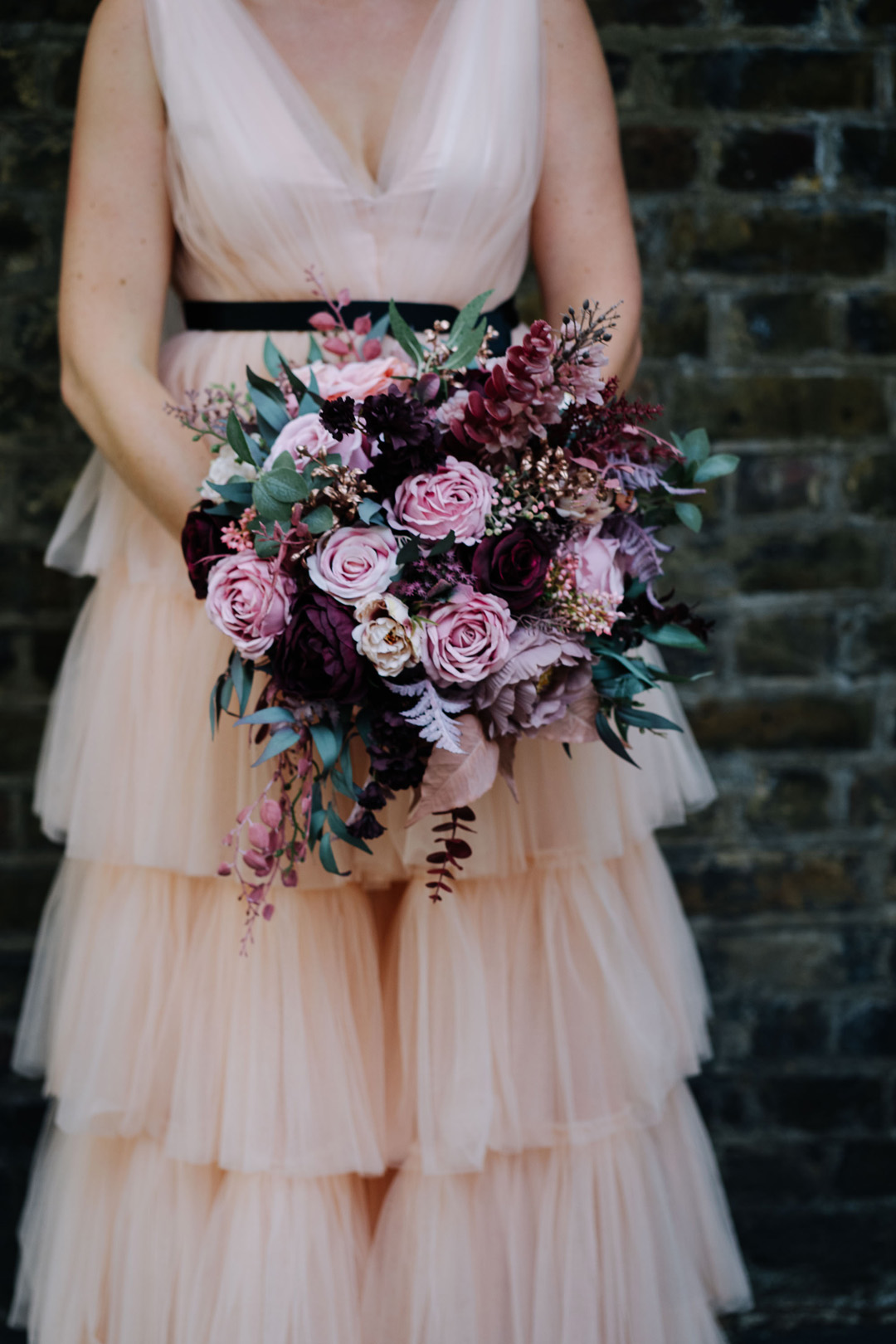 Reflecting his personal style, Daniel chose a non-traditional, pink suit from ASOS. He wore it with Reiss shoes and a crisp Hawes & Curtis shirt.
"We both like to dress a little 'differently' and wanted this to be reflected in our wedding day attire. We also wanted to really show force as a couple, hence our decision to match our outfits."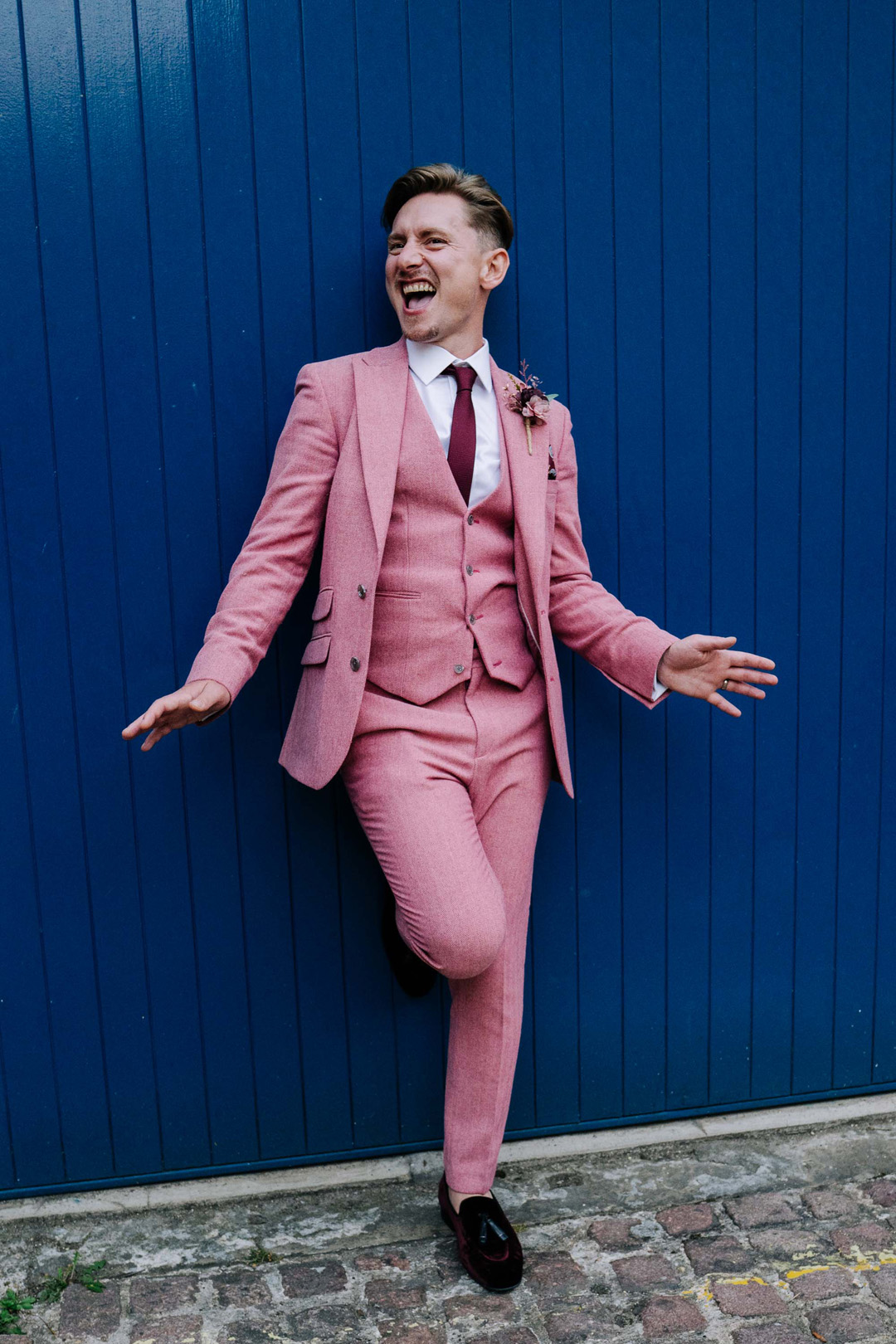 The bride travelled to Islington Town Hall in a white cab from Traditional London Wedding Taxis. She walked down the aisle to meet Daniel with her father, to Vitamin String Quartet's cover of Pink Floyd's 'Wish You Were Here'.
"We decided not to tailor our vows to keep our ceremony short and simple. We felt like we didn't want the added pressure."
Rings came from Ernest Jones.
"We had only gone in to try rings from a varied selection as we had struggled to find rings online (due to Covid restrictions) but we ended up finding two rings we loved."
"They provided an excellent service and were great when Dan changed his mind about his ring and opted for a different one."
Although the day itself had no Covid restrictions, the celebration was planned and booked online.
"We didn't get to see any of venues before we booked them (we had previously been to the pub and bar for a drink several years before) and I wasn't able to try on a wedding dress in a proper dress shop with enough time before the wedding."
"My dress was purchased online and tried on in my bedroom, sadly without my mum or maid of honour due to the lockdowns."
After the ceremony, the newly-weds and their guests headed outside for drinks and photos. Their photographer was Joséphine Elvis Photography.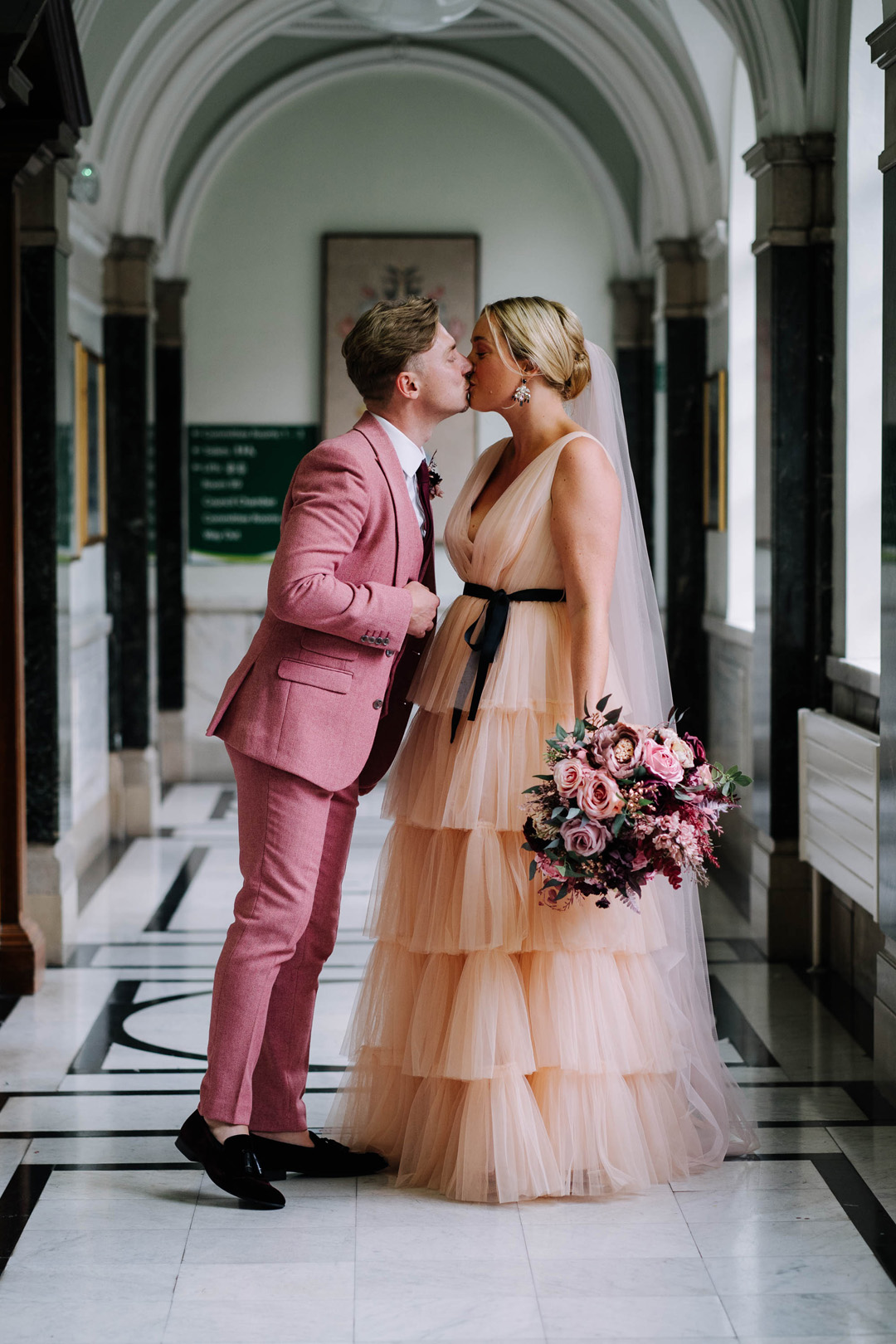 "We wanted documentary style that really showed the personality of us and our guests, as well as someone who could find beauty in the gritty streets of London."
"Joséphine Elvis did exactly that. She made everyone feel so comfortable; some guests even noted she felt like a family member on the day."
"We wanted a photographer who could capture all the little moments of love and joy."
"I would 100% recommend Joséphine – we're so, so happy with our photos."
Maddy chose a blush pink veil from AnzaBridal via Etsy to match her dress and wore flat Lightinthebox.com sandals with diamanté detailing to reflect the light.
"I wore earrings from Coast as my something old. They were several years old but perfectly matched my dress. I also wore my grandmother's ring."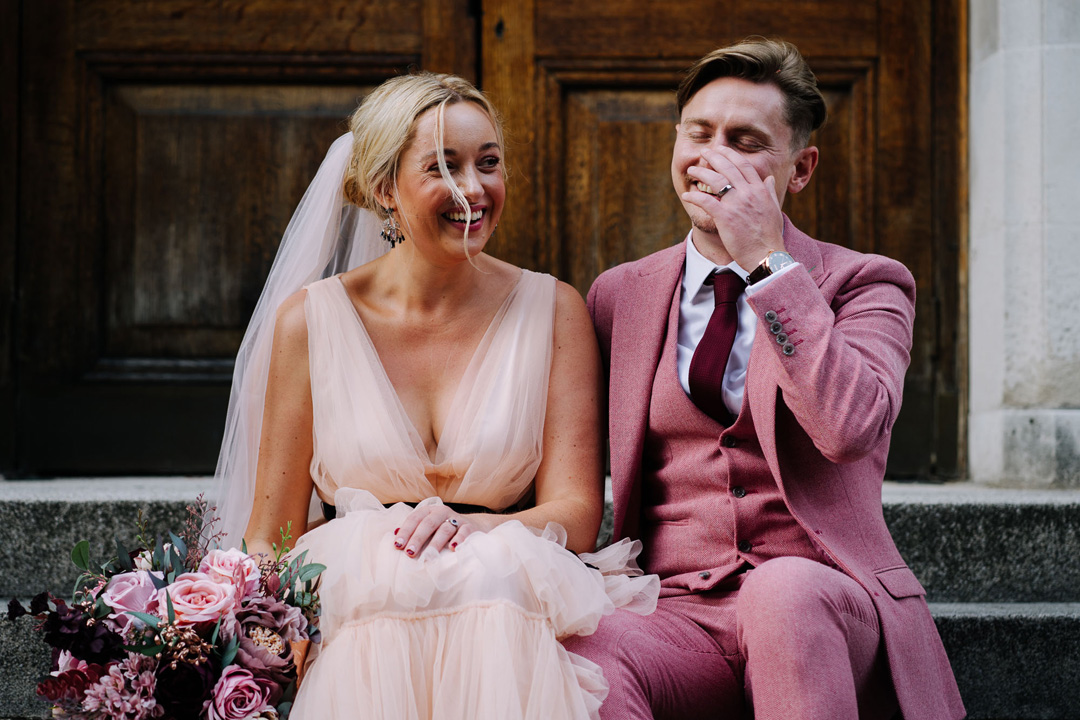 Daniel and Maddy met through work and were engaged at Christmas 2019.
"I actually really didn't like Dan the first time I met him. But, after a few interactions, I quickly saw the error in my judgement and proclaimed it was a shame he was about to move to San Francisco otherwise I thought we would've been best friends."
"We came to this realisation one month before Dan was due to move to the US for work. During this time, we fell fast in love and despite our best efforts remained inseparable – talking everyday even after Dan left for the US, with me visiting once a month."
"Dan returned home to live in the UK after only one year living in San Francisco as we didn't want to be apart any longer. Since then we've been in each other's pockets for a full five years."
"Dan proposed on the eve of Christmas Eve 2019; Christmas is my favourite time of year. We had just been to our local pub, The Little Green Dragon in Winchmore Hill, for carol singing and beers."
"Still in our Christmas jumpers, Dan pointed to a new decoration on the tree – a Christmas stocking which held the ring. "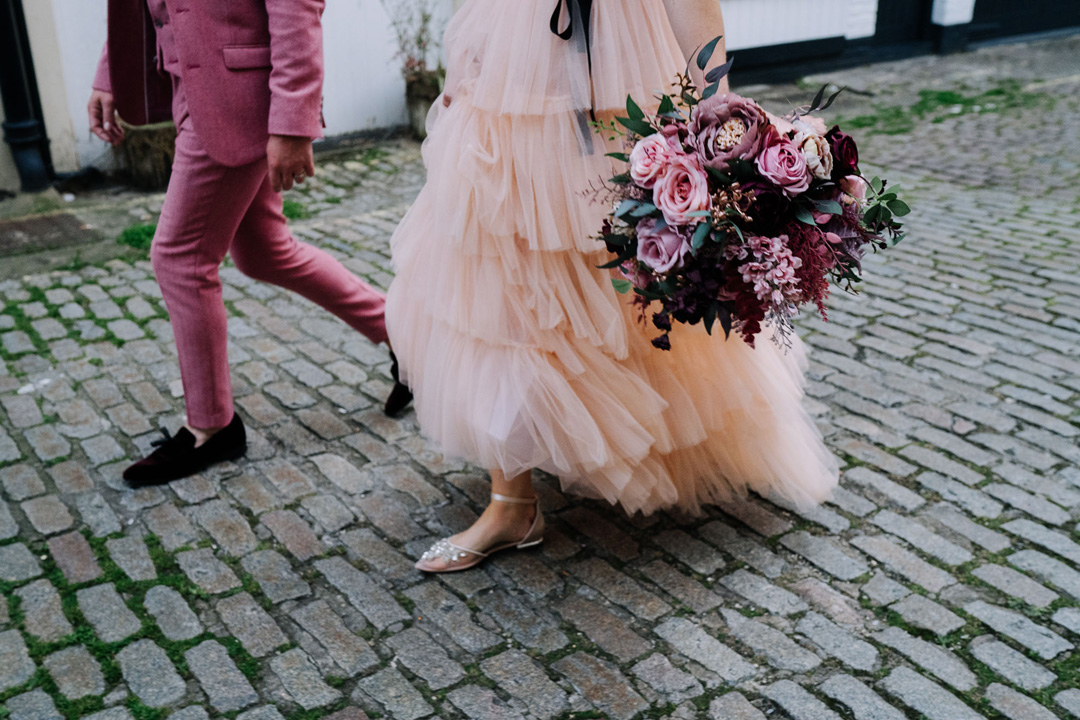 "Two days later we left for a two-week trip around Vietnam which felt like a two week-long engagement celebration."
"We were married the following year in September, somehow magically not impacted by Covid."
The wedding party piled into an old London bus from Timebus to take them to The Mitre.
"We had an old London bus with a personalised sign, tickets from the conductor and a blue badge guide."
"My favourite moment was the bus ride we took from the ceremony to the reception. The nervous part was over, we were married and we could sit down with our guests."
"Before getting on the bus we did a 'receiving line' where we poured out and served each of our guests a glass of champagne."
"We sat together so we got to enjoy the ride together and the route just so happened to be the same route we walked together to and from work when we first got together, so it was great to hear the history of the areas we knew so well."
Just as they matched outfits, Daniel and Maddy's scents complemented each other, too. Maddy wore Le Labo The Noir 29 and Daniel, Le Labo Another 13.
"I purchased the Le Labo discovery set so we could try out their gender-neutral scents and choose 'matching scents'."
"We both wanted to wear a scent that was new to us, so whenever we smell that scent we're reminded of our special day."
The pub was a relaxed and beautiful setting for the wedding dinner, with a few additional touches.
"For our table, we hired gold charger plates, gold cutlery and gold candelabras. We had pink candles and pink serviettes and a burgundy cheesecloth table runner with dried heather spread over it."
"We designed the menus ourselves and our place cards were FawkesQuill via Etsy. We provided our guests with 'hangover kits'. These included custom drink tokens for Old Mary's (the cocktail bar under the pub), vitamins, pain killers, chocolate and Antacids."
Dan, Maddy and their guests tucked into a three-course dinner from The Mitre, finishing the meal off with espresso martinis.
"Our cake was a cheese cake we selected from The Cheese Shed. They also sell cheese tasting platters so we got to try loads of cheeses before we decided what worked."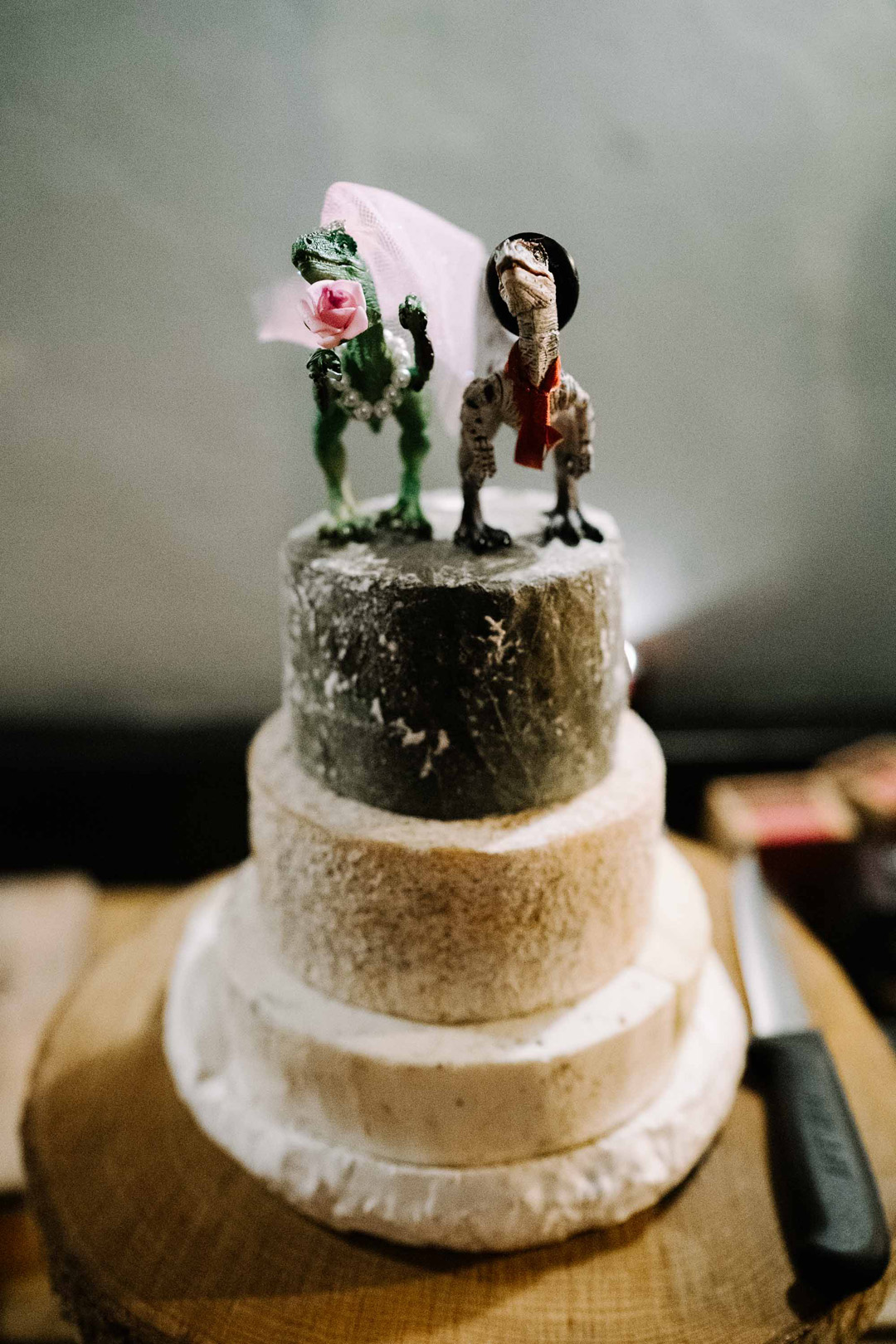 "We opted for a cheese cake instead of a normal cake as we thought it was a great after-dinner snack as well as being something people could enjoy whilst having a drink. Our cake topper was from FHGWeddings via Etsy."
"For those with a sweet tooth we got a wall of doughnuts from Krispy Kreme including personalised doughnuts with the phrase 'Treat Yo' Self'."
After dinner, the party got started in the pub's basement speakeasy Old Mary's, with drinks and dancing. Entertainment came from Marco Buono Blues Band and the couple's first dance was to 'You Never Can Tell by Chuck Berry'.
"We did the dance moves from the Jack Rabbit Slims twist contest from 'Pulp Fiction'.'
'We chose this as we're both big fans of the film and we wanted to do something different and fun."
Words of Wedded Wisdom
"Don't listen to anyone else, no matter how strong their opinions are. Do what feels right for you and represents you as a couple."
"Make sure you actually enjoy the day. Don't act as a host, just enjoy spending time with those you want to be with."
I'm in love with your pink-hued day, Daniel and Maddy, so thank you so much for sharing it with us. Joséphine Elvis, thank you for your beautiful, movement-filled work; I hope to see you on Love My Dress again soon. For more non-traditional wedding ideas, take a look a this selection.
With love,
Ele xx