Today's wedding is a glorious open air celebration blending formal and traditional elements with the relaxed vibe of a country farm.
It's a pleasure to introduce JoJo, who works in finance and Charles, who works in property, and their traditional, summer wedding on a Wiltshire farm on 21 August 2021.
JoJo and Charles met at university and have been together ten years. They were engaged at Borgio Santo Pietro in Tuscany in July 2019.
"We always wanted a traditional English wedding, with a certain level of formality but recognising we were in the middle of a field and therefore embracing that element too. Our colour palette definitely reflected the fact we were in the countryside with mostly greens and white with the odd bit of blue (Pantone 'Country Air' to be precise)."
Imogen Xiana Photography

+ Follow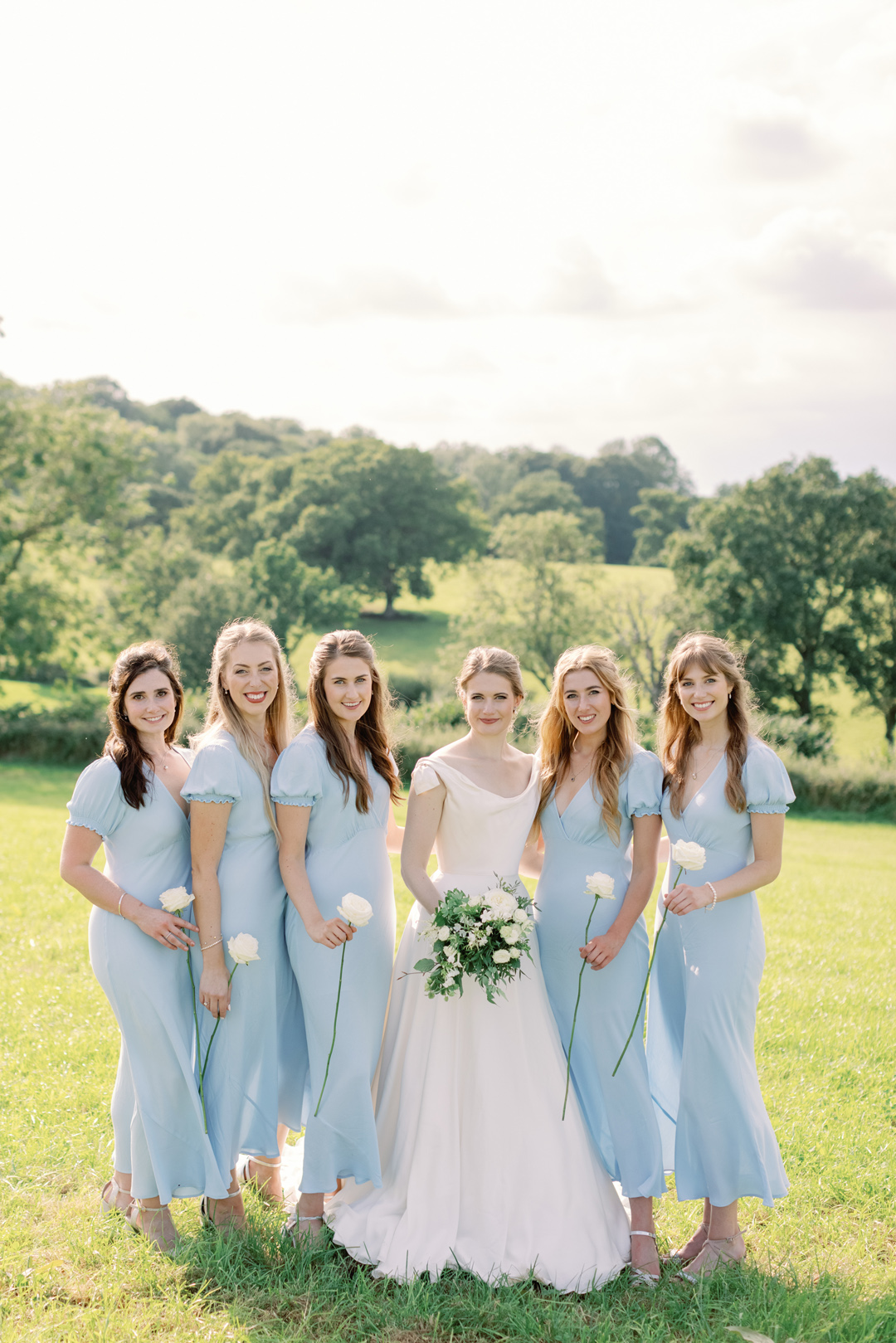 JoJo selected a classic, off-the-shoulder gown from Phillipa Lepley; the most wonderful look for a formal countryside wedding.
"I had tried several bridal boutiques but none that really suited me. Phillipa Lepley was my childhood dream dress, so it made sense to try."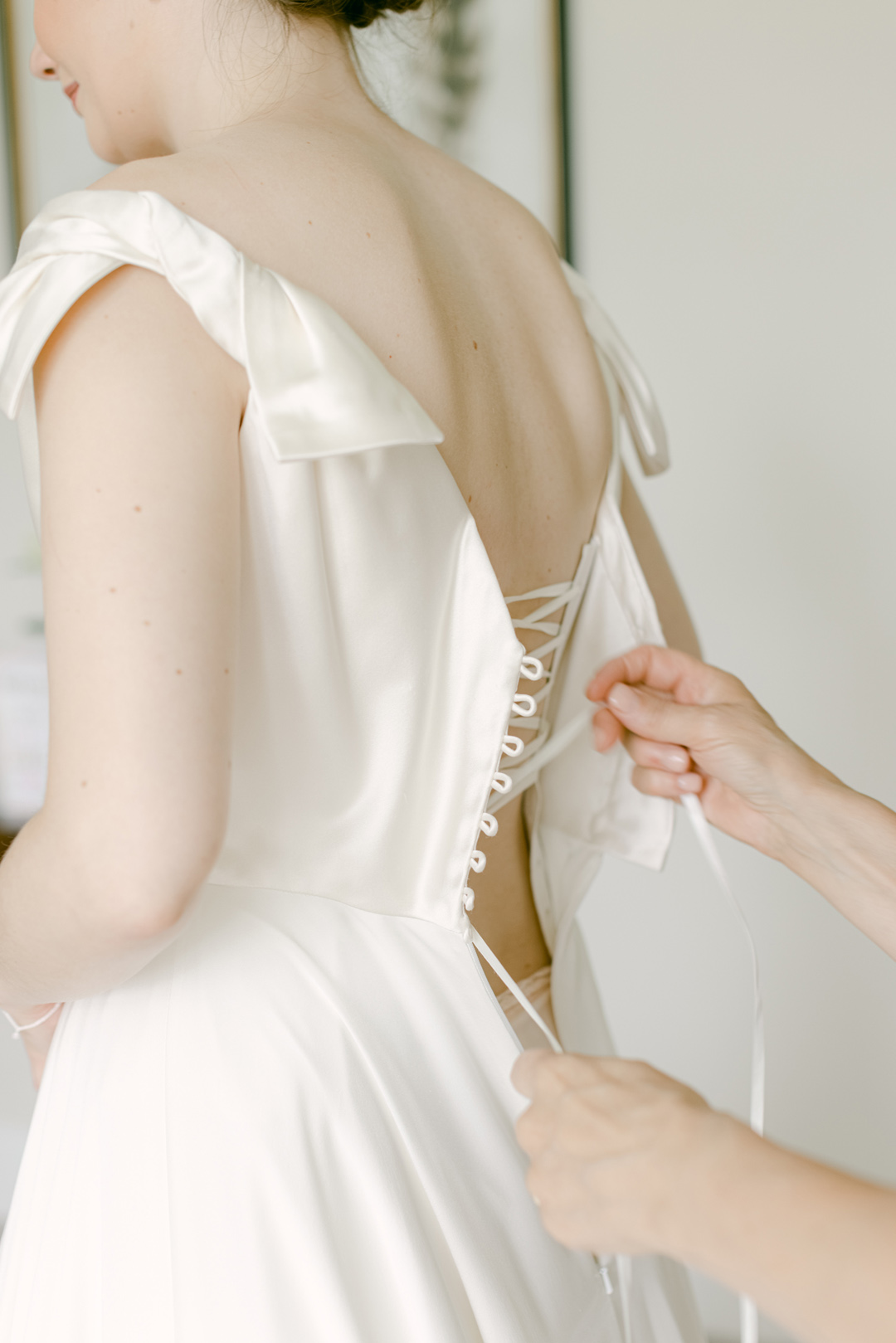 "I went to Phillipa's Kings Road store and saw the Venice Low Shoulder Bow dress and fell in love with it the minute I tried it on."
"It really didn't take me long and they were so helpful and friendly in the store that made my experience all the better."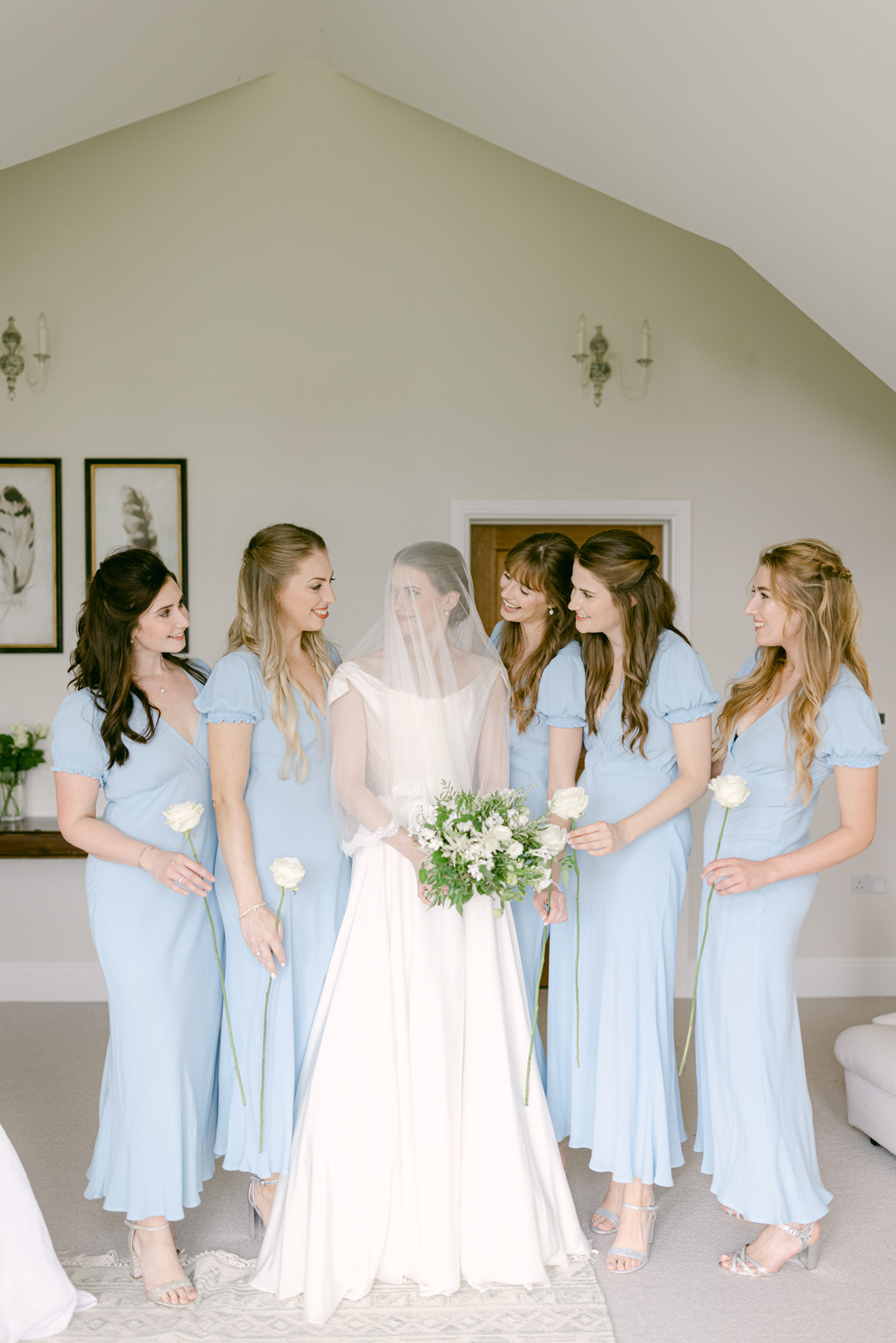 "I love the classical elegant style of my dress. With small adjustments, it fitted perfectly and was a dream."
"It suited my shape, I have a smaller waist so it helped to accentuate my figure and made me feel so elegant and glamourous."
"I think the dress got me emotional. My mum and I had time on our own and she did it up for me – it was such a special moment."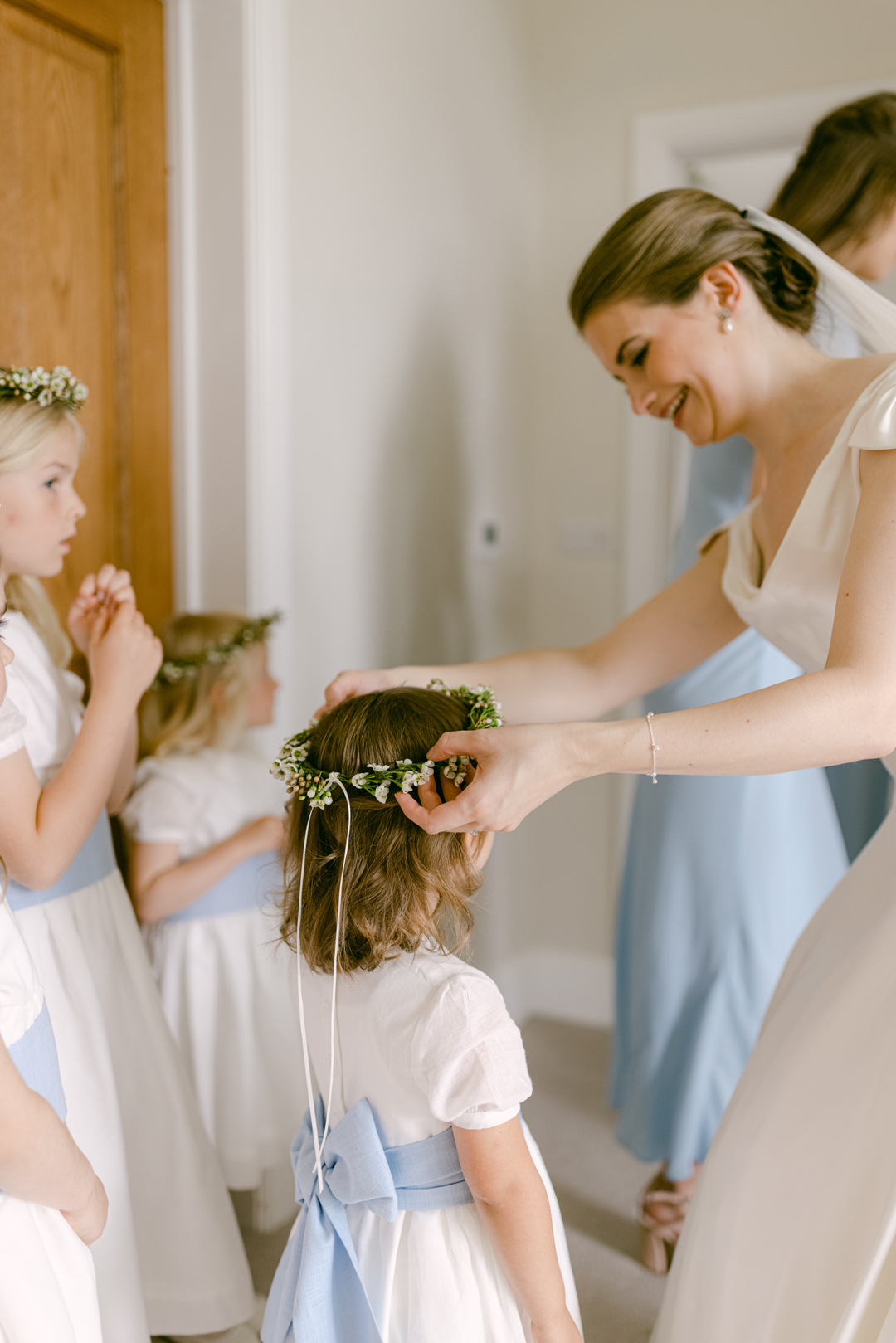 The couple had originally planned a winter wedding at a Dorset country house in December 2020.
"The day could not go ahead due to government restrictions at the time. Unfortunately, the venue didn't provide us with the flexibility to rebook."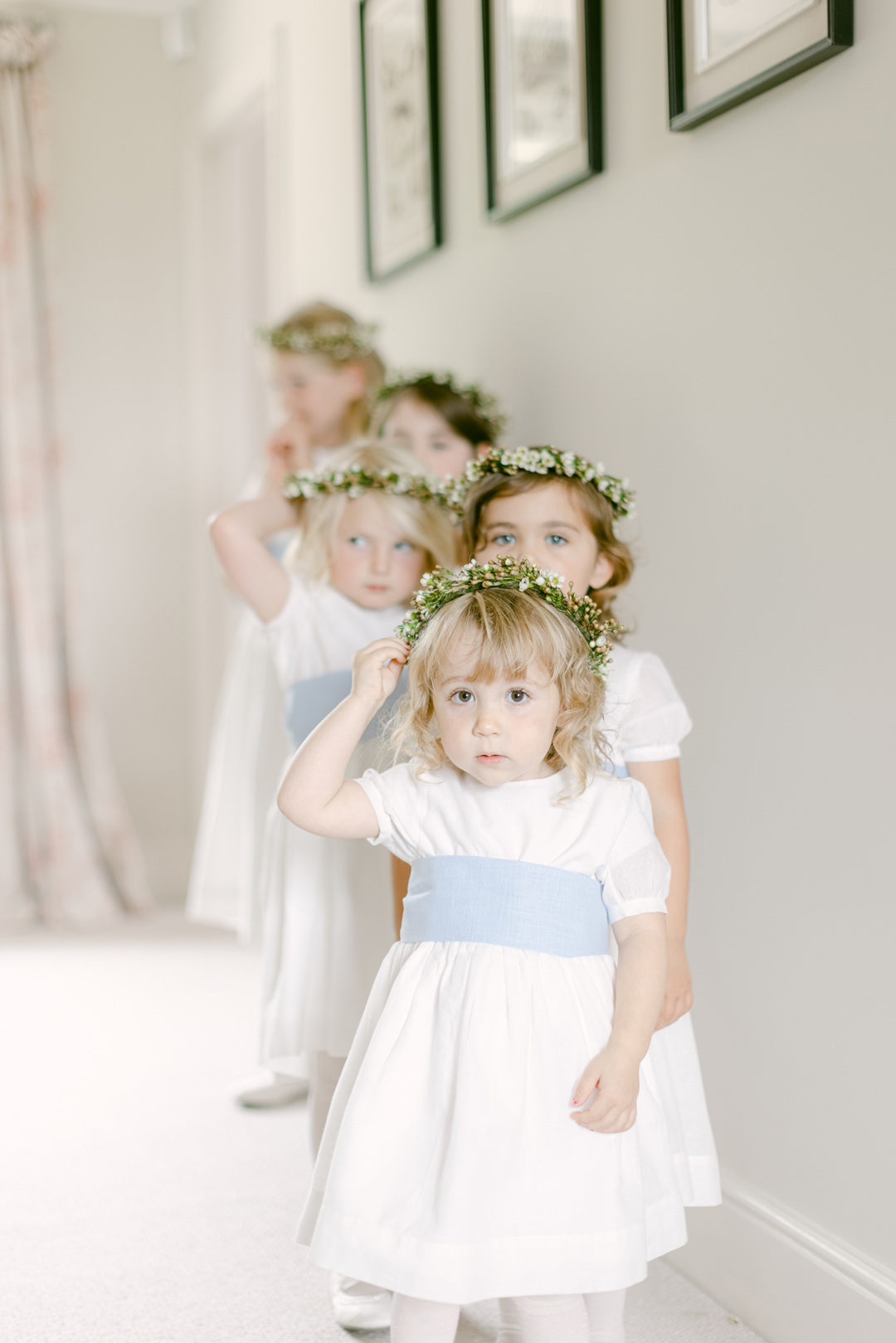 "In the end, the wedding that we had was more intimate and the whole family felt more involved and was all the more special because of it."
"We hosted some of friends and family on the Friday night for a more casual gathering which included a fantastic asado fire pit menu from Country Fire Kitchen."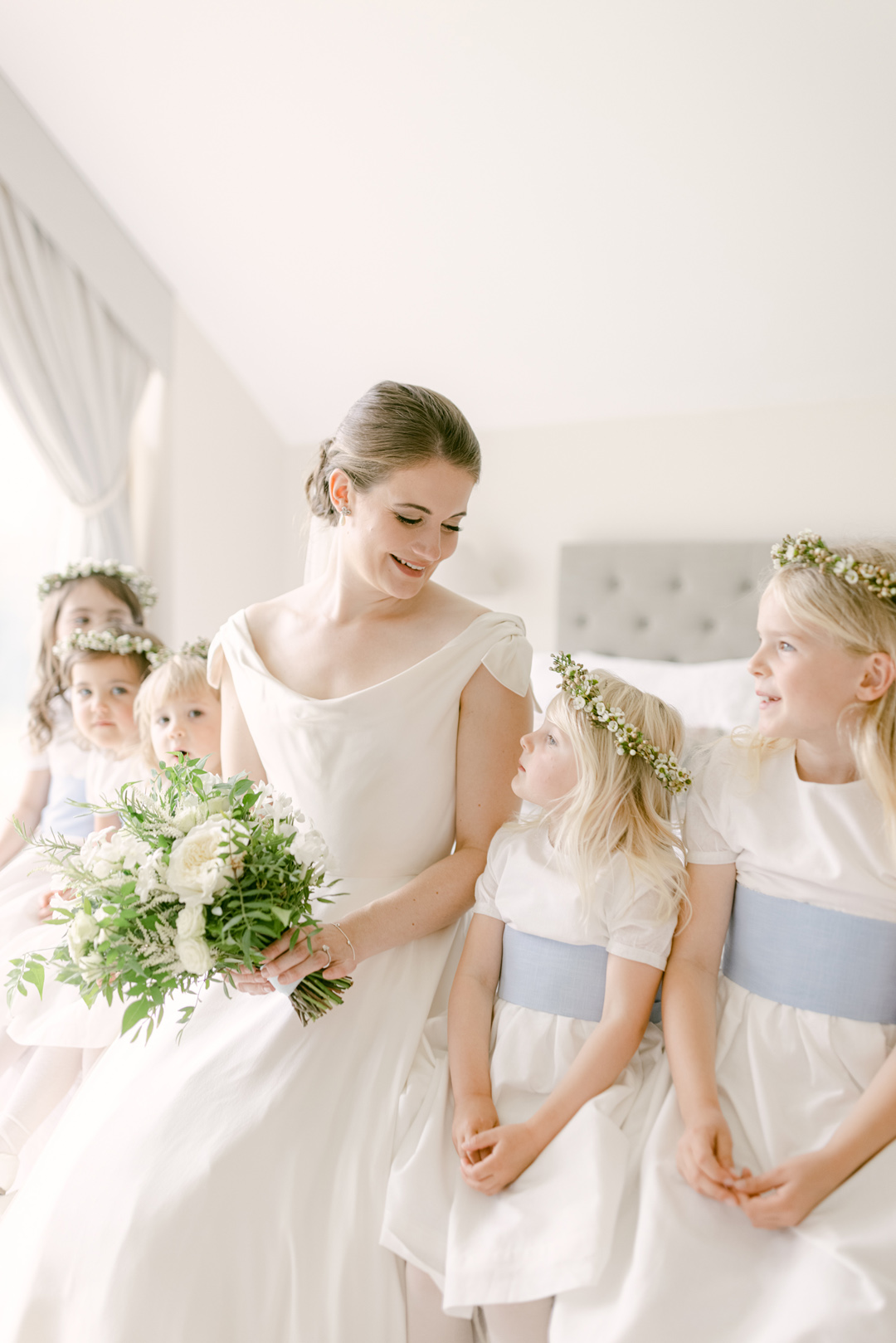 "We also arranged some bell tents for guests to stay over, which were surprisingly comfortable."
The flowergirls were in divine The Little Wedding Company dresses with pale blue sashes.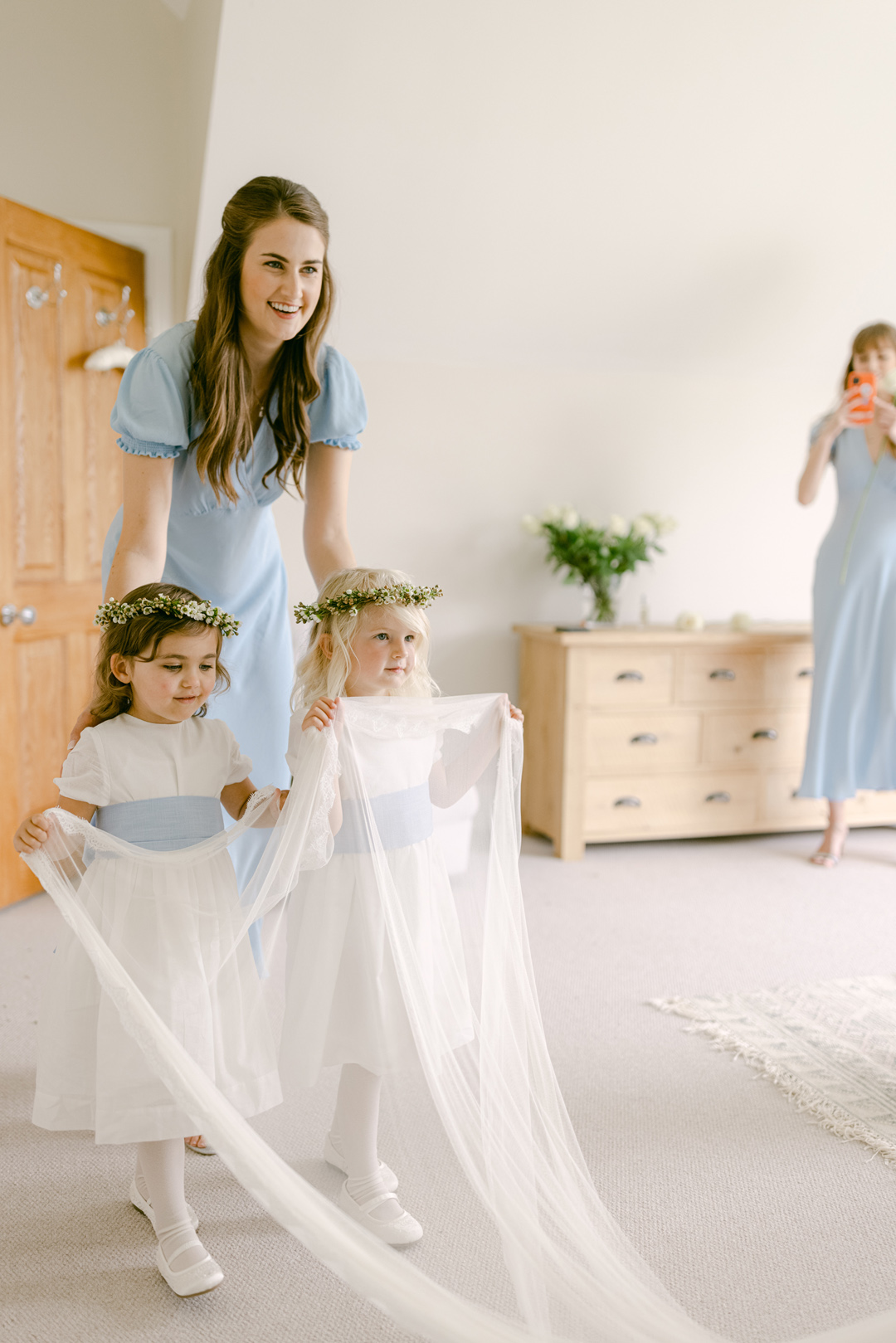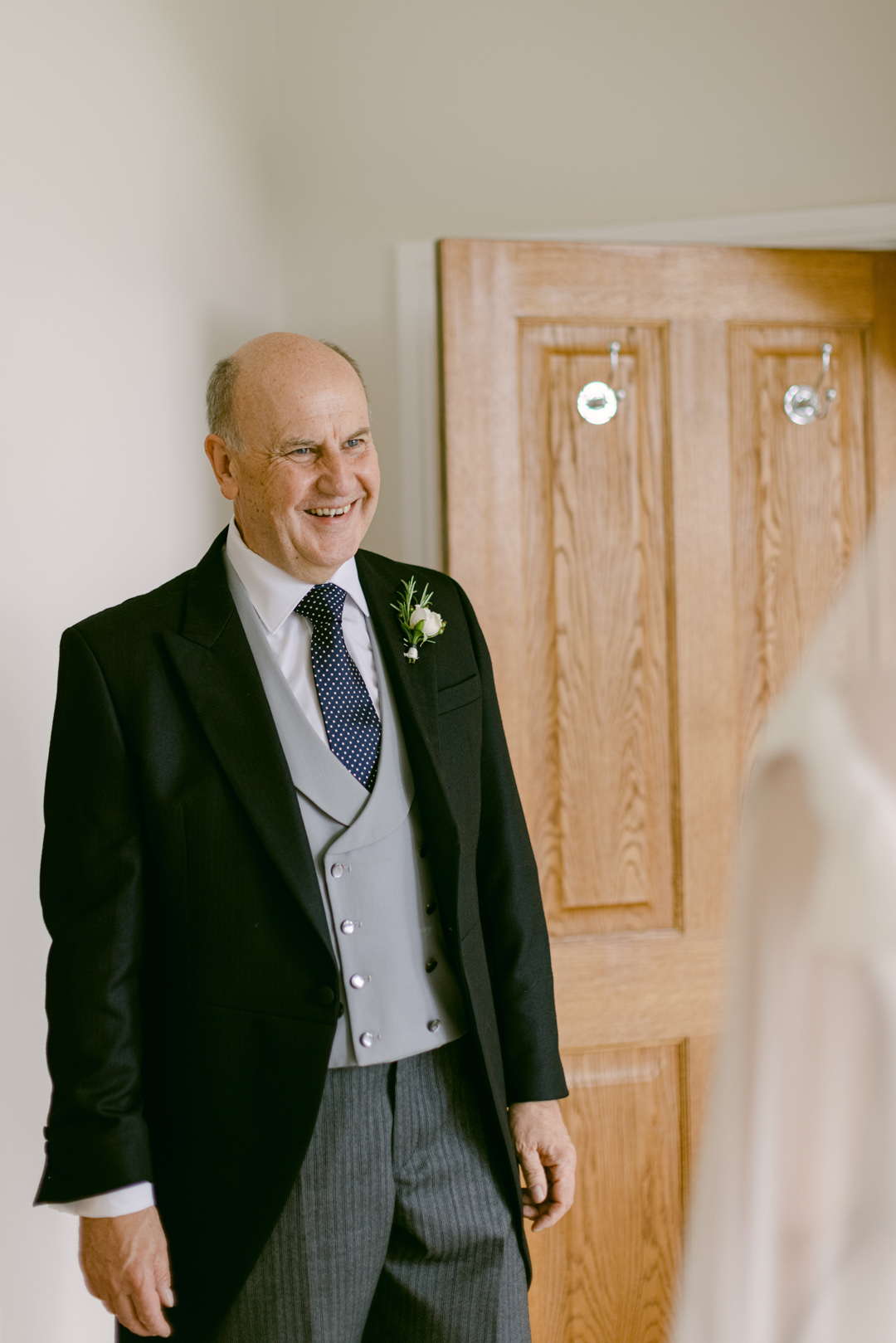 The bride wore a silk tulle veil with lace edging and a pair of Harriet Wilde shoes.
"I wore my grandmother's earrings. Sadly, she couldn't be with us so it meant a lot to me to wear them – it helped to feel like my grandparents were a part of my wedding day."
https://www.lovemydress.net/directory/supplier/lyn-ashworth-england/
"I would have loved to have had them there. My bridesmaids gave me a beautiful simple bracelet that I wore on the day."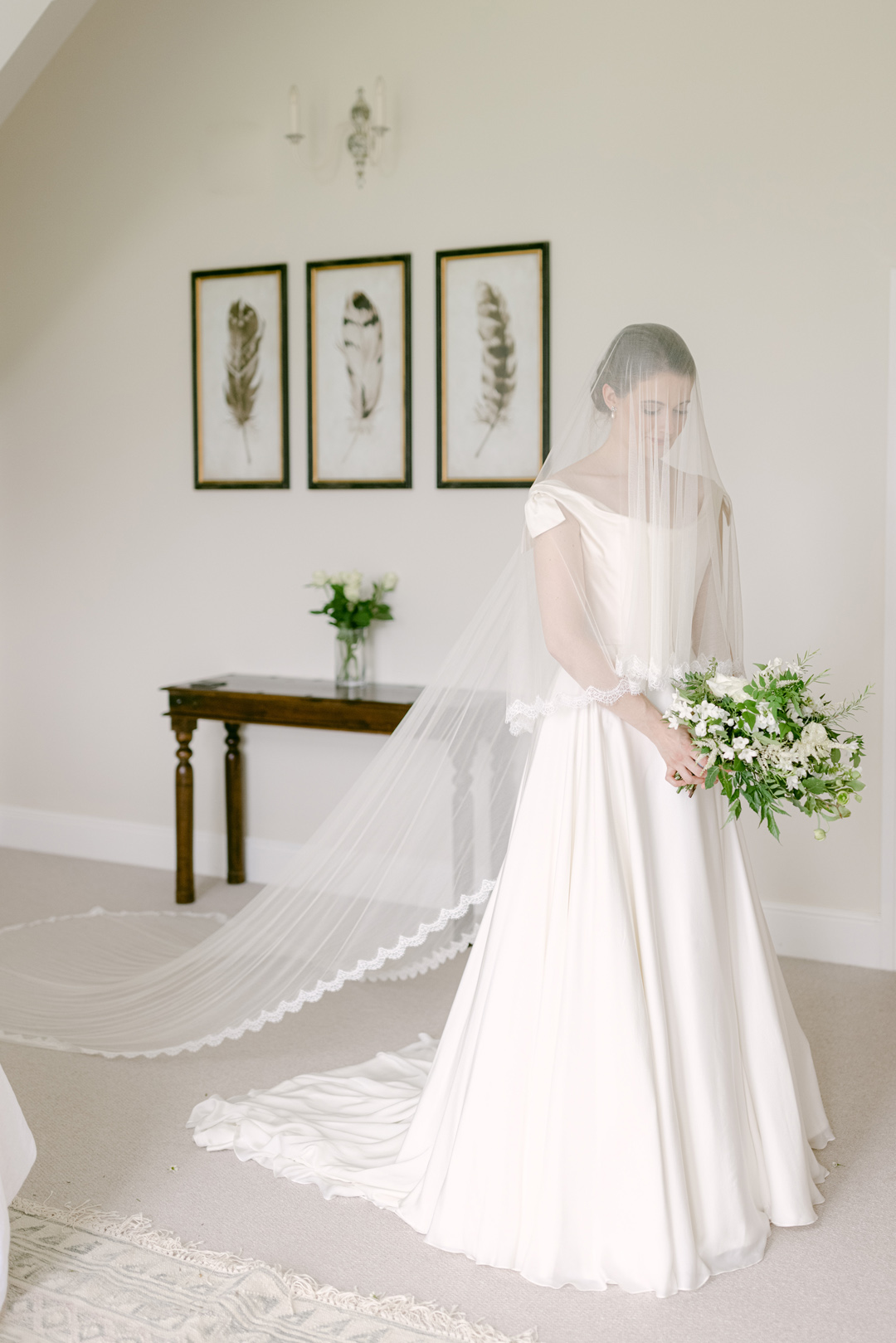 The bride's hair was pulled back into a sophisticated, chic low bun by Sloanes Bespoke Hair and Beth Cox Beauty Therapist applied her make-up.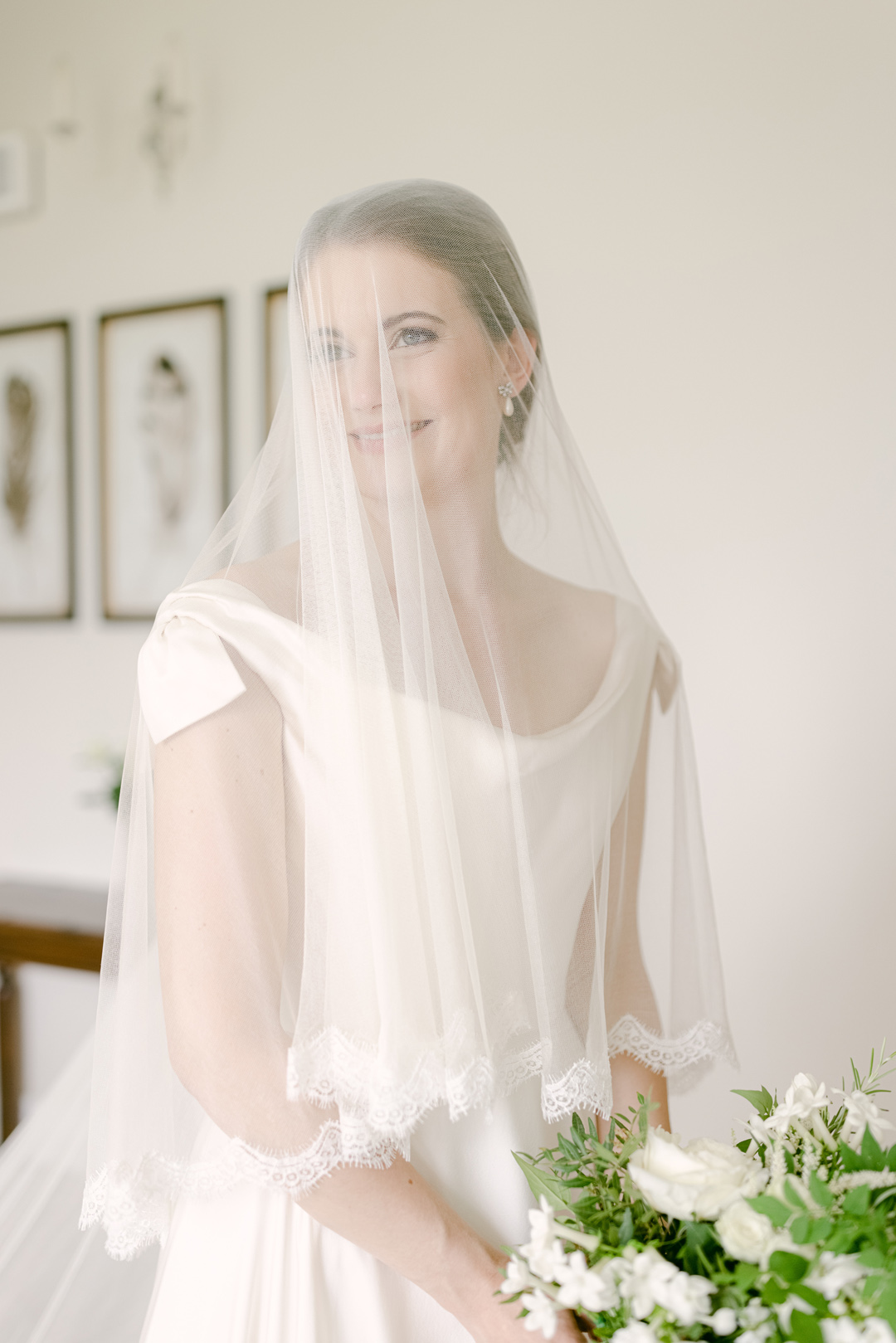 The adult bridesmaids wore elegant, pale blue dresses from Ghost London with their choice of silver shoes.
"I was struggling to find the right bridesmaids' dresses for a long time. I either didn't like them, wrong colour or too expensive. Rosie sent me these dresses one weekend and within an hour we had brought them. They were absolutely perfect!"
"It was so important to me that the bridesmaids had shoes that were comfortable so each bridesmaid choose their own silver shoes."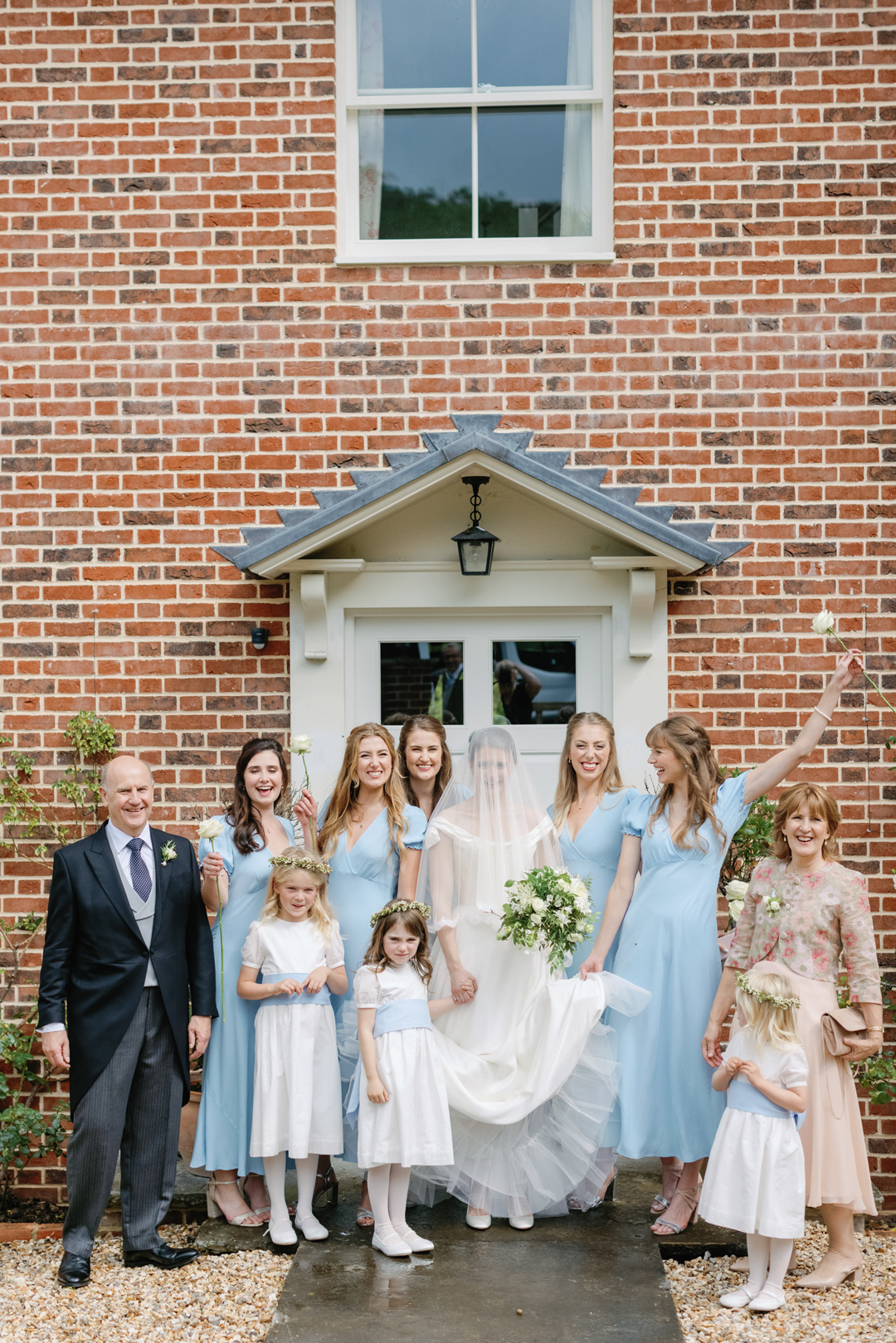 The pair worked with event planner Rosie Barrett Events to pull together their marquee wedding and its romantic, elegant and classical floral styling.
Rosie Barrett Events

+ Follow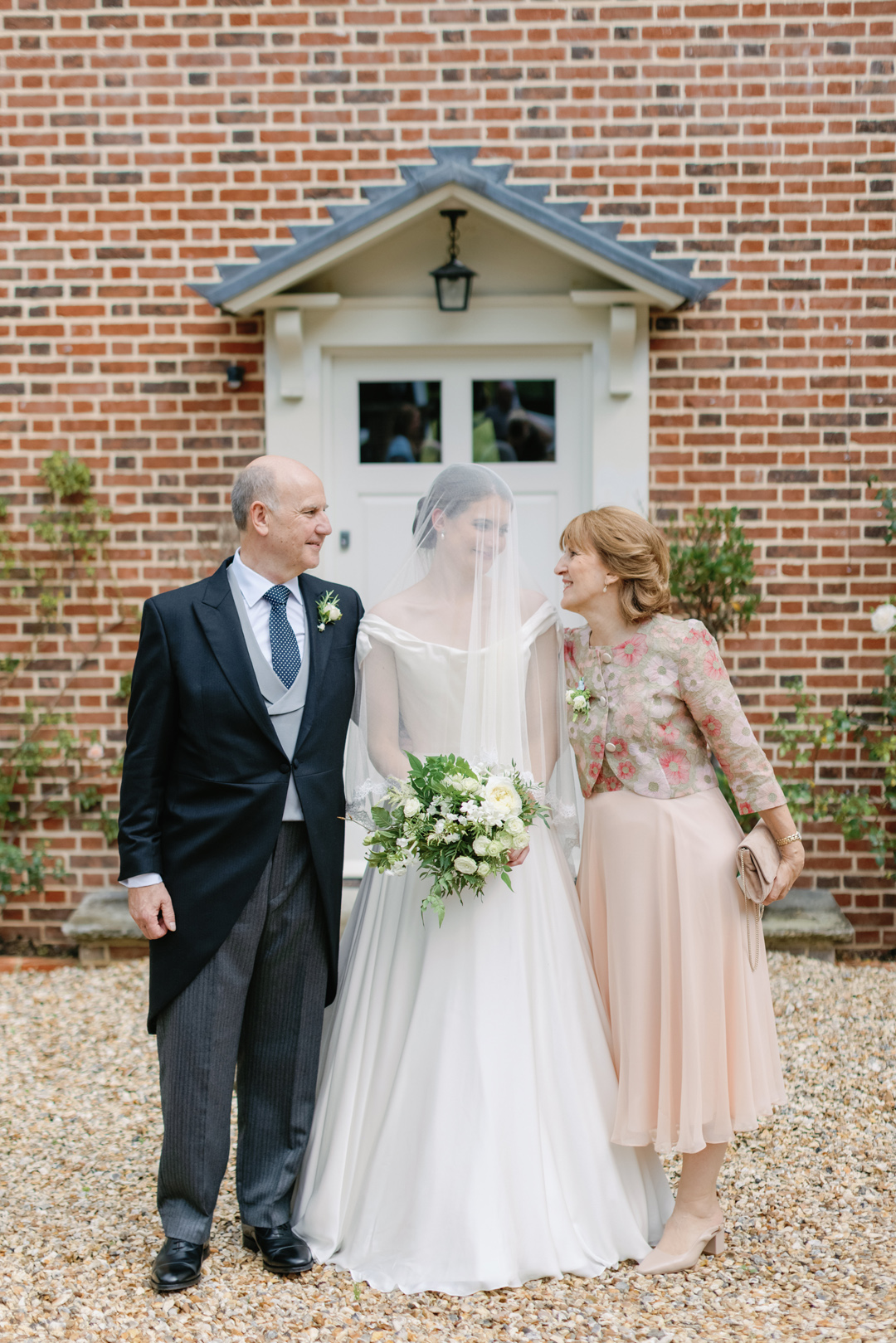 "Rose was in my eyes the best thing about our wedding – it never would have been as special without her – everyone needs a Rosie when organising a wedding!"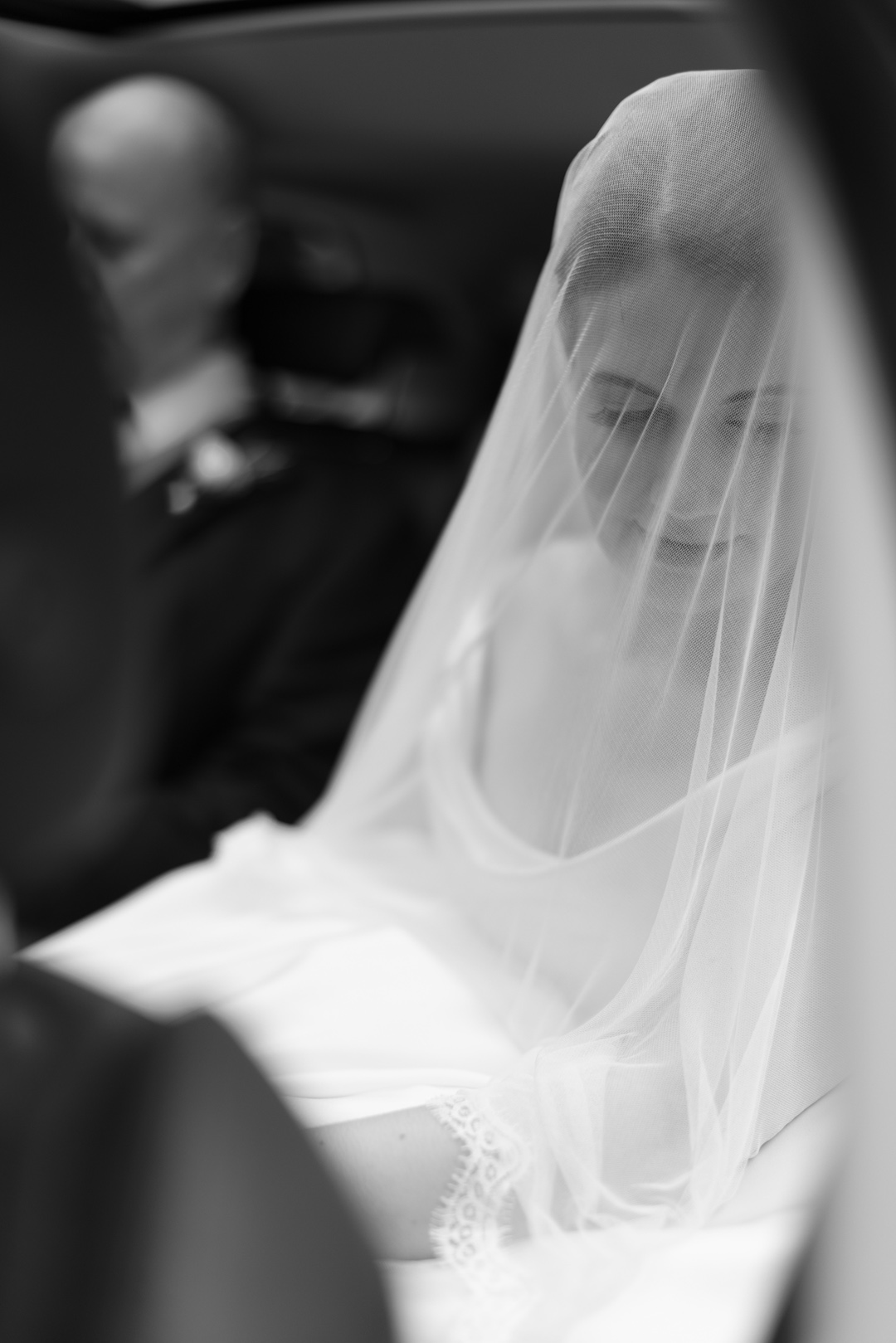 "I don't know how to write it but I think wedding planners are seen as a luxury but now I very much think I would recommend others to prioritise a wedding planner over other things, as it's invaluable, and as organising a wedding is stressful and so much money that having the experience and support is so important and means you can relax on the day as you don't need to worry."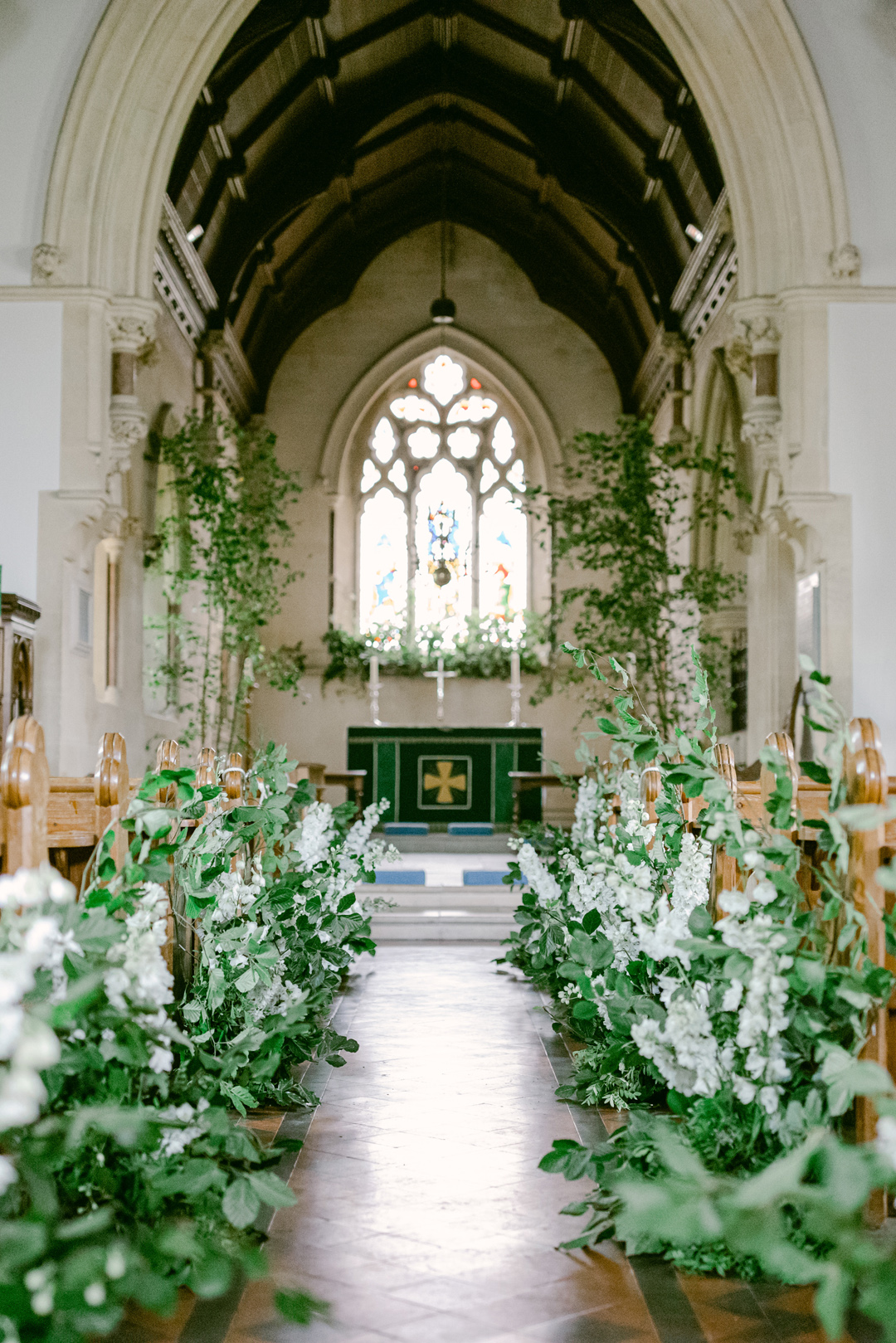 The formal tone for the day was set by Charles' traditional morning suit and waistcoat from Favourbrook.
He wore it with a Budd Shirtmakers shirt, Alfred Sargent shoes and a Mariano Rubinacci tie.
JoJo travelled to St Leonard's Church in an Austin Healey 'Sprite' from New Forest Classic & Sports Car Hire before walking down the aisle with her dad.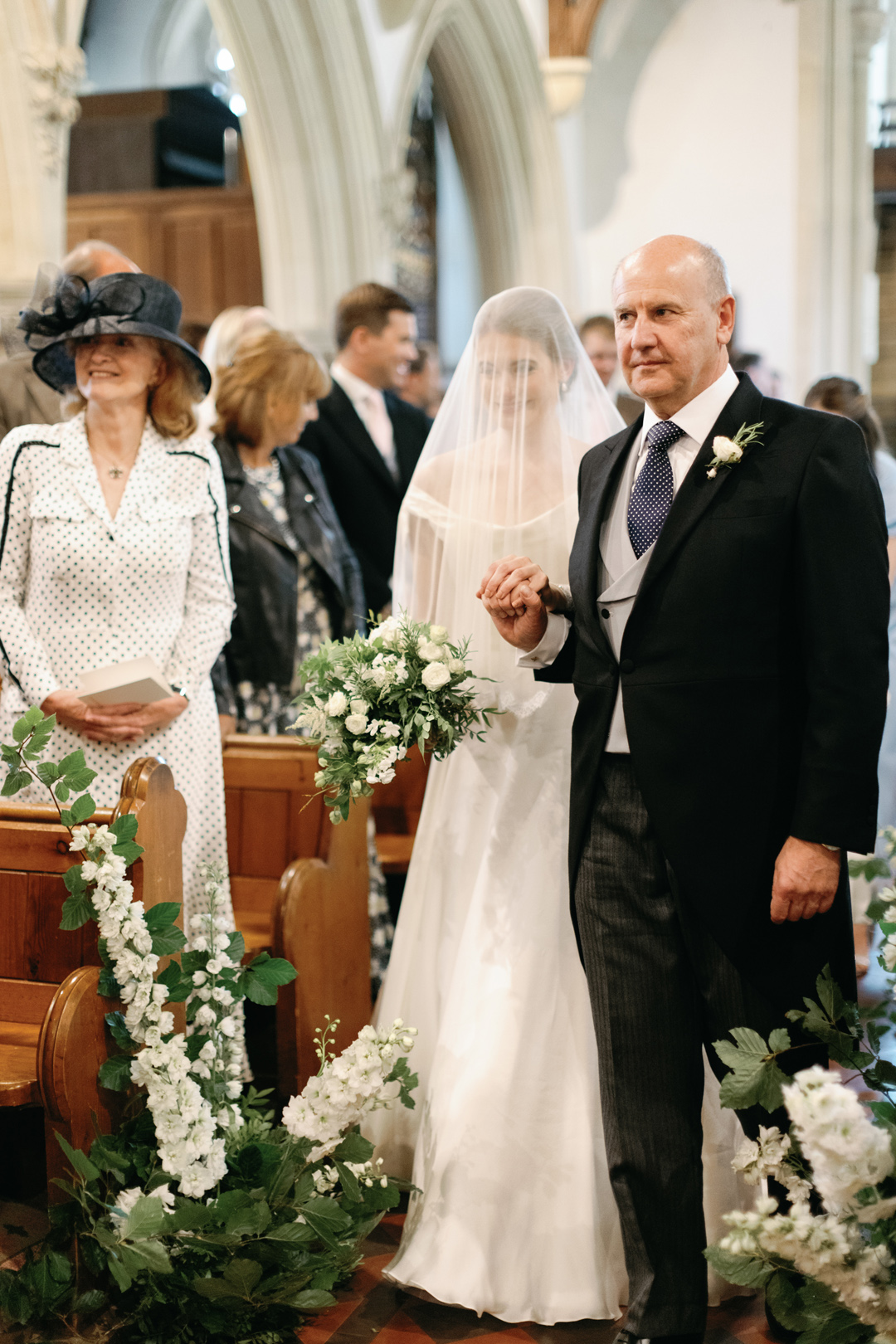 "We had a selection of music by the French composer Francois Couperin at our ceremony, played by a family friend on the church organ."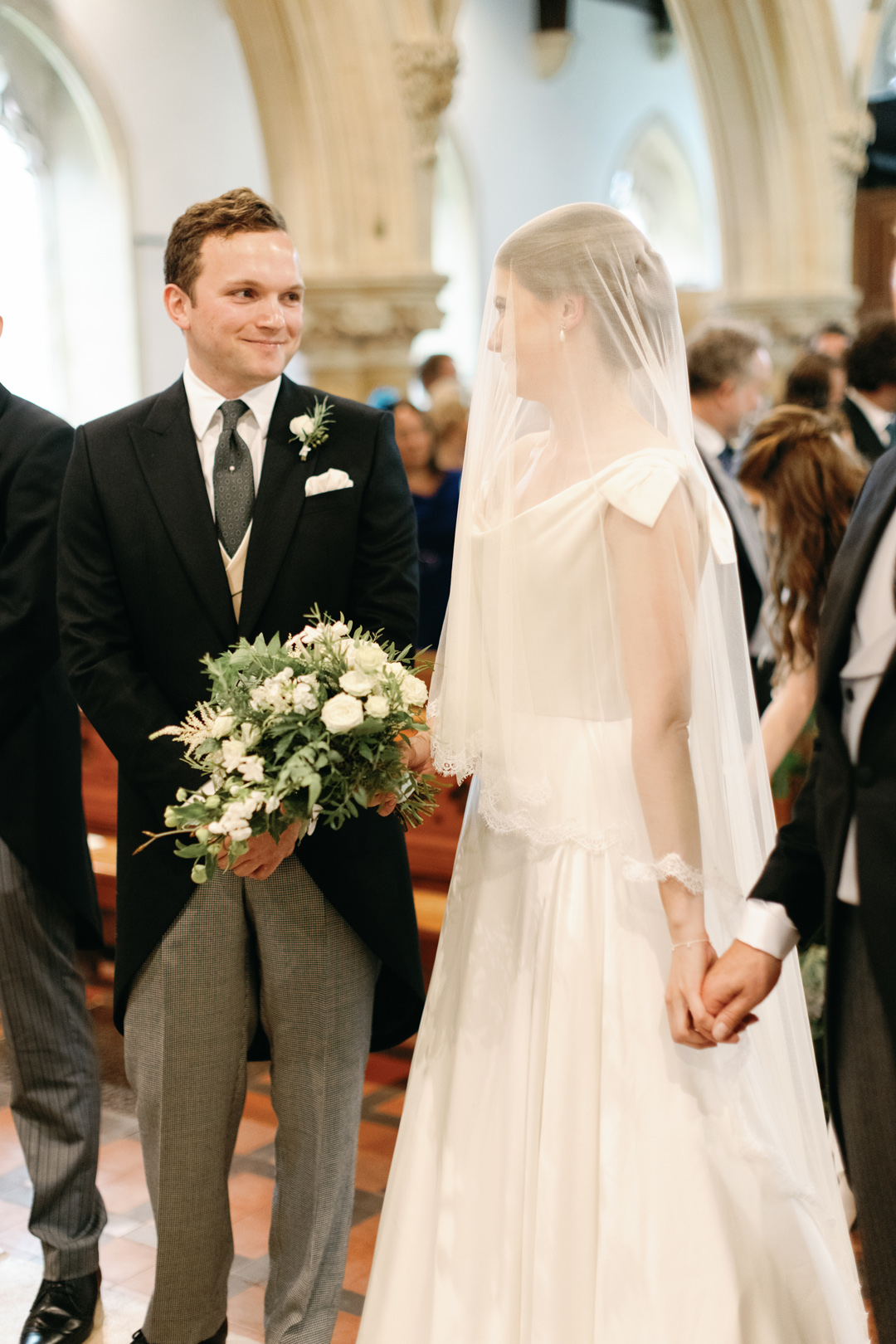 "We had a selection of music by the French composer Francois Couperin at our ceremony, played by a family friend on the church organ."
"The Rural Dean of Chalk officiated over our ceremony."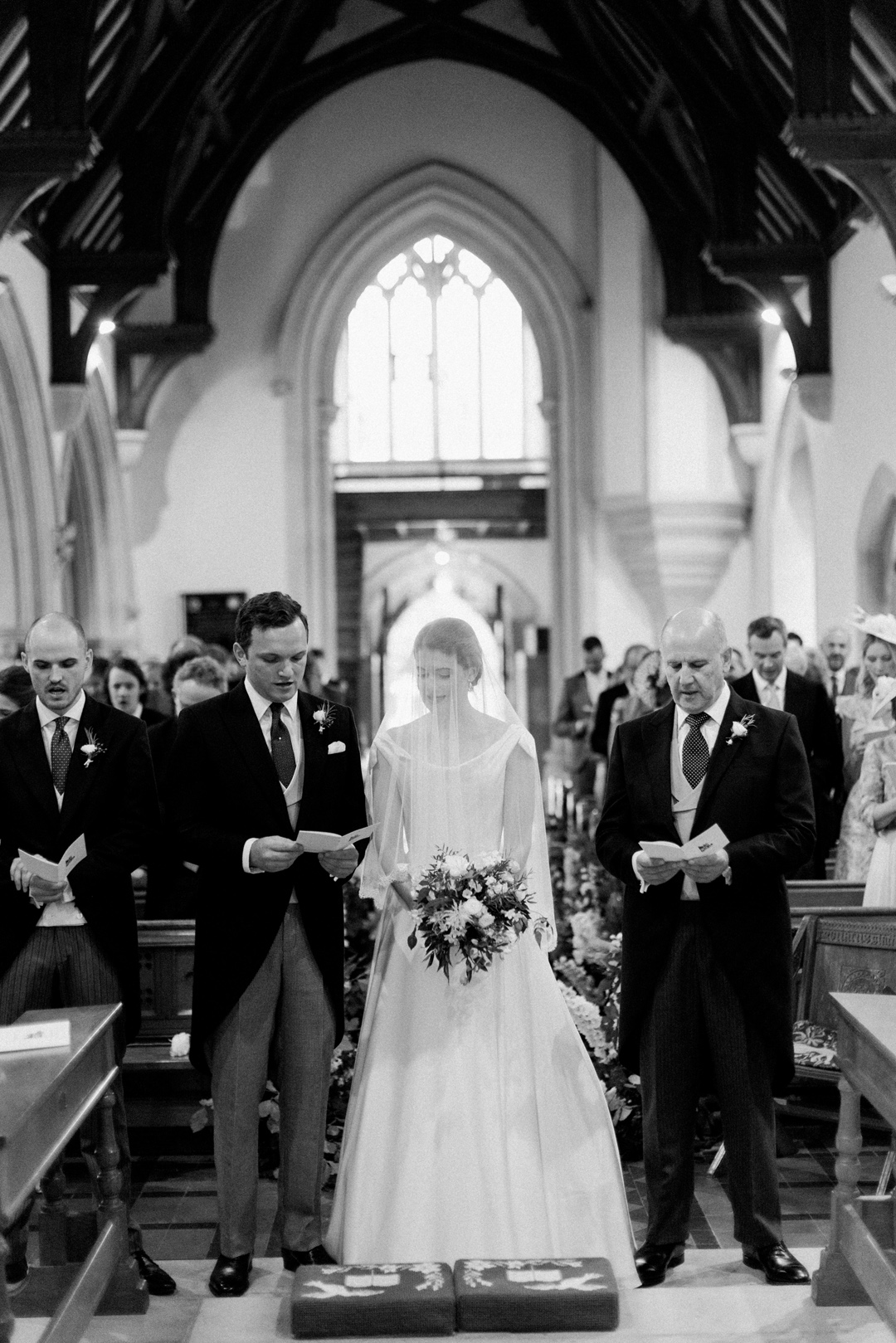 Charles and JoJo exchanged rings from Banwells Antique Jewellery in Sidmouth, Devon, where her engagement ring was also from.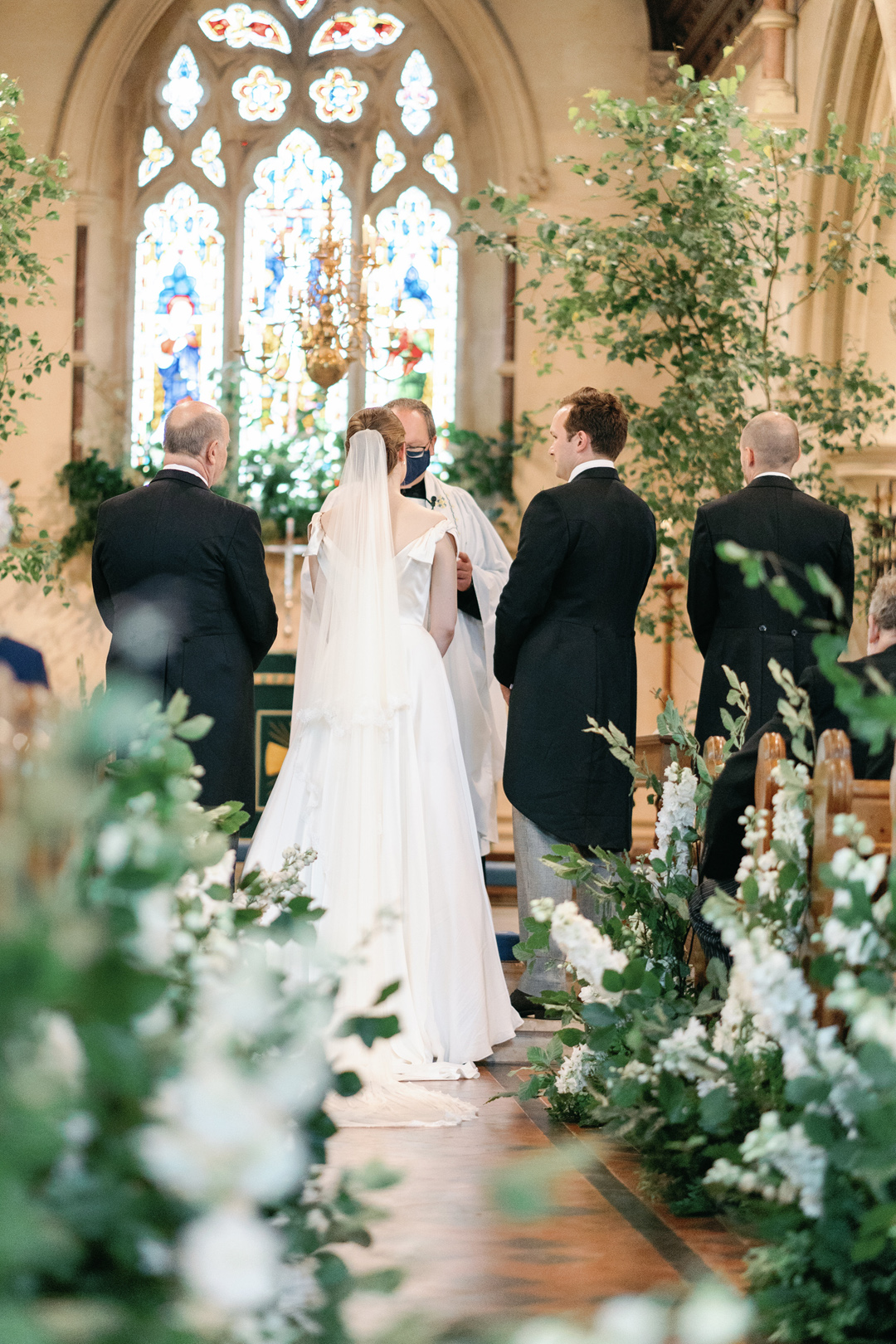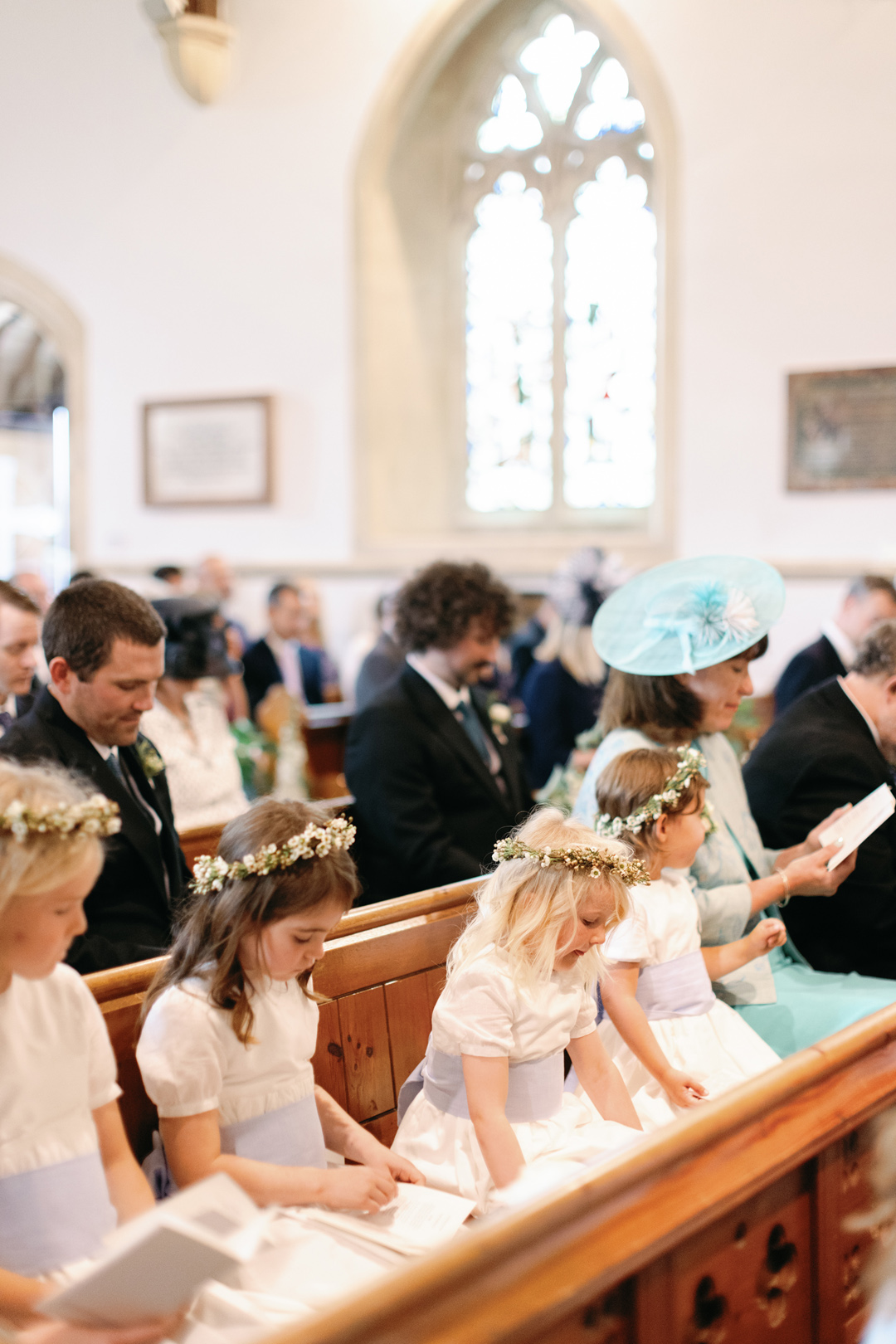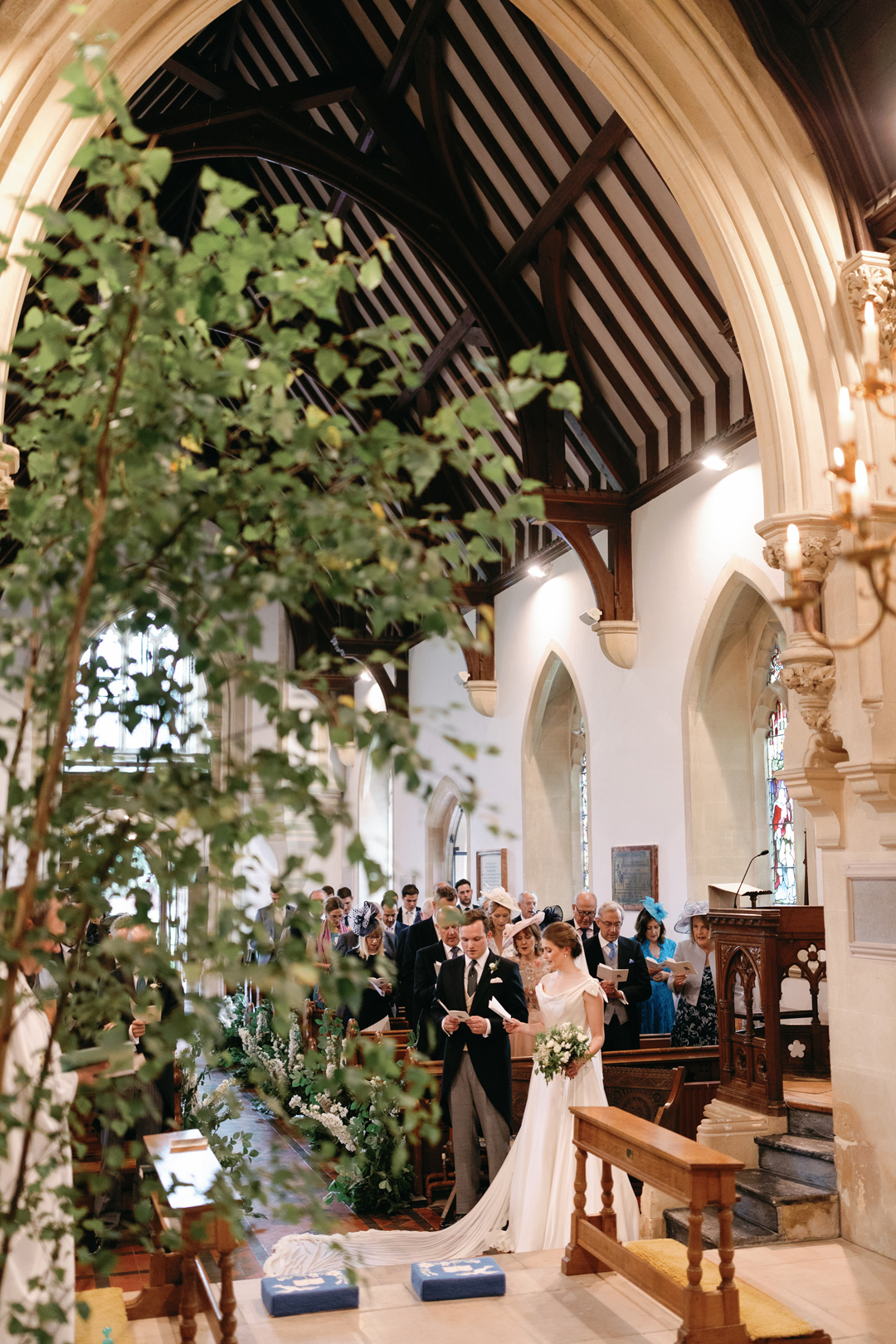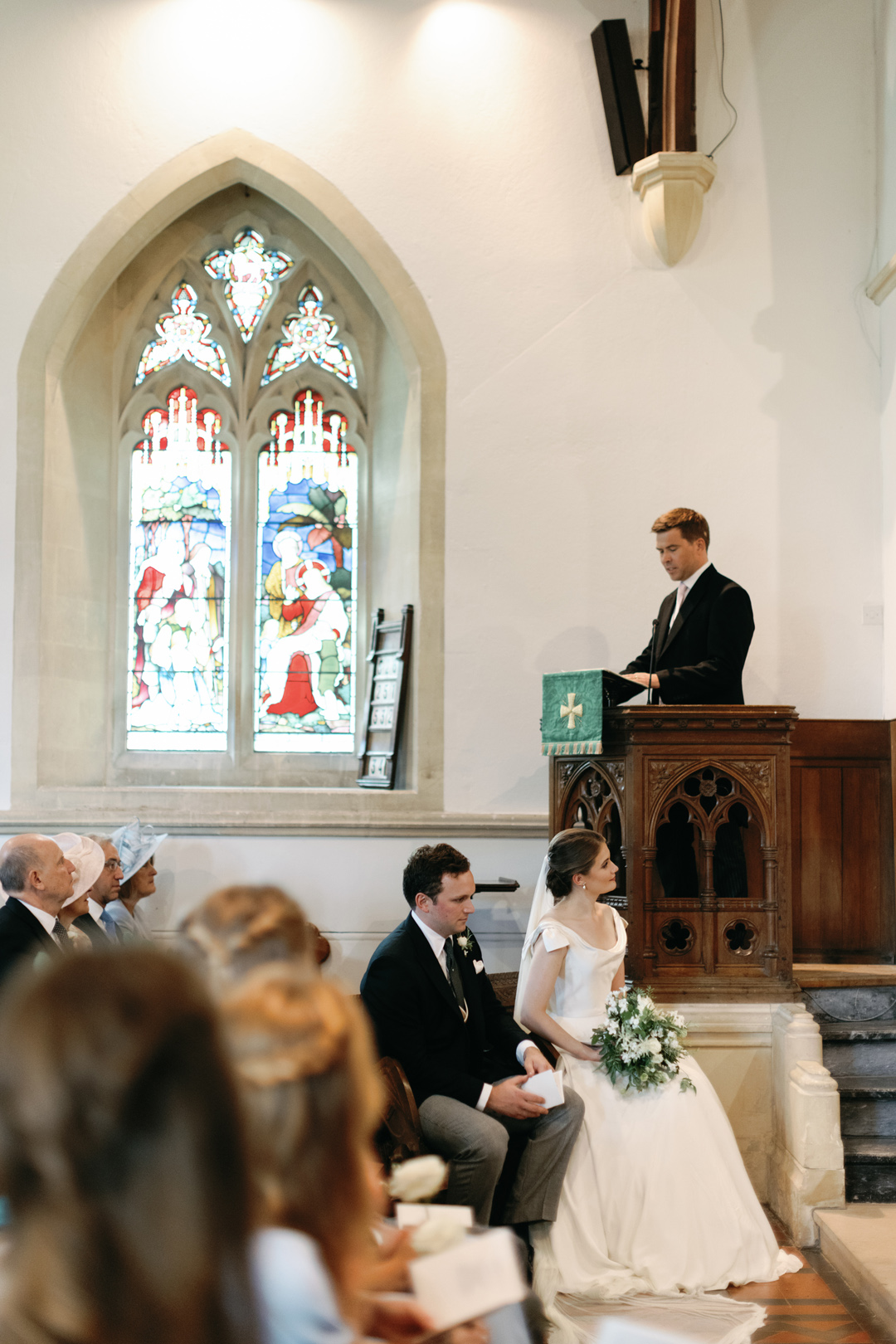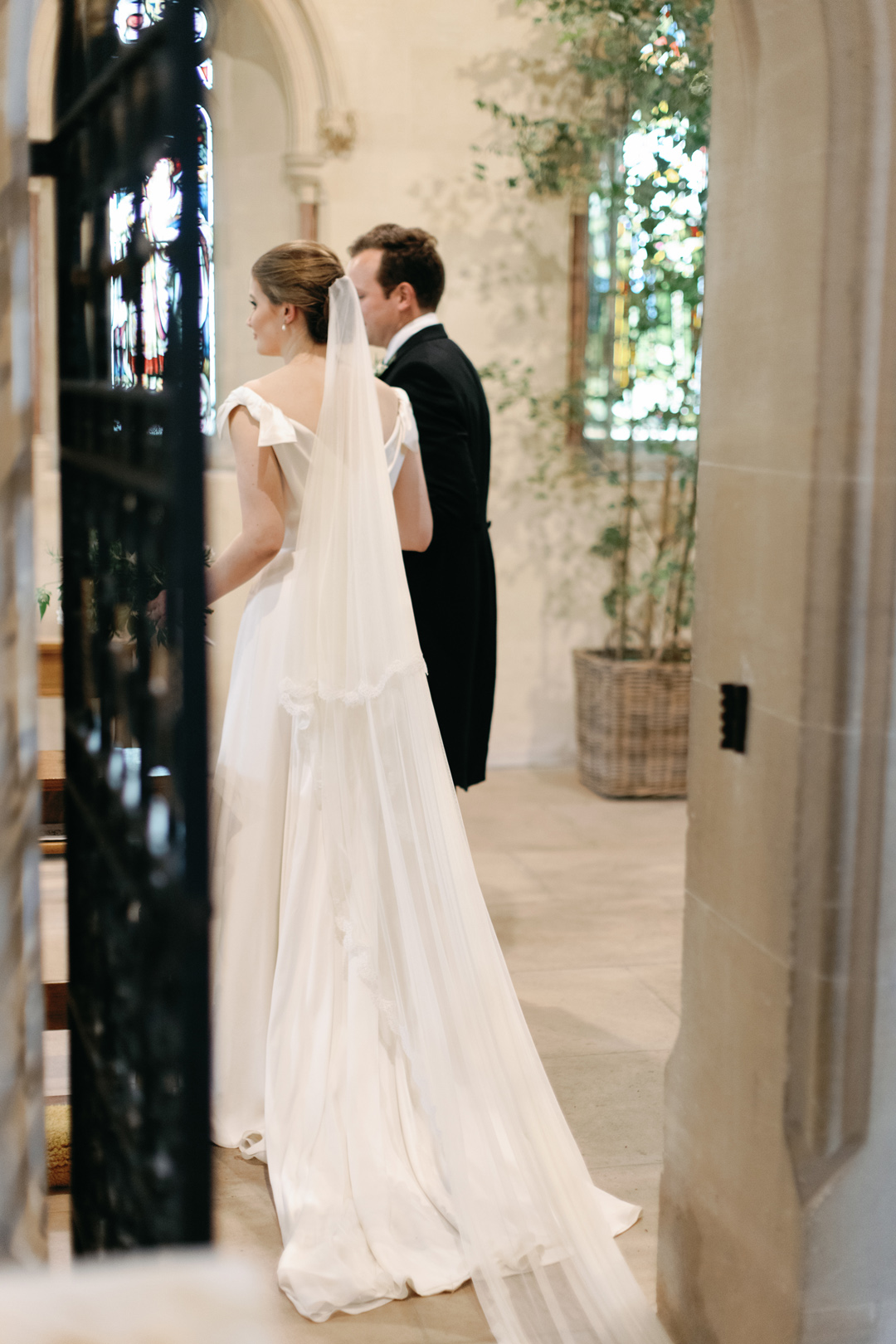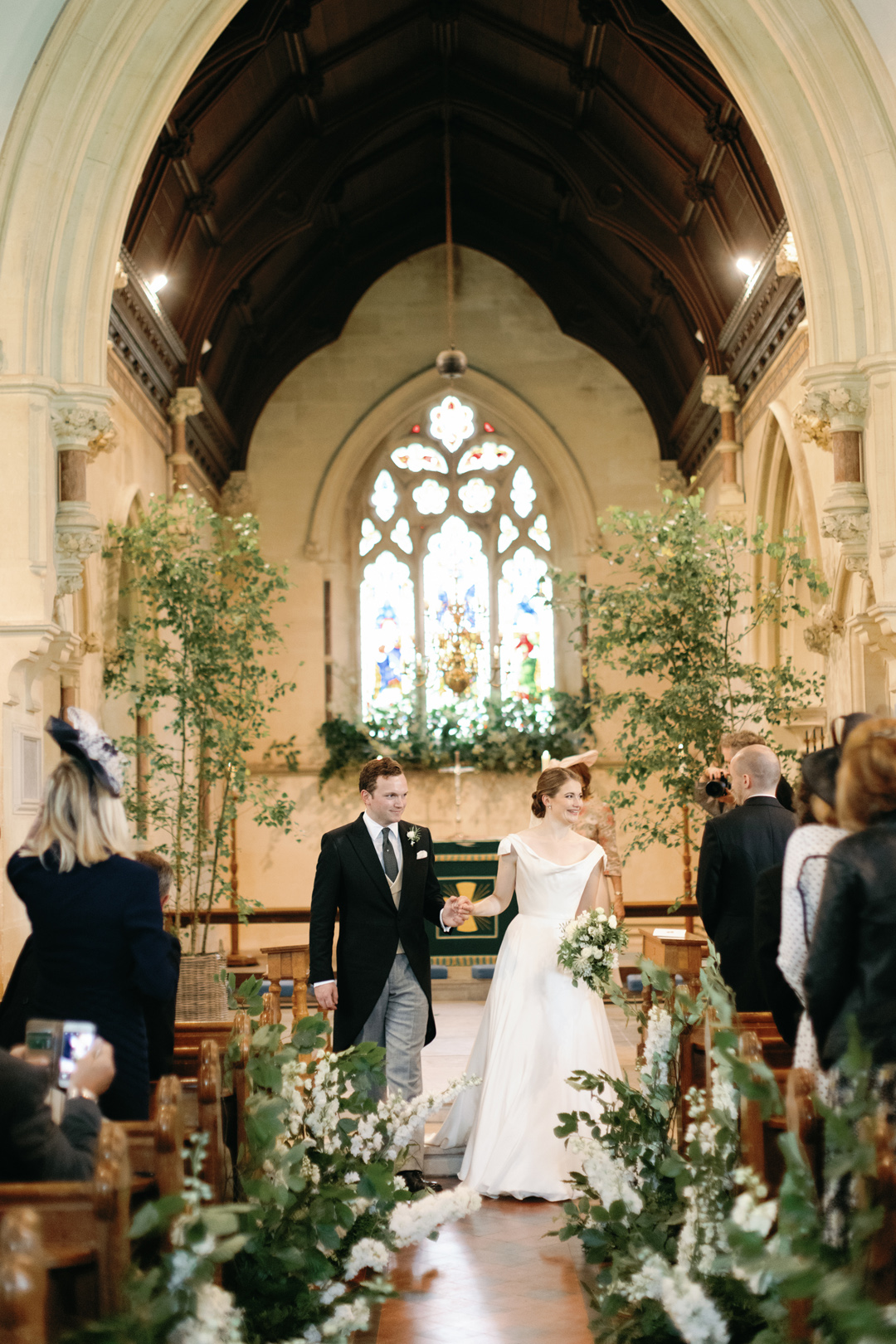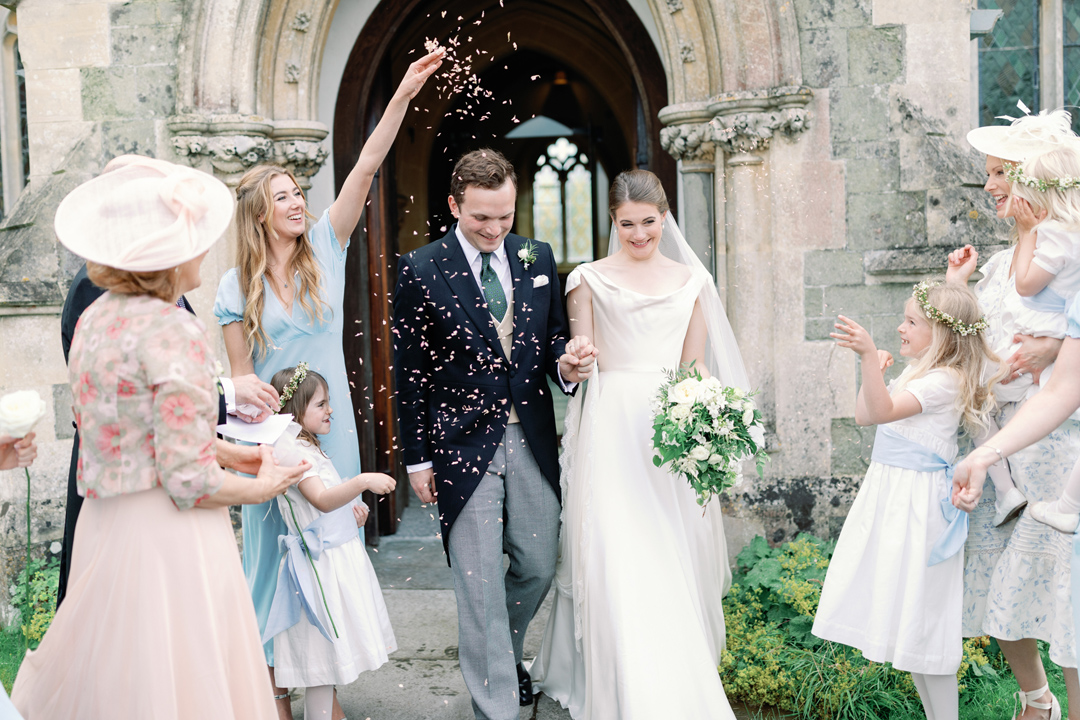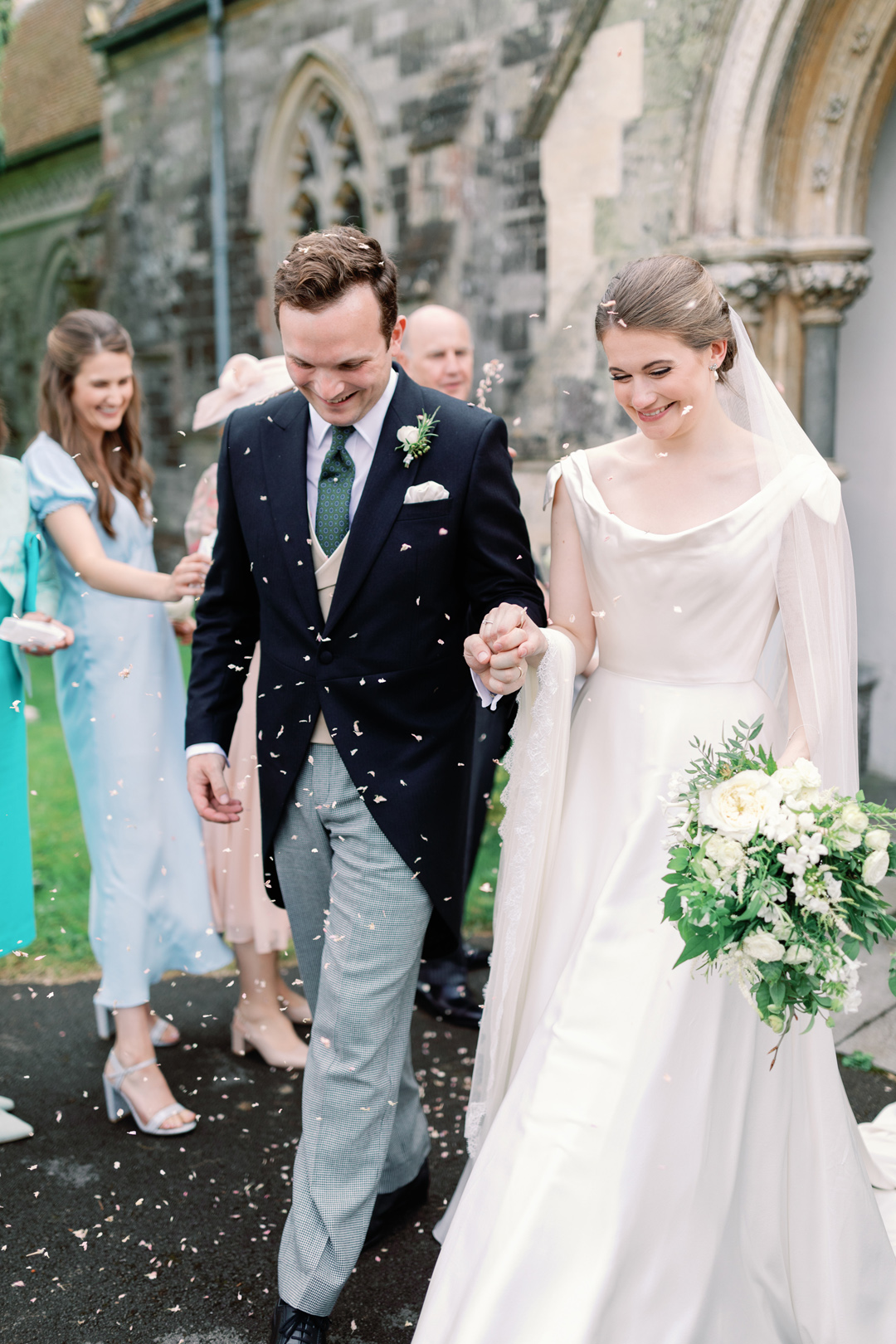 After marrying in St Leonard's Church in Semley Village, the wedding party headed to the bride's cousin's farm for the marquee reception.
Inspired by the beauty of the English countryside, the couple selected a colour palette of soft greens and white with a splash of Pantone's 'Country Air' blue.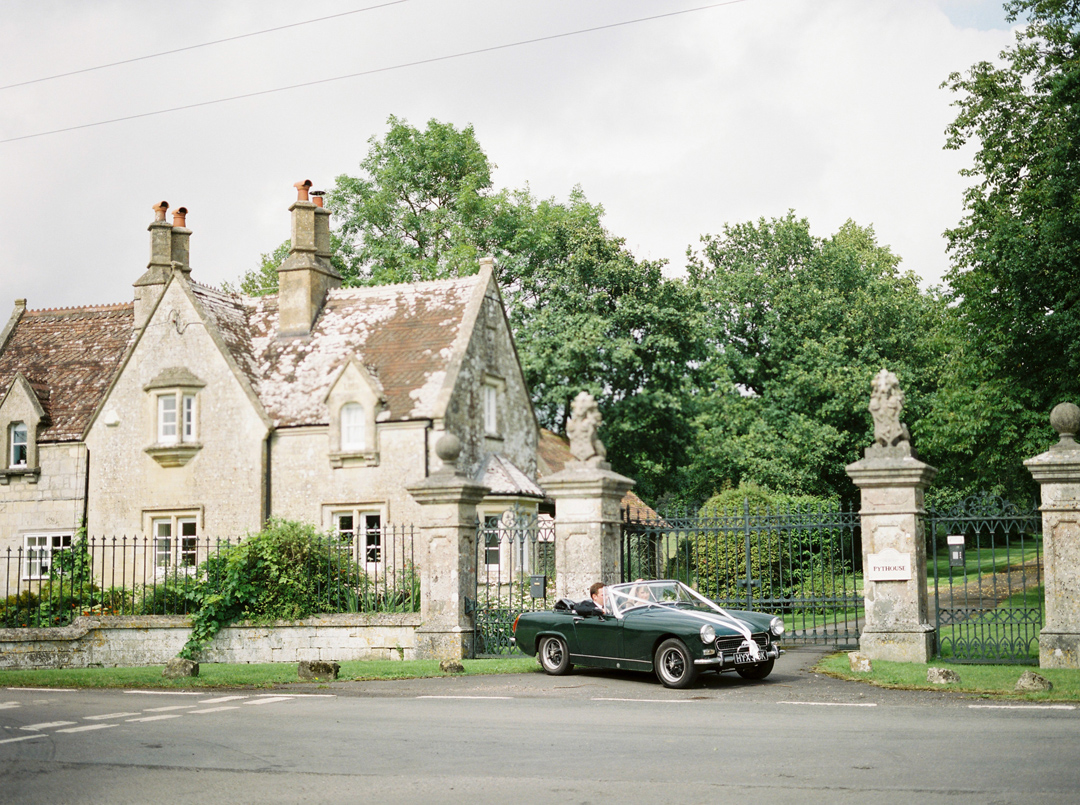 "We were very luckily to have been offered the use of my cousin's farm in Semley, Wiltshire."
"We decided to have the reception in the middle of one of the fields which had wonderful views down the valley to the church and surrounding countryside."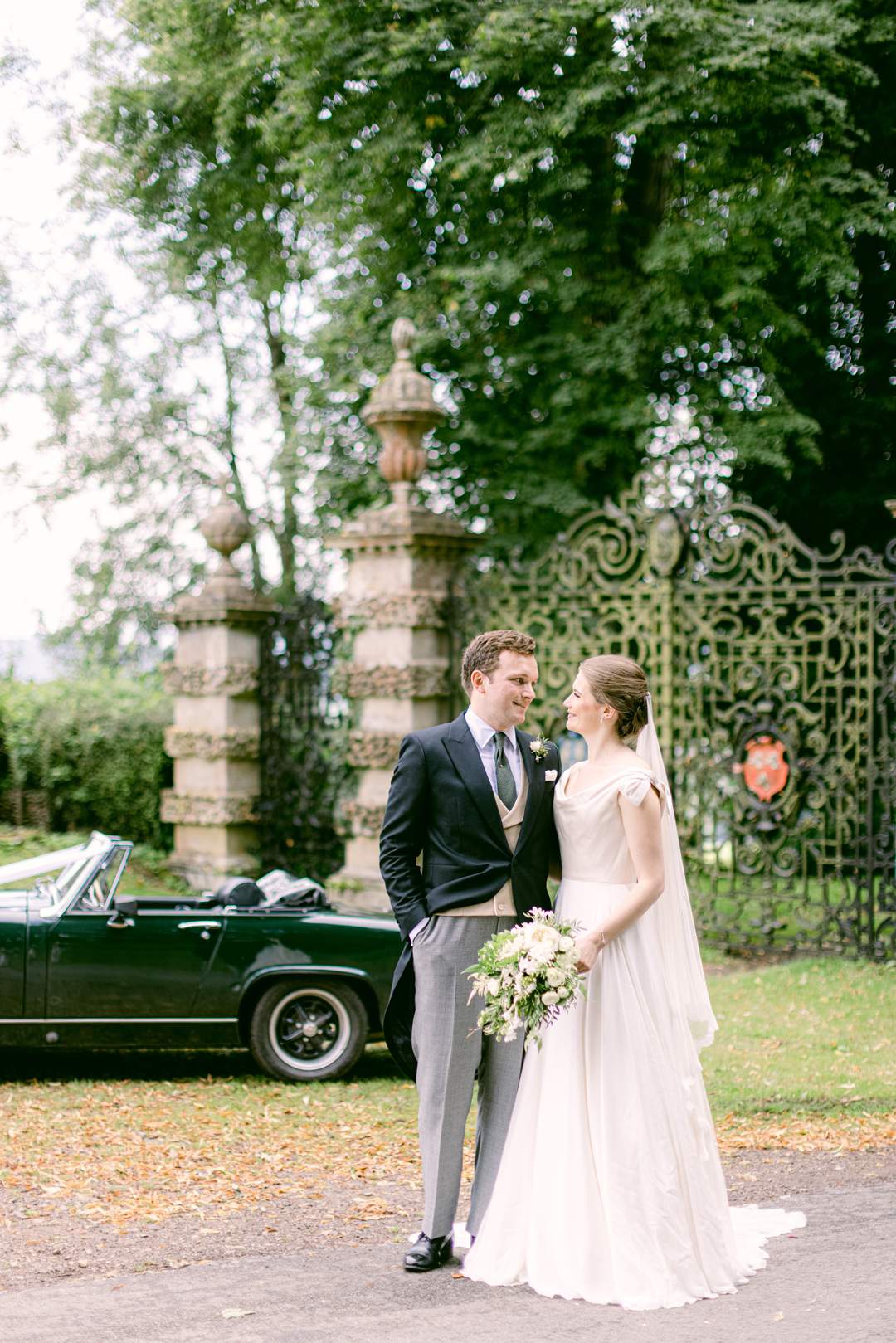 "Aside from the lovely views, hosting the reception in the field came with many other benefits, including the fact that we could make as much noise as we liked until the early hours."
"That said, there were certain challenges we faced with a wedding in a field, in the middle of nowhere, not least a lack of water and power."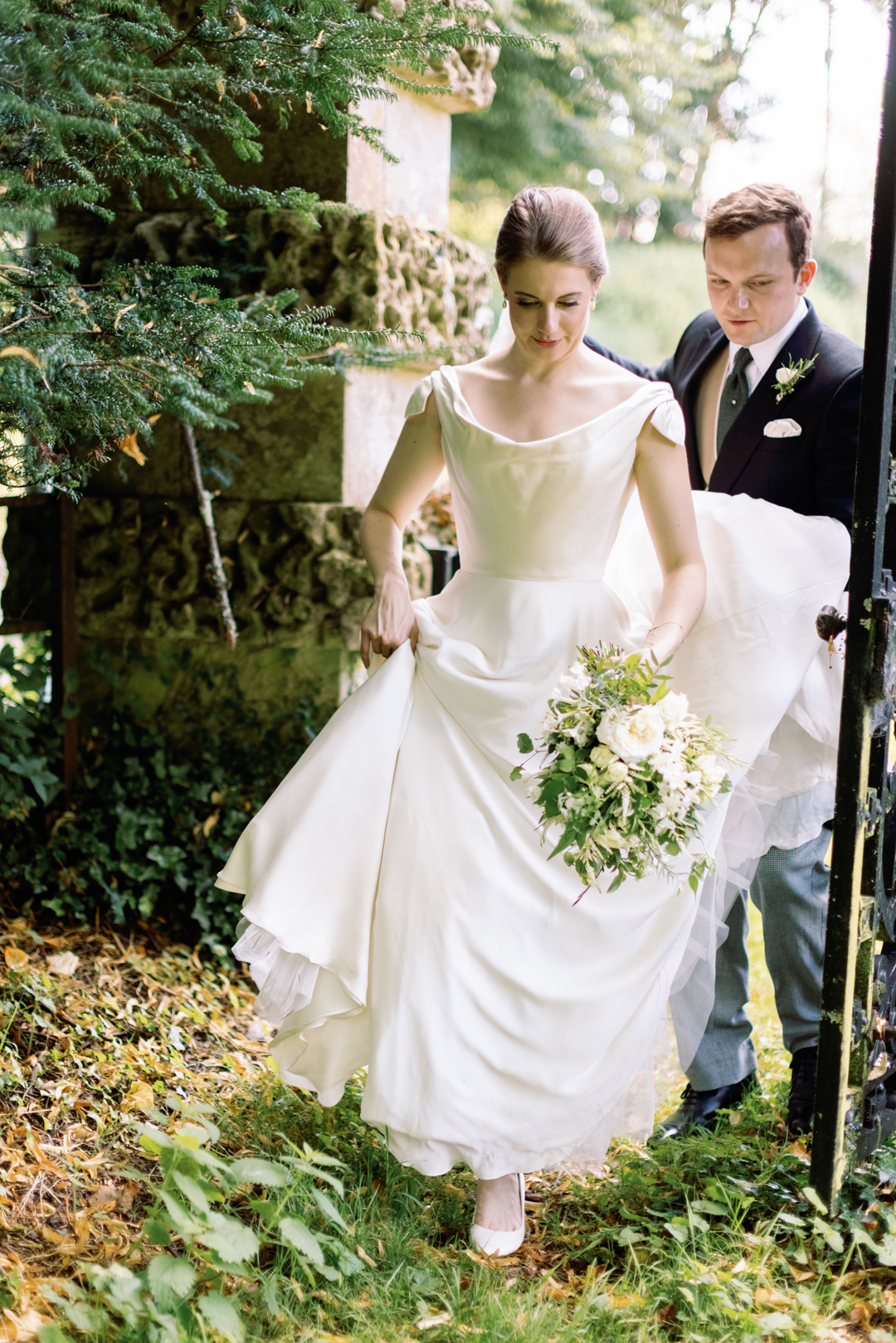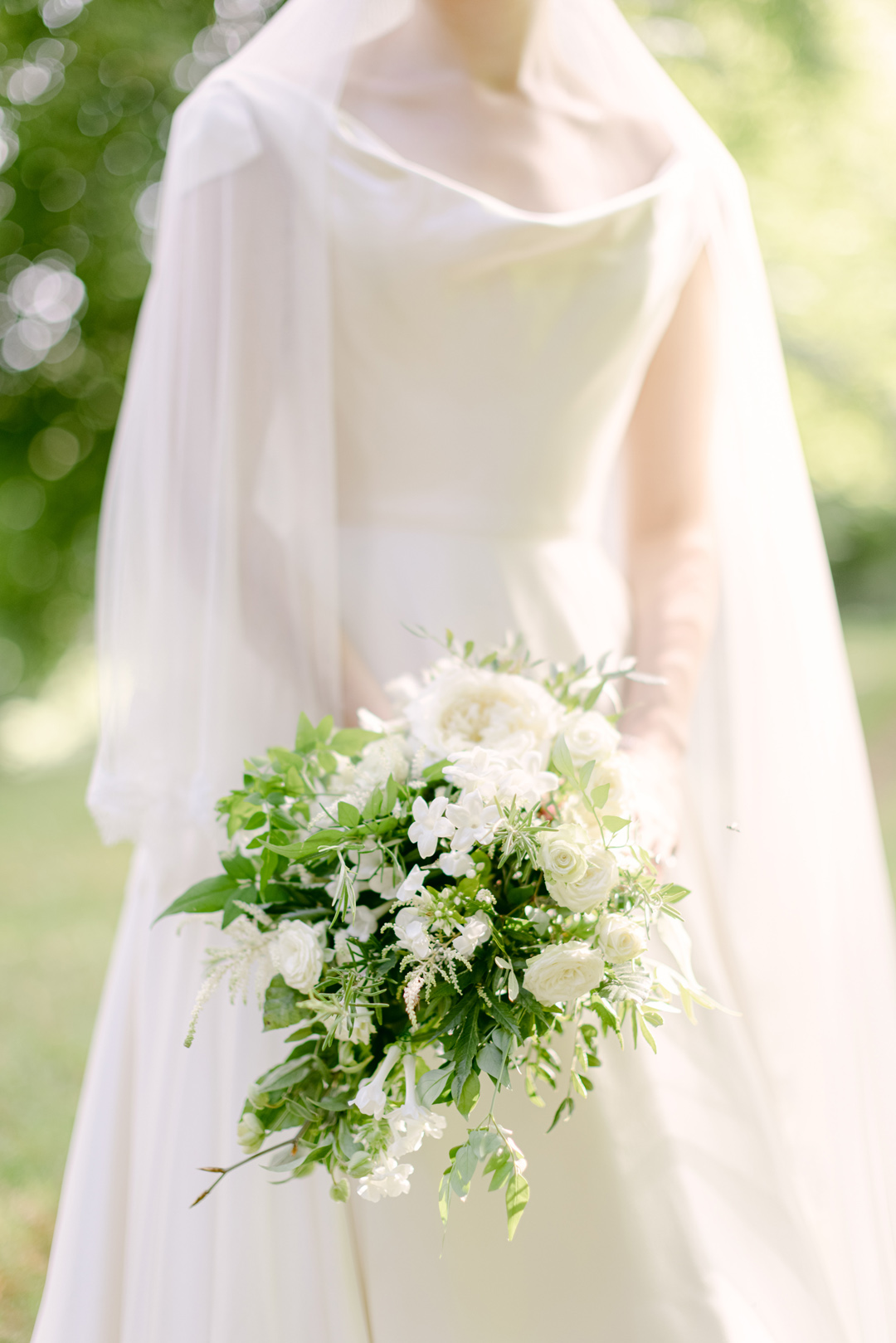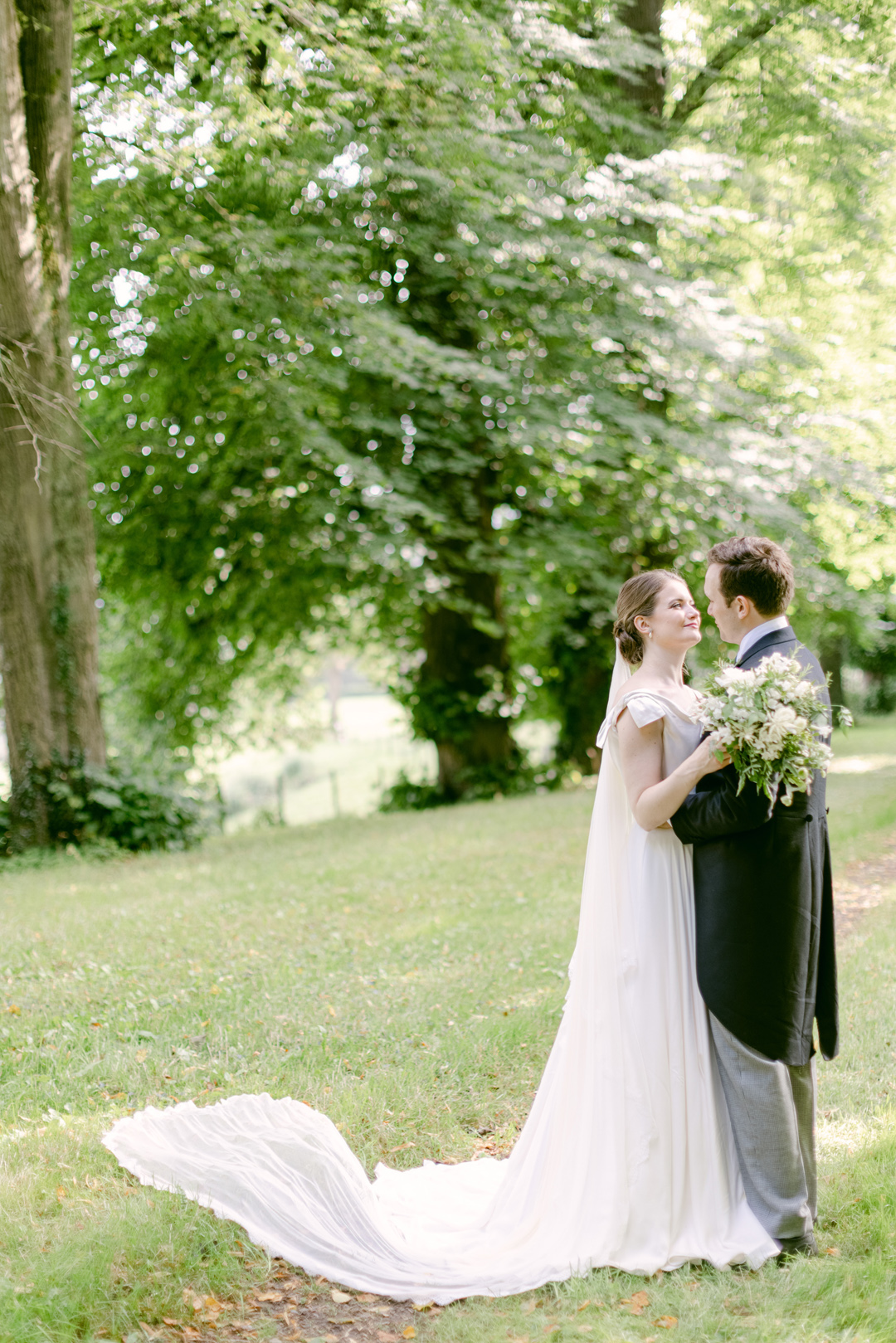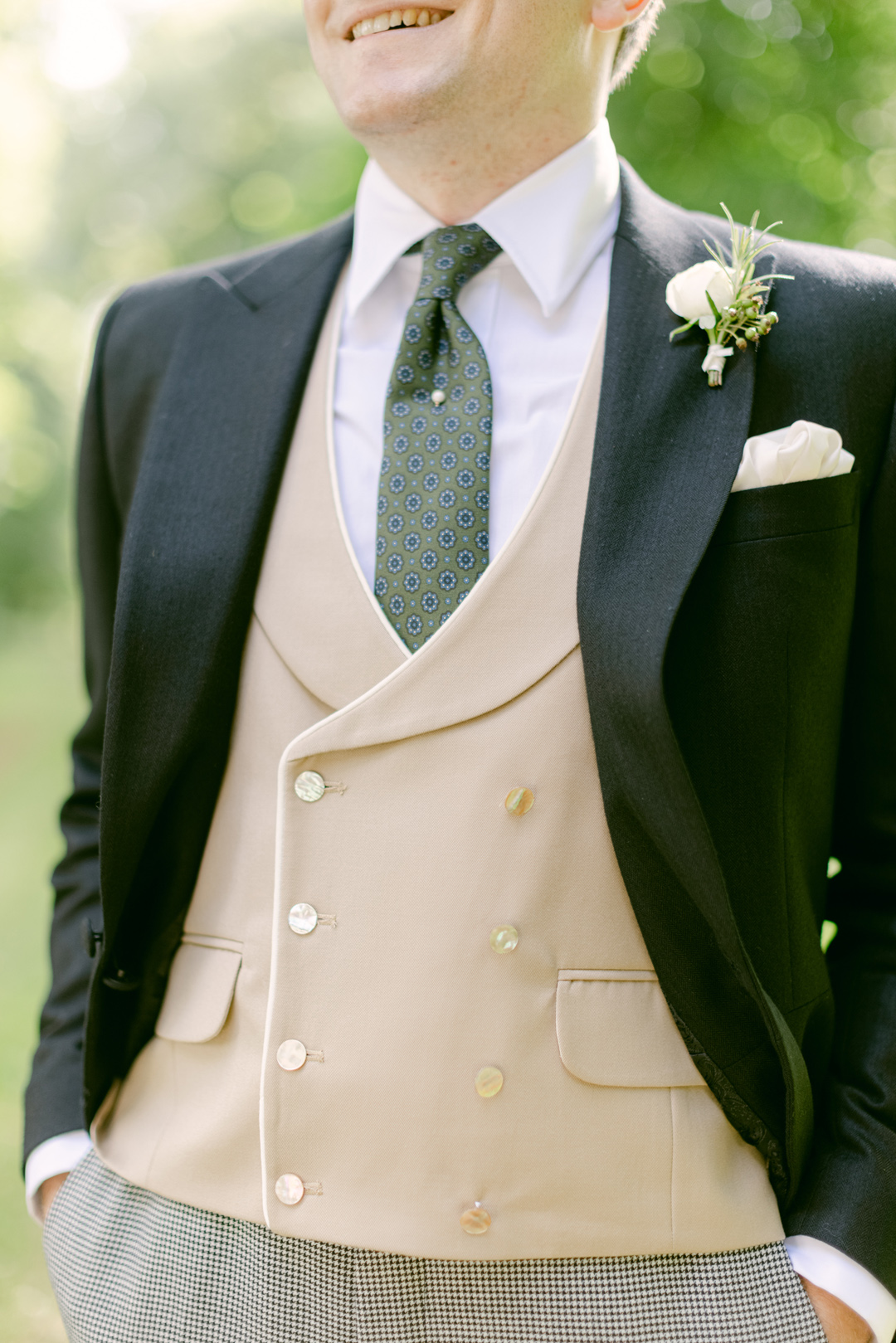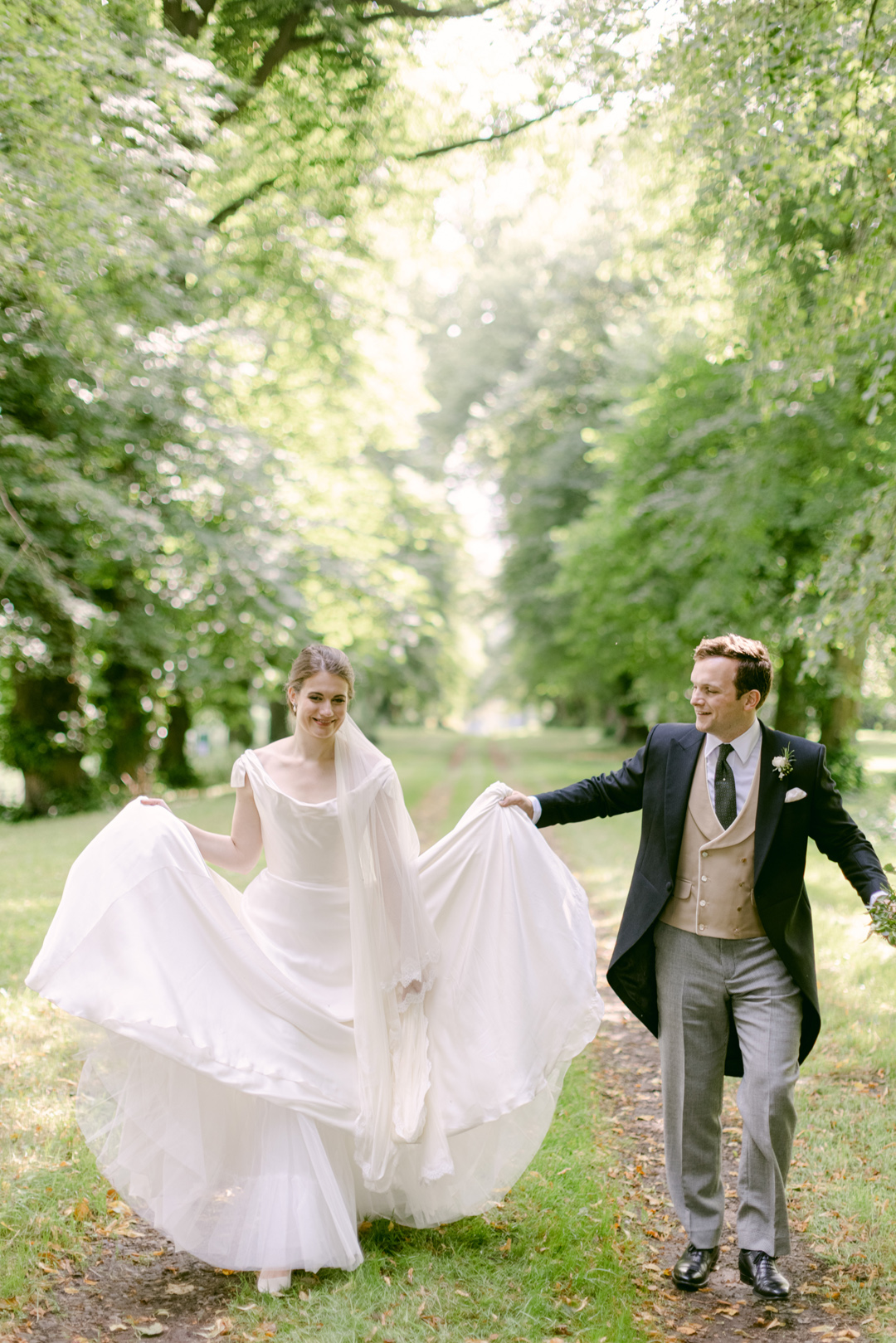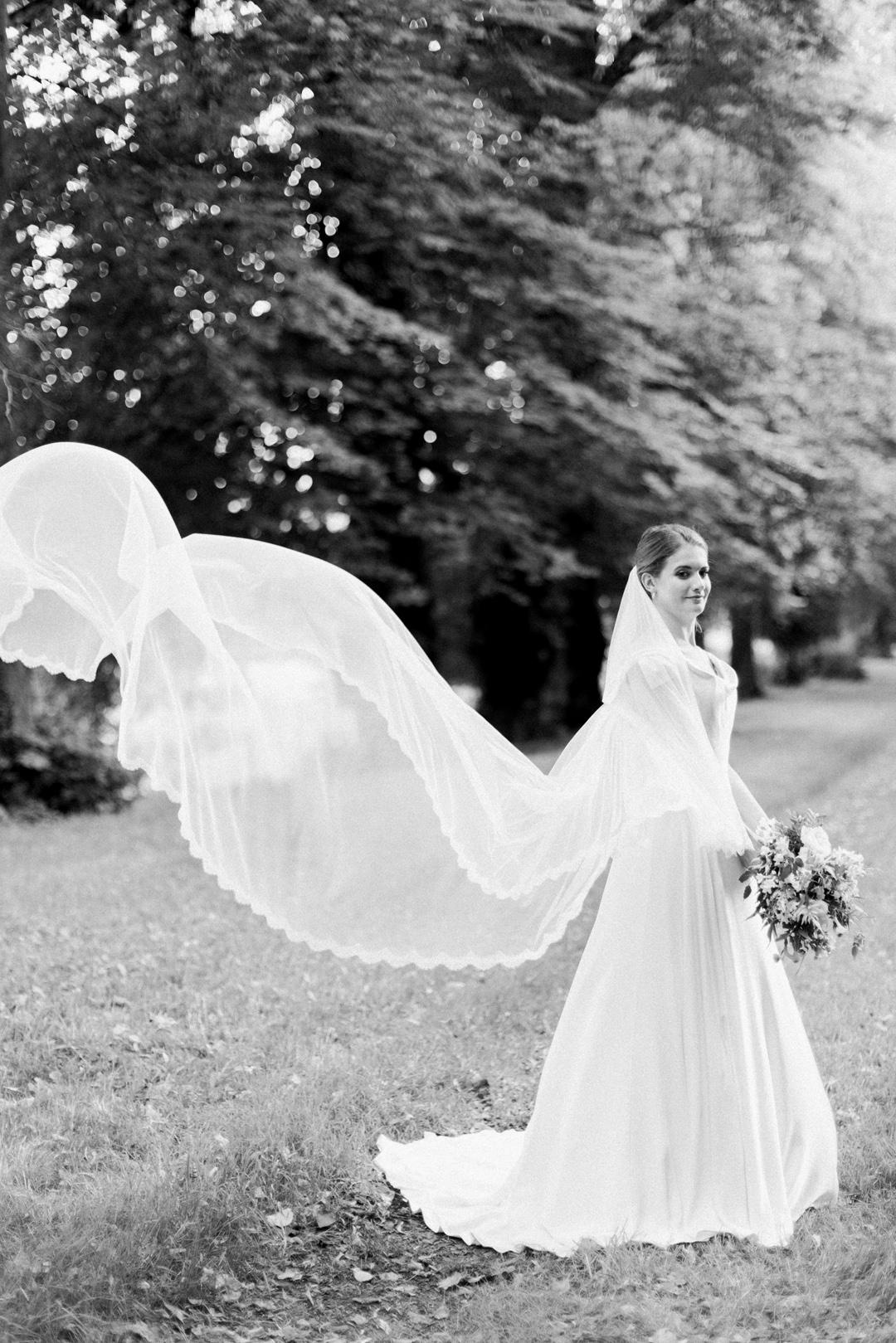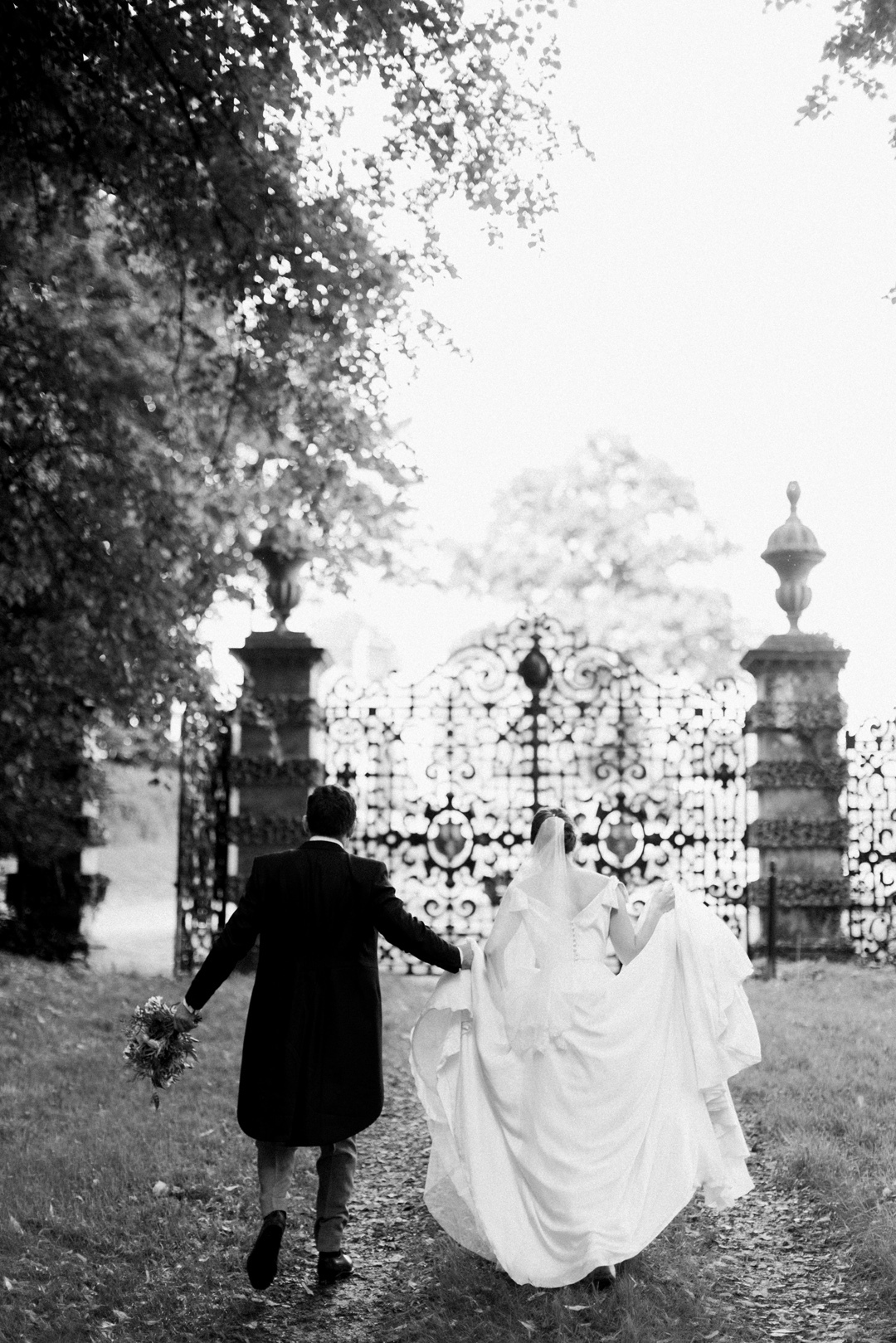 "As we arrived at the marquee, Charles had asked Rosie to have the PA guy play 'Here Comes The Sun' by the Beatles as the weather had been a talking point across the whole planning… as you can imagine in a field in the middle of nowhere."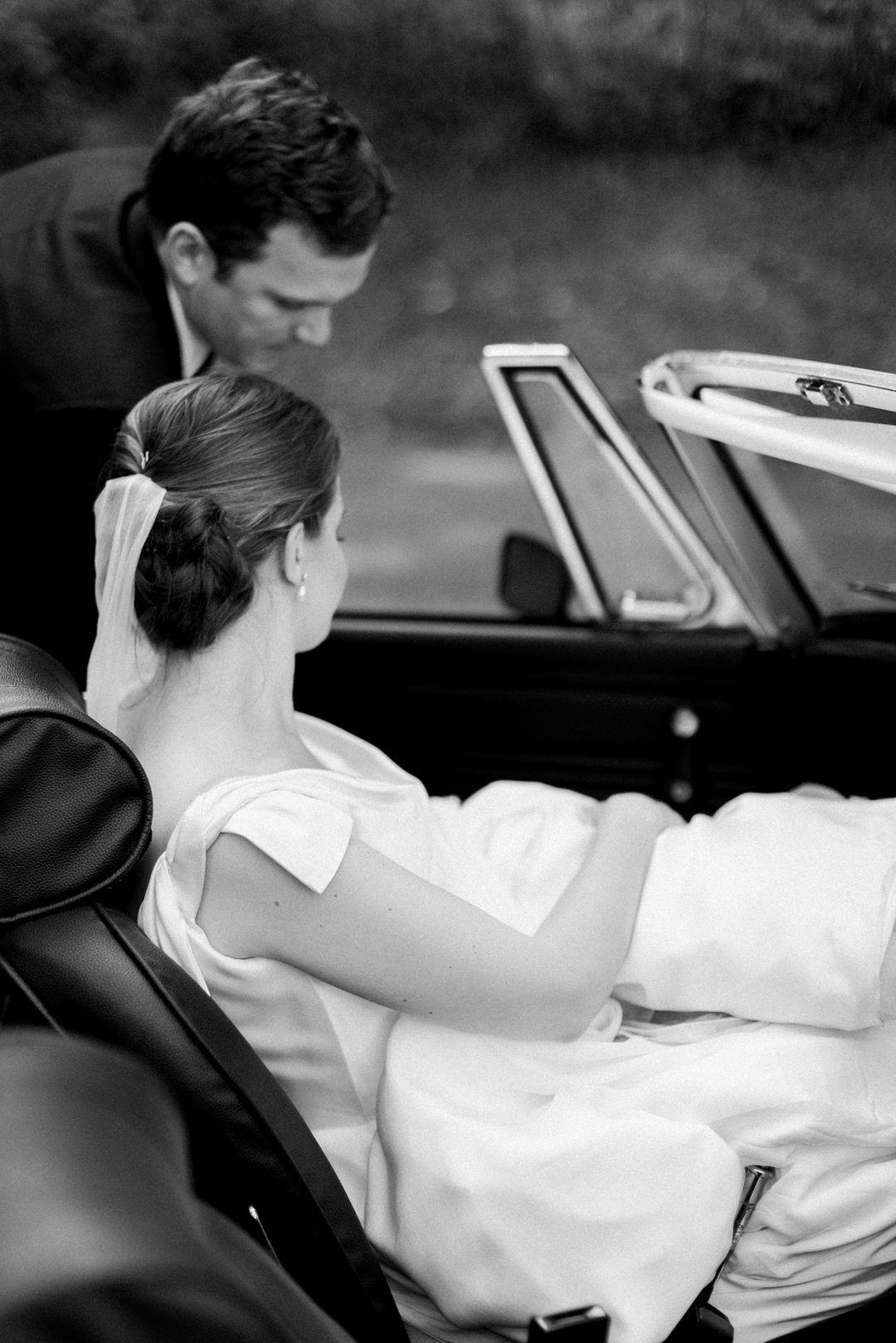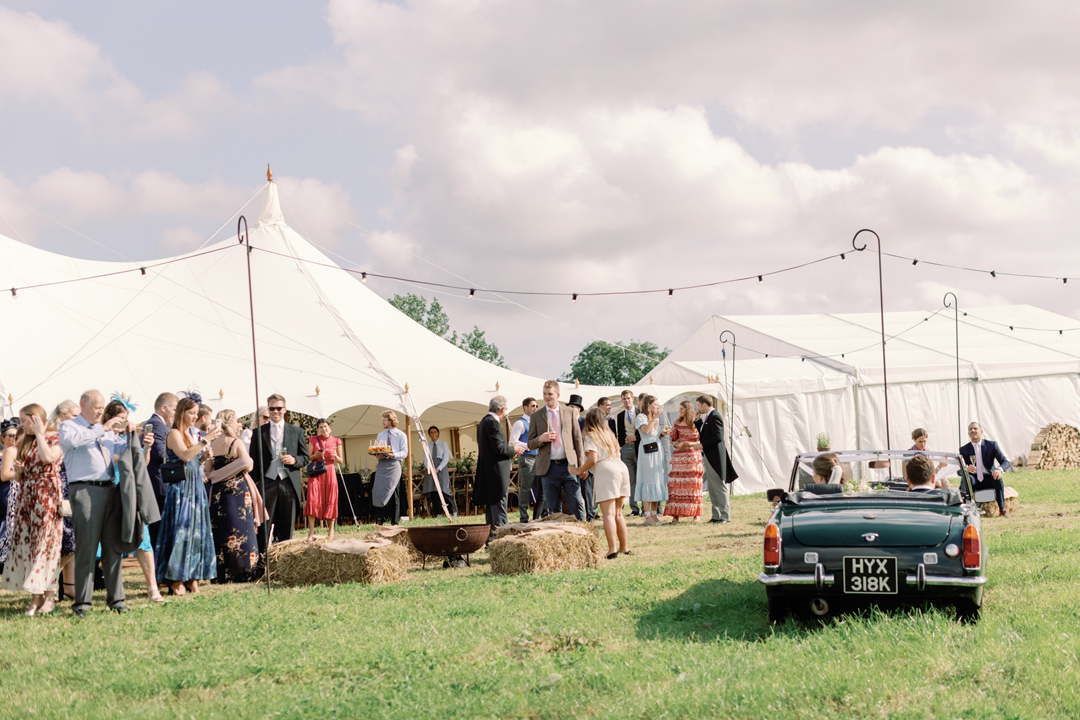 The day was captured perfectly by photographer Imogen Xiana.
"We were exceptionally fussy about finding the photographer given there are so many out there and the decision is so personal."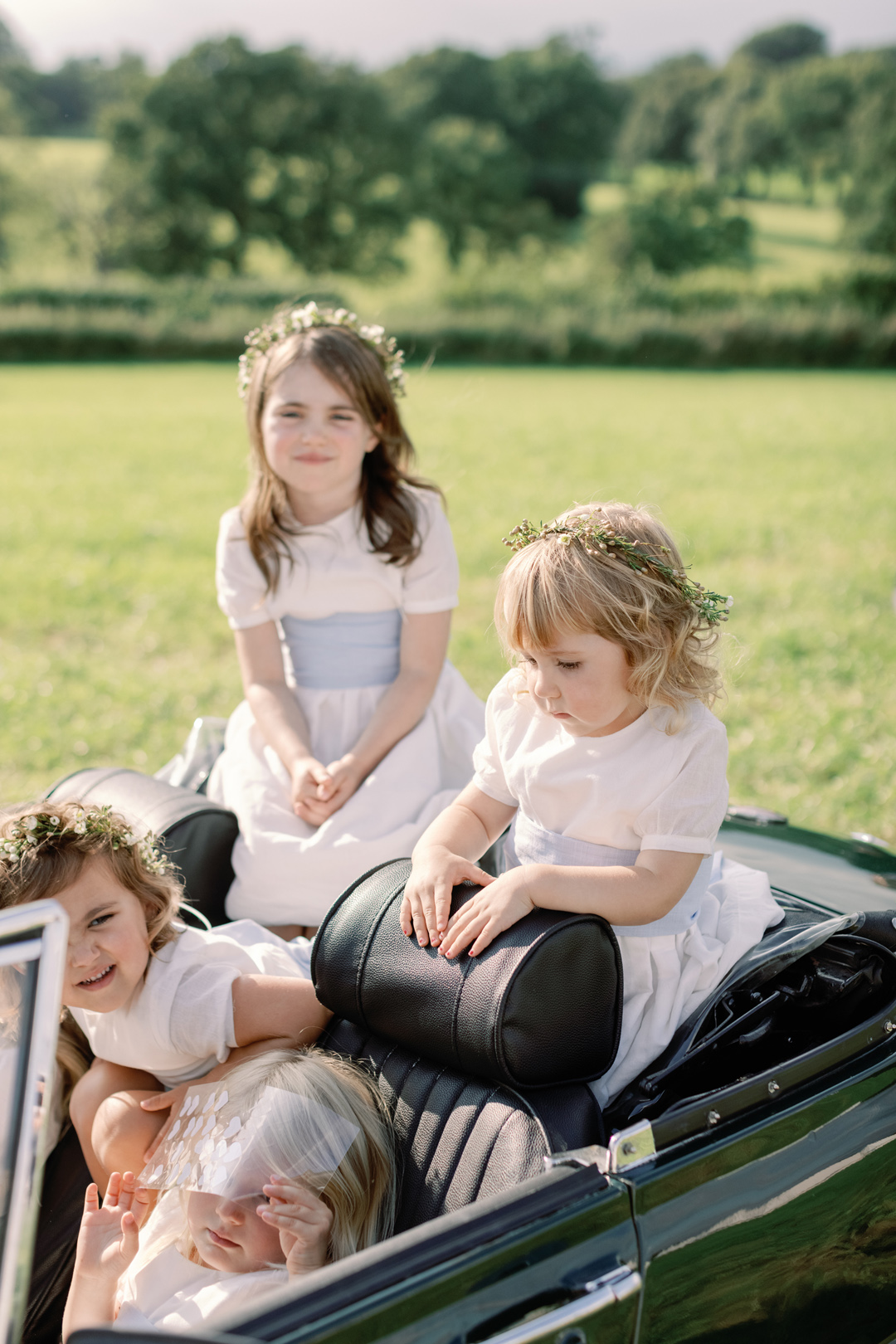 "In the end, we went with Imogen and could not be more pleased with the result."
"Imogen was a delight to work with in the lead up to the wedding and made us feel so comfortable on the day."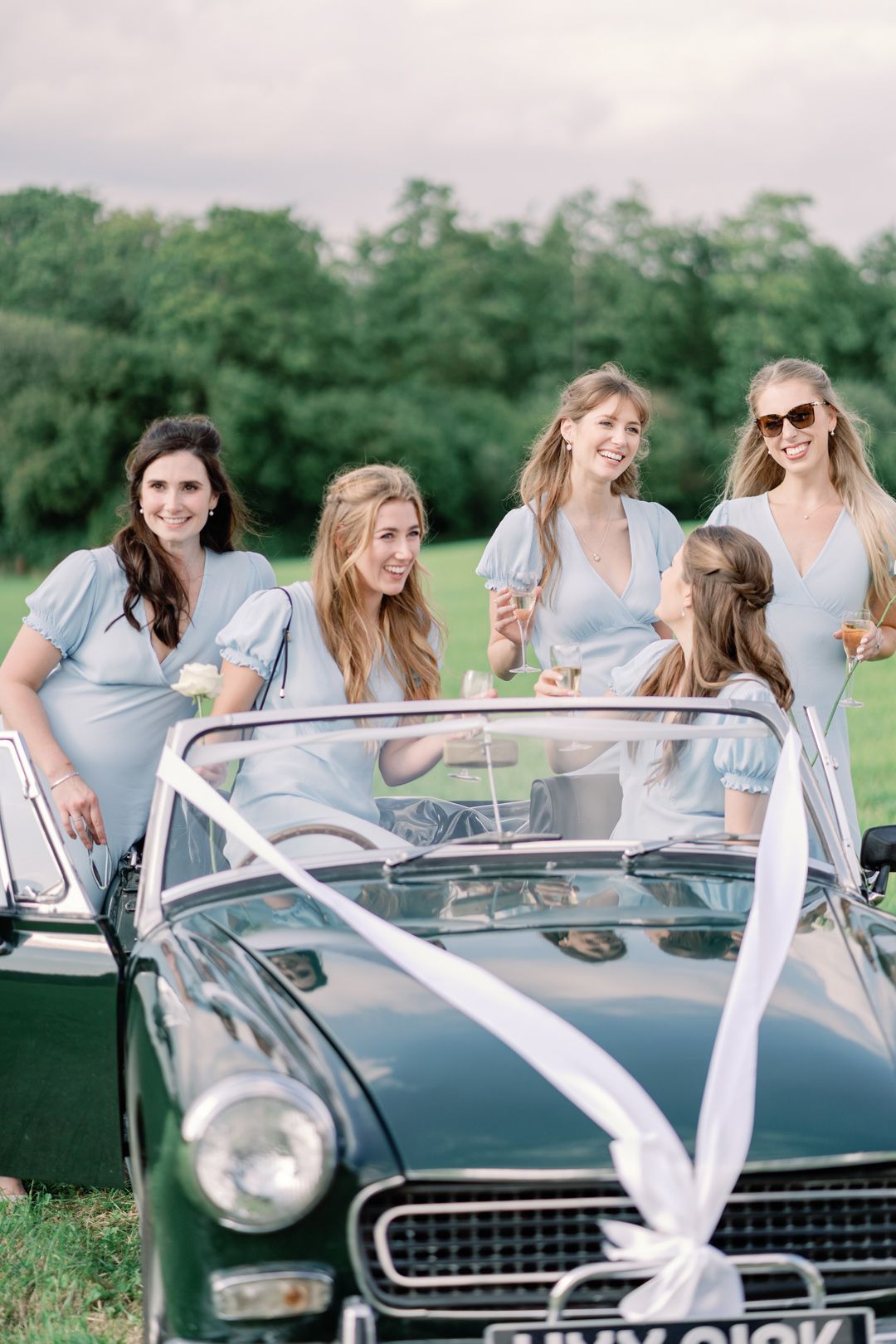 "The photos speak for themselves and we could not have asked for more. We can't recommend her enough – you will not be disappointed."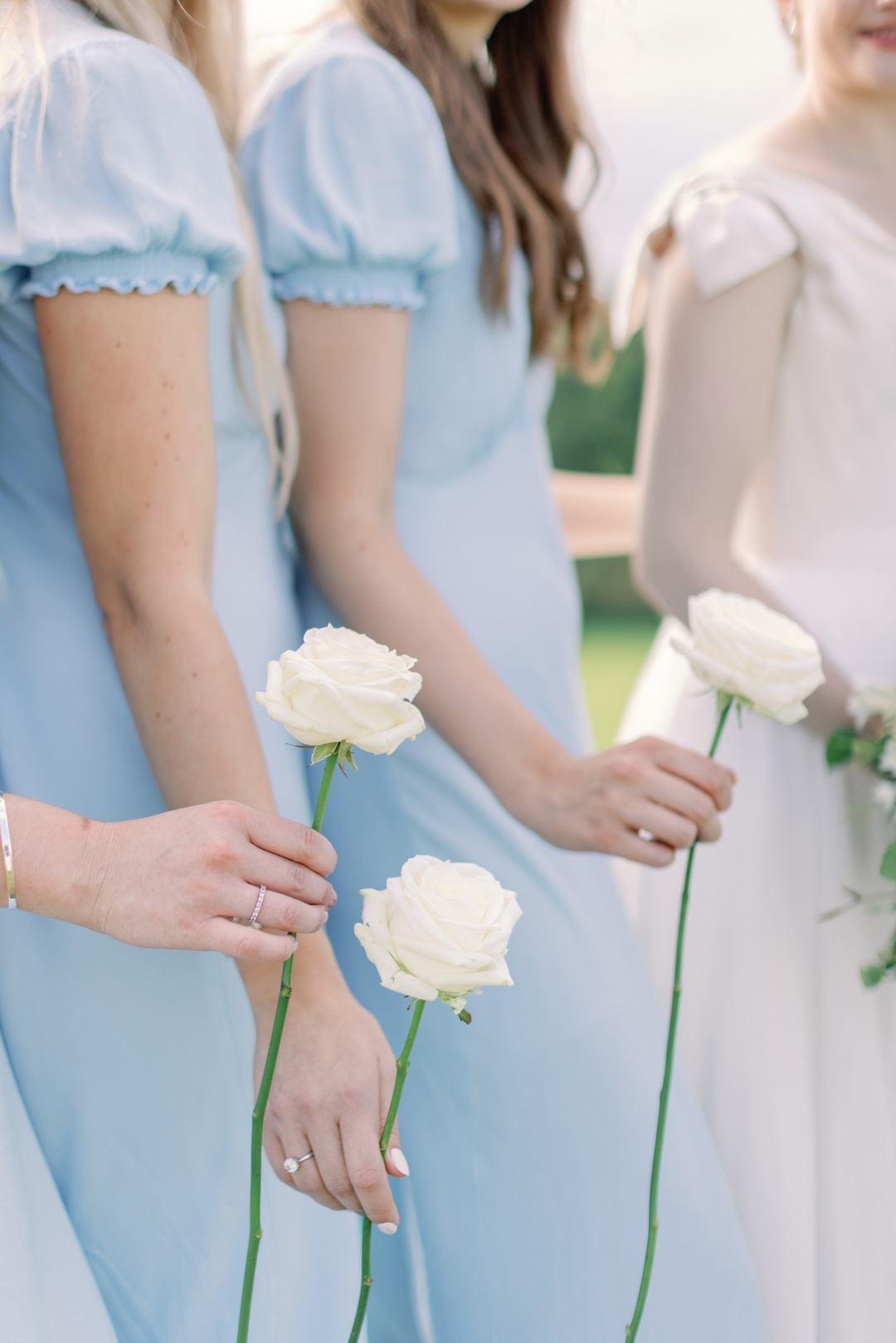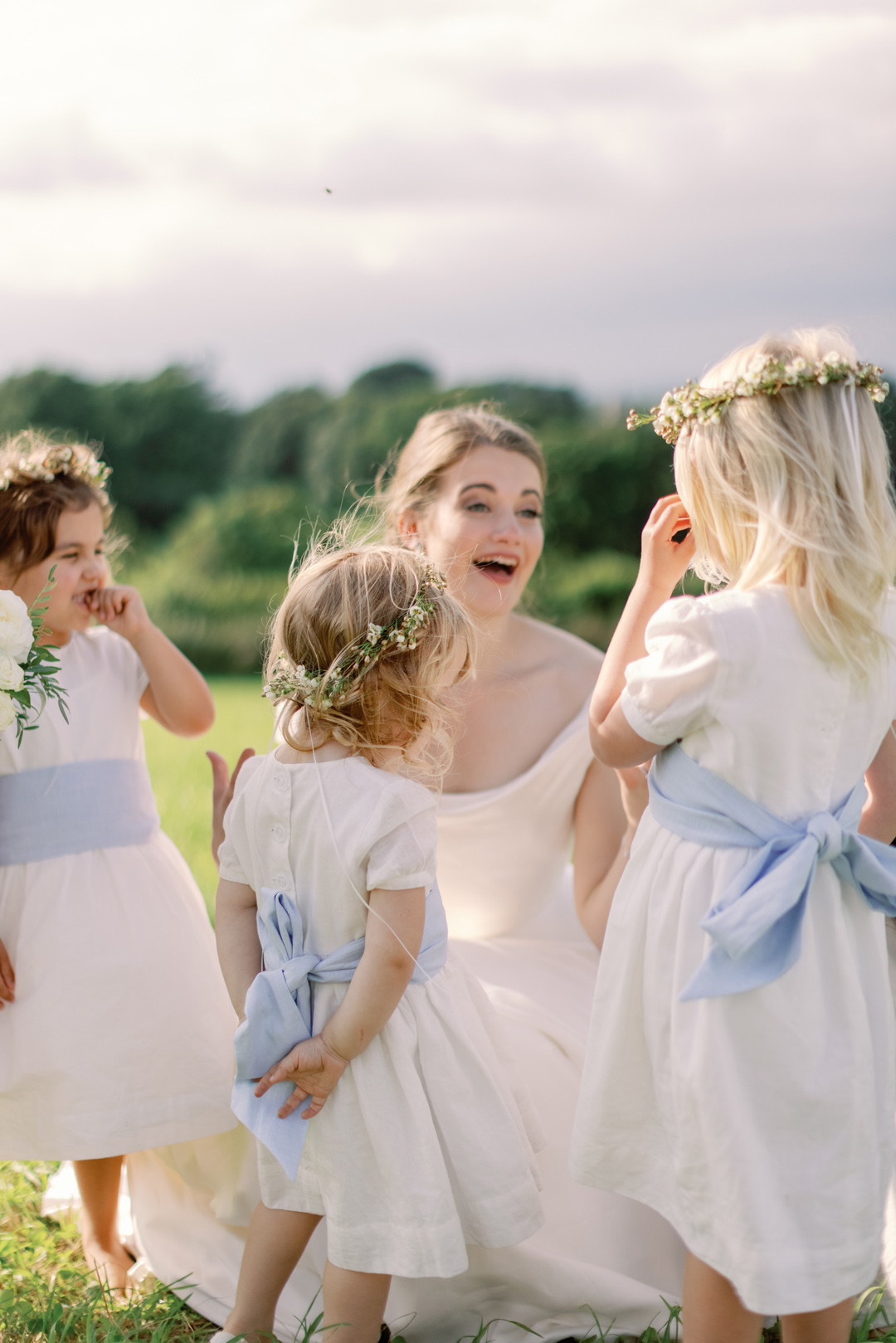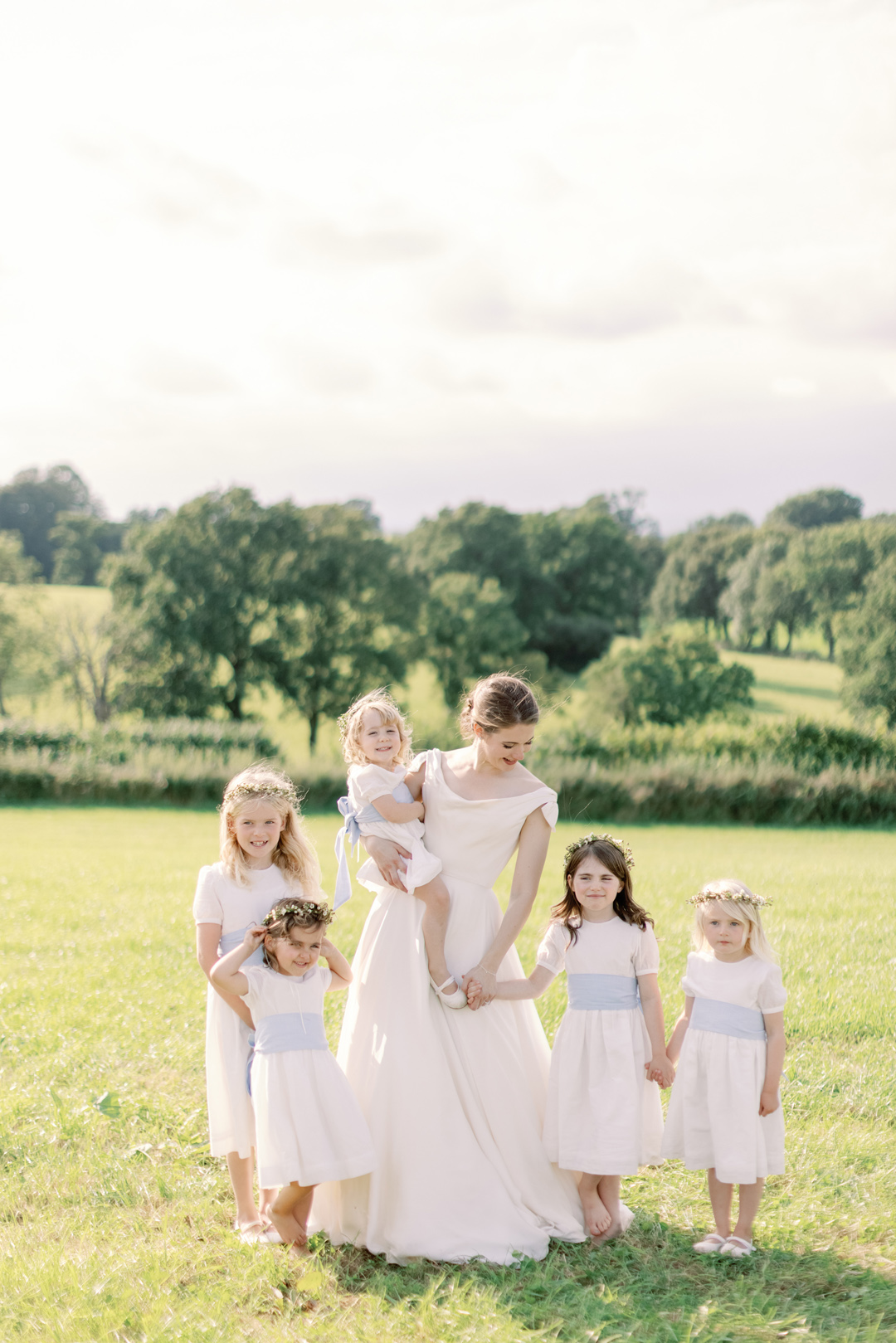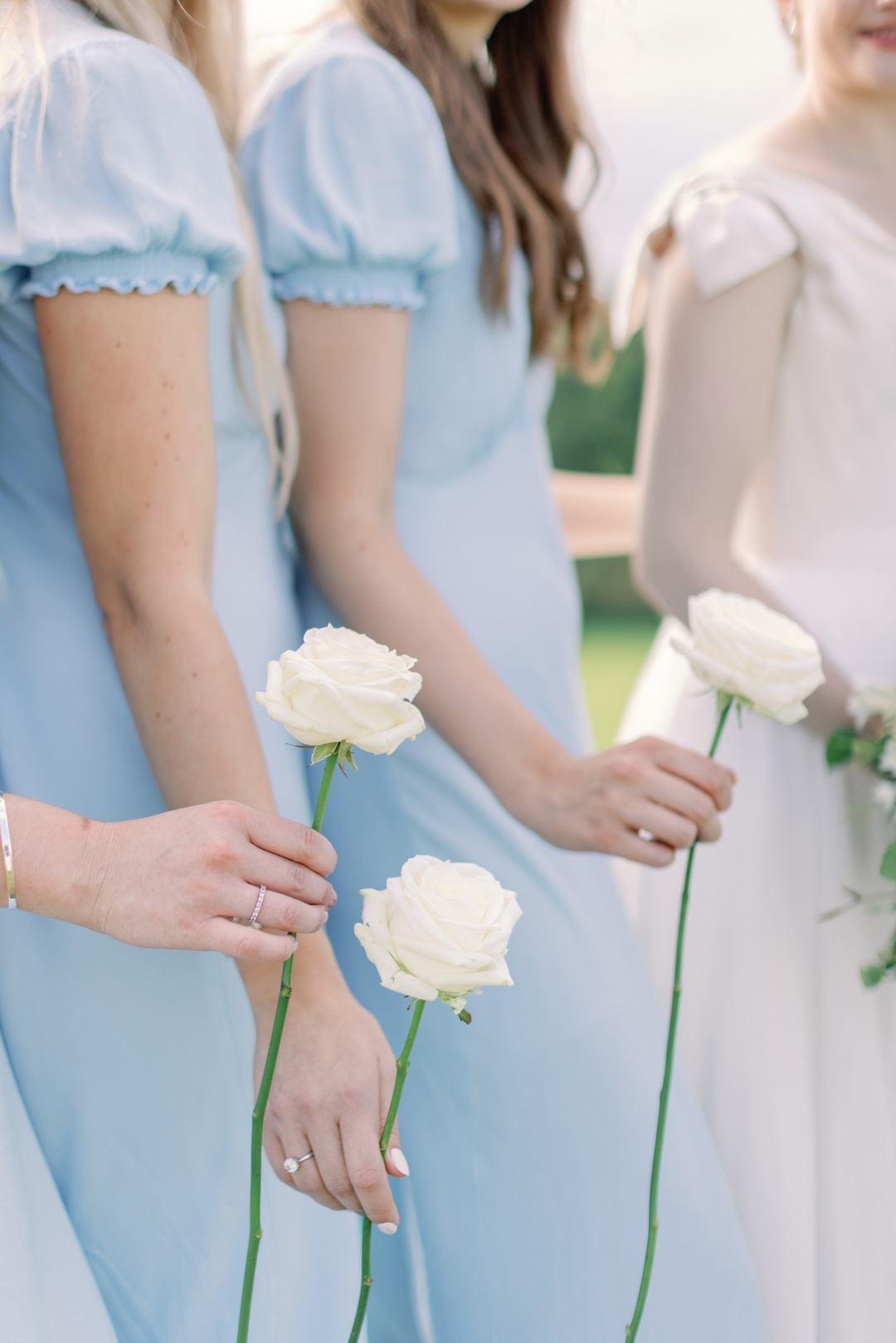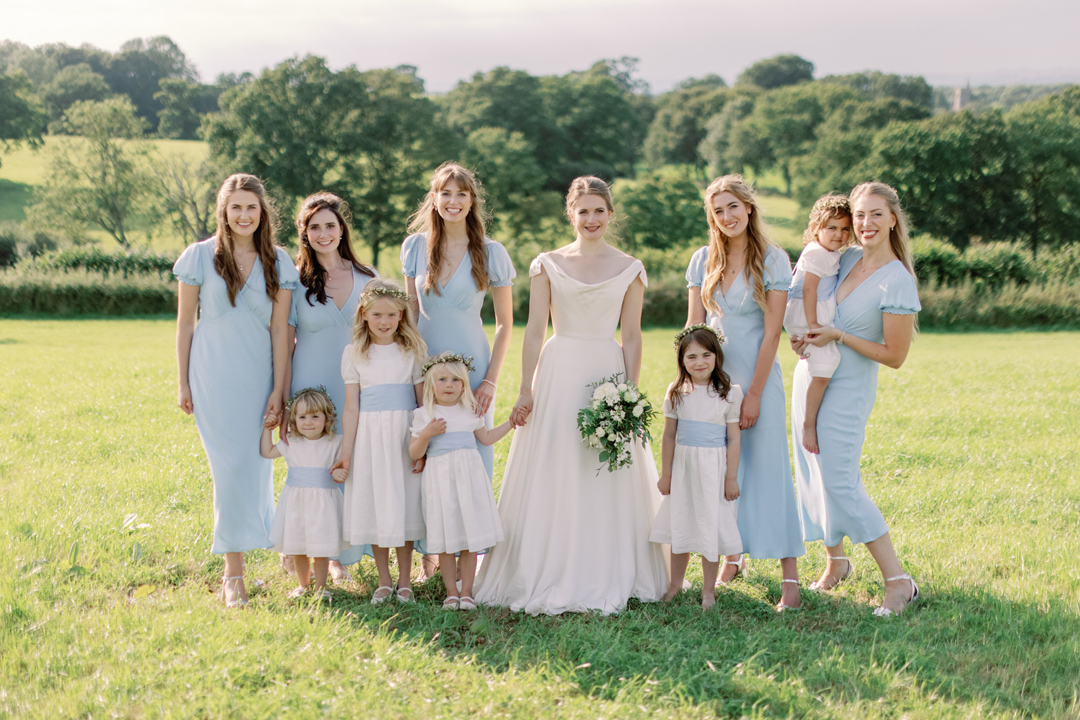 "The florist was one of the most important aspects of the day. Given we had a blank canvas with the DP Marquees marquee we really wanted to make an impact with the flowers."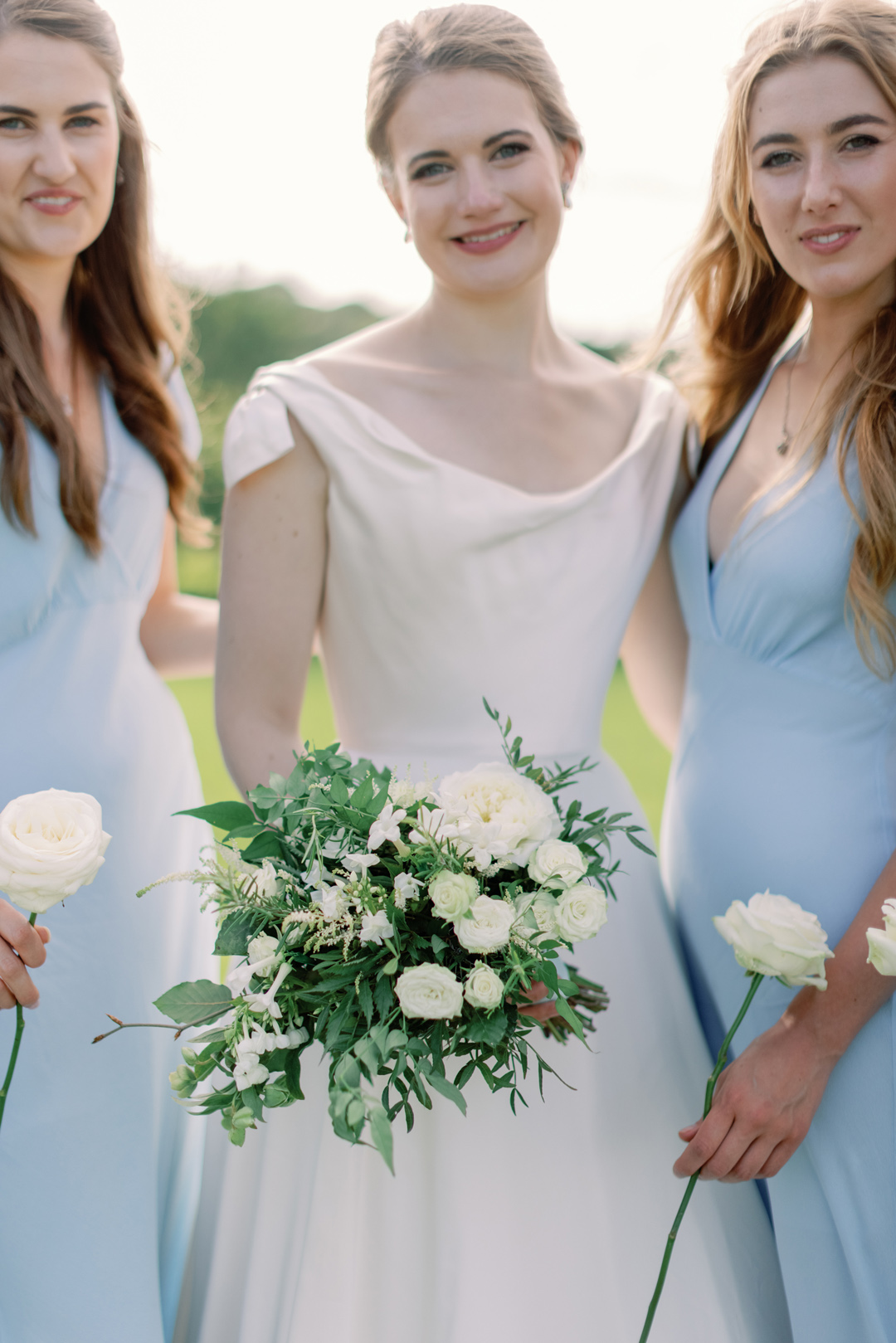 "In addition to this we felt quite strongly about sustainable flowers and foliage and opted for planted trees and plants where possible: most of the table flowers were potted plants that we ended up gifting to guests to take home."
"The colour palette was simple and limited to white flowers and plenty of green foliage."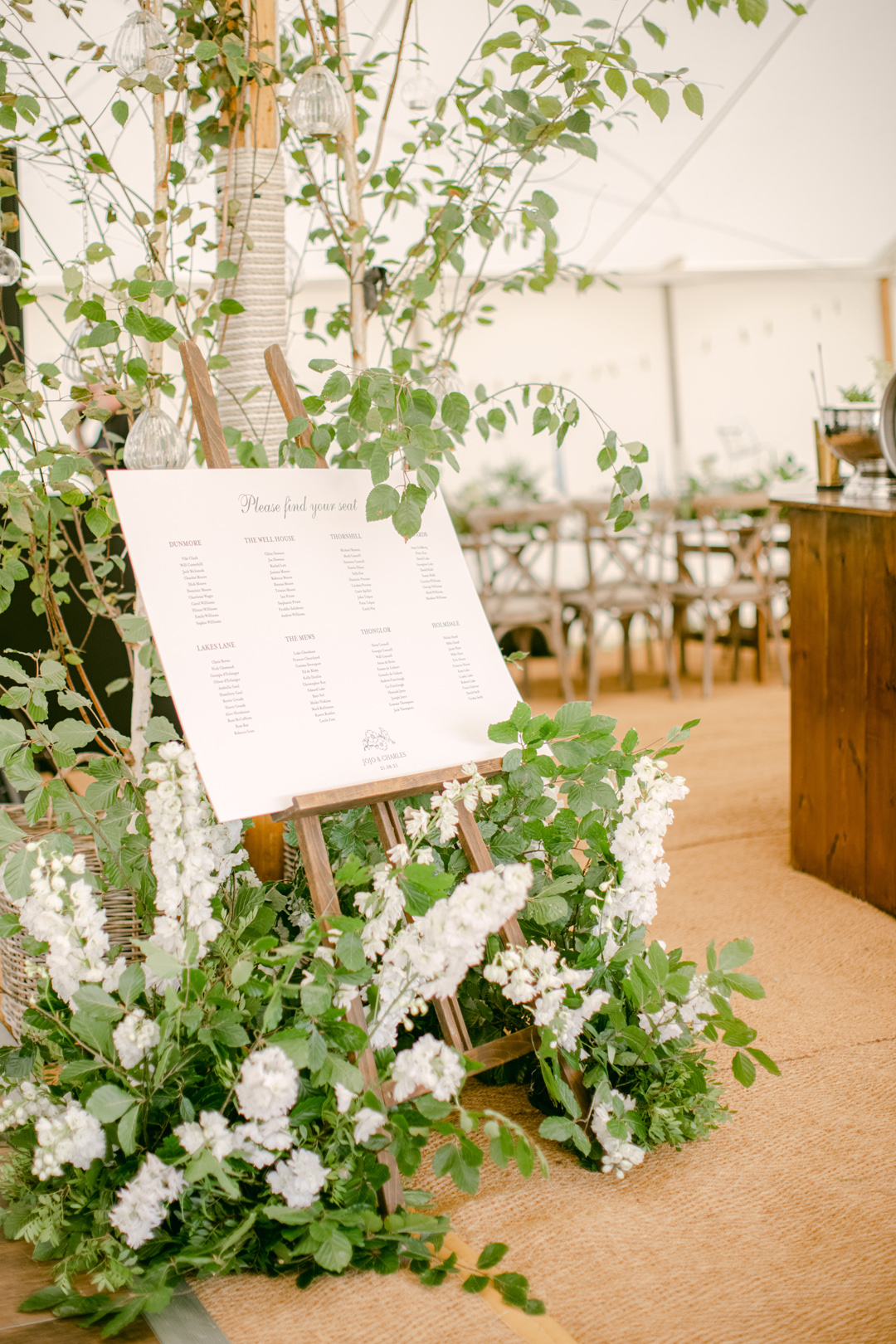 "Charles was adamant about having lots of greenery in the marquee, so Rosie suggested we hire trees to go up the poles of the tent and we included two trees in the church as well to tie the whole design together."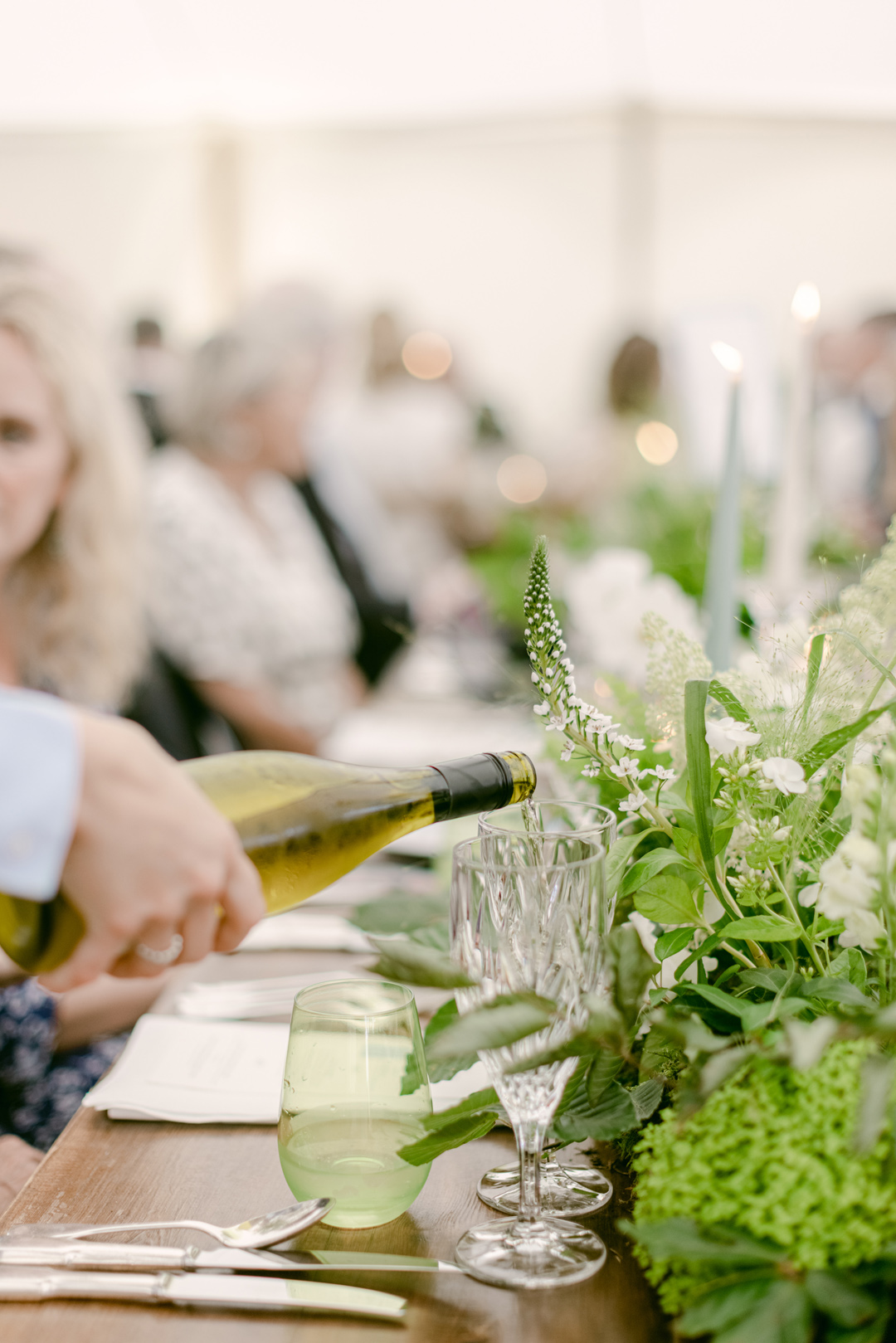 "Rosie used beech trees from Whitestem that are light and airy so as not to feel heavy in the marquee but give a touch of the outdoors in, style. She also hung glass baubles with tealights in the trees as well as fairy lights to add a little twinkle in the evening. The marquee's audio and lighting were provided by Nomad Audio Solutions."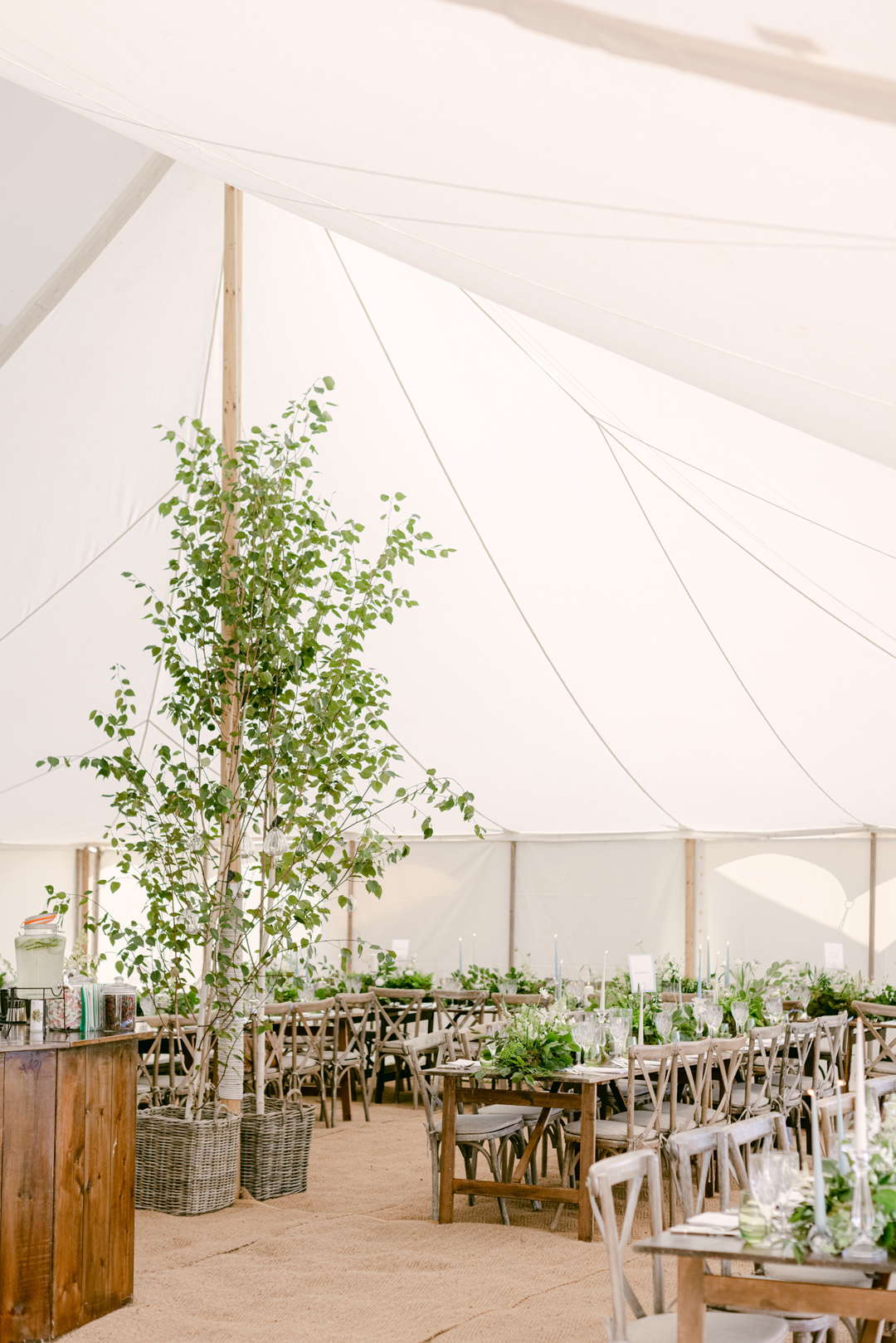 "We loved Emma from Martha and the Meadow's approach and style to her designs.  She fitted the design Rosie had come up with so Emma and Rosie worked closely together to create something that suited our style and fitted our sustainable brief."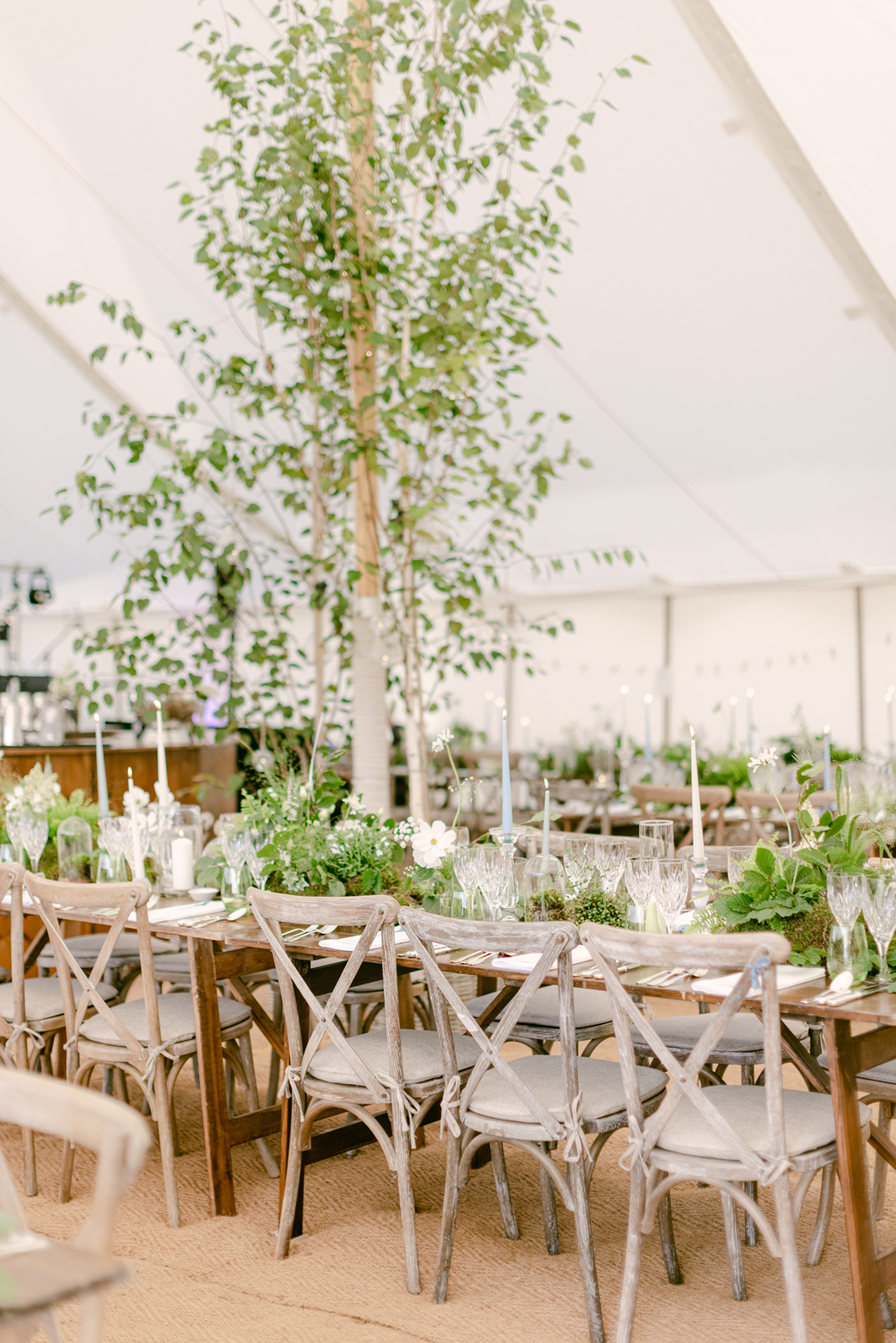 "Encompassing the countryside and bringing the green from outside into the marquee and church."
Emma and her team repurposed the church flowers up to the marquee and filled around the table plan easel with arrangements and cake table which made it look like the cake was sat in a meadow of flowers. It's a brilliant way of saving money and being more sustainable with your flowers."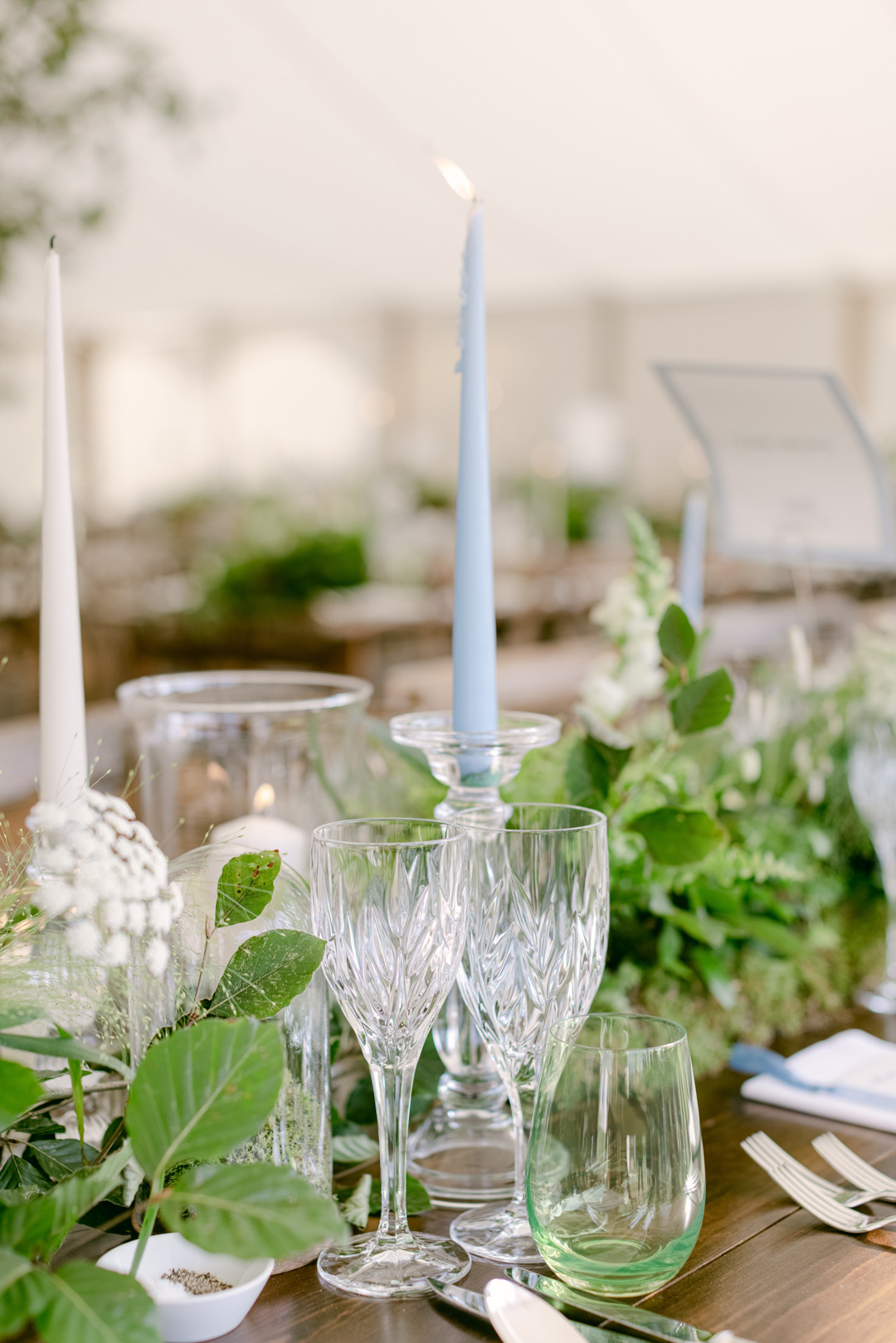 The soft colour scheme continued through the wedding stationery suite, designed by JoJo and Charles and printed on Printed.com.
"We used the pale blue that was our accent colour on all the stationery and pale blue silk ribbon on the place names which all tied in beautifully with the bridesmaids' dresses and flowergirls' dress sashes."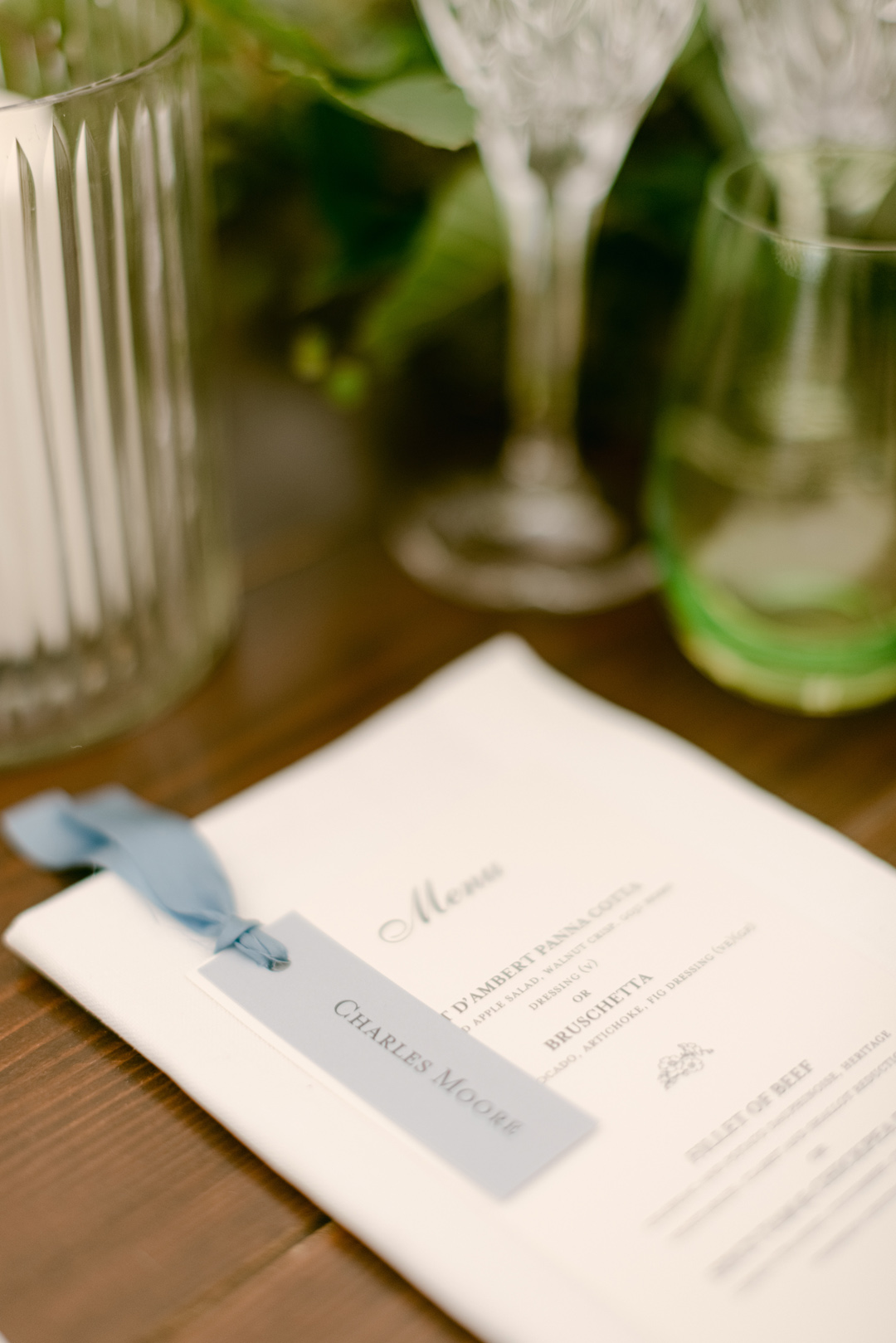 The tiered cake was from Lisa Notley Cake Design.
"We went for a simple white, three tier cake with delicate piping and blue ribbon that matched the bridesmaids' dresses and the ribbon we used on the place names. It was delicious and working with Lisa was easy."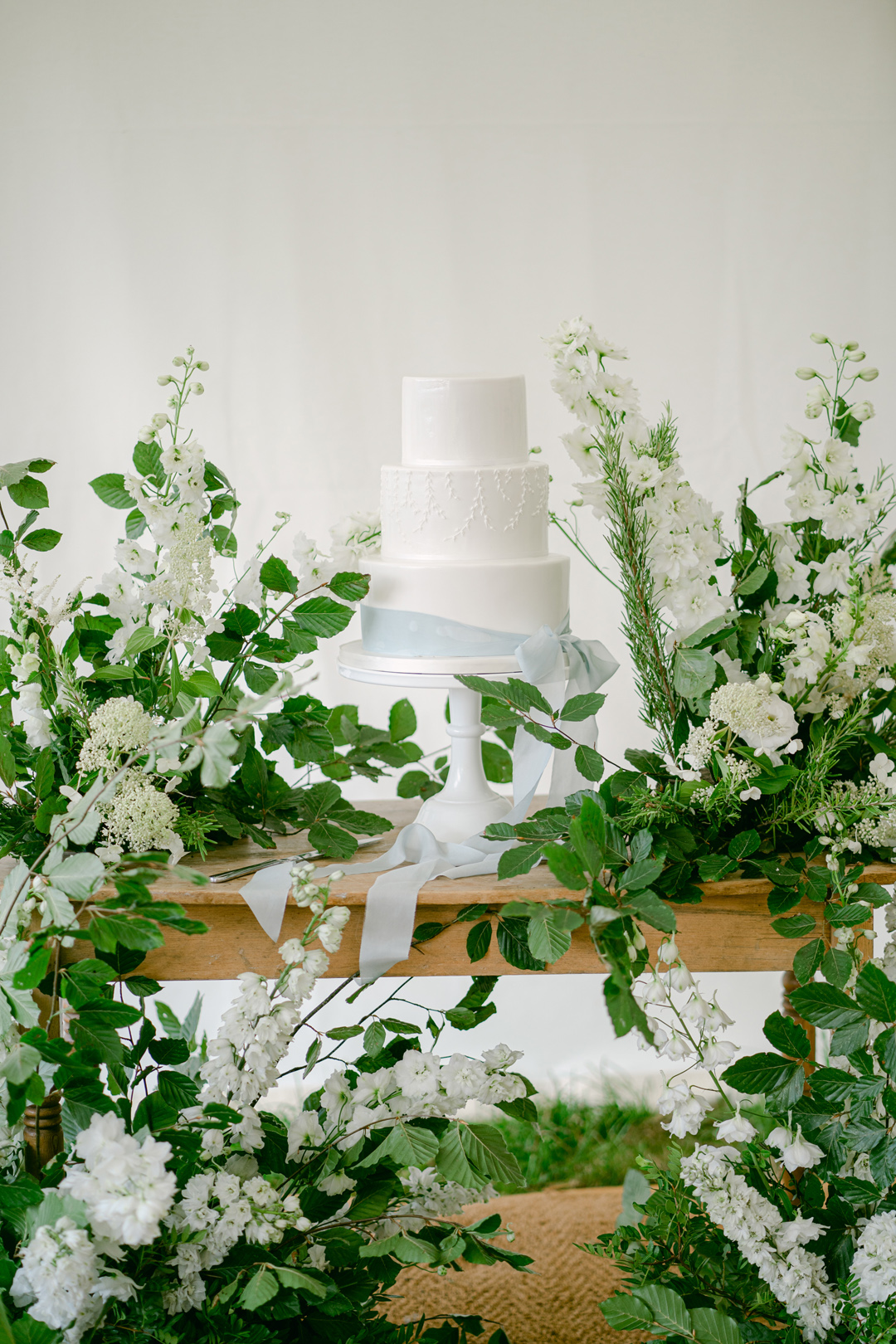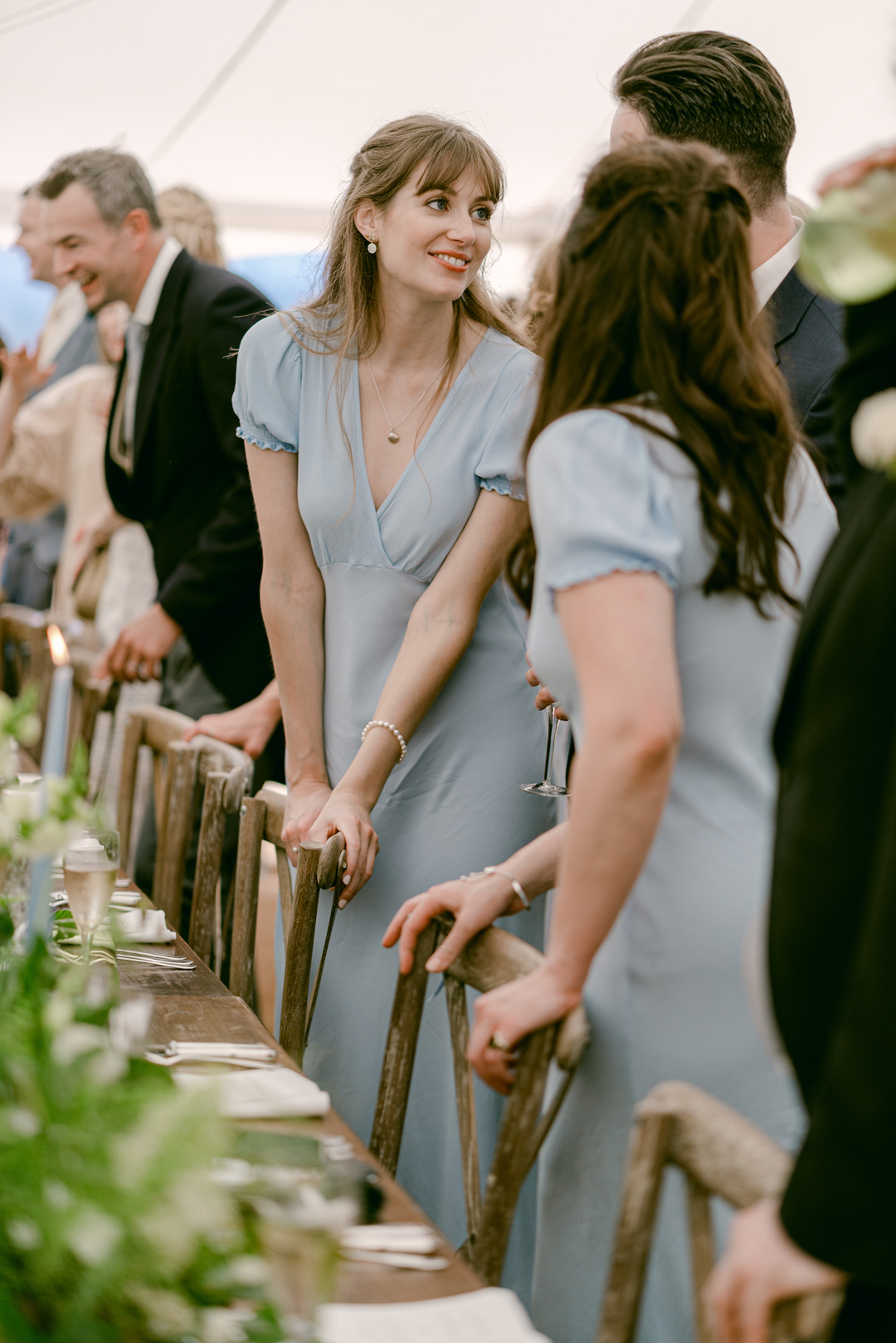 The wedding breakfast was from Red Herring with a bar and cocktails from Theo Maxfield.
"Seriously great cocktails, our guests are still talking about them. In fact, I asked Theo to create some cocktails for Charles' surprise birthday party recently and he did another amazing job."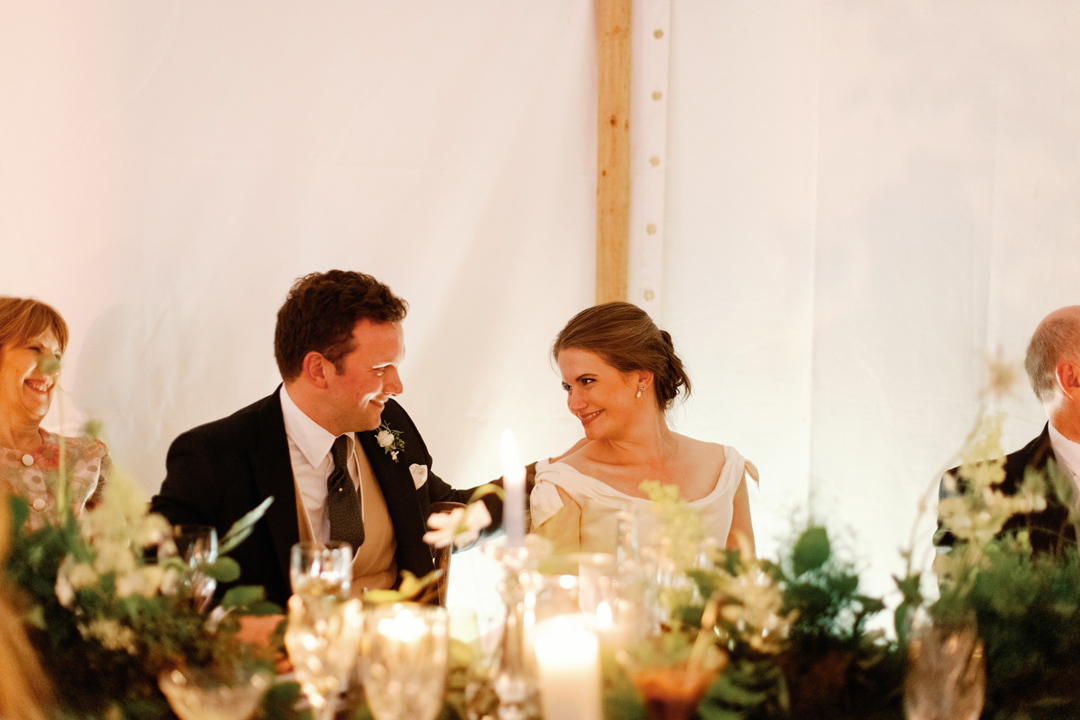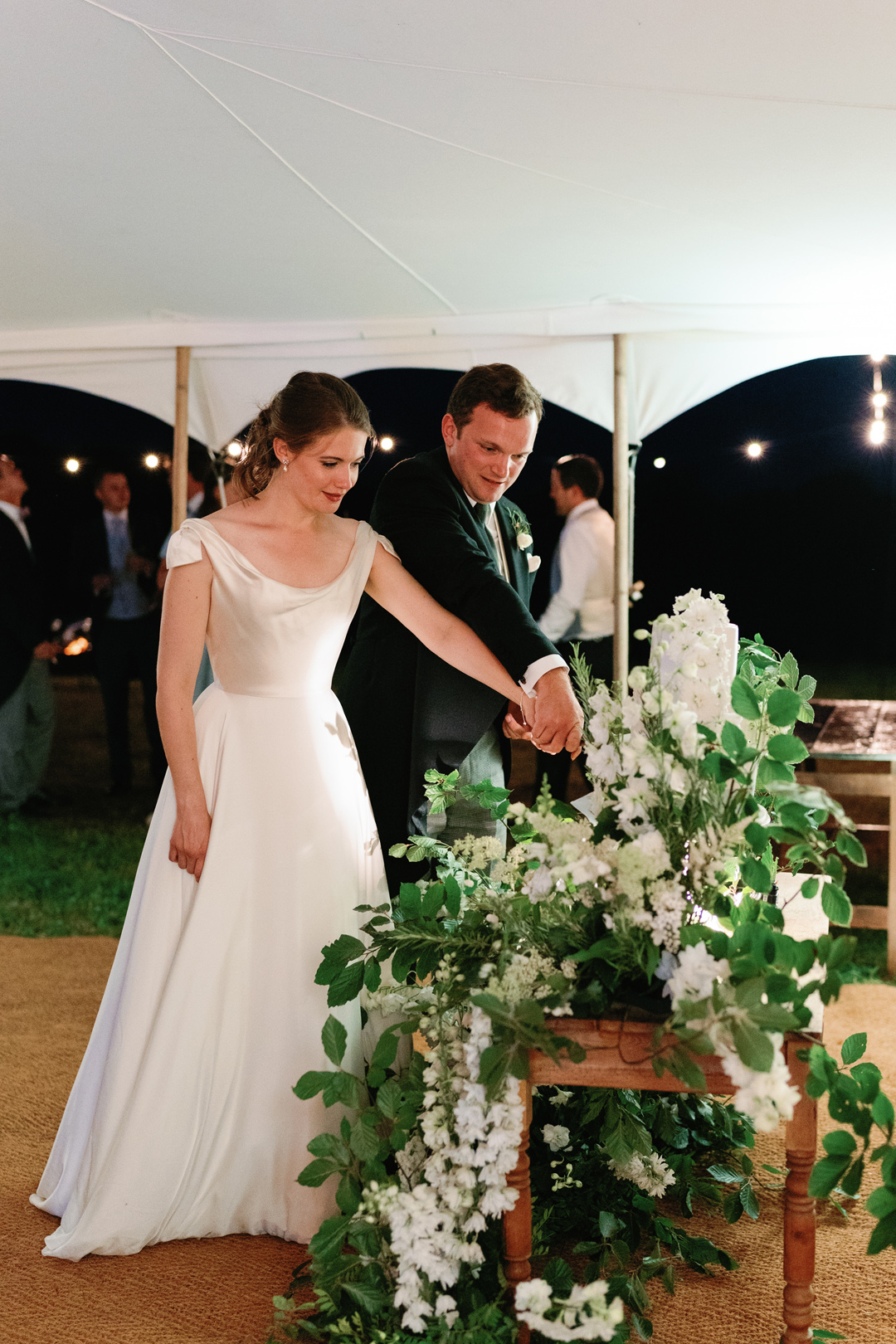 As night fell, the party got started with music from The Itchy Feet House Band.
"There was non-stop dancing by everyone. – they blew the tent off! We loved it."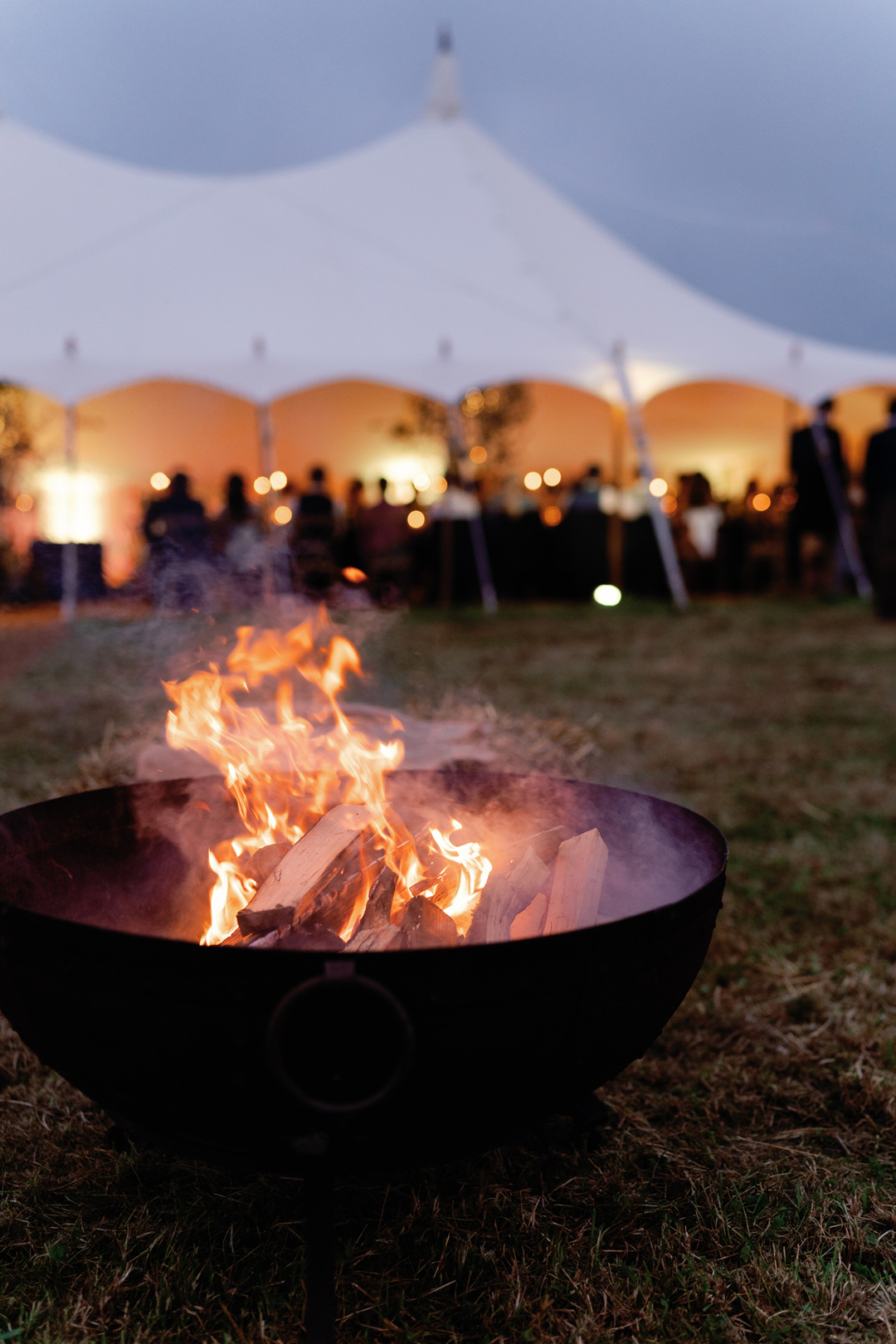 "Our first dance was 'This Will Be (An Everlasting Love)' by Natalie Cole. Our band, Itchy Feet, play an incredible set of funk, soul and disco and we thought we would choose something we know they could play well, and would be suitably romantic. It's become a particular favourite ever since."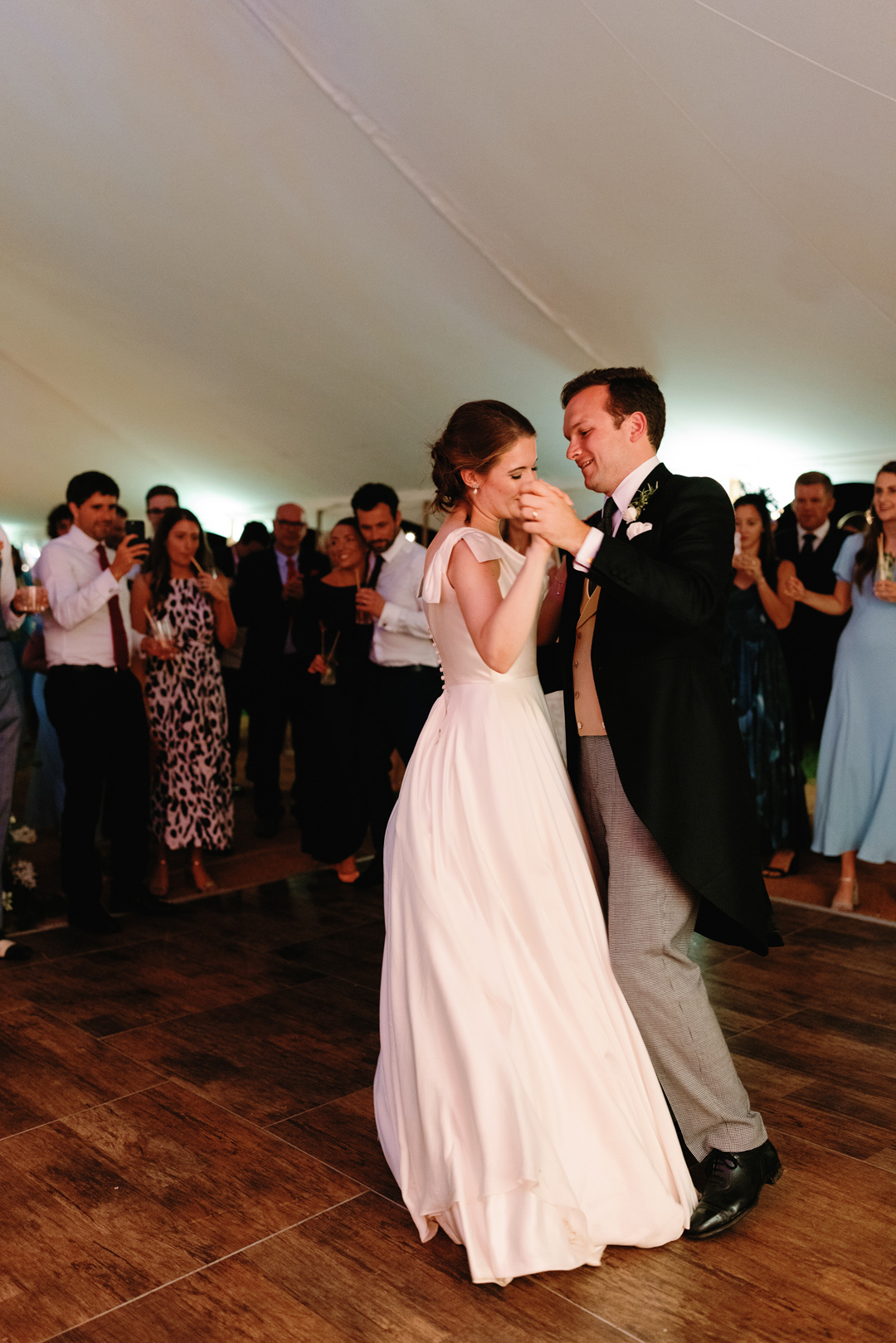 "Our DJ was DJ Chef de Party. He was great fun and we would have danced all night. Even the band came and joined us on the dance floor during his set."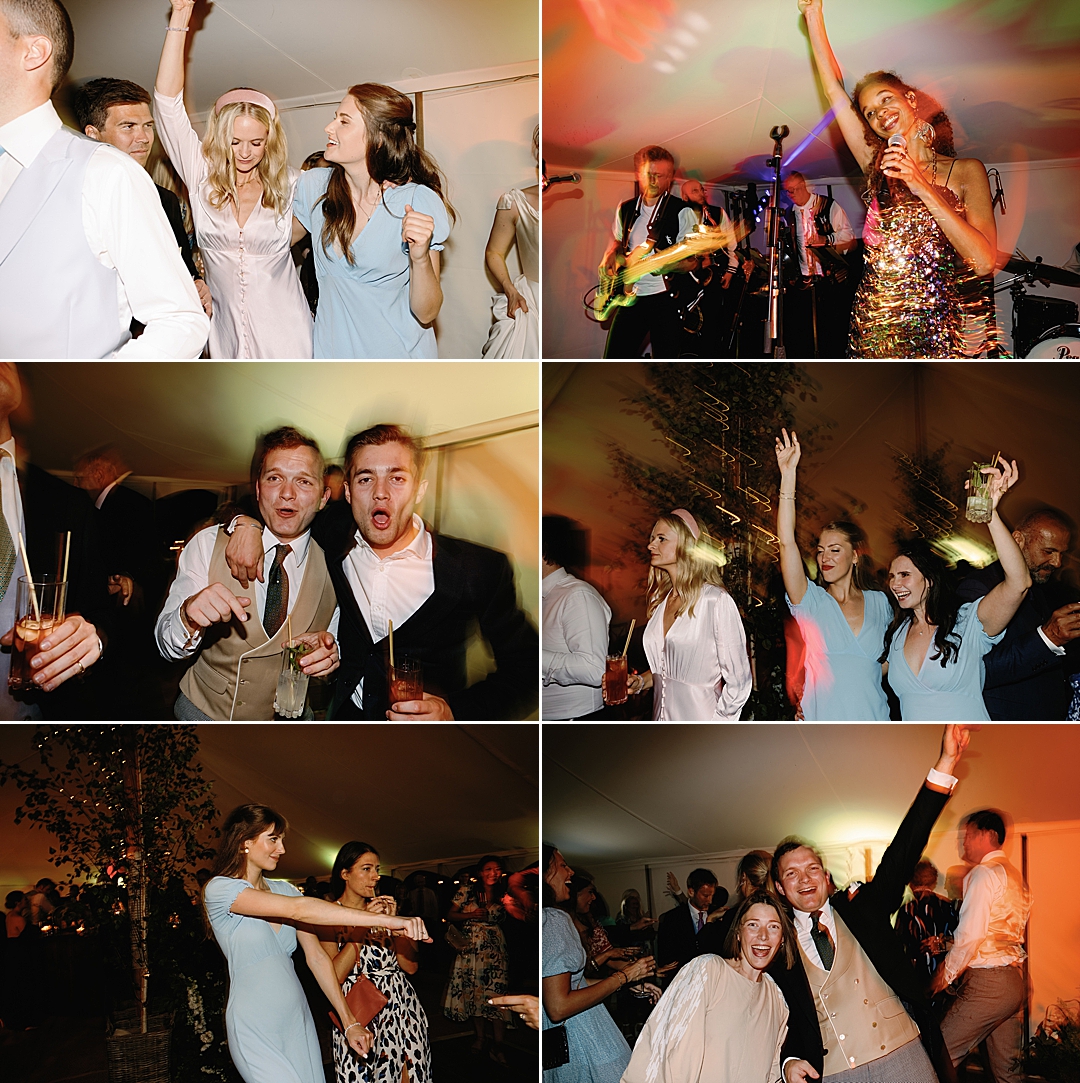 Words of Wedded Wisdom
"Firstly, get a Rosie Barrett on your planning team!"
"Secondly, make sure you're on the same page as your partner in terms of style and your priorities. This helps avoid inevitable arguments down the line."
"Lastly, wedding planning shouldn't feel like a chore and although at times things get a little stressful, one should take some joy in planning what will inevitably be one of the happiest day of one's life."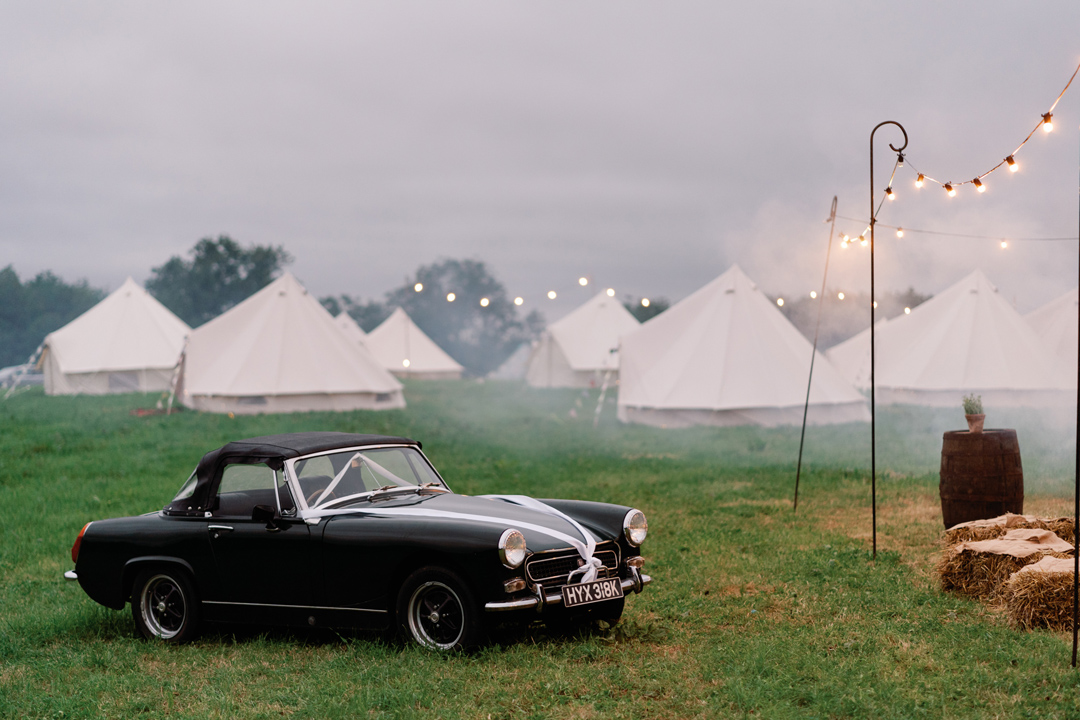 Ah Charles and JoJo, congratulations and thanks to you both. And Imogen Xiana, thank you for your beautiful photographs.
We have more weddings inspired by the English countryside please enjoy this selection.
Ele xx