What a delight to share today's wedding today. The bride wore her grandma's dress from her second wedding in the 90s, and it is chic, sophisticated and totally unique.
On 21 April 2021 Jessica and Elliot wed in a low-key, micro wedding at Clissold House, Stoke Newington, London. The couple who work together at Pitch Golf, Jess as COO and Elliot as co-founder, were witnessed by their closest family and friends before heading back to an Airbnb, where they tucked into a feast prepared by Ottolenghi.
Images by Joanna Bongard Photography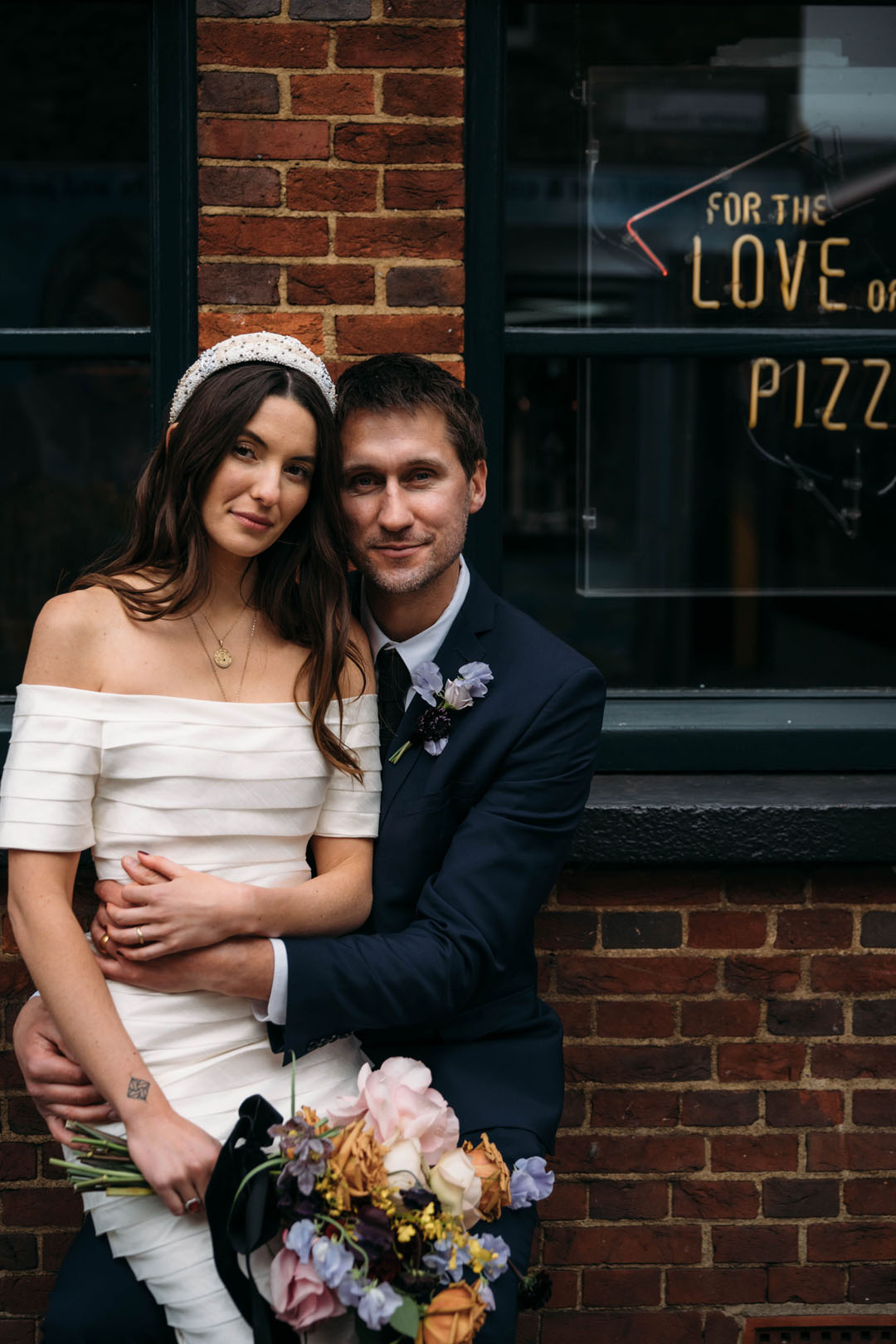 "Clissold Park is our favourite. At the time, it was where we walked our dog Alfie every day. We've moved just up the road but still visit regularly – it has a special place in our hearts."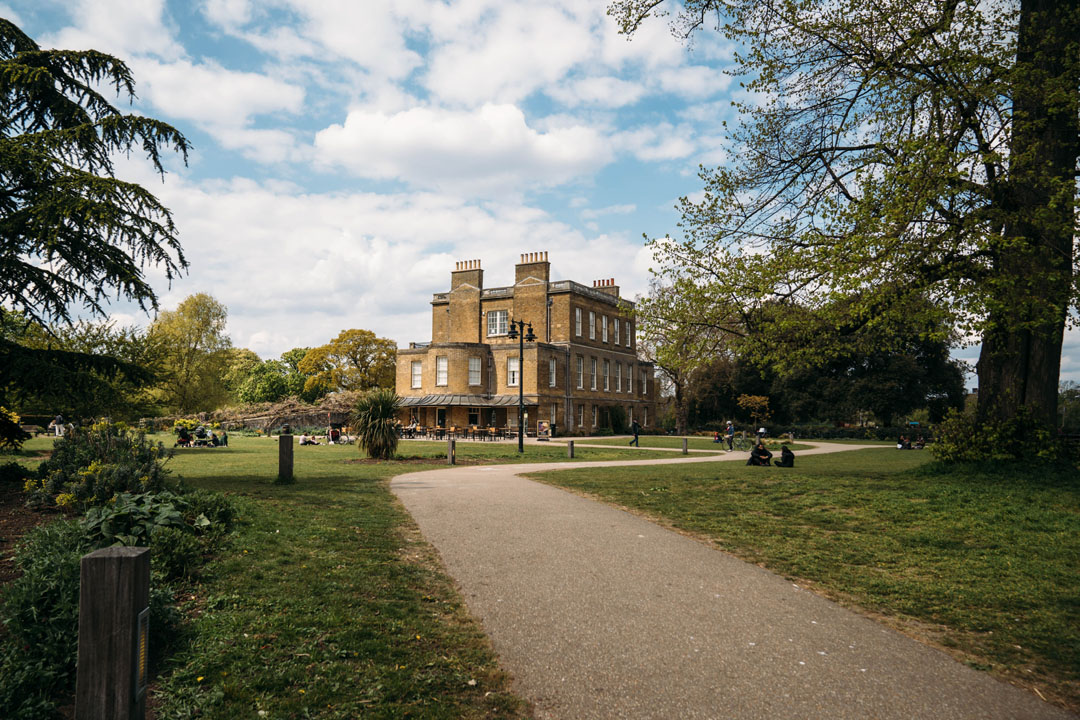 The couple met on Hinge when it was first launched and have spent virtually every day together since their first date.
"Elliot proposed in a forest in Kyoto, Japan. We flew out in March 2020 a week before the first lockdown was announced."
"We had been there for about a week and it was cherry blossom season so we had spent the day walking through pink canopies and eating ramen."
Jess had two grown-up bridesmaids, who each chose their own gown.
"Lora wore a green dress from Kitri Studio and Alice wore an orangey-copper one from French Connection."
"I loved that we ended up having a variety of colours as it makes the photos more interesting, aside from them both feeling comfortable in their own styles."
"However, we did realise on the day that we were the colours of the Irish flag."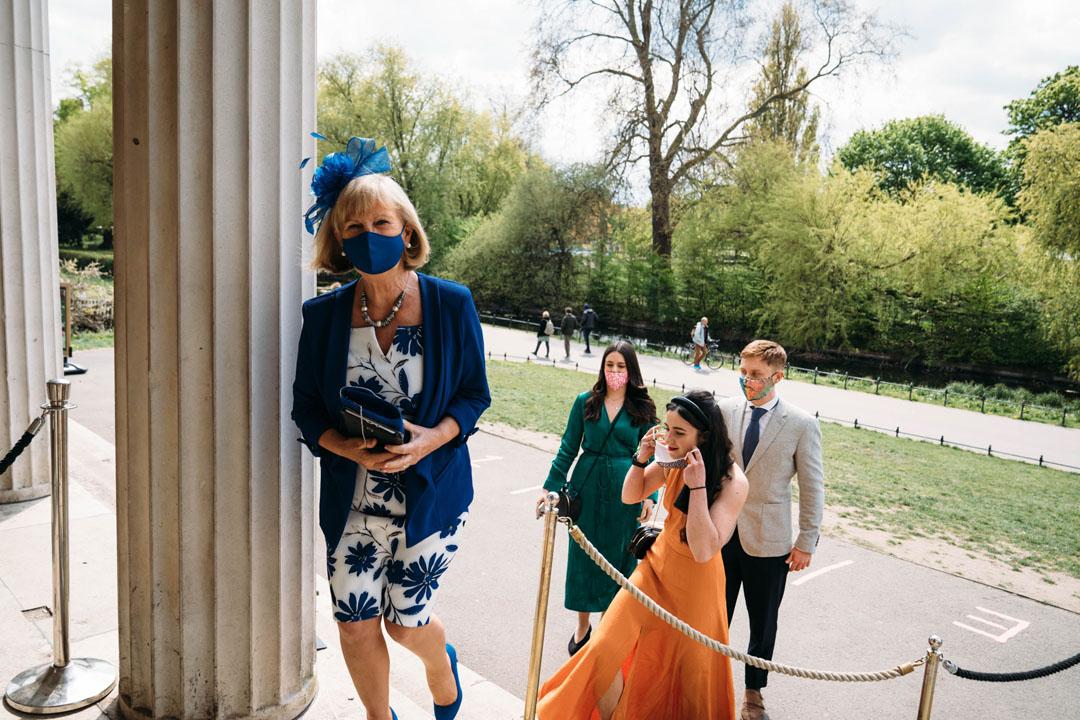 "We walked through Arashiyama Bamboo Grove then carried on our own hike up through a valley behind and that's where he proposed. We kept it secret from everyone until we were home to enjoy the moment, just us two."
"Our trip was meant to continue in Japan for another week and finish with two weeks in the Philippines, but the UK lockdown meant we had to get a flight home and skip the Philippines."
"We were engaged for just over a year before getting married, though our original wedding date was actually planned for 25 March 2021, exactly a year after we got engaged."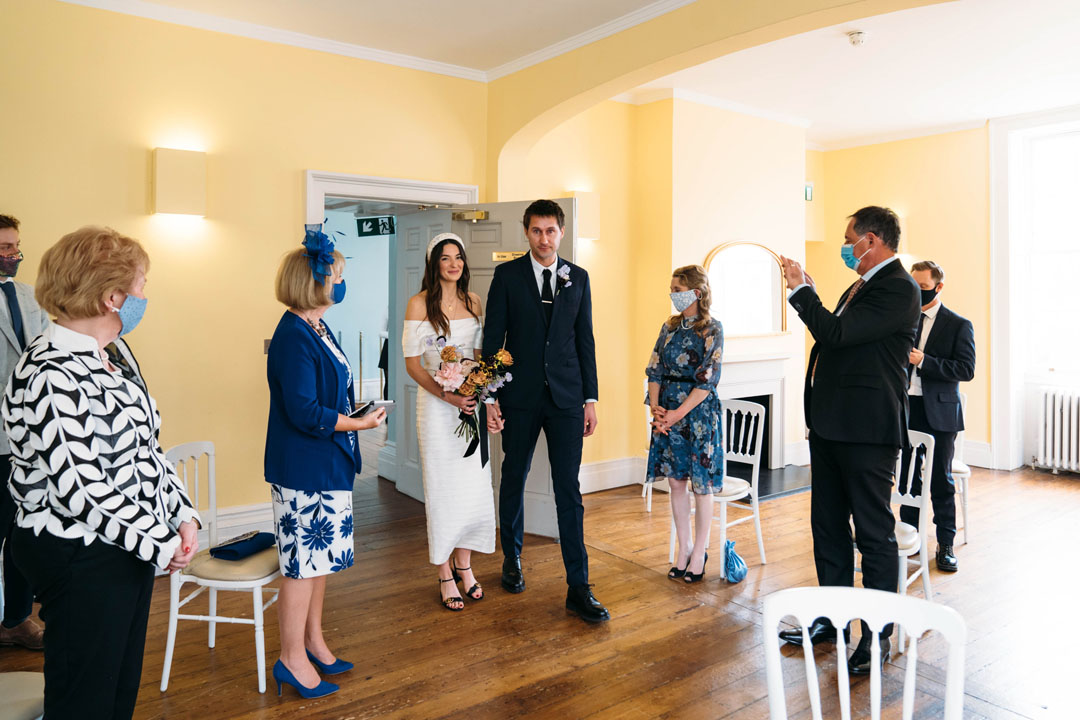 The bride hopped into an Uber to travel to Clissold House.
"Elliot and I chose to walk in together. I think my dad will get to walk me 'down the aisle' on our big wedding celebration day."
"We walked in to 'You Send Me' by Sam Cooke, such a beautiful song."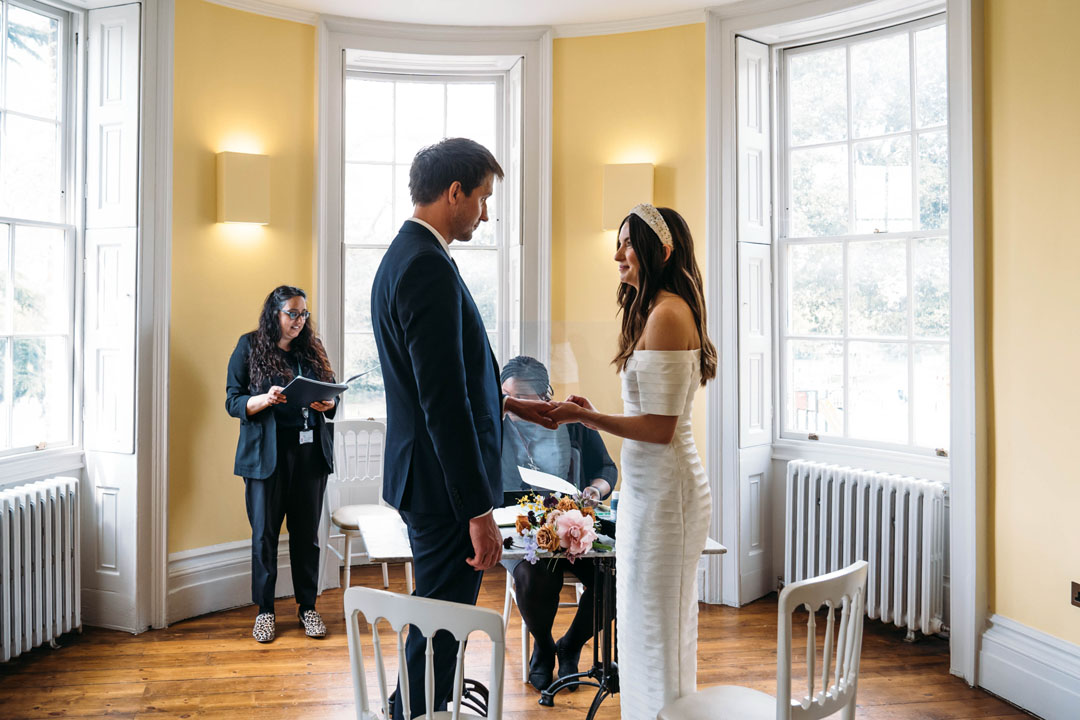 The ceremony was led by Hackney Registrars Niala and Ayo.
"They were so lovely and cheerful the whole ceremony! They told us on the day that we would be one of the last couples in the UK to get the written marriage certificate as everything is now going digital."
"It was also Ayo's last marriage that she was officiating so an emotional day for all."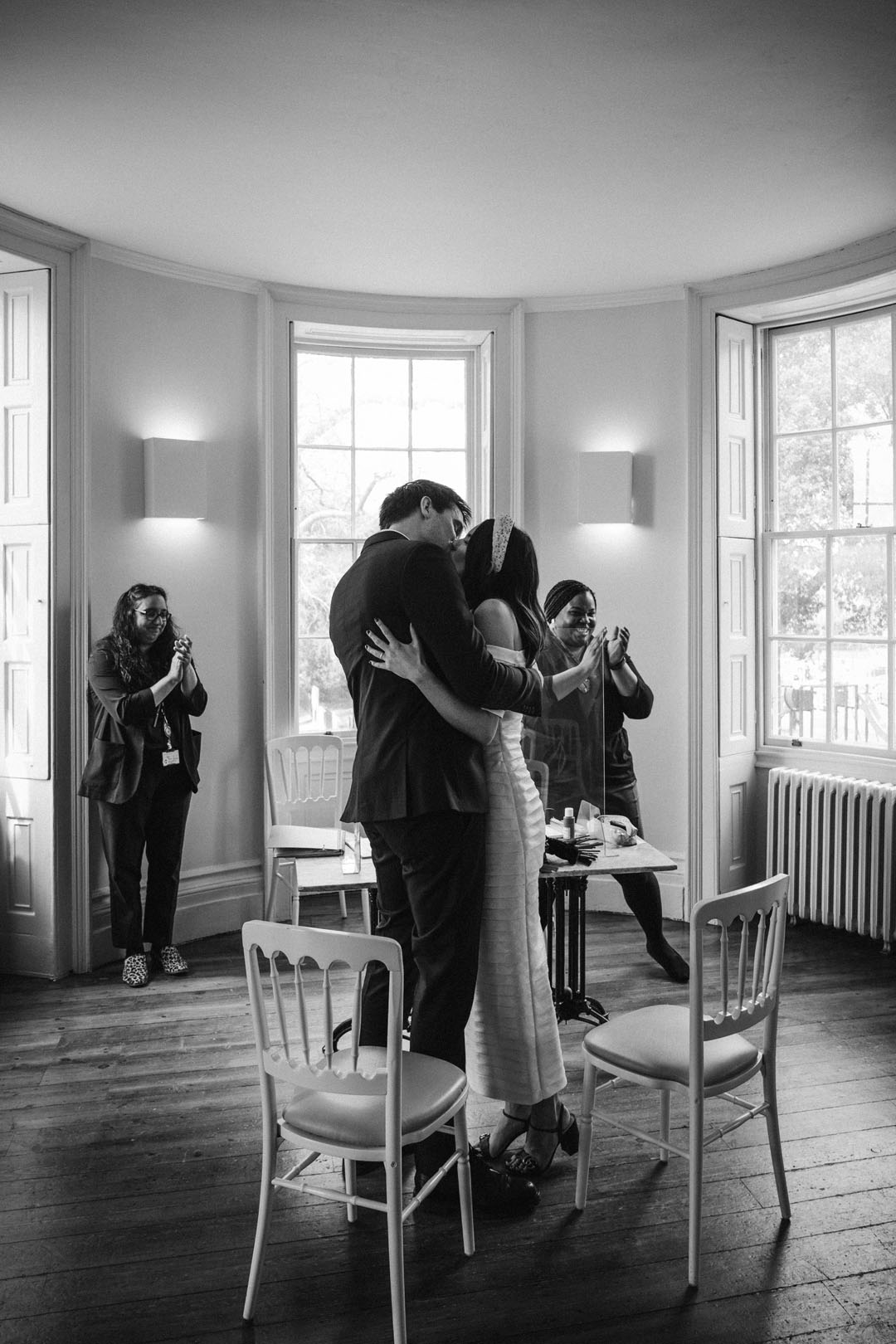 "We decided we wanted our mums to be our witnesses as traditionally the fathers get all the fun things, such as speeches and walking down the aisle."
The couple exchanged family rings, a stand-in because of Covid.
"We exchanged my grandma's and Elliot's dad's rings as Covid meant that we ones we had designed by Kamilla Ruberg were with her in Copenhagen so we were unable to collect them."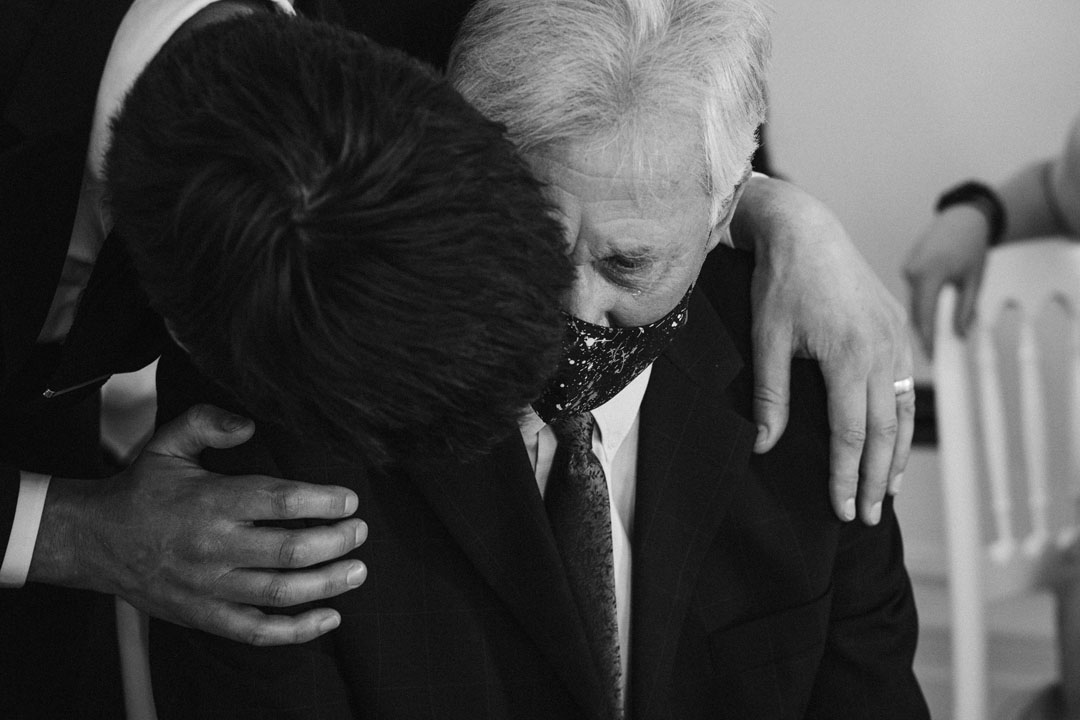 "We've now managed to make the visit and would highly recommend her as a designer – the whole experience was so special."
"I went for a bespoke black diamond 'Ava II' and Elliot had a super-thick, brushed platinum one made."
Jess and Elliot pushed their wedding date back a month and had to abide by some restrictions on the day.
"We were still in a partial lockdown with social distancing and masks to be worn at the ceremony but we decided that as there was no definite end date to the restrictions, we didn't want to endlessly push our legal ceremony back."
"We had always planned to do a bigger wedding party in the south of France in September 2021 but that's now being reorganised for the third time. We'll have reorganised weddings five times in total."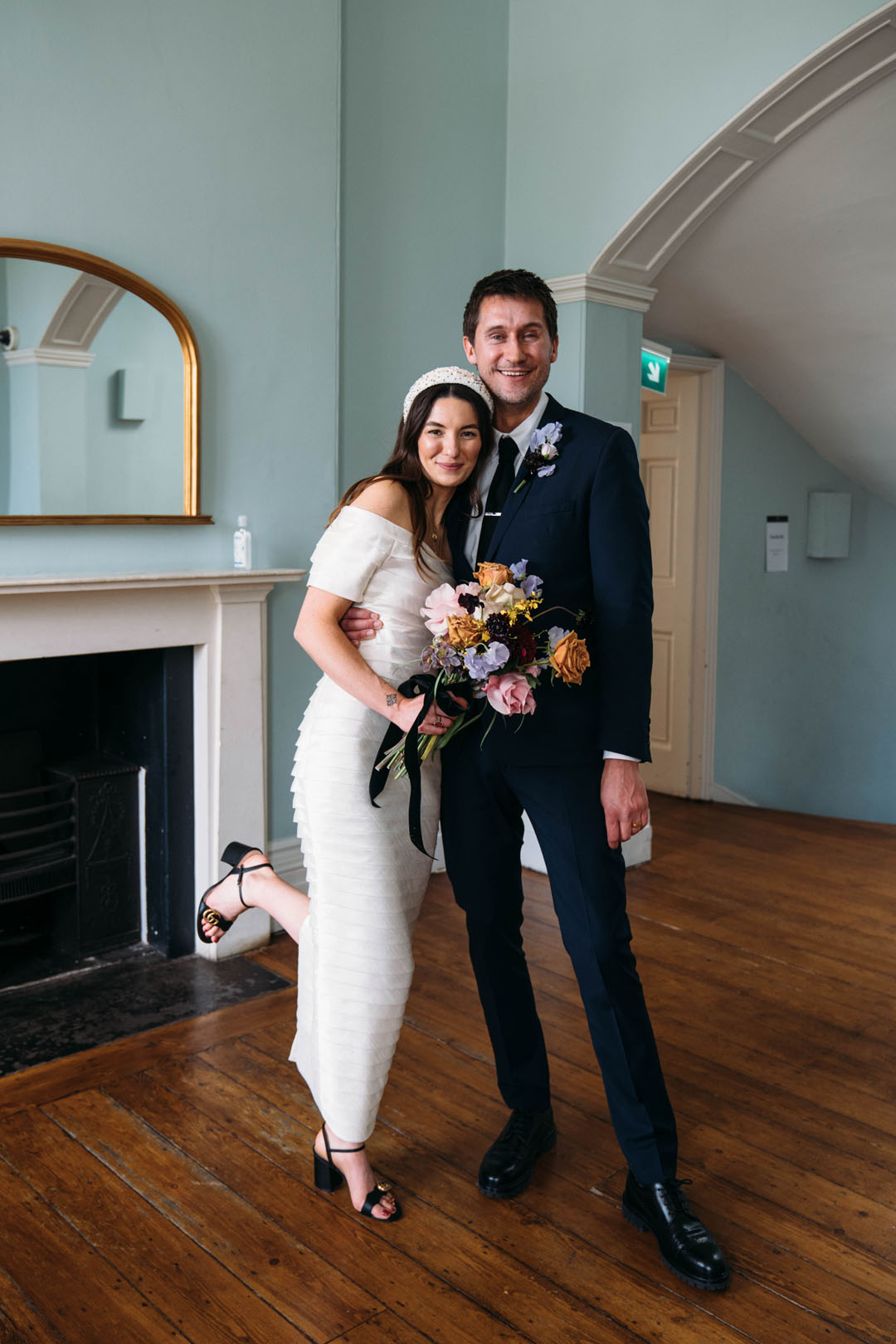 "We had to change the way our day looked for our legal ceremony wedding. We had always planned for it to be just family so we're lucky that the venue's maximum room capacity was cut to exactly twelve."
"We also wanted to have dinner and drinks all together in a local pub or restaurant after."
"The restrictions meant that this couldn't happen so we had Ottolenghi deliver tonnes of food and canapés and we put on our own dinner at the Airbnb where our family was (legally!) staying."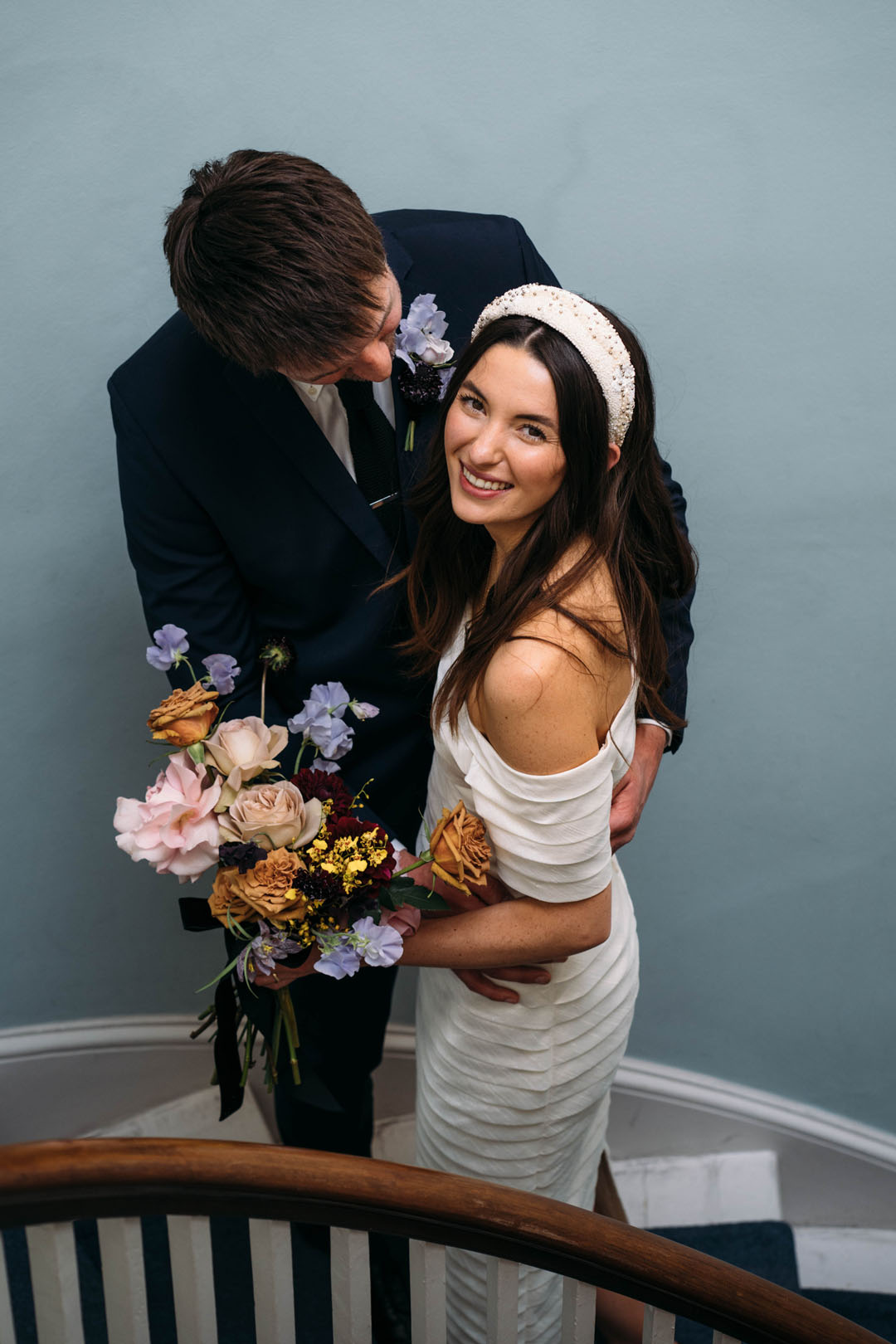 The day's look was classically modern and elegant, with plenty of soft blooms from Sage Flowers adding colour and texture.
"We are super-lucky to know Iona from Sage Flowers and definitely wouldn't have wanted anyone else to do them."
https://www.lovemydress.net/directory/supplier/moyses-stevens/
"The arrangements she did really brought everything together, especially along the dinner table in the Airbnb."
"I'm not a fan of tight, super-uniform bunches so what she put together for my bouquet was a dream, both in colour and structure."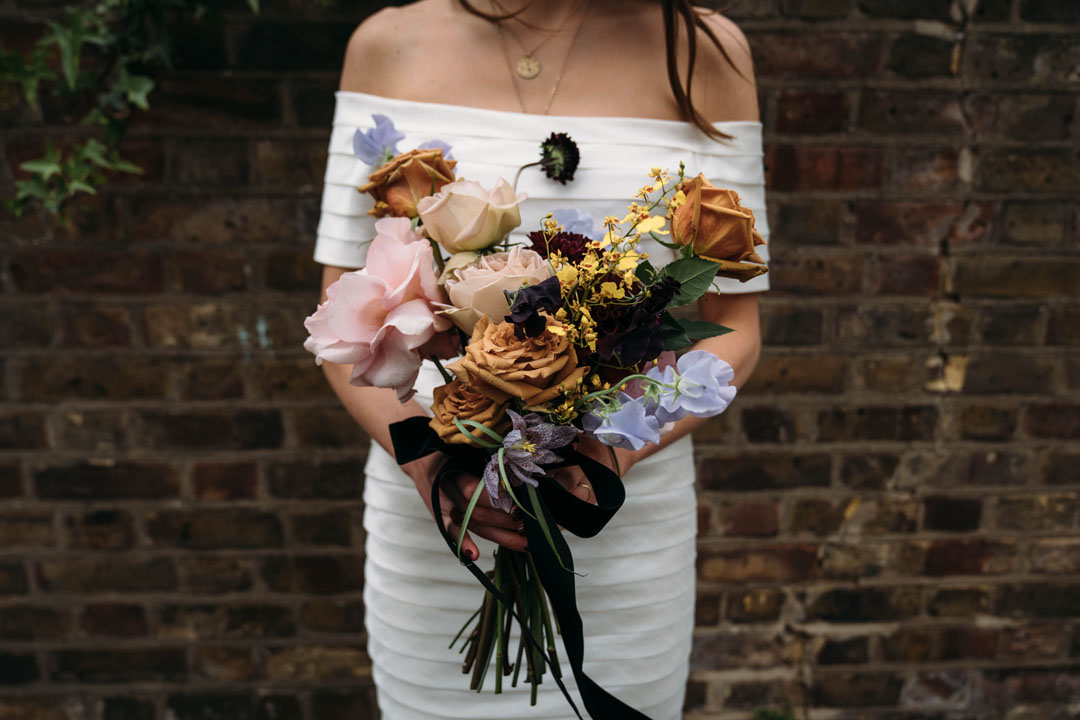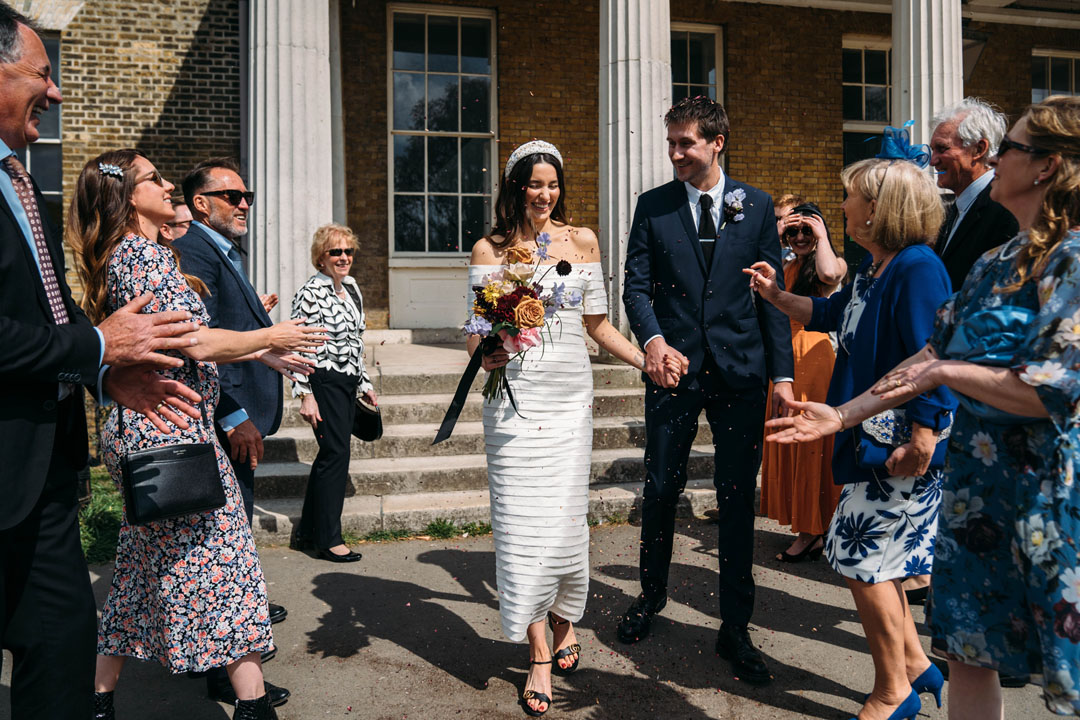 Capturing the day in this crisp, vibrant style was Joanna Bongard Photography, a Love My Dress find for Jess.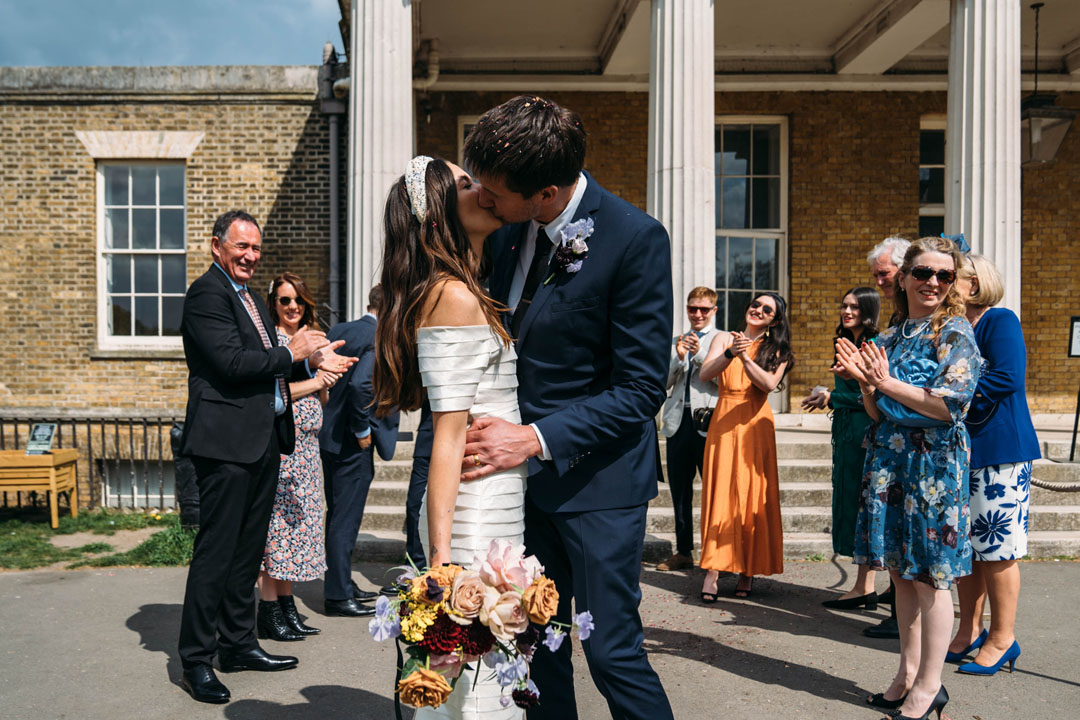 "I found our photographer Joanna Bongard through a wedding featured on your website. I used your Instagram for inspiration, then would follow links through to any weddings I liked the look of to see their ideas. The Love My Dress Wedding Directory is useful too."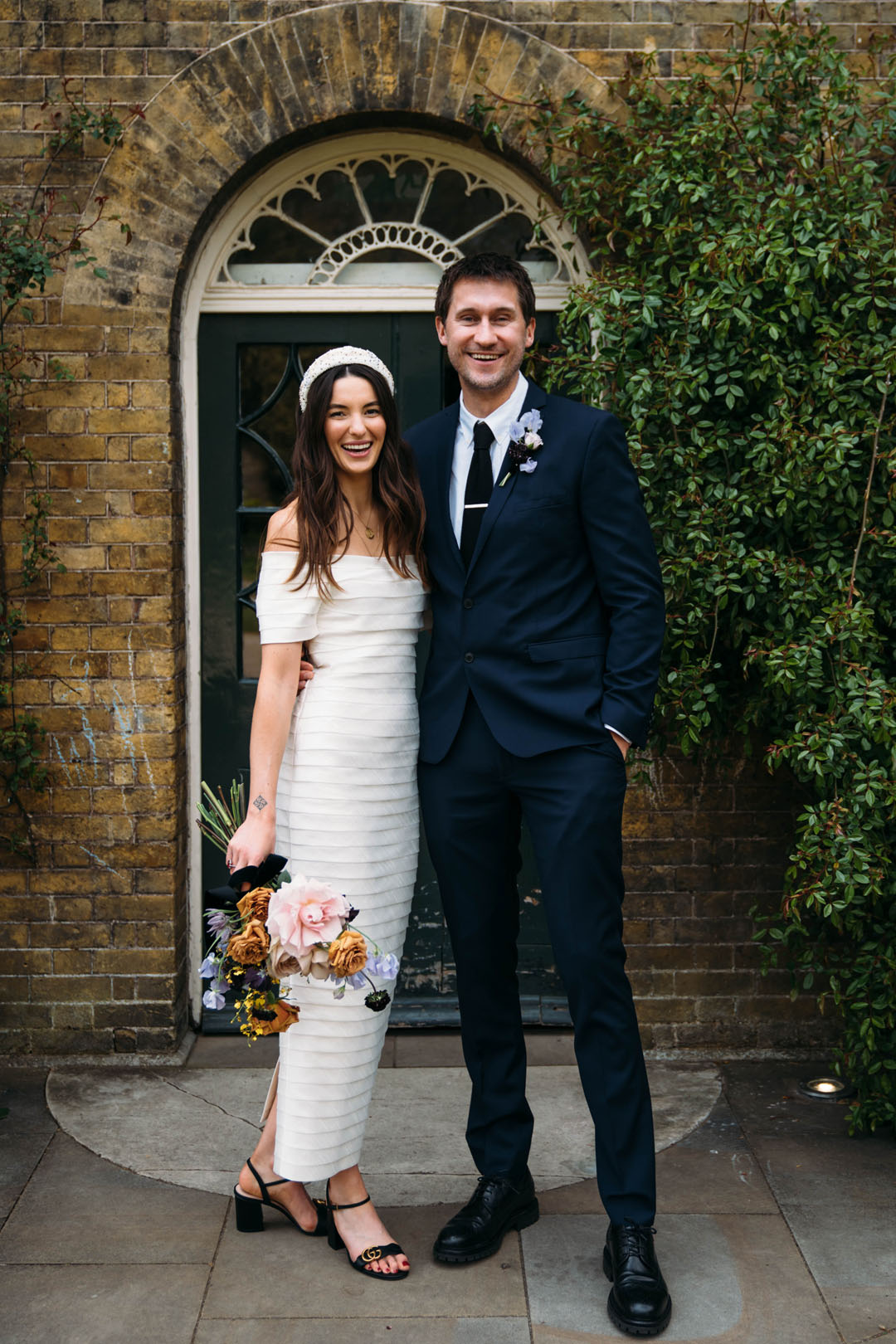 "Joanna Bongard was better in every way than we could have imagined. She was so friendly and personable – it felt like we had known her for ages."
"Her photography uses light and colour in playful ways which we were both drawn to. We are so happy with our photos."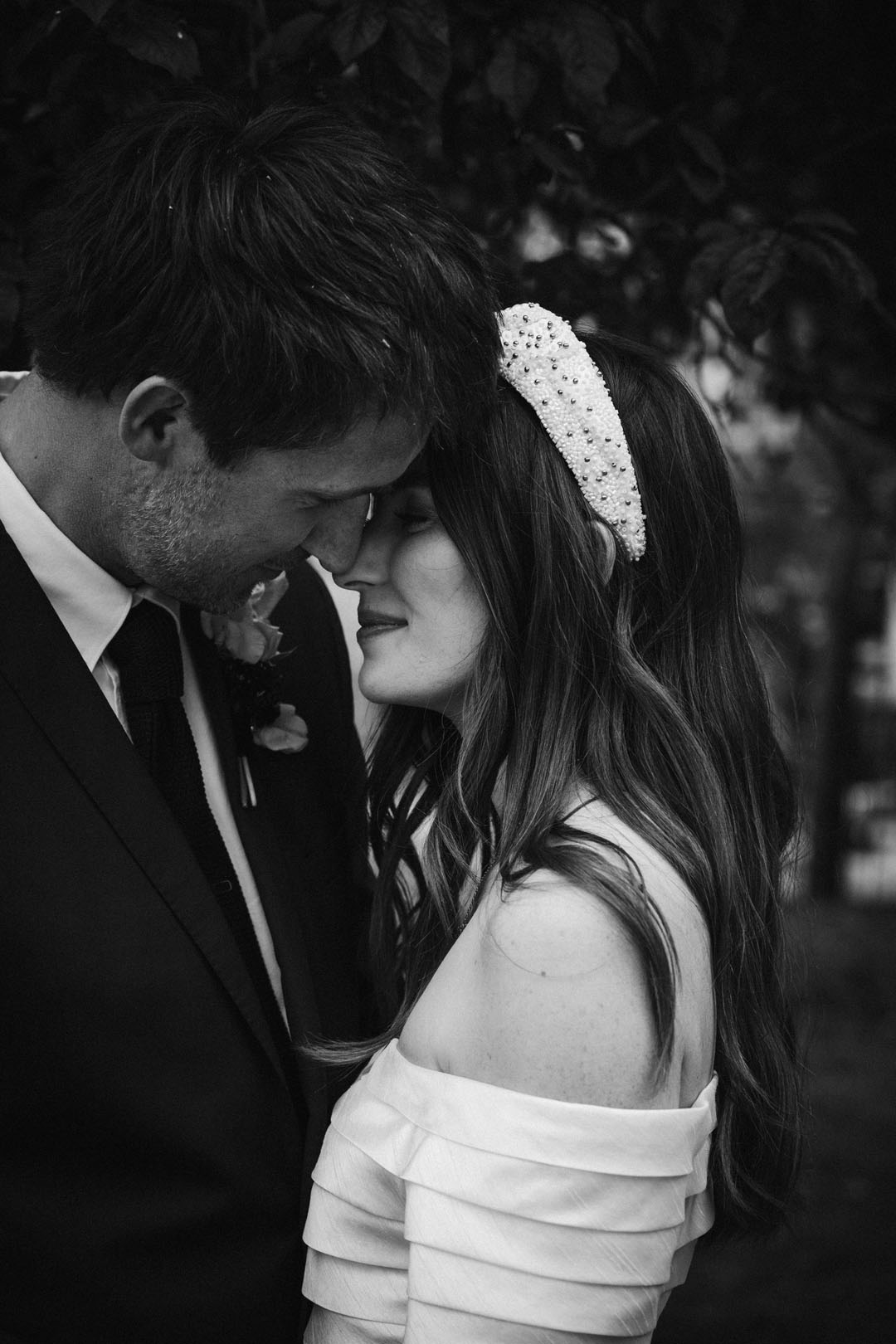 "The biggest piece of advice I would give to other couples is that you will never regret the amount you spend on your photos, so don't hesitate."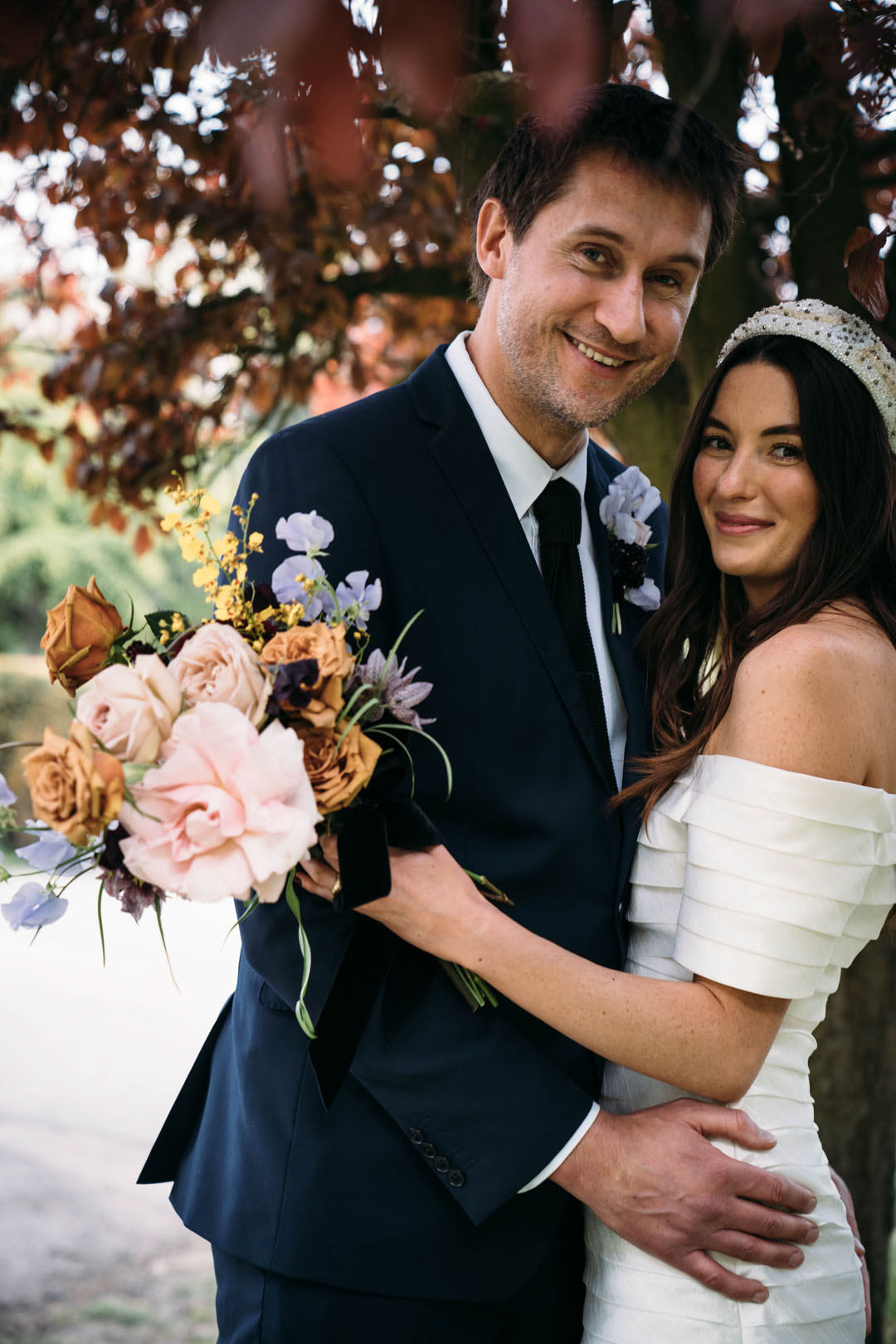 Jess kept her look minimal with no veil but a statement beaded headband instead, by Ganni bought from Matches Fashion.
Her mid-height, black heels were Gucci 'Marmont' and her fragrance was Frederic Malle Portrait Of A Lady.
"This is the scent I wear every day so I felt comfortable in it. Plus, I get migraines and sometimes new scents can set one off so a new scent wasn't something I wanted to risk on such a special day."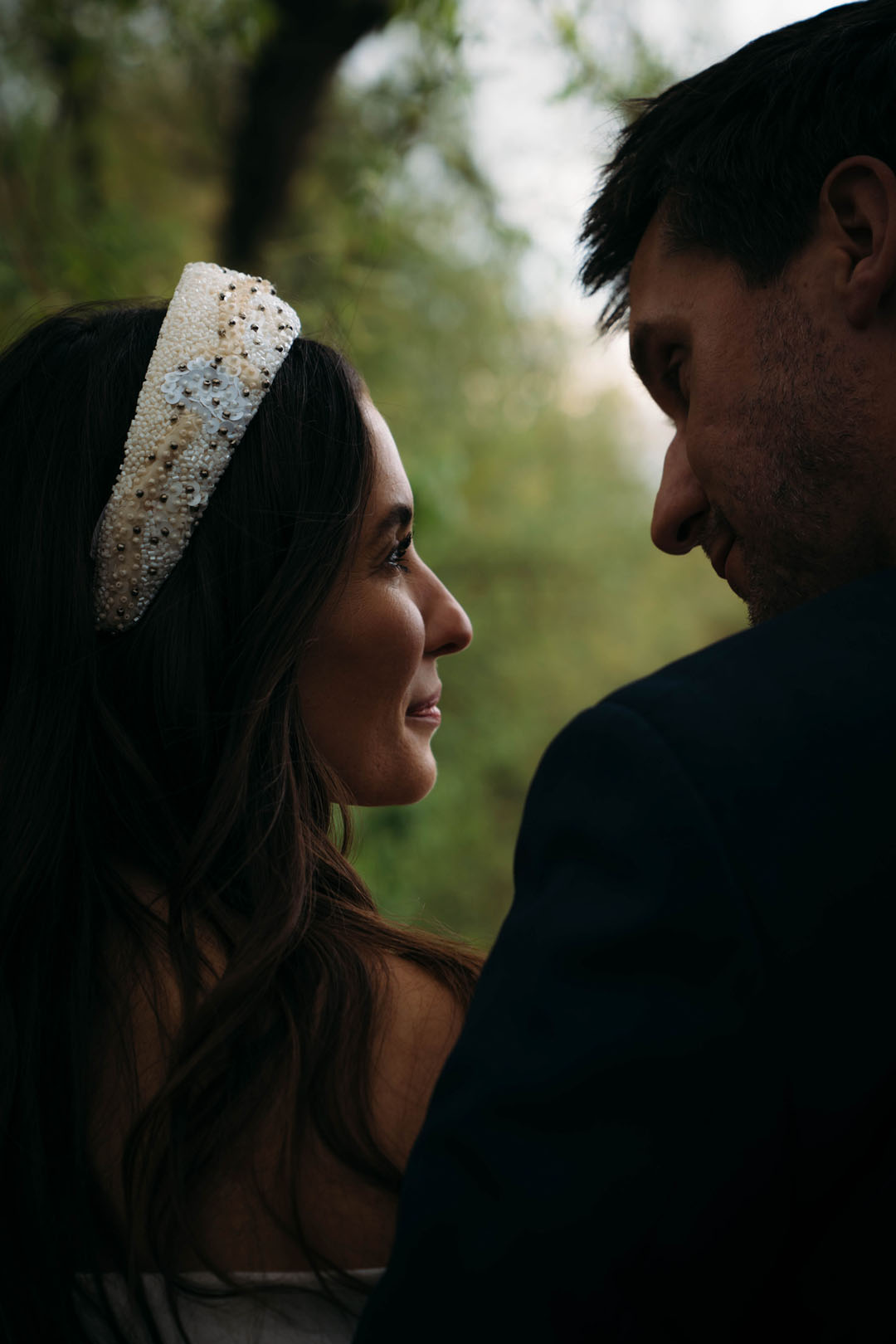 The bride's hair was styled into loose, boho vibes by JP from Salt Salon in Dalston.
"He's a very close friend of mine and Elliot's and was the best person to visit with a coffee on the morning of our wedding. I wanted loose waves which is exactly what he gave me. I can't recommend him or his salon enough."    
"I did my makeup myself, with a few practice runs. My nails were done by The Nail Room & Co – honestly the best manicure in London."
"They're so flawless every time that I'll still travel 45 minutes from our new home to get my nails done there."
"I wore my engagement ring, a fire opal surrounded by diamonds and black onyx. Elliot went through an ordeal bidding on it at Bonhams which was his first ever auction experience – the things I put him through!"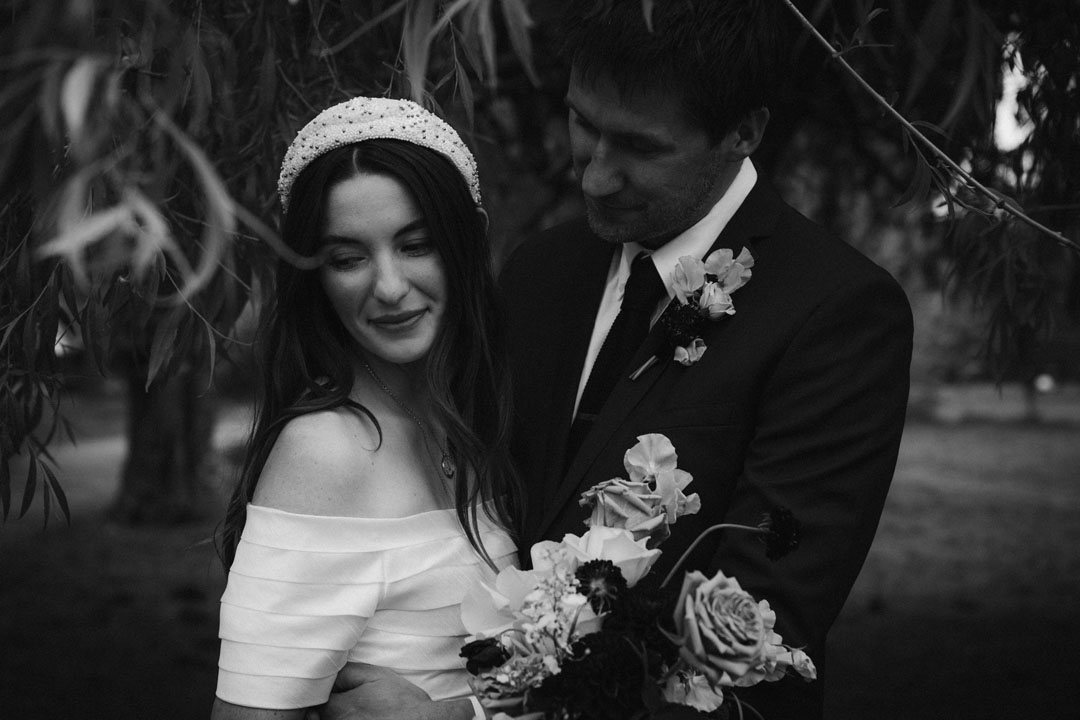 The bride decided to wear her grandma's wedding gown from her second wedding, originally hand-made in Spain and altered to suit Jess's individual style.
"My dress was my grandma's from her second wedding in the early 90s. I had the original shortened as it was full length, the sleeves shortened and the whole dress taken in. The alterations company was Exclusive Alterations based in Islington."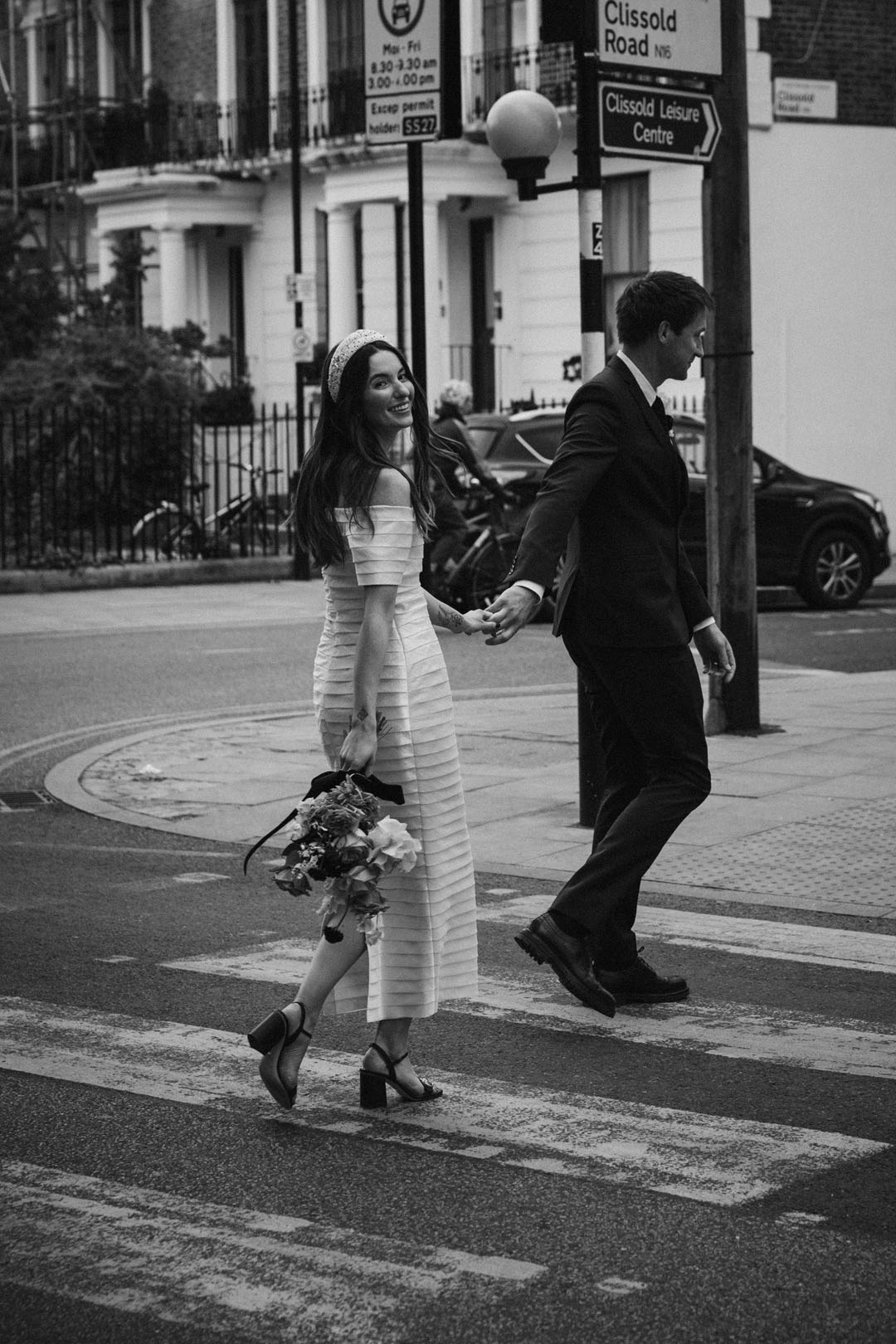 "I always loved the modern lines and off-the-shoulder design of my grandmother's dress so I was extremely lucky when she offered for me to wear it. "
"I have a younger sister so there was always a 50% chance, or less given how protective my grandma is over the dress. I find after a few glasses of wine is always the best time to ask!"
"I've always had a sense of what I do and don't like in fashion, so was led by my own taste and what I felt comfortable in."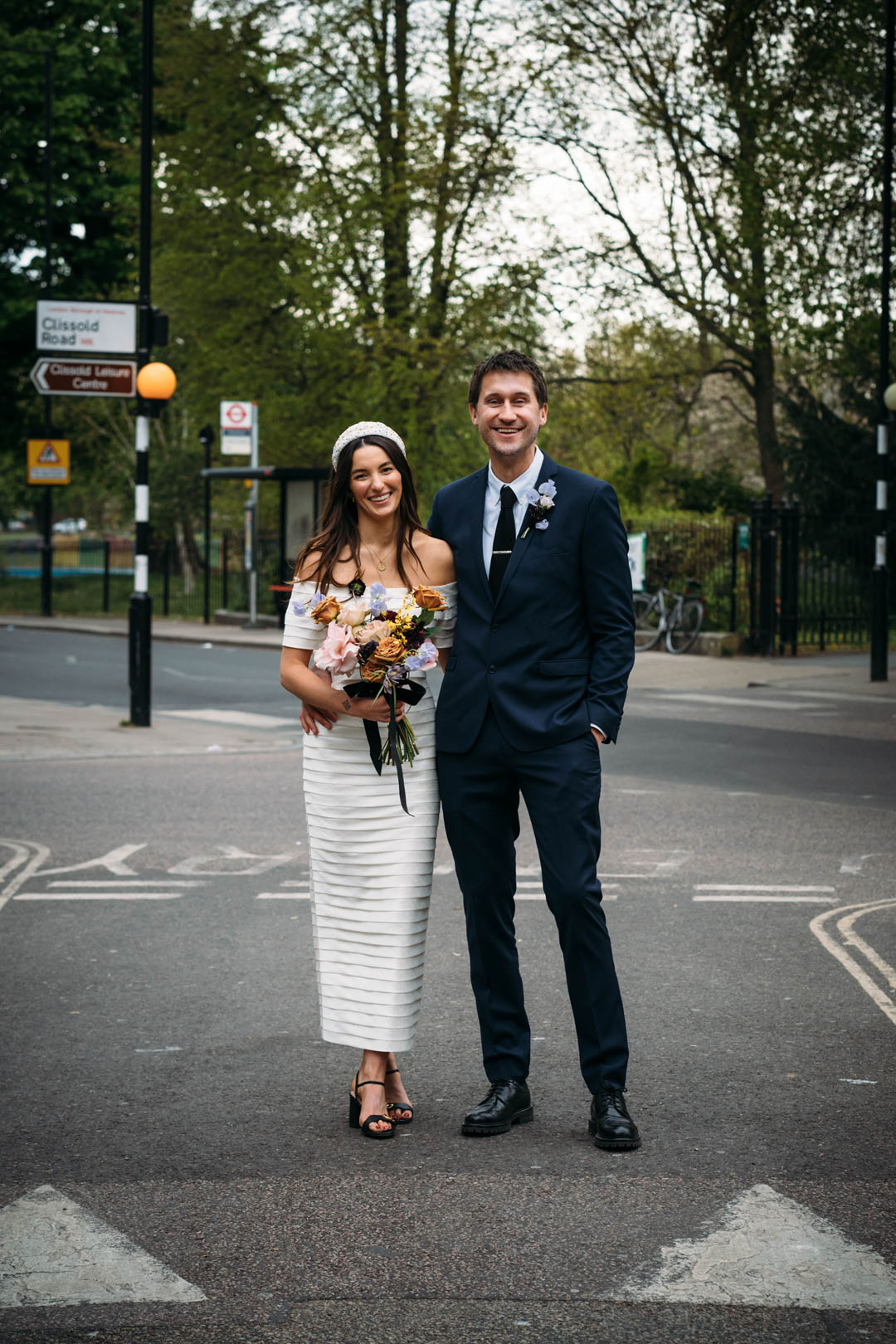 "After the legal ceremony, we took some photos around Church Street, Stoke Newington and then went back to an Airbnb we rented near London Fields."
"Due to restrictions, we were limited on where we could have dinner so we got food organised and delivered by Ottolenghi."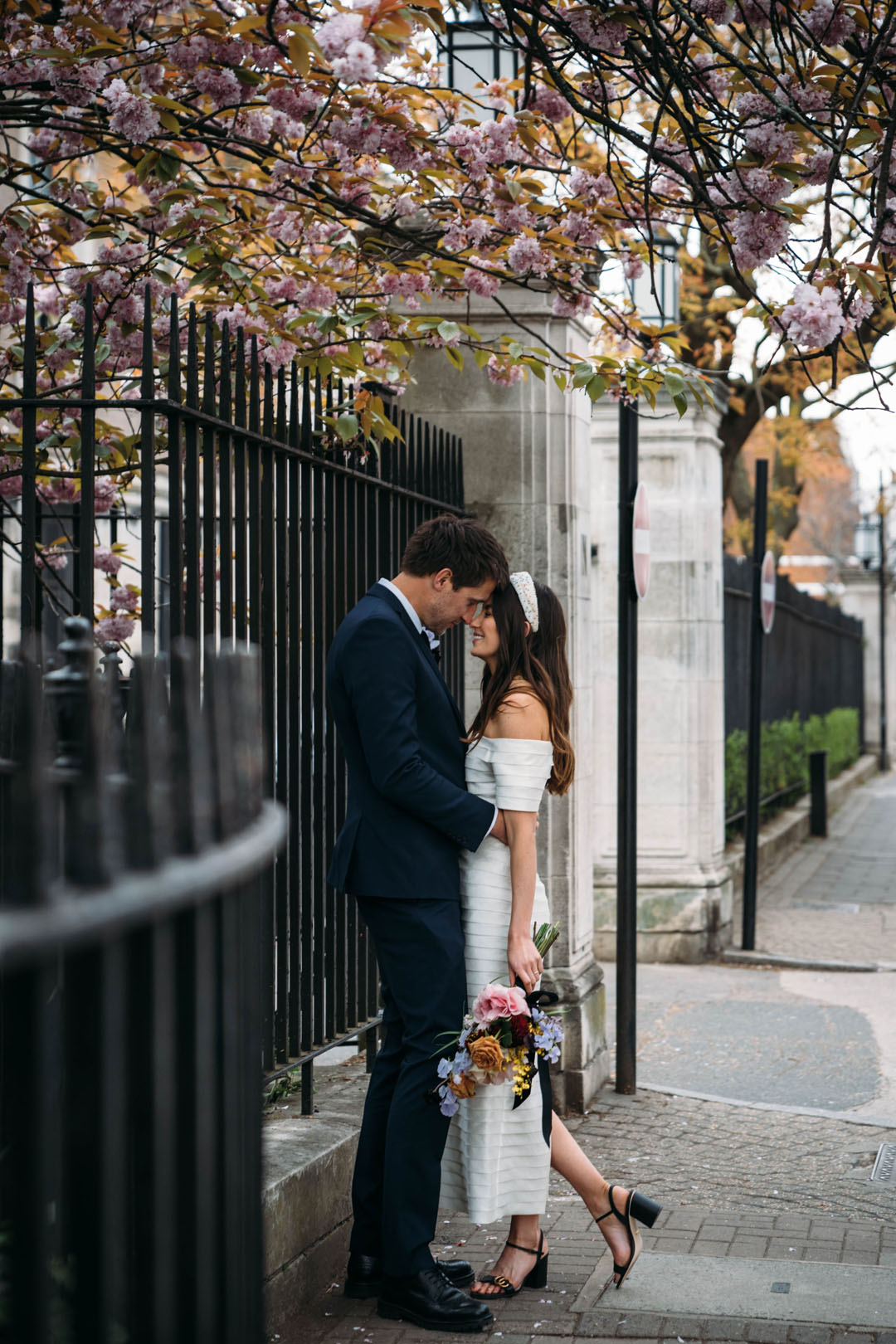 "My amazing maid of honour Lora and my sister and bridesmaid Alice laid it all out whilst Elliot and I were having photos taken so we didn't have to stress about a thing."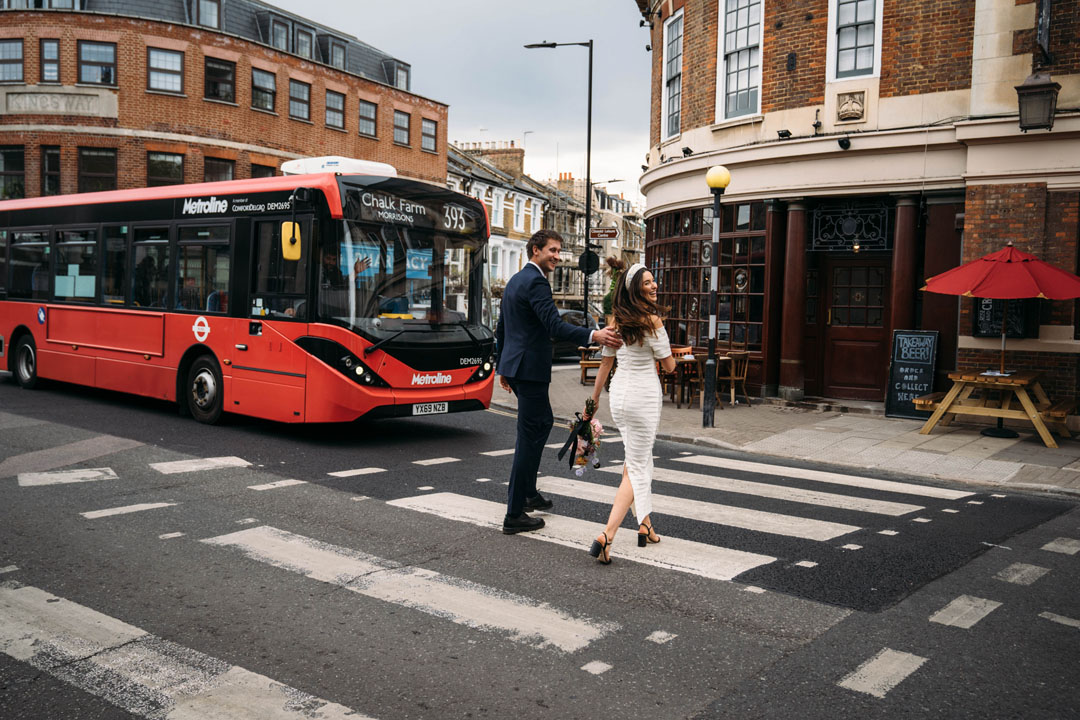 Elliot and Jess also had a quiet drink together to take in the moment.
"Other than exchanging vows, which I'm sure everyone says, the best part of our day was when we went to The Clarence Tavern for a drink, just Elliot and me."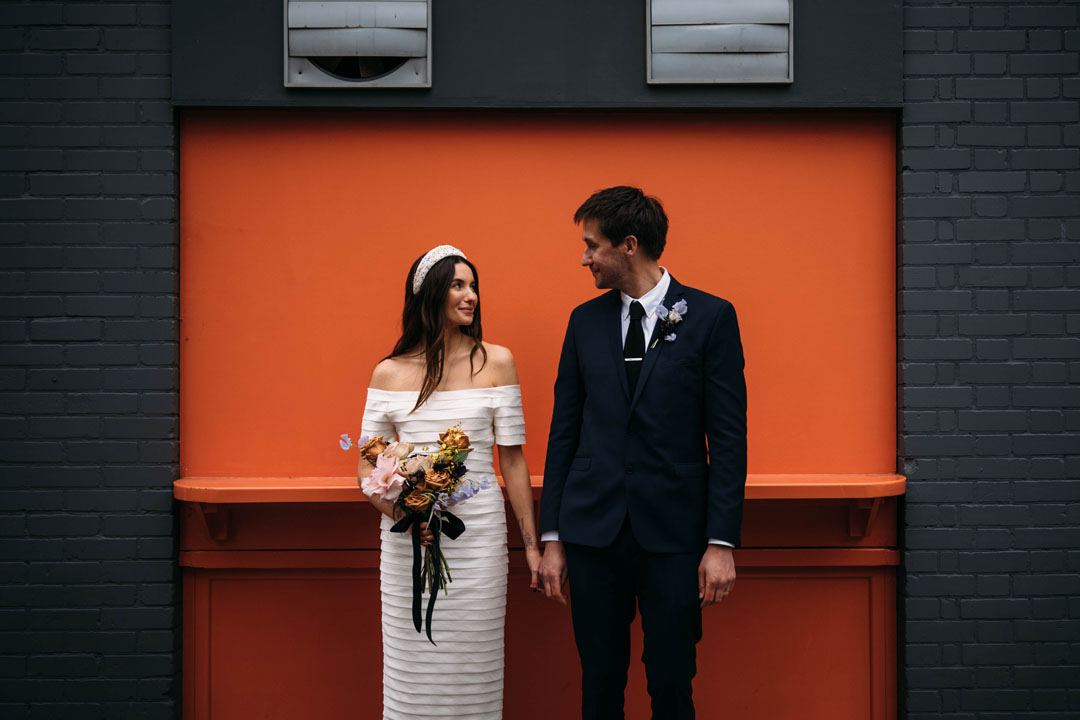 "It was a moment to enjoy what we had committed to each other, just the two of us. I would recommend this to any other couples."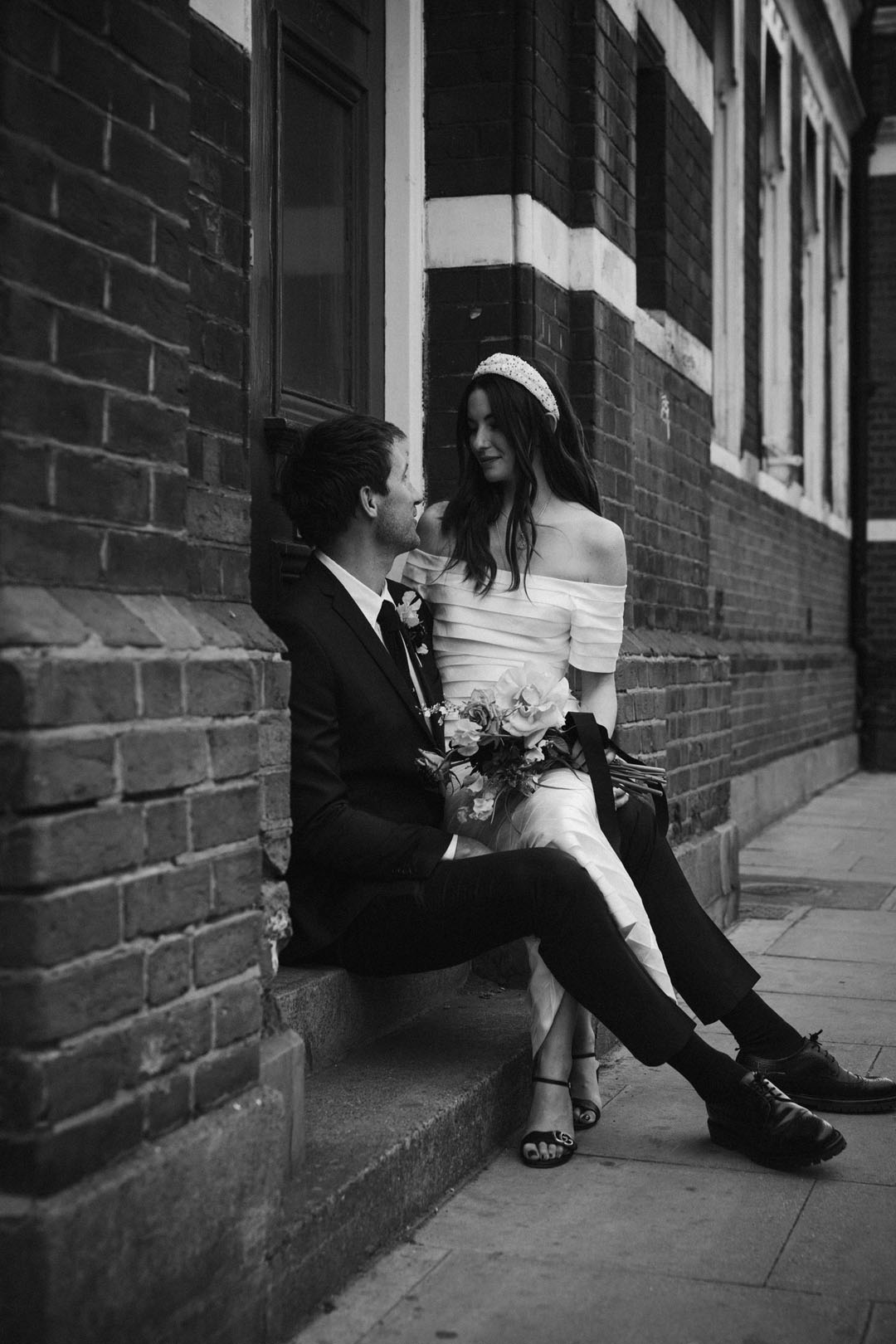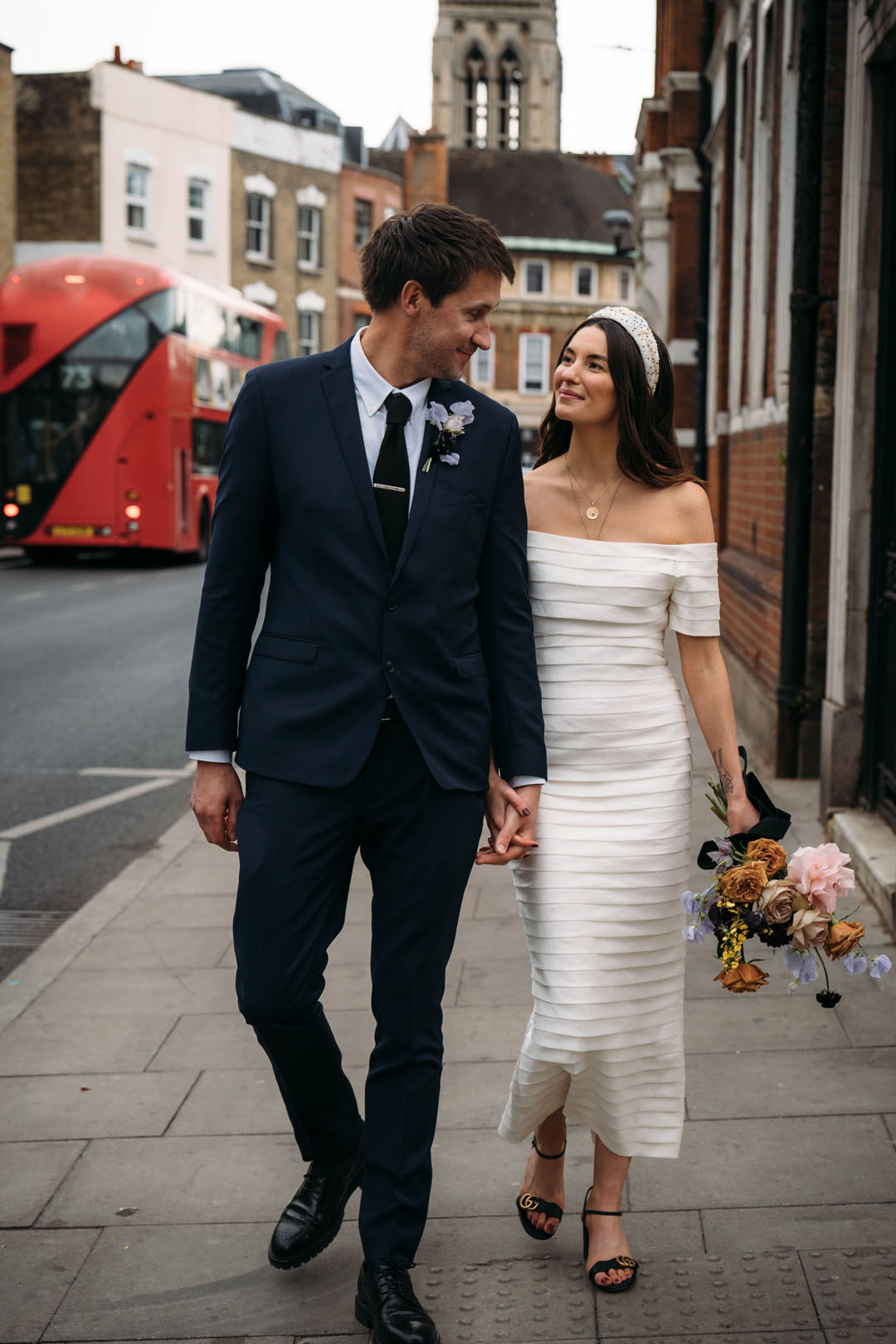 Elliot wore a blue suit he already owned from Ben Sherman. He added shoes from Church's and a shirt from COS.
"It fits him beautifully and at 6'5" that's not easy. His tie was one he already owned from Acne Studios. We wanted to be mindful of saving where we could so we could throw a bigger wedding post-Covid."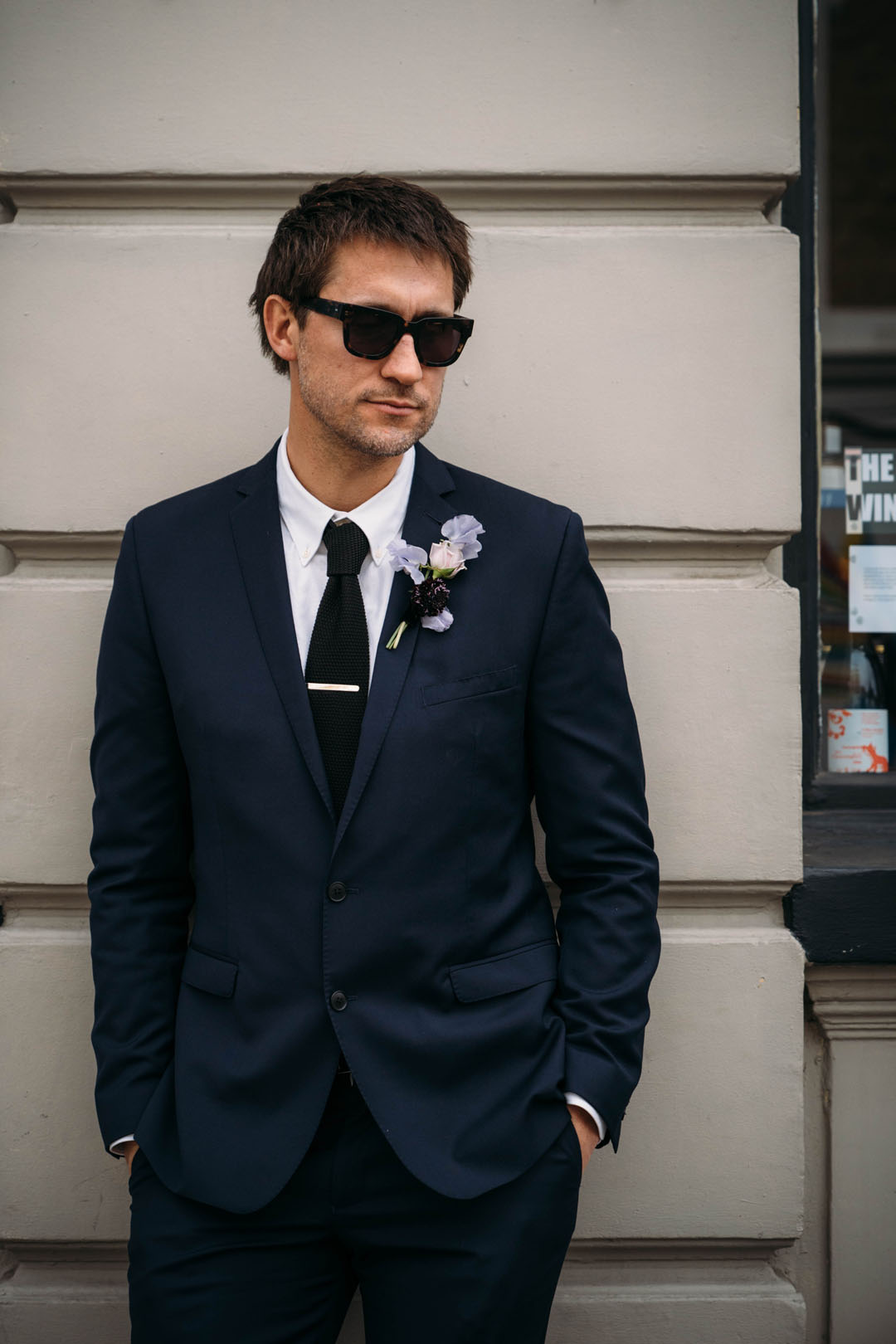 Whilst the newly-weds and Joanna Bongard took these fun and striking portrait shots in the local area, the bridesmaids were hard at work setting out the dinner.
"Ottolenghi delivered the food and my amazing maid of honour Lora and my sister and bridesmaid Alice laid it all out in huge sharing plates along the table."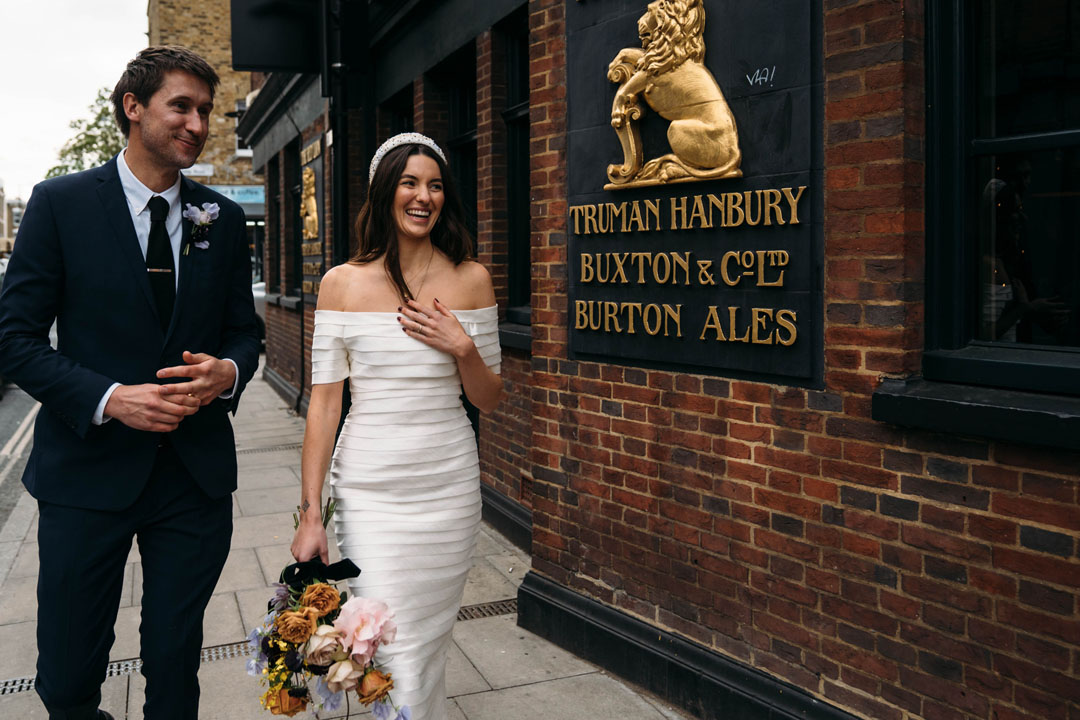 "Covid restrictions meant we couldn't have anyone outside the family in the house so everyone pulled together to make the dinner happen."
"All our wine was natural and bought from Juiced Wines, other than the champagne which was Louis Roederer."
"Our florist Iona from Sage Flowers made some beautiful table arrangements, and Elliot and I placed various orders for linen tablecloths, glasses and vases."
"We brought our own plates and cutlery from home. It really was all hands on deck to make sure the day could still go ahead but it was perfect and the intimacy we achieved was far better than if we were at a restaurant or pub."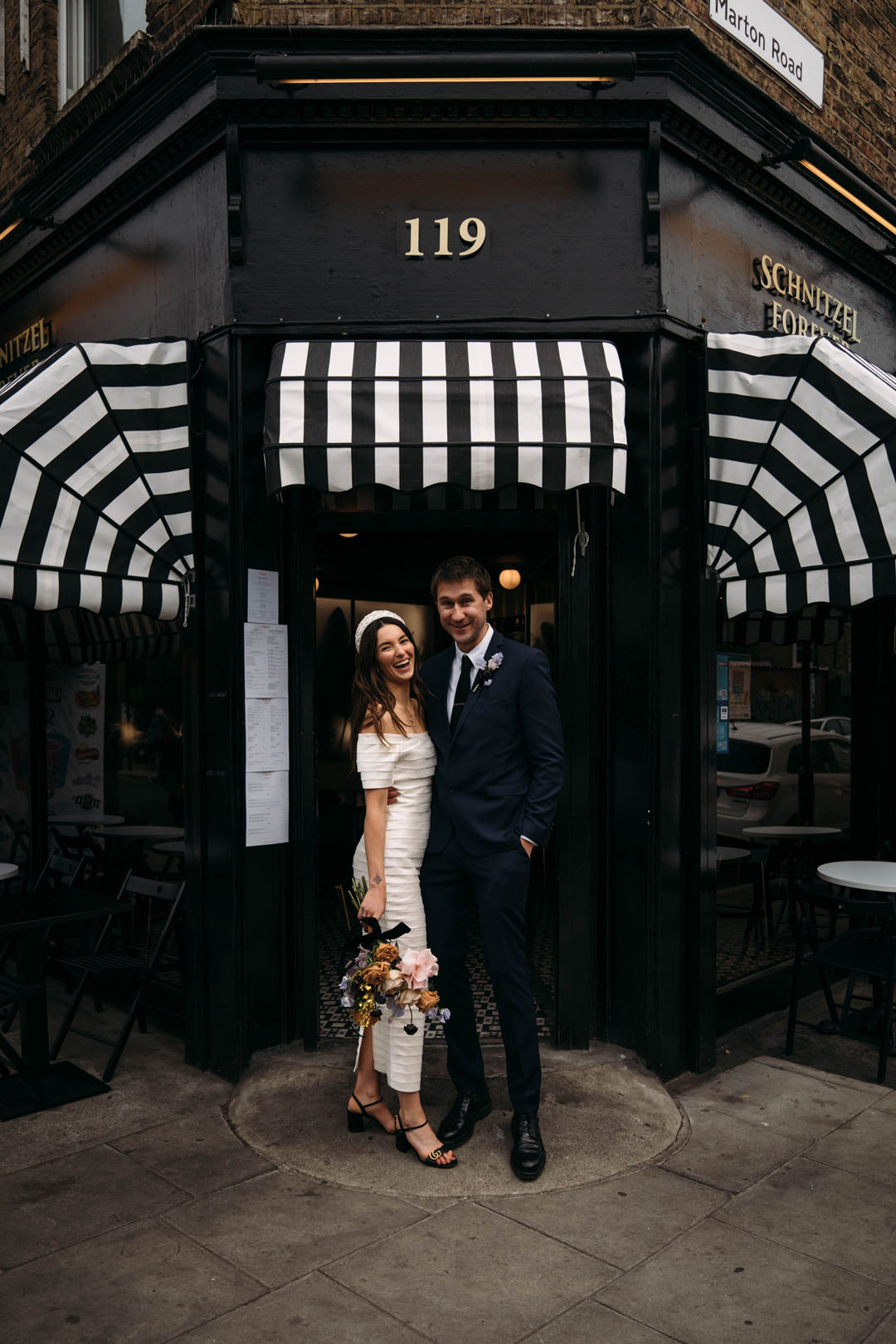 Ottolenghi also provided the trio of wedding cakes.
"We had orange and chocolate, lemon polenta and chocolate mousse. Every time we pass, we buy one to remind us of our day."
"Elliot's brother Matt dancing with my grandma was pretty funny! My sister Alice and Matt fighting to catch the champagne corks as they were popped also resulted in some hilarious video content."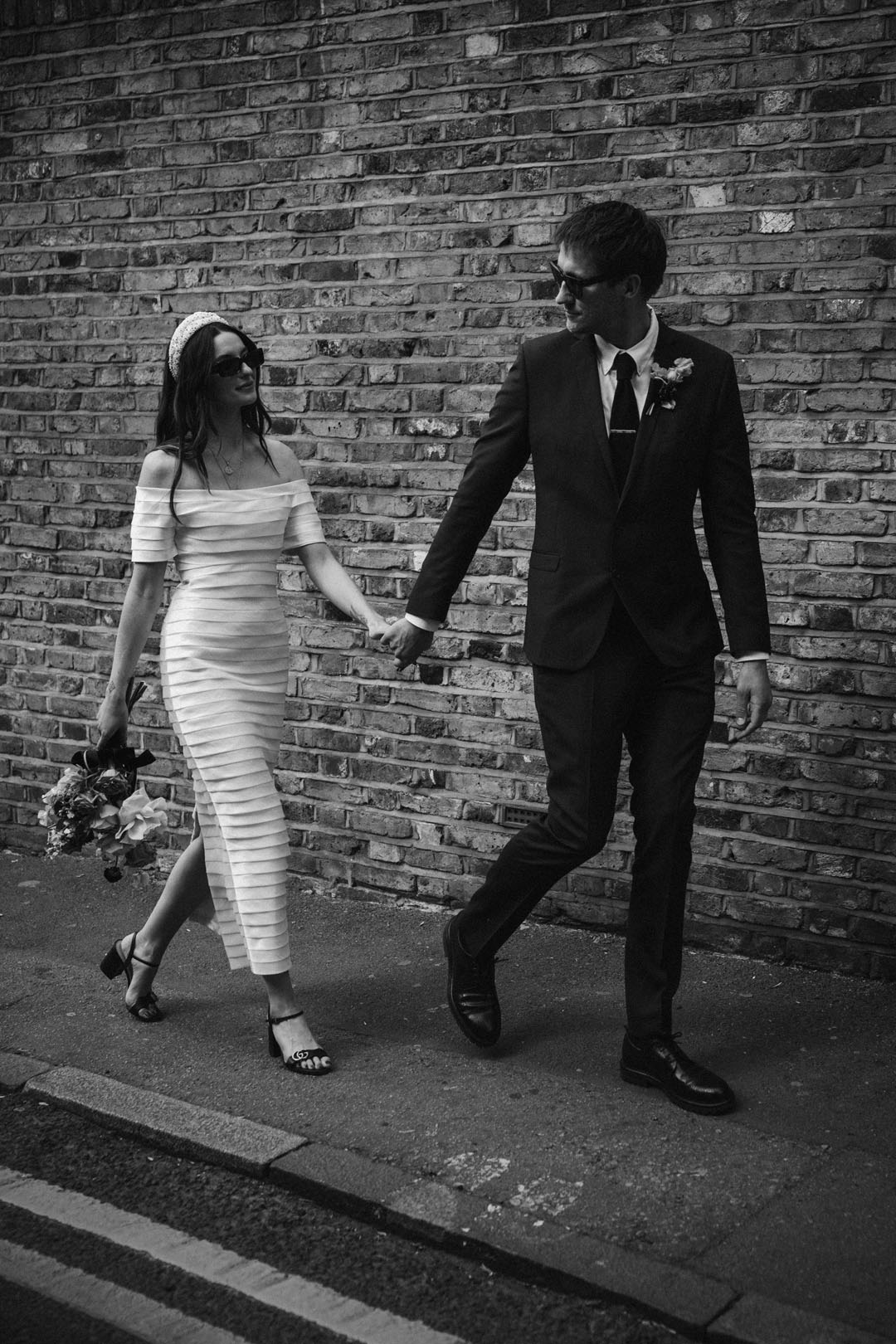 "I think we did pretty well considering the restrictions at the time, so the only thing I would have done differently is to not have all our family also staying in the Airbnb."
"It was very stressful trying to co-ordinate their dinners and breakfasts for the days around the wedding day. Or perhaps we should have just planned that element better."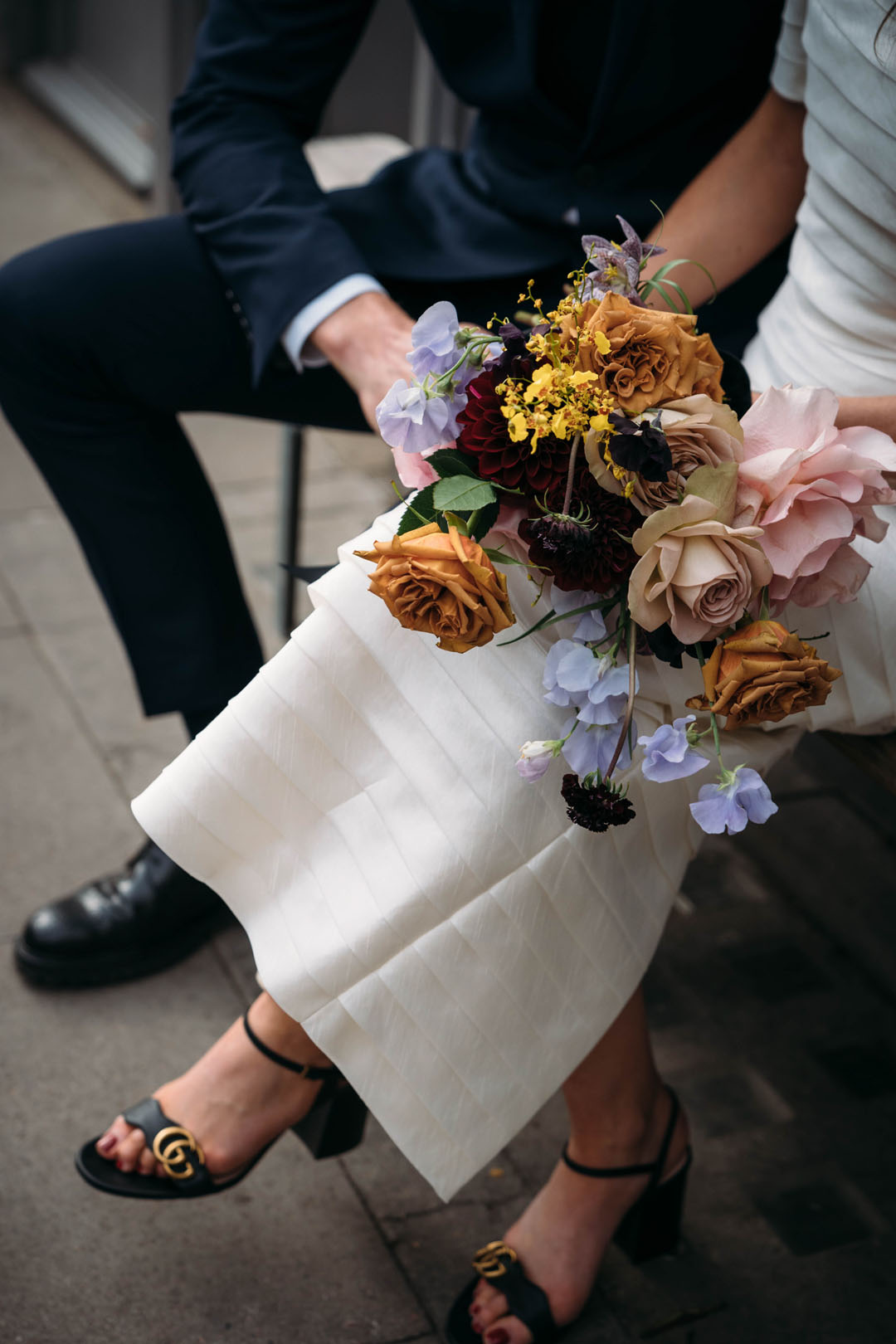 For other couples affected by Covid, Jess has the following advice and reflections.
"I found postponing our wedding(s) very tough, mainly because I'm such a planner and get very anxious when things have to be rearranged."
"Following accounts like What About Weddings really helped as I realised so many others were in the same situation."
"Knowing you're not alone definitely helps. Elliot and I are also very busy working so it became so stressful each time we had to reorganise. Making our mental health a priority and halving tasks between us helped balance this."
"Despite all the above and our day not quite looking as we had originally planned, we wouldn't wish it any other way and will remember it as the best day of our lives"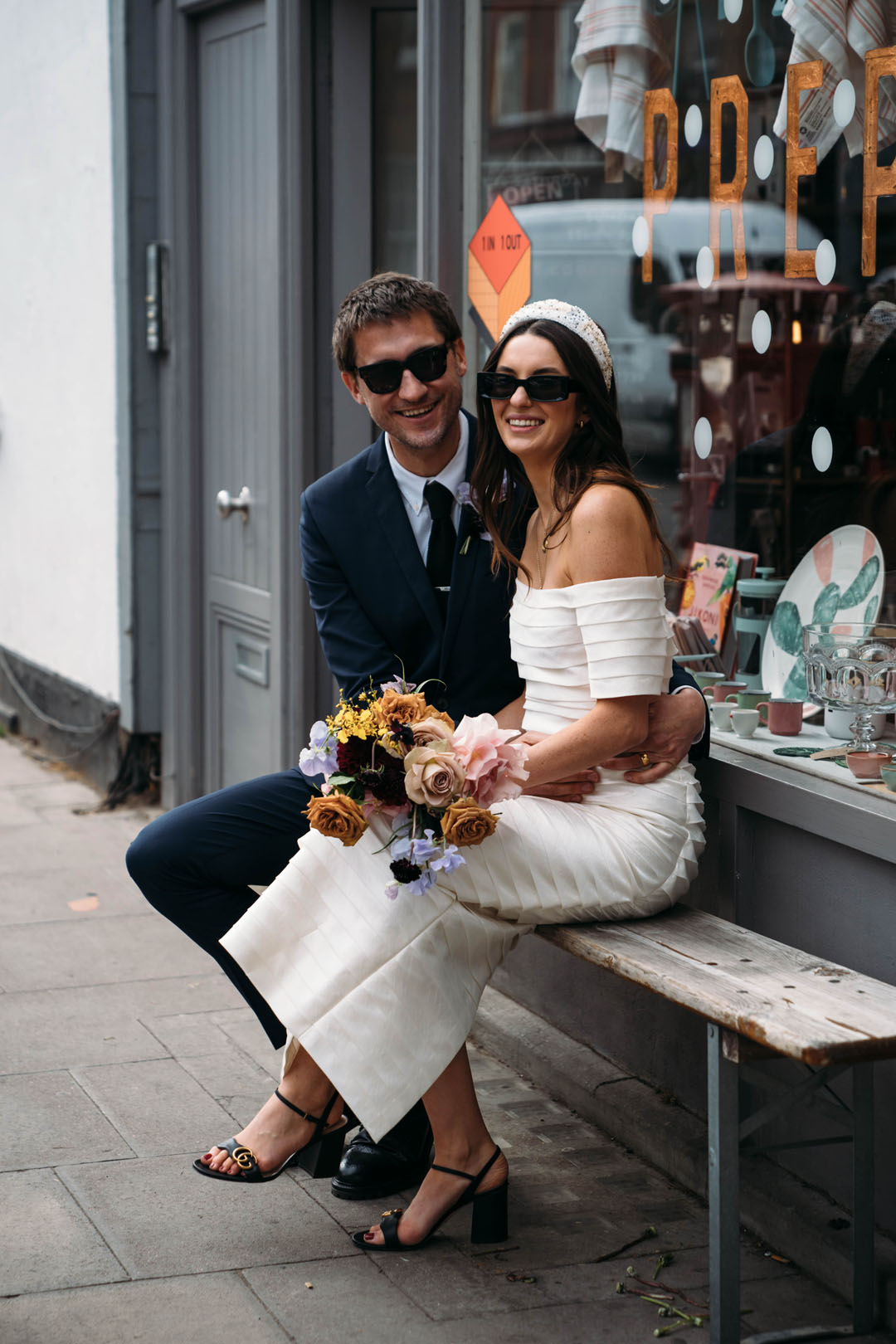 Words of Wedded Wisdom
"It's all worth it, don't lose hope."
"Know you can rely on friends and family to help so delegate effectively so everyone knows what they're doing."
"Be clear about elements that you expect your guests to contribute to or pay for."
"Spend as much time and money as you possibly can on a photographer as you'll have those photos for life and they'll bring back all sorts of emotions and memories."
"Don't be afraid to wear clothing you already own or look to non-wedding boutiques for a dress and accessories."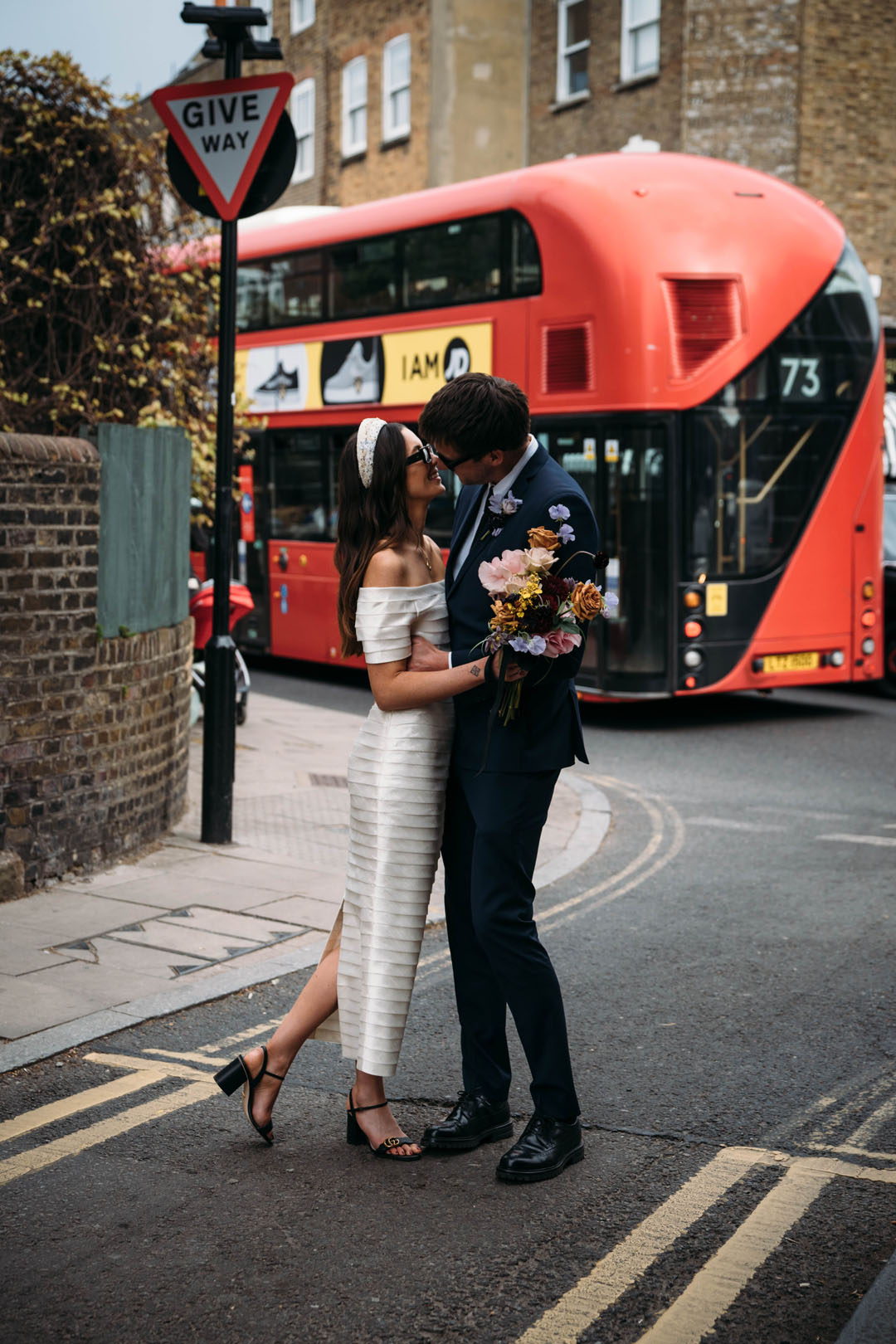 Jess and Elliot, so many congratulations and I hope you have a wonderful second celebration when the time comes around. Thank you so much for letting us publish these photographs here, and thank you also Joanna Bongard Photography.
If you love her style, please see here for more weddings captured by her. Or, if London city weddings are your thing, enjoy this selection here.
Ele xx