It was love at first sight for me when I saw today's impeccably-cut Viktor & Rolf wedding dress, and the bright, blowsy flowers. We're in London for the nuptials of New York couple Kate and Koorosh, a day which paid homage to the groom's Persian culture.
Kate, director of operations at an export management company wed Koorosh , a technology development manager in cyber security on 16 October 2021 at Kimpton Fitzroy, in London's Russell Square. Elegant, classical and minimal, the ceremony honoured Koorosh's Persian heritage as well as four other cultures – Italian, Dominican, American and British – and had a rich colour palette of lilac, gold and jewel hues.
Film Tynegate Films
"We had a destination wedding during a pandemic so convenience, safety and elegance in a relaxed but breath-taking setting was important. We wanted to have the wedding in central London so it would be easy for all and near Koorosh's family and where he grew up."
"We both were drawn to lilac, gold and fall jewel tones. Koorosh is Persian so we wanted a Persian ceremony and that also added to much of the style tones."
Photography Kernwell Photography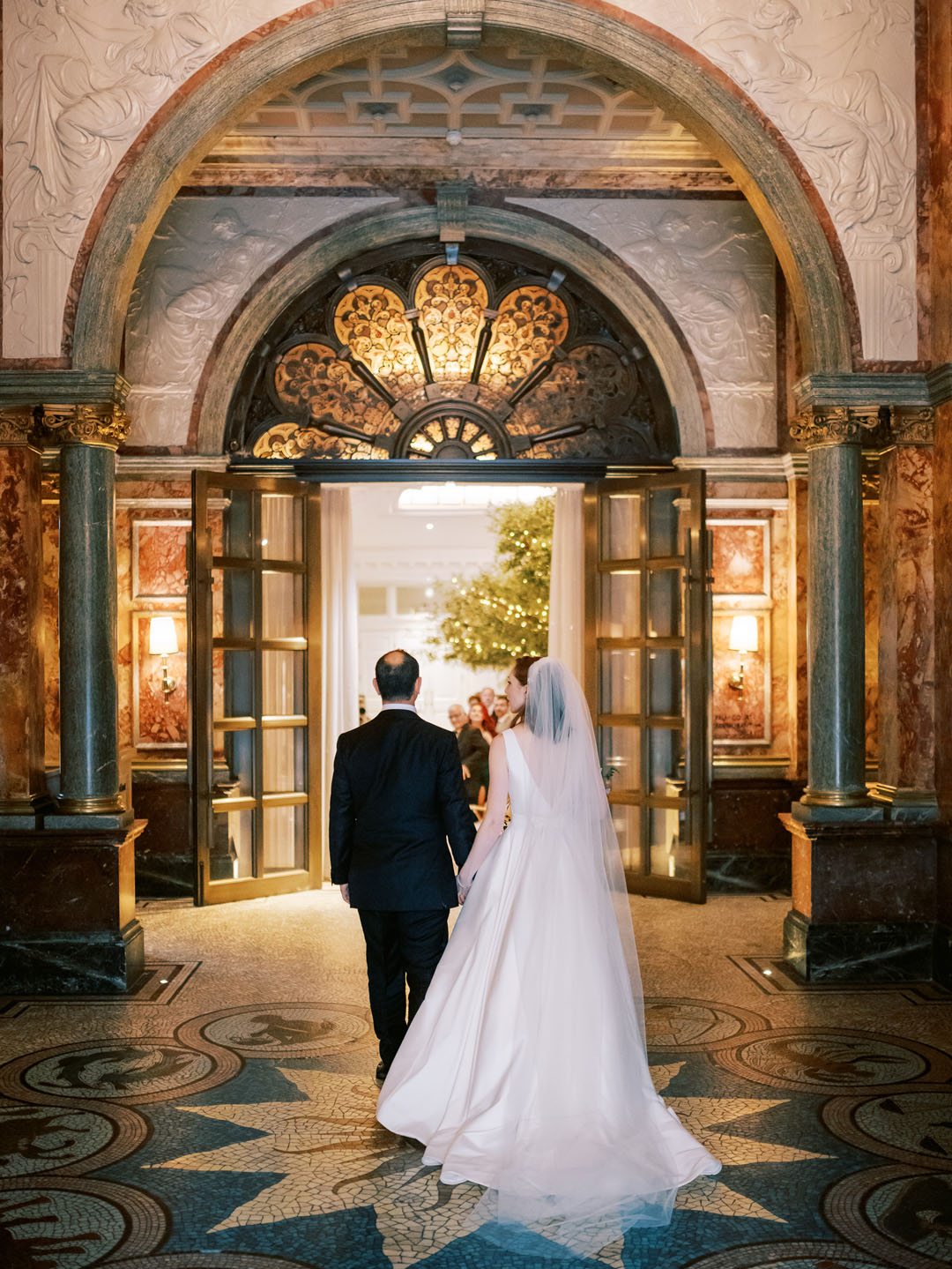 The bride wore an exquisitely-cut gown with a deep V-back and a luxe, statement bow. It was a Viktor & Rolf design from The Wedding Salon of Manhasset.
"I wanted clean, classic and comfortable; a simple style with a dramatic effect, including the practicality of pockets and a statement bow in the back"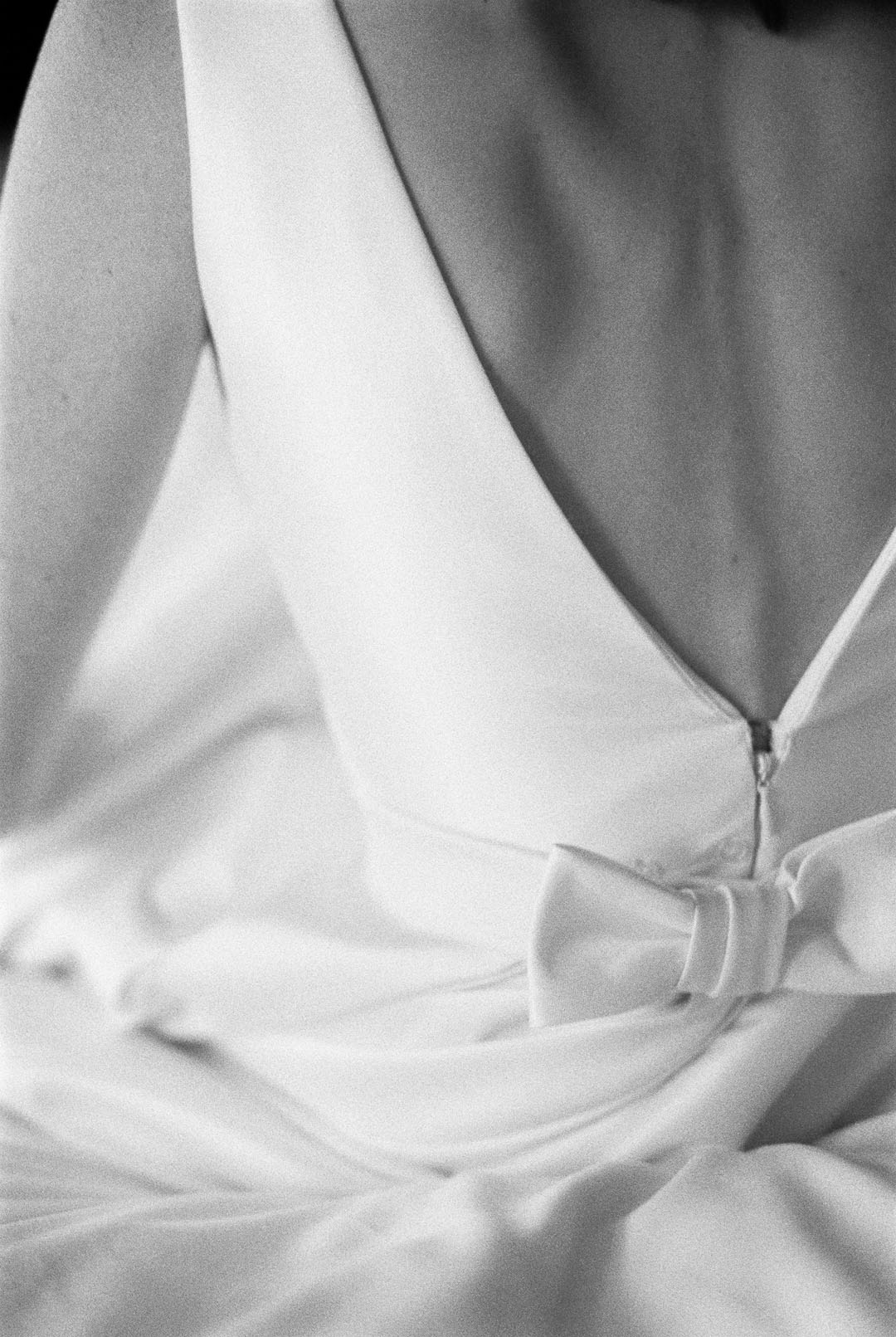 Kate's perfume was Dolce & Gabbana The One.
"It was the first Christmas present from Koorosh after we met."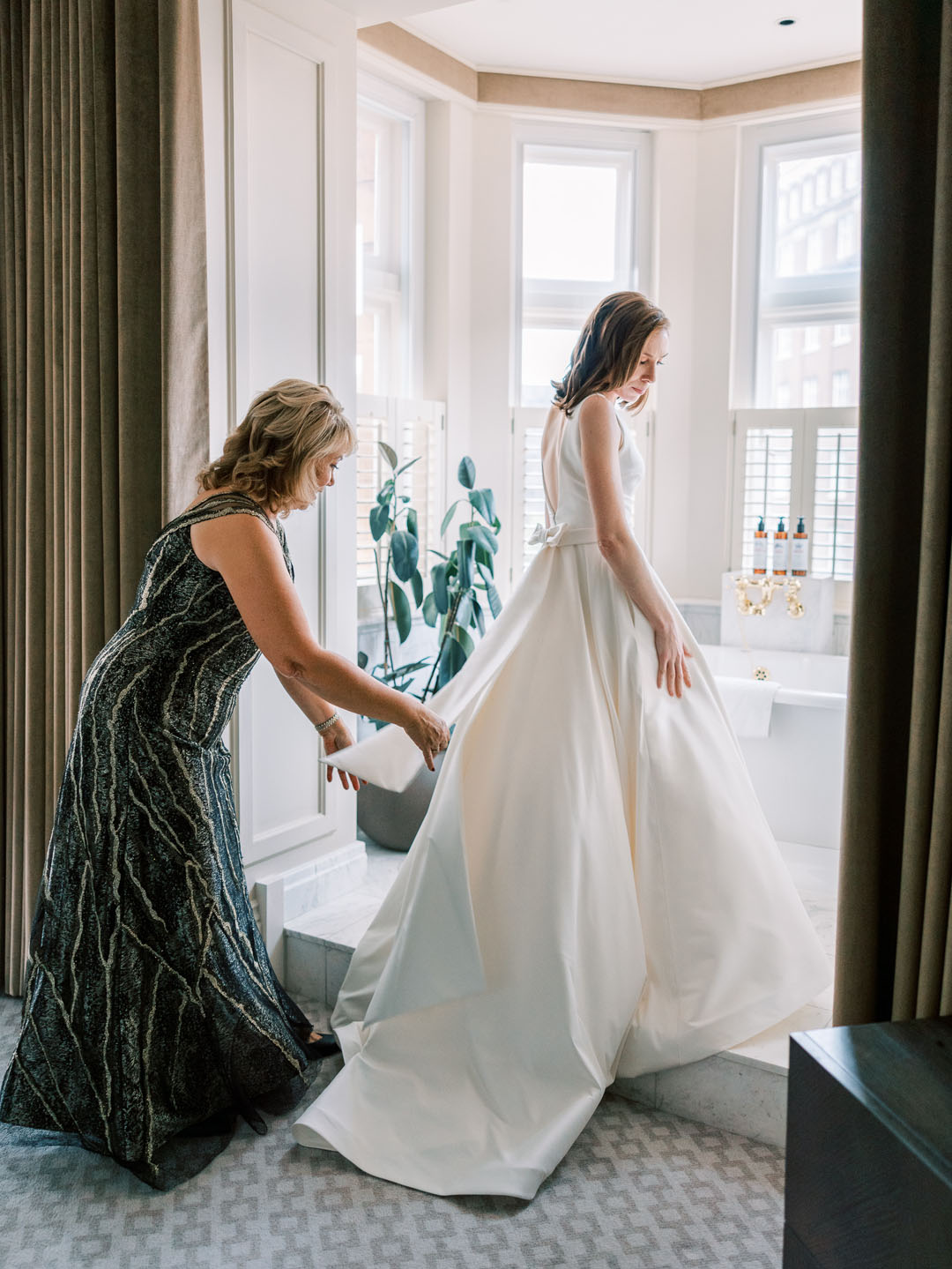 Storme Make Up & Hair created the bride's flawless look and she slipped in floral crystal hair pins from Amazon.
"We were both very comfortable and felt like ourselves in our outfits."
She added a simple and sheer, long veil from The Wedding Salon of Manhasset and a pearl necklace, earrings and bracelet gifted to her by Karoosh's father, in the Persian tradition.
Catherine Short Floral Design put together the vibrant and beautiful wedding flowers, of which my favourite is the gorgeous bouquet.
"Catherine Short offered a deconstructed bouquet, vibrant pops of colour and palm tree leaves. My favourite flower is the rose and this is the flower of Iran. Catherine simply had the most impressive portfolio of design."
https://www.lovemydress.net/directory/supplier/zita-elze-flowers/
"Having seen her work and the ideas she had for the long table flower arrangements, we left the rest to her and our planner to pick and arrange and were overjoyed with the results."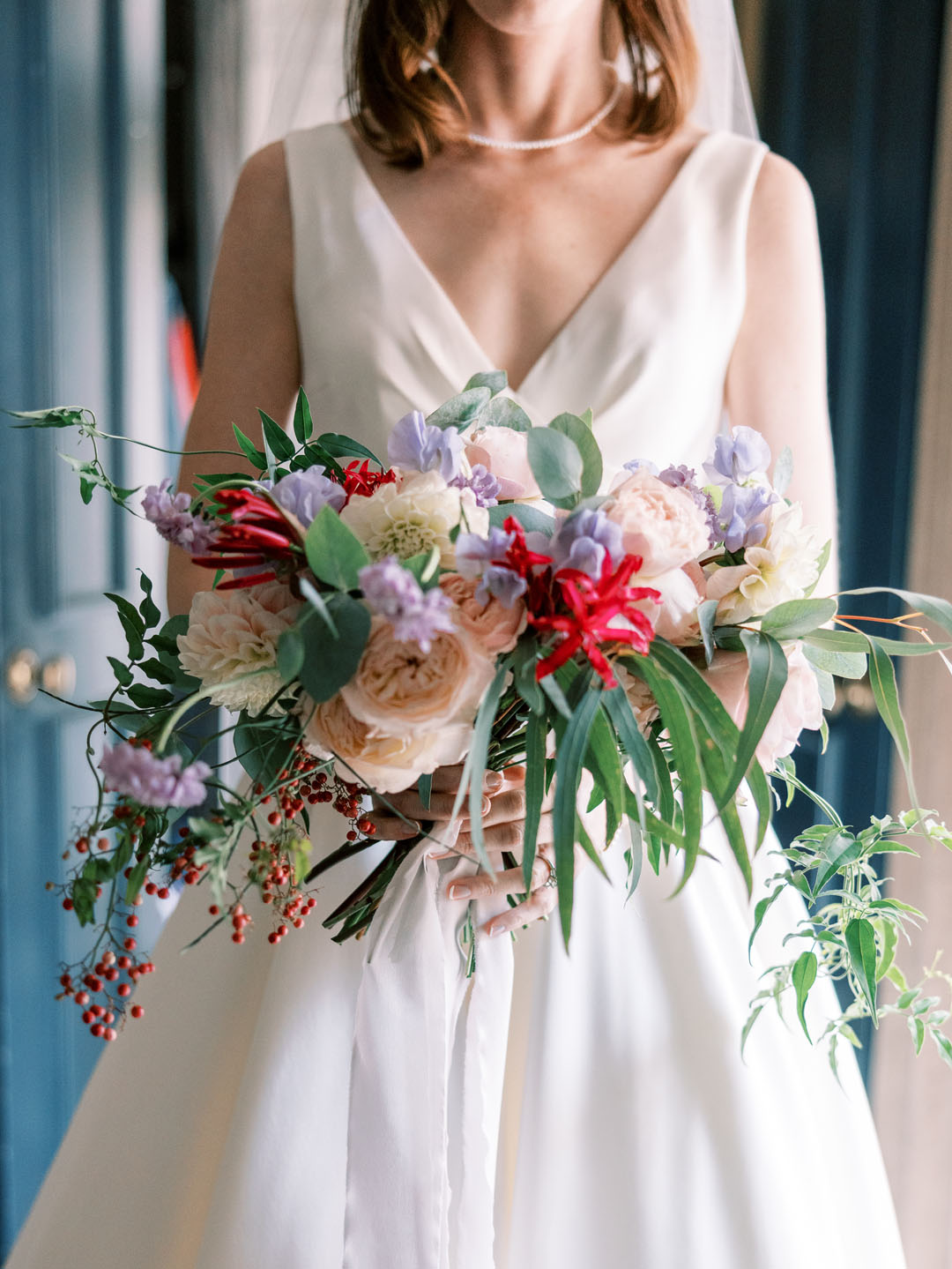 The groom selected a stylish black tux from Suit Supply for a classic look, with classic black tux shoes from Suit Supply. He spritzed on Chanel Platinum Égoïste.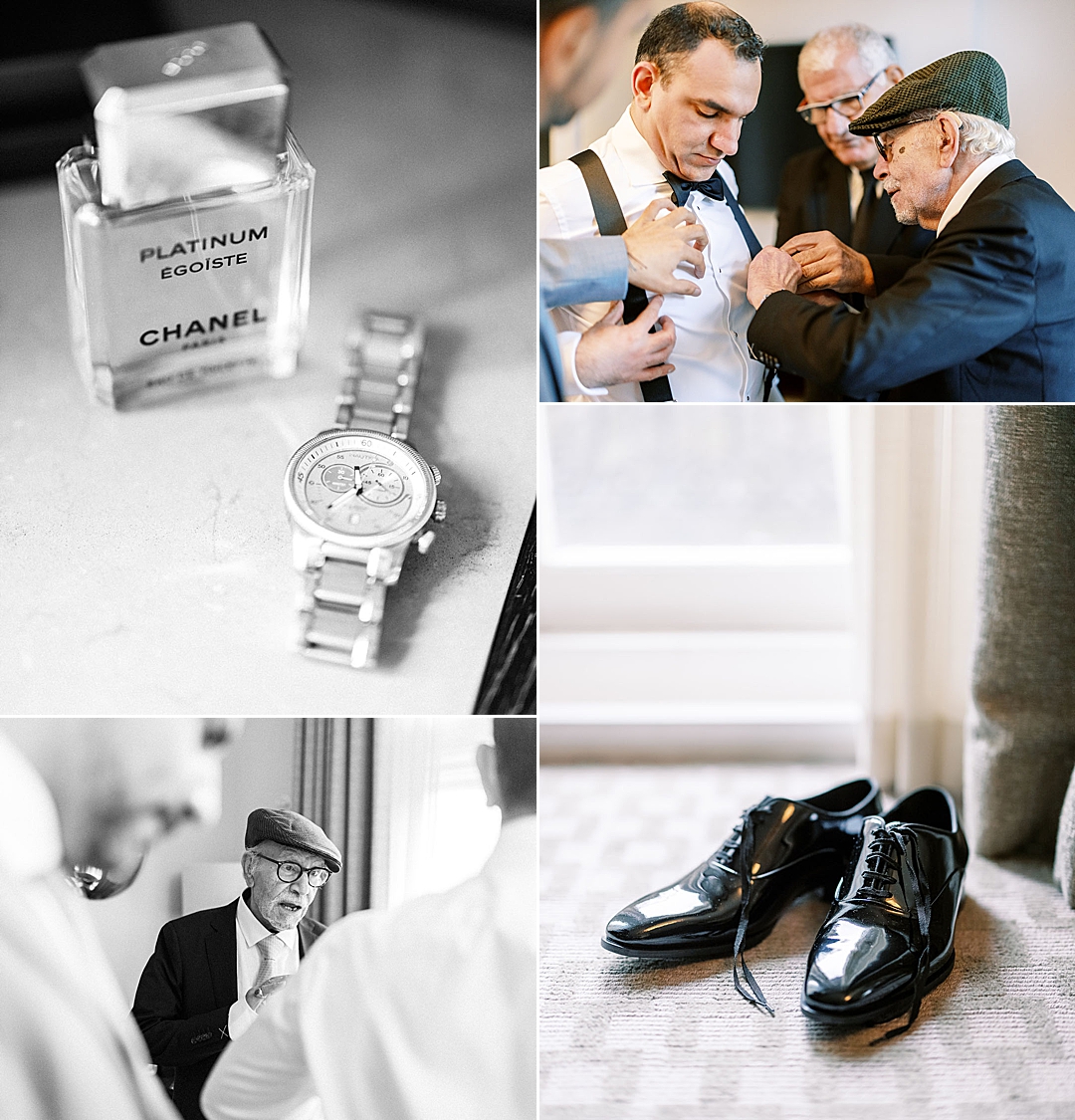 "Koorosh wanted a tux! I say he looked like James Bond. The boutonniere was a great touch and separated the groom from the other guests in tuxes."
Although the couple didn't have to make any changes due to Covid-19, they were prepared to be flexible, just in case.
"Safety was our number one priority. We followed the standard practice in America for private events by asking all guests for vaccination status."
"This first step guided us on how many safety measures we needed to take."
"We then asked guests and suppliers to take a lateral flow test ahead of attending the wedding if they were not comfortable with sharing their vaccination status or if they were unvaccinated."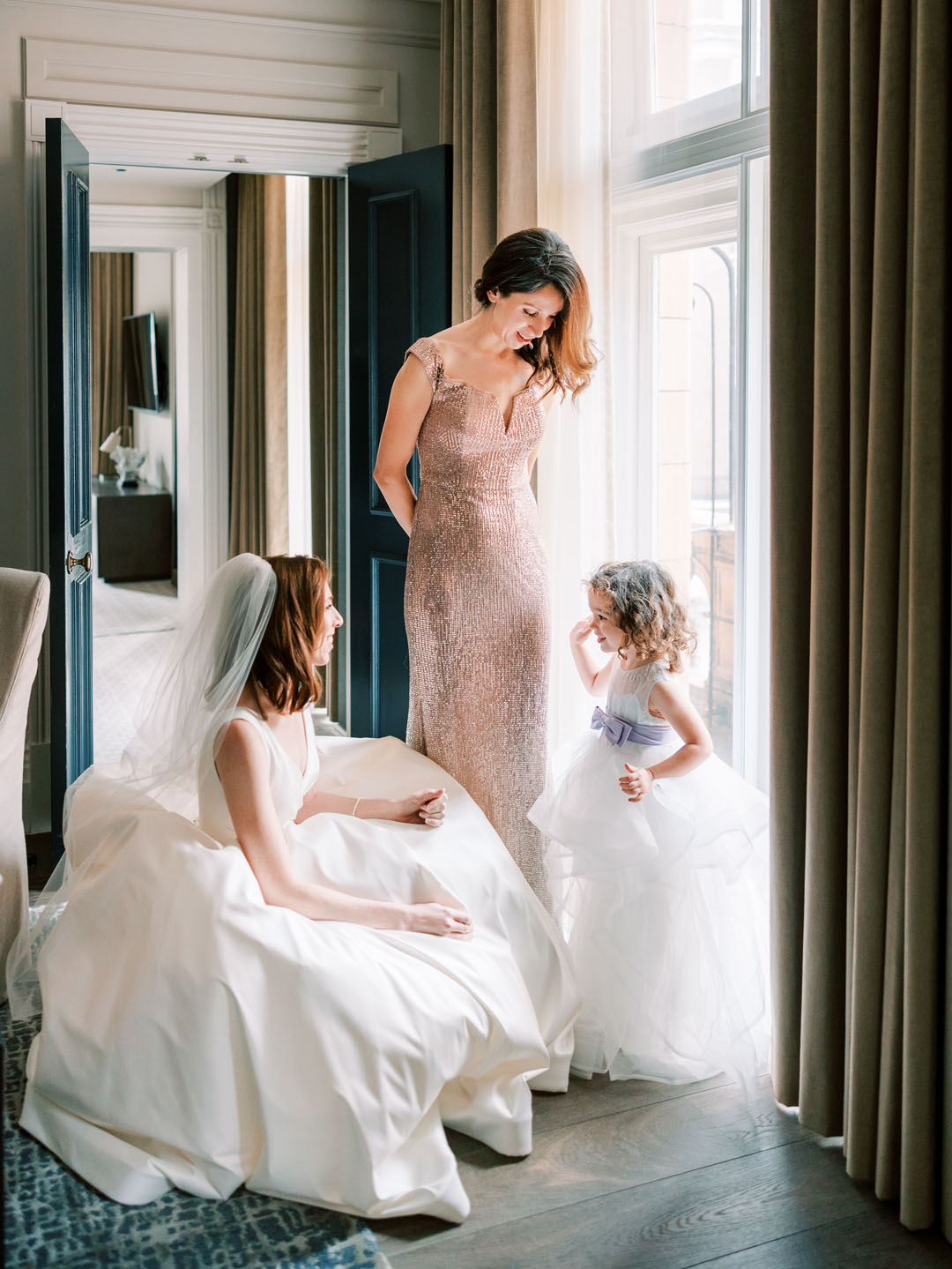 "As a result of our guests' feedback, we felt it was appropriate to have hand sanitisers at the different space entry points as well as providing personalised face masks (Stylish from Etsy) for anyone who wished to wear one. We did not mandate mask wearing."
"The hotel staff all wore masks during the event. Many of our guests, including a few who were immunocompromised, expressed relief and gratitude for us taking these steps to ensure everyone's safety."
The bride and groom met on dating app Bumble and dated for two years in New York City before moving in together in a Manhattan apartment.
"The pandemic hit a few months after we moved in and we were rescued by my parents and went to live with them on Long Island."
"We spent one year during the pandemic with them and at the same time bought our own house."
"We moved in and a few months later, Koorosh proposed in our new house with balloons and ring pops. Six months later, we were married in London."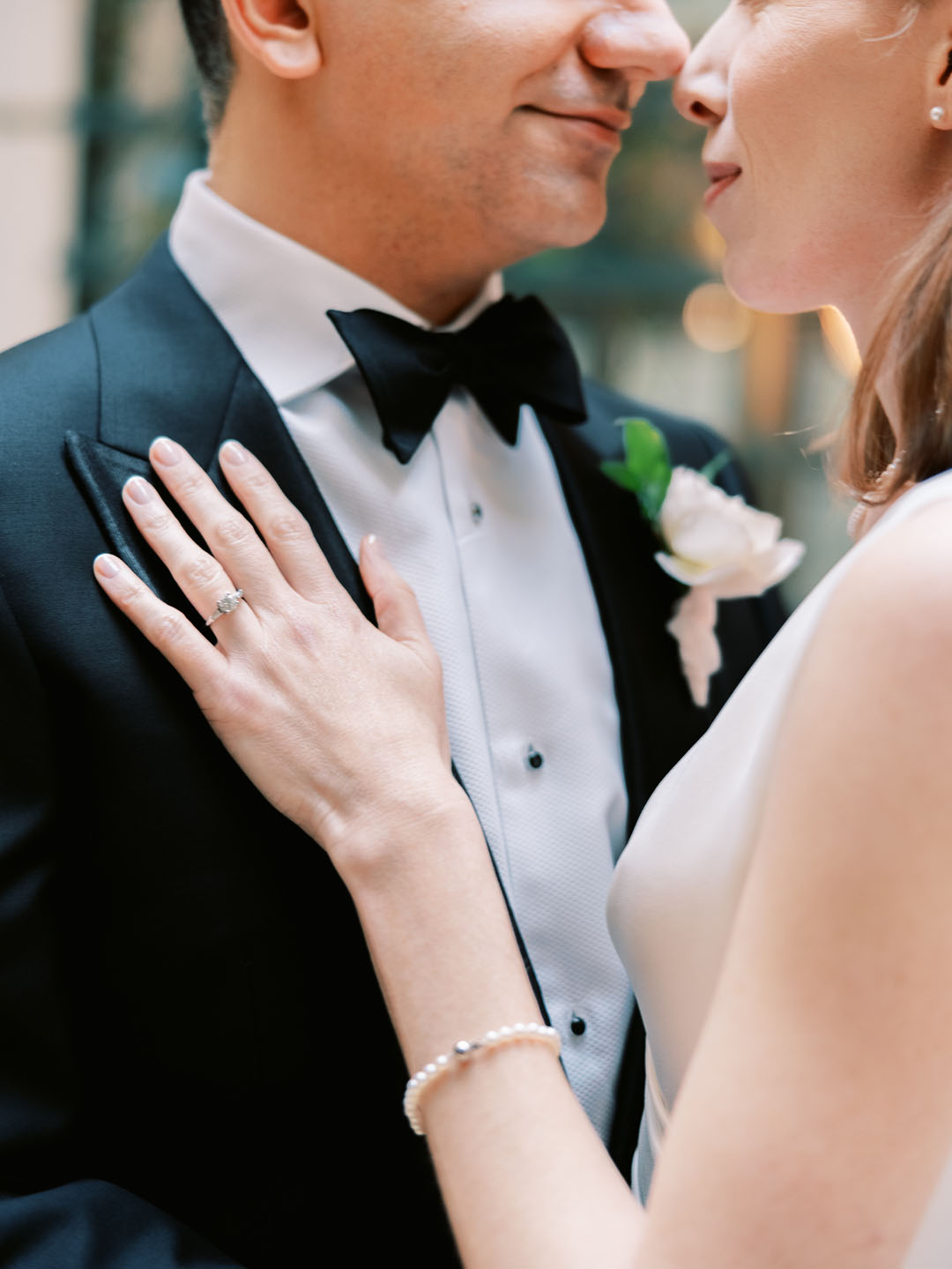 The private civil ceremony, held with just the couple's immediate family, was held in the Palm Court of Kimpton Fitzroy.
"Our registrar from Camden Council was Rebecca Peyton assisted by Po Wun Wan (deputy registrar)."
"My favourite part of the day was the intimate civil ceremony with only family in attendance and the exchange of vows and rings for the first time."
"I liked how Koorosh read his vows with conviction, purpose and love."
The wedding bands were from Alexander Craig in Hatton Garden.
"The sales representatives were so polite, informative, knowledgeable and not pushy in any way.  They also had the best variety and the best-looking rings on Hatton Garden. My engagement ring was from Daniel Roffman of Lieber & Solow. Daniel is a diamond buyer and family friend in New York City who custom-made my ring. "
The photographers for the day were duo Phil and Michelle of Kernwell Photography, who come so highly recommended. Over to Kate to explain more.
"Kernwell's photographs really caught our eye. We loved their bright, crisp, vibrant photos that captured people clearly and with great detail."
https://www.lovemydress.net/directory/supplier/kernwell-photography/
"Looking at their pictures, you really sense that you are gazing into someone's eyes and get a great feel for the atmosphere of the day."
"They are experts in creatively playing with shadows, light and movement and capture the moment well. "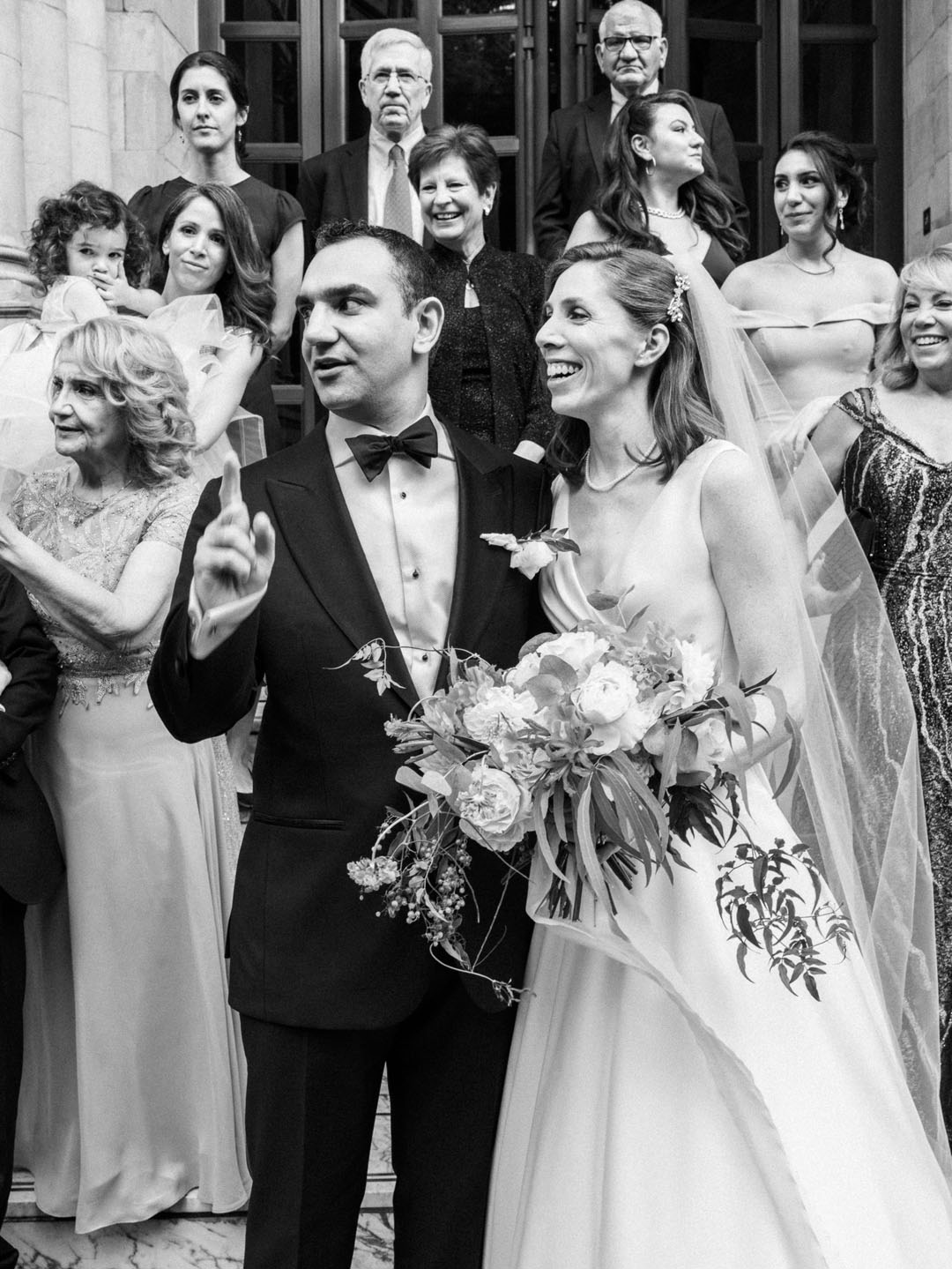 Their package included an engagement photoshoot, album and portraits and there are two photographers in the team."
"Phil and Michelle are an international married couple and we really liked that on the day of the wedding, they were a team who can be in different places and capture different angles and parts of the event."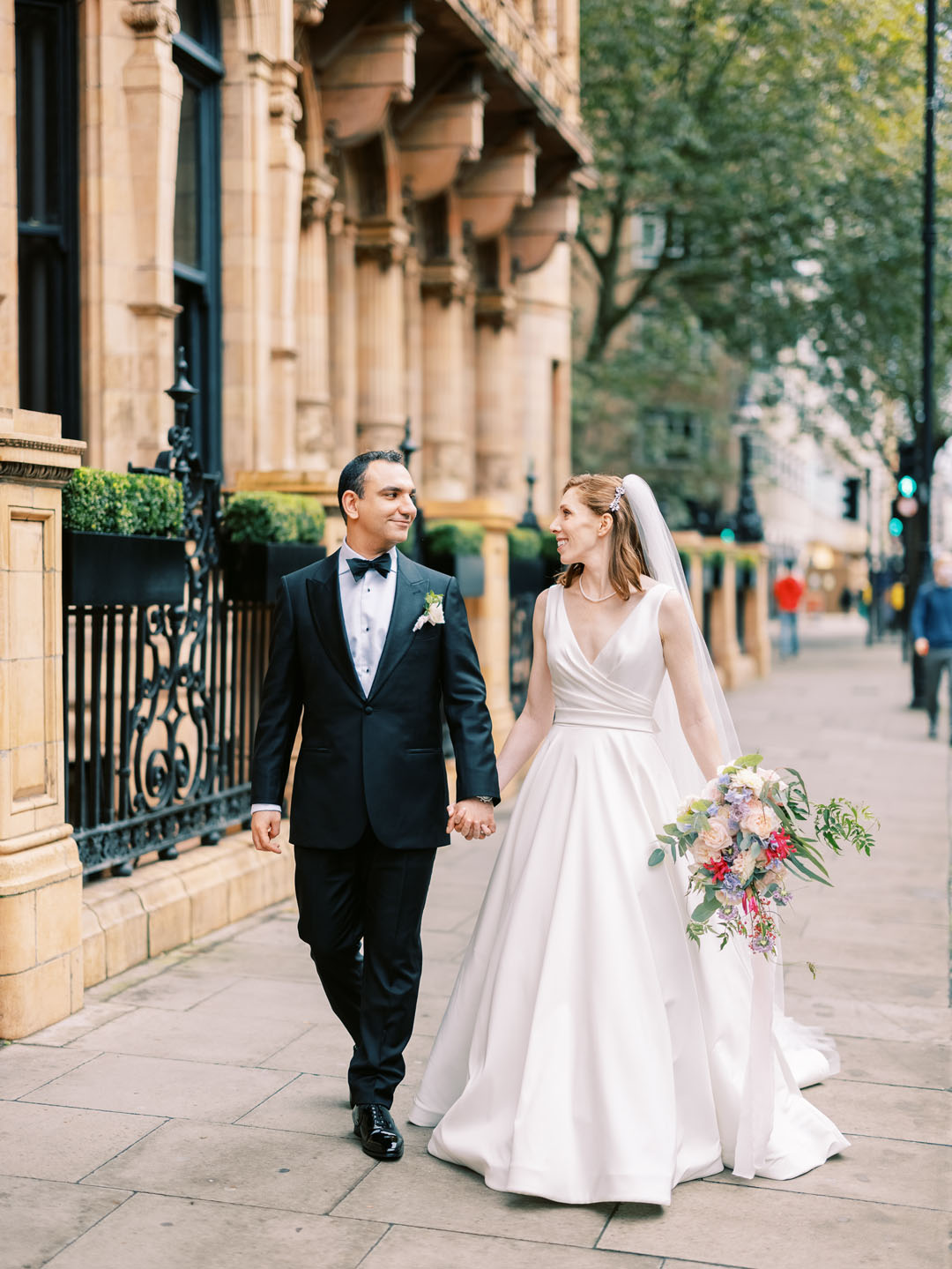 "We met Phil and Michelle for our engagement shoot two months before the wedding and they made us feel so comfortable walking through central London and taking pictures."
They have such a pleasant, calming and friendly presence and work really well together. We felt that we really got to know them during this shoot and they got to know us."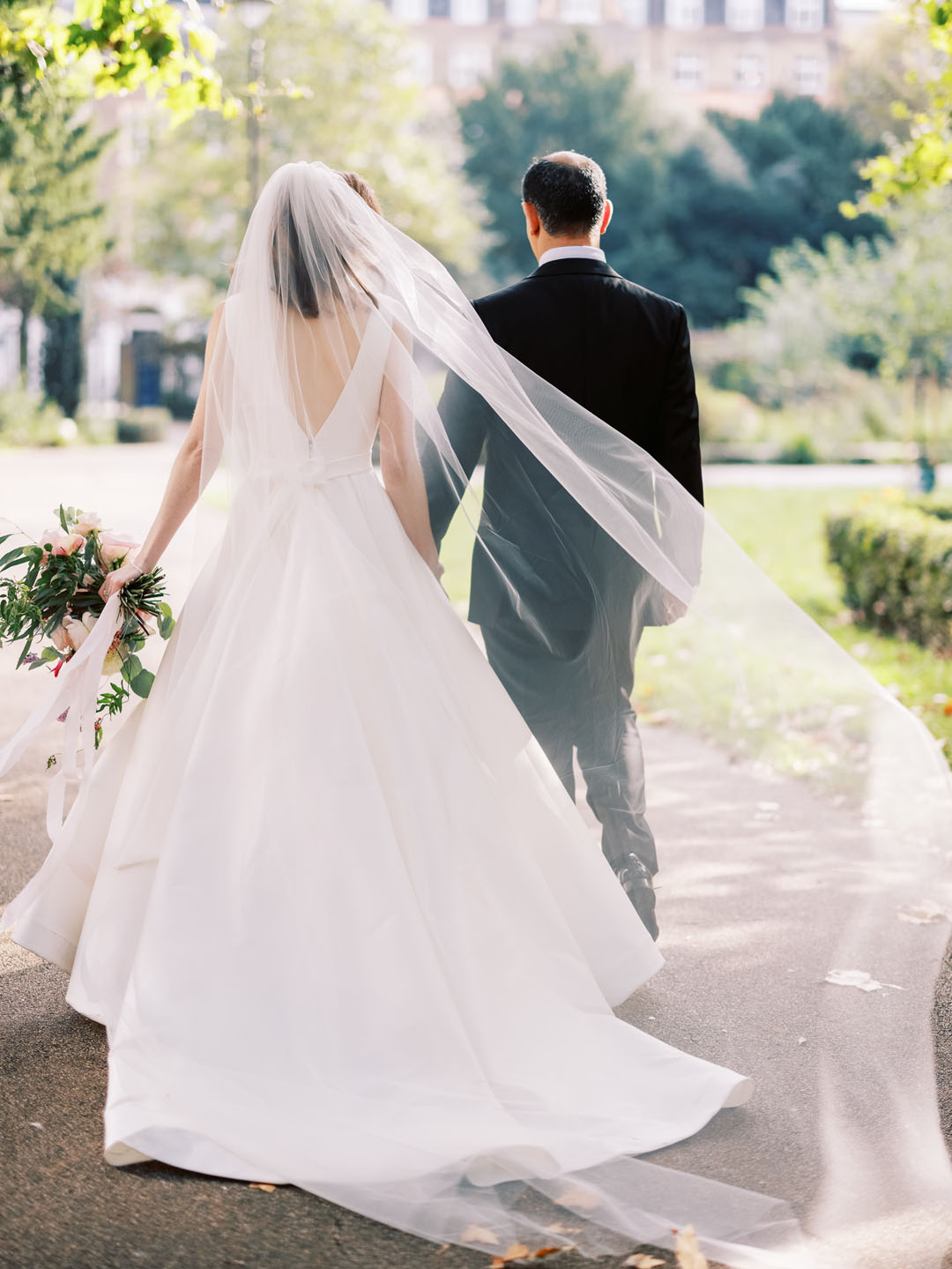 "We felt like we just had a great day out in London. They shared a sneak peek almost immediately after the shoot and we received all the photos along with a cool video of the day soon after."
"The photos looked so natural, colourful, vibrant and told a story of a day in London."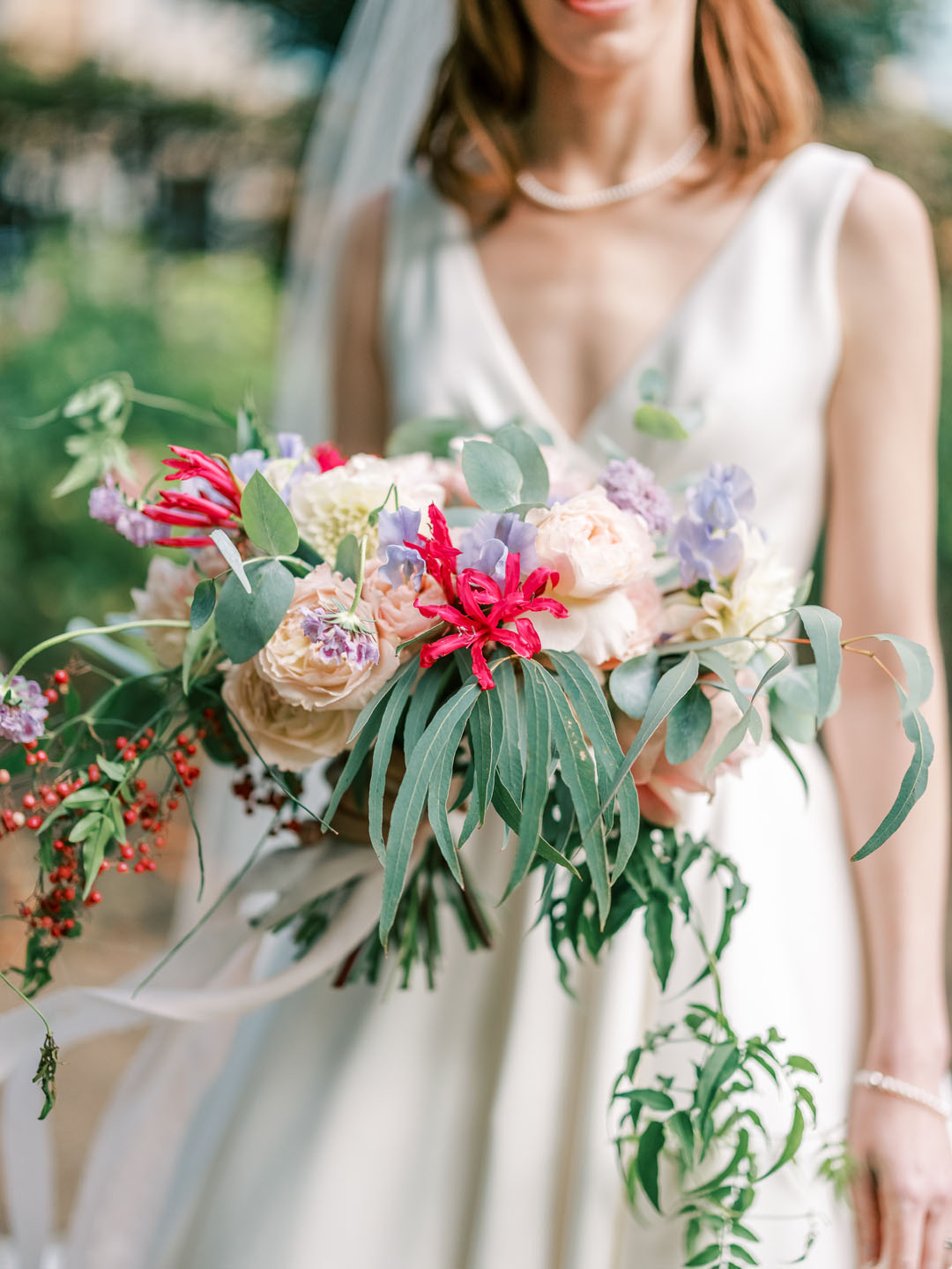 "When we met Phil and Michelle on our wedding day, we felt like friends and we were so comfortable with them."
"They checked in at appropriate times, they let us enjoy our wedding, spending quality time with guests but also found good opportunities to take us out for couples and family portraits."
"We were absolutely blown away when we received our photos from the day. Once again, we received a sneak peek within a few days and we had all our photos within a few weeks."
"They really captured the day, with photos of all the little details that describe the day and events."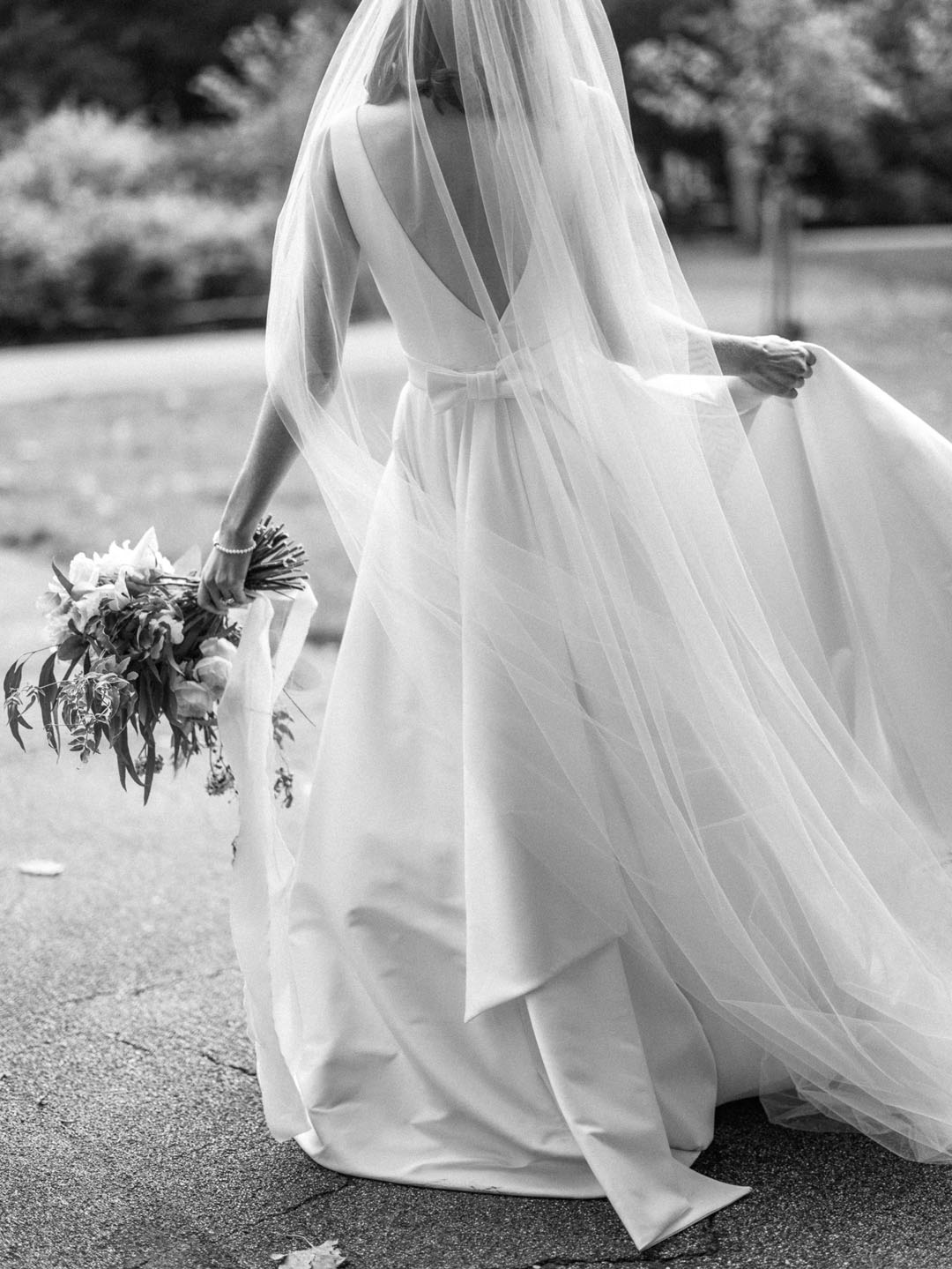 "They did a phenomenal job of capturing people's faces, body language and the atmosphere of the day.  Their photos are each works of art."
"We would absolutely recommend them to others based on their talent, passion, positive manner and superb quality. They are down to earth yet extremely organised and professional. "
Wedding videographers Tynegate Films captured the day on film.
"Monica at Dandelion Celebrations came across Tynegate Films on Instagram with the A Million Moments video for What About Weddings."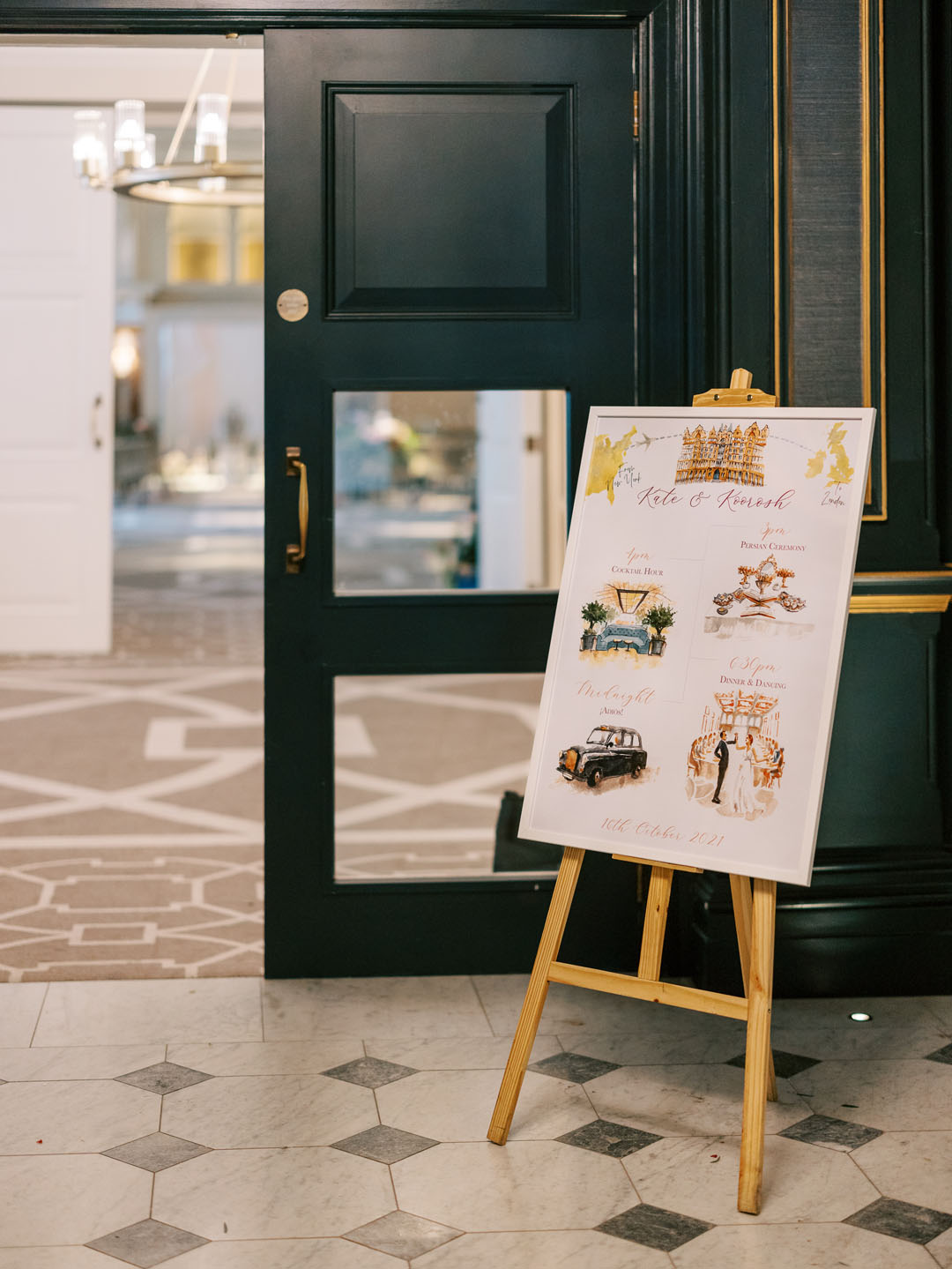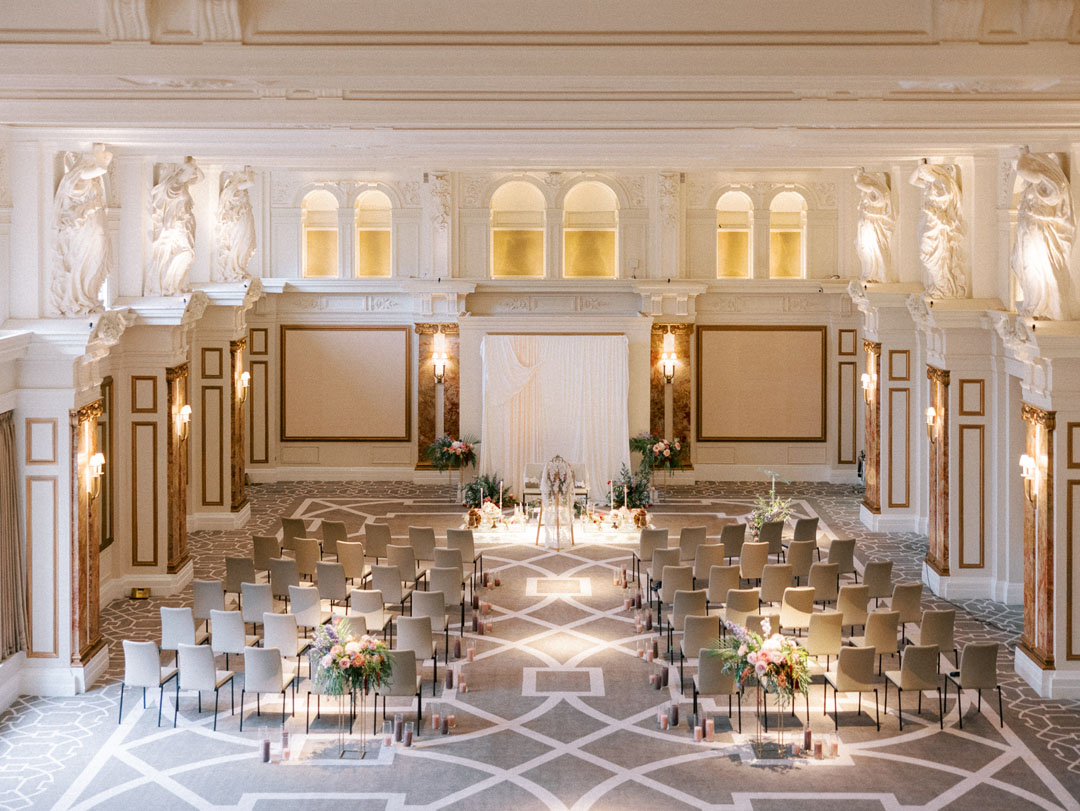 Later on, the Persian ceremony was held in the ballroom. At its heart was the Sofreh Aghd, an important element in Persian tradition.
"The Sofreh Aghd is an important Persian wedding tradition with over 2,500 years of history. The Sofreh is a large, ornamental tablecloth whose spread contains items symbolising different qualities the newlywed couple invites into their married life."
"We hired Mia Sylvia to create a beautiful textile backdrop for the Sofreh. Niusha at NE Design Studio created bespoke decorations for the Sofreh, as well as the art and architecture found in Shiraz, the city Koorosh's family is from. A lot of the candles used were purchased from Smith & The Magpie."
"Koorosh's uncle led the ceremony and the wedding party entered to Pachelbel's 'Canon in D' with the bride entering to Shahla Sarshar's 'Vasoonak'."
"Our niece and siblings entered first. Then it was Koorosh's turn accompanied by his parents and I was last, accompanied by my parents."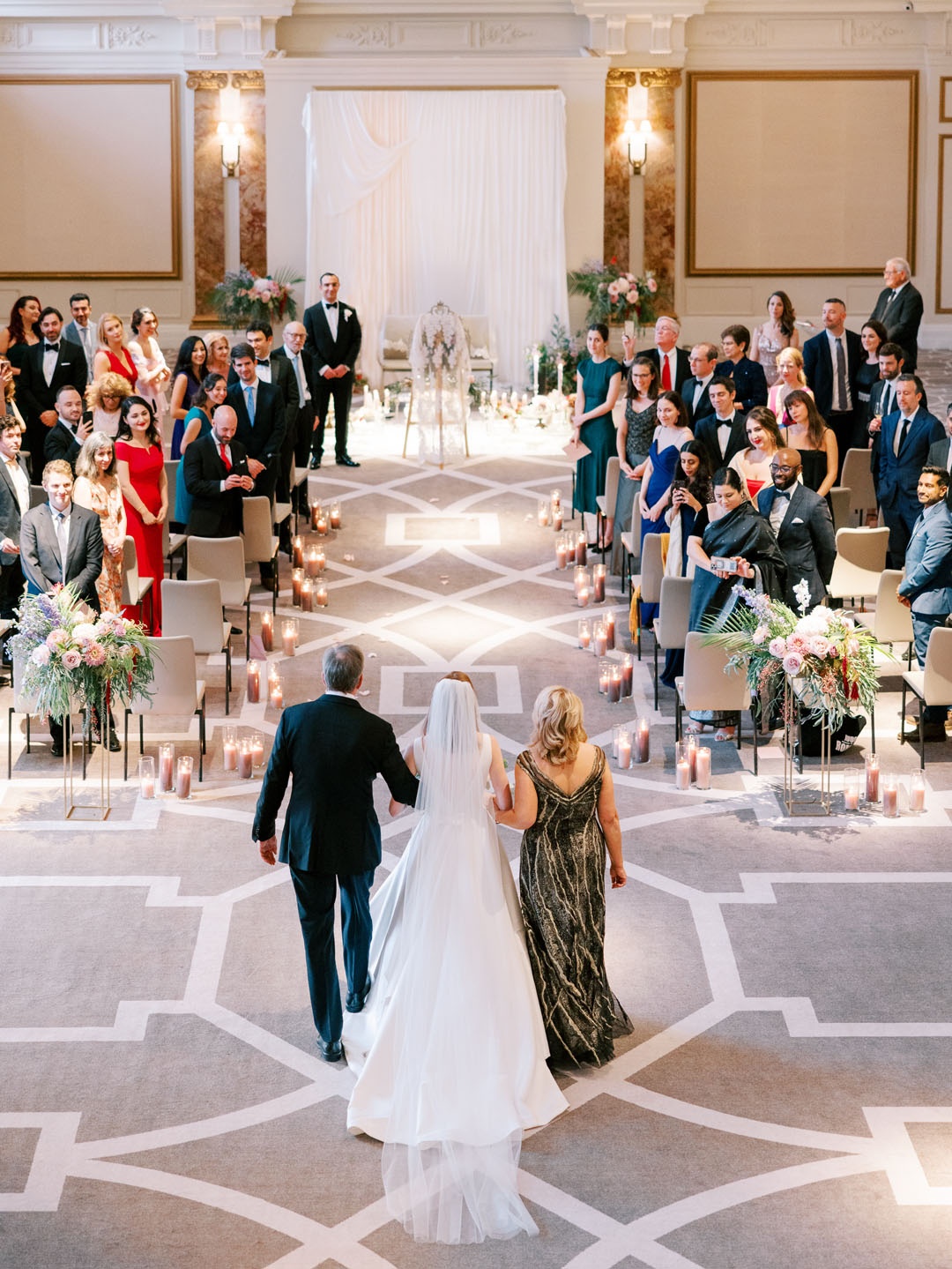 "We created our vows by combining Persian and Catholic verses and had four Persian poems: 'When Love Comes Suddenly' by Rumi, 'Start the Journey' by Rumi, 'The Gift' by Hafez and 'It Happens All the Time in Heaven' by Hafez."
"Koorosh's favorite part was during the Persian ceremony when we read their originally written vows and performed the Persian traditions including feeding each other honey with the pinky finger and having all guests take part in holding a silk veil over our heads and rubbing sugar over them to add sweetness to our marriage. He loved how everyone was a part of our union."
The day included a civil ceremony and a Persian ceremony.
"Dimitria Jordan, one of the Kimpton Fitzroy London recommended suppliers, created all the beautiful on the day stationery, including the personalised bookmarks used as place cards for our guests."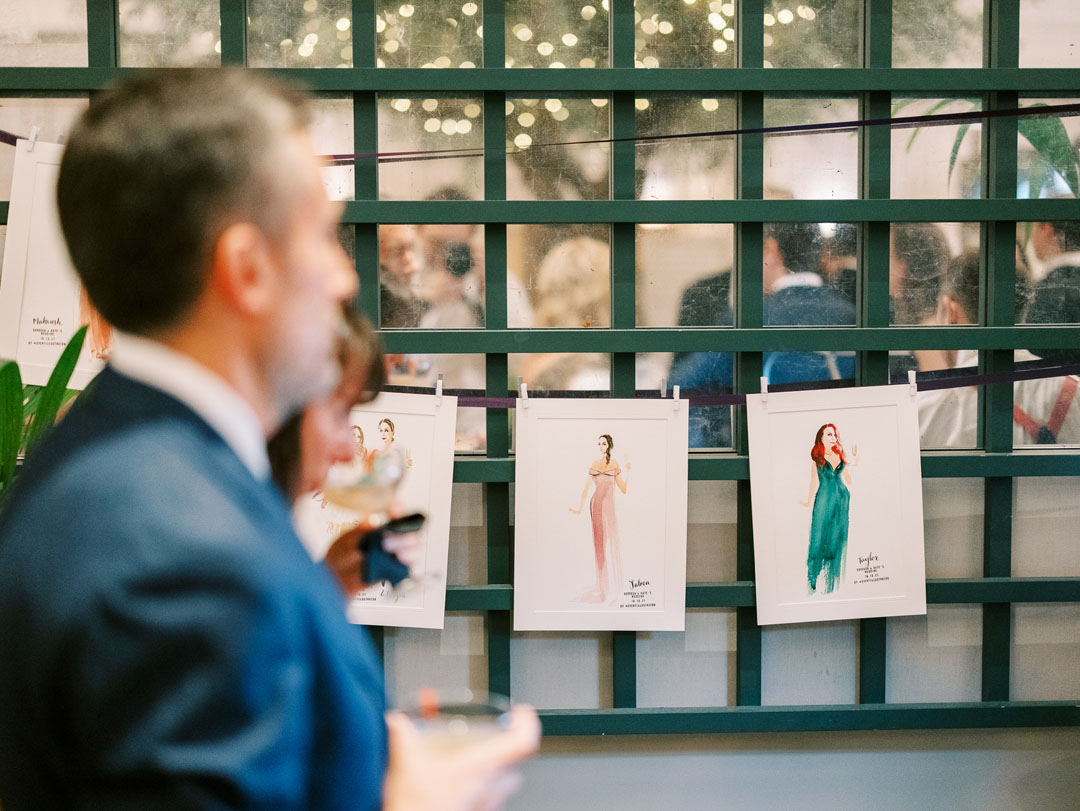 "Aaron Jacob Jones, Wedding Illustrator, created a stunning illustrated welcome/order of the day sign."
Later on, Kate added warmth and a touch of sass with her custom denim jacket from Up2ournecksinfabric.
"The tables were dressed in Just 4 Linen paisley blushing tablecloths and lavender napkins."
"The choice of Paisley, a traditional Persian pattern was to intentionally but subtly bring the Iranian culture back onto the dinner table, whilst allowing all the other meaningful details and colours in the styling and floral decor to shine."
"The dinner was a continuous party featuring Iranian, Latin, R'n'B and pop music with dancing in between courses, thoughtful speeches and a traditional Persian knife dance before cutting the cake."
The couple worked with Dandelion Celebrations to help them plan their day from their New York home. Over to Monica at Dandelion to explain more about the vision behind the day and the cultures which informed it.
"Kate and Koorosh's wedding saw the blend of five cultures. Koorosh is Iranian and grew up in London whilst Kate, from New York, has both Italian and Dominican roots. Bringing together so many different cultures was no mean feat and a very exciting challenge."
"Throughout the design and planning, we looked at the different moments of the day and how to mindfully introduce gentle nods to Koorosh and Kate's wonderful mix of cultures. Their guests' experience and enjoyment was at the forefront of every decision they made, while also staying true to what was most important to them as a couple."
"With New York as their day-to-day home, Kate and Koorosh chose to celebrate their wedding in their other home, London. Being a city-loving couple, a location right in the heart of the London buzz was all they ever wanted. This was great for their guests to soak up the vibes whilst also being convenient for everyone to reach."
"The Kimpton Fitzroy hotel in Russell Square provided the perfect setting for the glam and sophisticated, but easy going celebration they wanted. The Grand Ballroom had the wow factor for the traditional Persian ceremony and seated dinner; whilst the Palm Court with its elegant Mediterranean outdoor feel, truly embraced the relaxed vibes they wanted for the cocktail hour."
"The colour palette was inspired by the couple's choice of colour, lavender, but also the desire to weave in the rose, the bride's favourite and an iconic flower in Iranian culture and literature. The green of the tropical foliage and the pink peppercorns, gave the floral design beautifully crafted by Catherine Short, a modern-relaxed feel whilst honouring Kate's Caribbean roots."
"I loved how Kate and Koorosh embraced their wonderful mix of cultures, naturally and respectfully modernising traditions whilst honouring those aspects that were important to them and their loved ones. On the wedding day, they were able to enjoy the celebration with their guests, whilst also making time for each other!"
"We gave traditional Persian favours; small bags of noghl (sugar coated almonds) tied with 'Kate & Koorosh 16.10.2021' labelled ribbon, shipped from family in Iran."
The wedding dinner was provided by Kimpton Fitzroy and concluded with the elegant, tired wedding cake from Meera Makes.
"The cake was a three-tier, fondant cake with one flavour per tier: lemon cake with lemon curd and elderflower buttercream; coconut cake with pineapple preserve and coconut butter; and white chocolate cake with raspberry preserve and white chocolate buttercream."
https://www.lovemydress.net/directory/supplier/cherry-tree-cakerie-buckinghamshire-wedding-cakes/
"The design was inspired by our heritage and vision for an elegant and glam cake. The gold stencil on the bottom tier was reminiscent of the beautifully-decorated tiles found in both Persian and Mediterranean cultures whilst the top and middle tiers gave a gentle nod and continuity to the beautiful textile backdrop and floral decor."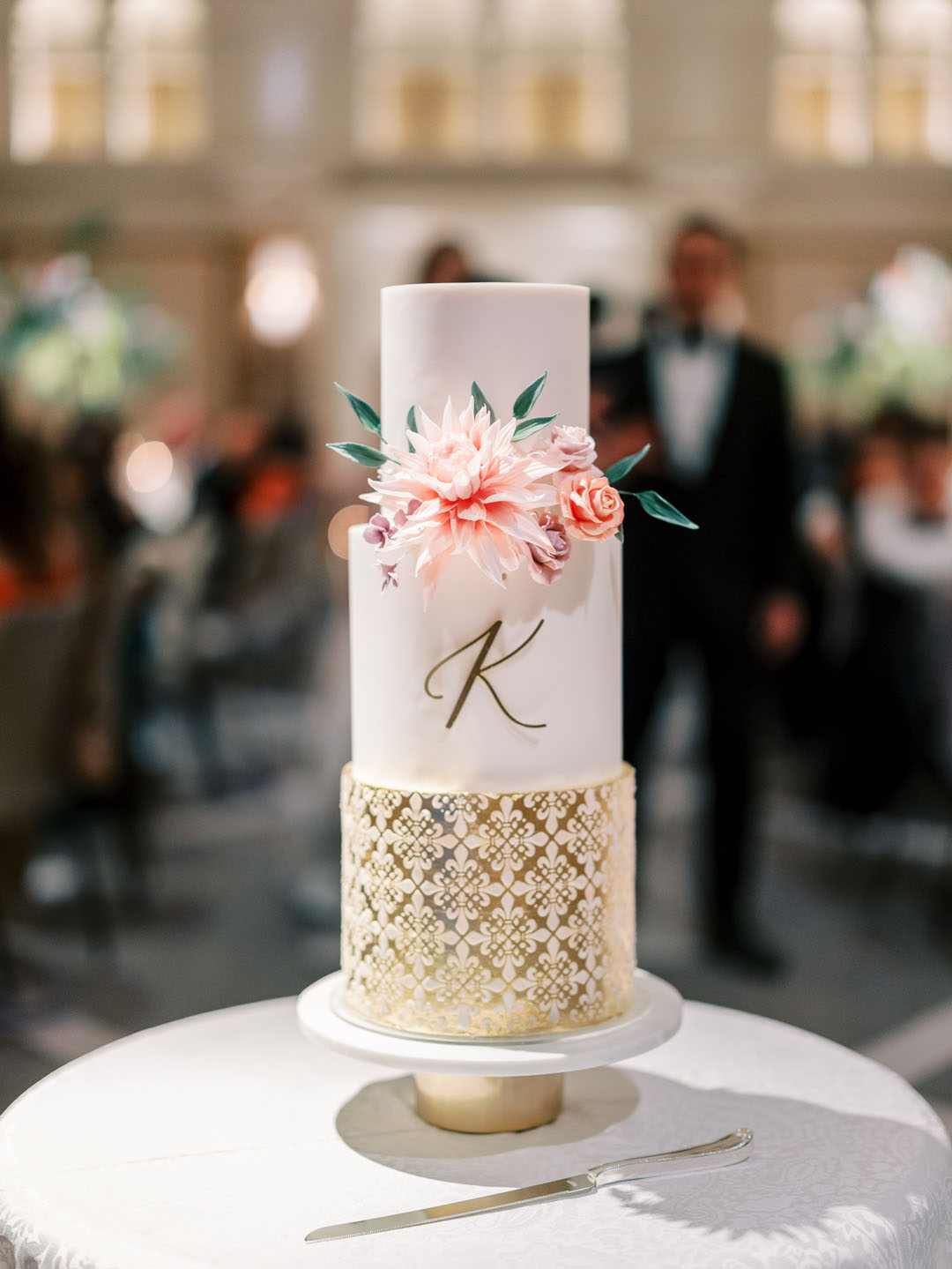 During the cocktail hour, the ballroom was transformed into a lavish space for dinner and dancing. The guests enjoyed drinks and canapés, as well as music from string quartet Chiqas.
"Chiqas entertained our guests during the cocktail hour with a classic take on contemporary music. Aaron Wedding Illustrator created live illustrations of our guests throughout the day for them to take as a memento to treasure from a very special London wedding."
As evening drew in, the guests took to the dance floor to party the night away with music from saxophonist and DJ Dan Goode.
"Our first dance was 'Besame Mucho' by Cesária Evora, honouring my grandparents who chose it for their first dance too."
Words of Wedded Wisdom
"Get a wedding planner and be prepared to make lots of decisions. If this doesn't fit into your budget, make sure you have a Day-Of co-ordinator.  There are many things to co-ordinate and troubleshoot behind the scenes on the day and you want to make sure you are not the one having to do that."
"This will allow you to be present and actually enjoy your wedding day!"
https://www.lovemydress.net/directory/supplier/kernwell-photography/
"Expect the unexpected despite perfect planning efforts because things out of your control involving all of your guests can happen on the day such as illness, emergencies, travel complications or just the waiter bringing you the wrong dessert."
"For us, planning a wedding was not just about the bride and groom but about bringing our two families together so we made every effort to make them feel a part of our process while honouring both families' traditions."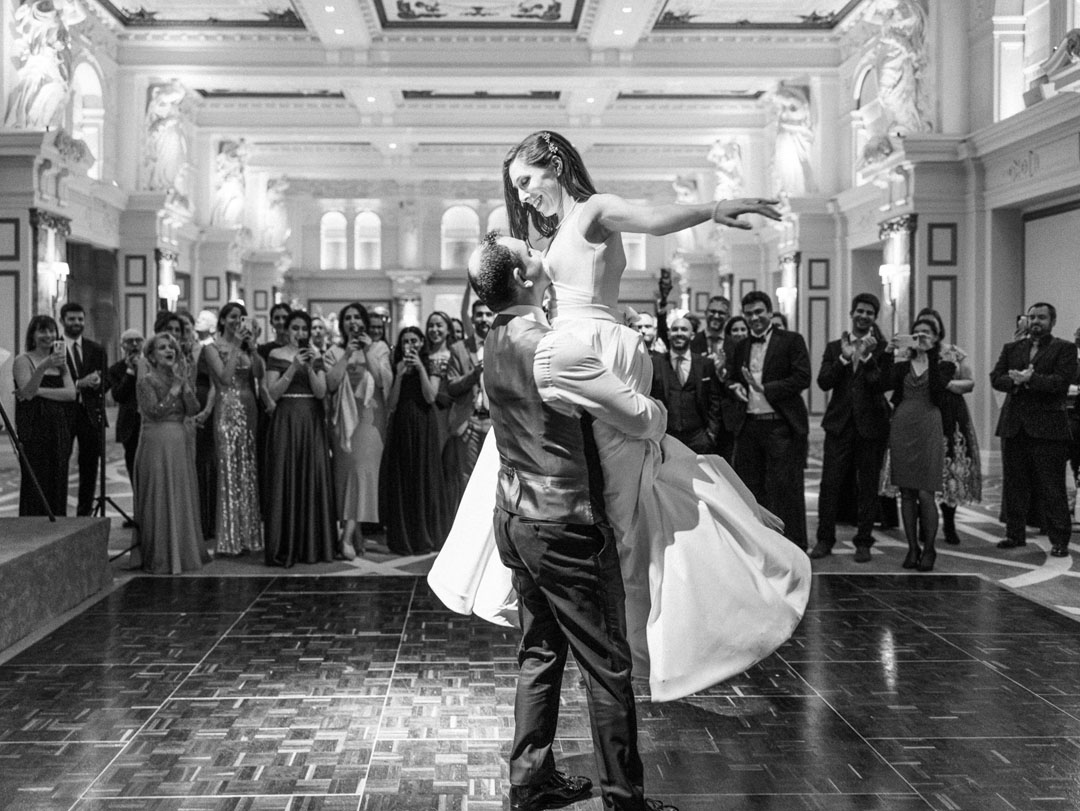 Kate and Koorosh, thank you to the both of you for sharing your beautiful wedding with us today. What an absolute joy to see how you wove all of the important cultures in your lives together to create a day that was totally you.
Thank you also, Monica at Dandelion Celebrations, for your words about the day and its styling and finally, thank you Kernwell Photography, for these impeccable images.
For more multicultural weddings, please enjoy this selection here.
Ele xx