We adore a non-traditional wedding dress here at Love My Dress, particularly when the bride opts for a Shimmering The Vampire's Wife number, courtesy of Liberty London.
Please meet Jennifer, who works in client services and Dean, a copywriter, whose wedding on 3 September 2021 was held at Islington Town Hall with a party reception afterwards at Dalston restaurant Jones & Sons. The couple wanted to combine the effortlessness of a 1960s Town Hall wedding with modern styling and touches of personality brought in through allusions to their favourite things. They also chose our recommended photographers Taylor-Hughes Photography to capture their day, and we don't think this talented duo could have done a better job.
"It was hard to pick between Liverpool (my home town) or London. As I started looking up more weddings and got more inspiration, London seemed to fit. It is also where life has taken us so we thought what better way to make our time in London than to have our wedding here."
Photography Taylor-Hughes Photography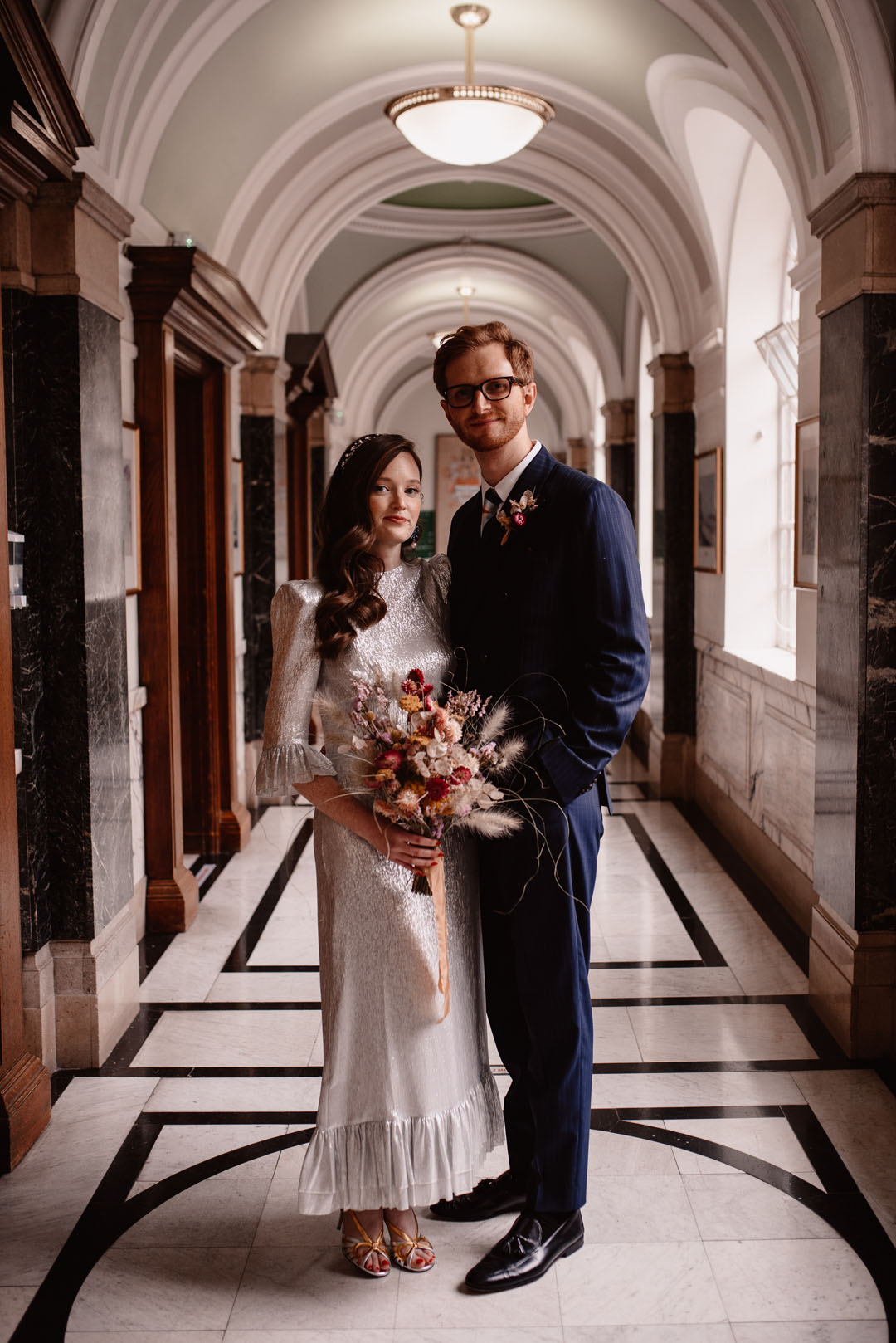 Jennifer had always wanted a non-traditional wedding gown, and selected this immaculate silk Silver Falconetti gown by The Vampire's Wife at Liberty London.
"A traditional bridal dress was never really on my radar. I wanted an outfit from a designer I love and would one day wear again."
"The Vampire's Wife is one of my all-time favourite brands. I often spotted my favourite fashion icons wearing it and longed for one of my very own."
"My dress was purchased from Liberty London on a very hot summer's day about a year before the wedding. I always had this specific brand and dress in mind and as I walked up the stairs, hanging up glistening in the sun was my dress. "
"It was in my size too – clearly a sign if ever I saw one. I went to the fitting room and tried it on: not only was it a perfect fit but I got a little teary as it just felt right."
"The assistant on the department could not have been more helpful.  He helped me FaceTime my mum for an extra opinion, got me some shoes and took a lot of photos for me; he even got me to do a little catwalk for full effect."
"Both the assistant and my mum were unanimous in the decision that this dress had to come home with me and so it was done."
"The Liberty team were so helpful, I wrote to their head office to thank them for being so wonderful. Dean got my engagement ring from Liberty too so I felt it somehow played a part in our wedding."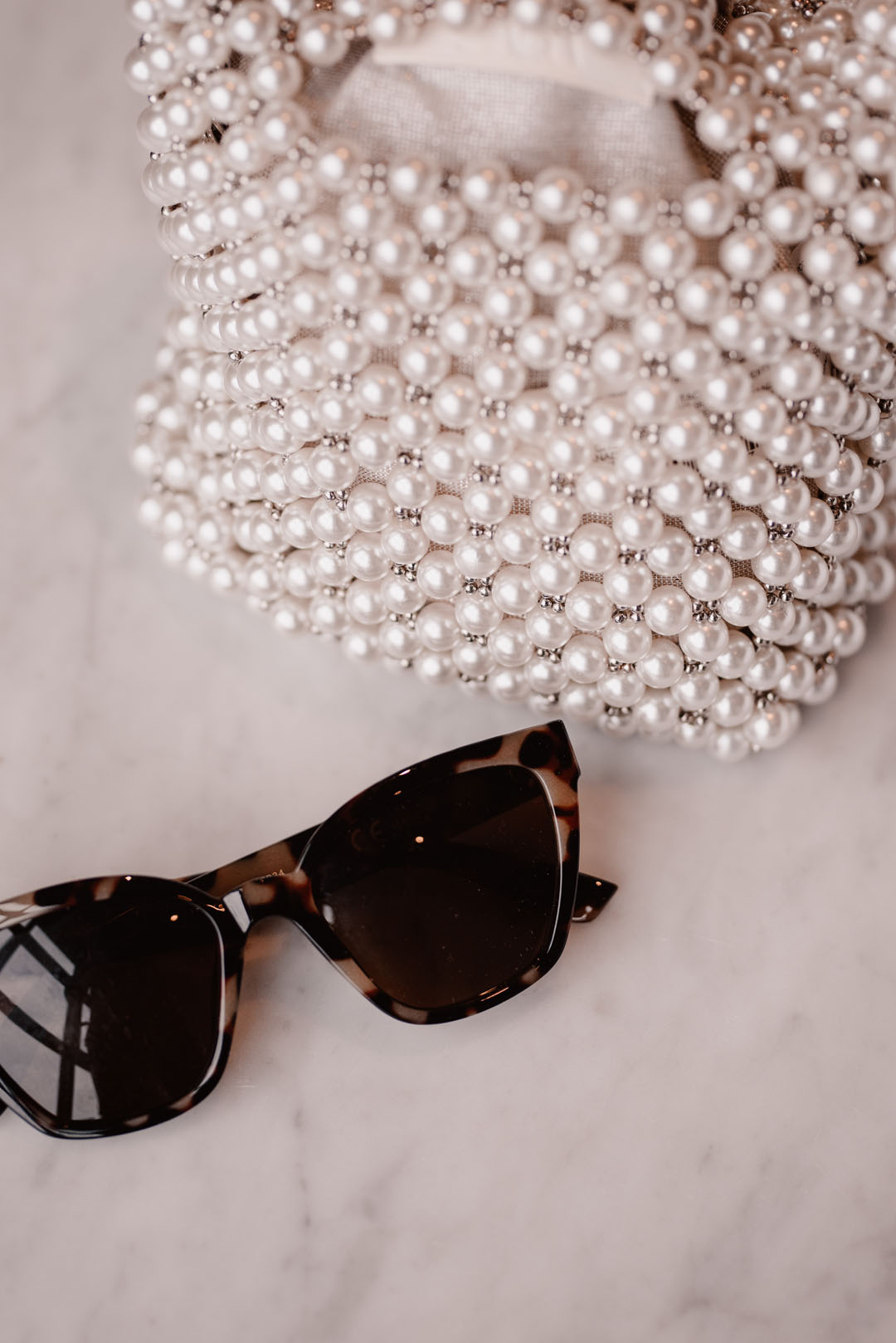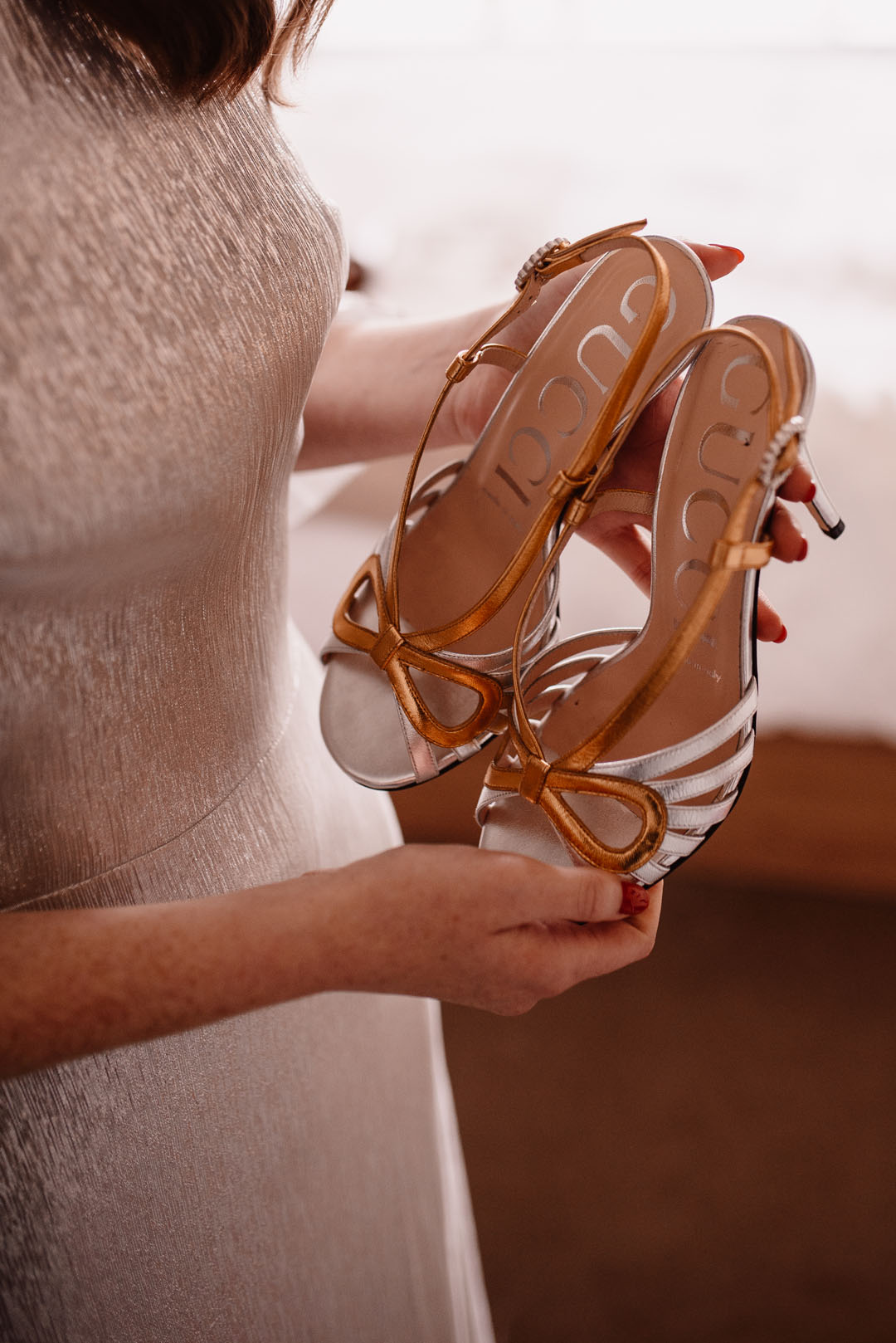 Jennifer's bridesmaids wore dresses in soft apricot from Whistles in a length to match her own ruffled gown, with H&M shoes. Each girl carried a bouquet of dried flowers and grasses, crafted by Nice Bunch.
"I came across Nice Bunch on Instagram and was a little obsessed with Sula's page as it was so stunning. I was overjoyed when Sula said she could make my arrangements."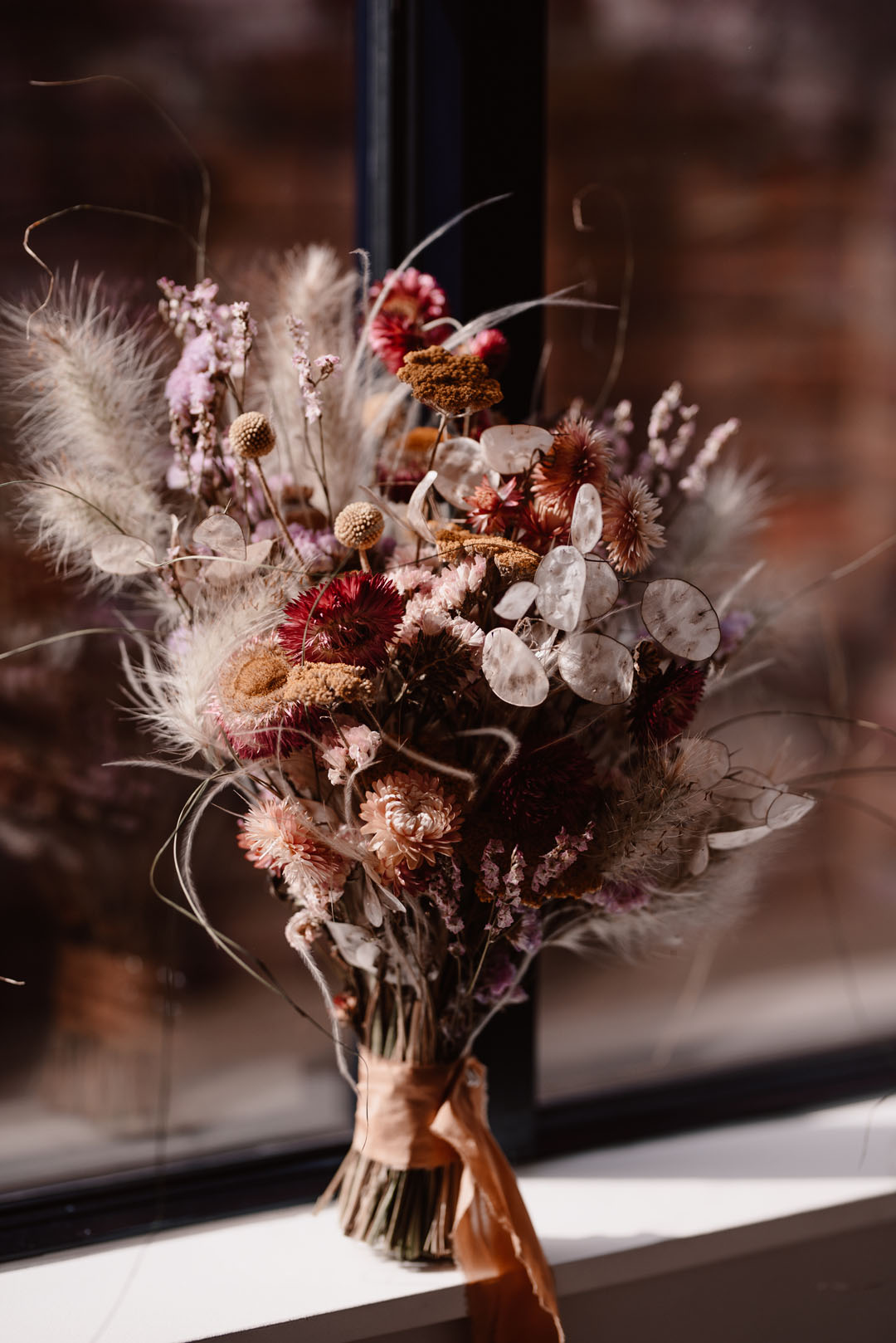 "She is super-talented. I provided her with the brief and within a week she had sent me sketches of the most beautiful dried flower bouquets for myself and my two bridesmaids."
"She even put together a full colour scheme which, by a bit of a serendipity, was the exact colour of Dean's tie and the groomsman's pocket squares."
https://www.lovemydress.net/directory/supplier/raven-ryegrass-west-sussex-wedding-florist-floral-design/
"My favourite colour is pink this was always going to feature heavily. The bridal and bridesmaids' bouquets where made up of hot pink and pale pink stawowers, yellow craspedia and poppy pods."
"These were coupled with dried grasses and feathers which added movement to our bouquets. My bouquet was small and the girls' were a smaller replica of mine – they sat so well together."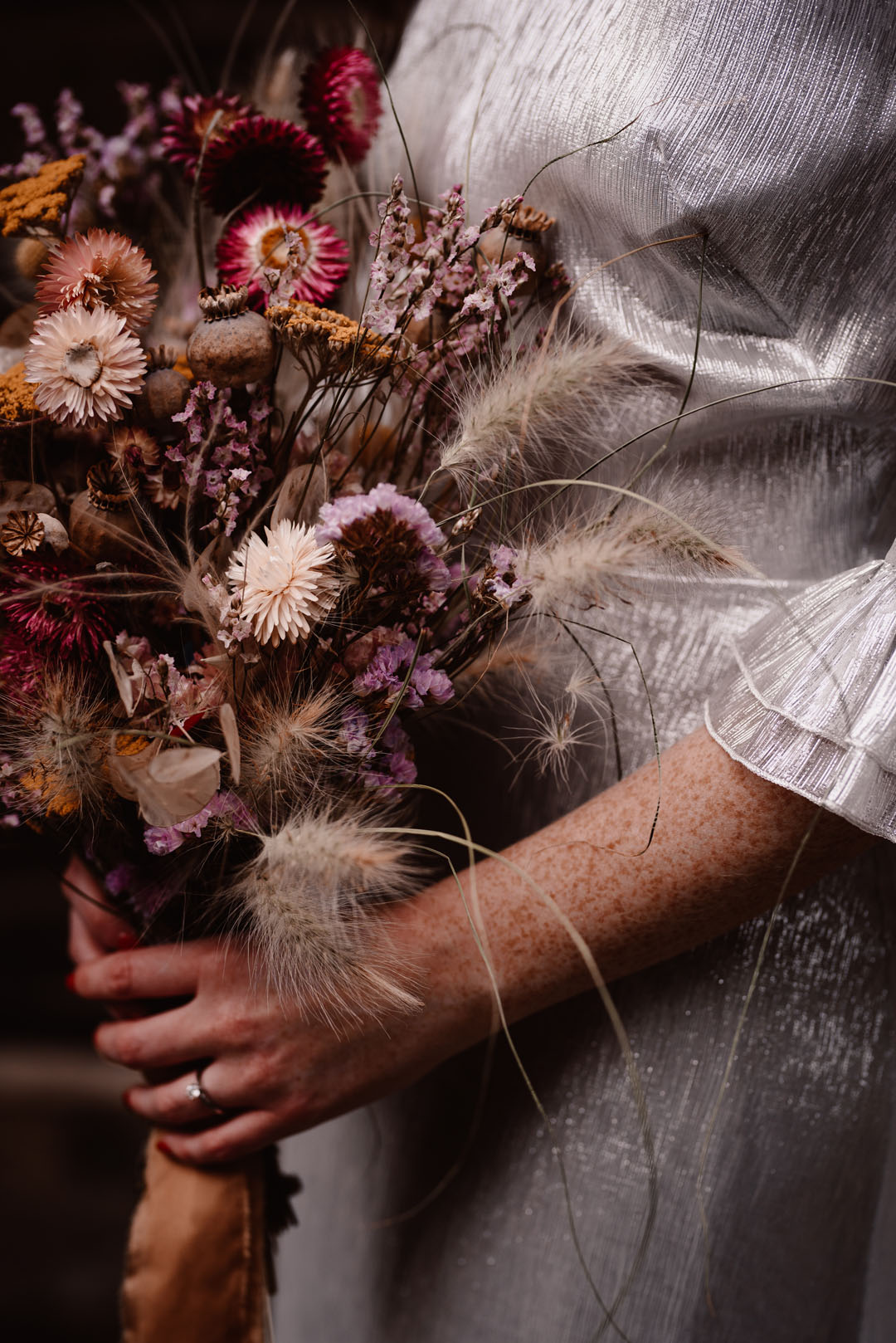 "The grasses also added so much movement to our photos when they were blown in the wind. As our wedding was low-key. I didn't want anything too big or overwhelming."
"When they arrived, I got a little teary as they were just so unique! My mum also had dried flowers for her wedding so I felt a little bit of a connection to my mum and dad's big day too."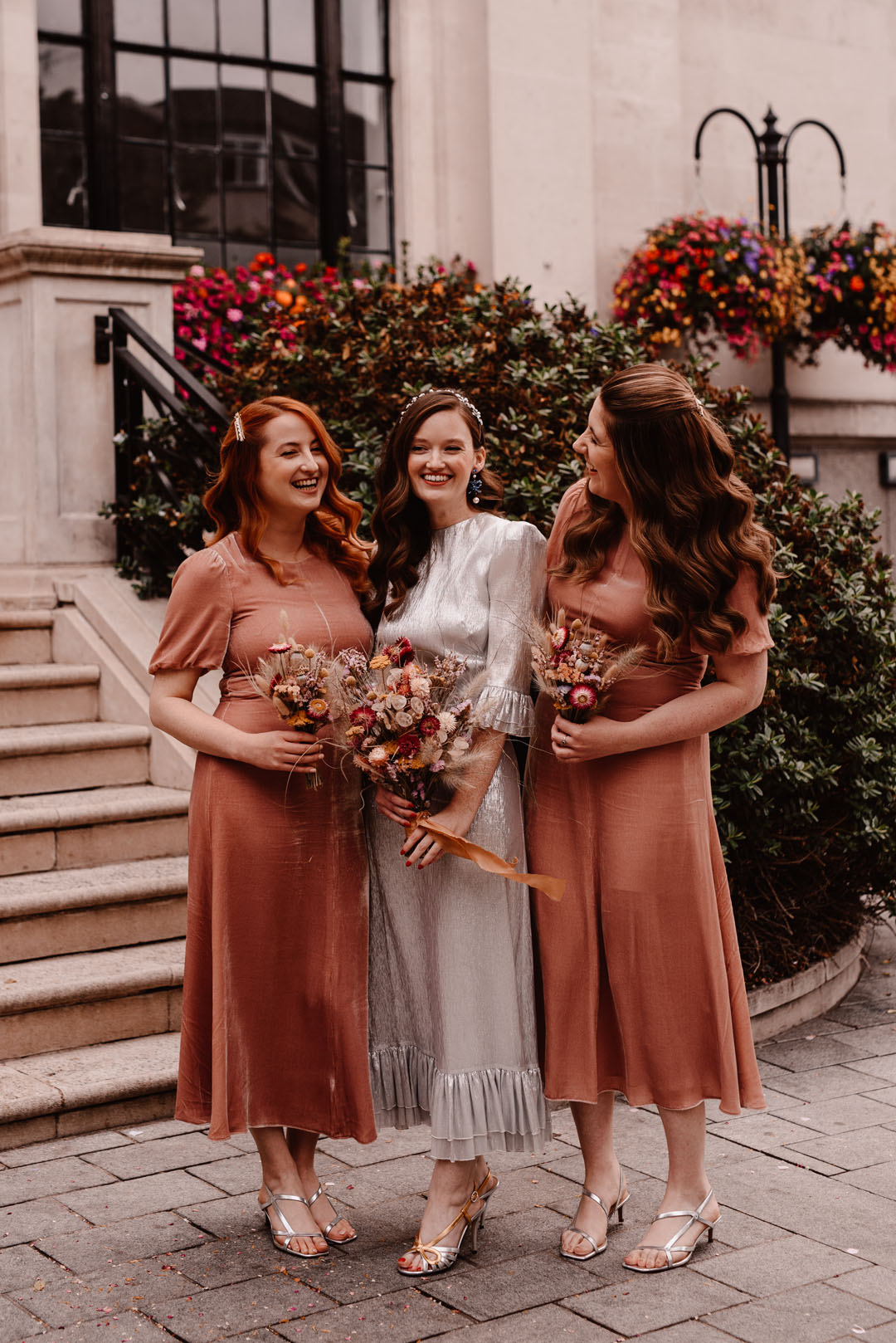 Melissa Raw Hair styled Jennifer's hair into glam waves, held back from her face with a delicate hairband. Jennifer's make-up was applied by Pipa Cross at Be You Weddings, a supplier she found on Love My Dress.
"Our lovely make-up artist Pippa was listed on a friend's wedding featured on Love My Dress and she was amazing."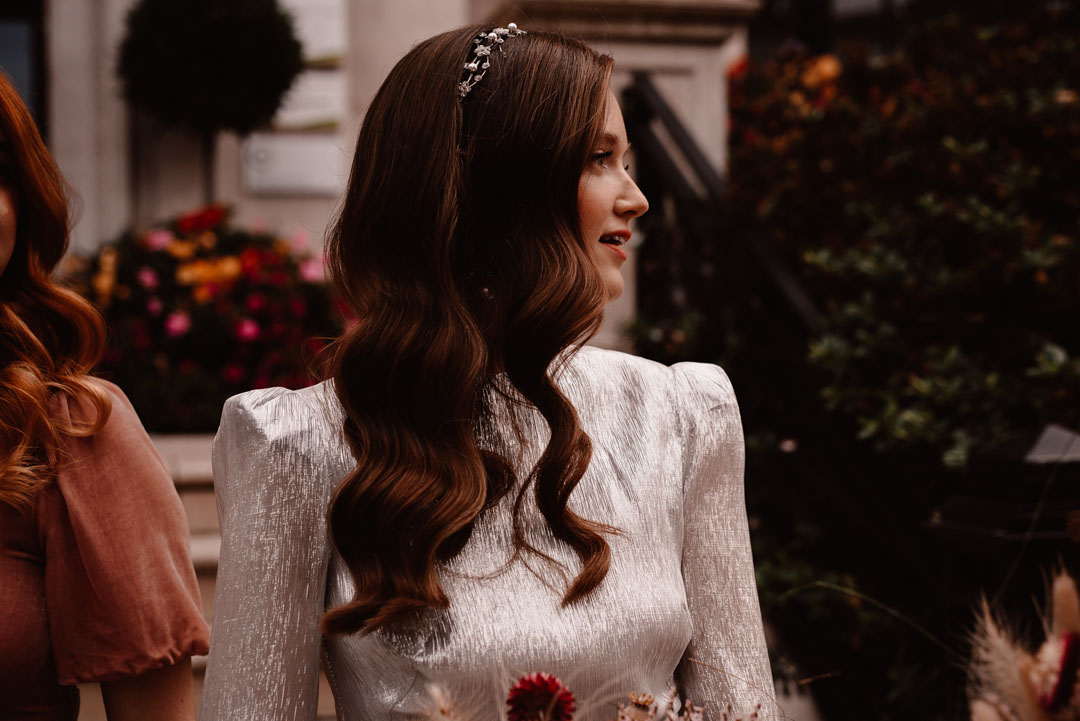 Dean wore a double-breasted navy suit from Paul Smith and striped tie and pocket square, also from Paul Smith.
Jennifer and Dean had a clear vision of what they wanted on the day so took on the planning and styling themselves, in which dried flowers played a starring role.
"Our aim was for the day to be a true representation of us. From the styling and music to the décor, our aim was to curate something unique. We took inspiration from a lot of our favourite places, such as Moth Club in London for their old-school discotheque vibe, the Everyman Cinema for their modern yet retro branding and even the TV show 'Killing Eve' for its sleek styling. As we both love fashion, the styling was always something we were going to spend a lot of time on. We didn't want anything to feel themed but more with subtle accents of our favourite areas and places."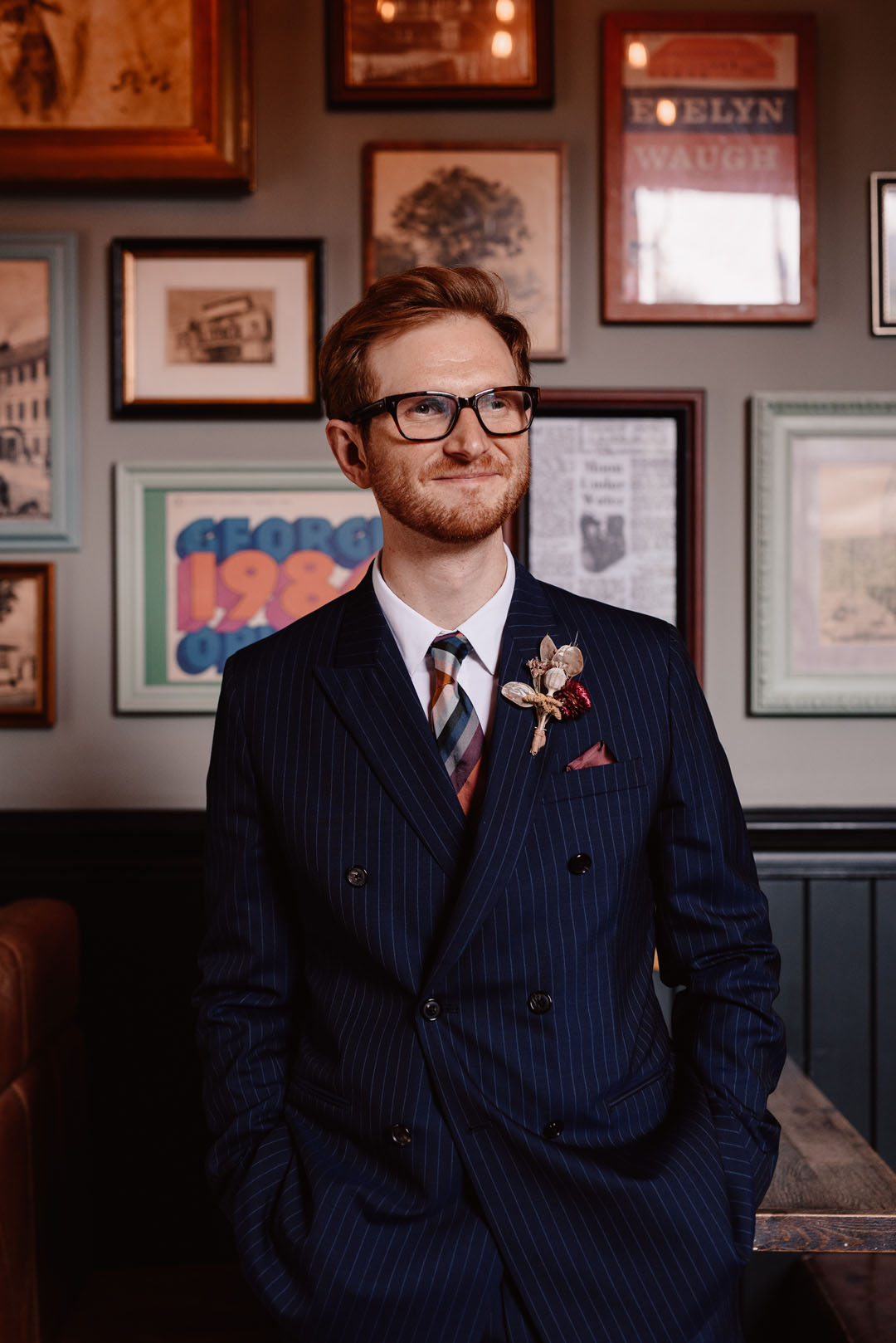 The couple were University sweethearts, having met one night in a Sheffield pub in Freshers Week.
"A chance encounter through a shared love of the Beatles and John Lennon brought our two groups of friends together and the rest is history, sort of. We were besties for the first two years with much speculation of a romance but made it 'Facebook official' in the last year of university, much to the delight of everyone. Our engagement was a low-key, understated affair and a total surprise."
"I had just returned from a work trip to Dublin and was ready for bed. I did attempt to cancel but Dean was insistent we must stick to the plan and meet in Mortimer House in Fitzrovia. Little did I know what he had planned for the evening. After some lovely food and drink, he popped the question. It was a very easy yes. We were engaged for just under 18 months before our wedding date which worked out very well – through sheer luck we did not need to change our date due to Covid."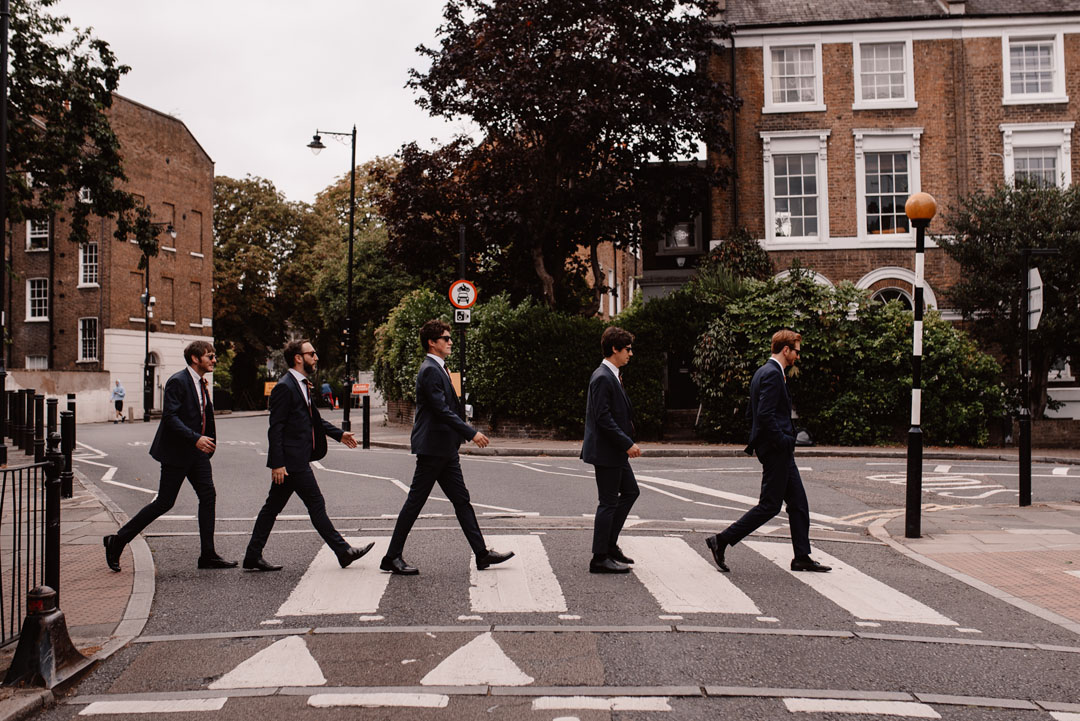 For the couple, music was so important to set the tone and atmosphere. Over to the bride to explain more about her choices.
"My aisle song was the instrumental version of the Beatles' 'Something'. It was always going to be a Beatles song – as I am from Liverpool it pretty much is a rule."
We had music throughout our ceremony and painstakingly handpicked a playlist for each section. Before my arrival, we set the mood with some of our favourite tracks and songs that meant something to us; 'Somewhere Over The Rainbow', 'On Days Like These' and some more Beatles."
"When signing the papers, we opted for the Arctic Monkeys version of 'Baby I Am Yours' which all our Sheffield Uni mates loved and we also picked 'Silly Love Songs' by Sir Paul McCartney."
"Our exit song was one of my favourites, 'Our Year' by the Zombies. It is a song we love and it kept cropping up over lockdown. Fate played a hand here and so glad we picked it."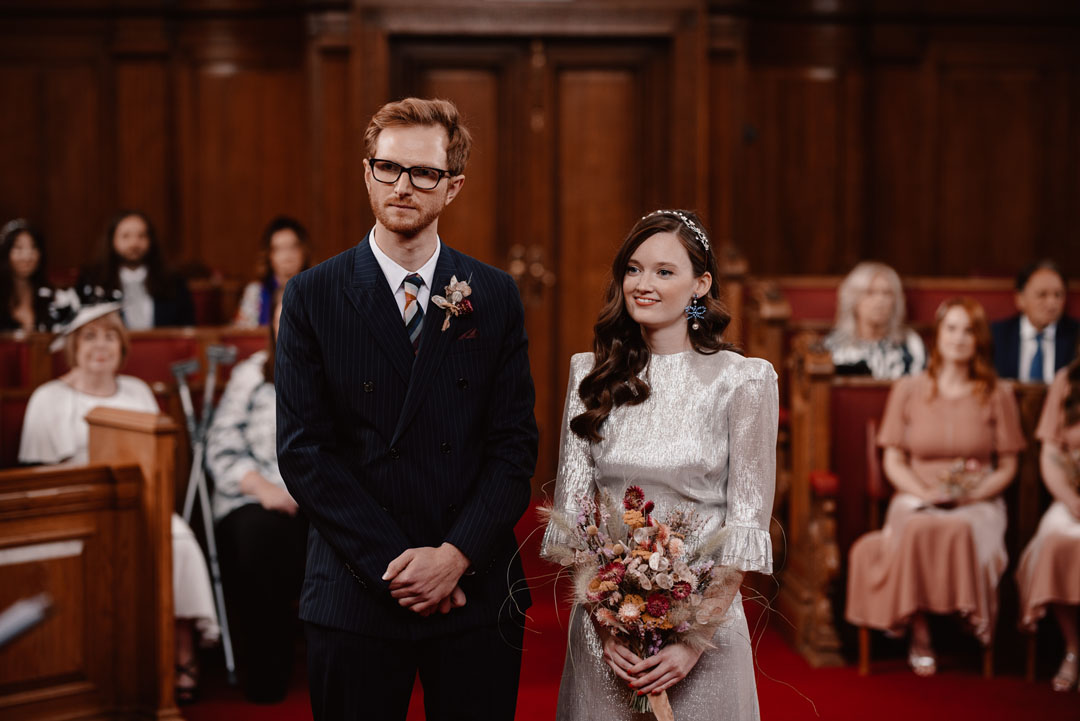 The bride walked down the aisle with her father to meet Dean.
"We kept our vows simple. The idea of writing vows sounds so lovely but I think for a Town Hall it can be a little be trickier to personalise other than readings and music so we kept the vows traditional."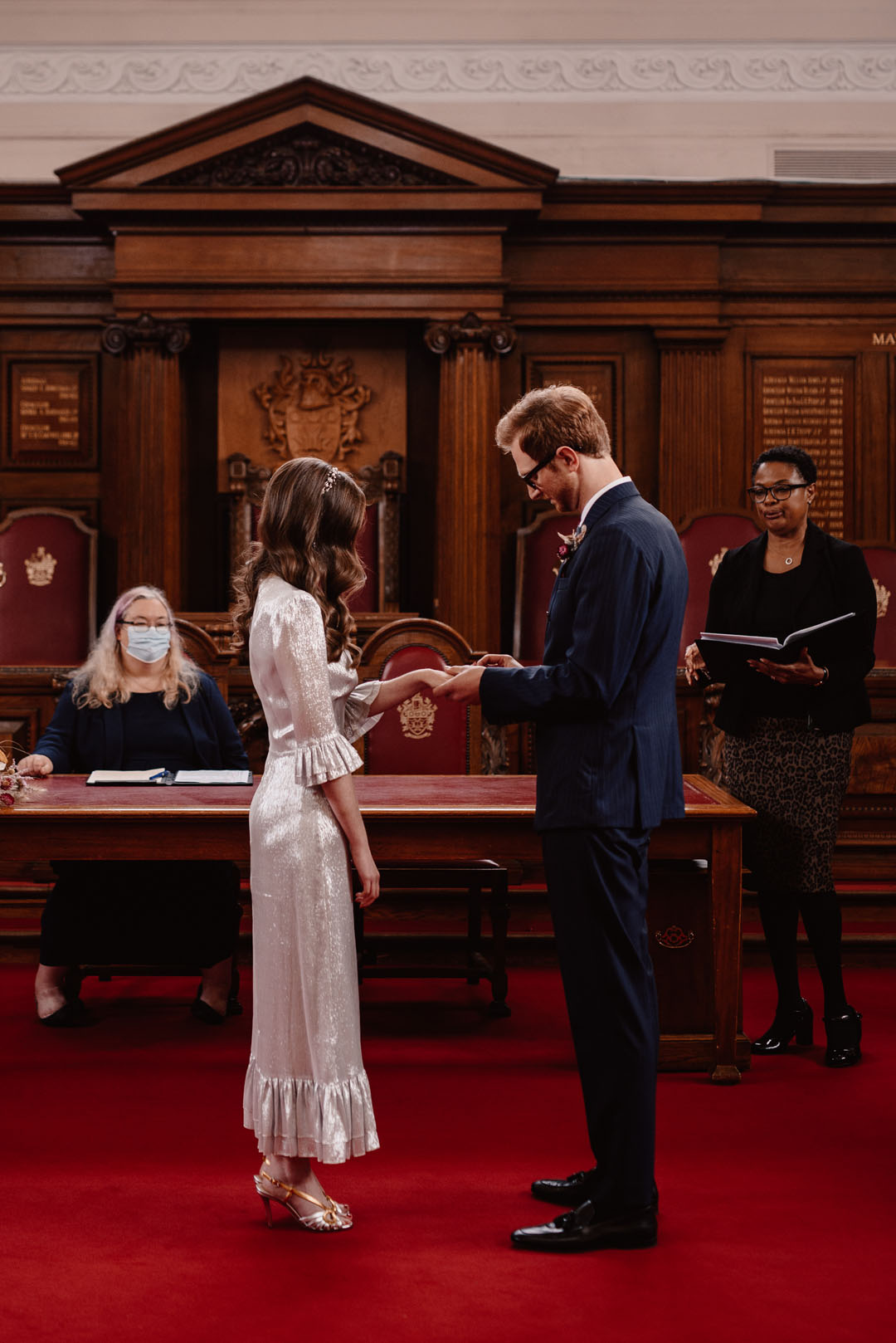 "We had two readings and they both worked really well for us. One of them is a popular extract from Dolly Alderton's book 'Everything I Know About Love' – we got this from Love My Dress."
"When we both read it, it felt like us. I can see how it appeals to couples of my generation as it was literally the story of us."
"The second reading was a song by David Bowie, 'Absolute Beginners'. The lyrics are so beautiful and we both agreed you can never go wrong with a bit of Bowie."
Dean's wedding band was made by a friend of the couple.
"She is starting her own jewellery brand and created a bespoke ring to his exact brief. He went for a gold, matte-finish, round band. Dean gave her a shout out in the speech and we loved that it was an extra-special piece."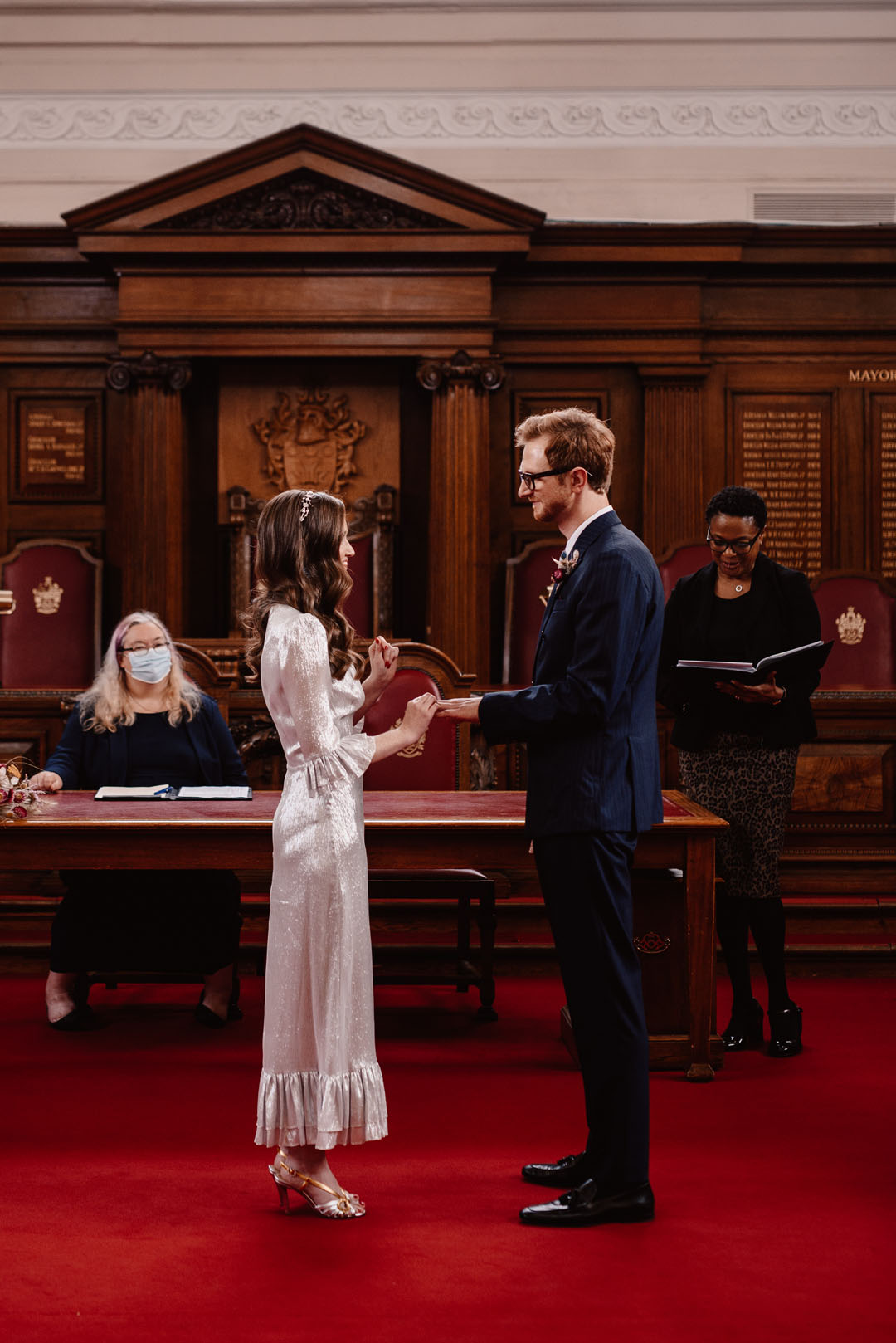 "I decided not to go for a wedding band. For our actual engagement, Dean got me a vintage Ruby from Annina Vogel in Liberty as a token; he knew I would want to pick my own."
"It took me ages to decide. I looked at so many styles but nothing seemed right as I have tiny fingers. We were in Liberty one day and came across their vintage Kojis concession."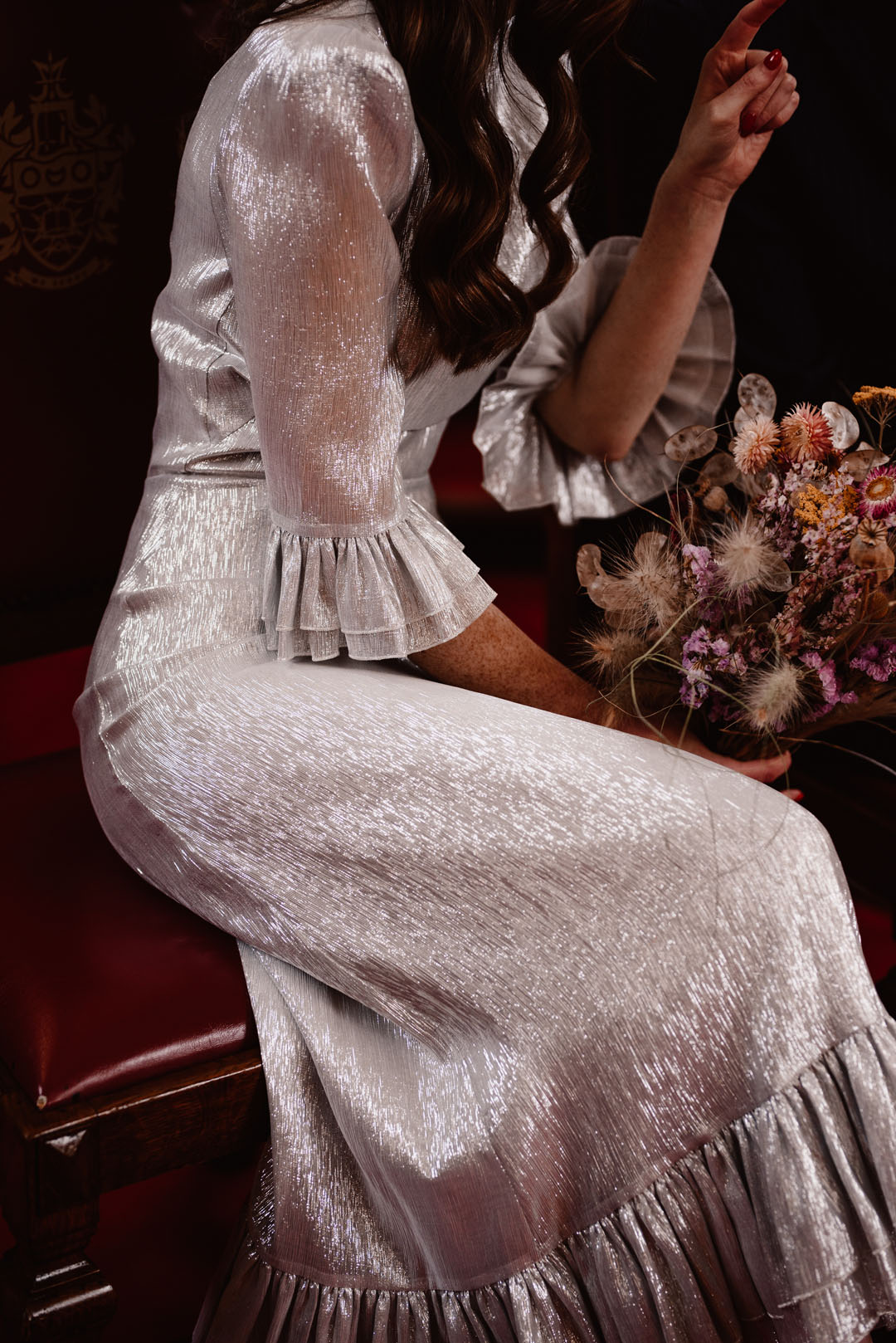 "There was a stunningly simple diamond and after trying it on, the decision was made. It was not what I was looking for but when I tried it was on it was perfect and only needed a little re-size. The new ring is what we exchanged on the day."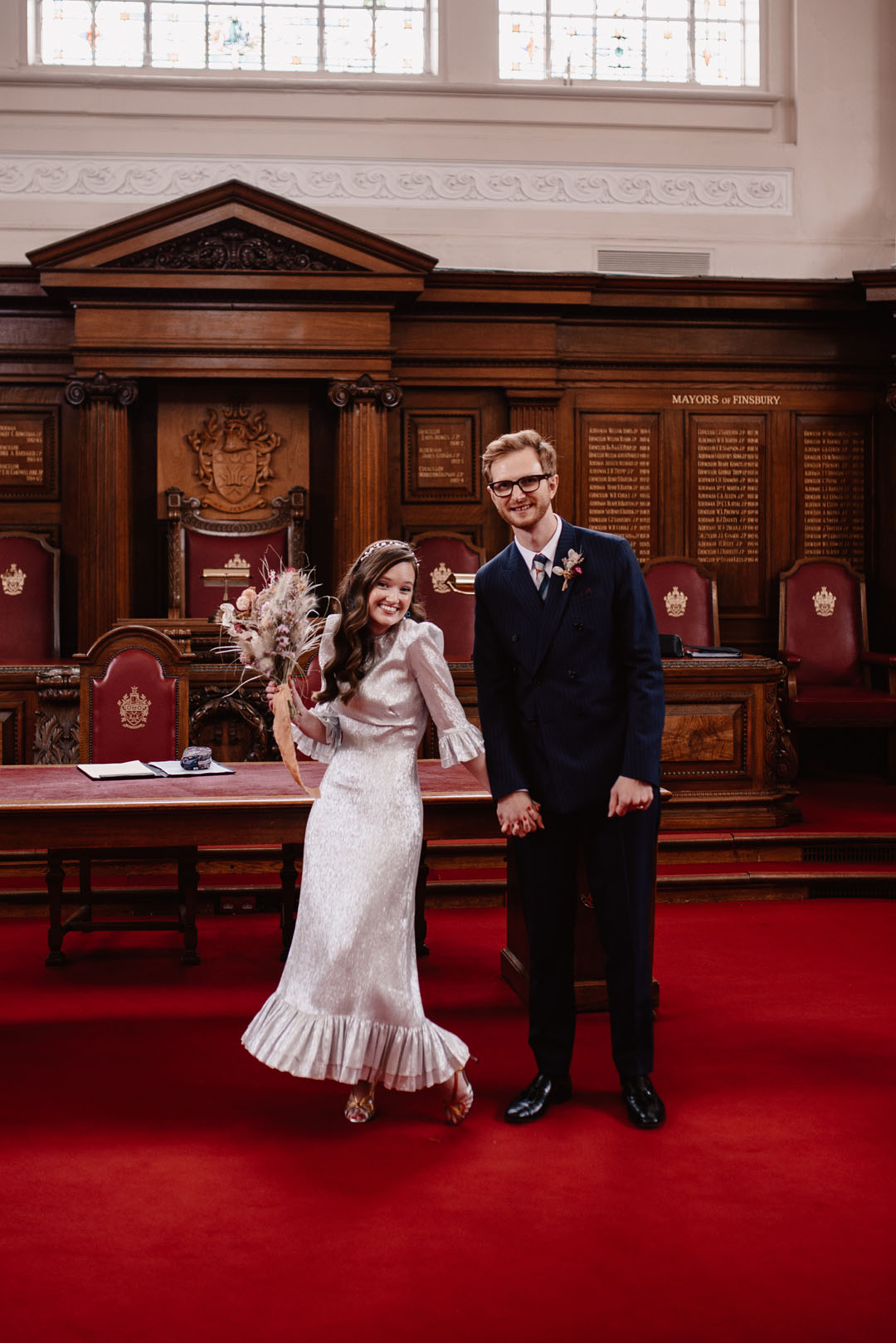 After the ceremony, the couple emerged into a shower of confetti before they and their guests piled into a vintage red London bus from Routemaster Hire to travel to Jones & Sons.
These emotive, joyful photographs are the work of Jack and Jade at Taylor-Hughes Photography, who we are immensely proud to recommend.
"I found Jack and Jade via their Instagram page and instantly loved them."
https://www.lovemydress.net/directory/supplier/taylor-hughes-photography/
"Their photography style is so authentic, modern and relaxed. When we met with them the first time they were so wonderful."
"We had a clear vision of what we wanted and Jack and Jade listened and really helped us achieve this."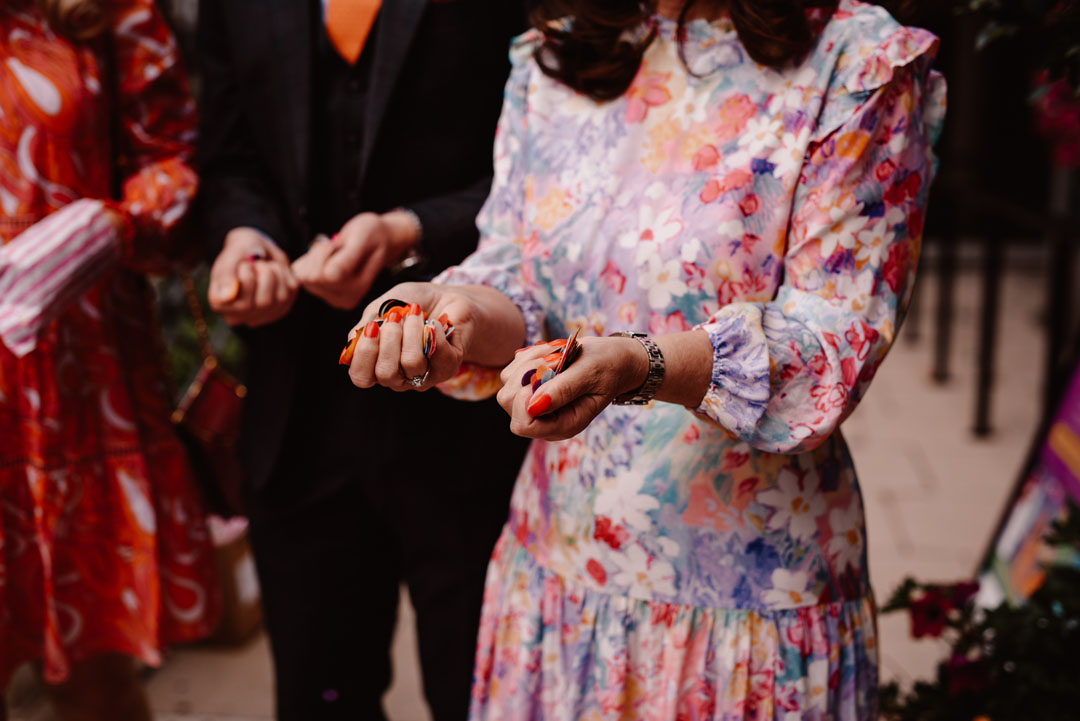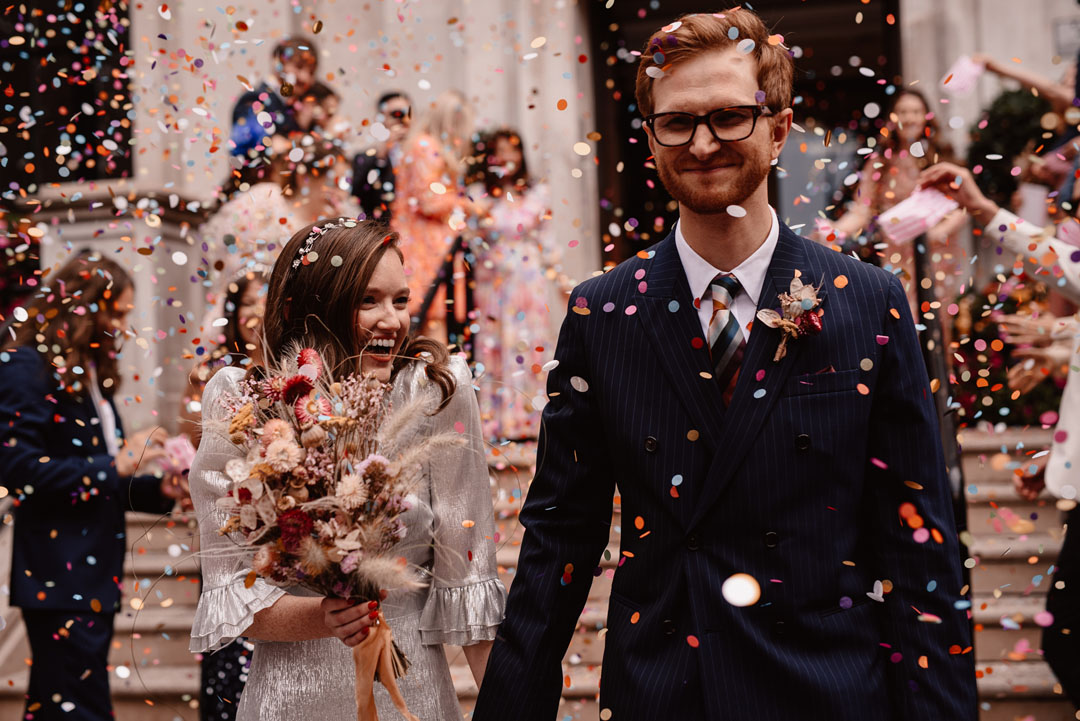 They also came up with a running order which was so valuable and had some amazing additional suggestions."
"I still can't thank them enough for their confetti cannon idea. This truly made our first dance the glittery, disco spectacle we were after."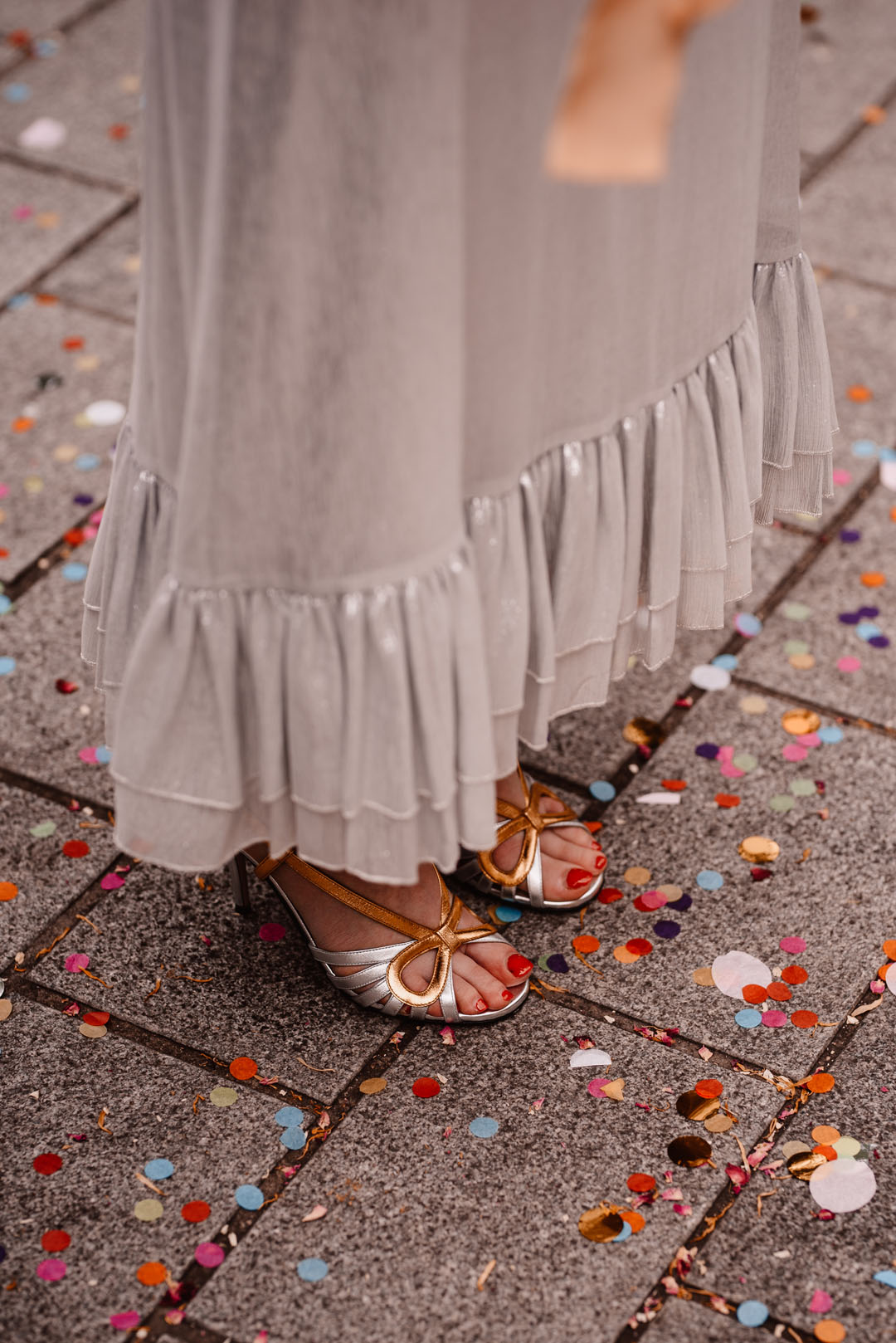 "They supported us throughout the process and work so well together – they are the perfect pair."
"Jade is so warm and welcoming and helps put everyone at ease and Jack quietly helped us find the exact spot for the perfect shot."
"They blended in so well. They were present enough that we knew they were capturing the atmosphere but were not a distraction."
"They were on a table with our university friends who were singing their praises long after the wedding."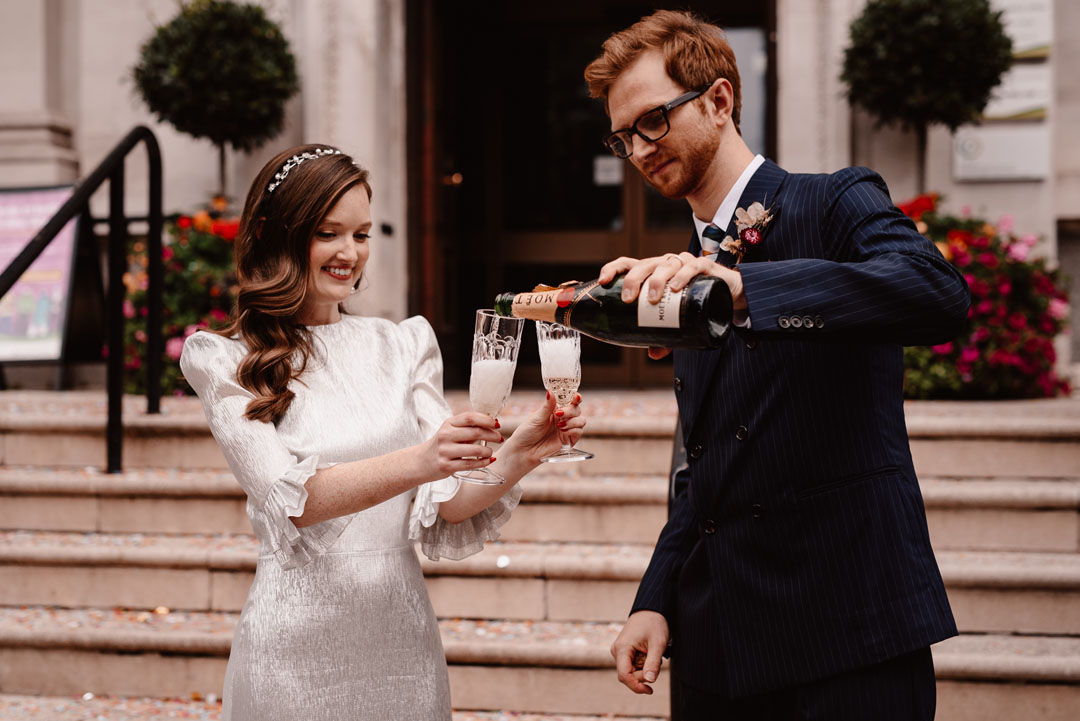 "When our photos arrived, they were exactly what we wanted and so much more."
"We can't thank them enough for capturing the atmosphere and joy of our day."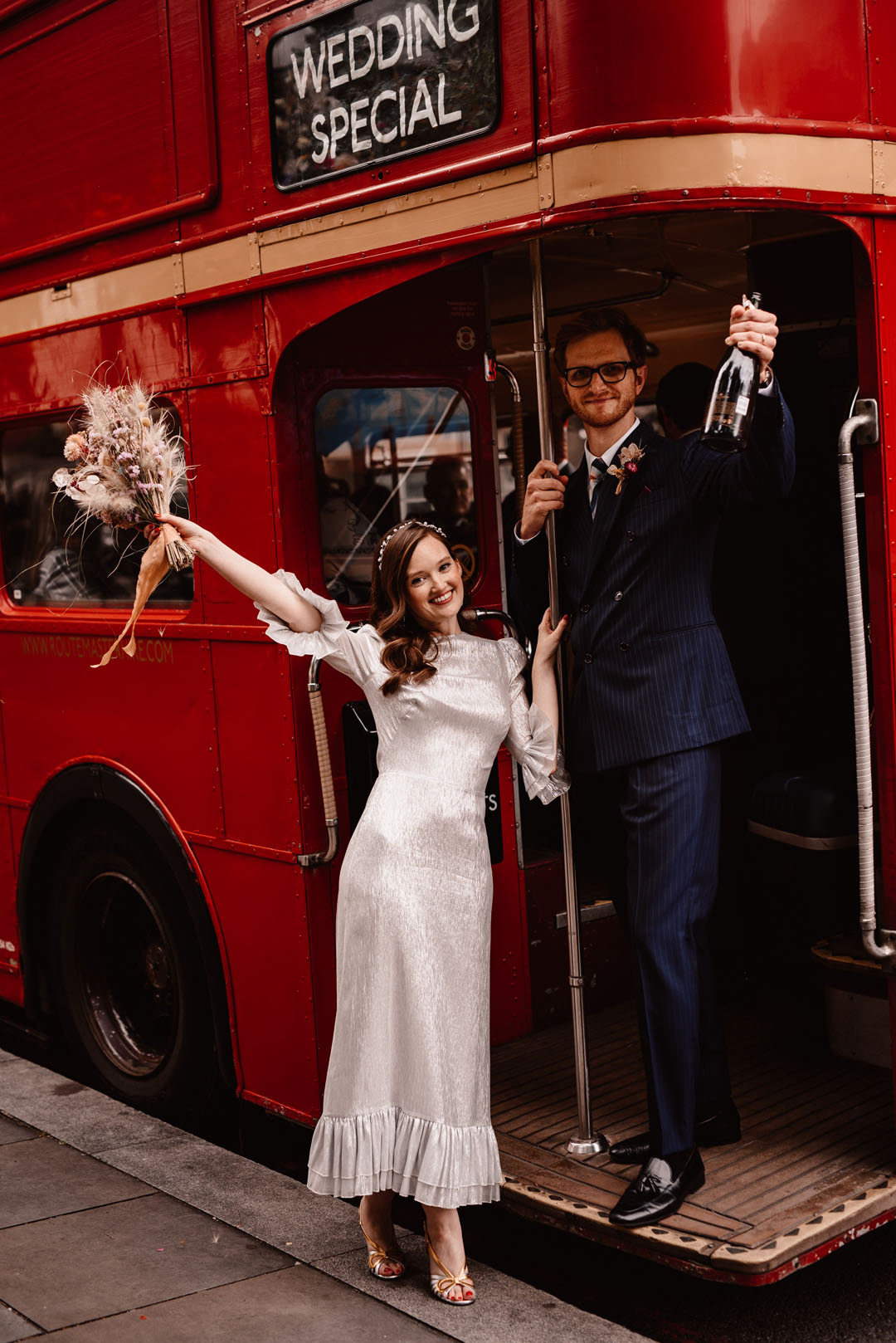 Before the reception began, the couple enjoyed some time alone to get some beautiful portrait shots.
"In one of the many lockdowns, the streets of Islington became our place. We used to walk around the Georgian streets, passing George Orwell's house and sitting in the hidden Victorian gardens in the sunshine."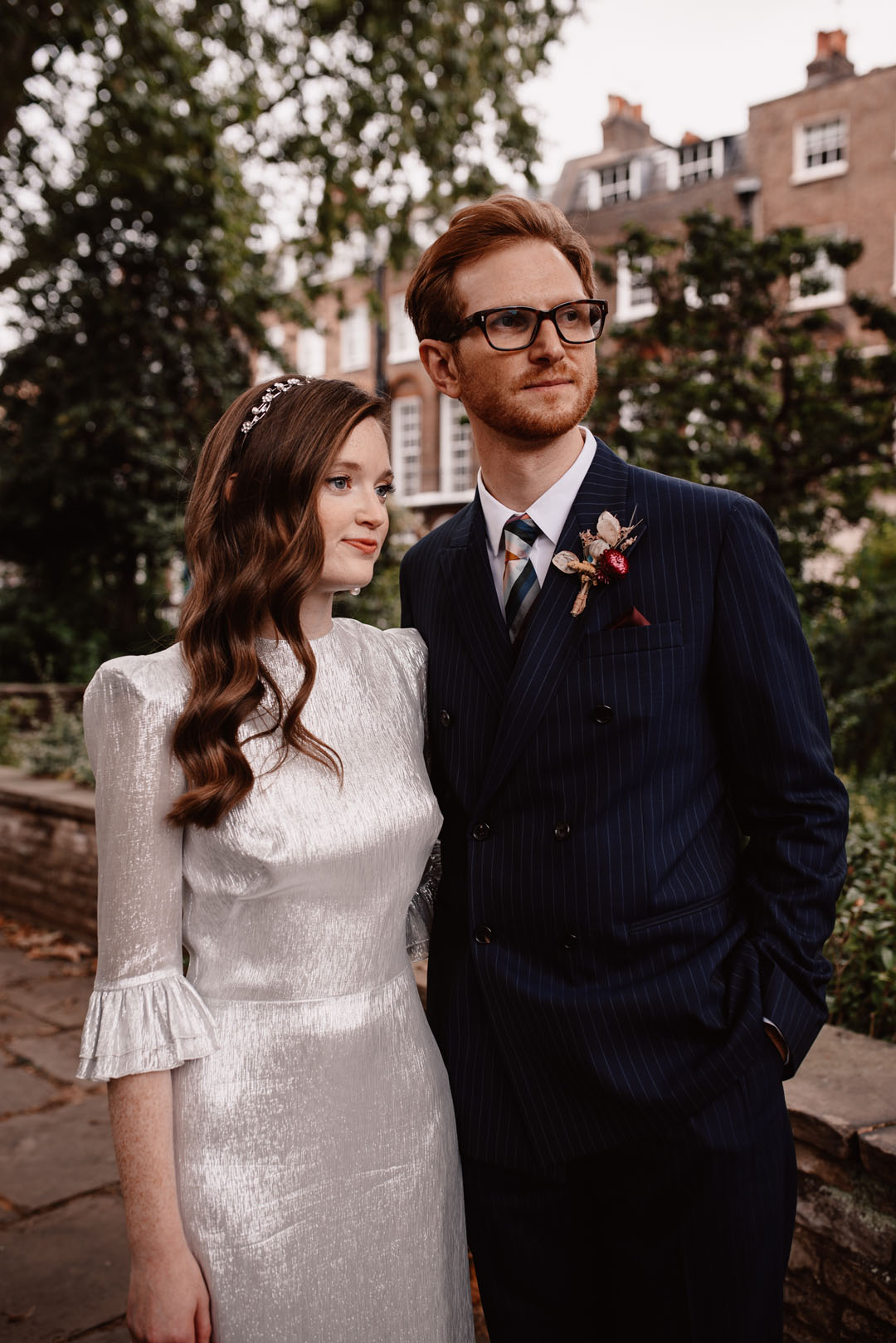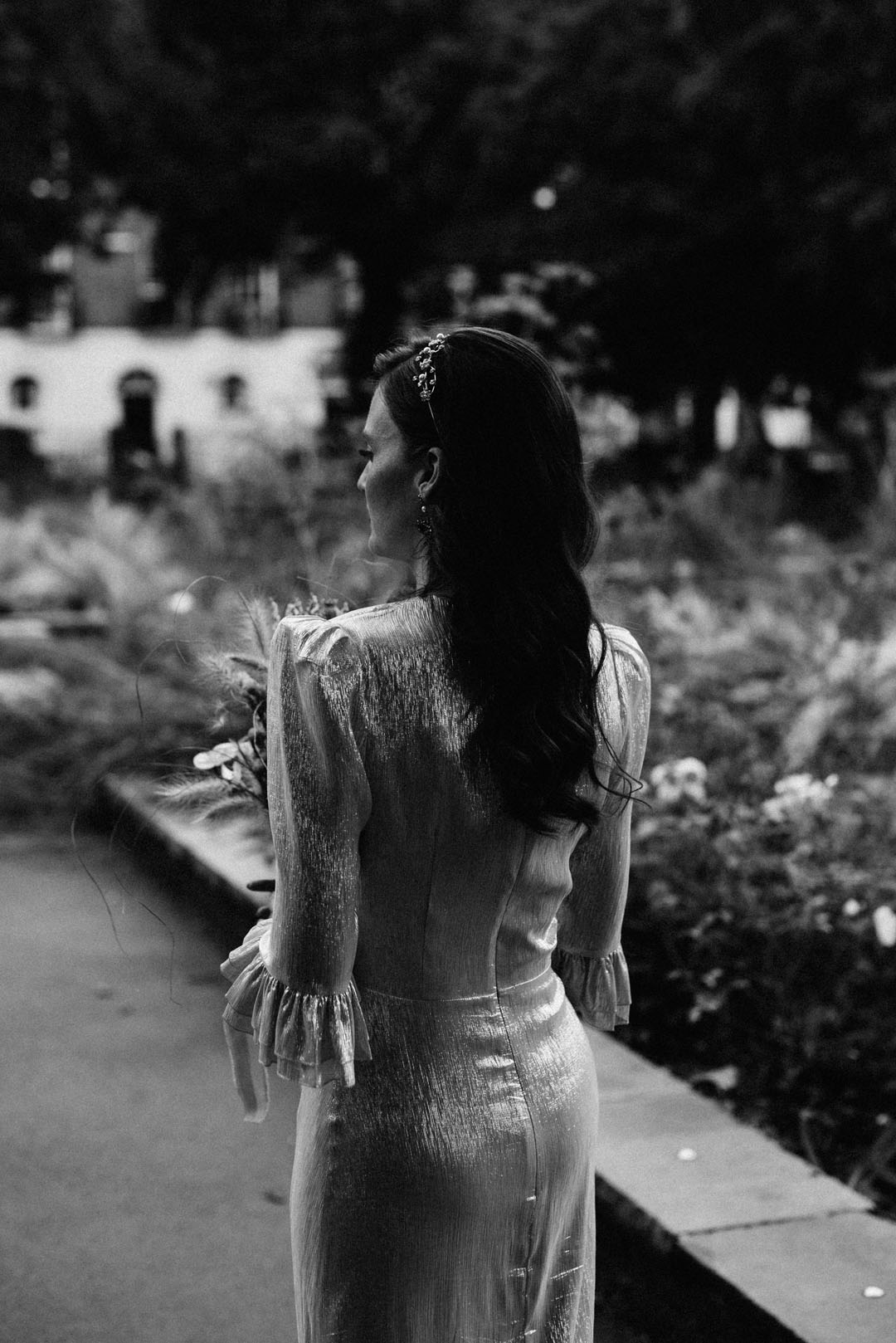 "Cannonbury Square, just behind the Town Hall, provided a stunning setting for our photoshoot with all its beautiful flowers and greenery."
"A wedding of our photographers that we really liked was featured on Love My Dress The street snaps and cityscape they captured provided us with some inspiration."
The couple put so much thought into transforming the airy, industrial space Jones & Son into a unique party space.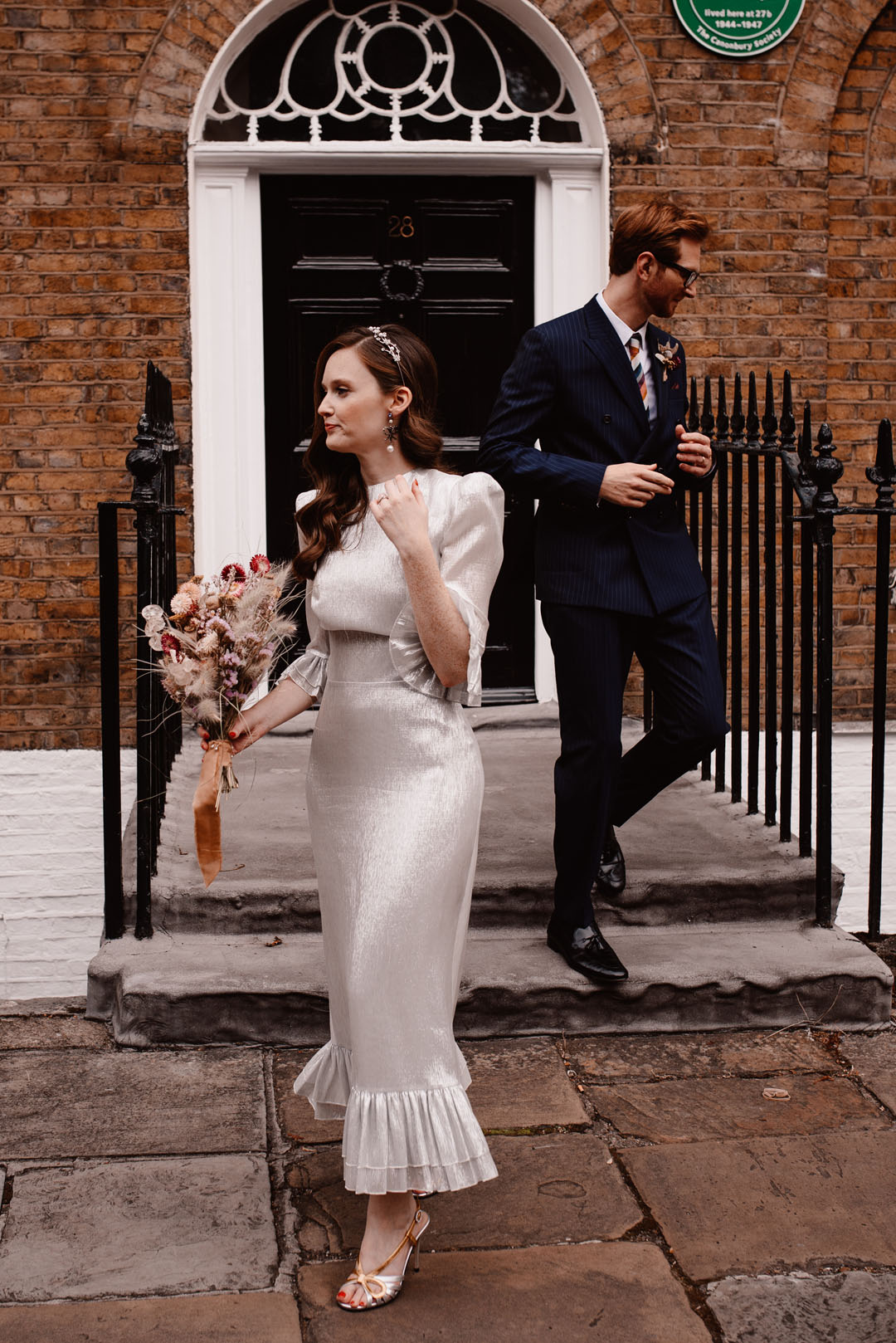 "I remember seeing a wedding at Jones & Sons on a photographer's blog and there was something about it that stuck with me."
"I arranged a viewing before even looking at the budget or telling Dean anything about it as I wanted to see his reaction. As soon as we walked in and saw the space we both said, 'this is the one!'."
"The stars really aligned. Not only was it something we could afford but they also had our date. Jones & Sons is predominately a restaurant that happens to do weddings so we knew the food was going to be good. Jones and Sons has an industrial warehouse-style mixed with mid-century furniture and an amazing courtyard covered in festoon lighting. It was the perfect party setting."
https://www.lovemydress.net/directory/wedding-venue/shoreditch-studios-london/
"The real selling point for us was the side room which we sign-posted as the disco room. Tara and the team at Jones & Sons were so amazingly flexible."
"They allowed us to decorate the day before, arrange our own evening food and helped with keeping us updated through Covid times."
"On the day itself, the team were so wonderful to all our friends and family and ensured the day went without a hitch."
"A special thank you to them for creating a killer cocktail menu and making Dean his one special request –  an 'Old Fashioned' upon arrival."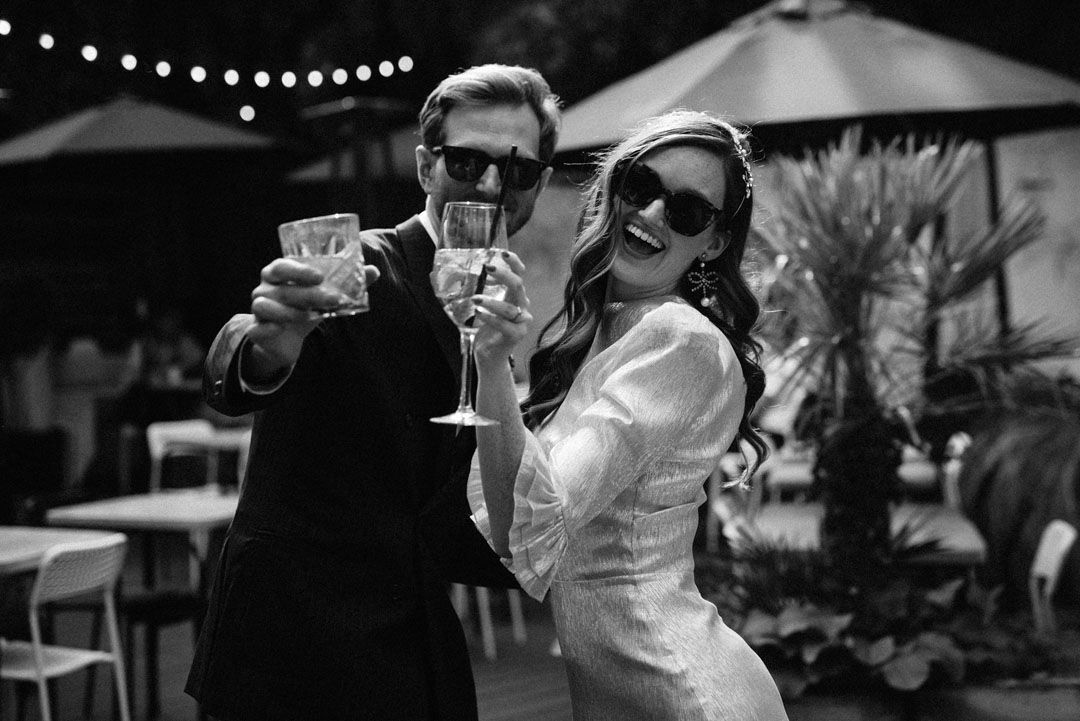 "Our 'Jen and Dean' branding was all the groom and our very talented friend Josh. a graphic designer. This was such an important detail for us as we spent a lot of time putting together our ideas."
"We had the stationery on the day match the save the dates and the invites so there was a coherent feel."
"For the table numbers, we picked black and white photos of iconic weddings from movies and real life: Elvis and Priscella; Serge Gainsbourg and Jane Birkin; and our very own Her Majesty The Queen and Prince Phillip for our top table."
"The place cards were people's names with quotes from our favourite love songs."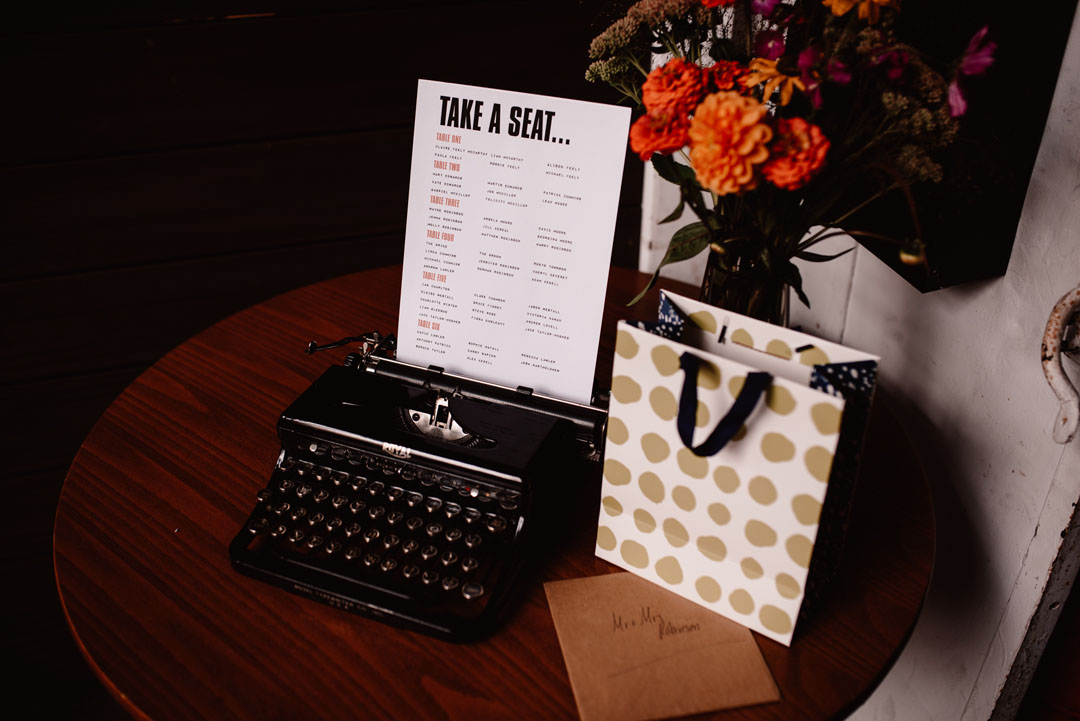 "For the venue flowers, we had DIY bucket flowers from Nice Bunch and the bridesmaids had a blast putting the vases together the day before."
"We opted for small vases filled with a few colourful stems; dahlias in a variety of colours and shapes with greenery helped add pops of colour which looked amazing against the backdrop of the industrial-style venue. Sula was also on hand to design a huge, dried flower display for the bar in the reception."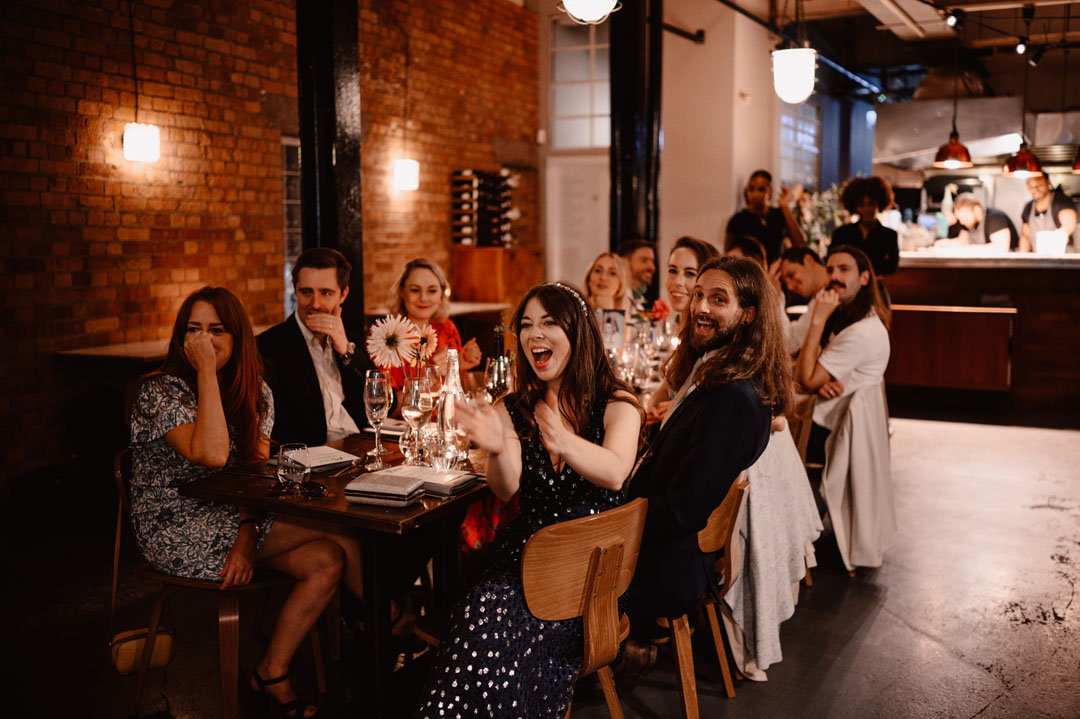 "It arrived in a lovely vintage vase and was featured on a lot of the photos in the venue. Sula grows all the flowers on their farm and dries them using chemical-free methods that are fully sustainable – which we thought so important."
"The best thing about dried flowers is we all still have them in vases. Mine currently sit on my dressing table and they are a reminder of our day."
"We both really enjoyed investing our time in the small details and it was this that people noticed on the day. My mum was so pleased that her place card had the lyrics of 'Islands In The Stream' (she's a huge Dolly Parton fan). We took inspiration from the branding of the Everyman Cinema. We love their understated retro and use of pastels."
"We gave our guests drinks tokens designed by the lovely groom. The ladies got a black and white Dolly Parton token to spend on any tipple they fancied and the chaps got Michael Caine tokens, Dean's ultimate icon."
With such a beautiful dining room, the couple did not need to add much other than flowers.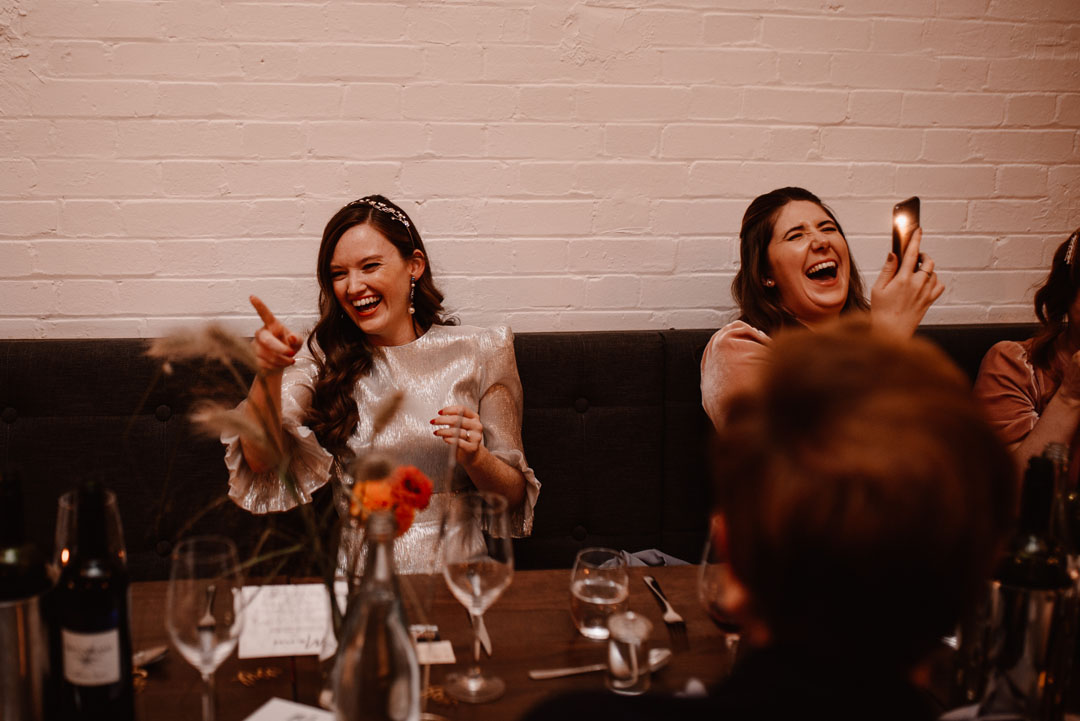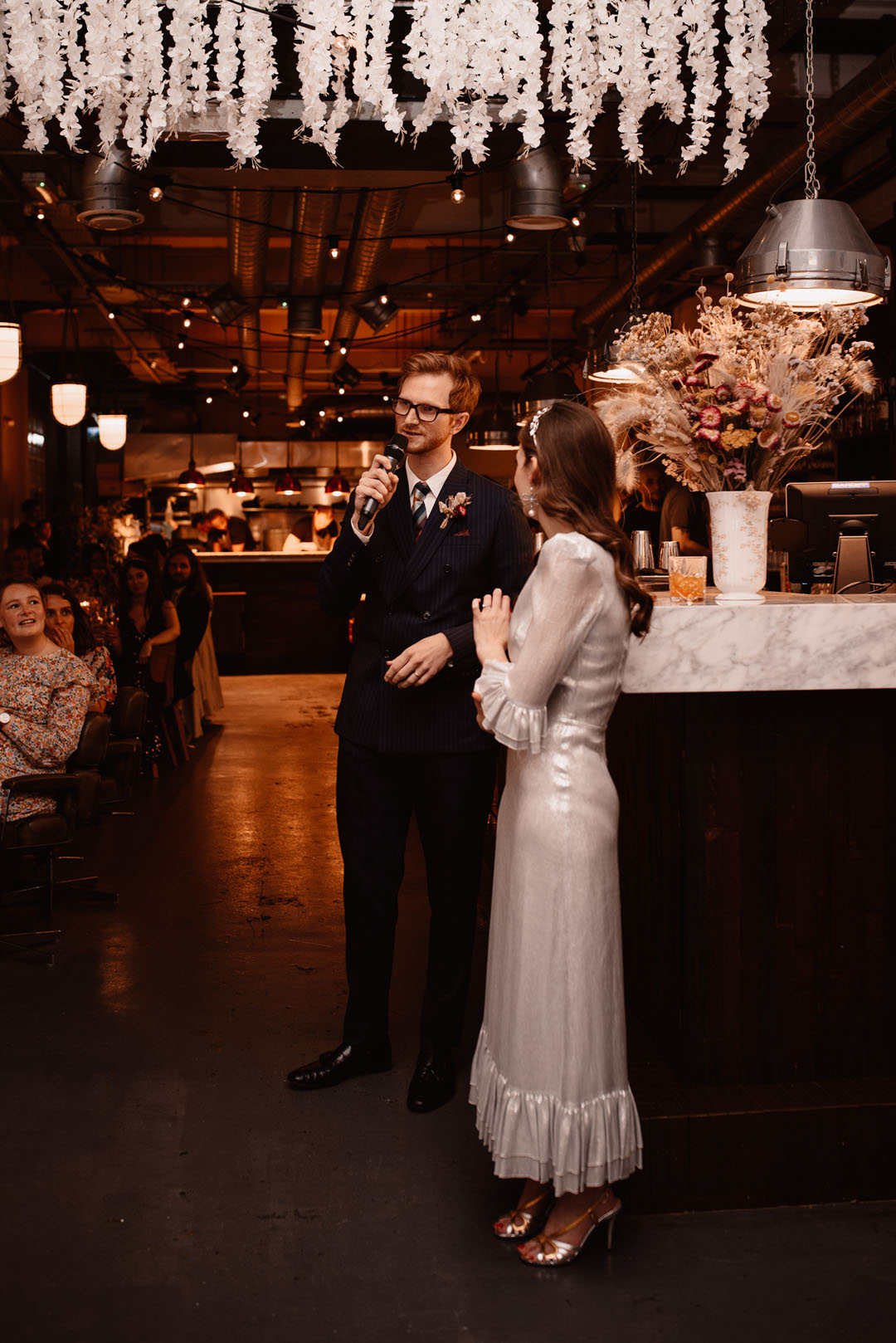 "We added some additional greenery to the celling vents which added a bit of colour and blended well with the industrial vibe. I also added some additional festoon lights which ran across all the tables."
"This gave us such golden light when everyone was delivering their speeches.
"Fusion Sound & Light provided the additional festoon lighting and our all-important disco ball – they were amazing."
Jones & Sons provided the wedding breakfast and the cake was a simple, single-tier affair from Luminary Bakery in Hackney, the couple's favourite bakery.
"It was a gorgeous Victoria sponge covered in mini meringues and strawberries – it fitted in well with our understated day. Rather than serving it on the evening, we saved it for the next day."
"I booked a pub for anyone still in town and it made us feel like the wedding weekend lasted that bit longer. As well as serving delicious cakes, Luminary Bakery is a social enterprise supporting women and their futures. They offer support and through baking, aim to build ambition and entrepreneurship. This is a really good option for people wanting to make ethical, sustainable choices with their vendors where they can."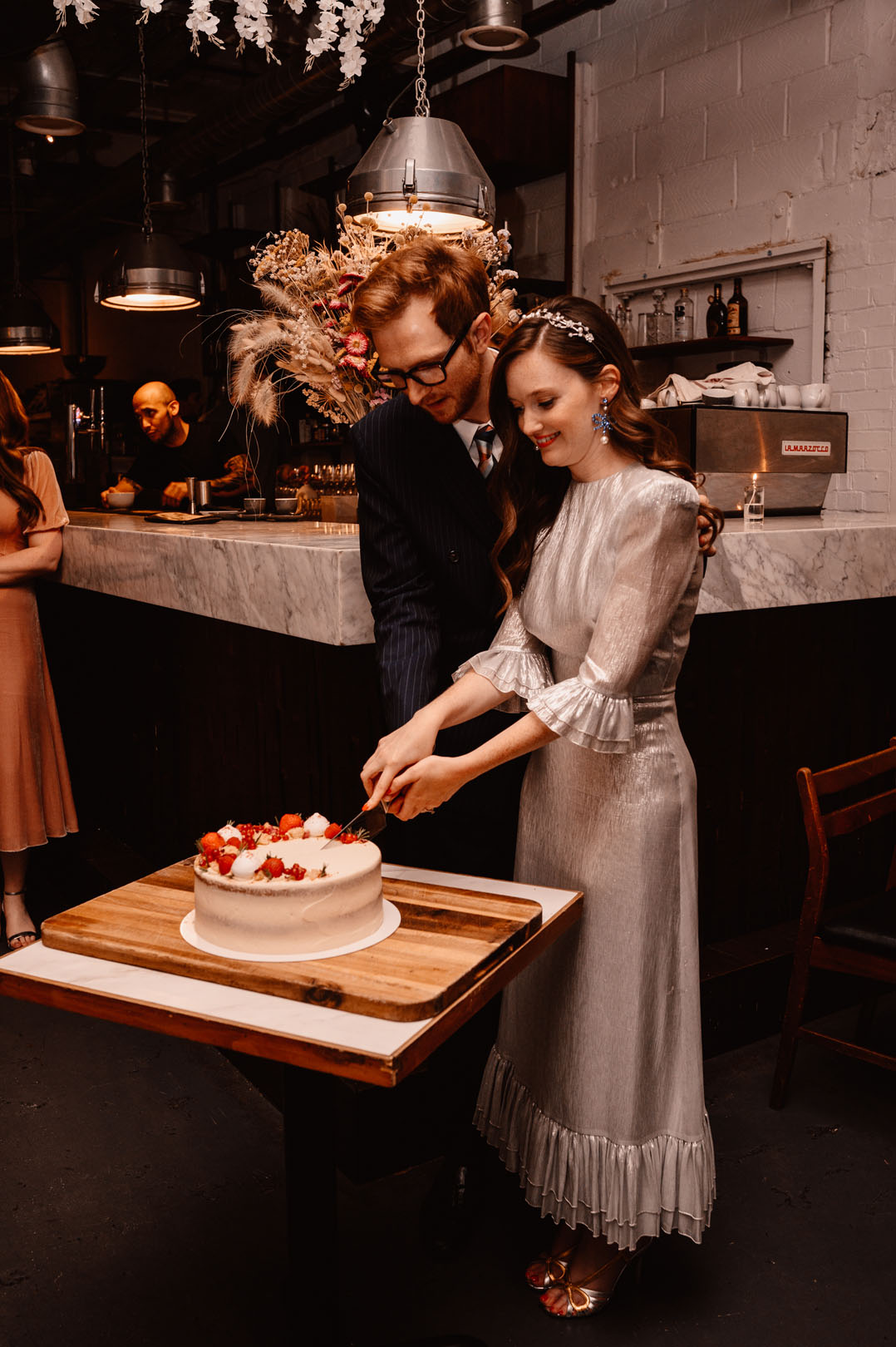 After the dinner, the venue was transformed into the ultimate disco space.
"We have family and friends who love to boogie and this was one thing we were going to go all out on. The venue's side room became the disco den. We had a DIY photo booth wall made of gold 1970s fringing and blow-up balloons. We ensured there was a very full prop basket with everything from cowboy hats and golden crowns to sparkly glasses. Around the bar, we had more silver tassels and created our very own DJ booth using gold fringe and a lot of sparkly tassels.  I think we were thinking 1960s- 1970s British Legion meets discotheque."
"The venue a had a projector which we used to display a video put together by Dean. Tis was a last-minute addition and made so much difference. It had flashing typography showing phrasing like 'Let's Dance', 'Dancing Shoes', 'Wye Aye' (Geordie groom) and 'Boss' (Scouse bride), mixed with snippets of Sophia Loren and the Beatles. It created a swinging 60's-type atmosphere for our evening and it went down a treat."
"This was all pulled together by a disco ball. When we were planning our wedding, we had five must haves and this number one on my list! It had stunning pin lights around the room and everyone loved it."
https://www.lovemydress.net/directory/supplier/wedding-smashers-london-wedding-djs/
The evening disco was played by DJ Dan Norris and the couple's first dance was to Richard Hawley's 'Tonight The Streets Are Ours'.
"We met in Sheffield so it seemed fitting we picked one of Sheffield's finest exports for our first dance. The lyrics are so lovely and it was upbeat enough for us to enjoy some spins on the dance floor."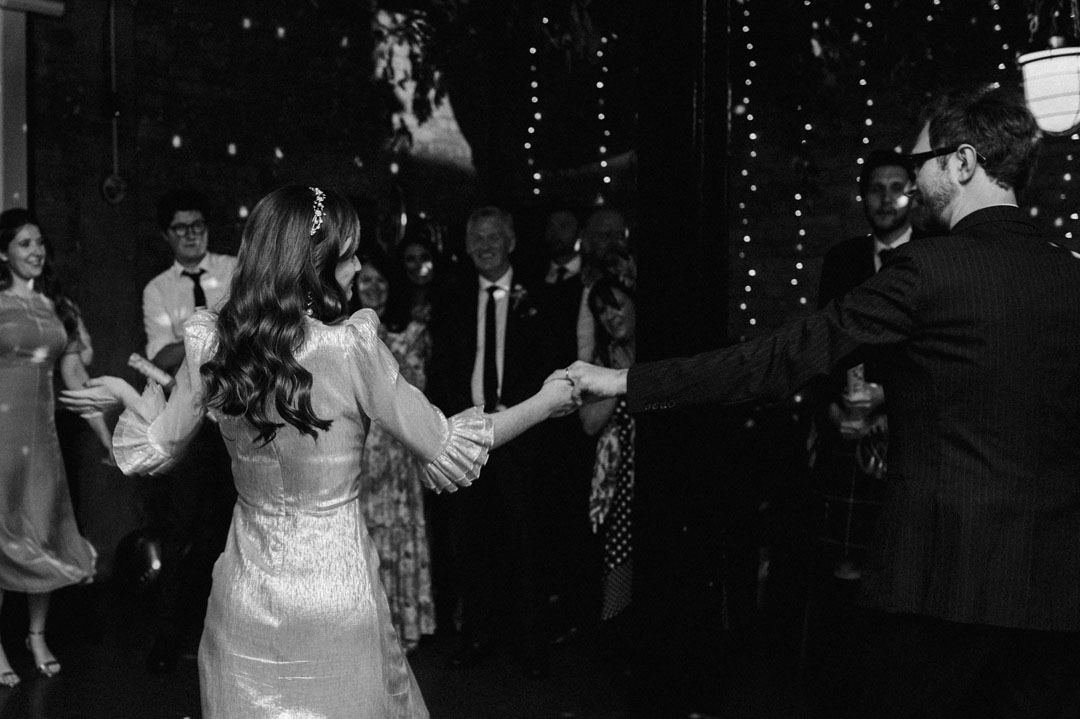 "The first dance was always going to be one of our key moments and Jack and Jade suggested we use confetti cannons. Oh my goodness, did they add some drama! "
"The bridesmaids were on chief cannon duty and they nailed it – we were covered in a glittery crescendo."
"Our DJ was under strict instructions to play 'Let's Dance' directly after the first dance. It set the mood and the dance floor was full to the brim from here until home-time."
"The disco playlist was one of my most important jobs and we had eight hours of hand-picked bangers to ensure there was never a dull moment."
The bride has so many favourite moments to share from her and Dean's day.
"It sounds cliché but I truly had the best day. I remember smiling so much. I loved watching all my friends and family from different parts of our life coming together and having the best time."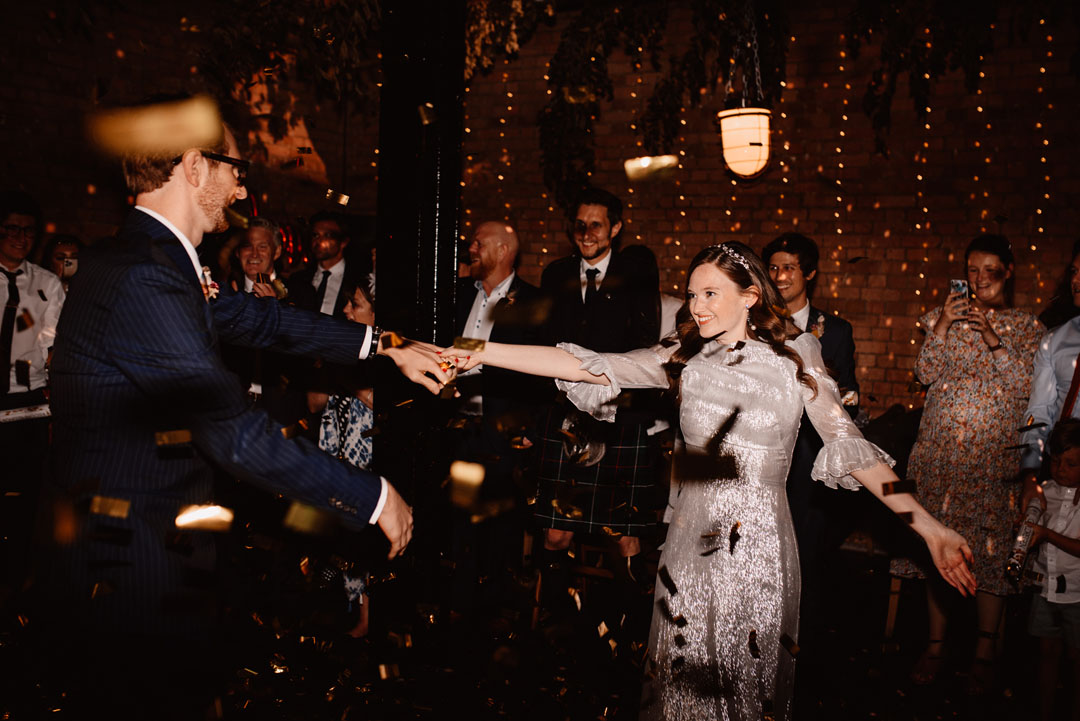 "All we really wanted for our guests was to have fun, eat drink and be merry, and boy did they do that! It was truly joyous from beginning to end."
"One of my stand-out moments was with the bridesmaids before the ceremony."
"They were so excited with my mum and dad and I just remember thinking that this is exactly what we wanted."
"One of Dean's must-haves was the London bus waiting for us outside the Town Hall after our truly epic confetti shot. Dean and I looked at each other and it was a bit of a 'We Did It' moment. It was just wonderful."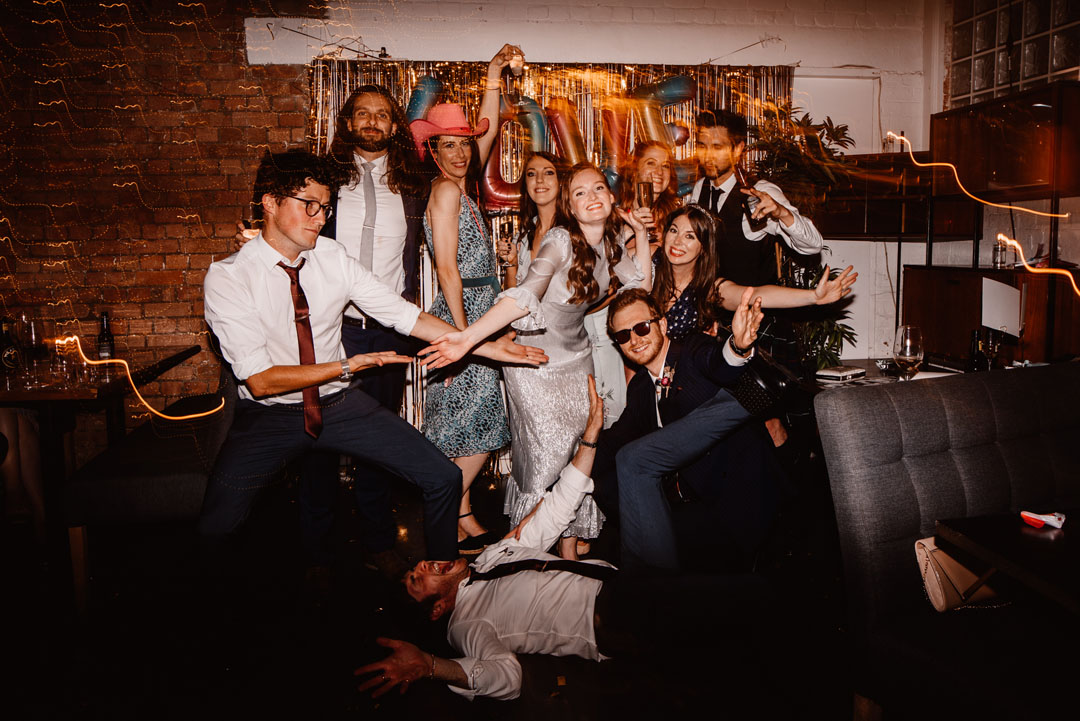 Words of Wedded Wisdom
"I would 100% say worry less and enjoy the planning as much as possible – you truly miss it when it is all over. We had a few wobbles throughout the process as our wedding was going to be really different from those of our families and friends before us but we stuck to our gut and what felt true to us. It really paid off."
"Don't be afraid to deviate from tradition and do what ever feels right to you as a couple."
"Love My Dress really is a go-to for all future brides. It is a great starting point for vendors and for inspiration to set you off on your planning journey. With weddings of all shapes and sizes there is really nothing you can't find there. I love how Love My Dress is featuring more micro-weddings too – it really shows your engagement with what is happening."
Truly epic, Jennifer and Dean, thank you so much for sharing your glorious day right here. I'm delighted you found inspiration on Love My Dress and it's been wonderful to see photographs from Taylor-Hughes Photographer again too.
You can find more from the wonderful Taylor Hughes Photography here on Love My Dress.
Ele x