The historic city of London influenced everything about today's wonderful city wedding. With warm, rich tones of reds and pinks, a classic red Routemaster bus and London landmark-inspired stationery, join me for this exuberant celebration in the October sun.
On 9 October 2021 Katie, who works in fashion retail wed Daniel, who works in sales, at Old Marylebone Town Hall with a wedding dinner at The Ivy Soho Brasserie and evening reception at Devonshire Terrace, London. Taking inspiration from the historic London architecture and the rich tones of an Autumn day, the day had dashes of deep red and pinks and the most exquisite, embellished cape for the bride.
Photography Isabelle Elliott Photography
"We were inspired to have a wedding that represented London and everything we love about the city. We chose to get married in the Autumn as it's such a beautiful time in London, and we were blessed with beautiful October sunshine."
"My hair and makeup artist was Aina from Brides by Aina. M. She really captured everything I wanted on the day, with a dark lip, liquid eyeliner and loose curls."
"She also helped arrange the hair and make-up artists who did my mum's and bridesmaids' hair and make-up. They all looked so amazing."
The flowergirls were in John Lewis dresses and the grown-up bridesmaids wore floor-length, deep green gowns from Monsoon.
"My bridesmaid dresses were from Monsoon. I was really stuck on the idea of forest green dresses but was struggling to find anything suitable. After lots of searching, I found the perfect dresses on Monsoon online. I also wanted them to be multiway dresses so the bridesmaids could all feel comfortable on the day."
"They looked amazing on the day and my maid of honour even changed the styling of the dress for the evening reception, the joys of a multiway dress!"
"The flower girl dresses were from John Lewis. I loved the traditional flower girl look with white dresses and white tights, and they looked so sweet on the day!"
Katie chose her gown at LQ Designs at the London Bridal Show in Kensington Olympia, falling in love with its exquisite, totally unique cape that flowed from its shoulders.
"It was a great experience. We saw the dress on a model on a catwalk within the first ten minutes of arrival. We went straight to the LQ Designs area where we were helped straight away by a lovely advisor who found the dress and helped me try it on."
As soon as I saw myself in the mirror, I knew it was the one. It was the first and last dress I tried so I feel very lucky to have found them. The post-sale service was great, even through Covid delays."
"The standout thing about my dress was the cape. I'd never seen anything like this before and it took my breath away as soon as I saw it on the wedding fair catwalk."
"I knew I wanted something unusual but I wasn't sure exactly what I was looking for. As soon as I saw that dress, I knew it was the one."
To complement the rich red and pink tones of her bridal flowers, the bride planned to wear red suede platform heels from Janet & Janet.
"As I wasn't wearing a veil, I wanted to have a hair piece. I found just what I was looking for from Ivory & Co. It worked out really well on the day."
"I chose to wear Viktor & Rolf Flowerbomb as I wanted something special that I had never worn before to remind me of the day. This is my go-to scent to try at airport duty free so I thought this was a great excuse to buy myself a bottle."
The bride wore her long, strawberry blonde hair down in loose curls, adorned with a statement hair clip from Ivory & Co.
Katie wore her late grandmother's gold hoop earrings as her 'something old'.
https://www.lovemydress.net/directory/supplier/twilight-london-earrings/
"She passed away before I was born so I never got a chance to meet her; it really meant a lot to me to be able to wear something of hers. Even more special was that my sister had worn them for her wedding too."
"I also wore heart-shaped, gold hoops in my second lobe piercing and a gold heart in my tragus piercing, all from Tada & Toy. After lots of searching but not being able to find what I wanted, they popped up on a sponsored Insta ad and I bought them straight away."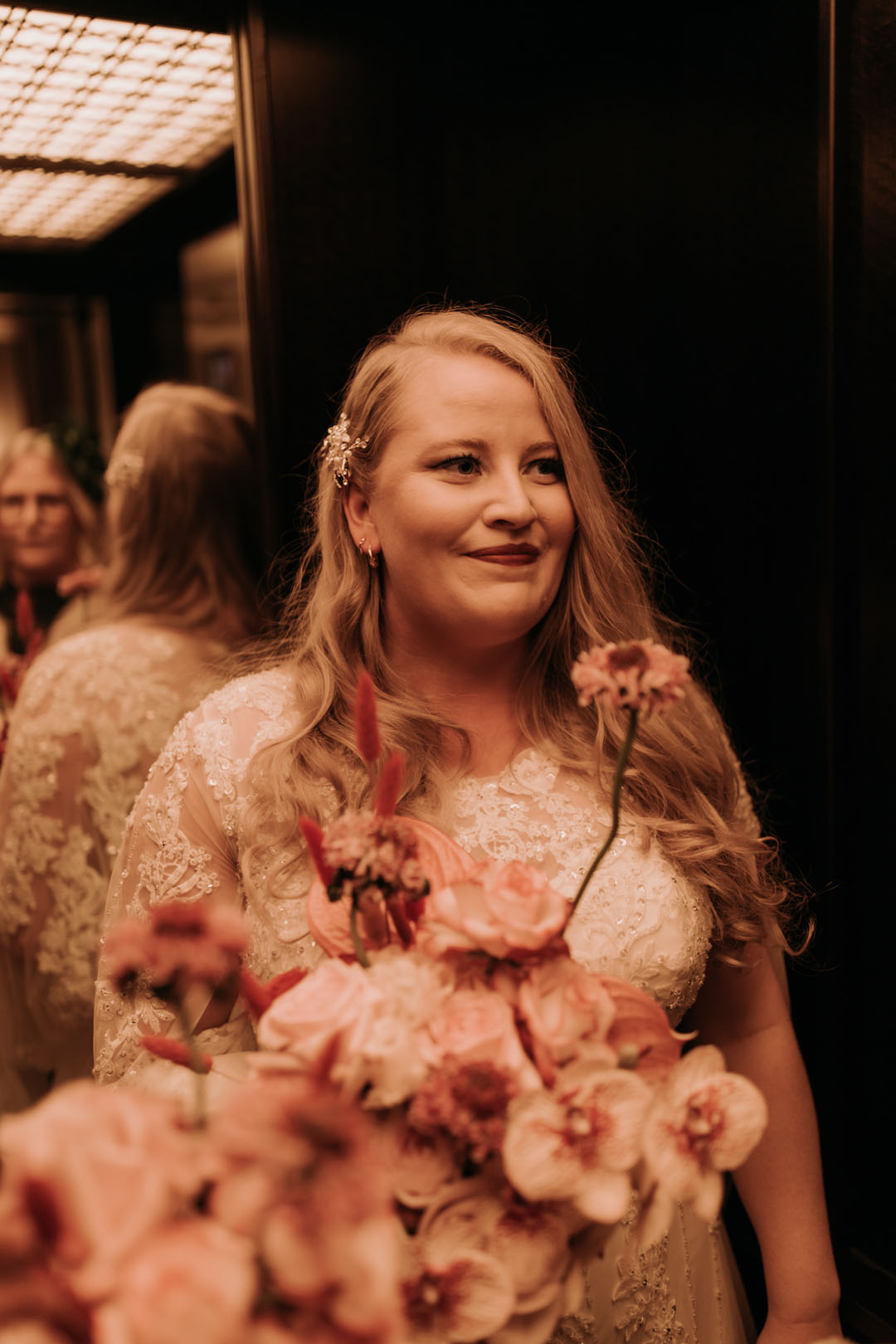 The final touch was the opulent and eye-catching bouquet by Sage Flowers.
"Sage Flowers were my absolute dream florist. Having worked with such big names, I assumed they would be well out of my price range. After we decided on the ceremony in the Town Hall, where we wouldn't need any venue flowers, I decided to reach out."
"I was over the moon to find they had availability that day and were in our price range. They were outstanding from start to finish and I got so many compliments on my pink and red boutique. I wouldn't hesitate to recommend them to anyone."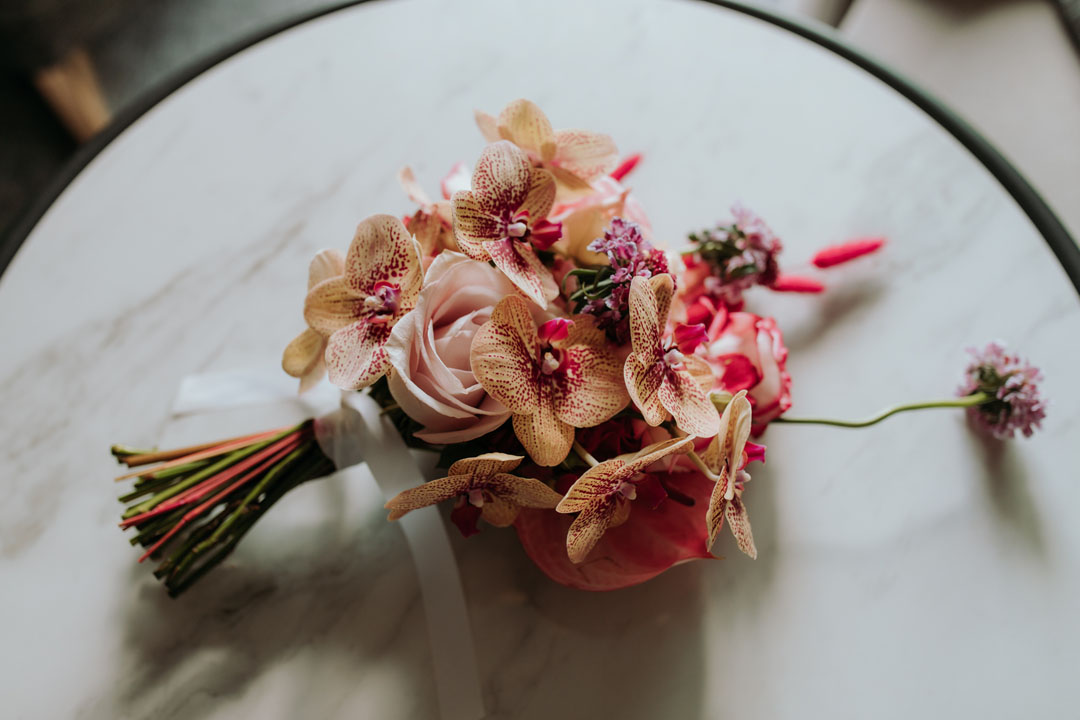 The bride travelled to Old Marylebone Town Hall in a traditional London black cab from London Black Cab Transfers.
"I've always wanted to have a black London taxi as my wedding car, and having three different venues was the perfect excuse for a red Routemaster bus from Traditional Travel to take the guests to and from the venues."
"Stan, our taxi driver, was amazing, especially when he had the circle the block multiple times on our way to the Town Hall because Daniel and all the guests were still outside."
Katie and Daniel wed on their eleven year anniversary, after numerous Covid delays.
"We met in Pacha Nightclub in London in October 2010 whilst I was at Uni. We became engaged in August 2019 in Budapest, at sunset looking out at the river Danube."
"We were engaged for just over two years before we got married."
"In 2020, we decided to postpone our wedding to 2021 as we thought we'd be in the all-clear by then. We were lucky that there were no restrictions on our day."
"However, we did ask the guests to take lateral flow tests prior to attending to keep everyone as safe as possible."
"Having to postpone our day gave us time to rethink what was really important. We decided to scale back our day and focused on the most important thing – that we were finally able to tie the knot after eleven years together."
"We also stopped sweating the small stuff; it didn't matter if everything didn't go 100% to plan. As long as our friends and family were safe and we got married, that's all that mattered."
"I had my dad walk me down the aisle which was a really special moment. He helped me keep me calm in the morning and I was so glad to have him by my side."
"I would have been 100 times more nervous without him."
https://www.lovemydress.net/directory/supplier/jason-williams-photography/
"I also wanted my mum to walk down the aisle with the bridal party so she accompanied the flower girls, which was really special."
"We had both fallen in love with 'Breathless' by Nick Cave a few years earlier so this was played as I walked down the aisle."
The wedding ceremony was officiated by a registrar at the Town Hall and included traditional marriage vows.
"Naomi was great and really put us both at ease throughout the whole process. We chose the traditional vows which was a perfect balance between tradition and romance, perfect for our big day."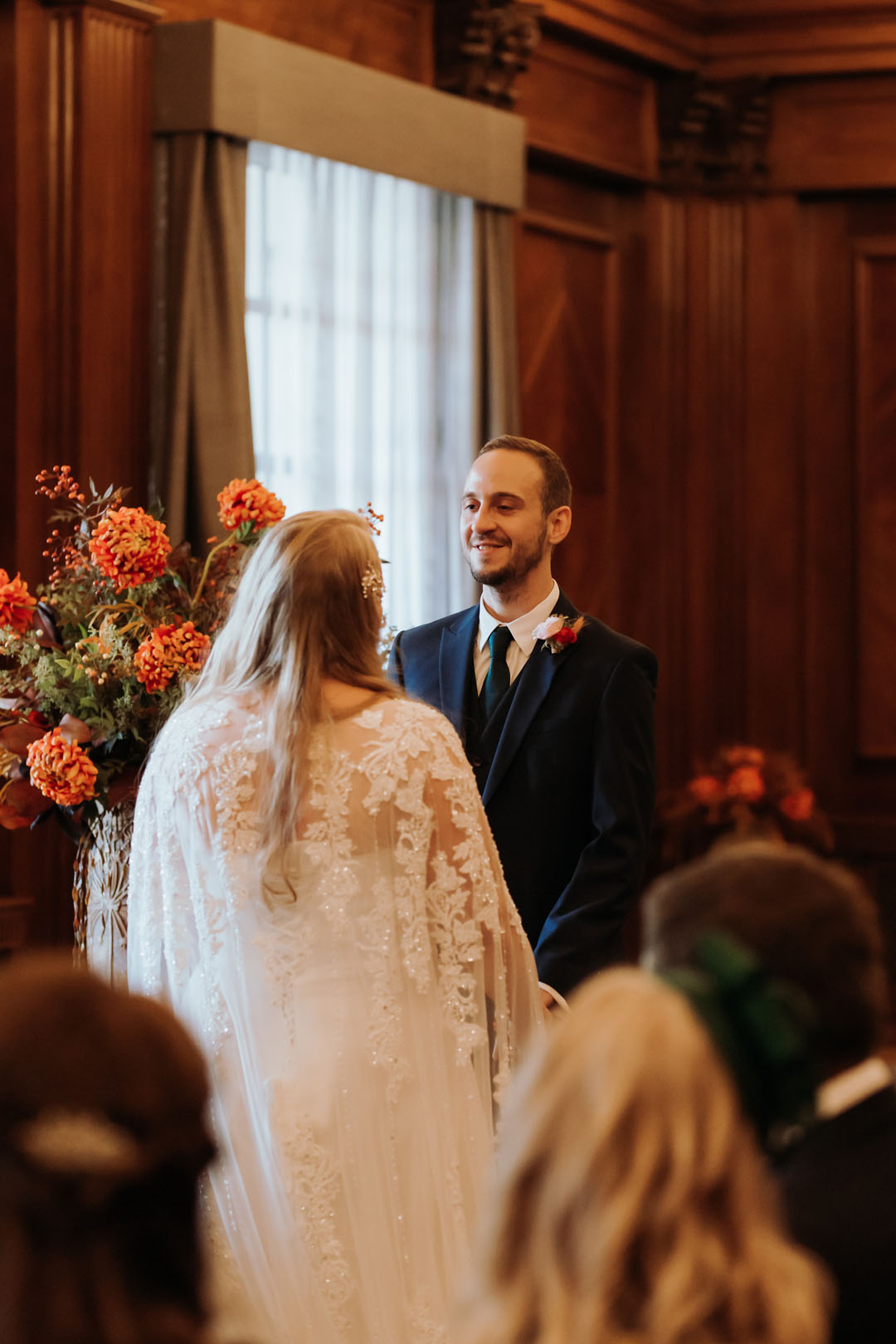 "We had two readings during our ceremony. I wanted to involve as many of my friends as possible so we had two of my school friends doing one reading and three of my uni friends doing another."
"Both readings were chosen by my friends and it was really emotional hearing the words they had chosen on the day. They're beautiful representations of love and were some of my favourite parts of the ceremony."
"They were 'Note' by Leanne O'Sullivan and 'I Saw Two Clouds' by John Gardiner Brainard. 
The wedding bands were from Ernest Jones in Westfield White City.
"I have a beautiful engagement ring from Hatton Gardens so I wanted something simple and timeless for my wedding band."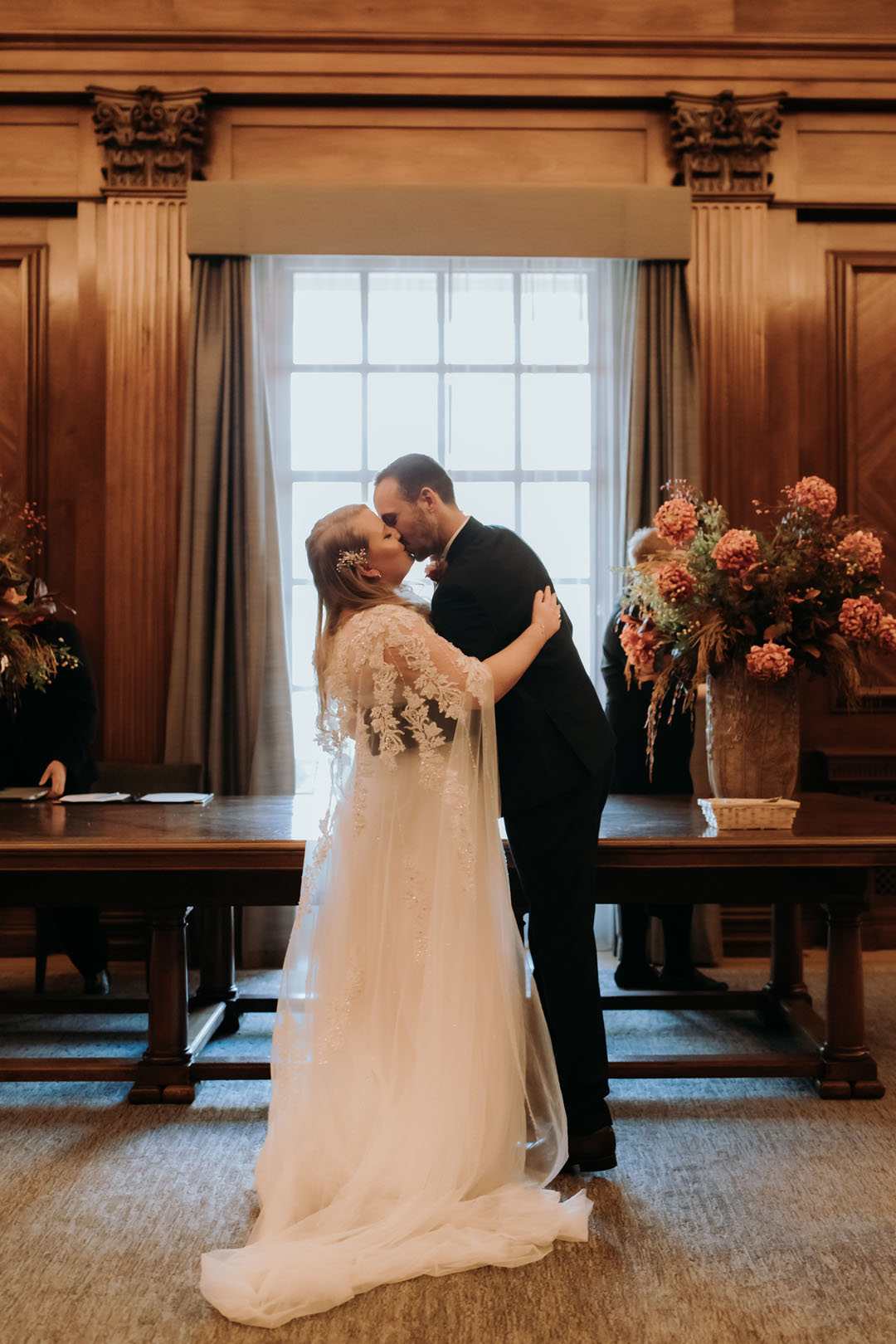 "We found the perfect set in Ernest Jones, with me opting for a thinner band and Daniel opting for a thicker one."
"It was important to us to have something we could wear every day and these rings are perfect."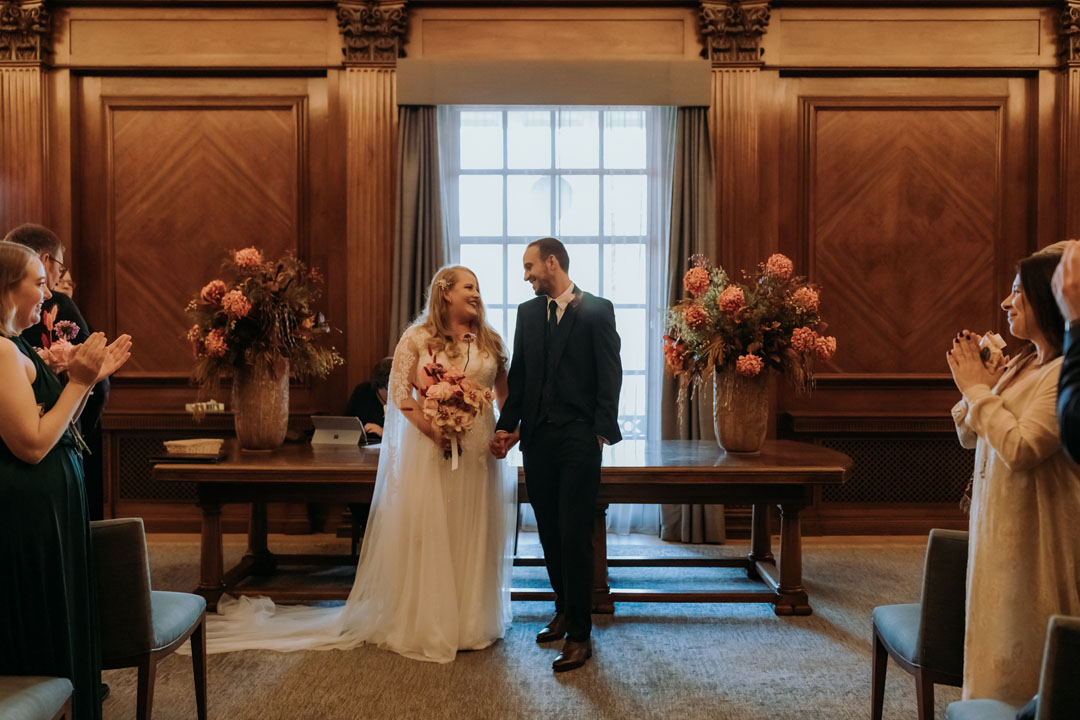 "Our favourite part of the day was the ceremony itself. The whole day was incredible but to finally get married after eleven years together and numerous Covid changes of plan, it was the most amazing feeling in the world."
"There were lots of happy tears all around, and to share that with our closest friends and family was truly so special."
After the wedding breakfast, the guests hopped back on to the Routemaster bus to travel to the evening venue, Devonshire Terrace.
"The guests loved the Routemaster and we supplied some fizz en route to the evening venue to get the party started."
The groom selected a three-piece Marks & Spencer suit, worn with a deep green tie and shoes from Ted Baker, matched by his groomsmen.
"Daniel chose his suit and his groomsmen suits from M&S and found the mix and match sizing options great for everyone."
"The page boy/usher wore a Next suit in the same colour as the groomsmen. Dan wore a Paul Smith scent that he was gifted a few years ago."
Daniel and Katie asked Isabelle Elliott Photography to photograph the day; her modern, story-telling style complementing the couple's colourful day so well.
"We found out about Isabelle through my mum who runs an interiors shop in Oxfordshire."
"One of her customers happened to be Isabelle's mum so after we looked through her Instagram, we got in touch right away."
After a great initial call, and an in-person coffee, we knew Isabelle was the photographer for us."
"She made us feel so at ease, and we loved her ethos of candid and intimate photos that didn't feel staged. Isabelle was absolutely amazing on the day."
"My mum even commented that she fitted in so well whilst we were getting ready that she could have been another bridesmaid."
"We would wholeheartedly recommend Isabelle to anyone we know getting married."
After the ceremony, the newlyweds and guests travelled to The Ivy Soho Brasserie. With London playing host to the day, it was reflected in the couple's quirky choice of wedding stationery.
"We loved the idea of having a customised map incorporated in to our invites with London landmarks and our venues included. We found Weddings By Zoe Barker on Etsy and were instantly in love with her design."
She was so helpful through the whole design process, sending us the proofs quickly and making any edits we had."
The whole process was amazing and the invites really capture the feeling of the day, also following the red and pink colour story."
The three-course wedding breakfast was served with a backdrop of the beautiful stained glass at The Ivy.
"We provided wedding favours for our daytime guests that were heart-shaped pins from Save the Children."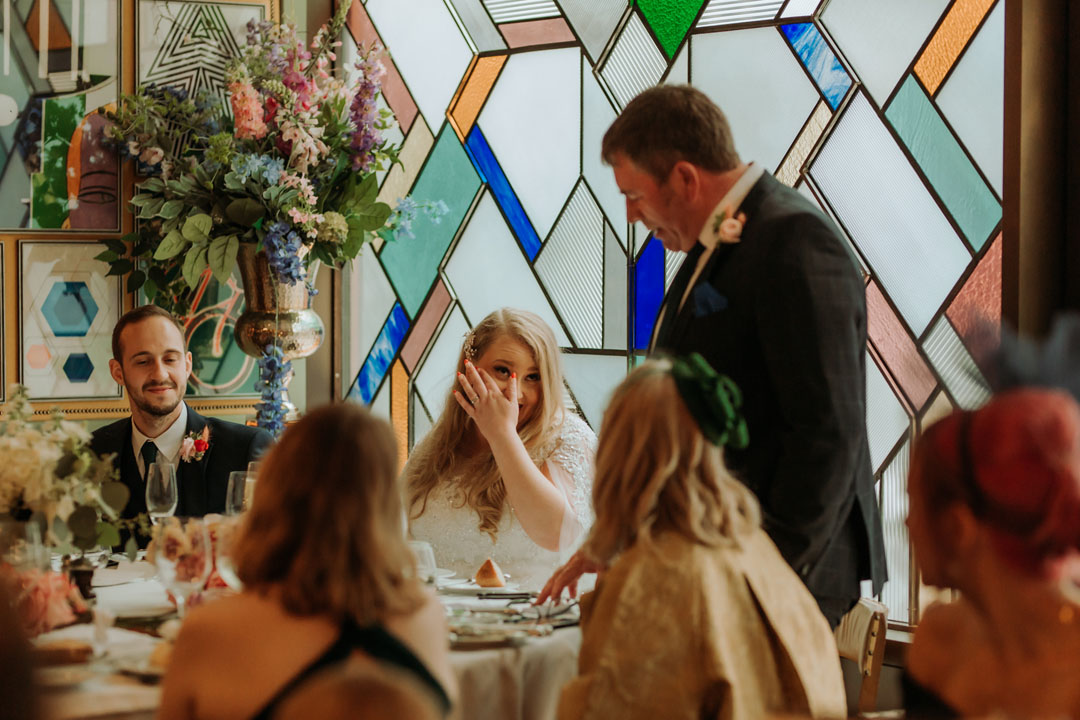 "We didn't want the favours to be something that people forget or throw away as soon as they get home, so we loved the idea of having a charity donation favour."
"It was lovely to see people wear the pins on their wedding suits throughout the day."
Daniel and Katie's first dance was to 'I'm In A Different World' by the Four Tops.
"It's been 'our' song since we first heard it a few years ago. I think the lyrics are some of the most romantic lyrics there are, without the song being too soppy. It's also a great song to dance to."
"Our band choice for the evening, Truly Medly Deeply, was a complete no-brainer. I know Nick from growing up in Oxford and when I saw his band play at a friend's wedding, I knew we had to book them."
"They play live sets of medleys of all the best wedding tunes but also cater their sets to exactly the type of music you and the guests will enjoy."
"I've never seen a wedding band like them and we had multiple people telling us they were the best wedding band they had ever seen."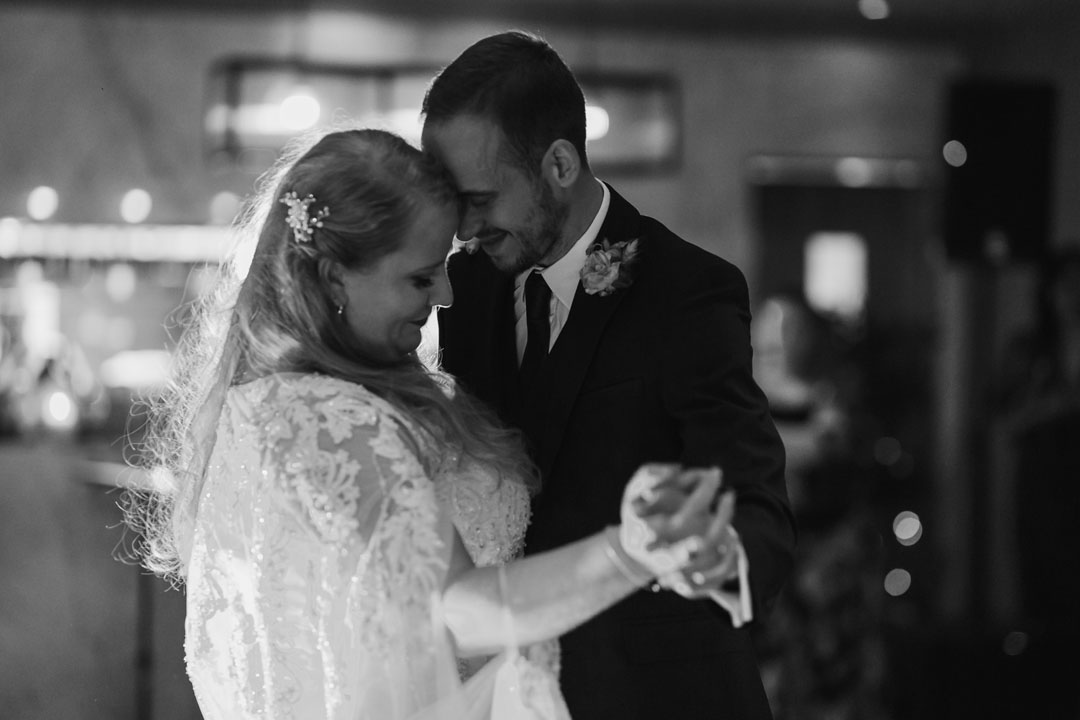 Words of Wedded Wisdom
"Don't sweat the small stuff and trust your gut."
"There are endless options out there for suppliers, dresses, suits and venues and it can be easy to get overwhelmed. One of the best things we did once we had decided on something was to trust our gut and not second-guess ourselves."
"We tried really hard not to sweat the small stuff. Your wedding is such an important day so it's natural to want everything to be perfect but that puts a lot of pressure on. Once you remember why you're doing all of it, especially after everything everyone's been through during Covid, it really puts finding the perfect pen to address the invite envelopes into perspective."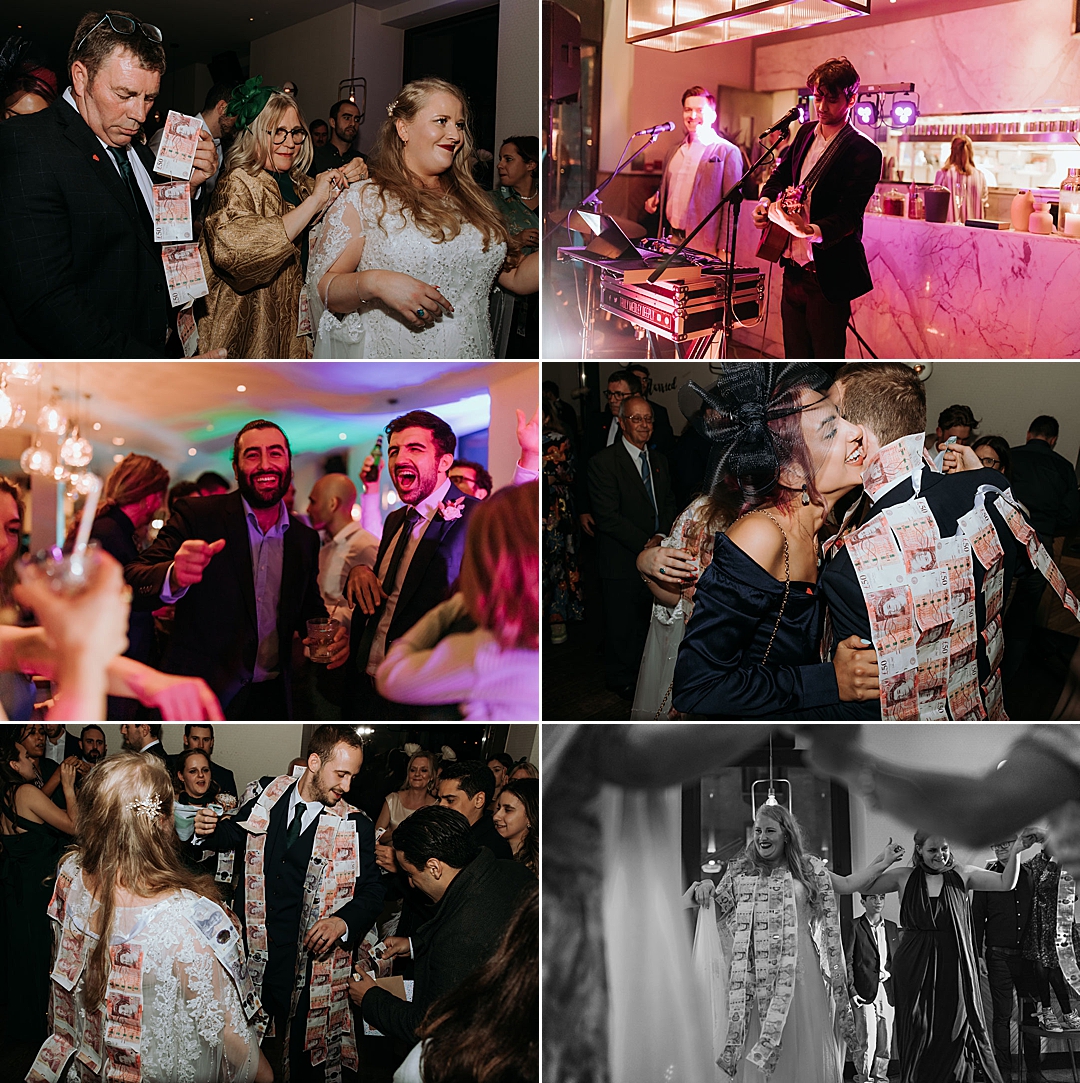 I've loved seeing your modern, autumnal take on a City wedding, so thank you so much Katie and Daniel for sharing it with us. Isabelle Elliott Photography, thank you to you also for your outstanding work. For more city wedding ideas, why not enjoy this Love My Dress selection?
Ele xx