Well hello readers and fingers crossed that wherever you are, today brings you lots of good things.
If you're searching for the perfect wedding venue, there's every chance that this feature could bring you a very good thing indeed – an incredible venue in London's cool and vibrant East End. Today, we're thrilled to be joined by our friends at Shoreditch London who own and manage two fantastic spaces, Shoreditch Studios and Kachette, in prime locations in the capital.
We love these brilliant blank canvas venues and we love the team who look after them. These are venues where the personal touch matters, where real connections are made and where you'll really feel at home.
So, let's step on over to Shoreditch and speak to Travis Collins, the venues' undeniable wedding expert, to find out more…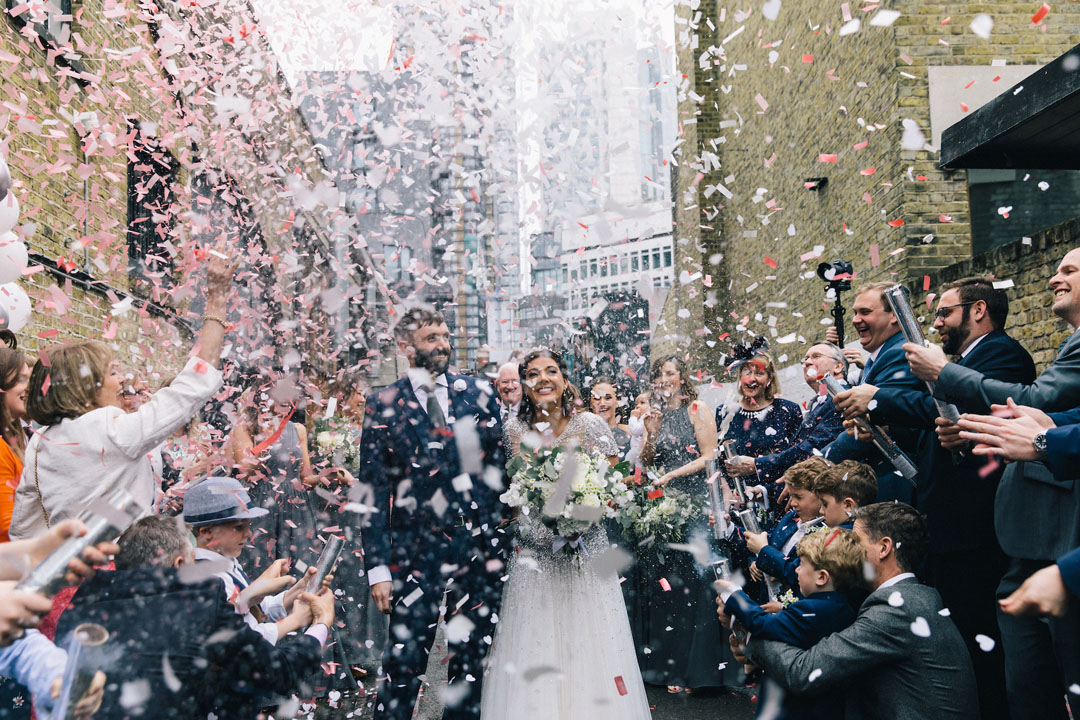 Shoreditch Studios is one of East London's most popular wedding venues, and that combination of spacious interiors (we love the exposed bricks and all that light not to mention the mezzanine lounge!) with the huge courtyard, is a definite winner.
Kachette is located under the railway bridges on Old Street. It's more of an intimate party venue, perfect for small weddings, and a lot of the weddings hosted at Kachette are really informal late-night parties with DJs, bands and open bars.
The venue is especially popular with same-sex couples, looking for a tradition-free wedding in a great warehouse space.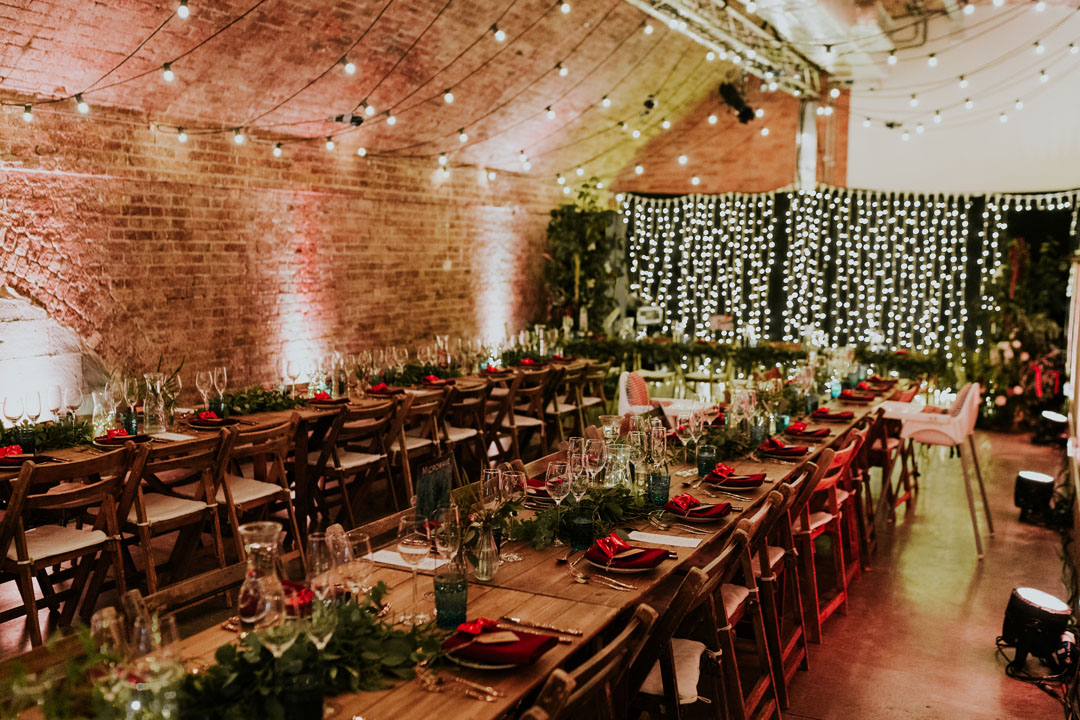 You're also spoilt for choice when it comes to locations for your wedding photos. Inside, there are spiral staircases, floor-to-ceiling white walls (think of the decorative options!) not to mention heaps of details you'll love. Outside, you can take your pick of backdrops from the area's famous street art, all within walking distance.
But, it's the warehouse vibe and blank canvas, dry-hire appeal that really makes these spaces special:
"Warehouse venues aren't traditionally associated with weddings and I think that is part of the appeal for couples," explains Travis. "Our venues are also a world away from traditional wedding venues, hotel weddings or regional wedding venues."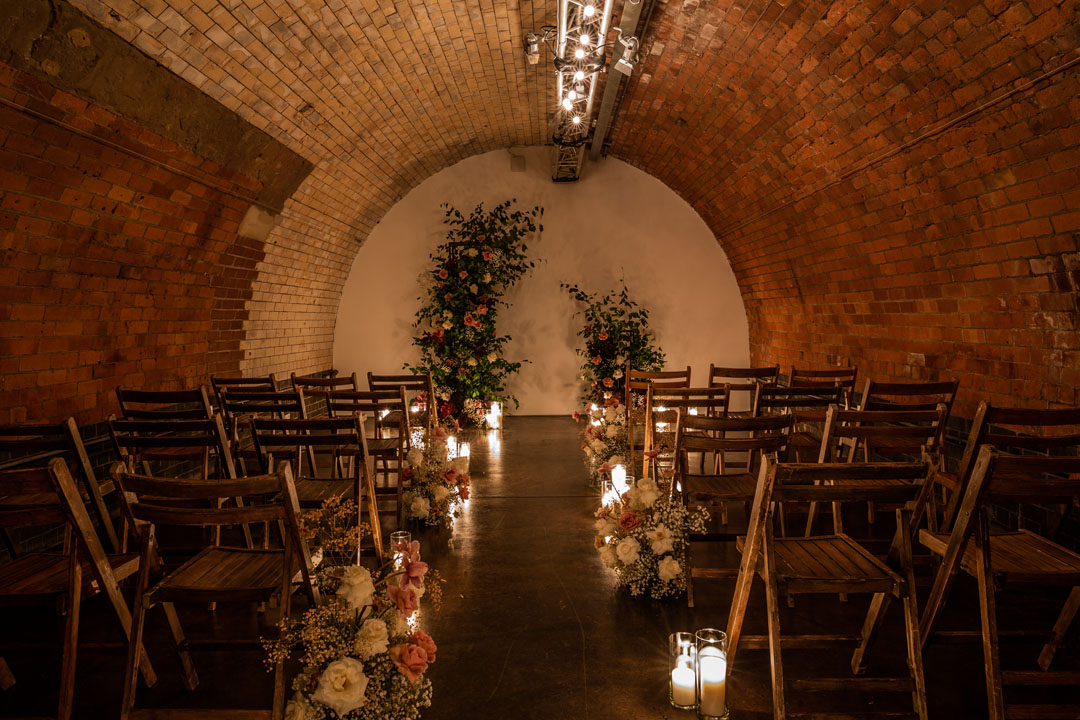 "Warehouse weddings are all about forgetting outdated wedding traditions and having a great party to celebrate your love."
"The director of Shoreditch London has been hosting warehouse raves and parties in Shoreditch arches and disused warehouse spaces since the late 80s so there is a long history of party culture in the business."
Dry Hire Venues
"Dry hire simply means that a venue is hired as an empty space, without catering, furniture or entertainment included in the price of the venue hire. That said, every dry hire venue operates a little differently in what facilities they have available as part of the hire. Some dry hire venues have a sound system included, others have an on-site kitchen. It's important to check what the venue has already."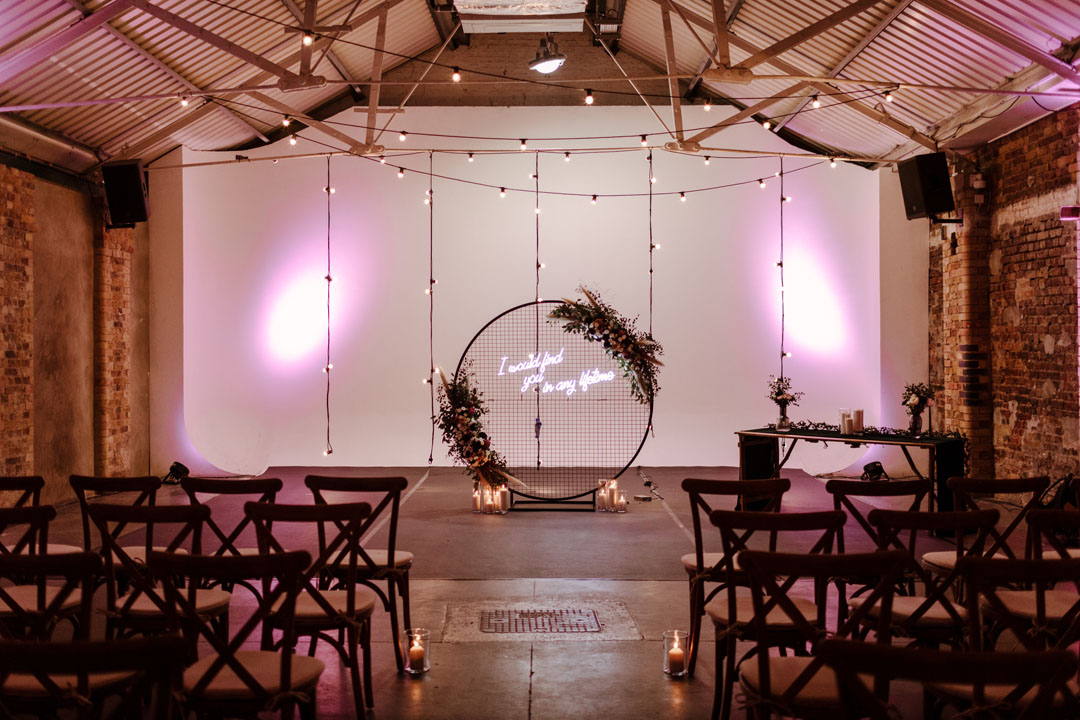 "Dry hire venues give you the freedom to prioritise your wedding budget on the aspects of your wedding that matter most to you. Some couples prioritise having a late-night reception with a great band or DJ, some couples prioritise a bespoke food and drinks menu."
"Dry hire weddings also give you the freedom to ignore all usual wedding traditions so you can do something different and personal for your wedding. You don't have to compromise with dry hire. You can work with any caterer or wedding suppliers that fit with the vision of your wedding day."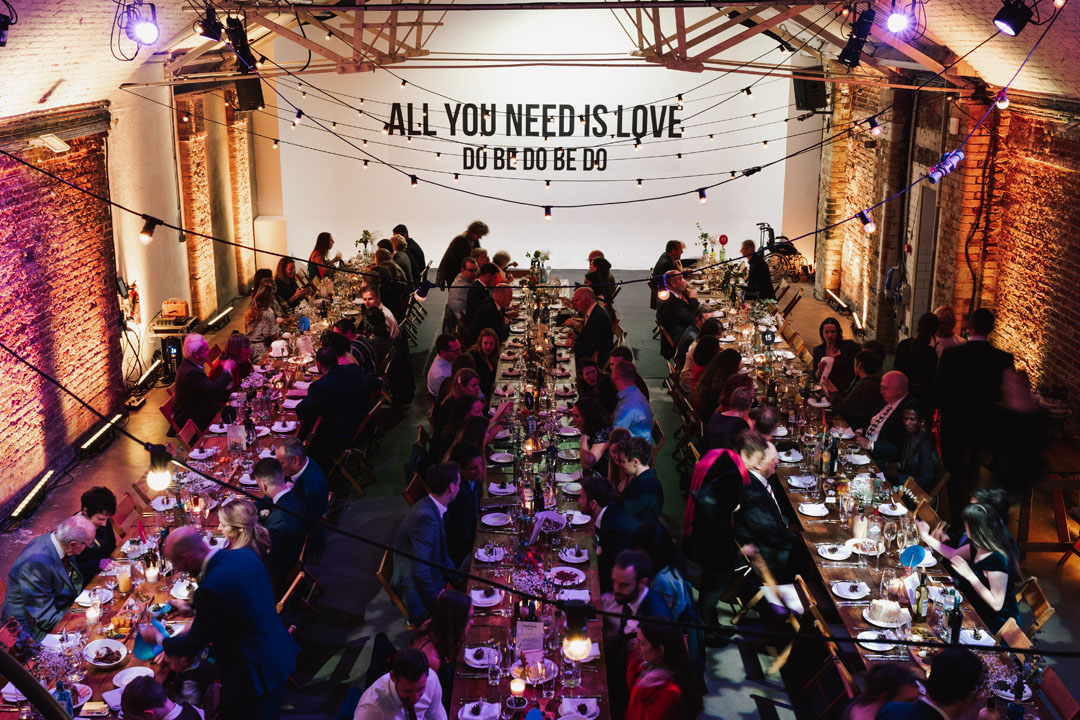 BYO Drinks & Decorate As You Like
"In our venues, you can work with any cater, BYO drinks, plan and decorate the venue to your own personal style. Alternatively, we can help with every step of your wedding planning process to create a bespoke venue hire and catering package with our experienced wedding suppliers."
"We also welcome couples to bring in personal items, decor, furniture, anything to make the venue feel like home. Most couples personalise their table settings, some couples hang their favourite art on the walls. We also welcome pets to be part of your wedding in the venue too but that's not decor related is it?!"
"There are some common themes regarding styling, decor, furniture and lighting which couples often go with. At Shoreditch Studios, long wooden tables and wooden chairs look great and really compliment the Studios exposed bricks. The white feature wall at the end of the room is also a perfect spot for the ceremony and can also be a feature wall if you are planning to have a head table at your wedding."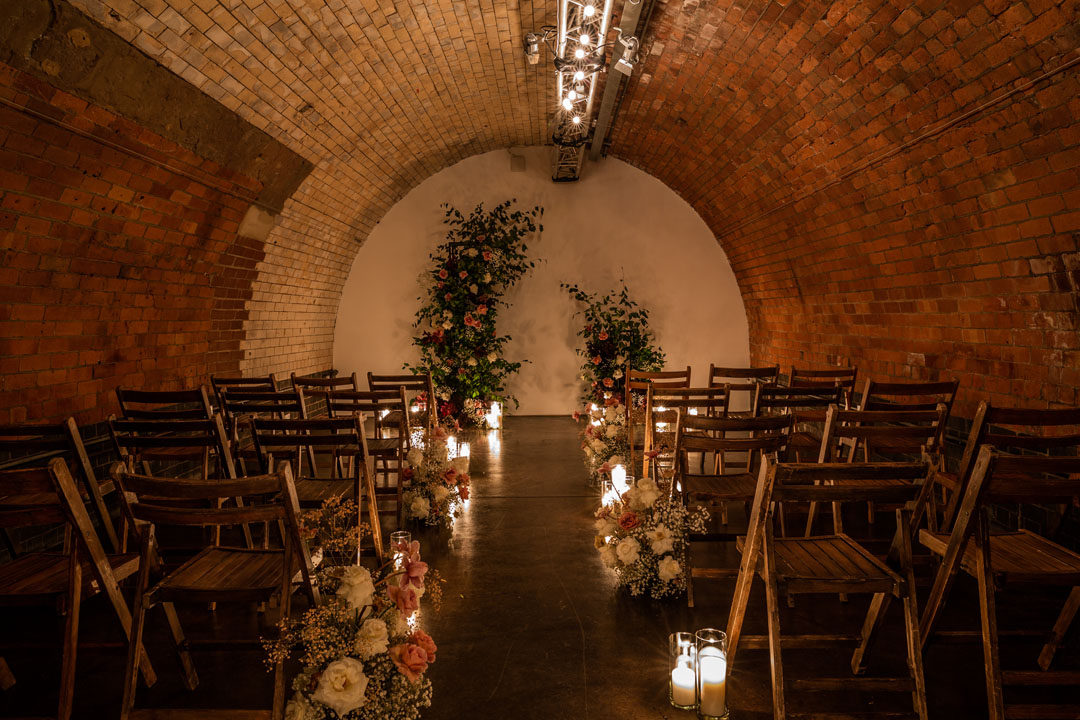 Lighting
"Lighting packages are available which have a range of uplighters, festoon lighting, draped lights and party lighting but some couples prefer to create something bespoke, use LED lighting or a darker candlelit look with some spotlights."
We offer a lot of free advice on decor and work with couples to come up with the most cost-effective way to set up the venue for your budget."
Real Weddings
"We've hosted so many memorable weddings at Shoreditch Studios and Love My Dress has featured some stunning weddings over the years."
"I really love Nic & John's wedding (below) and the flower cloud created by Halcyon Halcyon looked amazing. Everything about the wedding was really elegant, the soft pink colour palette, the lighting and the stunning dress worn by Nic."
Images by Beatrici Photography
See the full wedding here
"I also loved Mary & Will's wedding reception too. Mary is Indian so this was one of several wedding celebrations the couple had for their wedding – lucky them! Every year, several couples have chosen to host their ceremony at Asylum followed by a reception at Shoreditch Studios. Our venues are also licensed for civil ceremonies too but if you have a bit of extra money to hire both venues, it's a great combination and the guests get to have a road trip across London on a wedding special bus between the venues. What's not to love?"
Now is the perfect time to enquire with Shoreditch London for your 2023 wedding (although if you're lucky, there are still a few available dates for this year) so get in touch if you want to snap up a prime date.
To find out more about Shoreditch London, take a look at their website. It's packed with helpful information (the FAQs are just excellent and really do answer any questions that you might have) and you can also download Travis's superb budget spreadsheet. But, there's really nothing better than visiting in person – call 020 7033 9006 to arrange a time to see Shoreditch London for yourself.
Credits & Thanks