Lovelies, have you come across the amazing talent that is Halfpenny London yet? Kate Halfpenny creates the most sublime, modern gowns and separates for brides wanting to make a statement.
On 19 August 2021, Jess, founder of Manchester PR agency Petal & Co wed Michael, founder of Freshwalks, in a modern, unique, flower-filled day at White Syke Fields.  Sand Hutton near York. The venue was the perfect combination of pretty countryside venue and industrial warehouse, and was a wonderful blank canvas for the couple to inject their own personal touches in the form of whimsical, wild meadow flowers, bright, vibrant colours and lots of music.
Photography Victoria Baker Weddings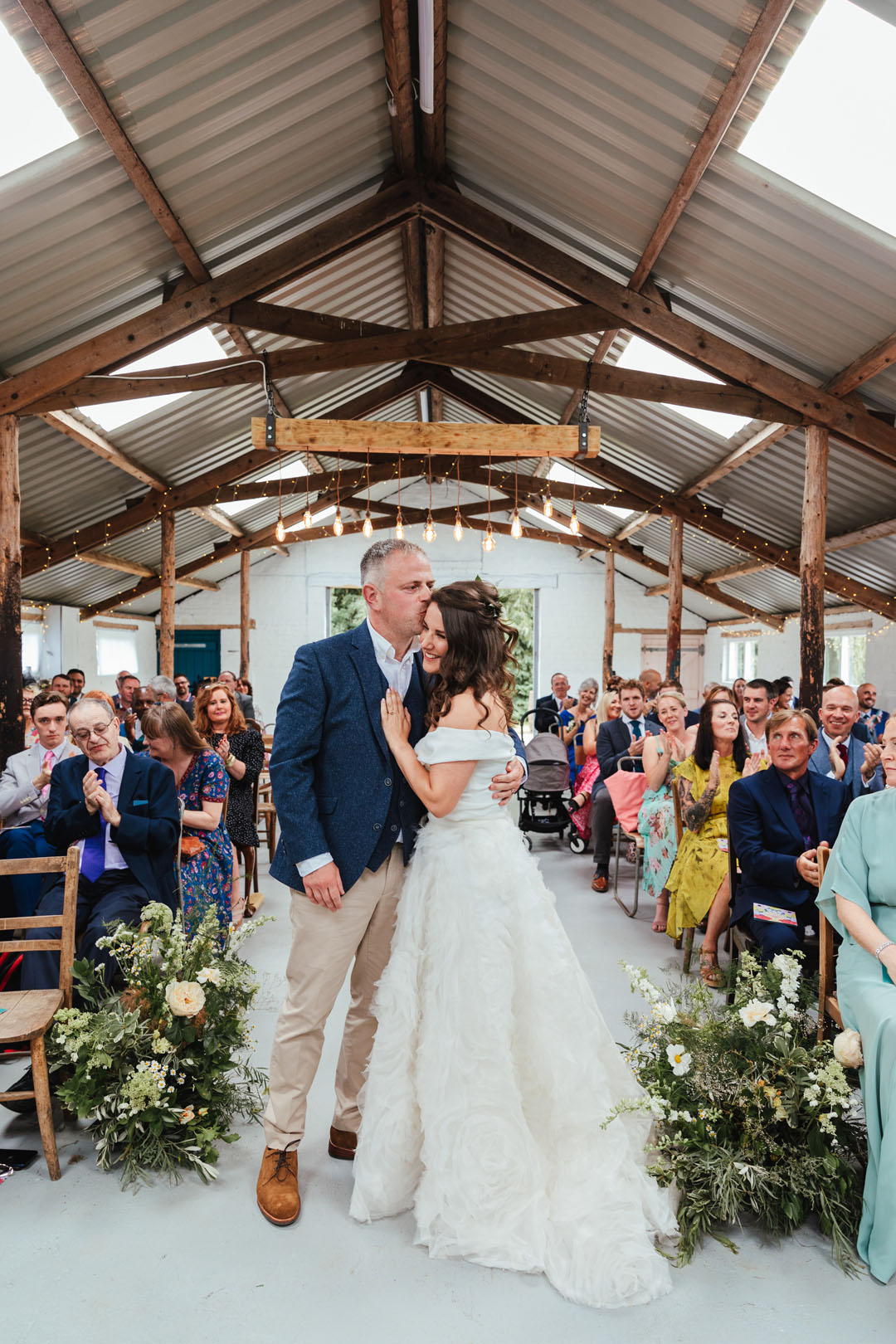 The bridal bouquet, warm with rich yellow, cream and peach tones, was created by Dittany Entwined, who also decorated the barn and dining area.
"From the first call with Nicola, she captured our vision and brought her own flair."
"She created a whimsical wild meadow installation as a ceremony backdrop, as well as stunning table flowers and foliage light fittings for the reception venue."
"We sorted extra ribbon so we could make posies for guests when they were leaving."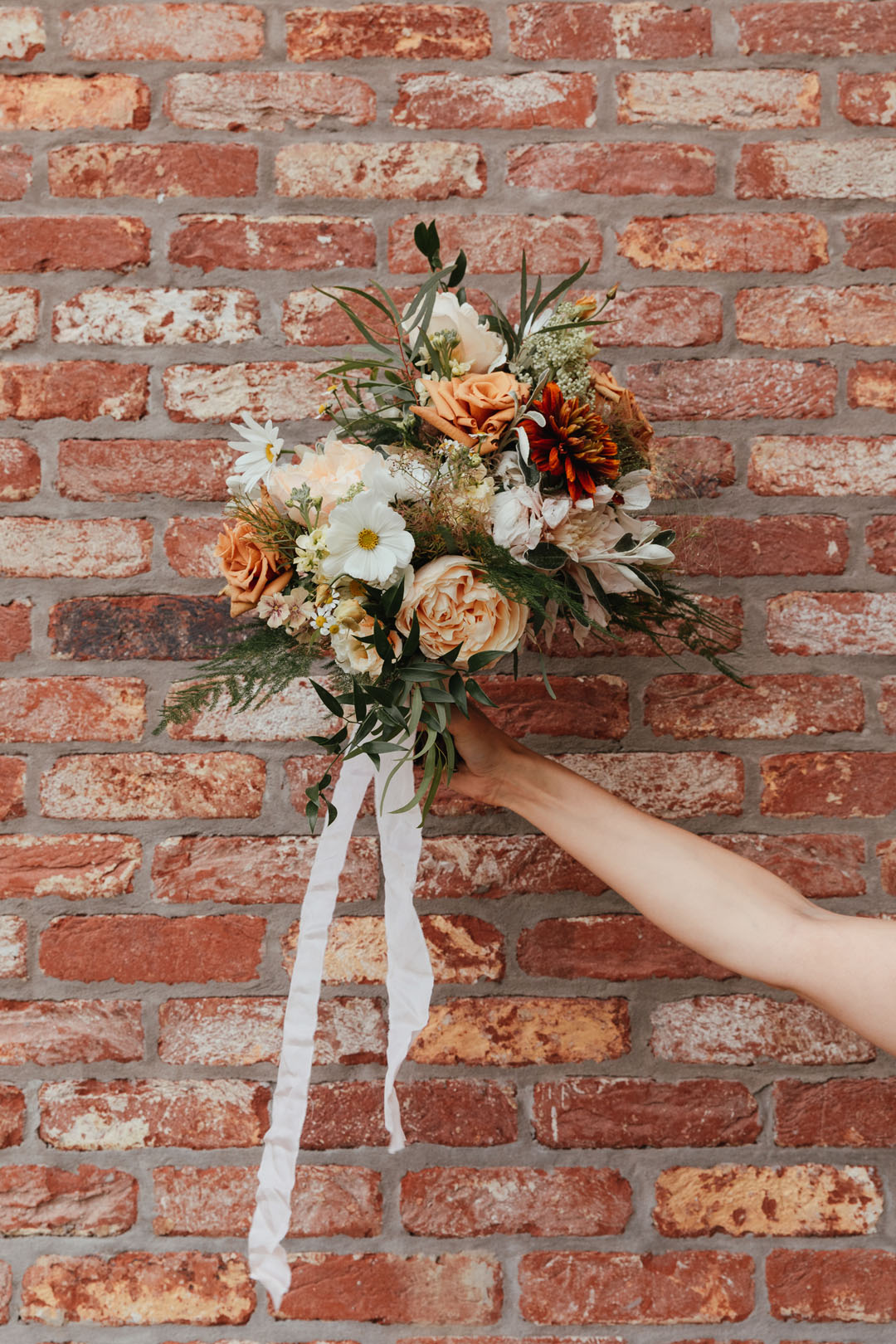 With constantly-changing Covid restrictions, Michael and Jess delayed their planning for a few months when the pandemic first hit.
"We'd been together for a few years before getting engaged on Christmas Eve 2019. After a couple of months of initial wedding planning and venue visits, the world ground to a halt so we put plans on pause."
"In between, there was plenty of research, Instagram scrolling and evenings planning playlists in the garden with a bottle of wine, but no real progress."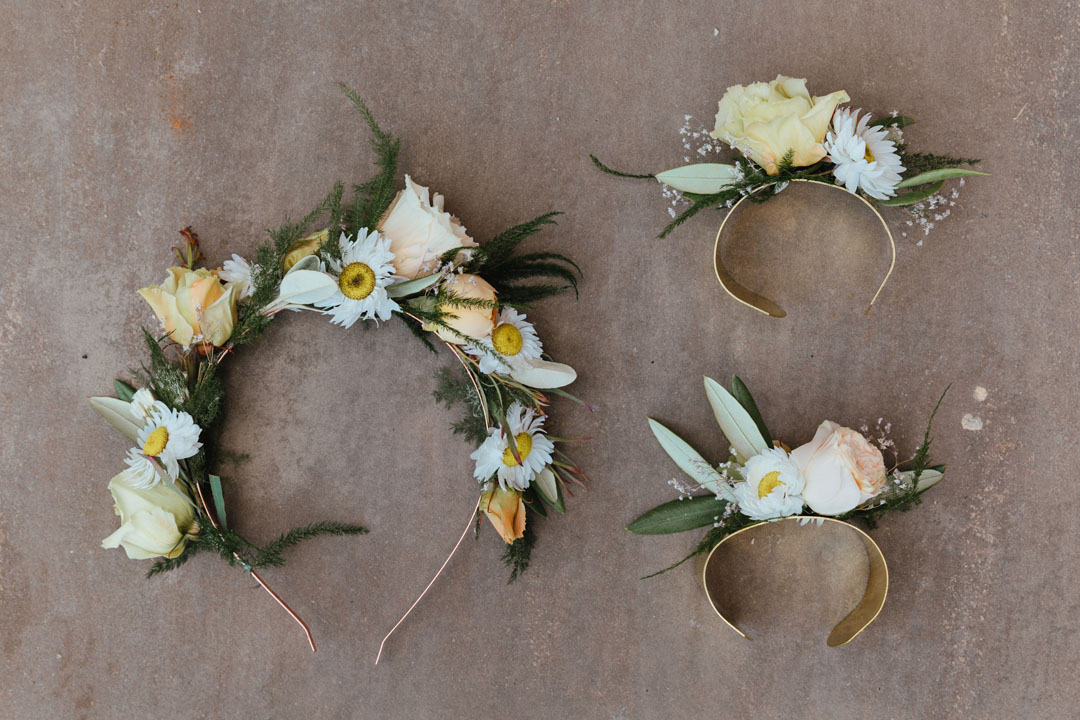 "We started to plan again in March 2021 when we visited White Syke Fields and knew we wanted to go for it that year. We'd imagined a weekend wedding and ended up with a Thursday date but guests made it work and we didn't notice the difference."
"We didn't set a budget as such but we kept track as we went, weighing up where we felt we wanted to spend more and not adding on things we felt we 'should' have."
"Above all, we wanted everyone to be well fed, watered and entertained. We also splashed out on flowers and our outfits which we knew would make us feel great."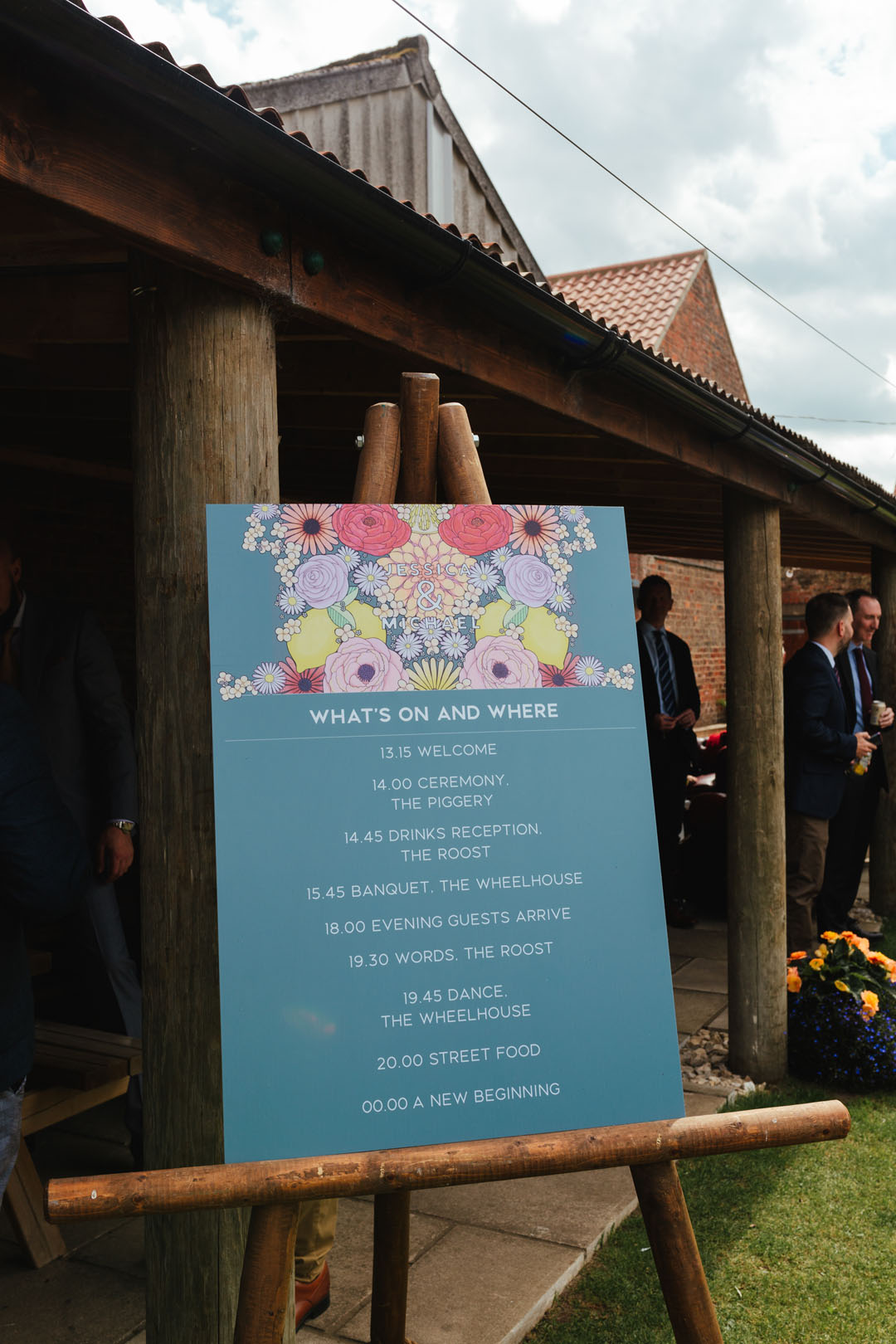 "We decided White Syke Fields was the venue for us on our first visit."
"It was the perfect mix of pretty countryside venue and blank canvas industrial warehouse, and we really felt like it allowed us to do the day in our own way because the setting was so natural to us."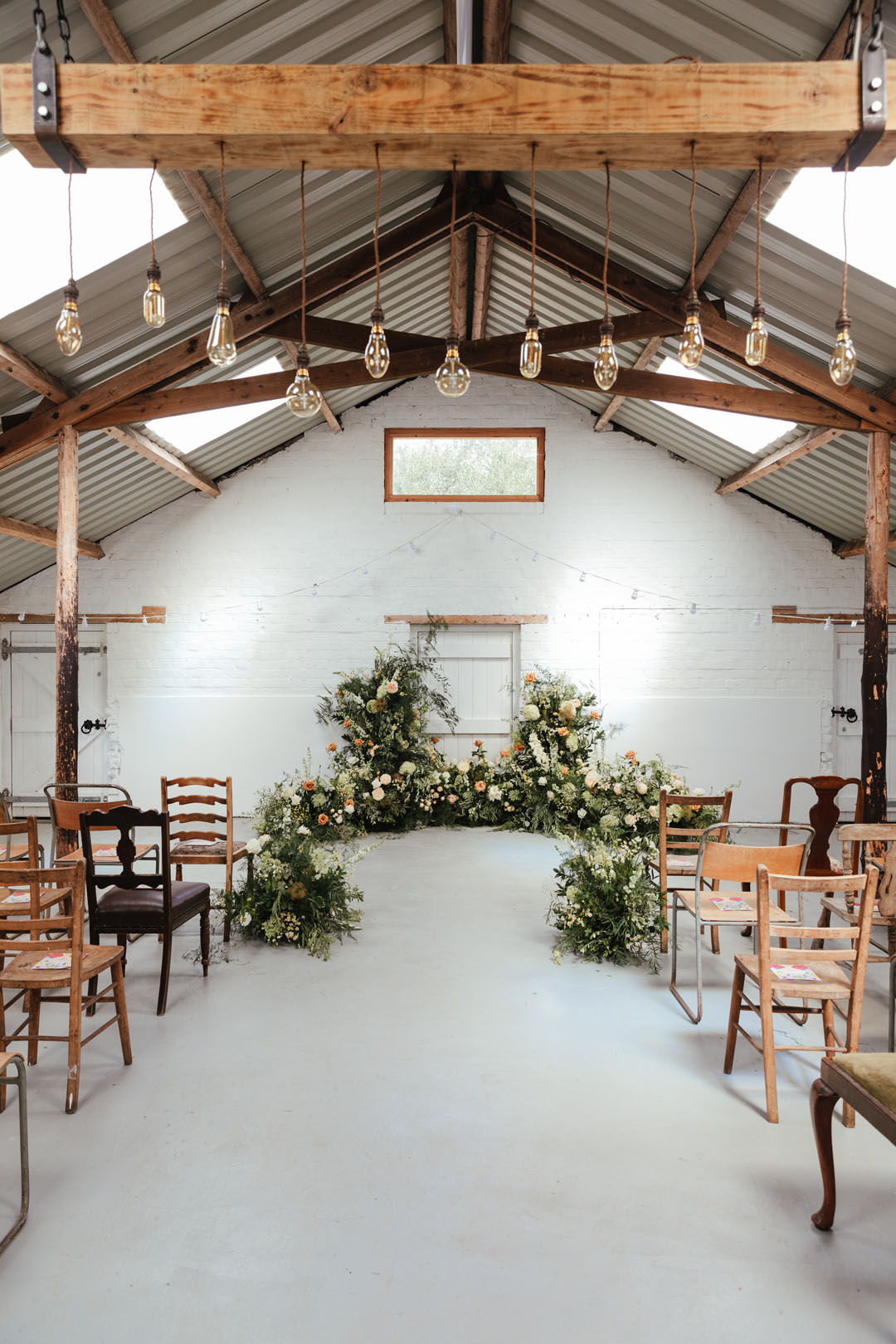 "The location worked perfectly. We live in Manchester, I grew up in York and we got engaged in Malton, so we had a close connection with the area."
"We knew it would be easy for local guests to get to, with a gorgeous glimpse of Yorkshire for those travelling to the venue."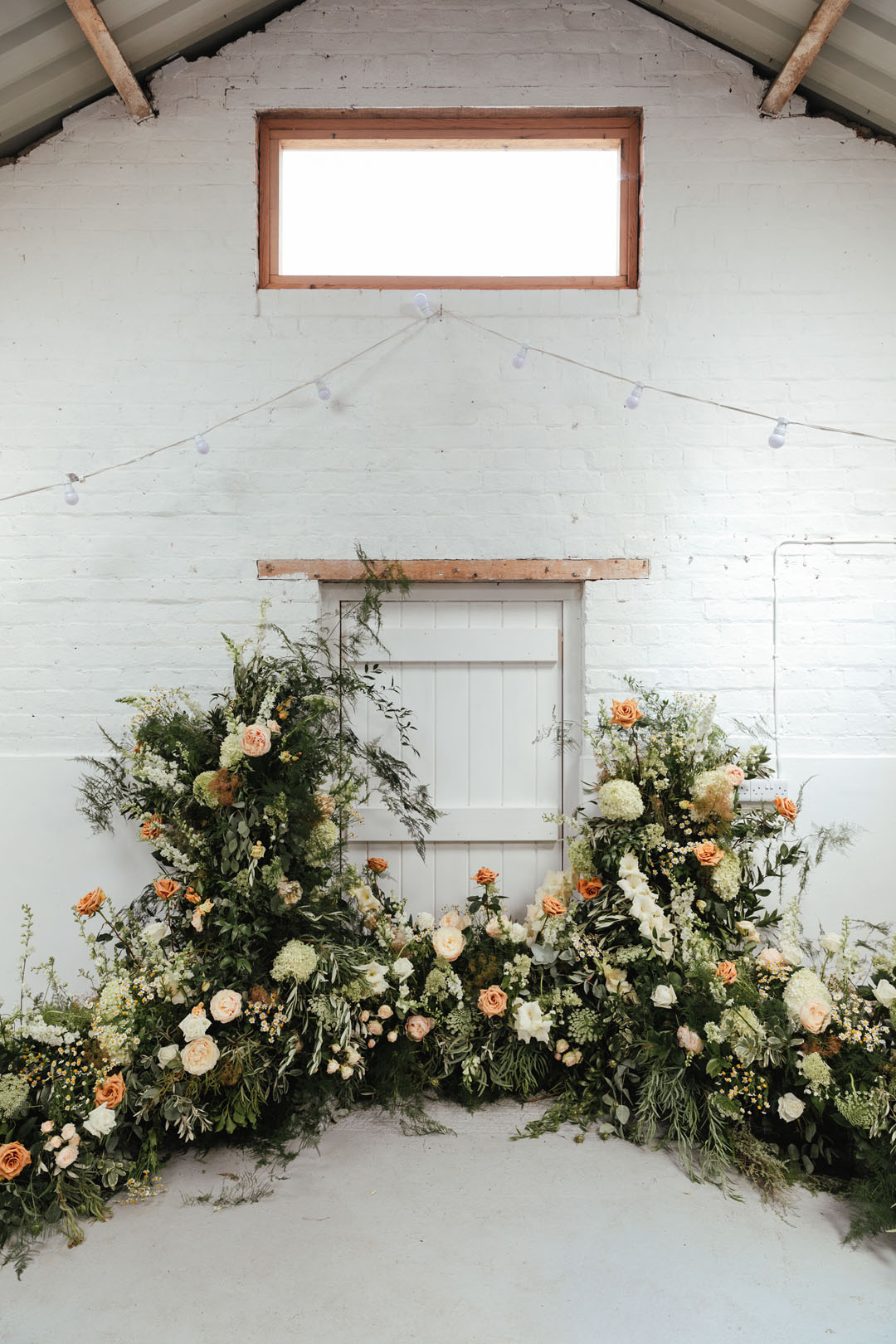 Michael chose his groom's outfit with Phil at Lanigan & Hulme, receiving amazing service there.
He wore a Gibson London suit blazer, Hackett chinos and shirt, a Dancys floral pocket square and Grenson shoes.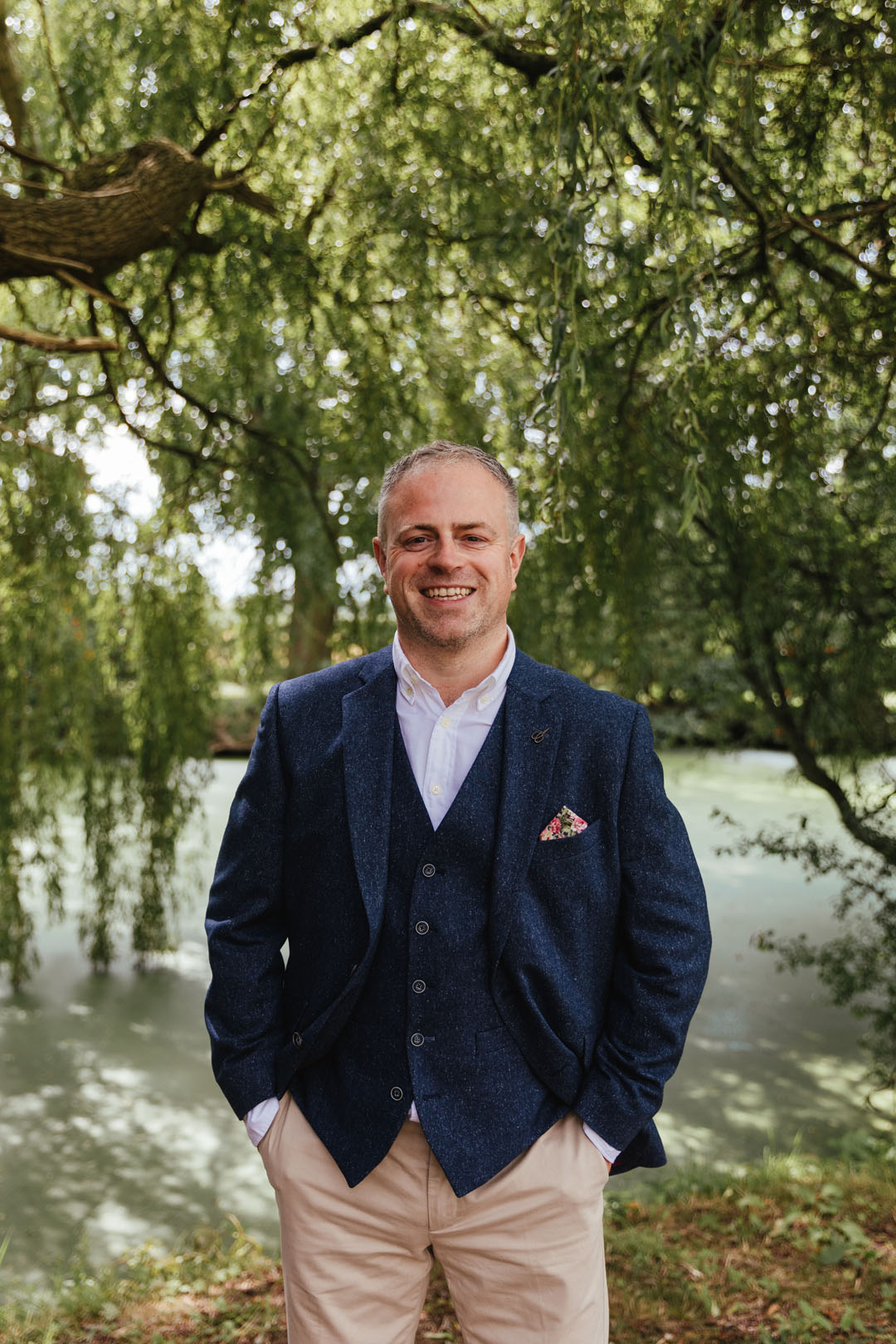 Jessica had one bridesmaid, a maid of honour and four 'Mates of Honour.'
"It meant everything to have all the girls involved, getting ready together. They were more relaxed without additional bridesmaid duties and we avoided any outfit compromises."
"My maid of honour and bridesmaid wore dresses from Reformation in different styles and different shades of green. The mates of honour wore their own outfits but each was styled with a different real flower accessory (headbands, bracelets and hair flowers), designed by our florist Dittany Entwined."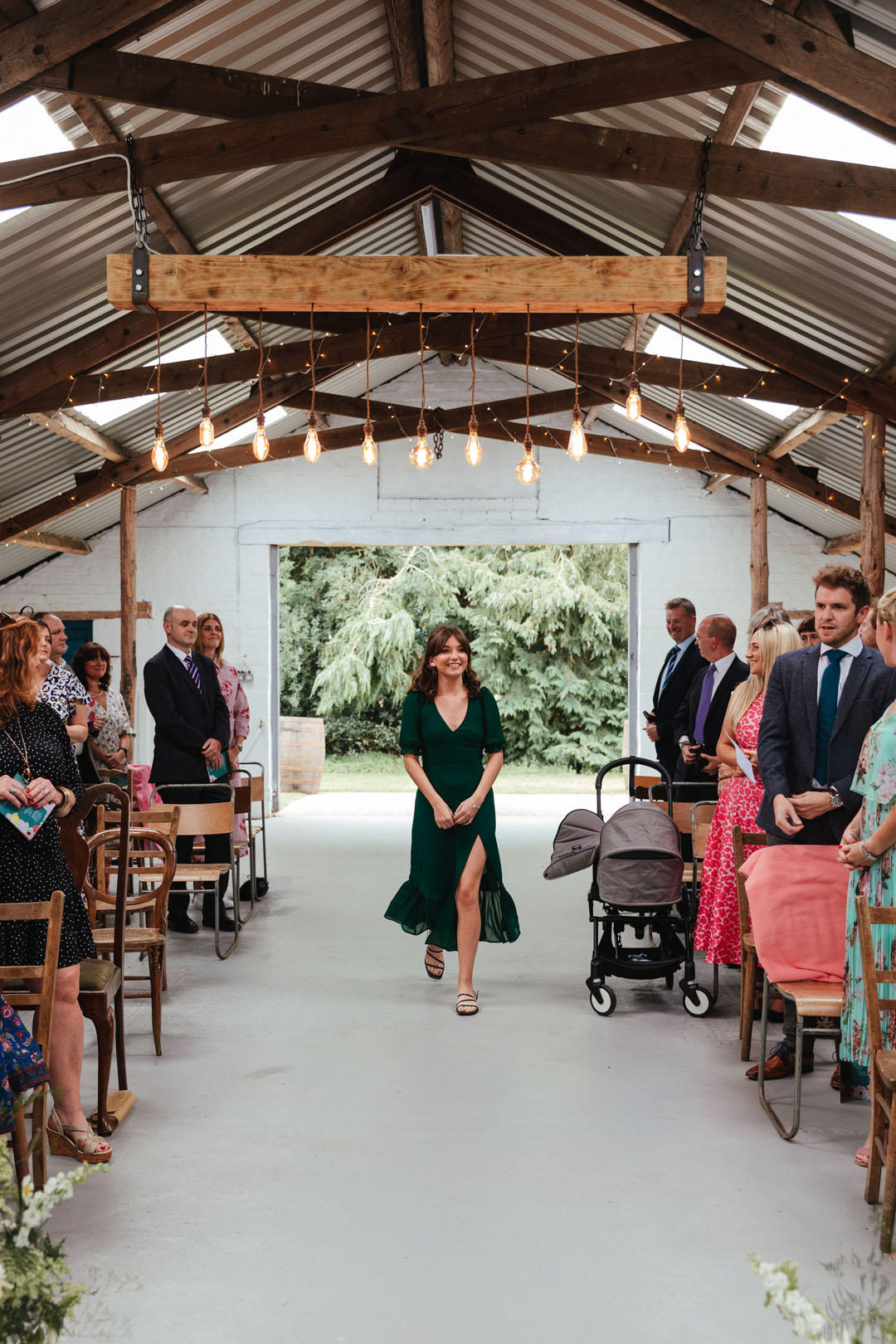 The bride walked down the aisle to meet Michael with her dad, Pete.
"Our music was The Supremes' 'A Lover's Concerto'. It has beautiful lyrics and is a special song for us."
The wedding ceremony was led by a local registrar and the couple exchanged vows that they had written themselves.
"This accounted for 70% of Michael's pre-ceremony nerves. We both ended up taking a different approach and style but both were very true to us. There were tears all round."
For readings, Jess' friend Dawn read 'Carrie's Poem' from 'Sex and the City'.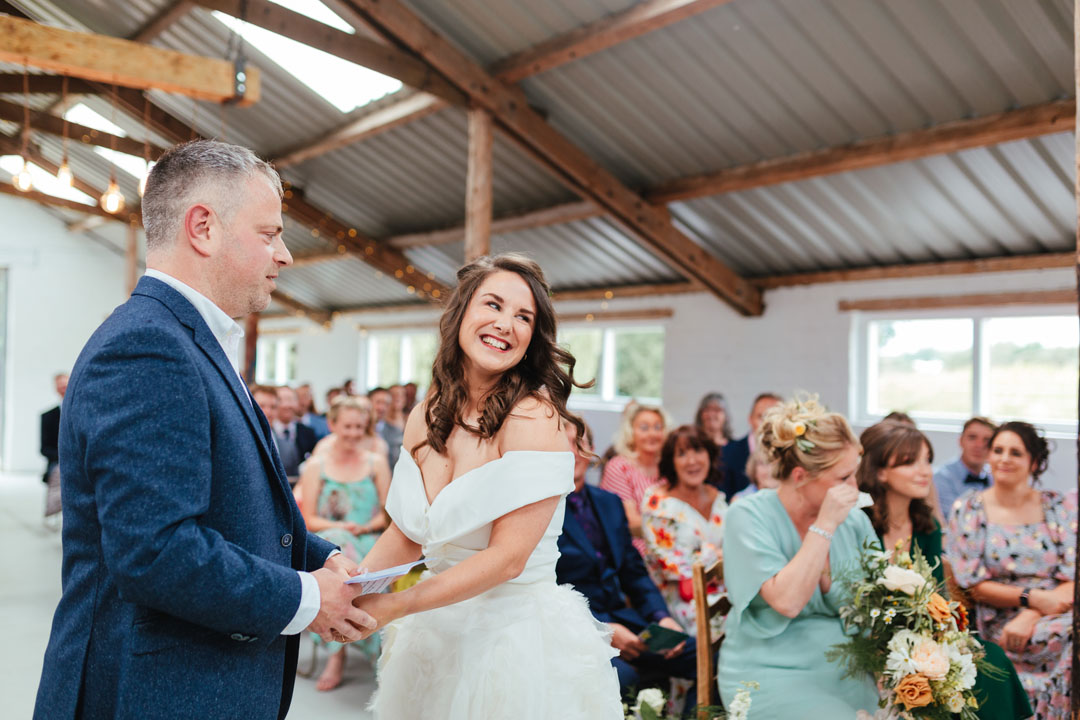 "It was a cheesy choice but the words have resonated with every millennial woman who grew up with the programme. We also all sang 'It Must Be Love' by Madness before New York Brass Band crashed the back of the ceremony room mid-song to get the party started."
"Huge thanks must go to mate of honour Jo Taylor, who expertly took charge of the ceremony music."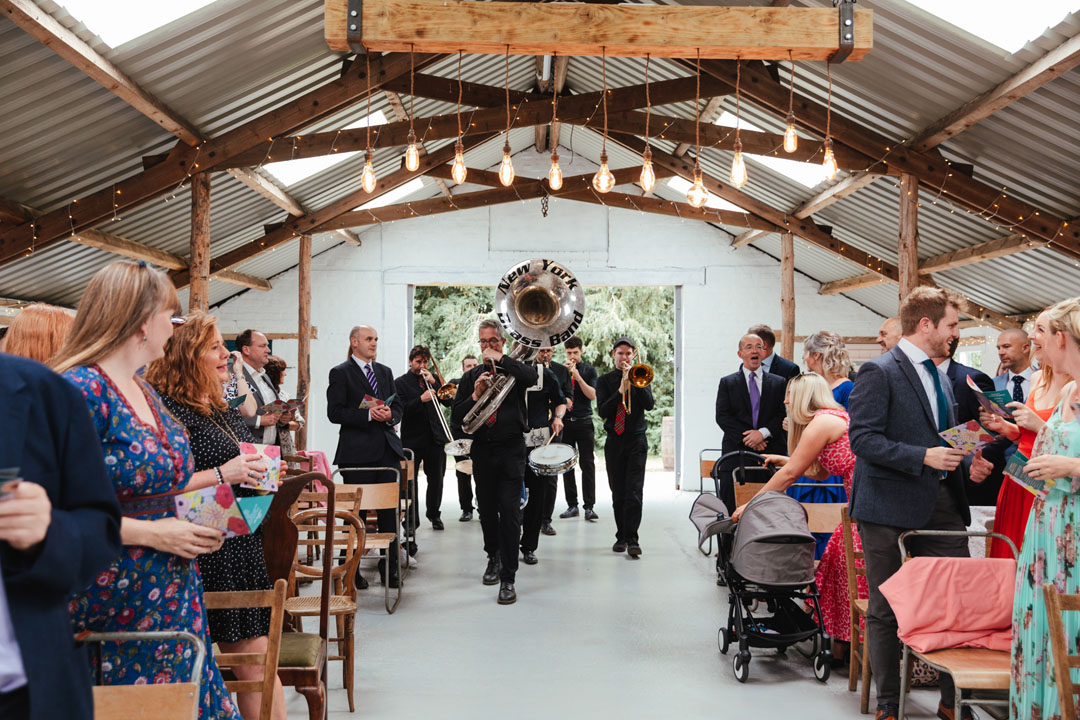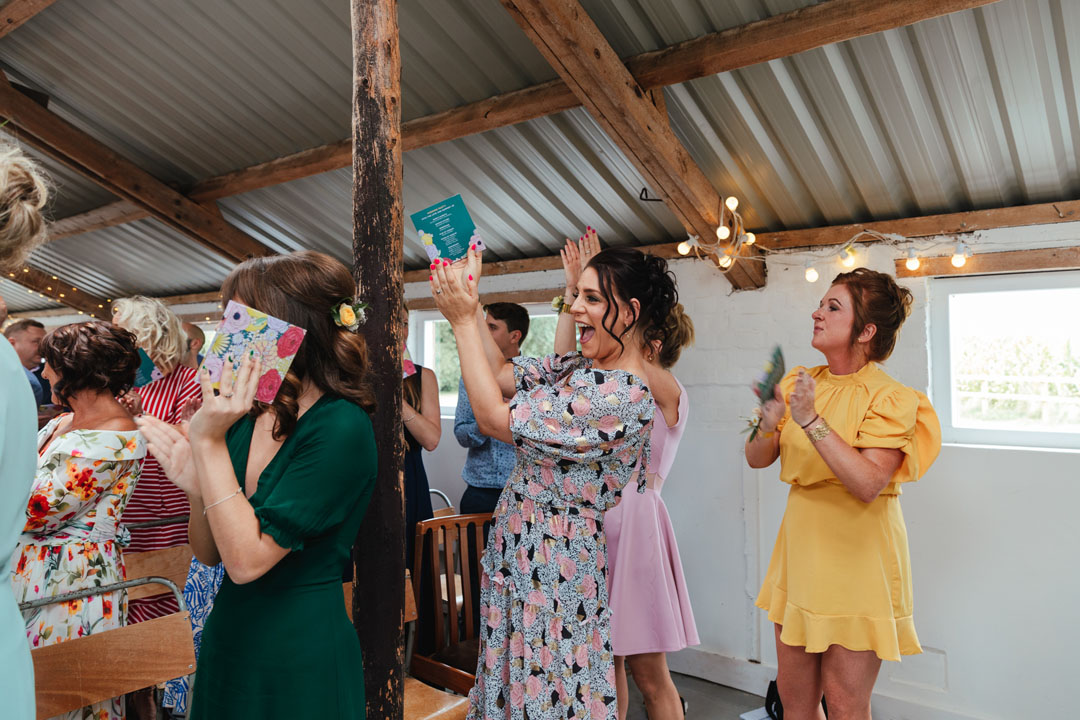 Jessica's wedding band was from Anna Sheffield.
"I chose the 'Elenore Helios' band. The vows I wrote described Michael as sunshine and Helios is the sun god – and I love the stacking style. Michael's ring was the Cartier Love wedding band – just love!"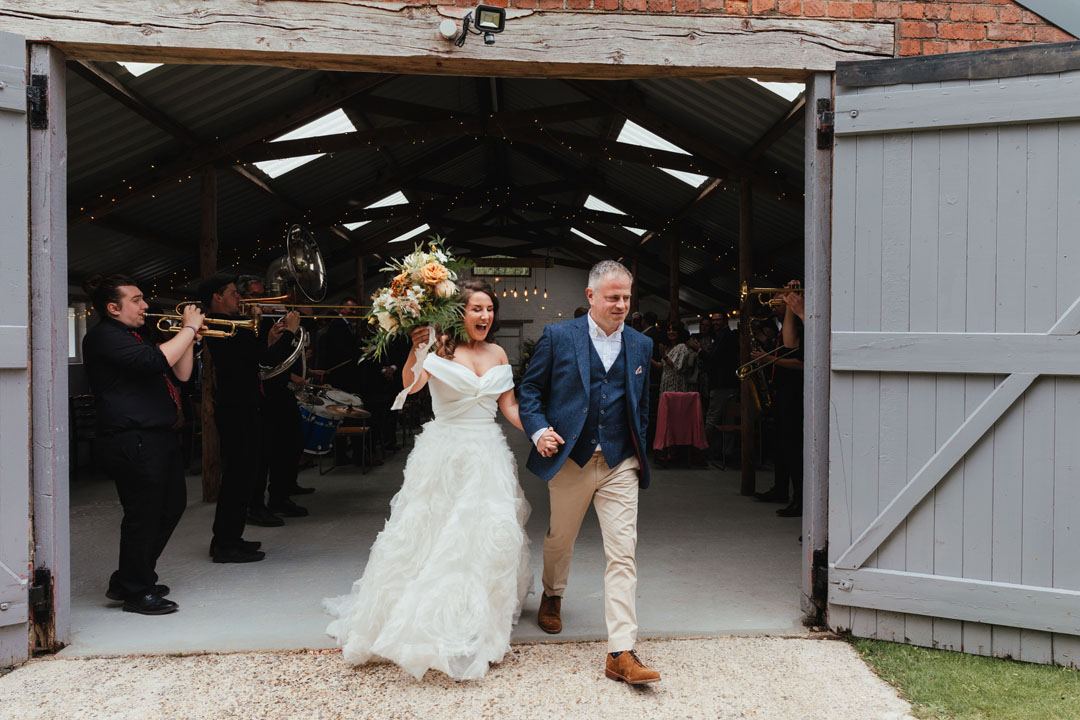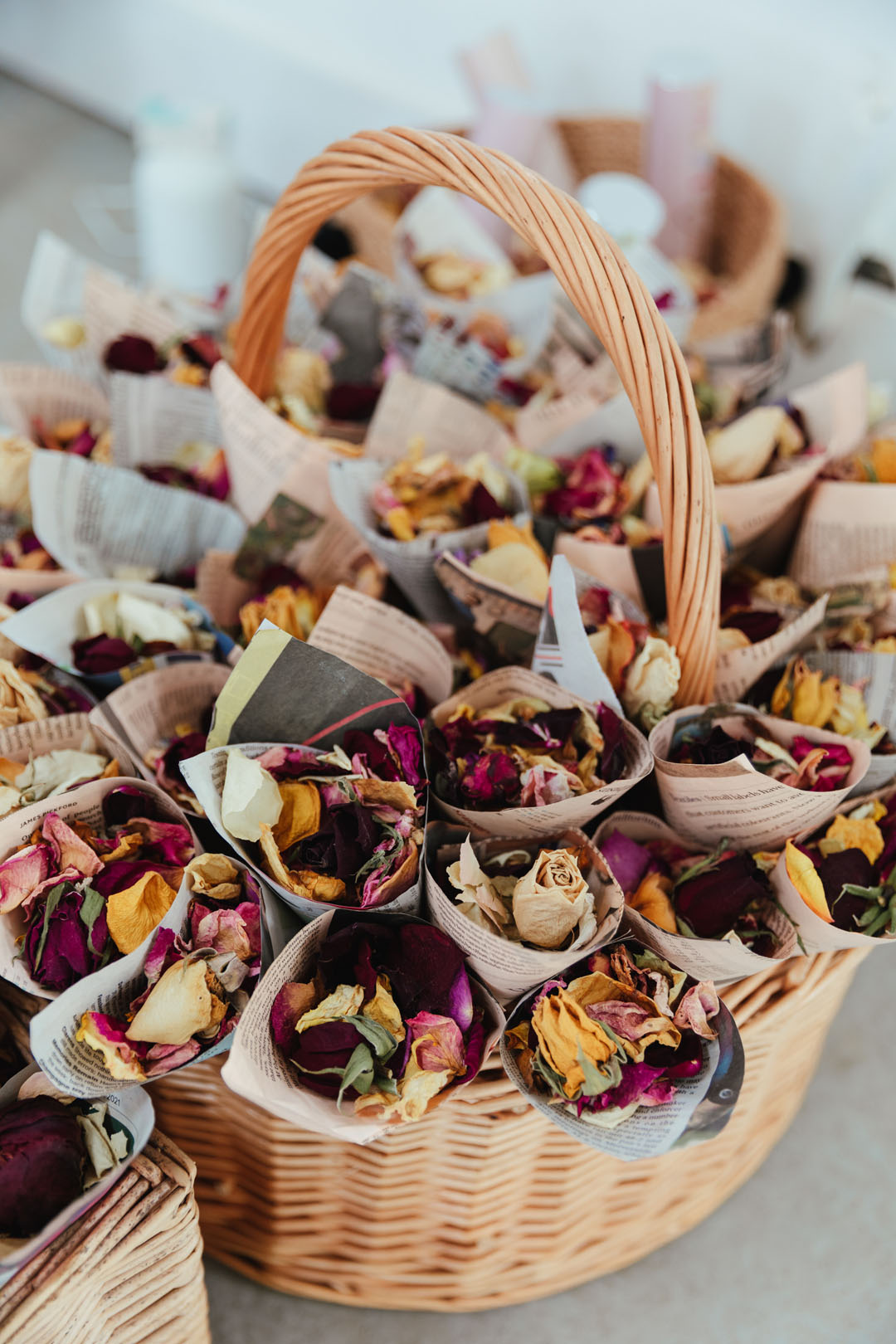 The bride slipped on gold 'Camelia Bow' shoes from Loeffler Randall and wore Byredo Gypsy Water.
"It smells amazing and felt fitting."
Her long, dark, hair, styled into a romantic down-do by Lauren McRae Wedding Hair, was accessorised with fresh flowers and Jessica's fresh make-up was applied by Amy George Makeup.
"Amy is an absolute pro and immediately puts you at ease while giving you the confidence to look like you on your wedding day. She also gave some excellent product recommendations in the run-up to the wedding."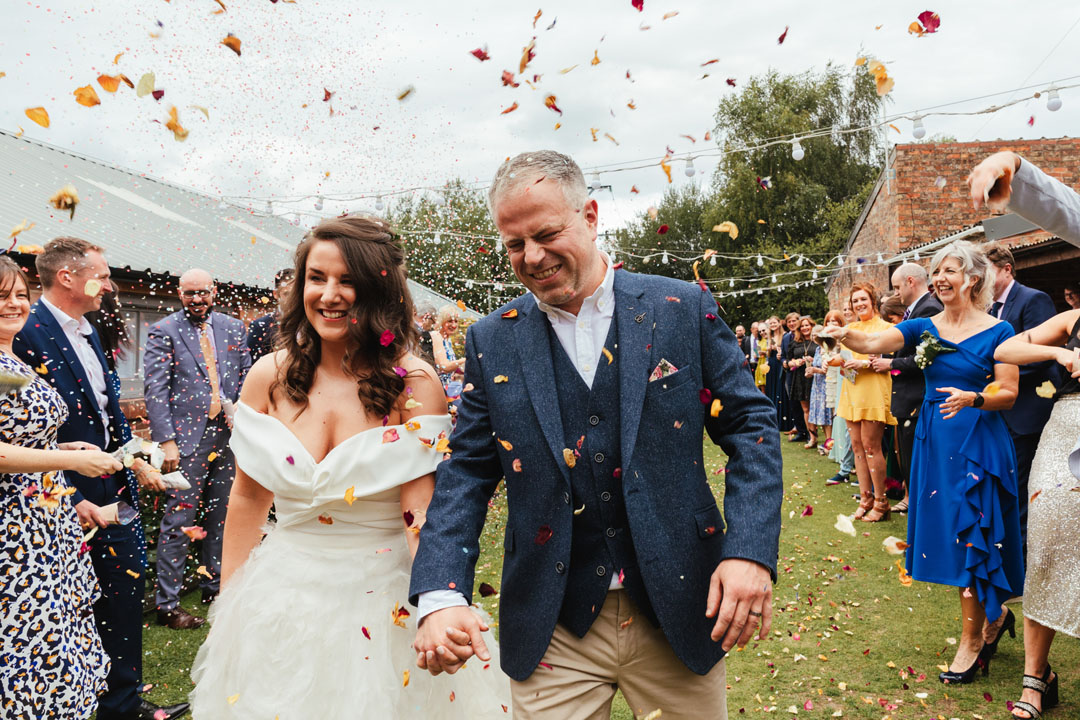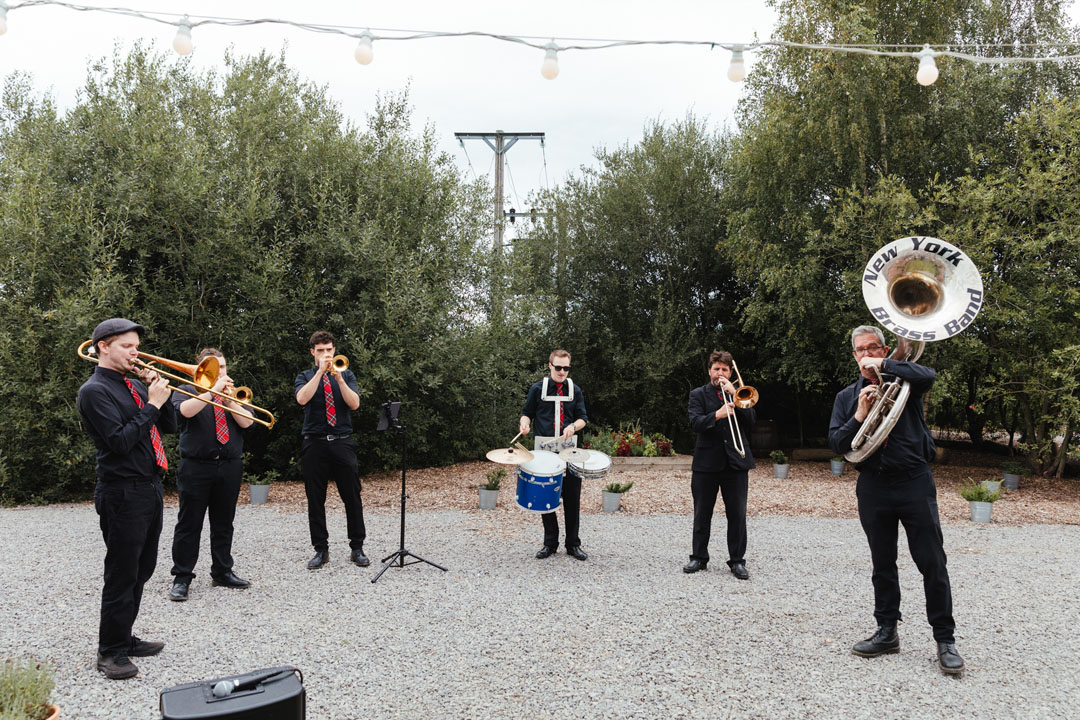 "New York Brass Band played us out of the ceremony to 'Walking On Sunshine' and entertained our guests while they enjoyed cocktails, fizz and oysters in The Roost before announcing us as bride and groom at the wedding feast."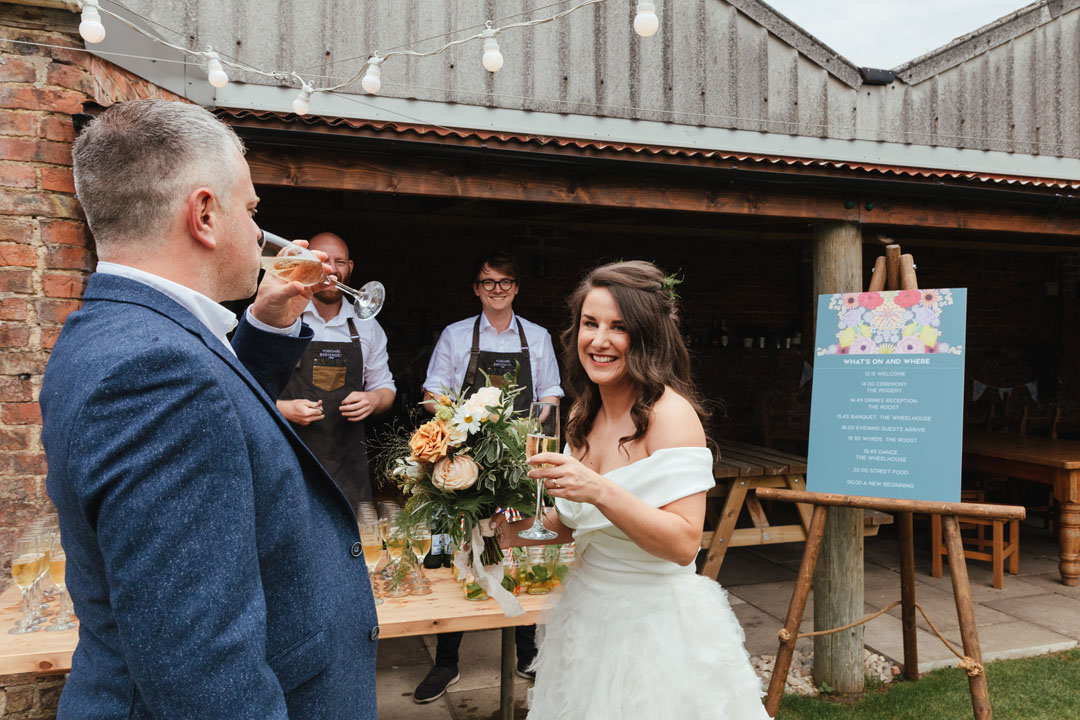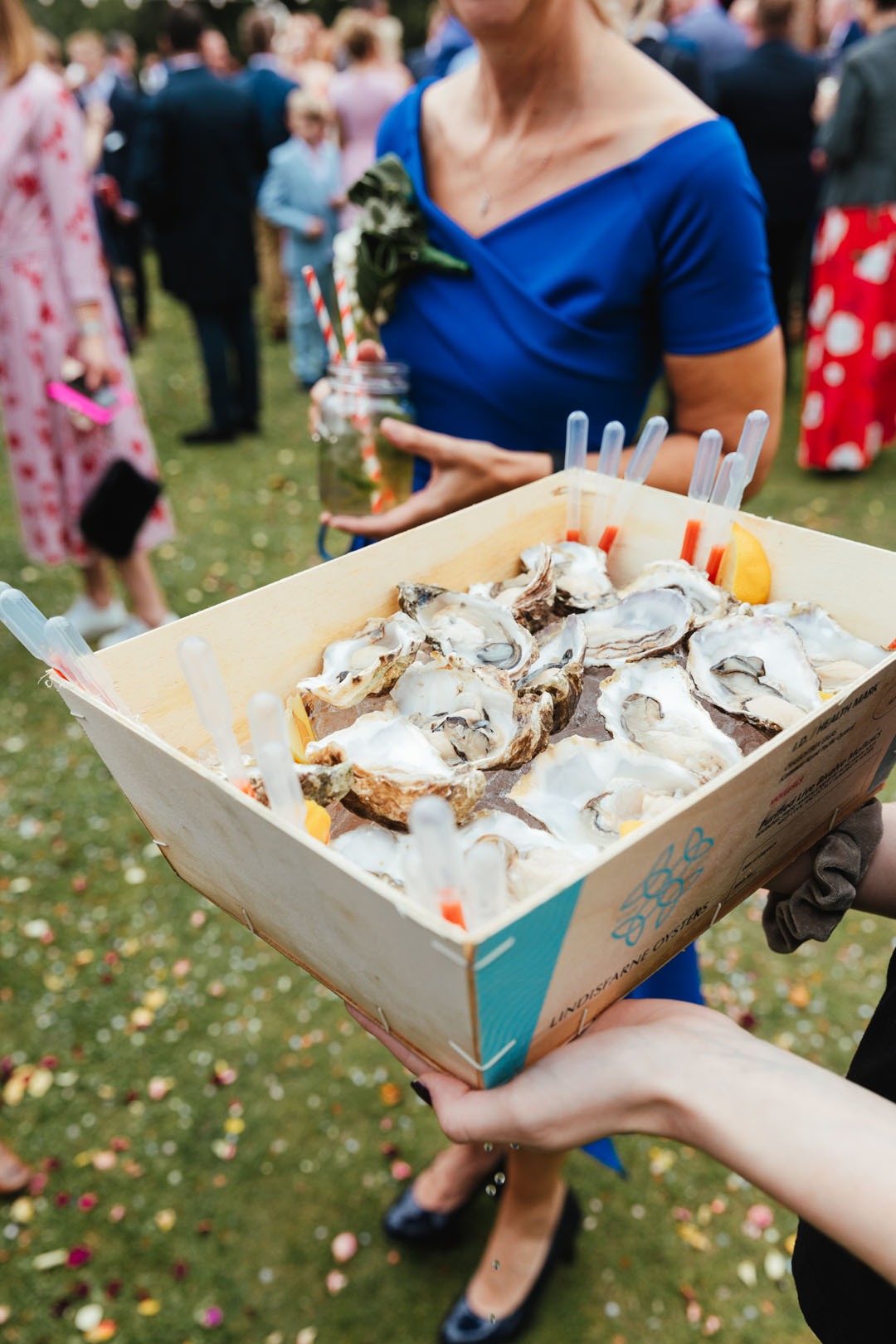 Capturing the beauty of the day was Victoria Baker Weddings, whose fresh, movement-filled style shows off the day's colours and romance so well.
"A combination of Victoria's relaxed style and the amazing shots she'd already captured at our venue made her the obvious choice."
"Plus, everyone I mentioned her to said how good she was. We highly recommend."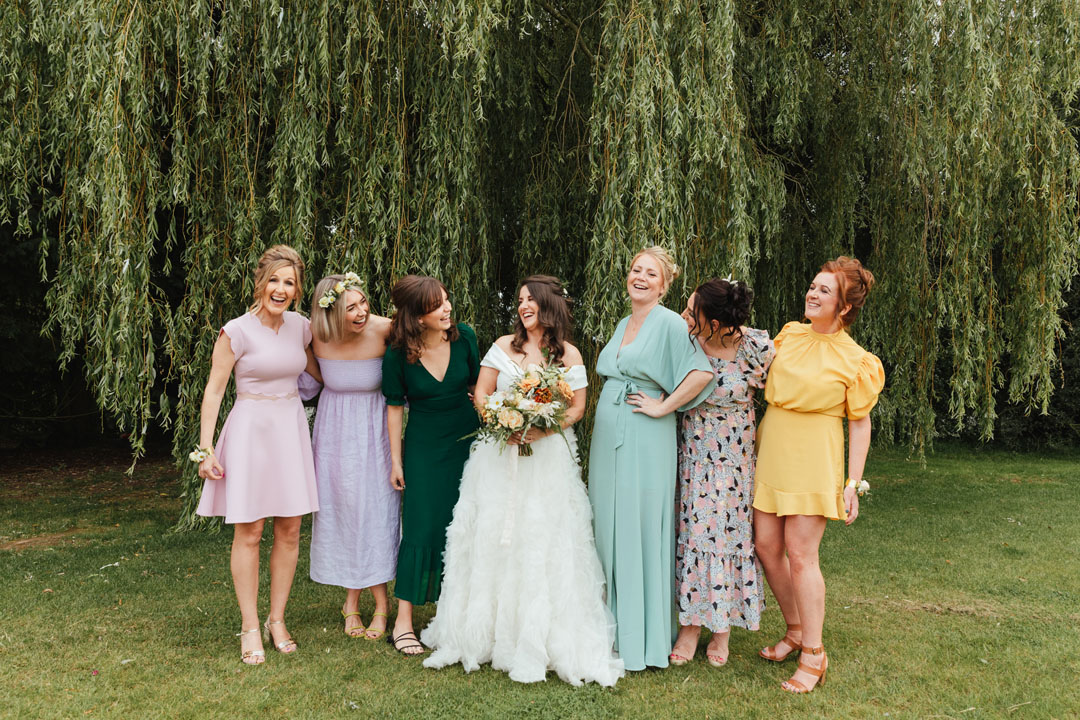 Jessica visited The White Closet in Didsbury where she selected the Halfpenny London Daffodil gown, overlaid with the organza Ruffle Rose skirt for day-time glam.
I'm delighted to share that Jess discovered Halfpenny London here on Love My Dress, and I invite you to find out more about Kate Halfpenny and her incredible designs here on the Wedding Directory.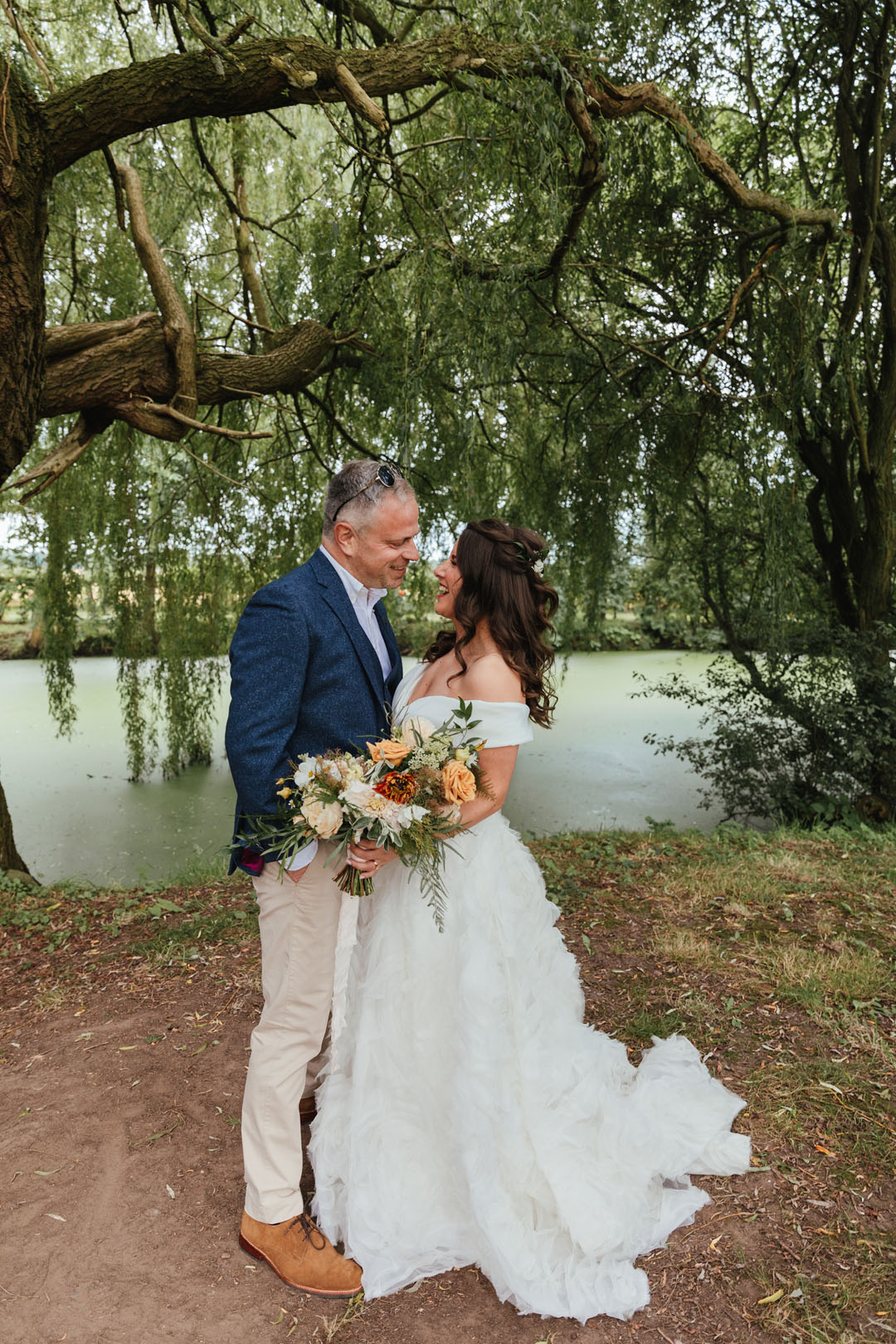 "I had my heart set on a Halfpenny London dress or separates after falling in love with Kate's designs on screen."
"The White Closet is a Manchester stockist and as we had a venue but no dress, I booked an appointment for the first week after lockdown in April 2021."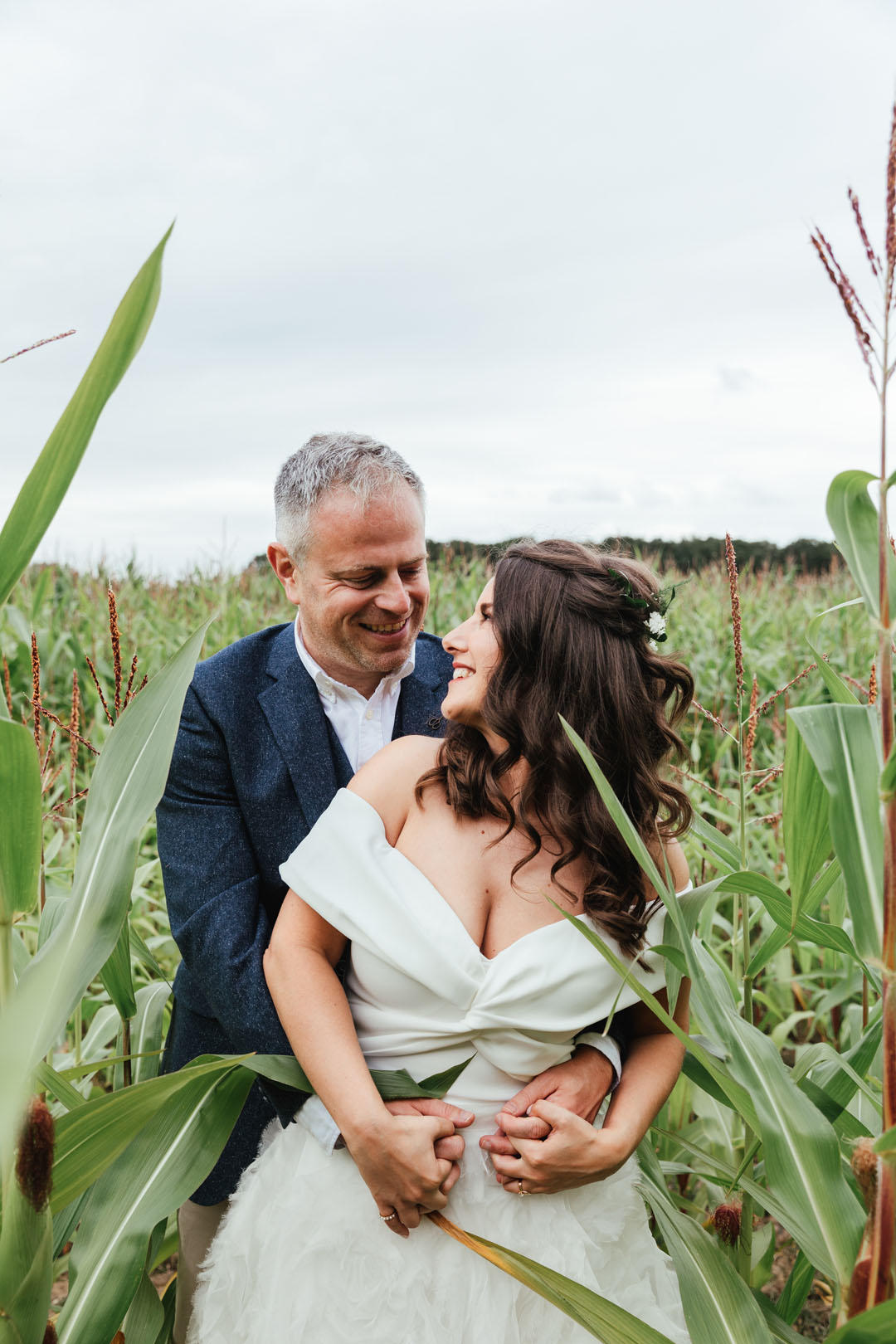 "When I saw the dresses in real life, it was a no-brainer. The fabrics and textures meant I was spoilt for choice and could have happily gone for a few options. The Daffodil dress felt like something I would wear anyway, and I loved the magic of the Ruffle Rose skirt and that it was a new and exclusive design."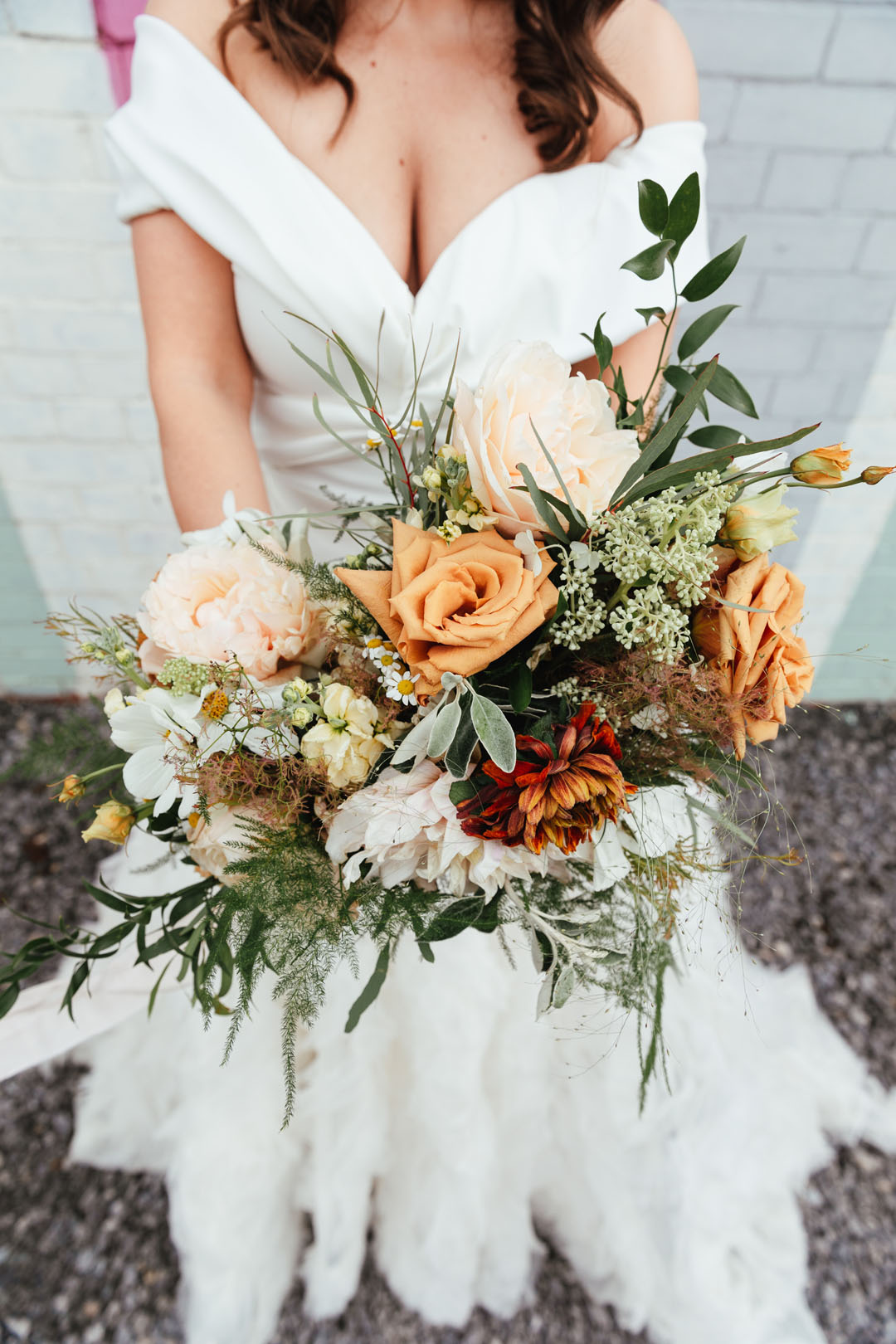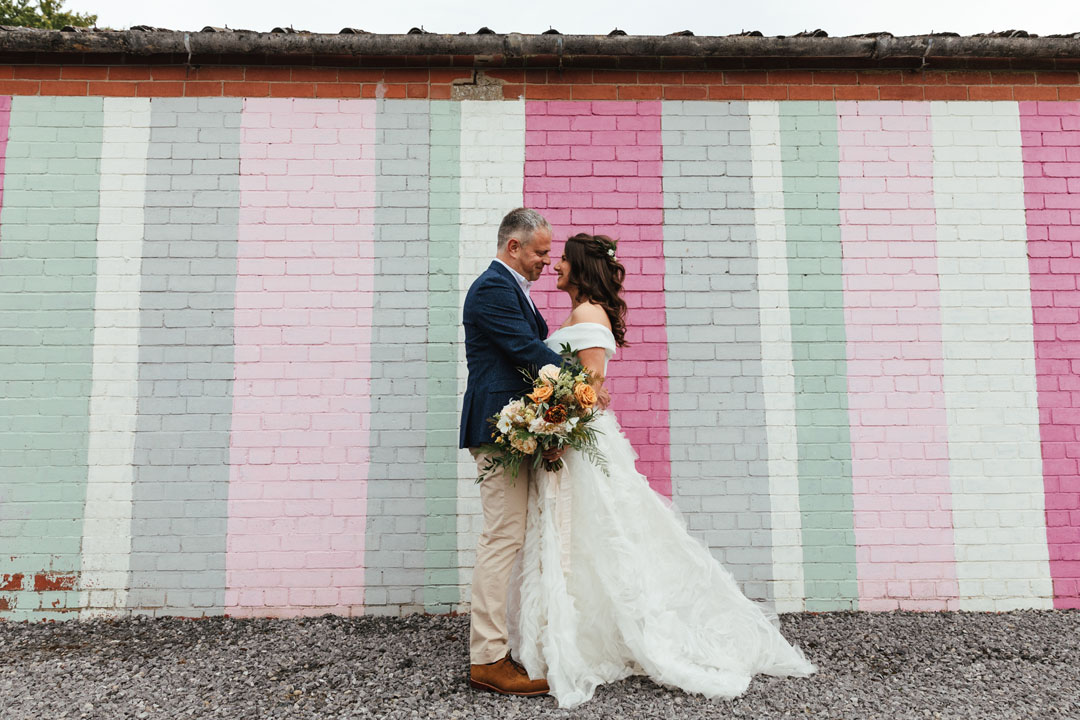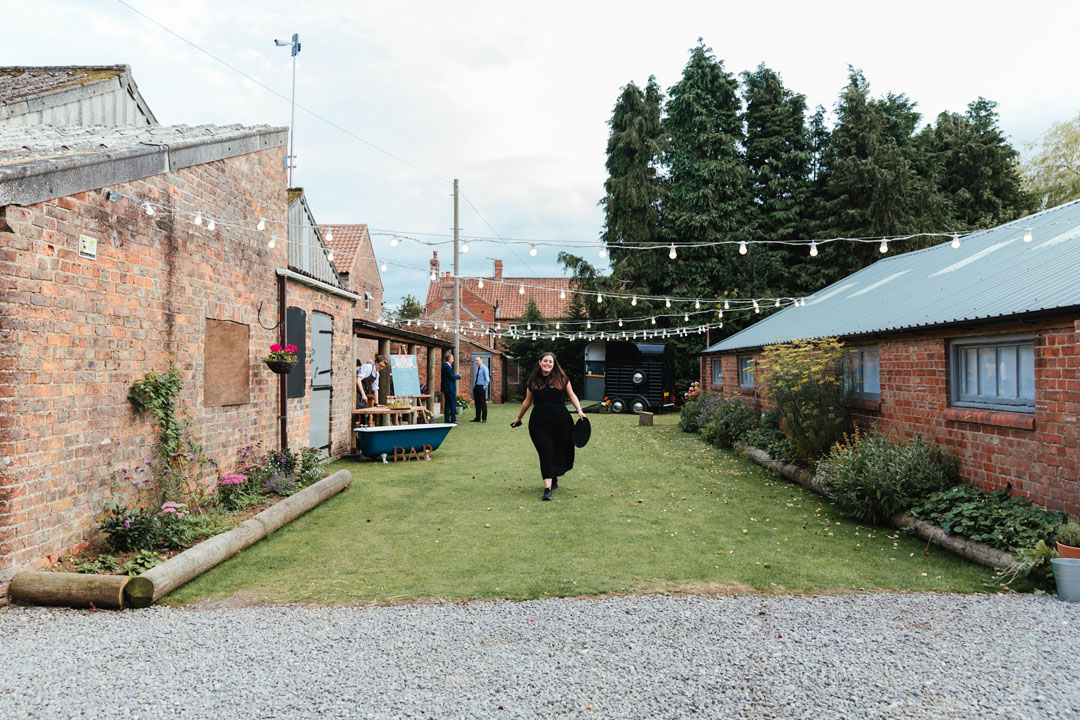 The couple worked with event planner Steph from Rustic Rose Events for styling, some hire, pre-event help and on-the-day coordination.
With their planning affected by changing Covid restrictions, they held off for a few months when the pandemic first hit.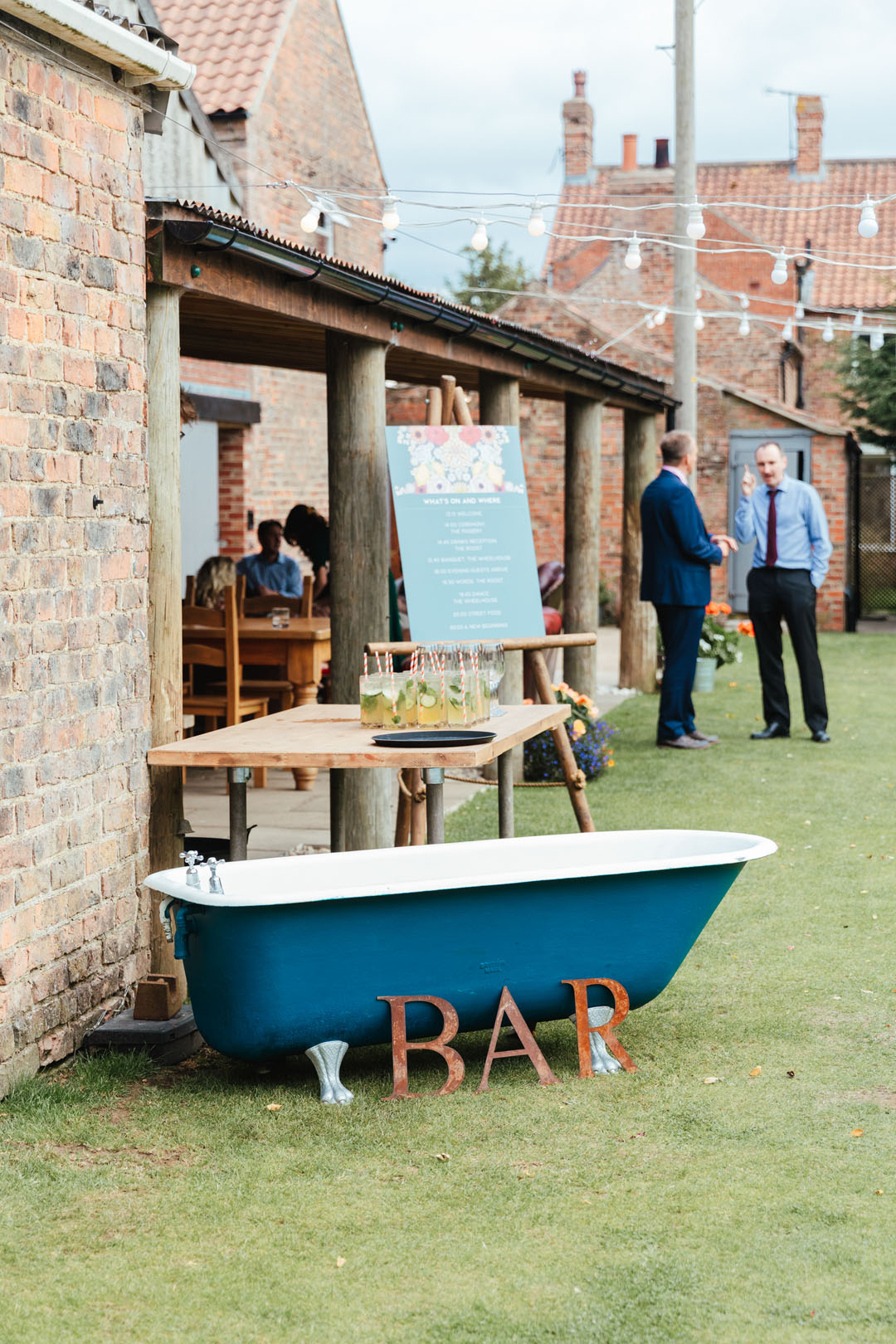 "Steph was in her element on the wedding day and made sure everything ran without a hitch. She's intuitive and fun, bringing a relaxed vibe to the day – exactly what we needed."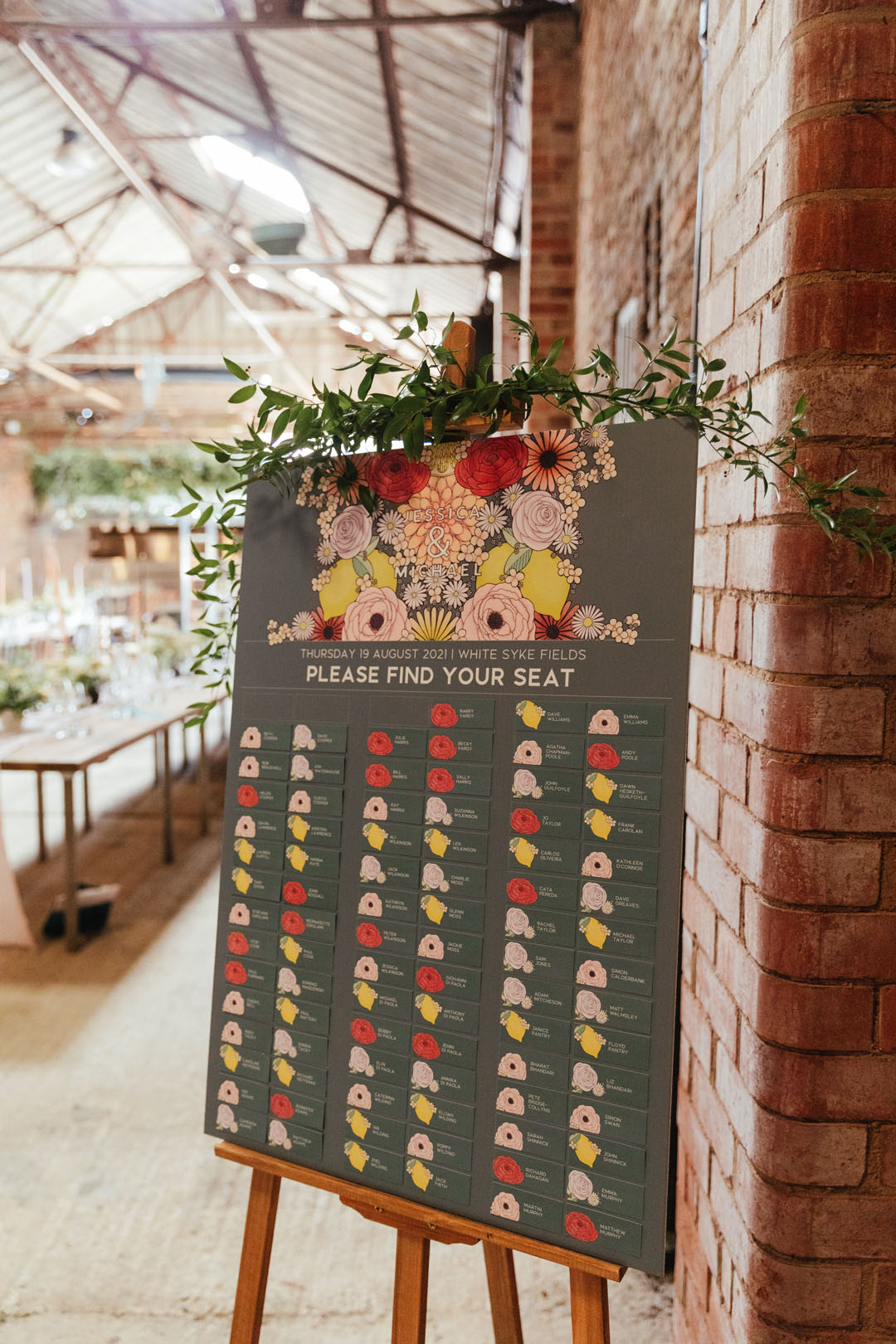 "We were inspired by everything we love – our favourite colours, music, food and people that, together, would make the venue ours and guarantee a joyful experience."
"We knew that flowers would be an important factor so that's where we started with planning. Dittany Entwined's designs and colours provided constant inspiration for the day."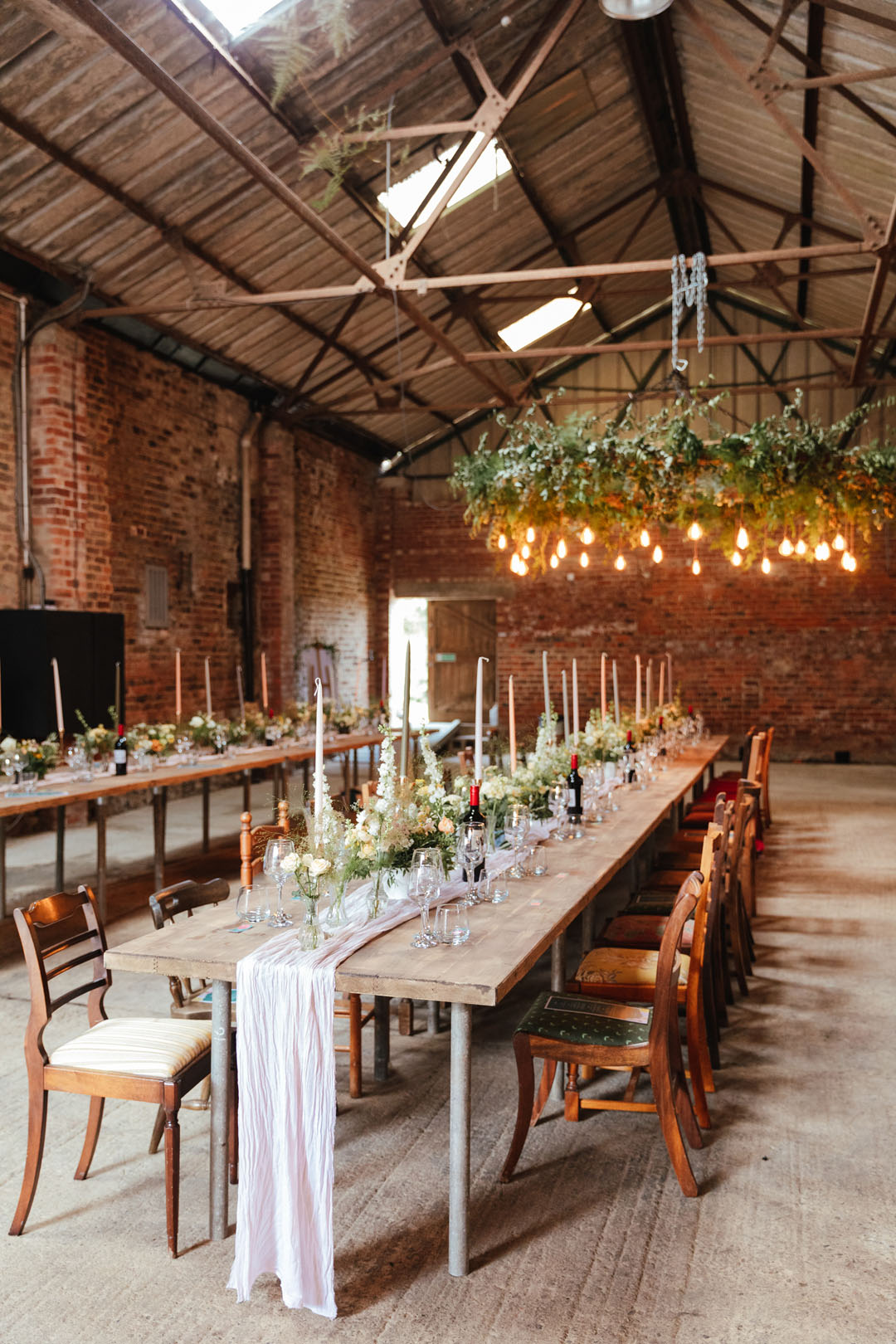 White Syke Fields is a vast space, and Jessica and Michael used all of their creativity to style each to create different zones and vibes. Over to Jessica to explain more about how they utilised the spaces.
"The Piggery was a rustic yet bright so the ideal backdrop for our wild meadow. The Roost (the outdoor area) needed very little work but was the perfect drinks reception location and fire pit for drinks later on. We hired some great pieces from Rustic Rose and we were lucky enough to be able to borrow garden furniture and pub benches from my mum and dad, and their friends."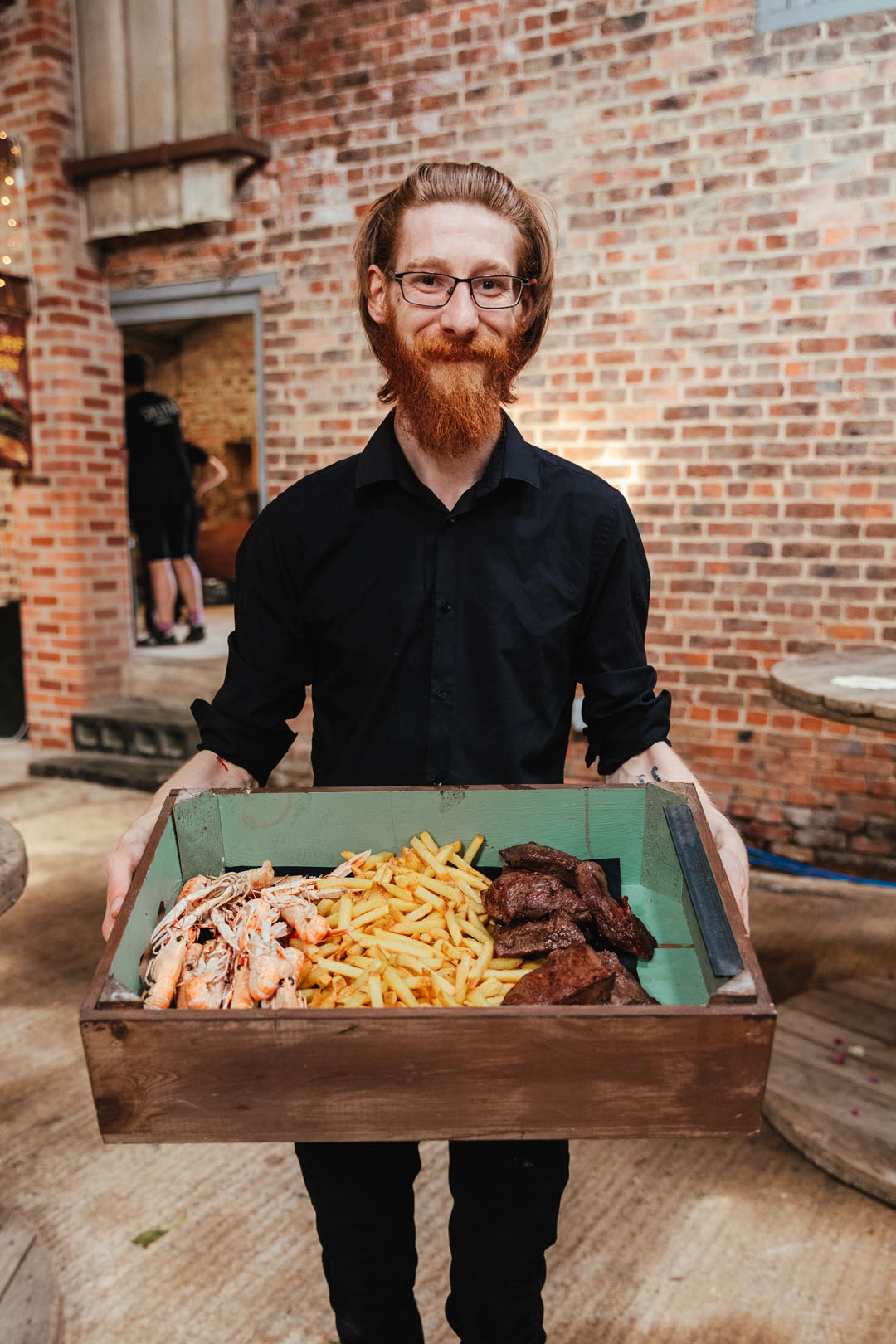 The wedding breakfast was by Shoot The Bull, who also provided the oysters and evening street food. Drinks were from Yorkshire Bartender, the welcome drinks displayed in a vintage bathtub.
"We didn't have a cake as we don't have a sweet tooth. We had a cheese cake kindly gifted by my mum and dad's neighbour after a Northern Bloc ice cream van in a horse trailer."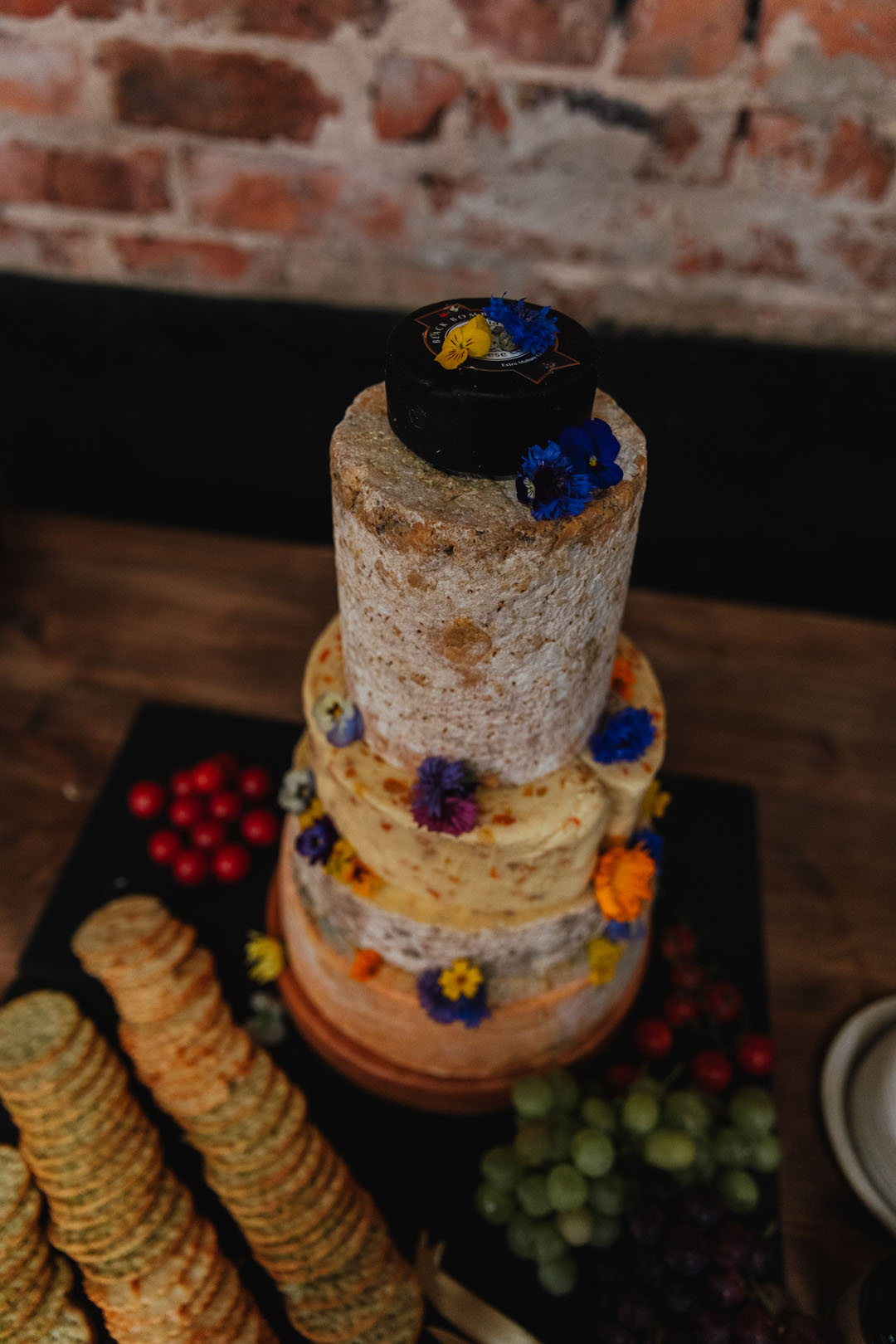 "In The Wheelhouse, the long dining tables set under impressive lighting was the ideal setting for a feast. With the help of Rustic Rose, we styled them with lots of flowers and candles (from Smith & The Magpie) but otherwise kept settings simple to allow for family-style dining."
"The scale of The Wheelhouse also allowed us to bring in the street food trucks and create a festival feel. It really is a blank canvas space without limits."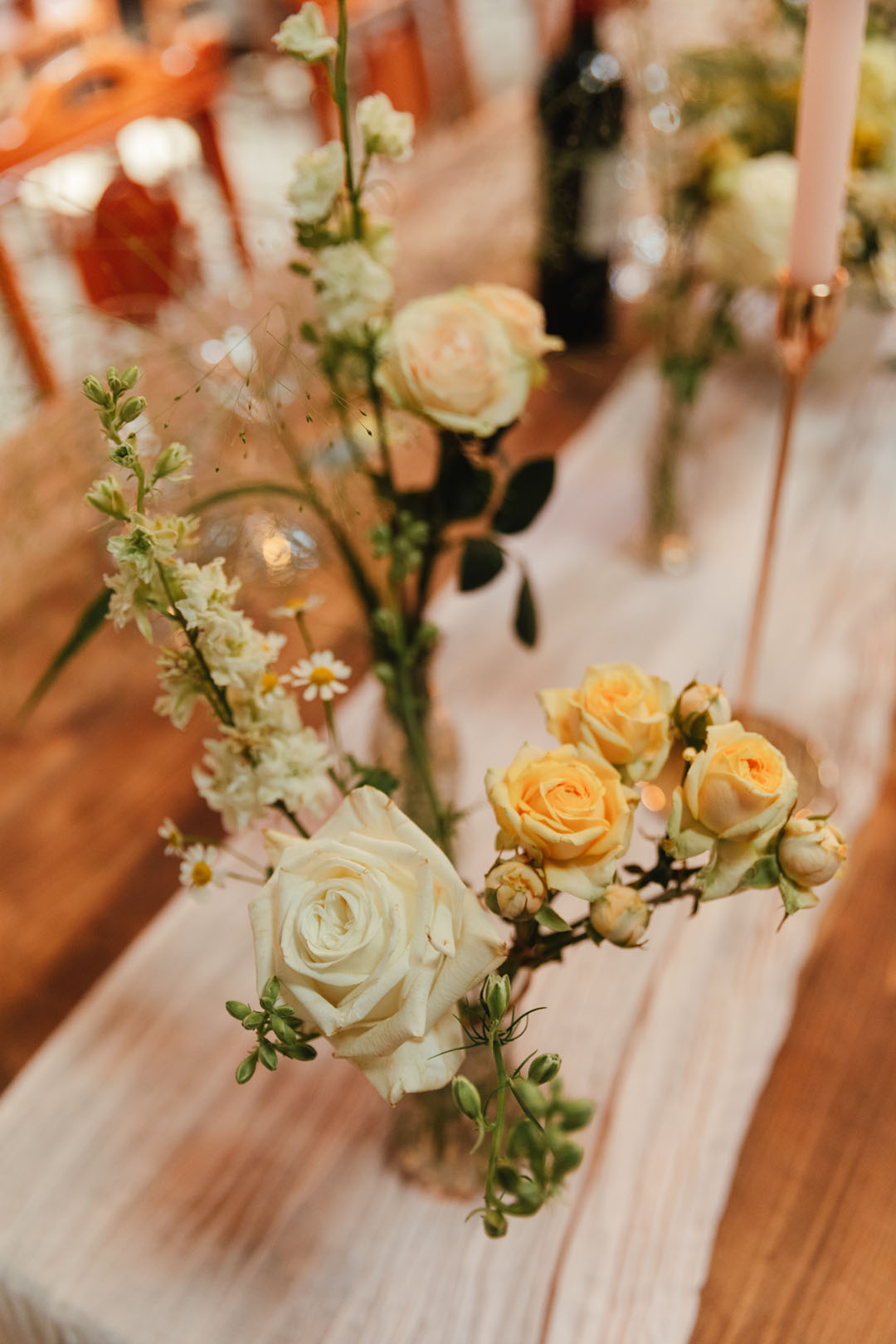 "As well as the juke box near the bar, Michael styled a pub corner called The Turf Tavern with Chesterfields, barrel tables, pub games and some horse-racing on TV."
"I created a 'Circle Bar' as a tribute to my group of friends, The Circle. With a disco sign and more flowers, this gave another breakout area at the back of the dance-floor."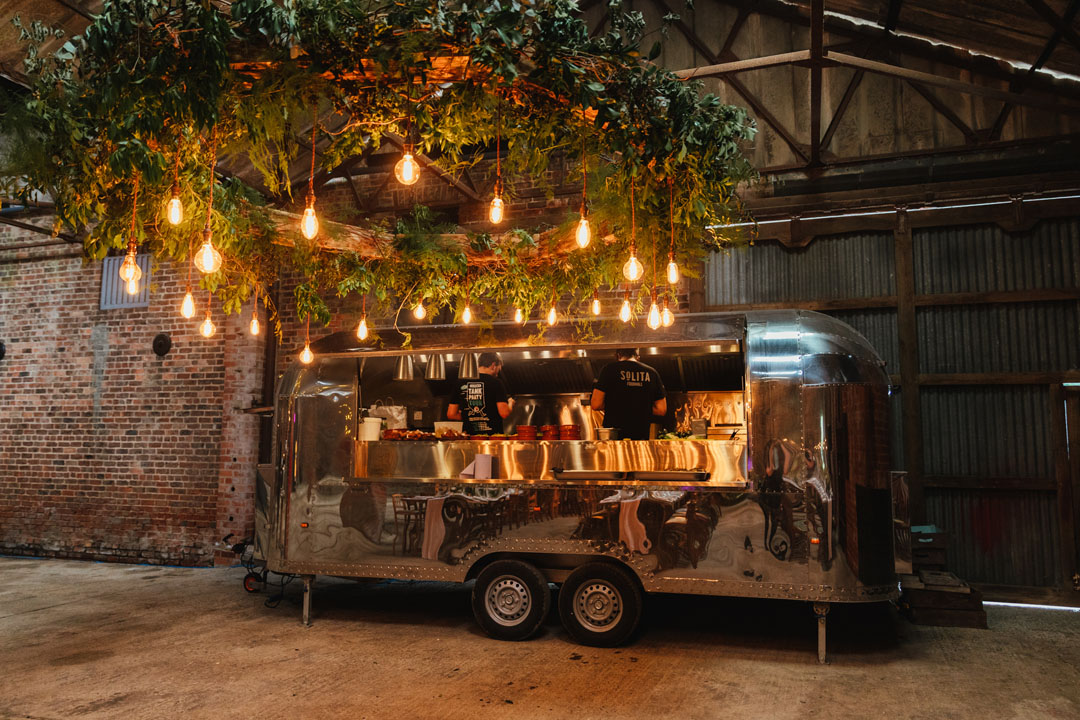 "A special mention has to go to my mum Kath and mate of honour Jo, who had hand-dried petals for months to create beautiful, natural confetti."
"This was given out to guests in cones made from the 'Financial Times' and 'Racing Post' – our newspapers of choice."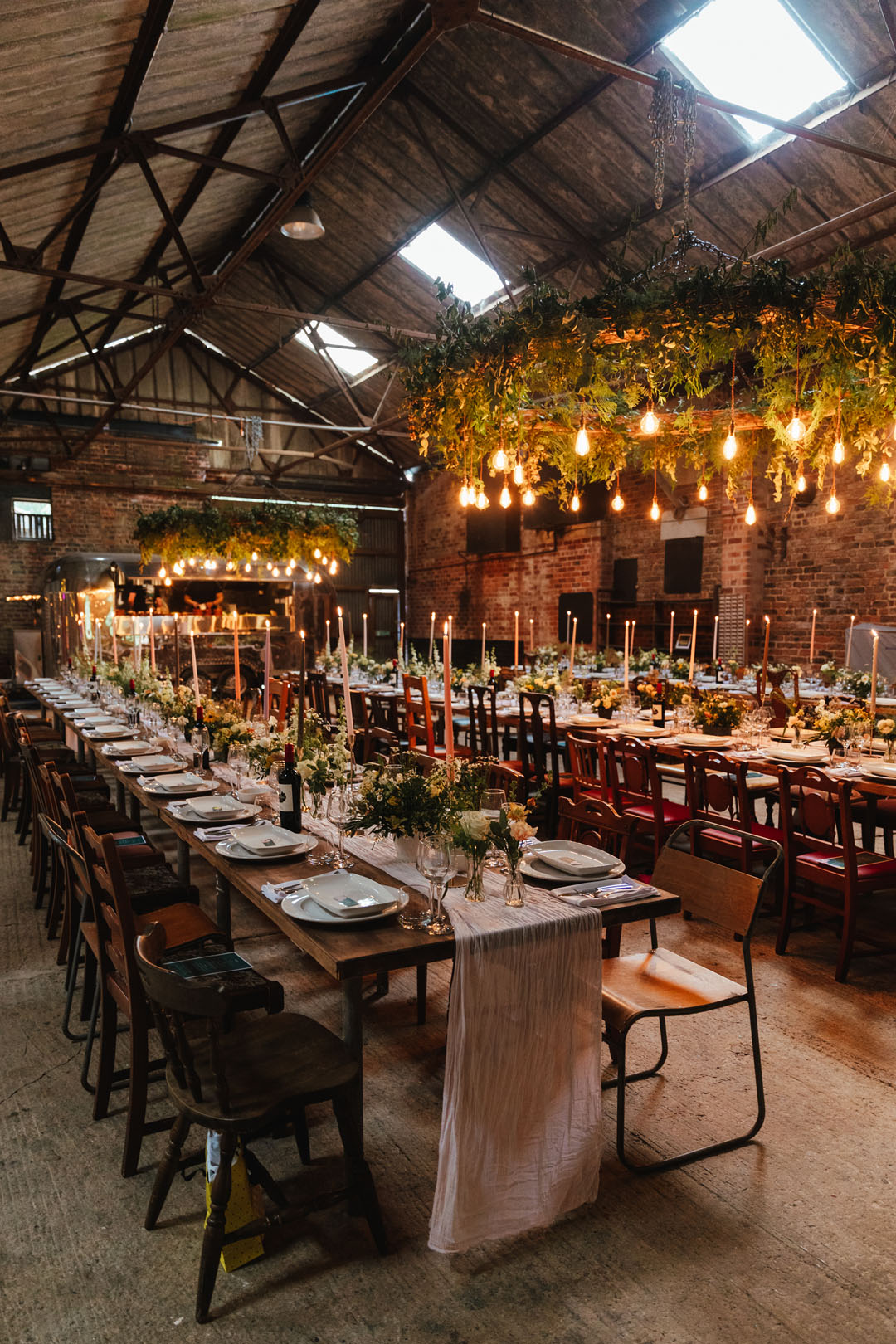 The couple worked with Laura of Paper Heart Stationery to create a bespoke illustration which adorned the stationery suite.
"Laura used our names, flowers and some lemons as a nod to Michael's Italian heritage. This stunning floral gave us the foundation for all the other stationery. As well as being the centrepiece of the invitation, the illustration was used for RSVPs, a useful stuff postcard, menus, the order of service, place cards and signage on the day."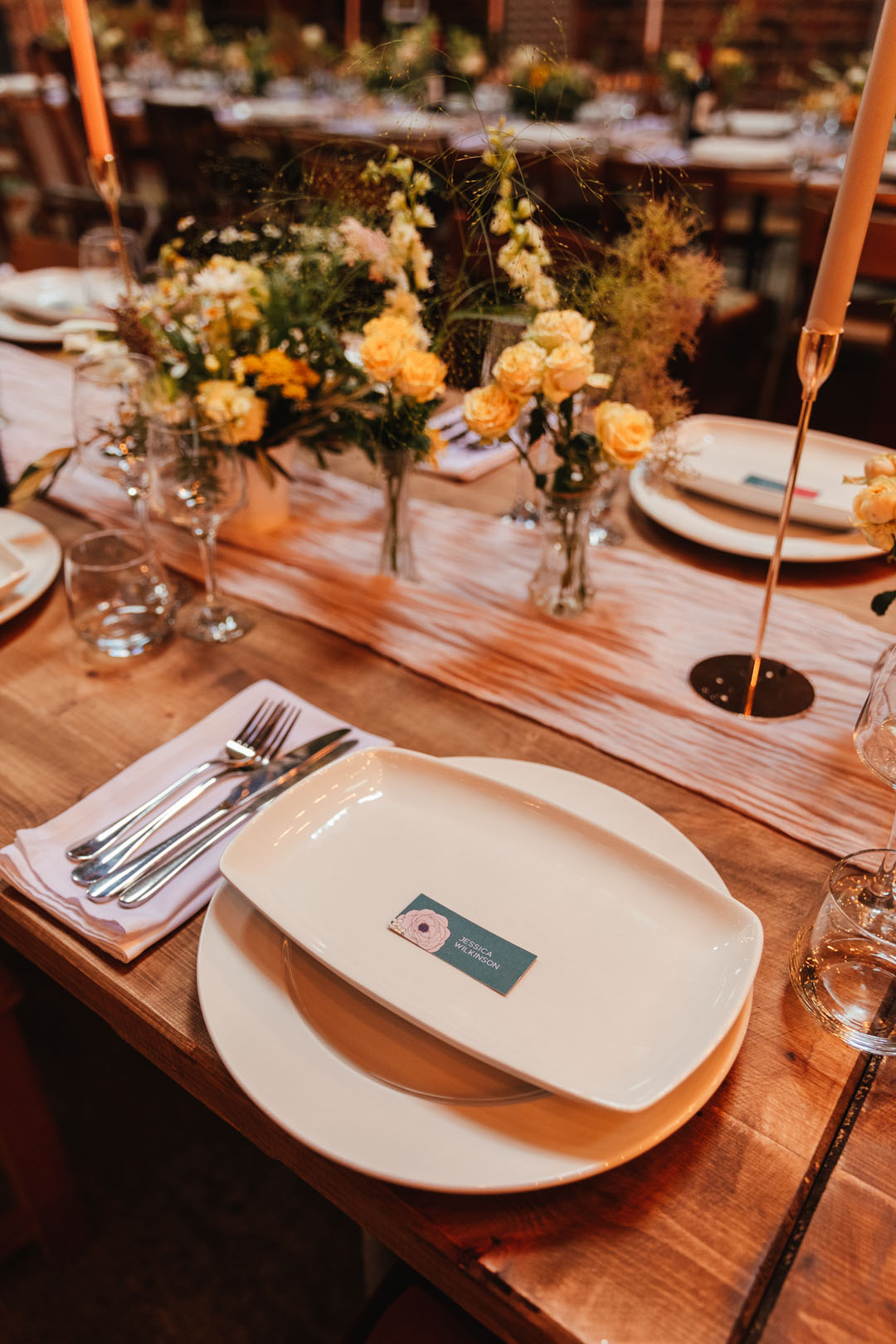 One of our favourite touches was being able to print it in a 1.4m x 1m vinyl to place above the ceremony entrance – quite literally putting our stamp on the venue."
"We also got the original illustration framed which is a lovely keepsake. We sourced floral and love-themed vintage stamps for the invitations from Art Stamped."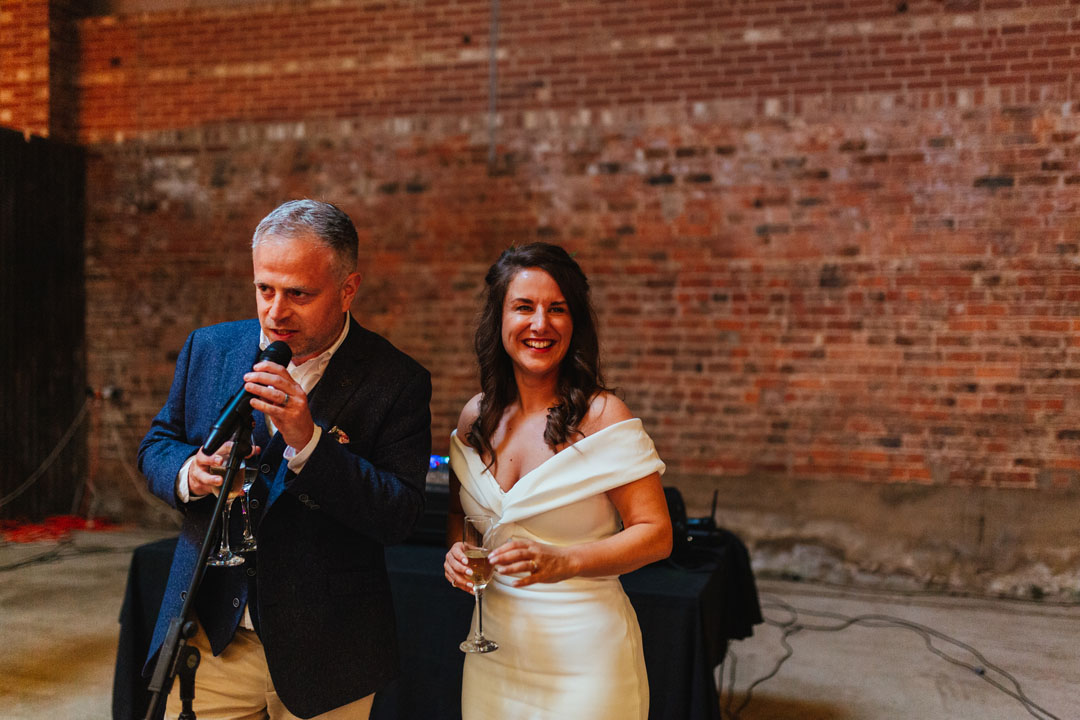 Jessica slipped off the Ruffle Rose skirt to transform her bridal look ready for the evening drinks reception and party.
"We went with a relaxed, open mic format for speeches and thank yous after the evening drinks reception rather than over dinner."
"We were surprised by the mates of honour who had written a personalised song about us to the tune of Elton John's 'Crocodile Rock'."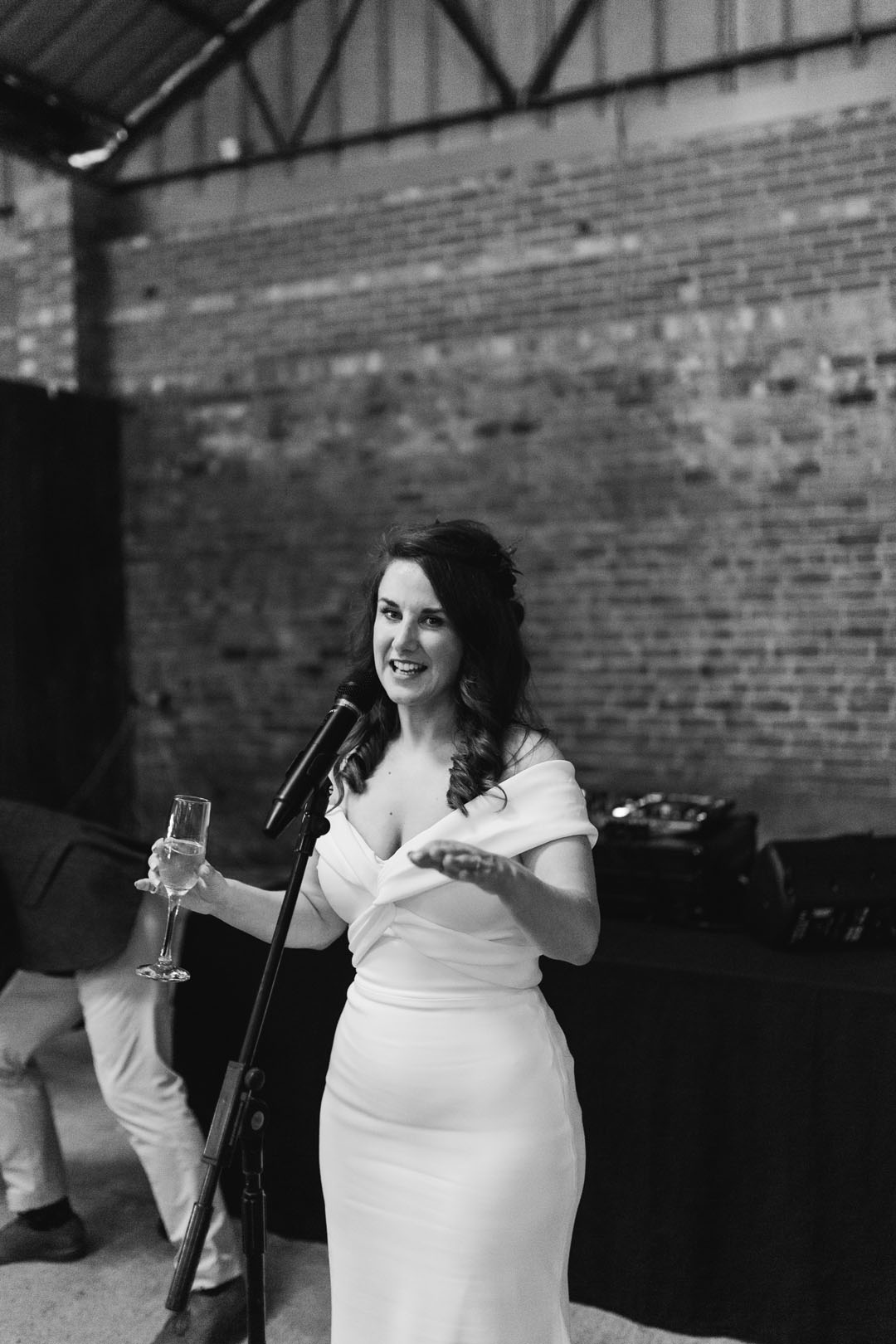 Music was central to the wedding's entertainment, and the couple hired an original Wurlitzer Jukebox from Stephen at Jukebox Hire for the meal and early evening. The first dance was to the Arctic Monkeys' cover of 'Baby I'm Yours'.
"I am always drawn to a jukebox. As well as being a nice décor touch, guests loved being able to choose their favourite tune. Stephen was amazing and it was brilliant value entertainment which could have covered music for the whole night if we'd wanted."
"Tom Byrne from Wedding Jam joined us to DJ for the evening and kept the dance-floor lively with a mix of Indie, disco and Motown."
"These guys are class – the playlist is based on your taste and what's keeping people dancing so no cheesy hits."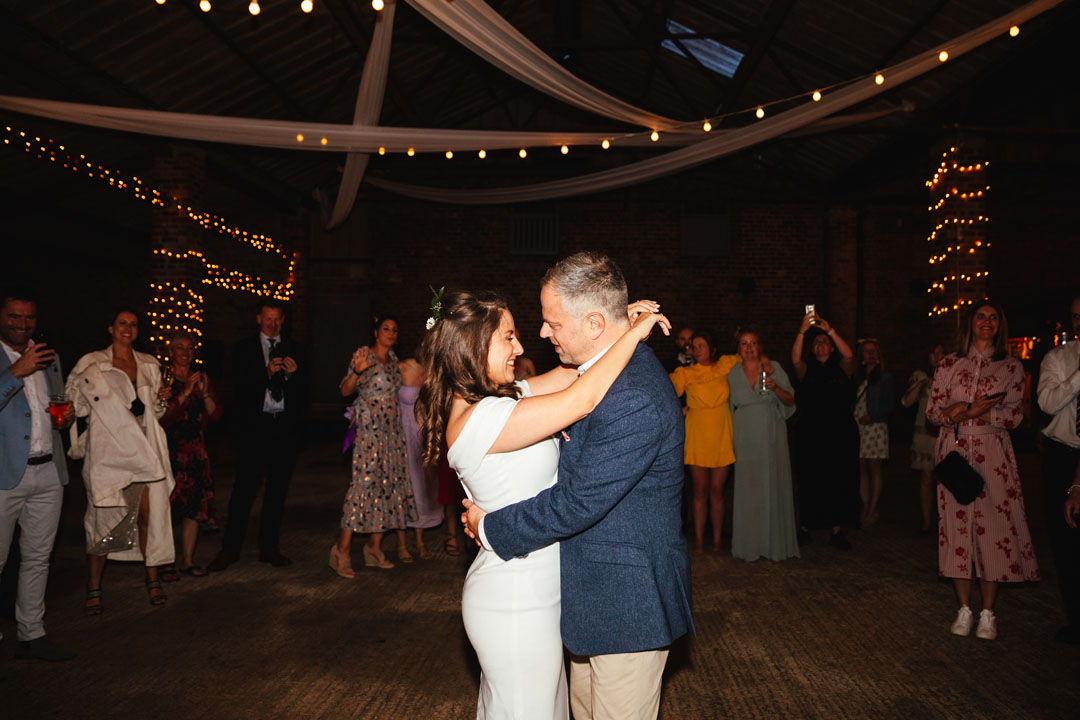 Before the evening party, the newly-weds headed out into the Yorkshire fields for some portrait shots with their photographer.
"Our favourite moment, unexpectedly, was having our photos taken together early evening. Neither of us is a huge fan of the camera but Victoria made us super-relaxed."
"It was so perfect to catch up on the day so far and spend thirty minutes together with the night of partying still ahead."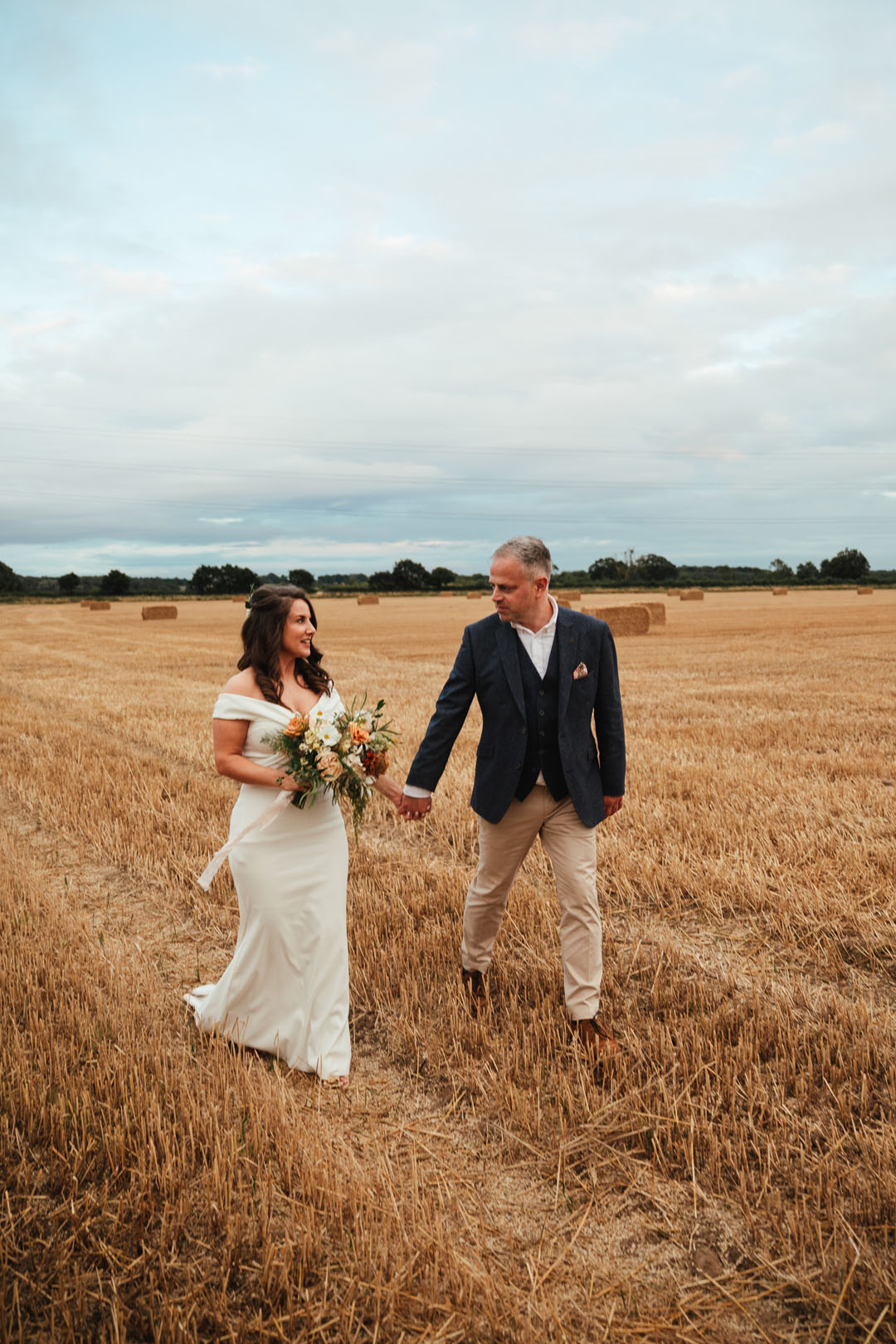 Words of Wedded Wisdom
"Enjoy the planning together and take the pressure off. The day really does go quickly so it was ace to look back on the couple of months planning together as part of the overall experience."
"Consider continuing into day two. A group of us went to York Races the day after the wedding and it was a great way to debrief and extend the festivities."
"For the kids, we pulled together activity packs from Meli & Ro. My mates of honour also received a personalised Moët bottle with my favourite photo of them."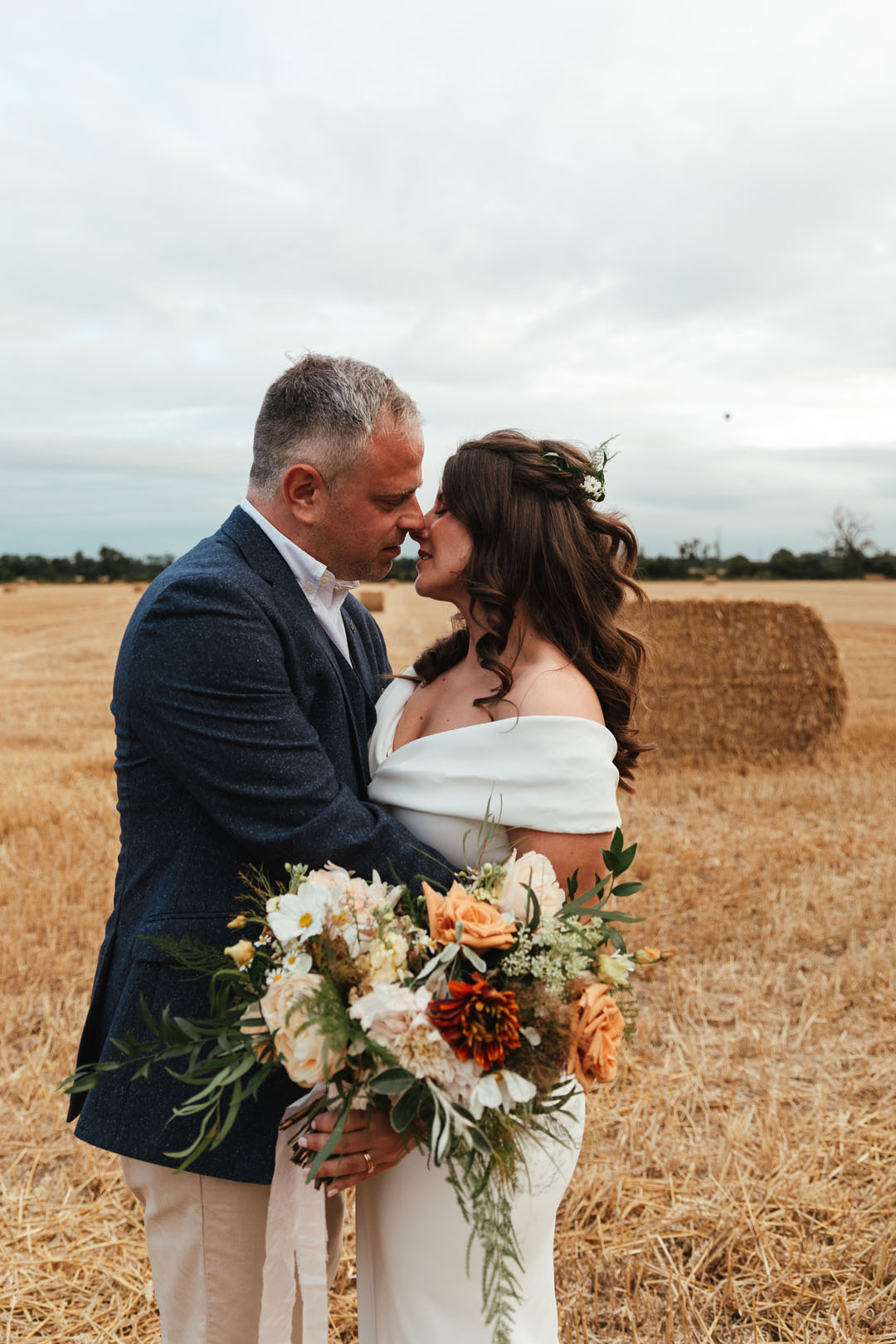 So many thanks and congratulations Jessica and Michael. What a venue, and I love how you personalised it and made it your own with your vibrant florals and styling. Thank you, Victoria Baker Weddings, for sharing your work with us too.
For more brides wearing Halfpenny London, please take a look at these Love My Dress features.
Ele xx