Today's Cambridgeshire wedding is a lovely celebration of the English Countryside, and features two of our much-loved Wedding Directory suppliers; Especially Amy Photography and Catherine Deane. I am delighted to share Hattie and Tom's day with you today, so let's take a look.
On 18 September 2021, architect Tom wed Hattie, who works in public health research, in a traditional church service at St Michael & All Angels Church, Abington Pigotts, South Cambridgeshire with a relaxed barn reception afterwards at Down Hall Farm, in the same village. The couple took the beauty of the late summer English countryside as their inspiration, working with their talented friends and family to make lots of the styling elements themselves.
Photography Especially Amy Photography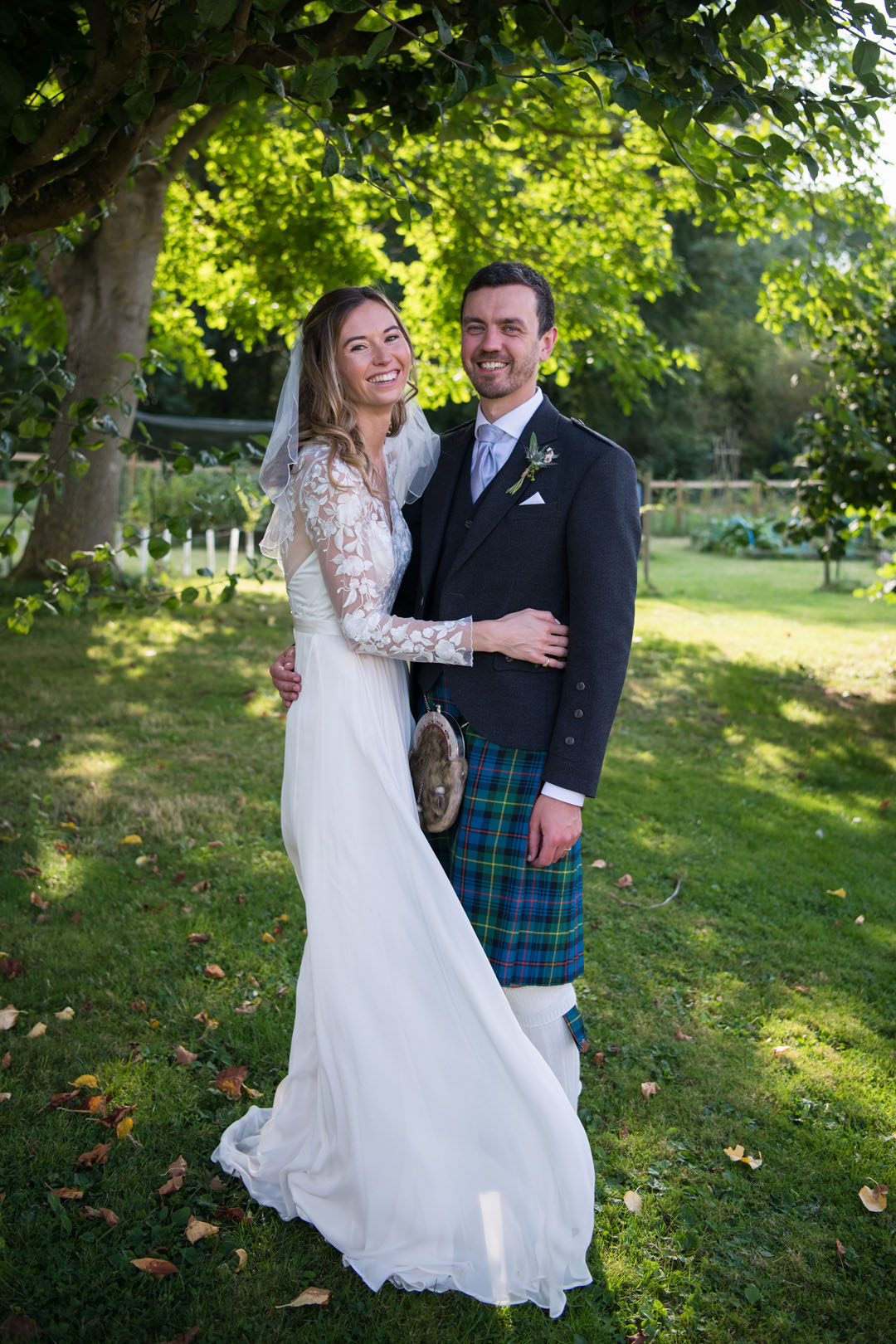 For the September day, Hattie selected a timeless, long-sleeved, open-backed lace gown from Catherine Deane.
We are delighted to support Catherine Deane and her modern, romantic designs on our Wedding Directory; see her listing here.
https://www.lovemydress.net/directory/supplier/catherine-deane/
"I found my dress at a Brides Magazine sample sale, held at The Corinthia Hotel in London."
The event was great as there were lots of designers there and it was possible to try on lots of different styles."
"I had an idea of what I thought my wedding dress would be like. However, the dress I chose was quite different."
"As soon as I tried it on, my mother, my sister and I got very emotional and knew that it was the one. The dress had a romantic, old-fashioned feel and fitted me perfectly."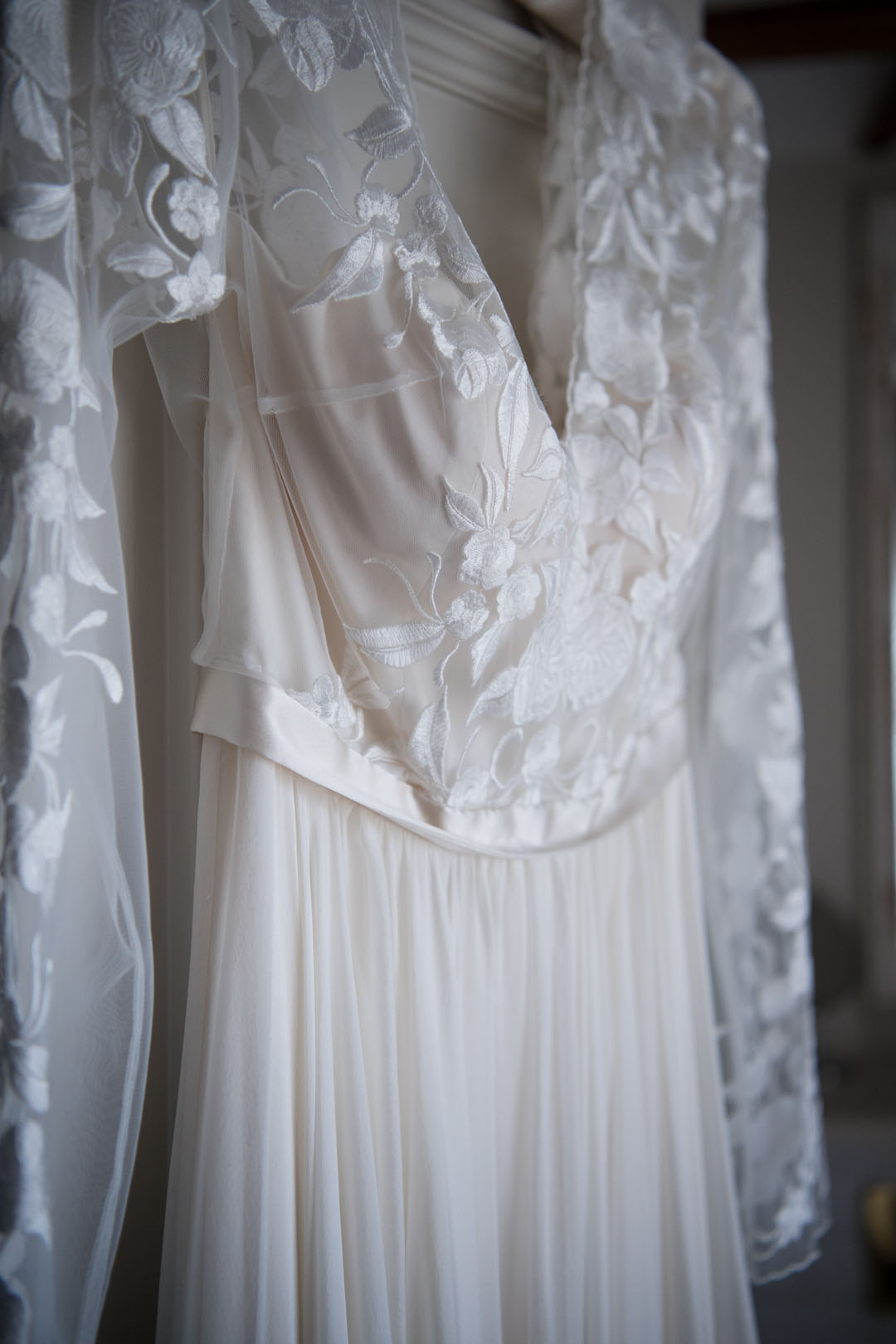 Shoes were Rainbow Club, their scalloped detail complementing Hattie's gown and veil.
"They were really comfortable and not too expensive."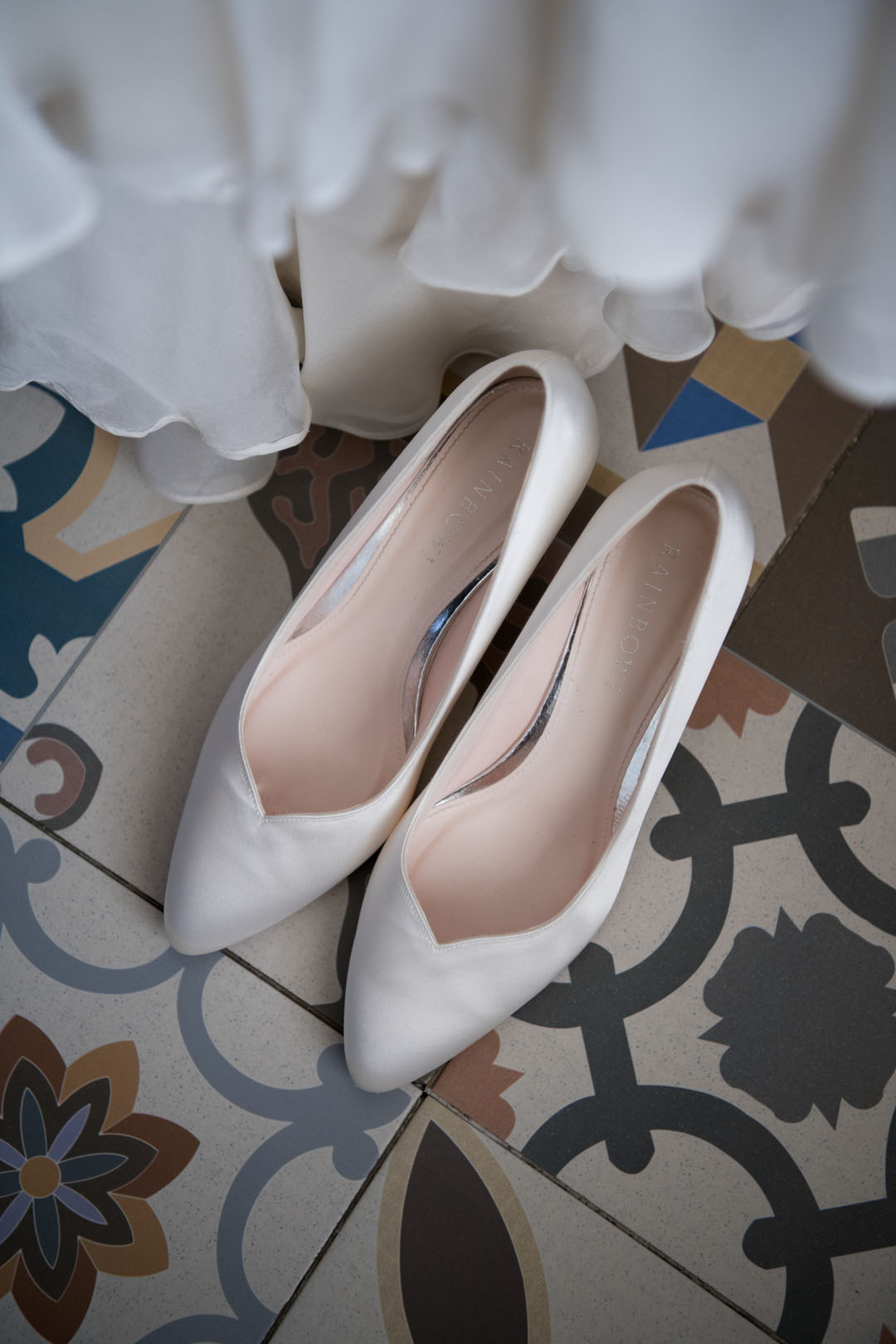 "I wore Elisabethan Rose by Penhaligon's. I knew I wanted a scent that contained rose as I liked the romantic idea of it. However, it's also a beautifully light and fresh scent."
Romantic roses ran through the day and featured in the soft, cottage garden-bouquet from Wild Rosamund.
"We wanted very natural arrangements that used flowers from an 'English cottage garden'."
"I was particularly keen to include roses in my bouquet.
"Our florist used seasonal, locally-grown flowers and foraged foliage which added to the natural and seasonal feel of the arrangements."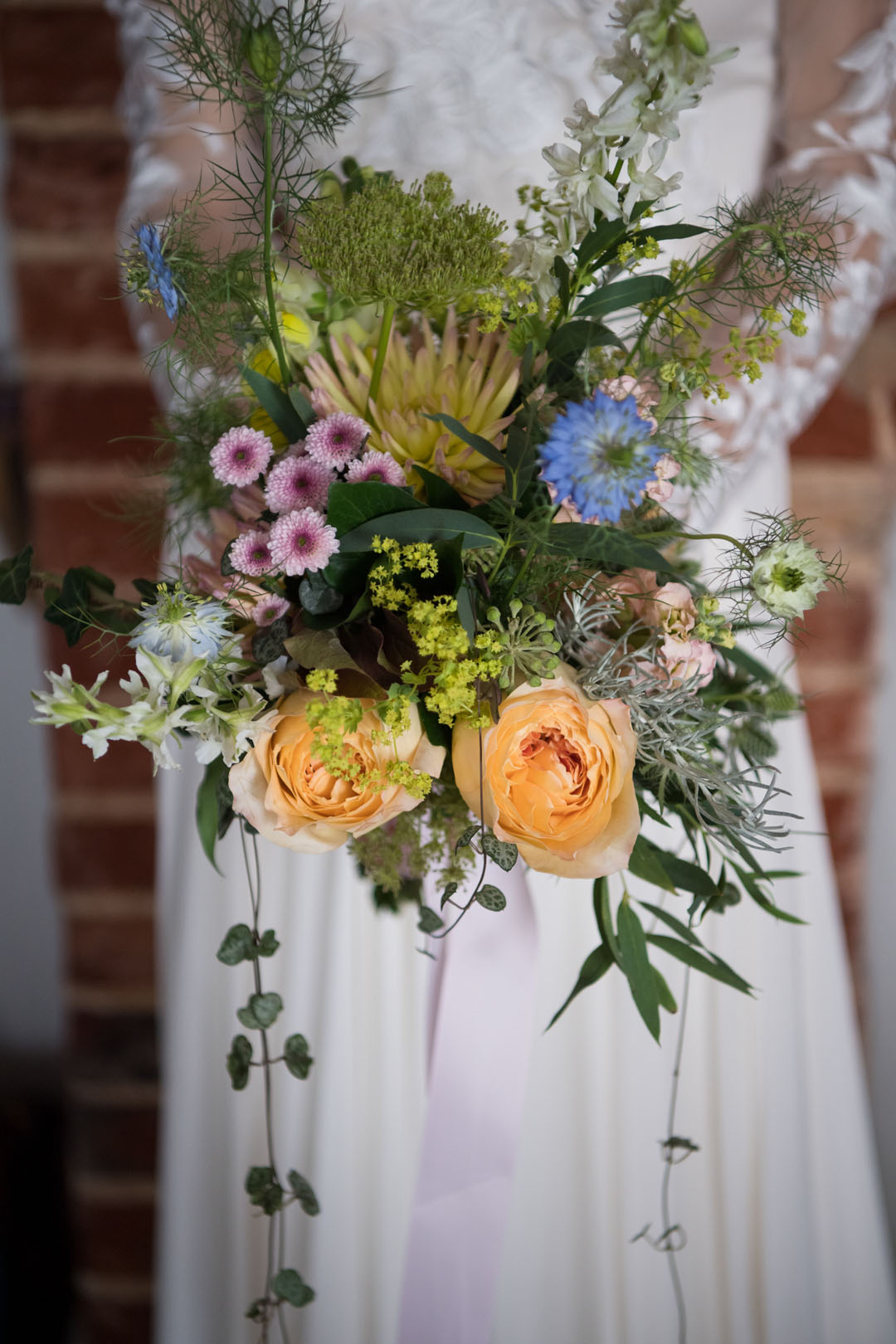 "Tom's parents live in Abington Pigotts and Tom grew up there. We both grew up in Cambridge and so wanted to get married close to home."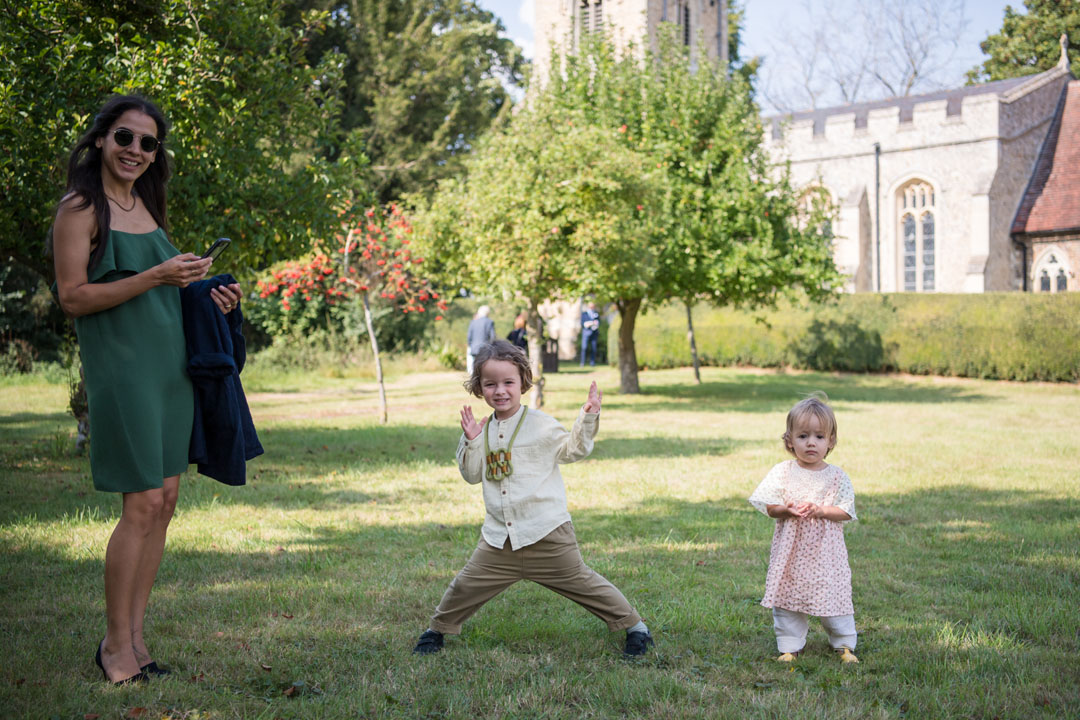 "We got married in the village church and were lucky enough to use a beautiful old barn as the reception venue, situated at Down Hall Farm which is owned by some friends in the village."
"We really wanted a relaxed, English countryside wedding, with quite a traditional ceremony. This meant we could make use of the beautiful village church."
"We wanted to try and do as much of the detail ourselves so that it had a unique and homemade feel. We have lots of talented family members and asked for their help wherever possible."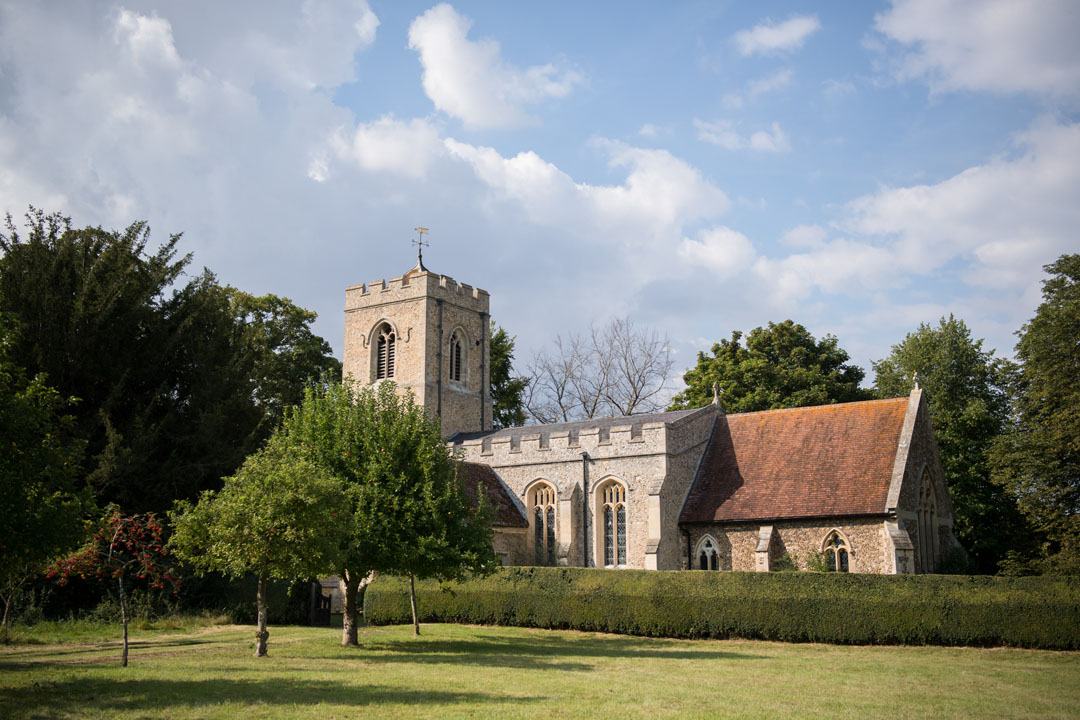 Tom chose to wear his grandfather's kilt, which was also worn by his father on his wedding day.
"All the kilt accessories were from Tom's grandfather. Tom's jacket and waistcoat were from MacGregor & MacDuff."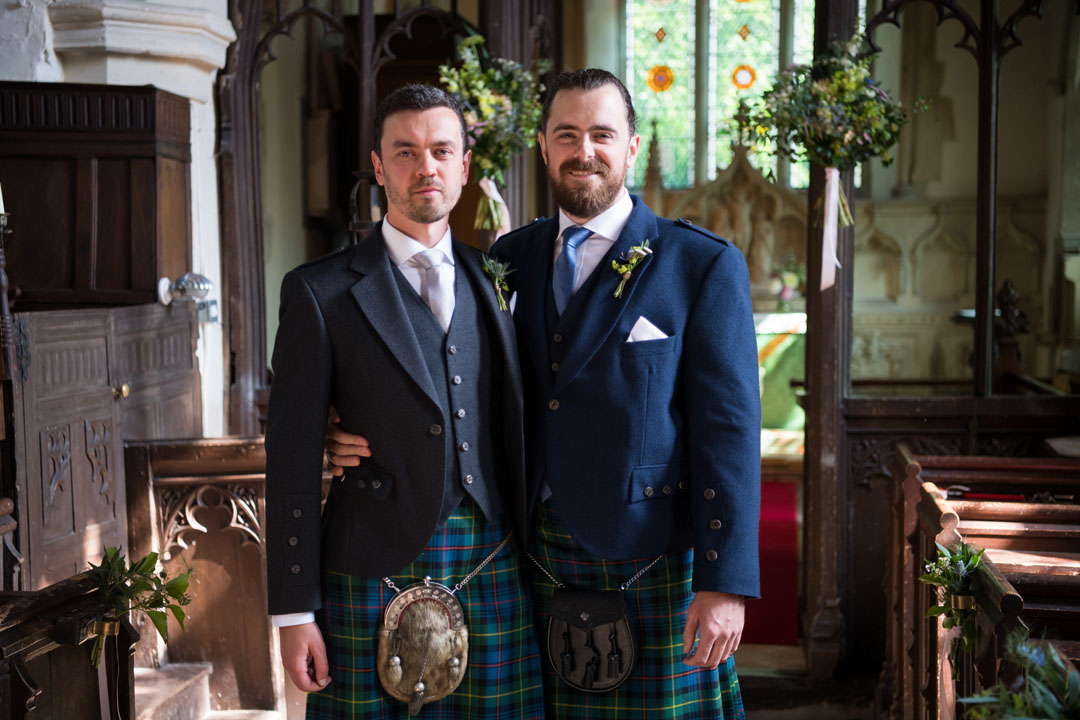 The bride's hair was pulled back from her face in soft ringlets, accessorised with hair pins of fresh flowers. The hair and make-up artist was Lauren Ashleigh.
"Lauren had been recommended to me by a friend. I wanted a very natural look that would make me feel the best version of myself, and Lauren achieved this beautifully."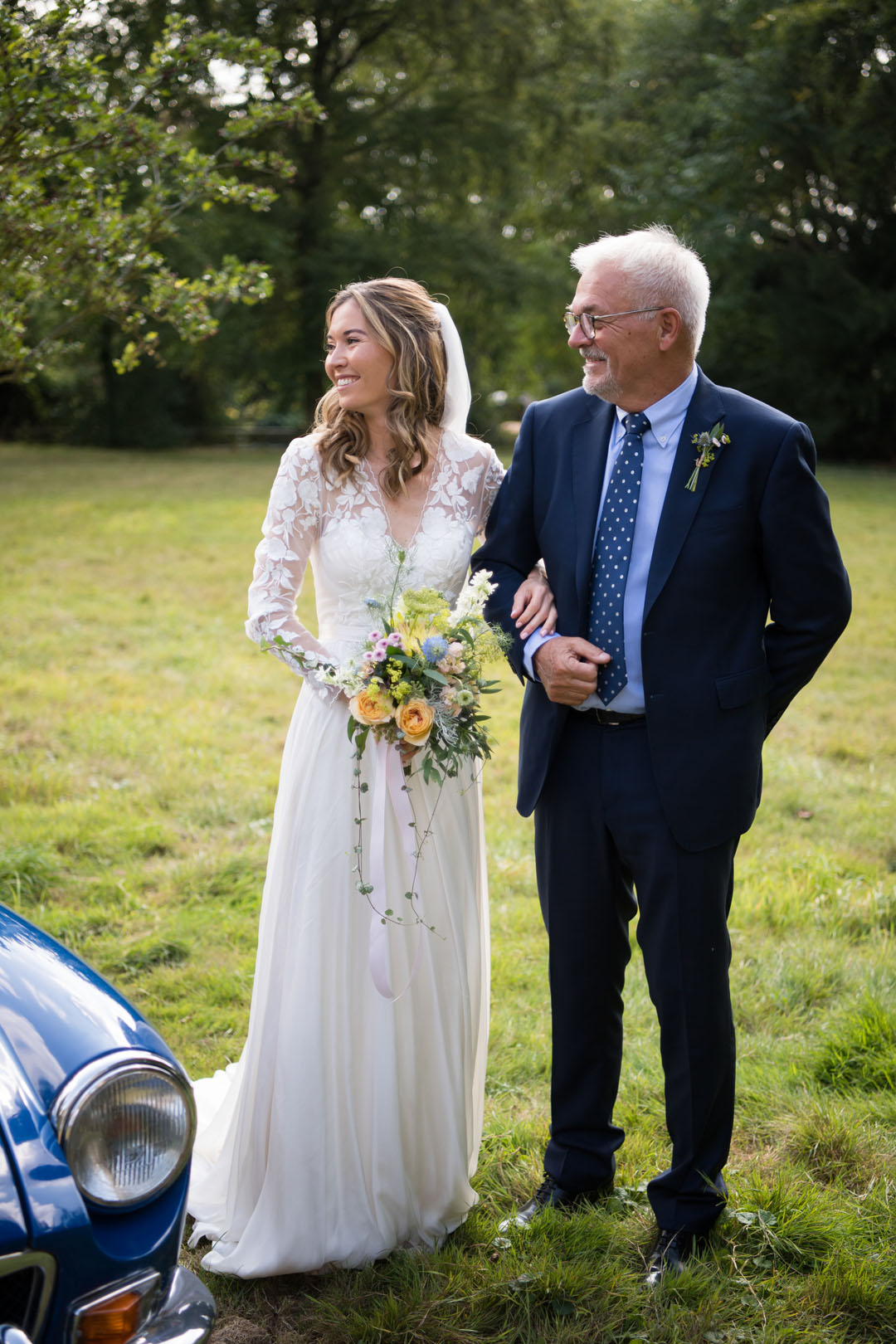 "Lauren was incredibly professional, so calm and collected."
"I wore diamond earrings that were gifted by my mother, given to her by my father when I was born. I wore a diamond necklace that was my wedding gift from Tom, bought in Hatton Garden."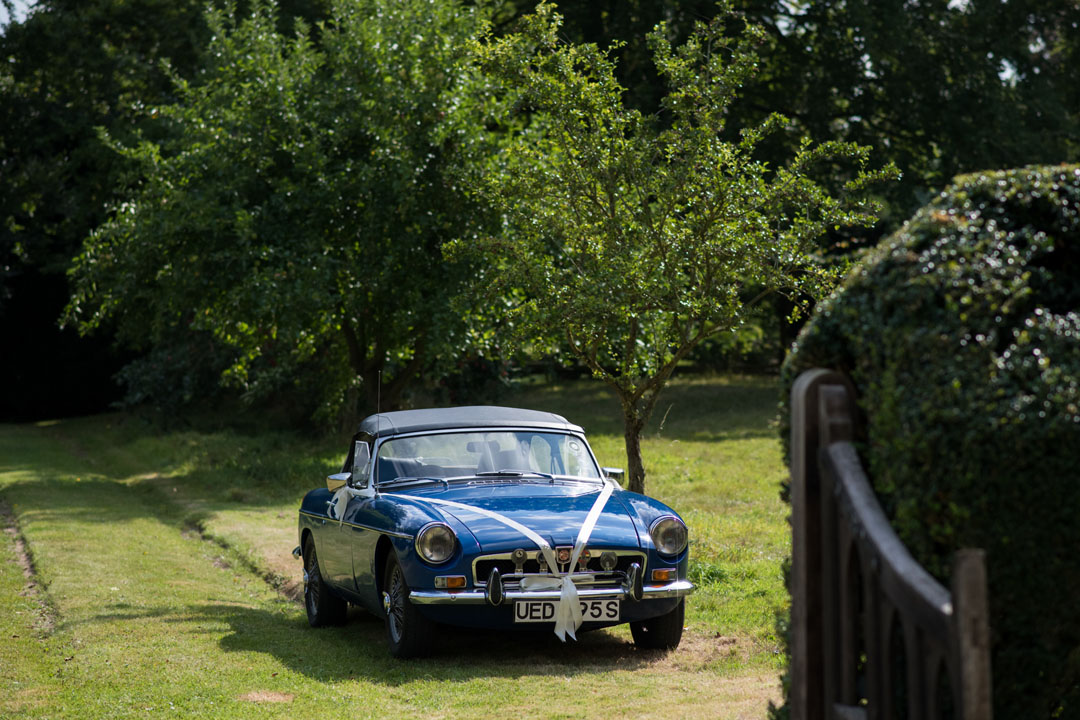 Hattie's dress was paired with a short veil from Anne-Marie Prescott, hand-embroidered with a bumblebee as a sweet nod to Hattie's family name.
"I was looking for a particular length to suit the detail on the back of my dress. I also wanted the veil to have a scalloped edge to match detail on the dress."
"Ann-Marie specialises in beautiful embroidery and I asked for a small bumblebee to be sewn on."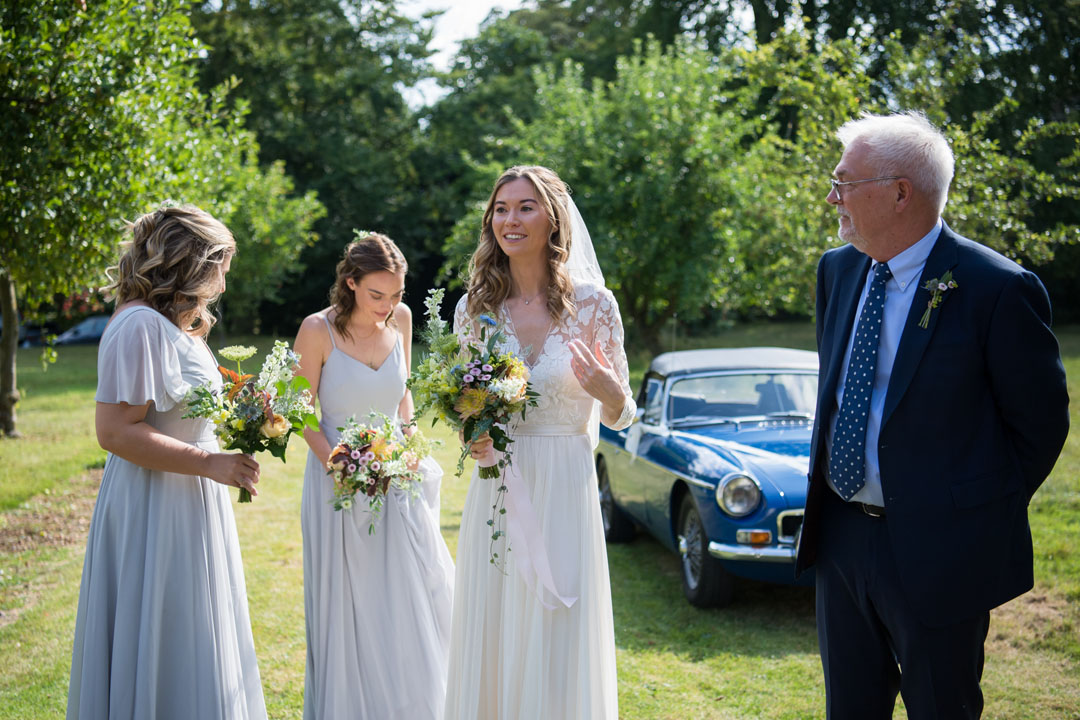 The bride and her father travelled to the church together in the family's MG, decorated with white ribbons for a bridal feel.
"We had an organist for our church music and for our entrance music, chose J.S Bach, 'Jesu, Joy of Man's Desiring'."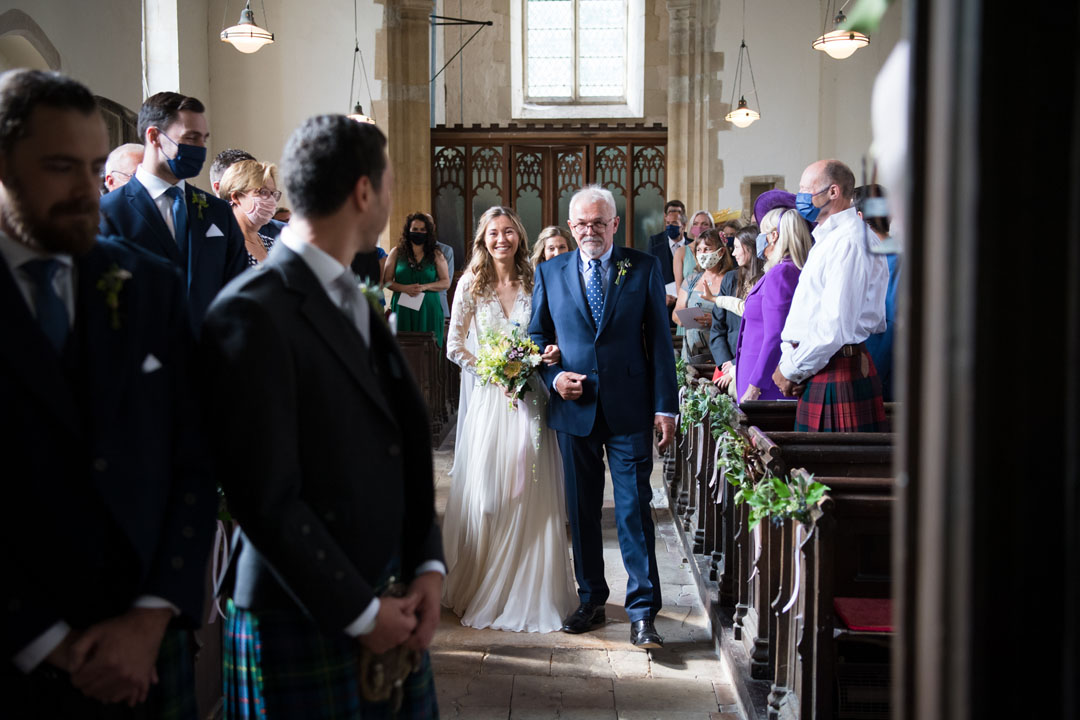 The service was led by the parish priest and included the traditional Church of England vows.
"Tom's father did a reading and we asked him to choose what he'd like to read. He chose '1 Corinthians Chapter 13'."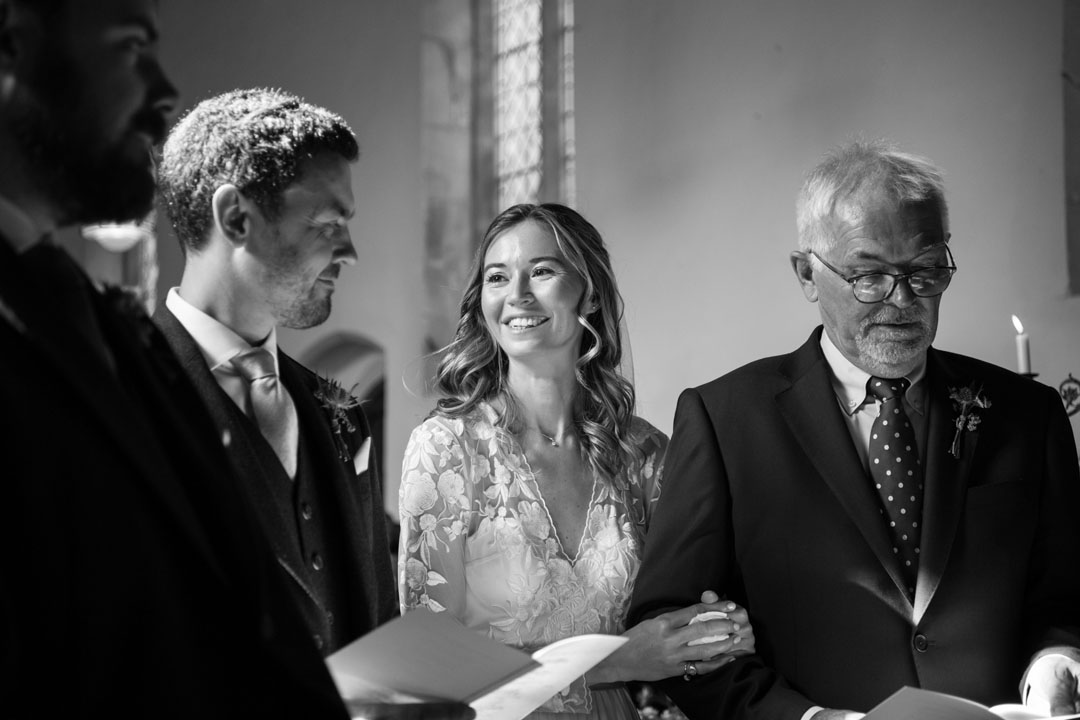 "This was incredibly special to us as he introduced the reading by explaining this was the reading his father gave at his own wedding."]
"One of my oldest friends is a talented poet and wrote a beautiful poem and performed it in the church. A very close family friend also sang a song."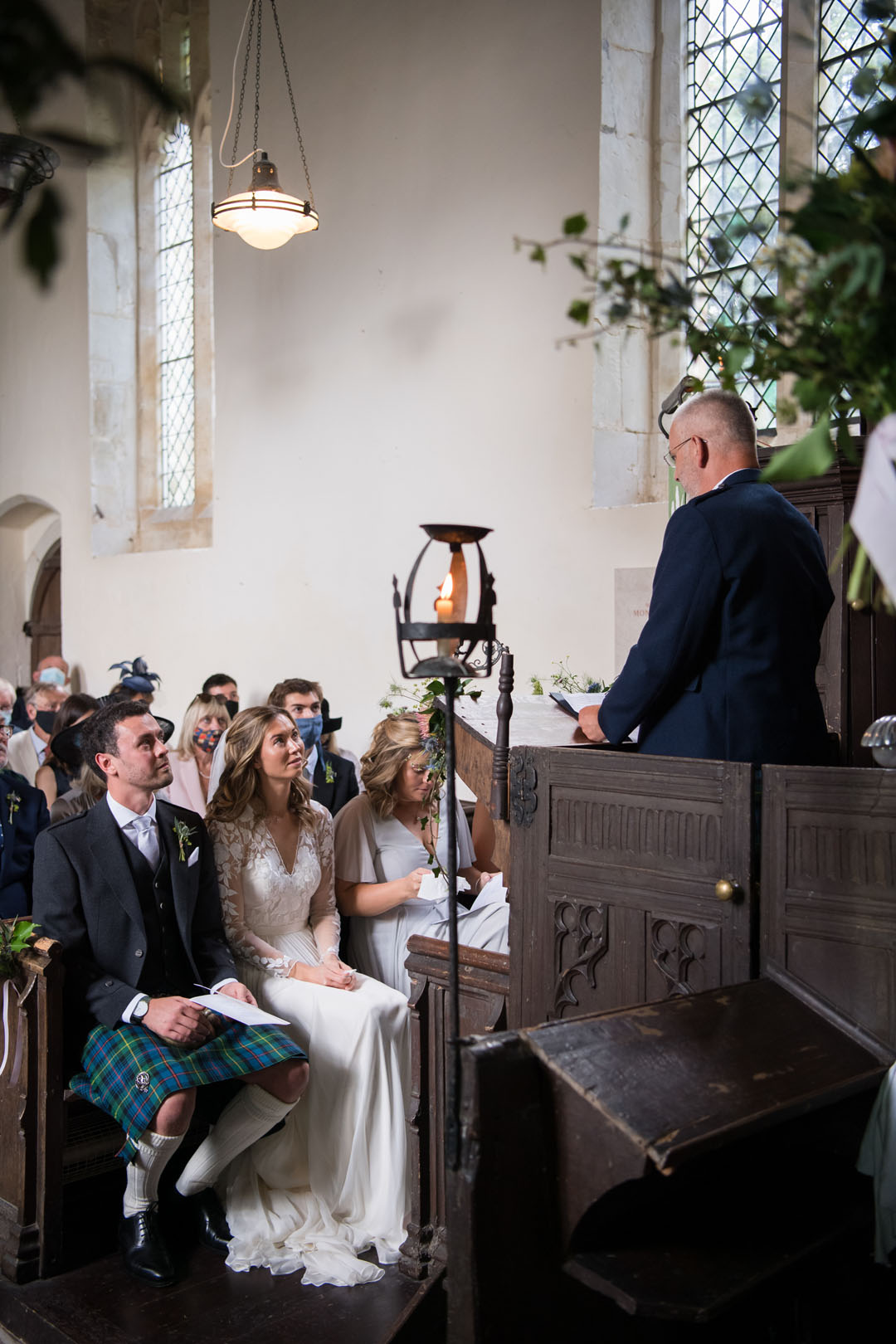 "It's a song he had played at his own wedding to his wife (my godmother). Each reading and performance was so unique and moving. They were such a memorable part of our ceremony."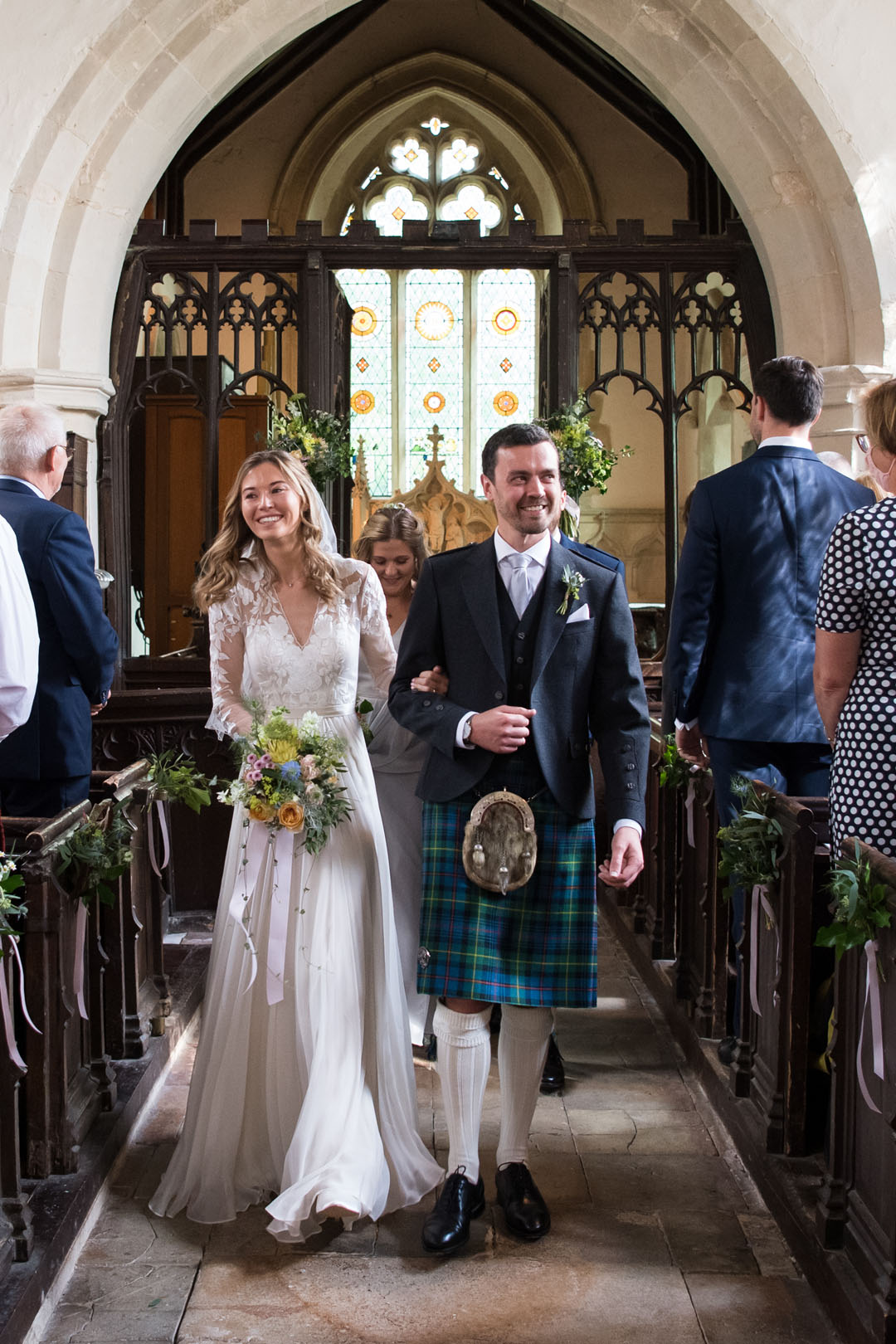 The couple exchanged wedding rings from Alexander Craig in Hatton Garden (no contact details), who also designed Hattie's engagement ring.
"For me, the best part of the day was the wedding ceremony in the church. I was taken aback by how poignant and special the service felt."
"After waiting so long for our wedding to go ahead, it was so exciting to finally see everyone there."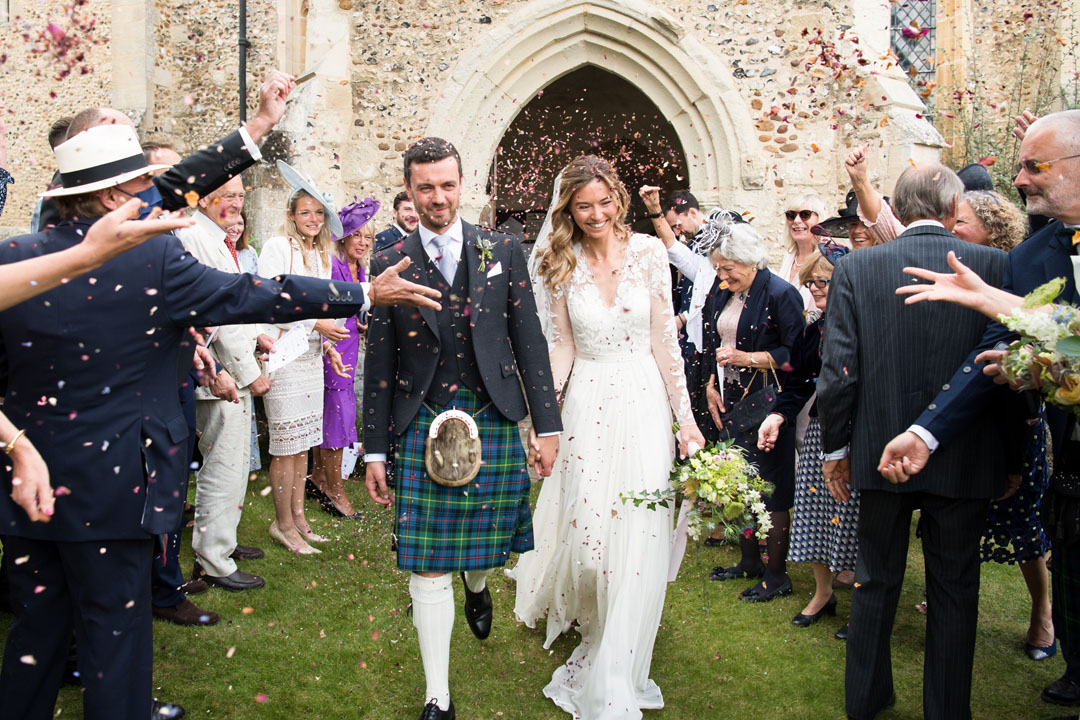 Capturing the day and all of its elegant details was Especially Amy Photography, whose timelessly elegant and natural style work we feature on our Wedding Directory here.
"We had seen some of Amy's photos on a supplier's website and really liked her style."
"The images were very natural and beautifully captured the feelings of the day. I arranged to have a chat with Amy on the phone and immediately knew that she was the right photographer for us."
"Amy was very thoughtful and thorough in explaining things we needed to consider. On the wedding day itself, Amy was a pleasure to have around."
"She was brilliant at organising us for the formal shots without being bossy and seamlessly fitted in with our wedding party, capturing everyone enjoying the day. I would absolutely recommend Amy to others."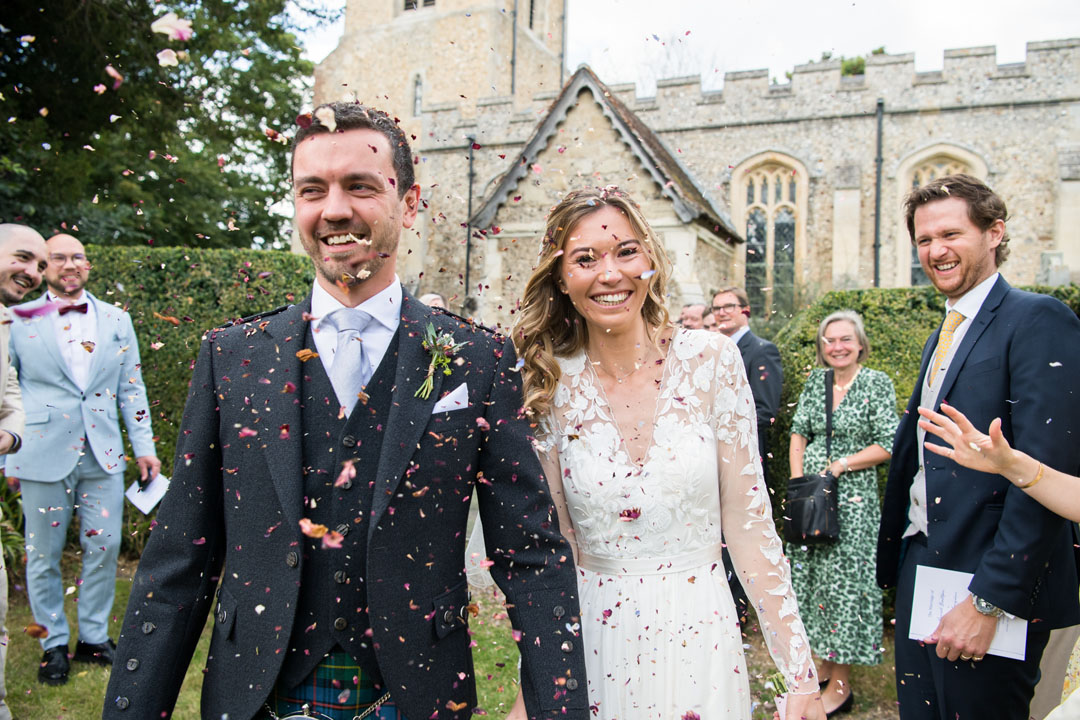 The couple met at school in Cambridge and then both went to university in London.
"We only started going out after university. We had lots of mutual friends, saw a lot of each other and things grew from there."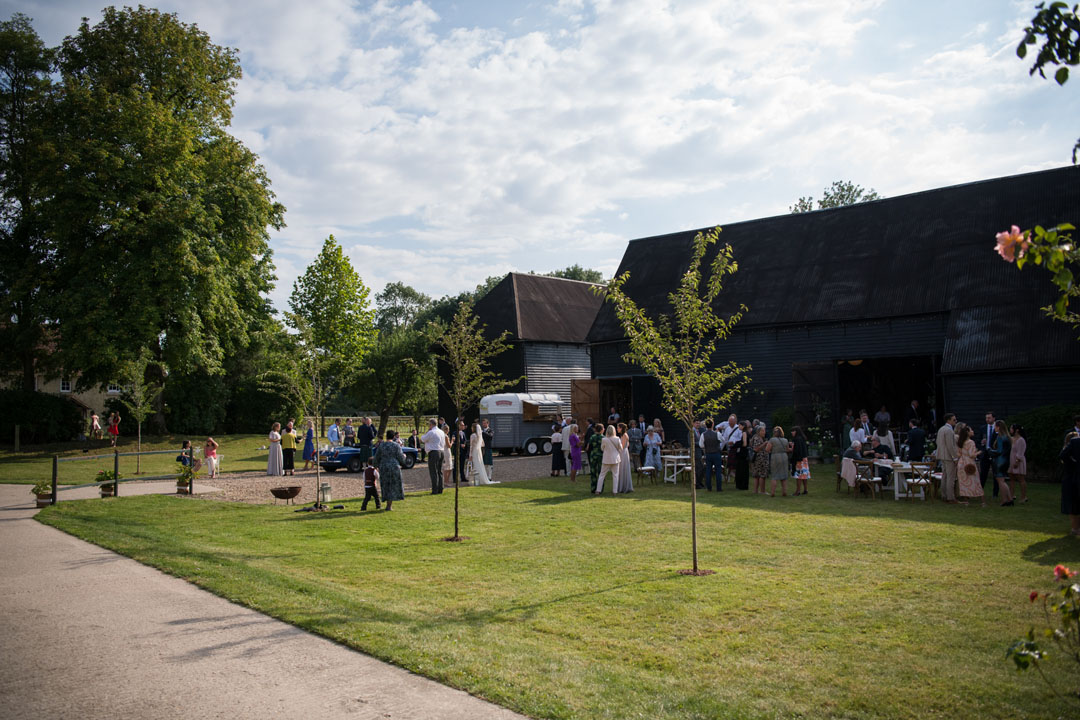 "We got engaged in July 2018 in the south of France, which was where our relationship started when Tom came to visit me while I was working there."
"We were supposed to get married in June 2020. However, we had to postpone a couple of times due to Covid. In the end, we were engaged for just over three years before we got married."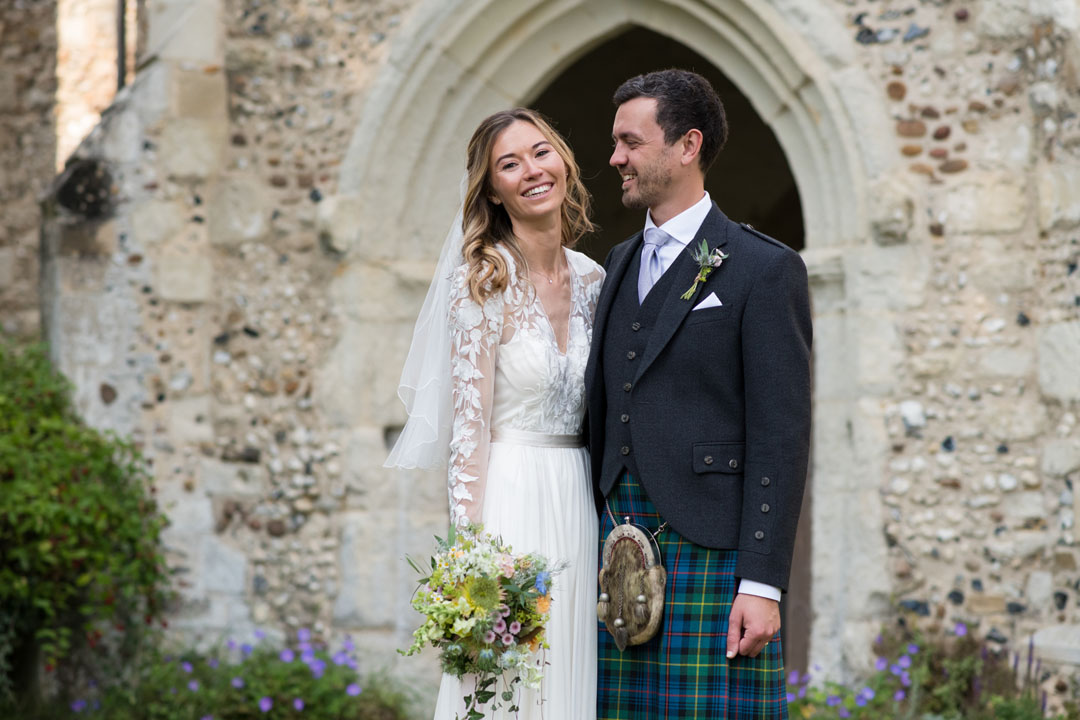 The original wedding date was postponed to June 2021 and then further delayed until mid-September.
"We were very lucky that we were able to have our full guest list, apart from a few international guests who were unable to travel to the UK."
"Our church asked for the congregation to wear masks for the ceremony."
"The day was definitely worth the wait. We had discussed changing our plans and going ahead with a much smaller wedding."
"I know lots of couples opted for this and had an amazing time but I was glad we waited it out and were able to have the day we'd been imagining and dreaming of for so long."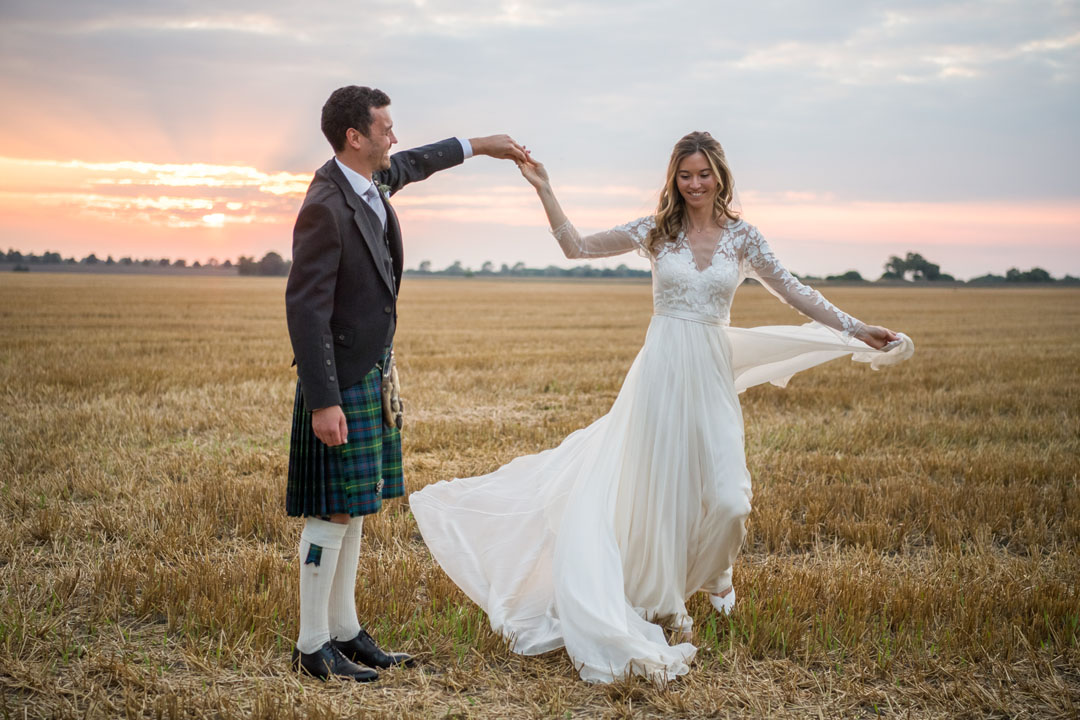 The two bridesmaids wore gowns from TH&TH, in different styles but the same soft blue.
"My bridesmaids wore their own shoes and jewellery. They also wore hair pins with flowers."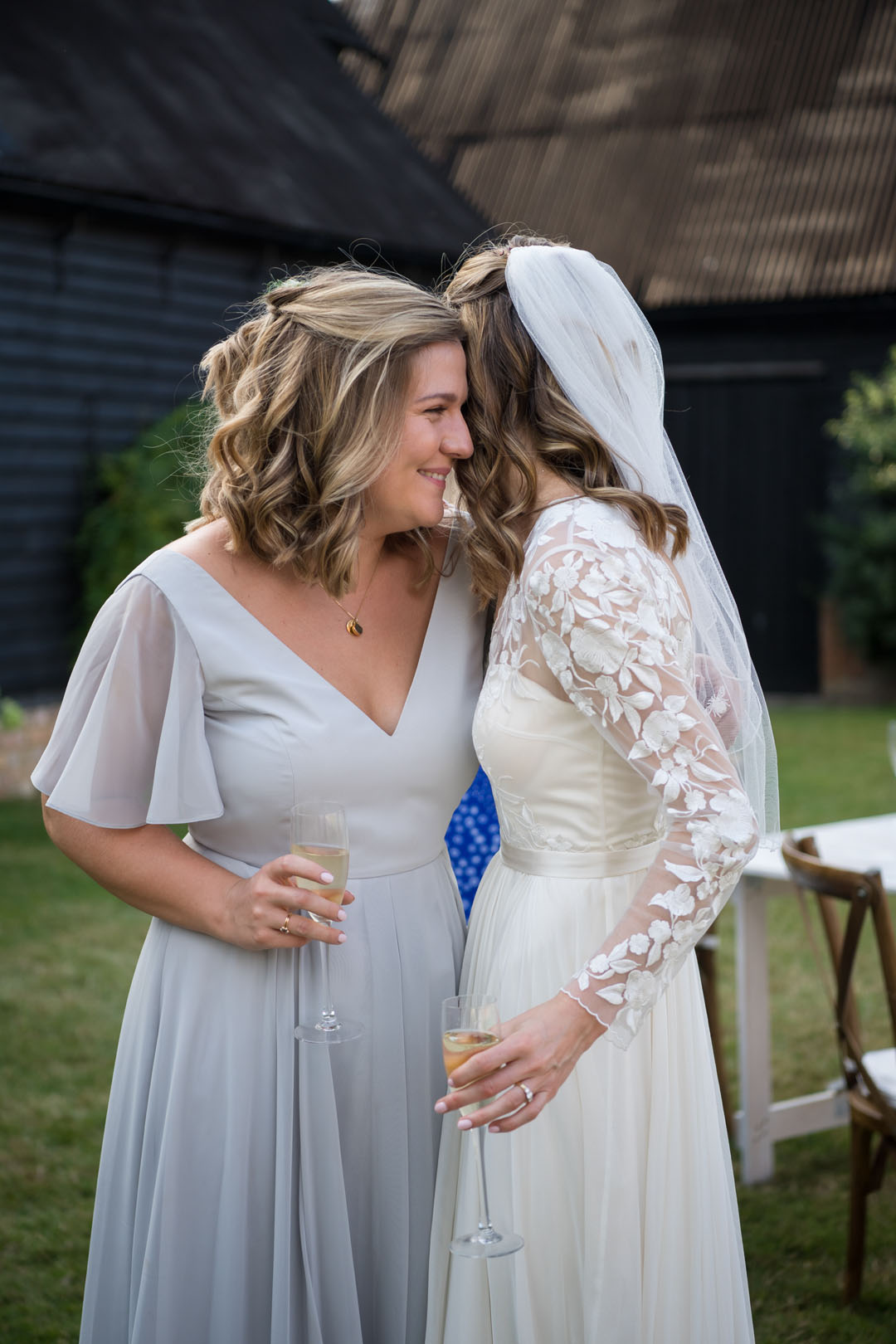 The newly-weds travelled to Down Hall Farm in the family MG, ready to host their friends and family at a relaxed, rural celebration.
"Other than some main floral arrangements done by our florist, we did all the decoration ourselves."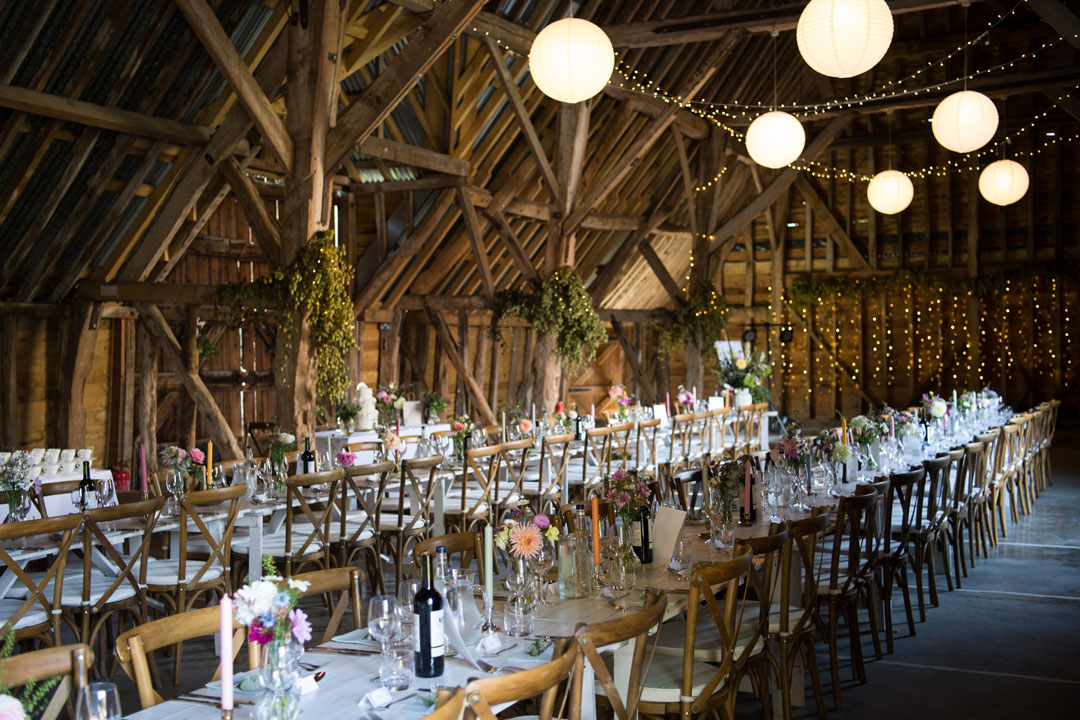 "Our reception venue was a beautiful old barn and we therefore wanted to keep decoration fairly simple. We sourced hop bines from a farm in Kent and used these to decorate some of the beams."
"We also strung fairy lights the whole way across the barn. For the tables, we liked the idea of having lots of colour."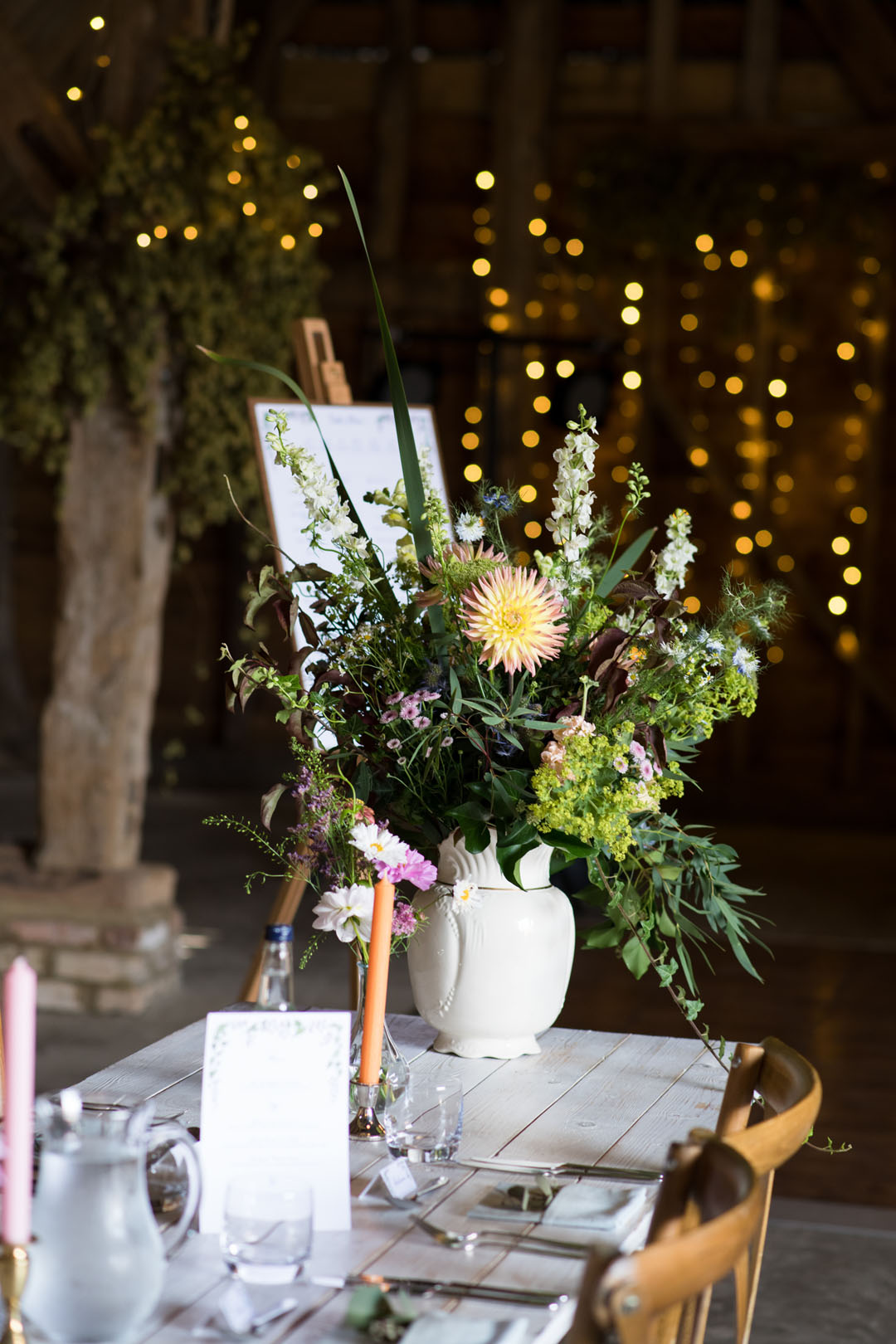 "I collected vintage and antique candlesticks and sourced different coloured candles."
"We also found a lovely blue linen fabric and Tom's grandmother used this fabric to make all of our napkins for us."
"We sourced buckets of garden flowers from a local supplier and our bridesmaids did an amazing job of making up all the table posies the day before the wedding."
"To decorate the entrance to the barn, we planted up lots of zinc metal planters with hydrangea, anemones, salvia and geraniums. We've now planted these in our garden."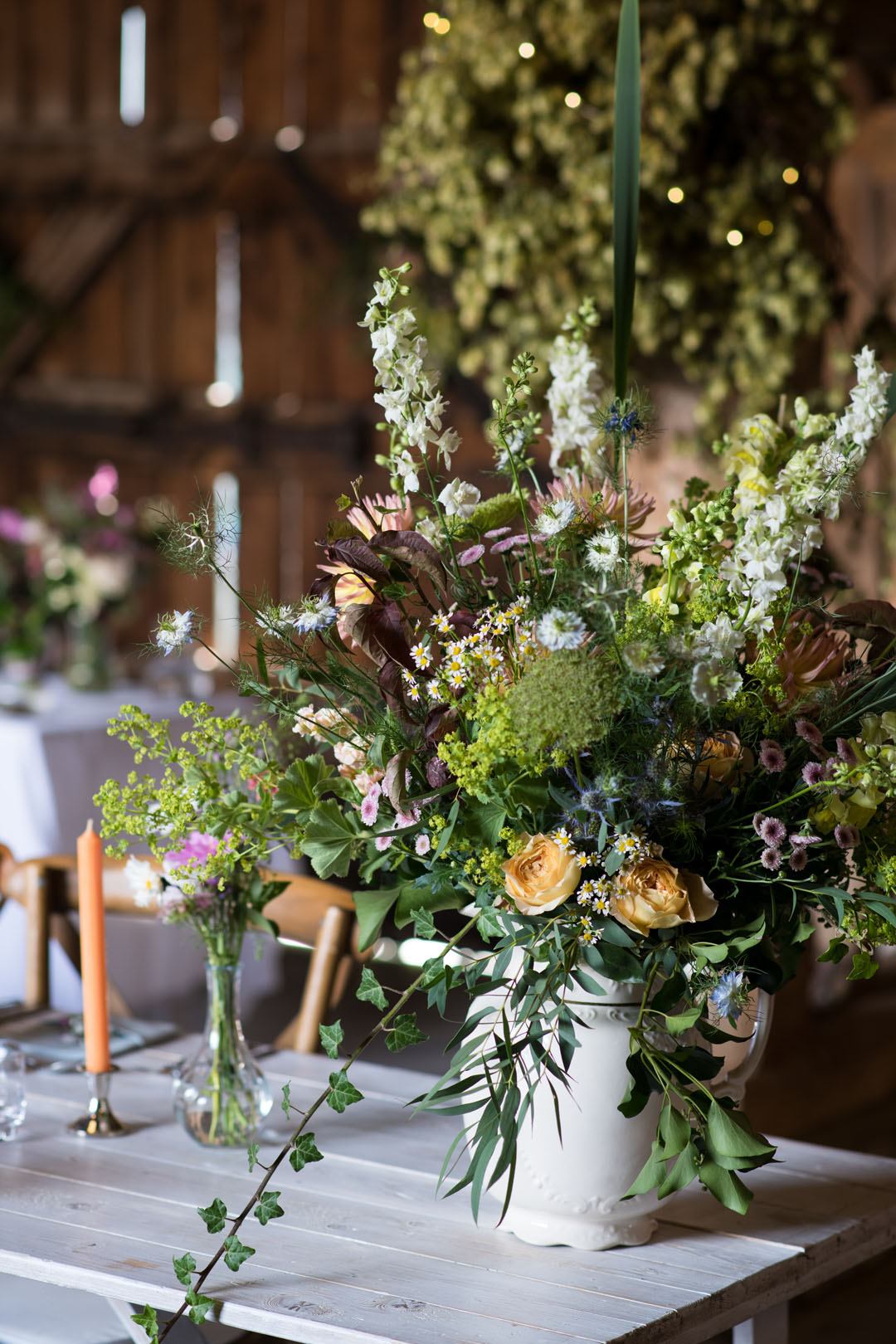 "We had lots of help from our families, ushers and bridesmaids, and really enjoyed having everyone at the barn in the week before the wedding helping us set-up."
" For our tables and chairs, and glassware and crockery, we used CMA Event Hire. We opted for cross-back chairs and naked, lime-washed tables."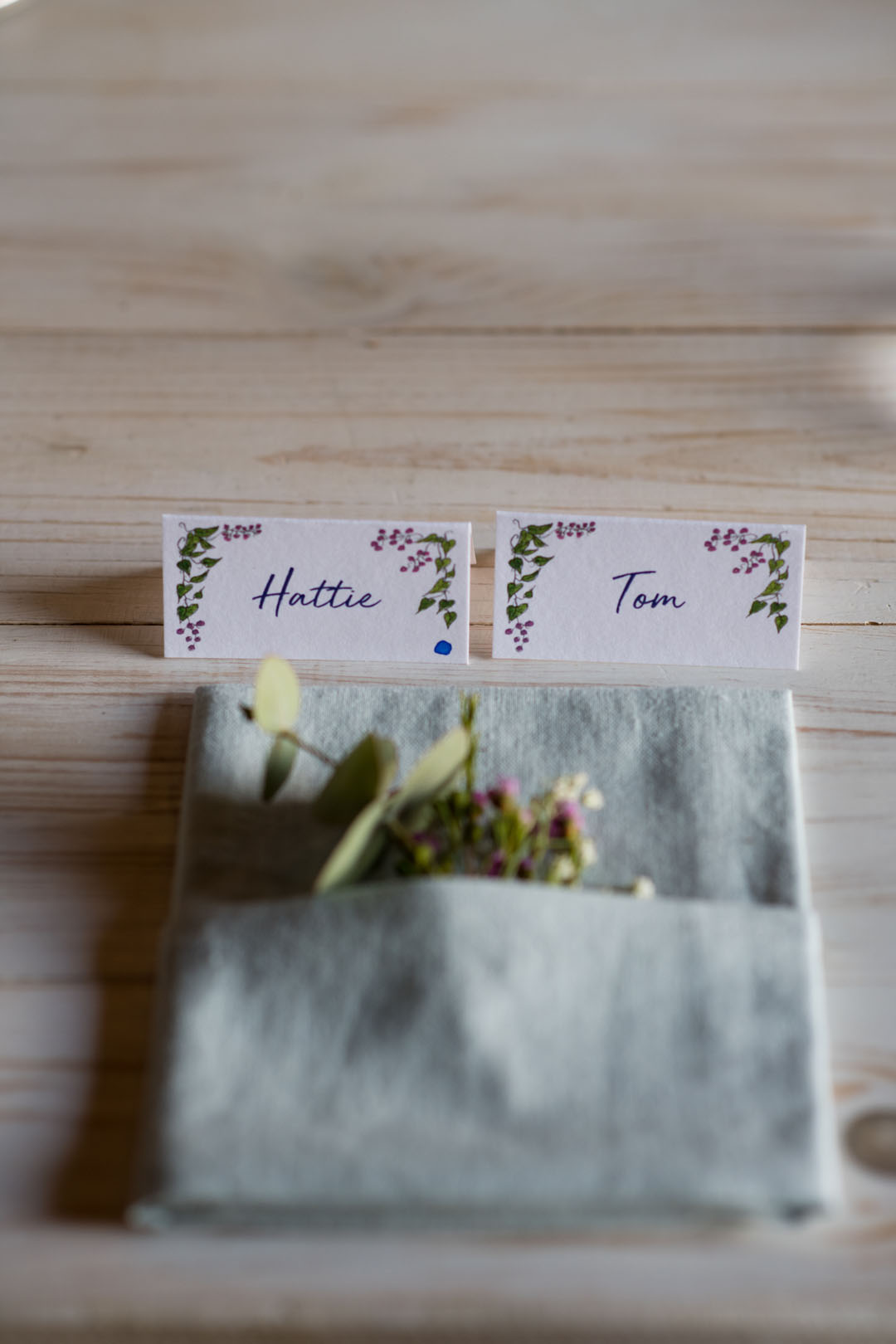 "We did most of the lighting ourselves. However, we sourced our dance-floor and some disco lighting from Bluemark Entertainment."
"My godmother designed our wedding invites and hand-painted each one. Tom is very good on Photoshop and used my godmother's design to create our order of service, menus, place names and table plan."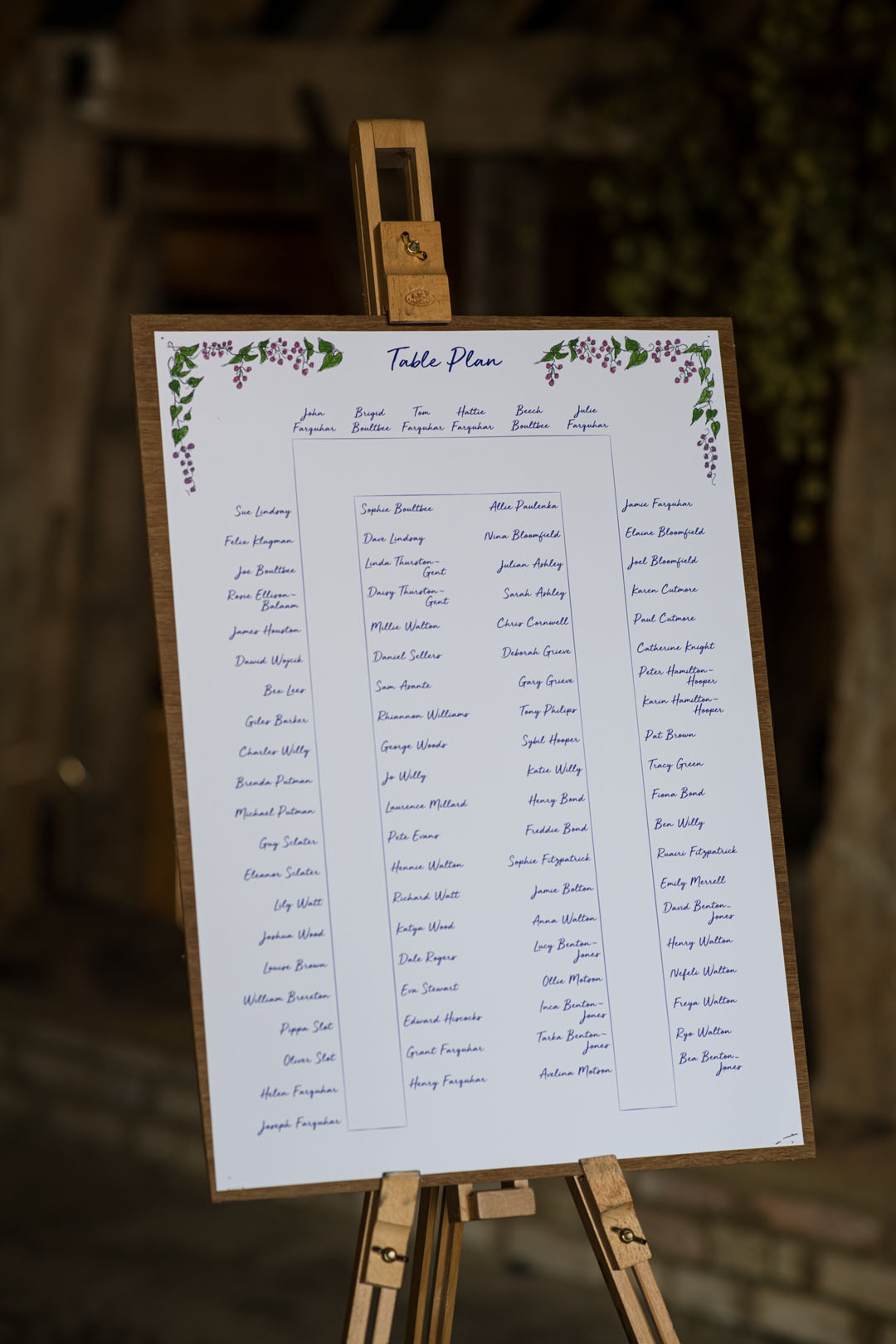 The wedding feast was from Provenance Kitchen and the tiered, rose-adorned wedding cake was made by Tom's mother.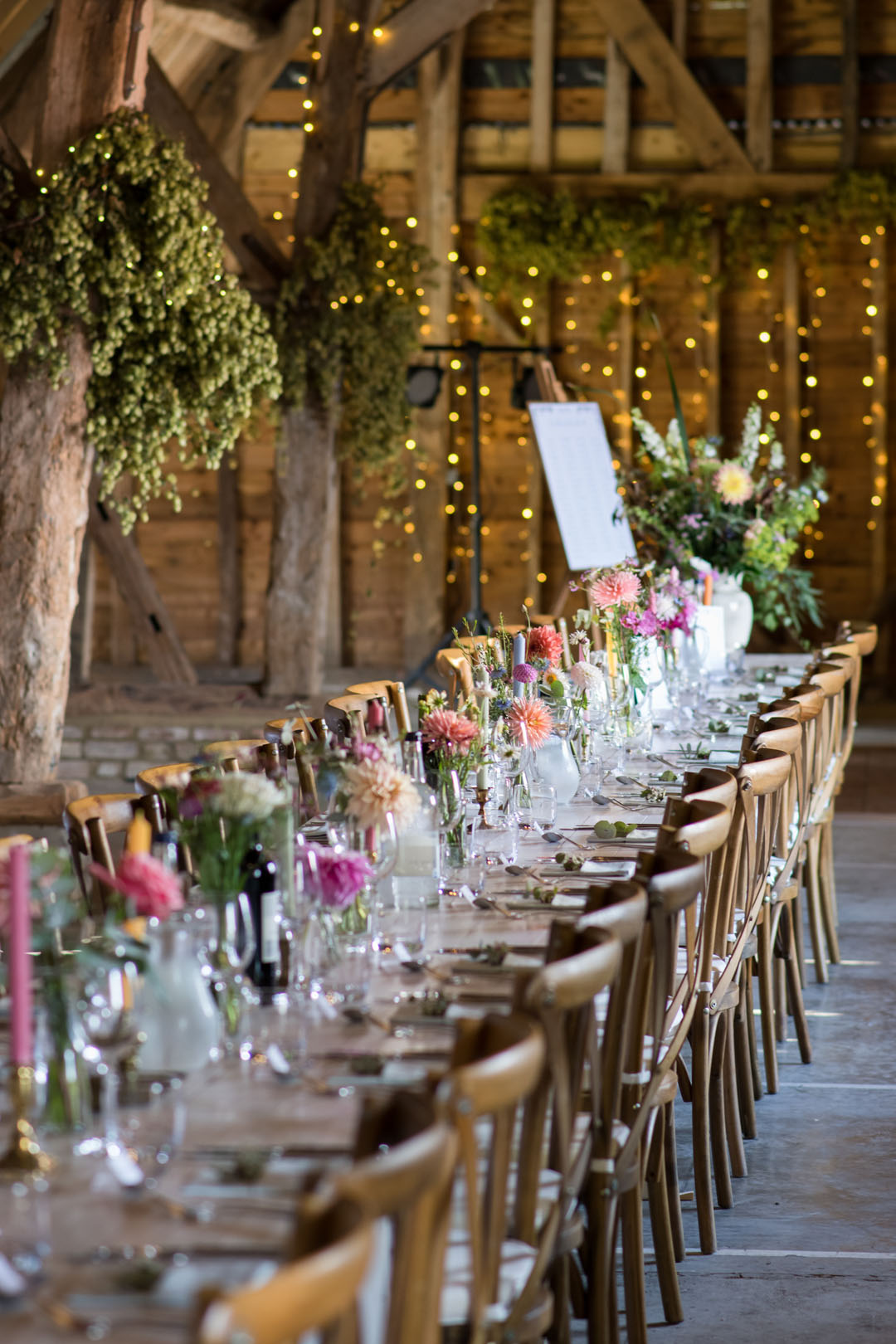 "She used to make cakes professionally. We went for a fairly traditional-style wedding cake, with three tiers. We went for soft, textured icing and roses for decoration.
"We also included fresh thyme as foliage. My brother made a beautiful, round, wooden cake board, carved with our initials and our wedding date."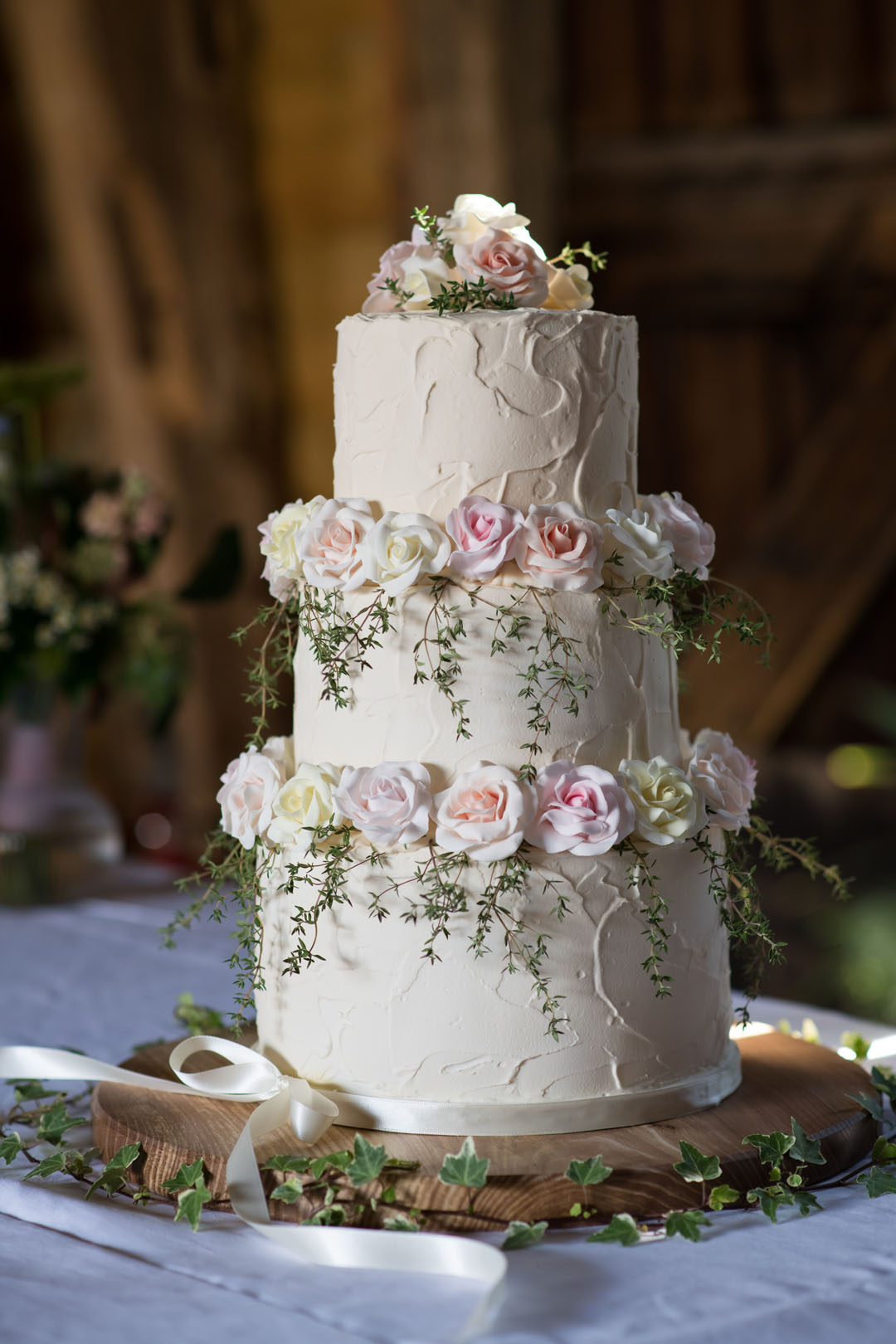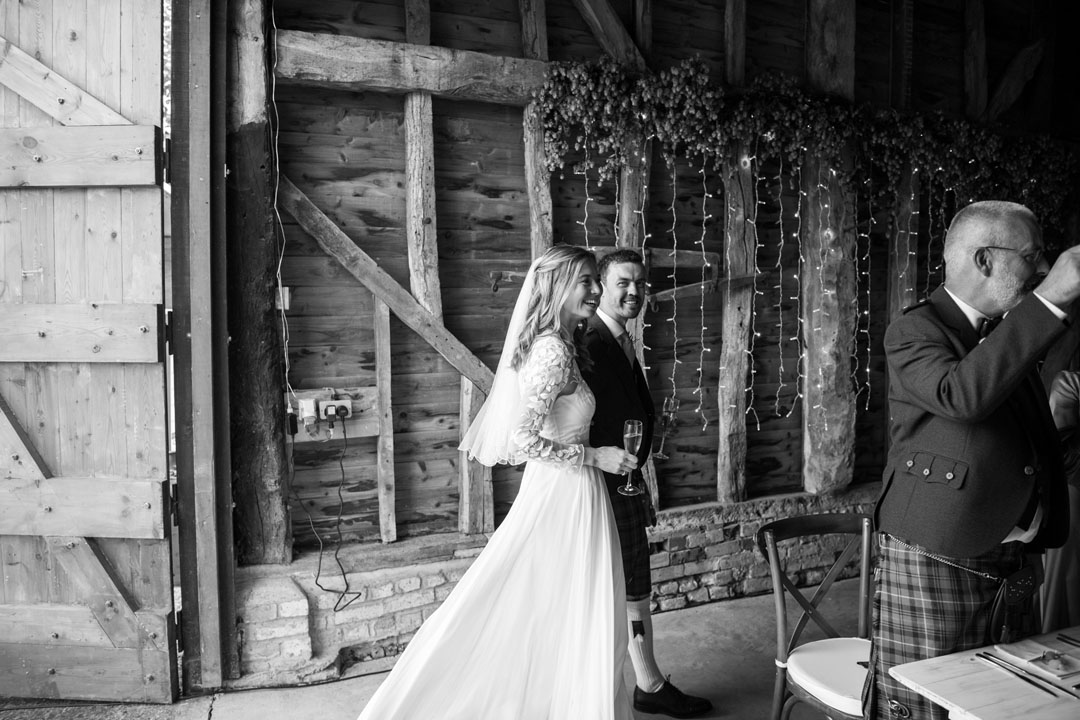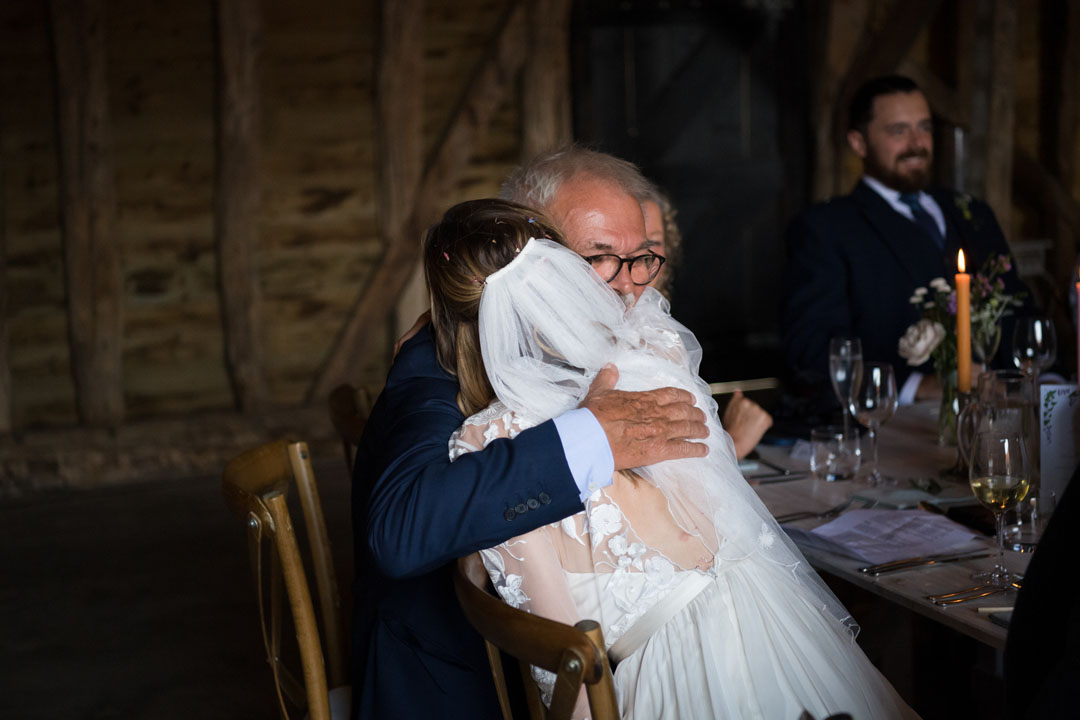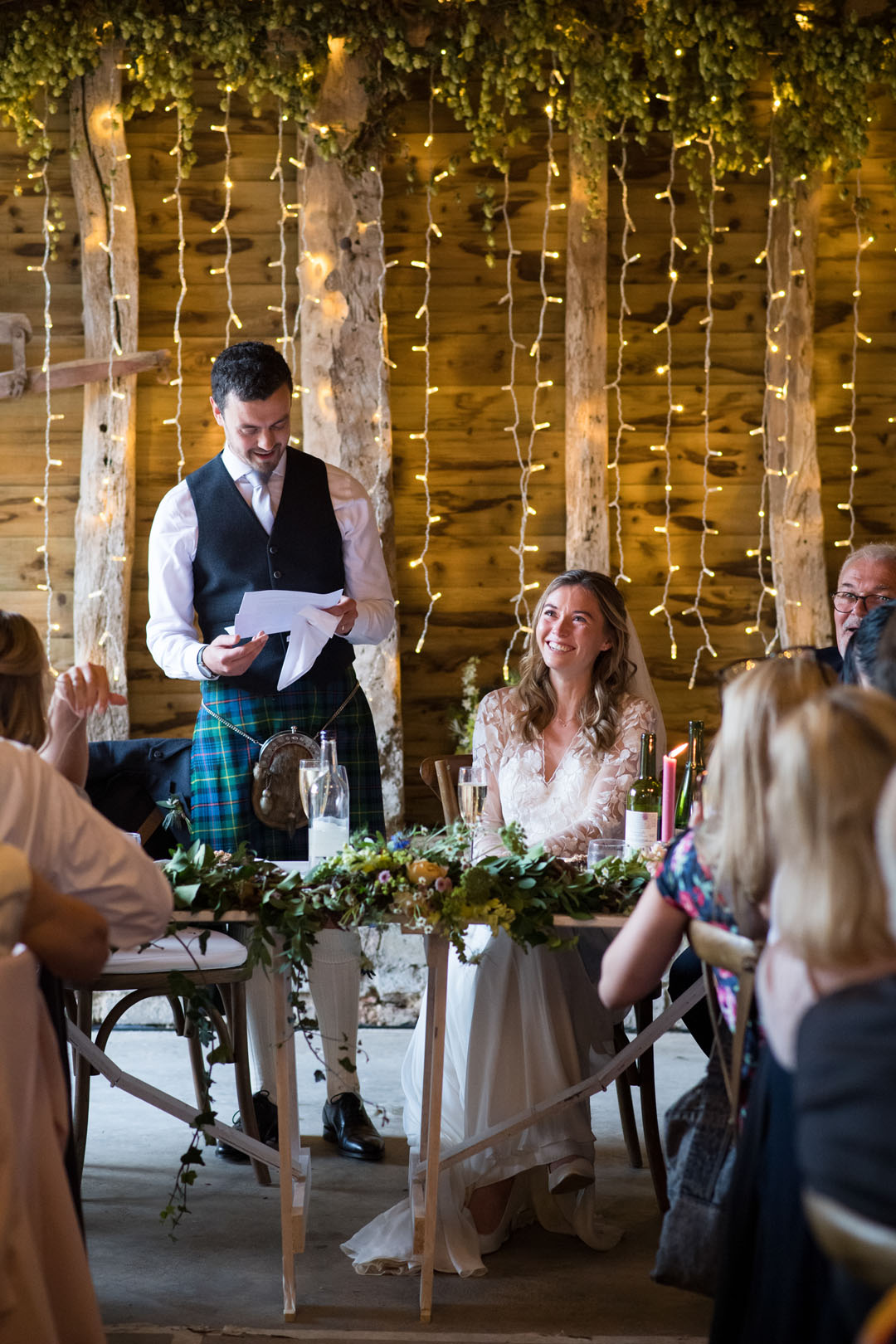 Evening music was from live band Dai and The Ramblers, found through Freak Music.
"We chose 'Warm Love' by Van Morrison for our first dance. We didn't have a particular song that we associated as 'our song' so we gave our band a few songs that we both loved and they chose 'Warm Love' as the one to play for us."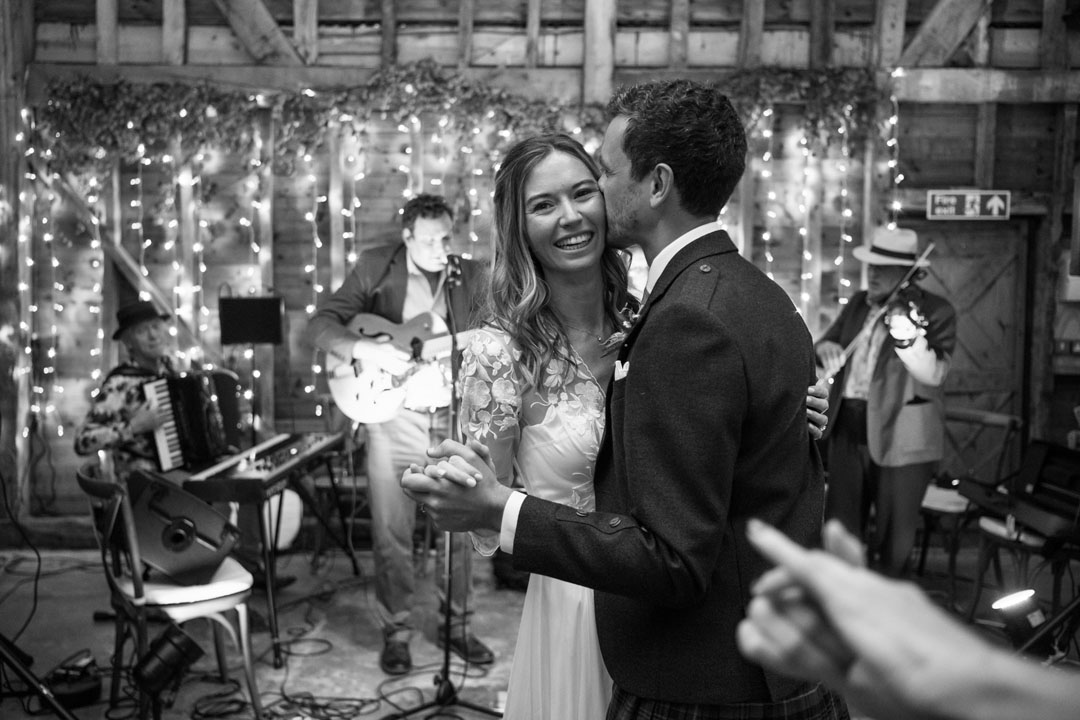 Words of Wedded Wisdom
"I spent a lot of time worrying about every little organisational detail and how and who would do what. I would say, remember that everyone involved also wants the day to be a success and will do everything they can to help make it perfect."
"Rescue Remedy really helped while I was getting ready."
"We got a lot out of involving our family as much as possible and calling on all their talents and skills to contribute to the day and make it unique. I think the personal and sentimental touches, no matter how small, really add to the feel of the day."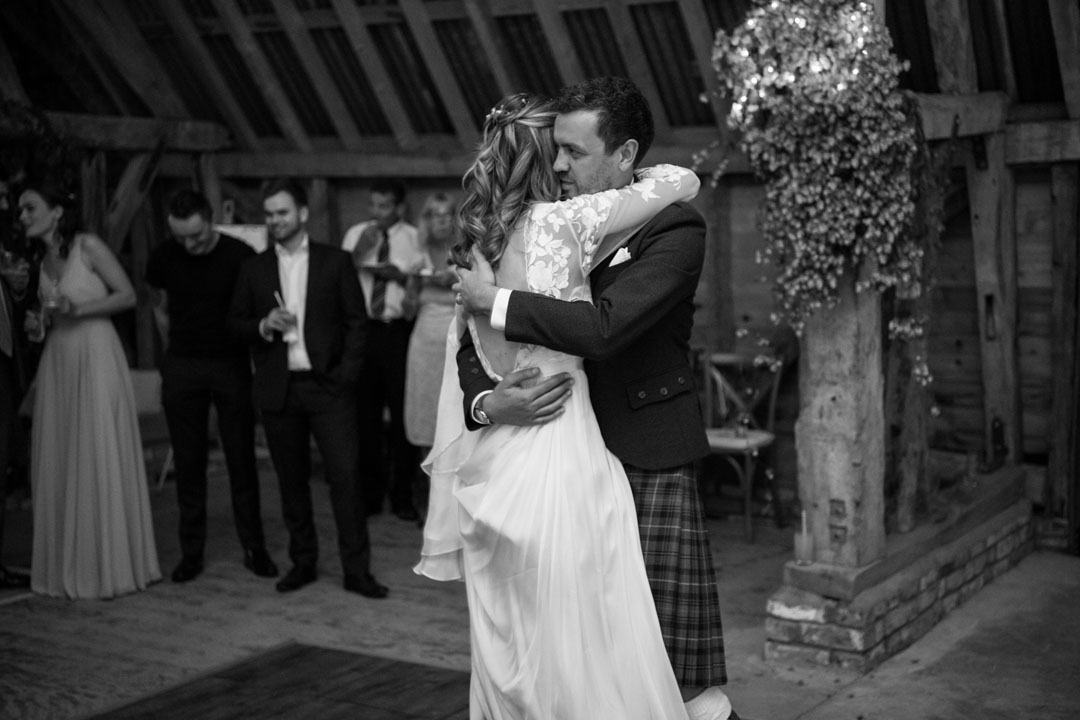 Especially Amy Photography, thank you for sharing your emotive work here today. Thank you also, and congratulations, Hattie and Tom, on your wedding.
For more English countryside-inspired weddings, please enjoy this selection on Love My Dress and for more brides in Catherine Deane, take a look here.
Ele xx