Nat, a Hairstylist based at The Headonist in Sheffield city centre, tied the knot with Electrician and property investor Andy on 17th September 2022.
The couple's original plans to elope in Australia in 2021, were scuppered by Covid.Their revised wedding plans saw them bring together all their loved ones for a ceremony surrounded by the beauty of Sheffield Botanical Gardens, and wedding party afterwards, that was held in the deconstructed, raw and colourful space that is Peddler Warehouse in Sheffield city centre.
Nat looked divine in her Charlie Brear gown and removable tulle puff sleeves, by Jesus Peiro – and has shared heaps of insight and information for other brides below. Enjoy.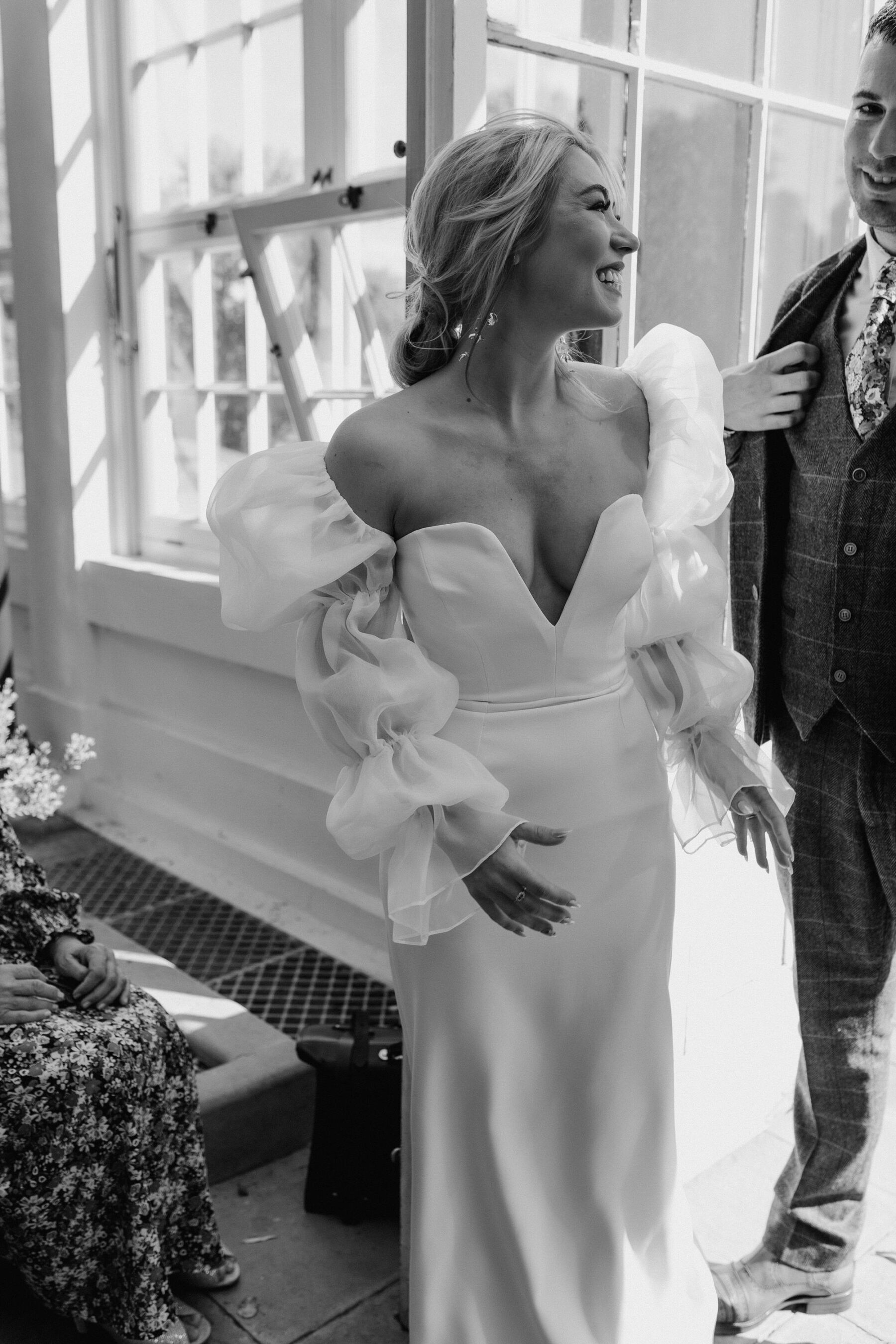 Sheffield Botanical Gardens
Our Wedding ceremony took place at the Sheffield Botanical Gardens. Our original wedding was due to be in Australia 2021, it was an elopement we had planned but Covid put the brakes on that, and after a few complications, we decided to change our plans.
The Sheffield Botanical Gardens are somewhere we have always gone. After a heavy Saturday night, we would go grab a sarnie from a shop nearby and go for a wander around the gardens.
We wanted an outdoor feel to our wedding ceremony, like we had always originally planned, and the central pavilion (where the wedding would take place) of the gardens is filled with Australian plants, so we figured it was a good fit for us.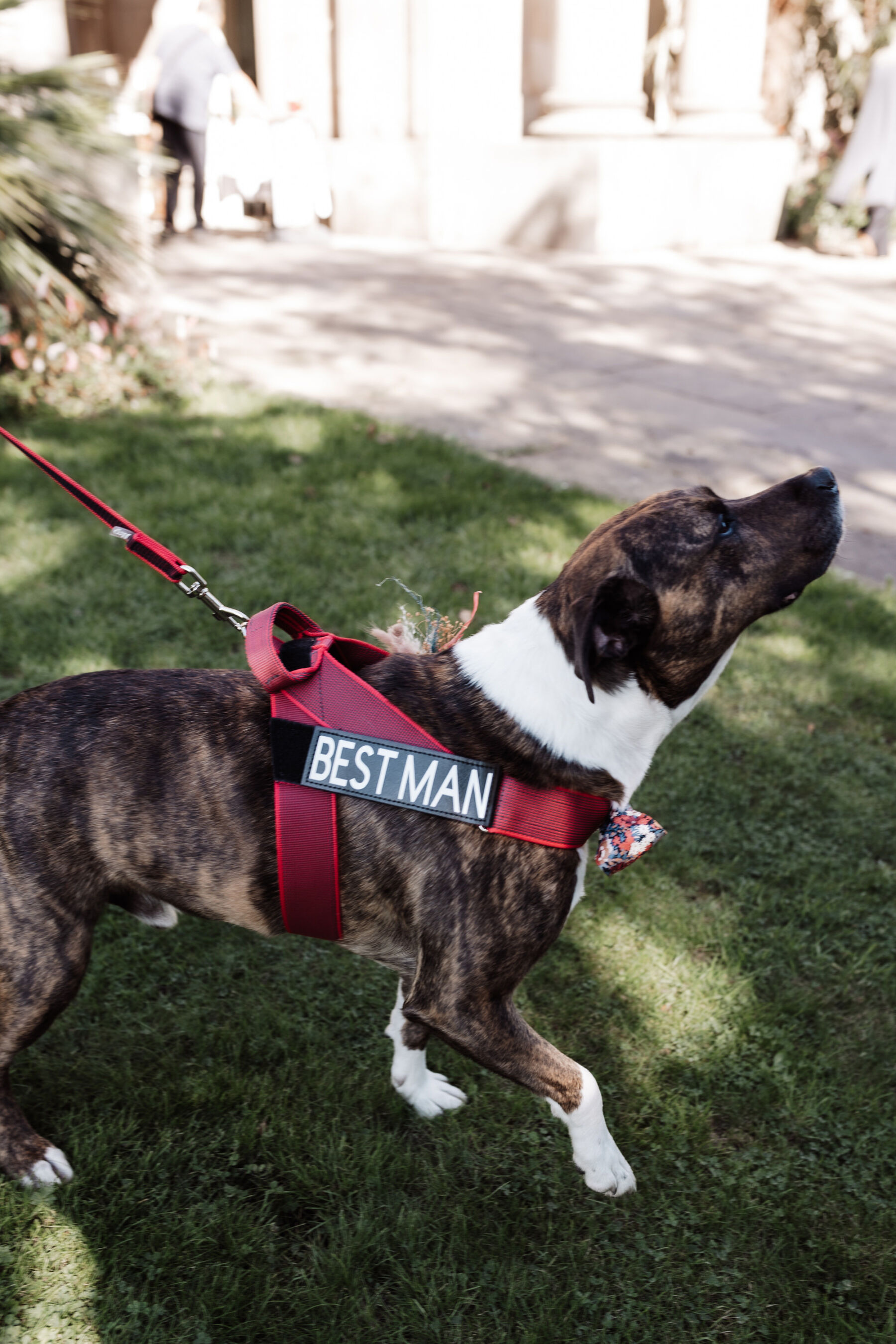 The Dress
My dress was by Charlie Brear and the sleeves were made by Jesus Peiro. My dress was from the amazing Alexandra Anne Bridal on Chatsworth estate. This place was local to us and had been recommended time and time again to me and it did not disappoint.
I had no idea what I wanted and had found a dress at another boutique that I thought I loved, but still went to visit Alexandra Anne. Jess, who works there, came through with her own vision for me and once I tried the pieces on, the tears spoke for themselves. I would recommend Jess and the boutique to everyone, that girl knows her stuff.
The dress was all Jess – she listened to the modern bridal vibe I loved and came through with the goods. The dress suited my body and made me feel amazing but it was those sleeves, they were just the dream, no idea how to describe them other than pure magic!
The minute she put them on me I just uncontrollably sobbed, happy tears and lots of them. A friend had said to me that morning not to worry and that I would find my dress. She said I would know when it's the one because I would cry and I told her not to be silly. Well it turns out she was right!
Jess had ideas for how to personalise the way the sleeves were attached by adding delicate chains across the back which really set it off and helped to keep the back open and bare which I loved as the dress its self was strapless. Alexey, who Alexandra Anne boutique use for their alterations, was amazing, bringing our sleeve/chain visions to life.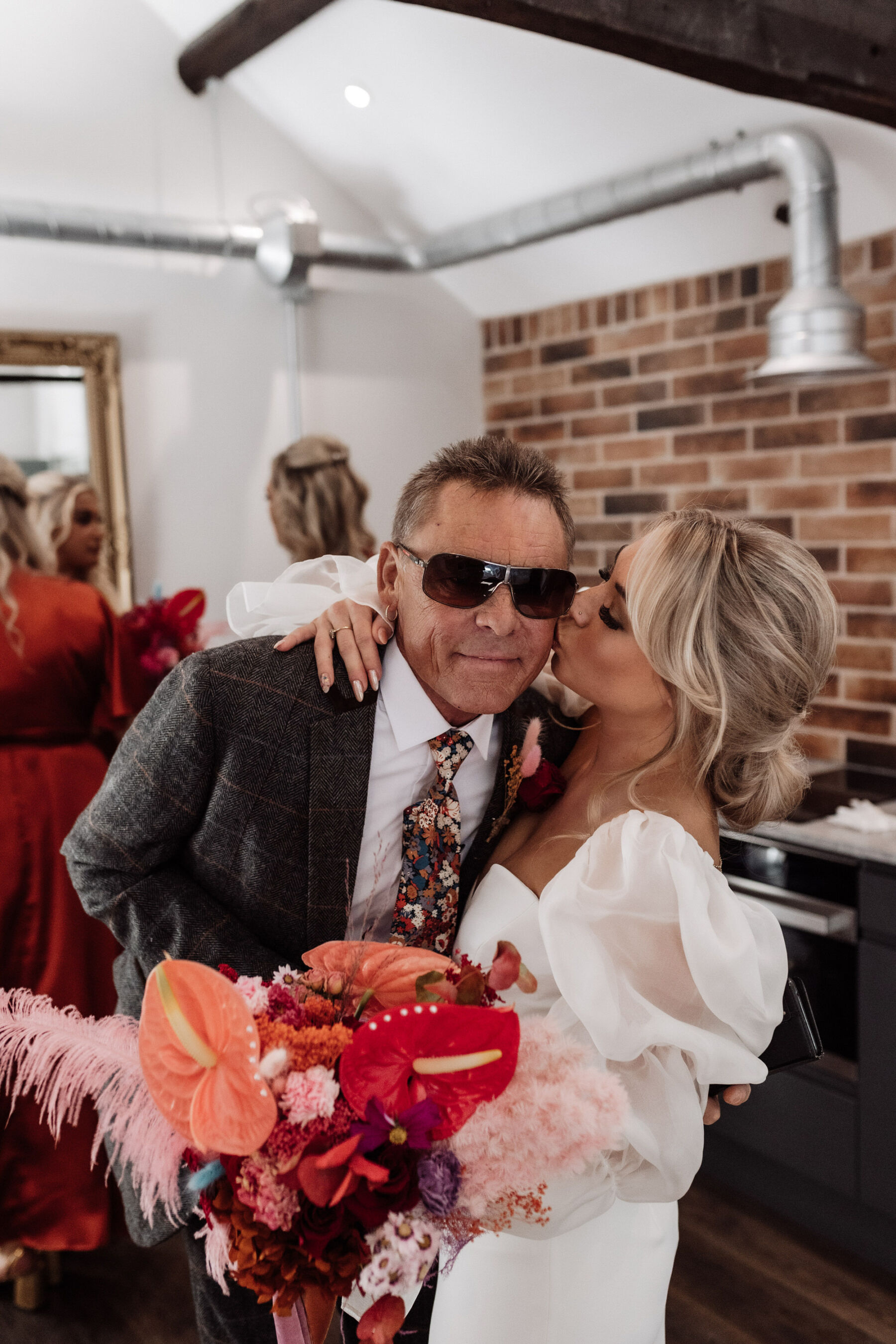 Beauty & Accessories
I'm lucky enough to not only work with but be friends with some amazing artists. Calli, Kelly and Leanne were my hair stylists. Calli did my hair and Kelly and Leanne style my bridesmaids and my mum's hair. Makeup was by the amazing Laura Mosley. She put a mega shift in and beautified all of us on the morning. I would never let anyone else paint my face other than Laura. It was so nice to spend my morning with girls that I lovem helping me get ready.
I purchased my dream earrings and a bag from the other bridal boutique I had visited (where I thought I had found the dress), Amare Bride. Lyndsey, the owner, stocked the most amazing accessories from Bon bride (bag) and A.B. Ellie (earrings). My mum also gave me her engagement ring to wear. So I had a little piece of my all my bride outfit journey with me on the day.
I wore a Tiffany perfume and matching moisturiser. Years prior, way before Andy and I had even thought about marriage, we took a trip to New York and I wanted to visit the Tiffany store. We got in the lift and the man that operated the lift did us dirty and send us straight up to the engagement and wedding ring floor much to our embarrassment. We wandered round and quickly left.
When Andy proposed, he had bought a Tiffany engagement ring as a nod to our experience in New York and in the ring box came a small bottle of a tiffany fragrance. So it seemed right to wear that as my wedding day fragrance too.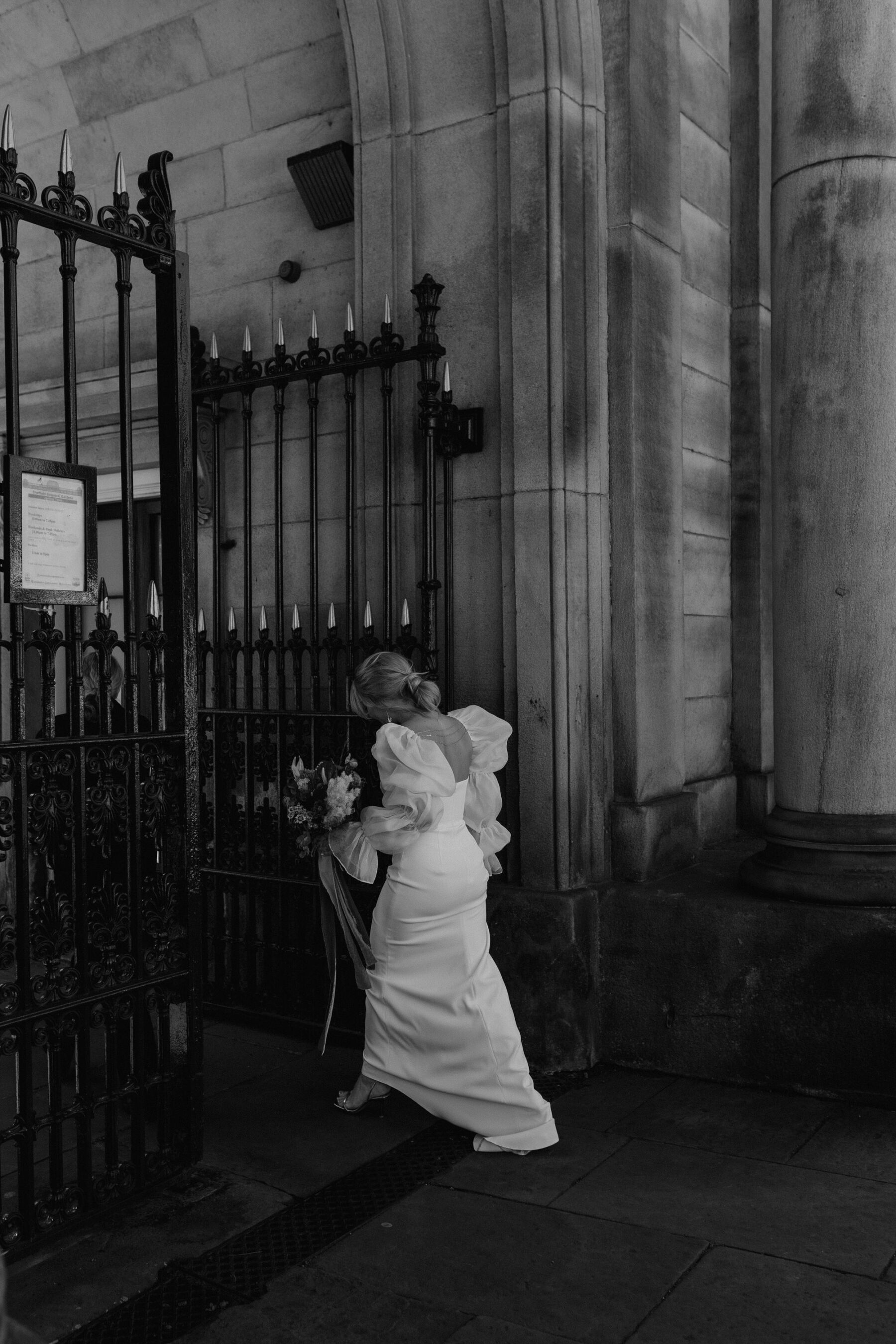 I had originally bought some gold mules from Loeffler Randal, but they didn't arrive in time so with a few days to go until the wedding I ran to the local shopping centre and searched the shelves for a simple strappy heel. I came across some gold heels in Zara, The only pair left on the shelf and they were in my size, it was meant to be. The Bride
The Ceremony
Sheffield Botanical Gardens
My dad walked me down the aisle along with my four bridesmaids. We walked up from a fountain at the bottom of the gardens towards the main pavilion. My three best friends and sister walked in front of me until we reached another fountain in front of the pavilion where we parted ways and me and my dad appeared in front with the girls then behind me. It was like a big reveal moment.
We had a registrar from Sheffield city council, who we hadn't met until the day but he was amazing and added some lovely funny moments and a reading for us. He made us super relaxed. We did add in our own vows, which we were super nervous about but so glad we did it, it made it so special. We kept them short and sweet with little private jokes, promises and things we love about each other.
One of our mutual best friends, Calli (also my hair stylist), delivered a reading for us, which was just amazing. It was 'I Wanna be Yours', by John cooper Clarke – which was also used by a Sheffield band, The Artic Monkeys, which me and Andy love!
Our dog was our ring bearer – he wore a little bow tie to match Andy's tie and a harness which said best man. He's an important part of our lives so we wanted to have him there with us. My ring was Tiffany and Andy's was from a Sheffield company called Flint and Steel. Andy knew he wanted his ring to be made of good old Sheffield steel as homage to where we live.
Photography
Our photographer was Alexandria French. Pictures of someone we know had popped up on instagram from when they got married and Alex was their photographer. The photographs were just unreal, we love the style and got straight in touch with her.
Alexandria is an absolute magician behind that camera – her photos were everything we wanted and more. Not only that she was just wonderful on the day, she was helpful and fit straight as a part of our wedding party. She even helped my dad attach his button hole on the morning while we were getting ready.
None of the photographs felt like a chore – it all ran so smoothly and Alexandria captured some amazing candid shots.
We would recommend her time and time again.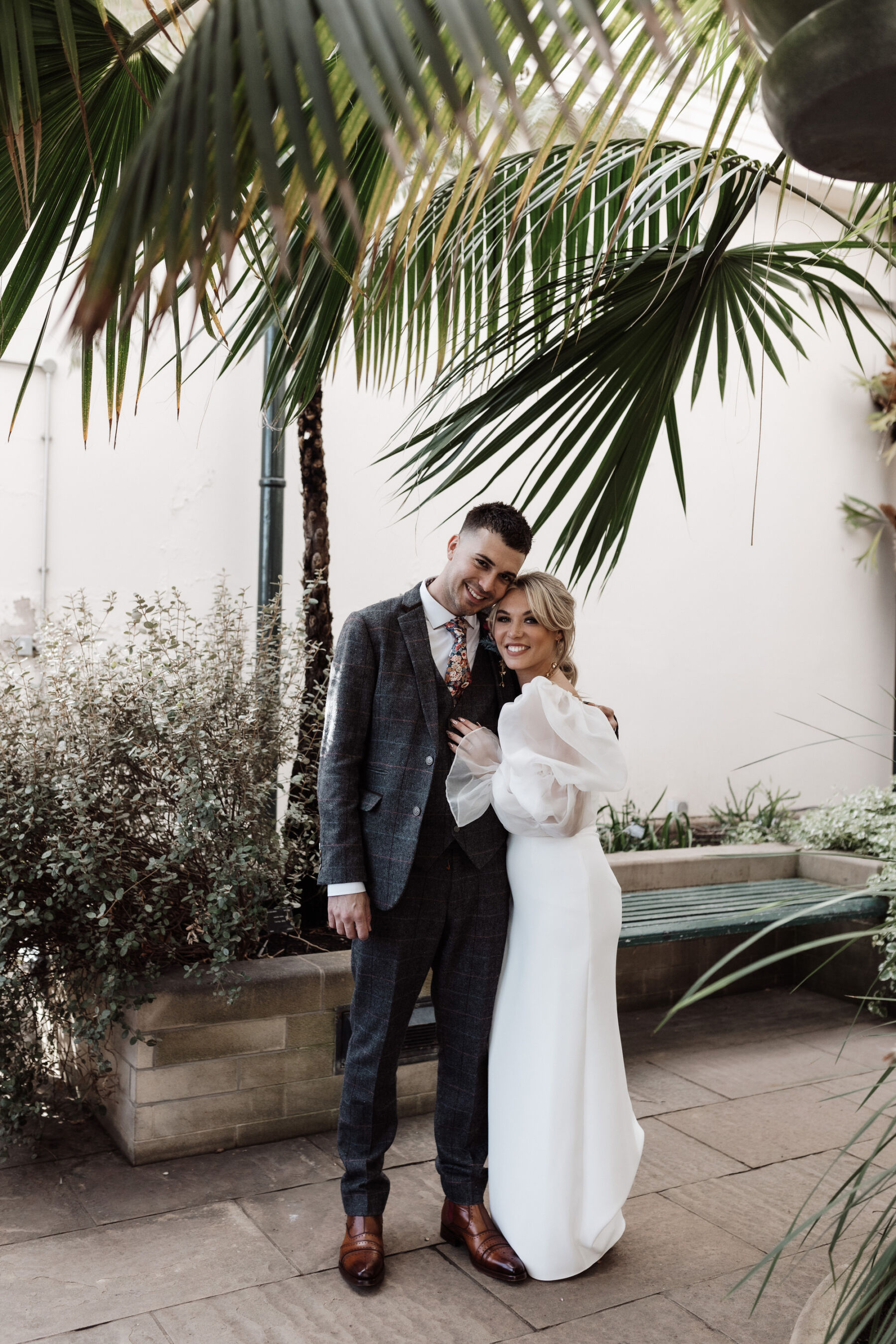 Burnt Orange Bridesmaids Dresses
My bridesmaids wore Rewritten Bridesmaids silk/satin wrap dresses in burnt orange. They suited all the girls beautifully and were made in such lovely material.
All the girls picked their own shoes and bags to match their personalities, I wanted them all to love what they were wearing and feel comfortable.
After the ceremony, just me and Andy popped into a much loved good old fashioned boozer in the city centre called Fagon's (it has a piece of artwork called 'the snog' on the side of the building by a Sheffield artist called Pete McKee) for a quick drink, it was a moment for just us two to spend time together in a place we love before we carried on our day. Nat
Reception
Our Reception venue was Peddler Warehouse, at Kelham Island in Sheffield. Peddler was always going to be our wedding party location after the Aussie elopement, so we decided to keep the party date and turn it into our wedding date and luckily enough the botanical gardens also had our date free.
We have also spent many a date night there when they have events and their monthly food night market. We just love the vibe and space, whenever we spoke about weddings, peddler was the place we just loved!
Loz, from the team at Peddler, was amazing and made sure everything ran smoothly and helped with anything we needed including sourcing enough booze for baby's Guinness shots (our fav) at very short notice.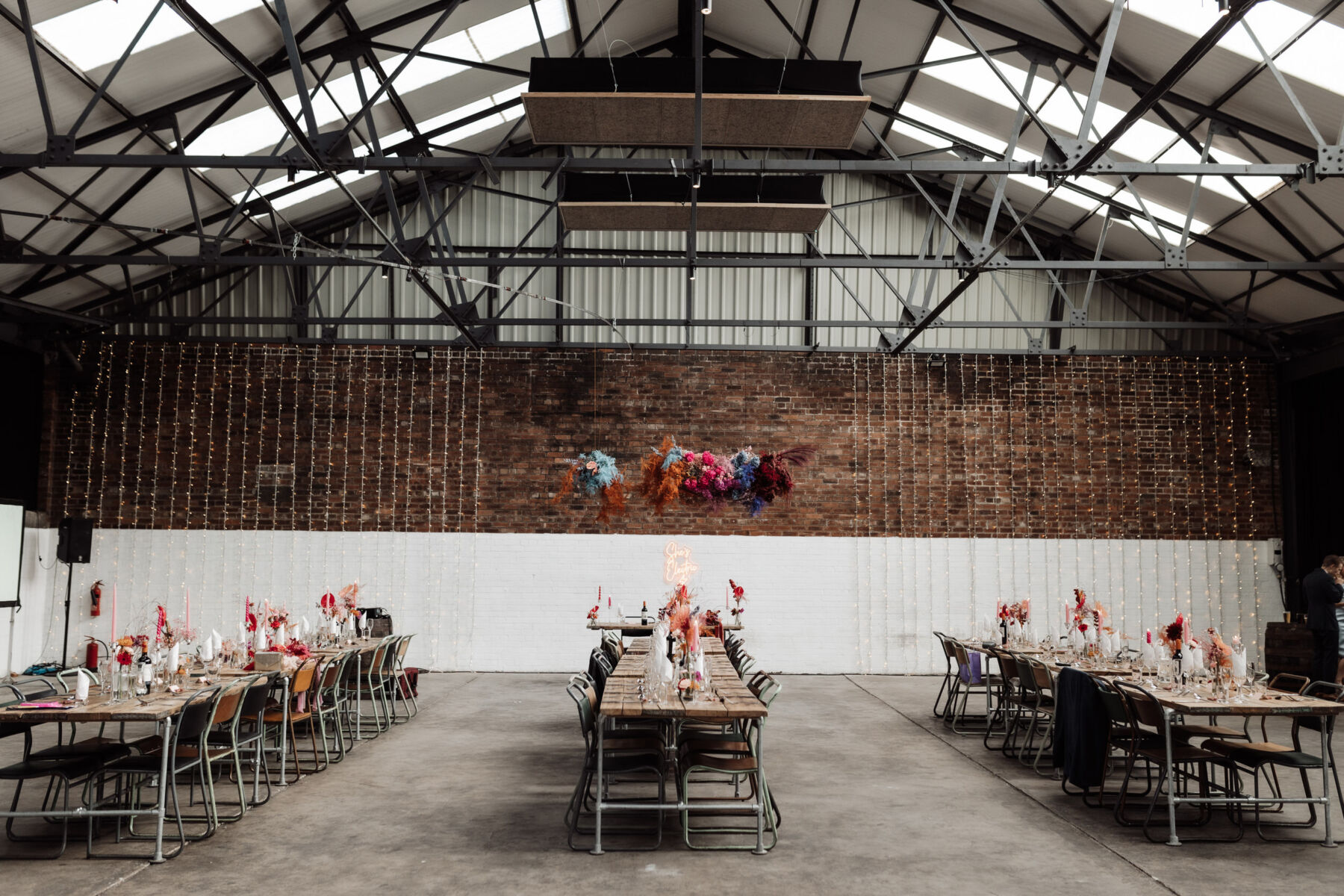 Hiring a Stylist
Inner City Weddings
We hired a company called Inner City Weddings, based in Sheffield, who offer stying and 'power hours', so we got in touch with founder Ellie and got loads of inspiration and help for our styling. She also passed us on to local suppliers.
We had collected glass alcohol bottles (luckily my sister manages a pub so lots of empties available) and had our florist fill them with flowers to place all over the venue along side a flower cloud hung from the ceiling. We also had various little signs made by a cousin of mine, Kitty, who is very good with a paintbrush and had those at little stations across the venue: blankets to keep warm, hot drinks station, flip flops for those dancing feet and a crisp wall yep a wall filled with crisps that Andy made and we pegged individual packets of crisps to it for a late night snack for the party people.
Tables, chairs, candle holders and bright coloured candles rented through Inner City Weddings. We had a soft seating area of chesterfield sofas and a rug provided by Laurence at Modular Moods in Sheffield, along side disco balls for the dance floor.
We had personalised pink and orange M&Ms that had a picture of me and Andy on them from mms.com – we provided these as treats for guests.
All our lighting was provided by Peddler Warehouse as it comes with the venue. We also had a wall filled with fairy lights as Back drop provided by Chris at Wide Eye Lighting, based in Sheffield, recommended by peddler warehouse.
Flowers
Our floral designer was Robyn from Blosm. We knew we wanted mostly dry or preserved flowers (something we could keep forever) and a fairly bright fun colour palette.
Ellie from Inner City Weddings had helped us come up with a colour theme that matched our reception venue and we new Robyn was the perfect gal for the job to Create our dream flowers.
We gave all our ideas to Robyn and let her use her creative magic, we had full trust in her and knew we would love whatever she had created for us.
How They Met
We went to the same school, though funnily enough had never crossed paths – but we did have a lot of mutual friends. Some of these friends decided to play Cupid, back in the day of MSN – and we started talking. I decided to leave the ball in Andy's court when I left my number and signed out.
Fast forward ten years and we had planned a trip to Thailand for our ten year anniversary. While we were away, the 'Loy Krathong' festival in Thailand took place, and that's when Andy popped the question. We pretty much started planning the wedding straight away.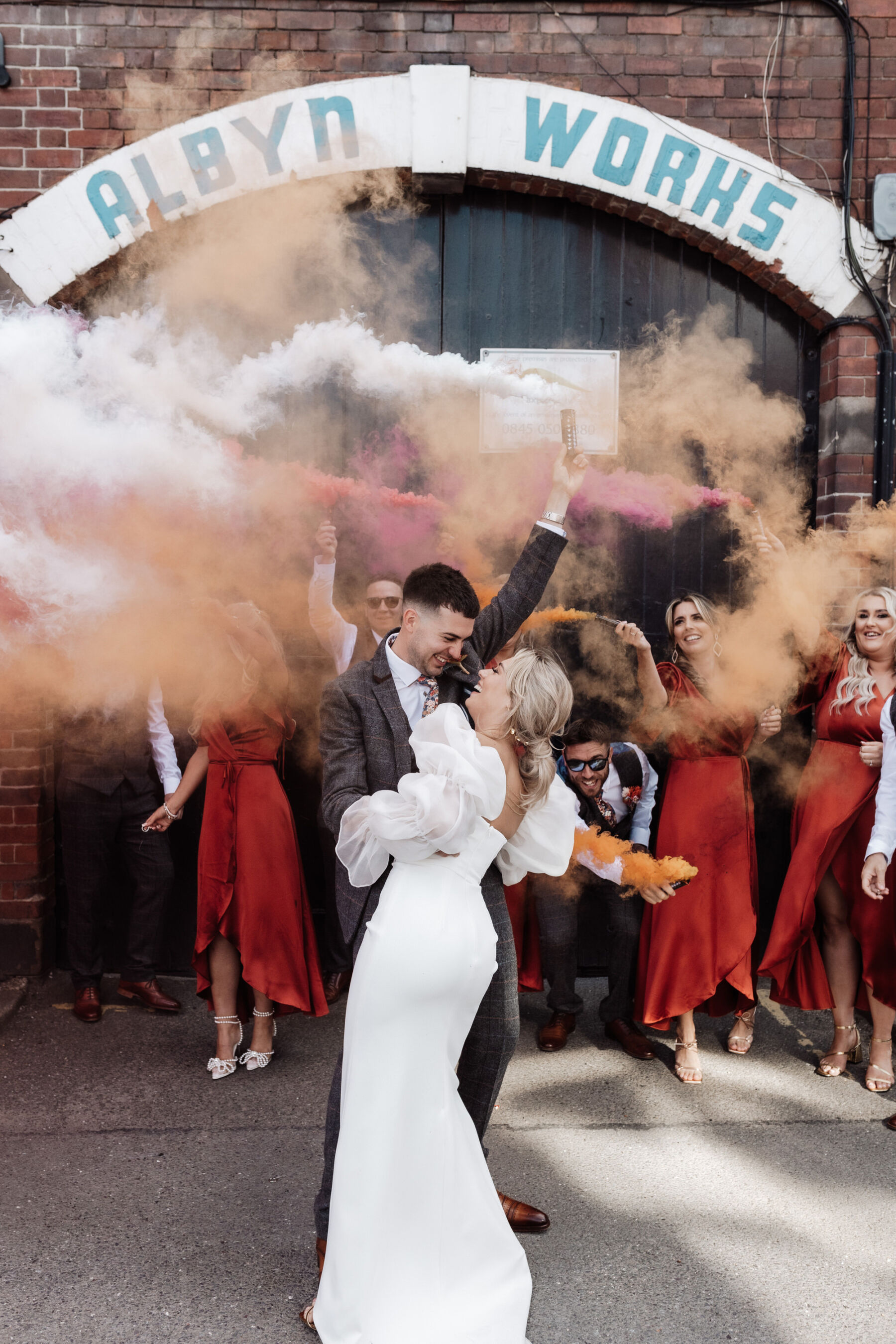 Evening & Dancing
Our first dance was to 'Sweet Love', by M-beat, featuring Nazlyn. It's a song we both love. We aren't big slow dancers, so this song has around 25 seconds of slow beat before a more dancey vibe drops.
At that moment, we had a few of our bridal party at the ready with confetti cannons – once they went off, our guests jumped in to join us on the dance floor. Our day guests knew this was about to happen but it was a surprise for all our evening guests. It was a great way to get everyone dancing and get the party started.
Words of Wedded Wisdom
Love my dress is a great place for couples to find pretty much everything the could need to help plan a wedding. Bravo guys its amazing!
We had loads of people tell us to make sure you have time to yourselves as a couple because at the end of the day it is about you two! And that was the best advice we took on.
We made sure we popped off to the pub for that drink,we also had our top table just the two of us. It let us sit back enjoy the moment and be able to watch your wedding right in front of you, watch all your guests interact and have fun.
Do your wedding your way, we did and we are so glad because we loved every minute. The biggest compliment we had was our guests saying how 'us' the wedding was.
Our wedding budget changed a lot over the years of planning mainly due to the covid changes that happened. On one hand it gave us chance to save more which helped as the English wedding was definitely more than our month of traveling and getting wed in Australia was going to cost.
I think we had budgeted around £20k for our English wedding. And we went over by a fair amount. In the end it was closer to £30k, including everything. We kind of went with the 'we are only going to do this once so let's do it the way we want' mentality.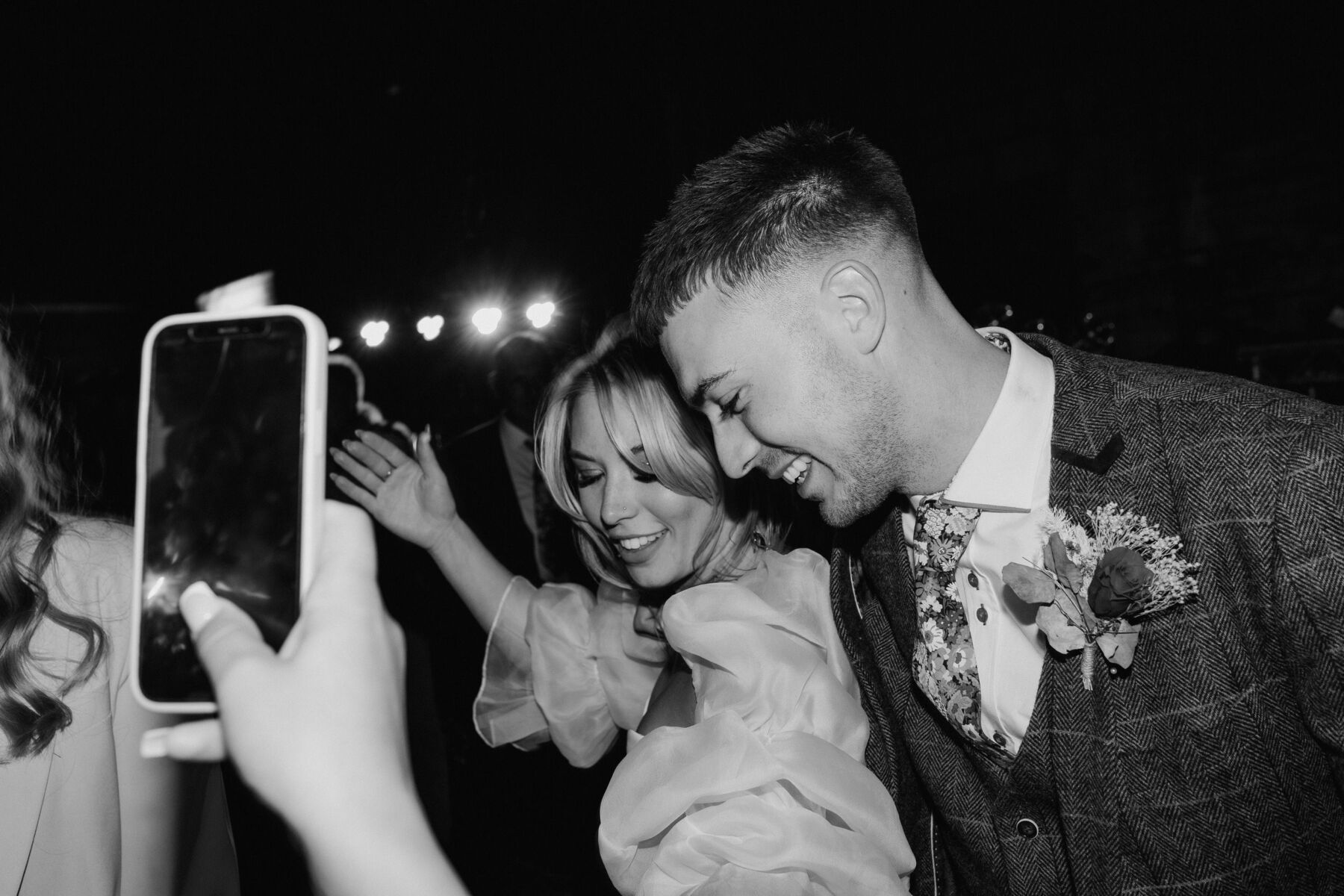 Explore our wedding directory