It thrills me to let you know that Toni Maticevski's gowns have made their way to the Miss Bush bridal boutique in Surrey, UK, offering fashion lovers the opportunity to experience the artistry of one of the most innovative, boundary-pushing and unapologetically unconventional designers in the fashion industry.
Australian, Toni Maticevski, is widely recognised as fashion disruptor. His collection challenges traditional expectations with sublime and flattering sculpted designs that flirt with androgyny and showcase his absolute mastery of form and movement.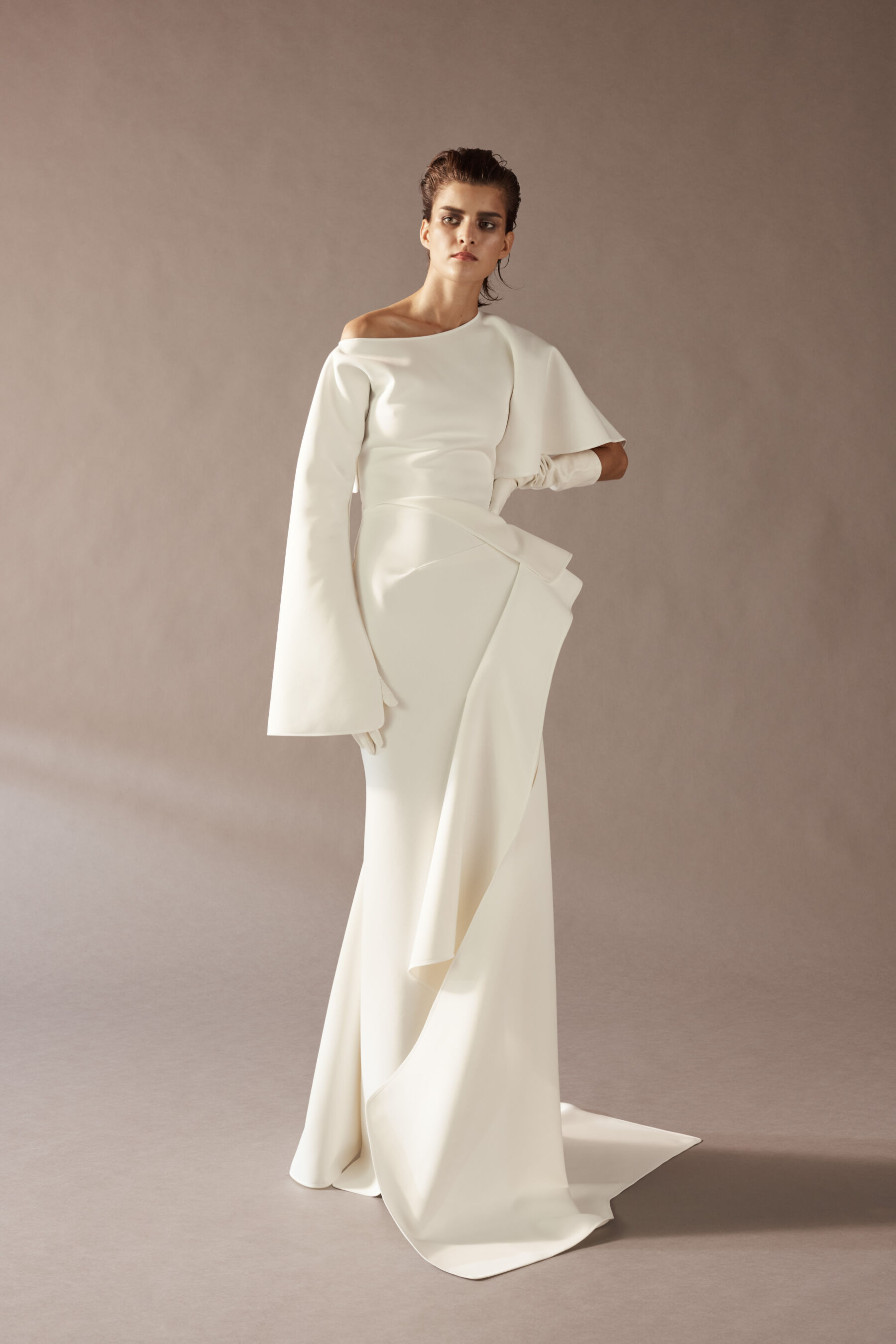 Maticevski creates bridal gowns that are as much works of art as they are elegant attire for brides with a discerning eye for catwalk style couture. Those of you who appreciate a more bold, non-traditional approach to bridal fashion, will adore the sculptural beauty of Maticevski's gowns, and appreciate the way in which he celebrates the female form in a fresh and contemporary way.
If you're looking to make an unforgettable fashion statement on your wedding day, then I invite you to enter the world of Maticevski and take some time today to explore this incredible collection that is now available to try on at Miss Bush.
I spoke with Miss Bush MD, Emma Marshall, earlier this week, to get the low down.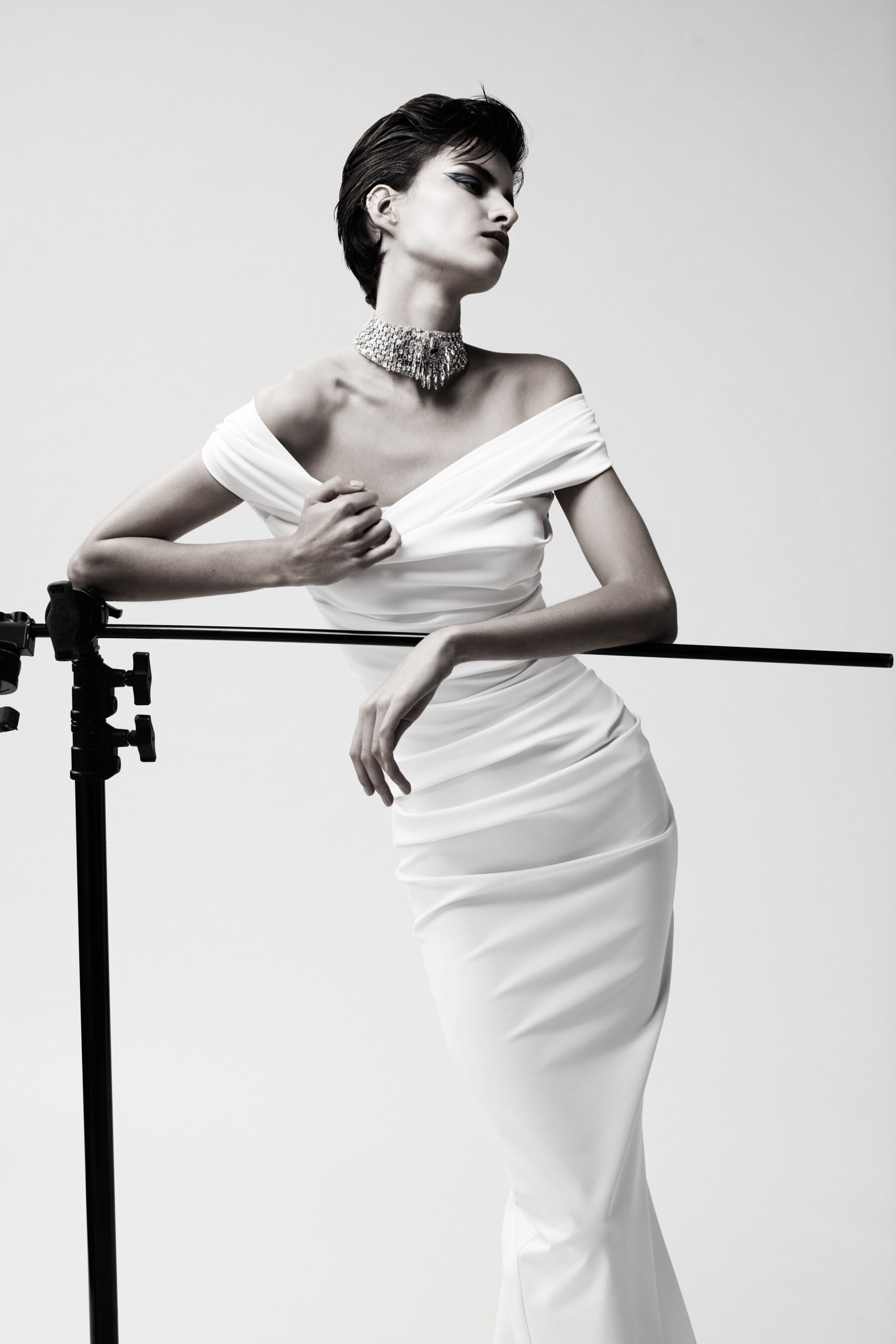 Emma, what inspired you to introduce Maticevski to edit of bridal fashion brands at Miss Bush?
I have adored Toni Maticevski's eponymous label and designer from afar but was waiting for the right time to add them to our collection.
Initially the wedding dress collection was only available as a ready-to-wear collection. This option is notoriously difficult for independent wedding boutiques. Keeping sample dresses in symbolically virginal states is tough, hence sample sales dresses usually need to be cleaned. Having a depreciating stock of expensive garments is not ideal at the best of times, but one careless pin, clamp or fake tan application and a dress can suddenly be unsellable.
Now, a made to order option opens Maticevski's innovative look, to commercial viability and accessibility.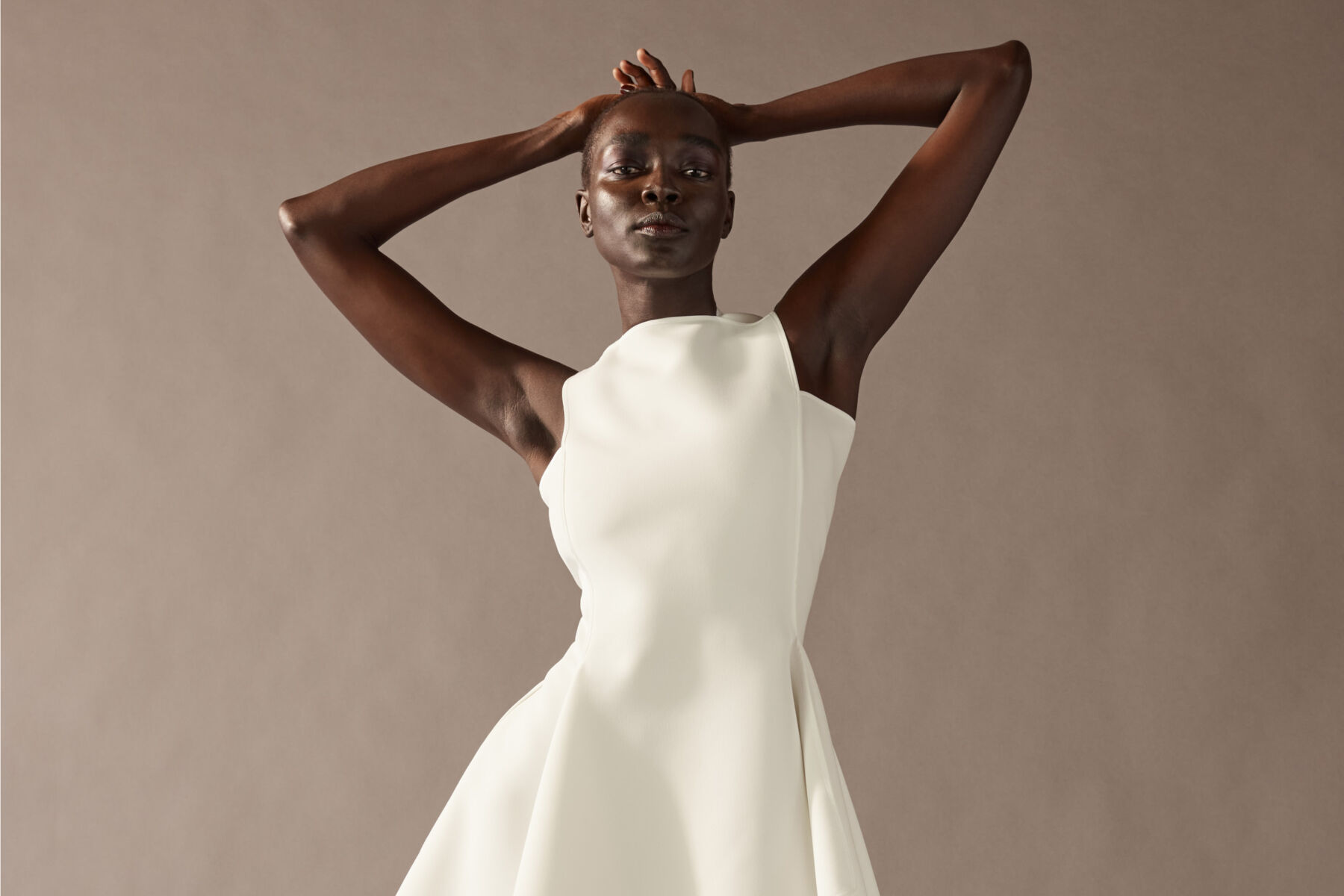 I adore the haute-punk aesthetic and the ethics of the brand. I love that an Australian label feels influenced less by barefoot, beach life and more by art and culture. Emma Marshall
What can you tell us the designer, himself, Toni Maticevki?
Toni Maticevski is a Melbourne native with immigrant Macedonian parents whose fashion credentials are impeccable.
After studying in Australia, Maticevski worked for Donna Karan in New York, Cerruti in Paris before starting his own label in Australia in 2002.
Tell us more about Maticevski's commitments to producing sustainable bridal fashion
As this is the first non-European label I have invested in for many seasons, it was incredibly important for me to learn about the brand's sustainability and ethics. I am always immensely proud to tell my clients that I could take them to each of my designer's studios and introduce them to the artisans and petite mains who make their dress.
With a commitment to sourcing production within a 15K radius of their business HQ in Melbourne and "…unlike fast fashion, (they) have a transparent and short supply chain, so much so, that our Production team is able to name the individual that cut, machined, pressed, or even sewed on a button of a particular garment, at any given time."
You can read in depth about the Maticesvki brand's commitment to sustainability and ethical production here. The label's commitment to provenance truly echoes that of Miss Bush.
What sets Maticevski apart from other wedding fashion brands?
For me, it is all about the asymmetry. Symmetrical, binary. 50s inspired silhouettes have underpinned wedding dresses FOREVER.
Don't get me wrong, I love a Dior ballgown as much as the next girl. I love jumpsuits; I love some weightless chiffon. I love high-church modesty. However, what I would wear myself is angular and sharp edged. I wear things that play with, and distort, the silhouette. Emma Marshall
A criticism levelled by traditionalists at some more avant-garde designs is that if the dress were in black it could be an evening dress/regular dress/red carpet. With Maticevski, that seems entirely the point, it is in touch with fashion more than convention.
How does Maticevski cater to the modern, fashion-forward bride?
They are uncompromising, androgynous, fearless and can be completely absorbed into your wardrobe forever.
Since launching the brand in 1999, Toni. Has not conformed to the way of fashion fashion, choosing to set the tone and staying true to his commitment for quality over quantity. He has not wavered from his vision in sustaining a long-lasting brand and future within the fashion industry. The Maticevski website
Can we talk about fit and alterations on these beautifully cut and sculpted gowns?
This is like getting a brand-new Lego set. I will not have all the answers until I have played with the dresses on real brides to be and willing team members. Much like children's development with toys, I can only learn through experimentation.
Of course, brides to be will have the full back-up of our technical fitting service but the personal relationship with the brand is yet to be explored. With established brands like Jesus Peiro and Suzanne Neville being part of the family, Maticevski feel very new and unfamiliar, full of excitement and trepidation!
Why do you believe brides will love choosing Maticevski for their wedding day look?
I feel some of our city brides will love the fact that they can get married, have dinner, and go to an after party without having to change! I also think they will become part of the 'wedding wardrobe' phenomena that we now see. Various looks for various venues over a couple of days.
I imagine 'Allegro' for church, 'Nightshift' for the rehearsal dinner and 'Trace' for dancing?
(Allegro, Nightshift and Trace, below)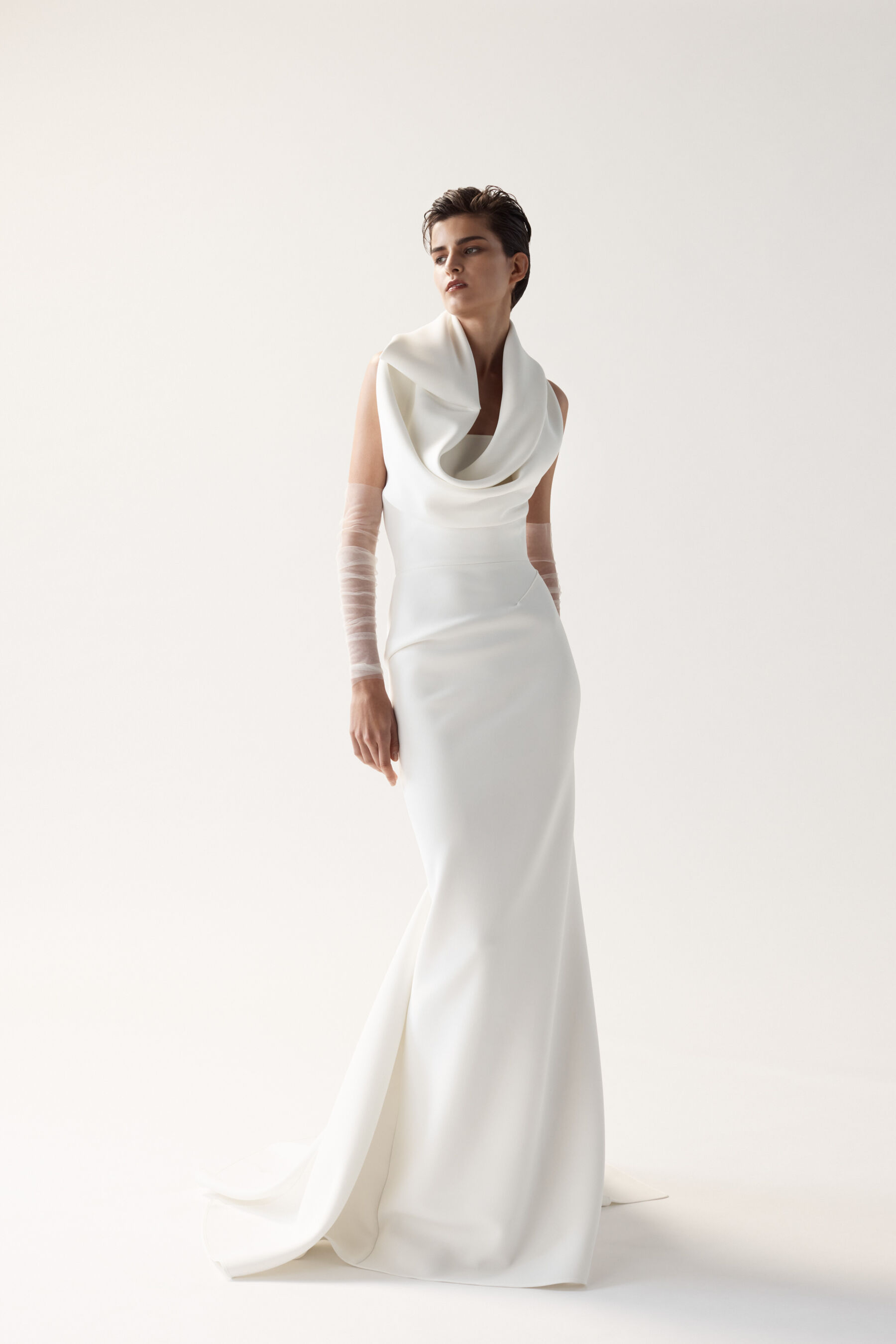 Are you able to provide a price guide for these gowns?
The dresses are approximately £2000 to £3000 in standard sizes, currently from 8 to 16
How can brides book in to try on these gowns?
Please use the booking form via our website or call to discuss on (+44) 01483 225 355.
missbush.co.uk