I don't ever want Love My Dress to be a blog that just features weddings.  We do work hard to balance our content to ensure it's always inspirational, always offers something a little new (we have plans people, plans, watch this space).  It's why we're keen to develop our discussion posts, our life and love pages, explore film and feature pieces by experts in the industry that will genuinely assist you on your wedding planning journey (see here, here and here).  We explore vows and readings and their meaning, we address issues that are often skimmed over by others (see here, here and here). And we really care about, and want to get to know you too.
More recently, I was sent this photoshoot accompanied by an email from stylist Kirsty of A Safe Mooring.  I loved the passion which poured from Kirsty's email – the idea she had to look beyond how weddings are so prettified via the blogs.  I shall let Kirsty articulate her vision and tell you some about the talented team of suppliers (that you can book for your wedding day too!) behind these images…
Love My Dress Wedding Blog – Photographs Copyright (c) 2013, Lauren McGlynn Photography
For better for worse, for richer for poorer, in sickness and in health,
til death do us part. How often do we hear these words spoken at
weddings? And yet how often are they outshone on the day by all those
pretty flowers, lovely dresses and quirky details? For this project, we
took these vows as our inspiration and worked from there. The
decorations, the venue, the styling, the suppliers, the models: with
every element, we aimed to capture something authentic about weddings
and marriage, their beauty, and their inherent contrasts.
It
started with our models. Or, more accurately, our not-models. We were
delighted that Kiara and John, a married couple, agreed to get dressed
up and play bride and groom again. When it comes to gorgeous images,
there really is no substitute for love. Kiara is a natural beauty, and
together Roy of Hair at Milk and makeup artist Amy Irving expertly
brought out her best features (that red hair! The glittery eyes! Dying
of envy!).
Next, we found our venue. A local restaurant with its own distinctive
style, Timberyard makes a stunning backdrop for weddings and is a
wonderful space for anniversary dinners and family celebrations. Rather
than a fantasy palace that appears in your life for one shimmering day
and then vanishes, this is the kind of place that would weave itself
into the fabric of your marriage for years to come.
With such a
base to work from, it was easy to bring all the stylistic elements
together. My goal was to work with and enhance the existing space, not
cover it up with throwaway decorations. I chose objects and art with
special meaning, many of which Kiara and John collected for their own
wedding and which now fill their home with memories. Plenty of couples
choose to display old family wedding pictures, but why stop there? My
grandad's King Scout certificate, old books read to me by my dad when I
was wee… anything meaningful can be beautiful in the right context.
A botanical theme ran through the decorations to bring everything
together. We picked out visual contrasts to echo the contrasts within
the wedding vows that inspired us: precious gold and chipped metal;
bright coloured glass and rough wood; precise botanical drawings and
carefree hand-lettering; delicate dried petals and exuberant fresh
blooms. We were so lucky to have I Heart Flowers filling the shoot with her floral goodness, from single stems in mismatched bottles to a spectacular hanging installation.
We drew on the fantastic resource that is the Glasgow Wedding Collective
in assembling our dream team. Unlike previous Glasgow Wedding Collective collaborations, this
shoot had a specific goal: to prove that Glasgow isn't the only Scottish
city with serious creative credentials. Edinburgh is traditionally seen
as a bit more slow-paced and less trend-focused than its flashy cousin
in the west. With this project, we set out to show that, as well as
spectacular backdrops, Edinburgh offers brides and grooms a wealth of
creative talent.
Take Rowanjoy.
Her dresses, handmade especially for this shoot, are a perfect mix of
glamour and comfort, modern and vintage, serious and playful. Edinburgh
brides are so lucky to have her right on their doorstep. Or the stunning
jewellery provided by Black Box Boutique, much of which is handmade in
Scotland and which so perfectly conveys a balance of toughness and
fragility.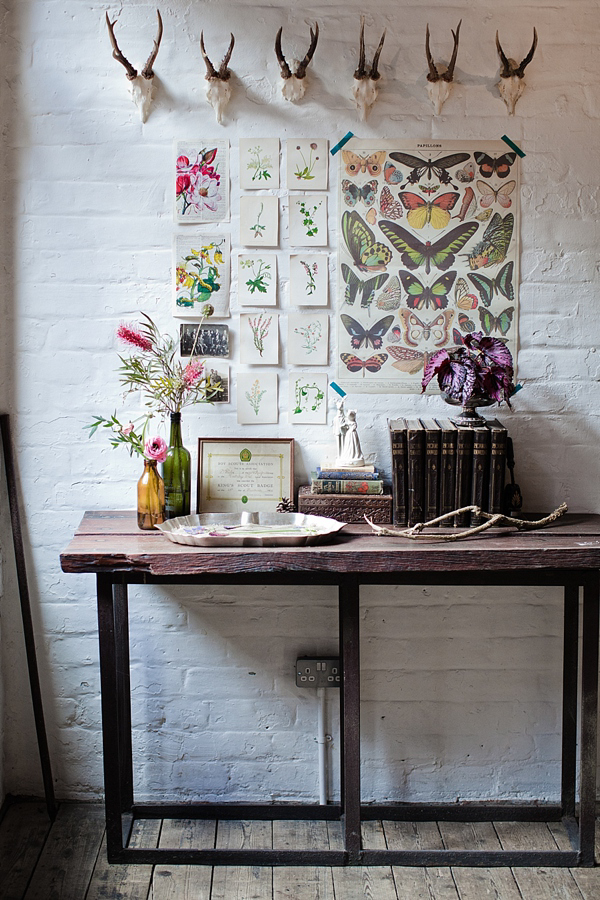 Capturing it all was the gloriously talented Lauren McGlynn.
An American living in Edinburgh, Lauren knows a thing or two about
contrasts herself. Her style is natural, free from trendy filters or
stiff poses, and her eye is razor sharp. Nobody can capture the raw
emotion of a moment like Lauren, and it was a real thrill to watch her
bringing all of that skill to a styled shoot for the first time.
Our
hope was to produce images with soul. We wanted to provide inspiration
for decor and florals and all of the other styling details that go into a
wedding, but more than anything we wanted to show that beauty can be
found everywhere – in wealth and in poverty, in darkness and in light –
and that the most beautiful thing of all is love. I think the results
speak for themselves.
We hope we've given you something lovely to think abvout this afternoon.  Weddings are more than just looking beautiful. Marriage, love, all those things, till death do us part – in the middle of all the buzz and excitement and stress and nerves – try to remember the sentiment, the love, the meaning of what we're doing as you plan your wedding.  I'd like to thank Lauren, Kirsty and their creatie team for reminding me to think too this afternoon.
I'd love your thoughts – do you think that it's become easy to overlook the reason we're doing all this, and that there is too much of a focus on the need to prettify everything?
Annabel
You might want to read this feature 'A note or two on bloggable weddings'

Creative Team
Photography: Lauren McGlynn Photography
Styling: A Safe Mooring
Flowers: I Heart Flowers
Dresses: Rowanjoy
Jewellery: Black Box Boutique
Venue: Timberyard
Hair: Milk 
Makeup: Amy Irving
Shoes: Arabesque
Model: Kiara King
With thanks to the Glasgow Wedding Collective