In the second of our real wedding features today, we're sharing Emily and Matthew's lovely photographs, because they are bright and colourful and just what I think we all might be needing on a Monday afternoon to keep us going until home time (not long now folks).
Emily, a Junior Cardiology Sister, and Matthew, who works in youth social care, tied the knot on 29th August this year at The Matara Centre in Tetbury, Gloucestershire (we've just recently featured another wedding at this beautiful venue, see it here). 
"I'd been dreaming about my wedding day since I was little and to be
engaged was amazing! I spent a lot of my time trawling through blogs like Love My Dress and taking inspiration and
ideas.  I became addicted to Pinterest, Etsy and Ebay and started to
build up a collection of bits and bobs to help style our day.
I've
always had the idea of a natural, garden themed wedding and that was the
style we ended up having, with a bit of rustic charm thrown in." 
Photography Copyright (c) 2013, Nicki Feltham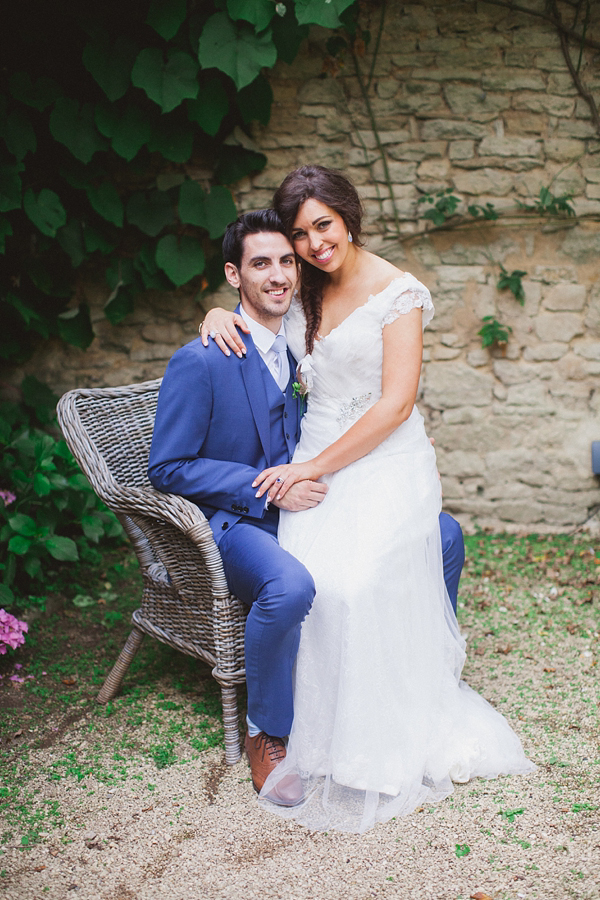 "I first met Matthew in History class at secondary school when we
were thirteen years old. We got on so well we remained best friends
throughout school. We then lost touch once we went off to separate
colleges and universities. We bumped into each other on a night out in
our local town, he was wearing a leprechaun outfit and offered me the
rest of his Orange Reef and the rest, as they say, is history!   
Matthew proposed after I had just arrived home after finishing a busy night shift.  He had covered our flat in candles and vases full of my favourite
flowers. I am really hard to surprise and Matthew is a terrible liar so
for him to keep it a secret and to surprise me was a miracle! It was
perfect. We were engaged for 13 months."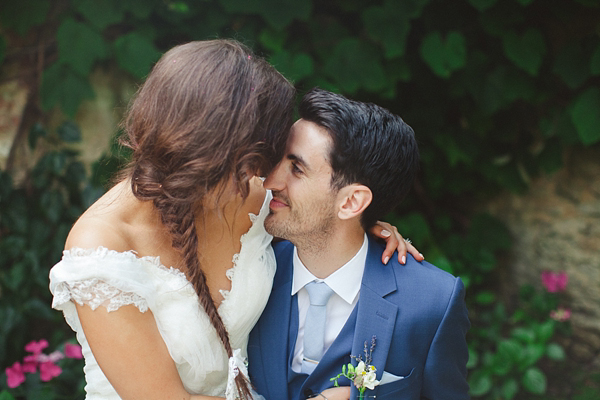 "We fell in love with our venue, The Matara Centre, as
soon as we went to visit. It has a lovely relaxed, natural feel. As
well as the venue having a gorgeous little outside area to have the
ceremony, it also has a large country house with enough room for all our
close family and friends to stay, which completely fitted in with our
number one priority which was to have us all there together to celebrate
our special day.
We stayed for 2 nights, the night before all our close
friends and family stayed and we cooked a big dinner and did a pub
quiz. It was a great way for both sides of the family to meet and for
all our friends to get together. It was a very happy celebratory evening
and really got us in the wedding spirit!"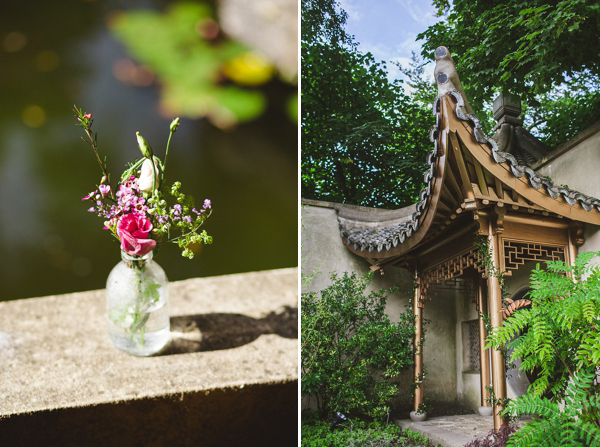 "I've always liked pastel shades so
this was used as our colour theme and I brought lots of paper lanterns
from EBay to decorate the large dome that is at the centre of the Matara Centre – they looked great!"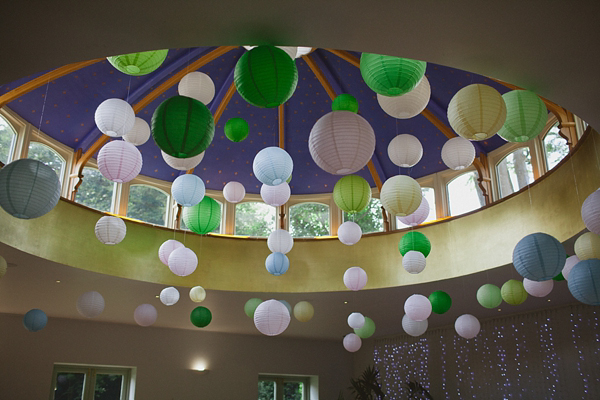 "Our good friend Charlotte runs her own small floral
business and she helped with all the flowers. I had a very clear image
of wild English garden flowers and Charlotte helped to make that happen.  Charlotte was amazing and everyone commented on how incredible the flowers
were. We collected lots of glass bottles and jars and tied them all with
lace and hessian.
The bouquets were my favourite part, they looked
stunning."
Emily wore the Lena dress by Maggie Sottero, which she purchased from Trousseaux in Old Town, Swindon.
"I knew I wanted something made of lace and as soon as I tried this dress on I immediately fell in love with it. It was simple, elegant and light weight meaning I could dance all night …"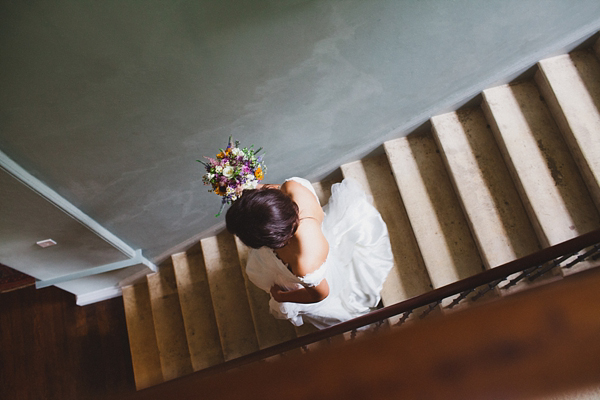 Emily wore jewelled sandals from Dune with her Maggie Sottero dress..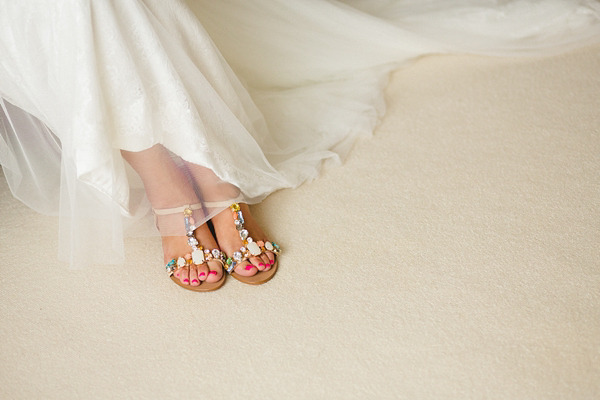 "We collected lots of jars to put flowers in and bits of lace and hessian to decorate them.  We bought small glass jam jars from Ebay and
filled them with sweets. I found some scrap Cath Kidston material and
made the fabric tops for them and tied them all with brown string.

The personalised labels were my favourite, we bought these online at 'Wedding in a Tea Cup' to complete the look."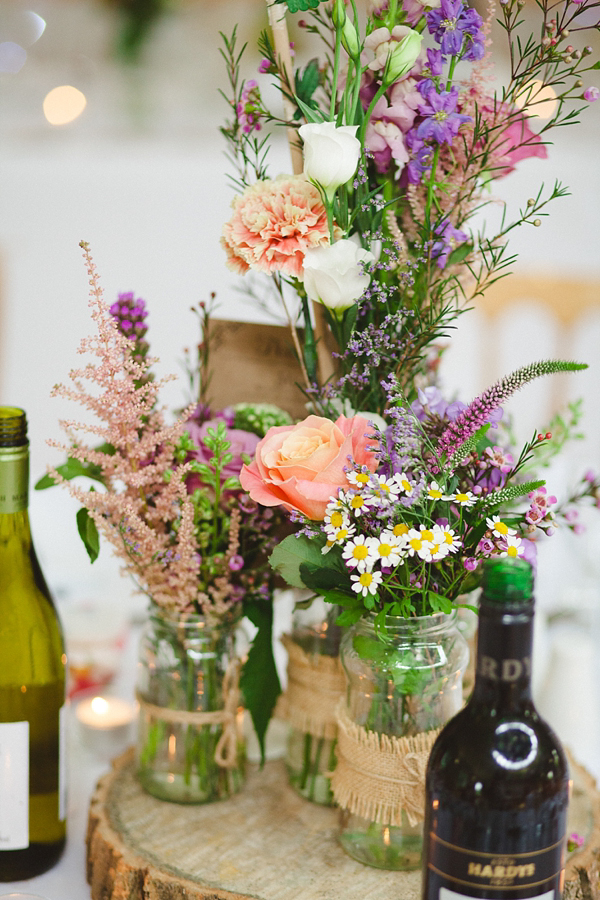 "Our wedding invitations, menus and order of the day fans were
designed by Lauren who owns an online store on Etsy. She did a fabulous job
with the design and had them emailed to us in a day.
I made the place
cards from brown luggage labels and the flags for the table numbers
using colourful scrap card."
Emily's bridesmaids dresses were from Warehouse.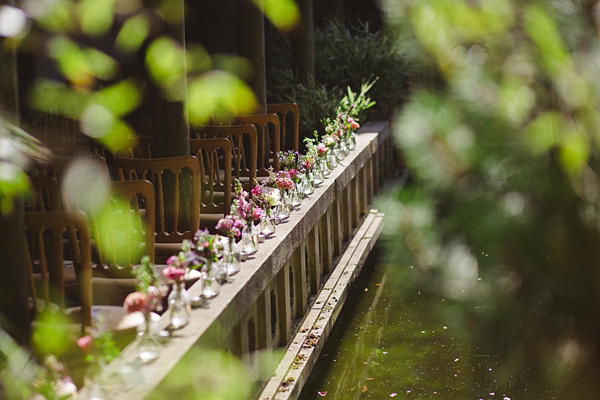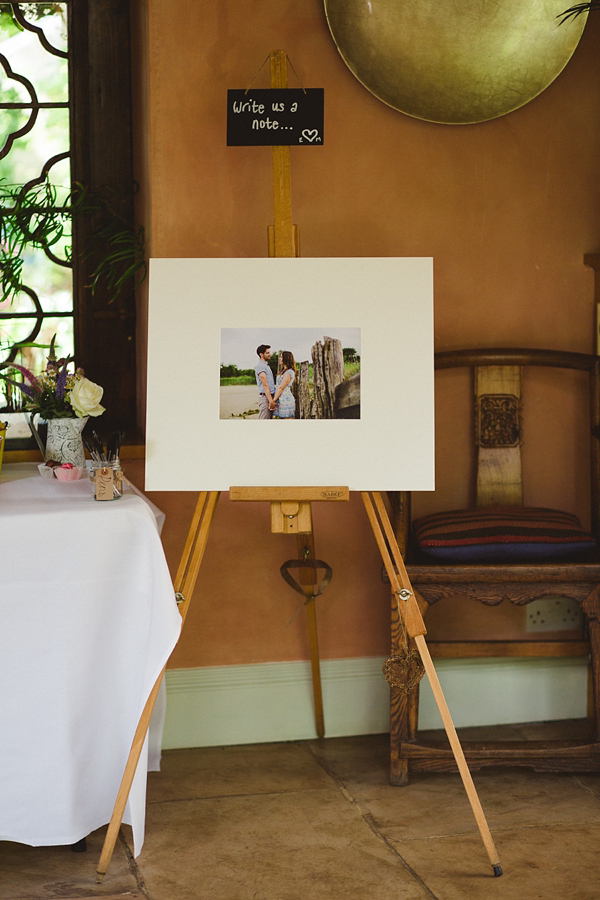 "Our photographer, Nicki Feltham,
was absolutely amazing. I found her through a wedding blog and as soon
as we started chatting, I knew she would be perfect. Her photos are
incredible and she completely put us both at ease. She worked miracles
on our wedding day and was so lovely and thoughtful throughout the whole
day, making our wedding day so enjoyable. Nicki took the opportunity to
whisk us away for a few photographs after the meal which was perfect as
it allowed us to chill out for a bit and enjoy being newlyweds.
Nicki
captured our day perfectly and we are so grateful for all that she did.
Every engaged bride should be booking her! We feel very lucky to have
found her."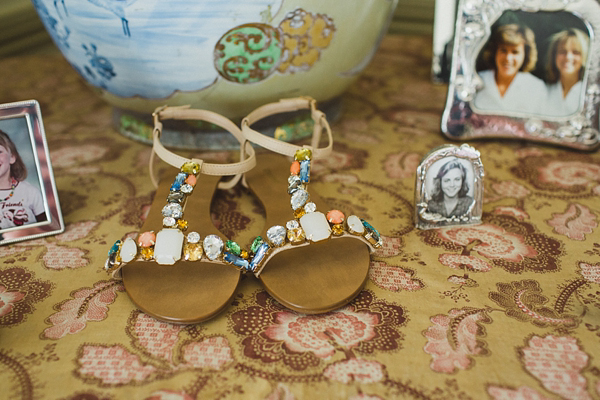 "My Hair and Makeup Artist, Isabel While,
is an angel. From the moment we met we got on so well and she made me
feel so relaxed and helped create the natural boho look I had dreamed
of. She is so talented and I would not hesitate to recommend her to any
bride to be! She is a marvel."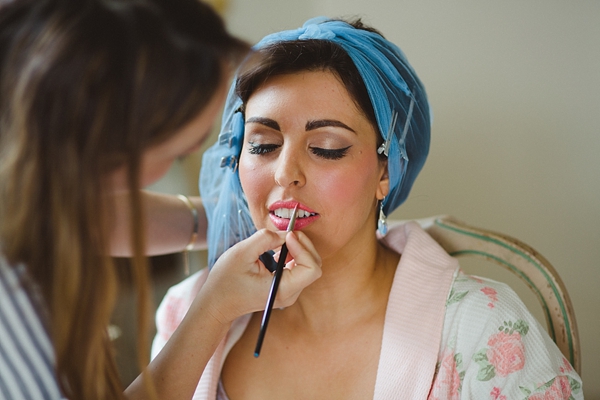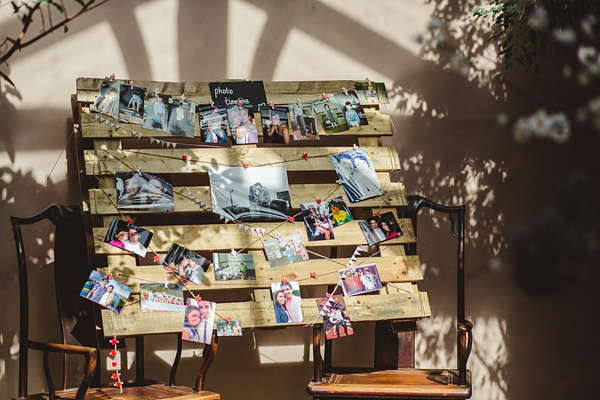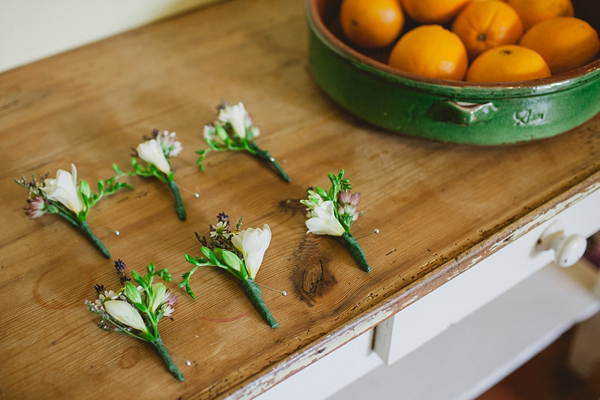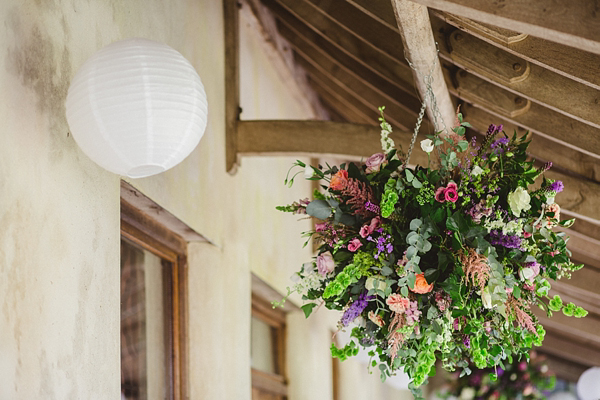 "My Dad walked me down the aisle; it was a very special moment.  We walked to music played by Josh Doughty
on the Kora, a West African instrument that sounds like a harp. We
found Josh at WOMAD music festival and it reminded Matthew of his time
spent in Mali."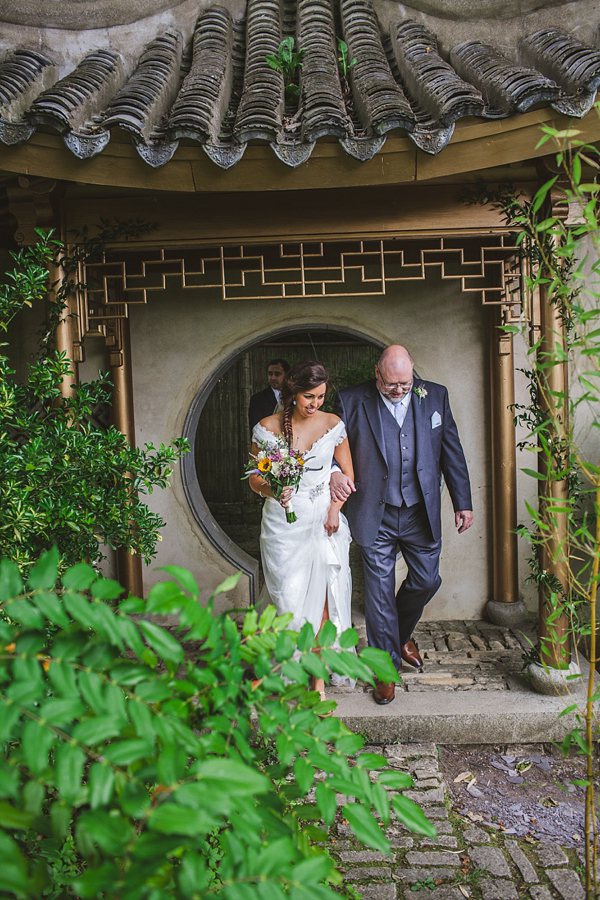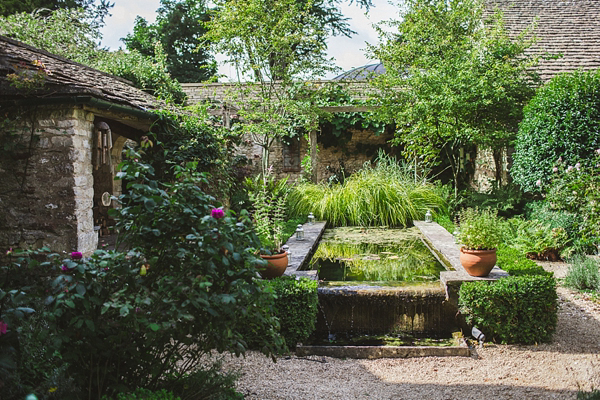 "My engagement ring was from a little boutiquey online store, I'm
afraid I can't remember the site. Matthew chose my engagement ring, he
knew I didn't want a traditional diamond engagement ring and this ring
was perfect. Our wedding rings were both from Fraser Hart."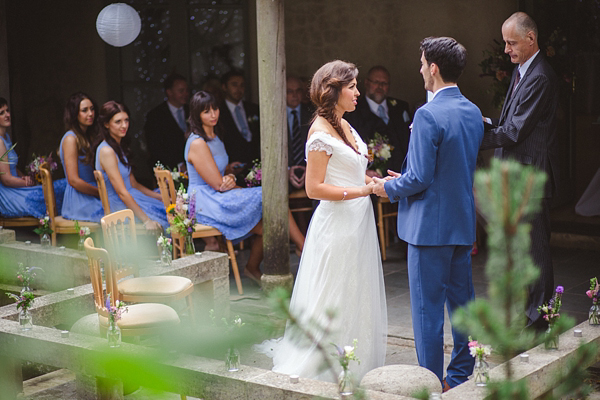 "We chose a passage from the book Captain Corelli's Mandolin and a poem called 'Touch the air softly' by William Jay Smith. They were read by my sister Jess and Matthew's godmother Lynne."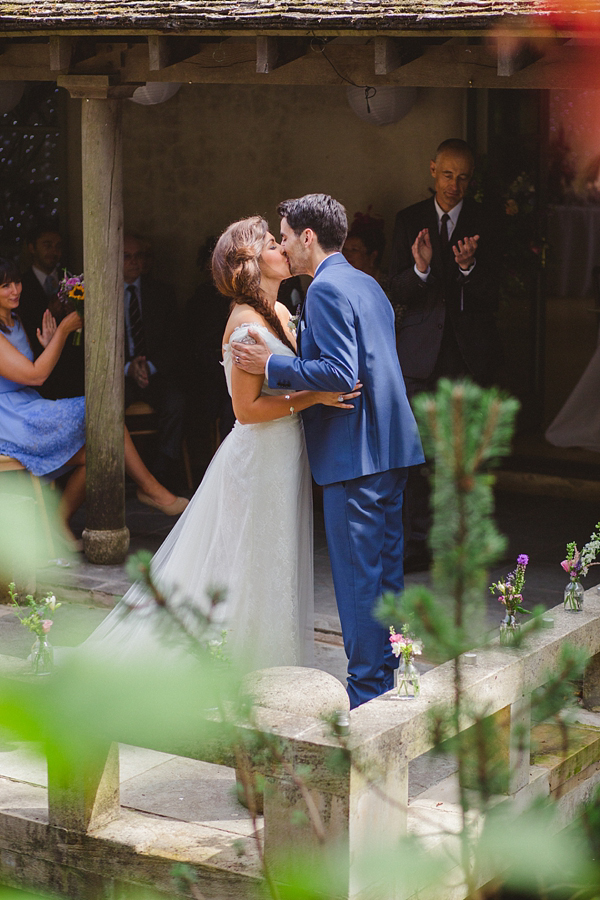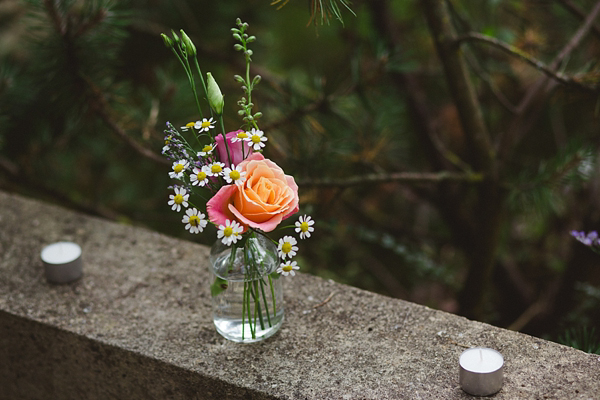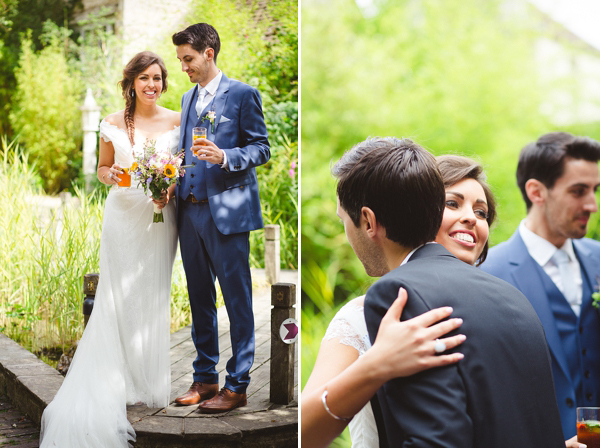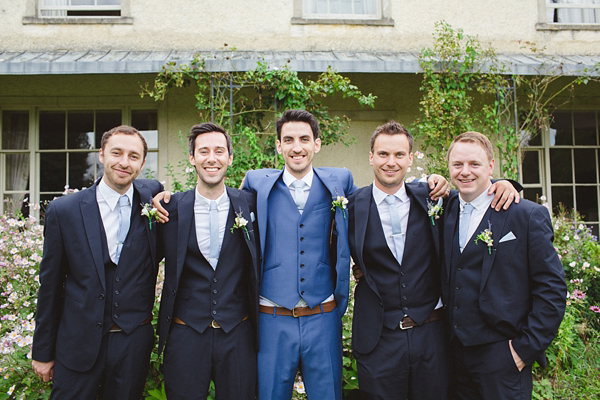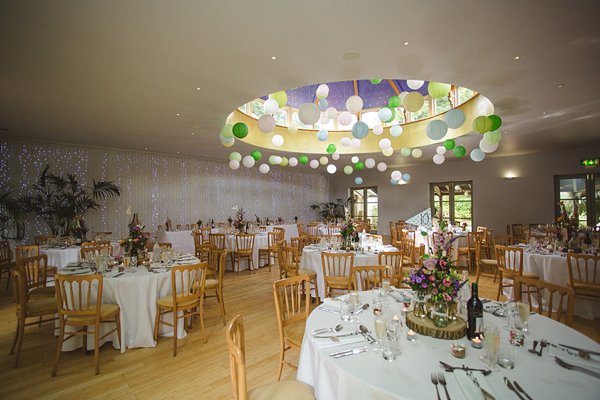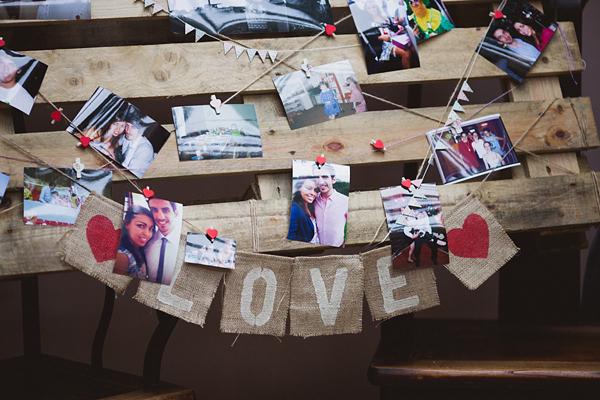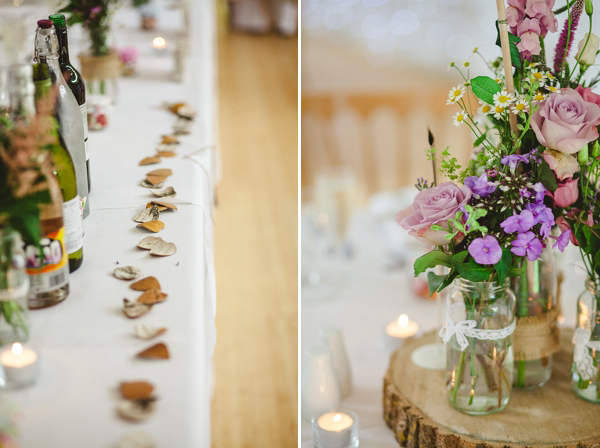 "Our wedding cake and macaroons were made by Patisserie
Leila in Stokes Croft, Bristol. We love this patisserie and so it was
the first place I thought of when we were thinking of wedding cakes! We
talked through what we wanted with the manage, and they managed to make
us a beautiful rustic cake topped with lots of cream and fresh fruit.
We
didn't want anything too traditional and this fitted in with our
'natural' theme."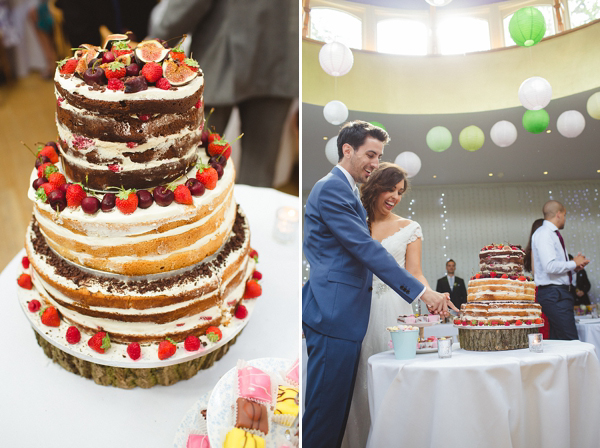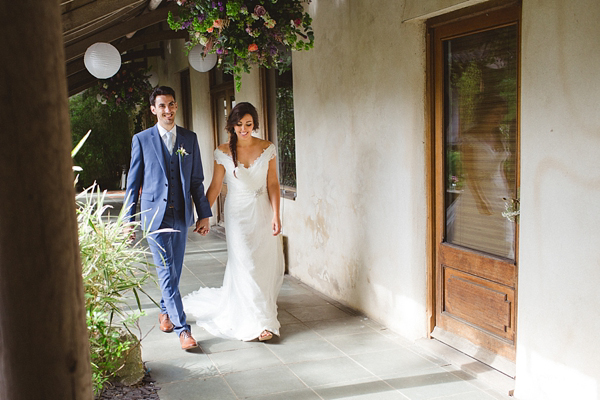 "Our first dance was Finley Quaye – Your Love Get's Sweeter
mixed into Finley Quaye – Sunday Shining. Matthew loves these song and
said it always reminds him of me. They are both really summery, upbeat
songs and it was so lovely to dance to two of our favourites."
 Words of Wedded Wisdom… 
"Relax
and enjoy every second. If something doesn't go quite to plan then
forget about it, nobody will notice I promise! It's so exciting planning
a wedding but don't lose sight of the most important part – being with
the person you love. 
I absolutely love the real wedding section on Love My Dress and spent so much time trawling through the archives! 
I literally wouldn't have done anything differently because the whole day was everything I could have dreamed of and more.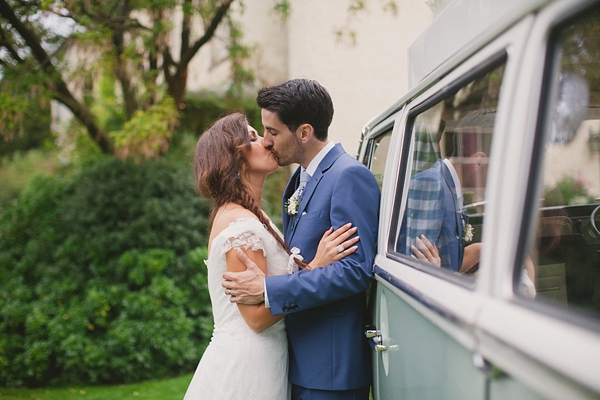 Another lovely day on Love My Dress – huge thanks to Nicki Feltham for making it possible, and of course to Emily and Matthew, but especially Emily for so warmly sharing her day.
Are you a Maggie Sottero bride and if so which design will you be wearing?
Have a beautiful afternoon folks,
Annabel

Photographer – Nicki Feltham
Venue + Catering – The Matara Centre in Tetbury, Gloucestershire
Brides Dress – Lena from Maggie Sottero via Trousseaux in Old Town, Swindon
Veil/Headpiece – Trousseaux
Grooms Suit + Shoes – Reiss + Rotary Watch, tiepin from Etsy, tie from ASOS
Bridesmaids Dresses – Warehouse
Videographer – Mark Davies
Flowers – Friend
Cake – Patisserie
Leila in Stokes Croft, Bristol
Entertainment – The Ministry of Soul
Rings – Fraser Hart
Hair/Make-up Artist – Isabel While  

Follow Love My Dress on Google+