There is something about the way this wedding has been photographed – I love the way photographer Shelley of Toast of Leeds has been able to capture such beautiful, romantic images in such low light – that can't have been easy.  There is also something about this particular wedding venue that I adore; Danby Castle is a short drive from my home in Whitby, and Danby is a place that is very close to my heart, with much family history on my husbands side in the area.  We even considered Danby Castle as our own wedding venue in the early days.  Back in the 16th century, Lord Latimer of Danby, who owned Danby Estate and Danby Castle, married Catherine Parr, (Henry VIII's last wife,) and their marital home was Danby Castle.
Danby Castle sits in a truly beautiful part of  the world, and if you've ever visited, it would be more than obvious why Jane, a Marketing and Communications at University of Sheffield chose to marry her beau Steve at this beautiful 14th century building with all the glorious rolling countryside playing the backdrop for their wedding day.  This is also one of those weddings that will inspire brides who have a small wedding budget to work with, as Jane DIY'd much of the detail herself – and I love how she managed to keep to a low budget without compromising on style.
Photography Copyright (c) 2013, Toast of Leeds
"Steve was in my younger sister's friendship group all through high school and after I finished University I moved in with her and some other friends and we got to know each other that way. It took a couple of years for either of us to make any kind of move; I used my tried and tested technique of completely ignoring him and avoiding all eye contact. Nailed it! He eventually make the first move in the toilet doorway at a friends BBQ, asking if he could be 100% bold and kiss me!
I still make fun of him about that."
"The proposal happened the night before we flew out to the Maldives. Steve had superimposed himself into an episode of Star Trek, beaming onto the Enterprise, the opening credits contained the actual proposal, it was hilarious and I laughed all the way through them.
During all of this he hid in the kitchen and finally walked through with the ring and got down on one knee, I was laughing too hard to answer. That night we celebrated with beans on toast. We married 11 months later."
"We chose Danby Castle near Whitby as our venue, because we loved the picturesque location, the buildings and the aesthetic of the venue, we went to view it on beautiful sunny days and it was just breath-taking. They were happy to be flexible; to meet our needs and our budget.  Jemma and the staff at Danby Castle were amazing. They provided all the help and advice we needed, they were collaborative and organised everything behind the scenes for us.
I started panicking the day before on the drive up to Whitby as the torrential rain was bouncing off the windscreen, wishing we'd booked somewhere more central and with cavernous indoor spaces. The sun came out on our wedding day. I loved everything about our wedding, it was ours, and said so much about us.  Being able to share the Whitby sunshine with our friends and family made it perfect."
"The venue itself was the biggest inspiration, it has such a particular look we wanted to accommodate, but put our own twist in there too. We like a bit of a combination of vintage and modern style. I had two pin boards on pinterest for wedding inspiration – one called Mexican Rose and the other Colourful pompoms. We eventually combined the two themes for the wedding."
"I bought my dress from House of Fraser, the brand was Untold. I wanted something a bit like Kate Moss's wedding dress, beaded, mermaid tail, low v-neck and cap sleeved. I found a perfect Jenny Packham dress that was out of my price range, but when I found this dress, it was exactly what I wanted and affordable, I did a little dance.
I made my veil myself, following this easy tutorial."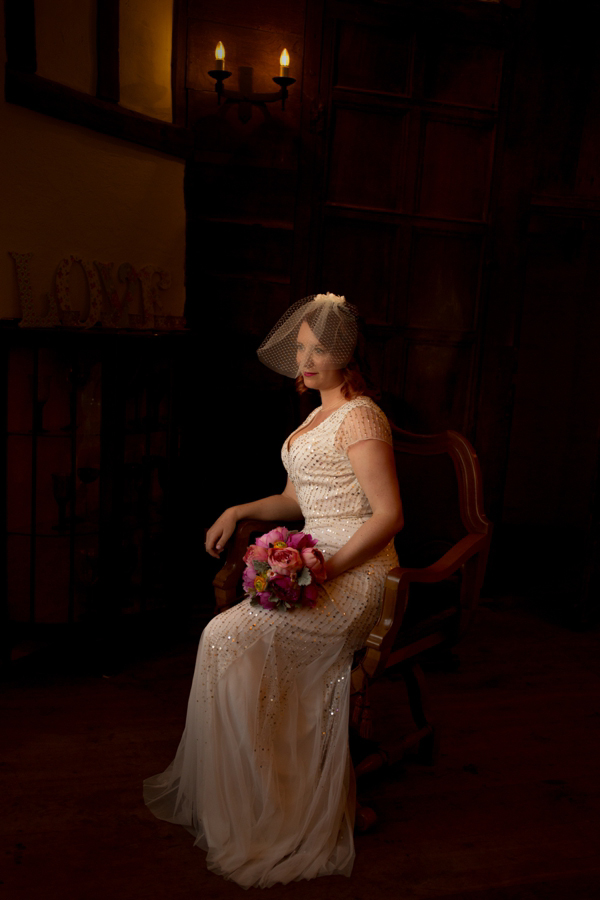 "I wore a pearl necklace I bought in Corfu years ago and I made some bat earrings for myself and my bridesmaids to wear. Well, we were in Whitby – home to the infamous Dracula!"
"I wore Kate Spade's 'Charm' peep-toe sequin Slingbacks but changed into some topshop ballet flats for the evening."
"My bridesmaids wore a grey jewelled maxi dress and a hot pink dress that were both from Hobbs."
"I wanted a huge pink peony bouquet – I'd seen so many gorgeous ones on pinterest (a bride to be's best friend and competitive frenemy) but again I had to consider budget. I opted to go shopping for realistic fakes with my mother in law and make the bouquets myself. It was a shame I didn't get real ones but the silk flowers looked quite good, almost real (from afar) and I get to keep them forever as a keepsake."
"I used to be a graphic designer so relished the opportunity to design all of the stationery for my own wedding after years of doing it for other people. I designed the majority of our stationery; the invitations, menus, place cards and wedlibs. 
For the table numbers Steve and I worked together to edit ourselves into our favourite tv programmes; obviously we did Star Trek along with South Park, Futurama, Game of Thrones, The Walking Dead, Buffy the Vampire Slayer, The IT Crowd and Steve made a Pixar version of each of us."
"I made pom pom 'flowers' for the ceremony room along with lit candles in the arched windows. The venue had lots of fun and interesting bits and pieces which we liked and left. We made foot after foot of pom pom bunting, enough for the marquee, all in bright pinks, orange and mustard yellow. Instead of flowers on the tables we had cacti, in painted terracotta pots."
"My original plan was to make a naked tier cake myself just before the wedding, but when it got closer to the wedding I just couldn't be bothered. We decided it would have to be huge for everyone to get a piece and I wanted to avoid the stress. Instead we got a no-frills flat cake from Costco. It tasted awesome and there was plenty to go around."
"We hired the amazing Shelly Mantovani of Toast of Leeds to take our photographs.  She did an amazing job and was funny, professional and put us all at ease. I love her images and am so thankful I have such amazing reminders of the day!"
"Both my mum and my dad walked me down the aisle to the acoustic version of Hysteric by the Yeah Yeah Yeahs.   We were given options words by the North Yorkshire registrars, we decided to keep it as short and sweet as possible and ended up saying the bare minimum. Some of the choices were a little too saccharine- sweet for our tastes.
When I got to the front, Steve squeezed my hand, it felt great. I had butterflies, I was shaking with nerves and happiness. It was the best feeling ever."
"We only had one reading; adapted from my favourite poem by Julie Sheehan called 'Hate Poem'. We amended the words a little bit as we didn't want to upset or confuse any of our guests. We liked it because it's funny and weird and smart. We wanted to inject a bit of laughter into the ceremony, we didn't need to as the registrars who attended were hilarious and the ceremony was a laugh riot from start to finish. I giggled all the way through my vows!"
"Danby Castle provided all the catering, including the hog roast, and arranged for an ice cream van to come for dessert. The evening food was a cheese stack and although I was too busy to try it all of the guest said it was amazing. They catered amazingly well for our vegetarian and vegan guests, they went above and beyond with vegan friendly cheeses and ice cream."
Words of Wedded Wisdom…
"It can be easy to get drawn into competitive wedding planning. Pinterest is great for inspiration and ideas but it can also torment you if you're trying to achieve the perfect pin-able wedding. Try to remember that it's about you marrying your best friend, everything else is frosting.  Try not to let other people stress you out – it's like they're on a mission to ask stupid questions and bug you about minutiae. Just let that stuff go.
Enjoy the build-up. Hard to believe but it's almost as good as the day. Get people involved in dress fittings/champagne drinking. Enlist friends to help with decorations and hair and makeup planning make an event out of it. We also spent the night before in Whitby went out for food, had a few drinks – it was so much fun.
Jane also enjoyed visiting Love My Dress as she planned her wedding, for advice and inspiration…
"I was a DIY bride, so I really enjoyed the DIY posts. I struggled to find/afford a lot of what I wanted for the wedding – that's why a lot of it was handmade. Money saving tips are useful too and I loved reading about other people's weddings. The words of wisdom at the end of each feature were my favourite."
What a fun, honest, gorgeous day – a couple not afraid not to spend a lot of money on their wedding day, but still pulling it all out of the bag and looking wonderful – huge congratulations to you Jane and Steve, and may I commend you on your choice of venue! 🙂
Others interested in getting married in and around Whitby should go here.  And if you have a very low budget to work with, you might want to visit our budget and DIY wedding pages.
Love Annabel
Photographer – Toast of Leeds
Venue + Catering – Danby Castle, Danby, nr. Whitby
Wedding Dress – Untold via House of Fraser
Veil/Headpiece – made by the bride using this tutorial
Brides' shoes – Kate Spade's 'Charm' peep-toe sequin Slingbacks
Bridesmaids – Hobbs
Flowers – styled by the bride
Cake – Costco
Entertainment – Tommy Magic + Tom Bennet and the Yorkshire Funk band
Rings – made by the brides Father in Law
Follow Love My Dress® on Google+