Good morning all, hopefully this post finds you well slept and ready to take on the day ahead, so  let us help you ease back to the grindstone with the pretty summer wedding of Luciana and Jamie.  The couple tied the knot on 6th July last year with a ceremony at St Mary's Church in Ardleigh – a place of special meaning to Luciana as her sister is buried there, followed by a reception in Luciana's parents garden.  Even Luciana's horse was invited to this special day.
I love that Luciana found her vintage wedding dress on Etsy and had it customised exactly the way she wanted it.
"Jamie and I met working at a holiday camp – I had been made redundant from my London based job and actually didn't want to be working there at all.  I had  friend say to me 'pull yourself together this might change your life'.  And oddly enough it did."
Photography by Craig Williams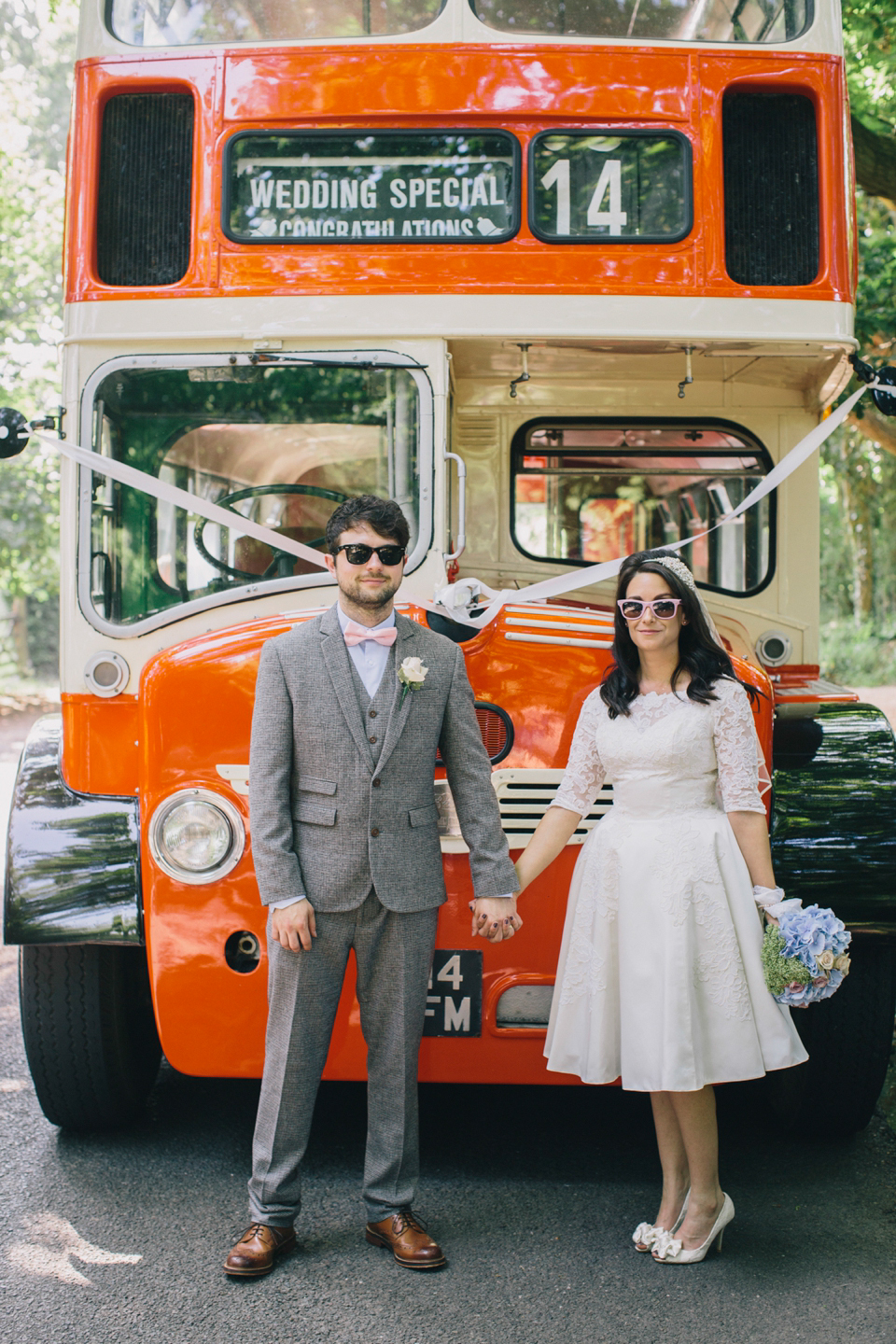 "I had always loved the idea of high tea and having a tea party on our wedding day, surrounded by pretty crockery and vintage china for the scones and little finger sandwiches. We both knew we wanted a chilled out garden wedding, and not wanting a sit down meal this seemed a fun way to feed our guests.  I really wanted our guests to feel like they'd come to a lovely party on the day."

"My dress!  Oh dear, this is a story and a half!  It was actually the third dress I brought  – luckily I sold the previous two.  I wanted a short dress all along but had been influenced by the idea of wearing a long dress at your wedding, that being the 'done thing'.  But I felt I had to be brave! So I looked on the Etsy website and ordered my dress.  It was a long dress to start off with, with long lace arms.   It was a risky purchase – an original vintage gown, all the way from America, made in heavy satin.  I then got in touch with a dress maker called Karen Graves – and this is when the real magic happened. We did some drawings together and, she was totally in tune with what I wanted; we cut the arms and the length and put a big petticoat on underneath – perfect!
The excess lace strengthened and repaired the dress and we had new buttons made for the back, we also boned out the front bodice to make it sit well.  Karen makes wedding dresses for a living, her work is amazing, without her my dream dress would not have happened.  We had so much fun re-working my vintage gown and I loved the fact I was kicking against what everyone else was doing by going short.  I love that I got to  make it my own I creation."
"My bracelet was a pearl string – a wedding gift from Jamie.  He had chosen it to match the colours he knew I had picked for my head piece.  The necklace I wore is one he had made with my name on. It's one of the first gifts he ever brought me when we were dating."
"Our reception was held in my parents garden. Ever since I can remember I was determined to have my wedding  at the house I grew up in.  I love the idea of having  real family ties to the day – it also made it comfortable and more of real family party.  Our fantastic Marquee was provided by Essex Frames and Marquees."
"We chose to keep the venue decor quite simple – pom poms from the ceiling of the marquee and beautiful vintage looking table linen.  We had a chandelier to look pretty as the night drew in and on the tables we placed a bag with stick on moustaches and disposable cameras.  We nominated a person on each table to hand them out and encourage everyone to take funny pictures.  Outside we created a garden party of bunting and lighting in all the trees, pretty benches with vintage print cushions and throws.  My mum grew a vast amount of flowers and planted them in hanging baskets and cream hand painted planters – we even ordered the seeds from America to get specific colours.  There were lanterns in the trees strung up with ribbon.  We also placed some games like croquet and skittles out.
My table plan was the last thing I did.  I have a horse and had recently participated in a competition where we were placed, winning a pink rosette and this inspired the design of my table plan! I used an old antique gold frame I'd been using in my hallway and created a board by stapling ribbons criss-cross on the back of the frame.  I got the rosettes from Winning Rosettes."
"All stationery items, including the menus and table plans, were made by me.  The labels on the tea cups were our name places, and I hand-stamped moustaches and bunting on the name labels and tied them to the tea cups with ribbon." 
"For most of the time we were dating Jamie didn't have a regular driving licence, but he did have a bus pass, so I don't think any other transport could have been more appropriate on our wedding day! We hired a bus from Carter Coaches."
"The fact my beloved pony, Ketchup, got to be with us in the pictures was one of my favourite parts of the whole day.  Also, when I stopped and looked around at my wedding there was a part of everyone in making it happen. It was a day of everything really coming together beautifully.  I wouldn't change anything except maybe make it go in slow motion."
Jamie's suit was an ASOS find…
"Our photographer Craig Williams was just awesome.  I knew they would make it just how I wanted. I knew Craig from working with him as a school photographer when I first left university – we call it the dark days haha.  When looking on the internet at photographers I came across their website, absolutely loved the style of their work, then saw it was Craig, and for me there was no other choice."
"The flower girl dresses were from an online childrens boutique called Start Smart. I cant thank them enough for how lovely they were.  I  really wanted a proper little girls garden party dress, the traditional look of it fitted so well."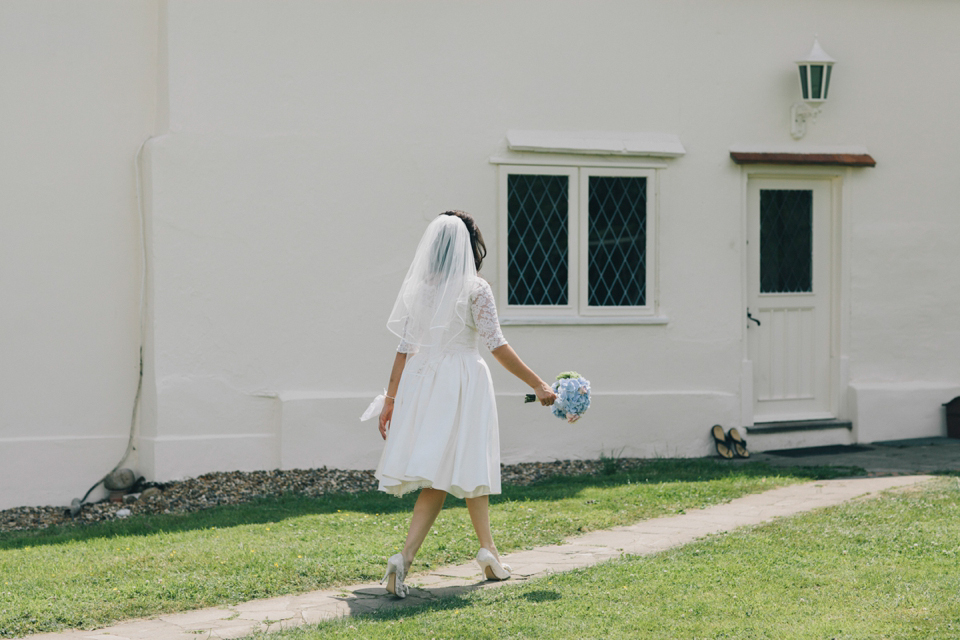 "Our Church was St Marys in Ardleigh – this was my primary school church and has a lot of special meaning as my sister is buried here. Getting married here felt like she was there in spirit.
My lovely step dad, though to me he is just my daddy, gave me away.  We walked down the aisle to the traditional wedding march – it couldn't have been anything else; my granddad actually played the organ for our ceremony and got very carried away with the wedding march – the vicar joked when the composer wrote that music he definitely envisaged a longer aisle!" 
"Our vows were very traditional – I made the decision if we got married in a church we should respect the traditional vows.
We had readings from Laura, Jamie's sister, and my Auntie Maria.  We choose song of Solomon 2.10-13;8:6-7 and John 4: 7-12.  They were beautiful pieces on love and coming together. 
They hymns we chose were 'Make Me A Channel of your Peace', getting married in my primary school church, I thougth it was only fit to use both our favourite primary school hymns.  We also had 'Bind Us Together Lord' – I like the sentiment in this hymn, not in just a marriage sense but in the coming together for the day, two families as one."
"Our cake was made by the very talented Pam Hayward – Jamie's mum! Our little love birds on top were made by his nan, Beryl Hayward. Pam and I spent a while looking at different styles and went for pretty and simple, she really is a genius, and now she is making wedding cakes for lots of family friends.
The cake was fruit cake base, a tier of Victoria sponge (my favourite ) and a chocolate top tier."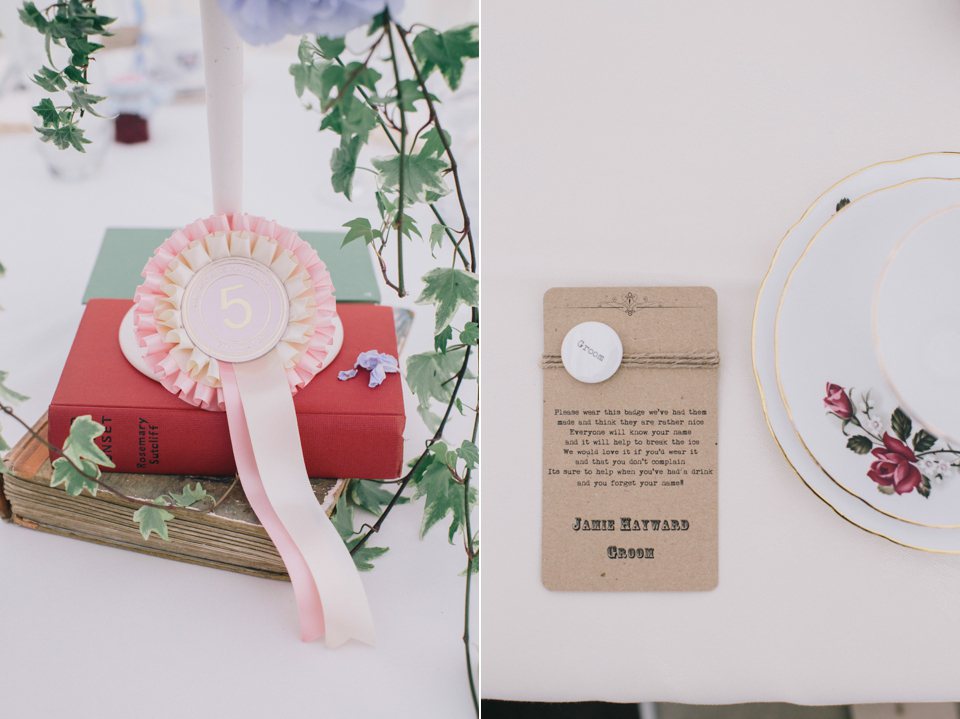 "For our first dance, my Grandad played 'Moon River' for us.  He is so talented and whenever he plays it I get so overcome."
Words of Wedded Wisdom…
"The best wedding days are  not the money you spend but how much you get involved in the process. Dare to be different, you will feel such pride when you do.  Go with your gut instinct on everything, even if all around you yell no.  I did and I loved my short wedding dress.
We had no event planner just a lot of stress tears and laughter and some pretty amazing friends and family ! I don't think anyone got away with not having a job or a part of the wedding."
What a lovely day – I loved seeing that the dogs and horses got in on the action too 🙂
A big show of love to photographer Craig Williams for sharing his work with us today – and thank you so much Luciana for passing on all your words of wisdom and sharing your wedding day story too.
Love Annabel x