One of the very greatest pleasures of being in the position I am as blogger, is that I get to use Love My Dress® as a platform to showcase amazing, British talent.  Today I am so excited to be sharing details of a beautiful new collection with you, created by a lady who has been with me every step of the way throughout my past five years of my adventures in the land of weddings.
Vicky Rowe first came to my attention  in 2008, as I was researching for my own wedding.  I used to spend an  unhealthy amount of time in online wedding forums, gaining inspiration and supplier details from other brides.  To me, Vicky was this mesmerising character from the start – she had amazing stories to tell about how her Grandma used to perform for the Folies Bergère in the 20's, and how her Grandma's style had influenced her own love for the fashions and aesthetics of that period. She was also amongst those that helped the vintage scene explode a few years back – she was running a vintage china hire company, the first of it's kind in the UK.  She also had a fondness for fashioning 1920s style cloche hats and would wax lyrical aver her love of beaded flapper style frocks.  It's a look that heavily influenced her own wedding which features both on Love My Dress, and in my book, Style Me Vintage Weddings.
Needless to say, we connected pretty much instantly and have remained friends every since.  Five years on, Vicky has harnessed her true life passions and talent in design to produce an exquisite collection full of beautifully beaded and intricately hand embellished dresses and headpieces, evocative of the 1920s and 30s, but with a with an updated, contemporary feel for today's modern bride.  And I think you're going to love it.
Film Production Copyright (c) 2014, David Harper // Burning Red
"My dresses aren't your traditional wedding gown – and this originates from my obsession with the 1920's and 30's and that female rebellious streak of the era.  I love the intricate bead and sequin embellishment from the 20s which abruptly stopped during the Great Depression.  I see my designs as more heirloom pieces than your average wedding dress."
Photography Copyright (c) 2014, by Ria Mishaal for Vicky Rowe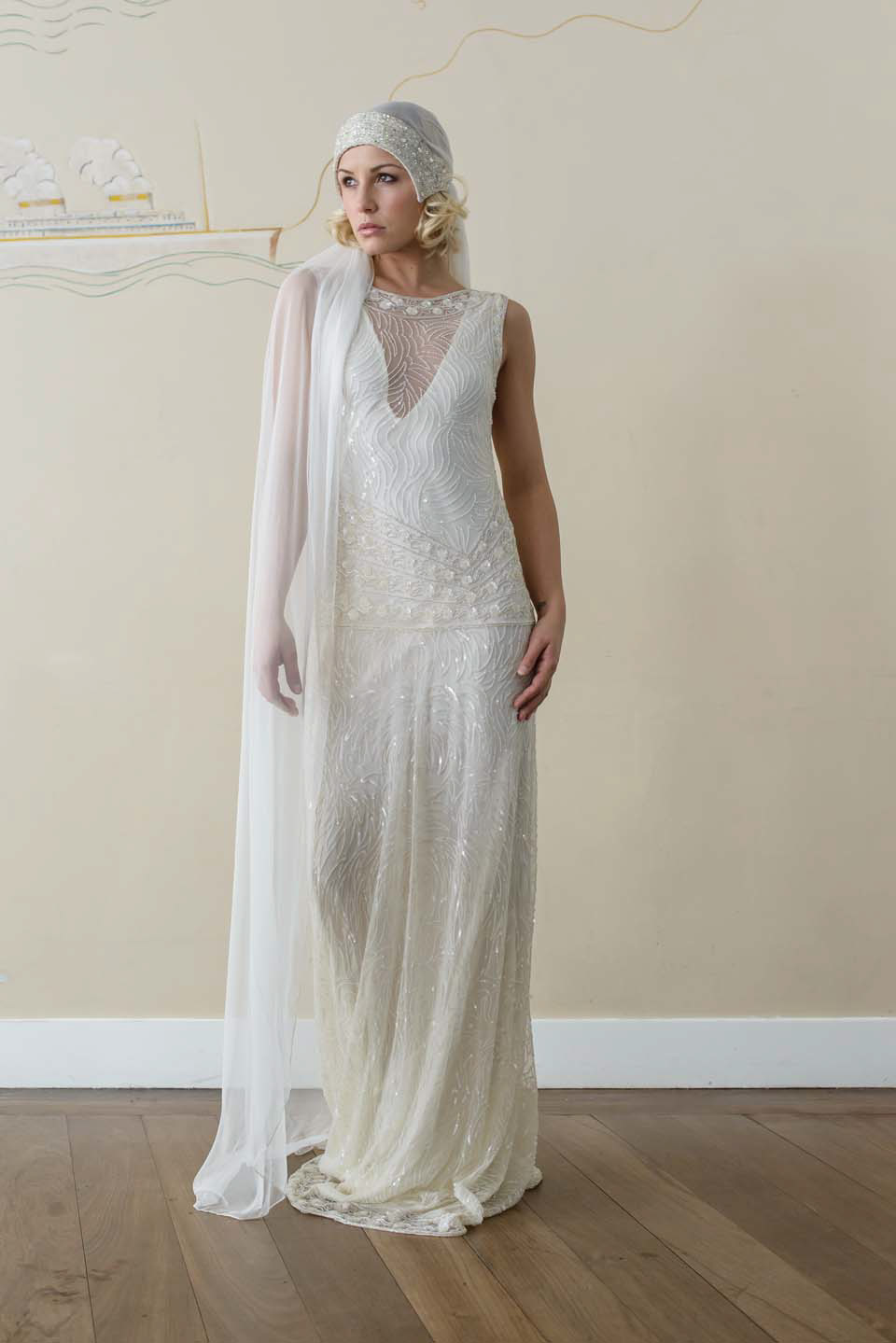 "Prior to becoming a designer, I trained as a surveyor and went on to be a successful project manager – an experience which has provided me with skills in planning, time management, organisation and of course, working under pressure.  I have however always been creative and during my years in the corporate world, I felt that part of me was left missing and unfulfilled.
During this period, I studied Millinery with 'Rose Cory' in London during the evenings and at weekends, and before long, I started to take private commissions –  moving on to running successful hen party millinery workshops for Hen parties all over the country."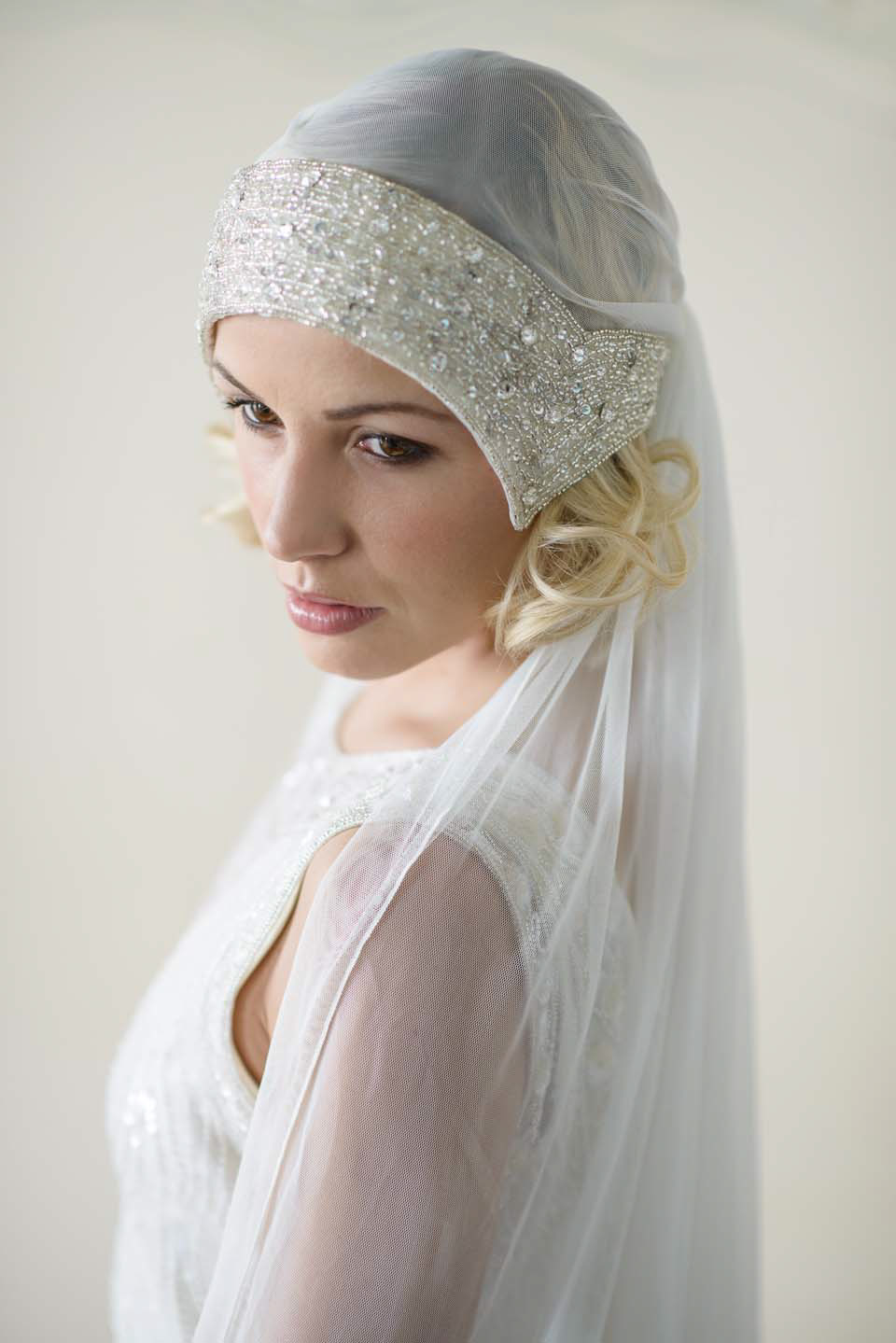 "I had also set up Vintage Tea Sets, a china hire company, after collecting so much antique and vintage china for my own own wedding.  I was one of the first people to do this in the UK and had the likes of Fortnum and Mason and The Sanderson Hotel as my clients.  
In 2010 I left my job in surveying and pursued my cloche hat making and vintage teat set businesses full time which I sold a year ago, meaning I was free to pursue my one true passion of designing dresses."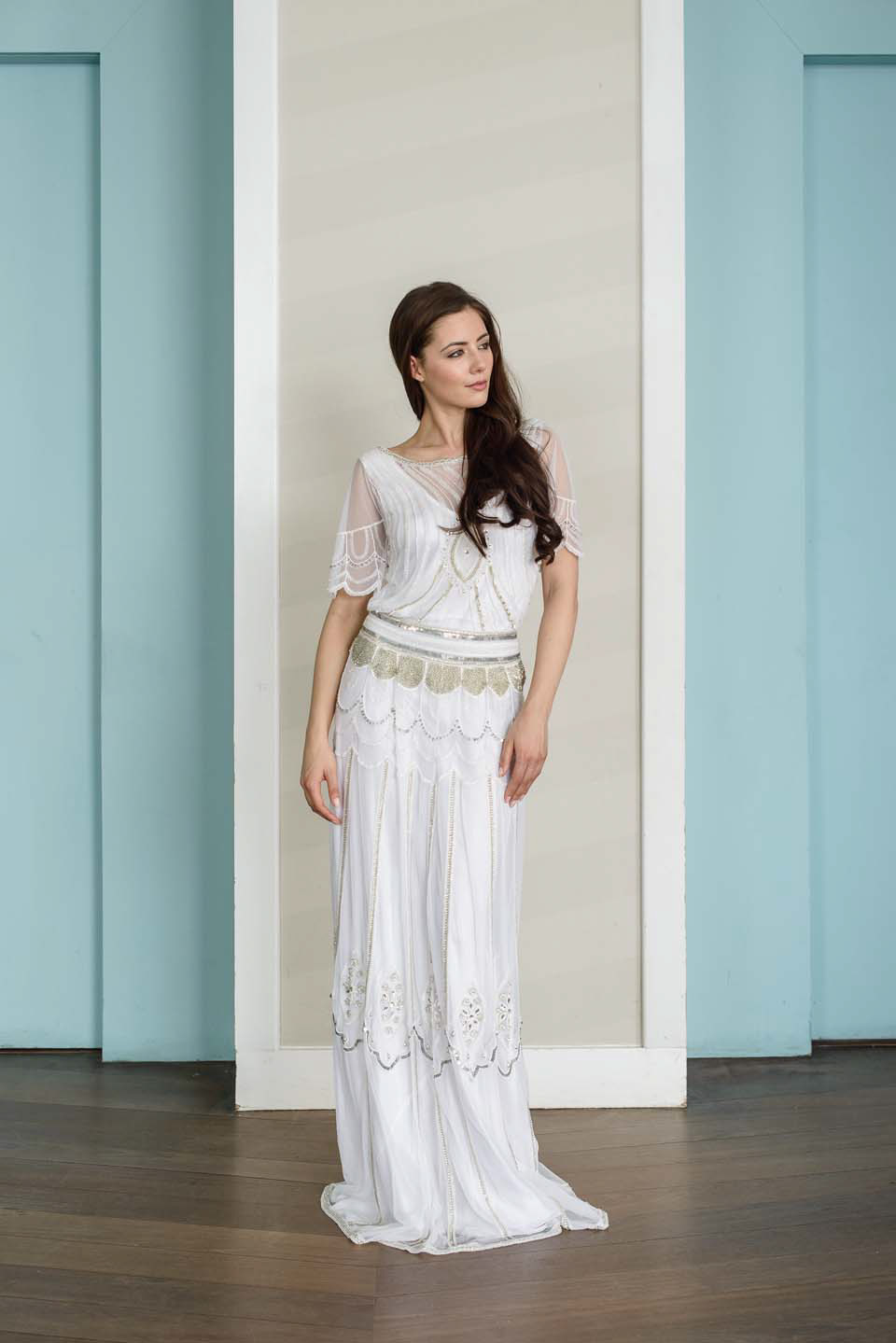 "When I got engaged myself, and had to find a wedding dress, I suddenly found myself thrust into this big white world that I didn't really connect with. I have a bit of a rebellious streak, and I'd already been seriously questioning what 'traditional' wedding dresses were in the first place.  Why does everyone consider a big white dress to be essential, just because Queen Victoria wore white when she married Albert? The whole tradition is actually less than 200 years old; prior to this, most women would just have simply worn a special dress."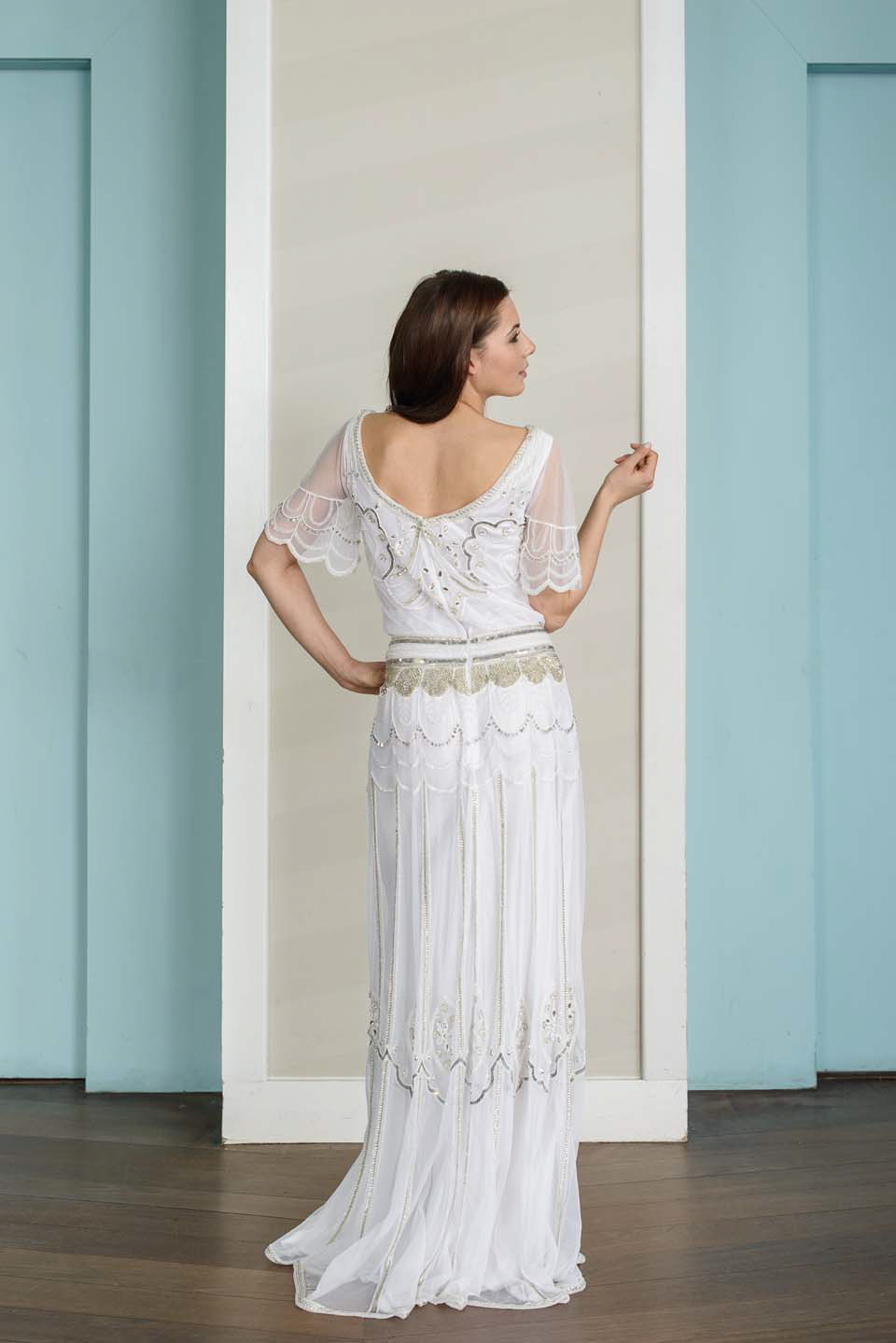 "Needless to say, I didn't really enjoy the bridal dress shopping experience. I found the whole thing very daunting and was supremely reluctant to even step foot in a bridal shop. In a shop in Bath I bought the first white beaded dress I tried on, knowing that what I really wanted did not exist.
Now, when I look back at my wedding pictures, I can't help thinking that the look I ended up with was not entirely me, but if I had found the dress of my dreams I wouldn't be here today writing this feature for Love My Dress®."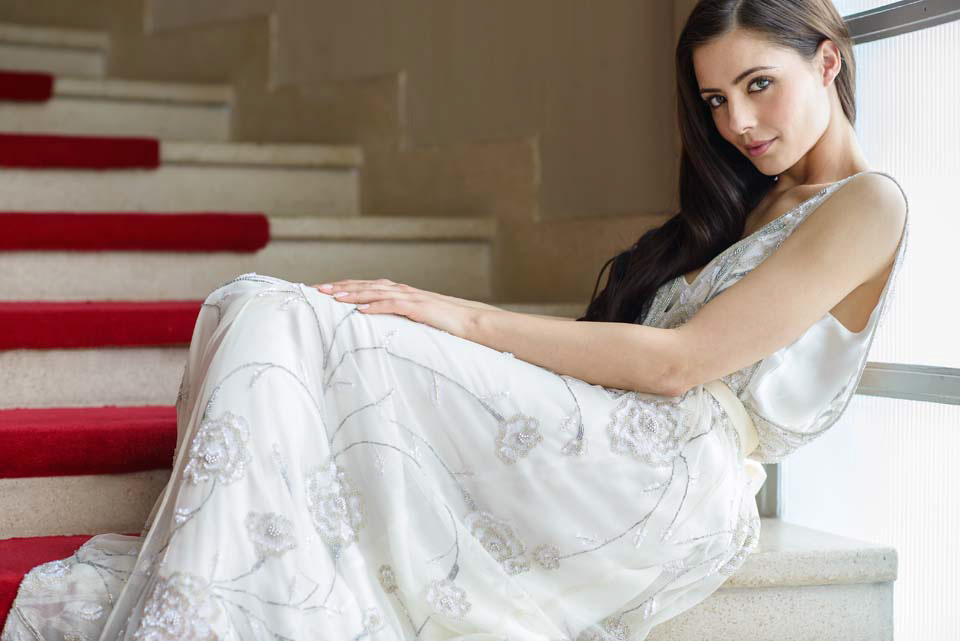 Just so beautiful – the attention to detail on Vicky's designs is outstanding, but then with an office located in such inspiring surroundings, it's  no wonder that Vicky's mind is allowed to wander to places that allow her to create these exquisite pieces.
"I live in mid-Wales in a 16th Century Farmhouse on the edge of the Snowdonia National Park, surrounded by countryside. We moved here two years ago.  I have converted part of one of the buildings into my studio, and the tranquillity and scenes of astonishing natural beauty all around inspire me.  I'm still at the start of my career as a designer and I'm just really enjoying exploring and experimenting with different designs and materials right now, but I am also very proud indeed of my debut collection and hope that it will resonate with readers of Love My Dress®"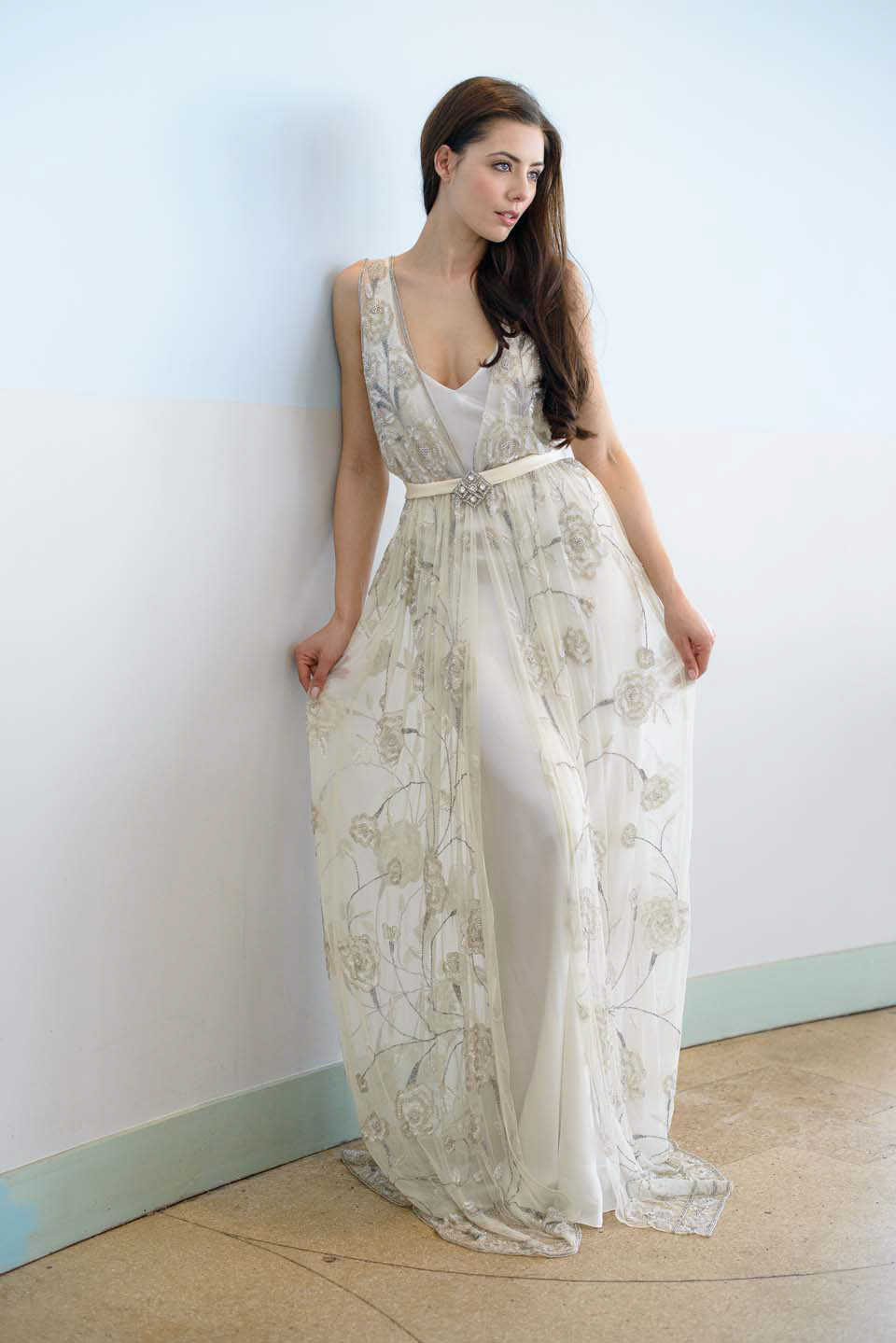 I love how Vicky talks about her journey of inspiration – this is what makes her and her brand so authentic for me.
"So many things inspire me; silent movies from the 20s with Louise Brookes, Pandoras Box for example and Clara Bow in 'It' – original couture pieces from the 20s and 30s, my surroundings in Mid-Wales where nature is so abundant, and of course books like 'The Great Gatsby' by F. Scott Fitzgerald and 'The Sun Also Rises', by Ernest Hemmingway – they all have a big influence.
As a very young girl, I vividly remember my mother wearing gorgeous floor-length embellished dresses for functions and parties, and I think that's when my love of glamorous dresses started."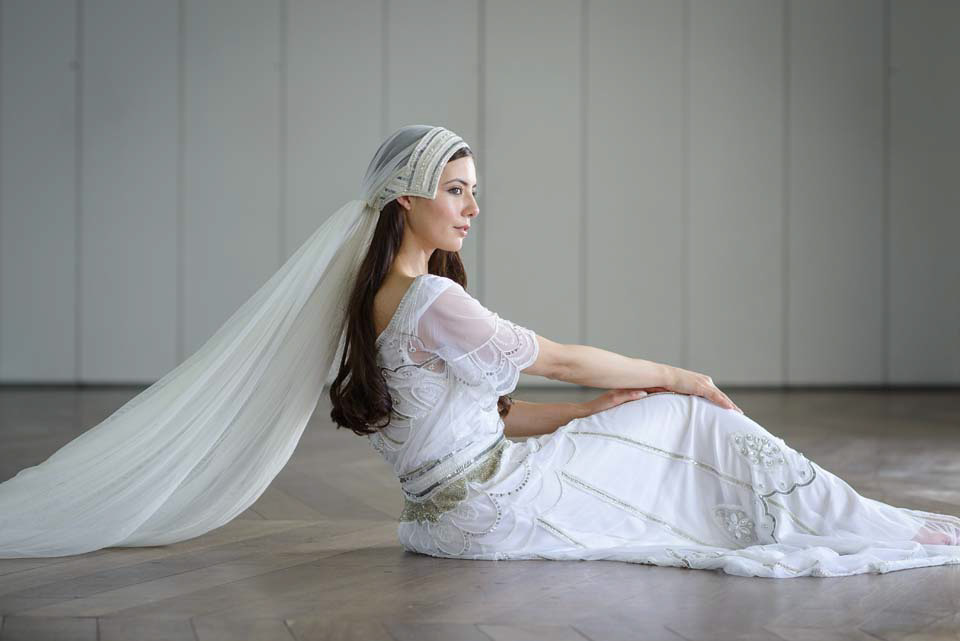 "When I was in my 20s I spent a few years travelling around Asia, and during that time I became really interested in the crafts and embellishments from those countries and the artisans who made them.
These were the skills that had been used in the past on 1920s dresses and which still exist in the couture fashion houses. I love the one off dresses that grace the runways at the London and Paris fashion weeks, with their jaw-dropping designs and exquisite embellishment."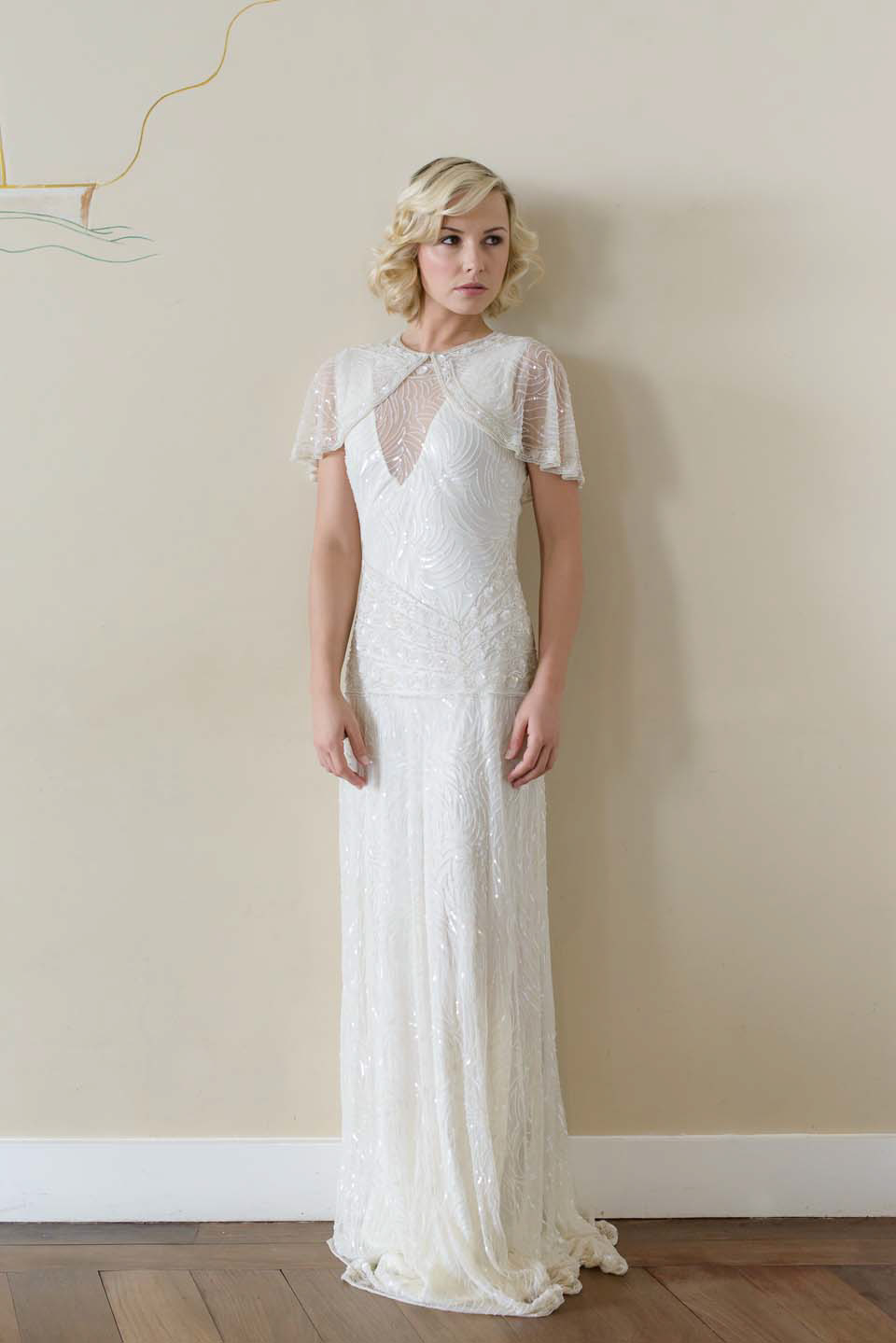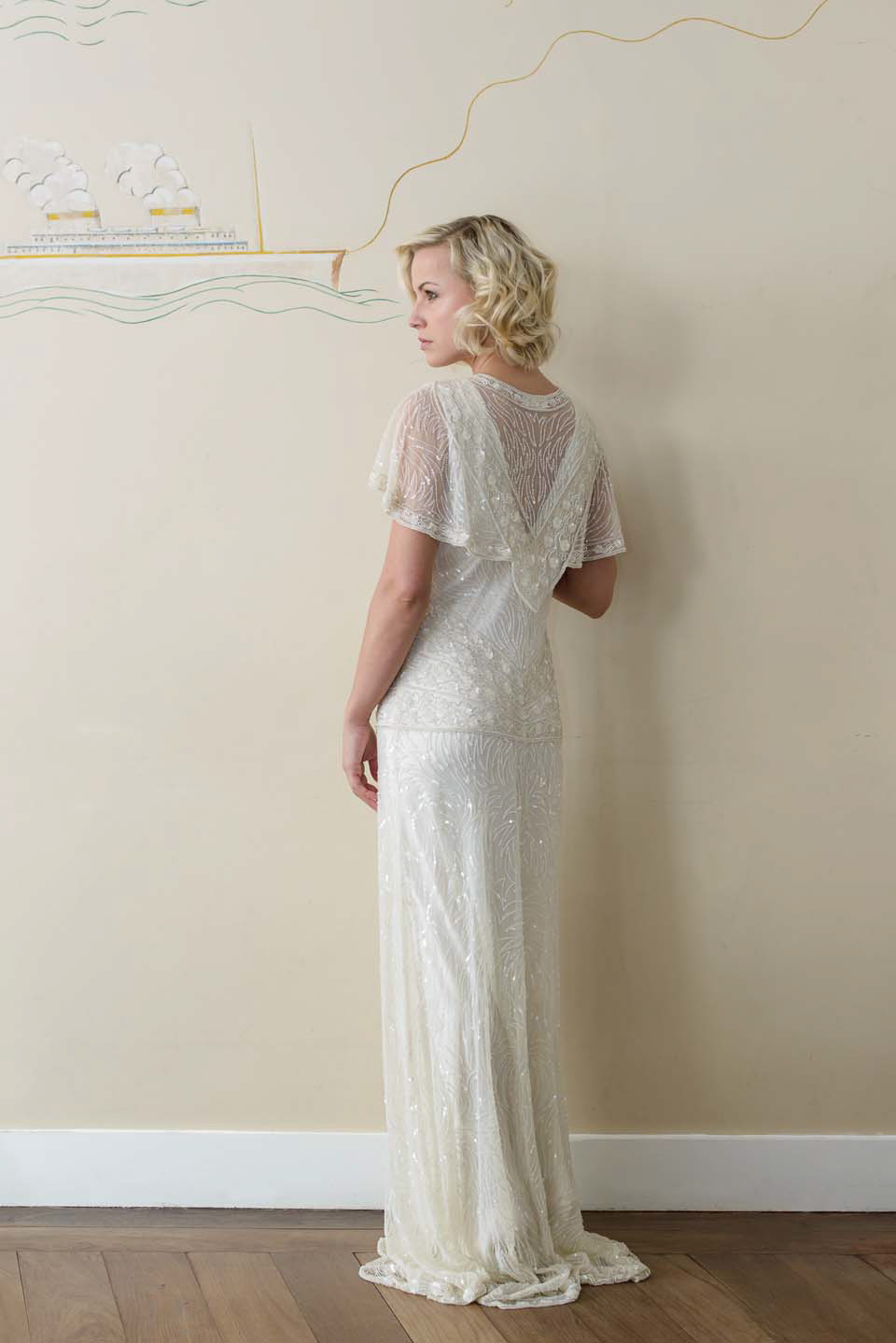 "The embellishment work on my gowns really is exquisite. When ordered through my website, each dress is made to order using a fresh pattern created to my client's exact measurements, and I can accommodate individual requests to customise.
My dresses can also be worn again and so I offer a service to either purchase a new under slip in another colour or have a silk slip hand dyed – this alters the look of the dress completely and makes them far more versatile.  I have one bride who's planning on wearing her gown for her 1st year anniversary – but I love the idea of them being worn again for a special occasion, perhaps a party or romantic celebration."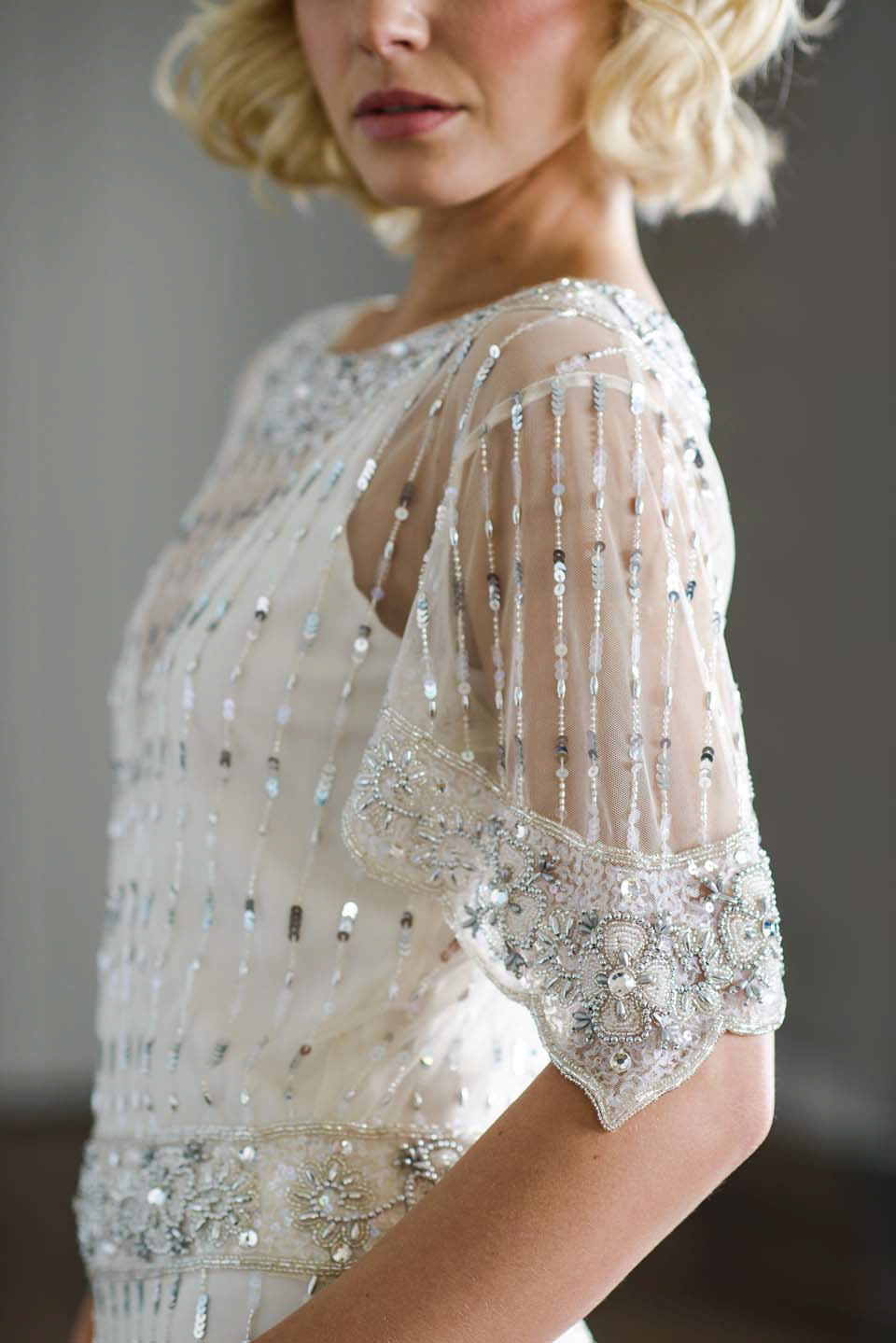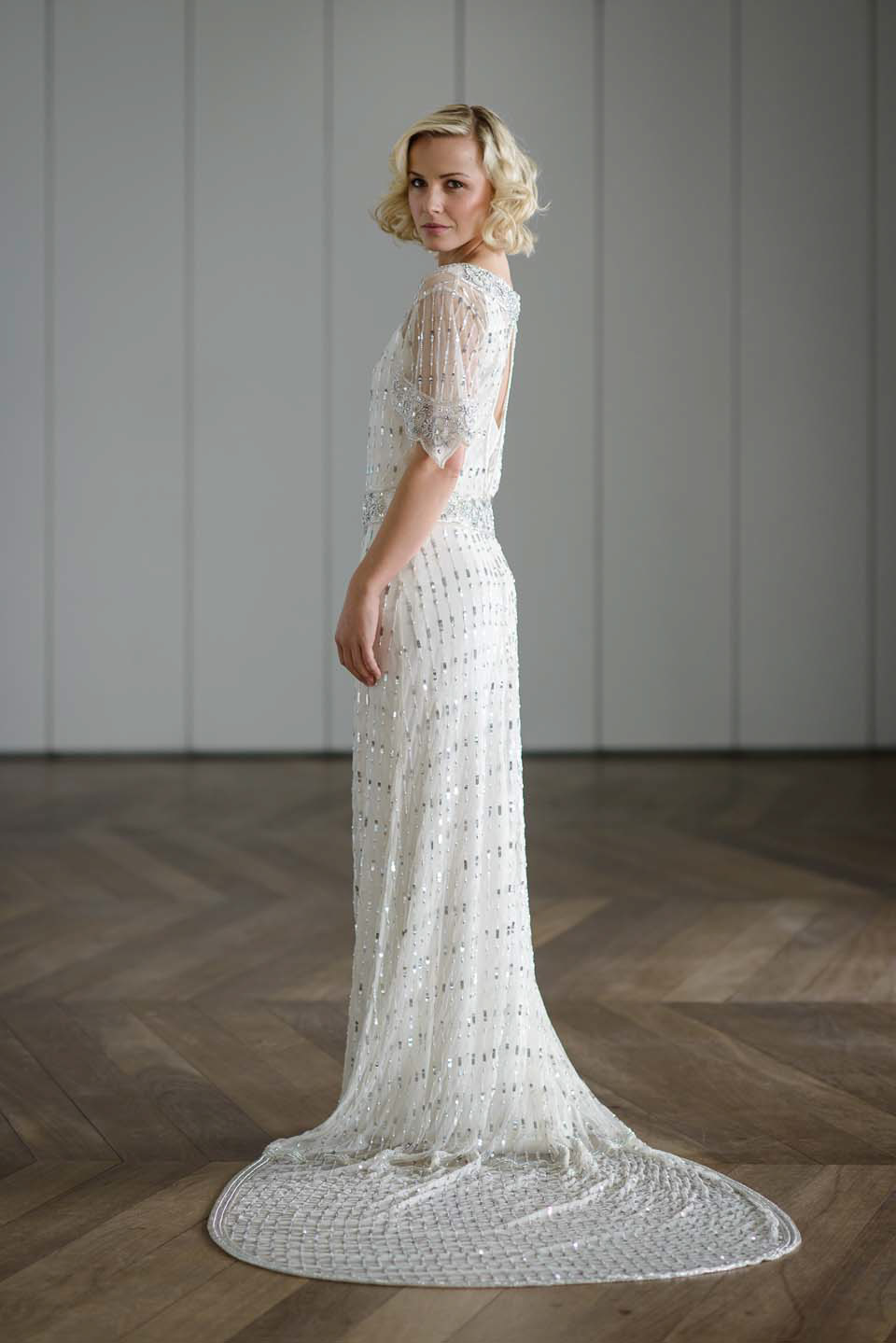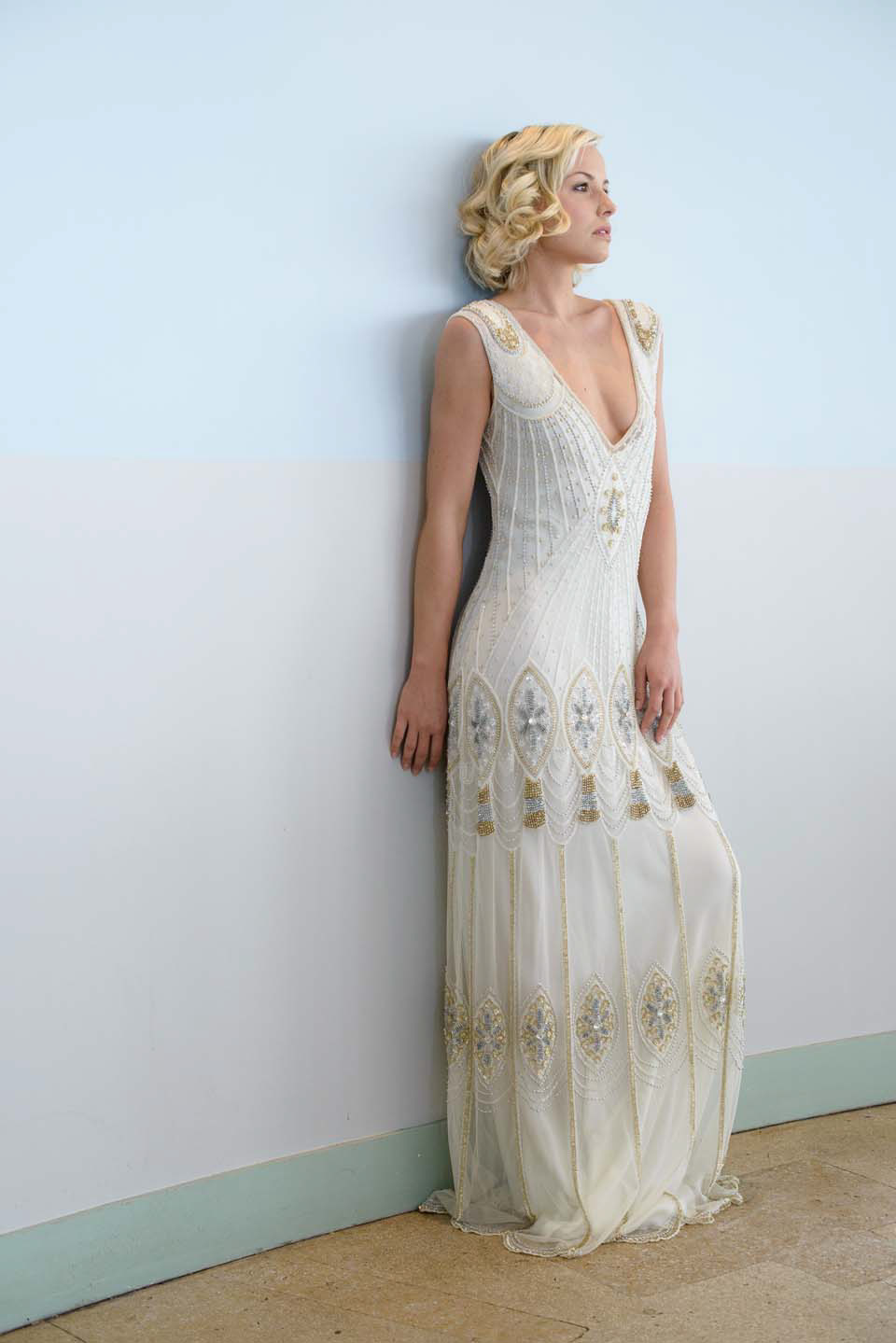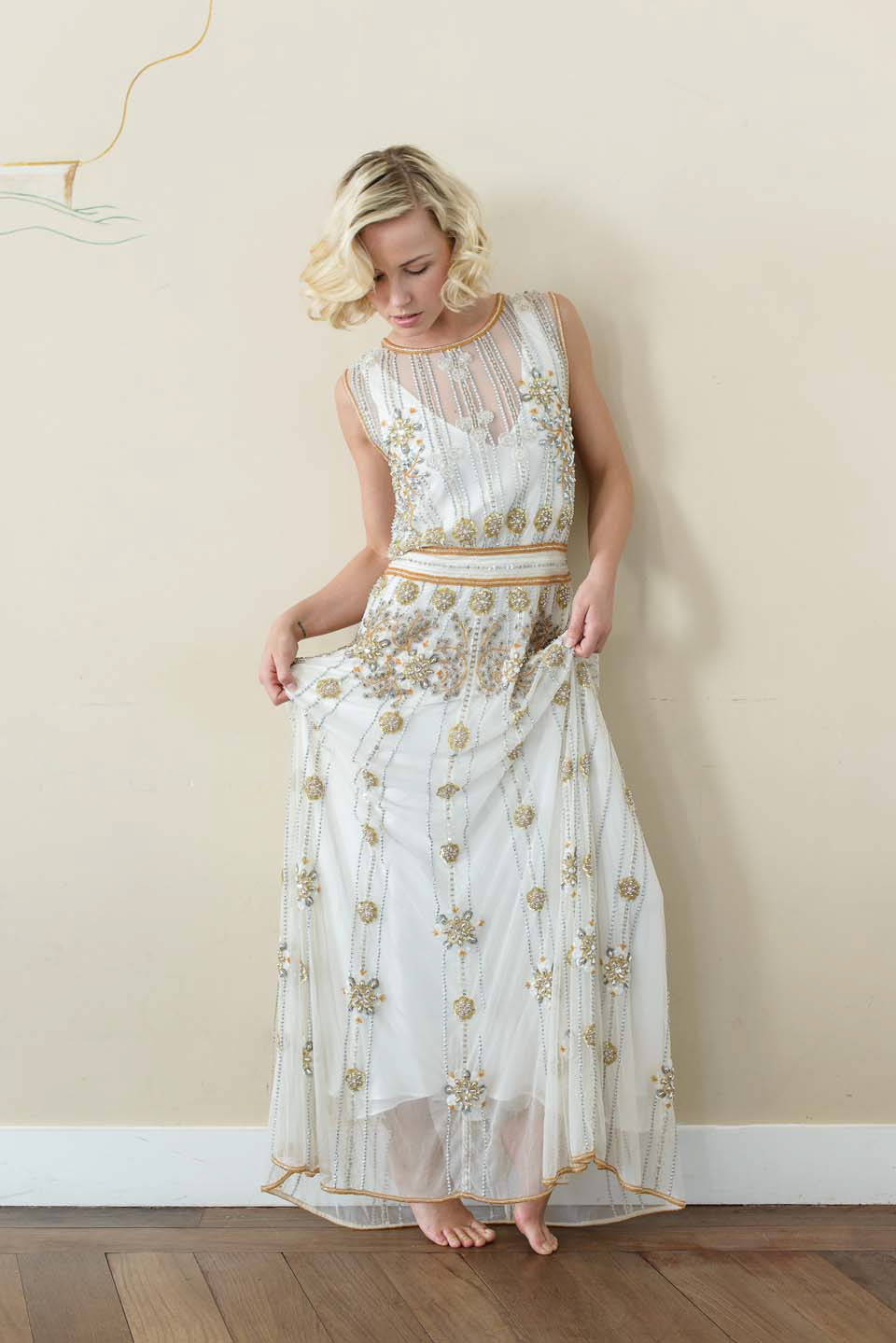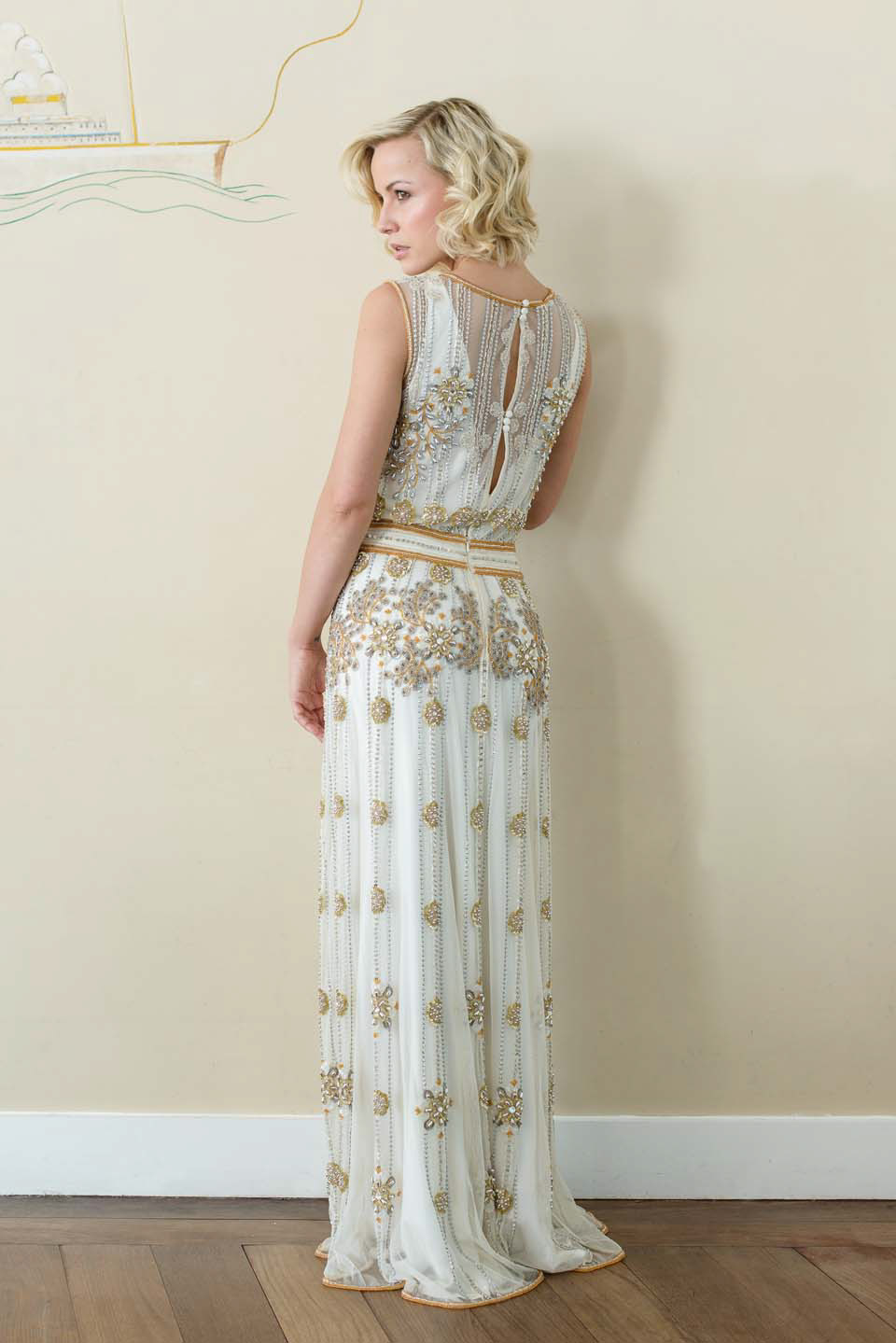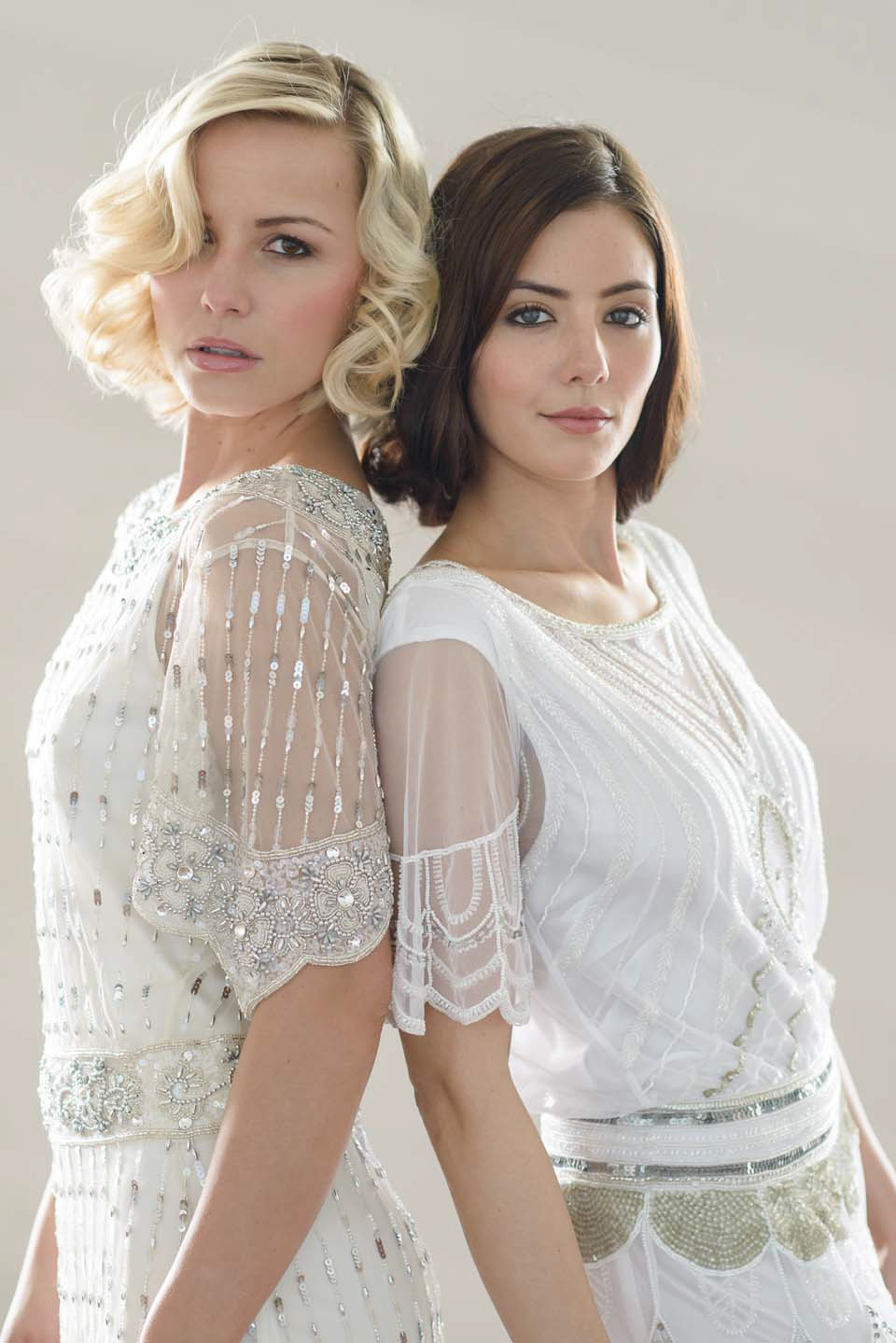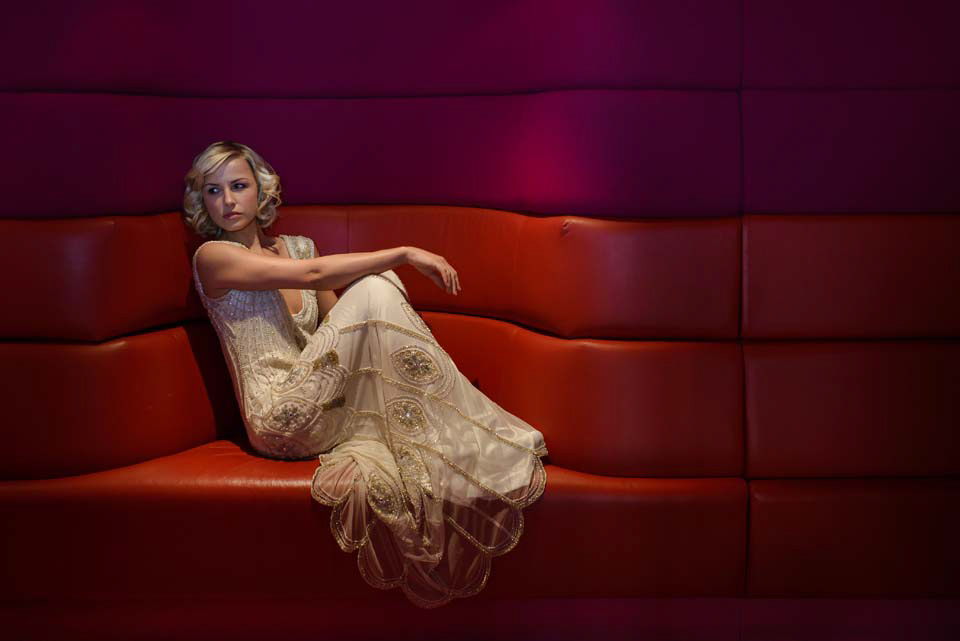 Vicky Rowe gowns start at £2,500 and can be purchased directly through the Vicky Rowe website, or at one of Vicky's exclusive stockists in London, Dublin and Madrid.  Vicky currently ships her designs all over the world, with clients in New York, San Francisco, Denmark, Spain, Ireland, Quatar the Middle East- so it doesn't matter where you are located, if you adore the style of these gowns, one of them could be yours.
You can also find Vicky Rowe on Facebook, Twitter, Google+, Instagram and Pinterest.
I hope you have loved looking through these exquisite gowns as much as I have.
Love Annabel xx
Photography – Ria Mishaa
Dresses & Accessories/Headpieces – Vicky Rowe
Hair & Make-up – Michelle Sisson
Follow Love My Dress® on Google+
This is a sponsored post