I'll tell you what, you'll need to get your note books ready for this one! Bride Hannah, a broadcast journalist, has so many helpful tips to share about her DIY wedding to photographer Ian. Meticulously planned from beginning to end, Hannah and Ian's nuptials at Tattershall Castle, followed by a gorgeously cosy reception at The Granary, is a great reference for how relaxed a wedding day can feel when everyone pulls together to make it happen. Photographed by Lawson Photography and all golden in the late September sun. Read and learn…
"I'm very proud to be from Lincolnshire and wanted the wedding to show off my county. We wanted the day to have a relaxed, countryside feel with lots of local produce and flowers. I've always loved yellow at weddings because it's such a cheerful, positive colour – it's a happy coincidence that people from Lincolnshire are called 'yellow bellies'."
Film Production Copyright (c) 2014, Lenik Wedding Cinematography
"There are lots of advantages to having a DIY wedding, but I don't think we quite realised how much hard work it would be! The day would never have happened without our generous friends and family loading and unloading vans, setting tables, arranging flowers and stocking the bar. We can't thank them enough."
Photography Copyright (c) 2014, Lawson Photography
"Tattershall Castle is a National Trust property that I've always loved, it's a friendly castle because apparently its never actually seen combat and I spent many a happy school trip here. We chose to have a civil ceremony, but wanted it to be somewhere special, with a sense of history, so this was perfect."
Hannah took her ideas for her wedding gown to Helen at Eternally Yours, who created a bespoke gown just for her. I am a huge advocate of having a wedding dress  made for you and you alone (mine was) because it will fit perfectly and you'll feel totally unique. Hannah looks stunning in hers, I love the detail at the back.
"As a size 16 I found choosing a dress very difficult. It seemed I was too big for 'regular' dress shops and not big enough for plus size shops. On one occasion I was walking between two sister shops, one plus size and one 'normal' and they didn't have a single size 16 dress between them (in another life I'm going to open a dress shop for 'a bit curvy' girls!)."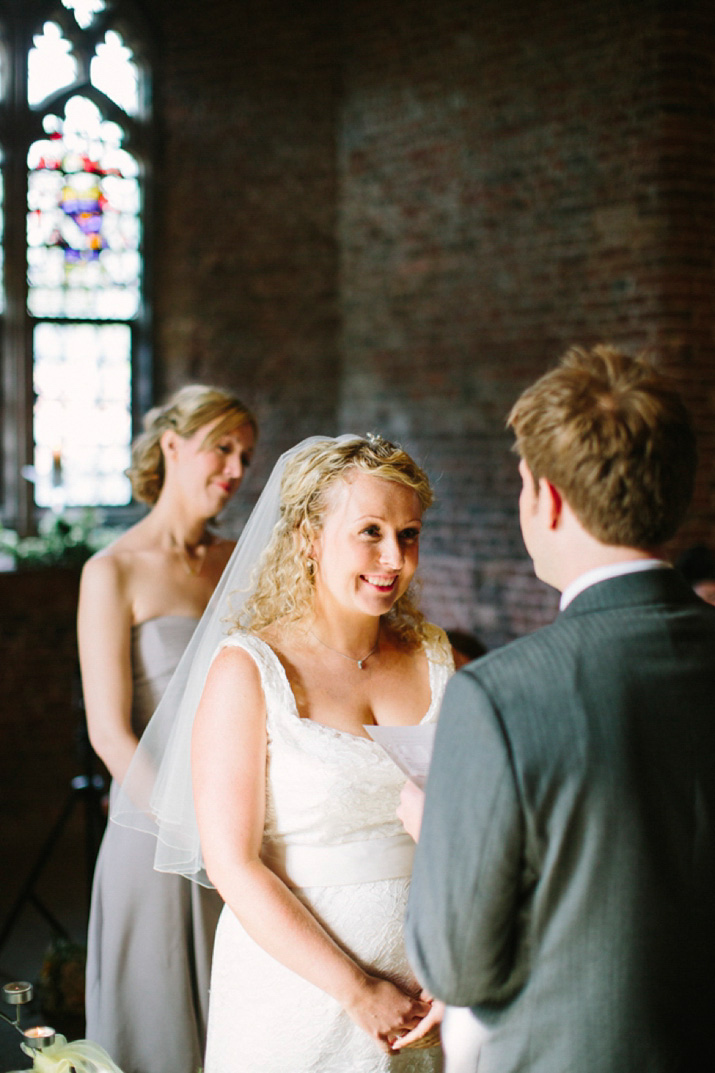 "After getting fed up, I looked at the dresses in my wardrobe, the styles that suited me and the elements I'd liked from the countless designs I'd looked at and decided to have one made. I loved that I was the only one that had my dress – it was beautiful lace and felt light and elegant. BUT because I lost quite a lot of weight in the run-up, my dress wasn't finished until very close to the wedding, which I found very stressful. I'd urge anyone thinking about getting a dress made from scratch to consider this."
"I didn't realise I was so opinionated about flowers until I started planning our wedding. I think I probably visited every florist within a 20 mile radius of our venue, but didn't feel like anyone understood what I wanted. Then I found the wonderful, wonderful Miss Pickering in Stamford, who got it EXACTLY. Tulips are my favourite flowers, but I'd resigned myself to not being able to get them in September.
When Simone told me she could get some, I could have kissed her. I loved my bouquet, seeing it for the first time was one of my favourite moments of the wedding and I refused to put it down all day.  It had billy buttons, sweet pea, mint, stocks and tulips and smelt heavenly.
We also bought lots of other flowers ourselves to put in jugs and bottles around the venues. The wedding really sparked my interest in flowers and I hope to find the time soon to take a floristry course and learn more about them."
"My Aunt also made some very special ornate bunting and spent many hours folding multicoloured origami cranes that hung in the bar. On the tables we had a mismatch of old bottles filled with flowers, again collected from car boots over the years. We didn't really have an exact plan about where everything was going to end up, but thankfully it all came together and looked great. I also had a stamp made from the English Stamp Company and my Dad became chief stamper, stamping napkins, bags and coffee cup holders. He was walking around at the end of the night saying 'I stamped that'. It was cheap and easy but I was really pleased with how coordinated it made everything look."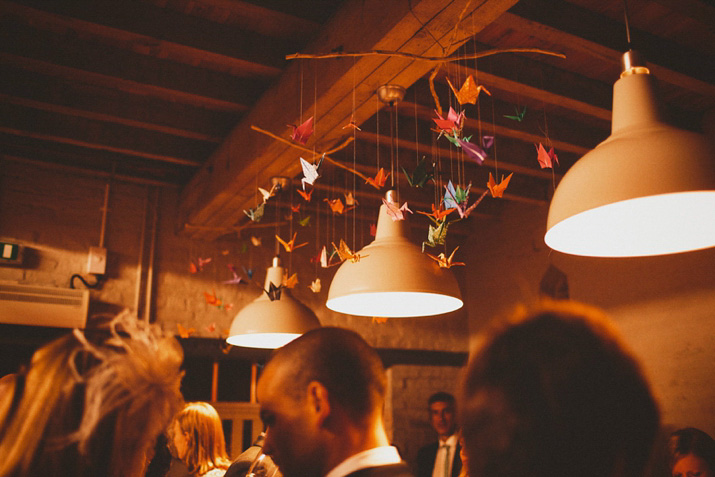 "As Ian is a photographer, the first question we got asked when we told people we were engaged was 'who's going to do your photos?' As he's got so many friends that are all very good photographers it was a tough choice. Pete and Laura (aka The Lawsons) were amazing, they didn't stop smiling all day, especially impressive as Laura was very pregnant! We were able to relax knowing were in safe hands and love our photos.
Also, I wasn't sure I wanted our wedding filmed but Ian persuaded me to look at the work of his friend Mark Lenik and I'm so glad he did. Mark was brilliant, so hard working and fun to have around and our film is epic."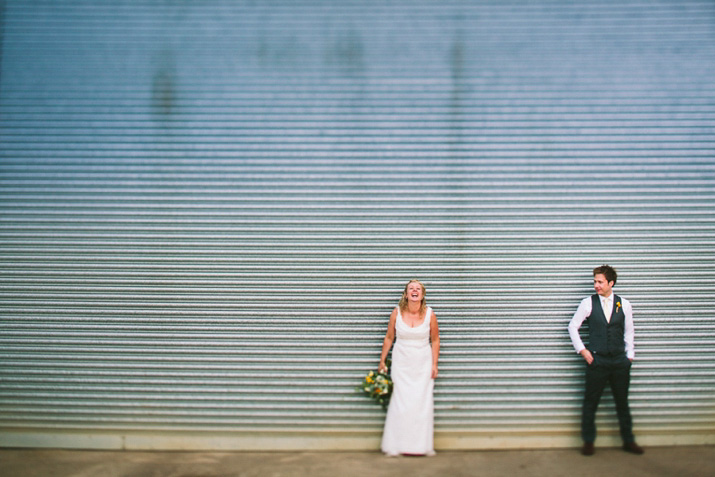 "I ended up having two pairs of shoes! I'd always loved the Rachel Simpson Eva shoes, and sent my patient groom on a mission to get them from a bridal shop in North London because they were the only place left that had them in my size. I loved the vintage design and how beautifully made they were, but unfortunately as soon as I arrived at the reception venue I got my heel caught in a grate and the shoe broke.
Thankfully I'd also bought a pair of red Rachel Simpson shoes for my honeymoon so ending up wearing them instead."
"My perfume was Jasmine by Angela Flanders. We had a lovely Sunday walking around Columbia Road flower market when I stumbled upon Angela's beautiful shop. I really liked the idea of wearing a strong, single scent and the Jasmine smell was heavenly. It's a cliché but every time I smell the perfume it takes me back to our wonderful day."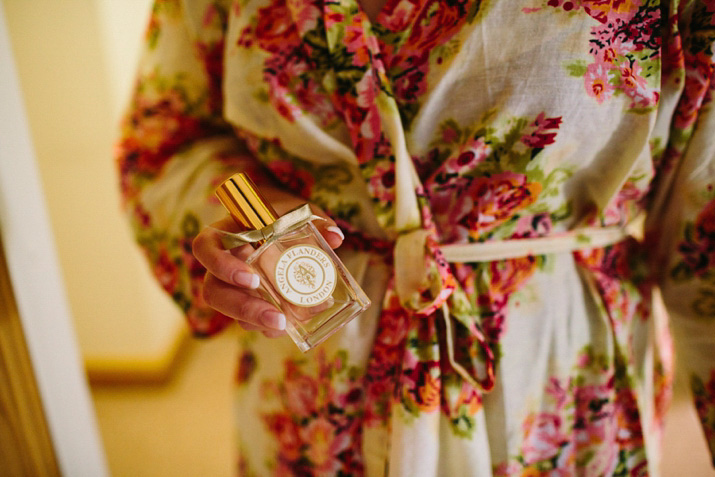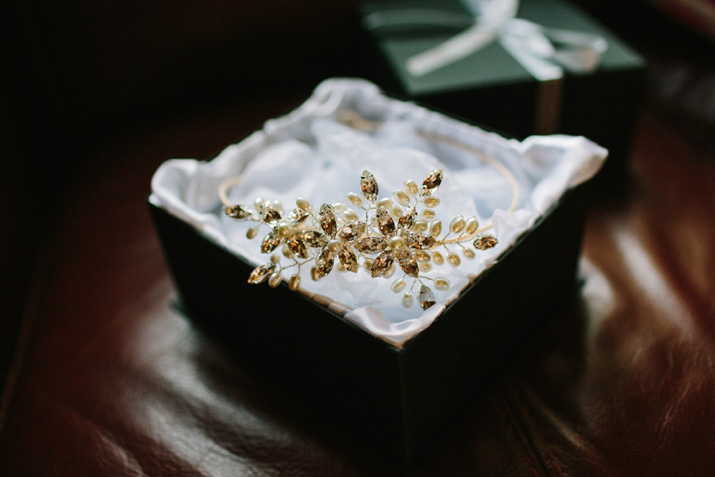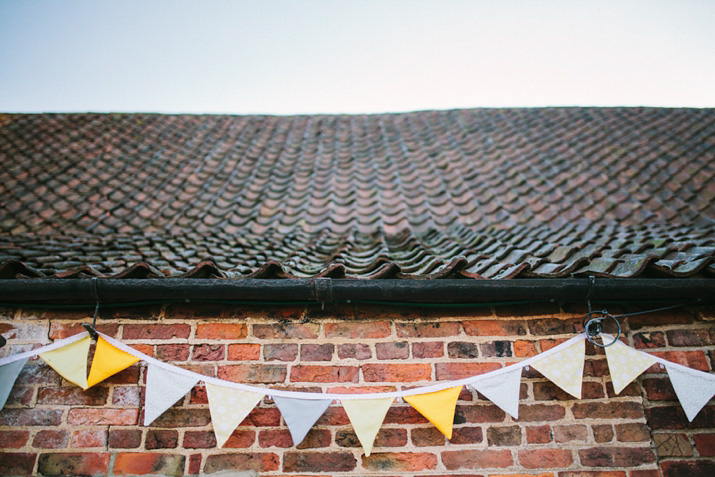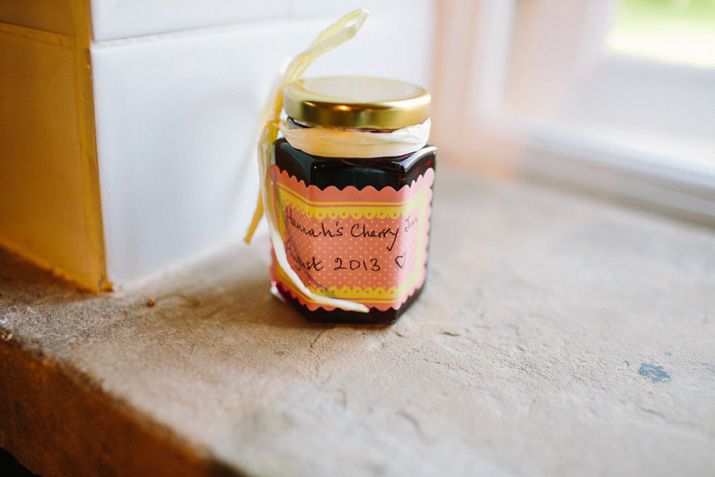 "I really liked the idea of tea towel invitations because they're actually useful. The Wedding Tea Towel Company were very helpful and happy to print our own design. We were really pleased with how they came out and it's lovely going to our friends' houses and seeing them in the kitchen. We used our order of service as a chance to tell everyone a few facts about the wedding party and the wedding venue, explain what has happening for the rest of the day and say a few thank yous. We also signed every order of service by hand."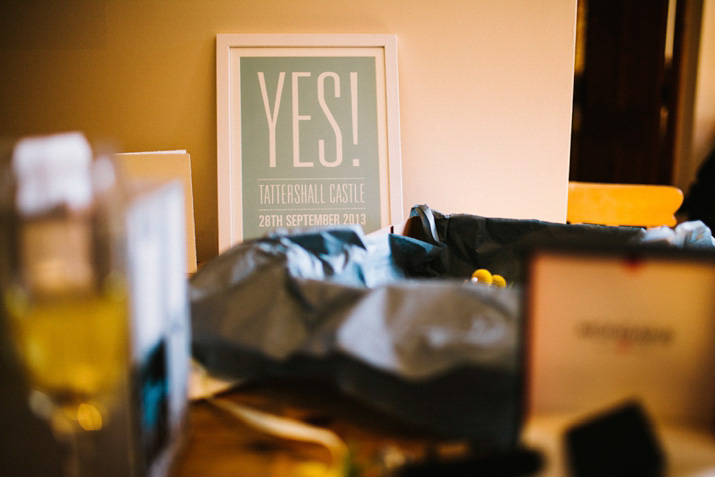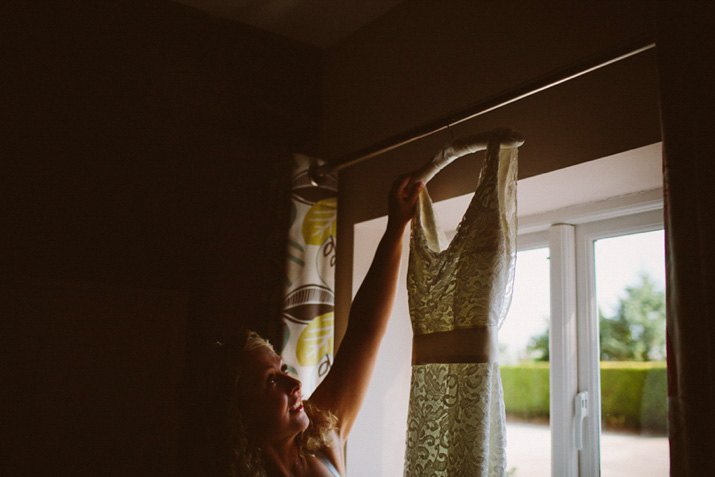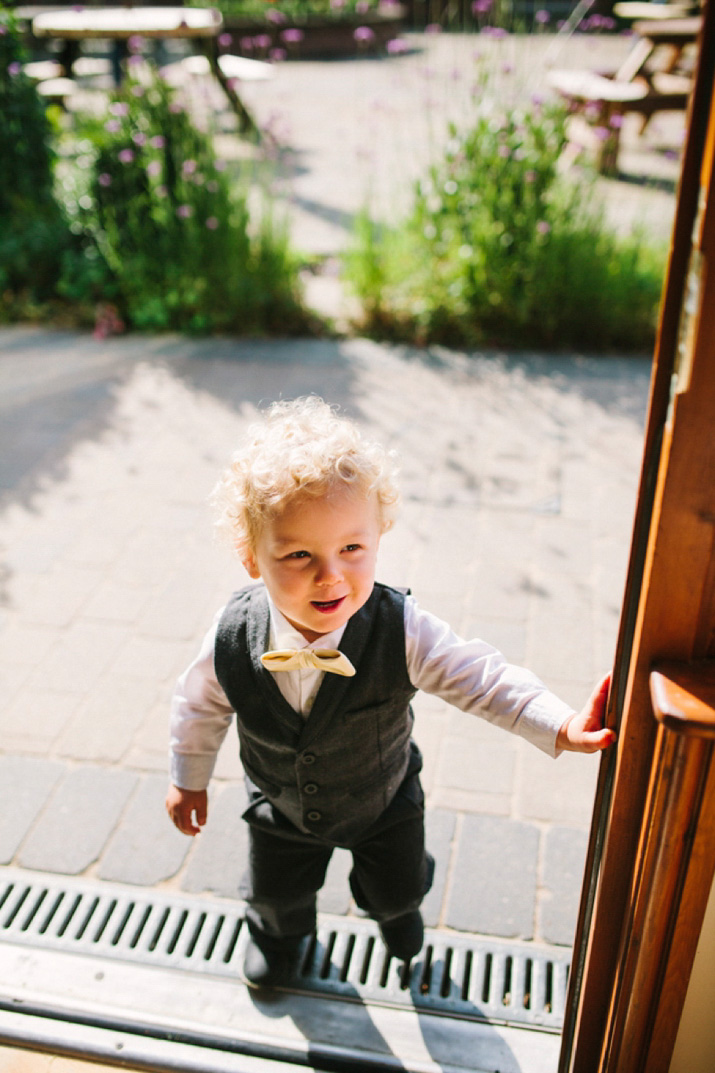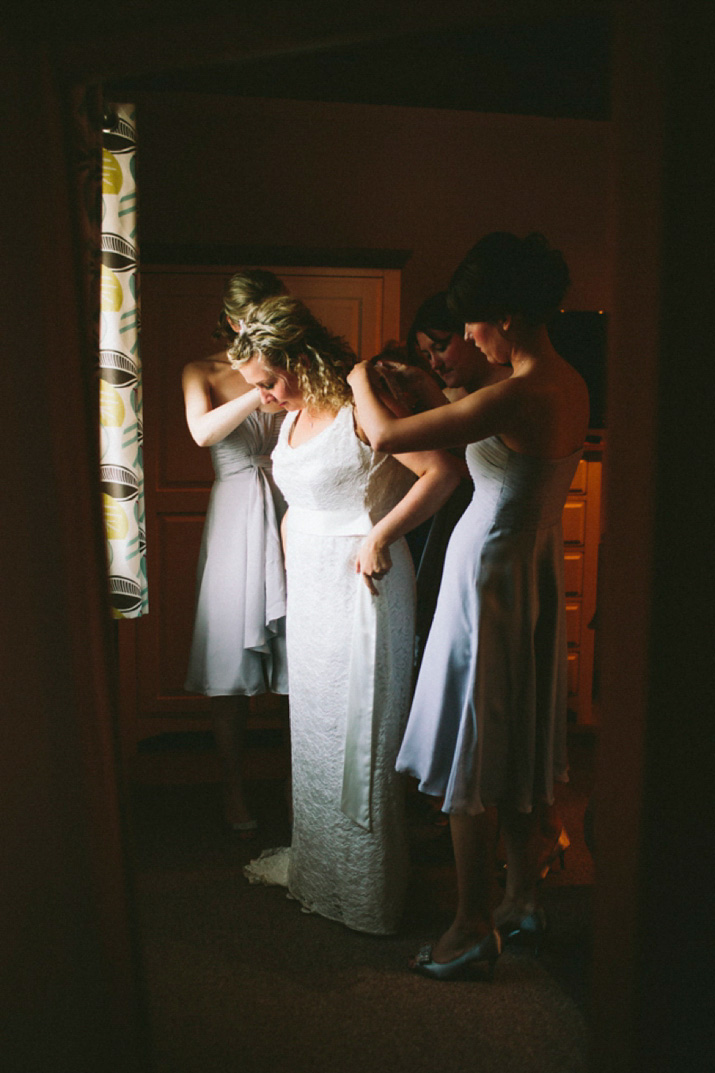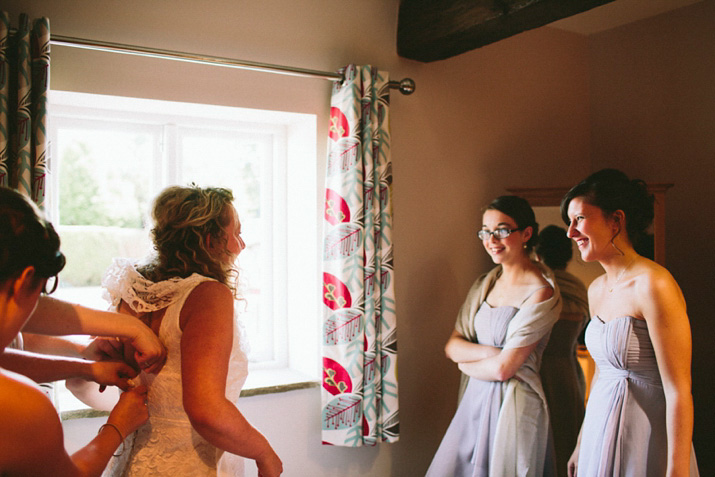 Hannah accessorised her glorious curls with a headpiece by designer Michelle. She also wore a simple diamond necklace, a present from Ian on her 21st birthday.
"On the wedding morning Ian gave me some earrings that he'd designed, adding some pearl drops onto a pair of my favourite diamond earrings, I love them!"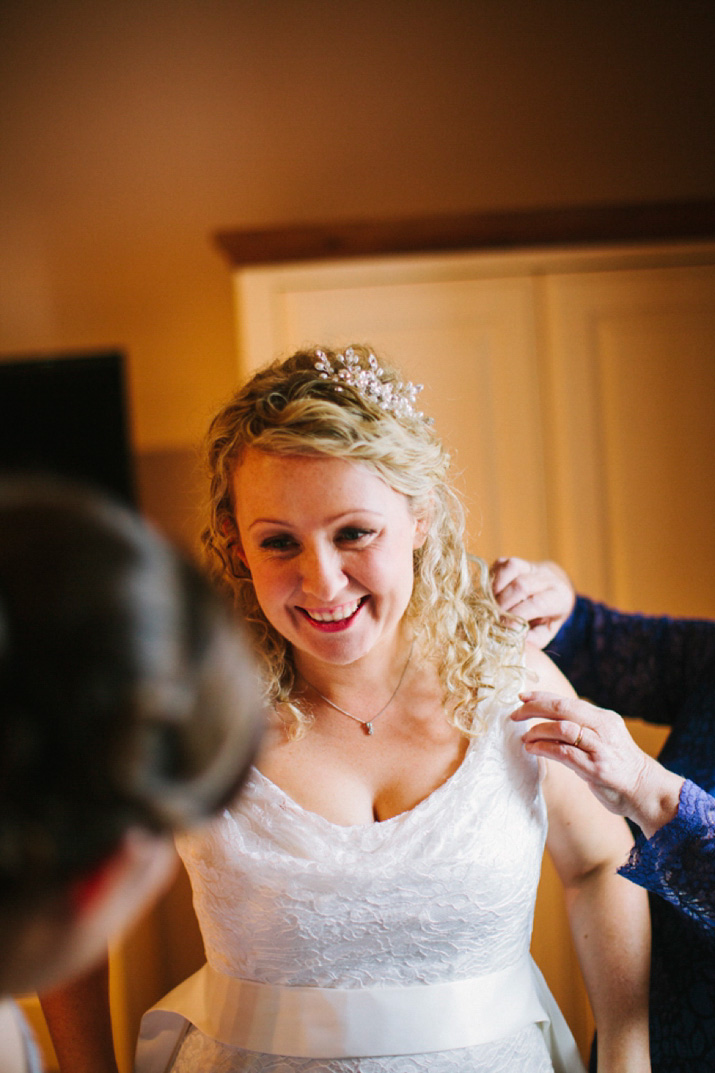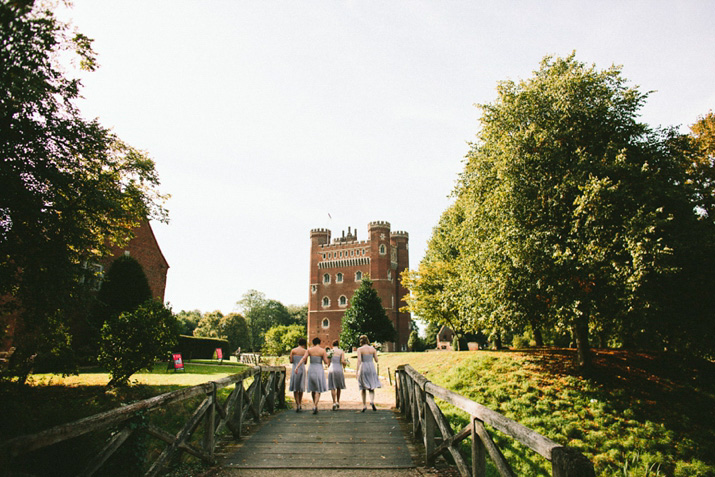 "My Dad walked me down the aisle to Will Young 'Evergreen'. We had a lovely time travelling to the castle in the 70's vintage taxi waving at people in the other cars. We were both emotional walking down the aisle and it was a very special moment."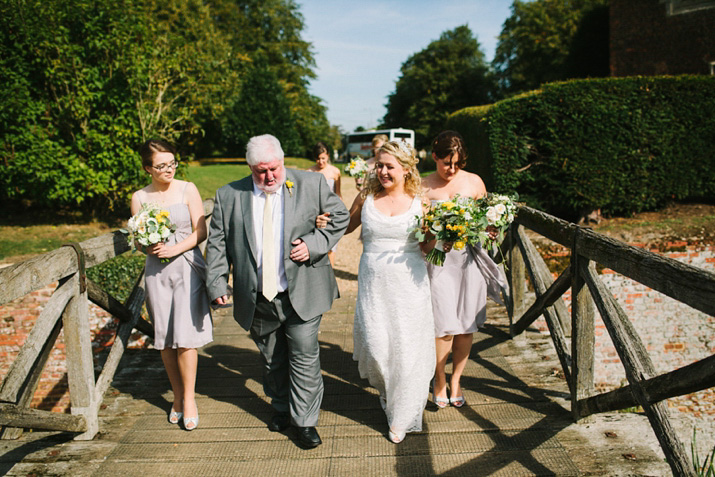 The bridesmaids wore soft grey frocks from Coast, a beautiful colour to compliment the bright yellow theme of the day. The little pageboy looked super cute in a grey suit from M&S accessorised with a yellow bow tie.
"We love visiting Brighton and every time we walked passed Gresham Blake Ian would say he was going to get his wedding suit from there one day, and he did. His suit was grey with a yellow lining. I didn't see his outfit until I walked down the aisle and he looked very handsome. His Hudson shoes are the only thing from our wedding still getting regular wear!"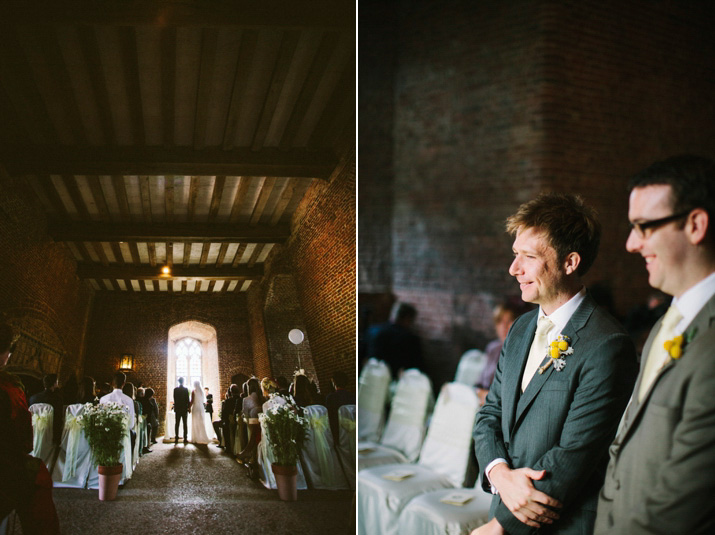 "We had two readings The first was more the story of how we met, read by my two friends. I actually got the idea from a wedding featured on Love My Dress, and thought it was a perfect way to start the day."
"We were introduced by our friend Gill at the University of Birmingham in 2002. and went back to the city to celebrate our 10th anniversary. We'd agreed to no presents so I'd just got Ian a table tennis bat… he'd got me a beautiful diamond ring! He asked me to marry him by giving me a print designed by The Drifting Bear featuring some of the amazing adventures we'd had together, it's lovely to be able to have it up on the wall as a reminder of the proposal."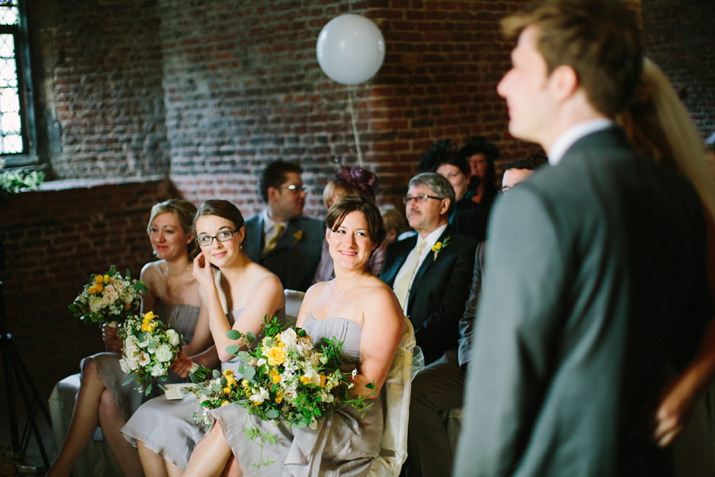 "The second reading was a Roger McGough poem entitled 'Vow'. We liked the idea of having something from a modern British poet, and thought this was a perfect mixture of sentiment and humour."
Vow, by Roger McGough
I vow to honour the commitment made this day
Which, unlike the flowers and the cake,
Will not wither or decay. A promise, not to obey
But to respond joyfully, to forgive and to console,
For once incomplete, we now are whole.
I vow to bear in mind that if, at times
Things seem to go from bad to worse,
They also go from bad to better.
The lost purse is handed in, the letter
Contains wonderful news. Trains run on time,
Hurricanes run out of breath, floods subside,
And toast lands jam-side up.
And with this ring, my final vow:
To recall, whatever the future may bring,
The love I feel for you now.
"We got our rings from Cirrus Diamonds in the Jewellery Quarter if Birmingham. It was special to us that our rings came from the city where we fell in love, but I'm always telling others to go there because it's such good value."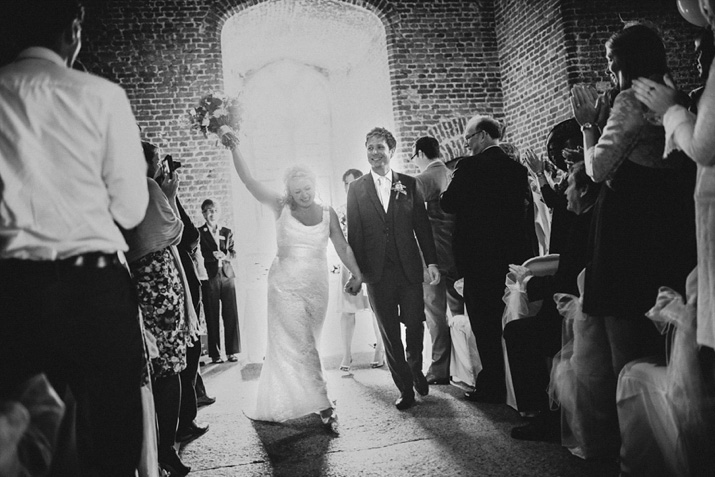 "Ian loves ice cream so as a surprise I arranged for there to be an icecream cart waiting outside the castle for when we came out, with his favourite mint choc chip served by the lovely Mervyn and Margaret."
I think that ice creams on the lawn after the reception is a stroke of genius! What a lovely way to keep the guests satisfied while the bride and groom have photos taken.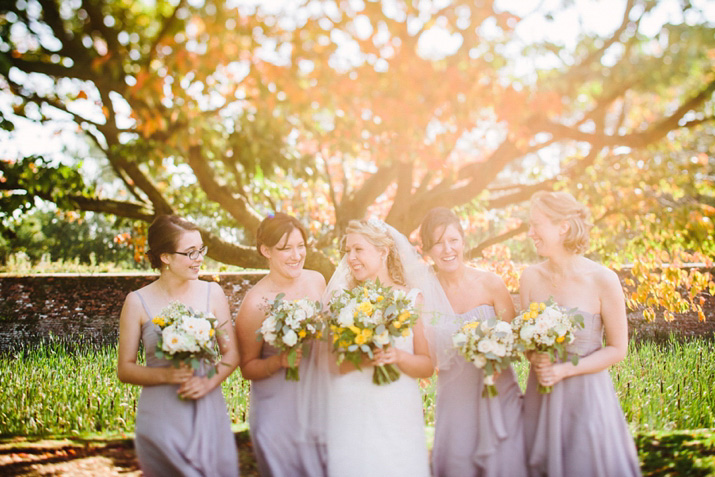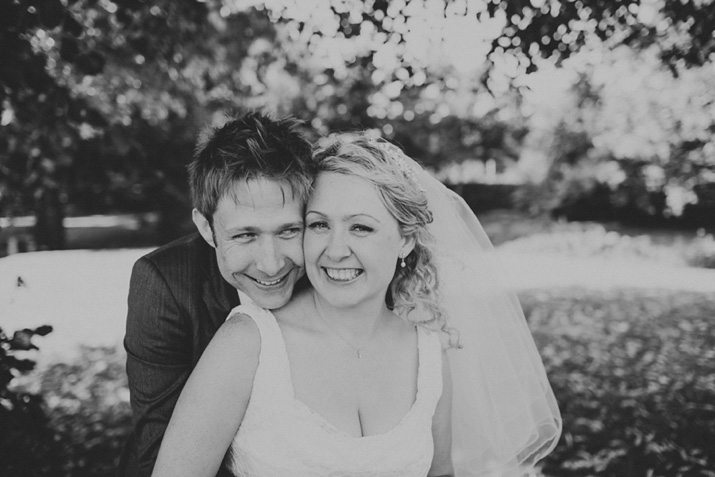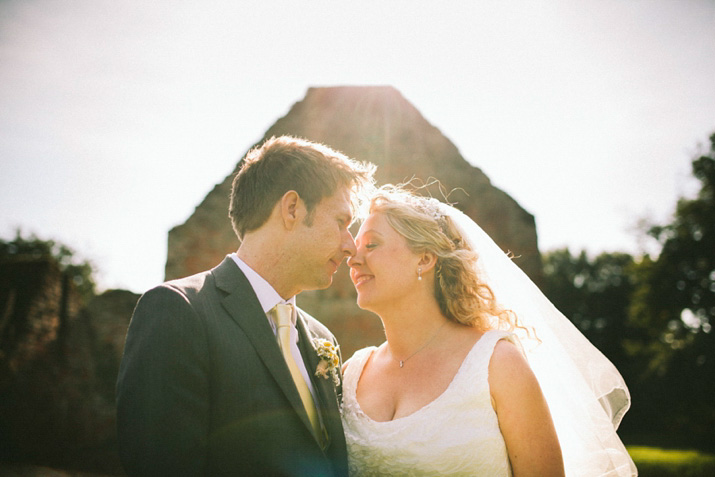 "Our reception was held at The Granary. We wanted a venue where we could do exactly what we wanted; bringing in our own caterers, running our own bar and deciding on the timings. The Granary provided all that and more. The converted barn is on a lovely courtyard surrounded by holiday cottages where many of our guests stayed. Being on a working farm, it gave our guests a real sense of Lincolnshire."
"I'm extremely lucky to have a very artistic and crafty family. My mum (who together my brother created all the wedding stationery) had been collecting lovely old teacups and saucers for years and turned them into candles that we lit when it got dark. We told everyone they could take one home if there was one they liked, we didn't realise how popular they would be, people were literally fighting over them!"
"Our caterers for the reception were Abbey Parks, a farm, shop and bistro from just down the road. We chose them because they shared our passion for delicious, local produce and make the best brownies! Nothing was too much trouble and they were very happy to serve my homemade chutney, limoncello and elderflower cordial. Our menu was paté served in mismatched crockery with homemade bread, followed by Lincolnshire beef and roast autumnal vegetables and our favourite lemon meringue pie."
"I also have to mention the brilliant speeches. There aren't many grooms who use their speech to embarrass their bride but I spent years as a news reader on the radio and am known for a few very amusing bloopers. Ian found them and played them out… repeatedly!
I got my own back though because Ian is known for his crazy laugh (a comedian once described it as a cross between a hyena and monkey) His best man Rory had secretly recorded him in full voice and again, this was played out. There wasn't a dry eye at the end of the speeches, but mainly because we'd all been laughing so much."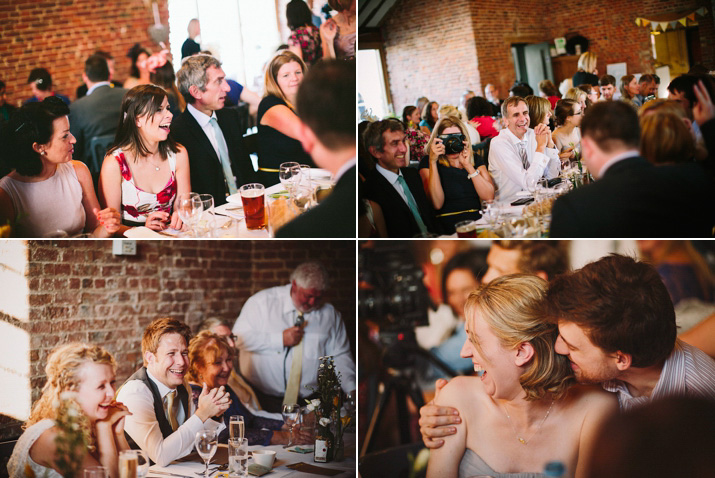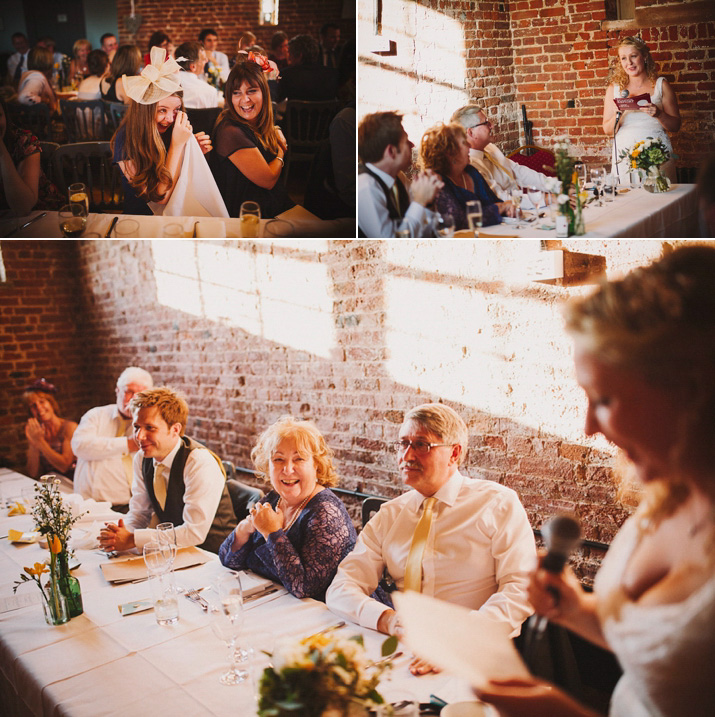 "Ian loves his coffee and hates going to events and getting served a rubbish cup, so we asked Café Classique to bring their beautiful vintage van along at the end of the meal. It was much appreciated and I'm sure it was one of the reasons everyone was still partying into the early hours! It was a great idea for getting everyone to get up from their tables at the end of the meal so the band could set up."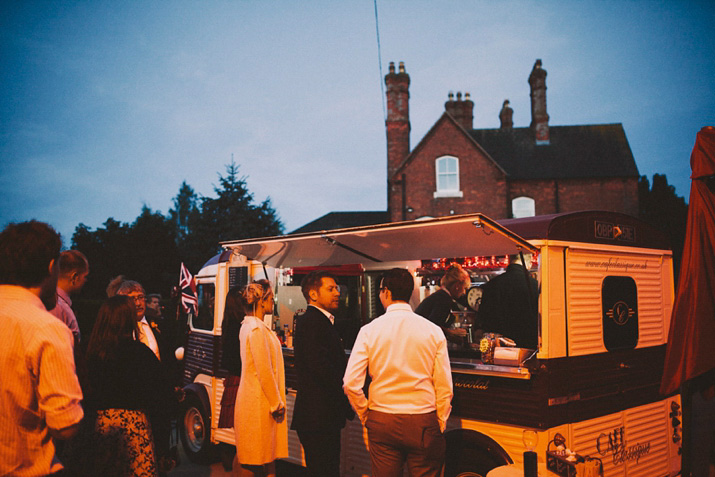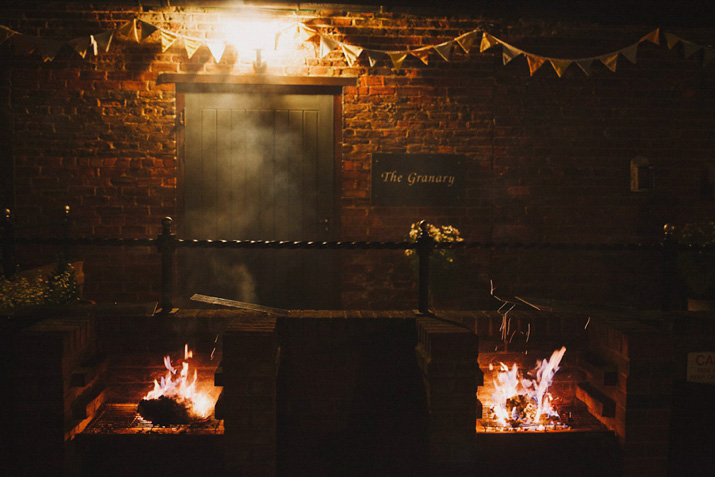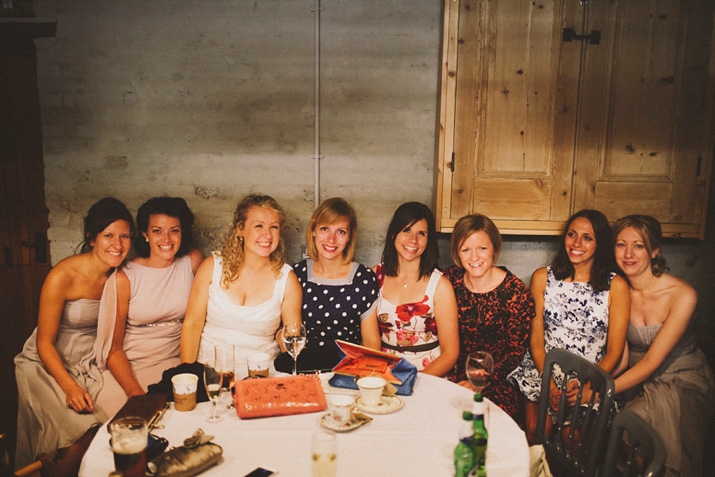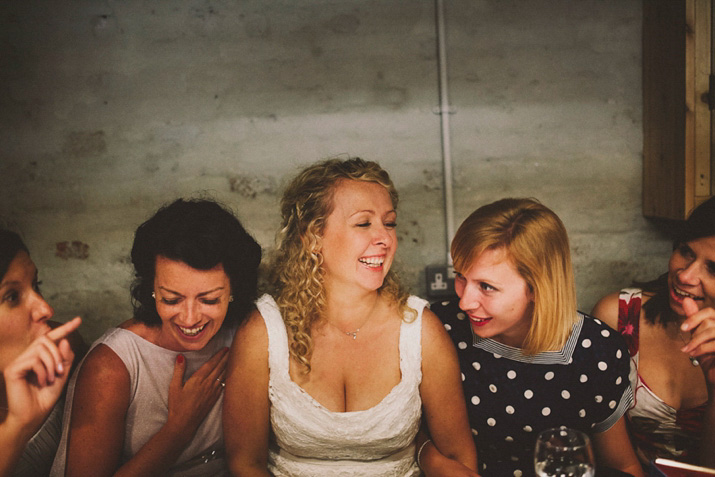 "Having been lucky enough to work at so many great weddings, people often ask us what our top tips are for planning the best day. We always say make sure you have a good band!
Taking our own advice, we had two brilliant bands, who we couldn't recommend highly enough. Ashmore Acoustics played in the castle while guests were arriving, during the ceremony and during the drinks reception. They created a fantastic atmosphere and so many people said how much they enjoyed them. They passed the drumstick on to Plastic Pantomime, who played our favourite indie and rock songs all night – no cheesy tunes! They also embraced Ian's request to have a bit of dance music at the disco at the end of the night. Seeing everyone go crazy with their glow sticks, they ran with it and the night ended in a full blown rave!
Magician Martyn Rowland also amazed us all with his magic during the reception and left guests talking about him all night long."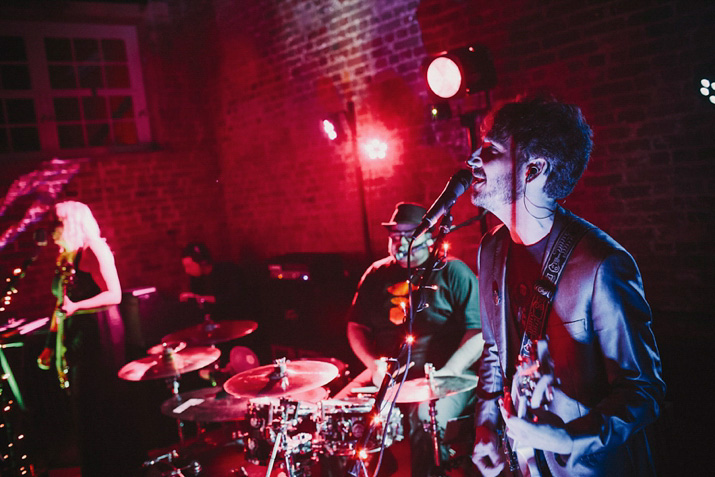 "Apart from the ceremony, our favourite part of the day was walking through the 'sparkler tunnel'. In my job the devil is in the detail and that spilled over into the wedding. Everything was planned to minute detail…. apart from what we were going to do with the sparklers. I'd ordered some online because I like them but hadn't really worked out what we were going to do with them. Just before we all went in for the first dance, everyone came outside and lit the sparklers, Laura (the photographer) told us to walk really slowly and we both vividly remember looking round at everyone we loved holding the sparklers and smiling at us. It wasn't on my schedule, I didn't organise it, but it was magical."
"We chose our first dance, The Lumineers 'Ho Hey', after seeing our band Plastic Pantomime perform it. We wanted an upbeat song, and really liked the words and how they covered it. We had lessons at First Dance in Woking. In the chaos of the final weeks running up to the wedding it was lovely to be able to have a few hours spending time together, laughing and focusing on the dance."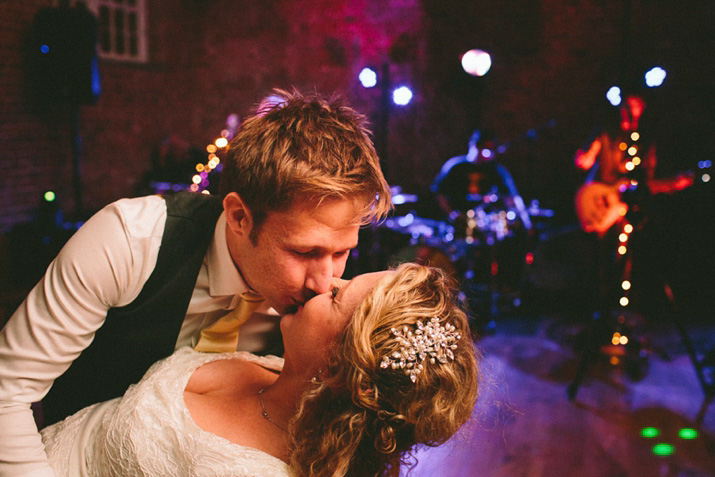 Words of wedded wisdom
"Yes it's your day, but having been to a lot of weddings, as photographers and guests, the best weddings are when the guests are relaxed and happy. We kept our guests in mind with every decision we made and wanted to make sure they were never bored or hungry. Things like having live music while guests are arriving at the ceremony, serving ice cream afterwards, arranging for a coffee van after dinner aren't essential to a wedding, but it's these small details that people still talk about when we see them. Relatively, they didn't cost much money, but were really appreciated.
The only thing I would have changed is the last minute chaos the day before! Because everything was in my head, when I should have been getting ready for my last meal as a single lady, I was running around trying to direct everyone and remember the table plan (which I'd left at home). In hindsight I should have done a dummy run setting up what I wanted the tables, card box etc to look, and taken photos that my helpers could work from.
And finally, I'm all for planning as much as possible, but on the day go with the flow and enjoy the unplanned moments, because that's when the magic happens."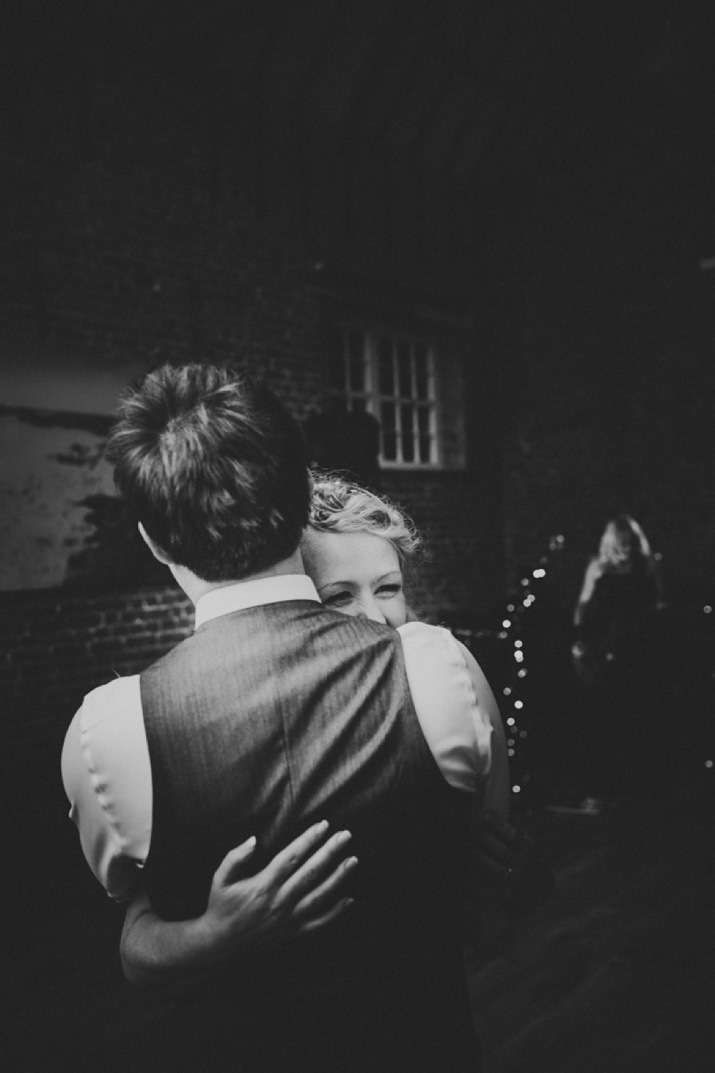 I told you this wedding was full to the brim with incredible advice! Thank you so much to Hannah and Ian for sharing it with us, and to Lawson photography for beautifully achieving the most difficult of tasks- photographing a wedding photographer's wedding. Hats off to you all.
Love Susie x
Photographer – Lawson Photography
Film Maker – Lenik Wedding Cinematography
Venue – Tattershall Castle & The Granary, Lincolnshire
Wedding Dress – Eternally Yours
Headpiece – Handmade Tiara
Shoes – Rachel Simpson
Bride's Scent/perfume – Angela Flanders
Groom – Gresham Blake
Bridesmaids – Coast
Page Boys – M&S
Florist – Miss Pickering
Cake- The English Cake Company
Transport – Holbeach Vintage Taxi
Entertainment – Ashmore Acoustics & Plastic Pantomime + Martyn Rowland
Caterers – Abbey Parks
Coffee – Café Classique
Ice cream – Luxury Ice Cream Company