Happy Tuesday to you! I've been awake since the crack of dawn-o-clock and watching the sunrise through misty skies – I love how Instagram enables  you to share these precious and all-too quickly passing moments with people all over the world. Are you following Love My Dress on Instagram yet?
This morning's wedding is a truly elegant affair – Elizabeth, a Doctor, married Andrew, a Physiotherapist on 14th June this year at Brinkburn Priory in Northumberland.  I think Elizabeth looks so chic in her figure hugging Justin Alexander gown – a purchase she made from Mia Sposa in Newcastle upon Tyne.
"As Brinkburn Priory is in beautiful woodland it gave us the idea of a wedding in the woods. We love natural colours and earthy materials so it all fitted nicely together. We hand made our wedding invitations using lino print, and stuck individual, multi-coloured, felt bunting onto each one."
Photography Copyright (c) 2014, Phil Nunez
"We were placed in the same halls of residence at university in Liverpool. We met on the second day and after only a few weeks of knowing Andrew, I knew I wanted to marry him! Crazy I know, but I had never met anyone like him. He truly was 'the one'.
Our engagement was super special. Andrew planned a treasure hunt around Liverpool as a Christmas Present. There were clues stuck on buildings, trees and even in a bird box! They were all places that held happy memories from our 4 years together. He popped the question by a lake in Sefton Park, where we had gone on our very first date to feed the ducks. He couldn't have done a better job, I felt like a movie star!"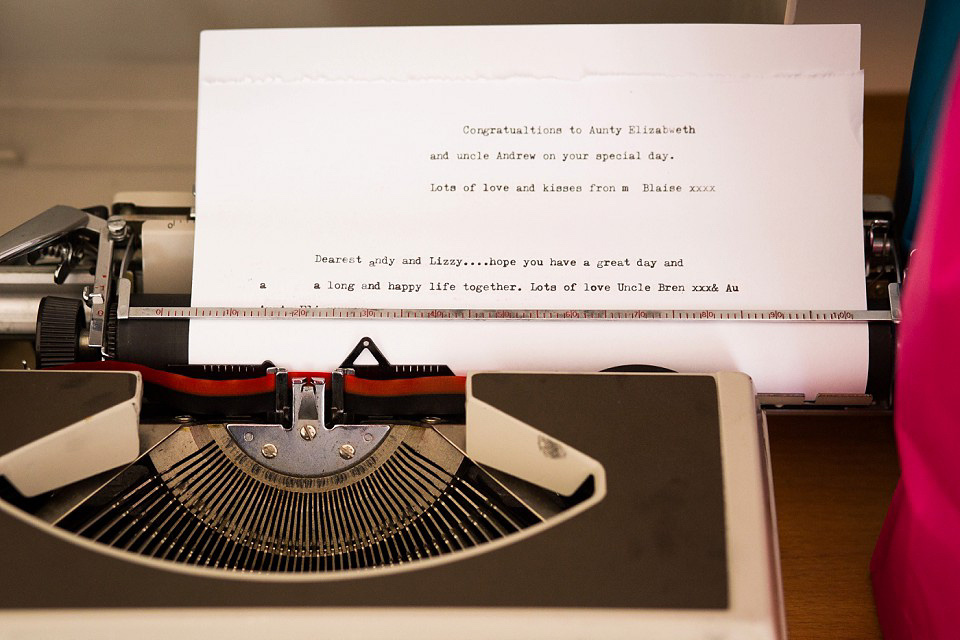 Elizabeth wore a 1930s inspired silk gown with cowl detail on the back, by designer Justin Alexander, which she purchased from Mia Sposa in Newcastle upon Tyne.
"It was so different to any other dress I had tried on, I absolutely loved it. I wanted something really elegant, that didn't show too much flesh. My favourite thing about the dress was the cowl back, I thought it was so unique and pretty.
My veil was also bought at Mia Sposa in Newcastle. I had never wanted to wear a veil, but after my mother had begged me for about 10 minutes to try one on in the bridal shop, I eventually gave in and tried one with the dress – and just happened to absolutely love it! Sometimes, a mother's advice is right!"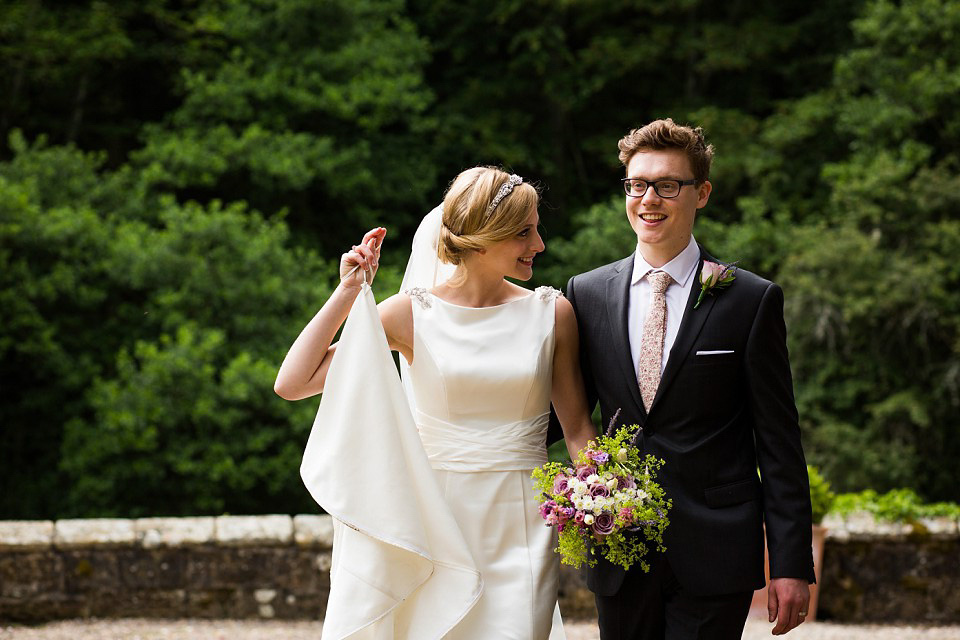 Elizabeth's bridesmaids wore dresses and shoes from Monsoon.  Aren't they pretty? I really like the  collar detail – the design reminds me of a 1960's swing dress – very Twiggy-esque!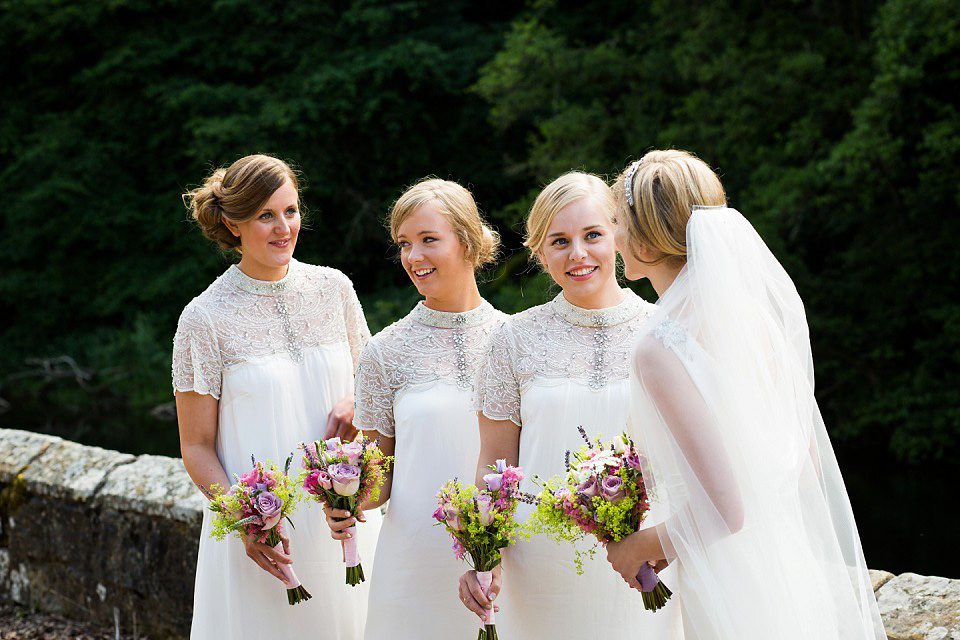 "Our photographer was Phil Nunez, who is an absolute pro. As a wedding journalist Phil had told us he would produce natural photographs that would tell the story of our wedding, and that is exactly what he did! We absolutely adore the photographs Phil has produced. He captured moments that are so dear to us and hold such happy, happy memories.
Phil's unique style of photography was exactly what we had wanted. He was very discrete through the day, capturing unaware moments of laughter and love.  We can't recommend Phil enough. If you are looking for a photographer in the North East I can assure you, he is your man."
"I didn't wear any accessories. I didn't want anything to take away from the dress, and because it had such detailed beading on the shoulders, I didn't feel the need to add any more with accessories."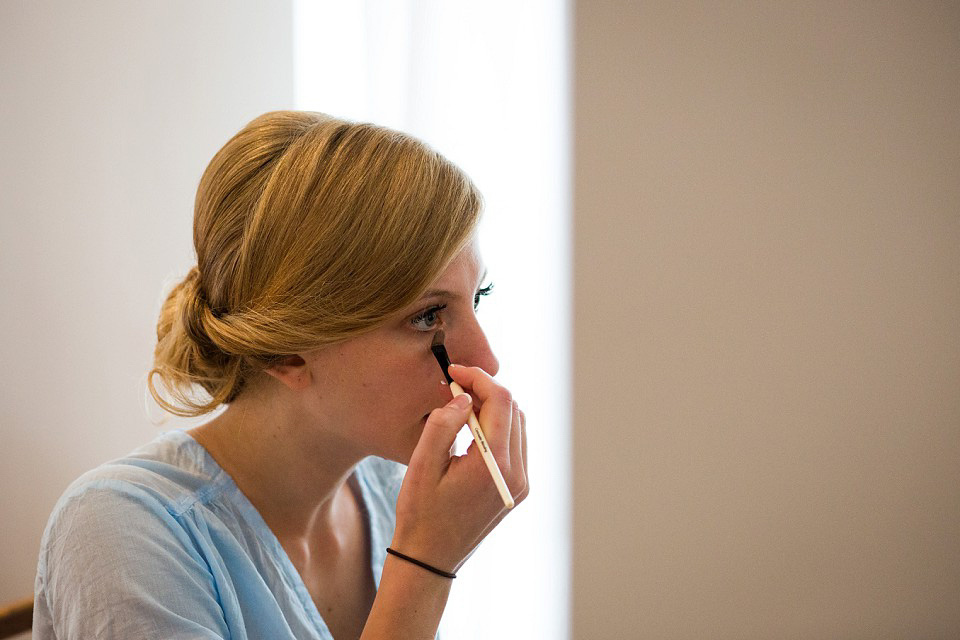 "I wore a delicate, diamond hair band bought as a gift from my sister. It really matched the shoulders of the dress, and apparently brought out the sparkle in my eyes."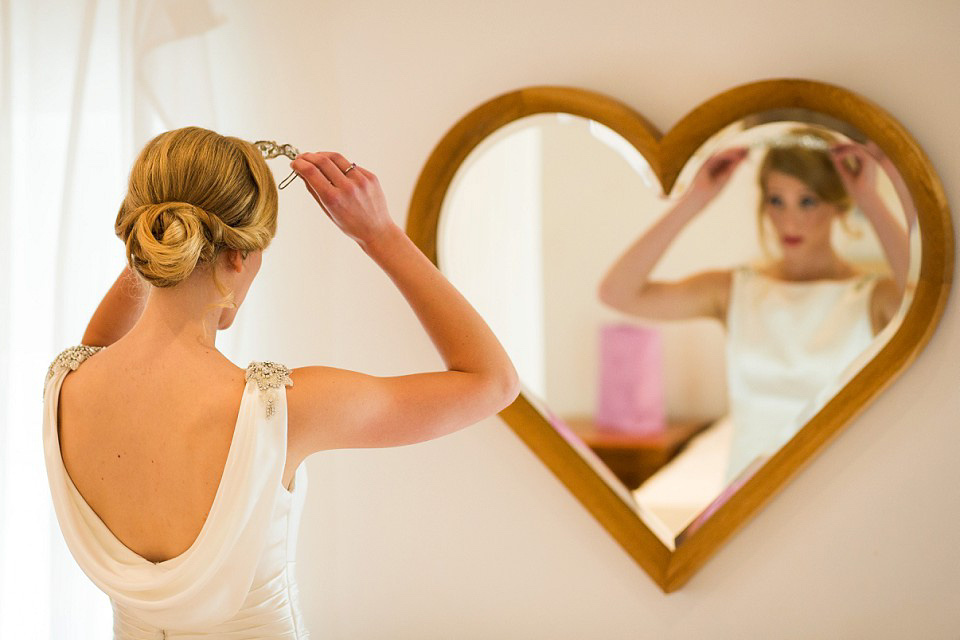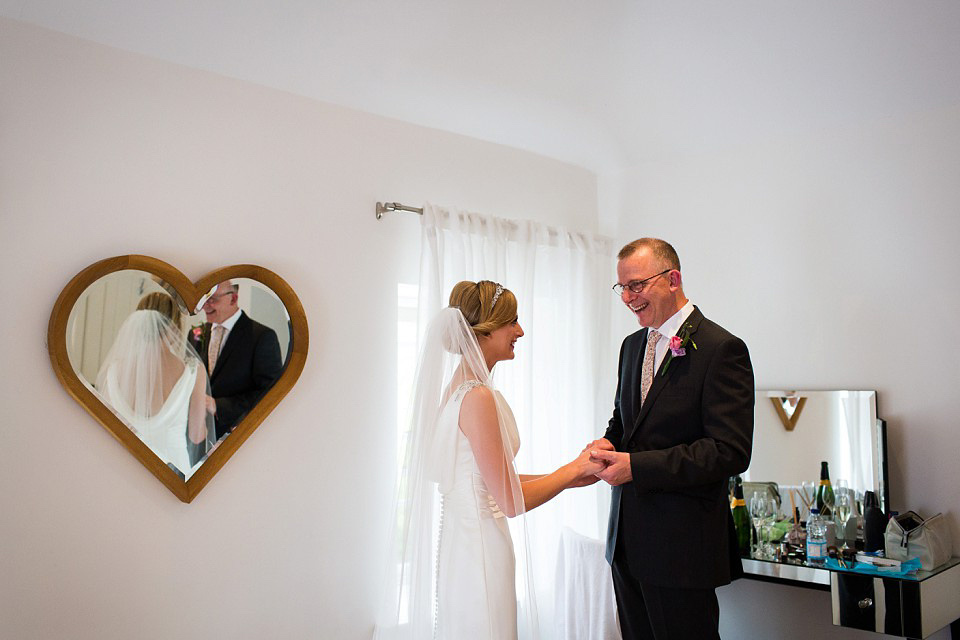 "Andrew wore a Ted Baker suit with a pair of braces from Marks & Spencer.  He decided not to hire suits for all the boys and to instead, just let the groomsman know the colour scheme. They all wore braces and matching ties. It was a good way to save a bit of money and the boys could all wear suits they felt comfortable in."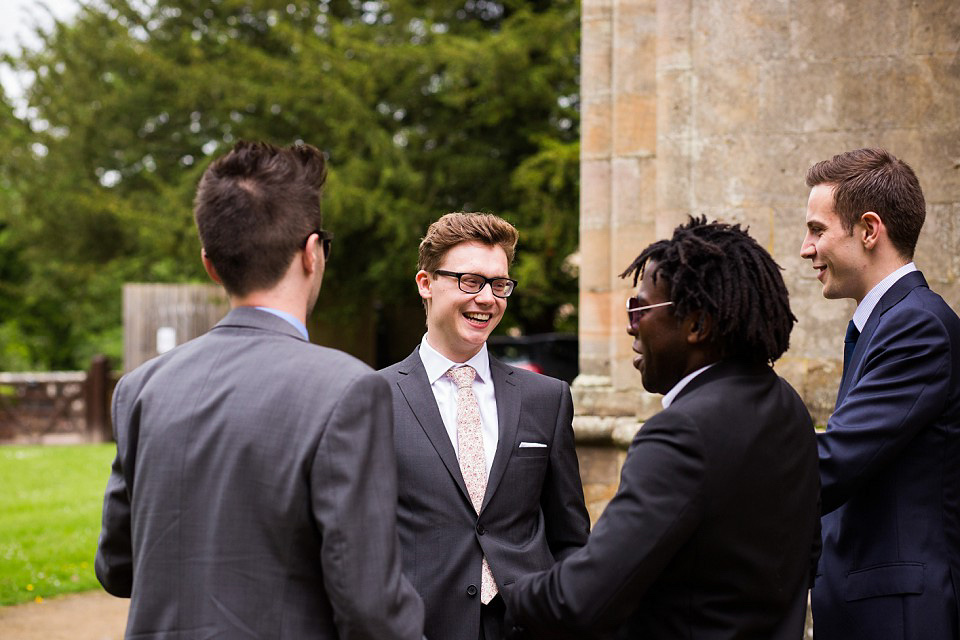 "I wore ballet slippers from a market shop in Newcastle.  They were a super comfy option!"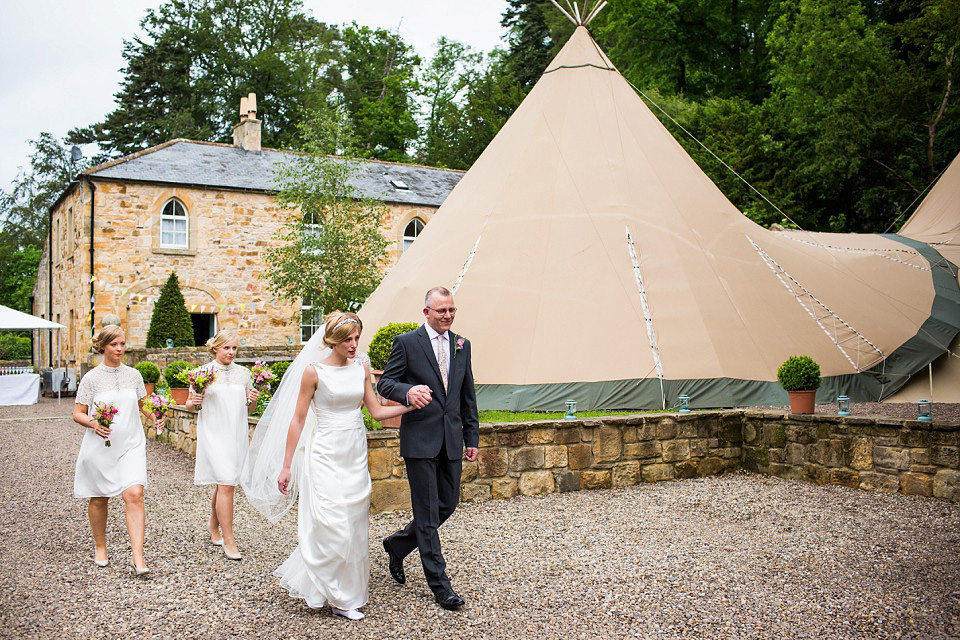 "My lovely dad walked me down the aisle to the traditional wedding march, played on the organ.
Brinkburn was the first venue myself and Andrew visited, and we fell in love with the place within minutes. The stunning 12th century monastery was breath taking and we knew instantly it was where we wanted to get married. We both love being outdoors and so the woodland setting of Brinkburn Priory was perfect for us. Walking around the grounds made us so excited to start planning our wedding in the woods."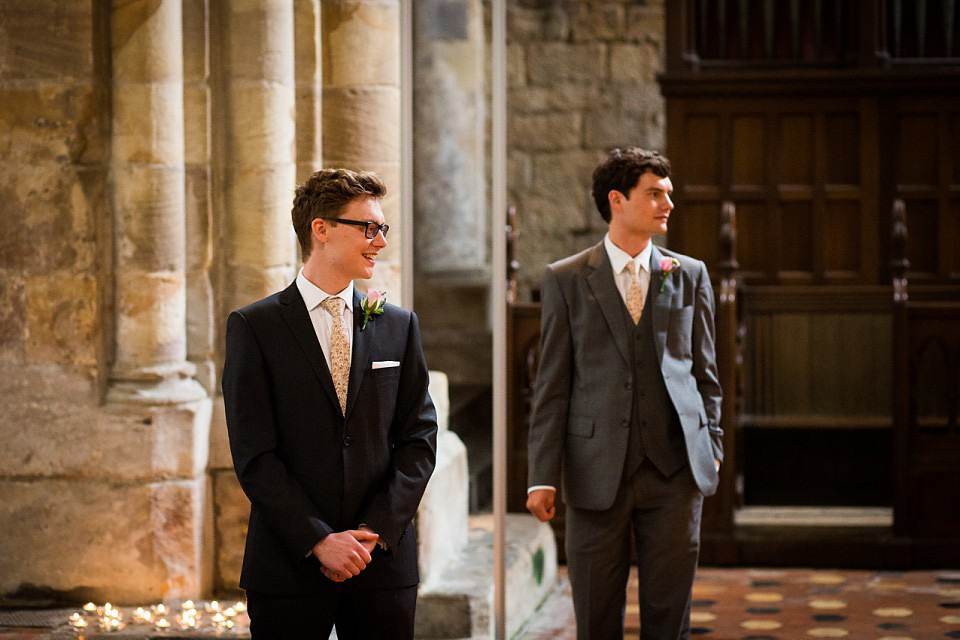 We had the traditional Anglican vows. We love what they read and symbolise. Our favourite line was "to love and to cherish".
"Andrew's dad read Corinthians 13: 1-13 and my Mum read 'Footsteps in the Sand', a poem by Mary Stevenson.  The Corinthian's reading is truly beautiful. It really teaches us what love is and how to love.  A  really powerful extract for us is below…
'Love is patient and kind; love does not envy or boast; it is not arrogant or rude. It does not insist on its own way; it is not irritable or resentful; it does not rejoice at wrongdoing, but rejoices with the truth. Love bears all things, believes all things, hopes all things, endures all things.'"
"The footsteps poem was one that we think has a really beautiful meaning. The thought that through tough times in our life, God will always be there carrying us is really comforting."
Footsteps in the Sand, by Mary Stevenson
One night I dreamed I was walking along the beach with the Lord. Many scenes from my life flashed across the sky.In each scene I noticed footprints in the sand. Sometimes there were two sets of footprints,Other times there were one set of footprints.
This bothered me because I noticed that during the lowest periods in my life, when I was suffering from anguish, sorrow and defeat,
I could see only one set of footprints.
So I said to the Lord,
"You promised me Lord, that if I followed you, you would walk with me always. But I have noticed that during the most trying periods of my life there have only been one set of footprints in the sand. Why, when I needed you most, you have not been there for me?"
The Lord replied,
"My precious child, I love you and will never leave you. The times when you have seen only one set of footprints, it was then that I carried you."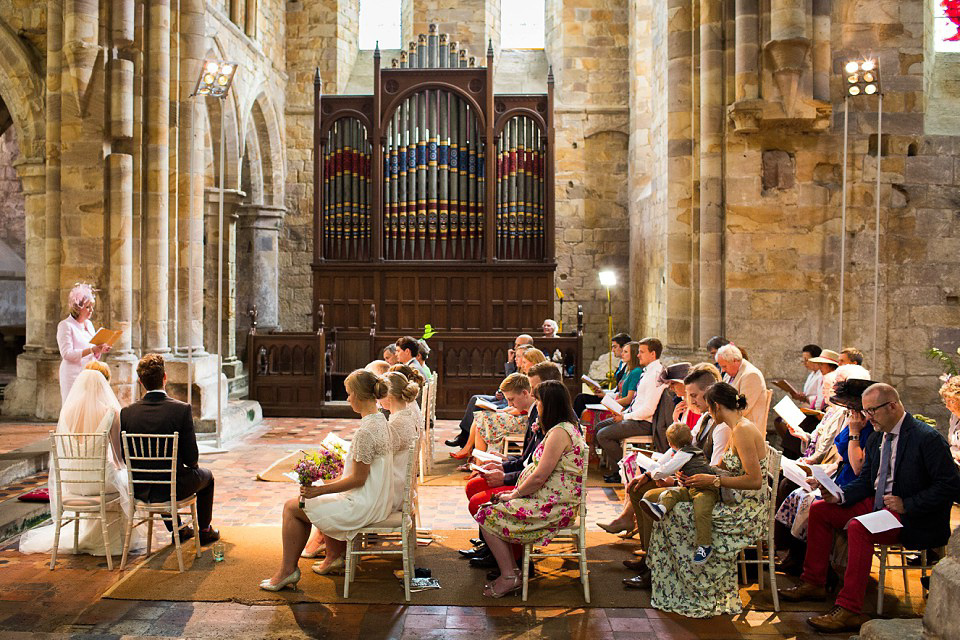 "My ring is from Rox. I decided I wanted a band that had a small row of diamonds in because it really brought out the sparkle of my engagement ring which is a pink sapphire.Rox had a ring that went perfectly, and I really couldn't wait to start wearing it forever.
Andrew had his ring made at Old Eldon Jewelers in Newcastle. He really wanted a thick band with a hammered finish and they made a perfect ring with a lovely engraving inside."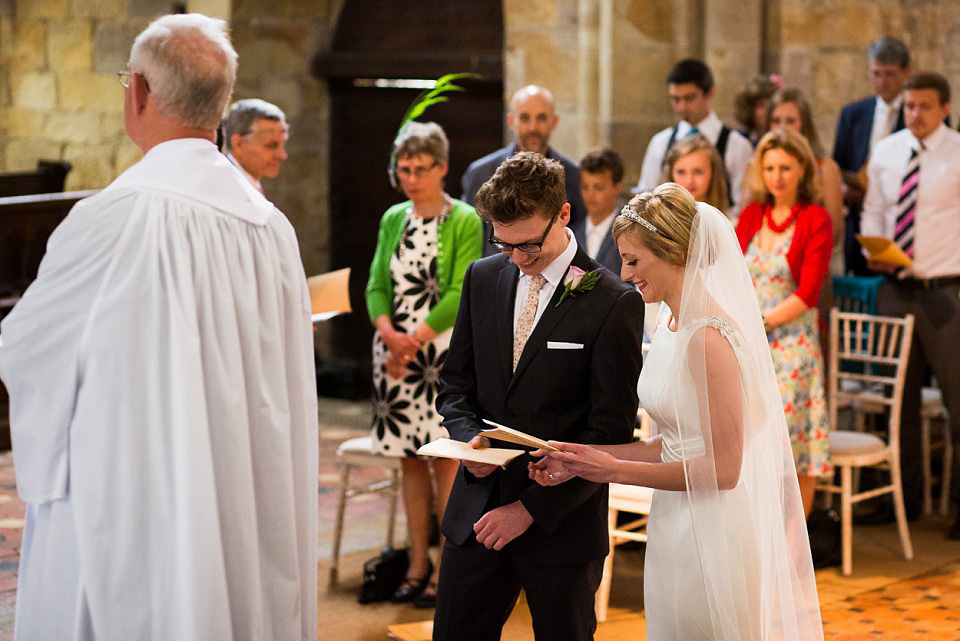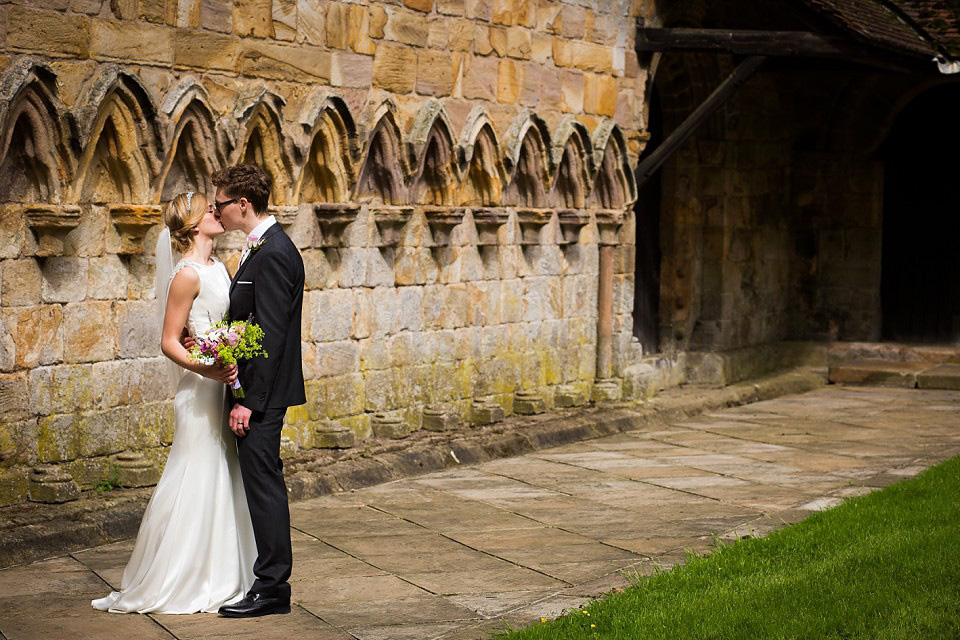 "We had two wedding favours. Firstly was a pick and mix bag filled with marshmallows to roast on the fire we had set up in one of the tipis. And the second was a small envelope filled with some wild flower seeds which read, 'let love grow'. We wanted people to scatter the seeds somewhere to remember our big day and lots of people have sent me pictures of the flowers growing in their garden, it's so lovely to see them!
The tipis really did it for themselves and needed very little to make them look incredible. We had 10 sets of fairy lights wrapped around the wooden beams. And a disco ball above the dance floor which looked amazing in the evening. We used wicker baskets around the place to store things like our gifts, and also to hold 20 pairs of flip flops that we had as dancing shoes for all the ladies in the evening. We also had loads of colourful homemade bunting which looked fantastic, and really suited our wedding in the woods theme."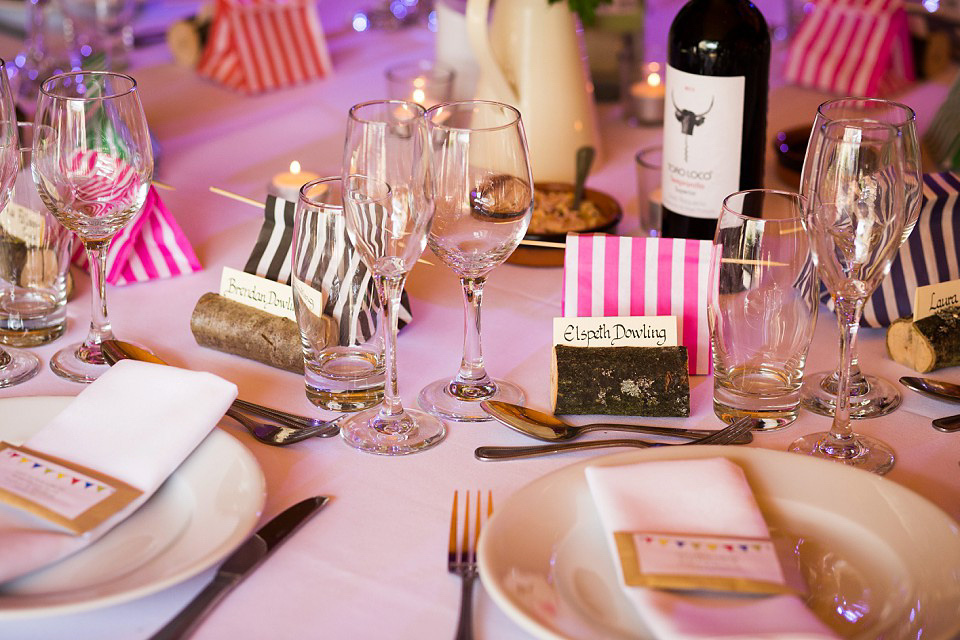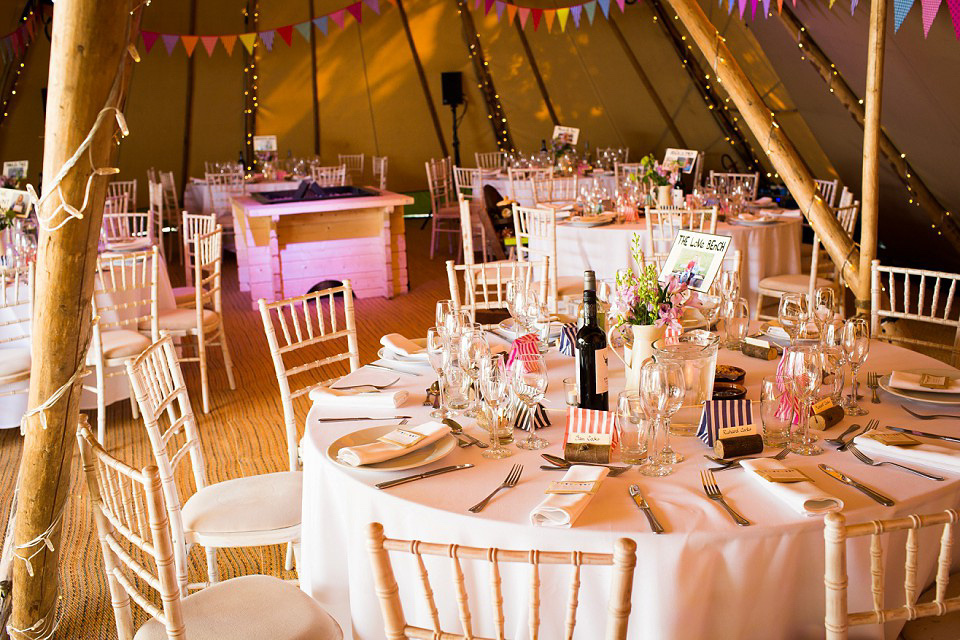 "Our florist was a lady called Moira Pearson, my Mum's best friend. She has a real passion for flowers and is taking a floristry course. I found pictures of example bouquets and table displays and Moira ordered the lot. I wanted a bouquet that looked like I had just scooped them out of a meadow. I wanted lots of different colours and lots of different flowers so the tipis would look really bright and pretty."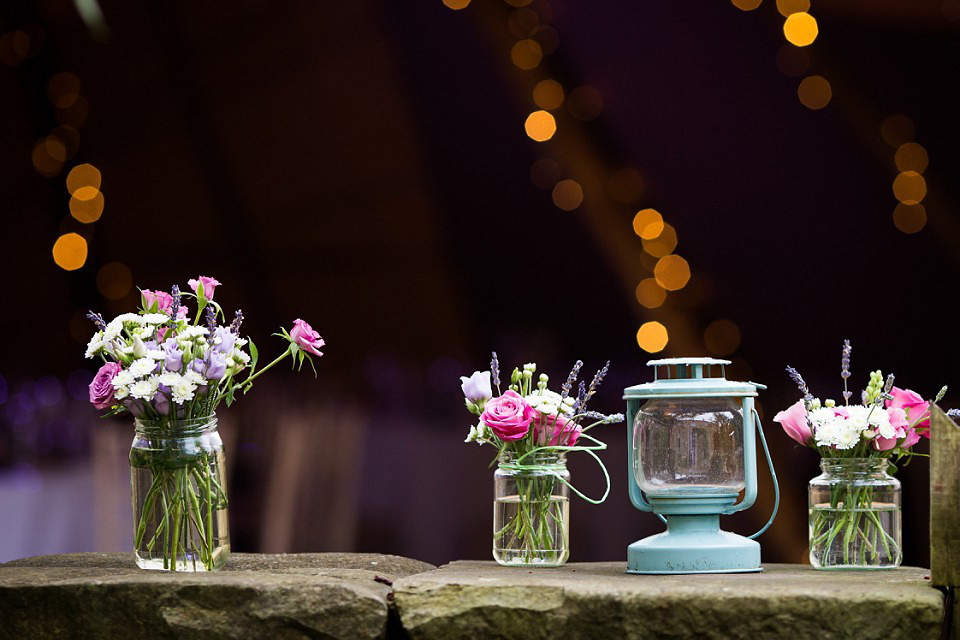 "All the stationery was done ourselves. My grandma wrote the table names, and Andrew's dad made the table name stands out of wood from the garden. The menu was written on a black board at the front of the tipi which meant there was a bit more room on the tables."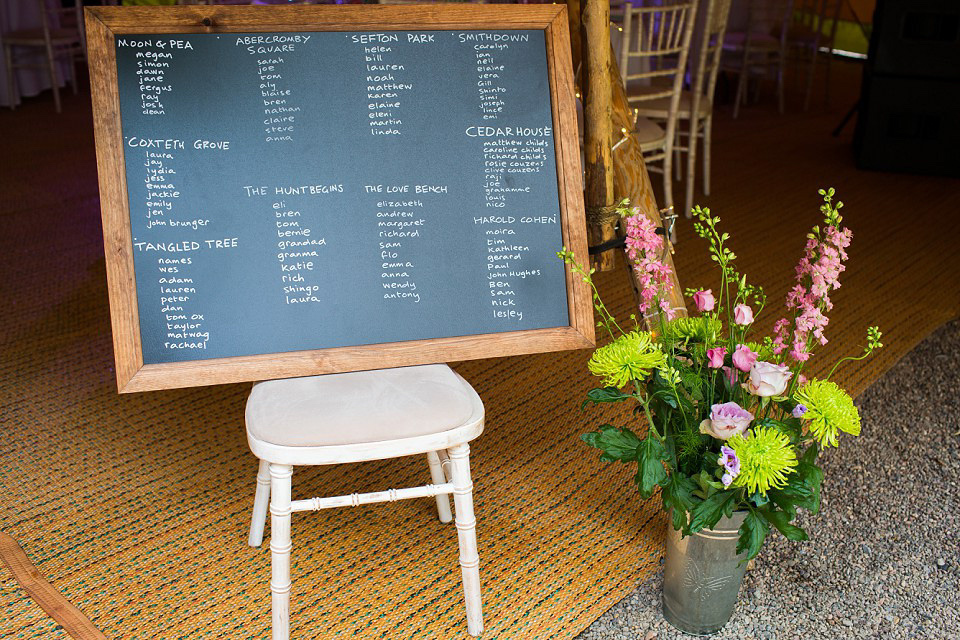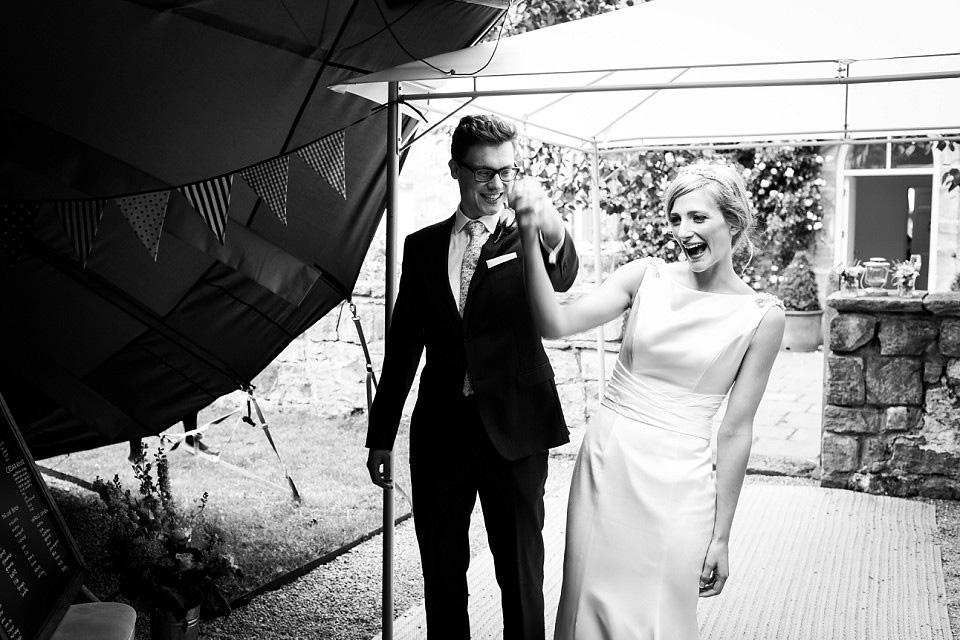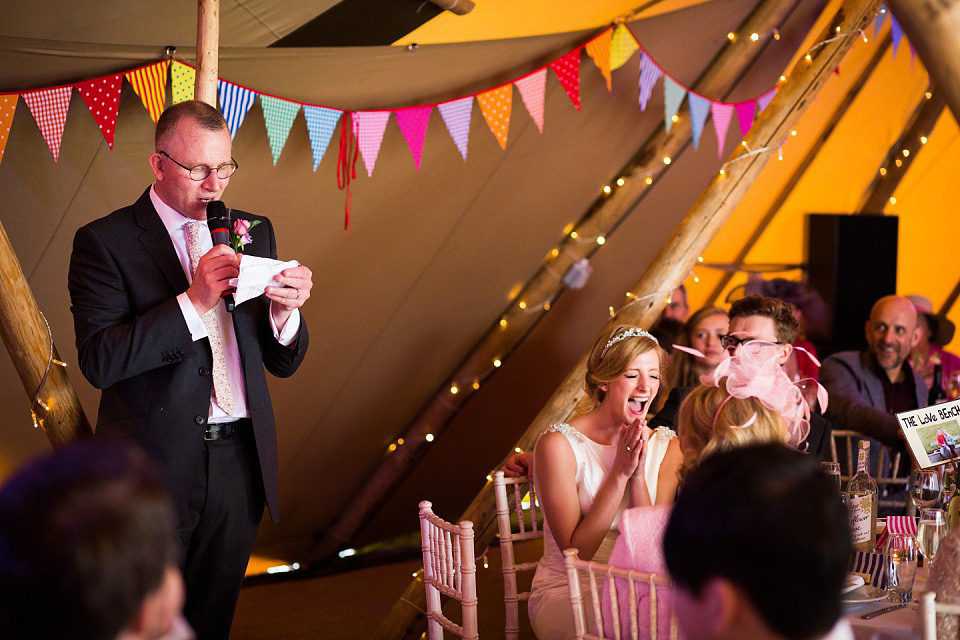 "Neil of Wilkins Fine Dining and his team provided our catering. He was such a lovely guy – a really hard worker and delivered the most beautiful food. We decided to have sharing bowls for the main meal because we thought it was a lovely way for everyone to get talking on the tables. He then roasted a hog in the evening which was fantastic!
Our amazing cake was made by Andrew's Mum and sister. They did a fab job! It had three different layers each with a woodland theme."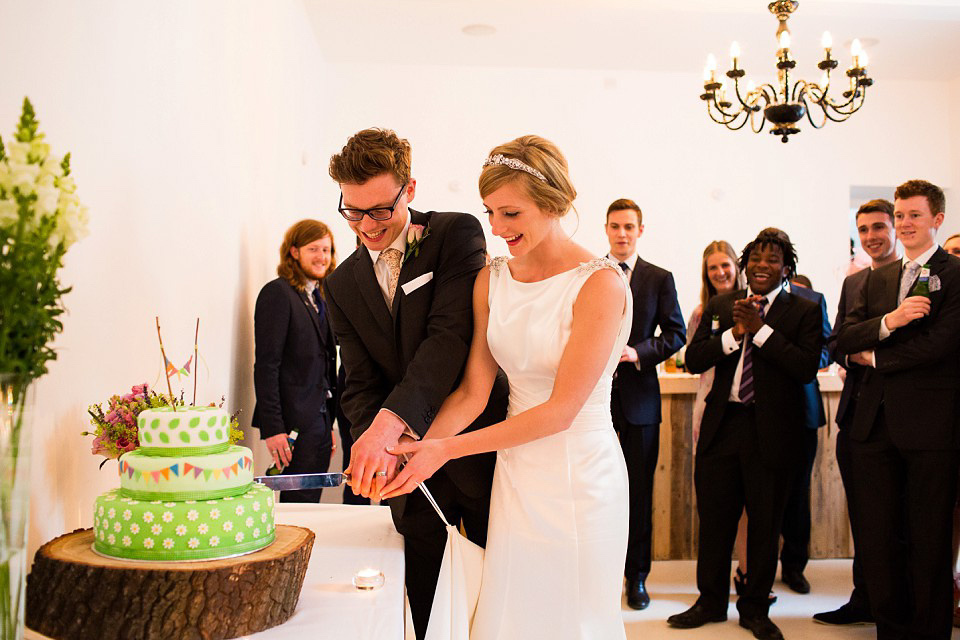 "The giving of the rings was a really lovely special part of the day. We also loved the evening, and spent most of it dancing the night away. After all the nerves of walking down the aisle without tripping and the speeches, we could really just let ourselves go."
"Our first dance was to 'Punjabi MC: Mundian To Bach Ke'. We had really tried our best to learn to waltz but we just kept standing on each others feet and spinning the wrong way. The day before the wedding we decided to scrap the waltz idea and go crazy with a song I've loved forever. We didn't want to feel any pressure about the dance and we had so much more fun doing something silly. We choreographed a dance, with the help of youtube. I'm so glad we decided to do it, we had so much fun and our friends and family laughed and loved it to."
Words of Wedded Wisdom…
"In the weeks running up to the wedding Andrew and I really enjoyed having some wedding free hours in the week. Sometimes we found ourselves a little overwhelmed with all of the planning, and so we really appreciating having time where we banned the word wedding, and just enjoyed each other's company.
We both wish we had eaten more! The food was so amazing but we were just too full of nerves to eat much. I would do anything to go back and have another hog roast sandwich!"
What an incredibly elegant day – I can't help but feel happiness for this lovely couple and am pretty sure from these images that they're set to have a very long, loving and fulfilling life ahead of them.
Huge thanks to photographer Phil Nunez for sharing these beautiful photographs today.  I'd love to know if any more of our readers are planning on tieing the knot at the stunning Brinkburn Priory?
Have a wonderful morning all of you.
Love Annabel xx
Photographer – Phil Nunez
Venue – Brinkburn Priory in Northumberland.
Dress – Justin Alexander purchased from Mia Sposa
Veil – Mia Sposa
Shoes – Ballet slippers
Perfume – Miss Dior by Dior
Grooms Suit – Ted Baker + M&S braces
Bridesmaids – Monsoon
Florist – DIY (family)
Cake – DIY (family)
Entertainment – Ceilidh
Rings – Rox + Old Eldon Jewelers in Newcastle
Catering Company – Wilkins Fine Dining
Hair Stylist – Kate Pymm