Well what a stunning morning – another reminder for me why Autumn is my very favourite time of year.  I hope this new blog post finds you well and ready to tackle today with positivity and gusto!  Today's real wedding is that of Suzi, a Programme Manager at Macmillan Cancer Support, who tied the knot with Sales Manager Jamie on 14th June this year.  The couple chose to have their ceremony at Felton URC Church in Northumberland, followed by a reception held at Suzie's parents' farm in Acklington, Northumberland.
I really love the sweet and elegant nature of this wedding, but Suzi's dress really appeals to me too – it's by a designer who keeps popping up on my radar for her fabulous Downton Abbey inspired collection, Eliza Jane Howell.  It was the perfect choice for this relaxed, homemade and vintage inspired celebration.
"We wanted a country wedding as our reception was on my parents' farm but we also wanted a home-made vintage feel too so aimed to get a balance between the two. We have so many talented friends and family members and wanted to incorporate their talents in our wedding and luckily they obliged. We couldn't have been happier with the results."
Photography Copyright (c) 2014, Matt Ethan
"We met when we were very young and then went our separate ways when we went to university. We got back together after uni and then moved in together in Glasgow. After a year we both moved down to London for work and have stayed there ever since. Jamie proposed on the day we moved into our current flat which we bought last July.
It was a big surprise! He knew I wouldn't want any fuss and after a day and evening of unpacking lots of boxes he ran out to the nearest food shop (which at that time of the evening was a kebab shop!) and came back with two kebabs and proposed!"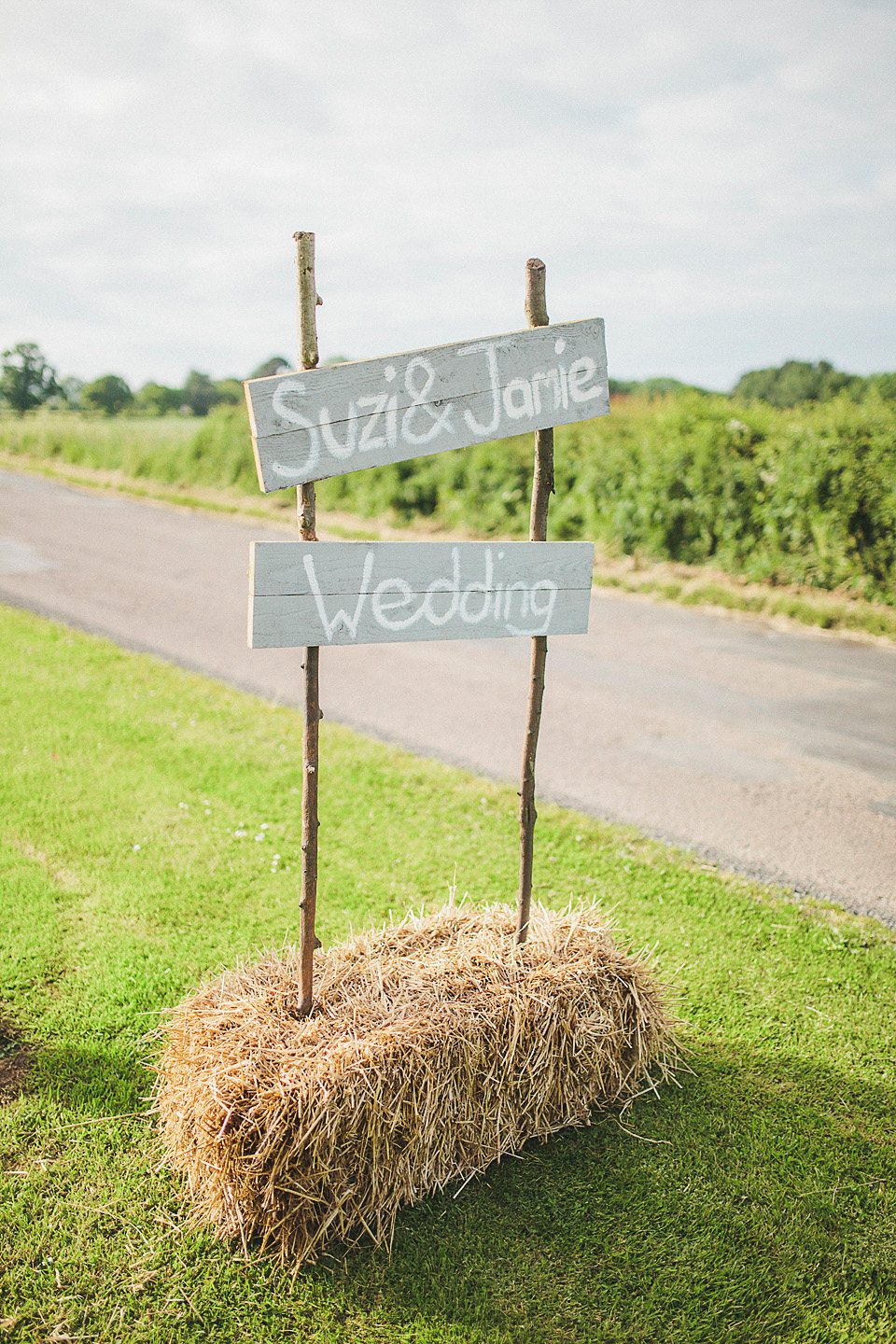 "My dress was by Eliza Jane Howell and I bought it from the fabulous Kathryn Trueman in Morpeth.  It was different to everything else I had seen. I'd tried on a lot of dresses but never felt like myself in them until I tried this one. It was a little bit 1920s and vintage."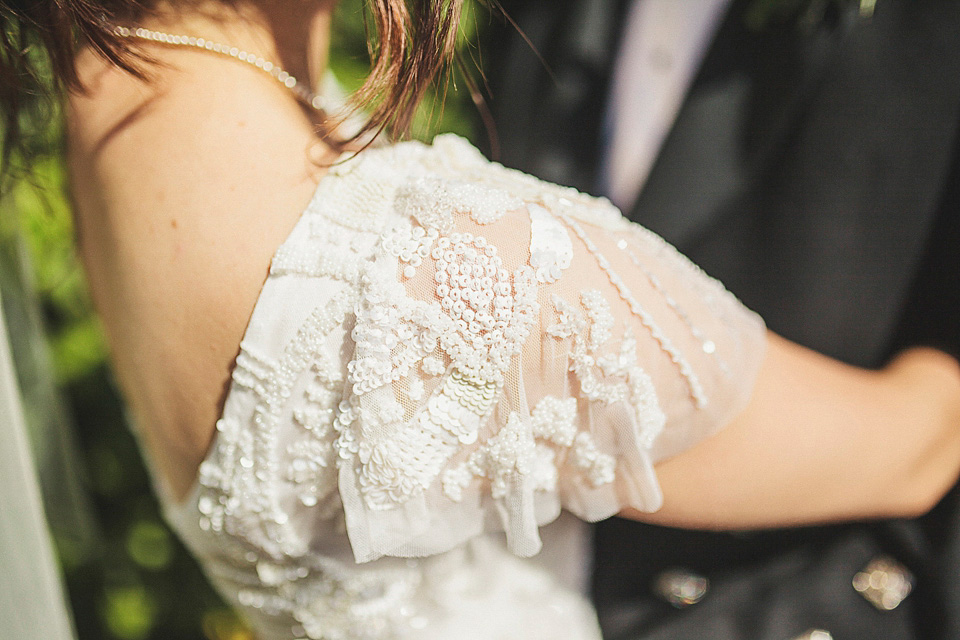 "All our invitations, table names and the order of service were made by Strawberry Sorbet and crafted using their vintage letter-press machine. We chose their 'Sophie' print which was simple and elegant and set the tone we wanted for the wedding. The service was also fantastic and we couldn't have been more pleased with their work. I would recommend them a hundred times to anyone looking for beautiful invitations etc."
"My veil was also from Kathryn Trueman – I can't remember the make but it was very simple with a scalloped edge.
I bought each of my bridesmaids different pieces to wear on the day. Some vintage earrings from a market for one, a gold bracelet from a jeweller local to my flat in London and a silver ring from a handmade jewellers in the Borders."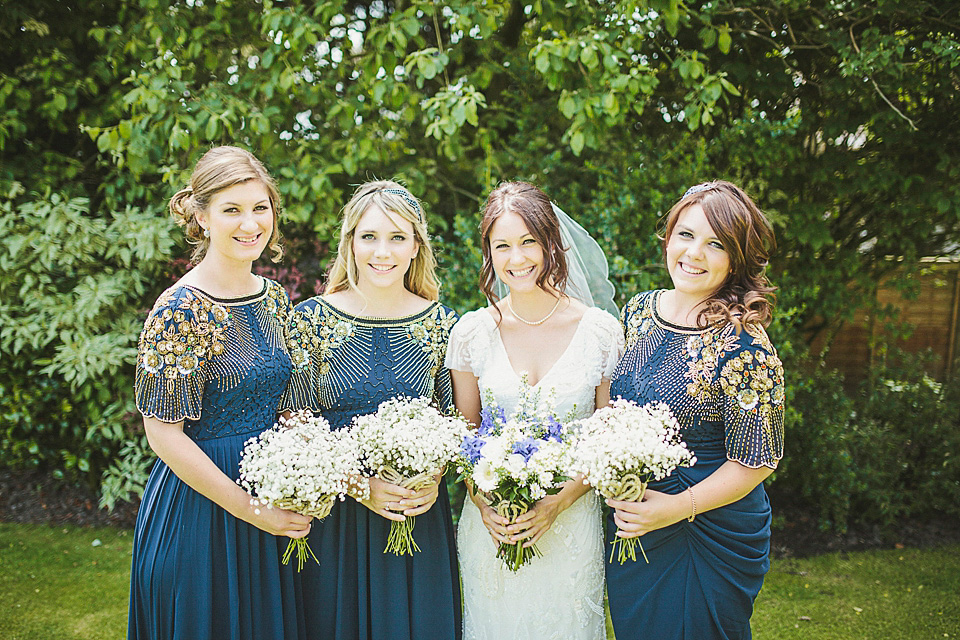 "I found my bridesmaids' dresses on ASOS – they were midnight blue and my youngest sister wore a shorter version."
"Our photographer was Matt Ethan. Matt was brilliant and the pictures were beautiful. He managed to capture so many wonderful moments without us even realising he was there. He was also very good with my camera shyness and made it all very easy. We've already recommended him to friends."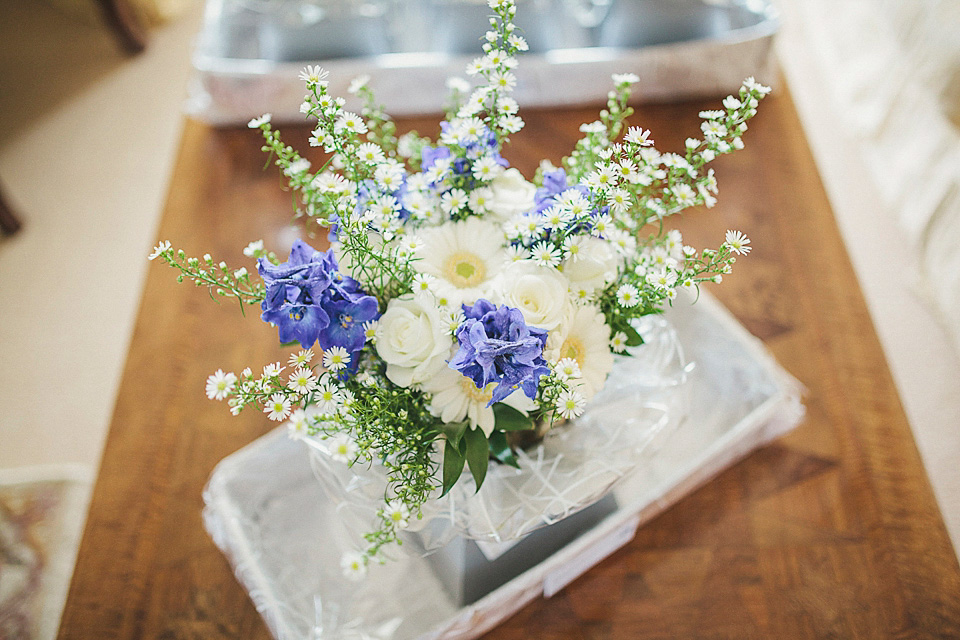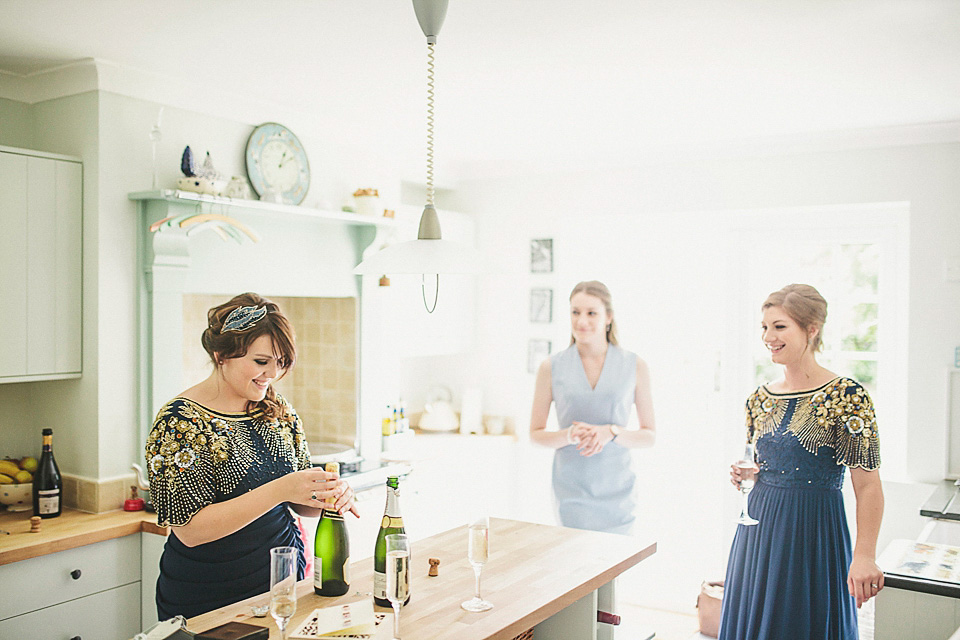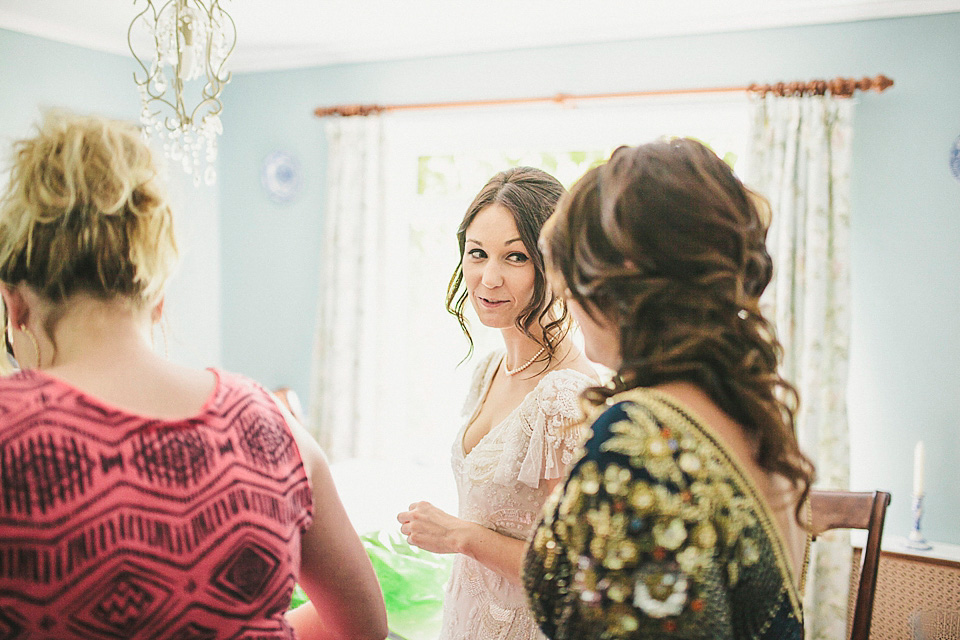 "Kate at K Beautique was fantastic she did my makeup, my bridesmaids' and my Mum's. We couldn't have had anyone better. Kate fitted in with the madness of the morning and was a joy to have around.
I wore my Grandma's pearl necklaace. She sadly could be with us so it was lovely to wear something that had belonged to her."
"Our bouquets and button holes were made by Gwen Rennison-Rae at Bluebells on Whitley Road, Whitley Bay.  They were absolutely beautiful and kept to the natural countryside theme that we wanted. Mine was a mixture of blues, greens and whites and my bridesmaids had simple bouquets of white gypsophila tied with brown string."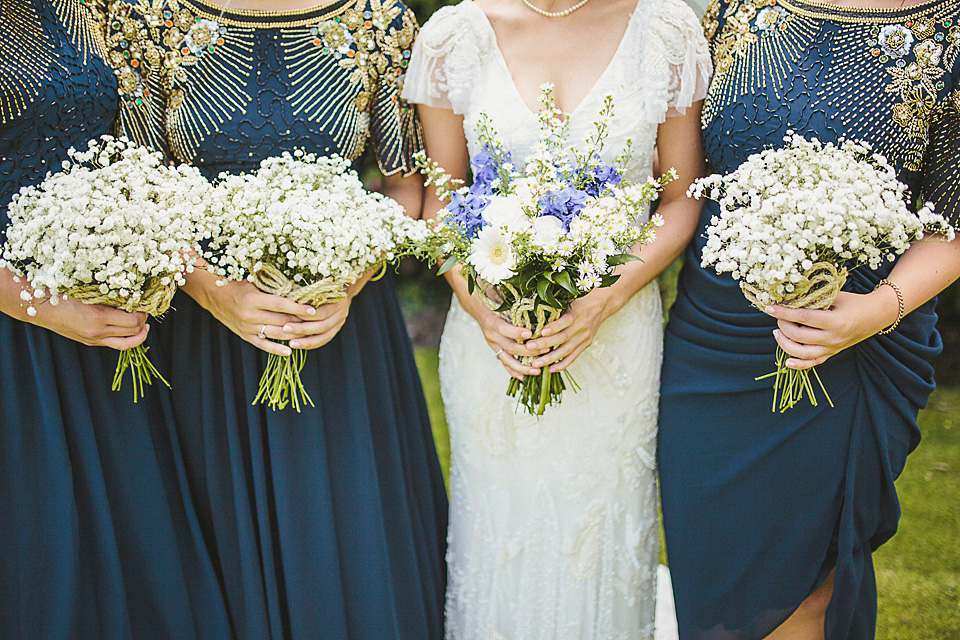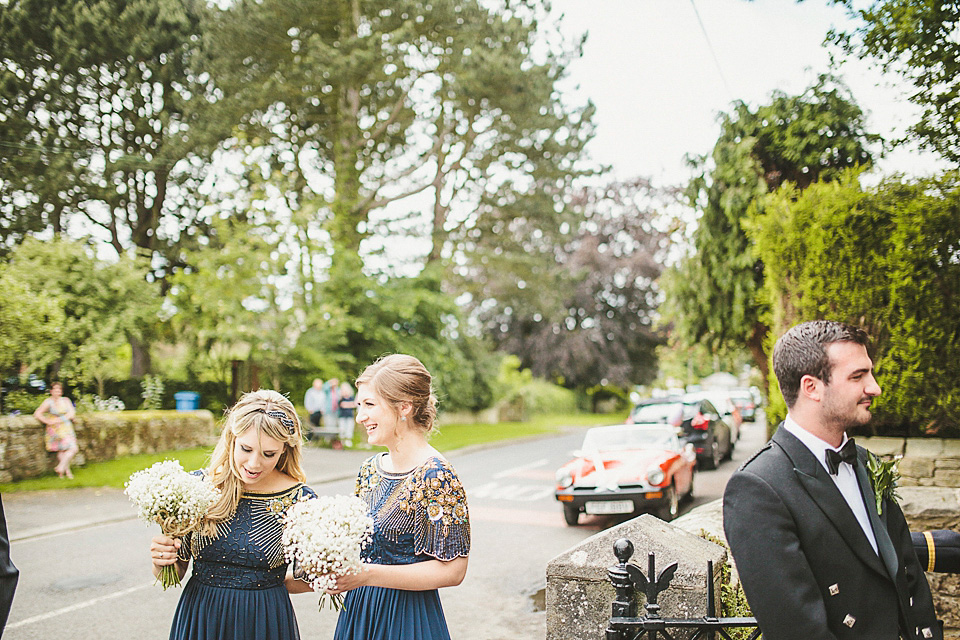 "Jamie wore his own kilt in Campbell Tartan.  He also had all the kilt accessories including a sgian dubh which I got him as a present for the wedding."
"My Dad drove me to the wedding in Jamie's brothers' car a TVR Tuscan which was a lot of fun. Jamie and I then left in his Dad's red Midget which his family had decorated with cans and signs!"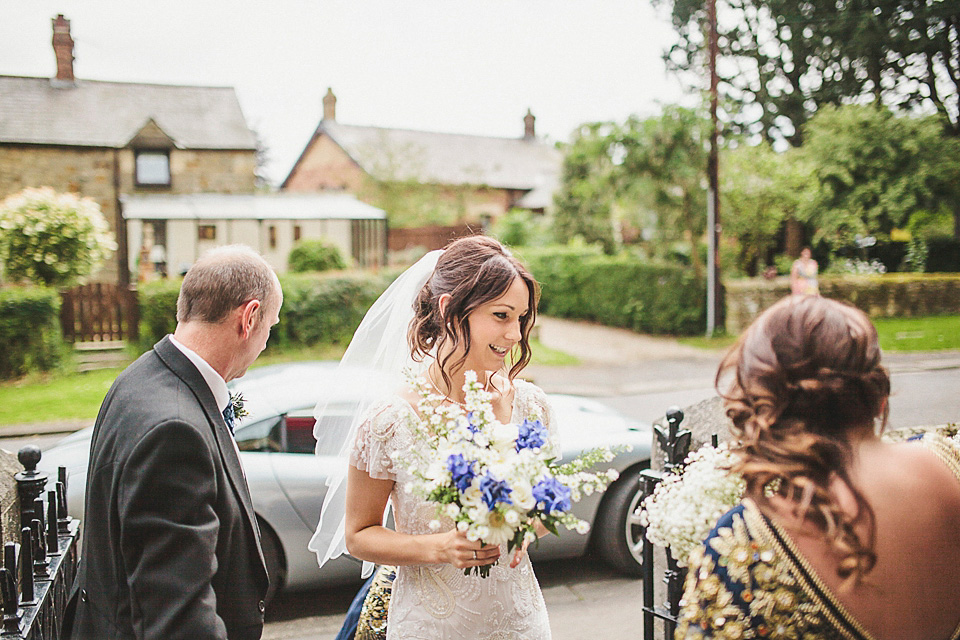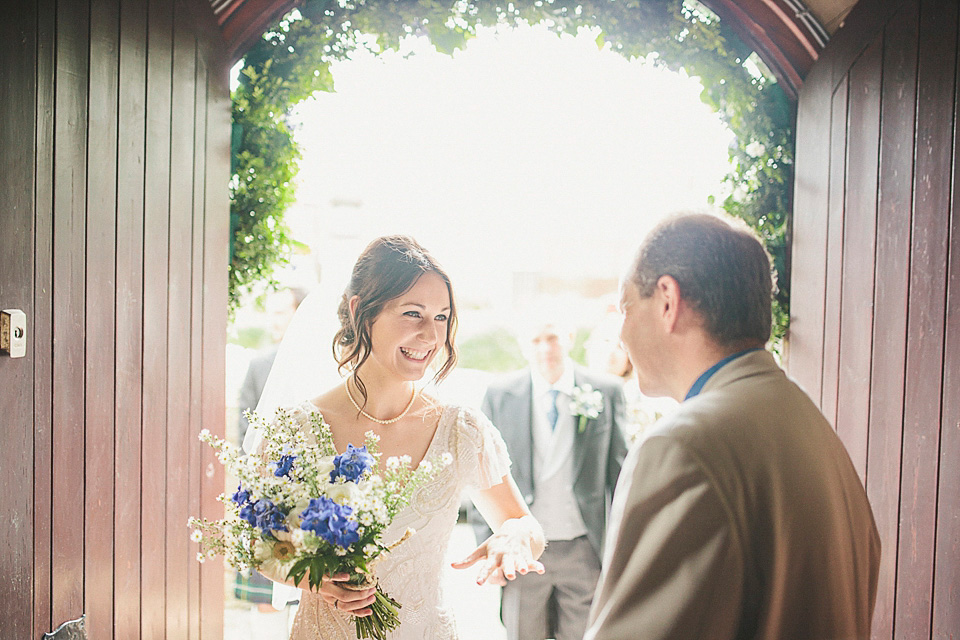 "My dad walked me down the aisle – we kept it quite traditional and I walked in to Canon in D Major but before that my sister's boyfriend's band did some amazing acoustic versions of Britney Spears!"
"We tailored our own vows to reflect us a bit more. My favourite bit was saying we'd always give each other the space to be ourselves. I think that's really important and has always been a big part of our relationship."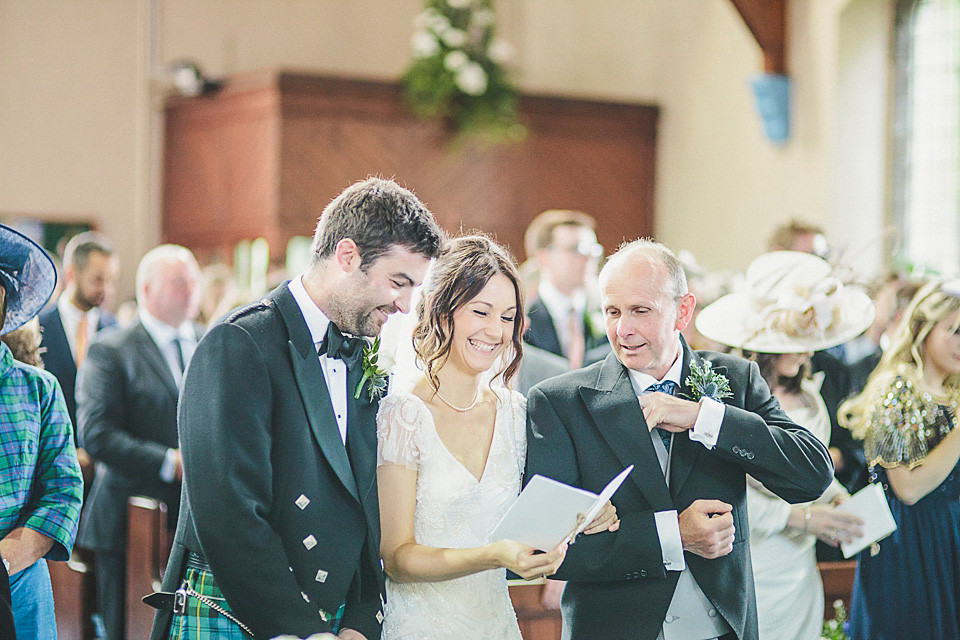 "We had quite a few readings during our ceremony – as we got married in church, we had bible reading 1 Corinthians 13:4-13, which was read by my Uncle. Jamie's Auntie read Sonnet 116, William Shakespeare which is one of my favourite passages of Shakespeare. My friend Charlie read Love by Edwin Morgan which we chose because Morgan is a Scottish poet whose writing we both like and Jamie and I first lived together in Scotland and one day hope to move back there so it felt quite fitting.
Finally we had Union by Robert Fulghum read by Jamie's God Father. Barclay chose this himself and we felt like it really reflected our relationship."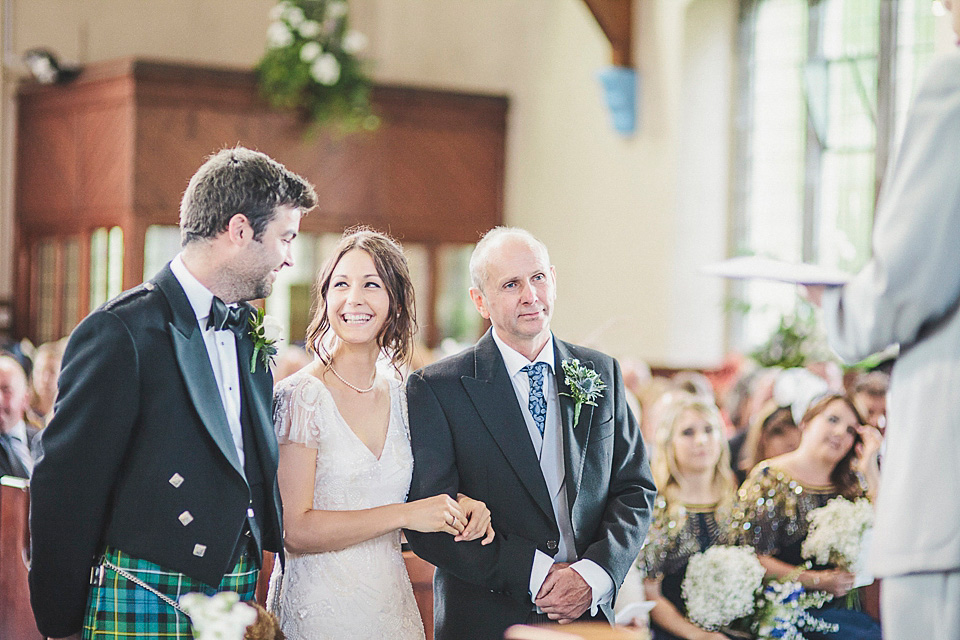 "My engagement ring was Jamie's Grandma's.  Our wedding rings were from Asquith's of London in Clapham, a local jeweller. We choose simple rings and Jamie got them engraved with our initials. We wanted something simple and they were perfect."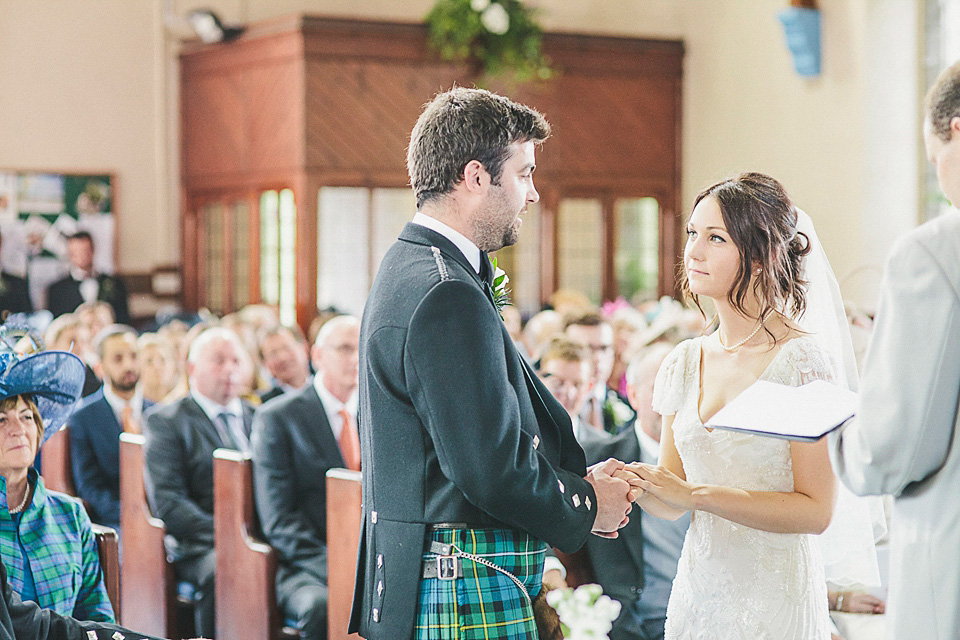 "As we were having our reception on my parents' farm we wanted our flowers to complement the fields and trees outside and that is exactly what Emerald Forest. They decorated the church with greens, blues and whites and it look incredible. They literally thought of everything and even out a moss bowtie on one of the bust heads. They decorated the marquee similarly to the church and the first time I saw it I couldn't believe it looked so beautiful. They had transformed the plain, white marquee into a country garden. They went above and beyond and I would thoroughly recommend them to anyone and everyone!"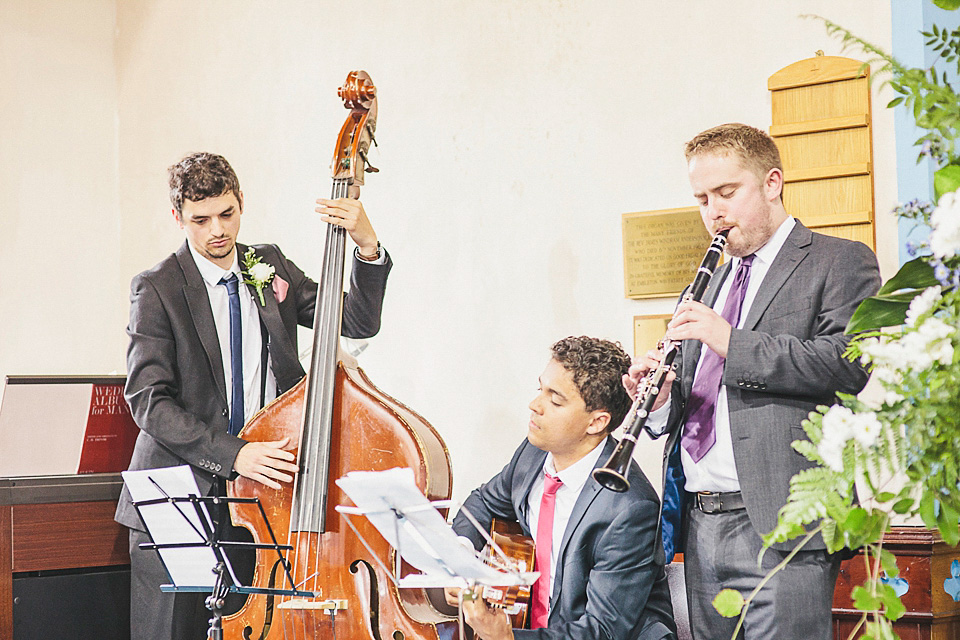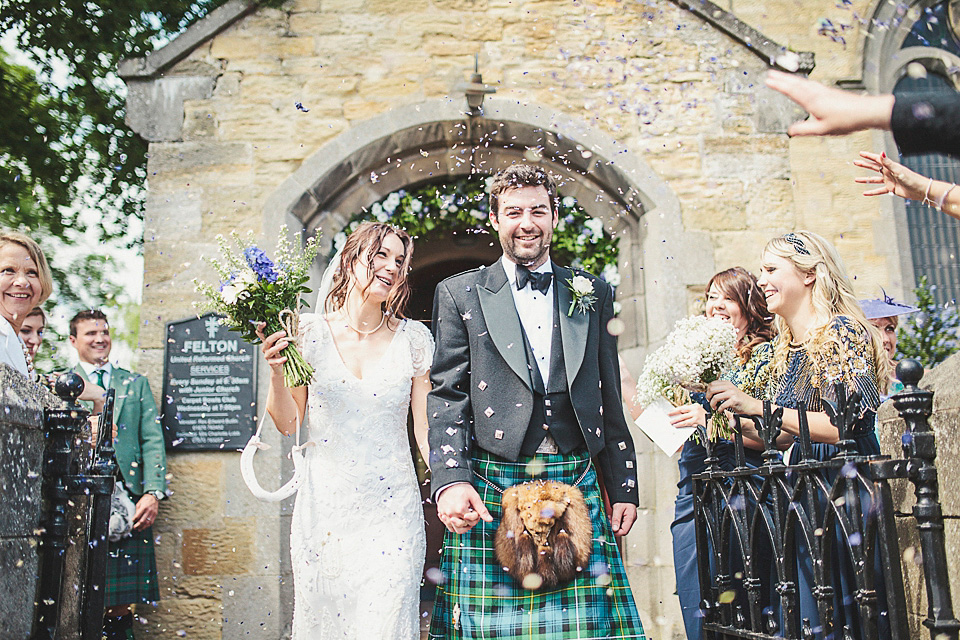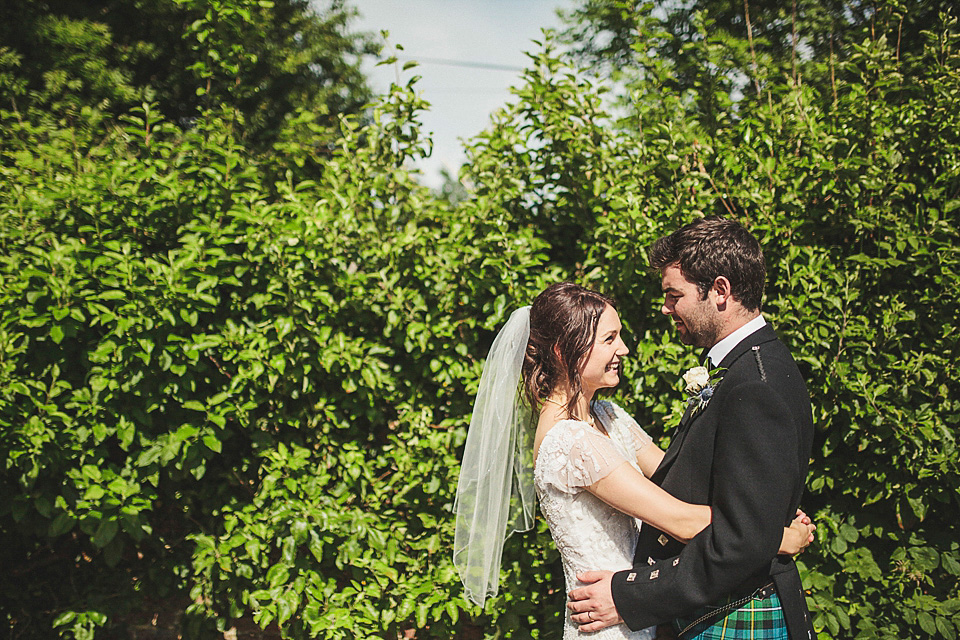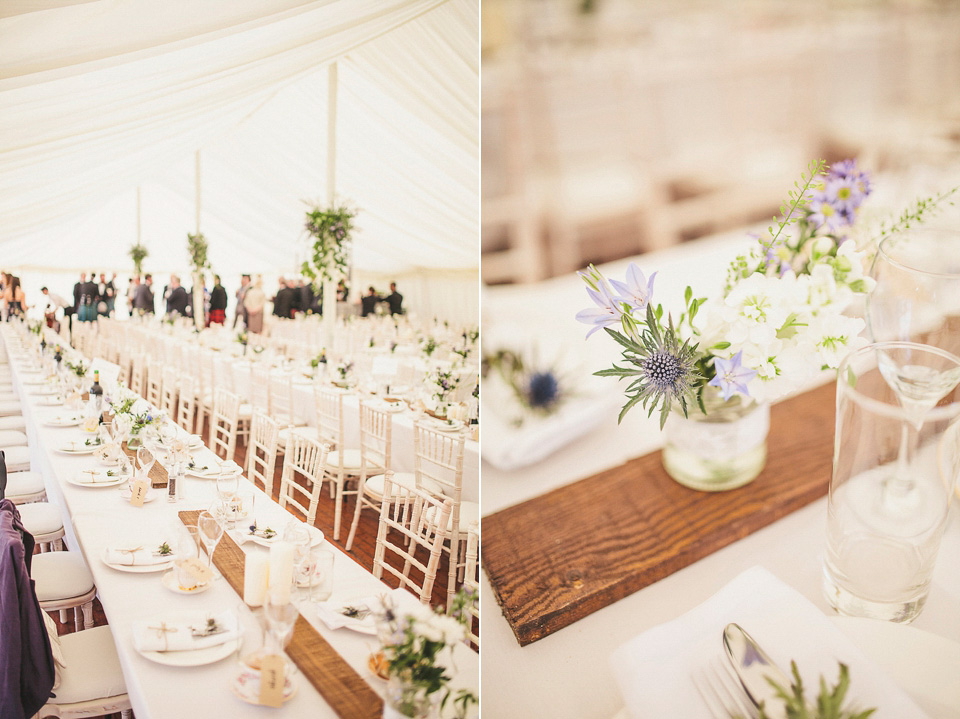 "We had a table of cakes made by our friends and family. Everything from chocolate to carrot, fruit to coffee and walnut. They were all beautifully iced and looked amazing displayed in the middle of the room."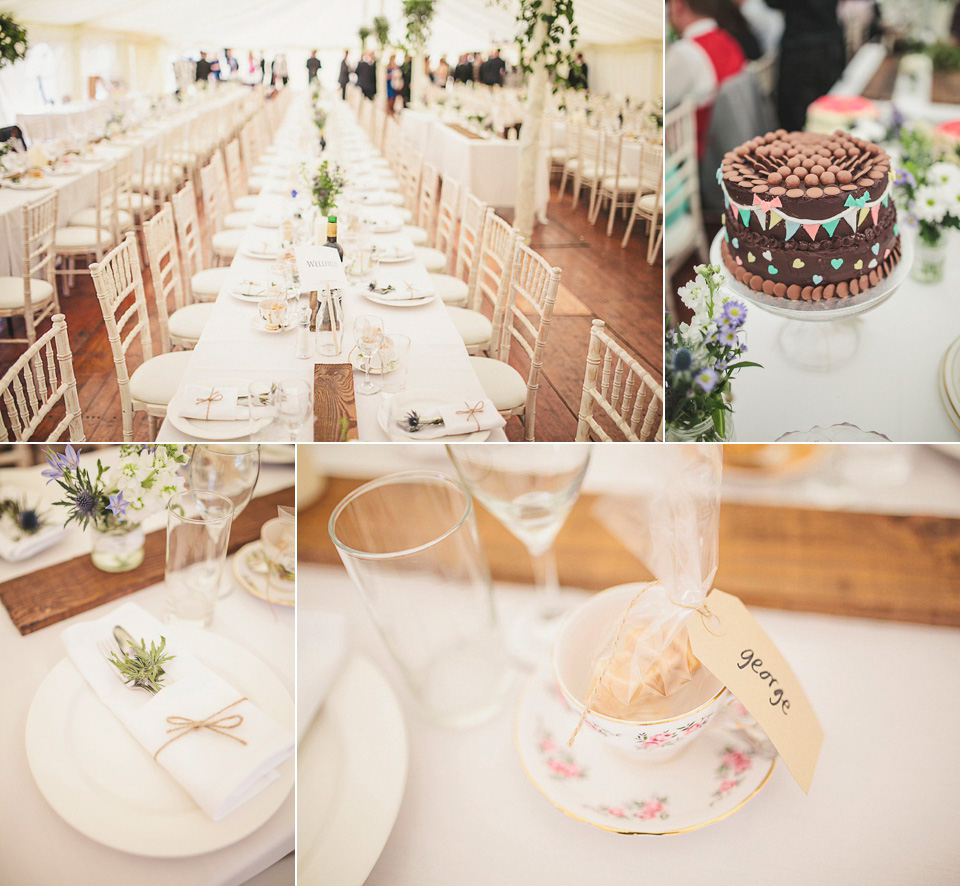 "When it came to decor and styling – we wanted to create the sense of a country wedding with a touch of vintage and that is certainly what we got. My Mum was especially good at coming up with gorgeous little touches such as the vintage suitcase for cards and even building a bar.  My Uncle did a lot to help us to create the style we were looking for by building and painting our gorgeous bar and making lots of wooden crates to store wine etc in."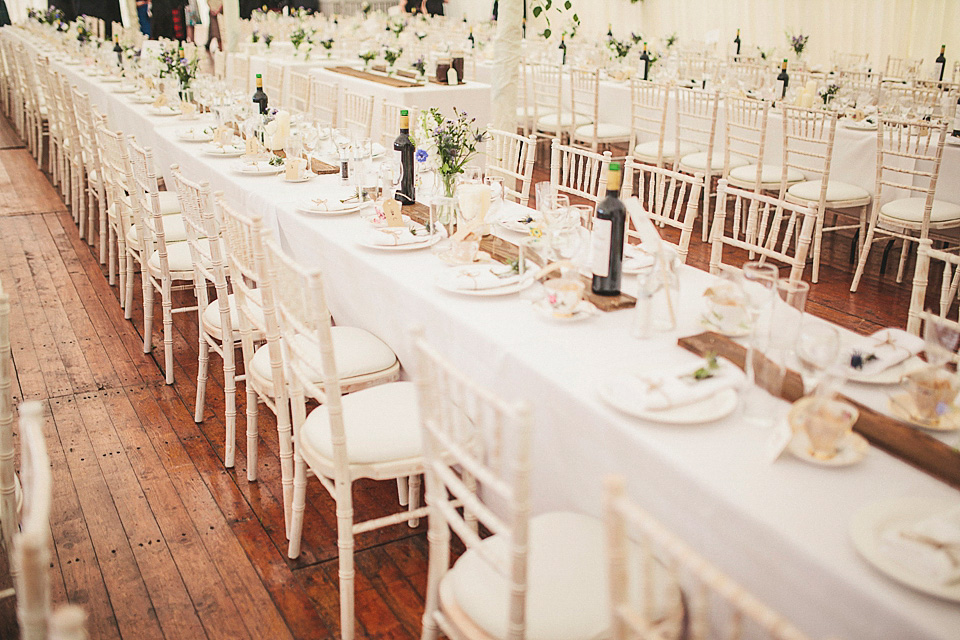 "We put up fairy lights around the edges of the marquee which looked lovely when it got dark. I love flowers and Emerald Forest decorated all the tables with jam jars filled with blues, greens and whites and filled my two vintage birdcages with beautiful arrangements. On the countryside/farm theme we had two milk churns at the entrance to the marquee filled with flowers too.
My Mum's best friend made some delicious tablet for the favours and we put them in little bags tied with string and a luggage tag with the guests names on."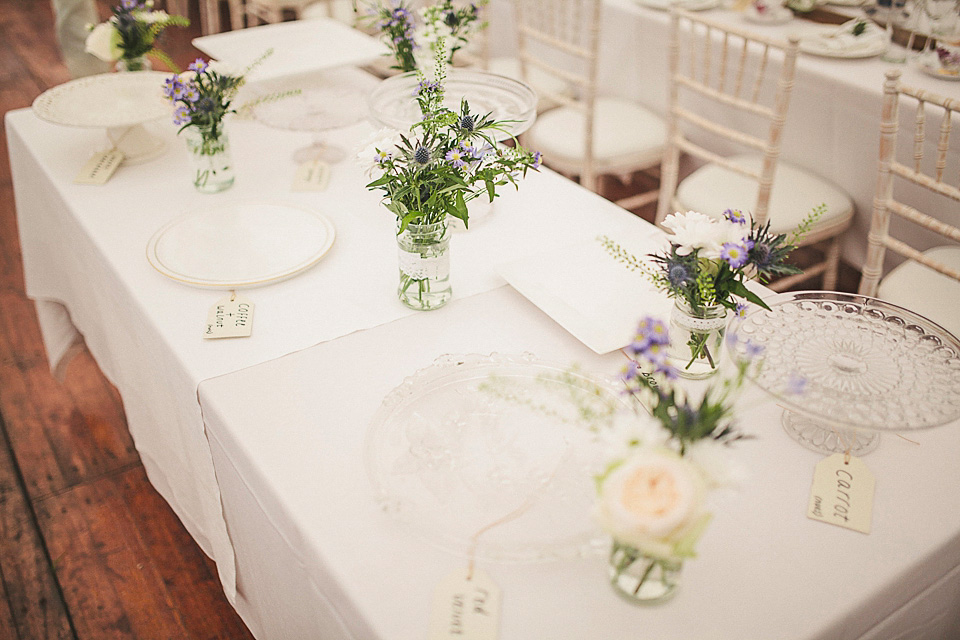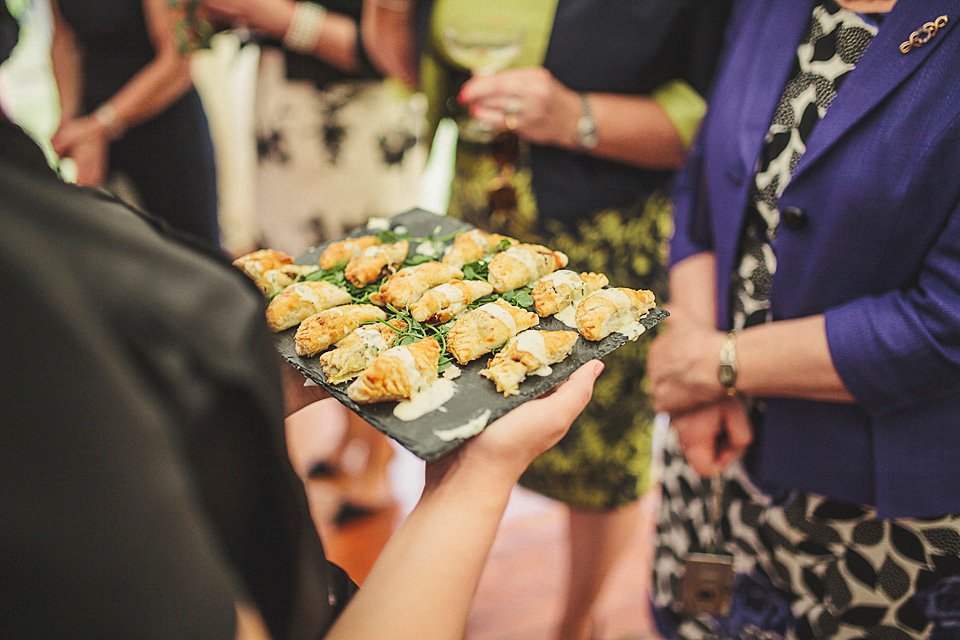 "We were so impressed with the catering provided by Curly Farmer! Kate was fantastic form day one making sure we got exactly what we wanted. One of Jamie's farmer friends supplied all of the beef and Kate made a delicious braised shin of beef with roasted new potatoes and spring greens. It was delicious. She also did an amazing range of canapés including beef wellington, mini Yorkshire puddings with beef and minted pea bruschetta. The service was fantastic too and everything seemed to go without a hitch.""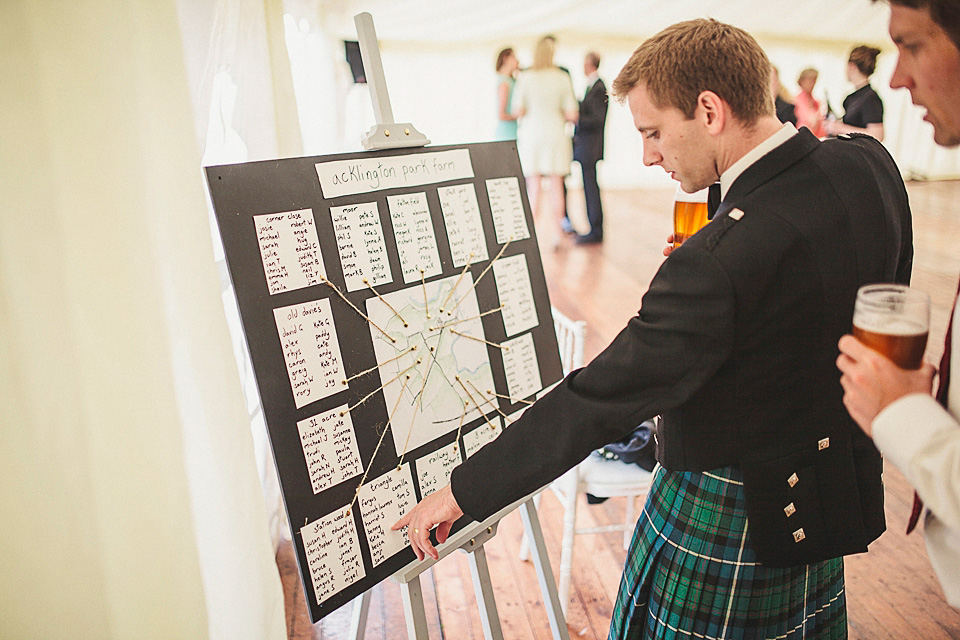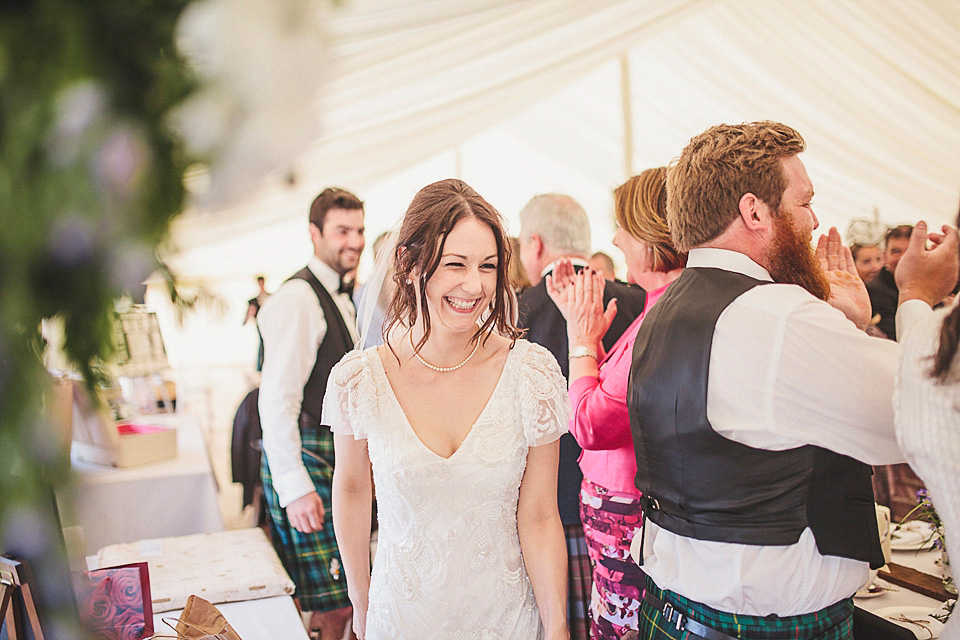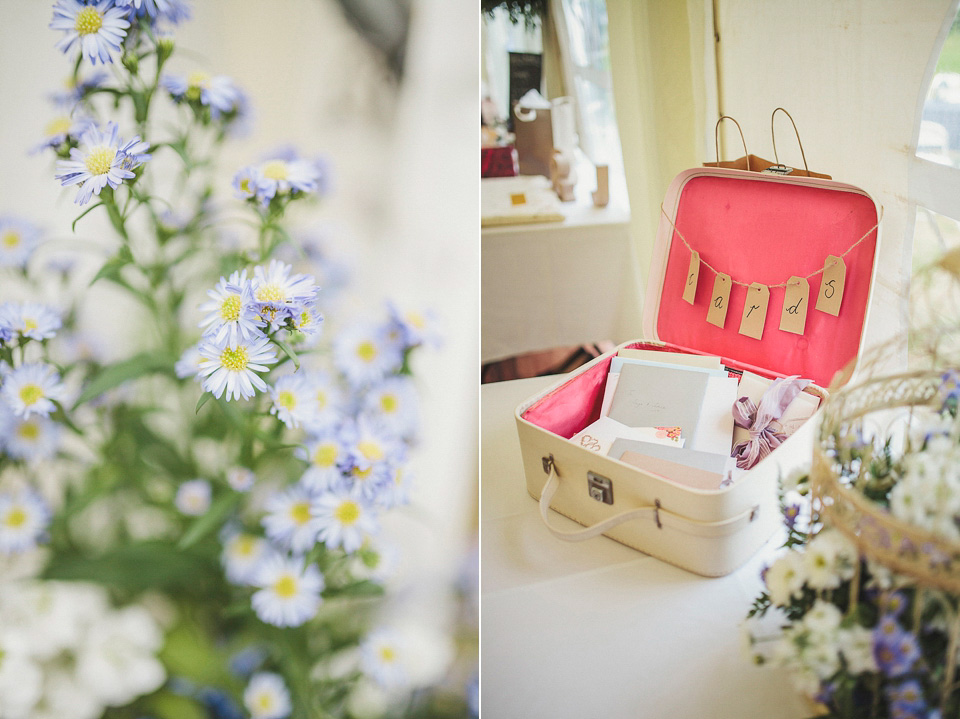 "Edinburgh Sounds were our band and played a mixture of ceilidh and non-ceilidh songs. They got everyone dancing and the ceilidh songs seemed to be the most popular.
We didn't have a first dance as such but a first Ceilidh dance which was the Gay Gordon's. Jamie and I both come from Scottish roots and love a good Ceilidh so we chose to have this as our first dance. It was a lot of fun and got everyone on the dance floor very quickly."
"I think overall, our favourite moment of the day was having all of our favourite people in the same place at the same time; many of them who had never met. It was amazing to look round the room and see everyone smiling. It was such a happy day
Words of Wedded Wisdom…
"Make sure you take some time to really think about what you want. Once you start planning you will be faced with so many ideas and options so it helps if you have an idea of what you are looking for. Friends and family members will suggest so many wonderful things which is brilliant but don't be afraid to say no and stick with what you were thinking. Most of all make the most of the planning as well as the day itself. It takes a lot to plan a wedding so it's important you enjoy it.
I think everyone will say this (everyone said it to me before) but I would have taken more time to step back and see what was going on. On the day we were so immersed in it that it all went so quickly. If we could do it all again we'd definitely take some time-out together."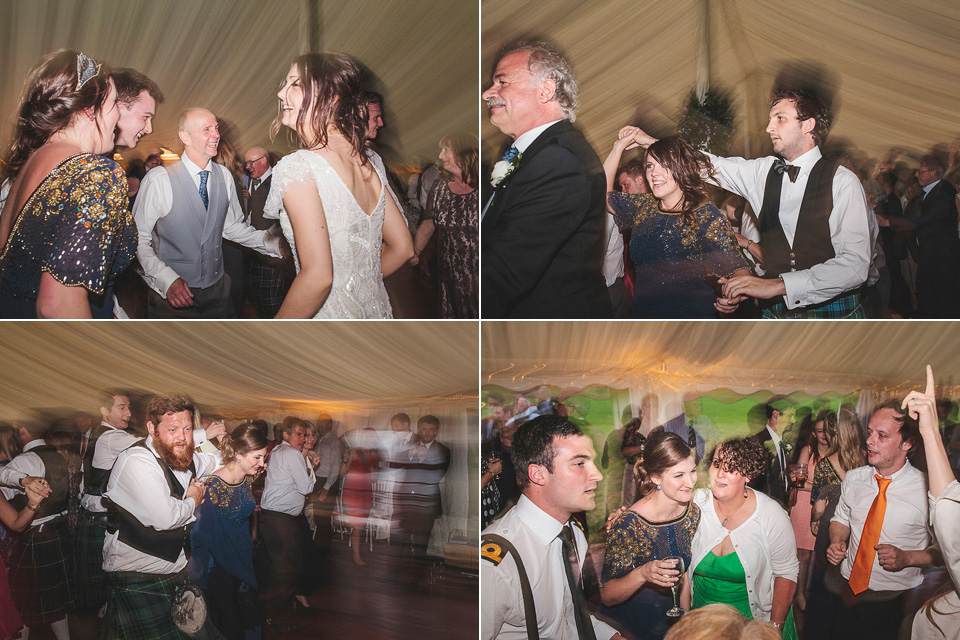 What a lovely day – I adore Suzi's smile! It really lights up these lovely photographs from Matt Ethan.
I'd love to hear from any other bride's who are considering wearing a gown by Eliza Jane Howell or marrying in the beautiful part of the country that is Northumberland.
Have a very lovely morning all,
Love Annabel xx
Photographer – Matt Ethan
Venue – the bride's parents farm in Acklington, Northumberland
Dress – Eliza Jane Howell via Kathryn Trueman in Morpeth
Veil – Kathryn Trueman
Shoes – gold sparkly shoes from Karen Millen
Groom – kilt
Bridesmaids – ASOS
Page Boys – eBay
Florist – Emerald Forest + Bluebells 
Cake – DIY (family + friends)
Rings – Asquith's of London
Catering Company – Kate Truby at Curly Farmer
Stationery – Strawberry Sorbet
Hair Stylist – Gallery 108 in Gosforth
Make up – Kate at K Beautique
Entertainment – Edinburgh Sounds