I really hope that you have had chance to read our #ShareTheHonestLove feature of this morning, and if not, please can I encourage you to take just a few moments to read it before, or after watching this beautiful film – it's so very important.
The feature this morning was written by my friend Laura Caudery of the award winning Surrey wedding venue, Fetcham Park, who are today celebrating 3 years since their official launch and opening.  And I really want to shout about that today .  The way that Laura manages this exceptional wedding venue is hugely inspiring to me.  For me personally, Fetcham Park, represents the very best when it comes to  the client experience and customer service.  Don't expect any over inflated corkage fees here – that's not the way Laura does things, and it clashes wildly with Laura's concept of a 'wedding venue with a heart'.  Instead, think of a wedding venue with soul, personality and a genuine commitment to creating a beautiful experience for everyone who choose to marry there.  It's the reason why Kieran and Vinita chose to tie the knot there on 16th August this year.
The film I'm about to share captures the magic of this wedding – it is a simply breathtaking record of life-affirming, heart-warming day full of love, hope and happiness – the most important elements of a wedding that Laura and I are trying to emphasise in this post.  Sit back for the next few minutes and enjoy…
"There is no getting away from the fact that your wedding will be one of the most expensive events of your life. For many couples, this means certain 'unnecessary expenses' will have to be forgone. Kieran and I had both always thought photography would be a huge part of our day. We spent a great deal of time finding our perfect photographer and, in Jackson & Co Photography, we found just that. I was always keen on having a film maker capture our day too. No matter how 'in the moment' we planned on being I knew there would be certain parts of the day we would miss. As beautiful as we hoped our photos would be, and they really are beautiful, I wanted the beauty of our day to be captured through film. Kieran had never really thought about having a film maker. He had actually put this on his list of 'unnecessary expenses'."
Film Production Copyright (c) 2014, Allora Visuals
"This all changed when the wonderful Laura Caudery at Fetcham Park turned our attention to Niki and Ben at Allora Visuals. Laura had seen previous examples of Allora's work and she was confident they would be the perfect film makers for us. Of course, as with every piece of advice Laura imparted, she was right! Kieran and I immediately set about viewing as many of Allora's videos as we could and we were instantly in awe of their style. We arranged to meet with Niki one spring evening over coffee and cake. From the very moment we met him we were taken with his calm and warm personality. We felt so comfortable in is presence and had a feeling he was going to create something very special for us.
On our wedding day Niki's personality was reflected through his work. From the intimate getting ready moments, to our cherished ceremony, the speeches, our first dance and right into the evening, Niki, along with his colleague, Ben, were unassuming and unobtrusive as they set about capturing every single detail. We barely felt their presence all day and as soon as we left for our honeymoon we couldn't wait to see our wedding video trailer."
Photography Copyright (c) 2014, Jackson & Co Photography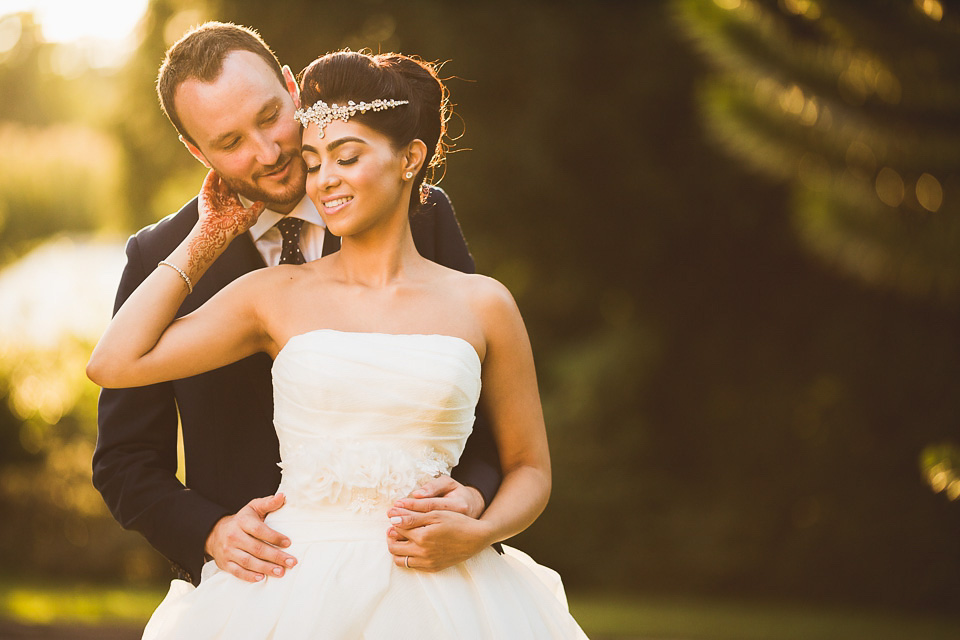 "Our trailer arrived in my Inbox one Sunday evening nearly three weeks ago now. The second we clicked to view we were blown away by how incredible it was. As soon as I heard my dad's voice I started crying. I continued to laugh and cry throughout the entire film. I couldn't believe my eyes when I saw myself standing on Fetcham's staircase just before I walked down; I had no idea there was a camera on me. I adored seeing Kieran's reaction when he first saw me. I adored hearing the voices of my dad and Kieran during their speeches."
"I loved seeing the happiness of our beautiful bridesmaids and mums whilst we were getting ready and hearing their excitement. I loved seeing the happiness and laughter from all of our guests and seeing them dance into the night. I also loved hearing us being announced as 'Mr and Mrs Brand' just before we walked outside to our petal toss. Each of these moments is priceless.
Our trailer truly captures the essence of our day; the love, the happiness, the joy and the laughter.
"We have watched it countless times since receiving it and still feel the same waves of emotion we first felt because it takes us right back to our moment. Niki and Ben have an extraordinary talent. The emotion we felt on our day is indescribable. But, the way in which they have captured our day, against the beauty and character of Fetcham Park, is beyond beautiful. We cannot wait to see our film in full!"
Just wonderful.  I hope you have adored watching this beautiful and uplifting film produced by Allora Visuals today, and that you have also enjoyed seeing some of the photographs from the couple's real wedding feature that we shared last month.
Ladies and gentleman, if you would like to learn more about Fetcham Park and the possibility of hosting your own wedding in this wonderful wedding venue, please visit fetchampark.co.uk.
My love and thanks to Vinita and Kieran for once again sharing their beautiful wedding with Love My Dress®.
Love Annabel xx