Are any of you braving the January cold to hunt for your wedding dress at the moment? If so, you absolutely must read this brilliant feature on 'finding the one'. Love My Dress has featured many high street wedding dresses over the years (this recent ASOS gown was one of my favourites) and today's Phase Eight number, worn by beautiful Becky, is no exception.
Dan proposed to Becky in front of a frozen waterfall in the 'Golden Circle' in Iceland, and they were married eighteen months later on 2nd August 2014 at Asylum, Caroline Gardens Chapel in London. The couple bucked the soft pastels trend with a bold 'hint of neon' colour scheme.  The result is a completely relaxed, fun and colourful day, with lots of big smiles and laughter.
"We were really keen to keep the wedding as simple as possible, and to have as little fuss and pomp as it just didn't suit us. The only real theme was a hint of neon running through; neon stitching on the ring cushion that my mum made, neon ribbons on the jam jars of flowers, neon ribbon binding my bouquet and almost neon finger nails."
Photography Copyright (c) 2015, Sara Dalrymple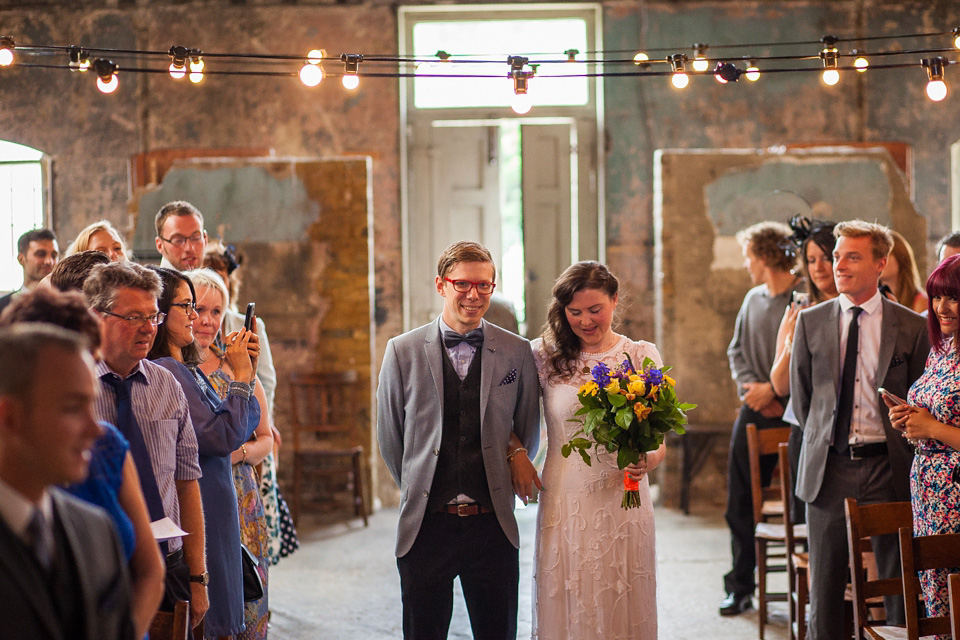 I am completely bowled over by this unique venue in the heart of Peckham (and five minutes from my flat!) – an early 19th century chapel in a complex of almshouses, gutted during the Second World War save for its beautiful stained glass windows.
"After a lot of Googling, we came across Asylum at Caroline Gardens Chapel, went to visit it and were absolutely stunned. It was such a hidden gem and we booked it straight away."
Becky's Phase Eight gown is utterly charming – and a steal at just £200 in the sale!
"I did my degree in Art and Textiles and so had originally planned to make my own dress with the help of my mum, but due to time constraints had to buy one. I found a dress in Phase Eight that was very close to what I was planning on making so I was happy to have that instead. I loved that it had a vintage feel to it, that it was simple and mainly because it was made of cotton and had buttons at the back. It was a little big and a little too long, but my mum was able to take it in and lift it at the shoulders so you would never have known."
The dress was complemented with orange coral suede shoes from Clarks, and a special necklace.
"I wore my Grandmothers locket that contained a very old photo of my Grandpa. My mum had lent it to me for the day, it worked so well with the dress and it was very special to have a reminder of my grandparents with me on my wedding day."
I adore Becky's bright and cheerful bouquet.
"I knew I wanted yellow roses and delphiniums but left the rest to the florist, 'The Rose Corner' in Ladywell. I wanted yellow roses as they symbolise joy and friendship and my mum then wrapped the stems in my favourite fluorescent orange ribbon."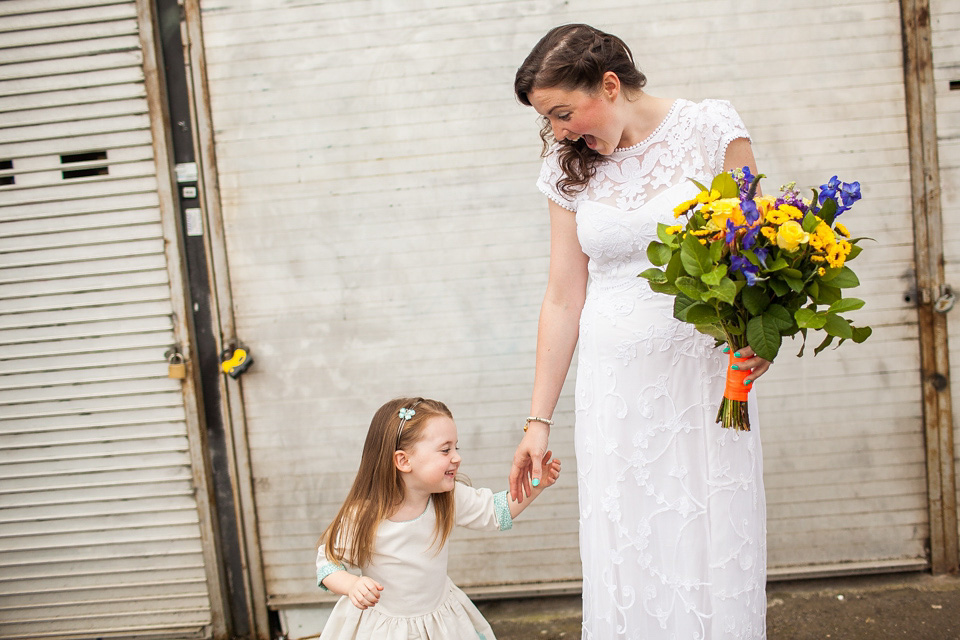 These gorgeous, relaxed images by Sara Dalrymple are so full of personality.
"Our photographer Sara Dalrymple was absolutely amazing and I think it was meant to be. We felt at ease as soon as we met her, she did exactly the kind of natural photos we wanted and all our guests said how lovely she was. She really captured our day perfectly and we would recommend her in a heartbeat."
Becky opted not to have any bridesmaids, but had her two eldest nieces as flower girls. They wore adorable London-print dresses and contrasting tutus from Poppy, paired with turquoise leather pumps by Mini Boden. Very cute!
Becky managed to remain calm when things didn't go to plan with her hair. She's a better woman than I!
"My hair appointment was unbelievably cancelled and so I had to do my own hair, but luckily I'm pretty easy about these things and I actually preferred how it ended up to what I was going to have done at the hairdressers."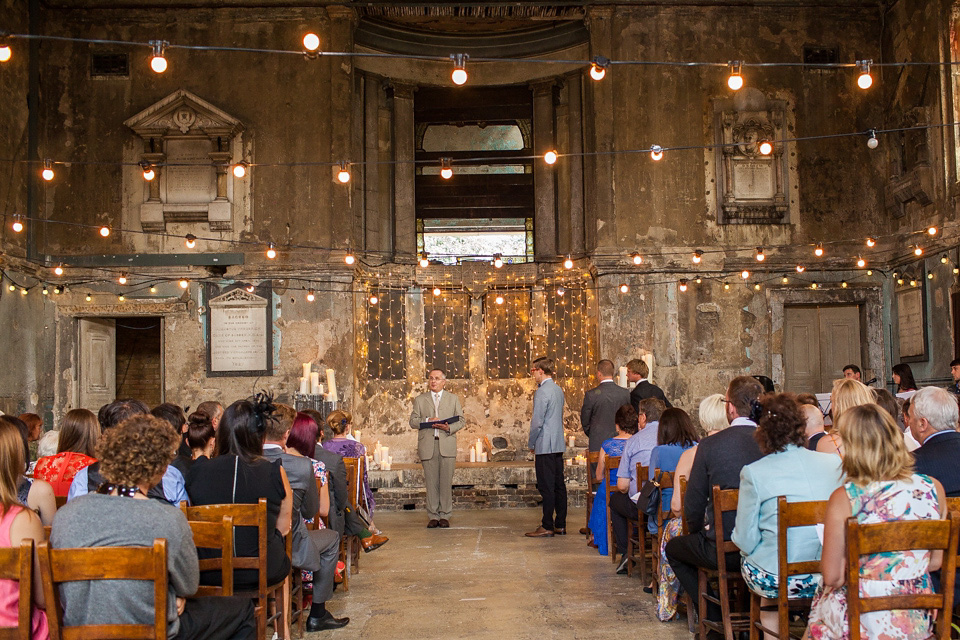 Becky walked down the aisle to a slow version of George Harrison's 'I've got my mind set on you', which was also the couple's first dance.
"My mum walked me half way down the aisle, then Dan came up and met us and we walked the rest of the way together and my mum walked down with the flower girls.  The oldest then gave the ring cushion to one of the best men."
The service was conducted by Becky's uncle and was very personal to the couple.
"It was really important for Becky to have a Christian ceremony, and we both wanted it to be personal. So my Uncle who is a minister did the ceremony and the leaders of the church I grew up in and who are close friends also spoke. It was perfect."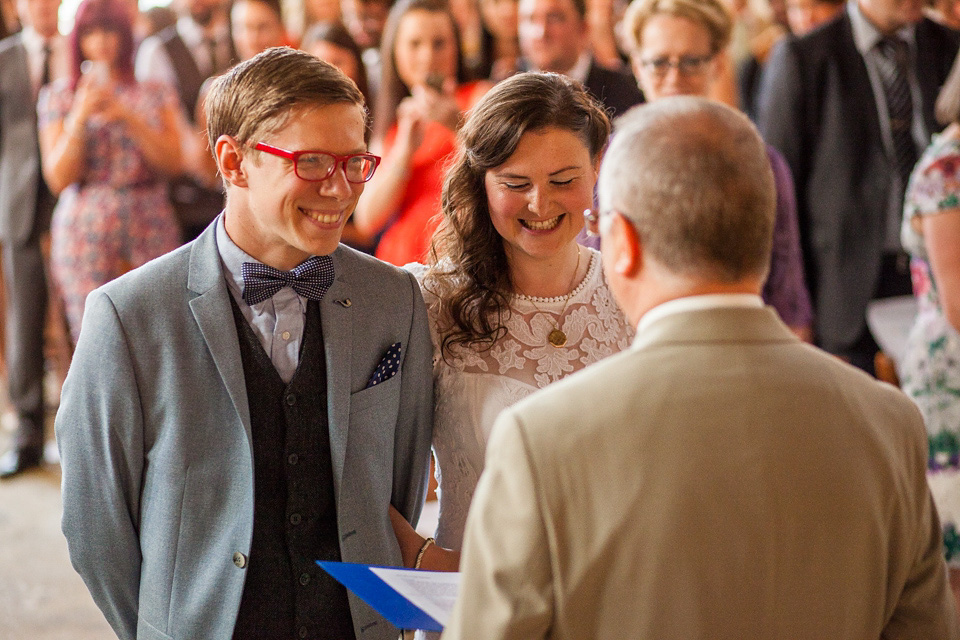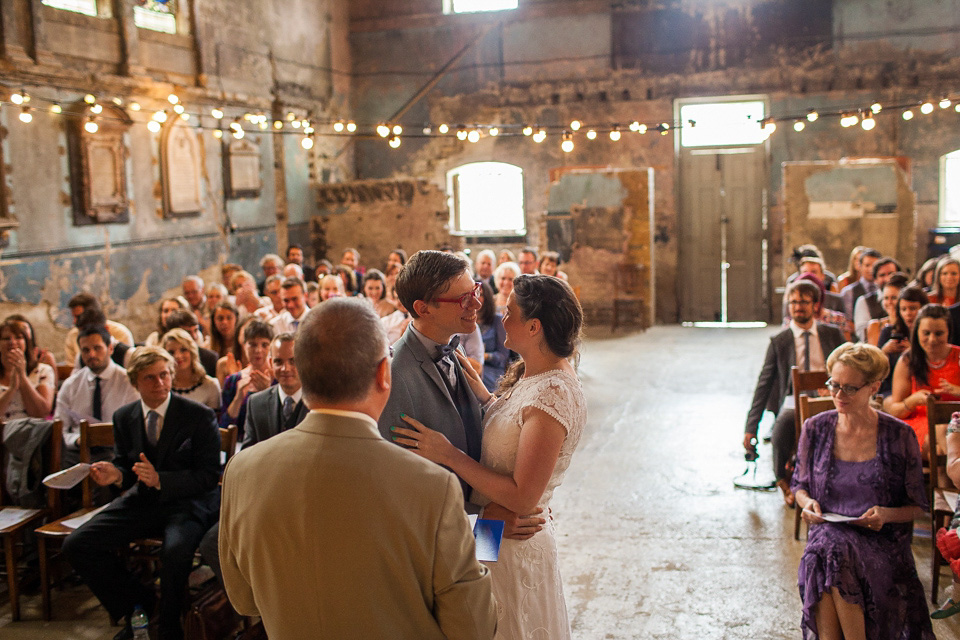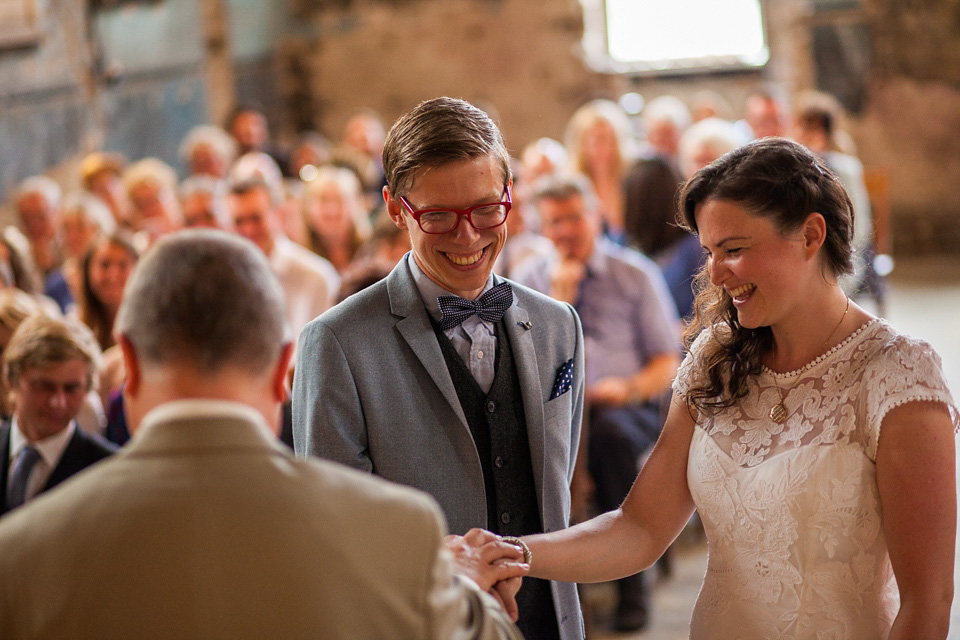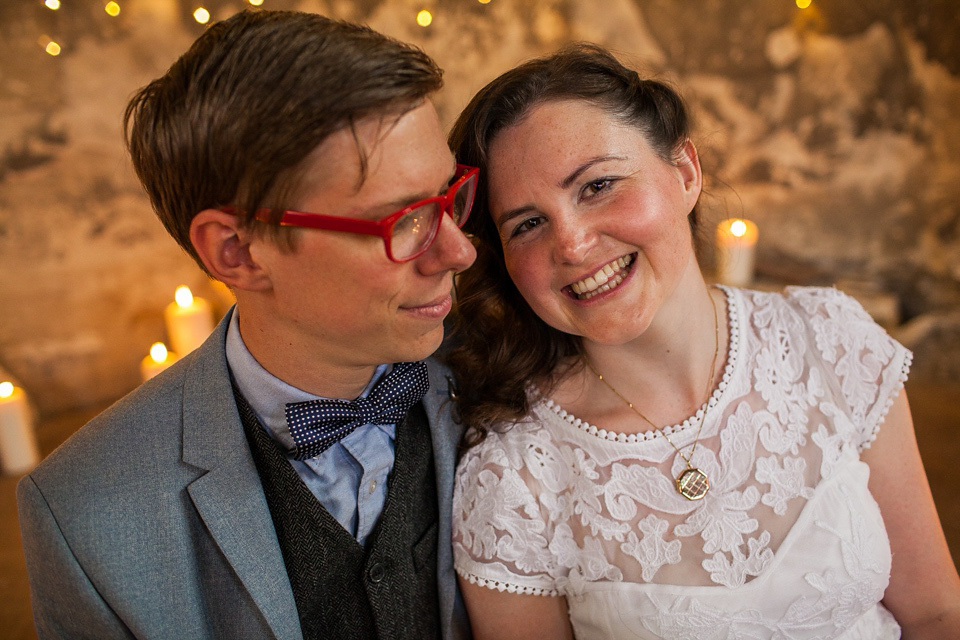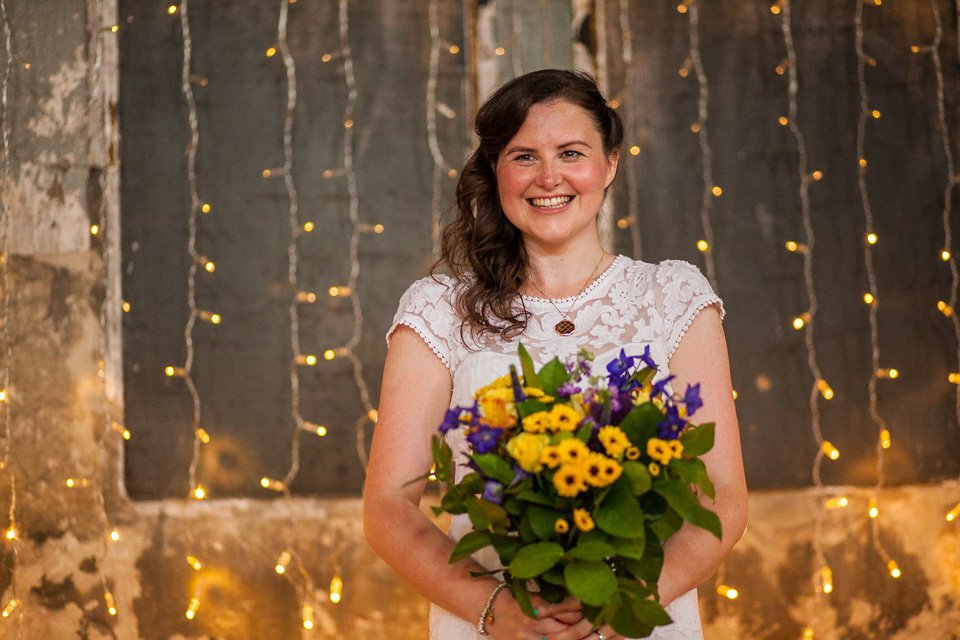 This wedding had the most delicious-looking dessert table I have ever seen!
"We opted for a table full of cake, with friends and family making and bringing them to the wedding. They all looked amazing, the cake we chose to cut was a rainbow cake made by my sister as one of the little girls at the wedding was particularly keen to see the inside of this one!"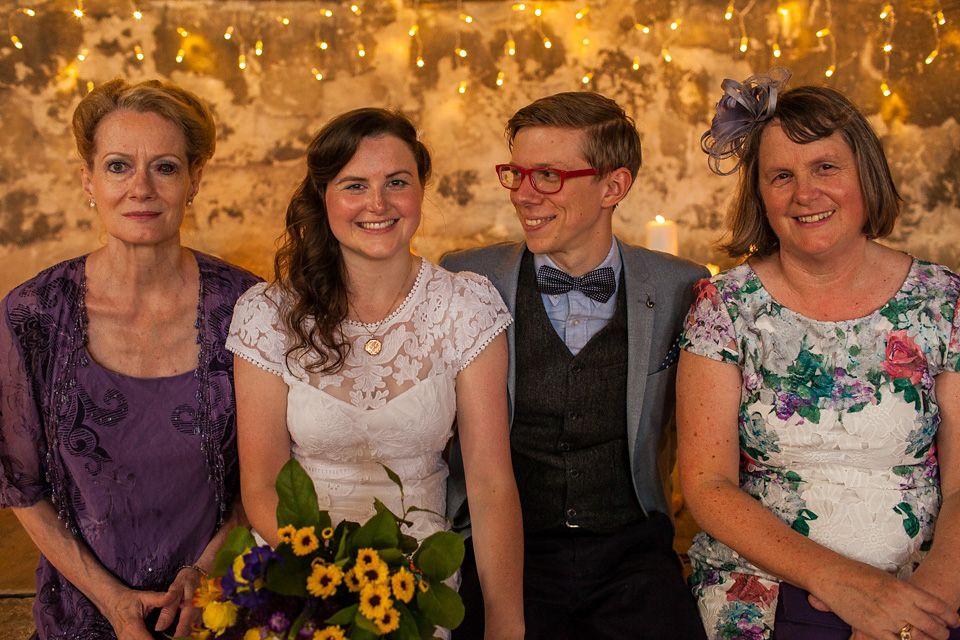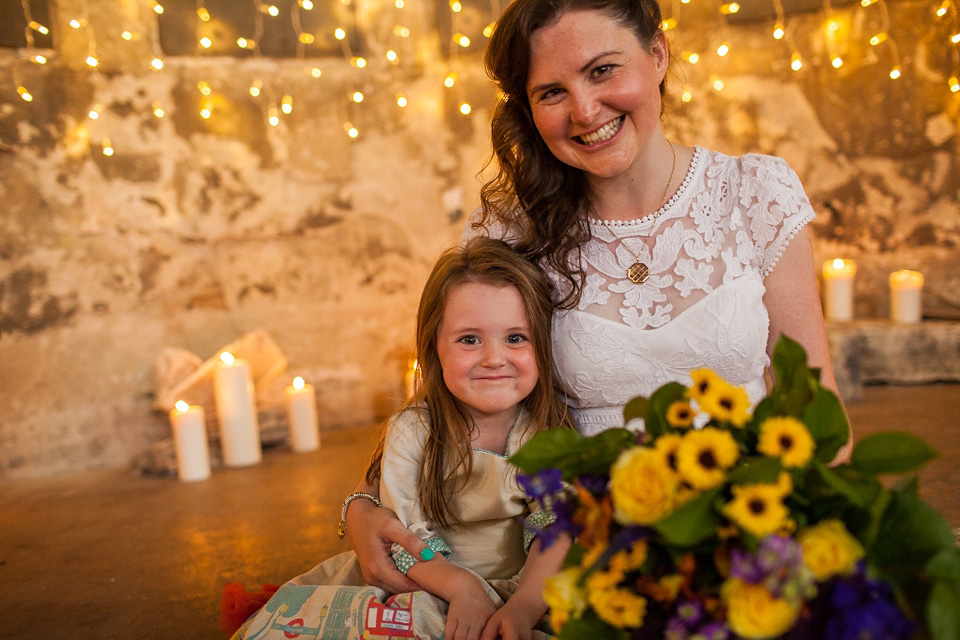 "We decided not to have a sit down meal and so hired 'Dodsons Fresh Catch' .The fish and chips where delicious and everyone raved about them during and after the wedding. The service was excellent and their communication was second to none in the run up to the wedding. We would definitely recommend them."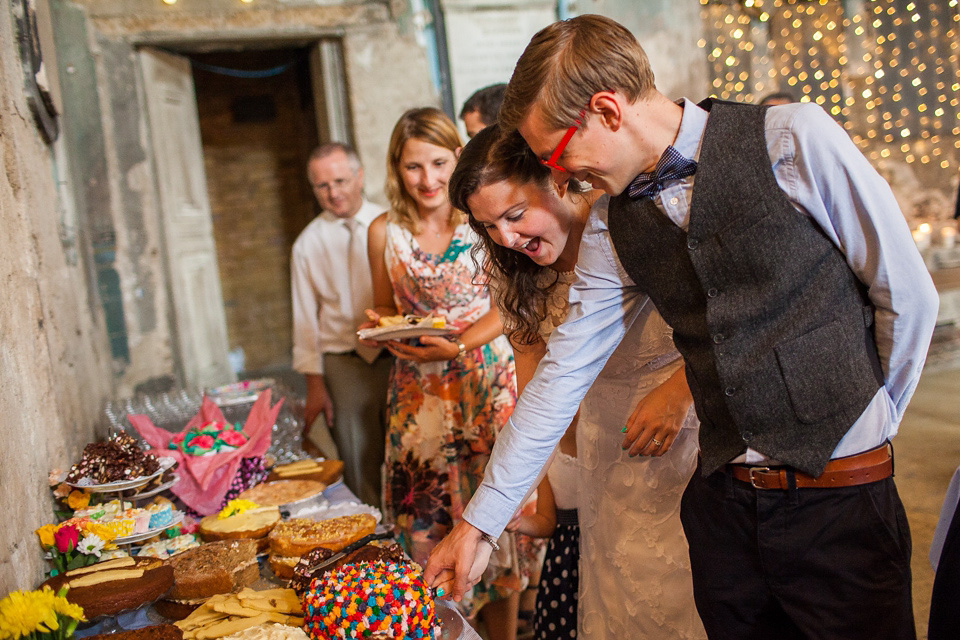 Dan, who Becky describes as 'not really a matching suit kind of guy', is a very stylish groom. The groom's party had polka dot ties and matching waistcoats from ASOS.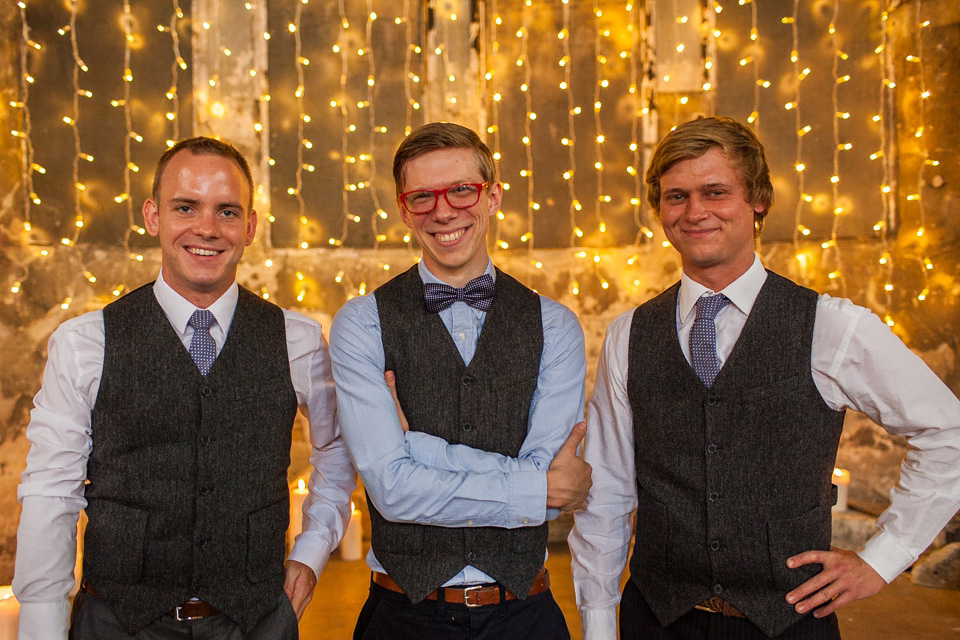 "The whole day was amazing, it was so personal and exactly what we wanted. The speeches were brilliant, originally I wanted to avoid speeches altogether, but Dan convinced me that he and the best men should say something. Also on the day my mum said a few words. They were all just the right length and a perfect mix of funny and sentimental."
The couple say they would not have done anything differently: "I don't see the point in thinking what could have been. It was just as it should have been and we couldn't have been happier" (aww!).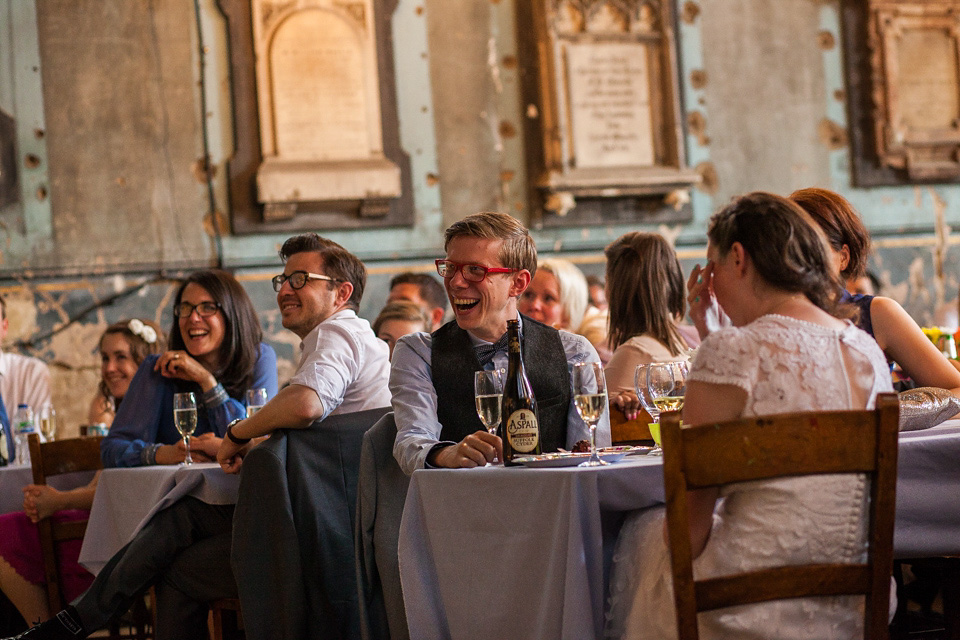 Words of Wedded Wisdom
"Don't get hung up on small details, on the day those things don't matter. As long as you get married and the people you love are there to witness that then everything else will fall into place. Feed and water people well and don't have lots of standing around."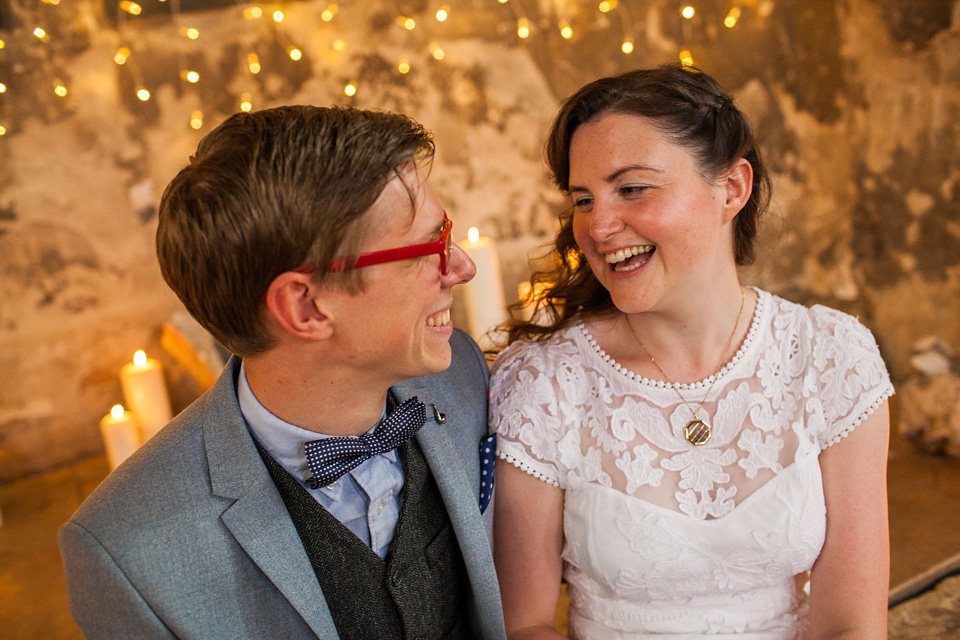 What a genuinely warm and joyful day! Thank you Becky and Dan for sharing your wedding with us and to photographer Sara Dalrymple for the wonderfully warm and joy-filled images. You can see more beautiful Phase Eight brides here.
Love Louisa xx
Photographer – Sara Dalrymple
Venue + Planner – Asylum, Caroline Gardens Chapel
Wedding Dress – Phase Eight
Shoes – Clarks
Groom – River Island jacket + suit + ASOS waiscot + Ebay bow tie/pocket square + Next chinos + Shoon brogues
Flowergirls – Poppy dresses and Mini Boden shoes
Florist – The Rose Corner, Ladywell (no website)
Entertainment – Jim Carey
Transport – Addison Lee
Rings – E Katz & Co
Catering – Dodsons Fresh Catch
Décor – fairy lights and festoon lighting from IA Sound and Light