Good afternoon Love My Dress folk!  I love a lazy Sunday on the sofa, with a mug of hot elderflower cordial and the smell of toast drifting through the house.  But there's already much excitement at Love My Dress H.Q. this afternoon, after a flurry of applications have arrived already for our new team of Lovettes – our  much loved community of blogging brides! If you are marrying after 1st June this year and fancy sharing your wedding planning experience on Love My Dress, head this way to find out more!
This afternoon I have a real treat for you, with a wildflower-strewn gem of a wedding, guaranteed to inspire.  Why not take a few moments to sit down with a cup of something warm on this chilly January day and whisk yourself back to last summer and a beautiful garden space in Northumberland.  Lianne and Patrick married on the 9th of August 2014 at the exquisite and airy Hexham Winter Gardens; a venue which I really wish I had known about when I got married!  I absolutely adore the way they filled the rooms with natural blooms and the enormous amount of input their talented friends and family had into their big day.  Also, the flowery arch under which they exchanged their vows is just to die for, and is a perfect example of the thought, time and effort this lovely pair put into incorporating personal items which meant something to them, into their wedding day.
The beautiful images in this feature today are courtesy of Sarah Jane Ethan, photographer whose lovely work often graces our pages.
"Having done up our house together, we were already aware that our mutual tastes were anything natural, rustic, traditional and with a history.  As we planned to have a summer wedding a wildflower theme quickly emerged and developed. All the main features of the wedding (such as the transport, the venue, the food, the suits and dresses etc) happened to reflect our traditional tastes without us thinking about it too much – it all just fell into place by following our gut and choosing things because we liked them individually."
Photography Copyright (c) 2015, Sarah Jane Ethan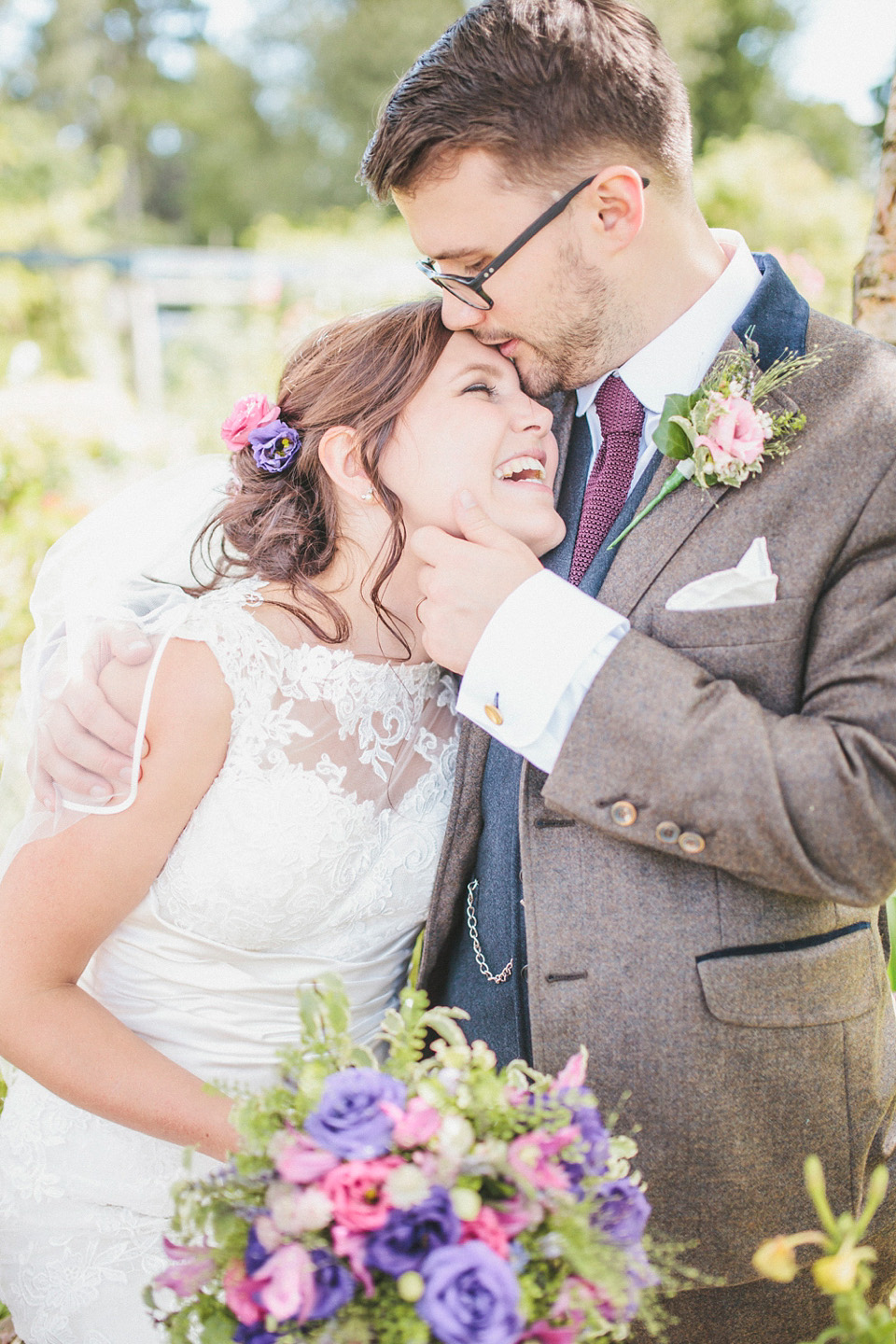 "When prioritising what we wanted most from our day having all our friends and family present quickly became a priority. As we also did not want to start our married life in debt or spend an absurd amount of money, we set out in search of a large venue that was beautiful, easily made our own as well as economical. We were so excited when we came across the winter gardens. It was all these things and more. The light that flooded in through the Victorian glass house was glorious and the sense of space due to the high ceilings felt liberating. The venue complemented and further developed our wild flower and classical themes, which had been growing organically from our initial ideas.
The glass walls meant that the outside and nature were easily brought into the room, hence making the task of creating an impacting setting more achievable and again more economical."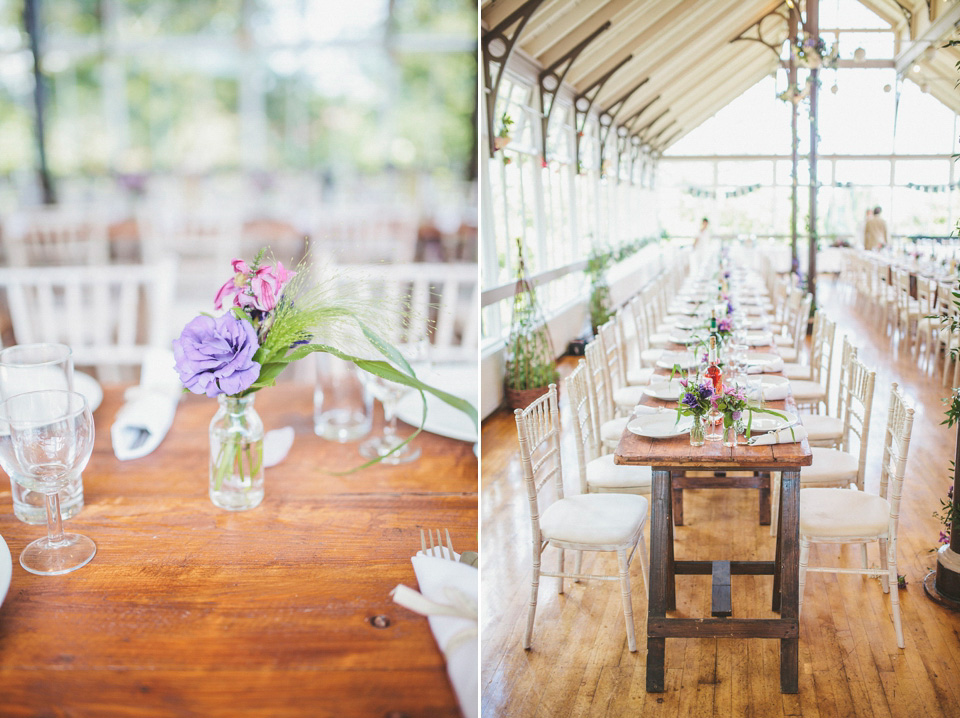 Thoughtful and interesting detail is just everywhere in this wedding and all created by the talented couple and their equally talented willing friends and family.  Chinese lanterns hung from the ceiling in the hall, lawn games and signposts in the gardens surrounding the conservatory, rustic trestle tables, a photo booth and some gorgeous bunting made by Lianne herself, which hung at the top end of the conservatory behind the top table and read 'Eat, drink and be married'!
The utterly stunning handmade driftwood arch, using wood from the river Tyne was the creation of Patrick's Dad, Steven, and I absolutely adore it, for the meaning behind it as much as its ethereal beauty.  And of course, it was utilised throughout the day!
"This was used to stand under during the ceremony and was then moved onto the stage in the hall to be used as a backdrop to have photos taken under as part of the photo booth."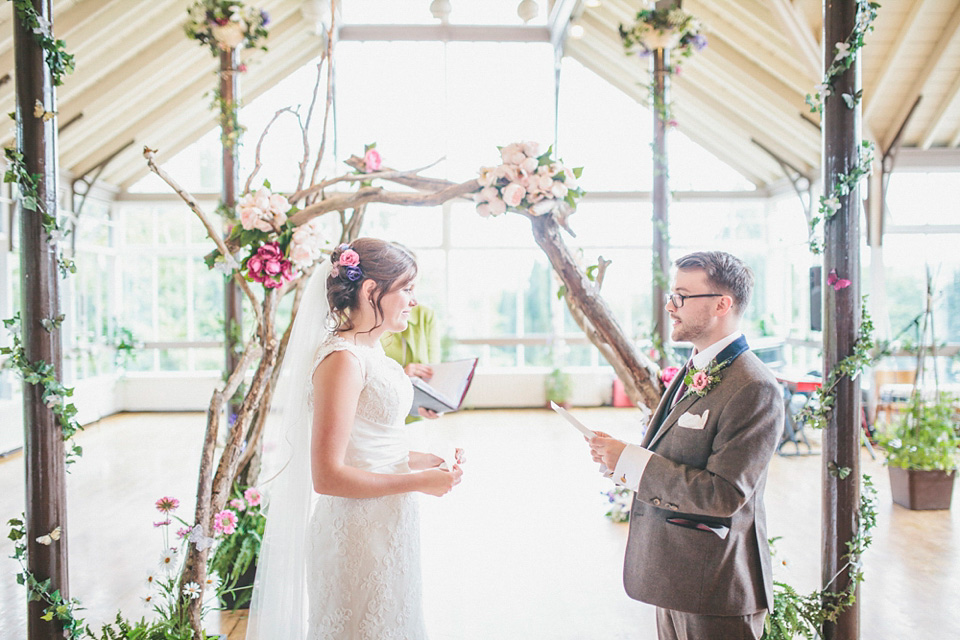 As mentioned, the whole day was documented by Sarah Jane Ethan Photography, who specialises in photography using natural light, and is based in both the North East and South East of England- so very flexible!
"Sarah was the perfect person to document our day. Her personality and talent is truly awe inspiring. She has a calming presence, is friendly, warm and relaxed.  She dressed as a guest so she blended in and quietly went about capturing everything from the finer details, to family portraits, special moments as well as those candid moments that really portray the feelings of being there and all will forever be invaluable to us in helping to relive the magic of our special day.
We were overwhelmed by the quality and the artistic nature of the images.   The package in which we received the photos was a treat in itself, containing various handmade elements that really demonstrate how much Sarah Jane cares about everything she does"
Patrick's proposal was extremely romantic and the location (overlooking the gardens of Pfanner), pre-empted the wildflower outdoorsy theme of the wedding day.
"We had been a couple for two years when we went on holiday with Patrick's family to Tuscany. We were on a day trip to Lucca, which Patrick knew was the home of my great-great-great granddad Luigi Arnetti. He was the subject of many of my Grandma's more romantic stories when I was little and I was always excited to hear them. After a day of exploring this beautiful historic city of family significance and some delicious Italian bait, Patrick proposed on the city walls overlooking the enchanting gardens of Pfanner.
We were engaged for just over one year when we got married."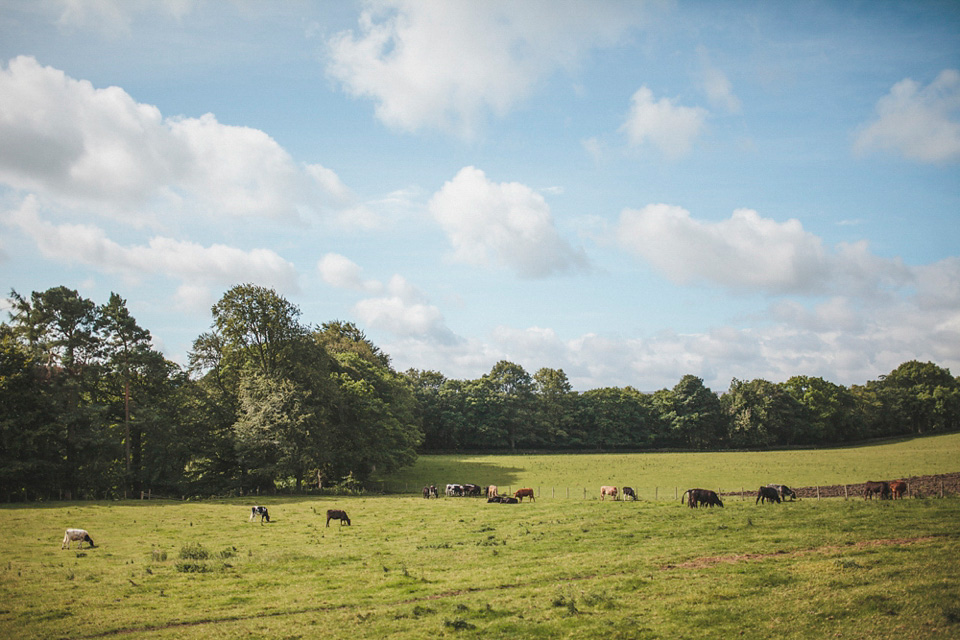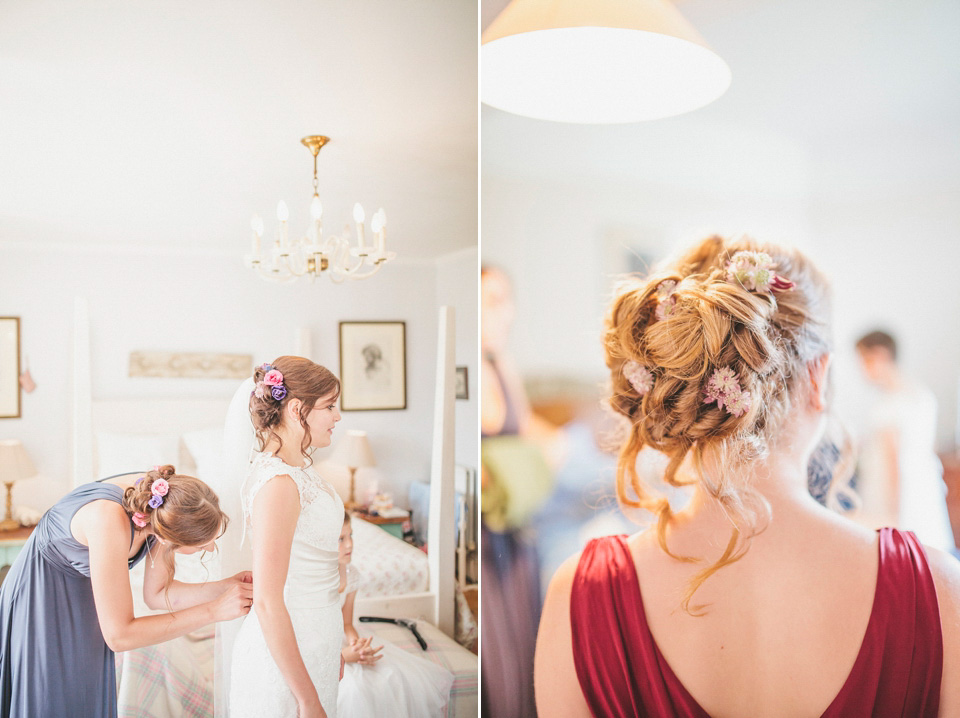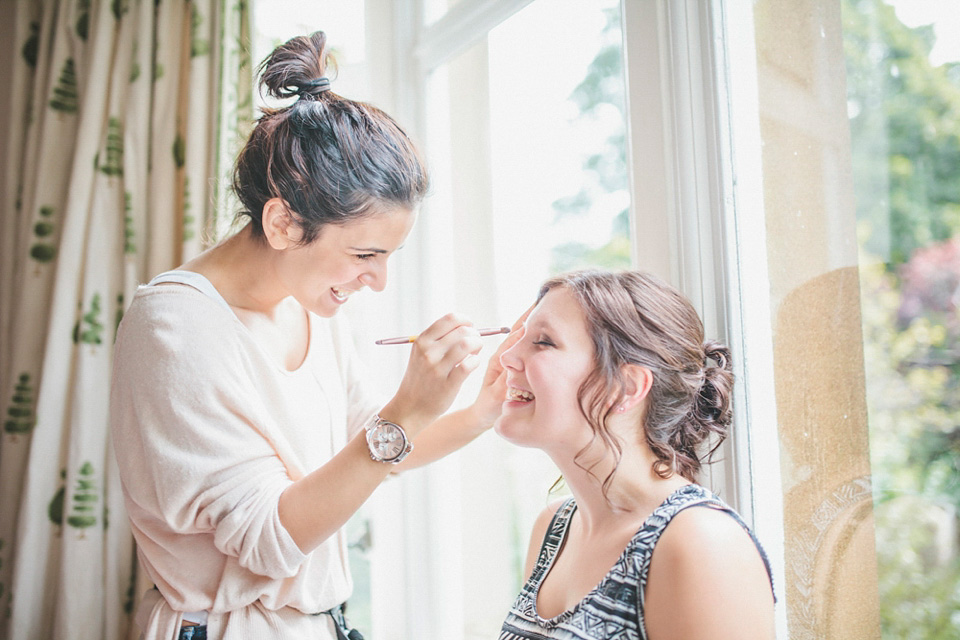 Lianne's elegant Justin Alexander frock was a purchase from local stockist Rosina Brown and shows off her slim figure beautifully, with a hint of fishtail and a rush of train at the back- fabulous!
"First of all, I have an obsession with lace. The dress was always going to be a lacy affair. I felt this one this particular flattered my body shape, with features such as the satin band below the bust and the subtle fish tail. It also complimented my personality and the traditional/wildflower themes that had been developing."
I absolutely adore the delicacy of the lace and the intricate detail- as did Lianne!
"I loved the details in the lace, such as the polka dots and the flowers.  It felt romantic, fun and made me feel beautiful"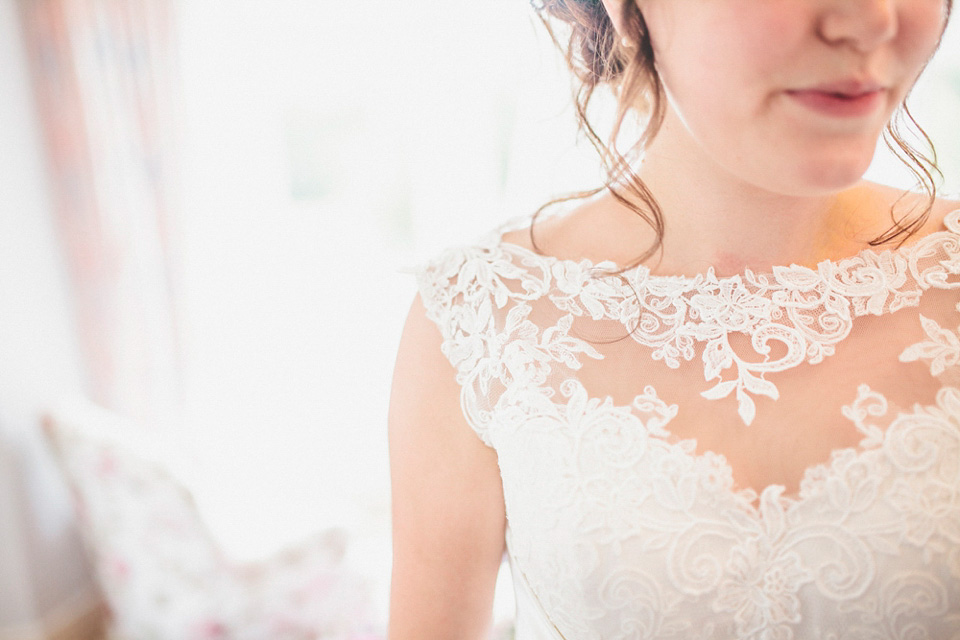 A long veil worn far back on her hair completed the elegant look, and the flowers and a butterfly clip also echoed the wildflower garden theme.  So beautiful- it makes me think of flower fairies, only more grown up and sophisticated!  Finally, Lianne accessorised with very personal items of jewellery- a pair of diamond studs, a gift from her Godmother on her 18th birthday, and a pair of pearl earrings, which were borrowed from her Mum and inherited form a special relative.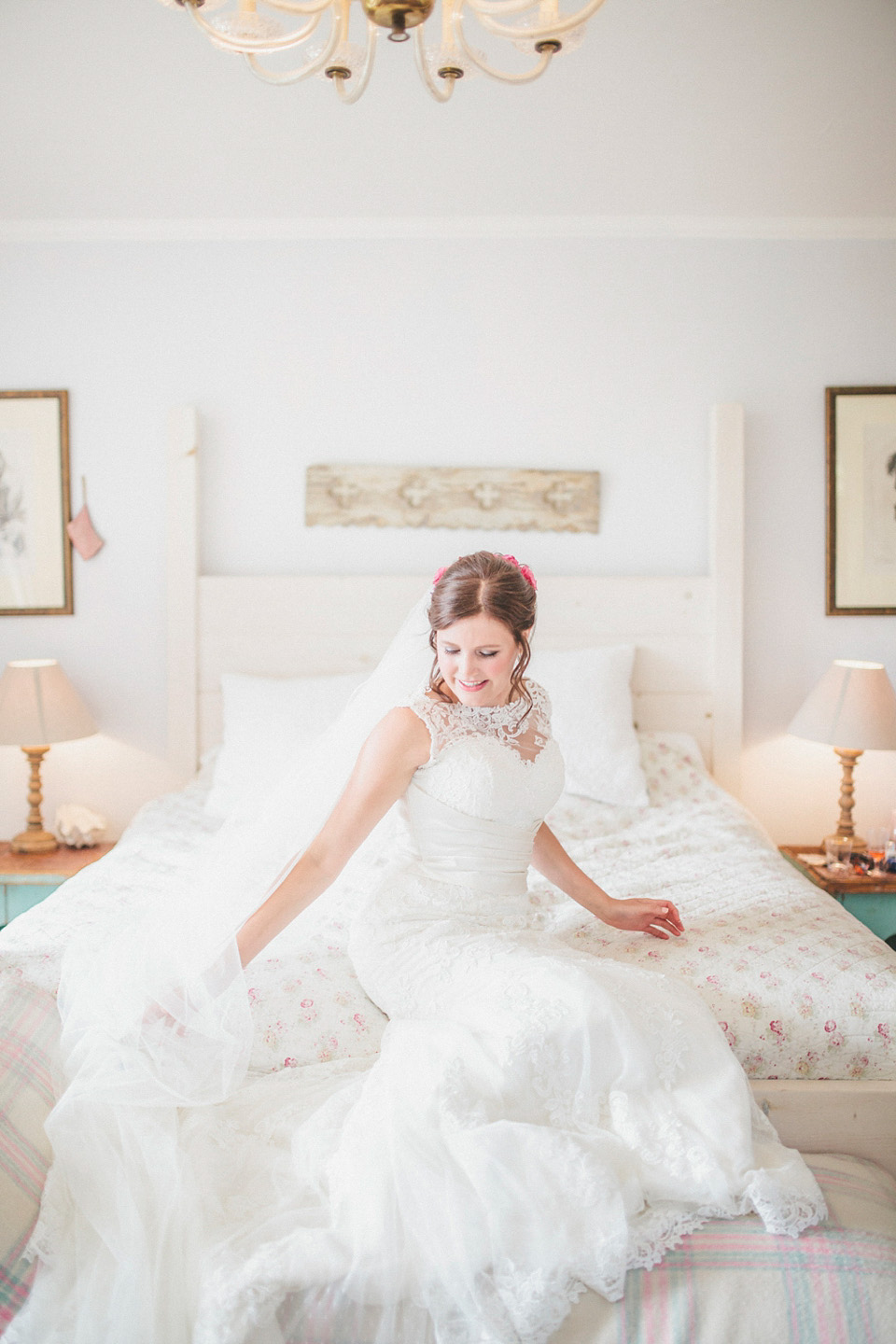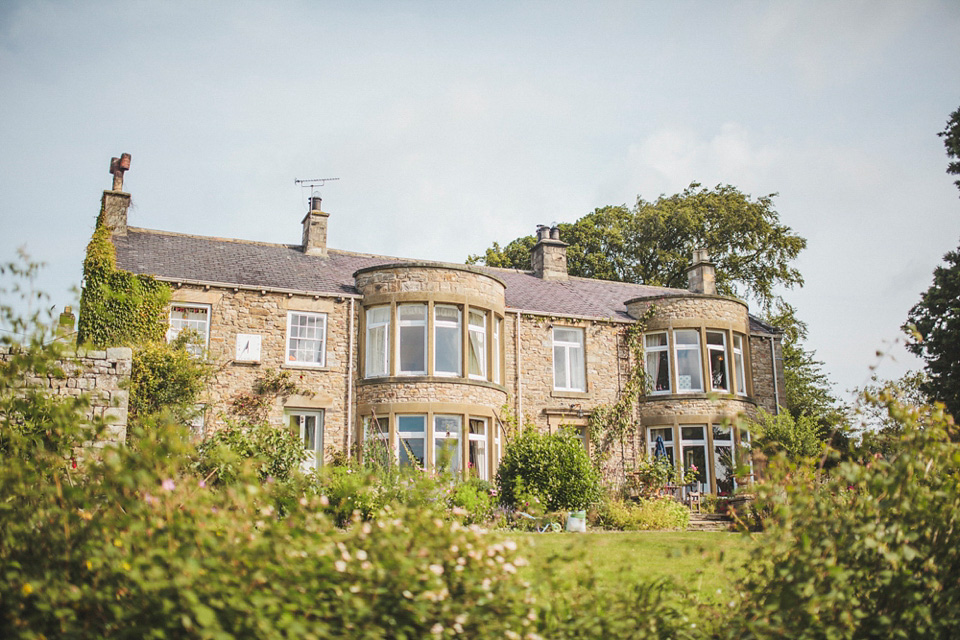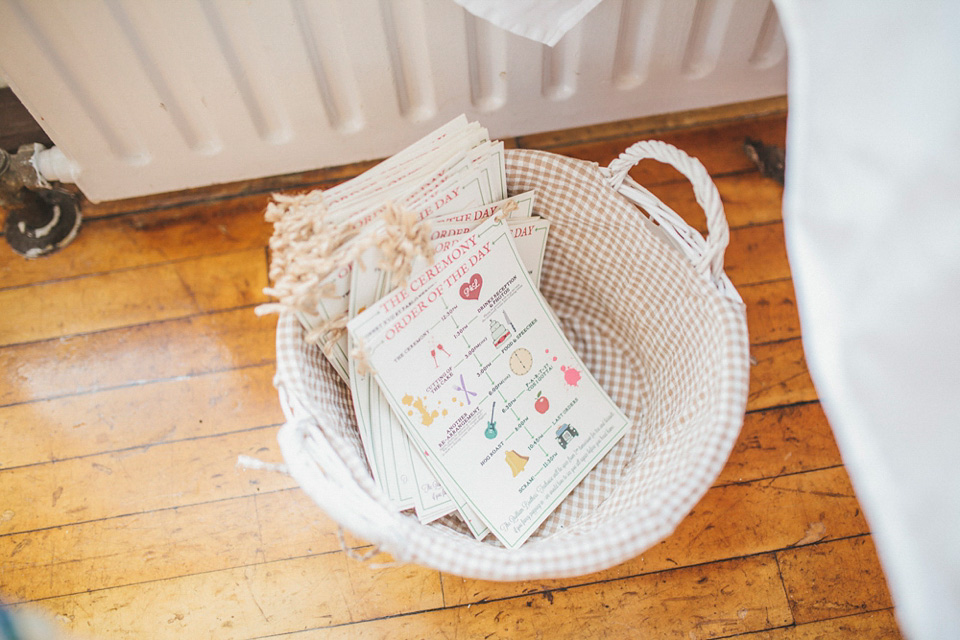 Being a big believer in supporting local businesses and community, I absolutely love that as well as being a truly stunning venue, weddings at the Winter Gardens pay back to the community too…
"On speaking to the wedding coordinator at the Winter Gardens we learned that the money raised through facilitating weddings during the year is used to fund an additional member of staff for the high school in order to reduce the number of pupils in a class and improve learning. We really respected their initiative and dedication to this cause."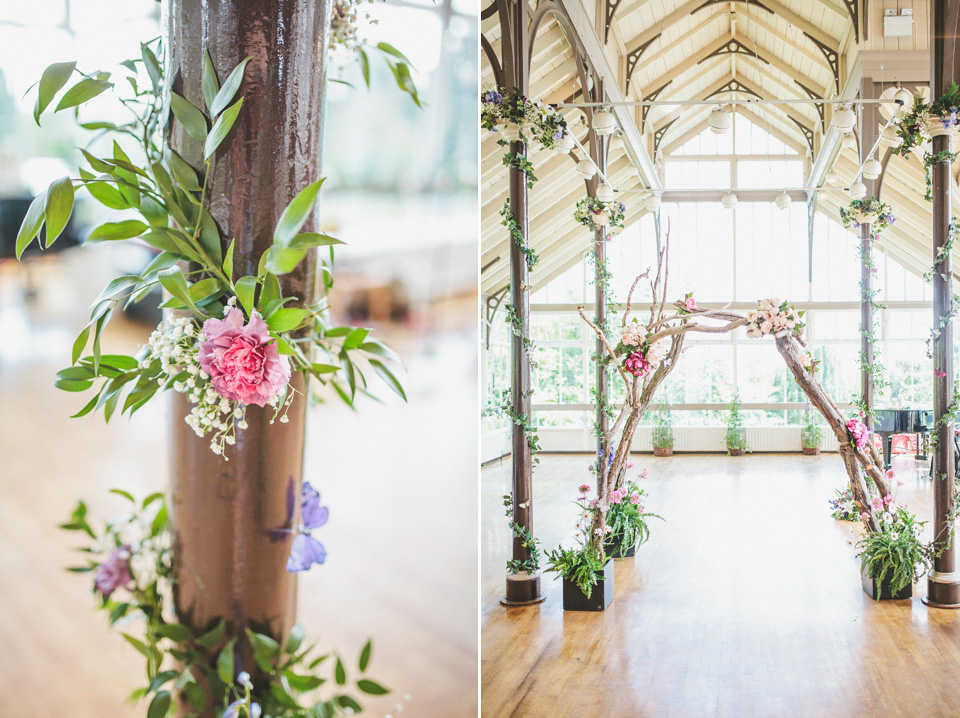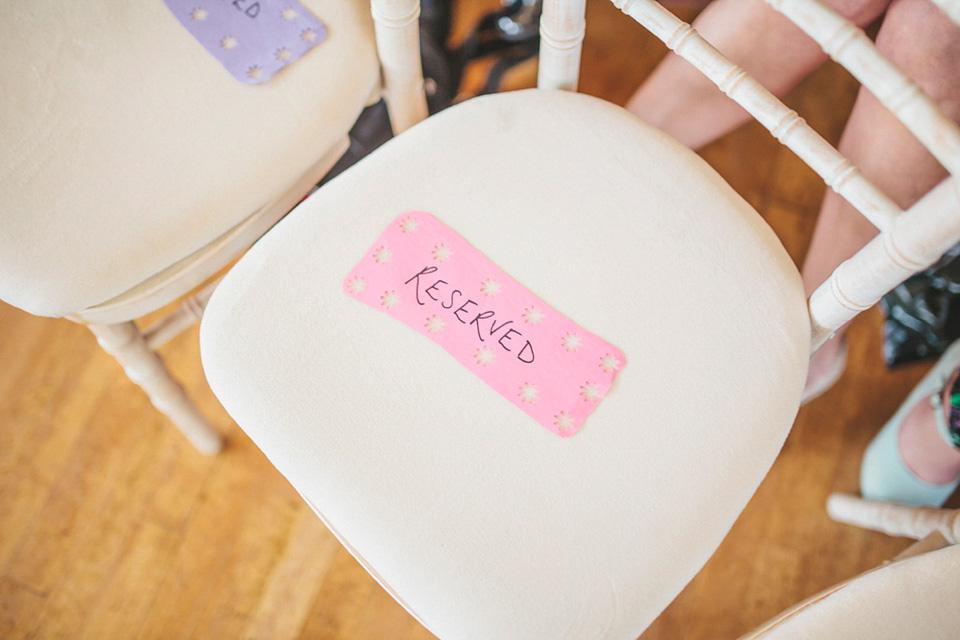 Florist Marion Stobo at Stobo Florist in nearby Wylam, played an essential part in realising Lianne and Patrick's vision of a summer garden, full of colour, and what a wonderful job she did.
"We described to Marion how we wanted our wedding to feel and explained the wild flower, traditional, rustic themes. We said we wanted the flowers to look natural and almost as if we could have just picked them from a hedgerow. We wanted the room to be full of colour. She said she understood, showed us a few examples of flowers she thought would be appropriate and we loved them.  After that we trusted her and it was in her hands. We were not disappointed!
Wicker garden baskets with canes were used to grow bundles of sweet peas. (Grown by Patricks Dad). Many of these lined the sides of the conservatory and were easily moved to transform other areas as the day progressed.  Various types of decorative butterflies, fake birds and a mixture of fake ivy/flowers and real flowers were used to decorate the conservatory hall and outside space"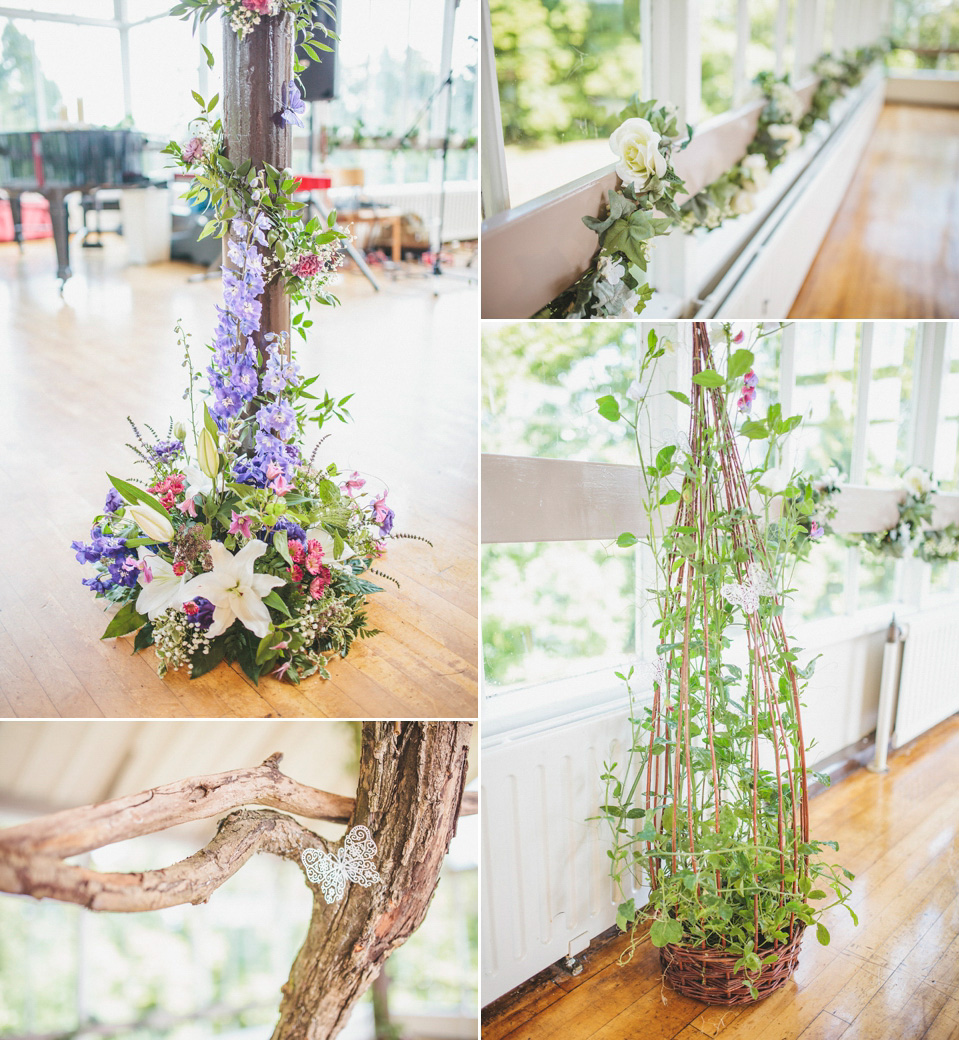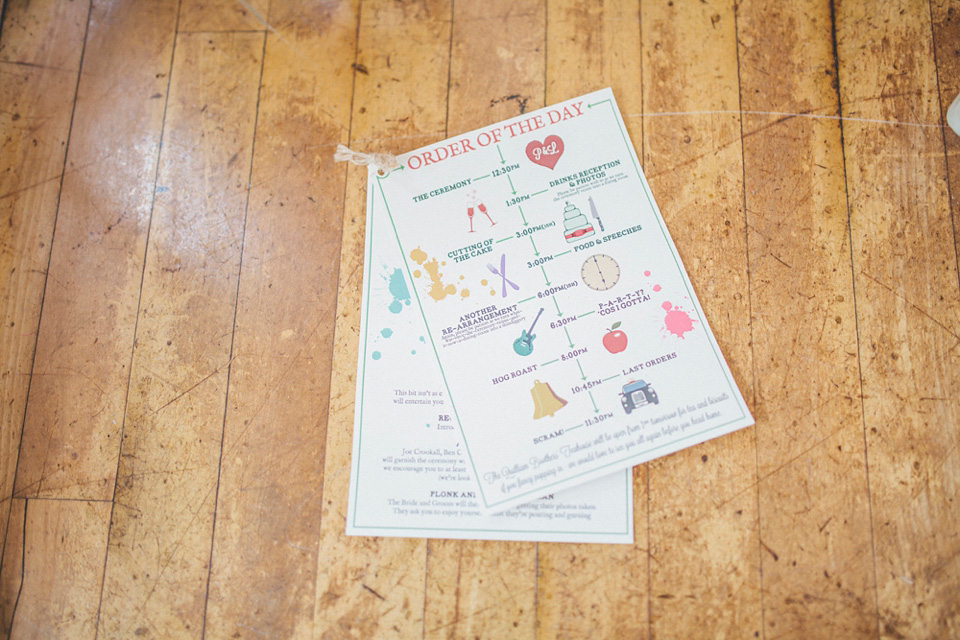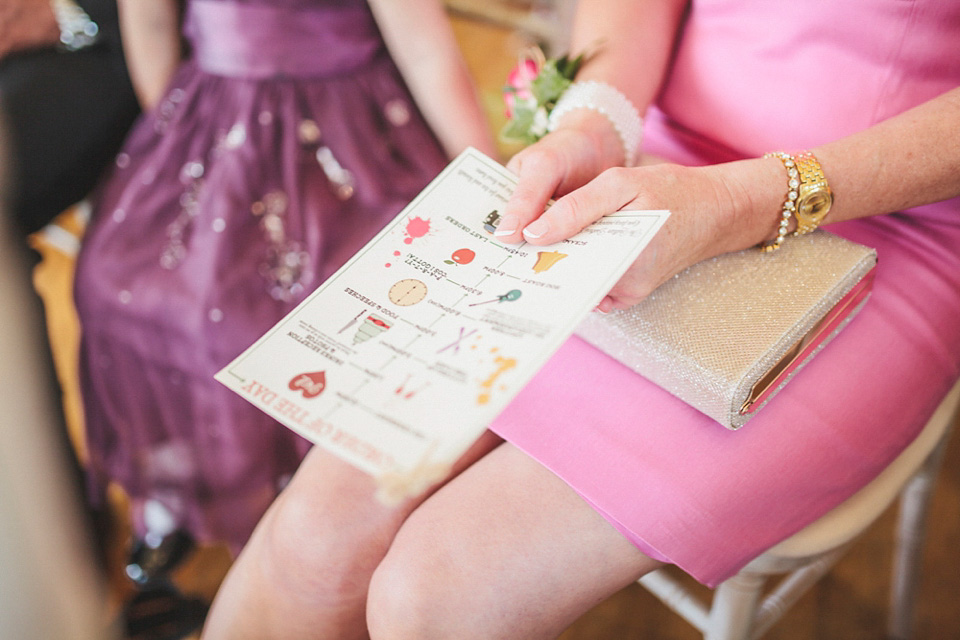 Lianne was given away by her Mum and they walked down the aisle to a hauntingly beautiful local tune; a traditional North East song called 'Waters of Tyne'.
"The music was arranged by Patrick's sister Katrina and sung by two of our bridesmaids, one being Katrina and the other Katty, the mutual friend that we first met through. The music was played by Patrick's cousin, Joe, on the guitar and a friend, Matthew Lamb on the soprano Saxophone."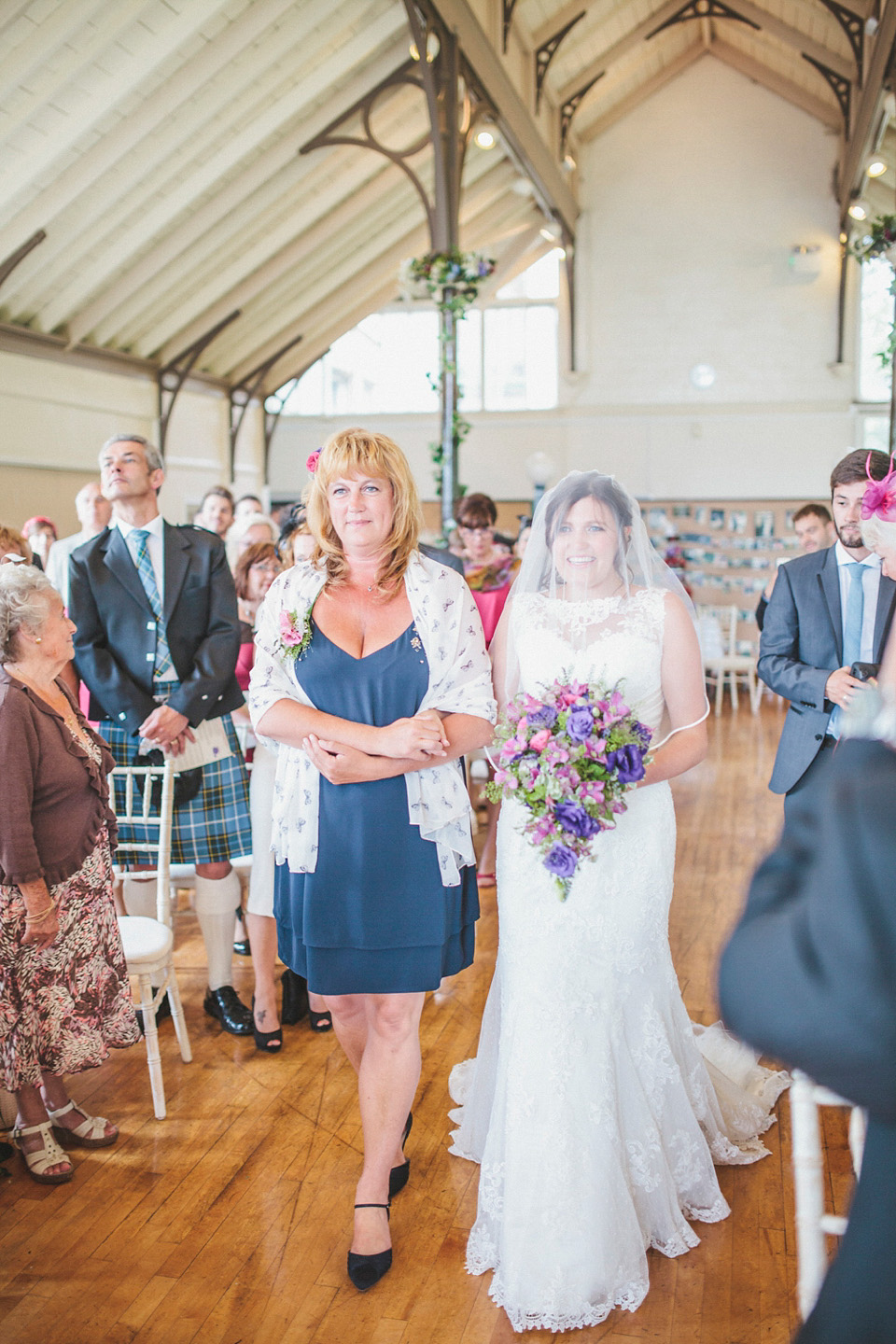 The couple wrote their own vows, which is so lovely if you have a way with words, which these two really do!  Lianne's vows were as follows:
"On the subject of love, Bruce Lee said this:
'Love is like a friendship caught on fire. In the beginning a flame, very pretty, often hot and fierce, but still only light and flickering.  As love grows older, our hearts mature and our love becomes as coals, deep-burning and unquenchable.'
Since finding each other I have felt the most safe, happy and whole than ever before. In our bubble, I know that I am the best person I can be.  I promise that for the rest of my life I will endeavour whole-heartedly to return this feeling to you.  I will try to be strong, moral, seek truth and always take the right path no matter how difficult it may seem.  I will never take you for granted and I will never give up on us.  In fact, I will be resilient, defiant, determined and scrappy in making our short time on this beautiful patch of land, in the universe, as happy and hilarious as possible.
Patrick, you are my best friend. It is such an honour to make these promises to you. I love you, and always will like a lump of coal."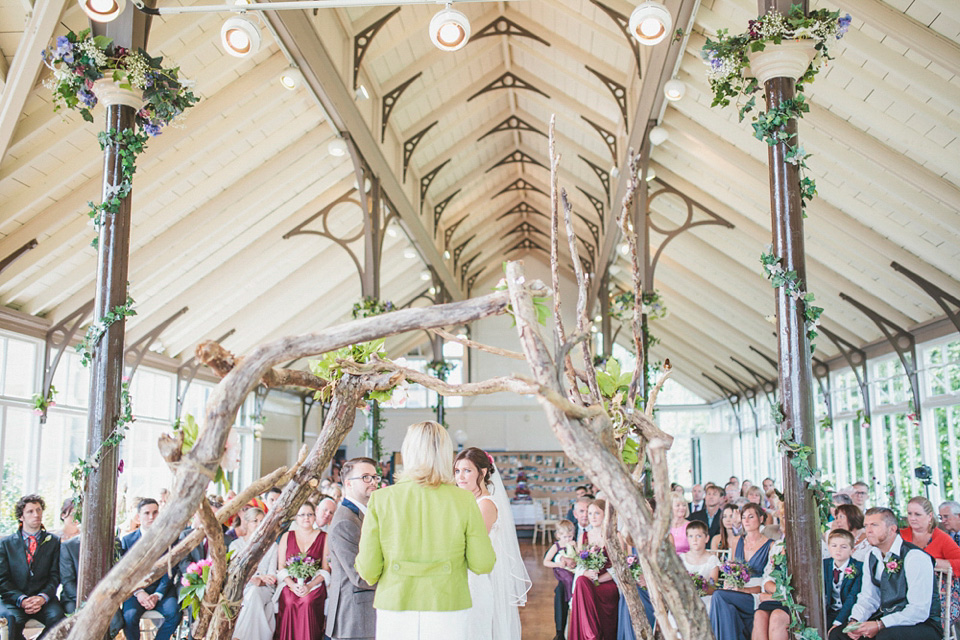 Patricks were:
"A lot of people say a wedding signifies two people becoming one.  However, I agree with Gregory Maguire when he said: "One plus one doesn't equal a single unit of two. One plus one equals both". I see a wedding as the announcement of a team that are going to strike out into the wilderness and strive to look after each other – to recognise each other's differences and in doing so compromise, understand and respect each other's wants and wishes to get to where they BOTH want to be. Lianne,  I am overwhelmed and overjoyed that the person that is willing to go on this adventure with me is you, and I hope you will let me spend the rest of my life endeavouring to make you laugh at any given opportunity and to console you when things are looking a bit hopeless. 
To listen when you want to be heard and to give advice when you need it.  To warm your inexplicably cold nose and feet and dispose of any mouse carcasses that the cat leaves strewn on the floor.  By doing these things and many more I hope to let you know that I've got you, I love you and that we're a team. So, in the words of Dumbledore, "Let us step into the night and pursue that flighty temptress – adventure".
Fabulous- heart warming, witty and very full of love.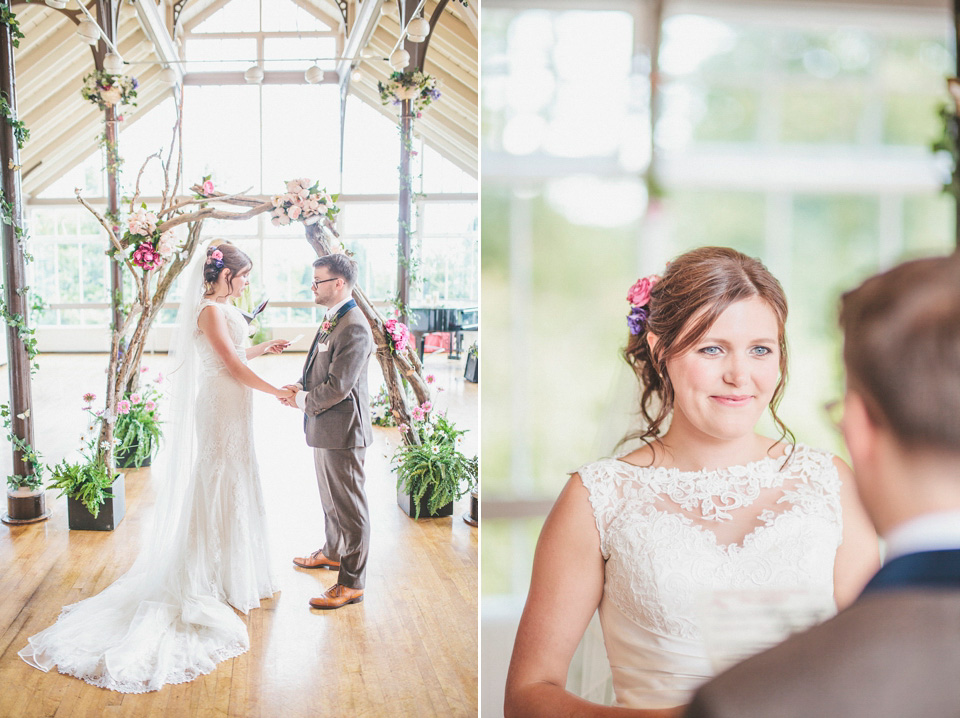 Like many of their decisions for the day, the couple chose to use jewellery with a lot of meaning to them for their wedding rings.
 "My engagement ring is a 1920's flower cluster ring that Patricks Great Uncle gave to his Great Aunt for their 50th wedding anniversary; two people who meant a great deal to Patrick. My wedding ring is my great Grandma's wedding ring. We had it shaped to fit aesthetically around the flower engagement ring by a local jeweller. Patrick's ring is a Viking ring found on Etsy.  It was bought due to Patrick's links to the Isle of Man and Newcastle – both former Viking strongholds.  Its rustic look fit in well with the rest of the wedding."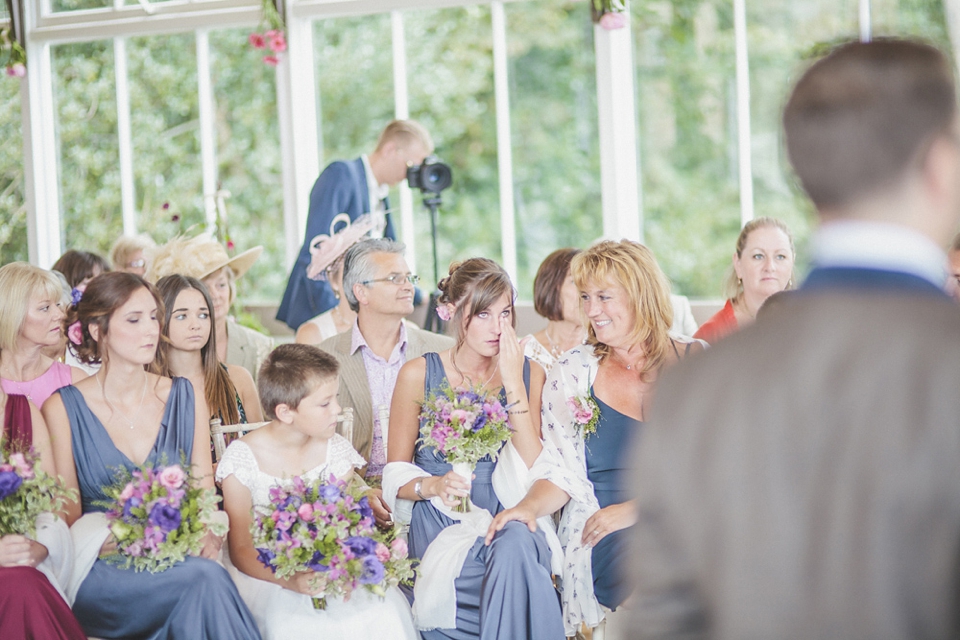 The couple chose two readings that they felt reflected their feelings about their marriage and the themes of the day itself;
"Each of our godmothers read a poem by the poet Pablo Neruda, from his book of 100 love sonnets, written for his late wife.  At the start of the book Neruda says that most poets describe their love through the medium of diamonds, jewels, gold, etc. He says that he does not love his wife as these things but as bread, earth, fire, etc and that this is how he has written his poems, through the medium of such earthly things. This resonated with our feelings/ the themes of the wedding and is therefore why we chose the poems. They were Love sonnet XVII and Love Sonnet LXXXI"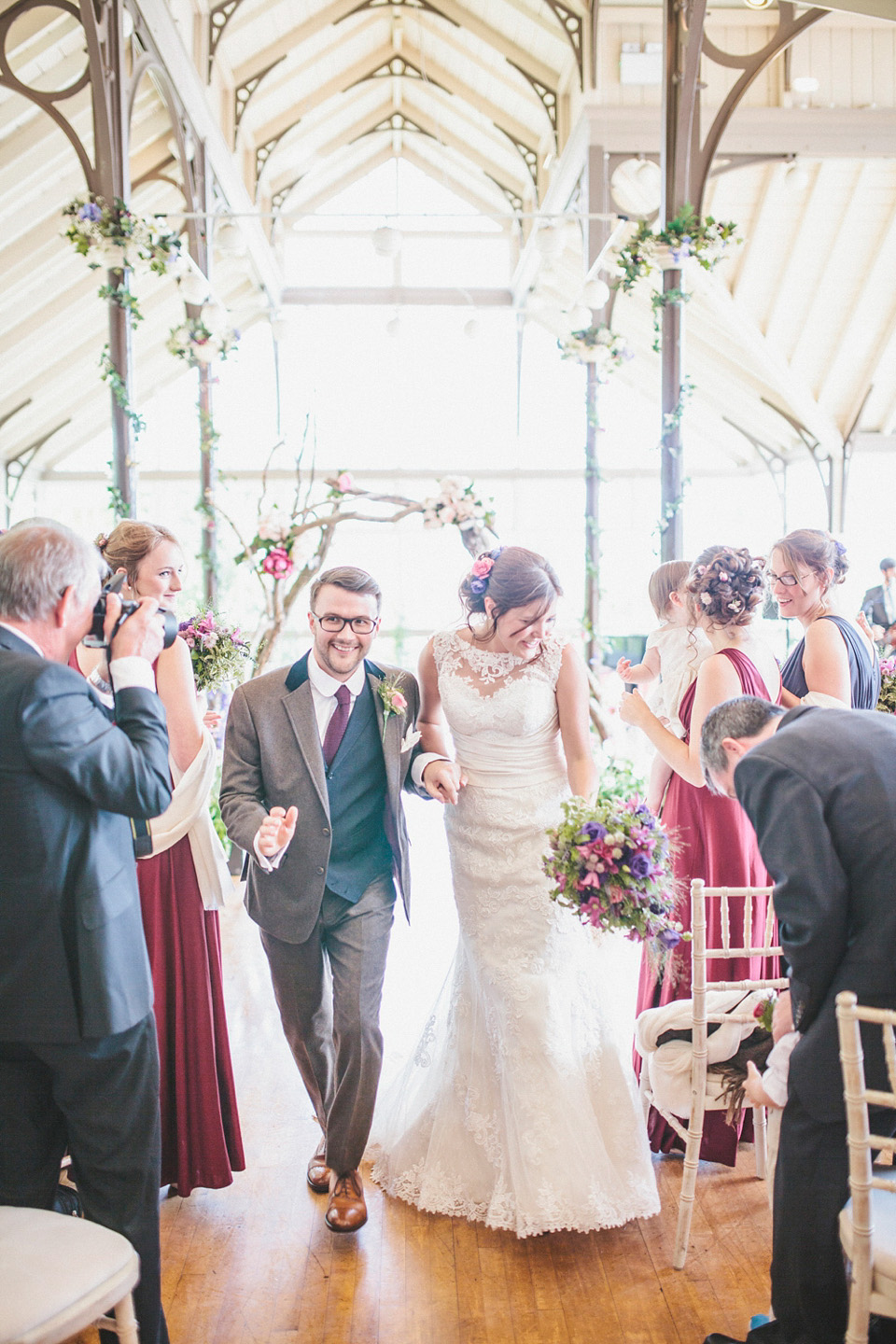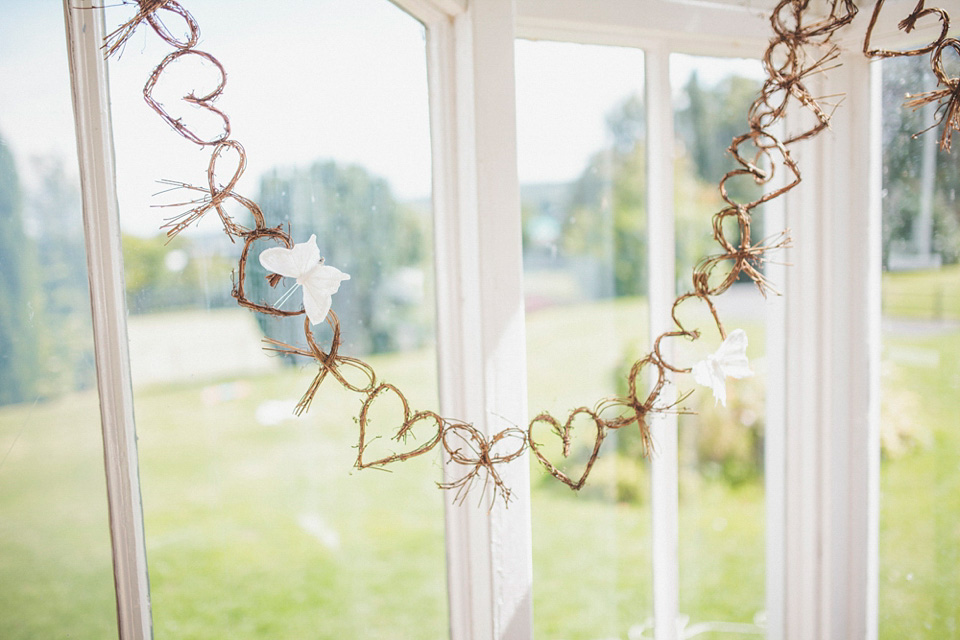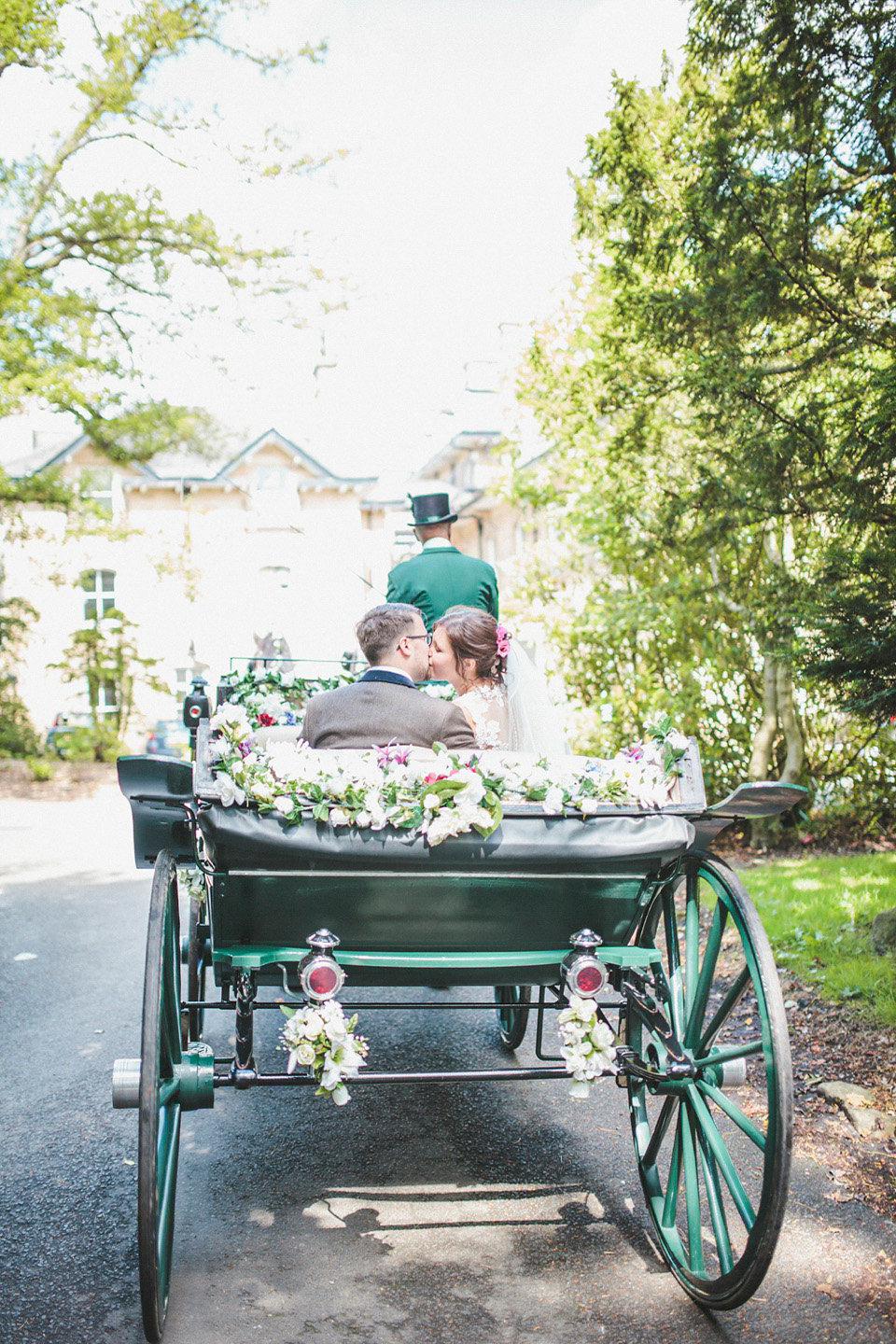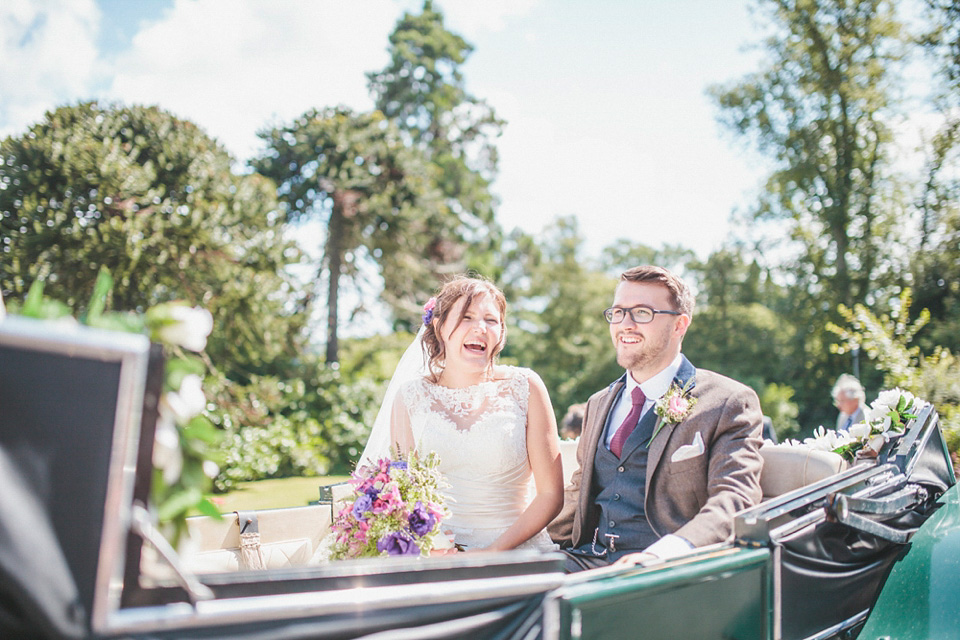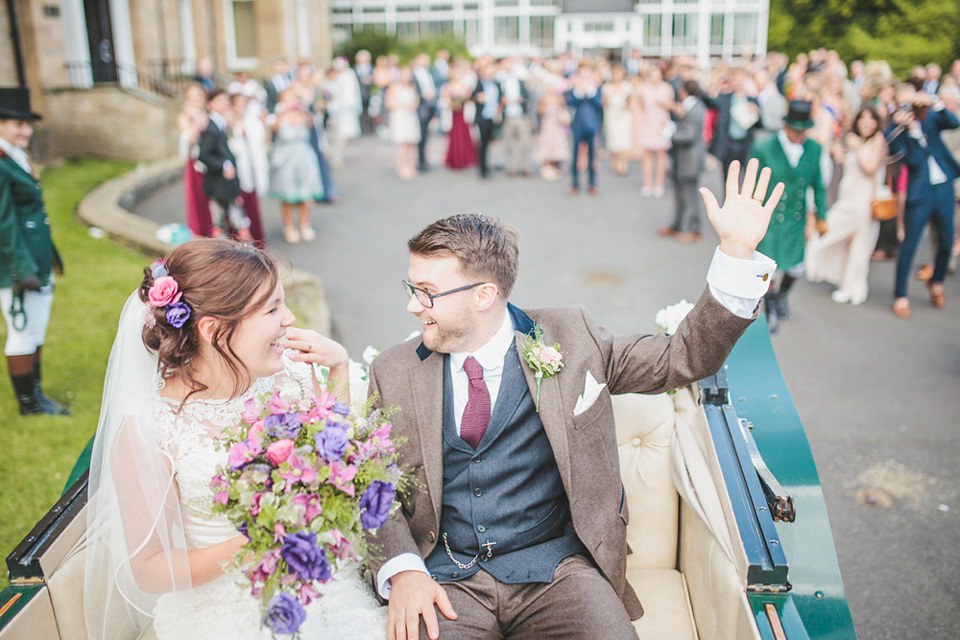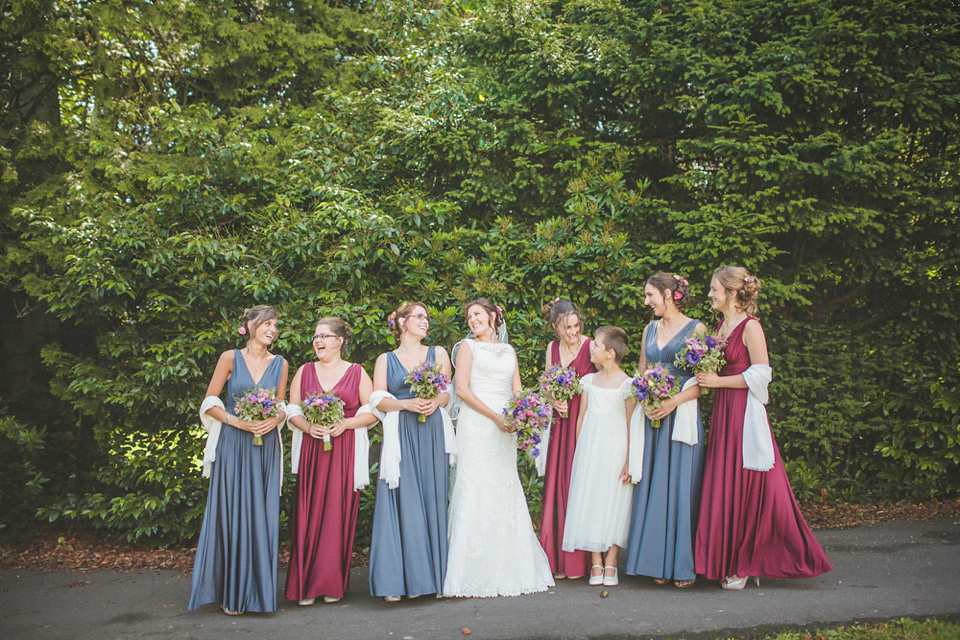 Lianne's flower boy wore a delightful lace and crochet cream dress, bought from Monsoon in which I think he looks fantastic.  The other young male attendants and ring bearer sported suits and snazzy brogues from Marks and Spencer with claret knitted ties from John Lewis to compliment the Groom.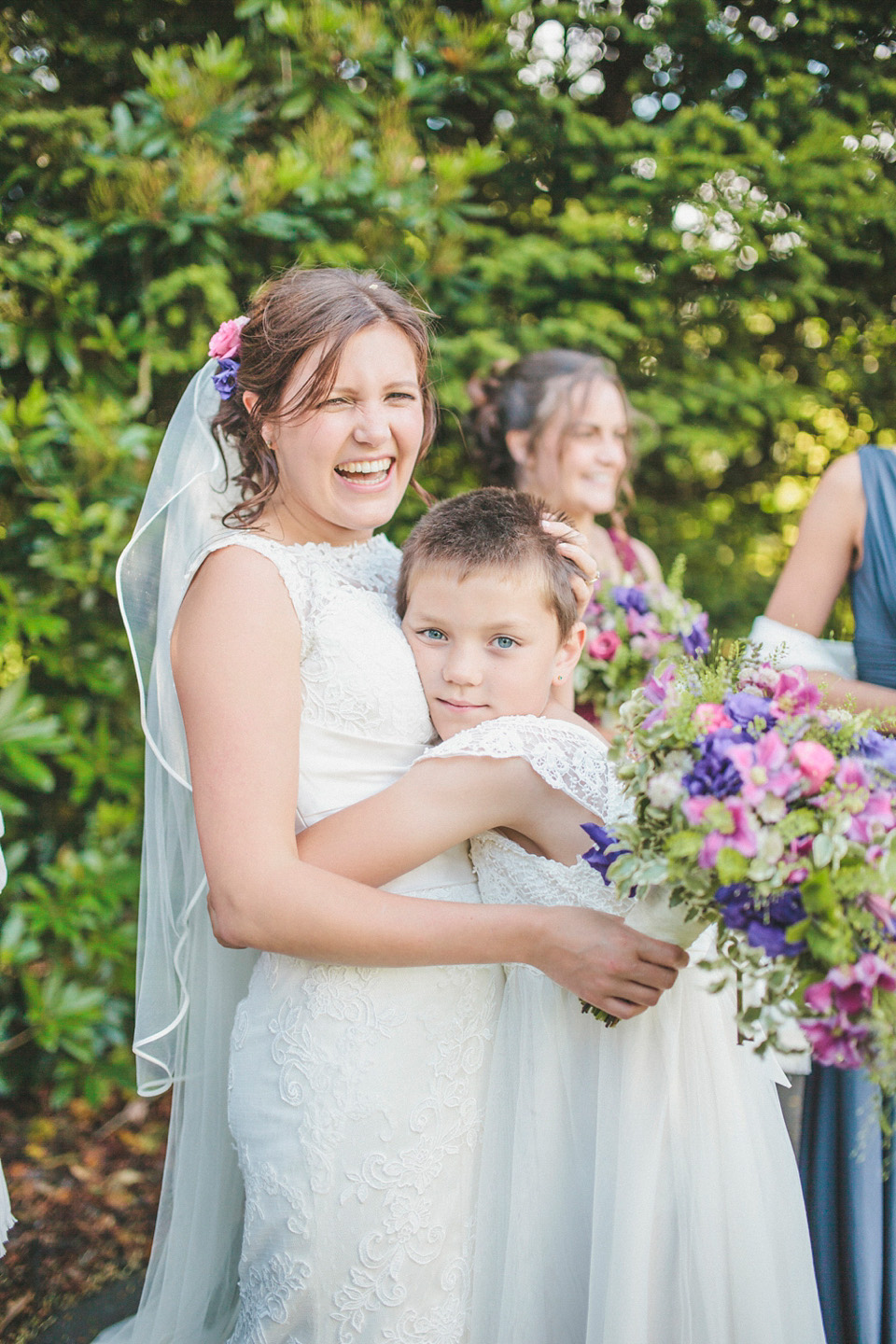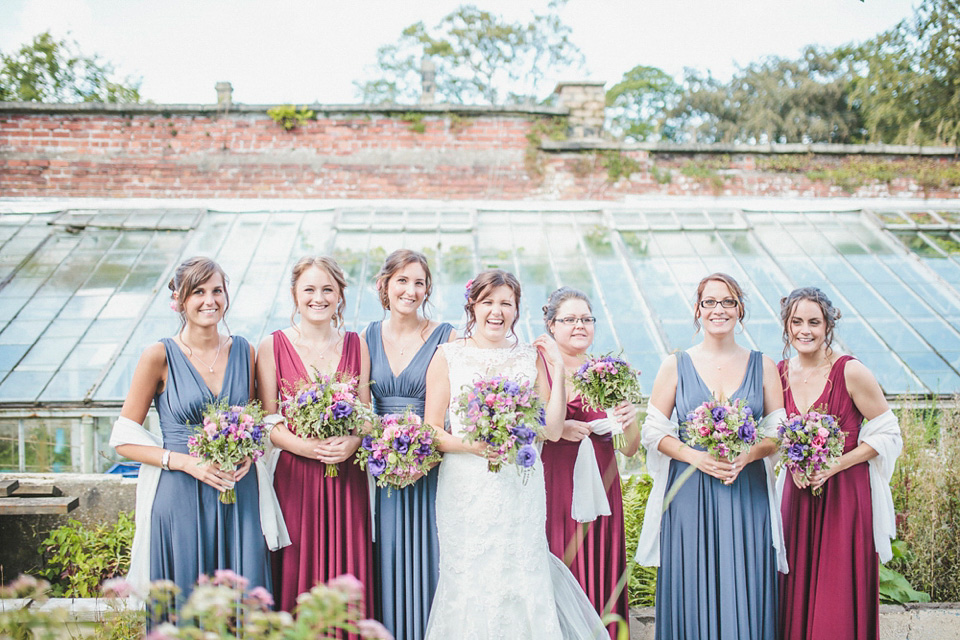 The bridesmaids looked beautiful in dresses in complimentary shades from Biba at House of Fraser and accessorized with pearl jewellery and flowers in their hair, to compliment the bride, and rather lovely pearl studded cream pashminas for the evening chill.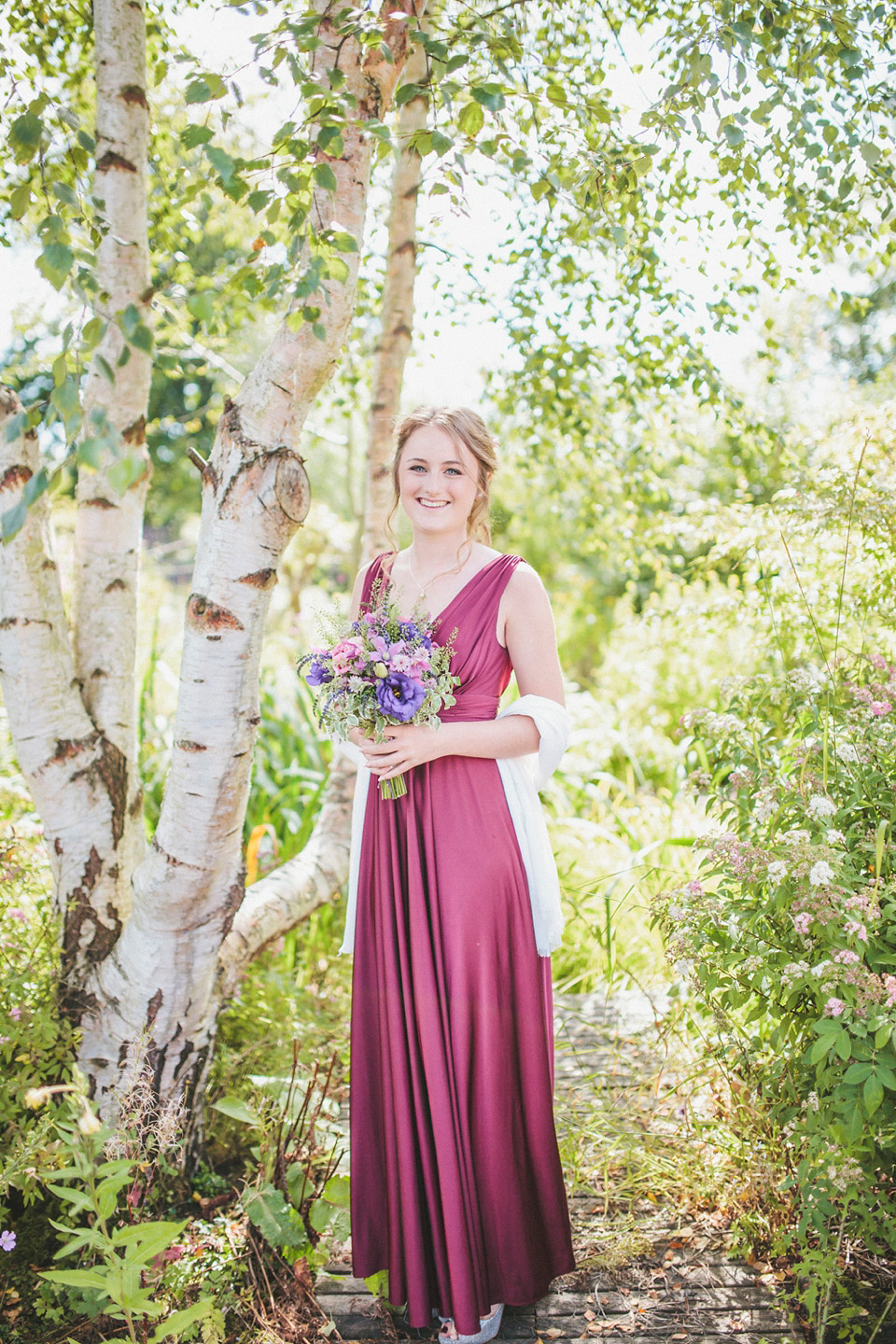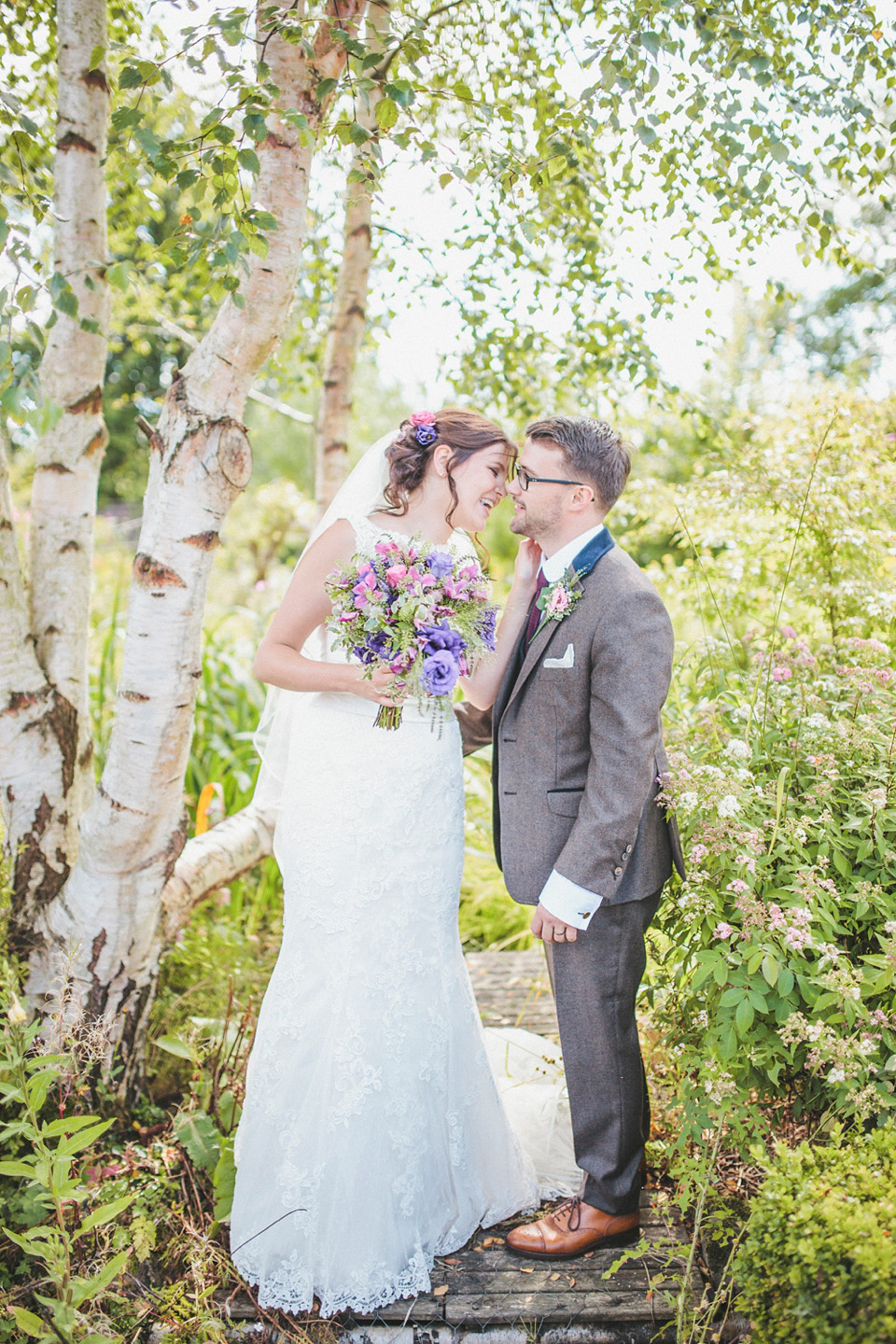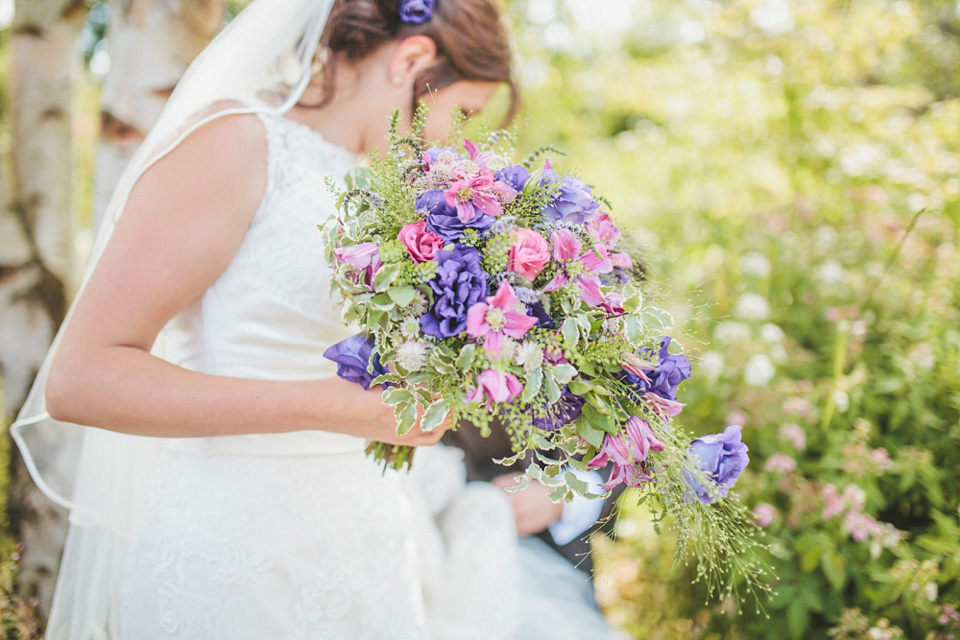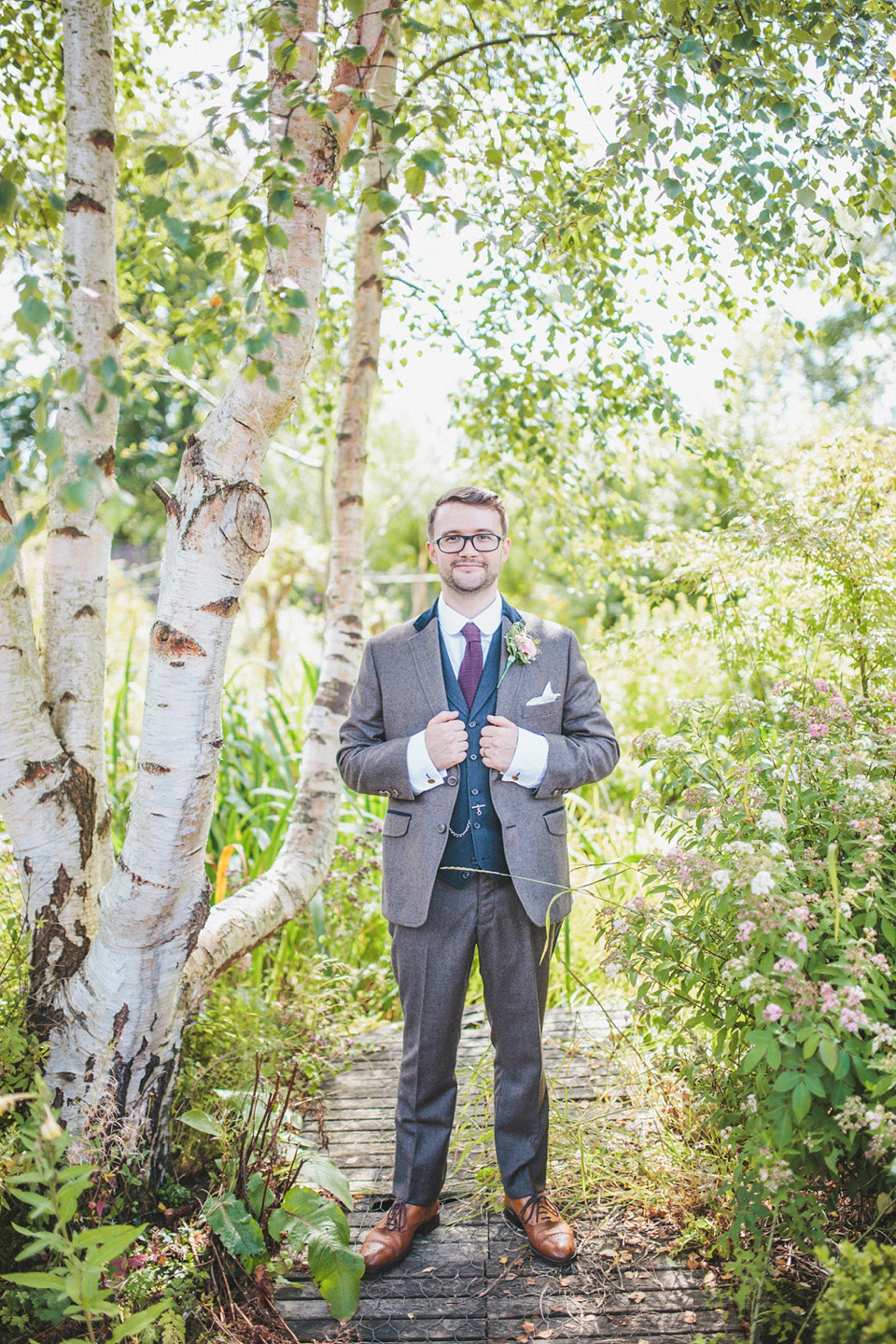 Like Lianne, Patrick accessorised with family pieces, wearing a Jean Pierre watch given to him on his 18th birthday by his grandfather and tan shoes from Ducker and Sons (inherited from his Granddad) His suit was a purchase from Peckham Rye, in collaboration with Patrick's best friend, Rob.  I love the coloured waistcoat and collar- wonderfully unique.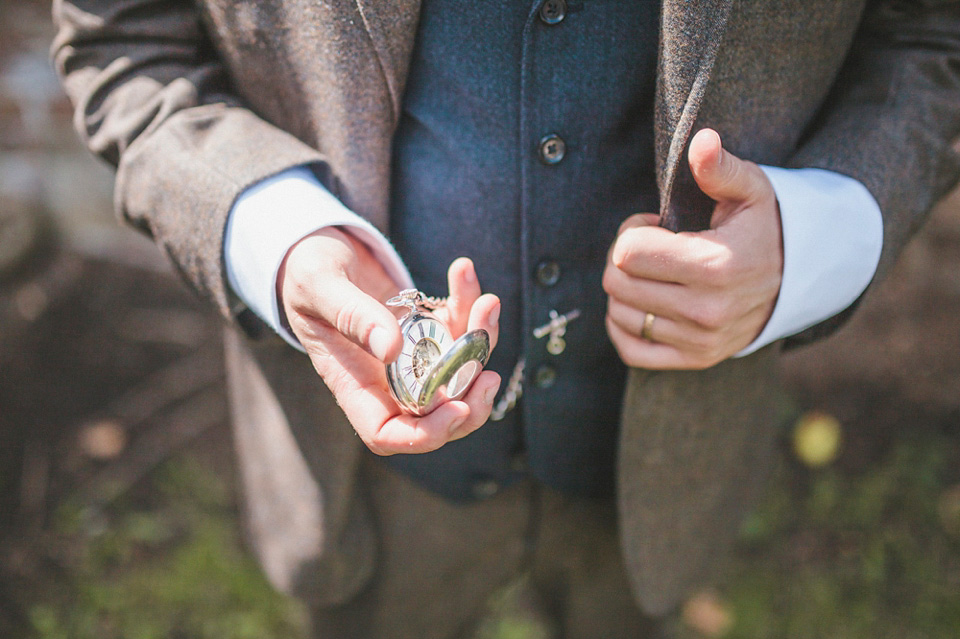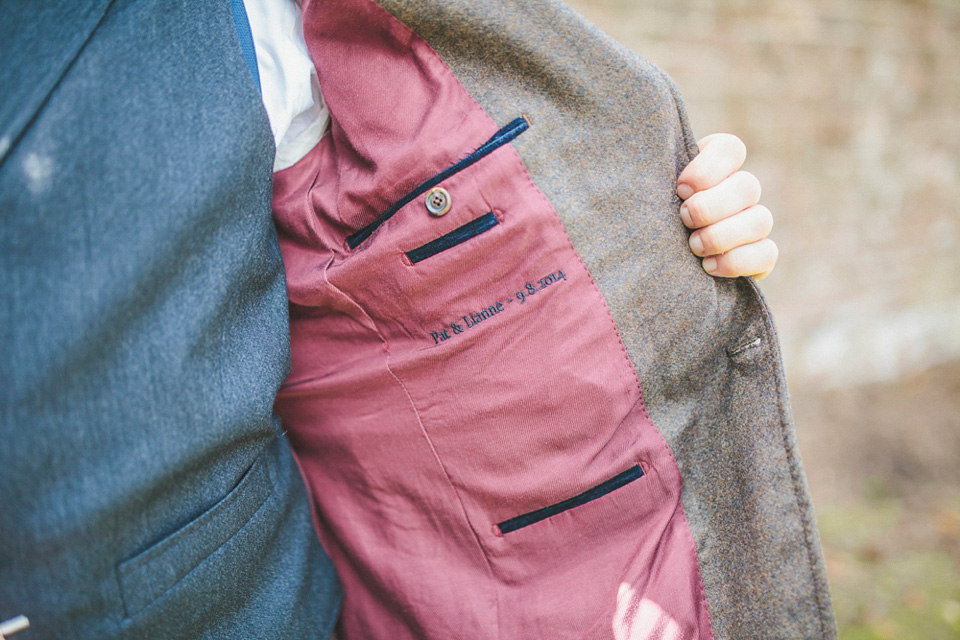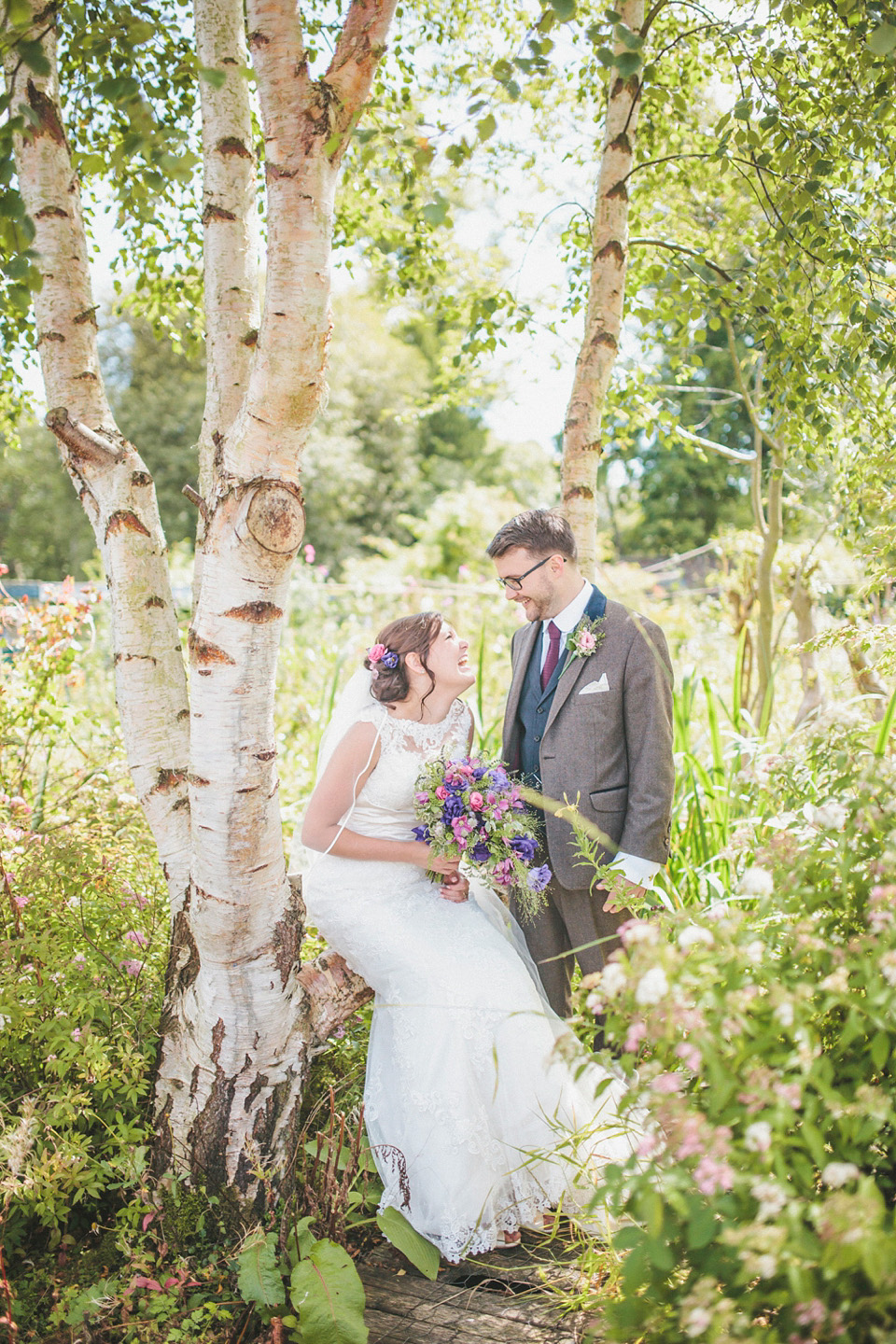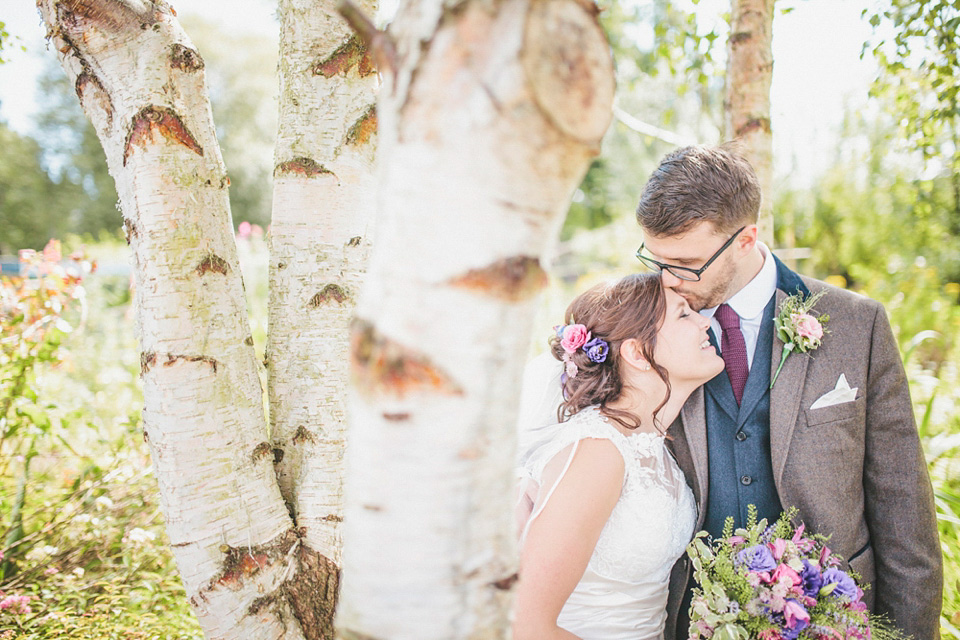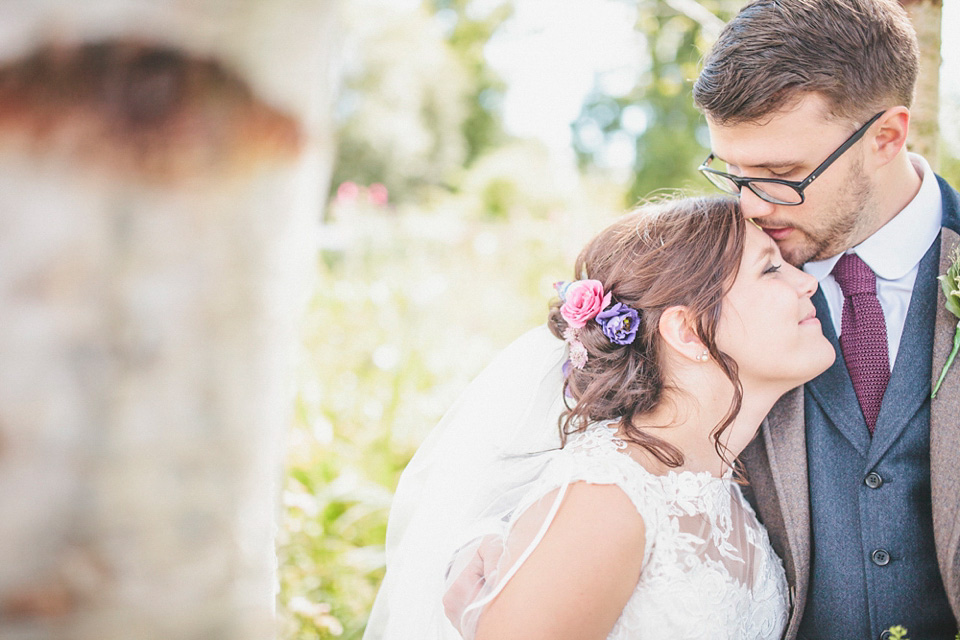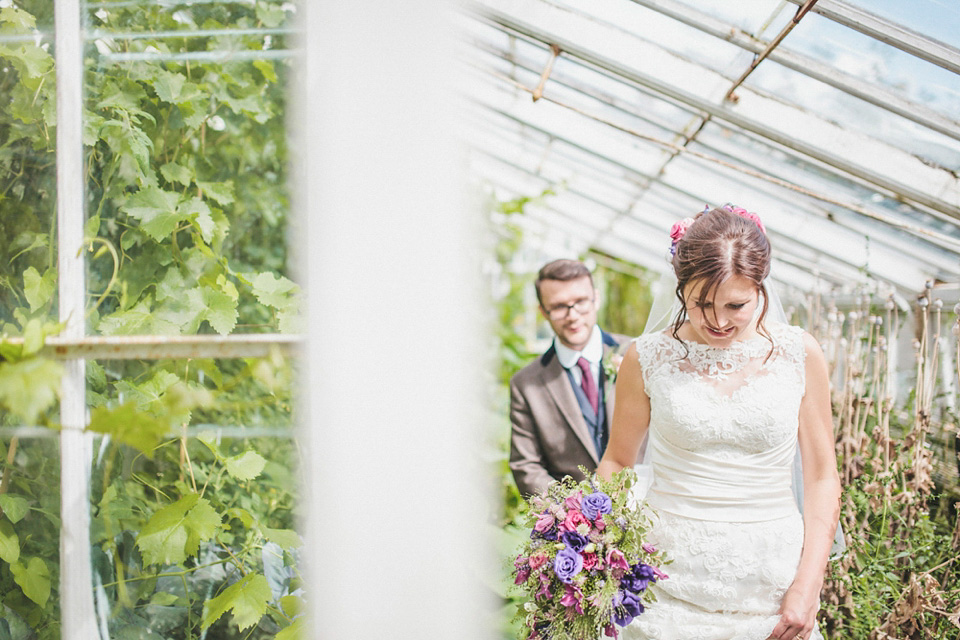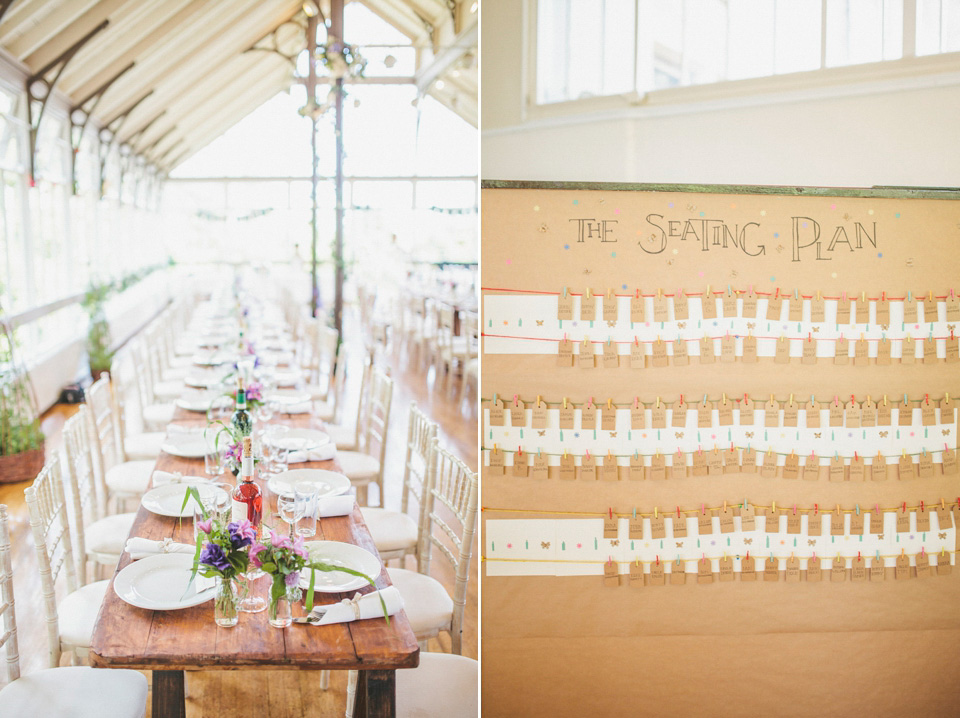 The wedding breakfast (all arranged by Patrick's Mum) echoed the couple's love of their engagement location, and was styled to give the feeling of an Italian feast, served in miscellaneous crockery, with desserts made by guests to further establish the collective feel the couple were looking for. The evening meal was a hog roast supplied by North East Pig On A Spit, again creating a communal vibe.
Tables were decorated with handmade paper porcelain bowls, used as tea lights. "These were decorated with a butterfly and a bee to support the wildflower theme of the wedding"  Is there no end to the talents of these two?
"The cake was hand made by Patrick's Aunty Kimmy. The previous summer we had indulged in her daughters chocolate birthday cake. It was a wonky tower with summer berries and fruits draped down it and was insanely delicious!  I said to Patrick we have to have that cake for our wedding! Kimmy happily obliged and went to town with it! We could not believe how beautiful the cake was on the day.  It was a masterpiece"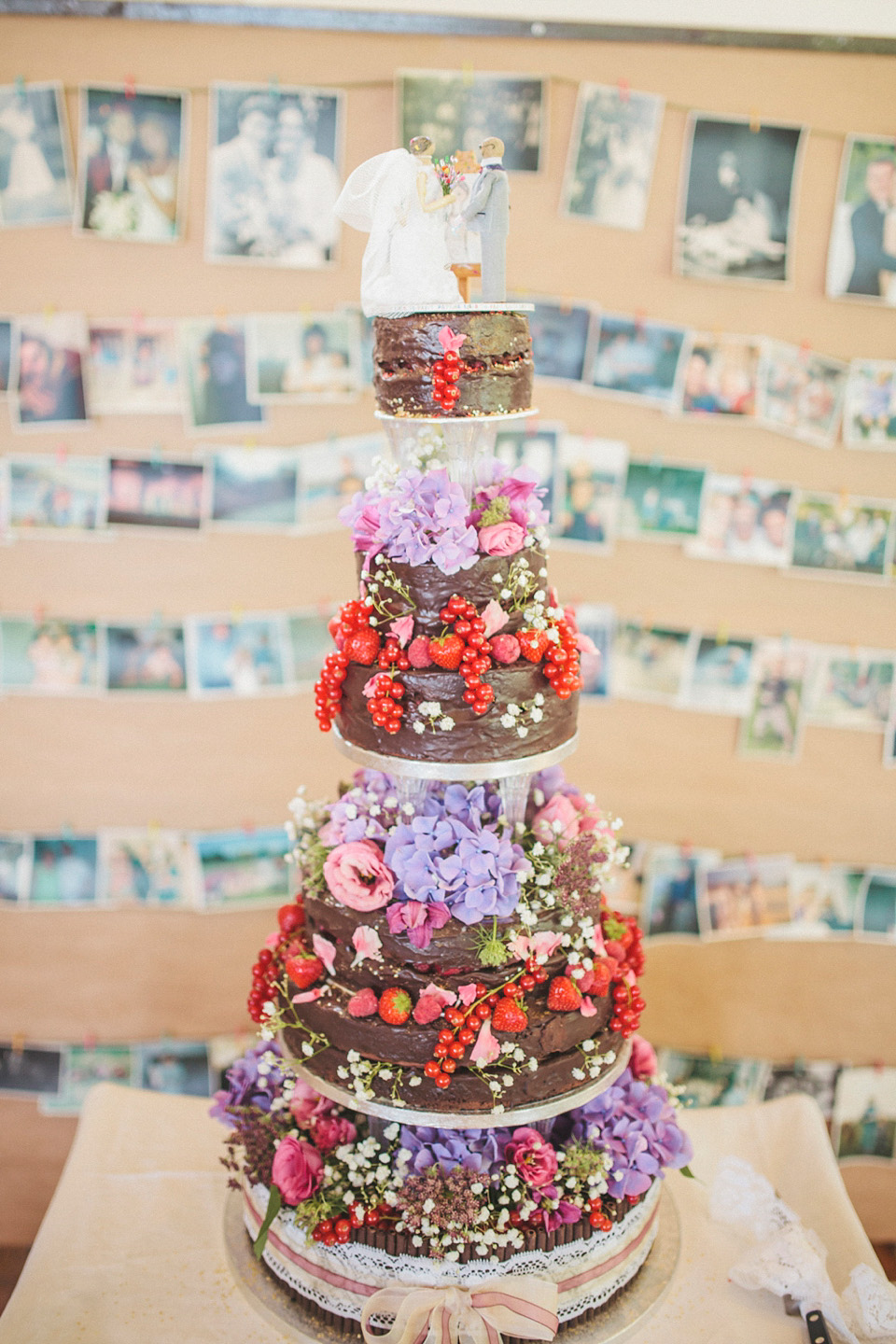 "A family friend made the cake topper. It was a surprise so we had no idea what it was going to be. We were very amused to see she had made a model scene comprising of Patrick drawing a portrait of myself (as he is an artist) on a canvas and easel, with me hiding paint brushes/rollers behind my back (as I love to decorate) and a repeated message printed around the base 'Patrick likes to paint, Lianne likes to paint'. 
She had included so many tiny details down to replicating my wedding dress, printing realistic plastic labels for the tins of paint and even putting funny underpants on the groom underneath his suit due to a running family joke."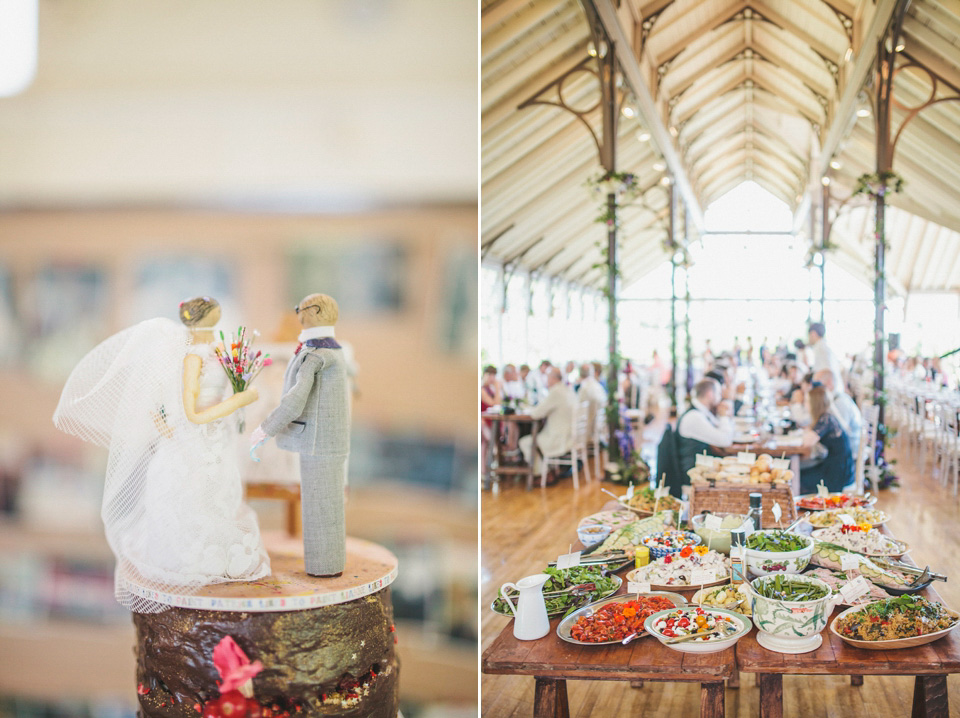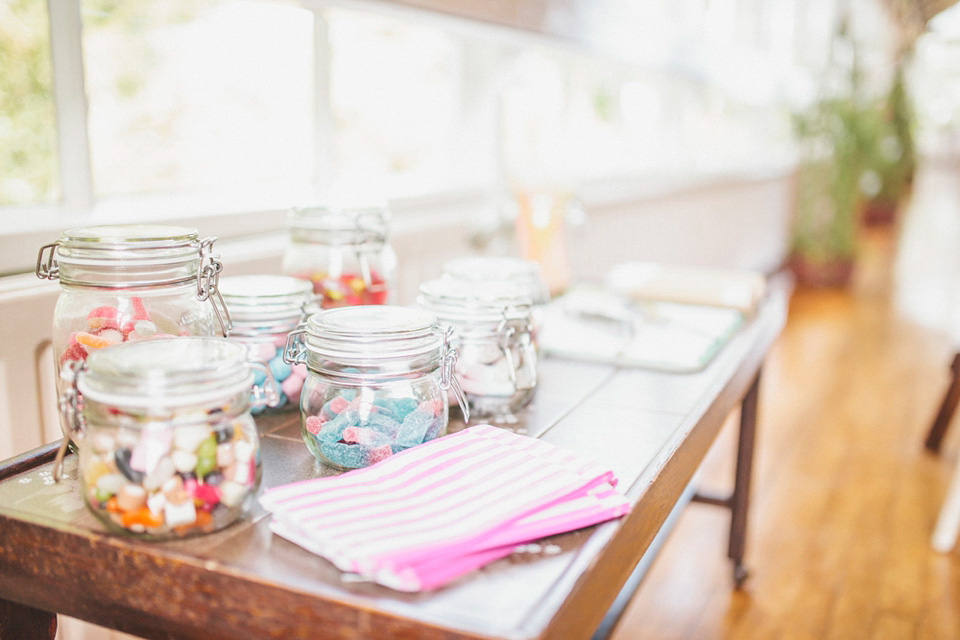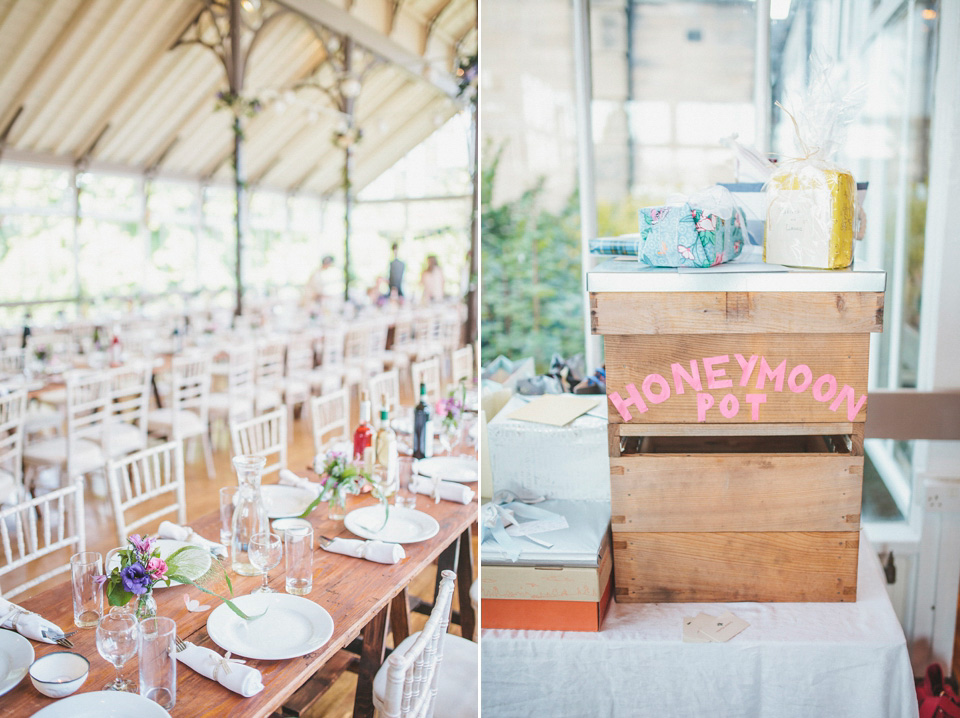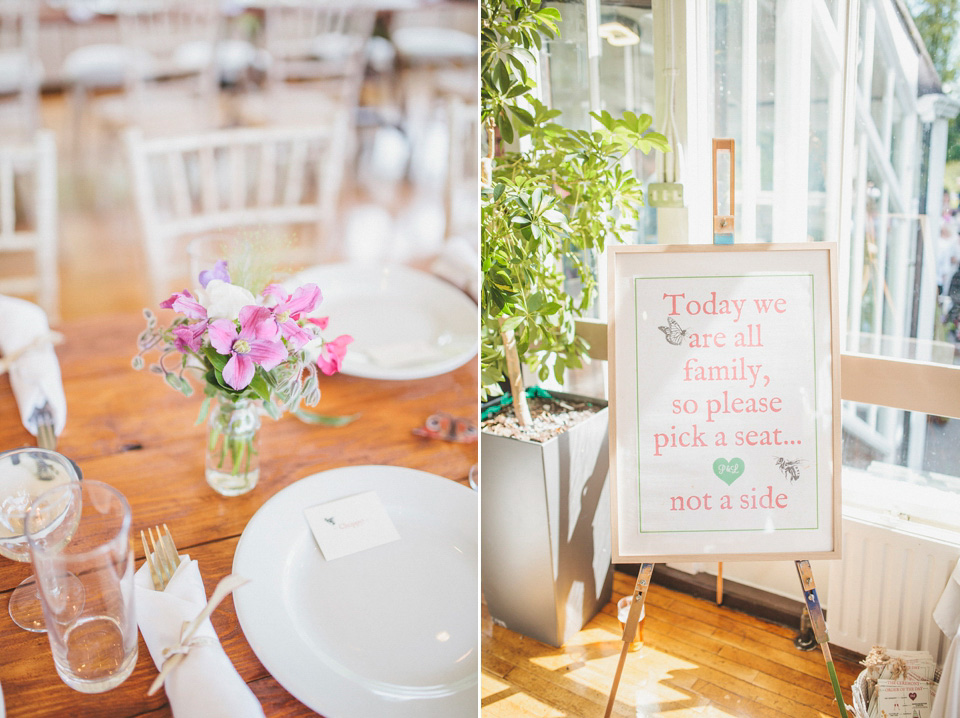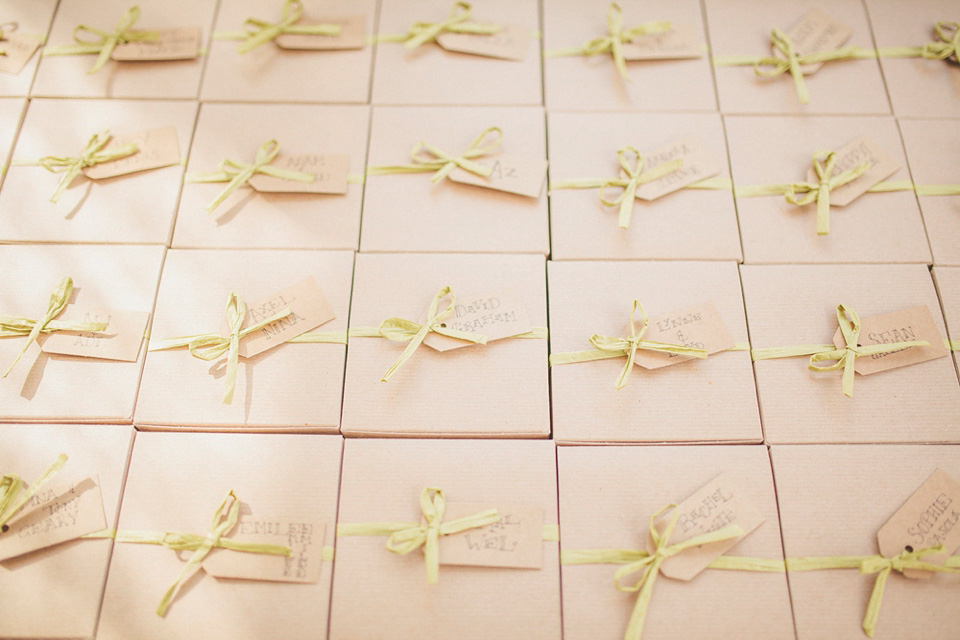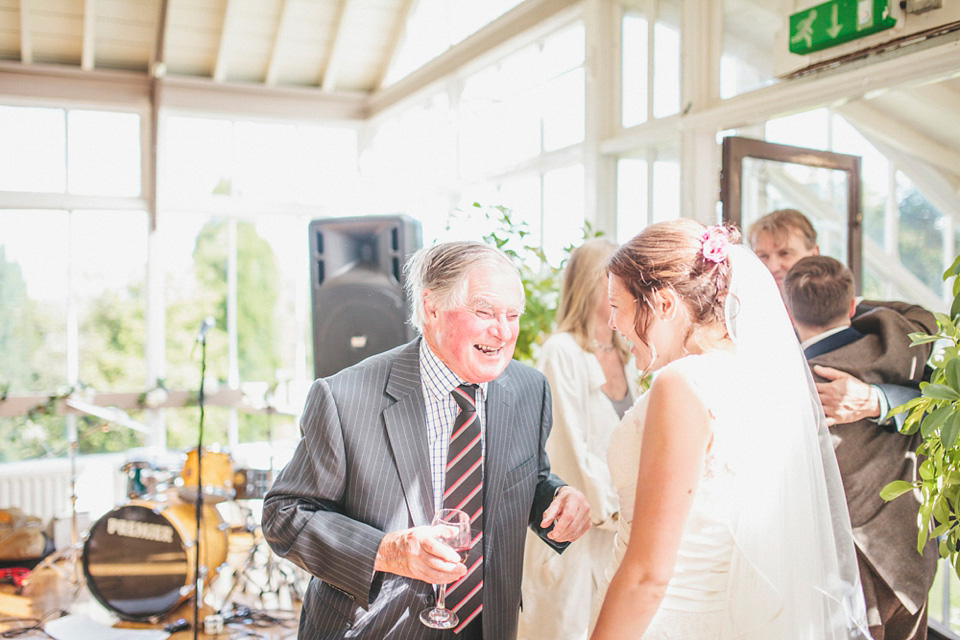 I love the use of lanterns and candles in the evening to light their guests' way into the venue, and the use of tea lights once indoors (yes, my name is Shona and I'm a sparkly-light-aholic….)  It always gives a sense of occasion and magic.
"Fairy lights were used to spiral up the main pillars/columns of the conservatory and paper lanterns with tea lights lined the path up to the entrance on the evening"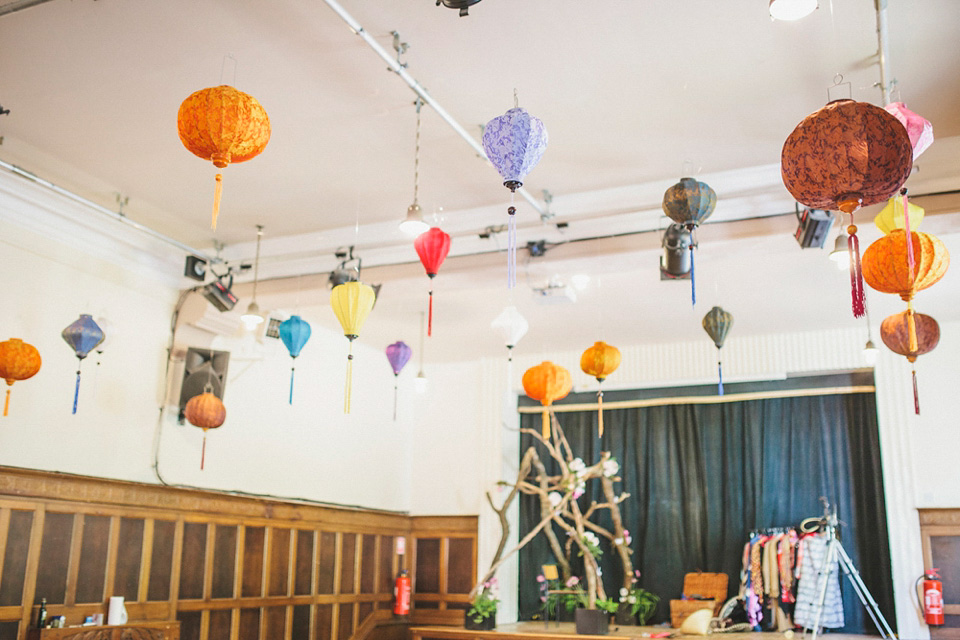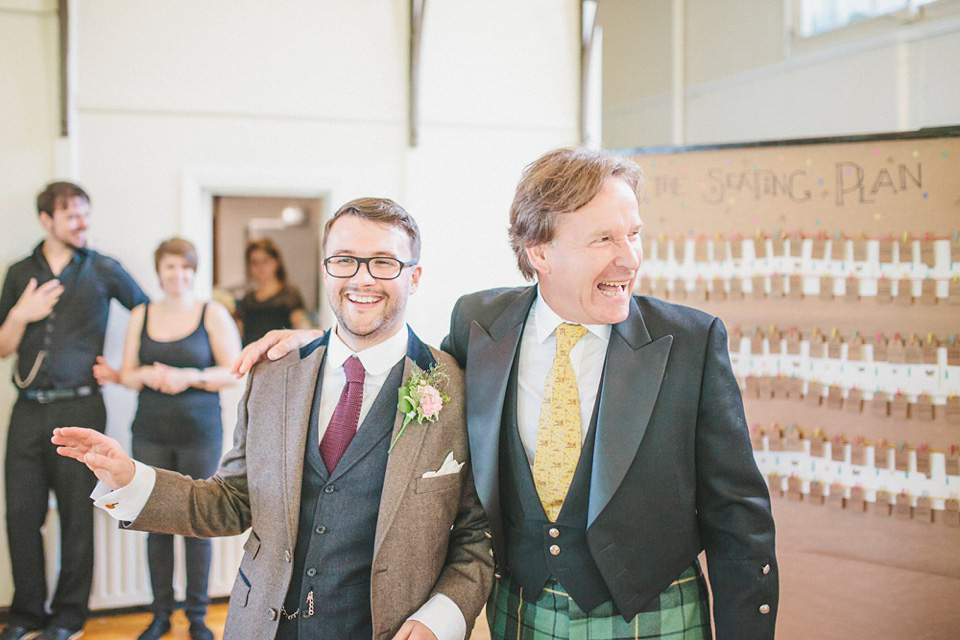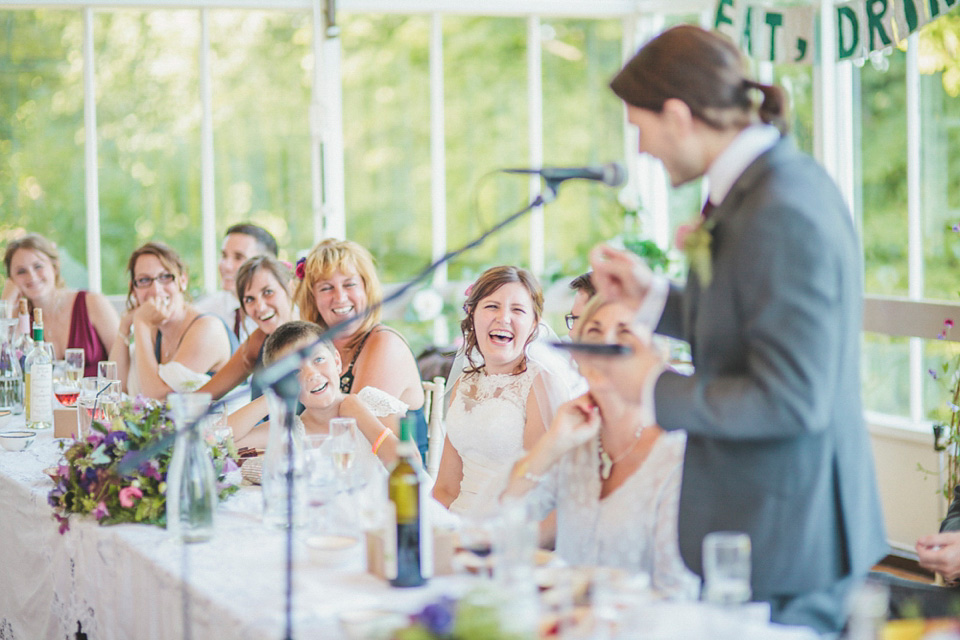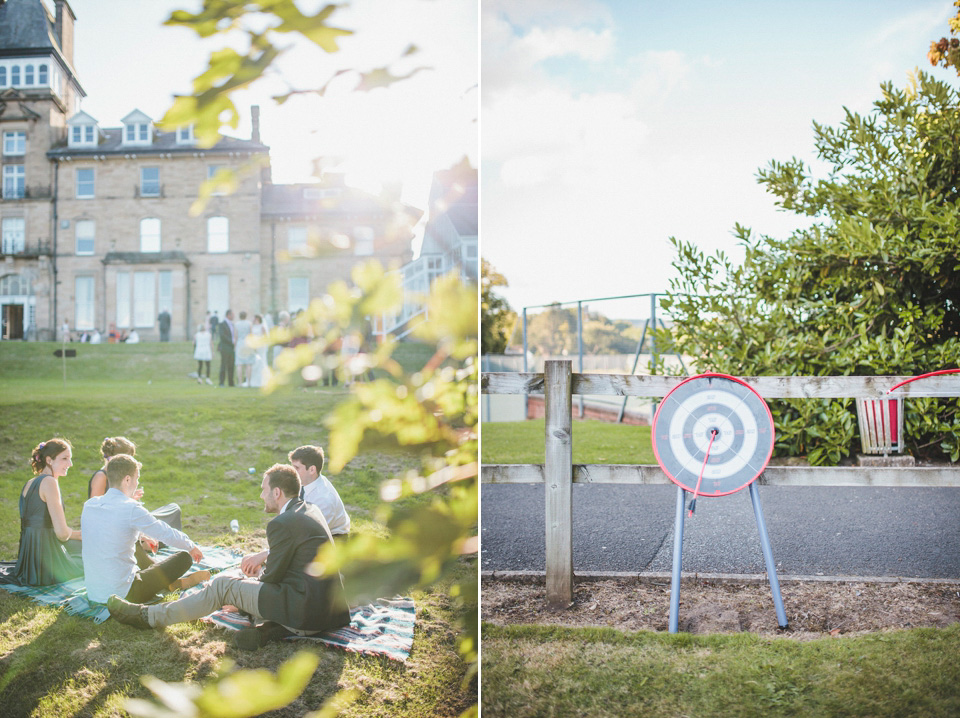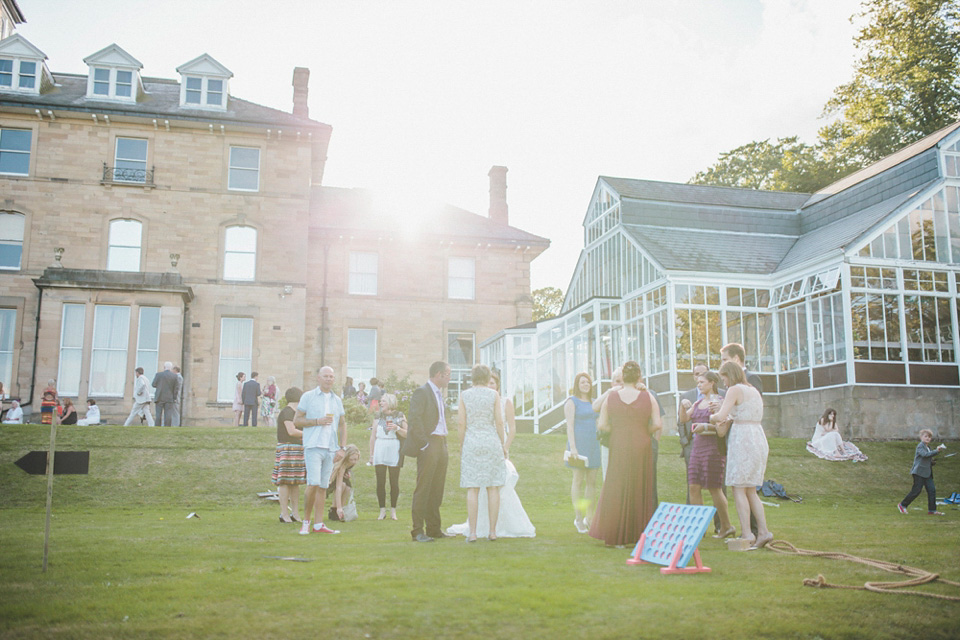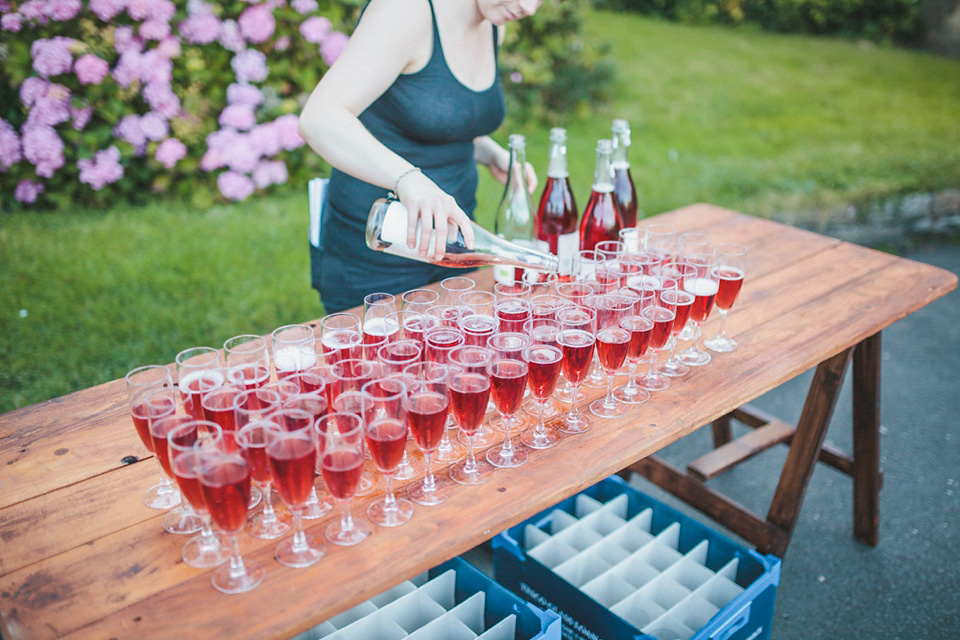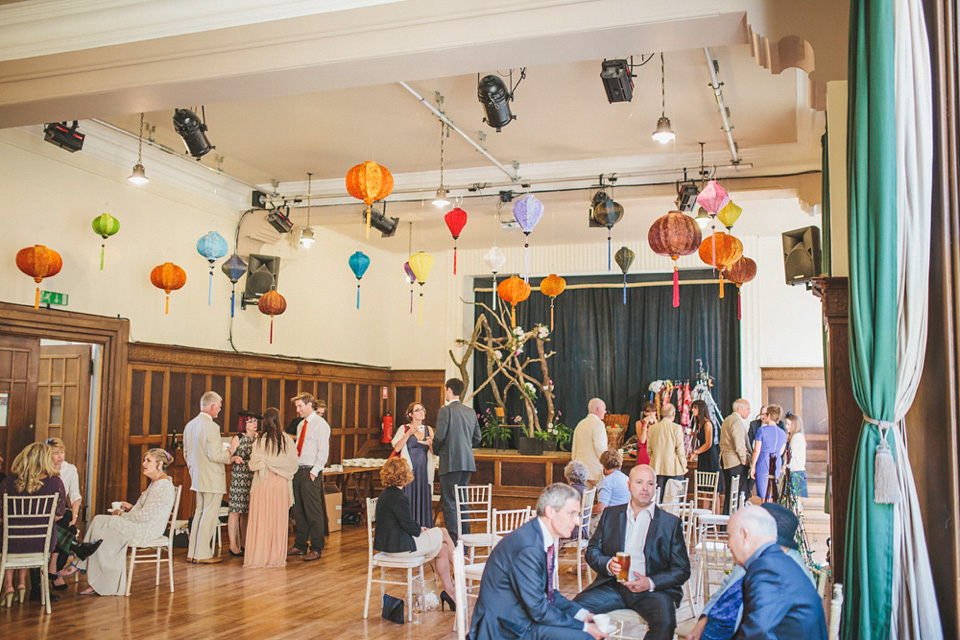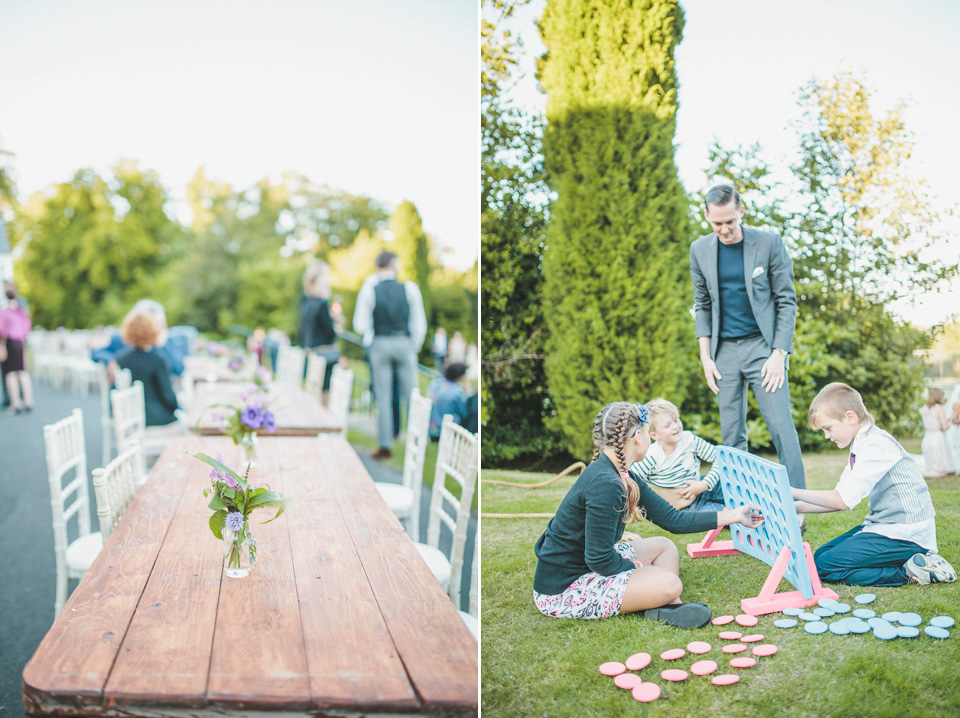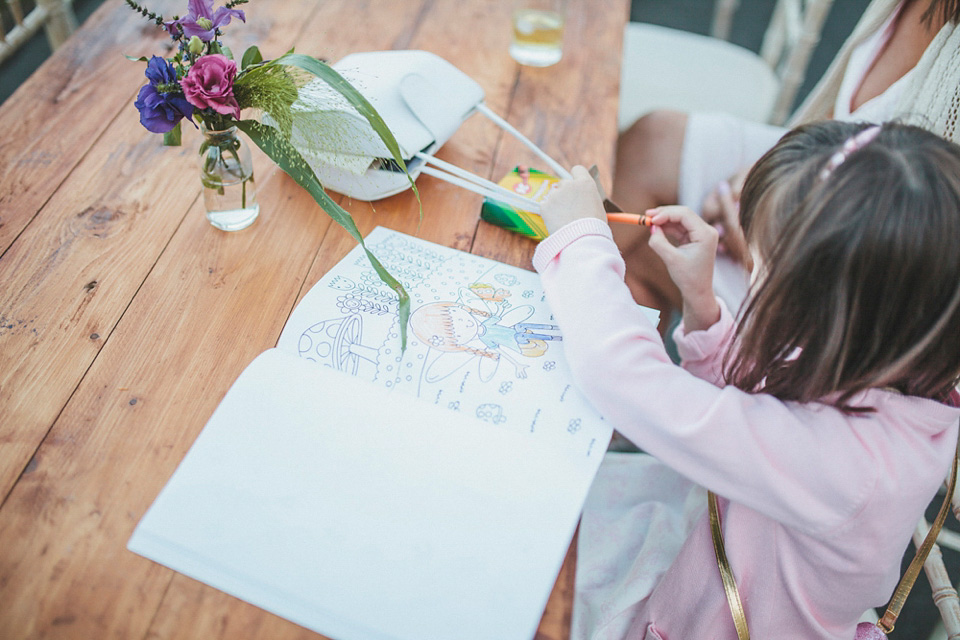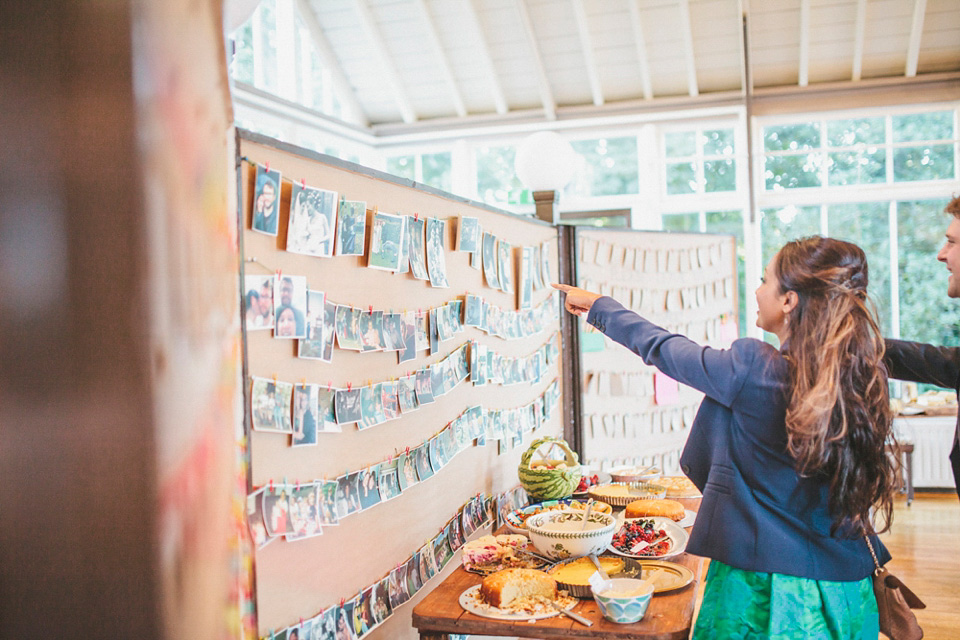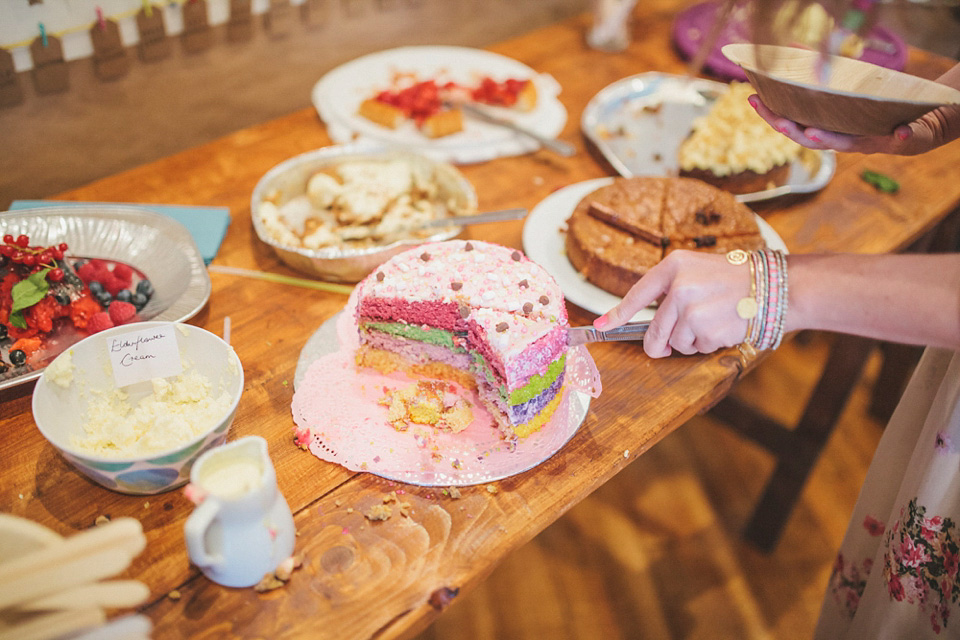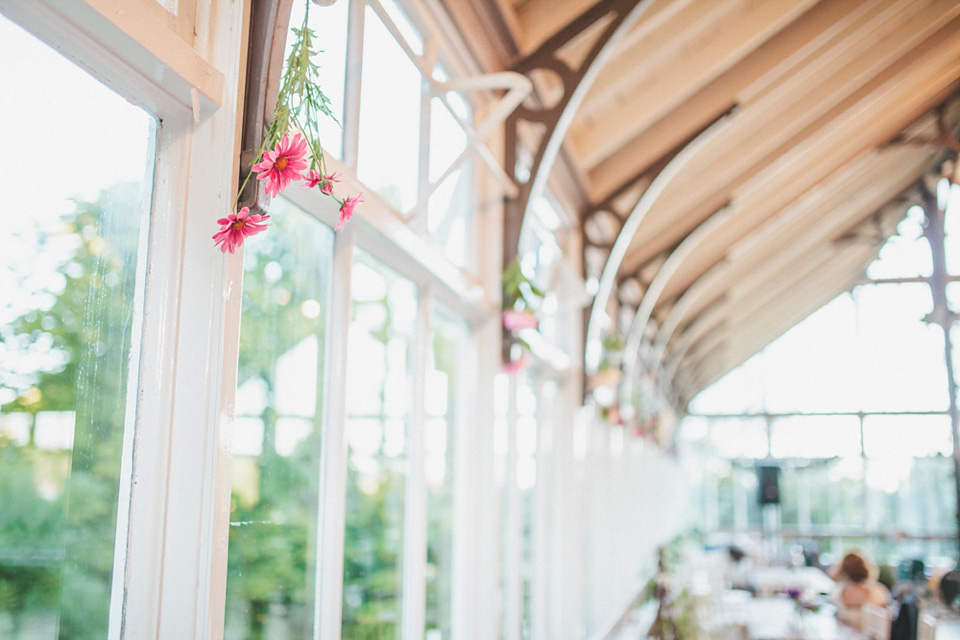 Even the evening musical entertainment was provided by talented family and friends, from the first dance, to the last.
"We danced to "Strangers" by the Kinks, performed live by Patrick's cousins.  We first heard this song when watching the film "The Darjeeling Limited" near the start of our relationship. We loved the film and the soundtrack. The song quickly became a favourite and one day Patrick said to me 'I want to dance to this song at our wedding'.  So we did.
There were so many favourite part [to the day] s, that it is difficult to chose just one.  However, walking down the aisle, though I was nervous, feels on reflection the moment with the most meaning for me, as I felt something important and special was about to happen."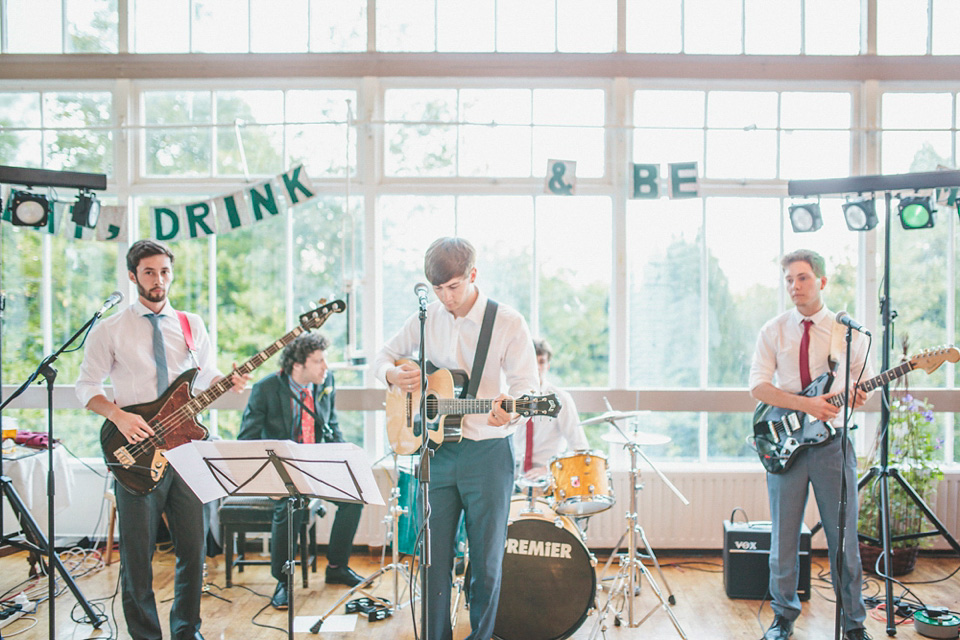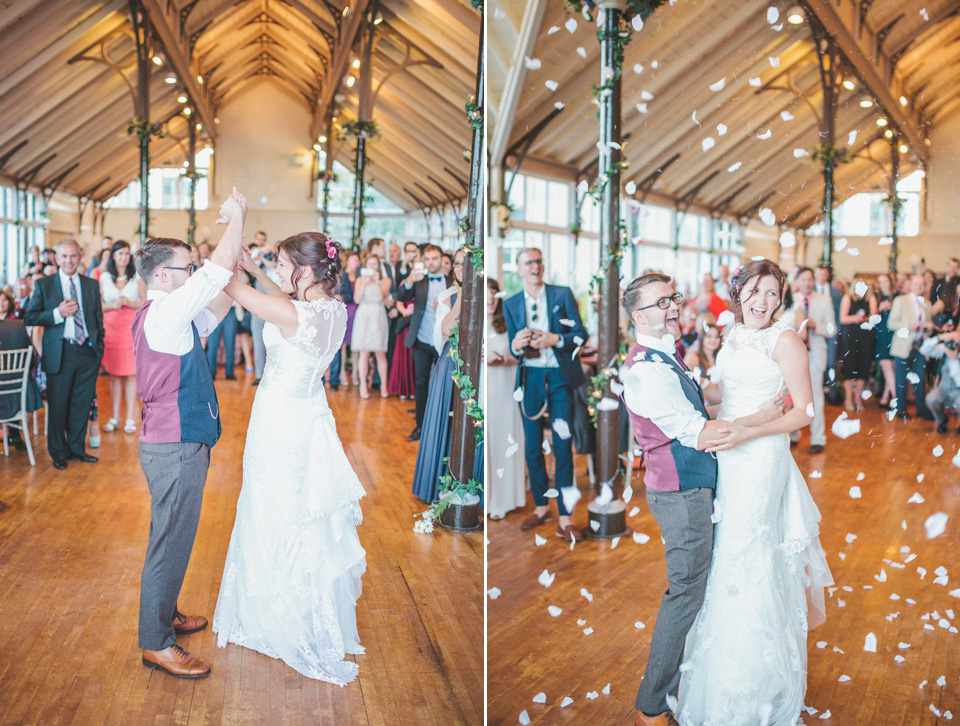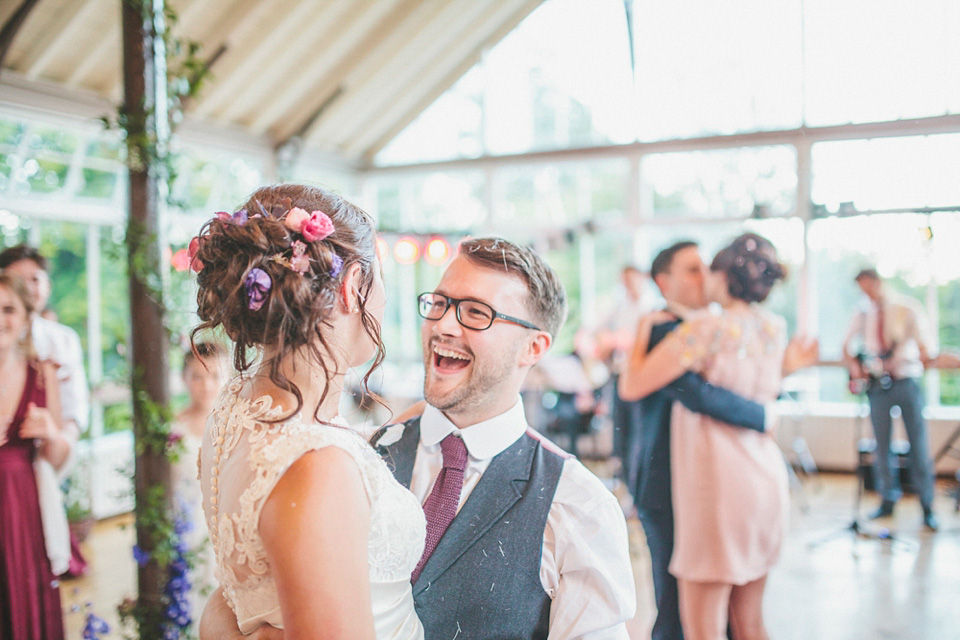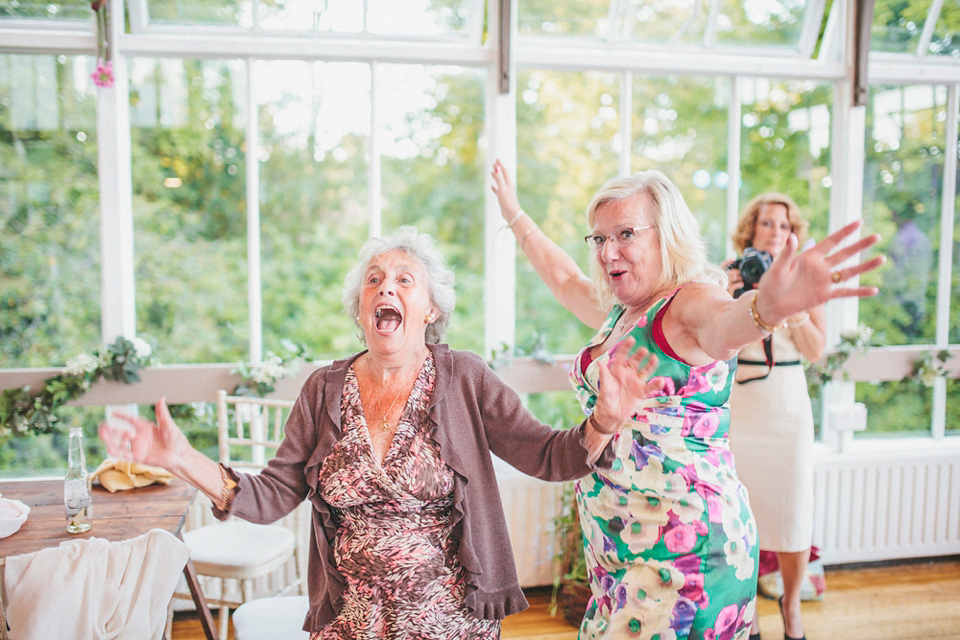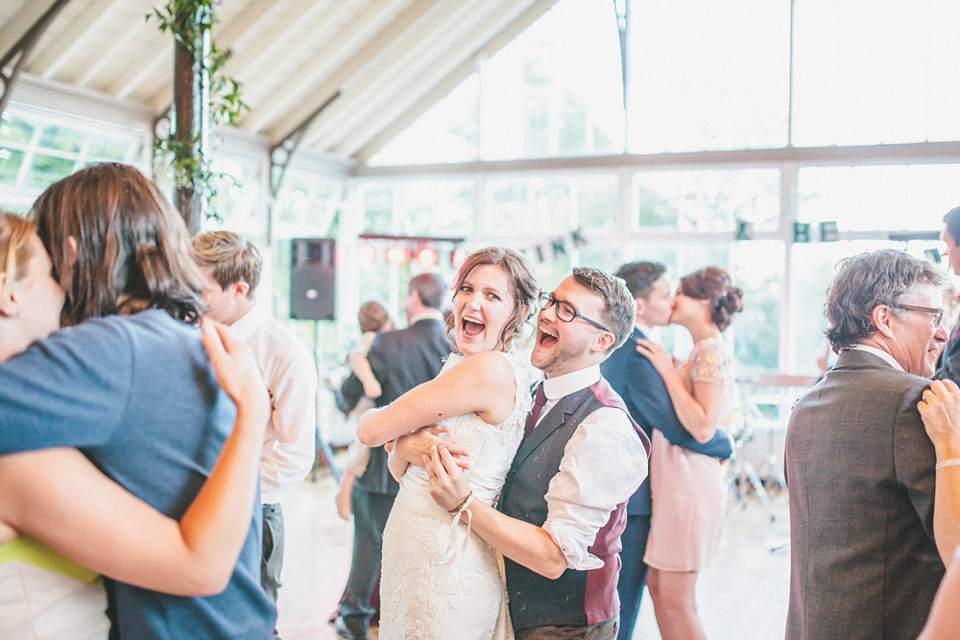 Words of Wedded Wisdom
"It's important to find a balance between making your day special and memorable, but not going over the top with cost or spending beyond your means. The wedding would have been a lot more stressful had we not been able to afford what we had chosen.
Make the day about both of you equally. If you both contribute and compromise your ideas the day will be more meaningful for you both.
We also had a lot of help from family and friends – especially Patrick's Mum Jo who was invaluable in helping create the overall image of the wedding and all the delicious food.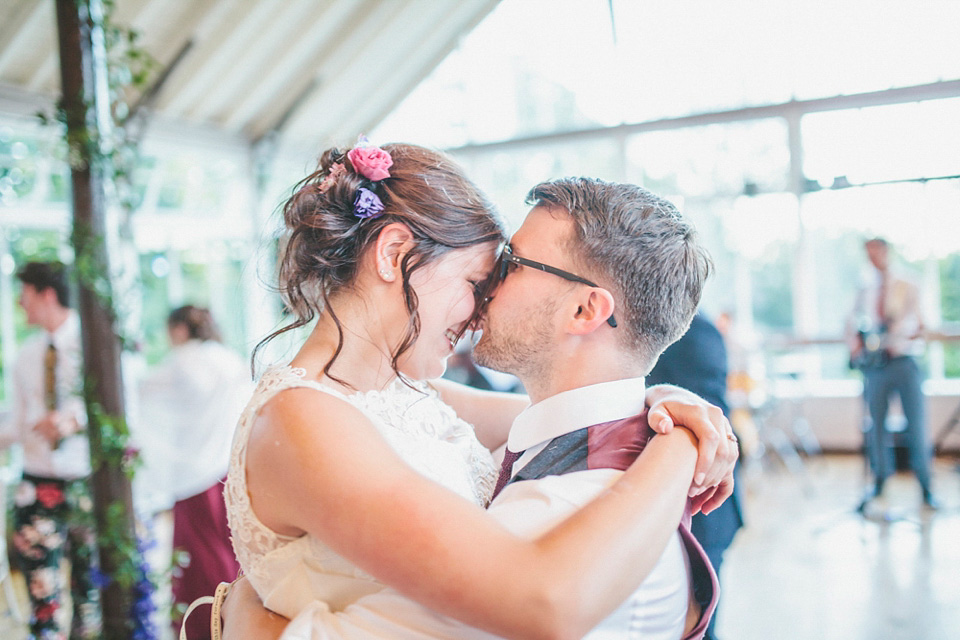 Very wise words there Lianne, thank you!  Many many thanks to Sarah Jane Ethan for the use of her images today, so full of light and laughter, and of course a resounding congratulations to Lianne and Patrick on their gorgeous and very personal wedding.   Is anyone else having an outdoor wedding indoors?  Or wearing Justin Alexander?
All my love, and a very Happy Sunday,
Shona x
Photographer – Sarah Jane Ethan
Venue  – Hexham Winter Gardens
Wedding Dress – Justin Alexander via Rosina Brown
Veil – Purchased from Rosina Brown
Headpiece – Translucent butterfly bought via Etsy
Shoes – John Lewis
Groom's suit- Peckham Rye, with personal alterations
Groom's accessories – Shirt, TM Lewin Tie and pocket square, Peckham Rye
Shoes – Ducker and Sons (inherited from his Granddad).
Pocket watch – Jean Pierre (18th birthday present from his Granddad)
Groomsmen – John Lewis
Bridesmaids dresses – Biba at House of Fraser
Bridesmaids accessories – Jewellery from Debenhams, Pearl studded cream pashmina Accessorize
Flowerboy – Monsoon
Ring bearer and Pageboy outfits – Marks and Spencer + John Lewis
Florist – Marion Stobo at Stobo Florist in Wylam, Northumberland, tel:01661 854714 No website
Cake – Made by Patrick's Aunty Kimmy
Transport – Mini cooper belonging to friends and horse drawn Victorian carriage from Carriage Horses
Entertainment – Various talented friends and family
Rings – Family heirlooms
Catering – Family and friends, and North East Pig On A Spit
Stationery – Designed by the Bride and Groom, printed by MetroRepro, Newcastle
Hair and Makeup Artist – Shaadeh Ghambari, [email protected]/ 07455225493 No website