I have a lovely city-skyline wedding for you to enjoy this morning, an elegant and relaxed rooftop wedding, with cosy bright natural floral details teamed with a side of glamour too. A divine satin dress that the bride fell in love with, but that nearly escaped her , and a day filled with genuine love, friendship, fun and dancing into the night  – plus a little escapade somewhere in between to some very well known cobbles.
Jacqui and Toby, both teachers were married on the 25th of October 2014 on a bright Autumnal day at the stunning Great John Street Hotel, Eclectic Collection in Manchester city centre.  The Groom told us a bit about the inspiration for their day;
"We wanted a city wedding in a boutique venue with an informal feel. The rooftop terrace with views of the city clinched the deal. The rooftop terrace was amazing throughout. There were great views over the city and the heaters kept us warm in the October chill as we watched the sun set over the city."
Photography Copyright (c) 2015, Cassandra Lane + Danielle Boxall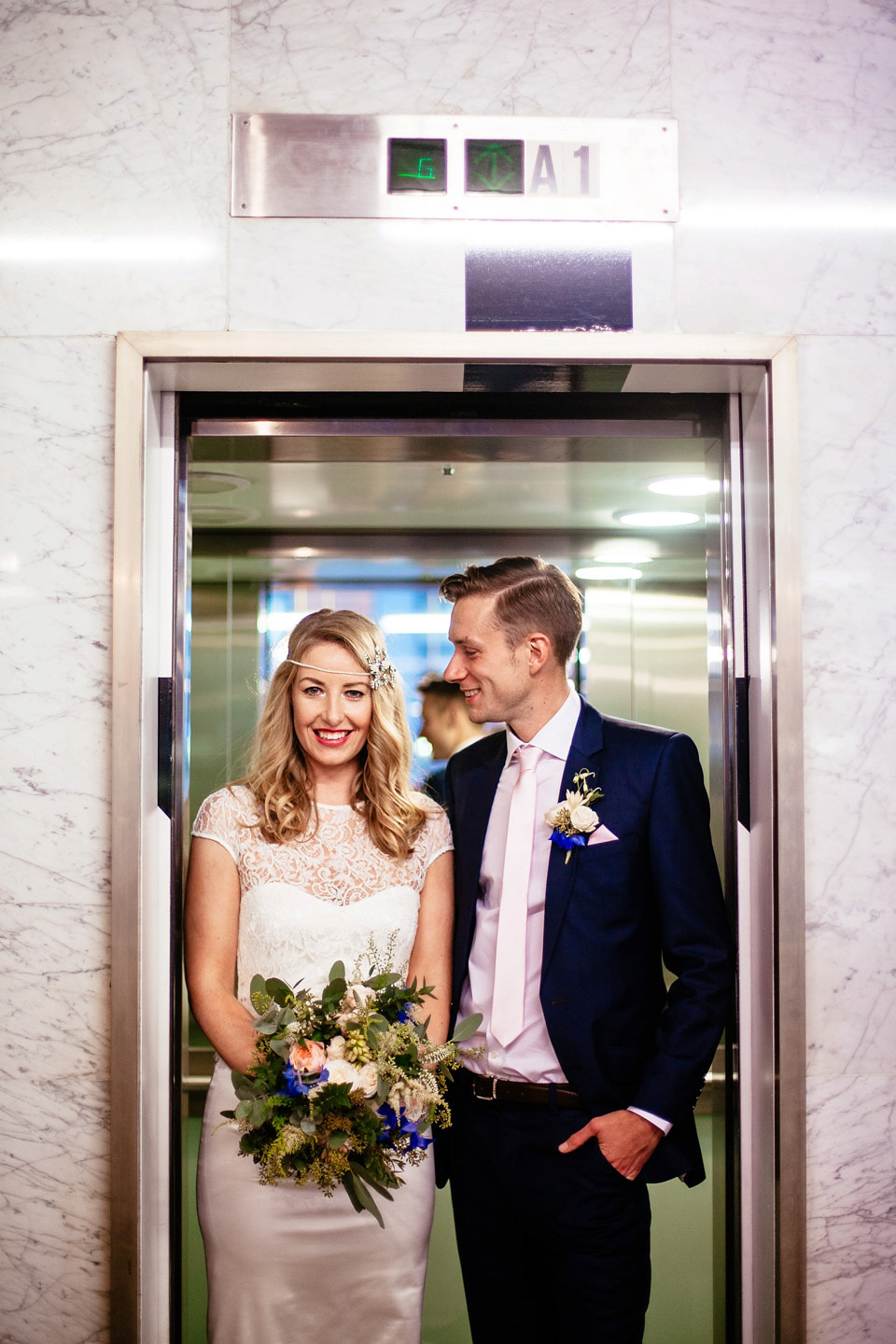 Jacqui looks so beautiful in her fitted strapless stretch dutchess satin dress with its cute fishtail shape design and little train. She paired it with an adorable french lace bodice buttoned at the back with satin covered buttons. So lovely to be able to change the look of her dress by taking the lace bodice off in the evening to reveal the pretty gown for partying.  She found her dream dress, but it wasn't without a little drama;
"I've always loved the Boho, vintage style, but I'm quite glam at heart, so I was struggling to find something that combined the two styles. After trying on numerous beautiful dresses I just couldn't seem to find the one. I spent many hours searching online and came across Sabina Motasem. I found a stockist and went to try on her dress. I immediately fell in love with the Colette gown and matching Evelyn bodice. When I phoned the shop the next day they had closed down!"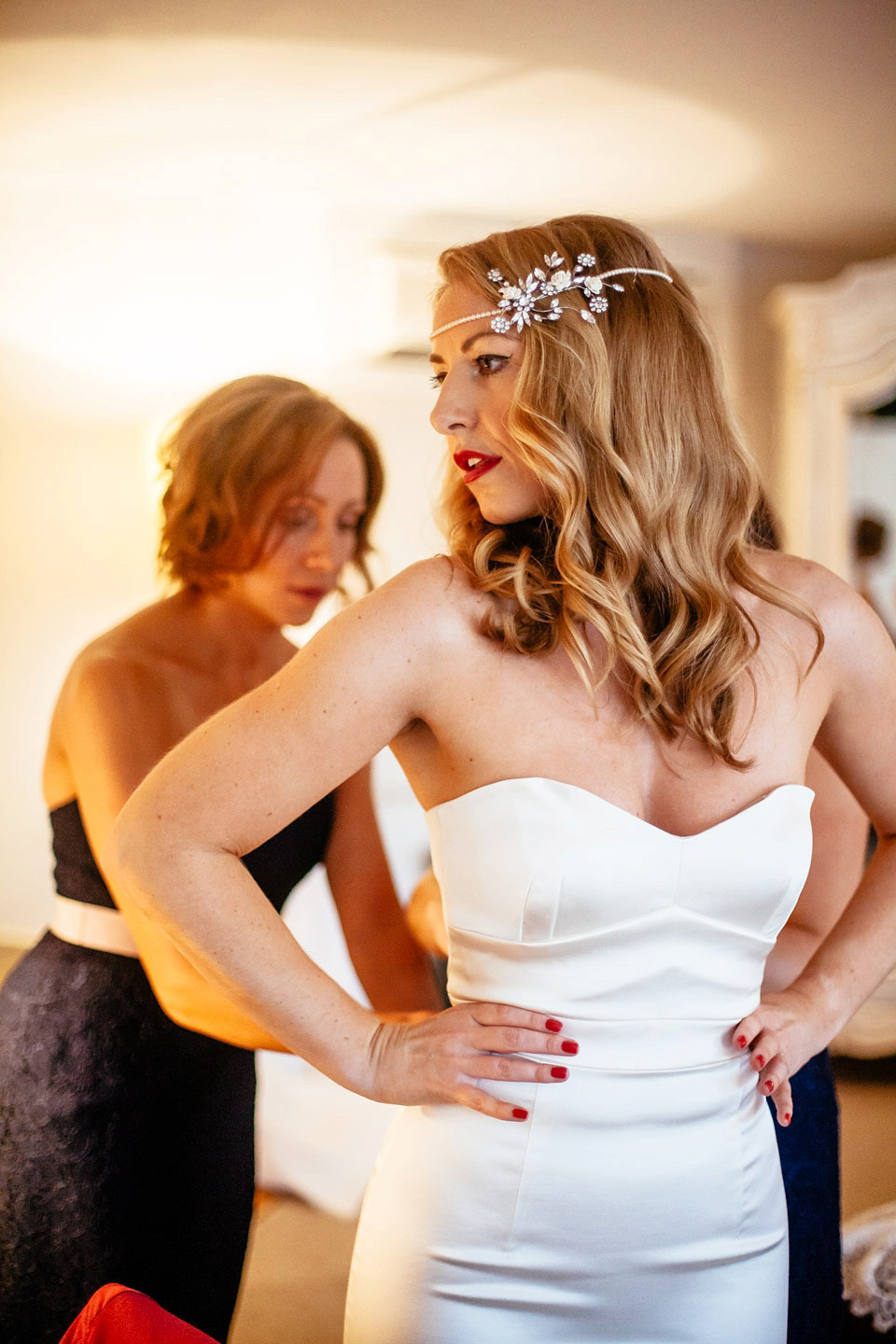 "Over the next few weeks I couldn't stop thinking about the dress, so I contacted Sabina herself and she was amazingly helpful and told me that she was in talks with a bridal boutique in Cheshire who were considering stocking her dresses. I knew then it had to be Agapé! It was and I was there in a shot 🙂From the moment I walked into Agapé I knew I wanted to get my dress from them."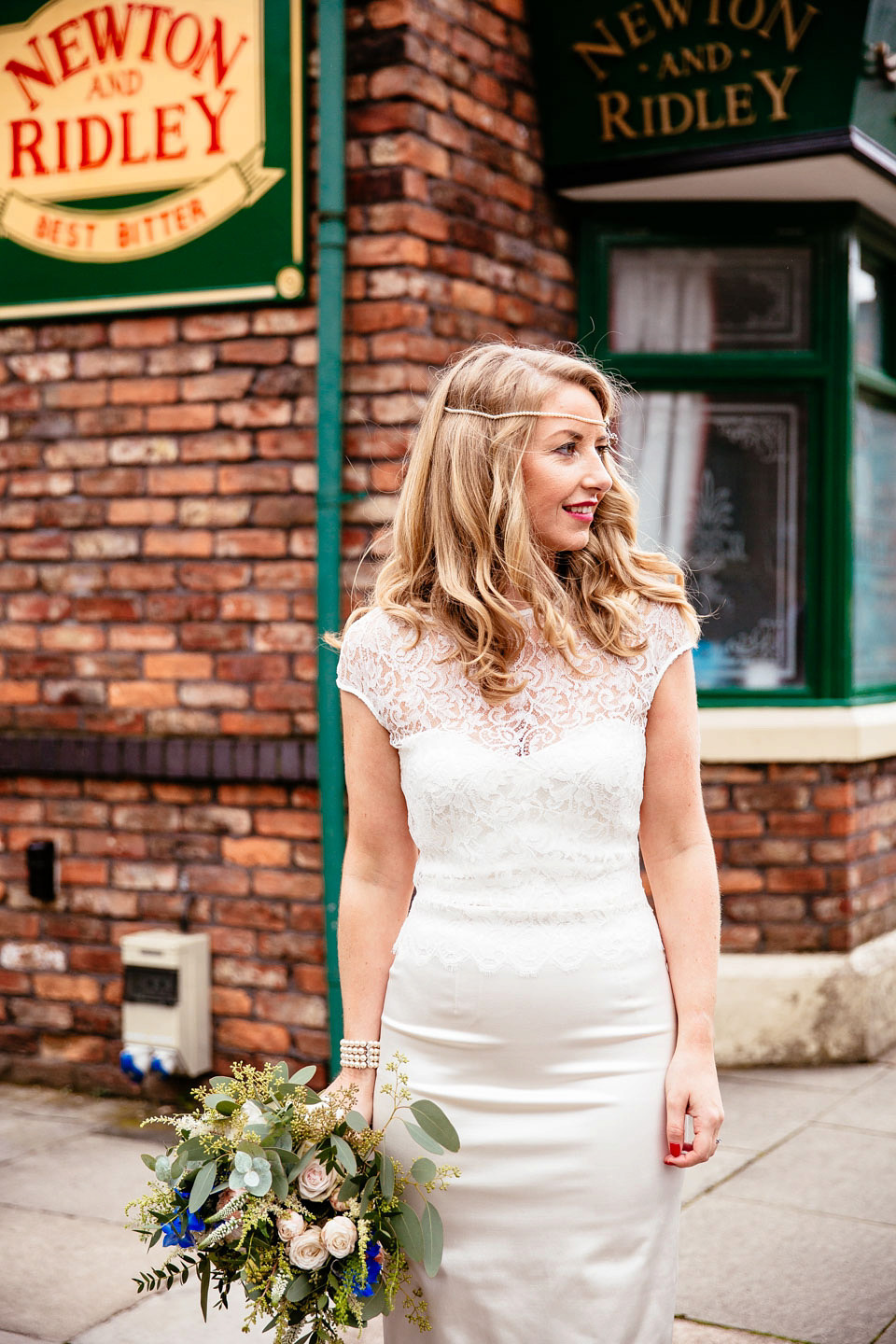 The couple chose Manchester based Cass of Cassandra Lane to shoot their day. Cass is a super talented photographer, she comes from an arts background which I think comes through in her images which are flooded with the colour and feeling from Jac and Toby's day. Cass was assisted on the day by the lovely Danielle Boxall.
"We loved these guys and their efforts on the day. They made us feel totally relaxed and it was like having a couple more friends at the wedding. We were attracted to Cassandra's creative, reportage style and loved the end result. We were also excited to talk our way onto the Corrie set which is just across the road from Gt. John St. We even managed to pull a celebratory pint in the Rovers Return. Cassandra and Danielle were also really creative with their shots including some unique ones in the dark. Cassandra also provided a photo booth which was really popular."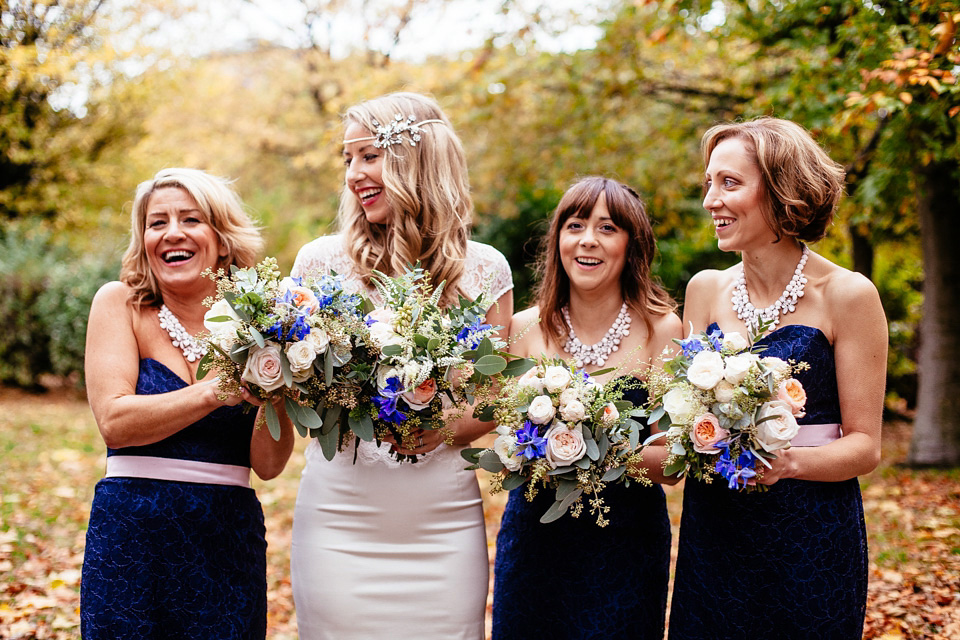 The beautiful flowers, which are so striking, bright and colourful, were created by Laura Coleman Flowers;
"We chose mixed Garden flower blooms, soft pinks, apricots, creams, nudes and an electric blue. Featuring seasonal flowers and foliages and the David Austin Juliet rose as it was the wrong time of year for Peonies."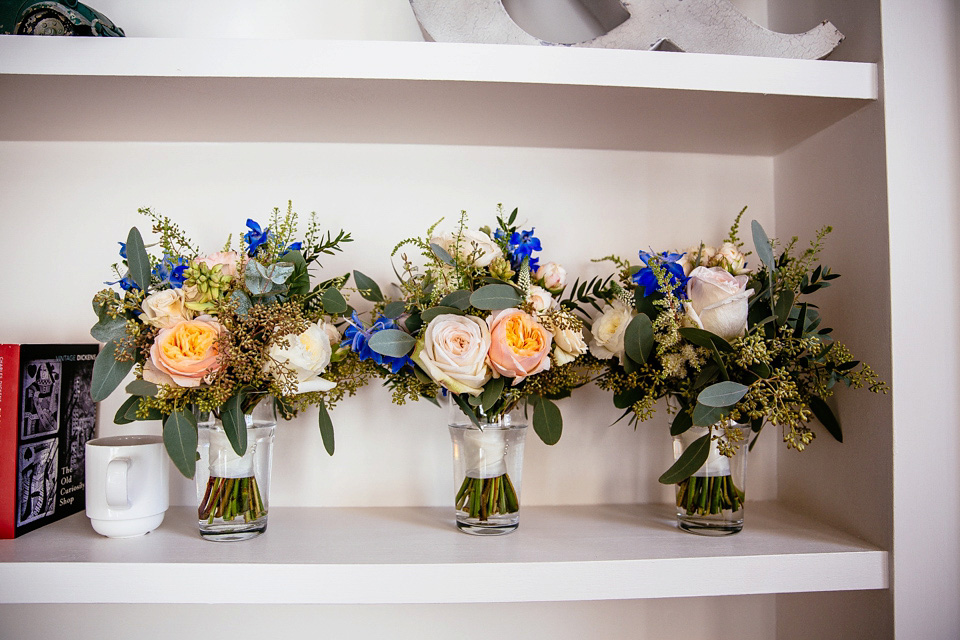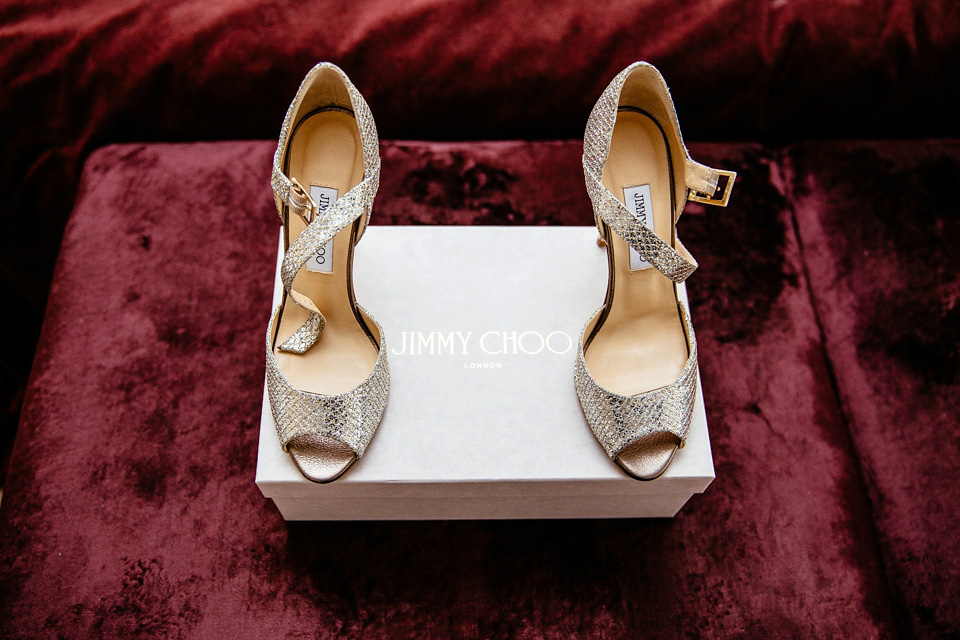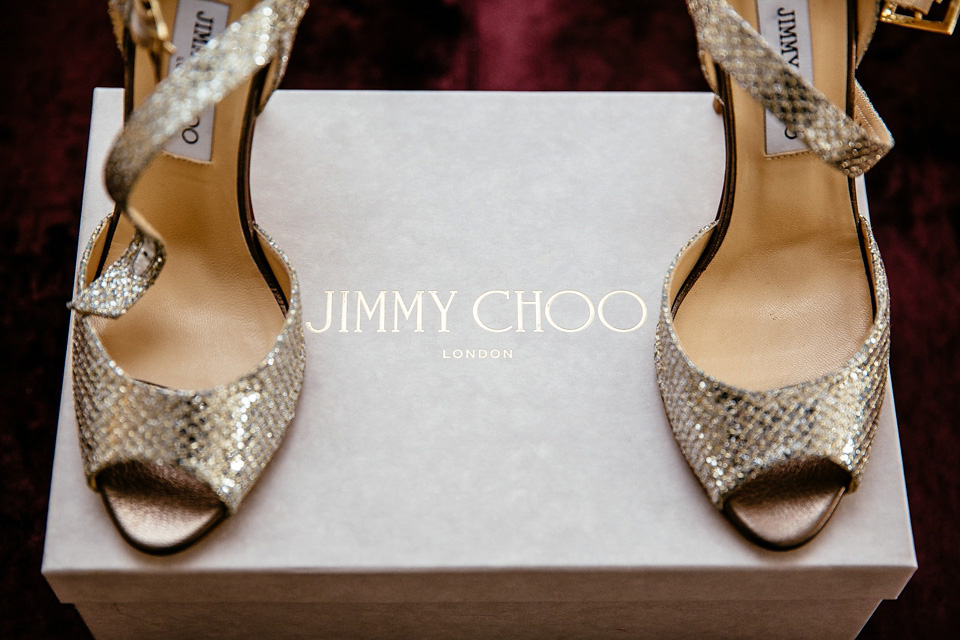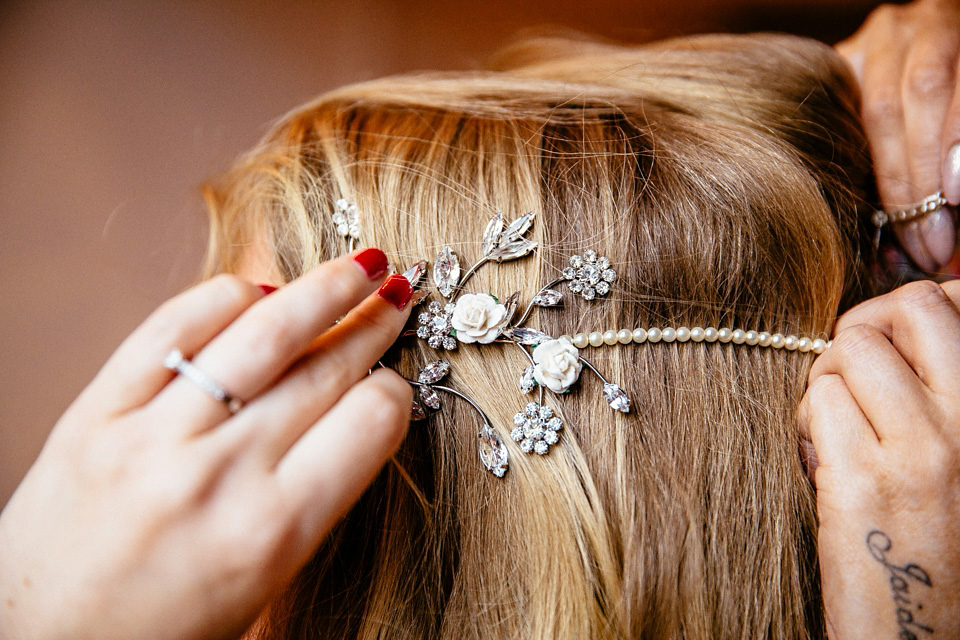 The bridesmaids outfits were completed with fabulous pink statement necklaces from Coast.
"The bridesmaids wore strapless navy lace dresses from Watters. With baby pink courts from New Look which were an absolute bargain at £20!"
Jacqui wore a stunning and ever so glamorous pair of champagne lace Jimmy Choo, Mary Jane shoes. Her look was complete with a stunning Flo & Percy 'Wilderness' Headband and pearl cuff from Debenhams. Jacqui's natural elegant make up was created by Kirsty Scott Make Up Artist, with her soft curled hair by Toni & Guy Deansgate.
Jacqui wore the perfume Chloe, because she wore it on their first date and it reminds Toby of her. How romantic!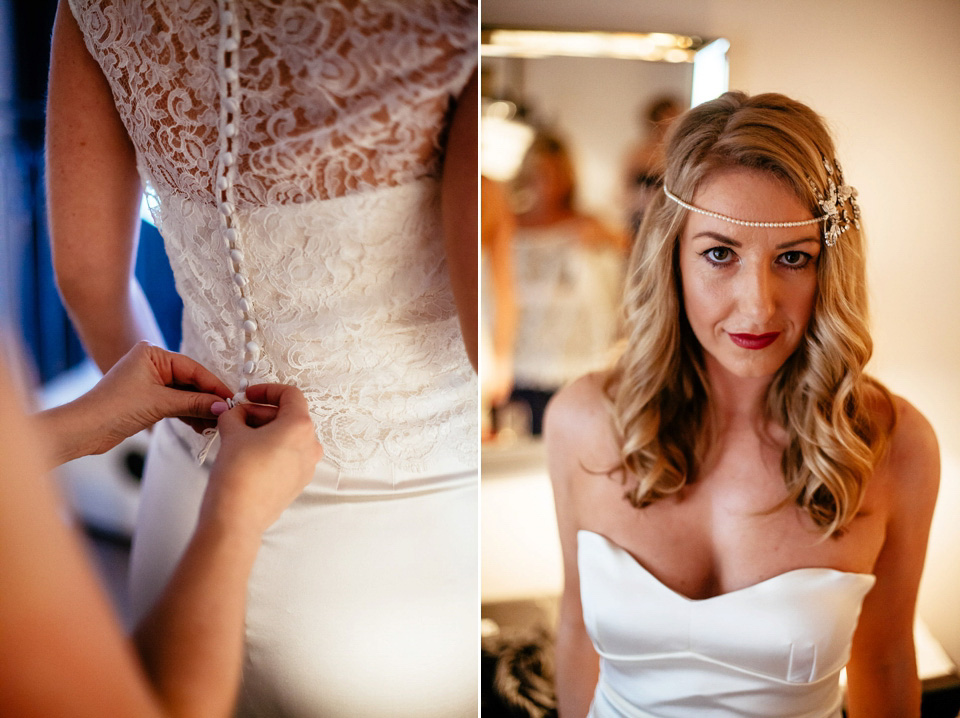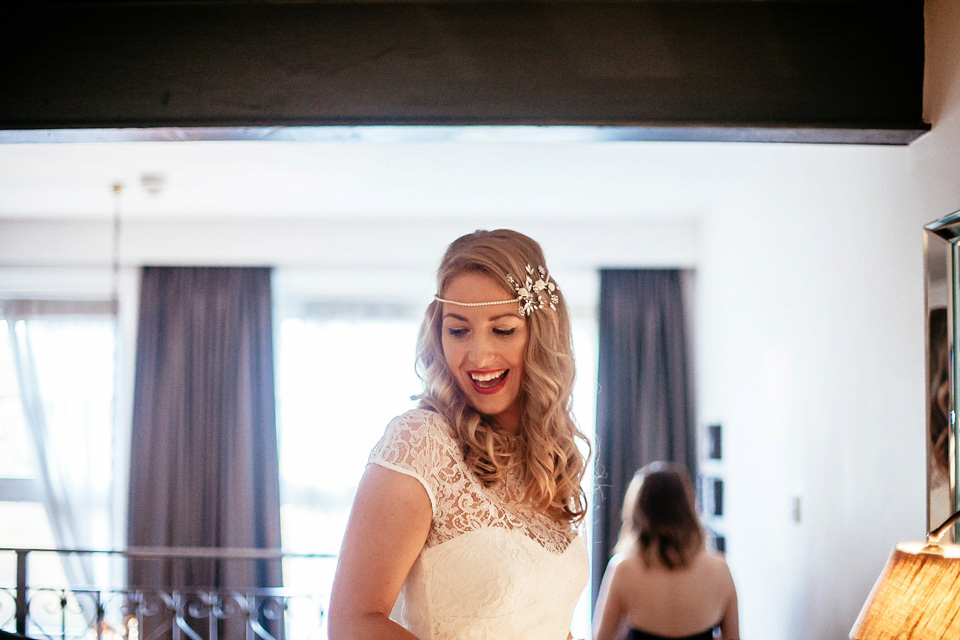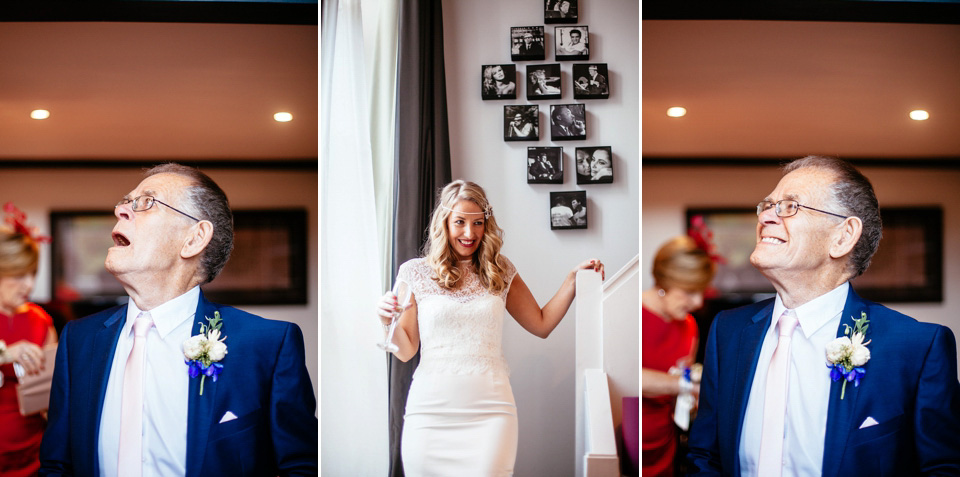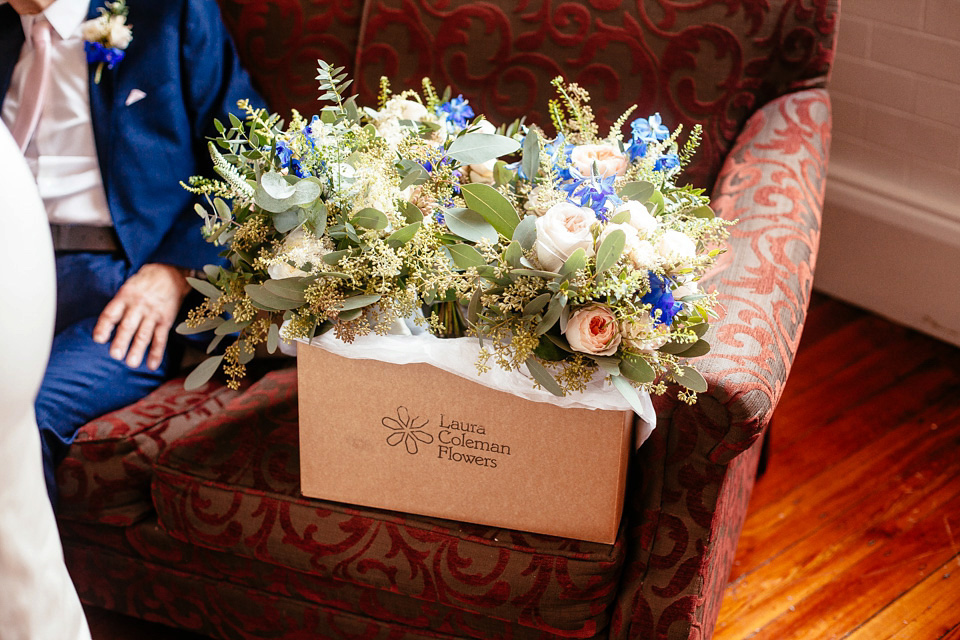 Toby and his Best man Jan from Germany wore smart deep navy royal blue suits that picked up the amazing electric blue details in the floral bouquets.
Toby's tailored suit was from King & Allen, Wilmslow with Paul Smith brown suede ankle boots and socks. He had his hair groomed for the occassion by Ian at Terence Paul, Wilmslow.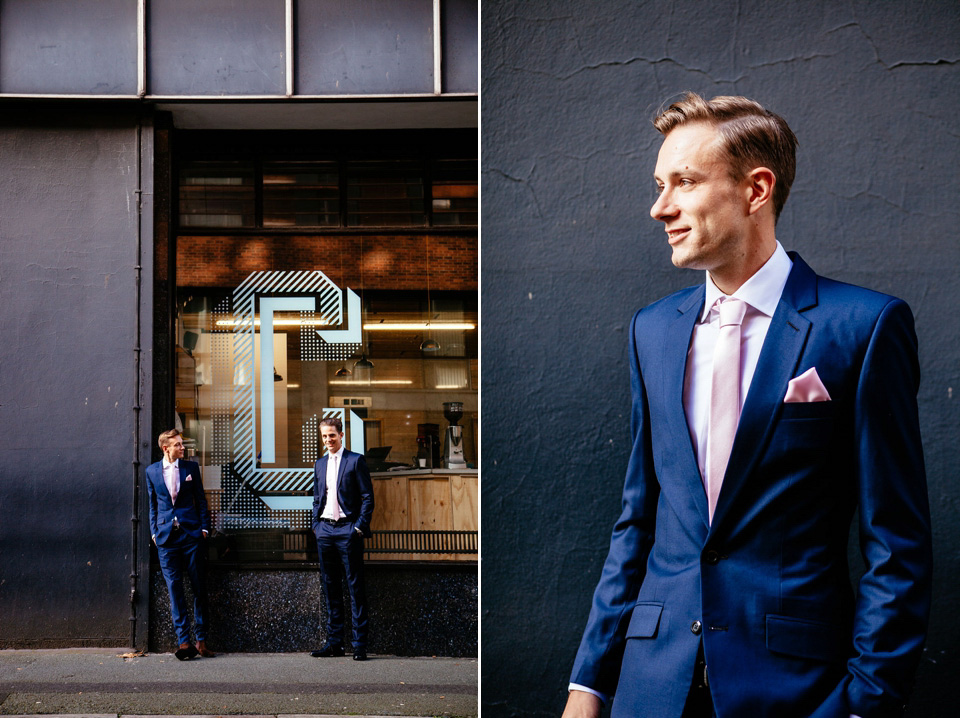 "We met five years ago in 2009 when we started teaching together in the same prep school. After a long period of flirtation we got together the following year in 2010.  We got engaged in July 2013 when travelling in Australia. I proposed to Jacqui whilst we were snorkelling in the water off the Whitsunday islands.
After a brief struggle wrestling the ring out from under my wetsuit I showed it to Jacqui. She looked confused and thought I'd found it in the coral. After a few seconds it clicked and we were able to enjoy the moment. Not for long though as we were treading water and caught in a decent current! We were engaged for just over a year before the big day."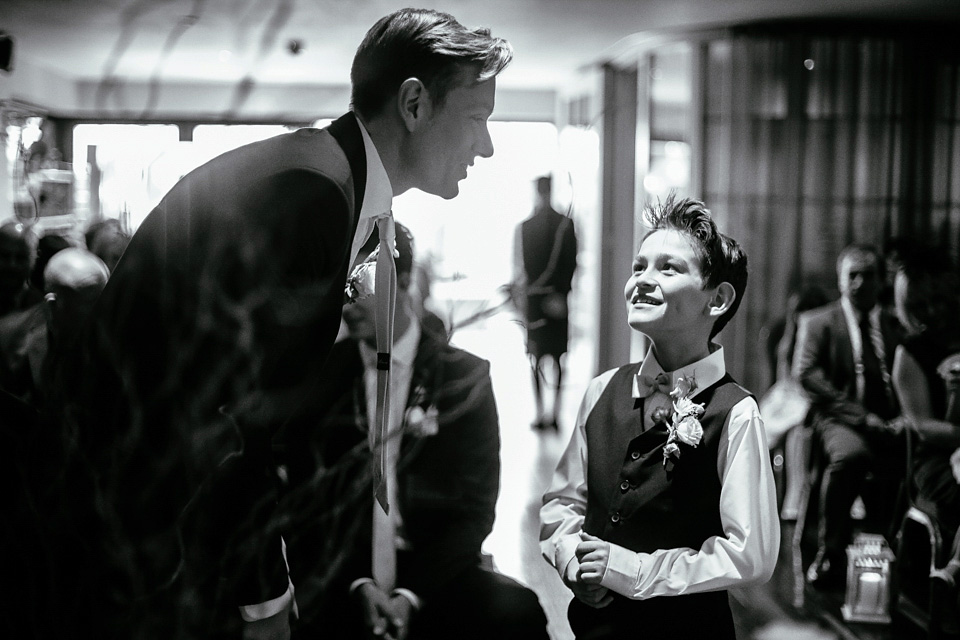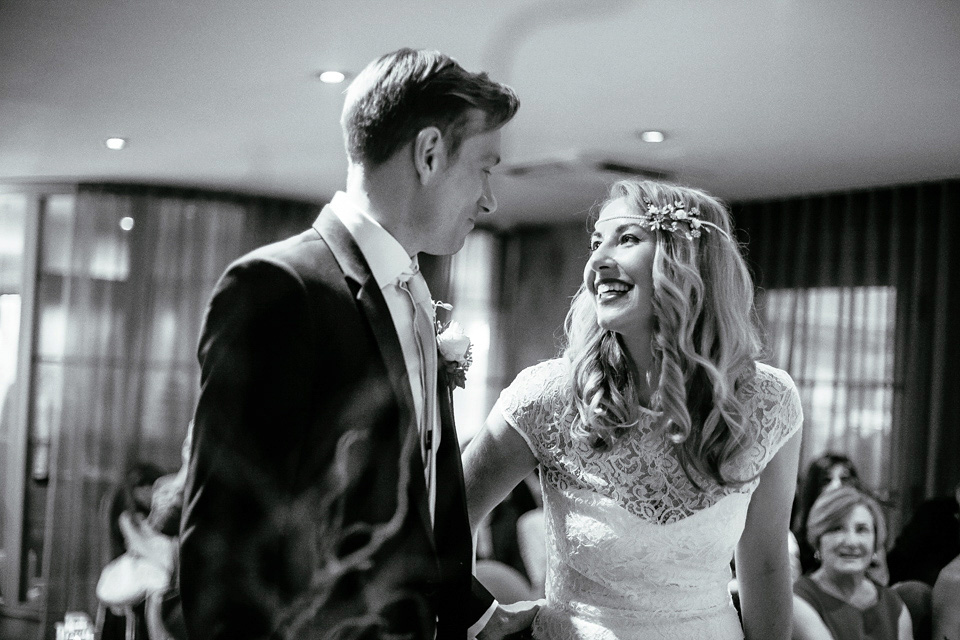 Jacqui's was given away by her lovely dad, Phil. They walked down the aisle to the Romeo and Juliet song.  The couple chose one reading, 'The Bridge Across Forever' by Richard Bach, read out by Toby's sister Emily.
The Bridge Across Forever by Richard Bach
A soul mate is someone who has locks that fit our keys, and keys to fit our locks. When we feel safe enough to open the locks, our truest selves step out and we can be completely and honestly who we are; we can be loved for who we are and not for who we're pretending to be. Each unveils the best part of the other. No matter what else goes wrong around us, with that one person we're safe in our own paradise. Our soul mate is someone who shares our deepest longings, our sense of direction. When we're two balloons, and together our direction is up, chances are we've found our soul mate.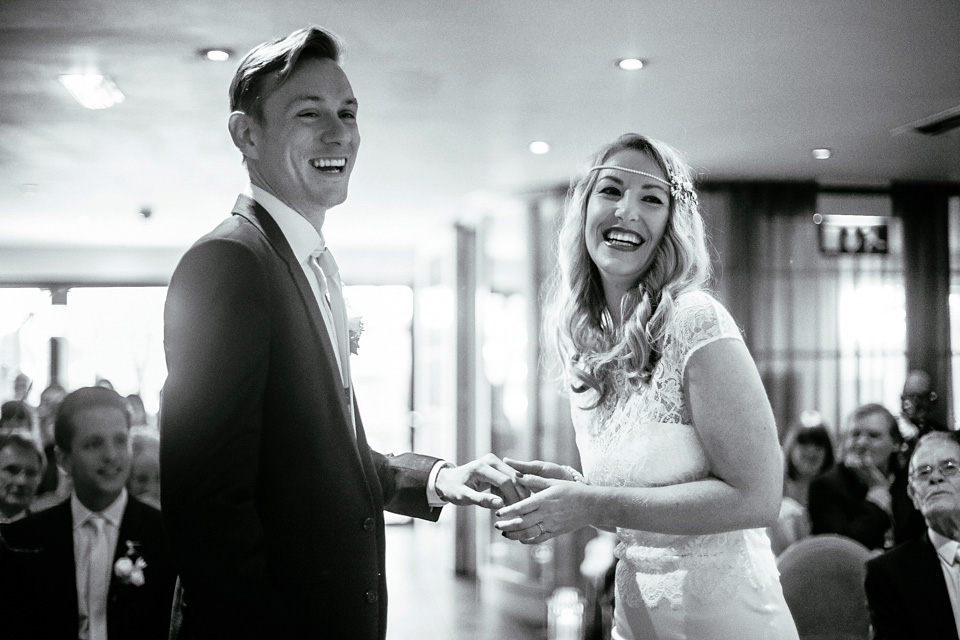 Toby's favourite part of the day, was the ceremony…
"I felt so emotional and proud during the ceremony. It was a really touching moment. I also loved having so many great friends and family all in one place. Every corner I turned was someone else I wanted to chat to. It made for an awesome party."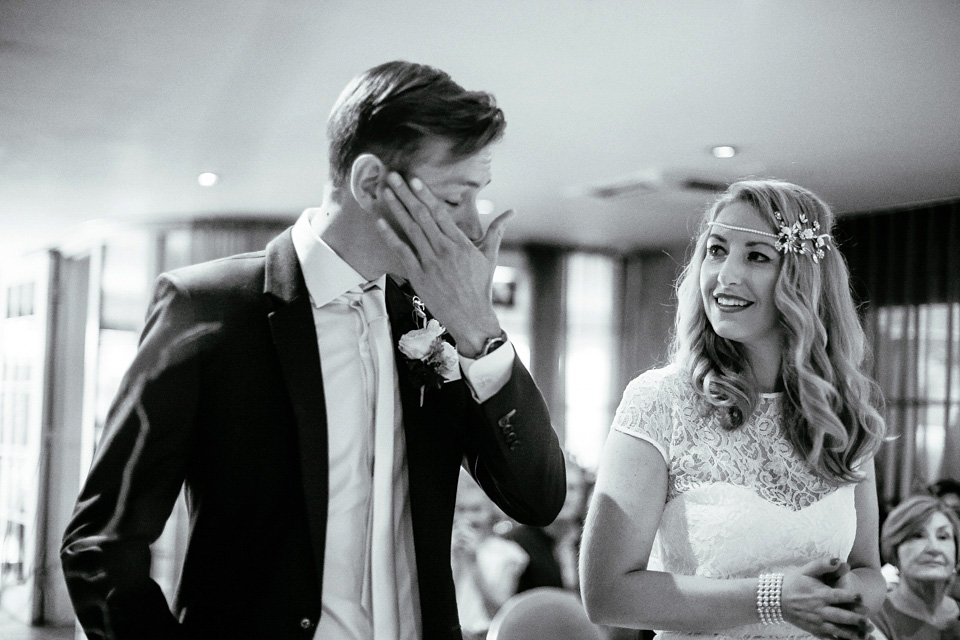 Jacqui chose a Tiffany Novo wedding band to match her engagement ring, and Toby chose a Palladium and Rose Gold ring from Design Centre in Northern Quarter, Manchester.
"I loved the style and quality and chose this one after originally going for the Tiffany Solitaire."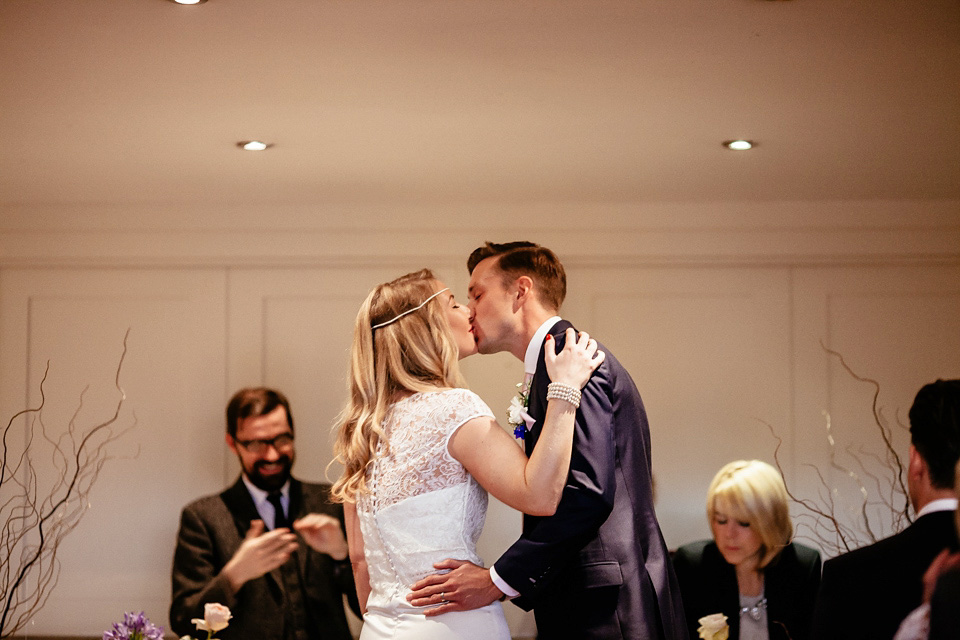 "We walked out to The Verve's 'Bittersweet Symphony'. We kept our vows quite simple. We wanted our vows to express our commitment to each other without being too elaborate."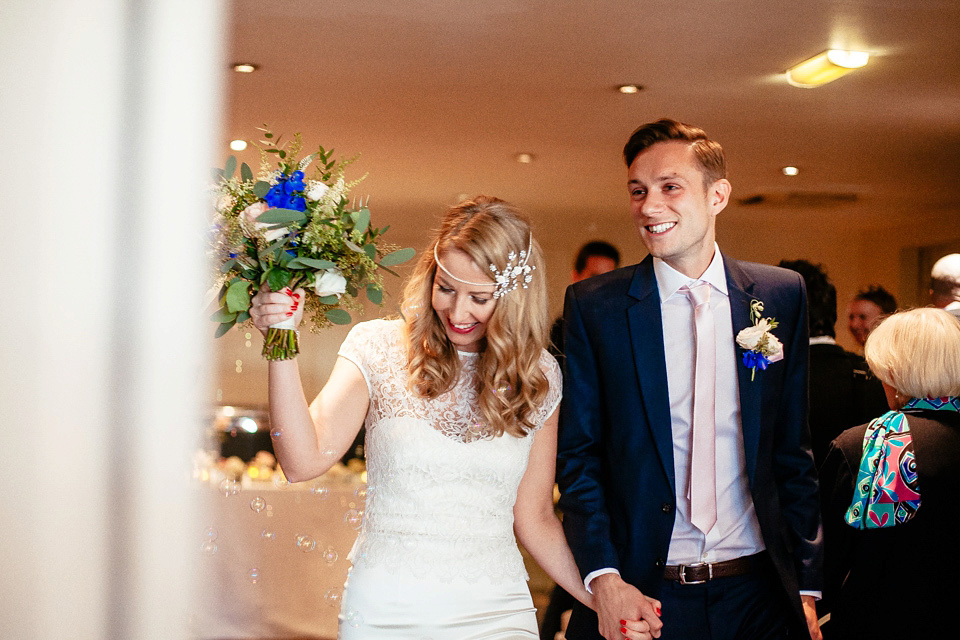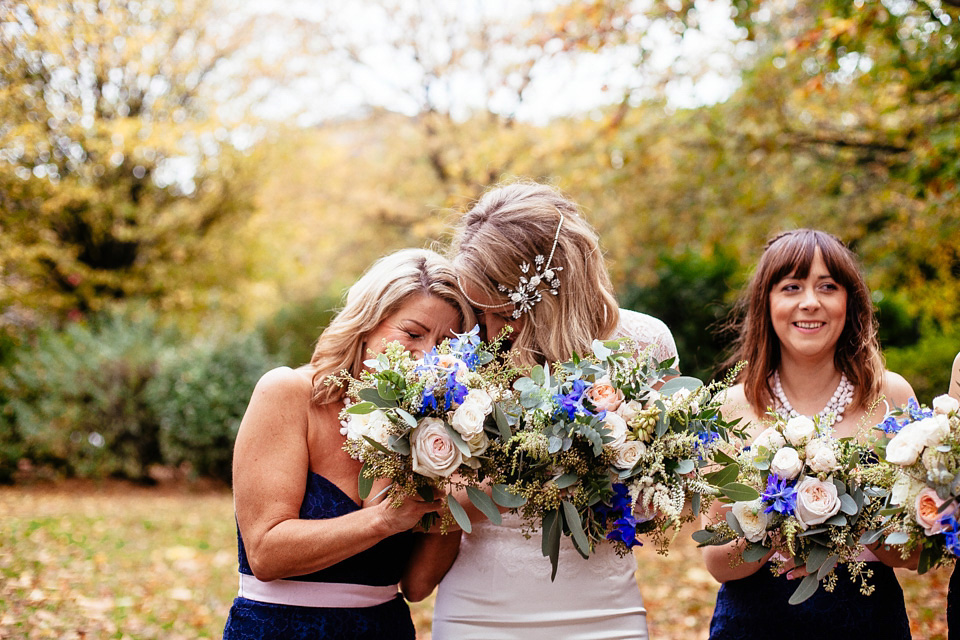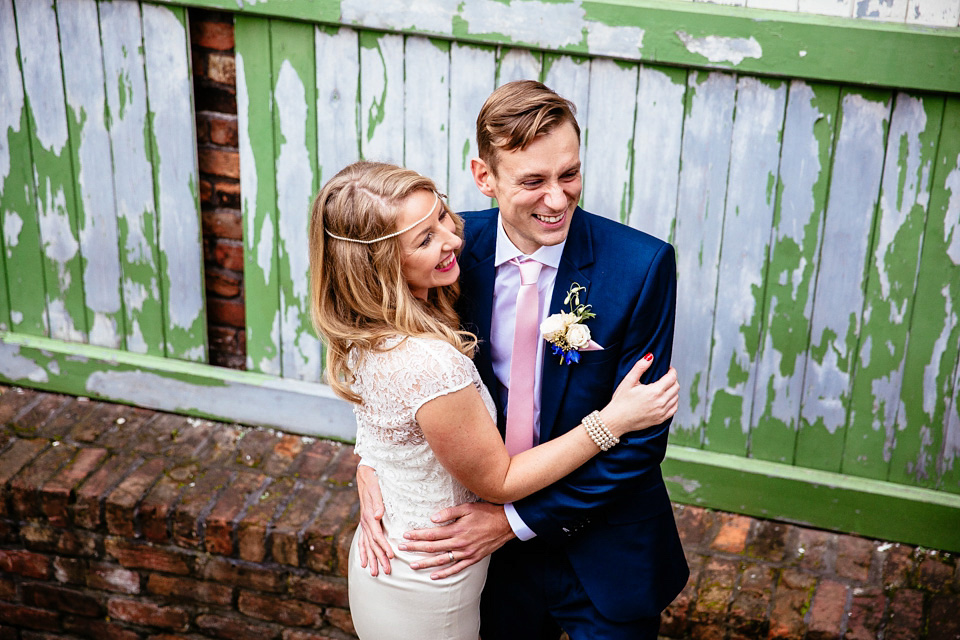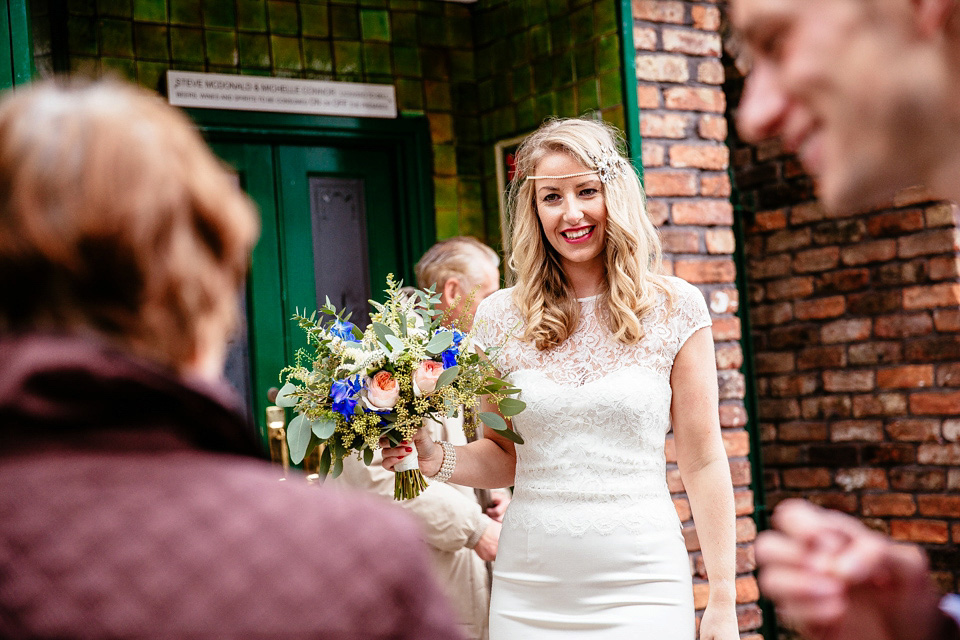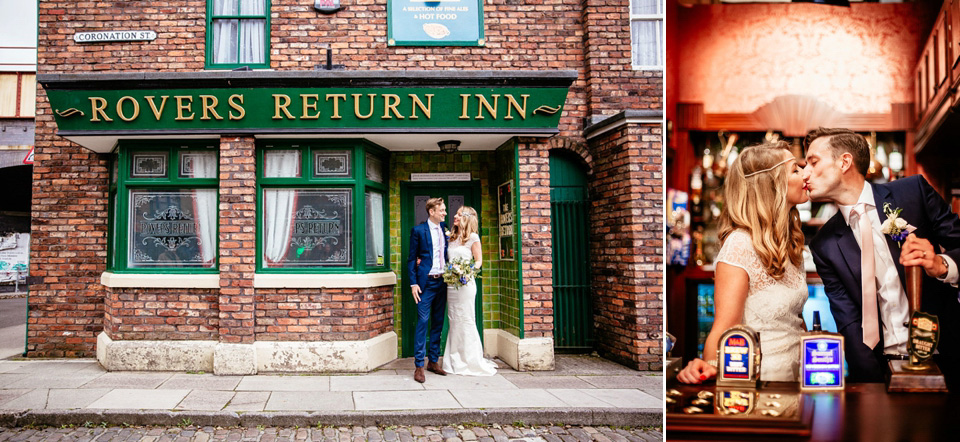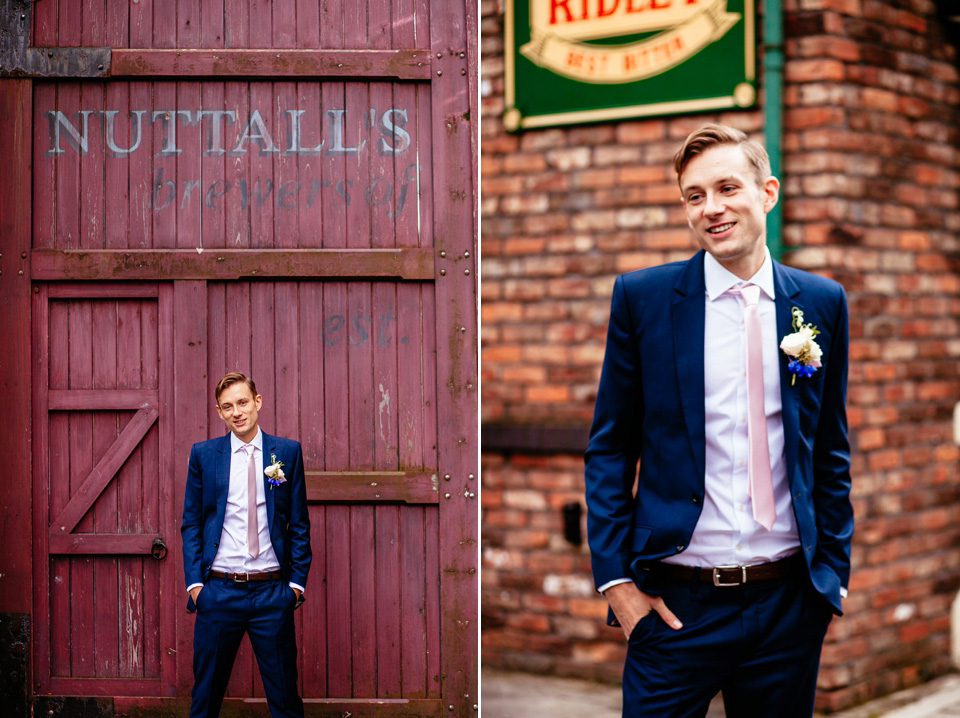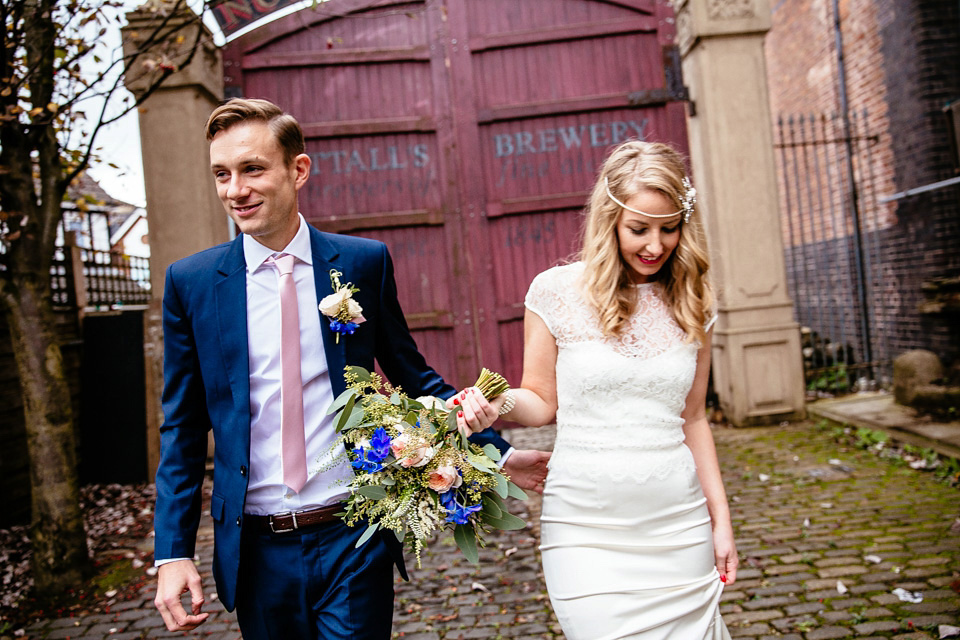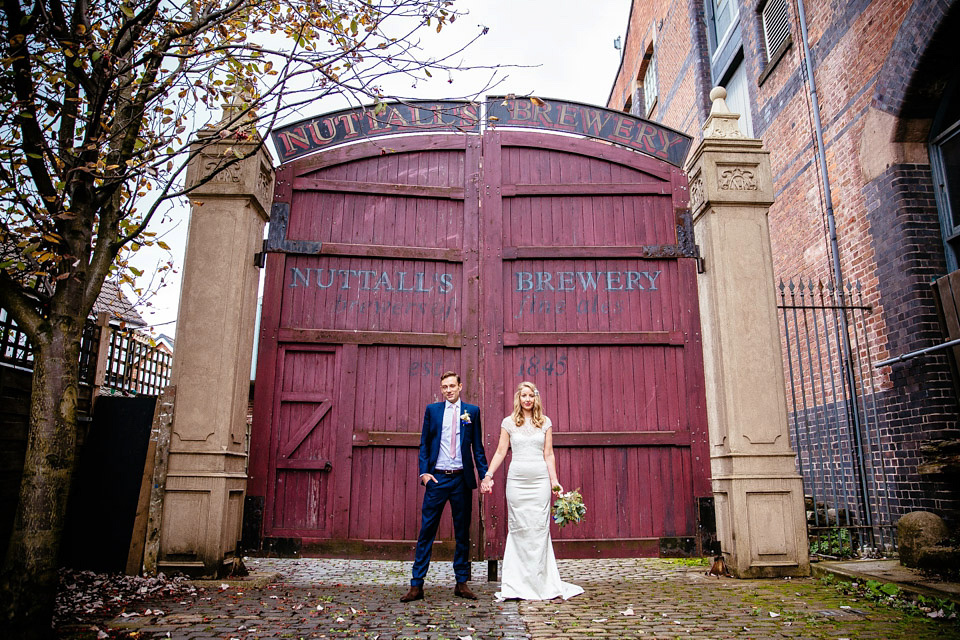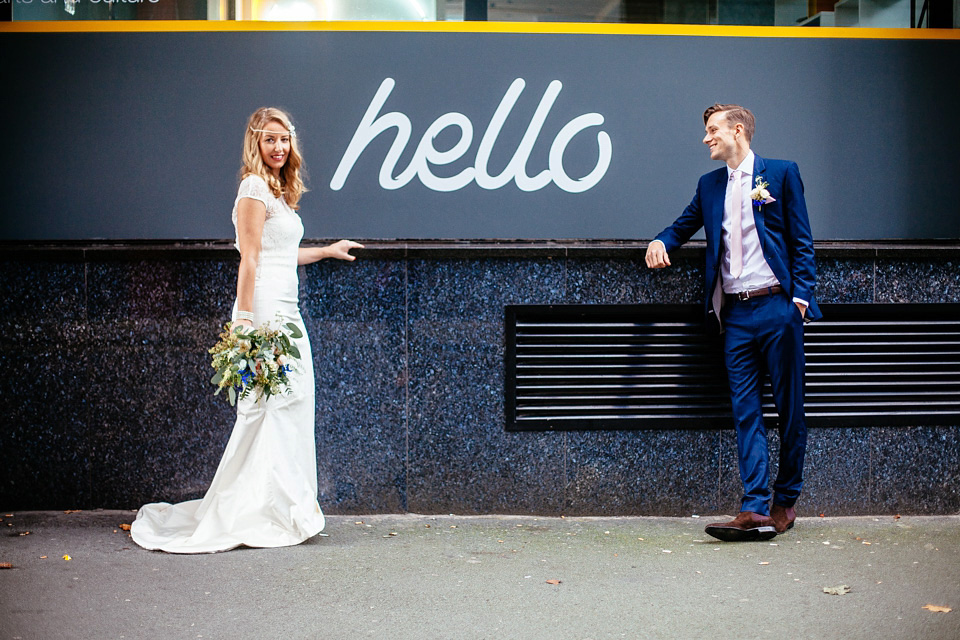 All the other catering on the day was supplied by Great John Street Hotel.
"We enjoyed a hog roast during the day and the food was exceptional. The barman kept the wineglasses topped up and they also supplied a cocktail maker too.
The staff were so helpful and helped us and our guests in so many extra ways. They took all the challenges out of the day. I was blown away by the suite too which had two floors and twin baths.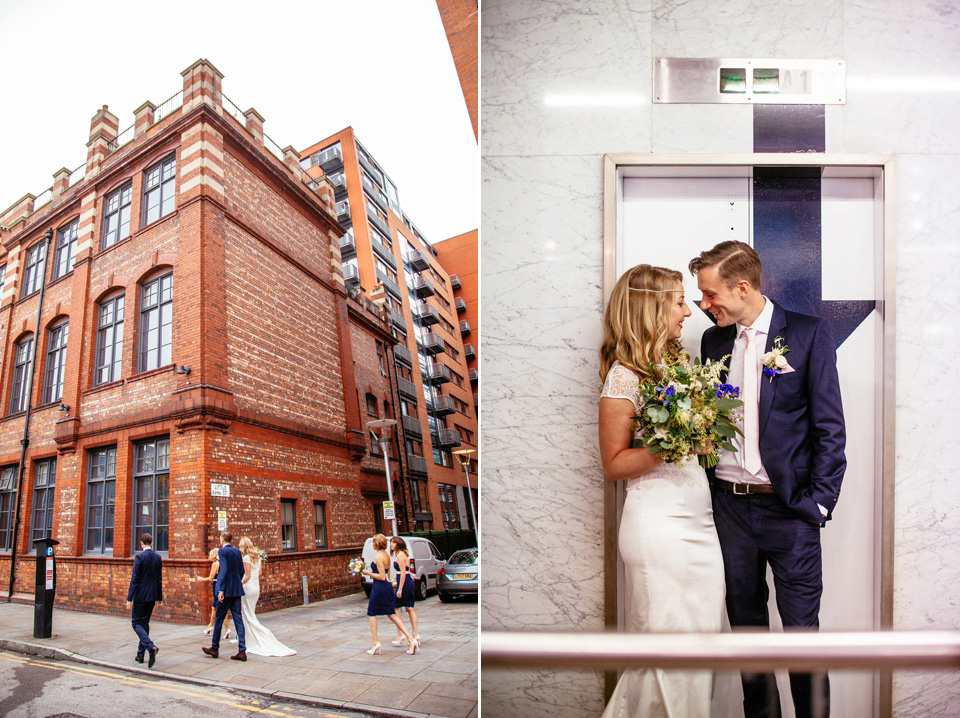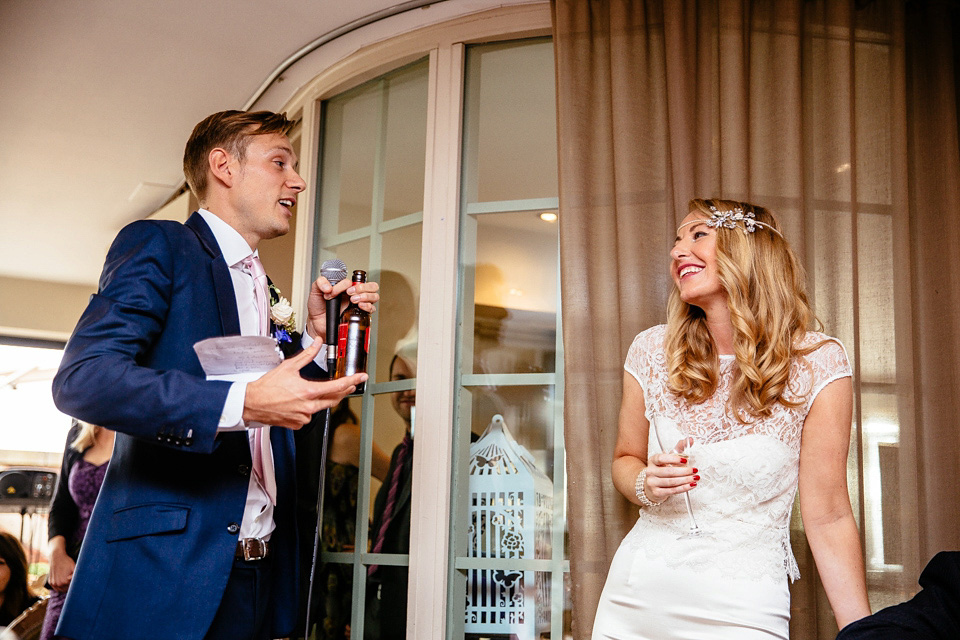 The venue itself is very beautiful and the couple enhamced it with light up love sign from The Word Is Love, pretty lanterns from Ikea, glass tea light holders with branches and floral arrangements with apples in vases.
The couple chose a fabulous selection of cakes from The Dish Ran Away With The Spoon, an amazing tea room in West Didsbury (that you must visit if you are ever in the area).
"We had a Naked Victoria sponge and a range of amazing brownies (Rocky Road, Salted Caramel and Pistaccio/Cardamon and white chocolate)."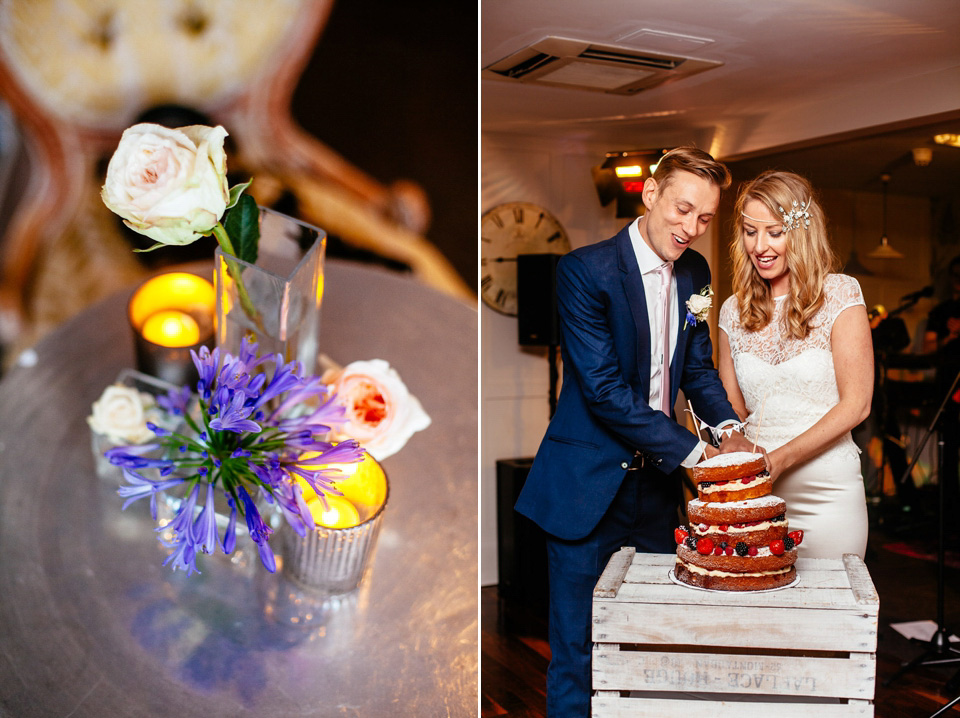 Jac and Toby chose 'This is for Lovers' by Pete Docherty & Wolfman for their first dance;
"The band performed a cover version for us. We love this song because it reminds us of when we first got together and we are both big Pete Docherty fans."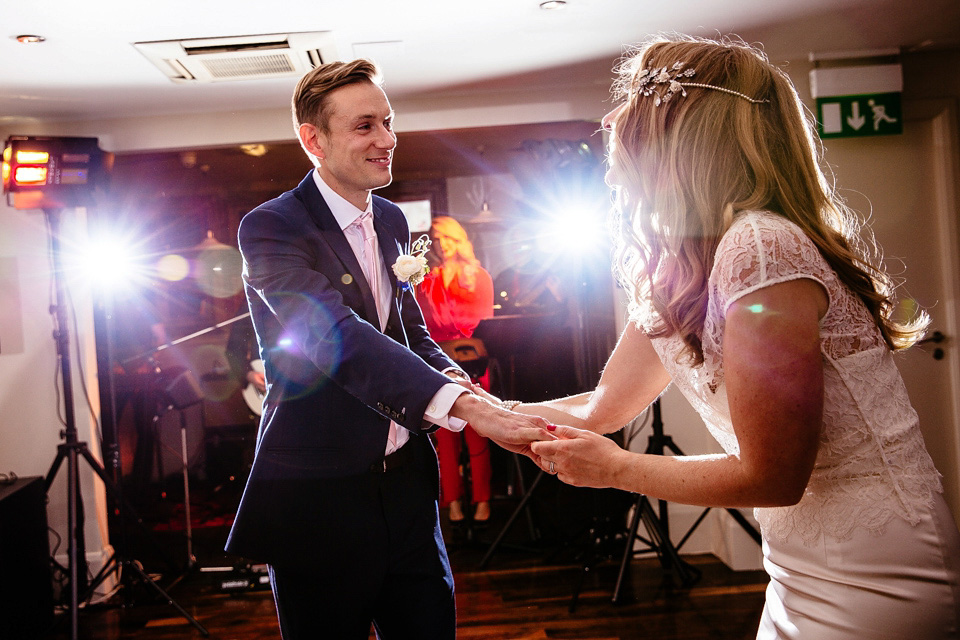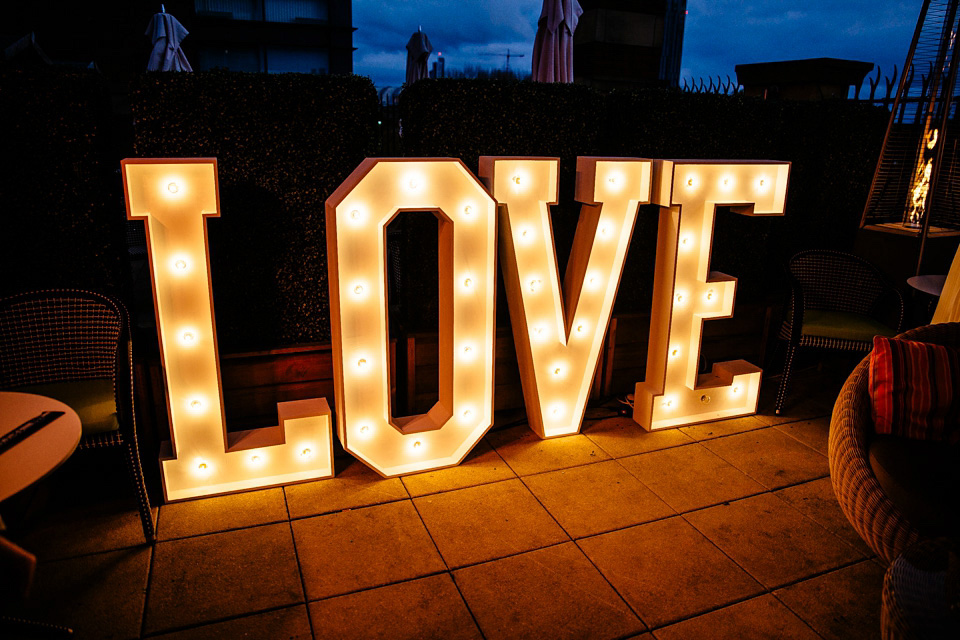 Words of Wedded Wisdom
"Don't let nerves take control of you in the lead up to the wedding. As soon as you walk down the aisle all the tension goes and I loved every minute of it. So much so I wish I could do it all over again."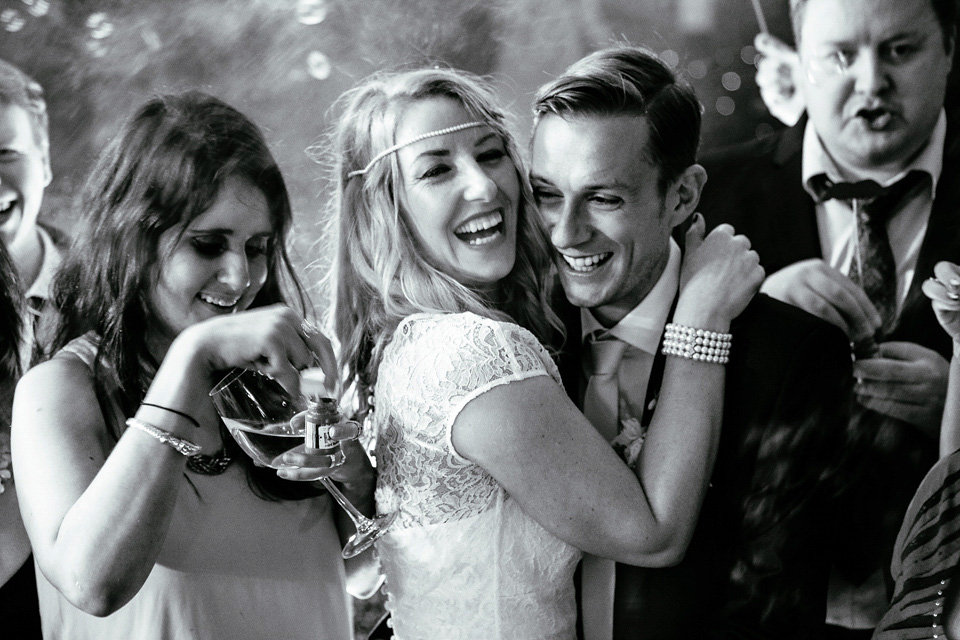 Thank you so much Toby and Jacqui for sharing your wedding with us today, it looked like you had the most amazing day and I love the little detour to the cobbles! Thanks too, to Cassandra Lane and Danielle Boxall for the fabulous images.
Are you planning an effortlessly elegant chic city wedding as well, why not pop over and join us on Pinterest for even more inspiration,
Love Rebecca x
Photographer – Cassandra Lane + Danielle Boxall
Venue – Great John Street Hotel
Wedding Dress – Sabina Motasem via Agapé Bridal
Headpiece – Flo & Percy Wilderness Headband, pearl cuff via Debenhams
Perfume – Chloe
Groom – King & Allen, Wilmslow + Paul Smith shoes
Bridesmaids – Watters dresses + Coast necklaces + New Look shoes
Florist – Laura Coleman Flowers
Entertainment – Benjamin Clarke
Rings – Novo,Tiffany + Design Centre
Hair Stylist – Toni & Guy Deansgate
Makeup Artist – Kirsty Scott
Cake Table – The Dish Ran Away With The Spoon
Light Up Letters – The Word Is Love