Happy Tuesday lovelies! I hope you are all having a jolly week so far? I have a little something different to share with you this Tuesday evening – a wonderfully romantic vow renewal with a heartfelt tale and bucket loads of style. Make-up artist Tippy and her husband George held an intimate ceremony and dinner at Helen's Bay, County Down in Northern Ireland on 10th September last year, to celebrate their twenty year's of marriage milestone.
This is such a charming set of images that completely stole mine and Annabel's hearts (and, according to Annabel, has rather a few #ShareTheHonestLove images that she'll be adding to Instagram later today).
Tippy explains how discovering this beautiful wedding blog was the inspiration that led to her vow renewal….
"Two years ago I came across Love My Dress, and I fell in love with the stories of real brides. I loved it so much that it brought me back to my own wedding day and how, if I had a chance, would like to do a few things differently. I became so inspired by it that it gave me the idea of renewing my own vows with my husband of 18 years, George. Since 2014 was due to be our 20th wedding anniversary, we thought why not do the romantic thing and renew our vows, this time with just a few special people. Next thing I knew, I was buying my dress and booking our wedding photographer…"
Film Production Copyright (c) 2015, Carl Higgins Media
The couple included their original wedding colour scheme of antique gold with shades of green, soft grey and ivory. They also looked to Kate Bosworth's wedding for the laid-back rustic feel to the day.
"We really wanted a laid back eclectic vibe. A mix of modern, rustic elegance and Martha Stewart-style inspiration. We chose greens (different shades), soft grey, ivory and antique gold for our wedding colours. Antique gold was our theme 20 years ago so I wanted to incorporate gold as well this time. 
Kate Bosworth's weekend wedding was a big inspiration as that was the exact feel we were going for. Grace of Grace and Saviour, our wedding stylist, kept a photo of Kate Bosworth dancing with her husband Michael at The Ranch at Rock Creek. Kate wore a vintage Chloe dress and Michael wore jeans and a dark shirt which was just so casually lovely. George and I thought – '…now this is more up our street!'"
Photography Copyright (c) 2015, Epic Love Photography
The couple found a stunning private beachside location in County Down called Helen's Bay, which fitted their brief perfectly.
"I have always loved being beside water so while doing some research online I stumbled into this beautiful clapboard beach house in Helen's Bay with a small garden and a balcony overlooking the beach. This place is a little gem. Not many people knew about it which was perfect. When we went to see it I fell in love instantly and we knew that we've found our 'spot'. It was the right atmosphere for what we wanted and ticked all the right boxes.
It made us feel like we were in the Hamptons without spending a fortune to actually be in the Hamptons."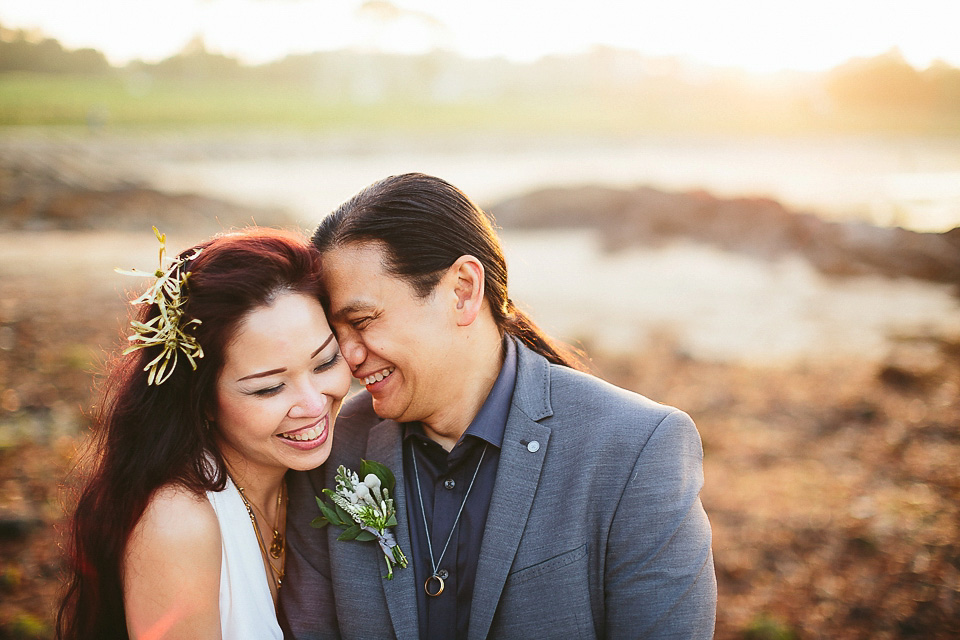 Tippy wore the striking 'Anise' by Jenny Packham, found via Shay Harris Bridal Lounge in Southampton…
"Since beginning to follow Love My Dress two years ago, I've discovered wonderful wedding dress designers. One in particular became my favourite – Jenny Packham. After asking George to renew our vows, I went online and found the perfect style Jenny Packham gown, the 'Anise'.  So my dress has actually been hanging in my wardrobe for two years! I didn't however take it out of it's dress bag until a month before the renewal, when I went for a dress fitting."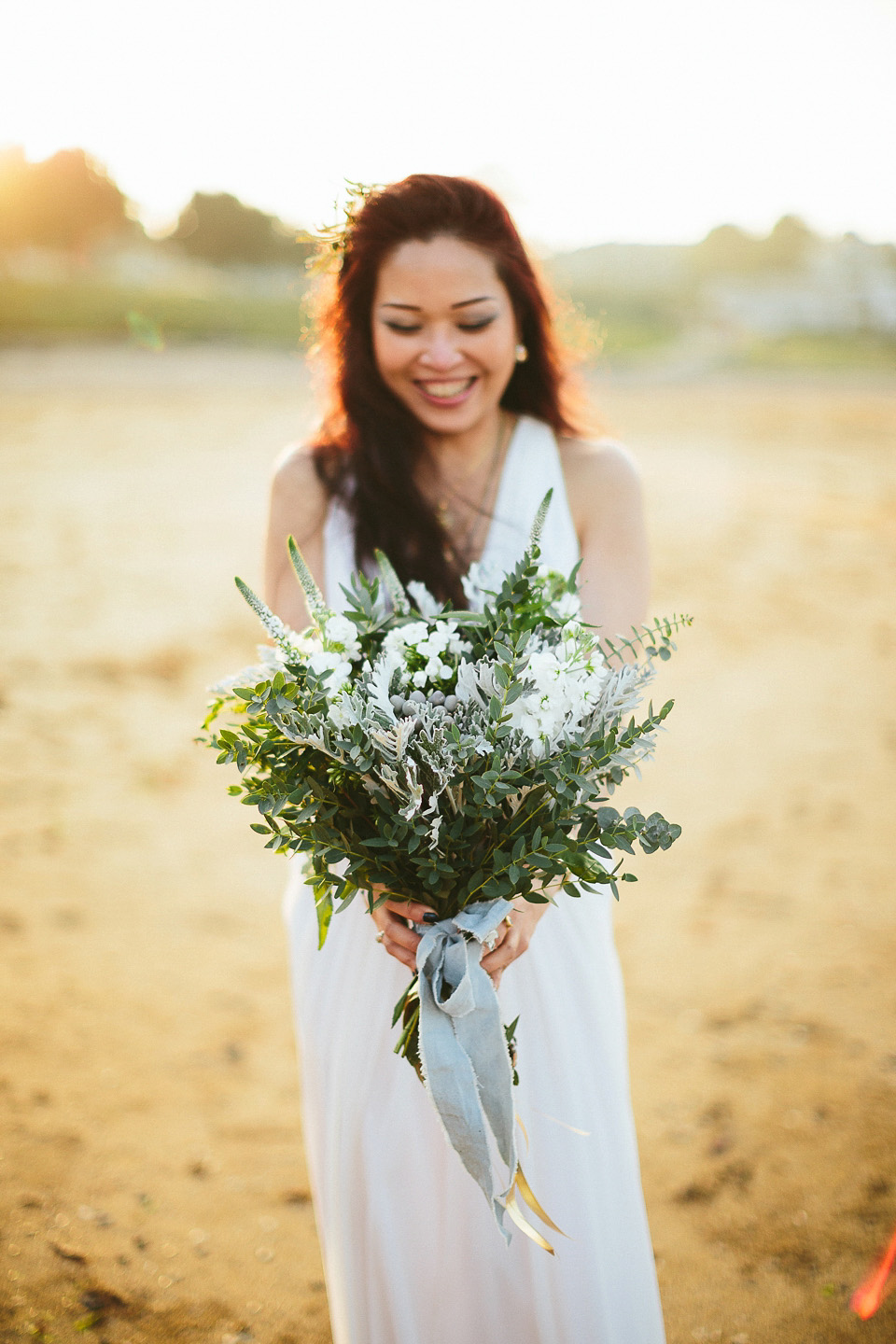 Tippy's friend Grace, from wedding and event styling company, Grace and Saviour, had a few jobs on the day – acting as their wedding stylist, florist and as one of the bridesmaids too!
"Grace provided all the floral arrangements on the day, from the bouquet, tablescape, boutonniere, floral hair pieces as well as the flower adornments on the bride and groom chairs. I was keen for more greens than flowers on the day, and I showed Grace a photo that I'd been inspired by. As she was only sourcing what was seasonally available on the day, we couldn't be sure if we would get the bouquet I wanted. But Grace is a genius at sourcing and arrived with a beautiful mix of greens, greys and whites. Dusty Miller, Eucalyptus, Phlox, Veronica and grey Protea. She tied them all up in gold metallic ribbon with grey muslin. It was exactly what I had wanted."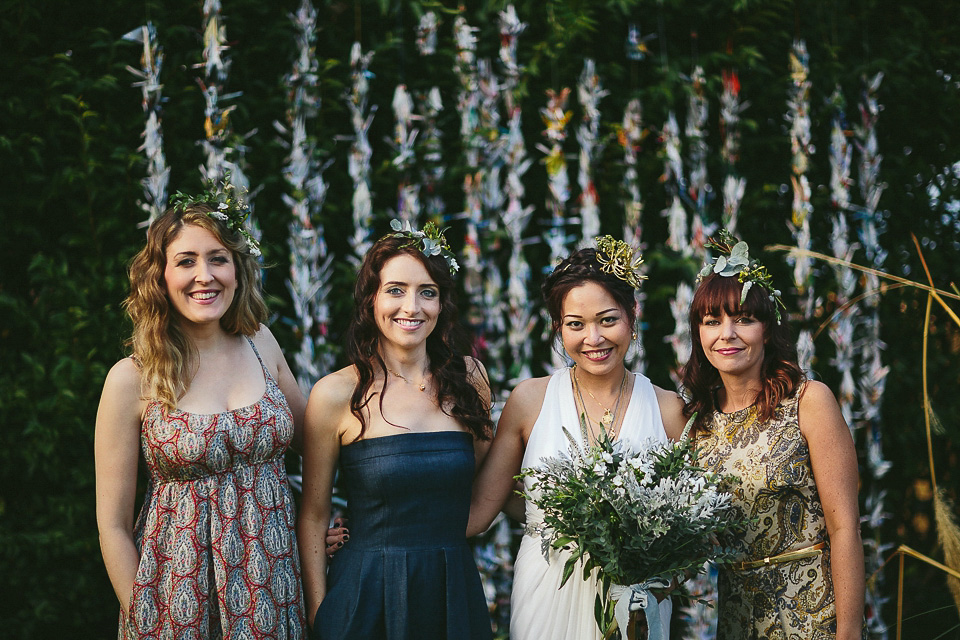 "Grace hung white festoon lights above our table. She also used a mix of different wooden chairs to provide an eclectic feel."
The couple chose to go with Epic Love Photography and cannot recommend Rob highly enough.
"We met Rob two years ago in a cafe to chat about our big day. We chose him to photograph our renewal, as we both loved his documentary style. As both our families and friends couldn't be with us, we wanted the photographs to tell the story of how our big day went. We not only love how he takes creative photos of random things lying about and of quirky little details that capture the essence of the day, but we also knew our photos would show how we celebrated twenty years with the people that are most special to us. We wanted candid natural photographs."
I know you are going to love Tippy and George's little meeting and engagement stories, which began with George's sweet act of chivalry…
"It was an induction day in work and I was late so there weren't any seats left in the room. He offered me his. Little did I know that it would be the start of a 22-year relationship.
To say that everything happened too quickly would be understating it. We became good friends and he loved bringing me home after work. We always had a good laugh. He was the 'class clown' and was always joking around. Never a dull moment. Three months after that day we started going out. About 2 weeks into our relationship he asked me to go shopping with him.
We stopped by a jewellery shop and he led me inside. He then asked me to pick out 2 identical rings from the selection of wedding bands. I chose tri-coloured stacked rings with rose gold, yellow gold and white gold. I looked at him excitedly but thought he was still kidding around. He said 'Would you like to spend the rest of your life with me?' I smiled. We were both excited and happy. He bought the rings and we got them engraved that same day with our names and the date. And that was us engaged since that day.
I couldn't stop looking at my finger. Our rings then became our wedding bands after 15 months."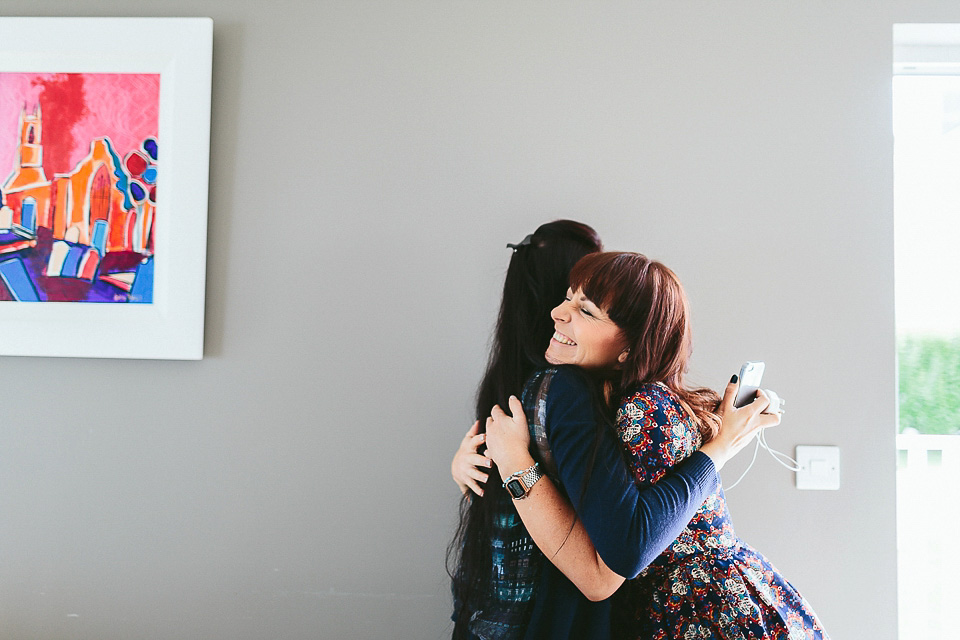 Tippy also wore a dressy denim jacket from Liu Jo in House of Fraser over her dress after the ceremony – and two pairs of shoes.
"My shoes are called 'Summer' by Jessica Simpson for Kurt Geiger. They are nude patent platform heels with a gold V trim on the front. I then changed into platform wedges which I got from Zara for walking around the beach."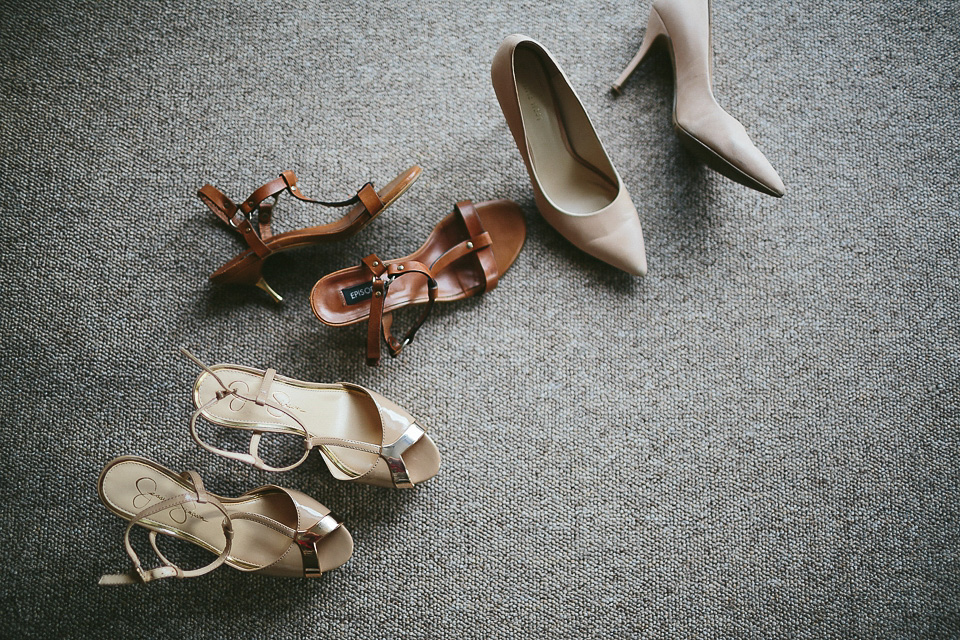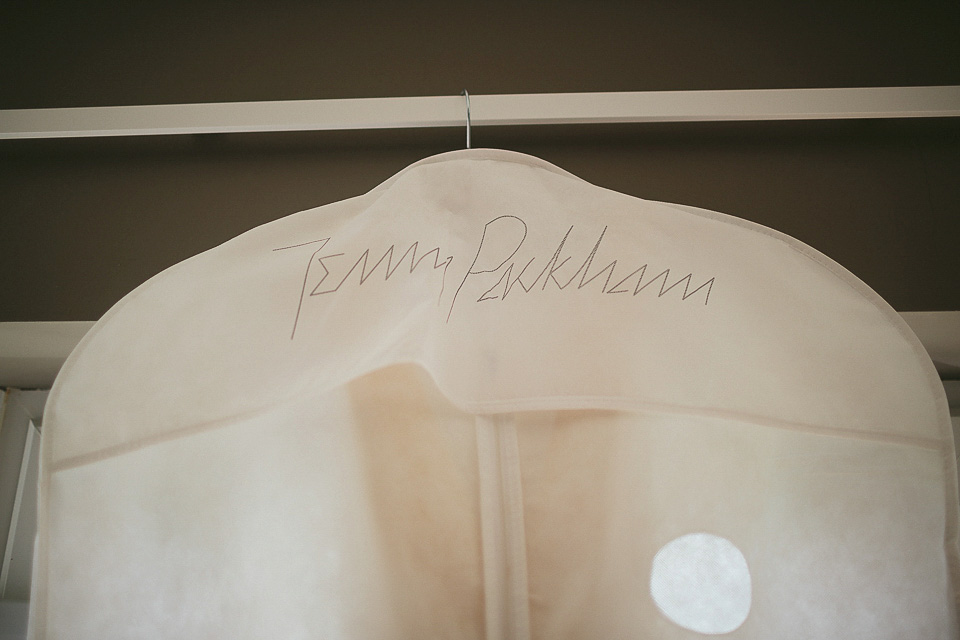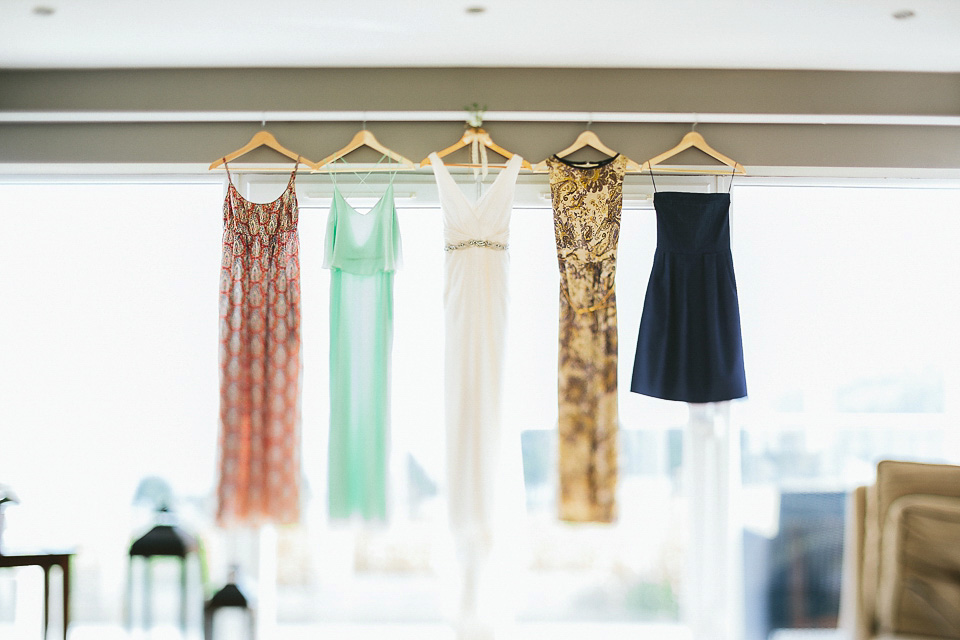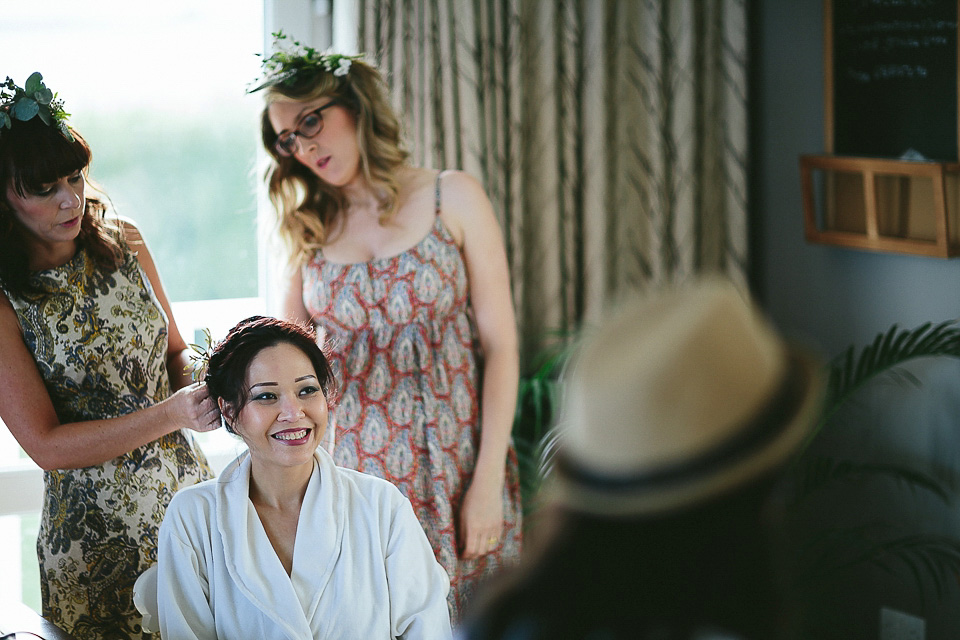 The beautiful bride accessorized with a range of gold jewellery which had special sentimental value.
"I wanted to wear gold jewellery so I layered 3 gold necklaces of graduating lengths. One I purchased from Mint Velvet – it's a star, moon, sun gold necklace. The other is an old one that is very sentimental to me given by my grandmother who passed away 4 years ago. It has 3 gold religious pendants which has been with me for almost 20 years. And the last one is a gold initial necklace – a gift from our son Bram which he got during his trip to Barcelona. These were my 'something old' and 'something new'.
I am also a big fan of time pieces so I couldn't be without a watch. I wore my favourite gold Fossil bracelet watch on my left wrist and a grey and gold beaded bracelet on the right.
My gold drop earrings were from Anthropologie's St. Erasmus collection."
For their decor, it was a combination of styling from Grace and Saviour, help from their crafty sons Bram and Q and photos from family and friends.
"Q, our 12 year old, made 1000 paper cranes for our ceremony backdrop. He used pages from old magazines. He wanted to do this so he can make a special wish for us. There's a Japanese tradition that if you are able to make 1000 paper cranes for a loved one you get to make a special wish for them. 50 cranes were strung and 20 strings of cranes were tied to a piece of wood which served as the backdrop."
"Bram, our older son, also made 20 paper cranes from glitter gold paper, matt gold paper and glitter mint paper. They were all scattered around the long table as part of the table scape."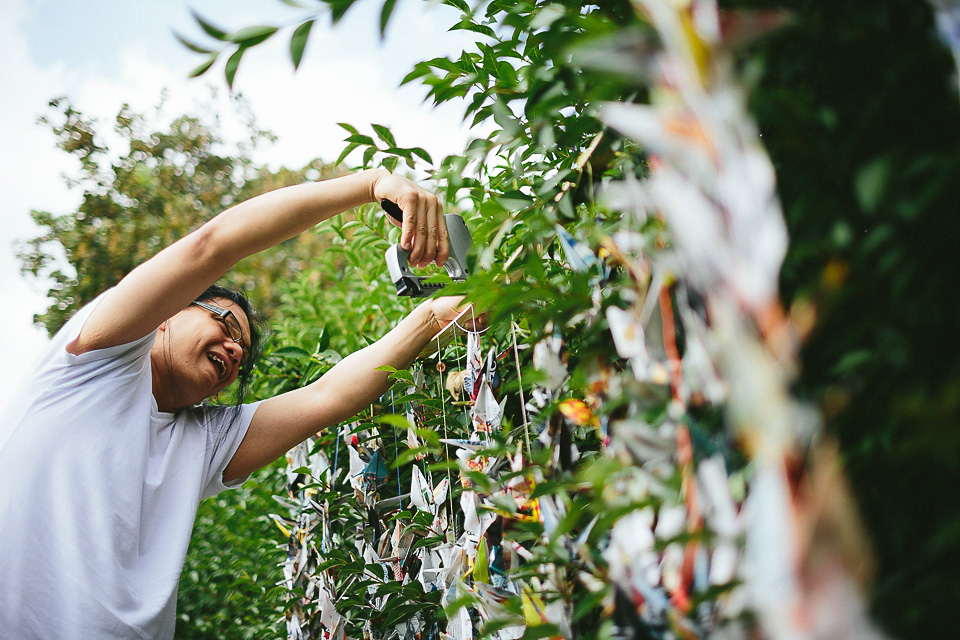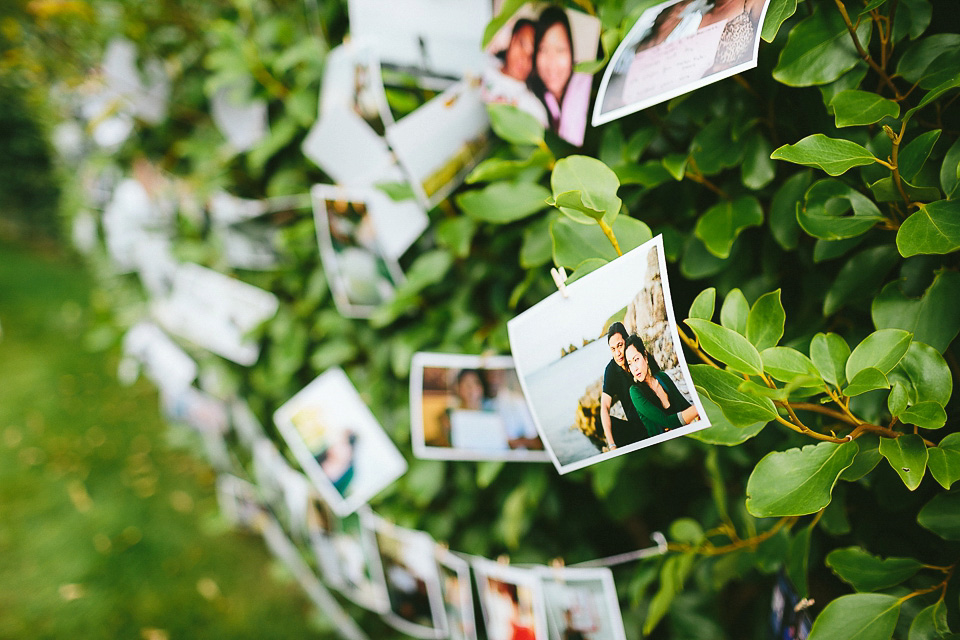 "Friends and family back home sent us photos of their best wishes. We collected them and made a photo wall along with pictures from our anniversary shoot."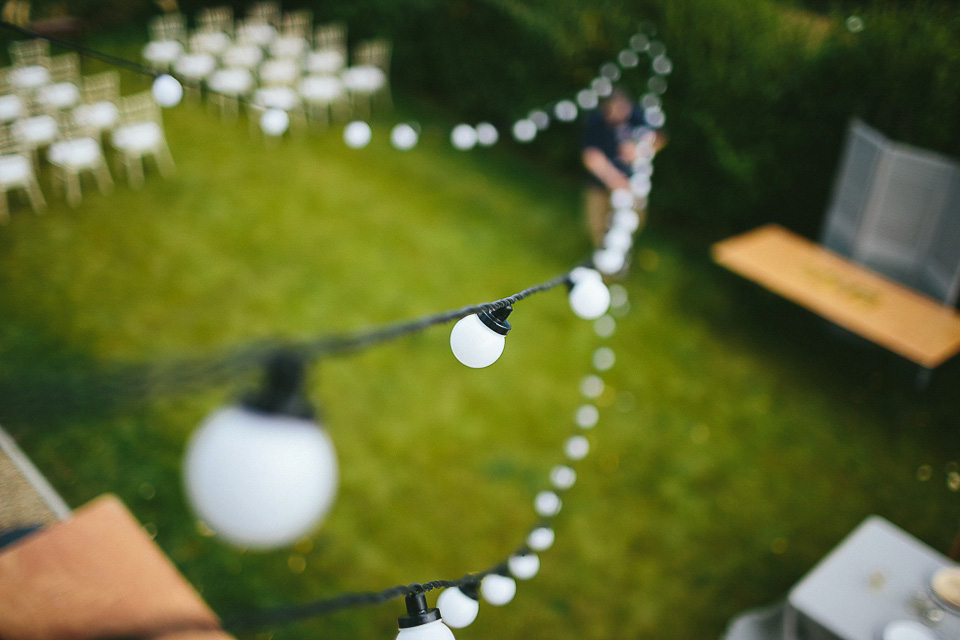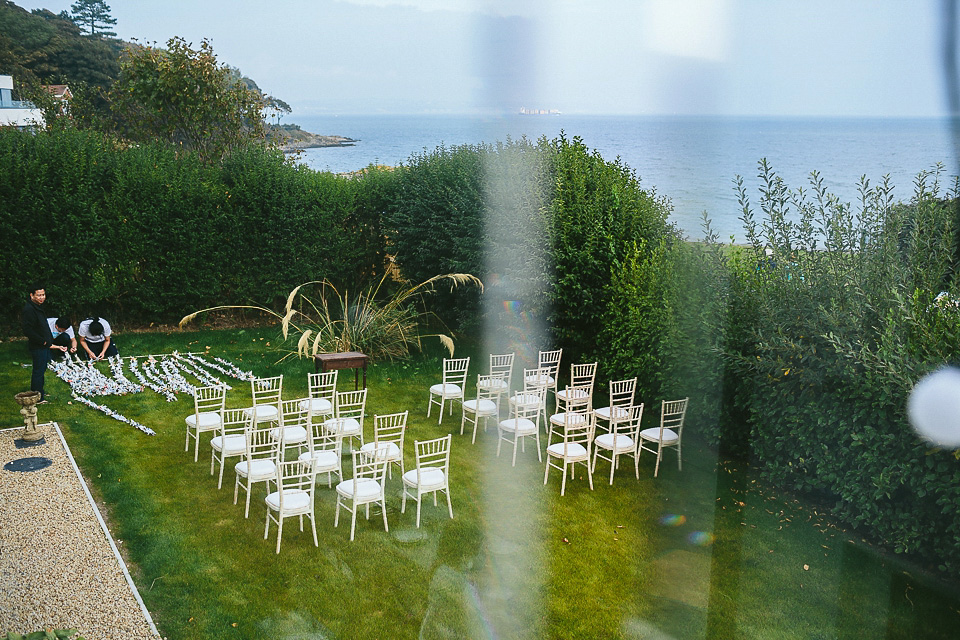 "We had an anniversary frame and print made by The White Letter and set it on an easel with a photo from our first wedding clipped to it. It had all our favourite words on it."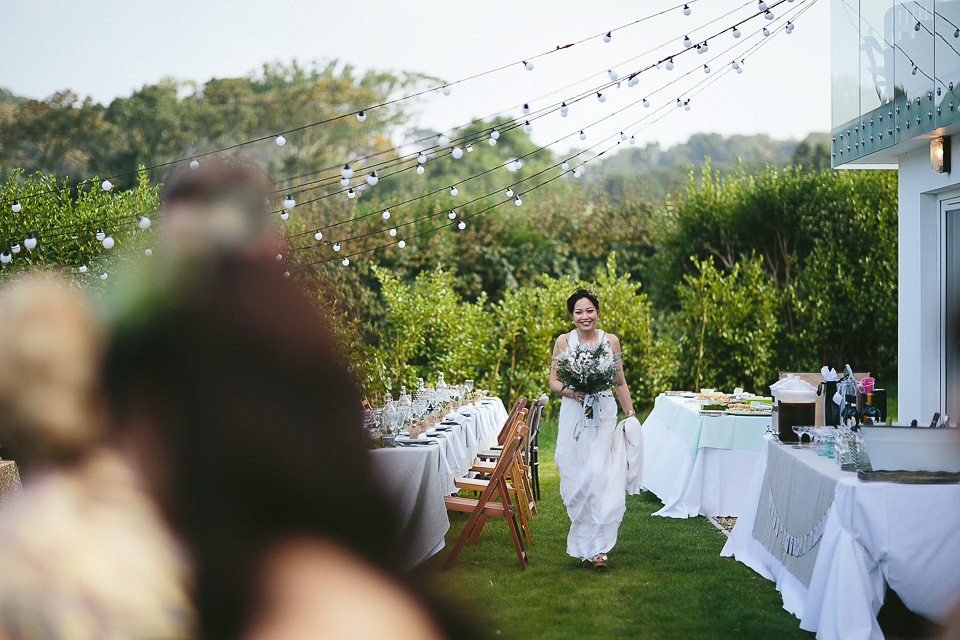 Tippy's processional song for the ceremony was 'Melt With You' by Nouvelle Vague, a song the couple knew from their high school days, and they decided at the last minute to do their own vows. As their 22-year old rings don't fit anymore, Tippy and George wore them around their necks on grey twines after exchanging vows.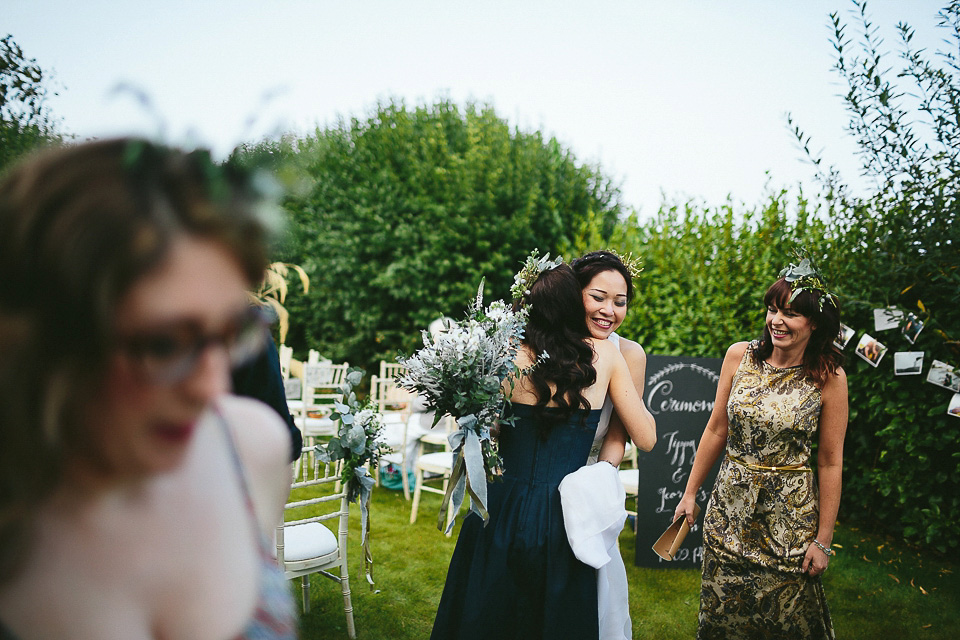 Tippy had three beautiful bridesmaids – Michelle wore a Mango dress, Paula donned Zara, whilst Grace wore her own dress. They wore little gold bracelets that were presents from the bride and their own shoes. With the bride being a makeup artist (I just love her Facebook name ThatsoTippycal!) and one bridesmaid a hairdresser, Tippy did all the makeup and Michelle helped out with their gorgeous hairstyles.
"I had two main tasks on the day – as the bride and since I am a bridal makeup artist I just decided to do my own makeup and the girls' as well. This day was a team effort with everyone pitching in and helping out. Michelle did all our hairstyles and did a great job.
We dried flowers for my hair and Michelle sprayed them gold to keep with the colour palette. My hair was up in multiple braids for the ceremony bohemian style then down with big curls for the portraits and a side fish tail for the remainder of the night.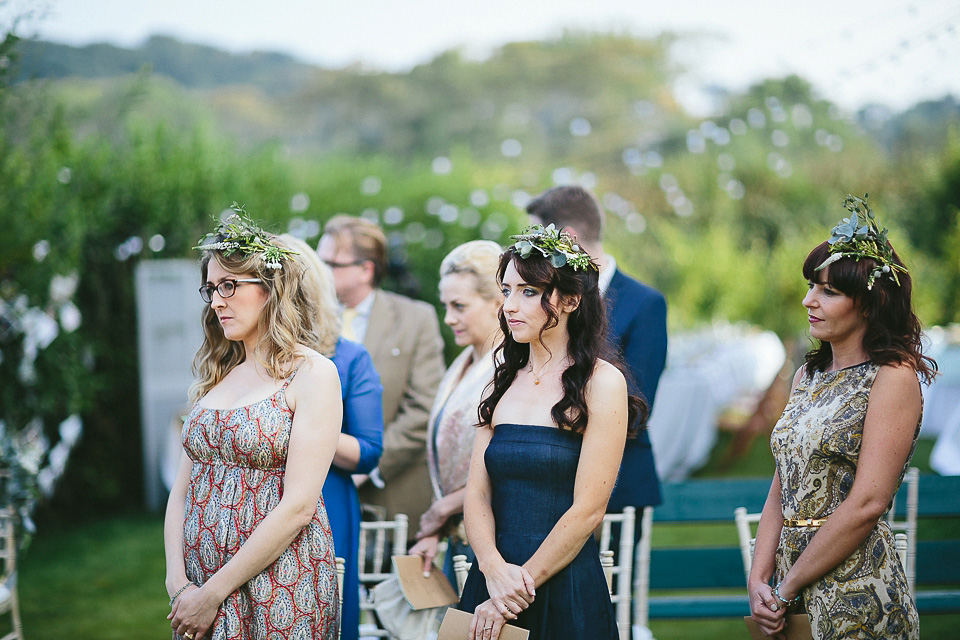 The handsome groom sported Zara Man and their son looked stylish too.
"Our younger son Q wore a white long sleeved shirt, dark blue jeans and a straw hat. All from Zara. His floral tie was from Topman."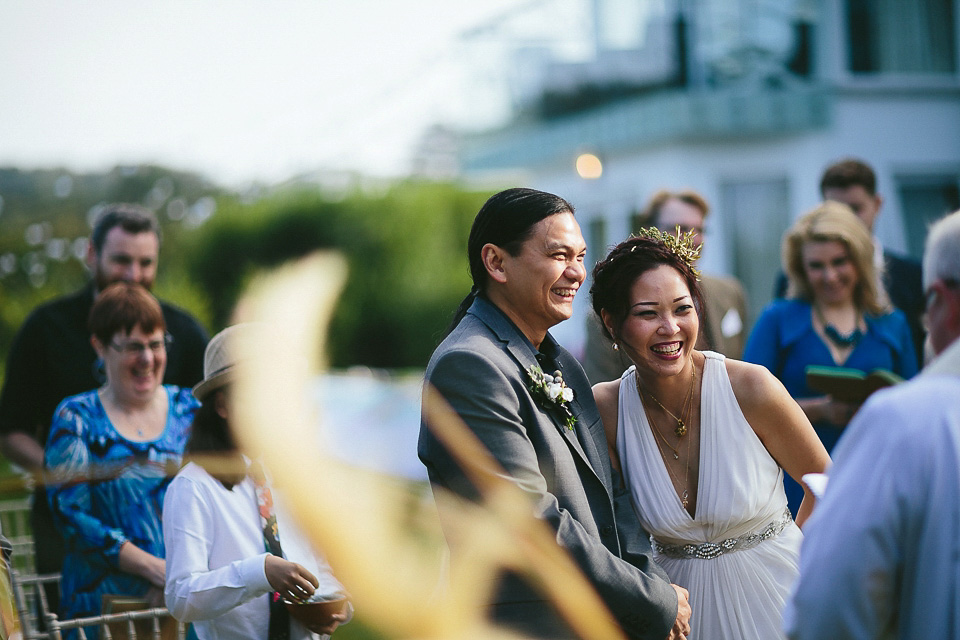 "We weren't going to do our own vows but decided to do it at the last minute. We thought it would be good to say something personal. It has been 20 years after all."
Tippy:  'To love a person is to see all of their magic and to remind them of it when they have forgotten. This is just one of the reasons why I love you – because for the last 20 years you have been there to push me and encourage me to see myself as you see me. You have always kept me right. I guess this is my way of letting you know now, in front of our friends, how much I appreciate and love you back. Because I don't know if I say it enough. For everything you make me become – thank you. And if someone was to ask me now what I did for the last 20 years I'd simply say 'I spent it with you'.'
George: 'For years I have been telling you – I've got your back but looking at the past 20 years it is you who has always watched mine.  Every time I'm down you pull me up. It is you all along.'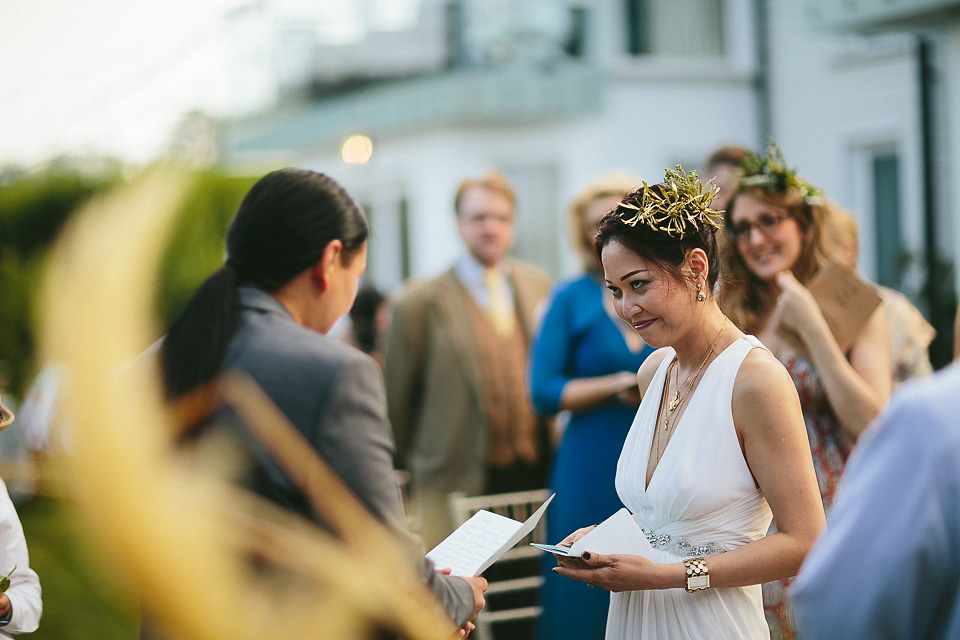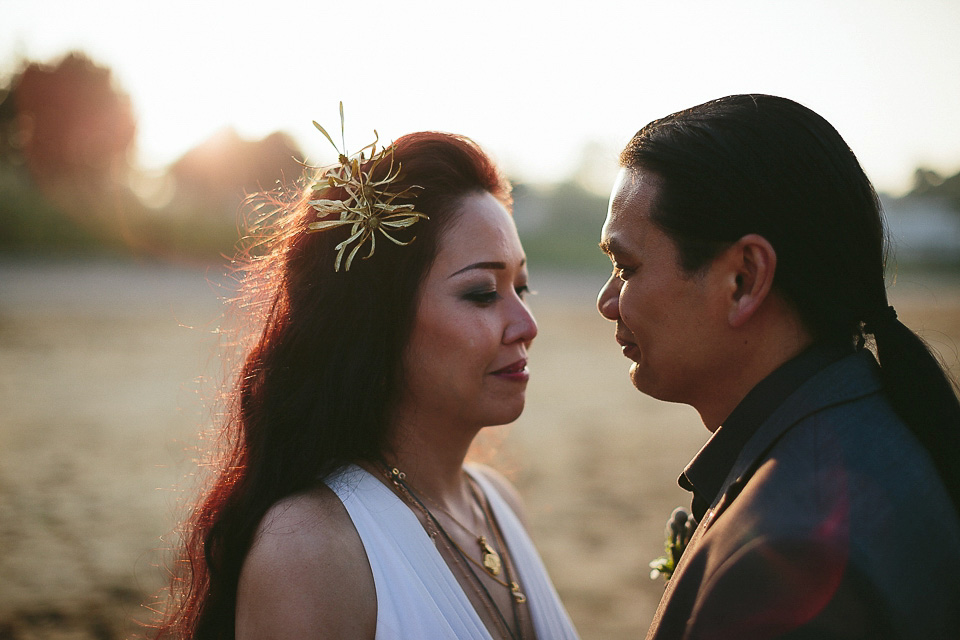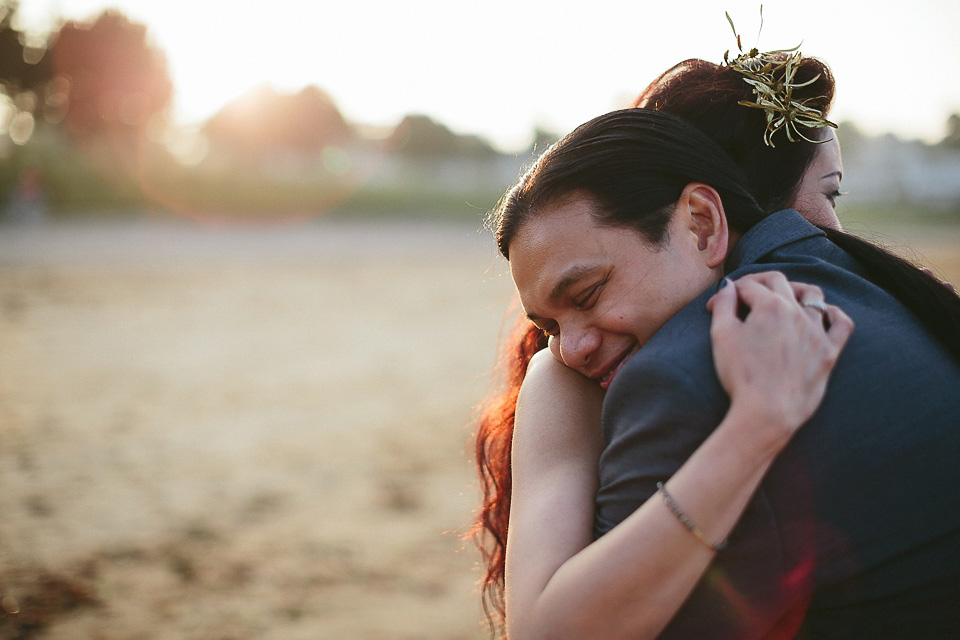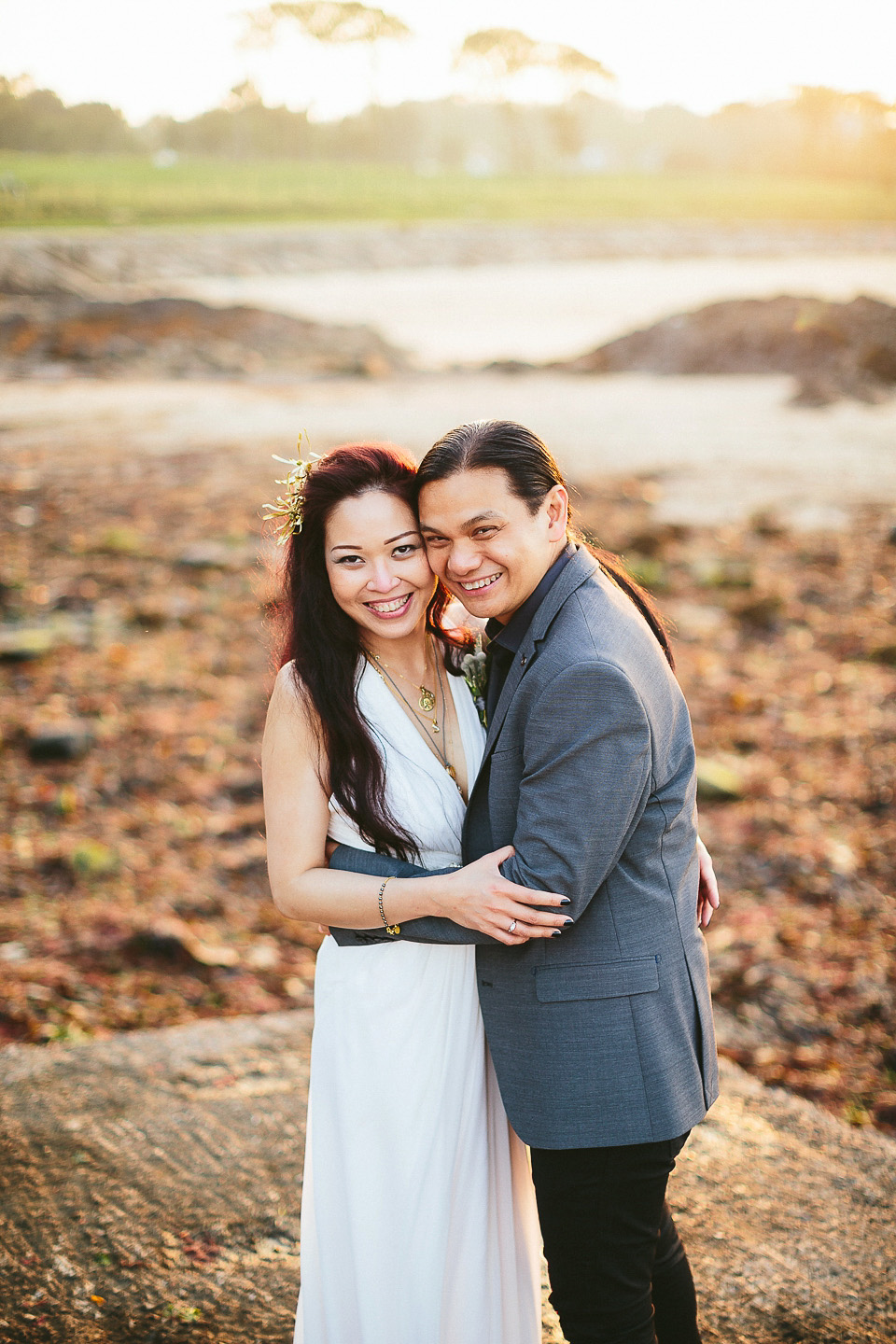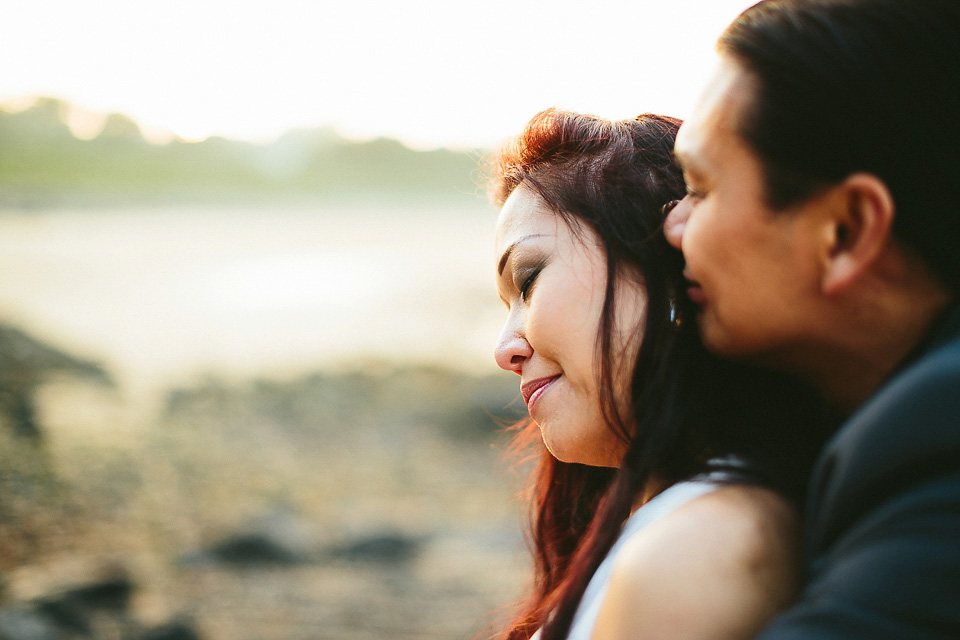 "We had one long table decorated with grey candles, paper cranes, antique metallic lanterns, vintage gold glass votives, mini succulents, foliage of leaves and branches. It looked very cosy and romantic when the candles were all lit at dinner."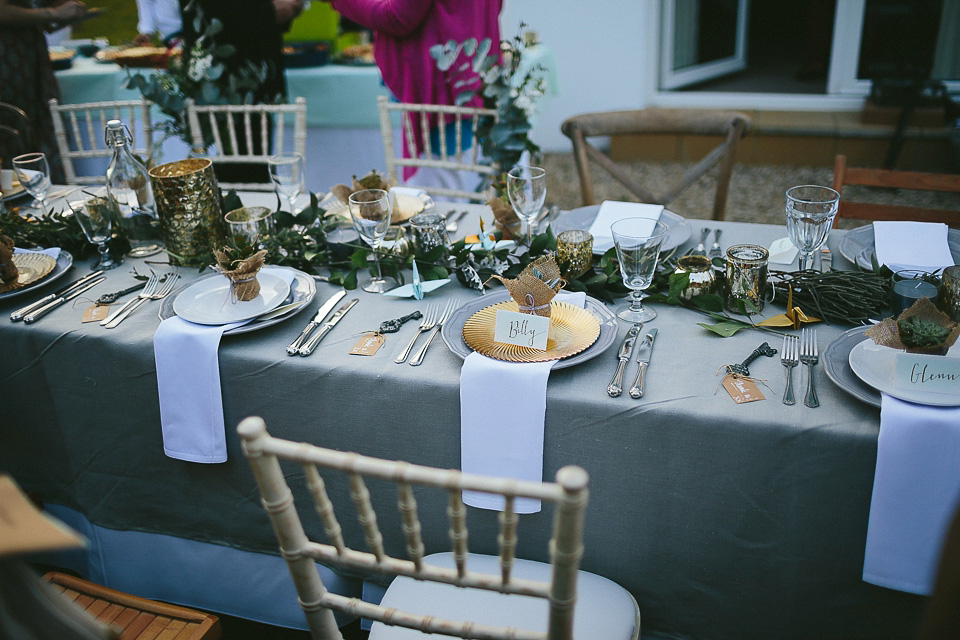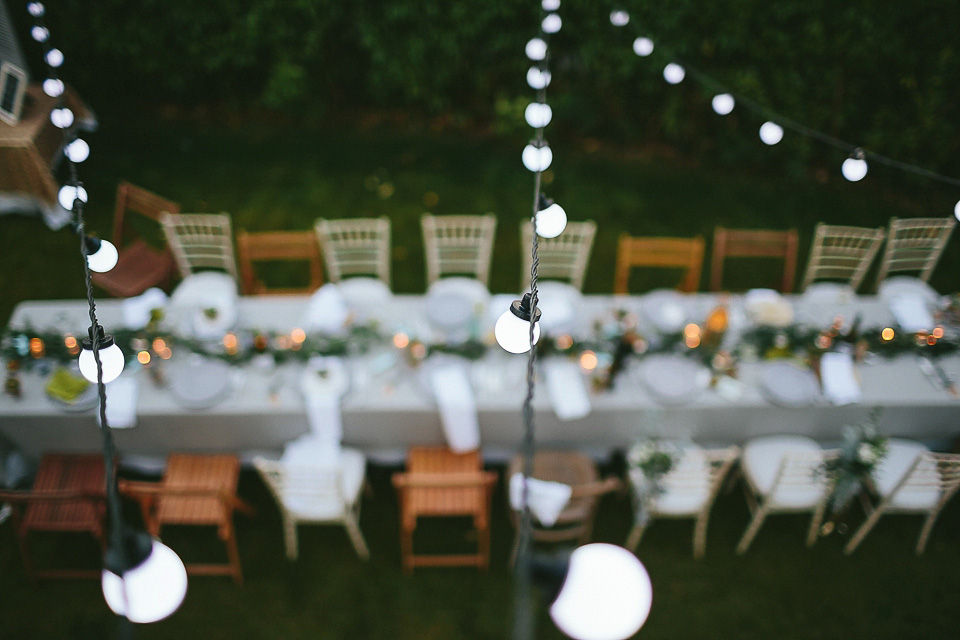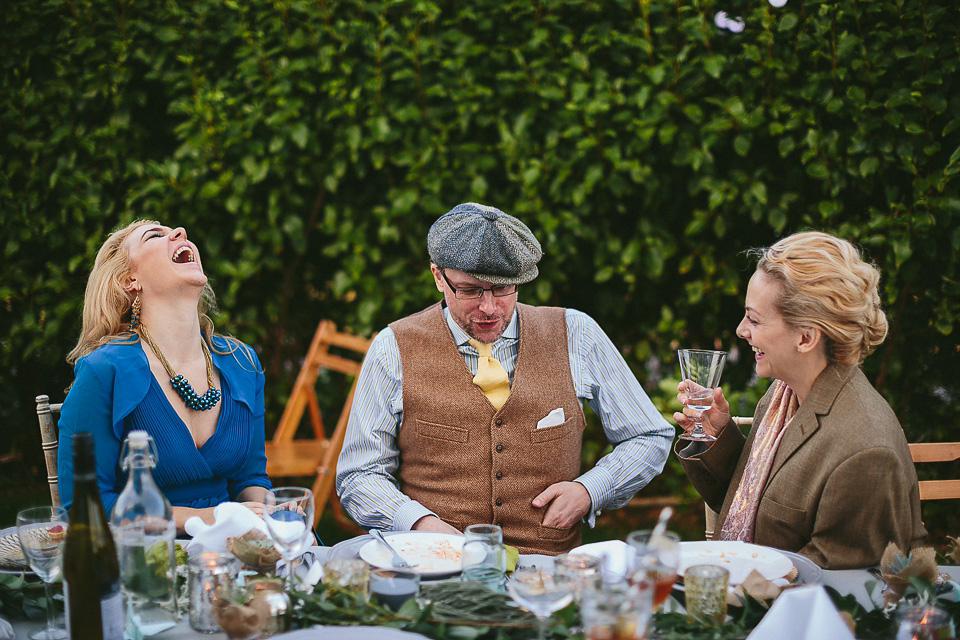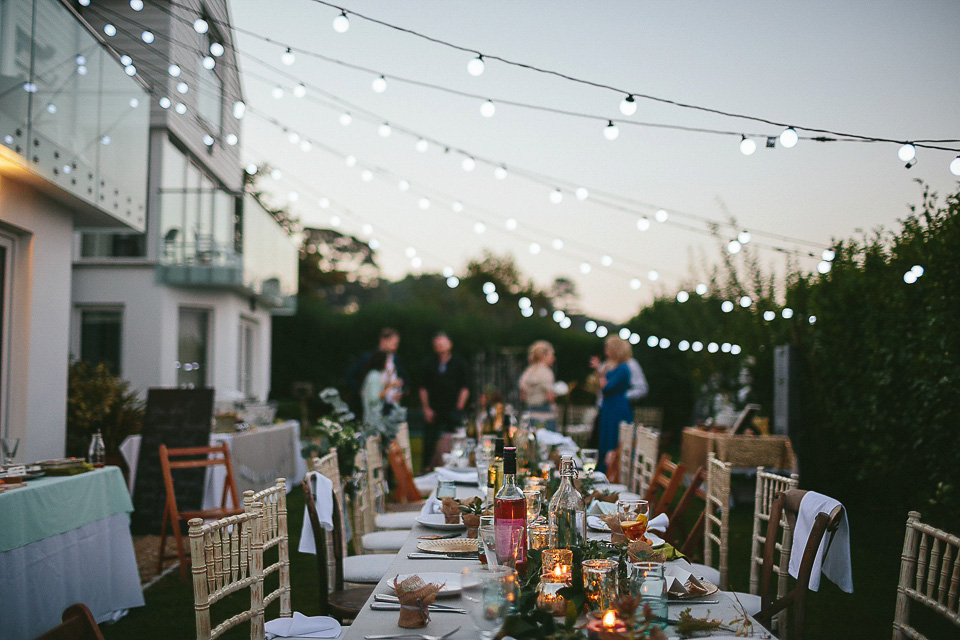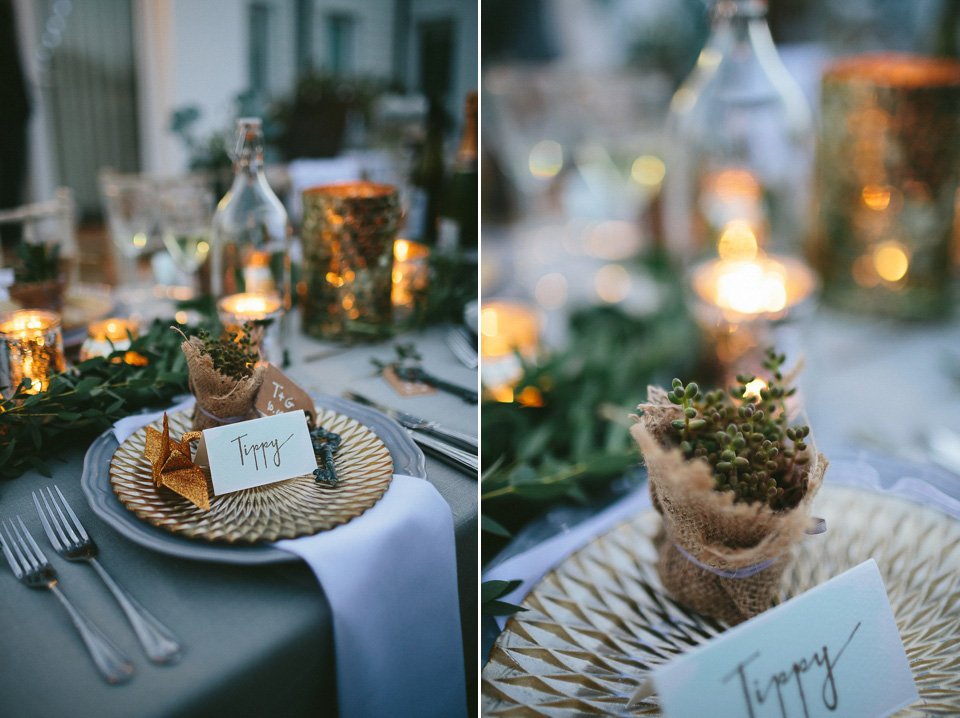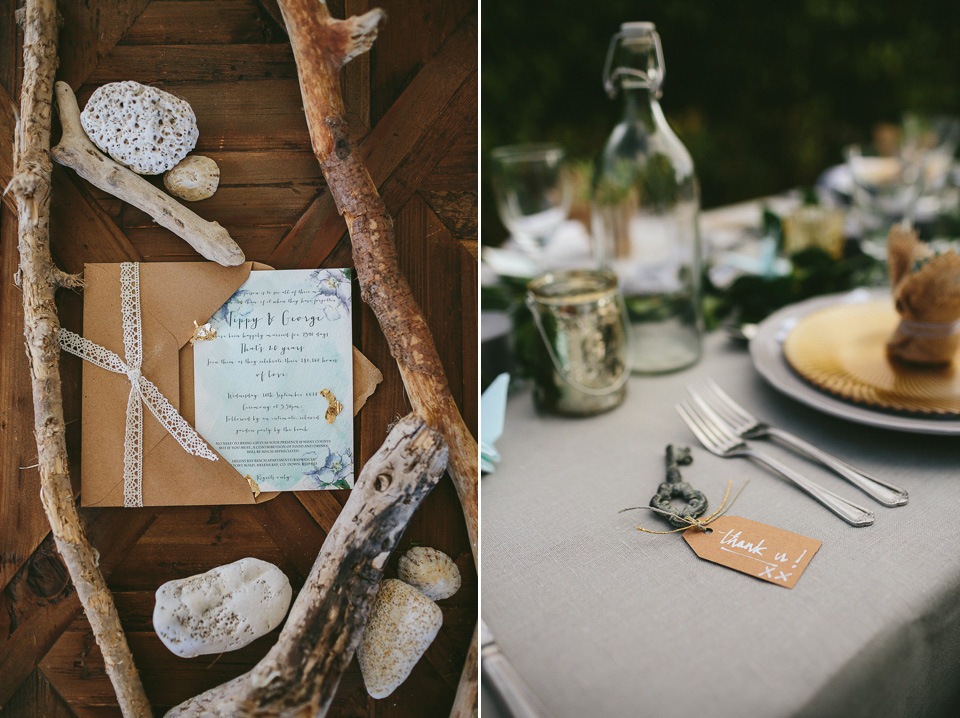 The couple went with a range of food and drinks for their catering: pre-prepared nibbles and cocktails, treats made by guests and a selection of delicious cakes by Gillian from The Little Cupcakery.
"We offered nibbles and cocktails which we ordered from Marks and Spencer. Our friends also brought desserts, home cooked meals and drinks. It was a laid back potluck food party. We asked guests not to bring gifts. We just wanted everyone to have a good time. We made lemon iced tea and infused water with apples and mint leaves for friends who preferred non-alcoholic drinks."
"The Little Cupcakery was our only choice for cake as I know of Gillian's work from being wedding vendors together in wedding fairs. Her cakes are always moist and lovely! I'm a big sweetaholic so naturally we opted for 2 single layer cakes – a red velvet cake which was a rustic sea foam green with gold flecks and a gold 'WOOP' cake topper. The other was banana rum cake – a grey dainty ruffle cake with a number '20' cake topper.
Banana cake is a popular choice back home. Gillian added rum to make it more interesting …and scrummy! There were other homemade cakes and pies that friends brought which filled up our dessert table."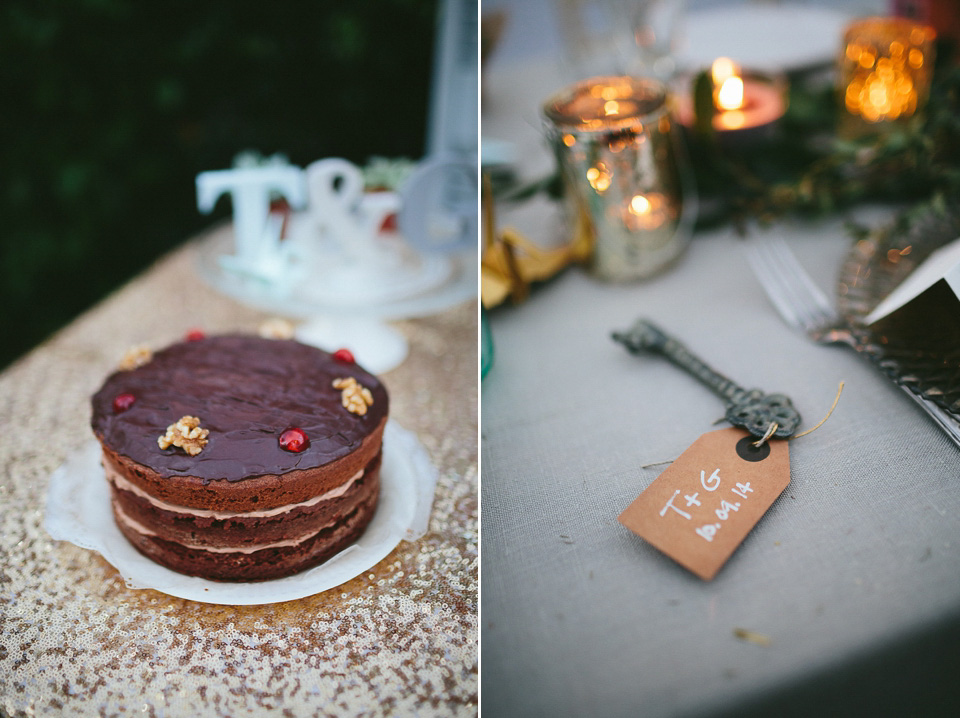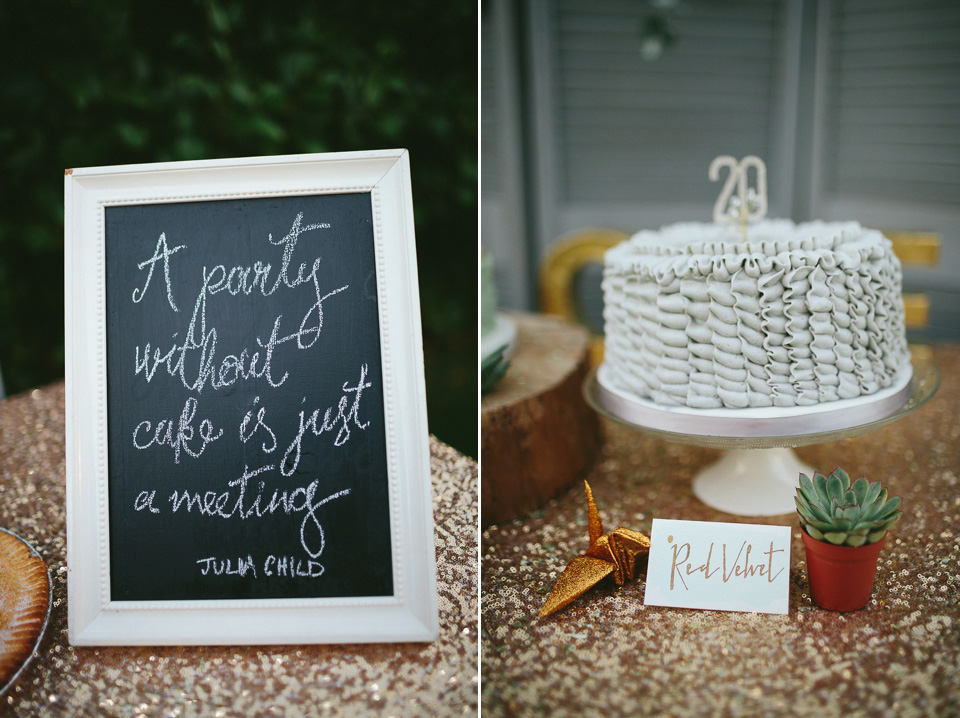 "At dusk we all went down to the beach to release 20 large white Chinese lanterns. We initially had 20 guests but a few friends from church had to leave early so only 13 of us went down. The plan was to release 20 at the same time but obviously it was no longer feasible with only 13 people. So we just lit them up and released them at random. None of us have ever done this before so it was a lot of fun and quite an experience. I'm so glad we did this as this was one of my favourite parts of the day."
Words of Wedded Wisdom
"My only advice is to plan ahead and get lots of inspirations from wedding blogs and Pinterest. Brides nowadays are quite lucky to have Pinterest as it's a big help in gathering photographs, DIY inspirations and creative tips (you can follow Love My Dress on Pinterest here). Get the guys to help too – planning a wedding can be draining and takes up a lot of your time and energy, especially if you're also working full time.
Get crafty – what you can save on minor things you can add towards major things like investing in an amazing photographer and videographer. It's all surreal on the day and you won't remember half the things happening so make sure you have your memories to keep. Have fun and don't stress. A wedding is a celebration!
As for keeping the marriage going, it has been said before but I would highly recommend that couples keep dating. Whether you are a year into your marriage or 20 years like us it's always good to go out – for a concert, a stroll, coffee or just to catch a movie. Spend some 'us' time together. Take the extra effort. Even when George and I are busy working we would sometimes meet at the end of the day to catch a movie or grab dinner before going home. We still go on dates and have weekends away together – just us.
Finally, two weeks before our vow renewal,  we also decided that we wanted our renewal filmed – mainly for the benefit of our families back home. As I've already worked with Carl Higgins on a wedding, we met up with him and told him what we considering. He was very accommodating and open to our ideas which was great! He also went the extra mile. Without my knowledge the guys came up with this idea of attaching George's vows to the drone and when it was time for the vows, get the drone to fly over and 'deliver' his vows. However during preparations his vows got caught in a branch and it was Carl who climbed up the tree to retrieve it and save the day (hehehe!). He also appeared on the balcony with his guitar and sang a song for us. Man of many talents!"
Such honest and brilliant pearls of wisdom from Tippy there, please take note readers.  For the married ladies and gents, perhaps it's time to sort out a mid-week movie date night with your other half. And those who are currently in the throes of planning the big day, it's excellent advice to take on board to keep the spark alive for years to come. Thank you to Tippy and George for sharing your very special event with us and to Epic Love Photography for the magic pictures.
See more gorgeous gowns from other Love My Dress Jenny Packham brides here. And if you've been inspired by having your day near water, you can view these stunning beach and seaside locations here.
Have a lovely rest of week!
Love Jo -xxx-
Photographer – Epic Love Photography
Videographer – Carl Higgins Media
Wedding Stylist and Florist – Grace and Saviour
Venue – Helen's Bay Beach Apartments, County Down, Northern Ireland
Bride's Dress – Jenny Packham via Shay Harris Bridal Lounge, Southampton
Denim Jacket – House of Fraser
Bride's Shoes – 'Summer' by Jessica Simpson for Kurt Geiger and
Bride's Accessories – Own gold necklaces (star, moon and sun gold necklace from Mint Velvet), gold drop earrings from Anthropologie, own watch and bracelet
Bridesmaid's Dresses – Michelle's from Mango, Paula's from Zara and Grace's own
Bridesmaid's Shoes – Own shoes
Bridesmaid's Jewellery – Gold bracelets, a gift from Tippy
Groom's Suit – Zara Man
Son Q's outfit – Zara and floral tie from Topman
Cake – The Little Cupcakery
Catering – Marks and Spencer and friends
Rings – Original wedding rings, worn around neck
Make-up Artist – The bride, Tippy Longrino
Hair Artist – Bridesmaid Michelle Maxwell
Other Decor – Bunting from Etsy and anniversary frame from The White Letter