Now one might wonder, with a name like 'Love My Dress', what I might be doing sharing the wedding of two gentlemen? Neither of them were wearing dresses, after all, however, one of these gentlemen does have rather a weakness for divine bridal gowns, for he is the owner of Blackburn Bridal Couture, one of the leading bridal boutiques in the country and main stockist of Claire Pettibone gowns in the UK. And when the designer Claire Pettibone is a guest herself, well that guarantees a feature in my books.
Russell of Blackburn Bridal, who does actually love his dresses, married his beau Daniel on 28th December 2013, at the Locale Restaurant in Blackheath, South East London – one of the couple's favourite city eateries.  Their chic, city wedding, inspired by my favourite place in the world, New York, of course, was photographed by the super talent Sarah Gawler (whose work featured on Love My Dress yesterday too) and they were supported with some on-the-day co-ordination, by wedding planner and stylist, Sama Hemsley Utterly Wow.
"Daniel and I met In New York 14 years ago at a bridal show, as we both work in the industry. We got engaged in New York in March 2013 on a romantic long weekend – a valentines gift to ourselves. Central park is where it all happened and was also where we happened to have our 1st date 13 years previously.  New York was therefore the inspiration for our wedding day, as the city holds the key to how we met."
Photography Copyright (c) 2015, Sarah Gawler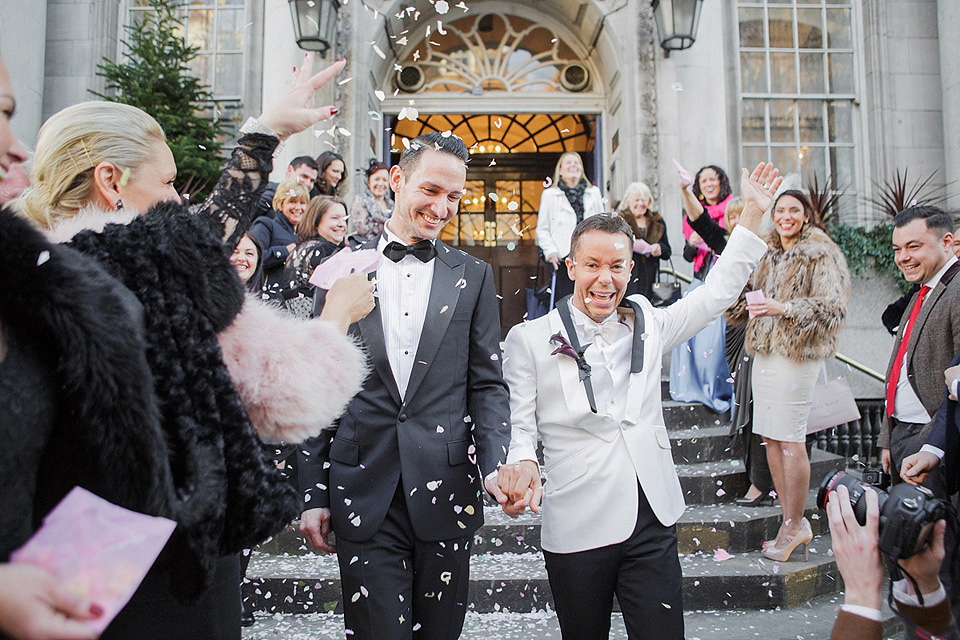 I absolutely adore the two gentleman's choice of suave and sophisticated wedding day attire and love how they chose to respect each other's own individual style by each wearing a different colour.   Russell wore predominantly white, with Daniel wearing black – his suit was a beautifully cut Vivien Westwood, which he accessorised with a Lanvin bow tie and Jimmy Choo's.
Daniel wore  Dior suit, accessorised with a Hilditch and Key bow tie and a pair of black patent YSL shoes.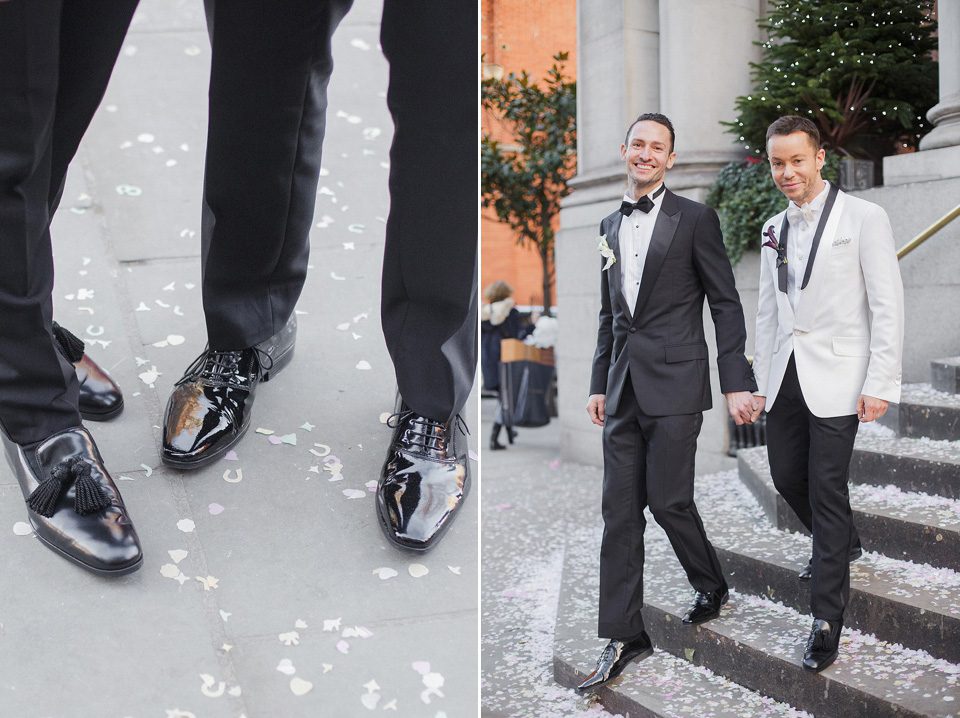 "The mood and feel of the wedding was styled around the 1940's old New York so all the guests were in evening wear to create a glamorous elegant feel to our day and night.  Whilst we designed the invites ourselves, with the help of my Nephew who is an artist, our amazing table plan was designed by Kate Ruth Romey.  It was inspired by the New York city skyline.  Each table was a Street name or landmark in the city, there were signs on each table with the street name or landmark on for guests to identify their table."
"Sarah Gawler was amazing – her photography really captured the mood of our day and night. The way she handled the light was amazing, as so many pictures were taken inside as the wedding reception started at 4pm and it was already dark and the venue was candlelit throughout."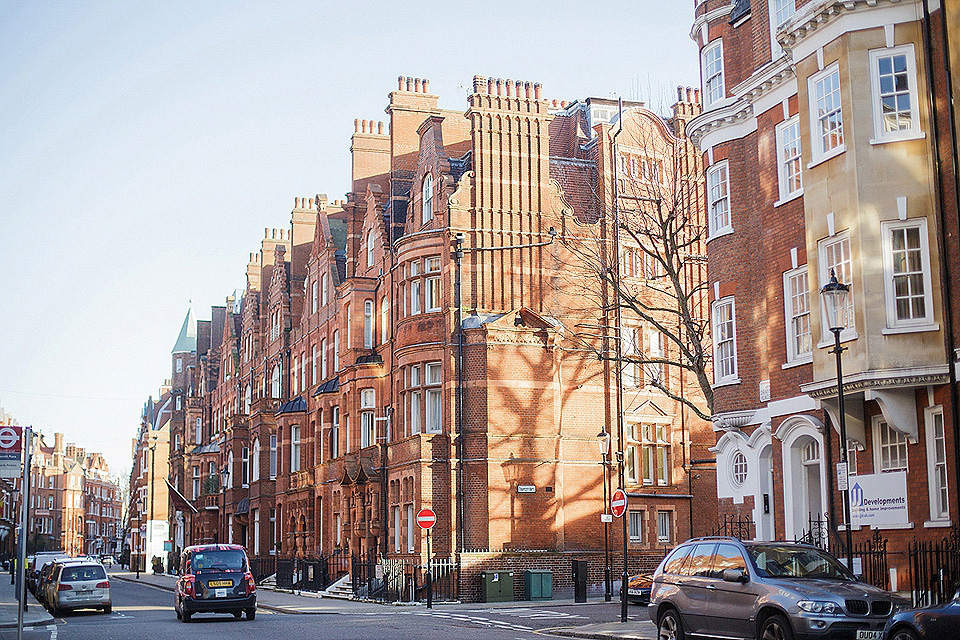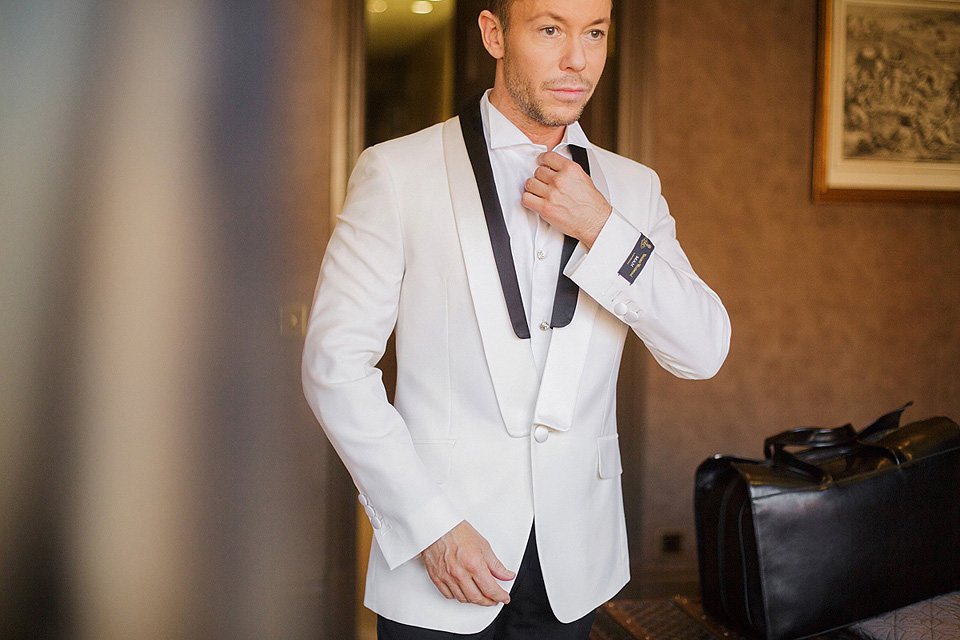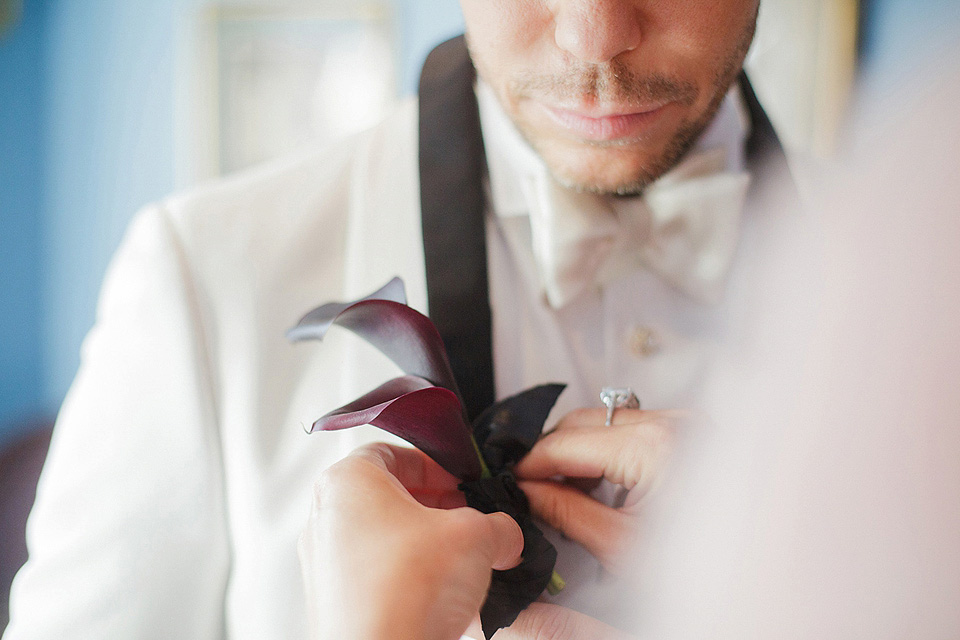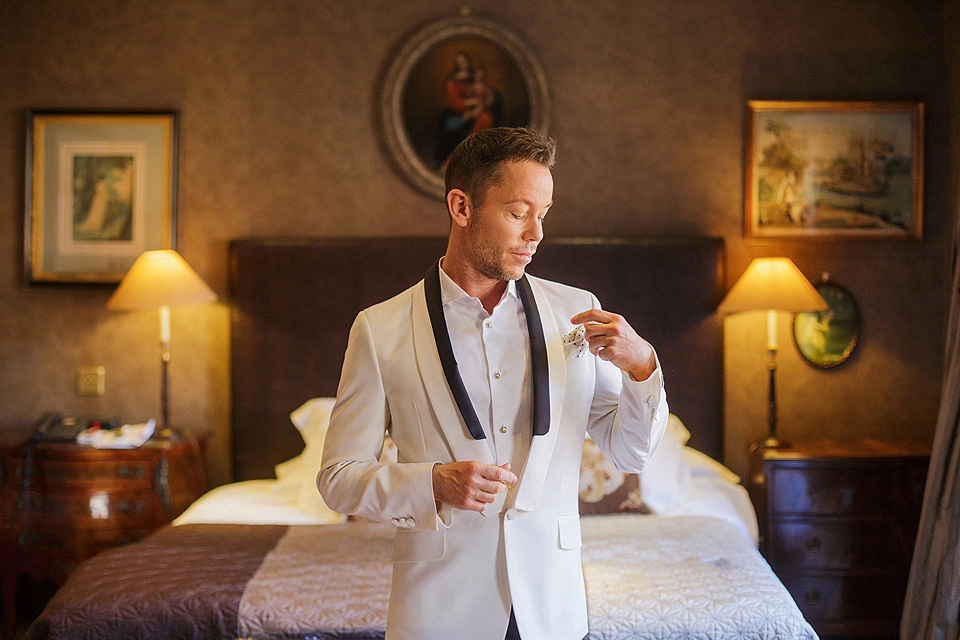 "We didn't have Best Man, or any Groomsmen, but we did ask our dear friend Deborah Paul to be our Usherette at the service where she also did a beautiful reading.  Makeup Artist Ana Ospina did our best friend Deborah's make up and she wore a stunning black dress that I designed especially for her to wear on the day – a stunning black fishtail dress with lace applique detail hand stitched on the gown with an illusion sheer tulle neckline and sheer back detail. It was perfectly in keeping with our glamorous 40's style old new York theme."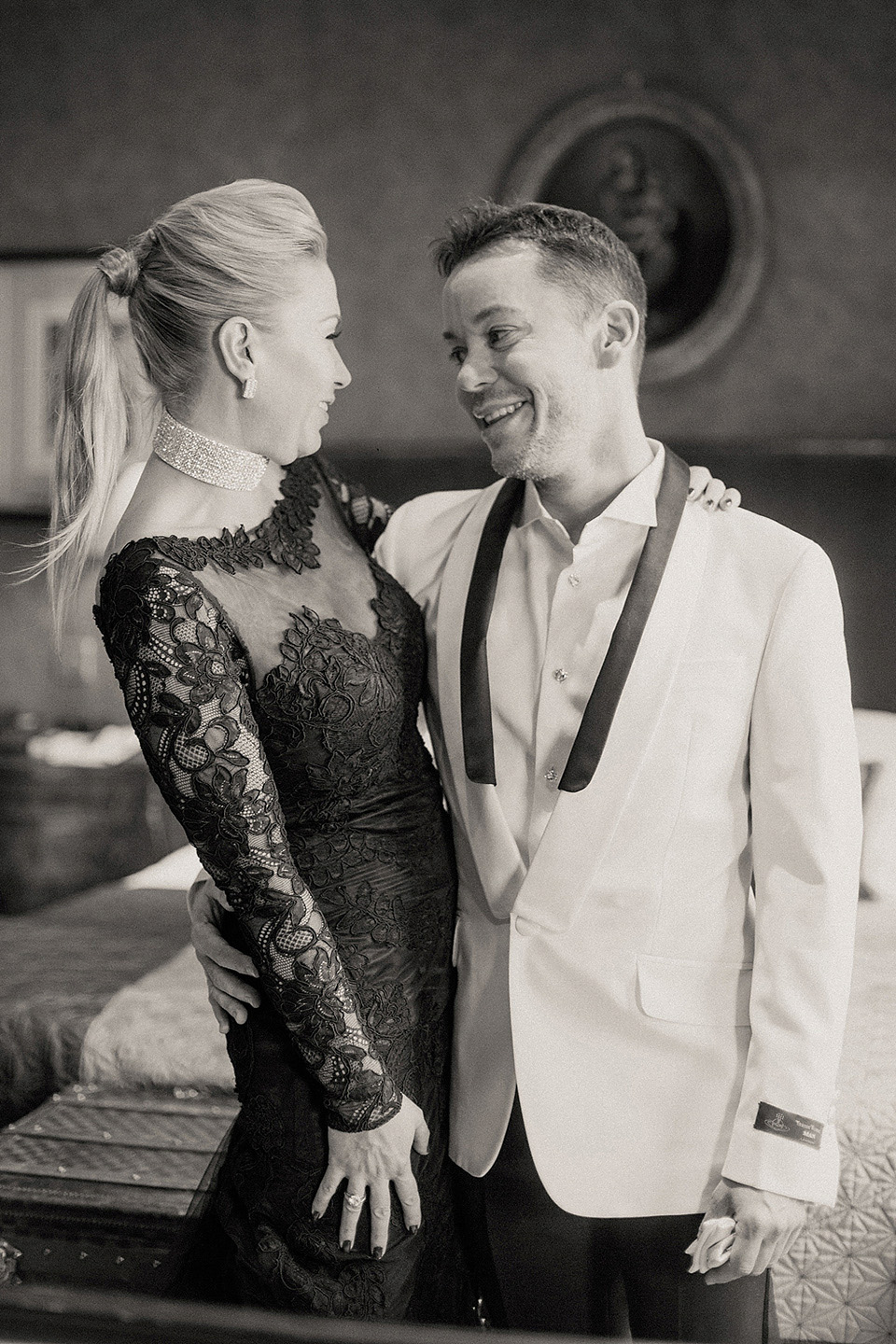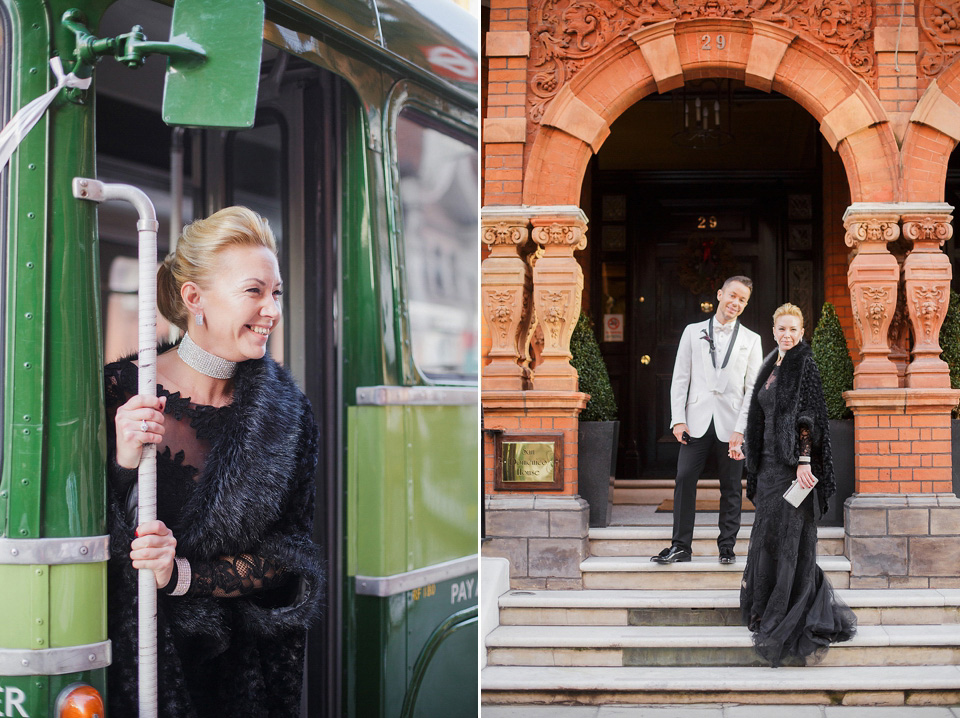 The couple hired a 1940's style green single decker bus to transport their guests from the service at the Chelsea Old Town Hall, back to Locale in Blackheath SE London (I'm waiting from the couple to receive a credit on the bus hire company lovely readers! Check back here soon!).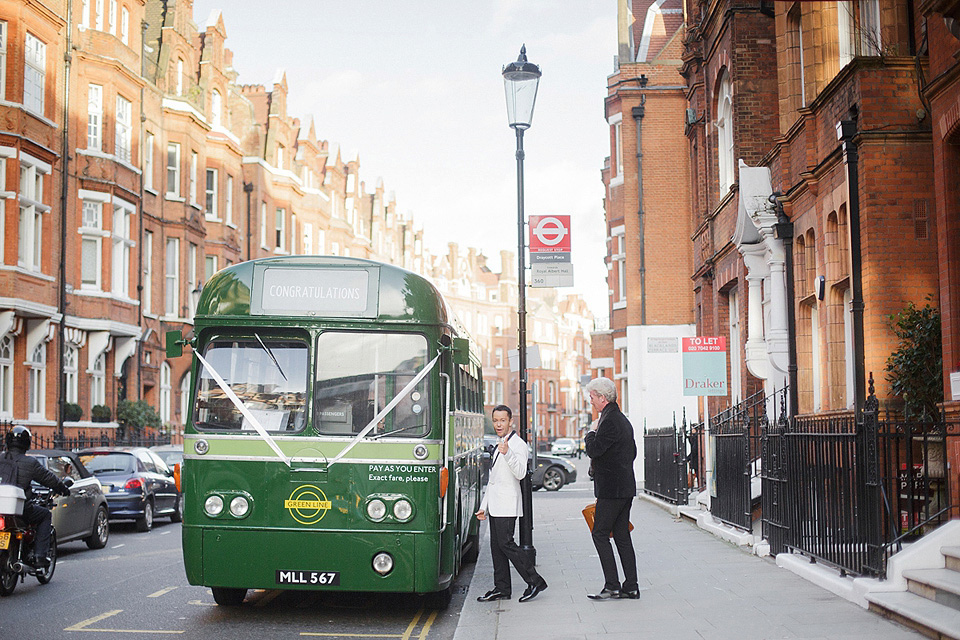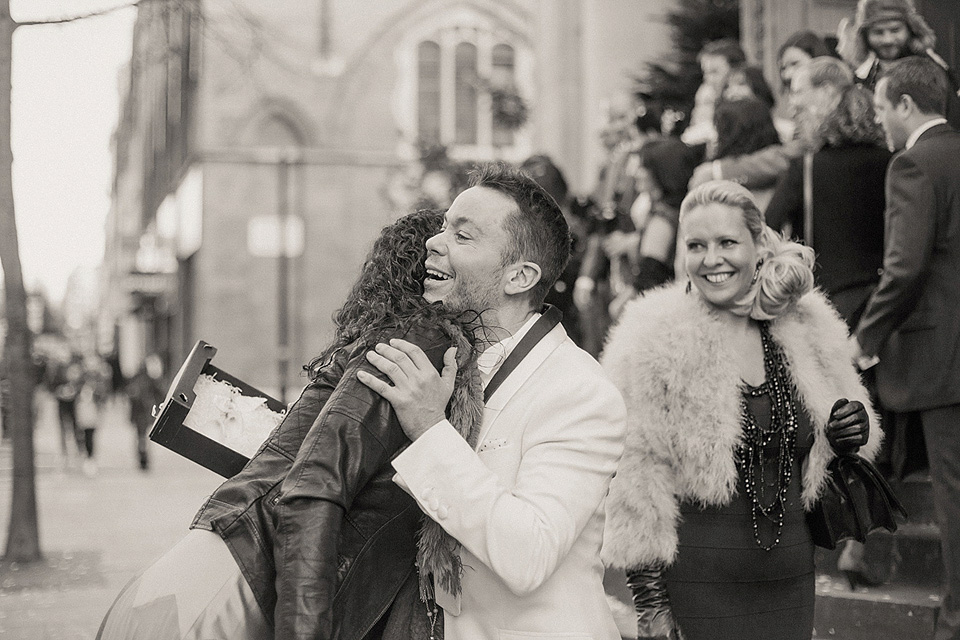 "During our ceremony, our best friend Deborah read an extract from Captain Corelli's Mandolin, 'Love is a temporary Madness' – the words meant so much to us both.
Our wedding rings were designed by me and made by a personal friend who a jeweller based in London – Bellini Jewellery."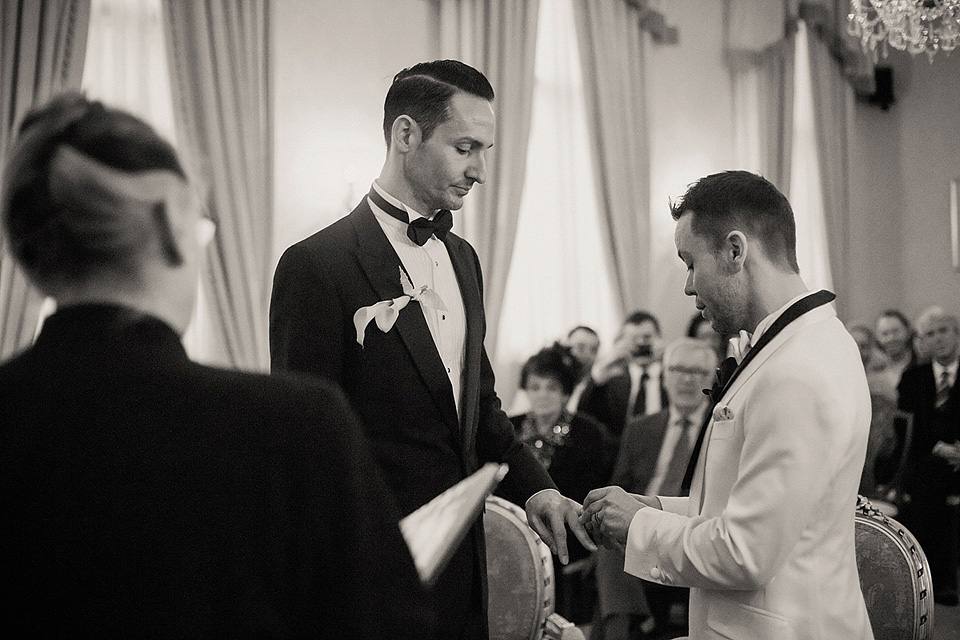 "The whole day was perfect in every way, but saying our vows was probably the most special part for me, as I just never imagined being as emotional as I was – it took me by complete surprise.  It was a very tearful and emotional moment."
Claire Pettibone wasn't the only other bridal designer guest at the couple's wedding.  That's Ian Stuart below right.  If you were lucky enough to attend the wedding dress exhibition at the V&A museum before it ended last month, you'd have seen one of his gowns on display.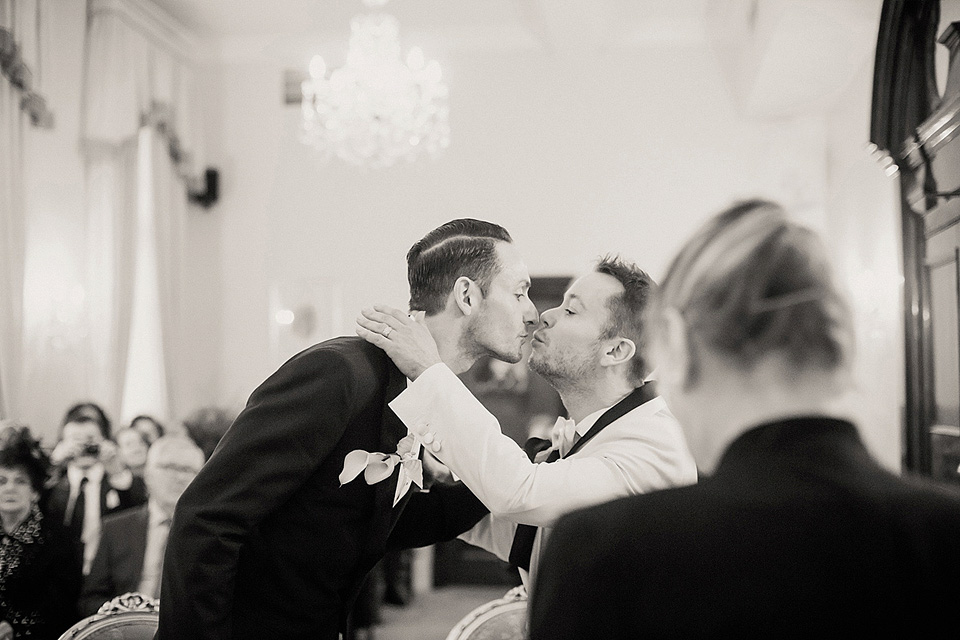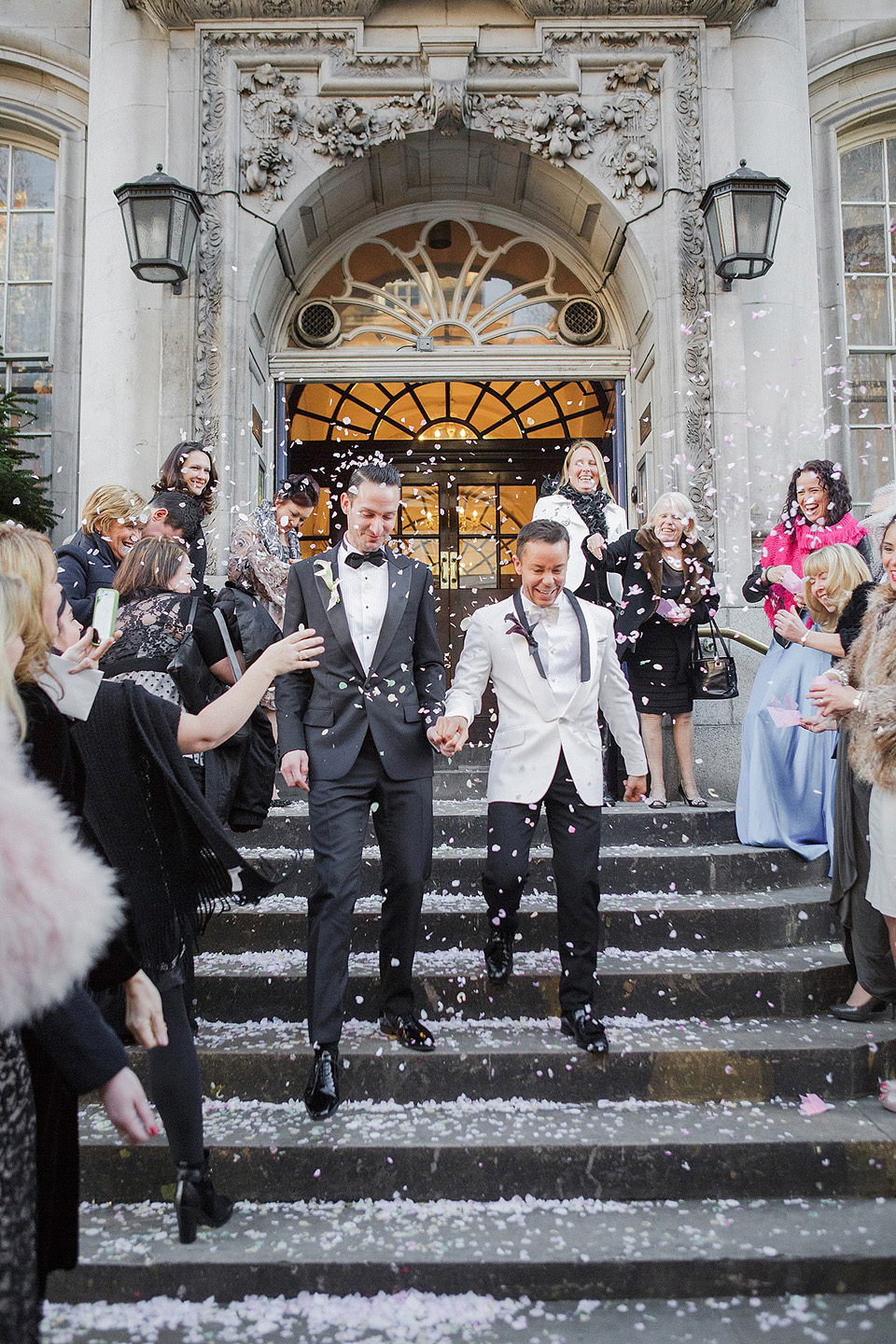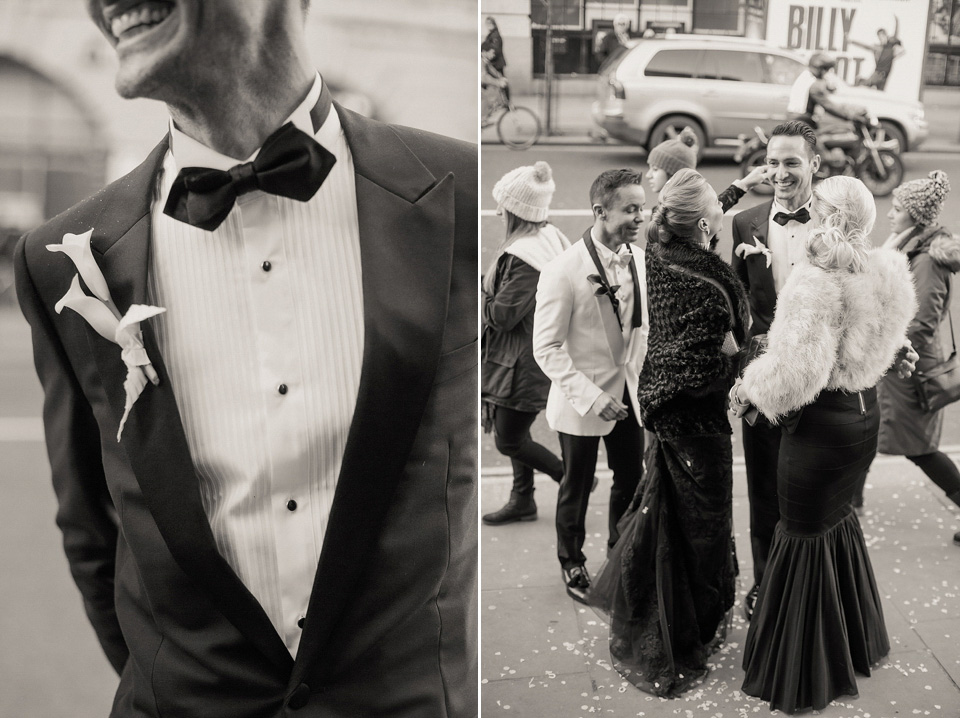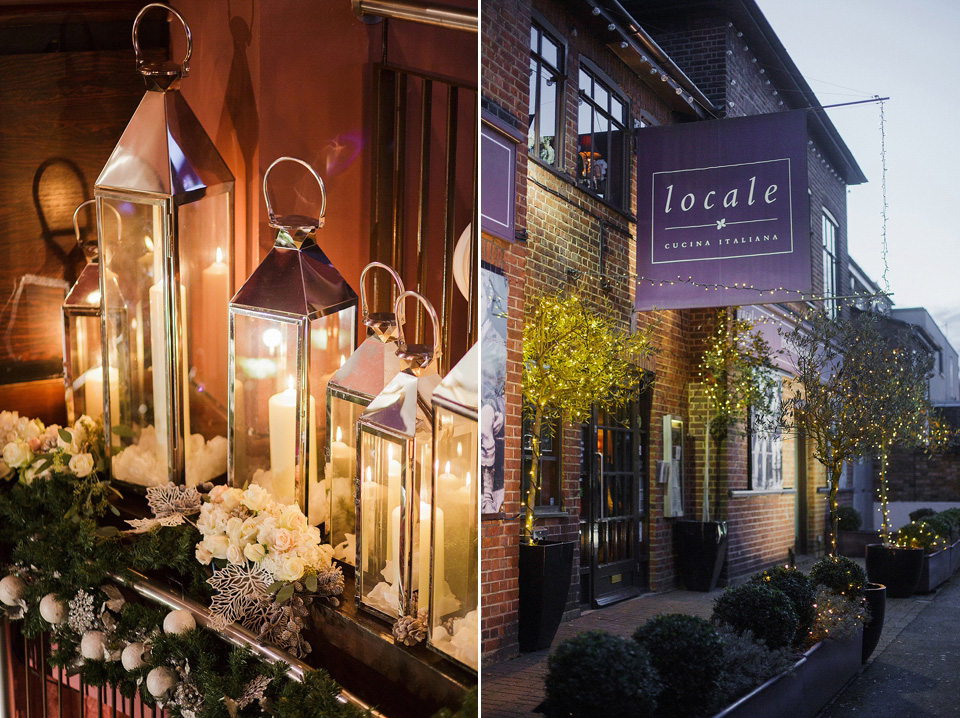 The very lovely Sama Hemsley of Utterly Wow below left…
"Our catering was provided in-house at Locale Restaurant –  we had an Italian style banquet, it was perfect."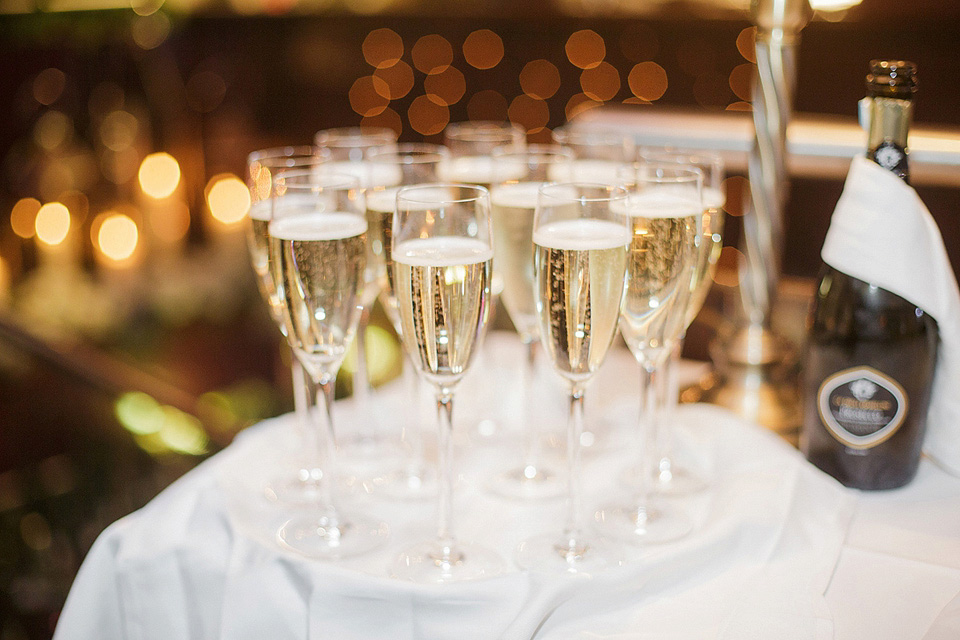 "Cream roses and peonies adorned every table, the flowers were dressed beautifully in the crystal candelabra's as our centre table pieces , they were all supplied and by Bloomingayles.  We choose roses as they have a romantic old school elegant feel that suited our day.
The bar was themed differently to the dining area, to reflect a cool lounge style vibe with white leather chesterfield and bar stools. Once again, we had flowers supplied by Bloomingayles for this area – there were beautiful cala lillies styled in contemporary glass vases."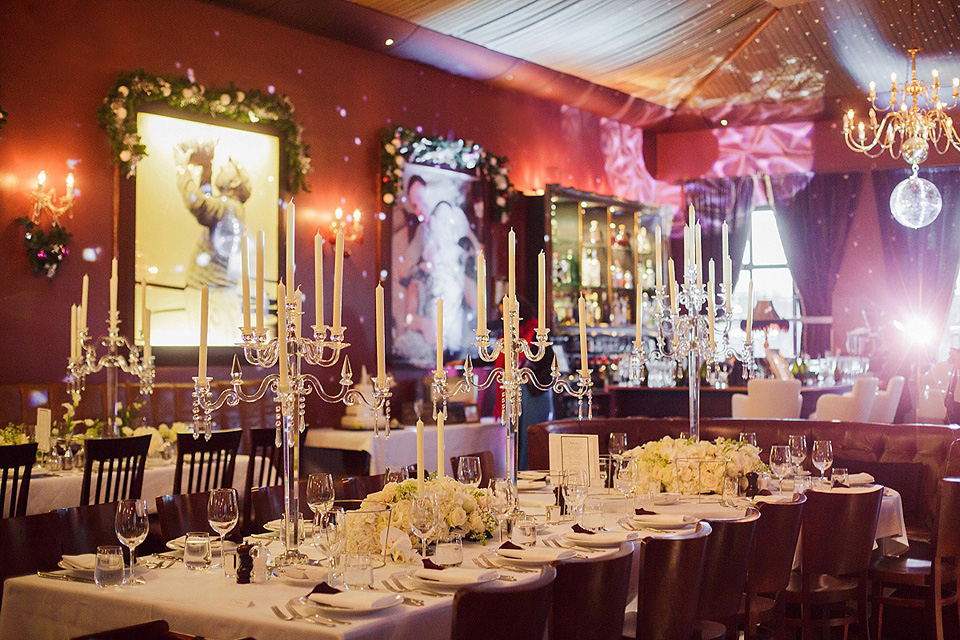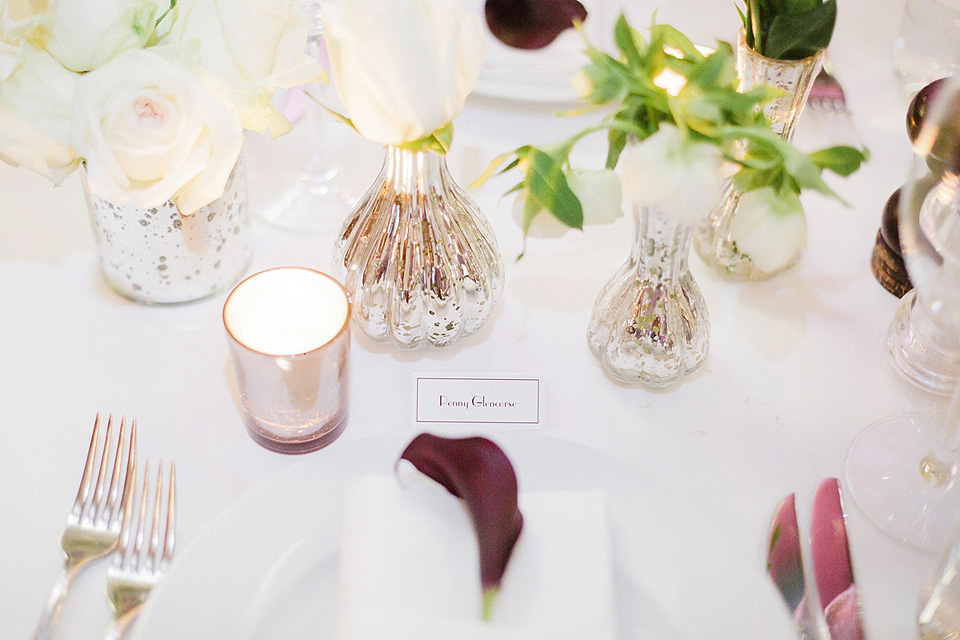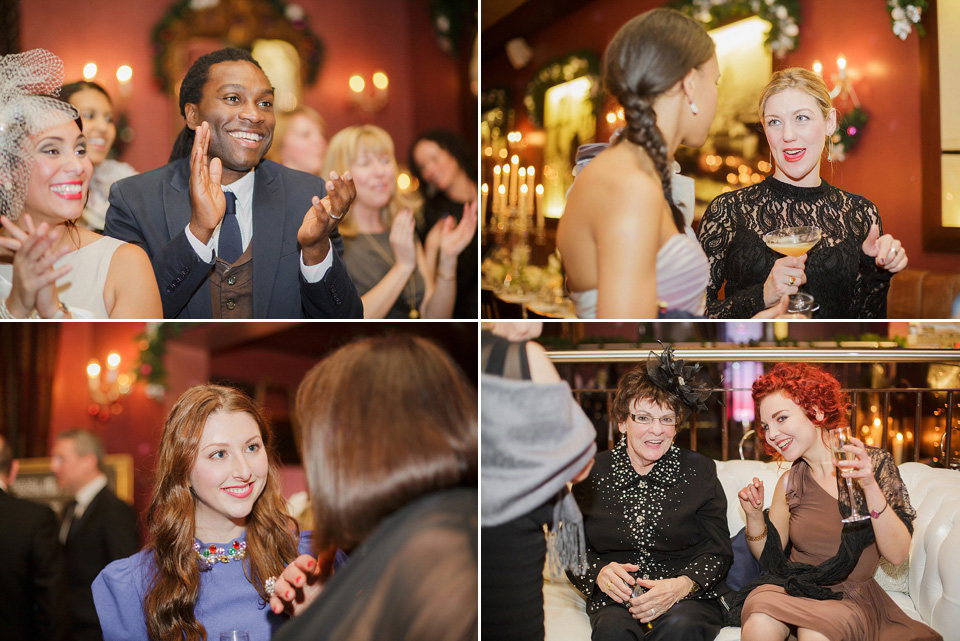 The beautiful and charming Mrs Claire Pettibone…
"There was lots of entertainment on the day as I really wanted my guests to remember the wedding by the wonderful performers we had  These included a Sinatra style singer Sean Ryder-Wolf, aka, 'The Swing Kid', who serenaded the guest's during cocktails as they arrived.  We also had a pianist who played throughout the meal and an amazing female singer Kelly Leigh who performed a mixture of 70s' 80s, style disco in the evening that everyone loved and danced all night to."
Looks like the entertainment included a little performance by the two grooms too! 🙂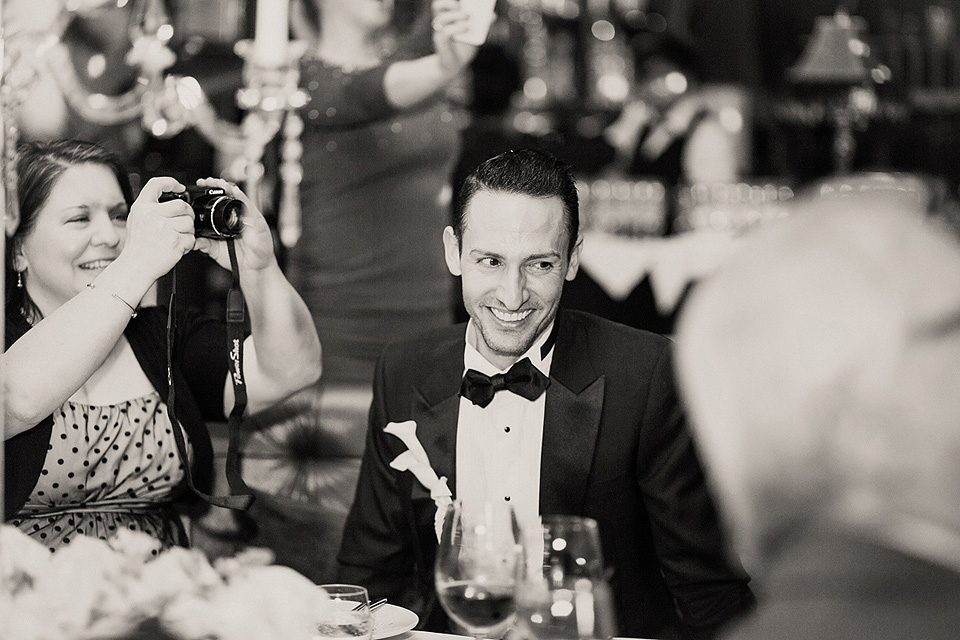 "Our cake was created by Louise Watts Cakes (telephone 07801 884448). We designed it ourselves based around our New York theme, with the topper being the Chrysler building.  We also managed to source these amazing yellow glitter taxi ornaments that surrounded the base of the cake!"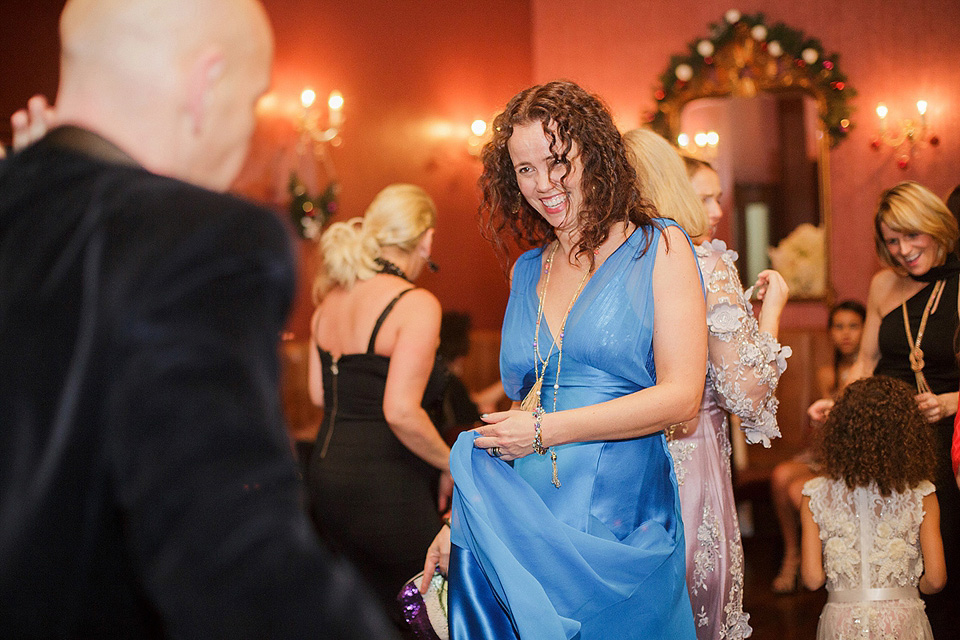 The utterly fabulous Mr and Mrs Pettibone strutting their stuff below…
Words of Wedded Wisdom…
"Just enjoy every second of your day as it passes you by so quickly. Cherish and embrace all you can.  Be present and in the moment."
I feel privileged to have been asked to share this wedding.  I absolutely love the beautiful and tasteful way in which it has been photographed and I adore Russell and Daniel's style.  I hope your second year of marriage is proving to be a fantastic adventure guys and Russell – I very much look forward to seeing you soon.
With love and best wishes,
Love Annabel x
Photographer – Sarah Gawler
On the day co-ordination – Sama Hemsley Utterly Wow
Venue – Chelsea Old Town Hall + Locale Restaurant
Russell – Vivien Westwood suit + Lanvin bow tie + Jimmy Choo shoes
Daniel – Dior suit + Hilditch and Key bow tie + YSL shoes
Florist – Bloomingayles
Table Plan – Kate Ruth Romey
Cake – Louise Watts Cakes (telephone 07801 884448)
Transport – Vintage bus hire
Entertainment – Sean Ryder-Wolf, aka, 'The Swing Kid' + Kelly Leigh (singer) + a pianist
Rings – Bellini Jewellery
Catering – Locale Restaurant