Good morning all, are you back at work today after a beautiful long bank holiday weekend? I do hope the posts we have planned help you ease back into the working week if so.  Yesterday's wedding was so utterly beautiful, take a look if you missed it.  I also need to remind you that today is the last chance you have to enter this competition with Freya Rose to win a £500 pair of shoes, and to pop your name into the form on this page to receive exclusive entry to this event in London at the weekend.  We have other promotions running now too, like this one to win £1,000 towards your wedding dress, and this one to win £500 towards your wedding day.
This morning's wedding is quite something else – Alex and Carol, both Academic Research Scientists in Biology, married on 3rd May 2014 at Folly Farm in Bristol.  Their wedding certainly had a unique sense of style and it was all born out of the laboratory…
"We love Love My Dress, and inspired by this, and the unique ideas that should reflect your personalities, we decided to bring our lab into our wedding venue, and to share our life with everyone!"
Photography Copyright (c) 2015, Summer Neverland
"Since we are both scientists, we decided to decorate our venue with measuring cylinders and Bunsen beakers with coloured liquid or plants in them. We also made a lot of pom pom ourselves to make the venue more colourful and lively. We wanted to share our happiness and memories of how we have grown as a couple, so we also decorated the room with a lot photos of us around the room."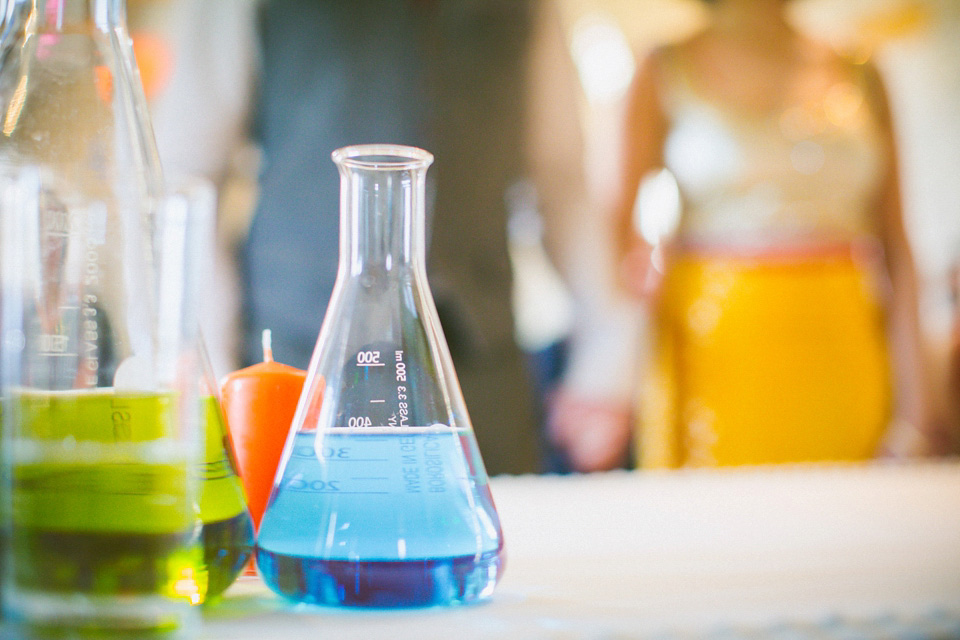 "We DIY'd most of the stationery, including our table plan, which was inspired by the periodic table!"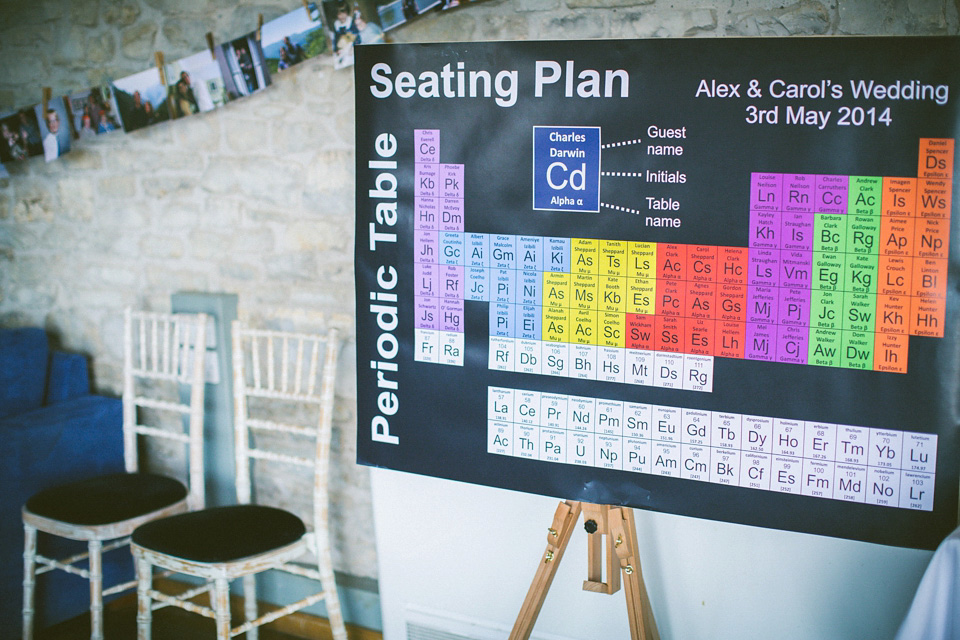 "I tried 20 wedding dress but not one of them felt right. Then my bridesmaid suggested I wear something that reflected my half-Indian heritage. I spotted this stunning gold lehenga (a long embroidered Indian skirt) in a shop in Southall and spent only £200 after a few alternations. Once I added the authentic gold jewellery borrowed from my mum, the whole look came together and I felt really special.
To accessorise, I wore traditional Indian gold jewellery that my mum wore when she married.  It matched perfectly with my special wedding gown and was a truly meaningful addition to my outfit – I felt blessed being able to wear them.  I also chose a pair of high heels with soft soles that would allow me to jump around and dance with my family and friends and enjoy the day in comfort."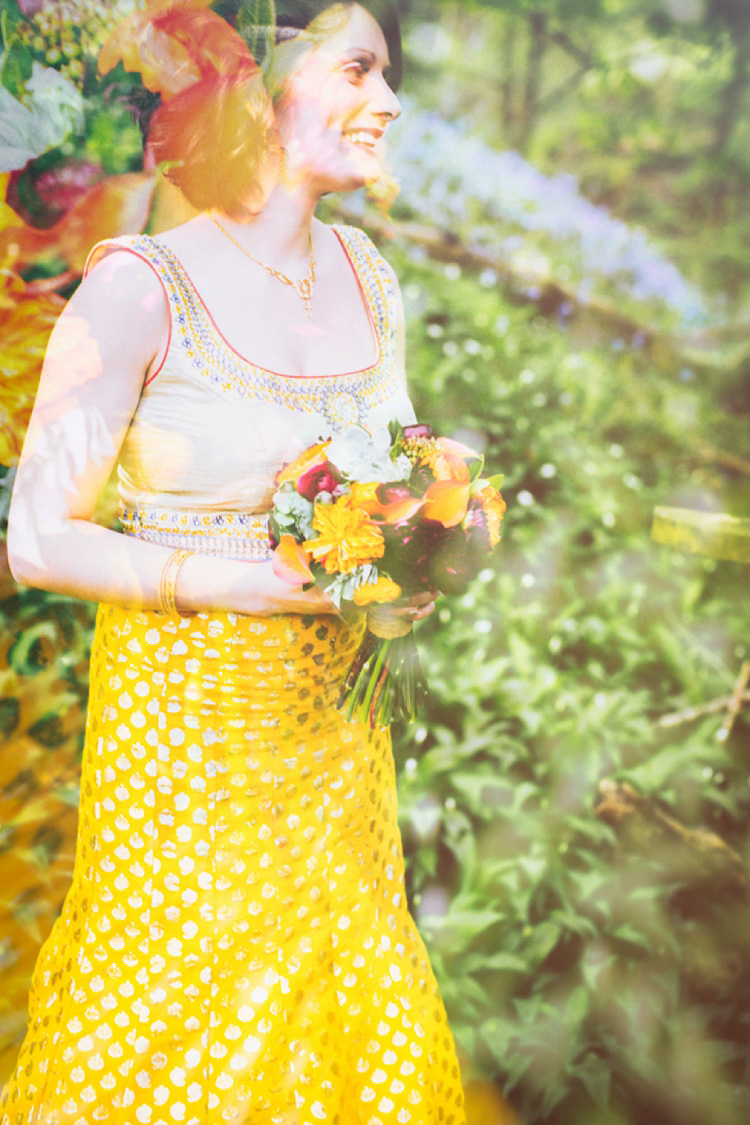 "Our photographer was Summer Neverland. It felt on the day as though she were a friend whom we'd known for ages. She is truly creative and came up a lot of ideas to take full advantages of the venue and the light. We were both thrilled when we received the photographs, and really love the way she captured our wedding, the atmosphere, the quirky details and a lot of fun moments – and she made us look really photogenic, hehe!
We couldn't wish for a better way to memorise the day than these beautiful photographs that Summer created."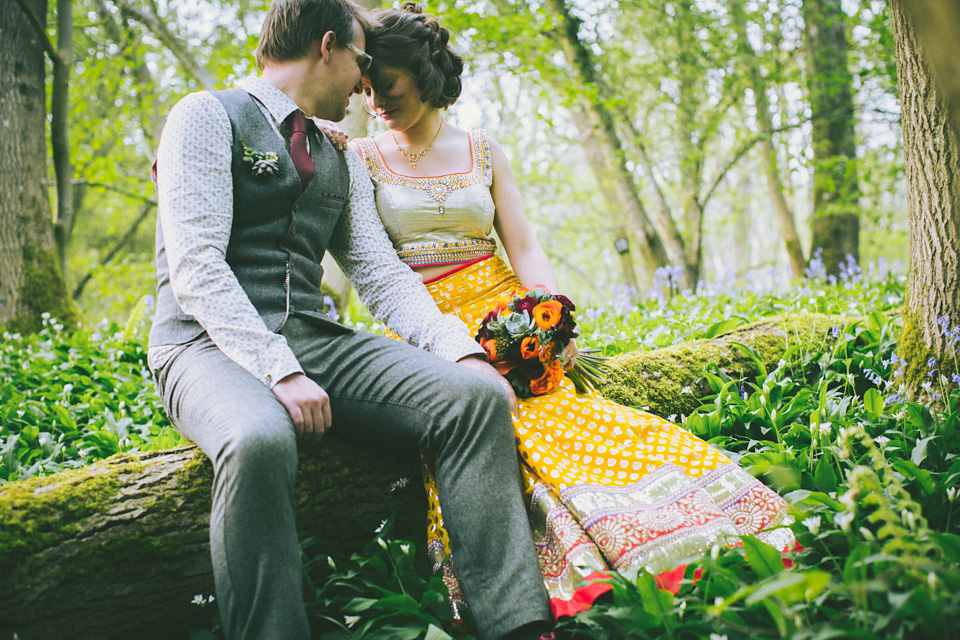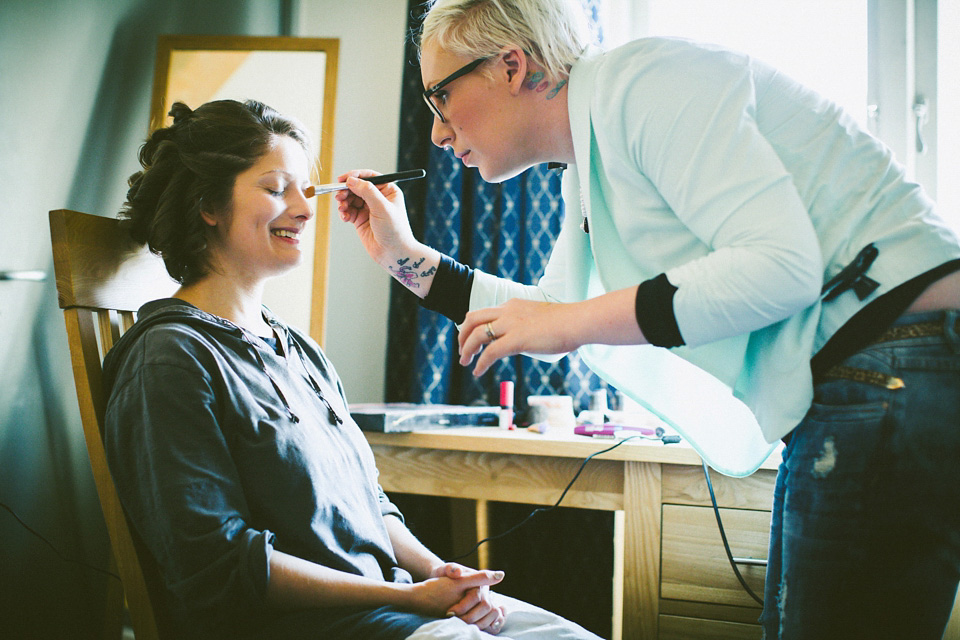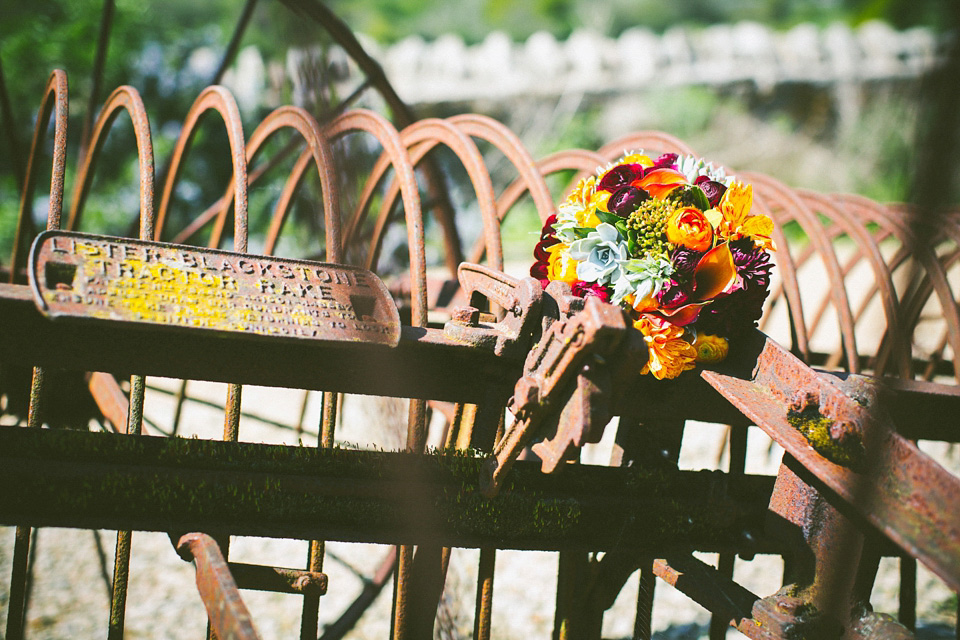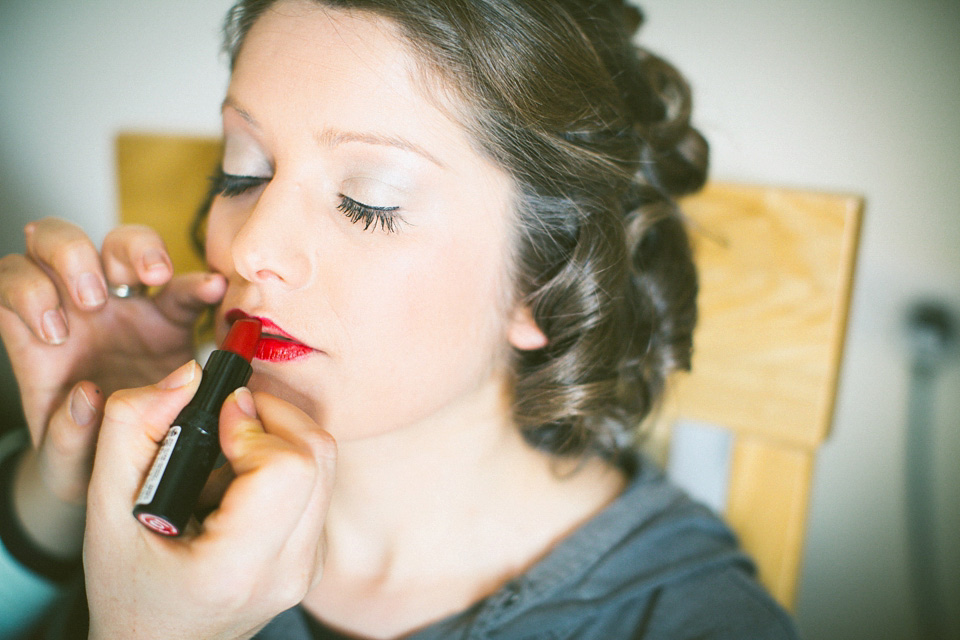 "My bridesmaids wore their own dresses but each in the identical 'flame' colour, to indicate passion and happiness. They also wore pink vintage style t-bar shoes from Paradox London."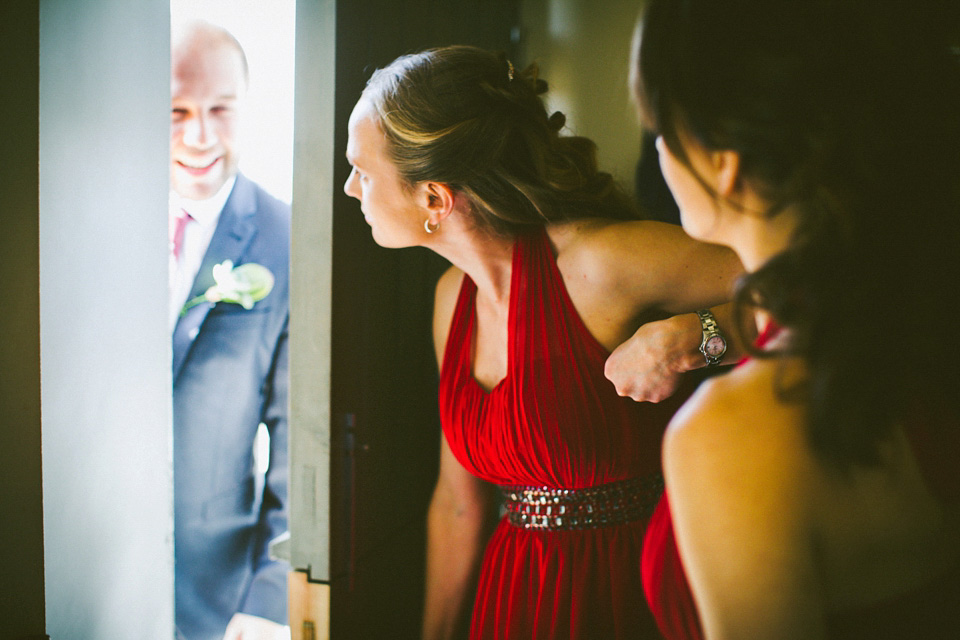 "We met when we studied together in Bath University and we have never looked back. After we graduated together, we travelled around the world and because of this, we share a lot of joyful memories together. We are really lucky to have found our one true soul-mate, to appreciate each other's company and through each other, to become better people than we otherwise could ever have been."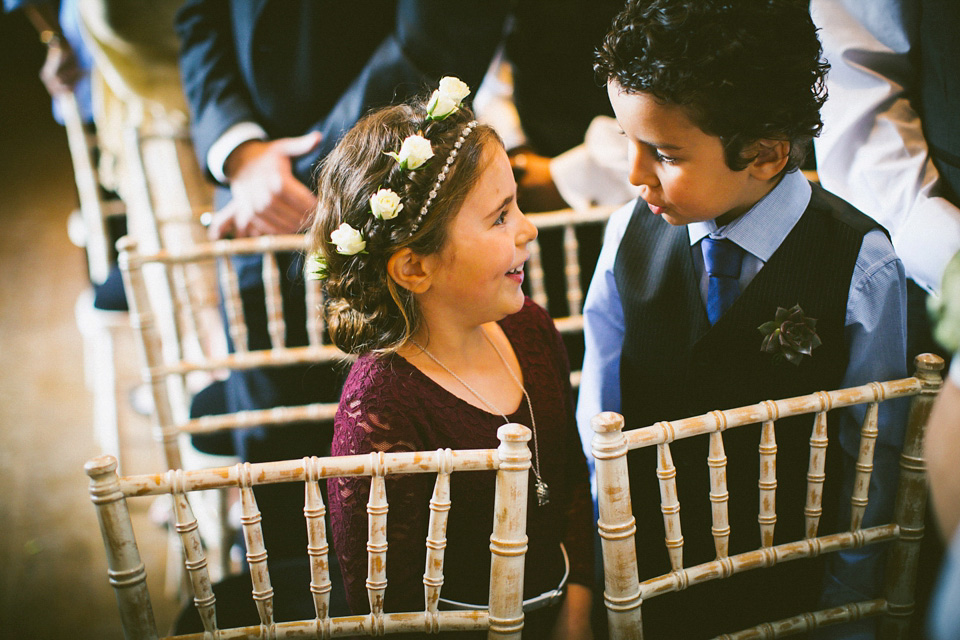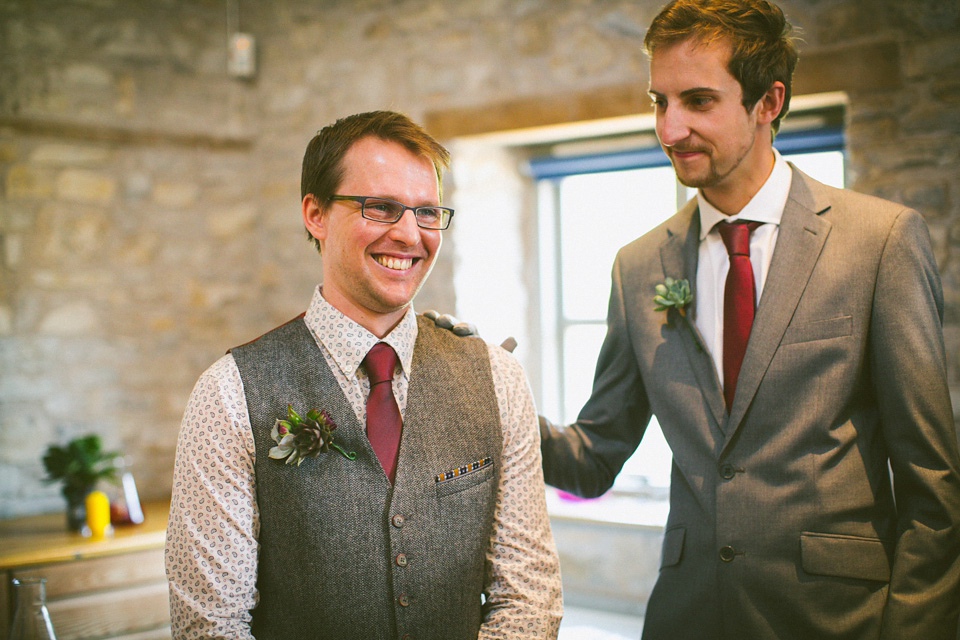 "One of the highlights of the day for me, is when I was walking down the aisle with my Dad and looking at Alex at the other end. All the moments we had spent together up to then flashed through my mind in a couple of seconds."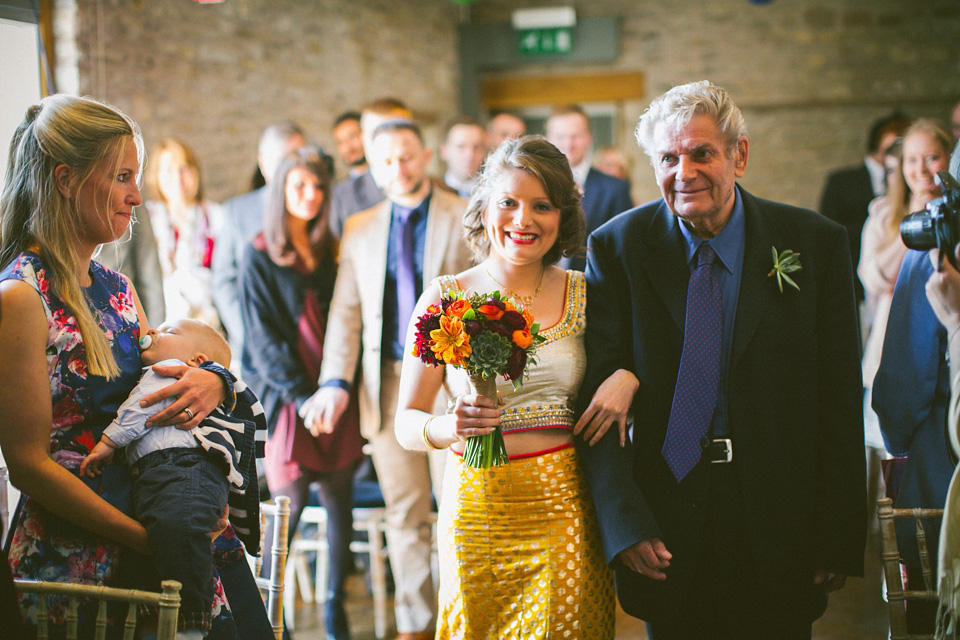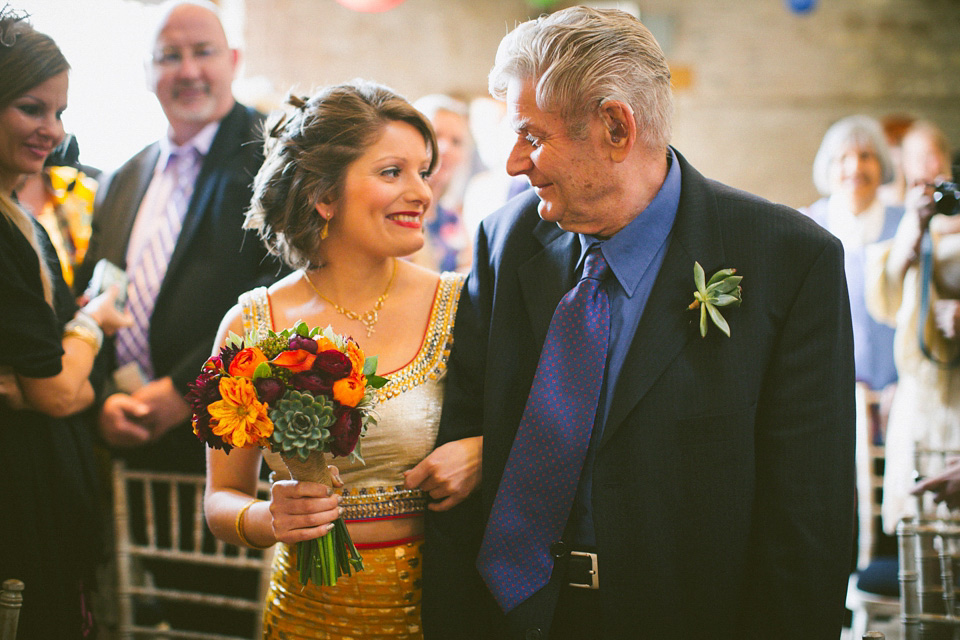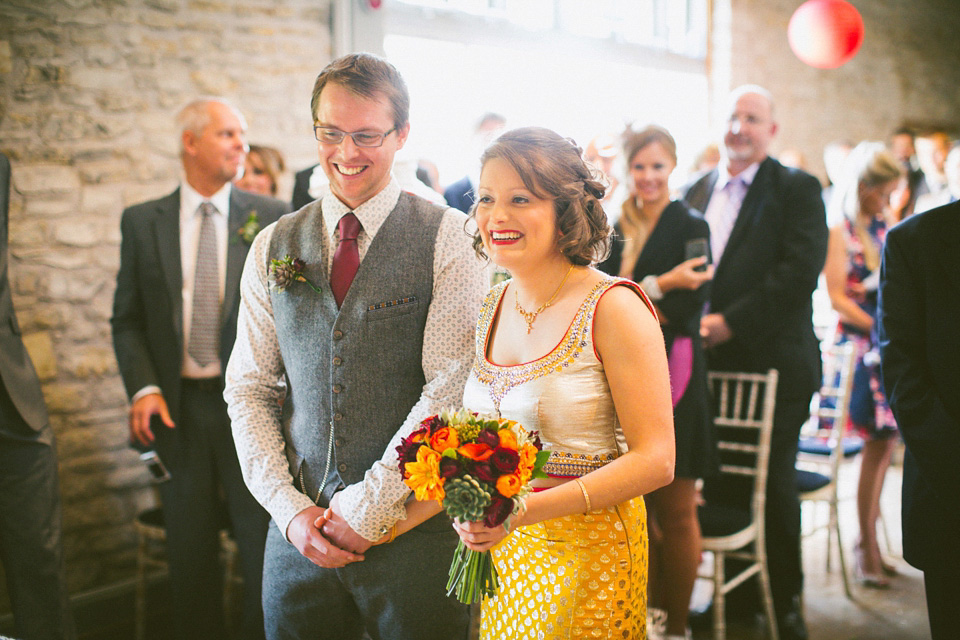 "Our florists were 'Flowers of Bath'.  To fit in with the vibrant colours of our day, I was looking for a florist who could provide a bouquet to combine succulent plants with colourful flowers. I was so pleased on the day when the flowers arrived and to see how they made the venue look."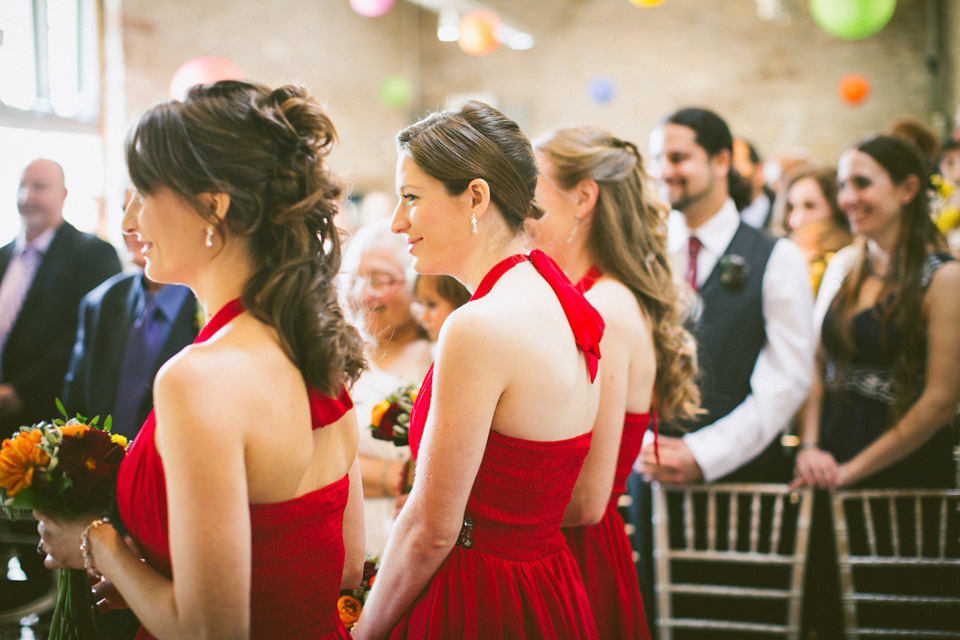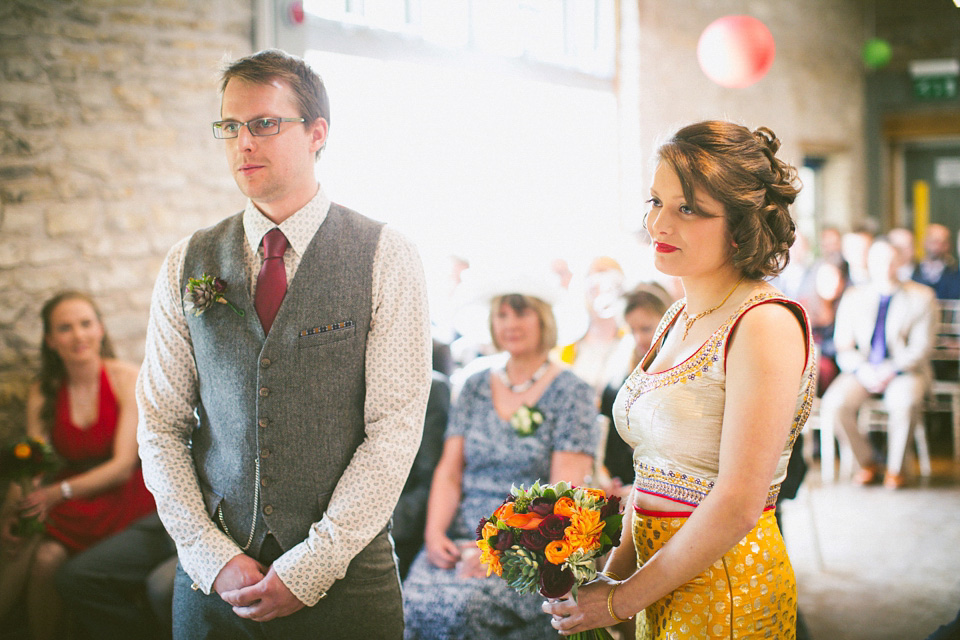 "During our ceremony, my aunt delivered a really touching reading about love and relationships. It focussed on how love helps us find ourselves, and how through being in love with someone, you both become the reason and power for the other to become a better being."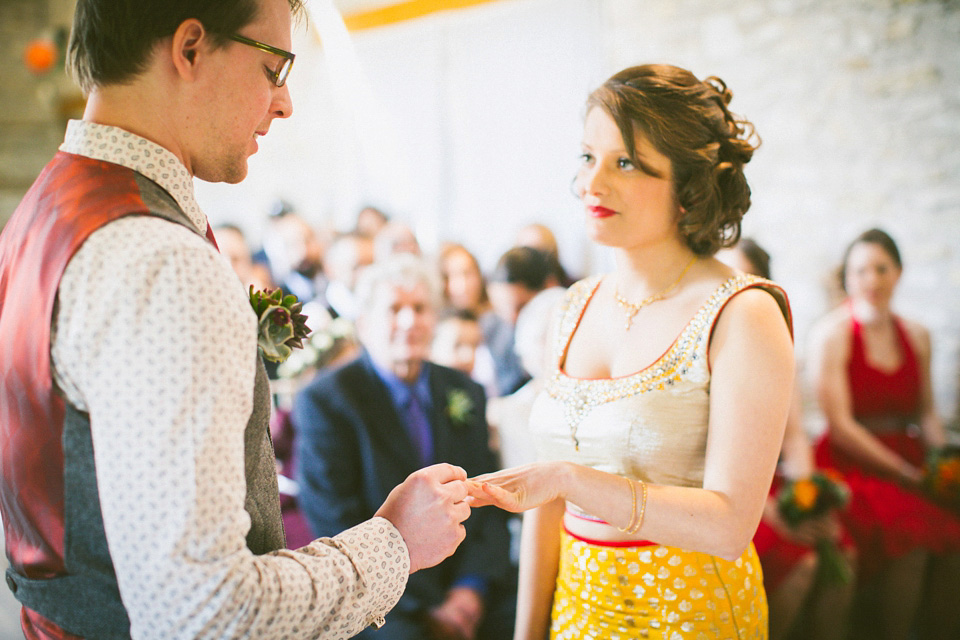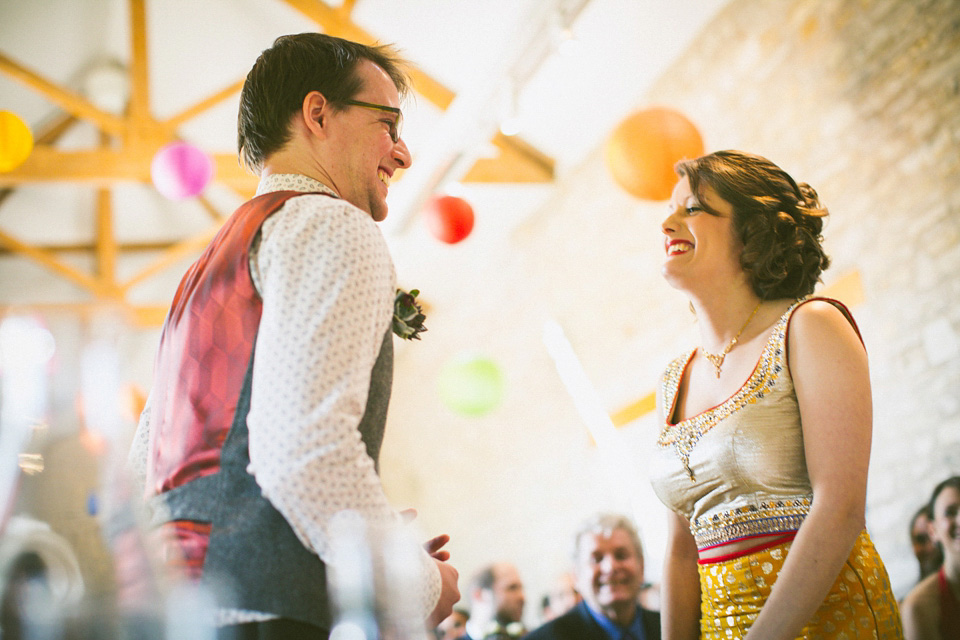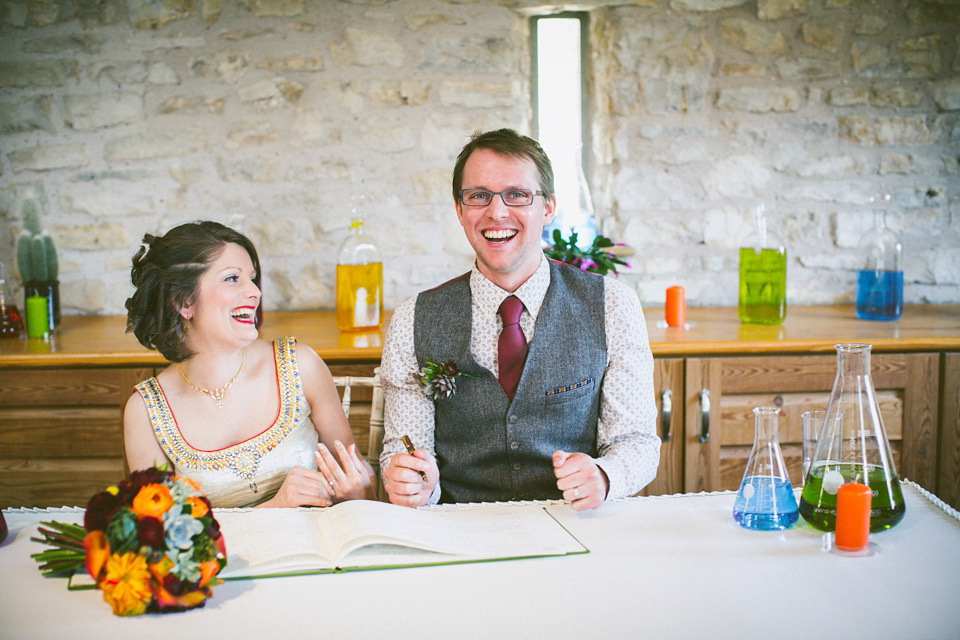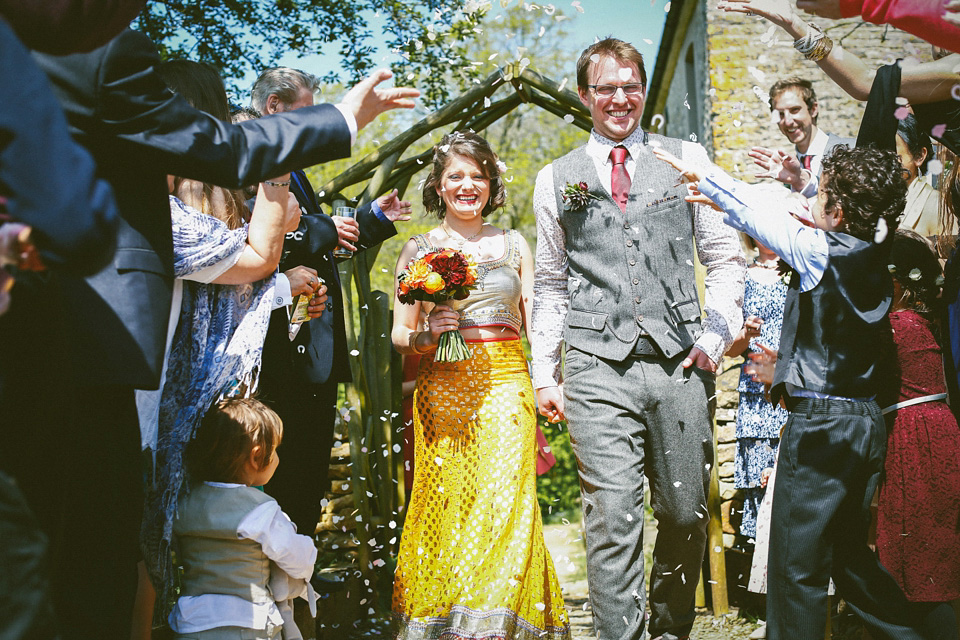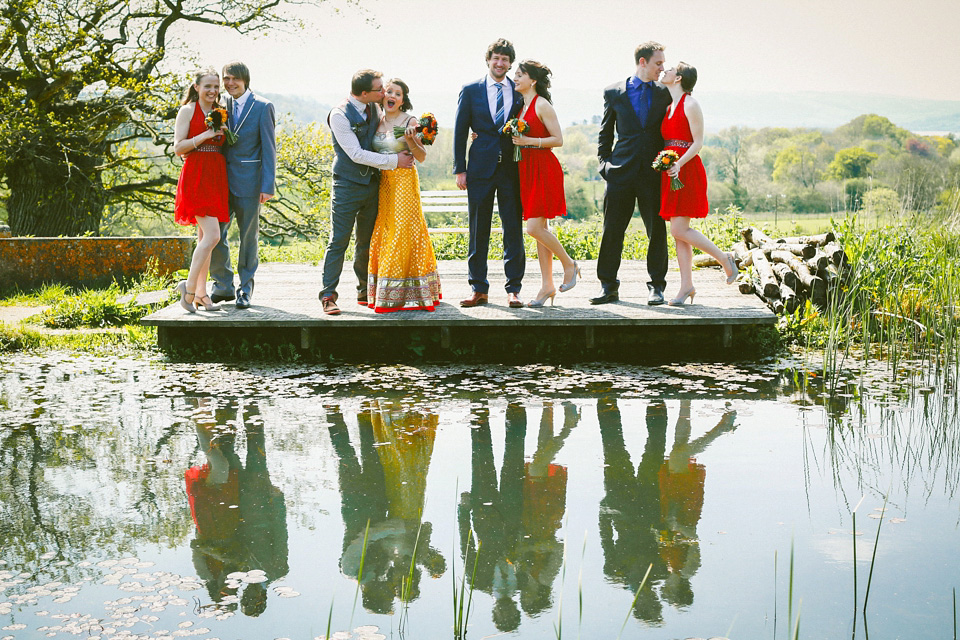 "We love the rustic style of Folly Farm in Bristol – getting married in May meant the venue would be blessed with the beautiful woodland blossoms, bluebells and daffodils."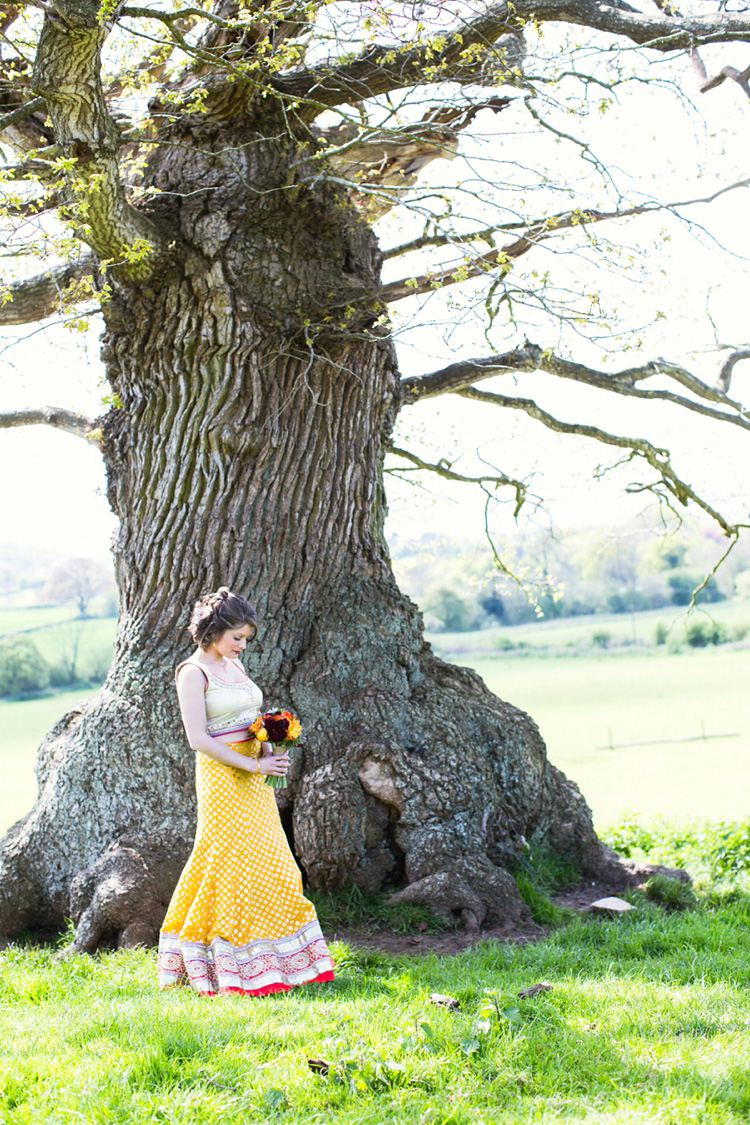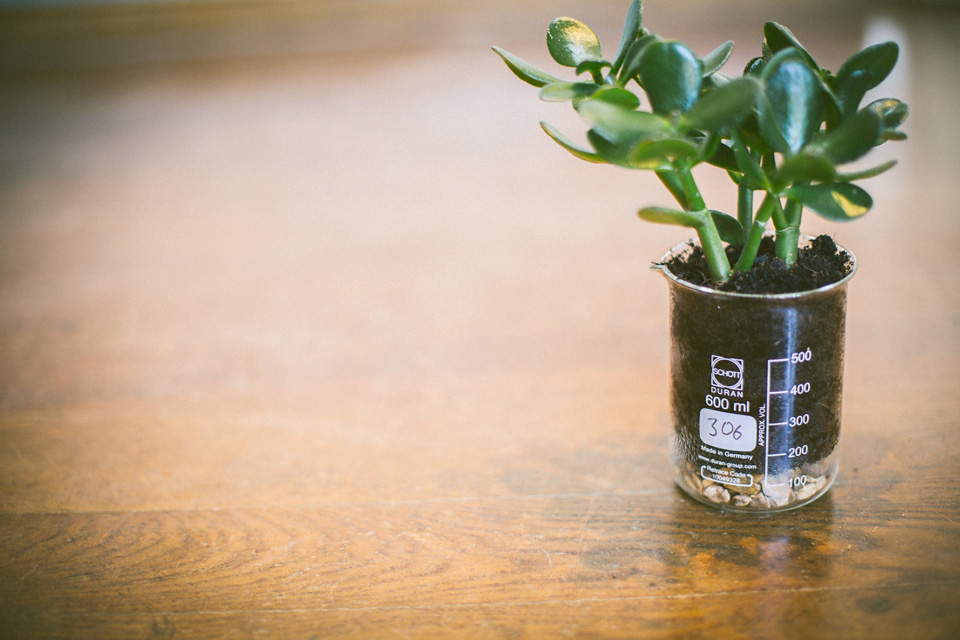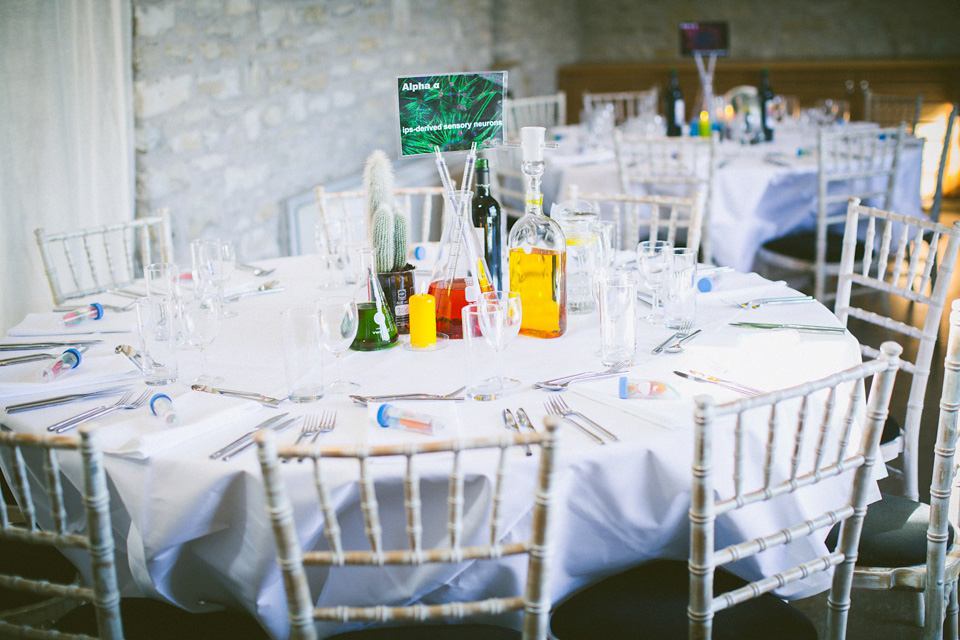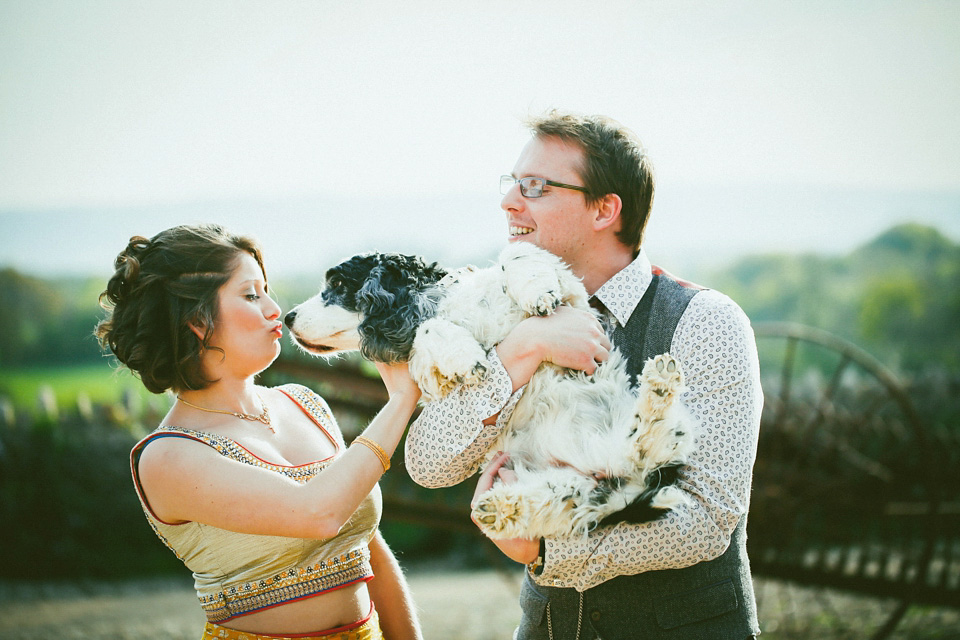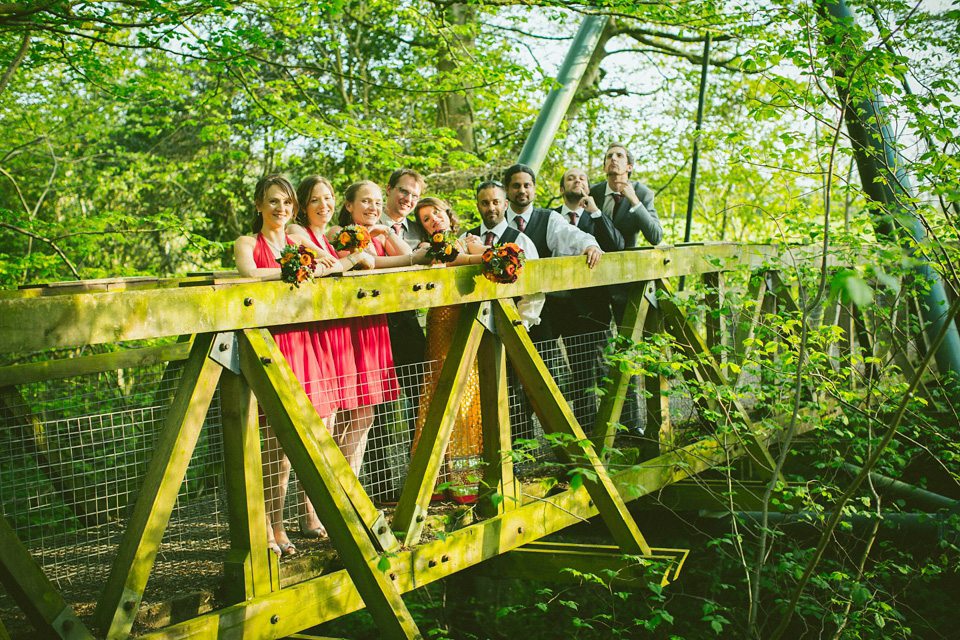 "We both really enjoyed the time that we 'run away' to the woodland for photos. The schedule of the wedding day is really full, so being in the forest, I suddenly felt really relaxed and able to recollect everything that happened. It was a beautiful moment, surrounded and blessed by all the Spring nature.   Our photographer encouraged us to forget we were having photographs taken, and to relax and enjoy the moment.'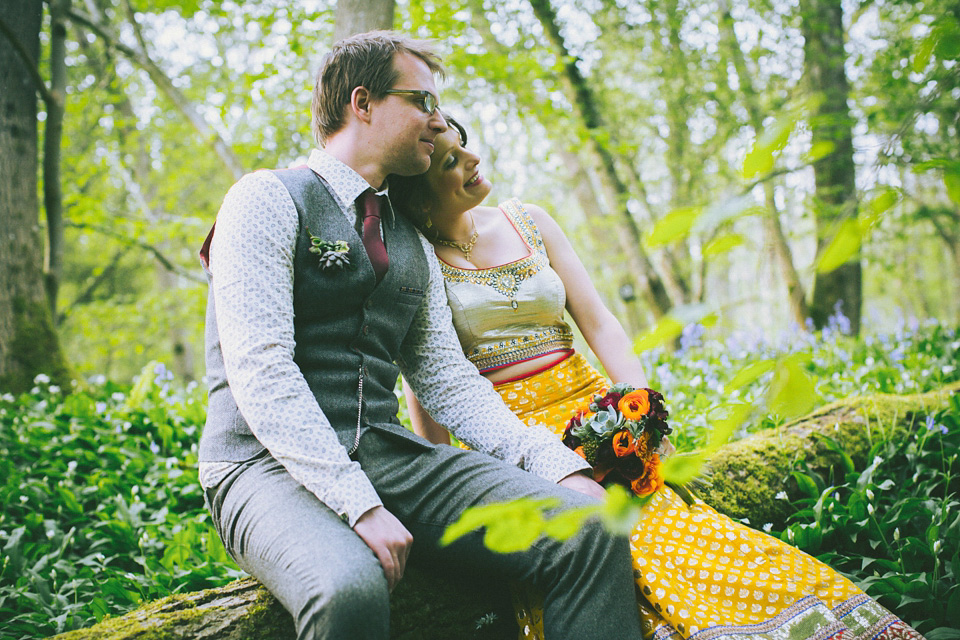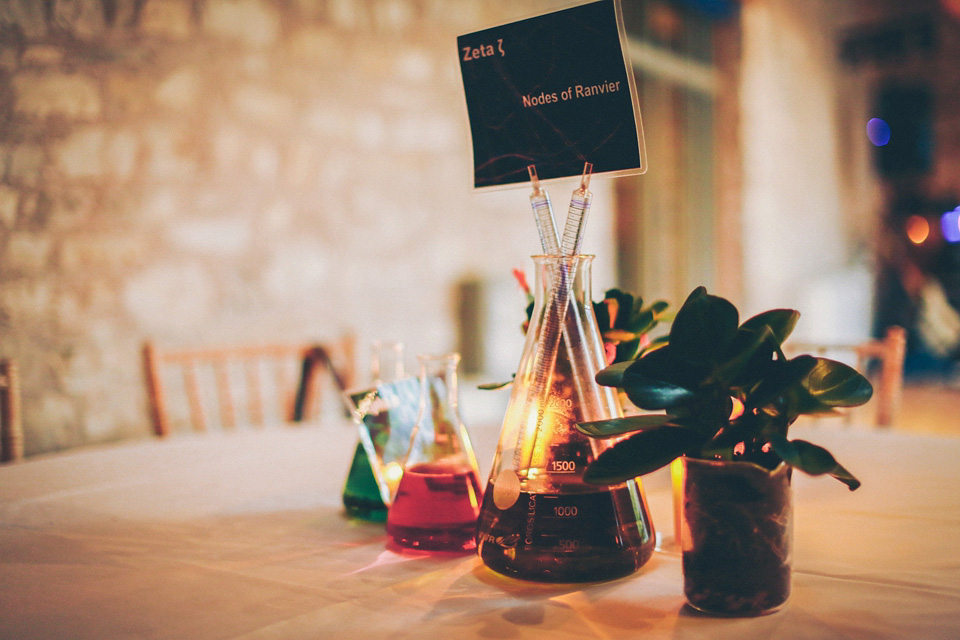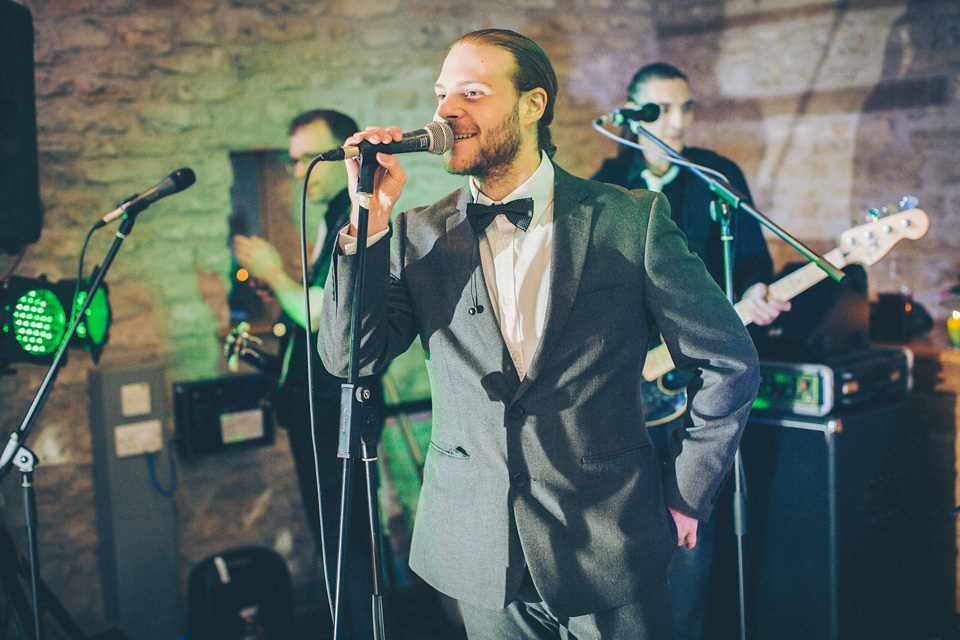 Words of Wedded Wisdom…
"We are both really organised and I found that plan everything in advance can safe you a lot of money and will avoid a lot of disappointments like your favourite suppliers are already booked etc.
Our wedding was absolutely perfect – the venue, the weather, the food, the drink, the band, the speeches, but best of all was being able to share it with so many of our family and friends.  We are so grateful to know such a wonderful bunch of people and we were overwhelmed with all their generous gifts and kind words."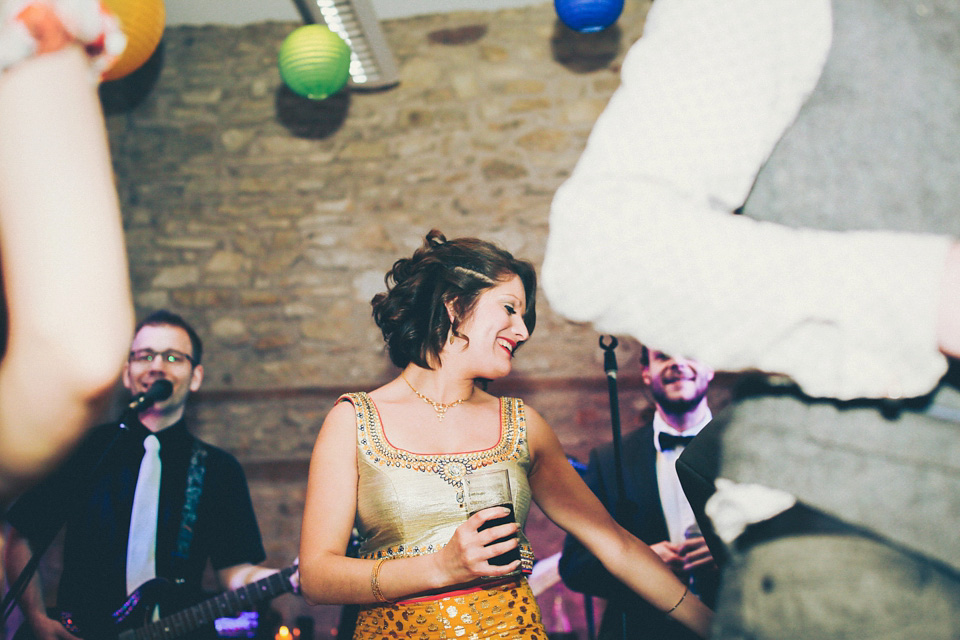 "Everything was perfect, we honestly could not have wished for a better day.  Even the weather was perfect! Every time the sun shines now, it reminds me of the most wonderful day we both had."
How fabulous! A couple celebrating their commitment to one another in a completely unique, fun and quirky way that pays homage entirely to who they are as individuals. I love it! Much love and congratulations to you both Alex and Carol – thank you both for allowing me the pleasure of sharing your wedding on Love My Dress.
Huge thanks also to photographer Summer Neverland for so kindly sharing her work.
We've got 2 more posts lined up today folks – pop back at 12 noon and 3pm.
Love Annabel x
Photographer – Summer Neverland
Venue – Folly Farm in Bristol
Wedding Dress – a gold lehenga
Accessories – borrowed gold Indian jewellery
Perfume – Jo Malone Rose
Grooms Suit – Skopes + Ted Baker shoes
Bridesmaids – own choice + Paradox London shoes
Flowergirl cresses – Little Misdress
Pageboy – Howick Junior
Florist – Flowers of Bath