Lovely blog readers, prepare to have your breath taken away by these exquisite wedding photographs by Michelle Turnbull Photography for this delightful Scottish wedding in spring. Look out for the cutest little bridesmaid with three outfits and the sweetest pooch who joined in the celebrations. I simply adore preparing weddings like this to share with you on this beautiful blog.
Kate, who co-ordinates services for the British Red Cross, and truck driver Stuart, married on 16th May 2015 at Berriedale Church, followed by a reception at Portland Hall, on the northern east coast of Caithness, Scotland – a perfectly picturesque highland setting.
"We live in a tiny village up in the Highlands and just wanted to have a very small wedding as close to home as we could, and are lucky enough that the church and village hall are within walking distance."
Photography by Michelle Turnbull Photography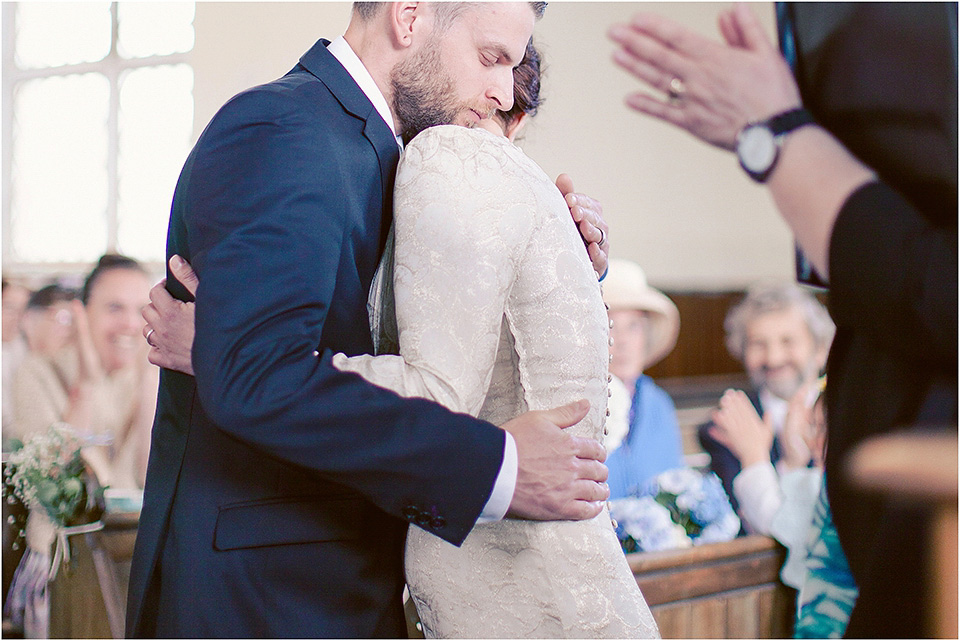 The pictures of Kate's niece and bridesmaid Tilly are utterly adorable, don't you agree? To top off her very stylish ensembles, she wore a pretty daisy chain flower circlet.
"My niece and bridesmaid Tilly brought three dresses with her, for various parts of the day and was the most organised of us all!"
"Our favourite part of the day was sharing our vows and story with our friends and family and being piped from the church to the hall. My mum's partner plays the bagpipes and he led us in a procession from the church, the sun came out, all the nerves fell away and everyone was relaxed and happy." 
Kate's divine handmade 1930's vintage silk lamé dress with long sleeves was found at Starry Starry Night, a vintage shop in Glasgow.
"It was beautiful, a one off. I loved the simplicity and the shape and it was only a hundred pounds!"
Michelle Turnbull Photography captured the most stunning, relaxed pictures of the couple and their guests. I can feel the remoteness of the highland setting in Michelle's absolutely stunning landscape shots.
"We asked Michelle to be our photographer as she is a friend of ours. We had been keeping a beady eye on the work that she had been doing recently and really liked it. We were very keen for her just to shoot the day and for them to be as natural as possible; she is good at drawing a smile out of you and we laughed a lot. Michelle really managed to capture us, our family and friends and the landscape that we really love."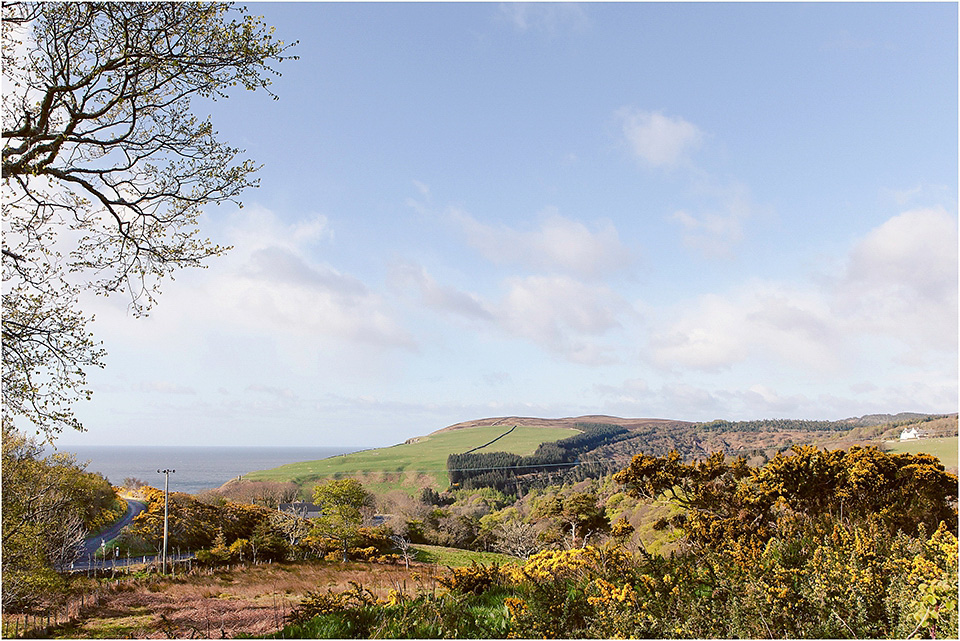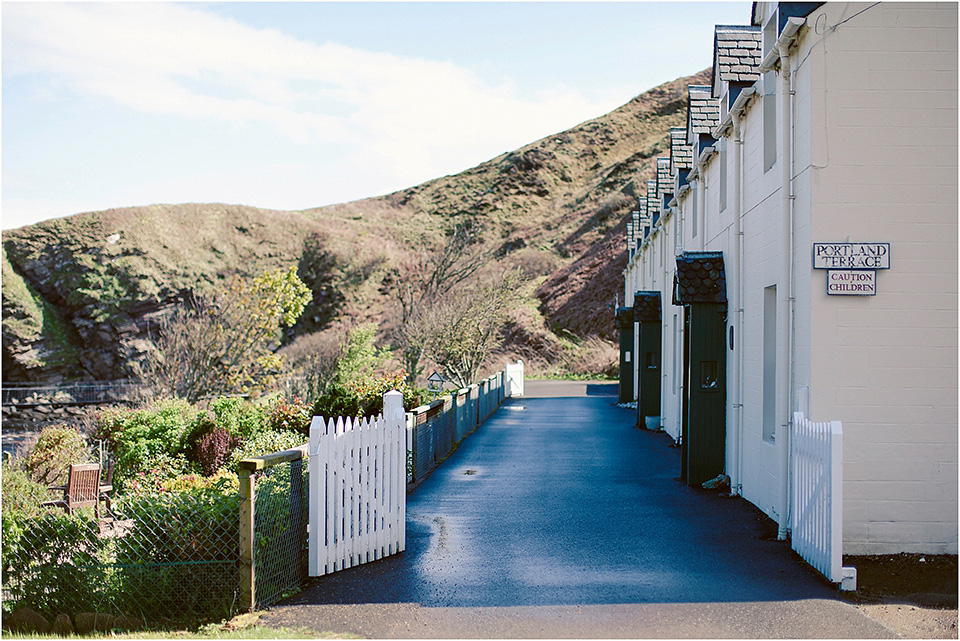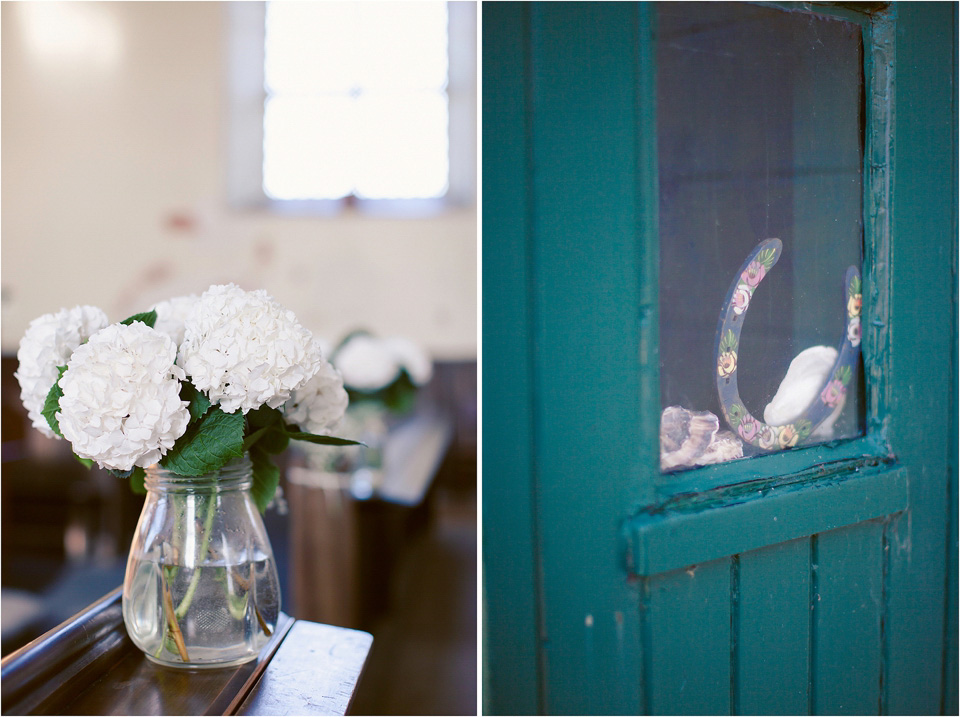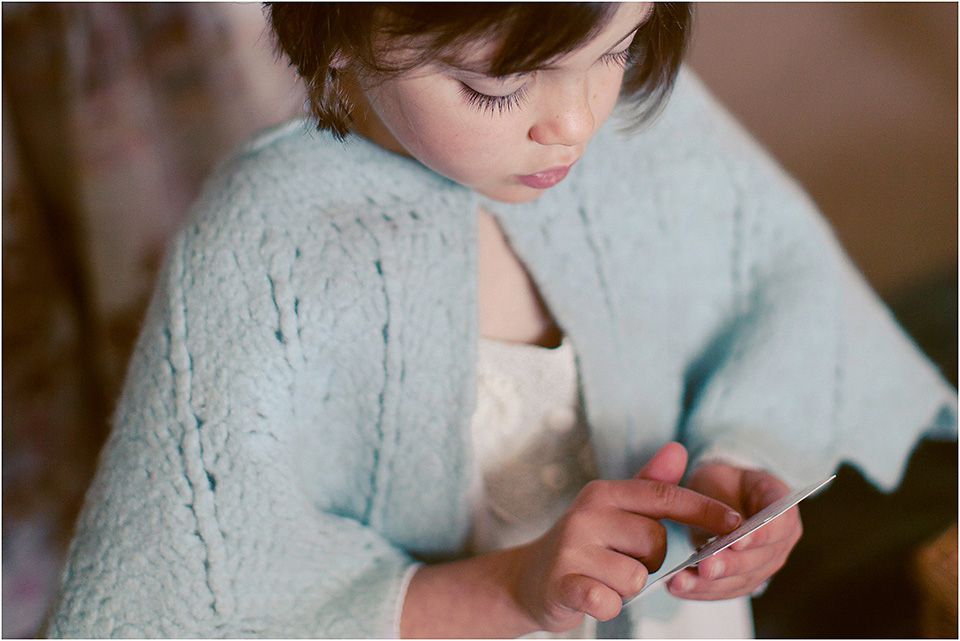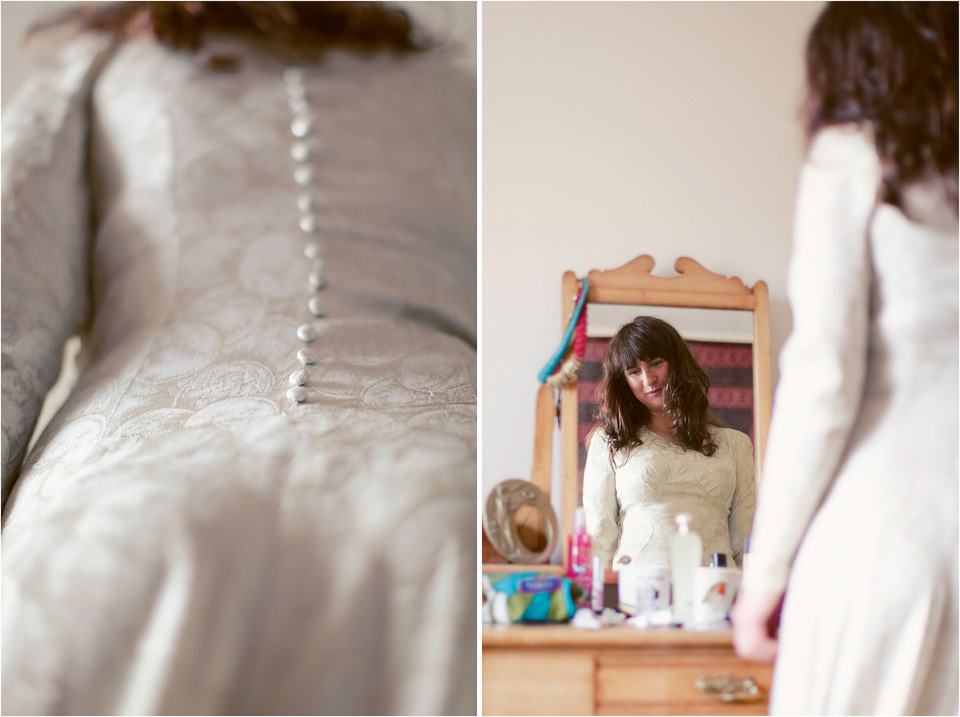 The bride's hair and makeup was by Chloe, her brother's fiancée. Kate donned silver t-bars from Clarks, a spray of Origins 'Ginger Essence' and special jewellery pieces.
"A pearl bracelet made by my niece and bridesmaid Tilly and a vintage necklace I bought from a Brighton car-boot years ago."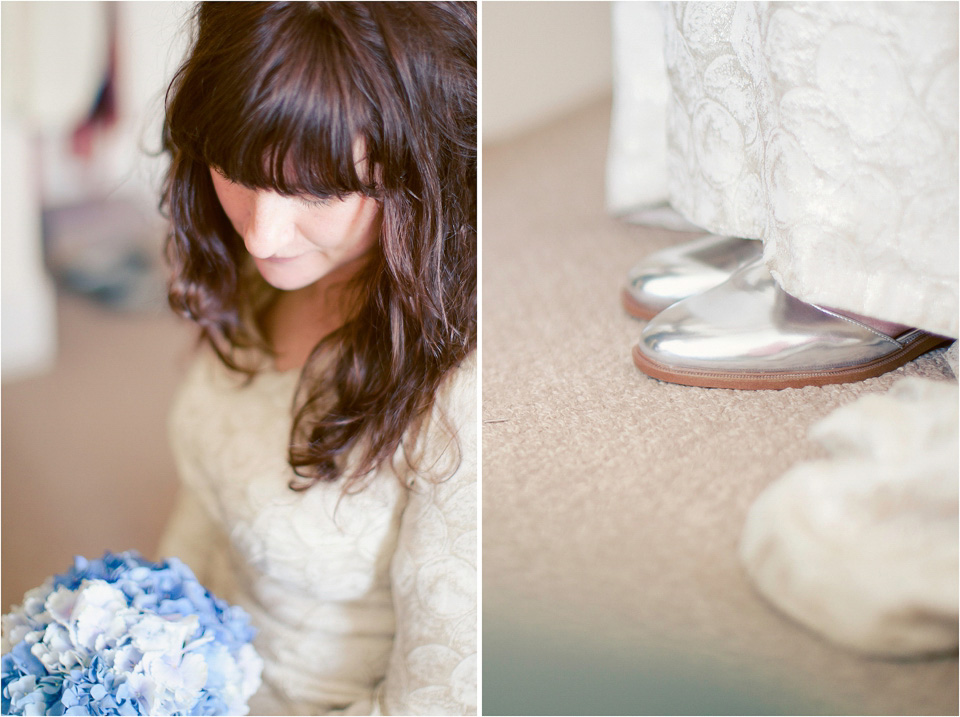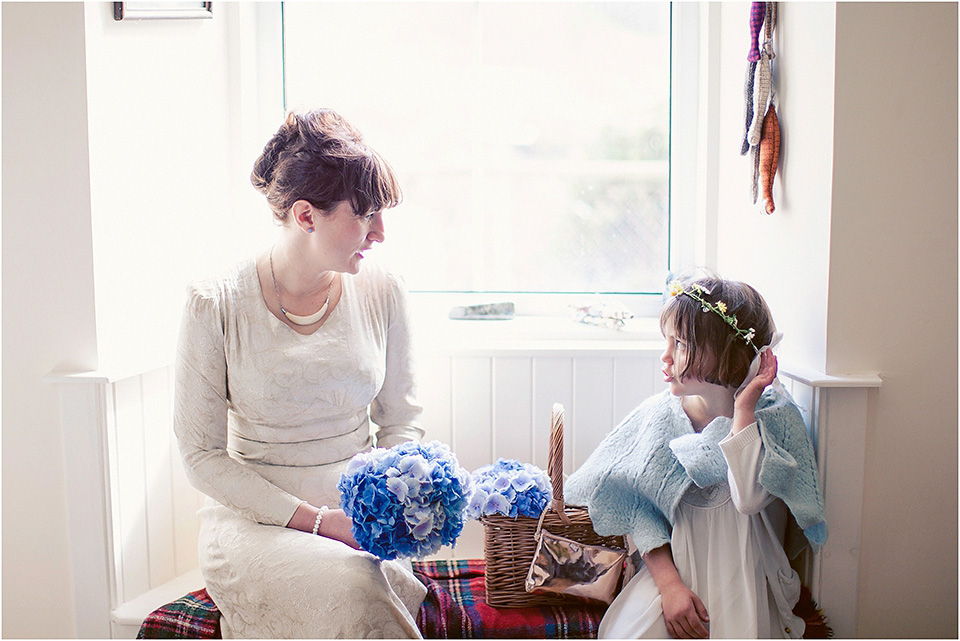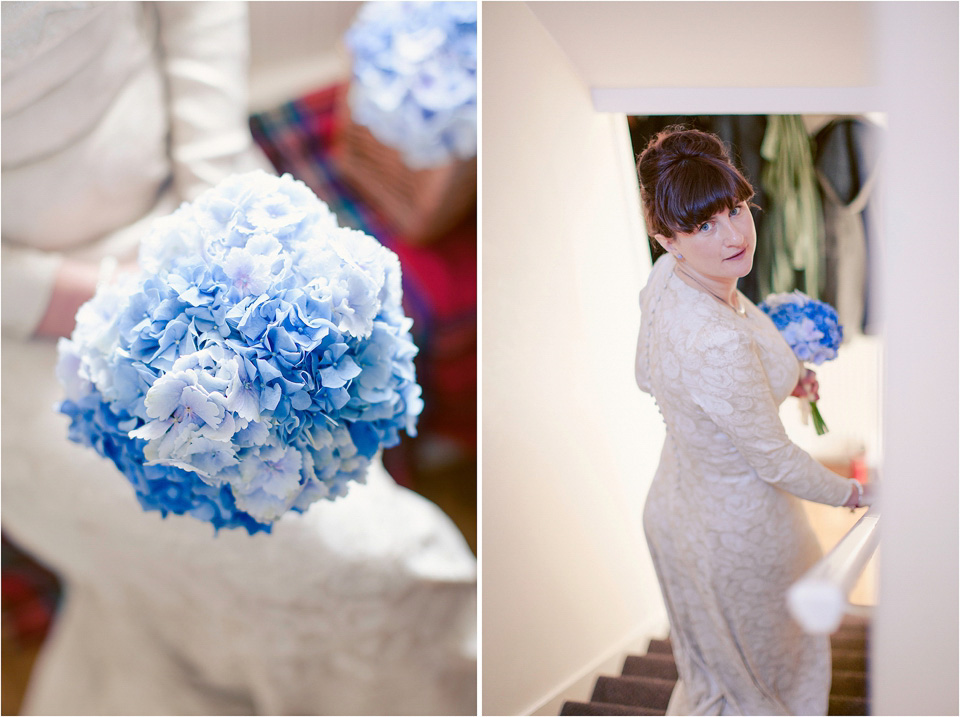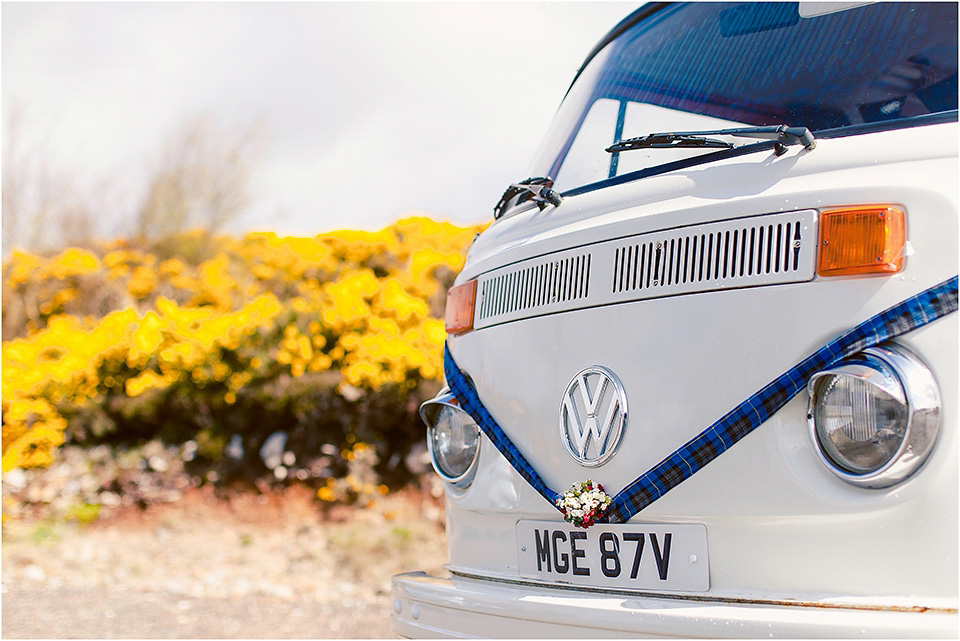 Clan Campers drove Kate and Tilly up the hill to the church in a groovy vintage VW campervan, adorned with colourful blue tartan; very fitting decoration for a Scottish wedding. And Kate explains her choice of flowers for the big day, provided by The Flower Shop in Wick.
"We went with blue hydrangeas – because I have always loved them. We had rings of bright yellow gorse hung up in the hall too."
"We met through my brother many years ago but caught up with each other again in October 2013. Although we both hail from the same hometown I live up in Caithness in the Highlands and Stuart was living in Worthing. Our first date was a Thom York and FourTet gig in Manchester – halfway between the two of us. We got engaged the following August on the bridge outside our house."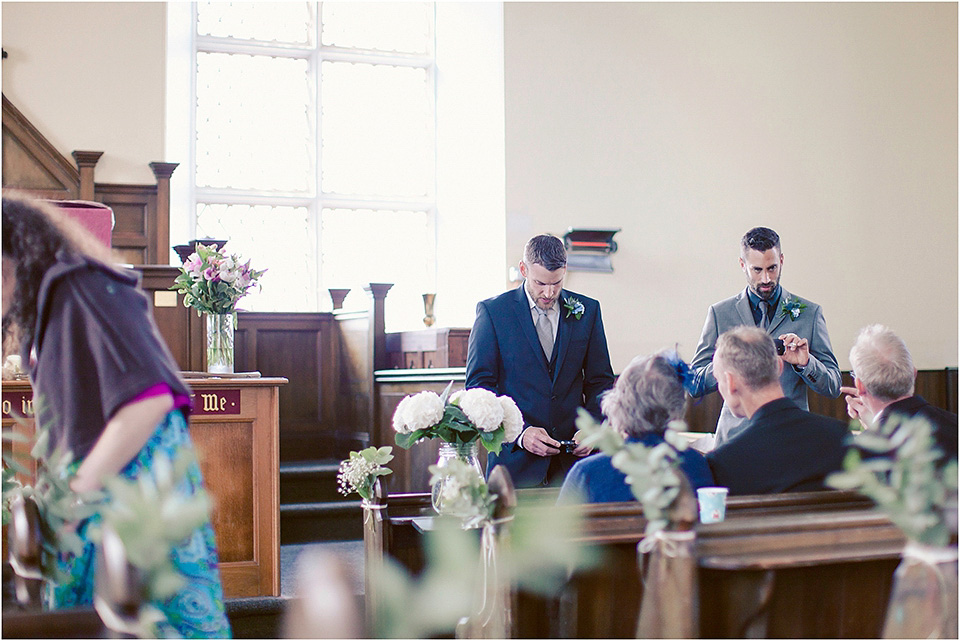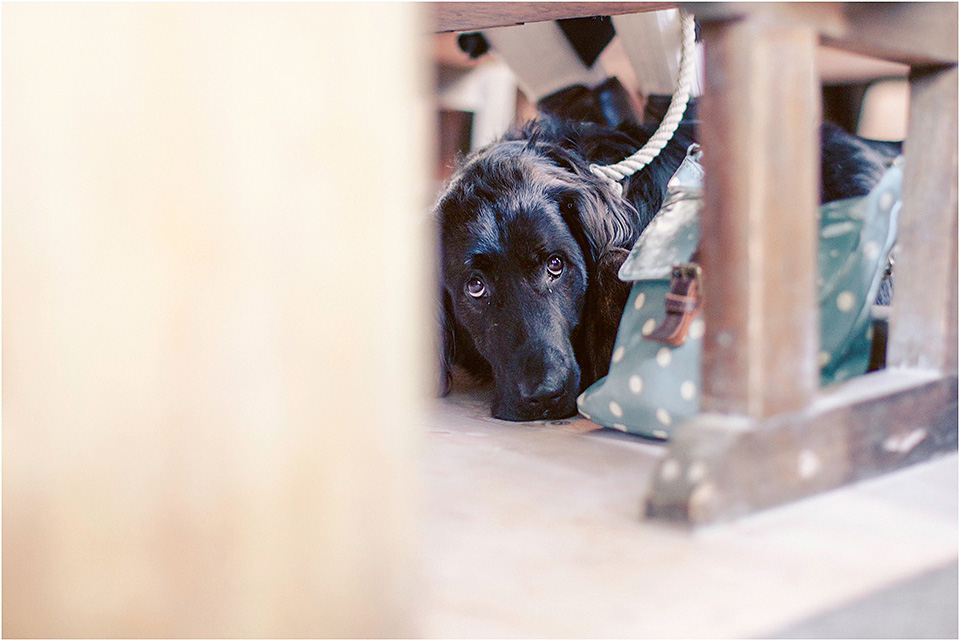 "I gave myself away! And was accompanied by my beautiful niece Tilly on the aisle walk to the tune of 'She'll Be Coming Round' by Tiny Ruins.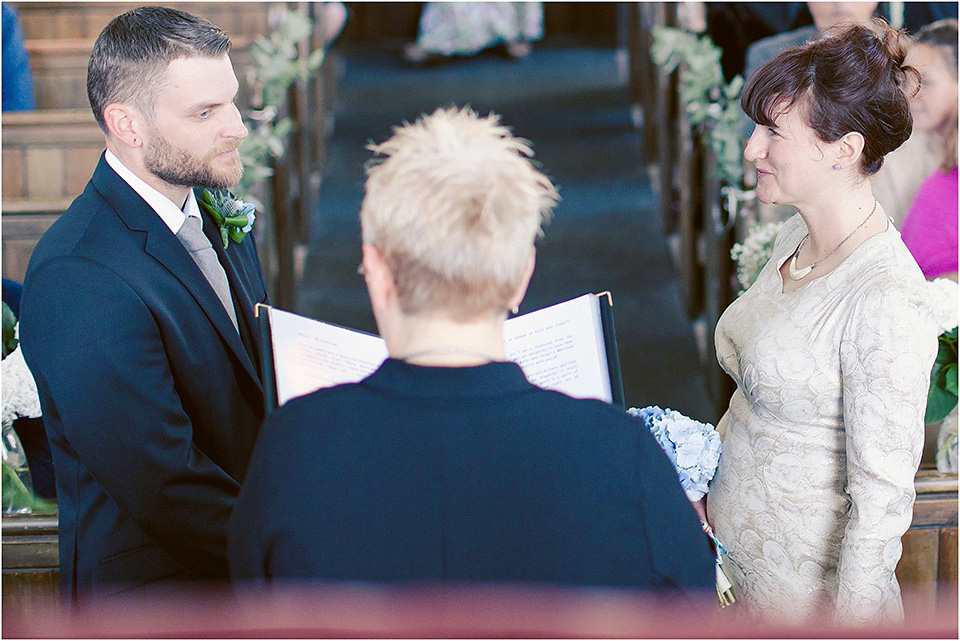 "The ceremony was very special and we were helped a lot by our humanist celebrant Linda. It was the most important part of the day, we spent a lot of time on it, and it's a secret.
For the reading an extract from Kalil Gibrans 'On Marriage' was read by our friend Lucy."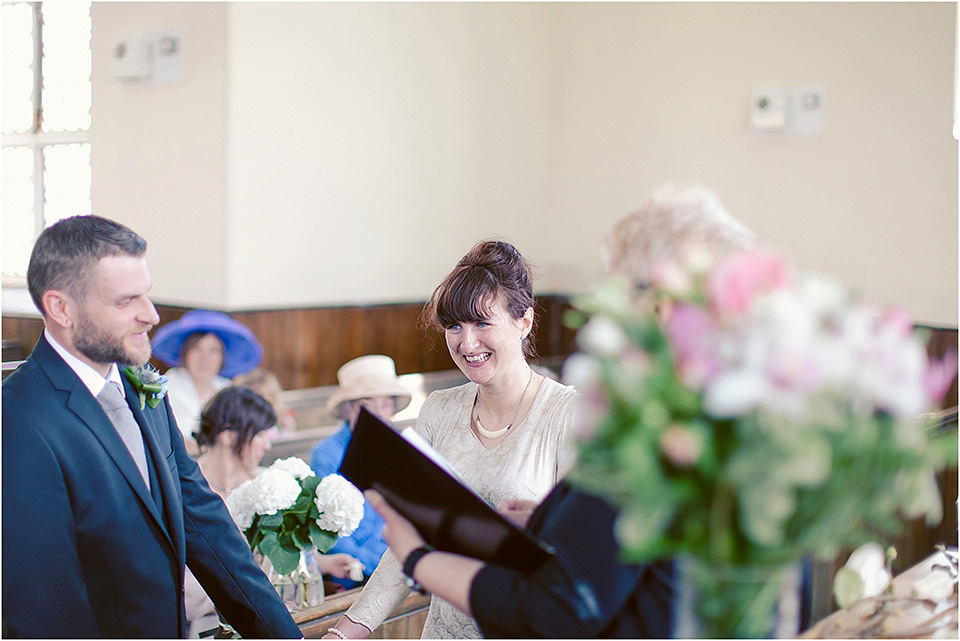 "Patricia Niemann is a local goldsmith and agreed to make our rings for us in the studio, five minutes from where we live. We each chose our ring designs and they were both made from the same piece of silver."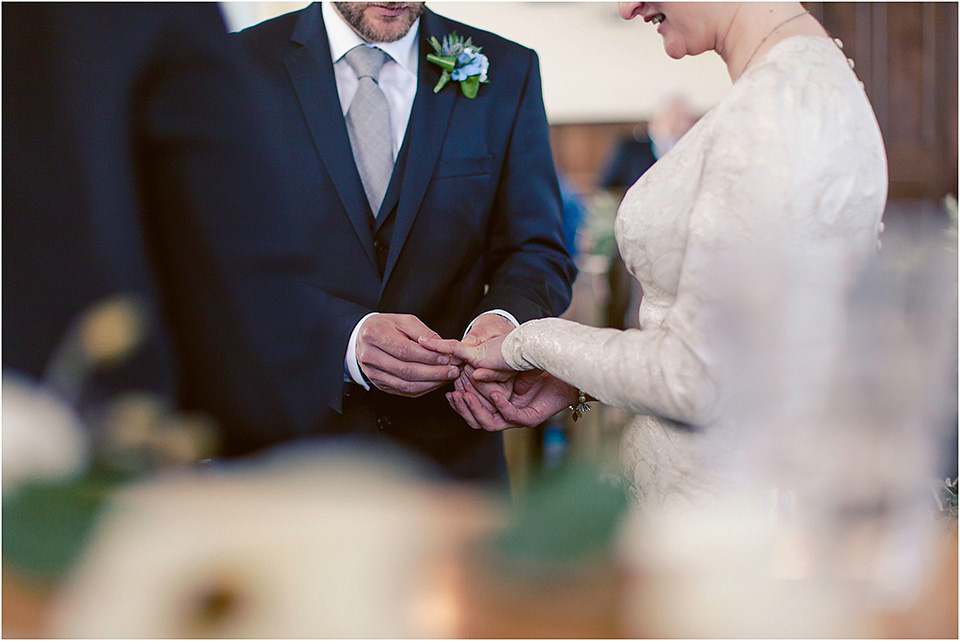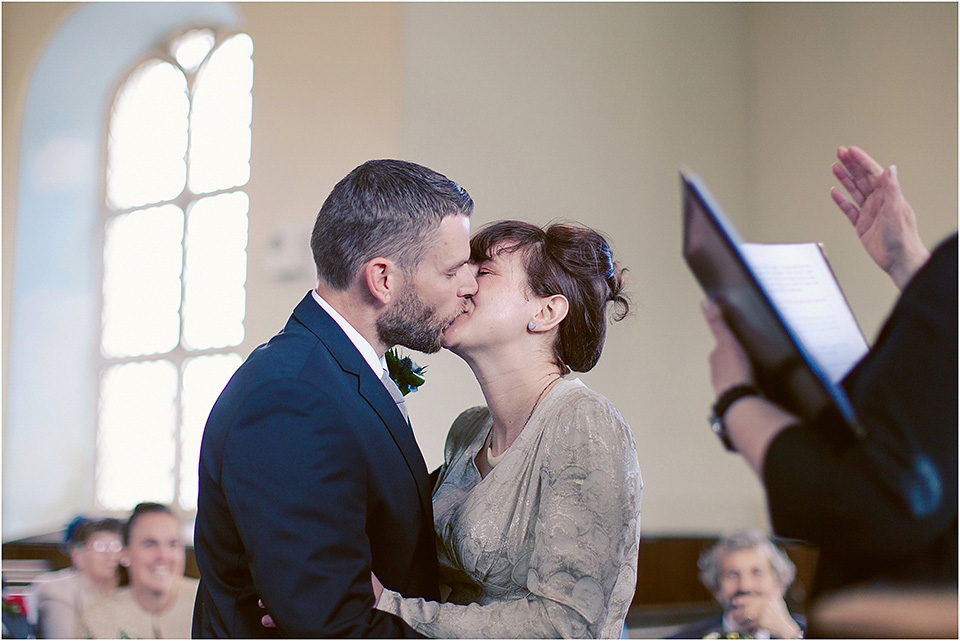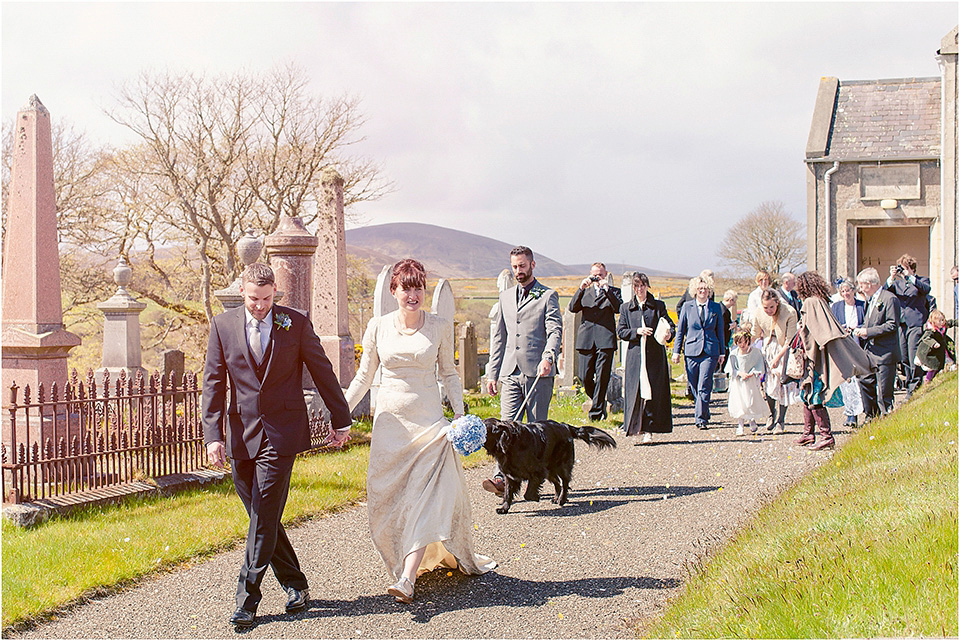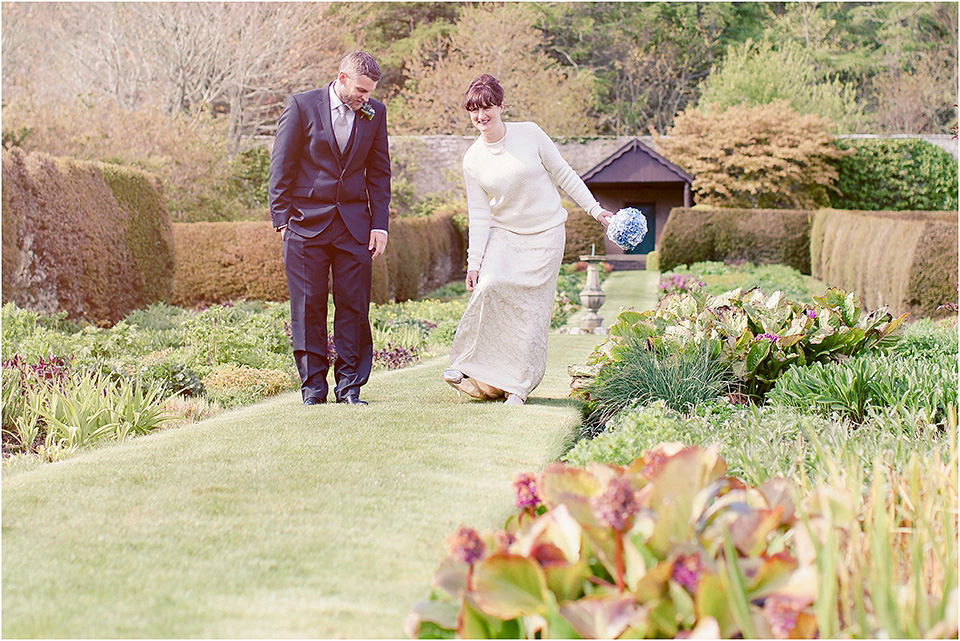 Kate popped on a jumper later in the day to keep off the chill and looks very snug, stylish and warm. Did you see Annabel's feature earlier this year with this charming wedding dress and cashmere jumper combo? The addition of a jumper is a necessity for Scottish settings, but a very fashionable one indeed.
"For the catering we used Thyme and Plaice, a café in Helmsdale, the next village along. And in the evening we had homemade venison and vegetable stews made by my best friend Tracy at our house.
Our neighbours George and Donna helped out too with the cake – Donna made the cake and George decorated it."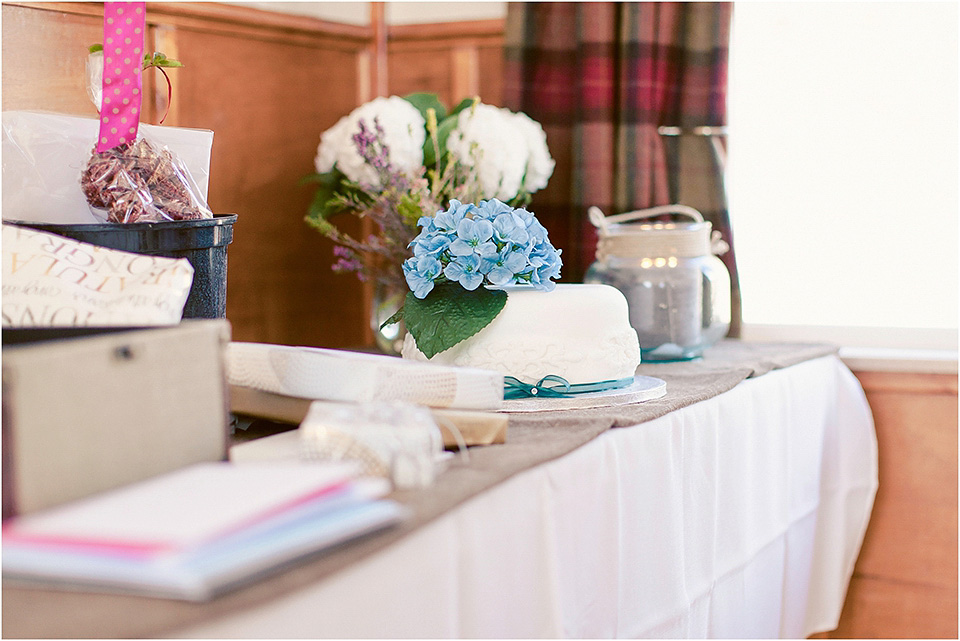 Decorating the hall were gorse flower ring hoops made from bamboo and placed above the tables, and old ceramic pots with bunches of heather.
"For favours our neighbour Donna made some vanilla fudge and we wrapped it up in greaseproof paper and some Clark tartan, along with a fortune inside."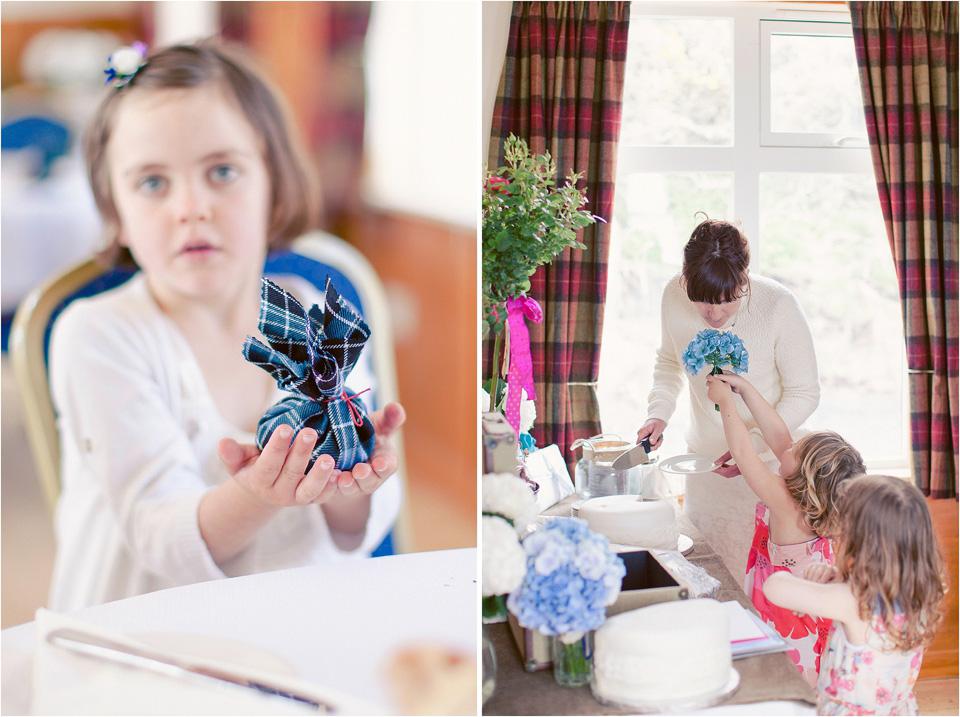 "We made our own playlists and showed 'From Scotland With Love', a Scottish archive documentary with a soundtrack by King Creosote on a projector in the hall. There was also kite-flying for the kids."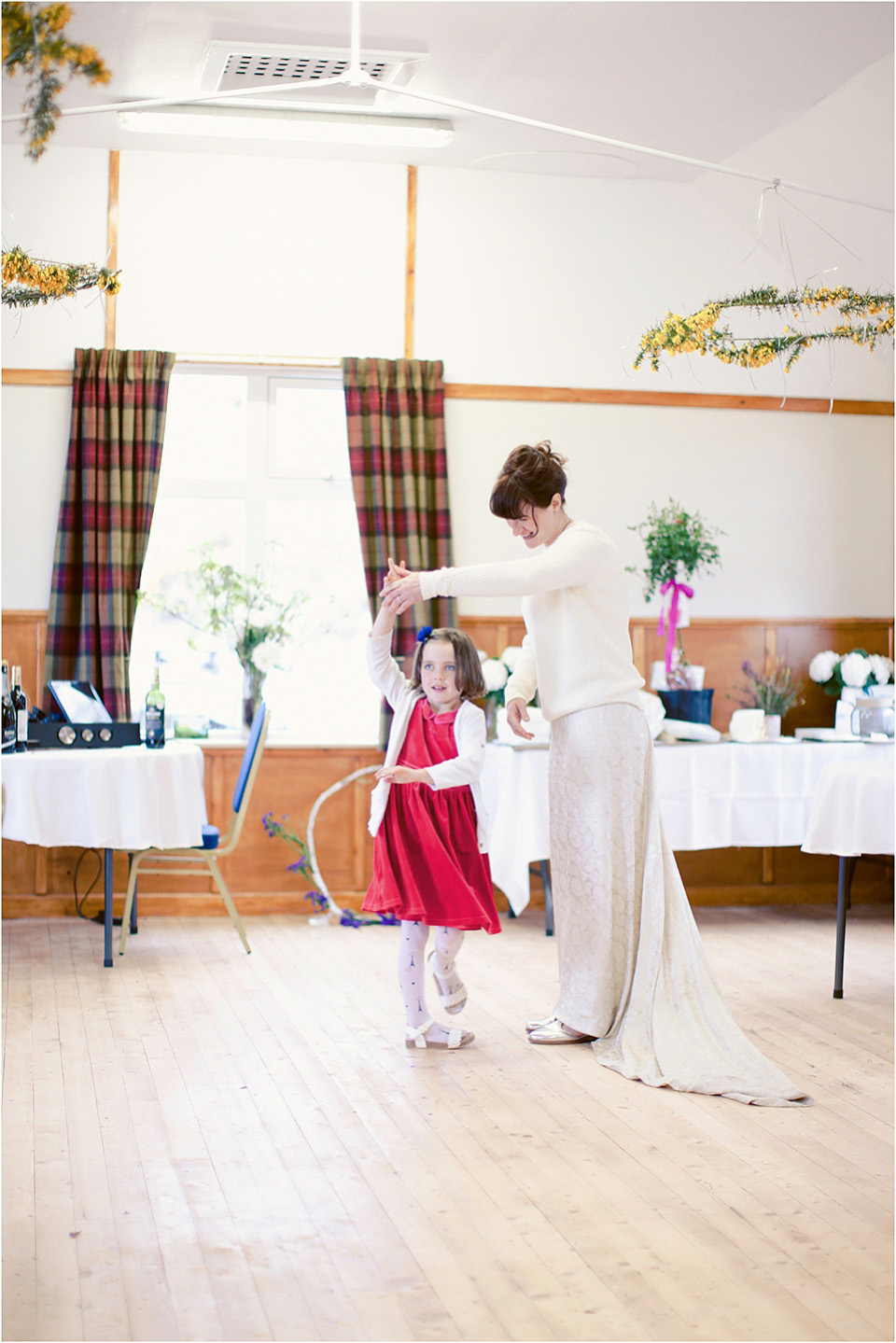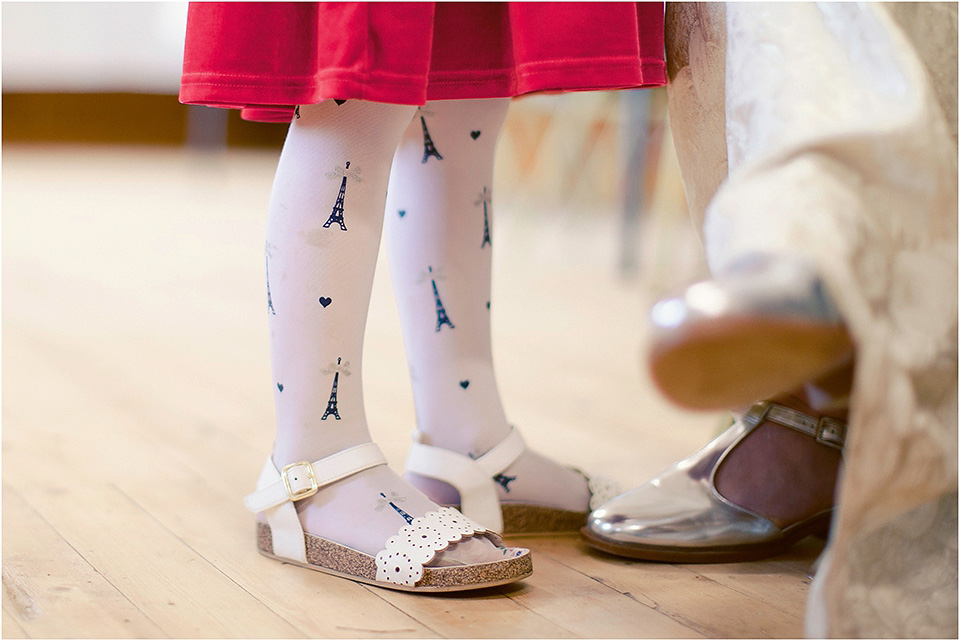 Words of Wedded Wisdom
"Don't get pregnant just before the wedding – getting into the dress was a bit of a squeeze!"
Spr
What a delight it was to share Kate and Stuart's special day! A big thank you to Michelle for these incredible images, which are prompting me to head straight back to Scotland for a trek amongst the highlands, to the majestic sound of bagpipes.
If you've been inspired by Kate's glorious vintage gown, see here for more 1930s glamour. And here for more village hall weddings we've previously featured on the blog.
Here's to a brilliant rest of week everyone and the countdown to the weekend begins … now 🙂
Love Jo -xxx-
Photographer – Michelle Turnbull Photography
Venue – Berriedale Church and reception at Portland Hall, in Caithness, Scotland
Dress – Starry Starry Night, Glasgow
Shoes – Clarks silver t-bars
Jewellery – Handmade pearl bracelet and vintage necklace
Scent/Perfume – Origins 'Ginger Essence'
Bridesmaid Dresses – Bridesmaid's own outfits
Bridesmaid Accessory – Daisy chain hair circlet
Groom – Slaters suit
Florist – The Flower Shop
Rings – Patricia Niemann
Catering – Thyme and Plaice
Cake – Handmade by neighbours Donna and George
Stationery – Kim Richards Art
Favours – Handmade vanilla fudge wrapped in tartan, by neighbour Donna
Hair and Makeup – by Chloe, Kate's brother's fiancé
Transport – VW camper via Clan Campers