Hello you lovely wonderful gang! Happy Monday and welcome back to Love My Dress – a wedding blog dedicated to bringing you the most glamorous, elegant and beautiful bridal inspiration possible. It's been such a lovely weekend and I hope whatever you've been up to, you managed to squeeze in some R&R. Incase you missed it, we launched a flippin' amazing chance to win 3 nights of luxury in the Lake District worth over £2,200 on Saturday. Competition open to all and ends in 3 weeks time. DON'T miss out!
This morning's wedding is a sweet seaside affair. Television producer Ruth tied the knot with web developer George on Valentines day this year at Bleak House in Broadstairs Kent. That dress and that amazing headpiece completely make it for me – they're from one of my absolute fave vintage wedding dress suppliers.
"We are not religious but wanted a day that people would feel represents what George and I are all about. We booked and planned the entire wedding in just three months which is actually good because you make decisions quickly and hone down what's really important to you."
Photography by Tino and Pip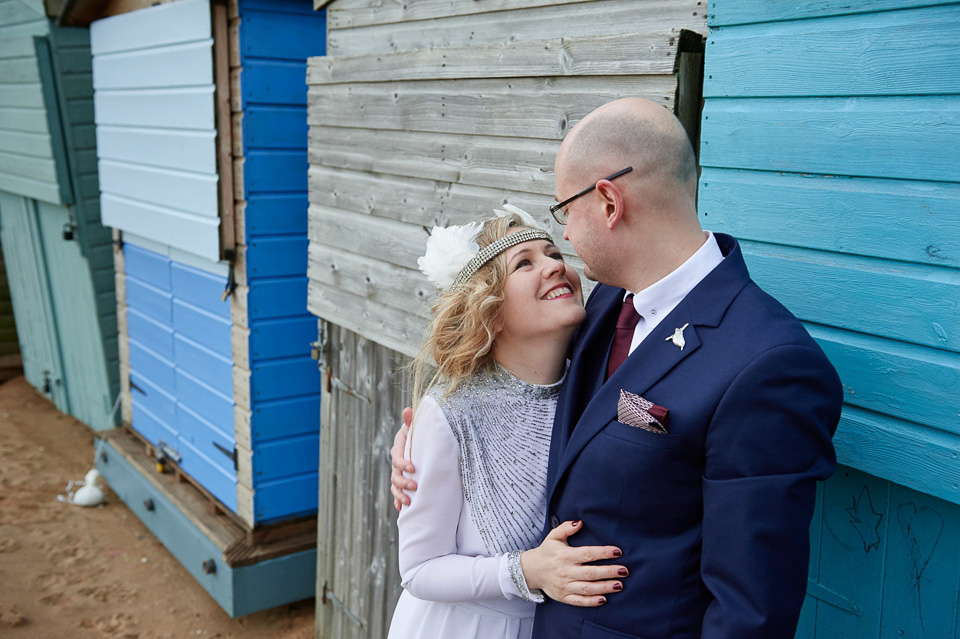 "I bought my dress from Elizabeth Avey at her Vintage Wedding Dress shop in Greenwich. I wanted a dress that had history and looking through the rails I saw the dress and said 'wow' out loud. My sister thought it looked very 'Elvis' and laughed but I new it was the one straight away."
"When I put it on I started to shake, it was made for me. Such a very surreal feeling and a moment I will treasure forever. It was 1970's and I have never seen anything like it. I bought it as soon as I took it off. The whole experience at Elizabeth Avey's was truly fabulous and I didn't feel like I was in a bridal factory line. The dress looked like it had always been waiting for me. Really very magical."
"I grew up in Broadstairs and I love the Victorian seaside that has been unspoilt and Bleak House has almost become a symbol for Broadstairs. Charles Dickens wrote novels at Bleak House and I've always been fascinated with the Victorian scene."
"I'm very much into vintage fashion but I wanted to put a spin on it as vintage seems to be very popular at the moment. The interior of Bleak Houses is very eccentric which is what we love but not too over styled, it has a natural feel about it and the owner Nicola was a lot of fun and open to all of our ideas.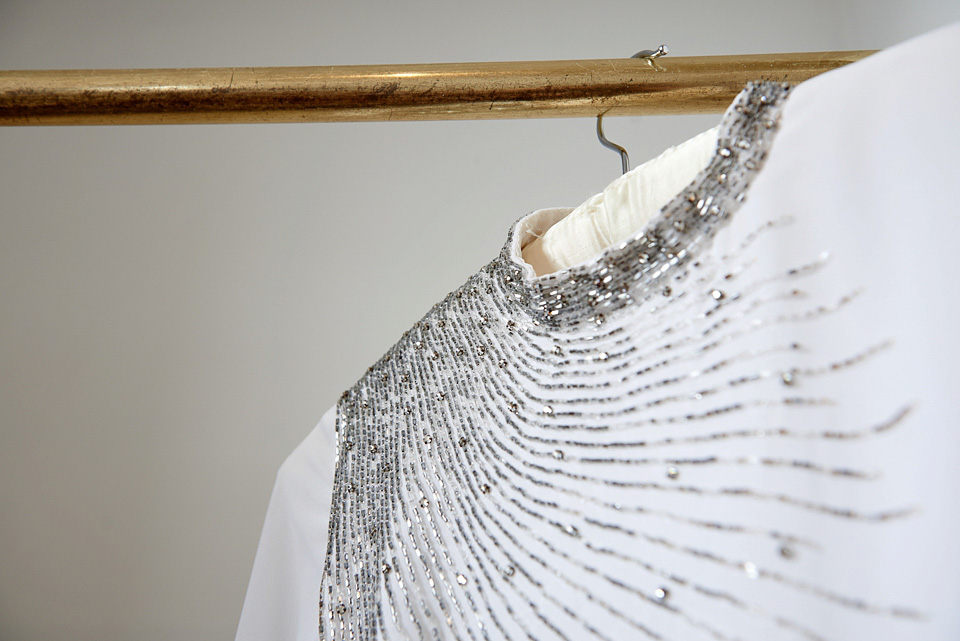 "I bought red Jimmy Choos that weren't too high with a strap around the ankle. I wore them around the house for a week before the wedding and they were so comfortable on the day. I have a two year old daughter so needed something practical but that I could wear again. They look great with jeans."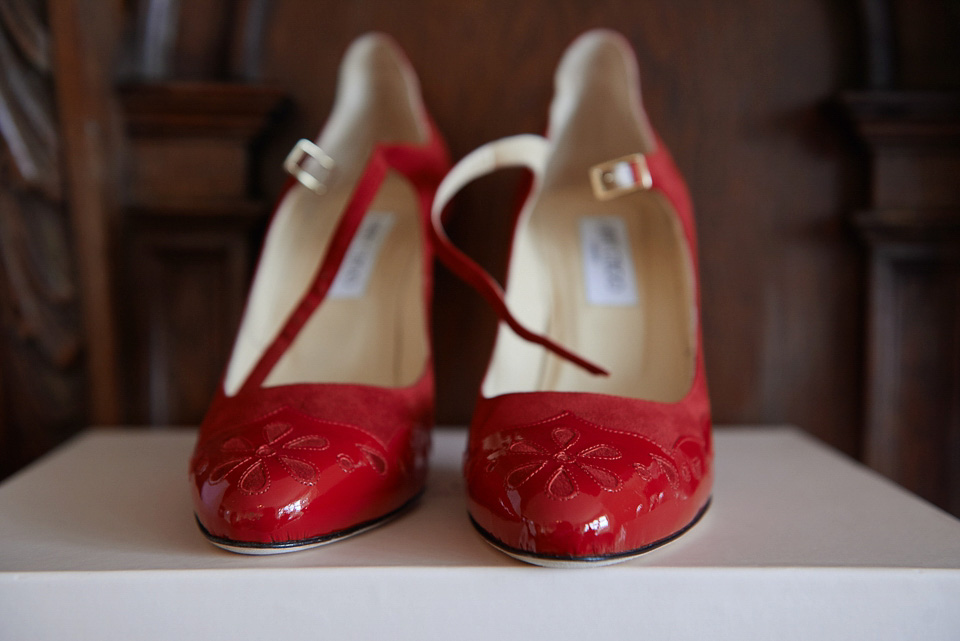 "Claire Beever from Brighton was fabulous and knew instinctively the look I really wanted. I wasn't sure about having my make up done but when I went for a trial I cried with delight. I had never seen myself look that good!"
"My headdress was designed by Elizabeth Avey's colleague Jessica, who designs the most stunning headpieces. It was made from a 1920's flapper dress and again as soon as I put it on I was hooked. It just seemed to compliment the dress and made me feel as though I had been transported into another time but at the same time I really felt like me."
"George and I met in a bar in Angel Islington. George was buying shots and I was propping the bar up with a large glass of red wine. George smiled at me and that was that. I thought he had a lovely face and told him so."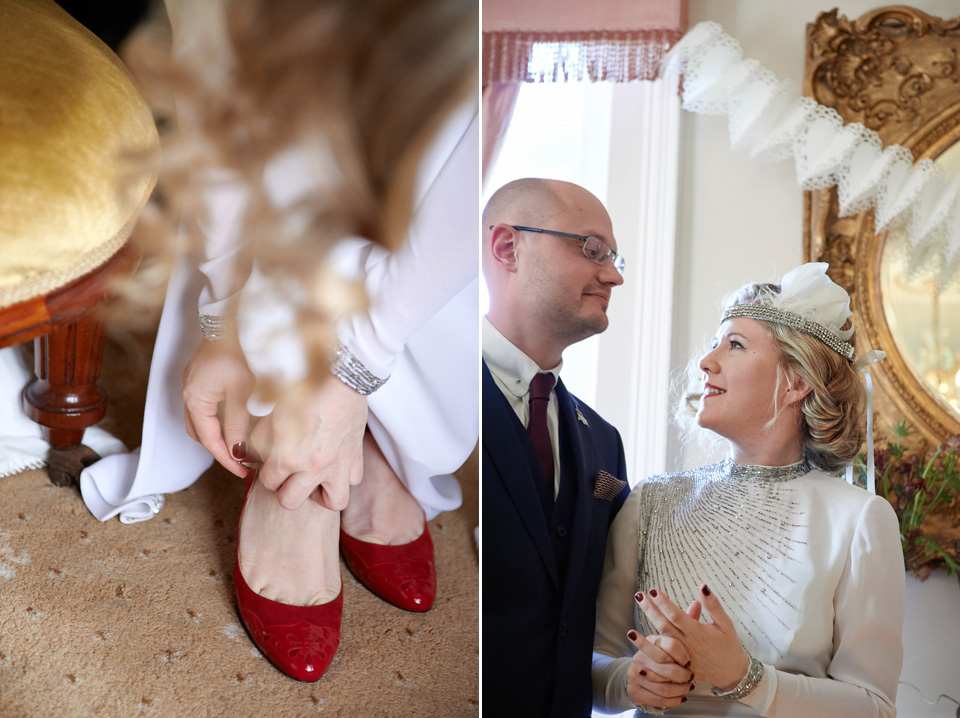 "George bought his suit  tie , socks and handkerchief at Reiss. His suit was tailored and looked brilliant and the best thing is that he can wear it again.
George also wore a little bird pin to symbolise our daughter's name."
"My lovely Dad walked me down the aisle to the sound of my also wonderful Uncle Andrew playing the guitar (and the fiddle) to Elbow's 'Beautiful Day'. This song had just been released when I met George and reminded me of our first dates. We walked backup the aisle to the same track but arranged differently with my Mum playing the piano too."
"We did think about tailoring our vows but in the end felt too nervous to do this and we felt more comfortable being guided by the registrar."
"My maid of honour and sister read a lovely Valentine's poem that I found online and the other reading read by one of my best friends Laura was a more quirky and realistic look at marriage, parenthood and how to look after one another. We didn't want anything too romantic or cheesy and as it was Valentine's day wanted to involve everyone. I found both readings online and adapted them."
"When Laura went up to read she produced a book Jackie Collins 'Dangerous Kiss' and told everyone that instead of the chosen reading she was now going to read a saucy extract from the book. Everyone gasped, it was brilliant funny moment, one of my favourite moments of the day."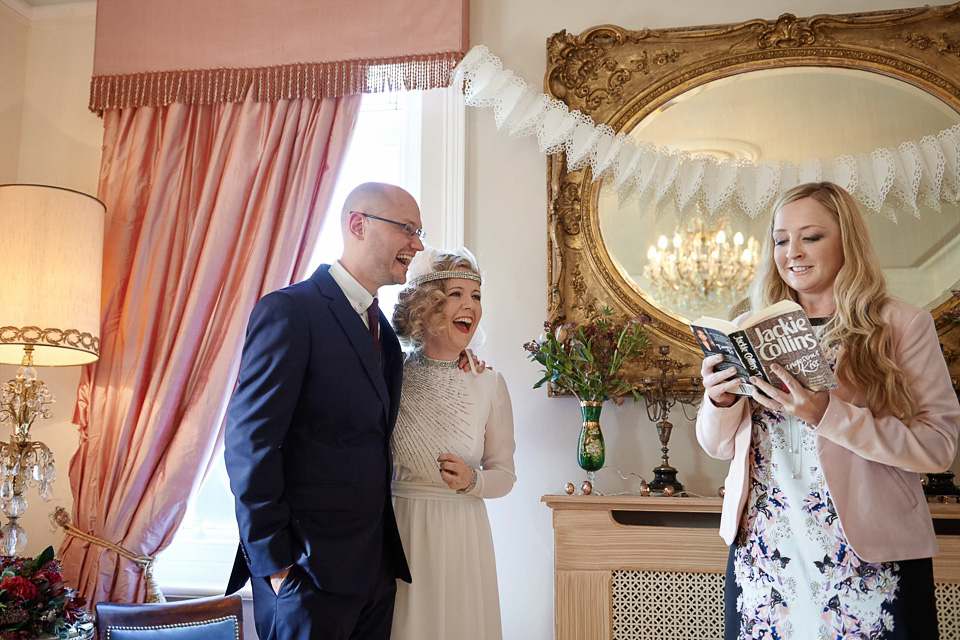 "My favourite part of the day was reading my vows and looking over at my husband and my daughter. It was lovely and you could hear a pin drop. Very closely followed by Laura's reading (above.) That just made the day complete. Oh and the look on George's face when he saw the video for our first dance."
"My wedding ring was from Fidra in Brighton and was dated c.1910. I love it that it has history. George's ring was from Number Ten Jewellers – they were brilliant helping with what we wanted."
"Even though it was Valentine's Day I didn't want to have roses and wanted flowers that would be in keeping with the Victorian venue. I asked the florist what red flowers would have been popular in that Era and ixed them with some exotic flowers like Kangaroo paw. I didn't want to spend a fortune on flowers so I ordered what I wanted from Flowers by SP and arranged them myself the day before the wedding (apart from the bouquets which I had made up)."
"Our photographers Penny and Martin of Tino and Pip documented the day beautifully. They blended in and took natural shots of genuine moments that captured everyone's emotions which is what we wanted as apposed to tons of posed shots. We wanted pictures that would show the mood of the day in years to come and this is what they achieved effortlessly."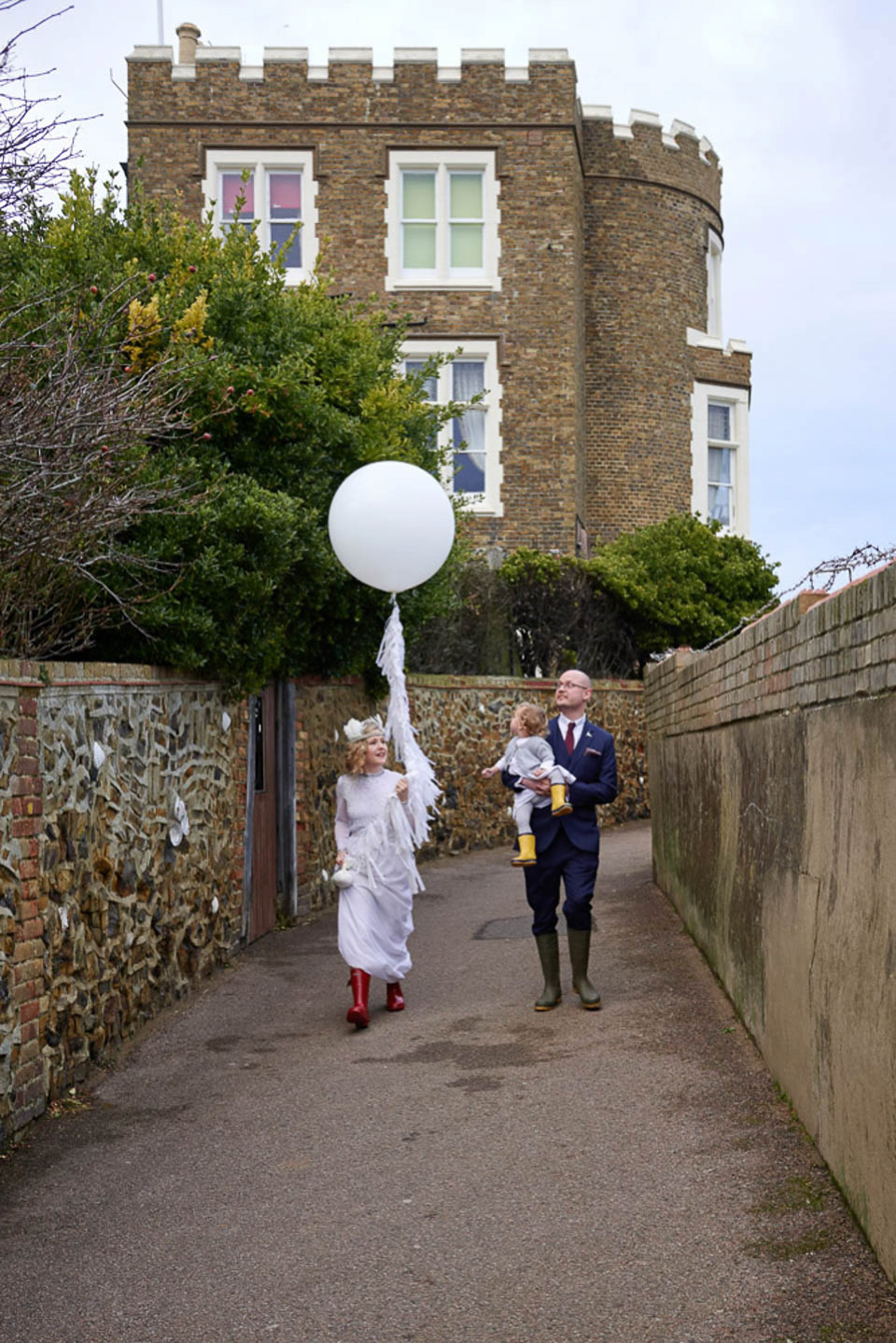 "I bought a giant white balloon for photos from Bubblegum Balloons."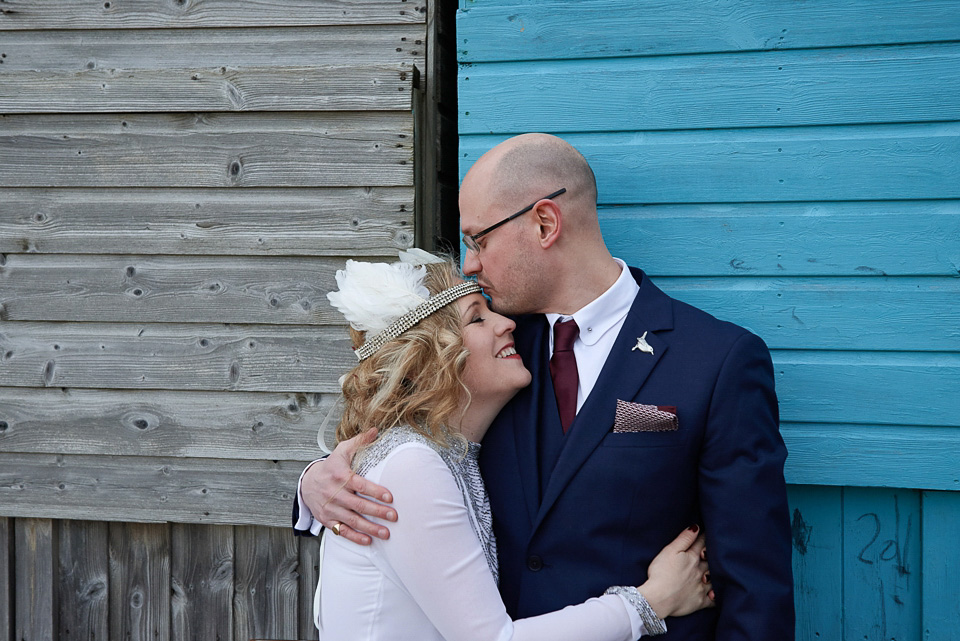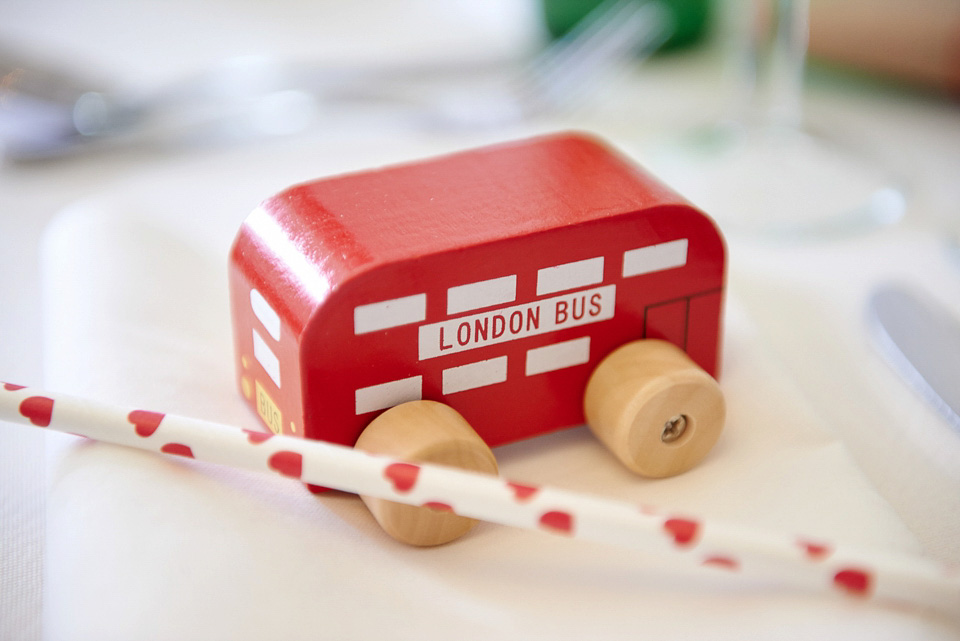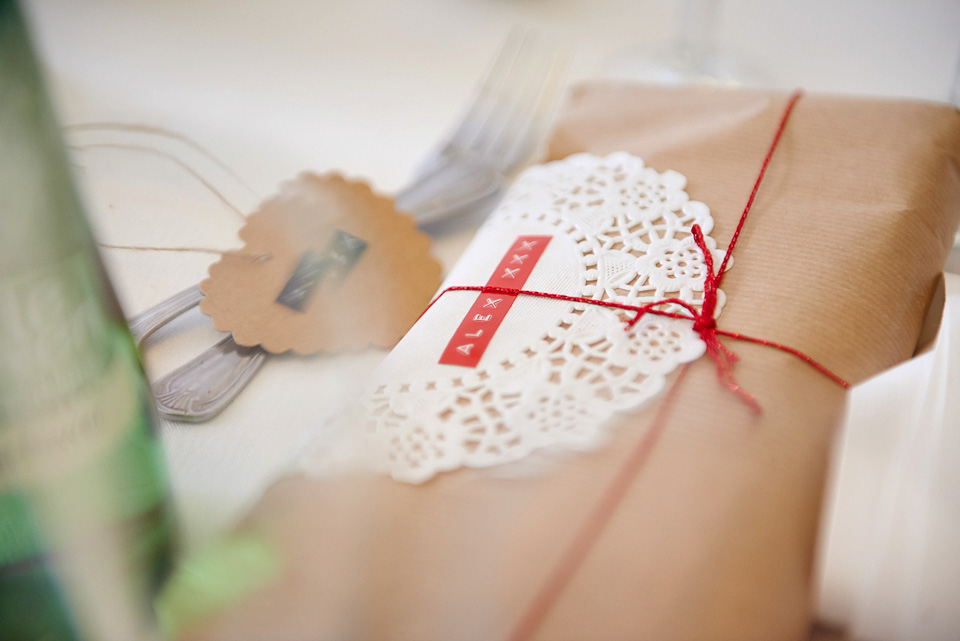 "I made up little hessian bags with heart shaped sweets and chocolates in from the online favours store Ragged Home. We also provided personailised messages on a Victorian Valentines tag and filled with love hearts and various chocolate heart sweets. We just wanted to have a flavour of Valentines Day but very much set in the style of the wedding."
"I bought a selection of red Charles Dickens books in a second hand shop in Brighton which stood on the tables and attached blackboard hearts to them which named the tables."
"Our wedding cake topper was designed by me and made by Inspired 4 U."
"Our cake was supplied by Fairy Dust Bakery. We had a naked sponge wedding cake with different flavours on each tier. We thought that lots of people like sponge and they could choose a flavour. We served it up as dessert in the evening. The cake lasted twenty minutes! And everyone said how it tasted amazing."
"We had a live band Smith and Son who were amazing and unique. They did a Mumford and Sons set and then an indie set, so it really gave something for everyone. We also had a pianist Chris Kennedy, who played a variation of pieces including ragtime in the casino room, he was excellent."
Words of Wedded Wisdom
"I wish I had gone to bed early the night before and on the day of the wedding I was up too early , 6:30am as there were four of us to get hair and makeup. I think I should have had an extra hairstylist so that we could have started later. All the Grandparents helped look after our daughter in the evening but I felt bad for them having to sit upstairs with her (we stayed at the venue which did make it easier) but I think I should have had a babysitter for the evening part (not that my daughter would have stayed with a babysitter!).
Do what is natural to you. Don't feel like you have to impress anyone. Stay true to what you want your day to be like and don't worry about anyone else on your big day. Also, everyone loved the entertainment and if you have children at your wedding providing balloon animals for them goes down a storm!"
What a sweet day – huge thanks to photographers Tino and Pip for sharing this lovely celebration. I'd love to know if any of you plan on wearing an amazing 70's vintage number? By the way, if you're looking for a little vintage wedding inspiration, have you seen my book?
Have a great Monday all,
Love Annabel xx
Photographer – Tino and Pip
Venue + Catering – Bleak House in Broadstairs Kent
Wedding Dress + headpiece – Elizabeth Avey
Shoes – Jimmy Choos
Groom – Reiss
Bridesmaids – Jenny Packham dresses from Debenhams
Flowergirls – Very
Page Boys – Chose their own
Florist – Flowers by SP
Cake – Fairy Dust Bakery
Entertainment – Smith and Son (band) + Chris Kennedy (pianist)
Rings – Fidra in Brighton + Number Ten Jeweller
Hair + Makeup – Bespoke bridal hair + makeup by Claire Beever
Giant balloon – Bubblegum Balloons
Children's Entertainer – Josh
Mismatched chair hire – South East Loo Hire