Hello readers, how are you this sunny Wednesday afternoon? It's great to be back blogging for Love My Dress after an incredible couple of weeks away celebrating my own wedding! I've got to admit, after months (and months!) of planning, I felt a little lost when we returned home and I realised I had no more name tags to make, no more details to finalise and no need to watch any more flower crown tutorials! Thankfully one of the perks of working for Love My Dress is that I still get to pore over all things 'wedding' on this beautiful blog – all in the name of research, despite being a married woman. Hooray! Indeed, it's testament to Love My Dress that so many married men and women, continue to read the blog long after their own nuptials.
Whether you are married or not, soon to be wed, or not even engaged, you are sure to enjoy this morning's rustic, vintage inspired wedding packed with lots fun details and a stunning tea length House of Mooshki gown. James, a civil engineer, married Kate, an accountant, on the 1st of April of this year at Shustoke Farm Barns in Warwickshire.
Photography by Tony Marsh Photography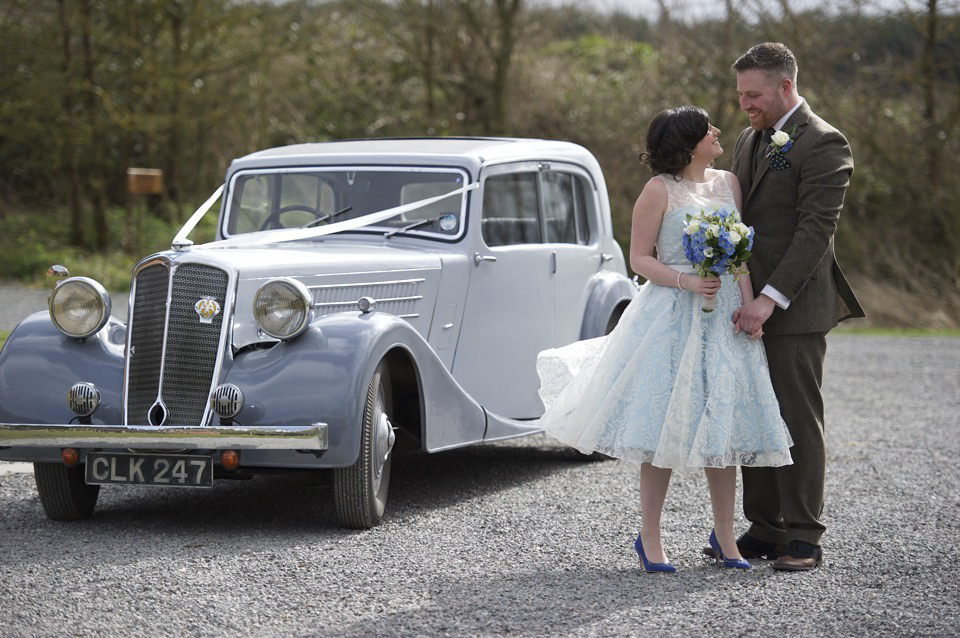 "When planning our day, we were influenced by our love of vintage, retro and rustic styling. James was adamant from day one that he wanted a three piece tweed suit and I was immediately drawn to fifties style gowns."
"We were also inspired by the fact that our wedding day was on April Fool's, and added a little silliness to proceedings accordingly!"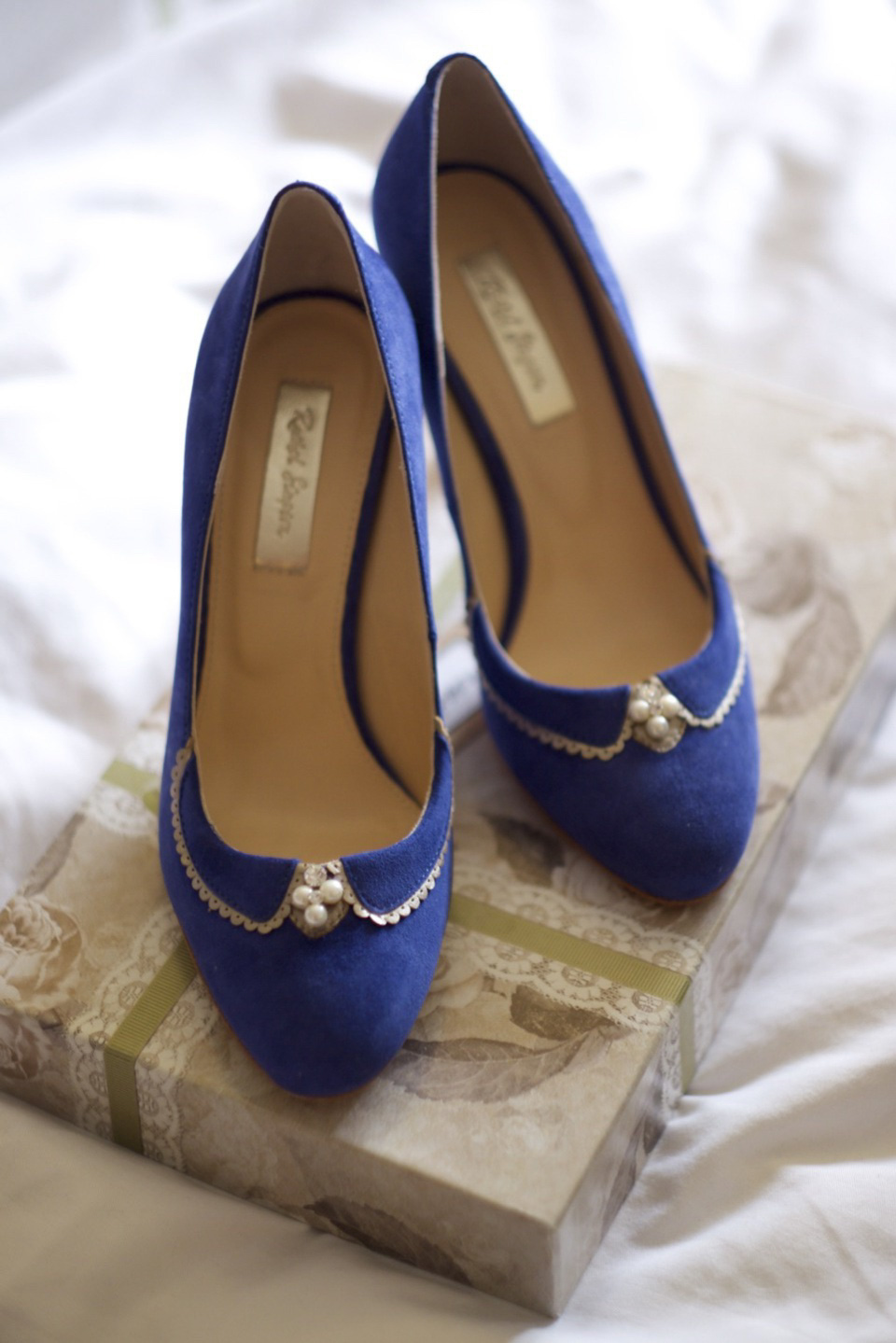 Shoes by Rachel Simpson
Kate wore a stunning pale blue, fifties style, tea length gown from House of Mooshki and a beautiful pair of royal blue, vintage inspired Rachel Simpson heels.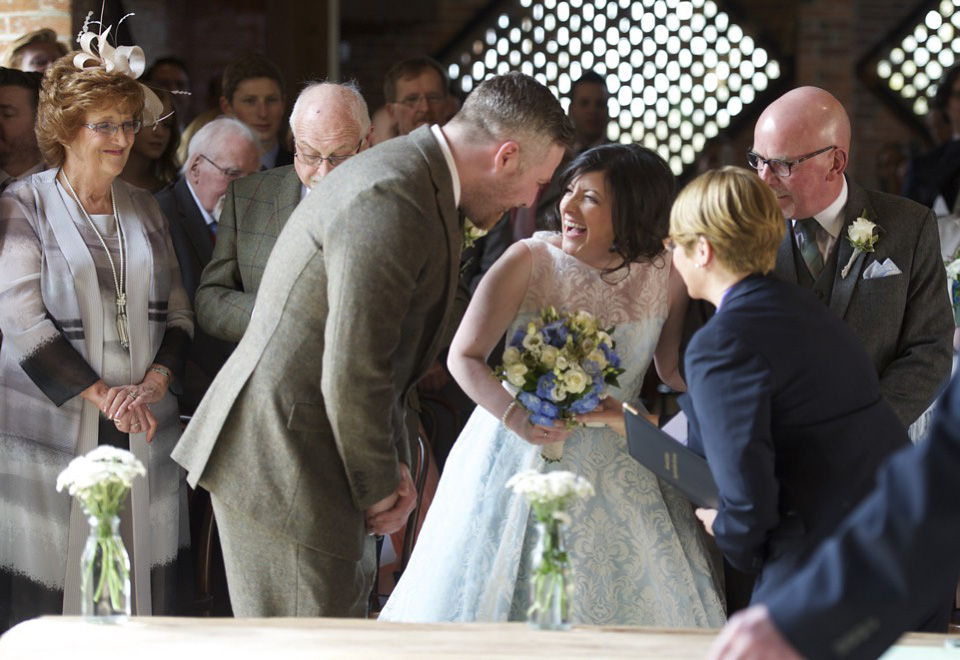 "James and I met in June 2012 via the dating site My Single Friend (James likes to say that I bought him on the internet!). James had been put forward by a girl called Charlotte who was gushing about him and I remember thinking 'if she likes him so much why doesn't she go out with him?!'. I then read on further and realised she was James' big sister!
From our first date we both knew that it was going to be something special. As a result we were petrified and hardly ate any of the tapas we'd ordered!"
"James proposed in April 2014, in the kitchen of our house in Birmingham and it was perfect. James had been out all morning, and I thought we were having some friends to stay, so it took me completely by surprise! That evening, he took me out for dinner at my favourite restaurant, Carters of Moseley. James had asked my parents for their permission at Christmas so they had sat on the secret for a good few months."
James looked very dapper in a three piece tweed suit from Walker Slater. Our groom accessorised with his grandfather's reconditioned pocket watch and a skull motif pocket square bought by his bride from The Cravat Club. Continuing the tweed theme, James' groomsmen all wore matching tweed suits from Marc Darcy and both Kate and James dads' wore tweed jackets.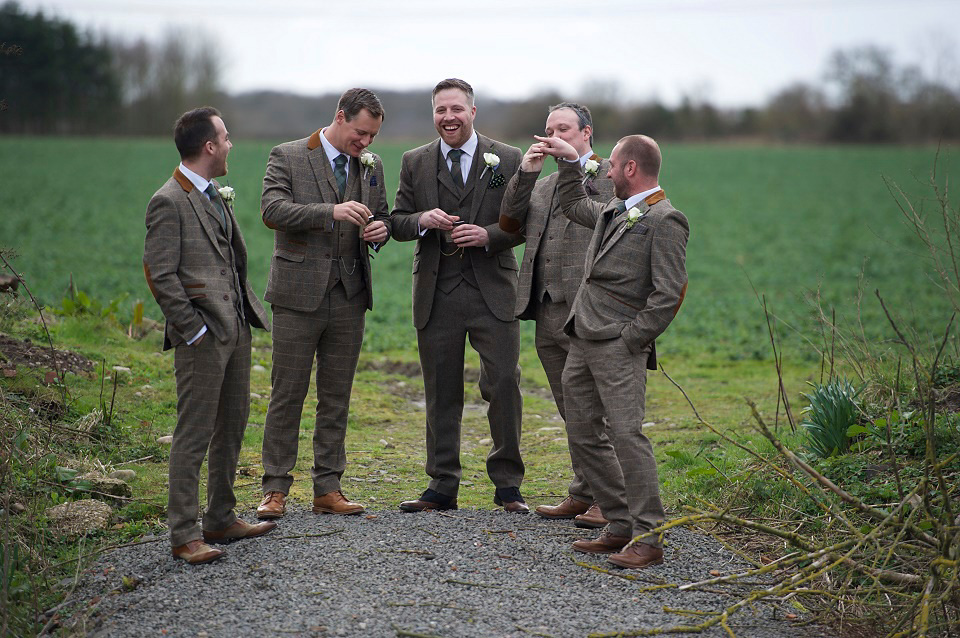 "I have always loved duck egg blue and it suits my complexion. When I came across a dress from House of Mooshki online in this colour I knew it had to be the one. I purchased my gown from White Tulip Wedding Company (the most gorgeous bridal shop) where I went to try on the dress with my mum.
I loved it straight away – It made me smile and beam as soon as I put it on. It even helped get rid of a killer hangover I was carrying on the day!"
"My make up was applied by Victoria Curtis. Victoria was brilliant, she listened carefully to what I liked and disliked and the end result was fabulous. I don't normally wear a lot of make-up and Victoria's approach suited me perfectly."
Kate's dad, Ian, walked her down the aisle to the sounds of 'La Vie en Rose' by Louis Armstrong.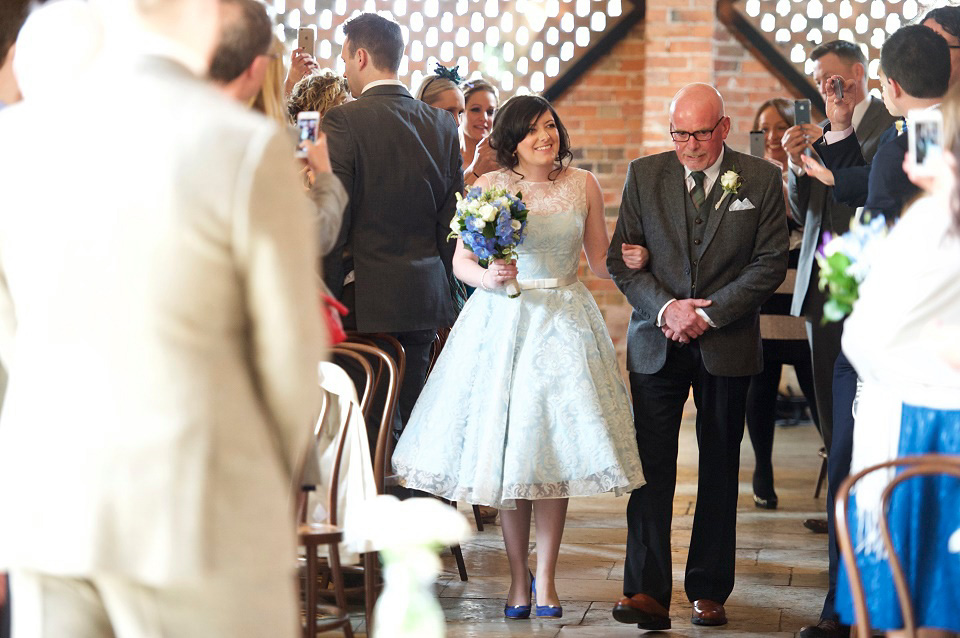 "James and I both love the TV programme 'How I Met Your Mother' and watched it together a great deal when we first met. Just before Ted meets his wife on the show he hears her singing this song on a balcony. We both thought it was beautiful. It means 'life through rose coloured glasses' which we thought was very apt because we met a little bit later in life and life has been pretty rosy ever since!"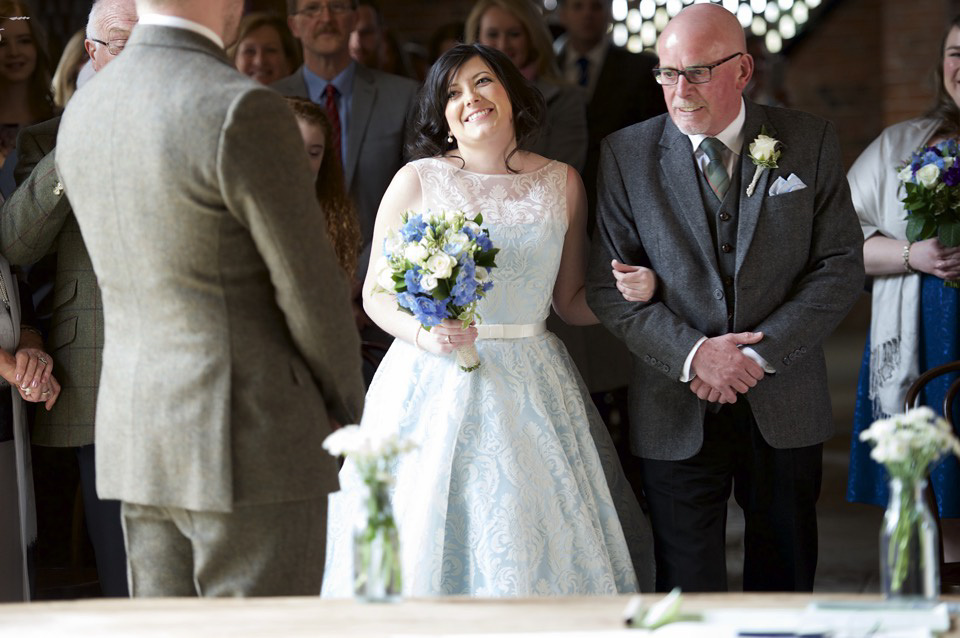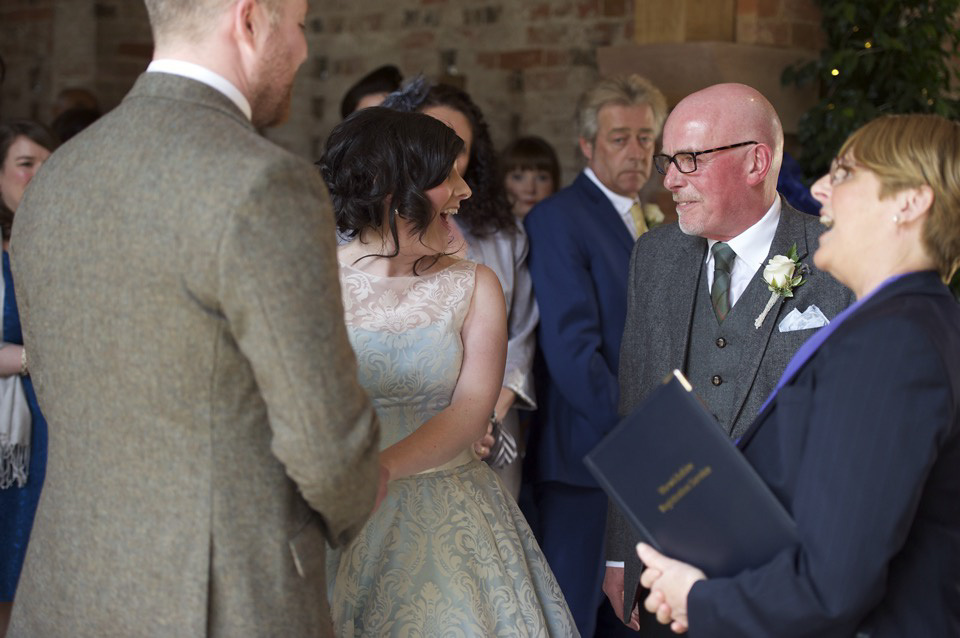 "My favourite part of the day was walking down the aisle and seeing so many people I love and who have been with us on our journey in one place. For James it was watching me walk down the aisle as he says it was the part of the day he had been looking forward to the most."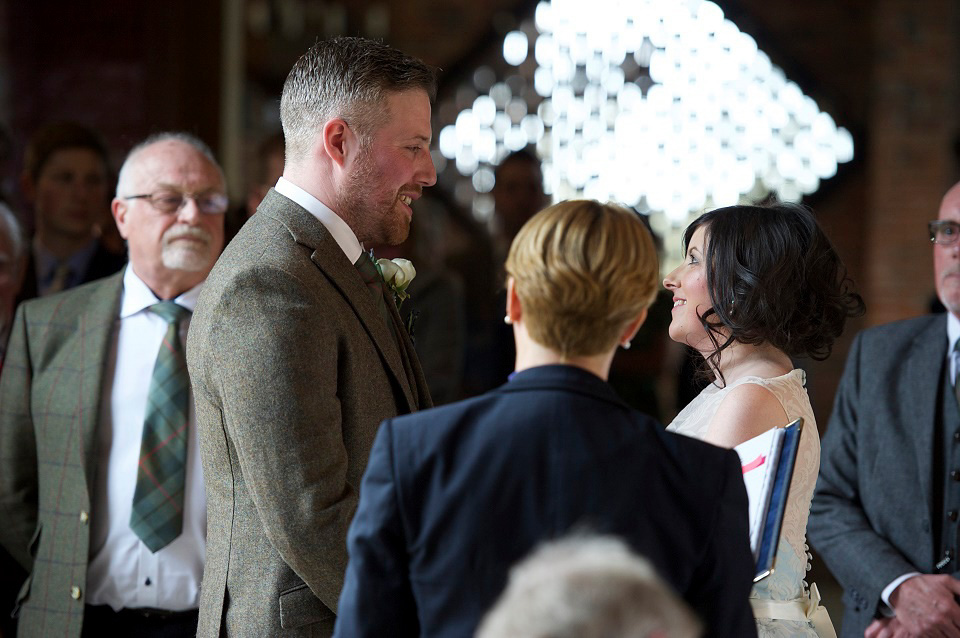 Our couple asked Kate's niece and James' sister to pick their own readings, with some hilarious results!
"My niece, Hannah, read the words from S Club 7's 'Reach for the stars'. She chose it herself so it was a complete surprise and very amusing! James' sister also chose her own reading; she read the words from the Bob Dylan 'Wedding Song'."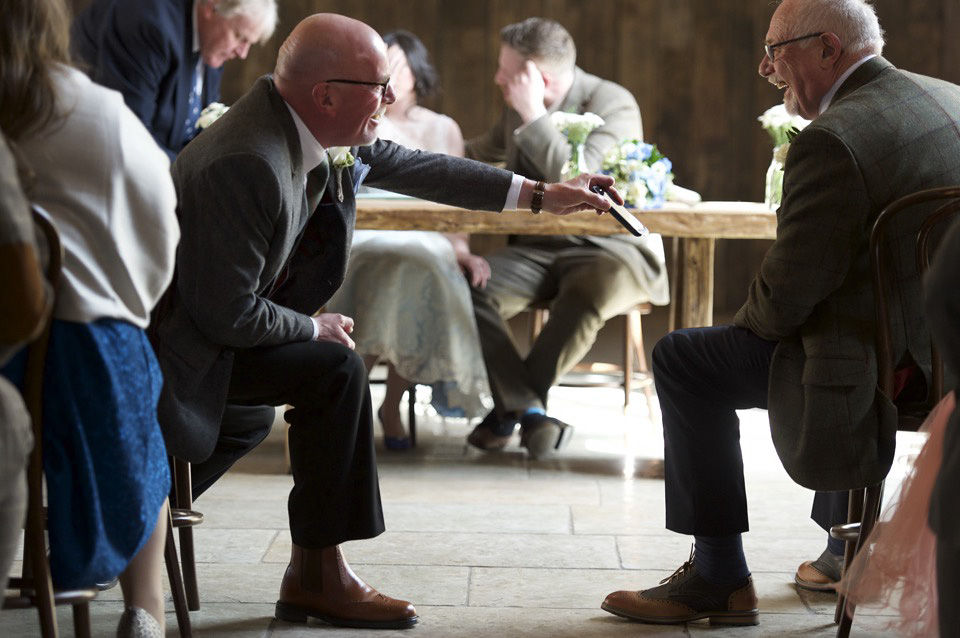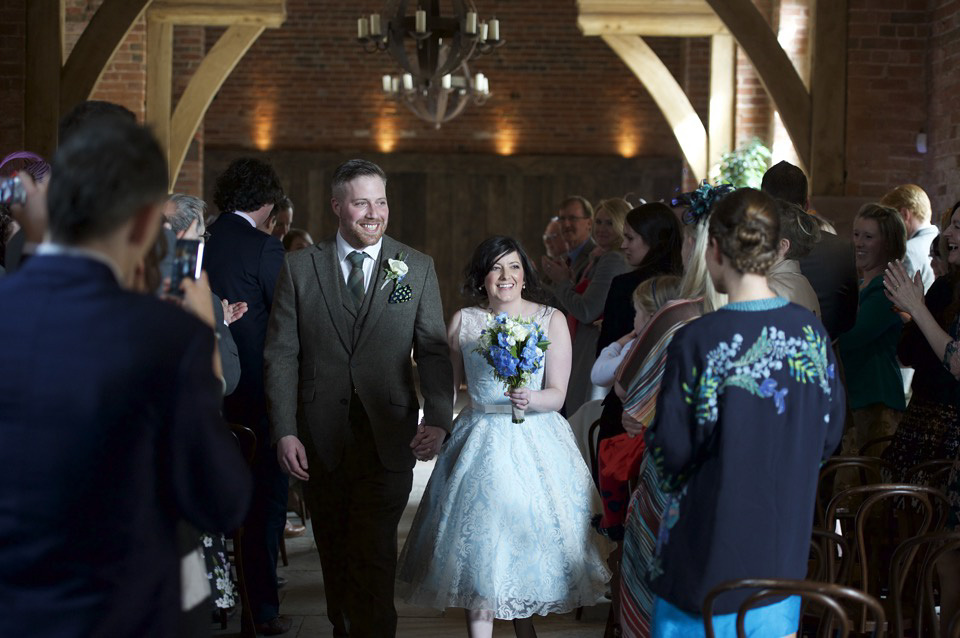 "Our photographer, Tony Marsh, has been a friend of my sister in law for many years. Tony lives in Scotland so we had to Skype in the run up to the wedding but he was so relaxed and understood everything we wanted immediately, he was amazing! On the day he made everyone feel at ease. One incident which summed this up was when my young nephew fell over and hurt his knee just before a group shot.
Tony got him to come and help hold the camera and take photographs. He managed to stop my nephew crying and diffused a stressful situation. I would highly recommend Tony to any bride."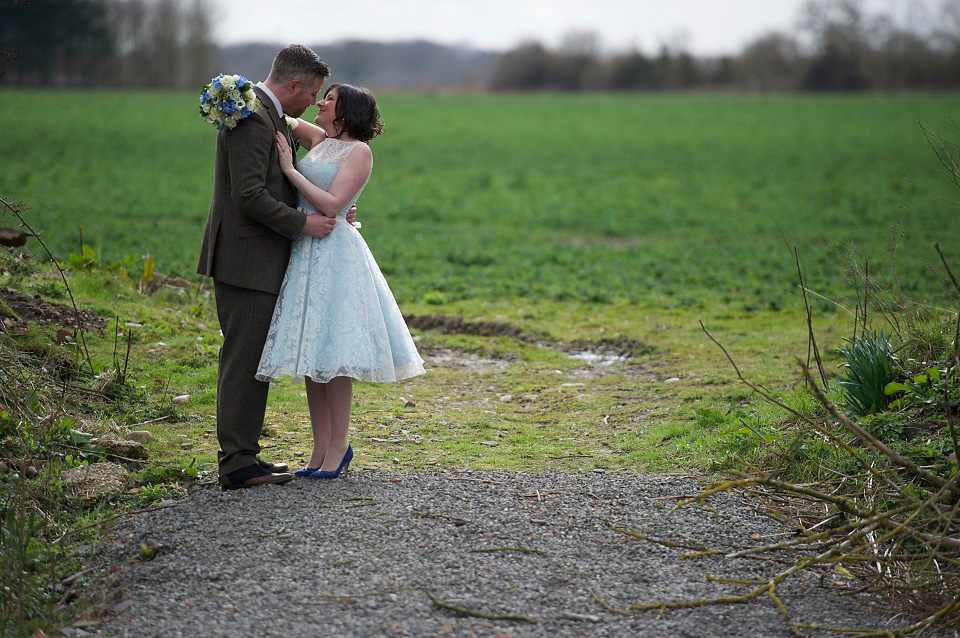 Kate and James' lovely bouquets and buttonholes were created by Birmingham florist, Whoops A Daisy.
"Whoops A Daisy were so helpful. They captured the blue in my dress in our floral arrangements and added some stunning roses which I adored. The men's buttonholes looked great with lavender that matched the tweed perfectly."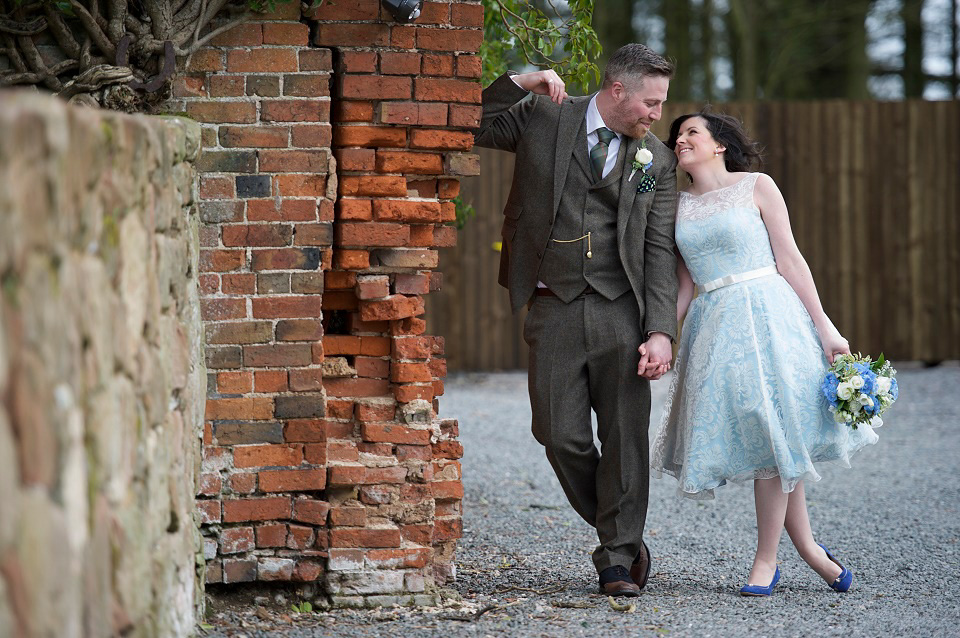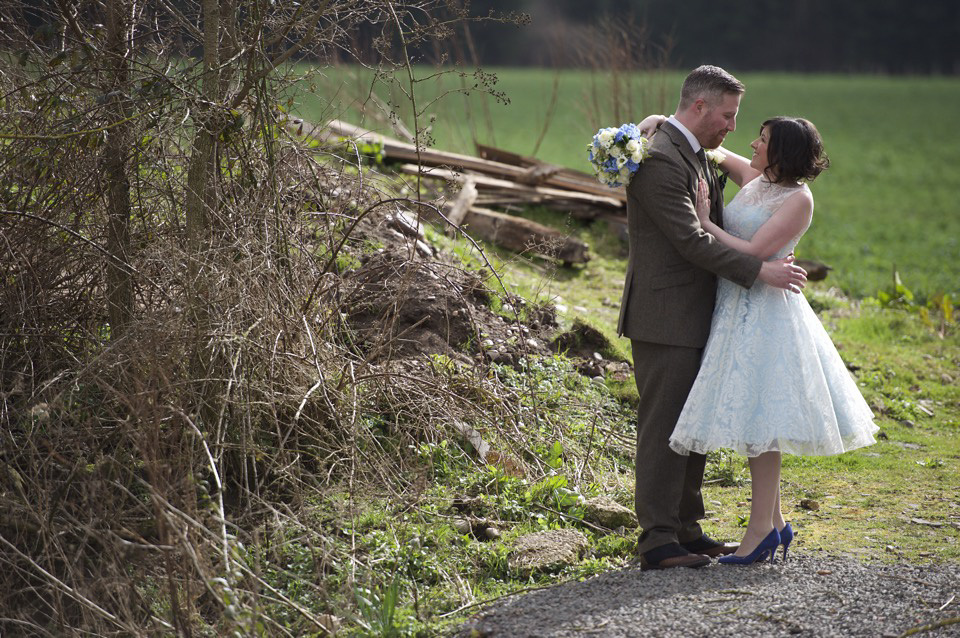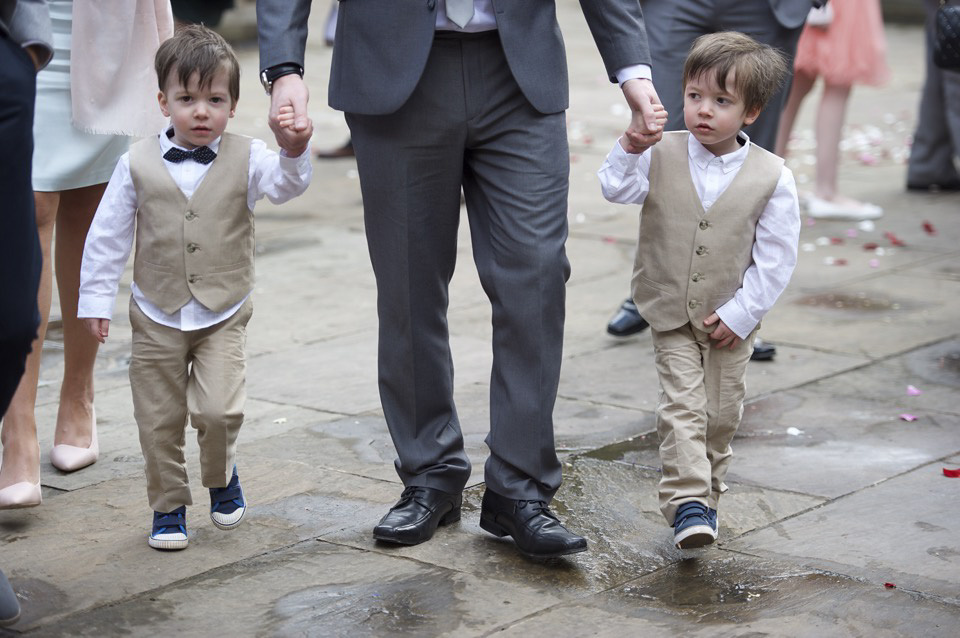 "I asked my bridesmaids to wear dark dresses in a vintage style and silver shoes. Most of all I wanted them to feel comfortable and choose something that suited their style. There was some concern about the dresses all coming together but I made sure the posies matched into the colours and I think the final effect was really good."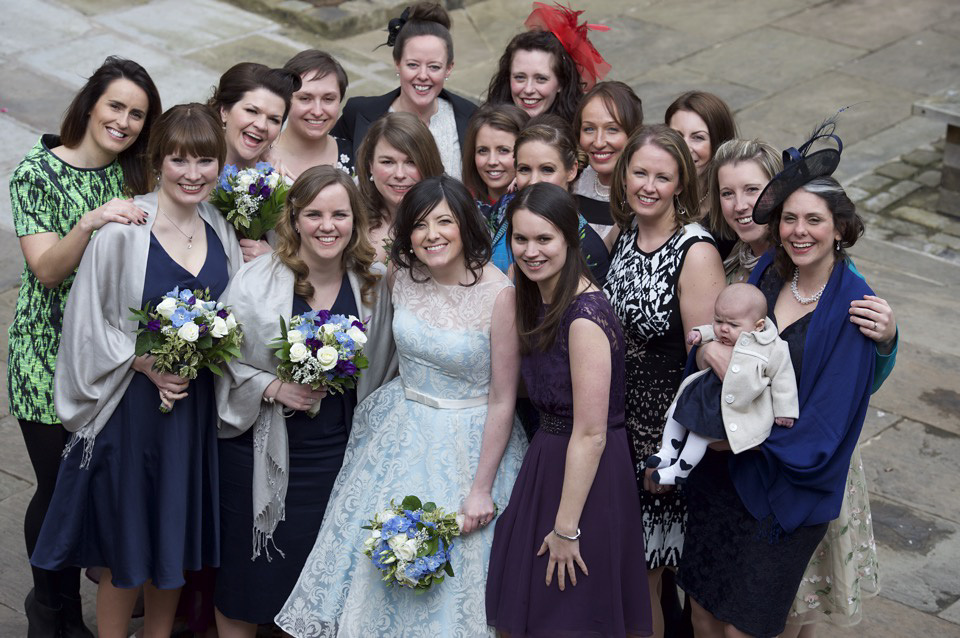 "My bridesmaids and I all had our hair done by Jeni Aldridge. I found Jeni through a recommendation on Facebook. She was wonderful! Jeni specialises in vintage styling as well as contemporary and I absolutely loved the way she did my hair."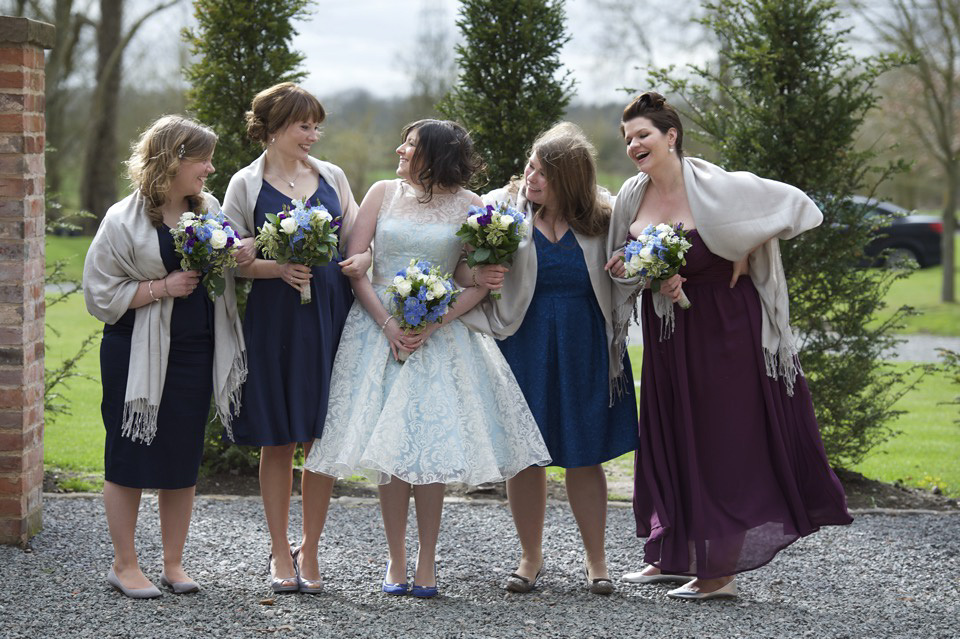 "We kept our décor fairly simple. The venue is so beautiful it didn't need much doing to it. My friend Jana and I did the flowers for the tables. We placed single stems in alcohol bottles collected by family and friends. We attached luggage tags to the bottles to denote who had 'lovingly donated' each one…I'm a little concerned by how many bottles of whiskey the groom and his friends donated! We also gave out a variety of silly props which we bought from Amazon and Poundland (no expense spared!)."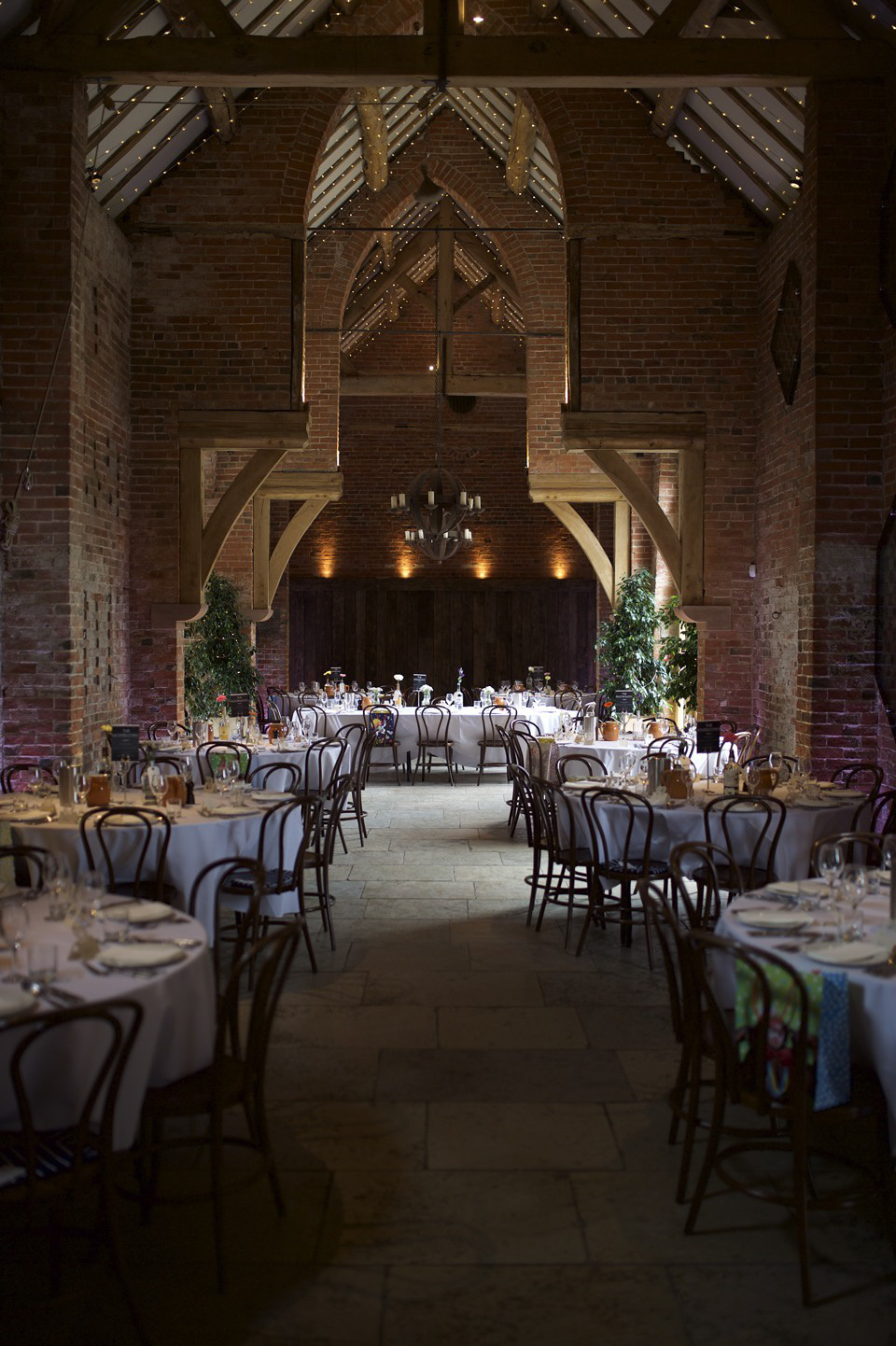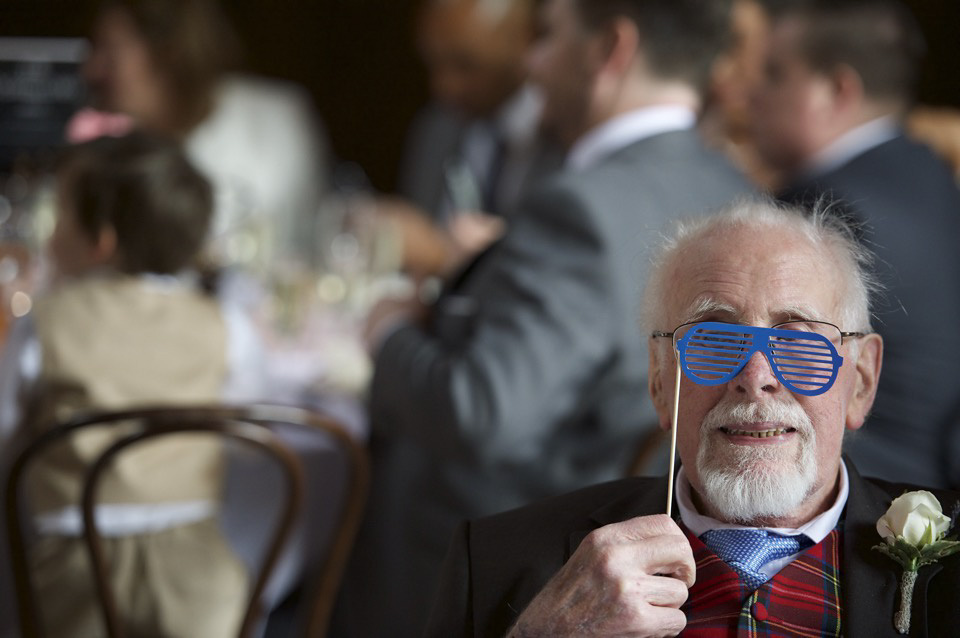 "Our wedding breakfast was catered by the venue and many guests commented that it was the best food they had eaten at a wedding. Praise indeed! The venue specialises in barbequed food and the atmosphere was very relaxed. Wonderful.
Our cakes were made by our friends and family. James' Mum, sister and my friend Jana made some amazing black forest, lemon meringue and Bakewell tart cupcakes. Our car cake was made by a friend of the family who bakes novelty confectionary and depicts my Fiat 500 called 'Brian'! On the cake, James is driving 'Brian' and I am at the back pushing – at 6ft 2 James is a little big for my Fiat!"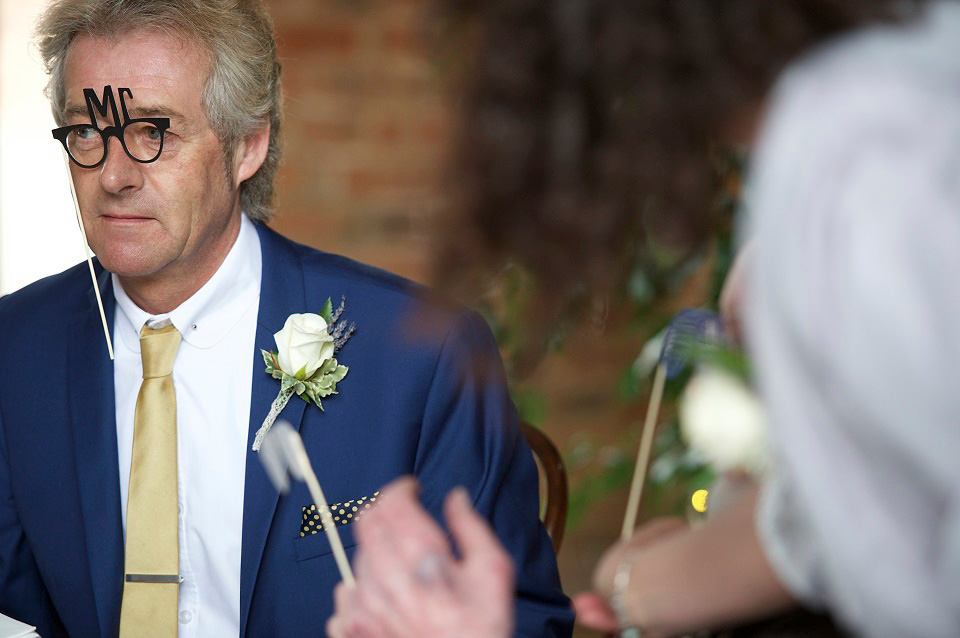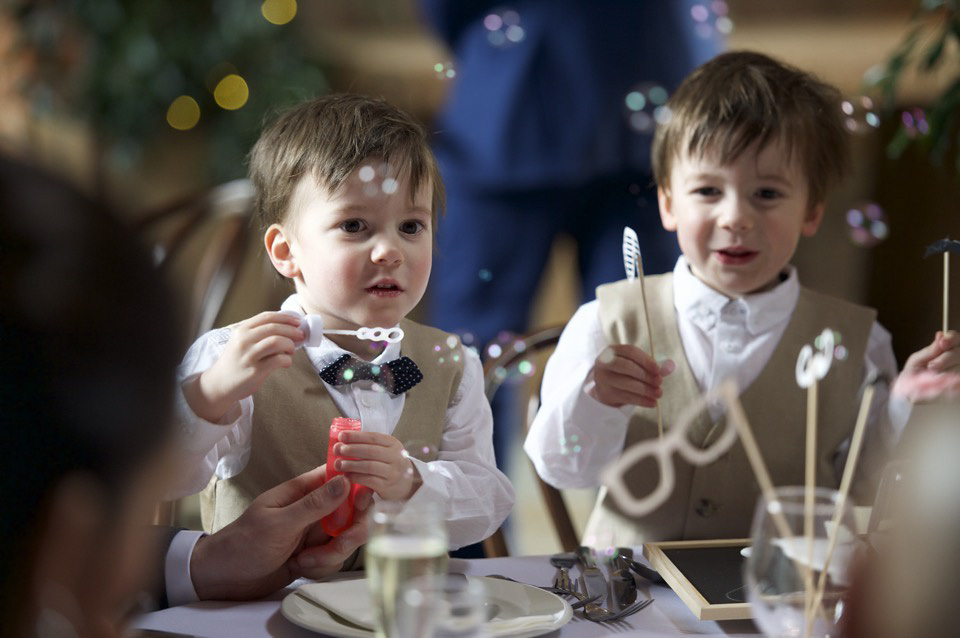 Words of Wedded Wisdom:
"Don't compromise. People will offer advice and that is great but it needs to be about you and your other half. People tried to tell me the bridesmaids' dresses wouldn't work or that tweed was not traditional enough. We followed our hearts and on the day it was perfection."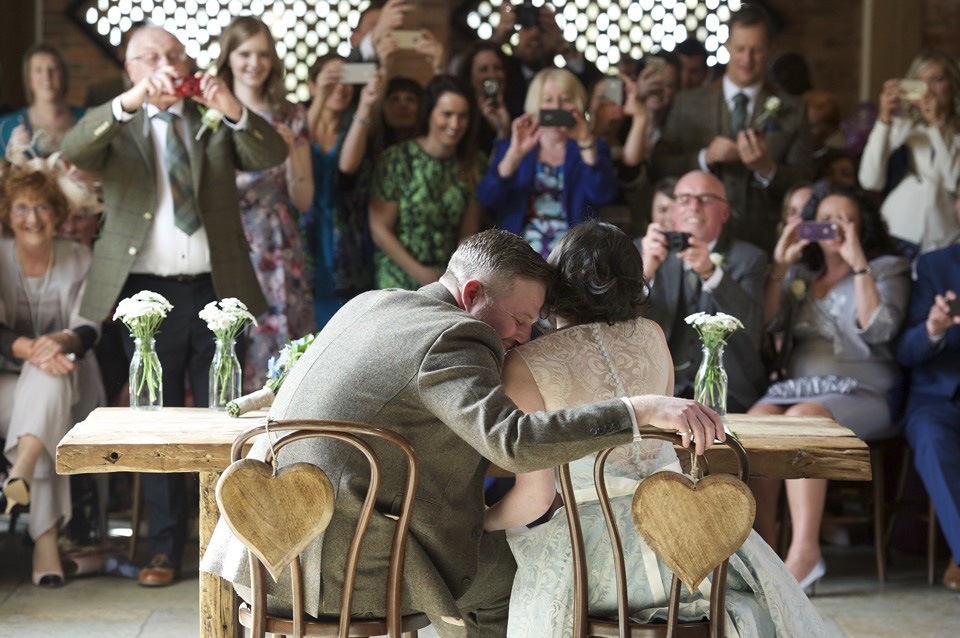 A big thank you to Kate and James for sharing the details of their special day and to Tony Marsh for capturing it so very well. If you'd like to peruse more vintage inspired weddings, please follow this link. For more beautiful brides in tea length bridal gowns, please click here.
Wishing you a wonderful rest of your week!
Annora x
Photographer – Tony Marsh Photography
Venue + Catering – Shustoke Farm Barns, Warwickshire
Wedding Dress – House of Mooshki from White Tulip Wedding Company
Shoes – 'Catherine' by Rachel Simpson
Accessories – Pearl earrings from Coast
Bride's Scent/perfume – Coco Mademoiselle by Chanel
Groom – Walker Slater Suit + pocket square from The Cravat Club
Florist – Whoops A Daisy
Cake – Made by the couple's friends and family
Transport – Father of the groom's vintage car
Entertainment – Esther Turner + Jacamo
Stationery – Paperthemes
Hair Stylist – Jeni Aldridge
Makeup Artist – Victoria Curtis Make Up Artist