Hi! Is it just me or does it seem like only yesterday that I was sharing some words of wedding wisdom on how to master the art of delegation?! As amazing as it seems, we're speeding towards the festive season at a rather alarming pace! As a Wedding Planner, now is the time of year when I start to look forward to the year ahead, including the trends for 2016.
Today however, I'm not here to talk about pantone colours, gowns or details. Instead I'm going to tackle the slightly less glamorous and considerably more complex topic of wedding etiquette and traditions.
Now I know the mere mention of the word 'etiquette' can conjure up visions of uber-formal gatherings, endless unspoken rules and an added layer of stress and tension. However, I'm here to tell you that modern wedding etiquette is far more relaxed than its stuffy predecessor!  Before you breathe a sigh of relief I also need to add a word of warning! With a new set of relaxed rules there is also an added level of ambiguity which can sometimes present as many problems as it solves. That's because having a set of 'rules' to follow makes a wedding slightly easier to plan (and attend!).
So before you throw the rulebook out of the window there are still some dos and don'ts that you need to be aware of, even in this age of brilliantly personal, utterly individual weddings.
So, here it is, my guide to wedding etiquette for 2016…
The Wedding Party
Gone are the days when married friends were Matrons of Honour and the Groom had one Best Man and four Ushers. You'll still want and need your friends by your side but the wedding party of 2016 can be anything you want it to be and do anything you want it to do!
If your Best Man doesn't like public speaking, then let someone else speak instead, have more than one Best Man or share the duty between all of the Groomsmen. If you want a male friend to be part of the bridal party, or a woman as a Groomsman then you absolutely can!
In the age of 'he for she' campaigns, say goodbye to old style etiquette and simply choose the best person for the job.
I made a speech at my wedding and really loved the chance to say a public 'thank you' to everyone who means a lot to me. Also, my Dad isn't a super confident public speaker so it took a little bit of the pressure off him. (Tamryn Lawrence, Love My Dress)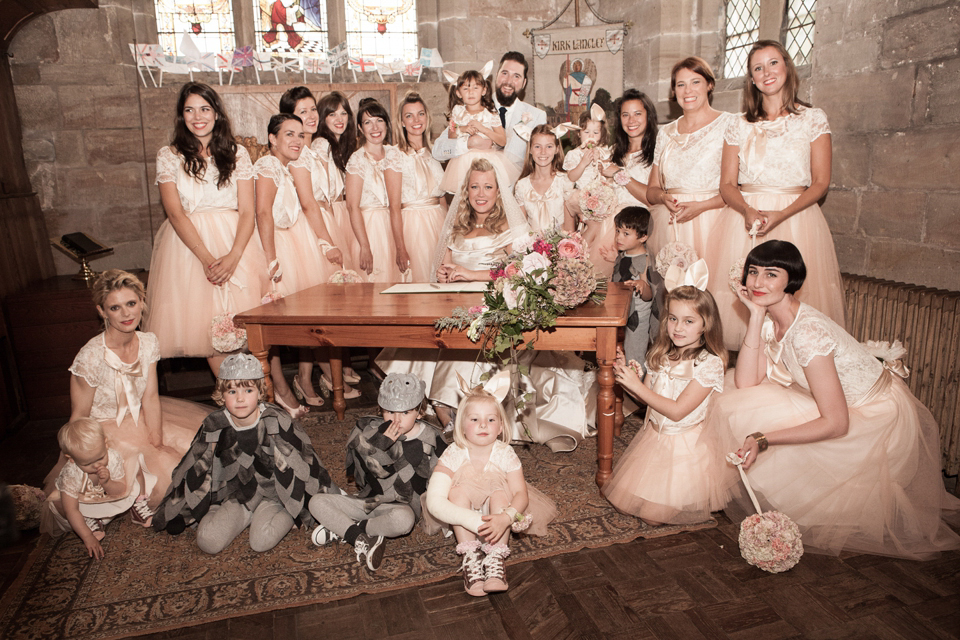 Bridal fashion designer Kate Halfpenny had 21 bridesmaids, flowergirls and page boys
Photography by Elegant & Wild
The Ceremony
There are no rules in 2016 to say that your Dad has to walk you down the aisle or that your maids must follow on behind. You Mum, both parents, a sibling or close family member can accompany you, or you can even walk alone. I've even seen some couples walk into their ceremony together so really, whatever you want to do can be done.
If you've got a complicated family or a personal hatred of the phrase 'being given away', then in today's modern etiquette guide there's a number of different solutions for you.
You might want to read this feature on 'Giving Away The Act of Being Given Away'.
Mrs McInerny's brothers walked her down the aisle
Photography by Molly Matcham
The First Look
One of the main reasons why so many brides look forward to walking up the aisle is to see their partner's reaction. In recent years, the 'first look' has become increasingly popular as this gives you, as a couple, the opportunity to share this very special moment in private before your ceremony. Full of emotion and absolutely unforgettable, we'll definitely see more and more 'first looks' in 2016.
I wish I'd had a first look. I remember on my day that walking down the aisle was over in a flash and it was a very nervous moment so a first look would give you time to really take in seeing each other. You can still have the grand entrance but you'd be sharing a little secret with your partner. (Love My Dress contributor Emma Hla of Coco Wedding Venues).
Bride and designer Kate Beaumont on her wedding day
First look animated gif by S6 Photography
The Guest List
Now it's time to tackle the tricky subject of the guest list! The good news is that the modern guest list has changed considerably over recent years and 2016 will, I'm sure, see more and more couples taking control and inviting guests through love rather than a sense of obligation. Children, 'plus ones' and distant relatives are no longer mandatory but to avoid any tension, make sure that you treat everyone equally.
On the flip side, if you're a dog lover and your venue allows, there's no reason why your four-legged friend shouldn't be there with you – they are family after all!
John Snow the whippet attended owner Jenni and Sam's wedding
Photography by Elliott Hatherley
See more dogs and pets at weddings here
The Receiving Line
The traditional receiving line is no longer an integral or essential element of weddings in 2016. In fact, it's far more personal to find time to speak to guests individually throughout the day rather than having them pass you by in a moment of forced conversation.
Instead, how about making time during your wedding breakfast to circulate the room? Or even extend your drinks reception? If you've having a traditional top table then you'll probably finish your food before your guests so use this time to mingle!
We didn't have a receiving line or a top table and instead sat our family members with guests we thought they'd have the most fun with and put ourselves on a table with our close friends who didn't know many other guests. Everyone felt included and was happy – it was fab! (Claire Monkhouse on Facebook)
Seating
Firstly, let's talk about the ceremony. In 2016 the days of strict 'sides' are gone. Now, it's perfectly acceptable for guests to sit on whichever side they want and with whomever they like. This makes things so much easier if you've got joint friends or if one family is smaller than another. Just make sure you reserve enough seats at the front for close family and the wedding party and that you let your guests know what to do with a sign or ask your Groomsmen to pass on the message.
Secondly, the seating plan! Seating during your dinner can be different too and I've seen plenty of weddings that haven't had a traditional top table. Instead, you can sit with your Bridesmaids and Groomsmen or on a 'sweetheart' table for two. Parents can host their own tables and that feeling of being on show whist you eat is gone!
We didn't have the traditional 'top table' for our meal. We moved onto a different table for each course and it was lovely to sit with everyone. (Claire Bowring, Make-up Artist on Facebook)
Pick a seat, not a side sign
From this wedding on Love My Drses
Photography by Georgina Harrison Photography
The Food & Drink
There's no rule to say that you must serve three courses for your wedding breakfast and in 2016, all kinds of exciting, unique and creative dining options exist, allowing you to design your perfect wedding feast. From sharing platters, food trucks and live food stalls to formal multi-course banquets, the possibilities are endless.
Moving on to alcohol, in 2016 guests no longer expect you to serve champagne! Instead, how about English sparkling wine or on-trend Prosecco? Craft beers and bespoke cocktails are also a great option and juice bars are a fabulous alternative for the non-drinkers.
We had a three tier cake but in the shape of a Christmas pudding as we were married on 12th December. The cakes were chocolate fudge encased in Belgian chocolate with white chocolate poured over the top to look like custard." Helen from The Wedding Bazaar.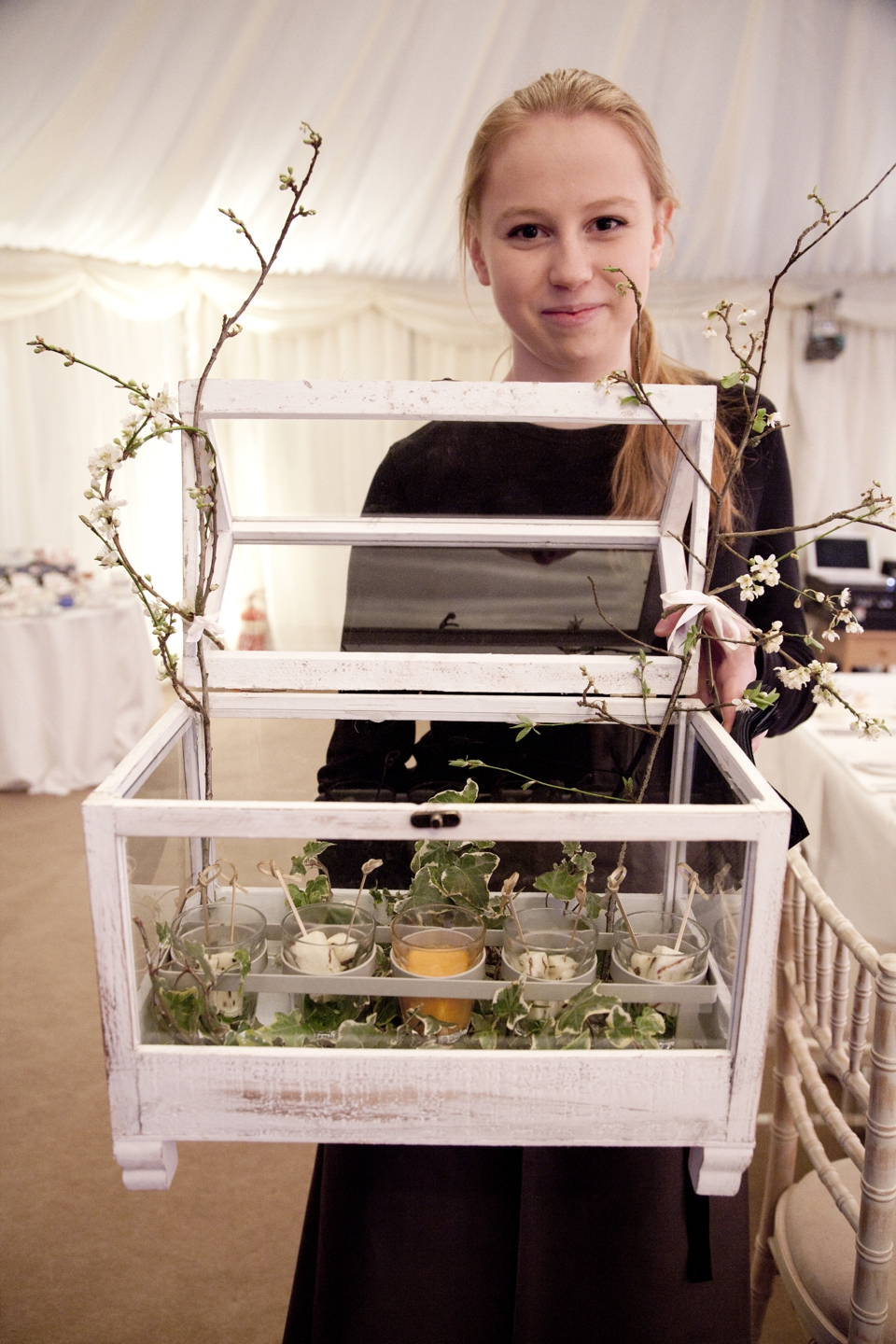 Kalm Kitchen offer creative wedding catering solutions
Learn more by visiting their page in our Little Book For Brides
The Attire
I love browsing the pages of Love My Dress and seeing how different the outfits are that couples choose to wear.
Guys, in 2016 you don't need to rent a traditional morning suit and girls, you don't have to wear a long white gown! If weddings are all about reflecting your personalities then surely your outfit plays an integral part.
Go for colours, short gowns, jumpsuits, trouser suits, blazers and chinos, maids in white or even a skirt and cashmere cardigan combo if you want. Your outfit will still be beautiful and special but crucially, it will be you.
House of Ollichon offer a range of stylish jumpsuits for brides
Learn more by visiting their page on our Little Book For Brides
The Format
2016 weddings don't have to abide by a strict format if the usual running order of the day doesn't work for you. If you're having a later wedding and you know guests will be travelling, why not have a welcome reception before your ceremony? You could arrange for your speeches to take place during post-ceremony drinks if speakers are nervous and you certainly don't have to leave your reception before your guests if you'd rather party until the early hours! If you're changing things up, then remember to speak to your venue or planner, as they'll be able to come up with some creative solutions.
However, in the rush to mix things up a bit, there's one element of wedding planning that will never go out of style and that's simple good manners. You could be having an incredibly laid back day but RSVPs should still be received, dress codes should still be followed and you should still say thank you to guests who've attended or sent gifts.
You also need to convey any 'rules' you've set to guests, suppliers and your venue so that they know what to expect. If you really don't want gifts but would prefer contributions to a holiday fund, you need to find a way to let people know. Older guests might expect you to leave the reception early so may be waiting to say goodbye before they leave and if you're dancing until dawn, let them know. When you're in the midst of planning and you know every inch of your wedding back to front and inside out, it can be easy to forget that not everyone shares your insider knowledge. It's when the waters are mudded and things aren't made clear that problems arise through confusion and different expectations. Let people know what you've planned and then everyone can relax and enjoy a fabulously personal wedding.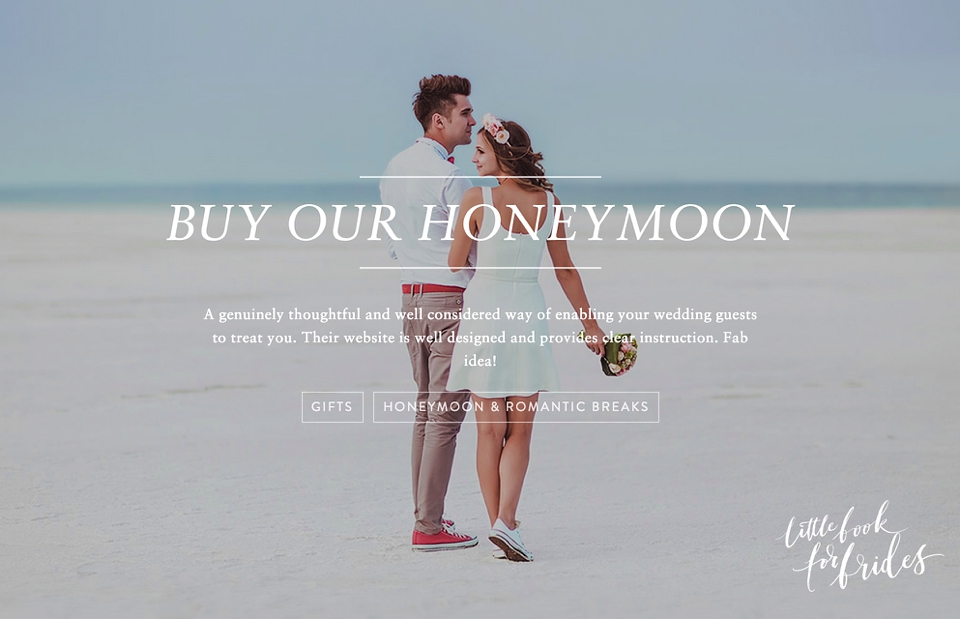 Learn more about 'Buy Our Honeymoon'
by visiting their page in our Little Book For Brides
So, as I hope you can see, wedding etiquette in 2016 is basically set by you – take the traditional elements that appeal, ditch those that don't and forge your own new traditions to suit. Weddings are no longer a 'one size fits all' occasion and we should have the confidence to create our own brilliantly personal, utterly individual weddings.
Love Kat x
_________________
Wedding & Event planner Katrina Otter specialises in designing, coordinating and delivering beautifully bespoke weddings, events and private parties throughout East Anglia, the Midlands and London.  As an independent wedding planner, Katrina is able to offer a more personalised approach to wedding and event planning – one that is totally focused on what her individual clients want, and is free to adapt her role and service to suit each client's requirements.  Katrina is a contributor to Love My Dress. Visit her webpage at katrinaotterweddings.co.uk and connect with Katrina via Instagram on @KatrinaOtterWed.