Good morning wonderful human beings – I hope this finds you well today and rested after another weekend. Only 26 more sleeps to go until Christmas, or 3 weeks and 4 days. I still need to finish Christmas shopping, and find time for the small matter of moving house before then too…! Are you almost ready for the Christmas celebrations? The New Year period is always a really busy time for us – we receive a huge influx of newly engaged visitors.  Think about all those brides to be out there, many of whom won't have any idea that their future husbands have plans to propose to them over Christmas and the New Year. I love the thought of all those surprise moments.
The wedding I'm sharing this morning has a touch of the spectacular about it; Clare, a buyer for Next Home, married James, a Technical Director for a Marketing Agency, on 9th April this year.  The couple tied the knot at St Michaels Church on Croughton Road, Aynho and held their reception at the wonderfully quirky Aynhoe Park – known for it's eccentric decor, which includes a rather extensive collection of taxidermy. I adore Clare's elegant Caroline Castigliano gown – aptly named Hepburn, and the whole colourful, fun, quirky and eccentric nature of this wedding.
"We wanted our guests to walk through those doors and feel how I felt, speechless and in awe by the beauty and quirkiness of how amazing Aynhoe Park is. The sheer beauty of this venue is that it already has so much going on you don't really need to do anything to it!"
Photography by Lucy Davenport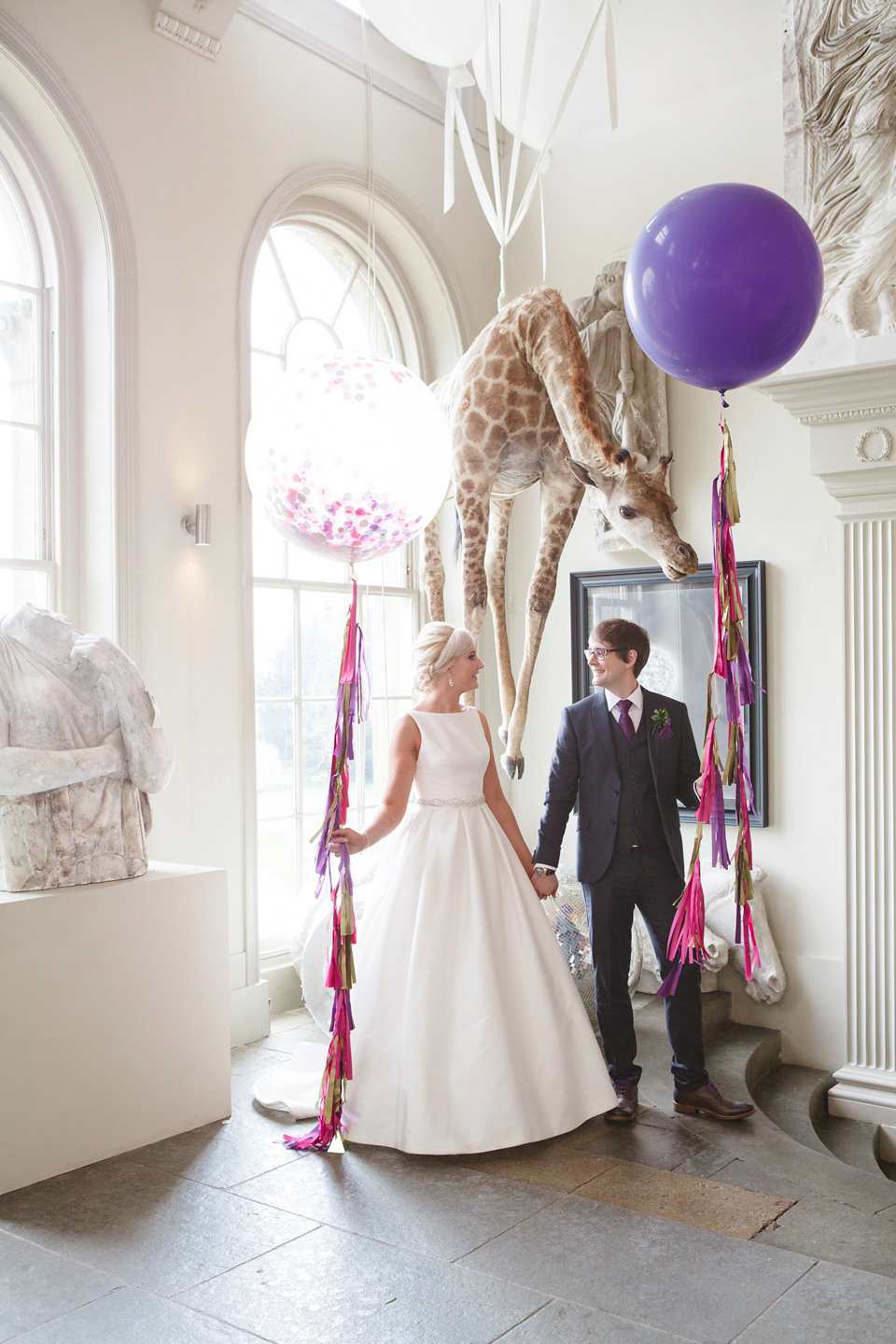 "Aynhoe Park was the very first venue I'd looked at online and we were instantly mesmerized by it. The unusual beautiful taxidermy and collectibles gave the venue a fun and exciting twist, which we thought reflected our personalities really well.  One step through the doors and we knew instantly that this was to be our venue.
The Orangery sealed the deal for us – with the sun streaming through the tall glass windows reflecting off the giant disco balls a. This created a truly entrancing starry surrounding and with the floating giraffe made it look the perfect fairy tale location."
Giant light up letters by Vowed & Amazed
Learn more in our wedding directory, Little Book For Brides
The flowergirl dresses were from Jelly Rolls and the little boy was decked out to perfection courtesy of our Little Book For Brides member, Monsoon.
"The flower girls dress' had a little bit of a vintage feel to them, so we thought that a beautiful little halo created by our florist Geri at Sweetpeas  would finish off their outfits perfectly. They were only little so instead of having to carry bouquets we thought it would be a great way to incorporate the flowers and add to the cuteness."
"We used the amazing talents of the girls at Bubblegum Balloons to provide lots of balloons for our day. We went balloon mad, as I am absolutely obsessed with them!"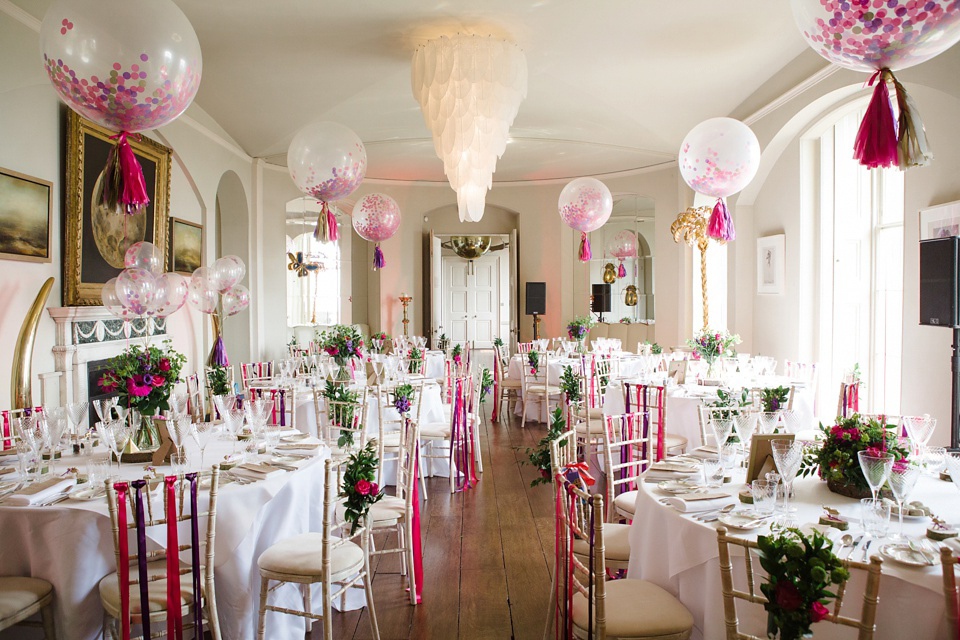 "We were really well looked after at Aynhoe Park – you are truly made to feel like a king and queen for the day. From being waited on by the butler, to being welcomed with tea and cake, to the fluffy Aynhoe bathrobes, every little detail had been carefully considered and well executed. I am still trying to think of an excuse to be able to go back!"
Clare's effortlessly elegant gown which is aptly named 'Hepburn', is by luxury bridal wear designer Caroline Castigliano.
"I really liked the simplicity of its clean crisp lines and the graceful low buttoned back. I didn't want to have anything overly fussy and the fact that it had pockets gave it that slight cool casual twist. I accessorised it with a white satin ribbon belt with simple crystal detailing (also from Caroline). This really finished off my look beautifully, adding a little something without taking it away from the simplicity of the dress."
"I went to the very first 'Brides the Show' at Battersea and saw this dress on the catwalk. As soon as I saw the Hepburn gown by Caroline Castigliano, I fell in love – I just had to try it on! I made an appointment for a trying on session for a few weeks after and instantly had to buy it! I tried on several dresses that day but none of them were as beautiful as the Hepburn. It was the last dress I tried on and instantly fell in love with its stylish understated classic look."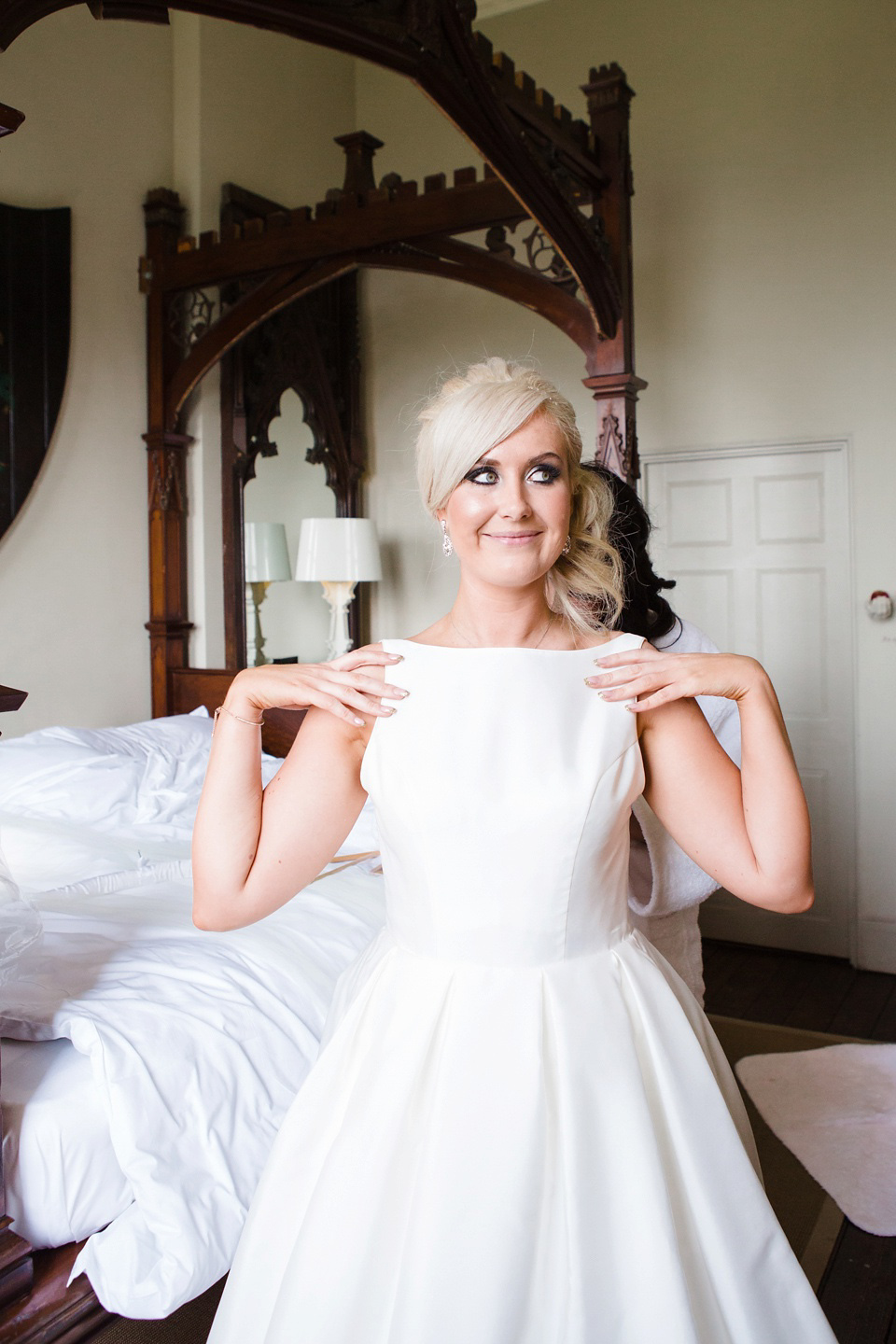 "I wore She by Armani – it's one of my favourites. Something James first bought me when we first started dating.
I wore a pair of beautifully dramatic large crystal droplet earrings from Caroline Castigliano – As the dress was so simple and I was wearing my hair up I wanted something which would really make a statement."
"My shoes were Jimmy Choo from My Theresa.  I didn't want anything too high, which I could wear all day and not tower over the groom! I decided on a sophisticated kitten heel from Jimmy Choo, which was the perfect height – although they broke after a couple of hours and had to resort to flip-flops!"
"I wore a really beautiful pearl and Swarovski crystal headpiece by Corinne Smith. It should be worn as a brow band but was styled on the day as a headband. It had a beautiful satin ribbon, which tied at the back. The diamante and pearl worked really well with the belt I wore with my dress."

"Our florist, Gerri at Sweetpeas was recommend to us by the venue. She was so relaxed and knew exactly what I was trying to achieve. There was no pressure and advised us really well on what she thought would work. I love bold bright colours so wanted to a really beautiful and vibrant bouquet that would really stand out against my dress.
I also wanted to replicate this for the tables. I gave Gerri an idea of my favourite flowers (Roses, Ranunculus, Gerberas etc.) and the colours I liked for her to interpret. She did this really well and produced exactly what I wanted on the day. I had every confidence they would look amazing and they really did!"
"James and I first met at college when we were 17/18 years old. We had similar friendship groups and started chatting on good old Yahoo chat (as you did back then). Our first official date was to the cinema to watch Johnny English (awful, I know!) – James didn't wear his glasses because he thought they were too un-cool. We sat right at the back and he couldn't see a thing. We've been inseparable ever since.
I waited ten years for the proposal, but it was certainly worth the wait – he proposed on a weekend away in London. We'd been out celebrating my birthday and ended up overlooking the tower of London and London bridge. It was about midnight and we had the stunning view all to ourselves. He got down on one knee and pulled out a beautiful Tiffany box with its little white bow sat perfectly on top."
The couple made their elegant order of the day booklet themselves.
"As my engagement ring was simple and classic I chose a band with a lot more sparkle to compliment it! James chose his because it was simple and modern. He's not used to wearing much jewellery so wanted something, which was easy to get used to! Our rings were from The Diamond Centre."
"My Dad, Martin walked me down the aisle. We had an amazing string quartet called Piacere String Quartet, who played Beethoven's 5 Secrets beautifully. Its one of James's favourite songs which I also really love.
One of our bridesmaids did a reading for us. We asked her to choose something, which could be a surprise and that she felt relevant to us and our day. It was an extract from the Velveteen Rabbit by Margery Williams."
"One thing we really wanted to get right was our photography. We were nervous about finding someone who would do a really good job capturing our day. Lucy Davenport was the perfect choice! She was amazing, so relaxed, professional and great fun! You never felt like she were under your feet or intrusive and subtly blended in with our guests. We really felt at ease and trusted Lucy would capture everything we wanted."
"We had a personalised sign made by a seller on Etsy in a digital format. It reflected the vibrant colours of our day with beautiful bold flowers on a black chalkboard background. I printed it out and framed it with some hot pink fabric I had knocking around. We stood this outside so it was the first thing you saw when we returned from the church – it looked great in front of the house in the sunshine!"
"We have a stripe Harlequin wallpaper in our lounge which consists of champagne, purple and lime green. We absolutely love it and thought it would be a great starting point for our colour palette by using our home as an inspiration, reflecting our personalities. I love bright colours but also wanted that little bit of sparkle. James has a huge trust in me when it comes to colour so it was quite easy to make a decision."
"Our Bubblegum Balloons balloons were my favourite feature of the day and we used them in lots of our pictures. I had seen a photo of the venue on line with a ceiling of balloons. I asked them if they could replicate this in our colours and they did a fantastic job. They also provided beautiful confetti balloons for our table centerpieces, along with their amazing tassel tail balloons that we featured on the steps leading up to the orangery from the bar."
"I took inspiration from Pinterest for the menus, table plans and our order of service which we all made ourselves."
The cute gold animal place names were from supplier Catherine Klepac on Etsy.
"I'd been on Etsy looking for some place names and found some amazing gold little animals. I thought they would be absolutely perfect as they reflected the taxidermy within the venue, really tying the two together. Being gold, they were the perfect colour. They had cute little purple ribbons around their necks with a label where I hand wrote each of our guests names.
We stood them on their own little pedestals of mini tree stumps for each place setting. The children spent the wedding breakfast running around collecting one of each – they had quite a challenge, as everyone was quite reluctant to let them go!"
"I'd used Pinterest for a lot of my inspiration and had seen the idea of small arrangements on the backs of chairs. Gerri of Sweetpeas did a great job of interpreting this and did some beautiful little arrangements that were then placed on every other chair.
On the alternating chairs we then put beautiful bright satin ribbons, which reflected the colours of the flowers. I spent many an hour cutting 2 metre lengths of ribbon for the team to then tie to the chairs for me – they did a great job!"
"One of my bridesmaids has her own ceramics business called Little Farm Ceramics. We thought it would be a really nice touch if she helped contribute to our day by helping us with our wedding favours. Again I'd seen a 'how to' in a magazine on how to make your own plates. We designed our own decals to go in the centre, which incorporated the crest of Aynhoe Park. We thought this was a great way to tie the house and us together in a nice little personalised keep sake for our guests.
Kim hand painted each of the plates with stripes to reflect the colours of our scheme. She then applied the decals which we had had printed."
"We had a drawing commissioned of the giraffe in the orangery floating with its balloons. Guests were then invited to leave fingerprints in the colours of our scheme as the balloons on the print! We're now having it framed for our house as a wonderful memory of our day."
"I had seen some little Polaroid message cards on notonthehighstreet that we loved. We bought these and then chose pictures of each of our guests, which we then mounted on them. I made a little sigh which read ' Find your face a leave us a message in the space…" and asked people to fill them in. They then pegged them to the string lines, which had been strung between the pillars along the wall. They looked brilliant once people had pegged them all up with the little hot pink pegs."
"We also hired guitarist Johnson Jay Acoustic Guitarist. We went to a New Years wedding where Johnson played. We thought he was fantastic and that he would be great to keep our guests entertained between the wedding breakfast and the evening disco. He did a really good job and was worth every penny! He did an amazing cover of one of James' Dad's favourite songs 'Nights in White Satin' by the Moody Blues."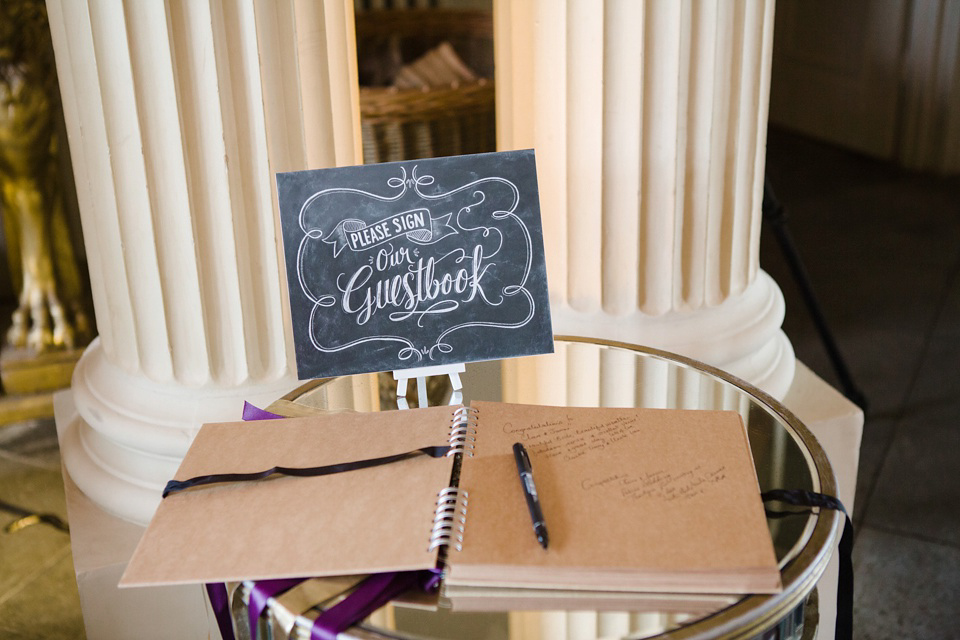 The couple had a little difficulty finding the right supplier to create the wedding cake they envisioned. In the end however, Clare turned to Victoria of Bay Tree Cakes who completely saved the day with this masterpiece of a gold and pink 4-tier beauty.
"The wedding cake was our biggest challenge. It was a huge struggle to get our original suppliers to interpret what I wanted. In hindsight the suppliers we contacted originally were probably the wrong choice – as they had a very classic signature to their design. I gave up trying as we were running out of time.
In the end we turned to Victoria of Bay Tree Cakes and the cake we received on the day was very pretty."
"We hired the letters huge C and J light up letters from Vowed & Amazed and made these a huge feature in the entrance hall. We wanted to make a big impression when people walked through the front door."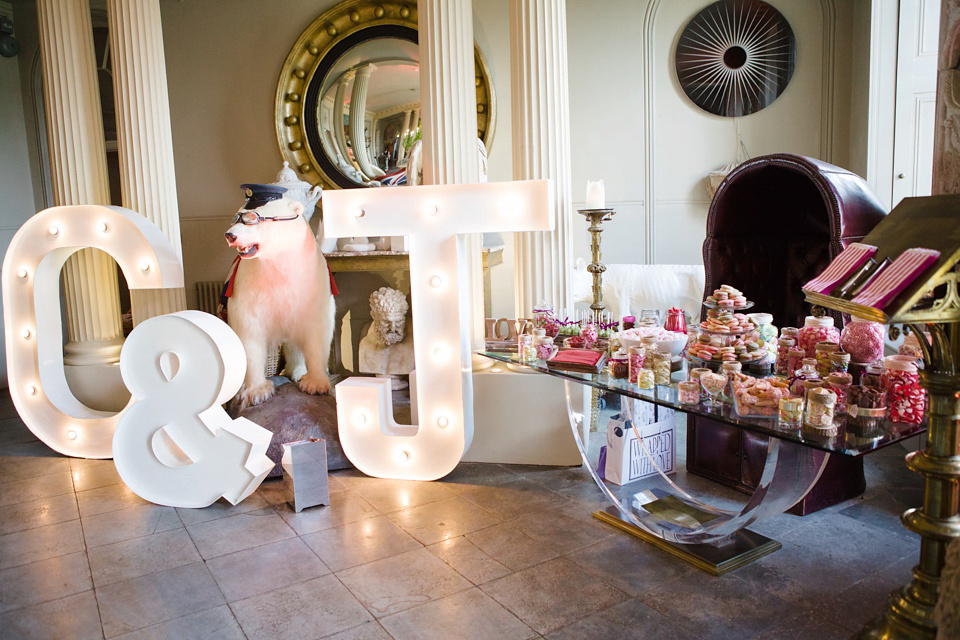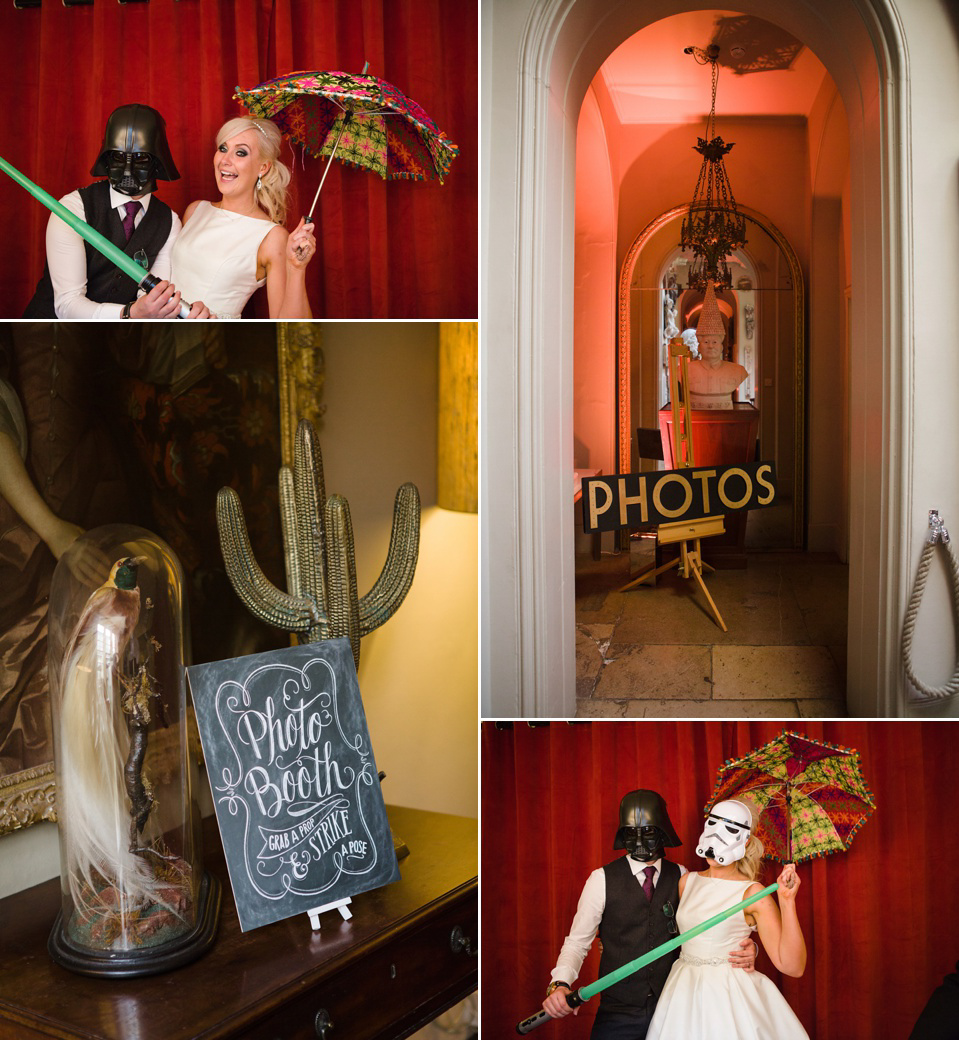 I love the idea of using an Instagram hashtag to share fun images of your wedding day. Will you be doing the same?
"For our first dance, we were let in to the orangery before any of our guests so we could see it before anyone else. It had been completely transformed in to a magical glittering room. We were absolutely blown away – it was breath taking. We'd hired light up letters spelling 'LOVE' from Vowed & Amazed. With this and the glitter balls reflecting off the walls it was mesmerising. They shut the doors and James and I had a brief moment to ourselves to take it all in."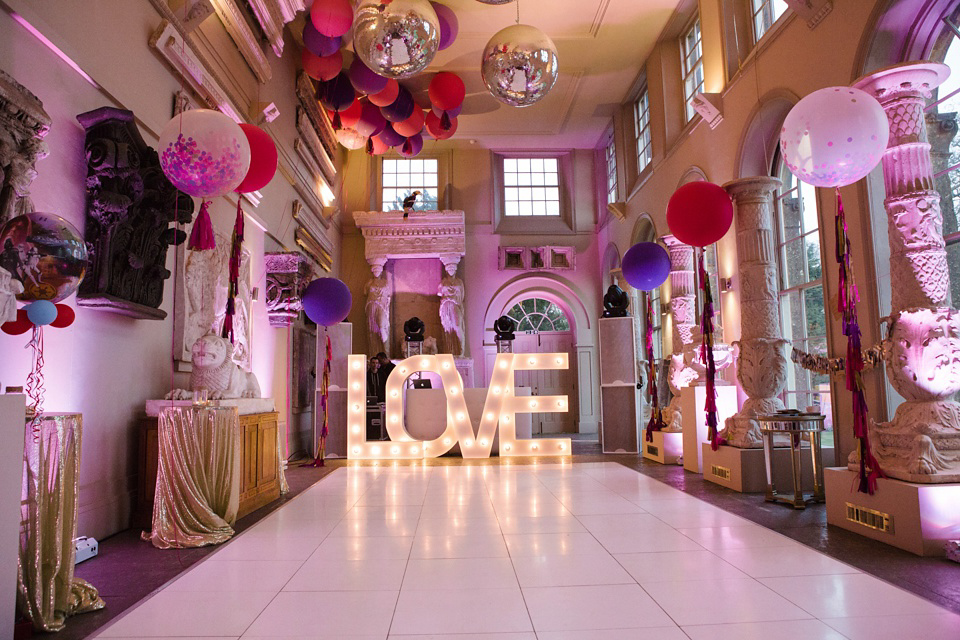 "We had a little practice shuffle whilst gazing at our surroundings in disbelief!! We then opened the doors to our guests – watching them all pile up the stairs to surround us was crazy – we couldn't believe they were all there for us! There were so many people it took a few minutes to try and fit everyone in! It was so emotional and beautiful it was a moment we will never forget.
Looking at all the smiling and teary faces surrounding us beaming with happiness was overwhelming. There isn't anything I would have done differently – I would have just done more. There's things I've seen people do since at their weddings and I've thought that it would have been a nice additional detail."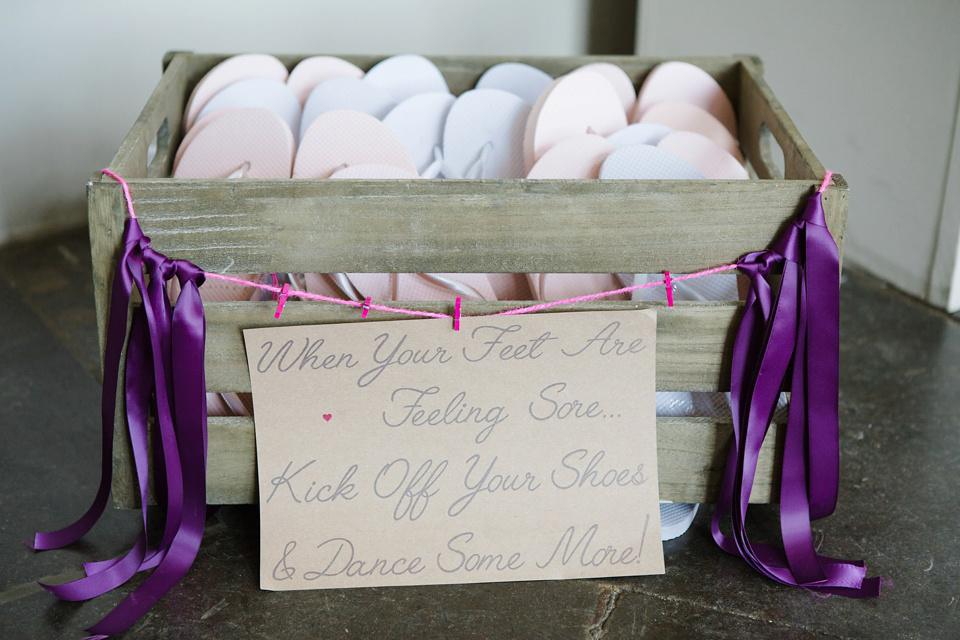 "We actually chose Desiree 'Kissing You' (from Romeo and Juliette) as our first dance. It was one of the very first films James and I had watched together and it had stuck with us ever since.
We hired Anton at Mission Events (recommended by the venue) as our DJ/Sound engineer. He did everything for us from setting up the equipment for speeches, the dance floor & lighting to being our DJ! He was fantastic. He did a great mix of songs for both the old and young, which kept the dance floor filled all night. We'd seen pictures of what he'd done with lighting in The Orangery but didn't realise until we saw in for ourselves how amazing it really was!"
Words of Wedded Wisdom
"Be flexible with your ideas. Little details really do matter but don't obsess over them – you'll only unnecessarily stress yourself out even more. If it doesn't seem feasible ditch the idea and find an alternative! You'll find you will get to a point where you are running out of time and just have to decide what really is important – your guests wont have a clue if something is missing."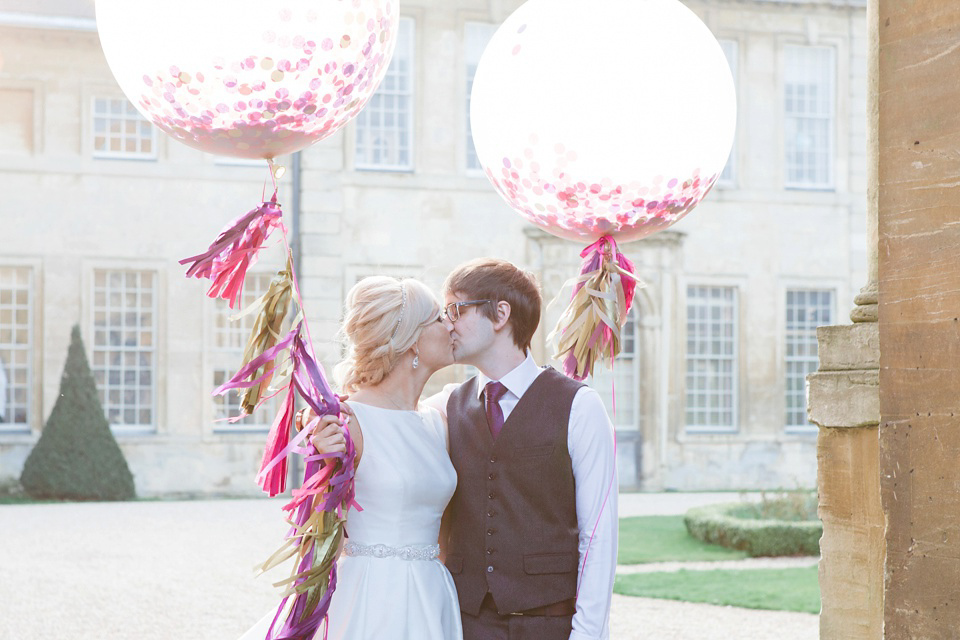 What an incredible day! I love how Clare and James embraced the fabulousness of Aynhoe Park,  You can see how other couples did the same by visiting these page on Love My Dress. This particular Aynhoe Park wedding is one of my all-time faves. You can also see more brides wearing a Caroline Castigliano gown here.
My huge love and thanks to photographer Lucy Davenport for sharing these image sand helping kick start our week with something so fun, colourful, elegant and glamorous. Have a lovely morning all – may you get to the end of today with a sense of positivity and accomplishment.
Love Annabel x
Photographer – Lucy Davenport
Venue – Aynhoe Park
Wedding Dress – Hepburn by Caroline Castigliano
Bride's Veil – Caroline Castigliano
Bride's Shoes – Jimmy Choo from My Theresa
Headpiece – Corinne Smith
Accessories – Rose Gold Michael Kors bangle
Perfume – She by Armani
Grooms Suit – Cersee by Ted Baker + Next shirt + Ted Baker Oxford Brogues
Grooms Accessories – TW Steel watch + Star Wars Storm Trooper Cufflinks + Tie & Pocket Square via Etsy
Bridesmaid's Dresses Queenie Bridesmaid + Next shoes
Flower girl Dresses – Jelly Rolls
Page boy – Monsoon
Florist – Gerri Rees at Sweetpeas
Cake – Bay Tree Cakes
Catering Company – Indulgence + Amps Fine Wines
Entertainment –Piacere String Quartet + Johnson Jay Acoustic Guitarist
Rings – The Diamond Centre
Hair and make-up Artist – In Parlour
Favours – Handpainted plates via Little Farm Ceramics
Gold animal table place names – Catherine Klepac on Etsy