Good morning folks. What better way to start the week than with a glamorous and relaxed country house wedding? And if, like me, you are a fan of everything gold and glittery (and quite frankly who isn't on a dreary Monday morn?) then you are in for an extra special treat! With the help of her talented seamstress, our fashion designer bride adapted a gold sequin Phase Eight number to create her perfect wedding gown.
Sophie and Daniel tied the knot on the 25th of July at The Norfolk Mead Hotel, an elegant Georgian boutique hotel in the heart of the Norfolk Broads.
"Our colour scheme was gold with highlights of navy and pink. I didn't want a themed wedding and we didn't dwell too much on tradition or formalities, we just went with the things we liked."
Photography by Joanna Millington Photography
"Before we met, neither of us were the greatest advocates of marriage – Daniel was a confirmed bachelor and my first marriage didn't work out.  We do, however, love a celebration so we decided to plan a 'Wedding Party'. The speeches were fun and not too long and although we did observe the traditions of cutting the cake, first dance etc. our day was very relaxed and informal."
Flowergirl gowns via Monsoon
See Monsoon in our wedding directory, Little Book For Brides
"I loved Halo & Co's Betsey headband but the silver didn't work with my dress so I commissioned them to make it for me in gold instead. Halo & Co did this at no extra cost, which was absolutely amazing – I just wish there were more opportunities to wear a gold crystal headband in my life!"
"Our photographer was Joanna Millington. I have known Jo since we were in our early twenties and I have always said that unless Jo could take our photos I wouldn't have a photographer. Her style is beautiful without being posed or contrived. Jo has an amazing way of recording all sorts of moments from the day that would otherwise have gone unnoticed. Her pictures are exactly as I remember the day, and a fantastic record for us to keep."
"We chose The Norfolk Mead after we fell in love with its light and airy contemporary garden room, set within a stunning walled garden (which also put my mind at rest as I knew the children couldn't escape or get lost!) Many of our guests stayed onsite and the next morning we all ate breakfast together at two long tables which was great. Daniel and I stayed in a small cottage in the grounds which was perfect for getting ready and for the children to be looked after by a babysitter in the evening."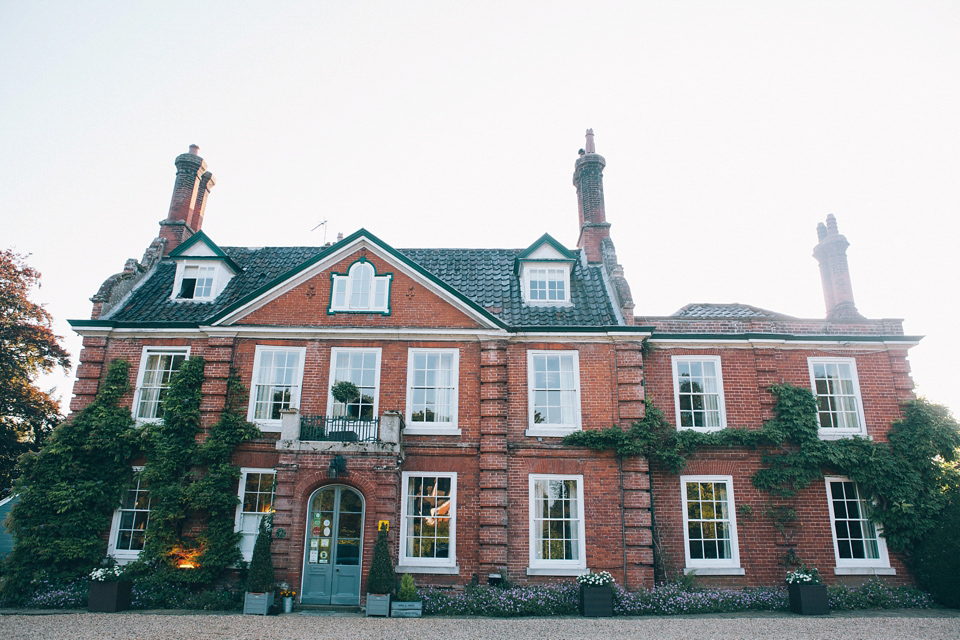 Love My Dress fan Sophie was inspired to select a special scent for her wedding by an article on our very own blog…
"I followed Love My Dress during the planning process. I loved seeing the photographs and the videos are just beautiful – I'd often find myself weeping at strangers wedding films! I'd read on Love My Dress about choosing a scent for the day to evokes memories of the wedding whenever you smell it and it is SO true. Daniel bought me Fleur de Portofino, and I bought him Tobacco Oud, both by Tom Ford."
Our fashion designer bride knew exactly what she wanted to wear on her big day and swiftly enlisted the help of bespoke seamstress Theresa Andrews to help make her dream dress a reality…
"I bought two identical gold sequin dresses from Phase Eight and with the fantastic help of dressmaker Theresa Andrews we created the dress I wanted. Theresa and I cut up one of the dresses and used the fabric to add to the other. Theresa added in a beautiful fishtail hem with a small puddle train, and tiny cap sleeves. She interpreted my vision of the gown perfectly."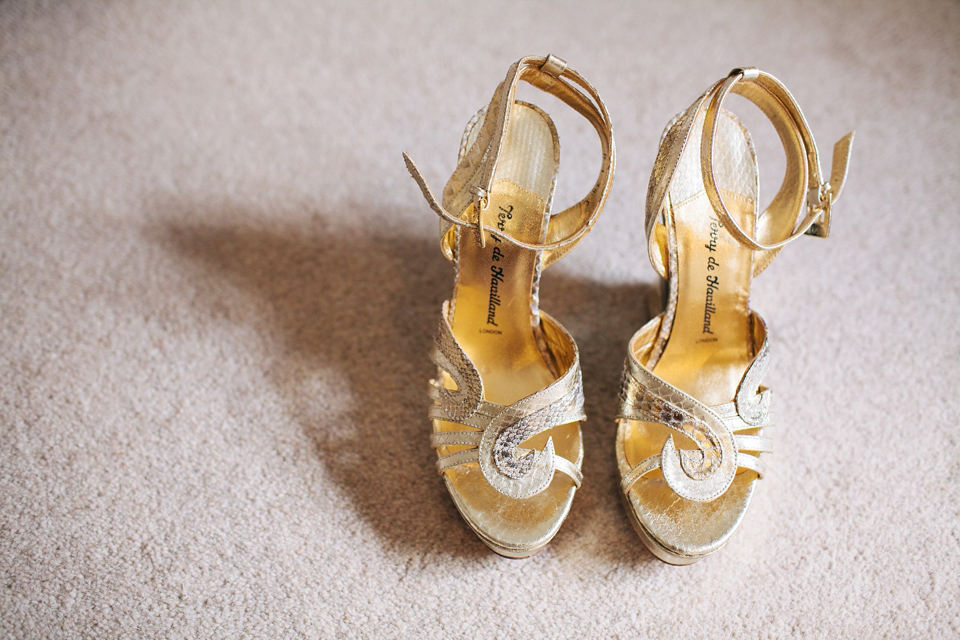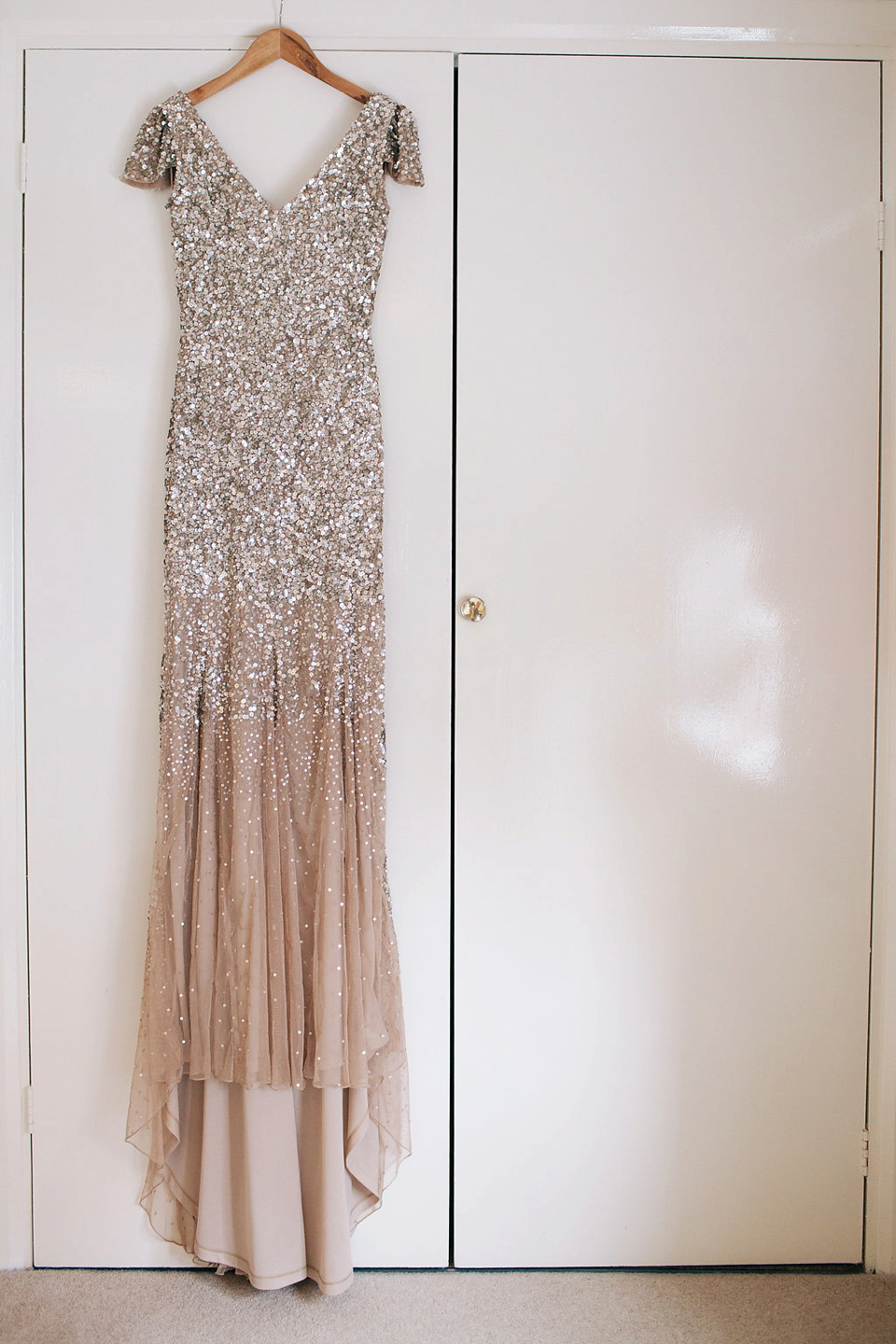 "I knew I didn't want a traditional wedding dress mainly because I had been married before and also because I'm a bit older. I tried on a few dresses in wedding shops, all of which were very beautiful, but I felt a bit ridiculous – almost as If I were from a different century! I am a designer and I adore clothes so I am quite particular when it comes to what I wear. You can't go wrong with gold and sequins and the dress felt really special."
Sophie accessorised with a bronze Rachel Entwistle bracelet cast from a rabbit bone (for good luck) and on her toes she wore for a fabulous pair of Studio 54 inspired gold Terry de Havilland wedges.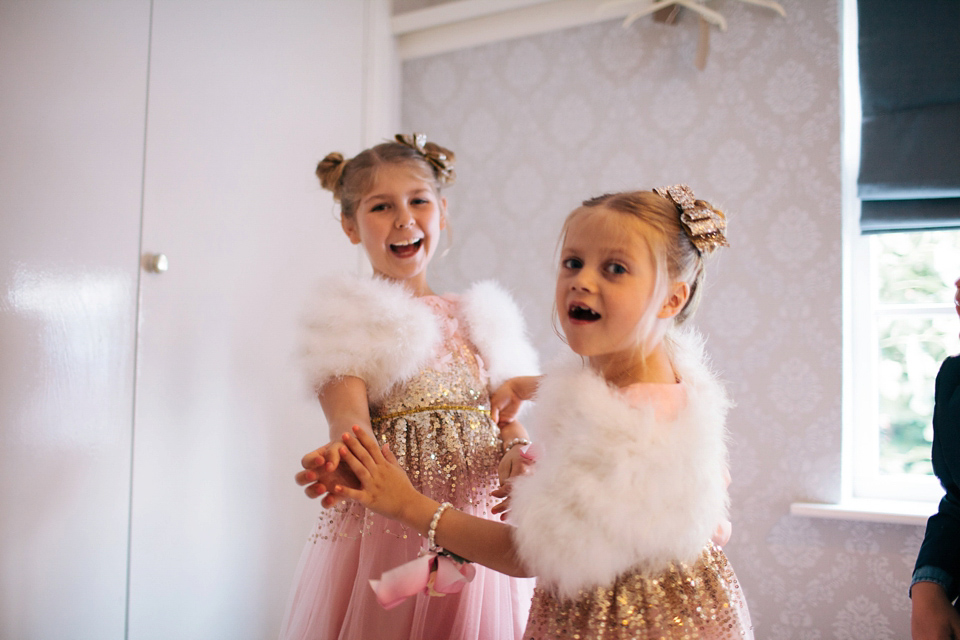 Our couple's beautiful blooms were arranged by Bramble & Berry and displayed in vintage milk bottles and pink Kilner jars collected by the bride in the run up to the wedding.
"When it came to our flowers I didn't want anything too formal or 'done'. I liked the idea of a sprawling spriggy bouquet made up of lots of textures and colours. I fell in love with David Austin's Juliette rose which we mixed with silvery foliage, pale blue scabiosa and gypsophila, tied with gold sequin ribbon."
Daniel rocked a dark blue three piece suit and tie from Next and a pair of tan brogues by Grenson. The couple's page boys looked super cool in mini matching suits, shades, and denim shirts from Zara. Meanwhile, Sophie's flowergirls wore pink Monsoon dresses sprinkled with gold sequins and fluffy feather wraps, with each girl sporting pearl and fresh rose corsages created by the couple's florist Bramble & Berry.
"My Dad sadly died a couple of years ago, so my brother in law Karl gave me away. Karl was the only man up to the job of standing in for my dad, and I really appreciated him doing it. I walked in to 'I Will' by the Beatles. The children and I had listened to it so much leading up to the wedding that we were all word perfect!"
Sophie and Daniel chose two upbeats readings; John Cooper Clarke's 'I wanna be yours' and an extract from 'Graffiti Moon' by Cath Crowley.
"I loved both readings because they are happy and express our thoughts perfectly in normal words – nothing too heavy or overly sentimental."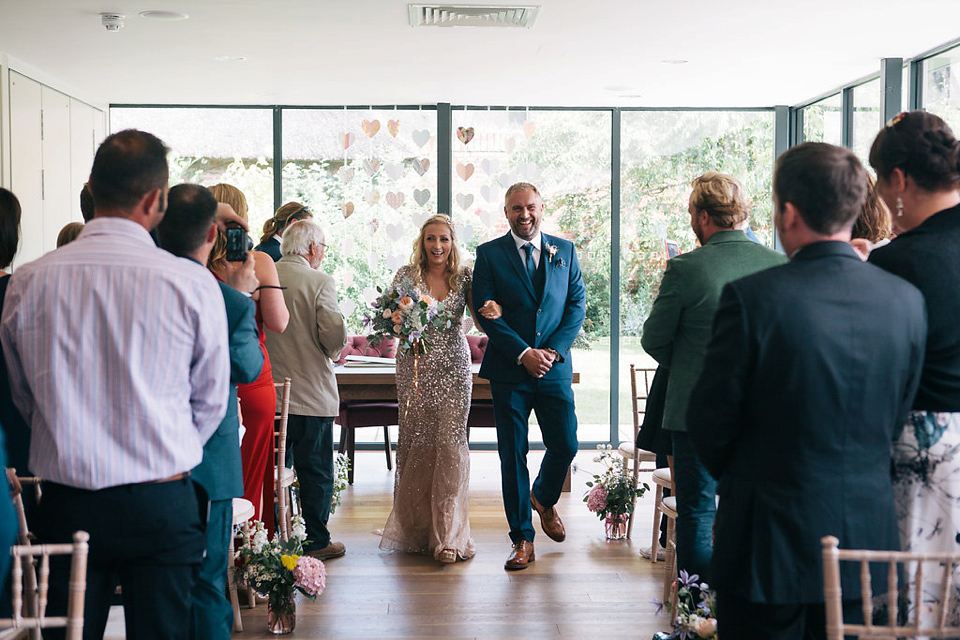 "We exited the ceremony to 'Slow boat to China' by Fats Domino, which was one of my Dad's favourite songs and so familiar growing up. I chose it because it was a cheerful way including him in the ceremony."
I love Sophie's clever and creative alternative to a guest book…
"For our 'guest book' I customised an antique embroidered table cloth for guests to sign – I think there is unnecessary pressure to be witty or sentimental at a wedding when a guest book is pushed under your nose. The plan is to embroider over the signatures in the long dark winter months, an idea I got from a friend's granny who did this with house guests over the years. The result is a beautiful family heirloom."
For their favours, our thoughtful couple made 'hangover recovery kits' for each of guest, which they attached to mini Evian bottles.
"In our ceremony we kept to the standard vows for a non-church wedding. Neither of us felt comfortable 'opening up' in front of an audience. We love each other, and will always be there for each other – 'nuff said! Anything more felt like pillow talk."
In addition to their stunning flowers, Sophie and Daniel decorated the venue with lots of gold and glitter and a huge illuminated 'LOVE' sign.
"I made the table numbers myself using gold spray and glitter (the kitchen – and the cats – were covered with glitter for months!). After seeing something similar on Pinterest, I sprayed an army of plastic animal gold and tied a small tag around their necks for place settings. Allocating an animal for each guest was tricky as I was worried about offending with my choice – I had lots of elephants and hippos left over!"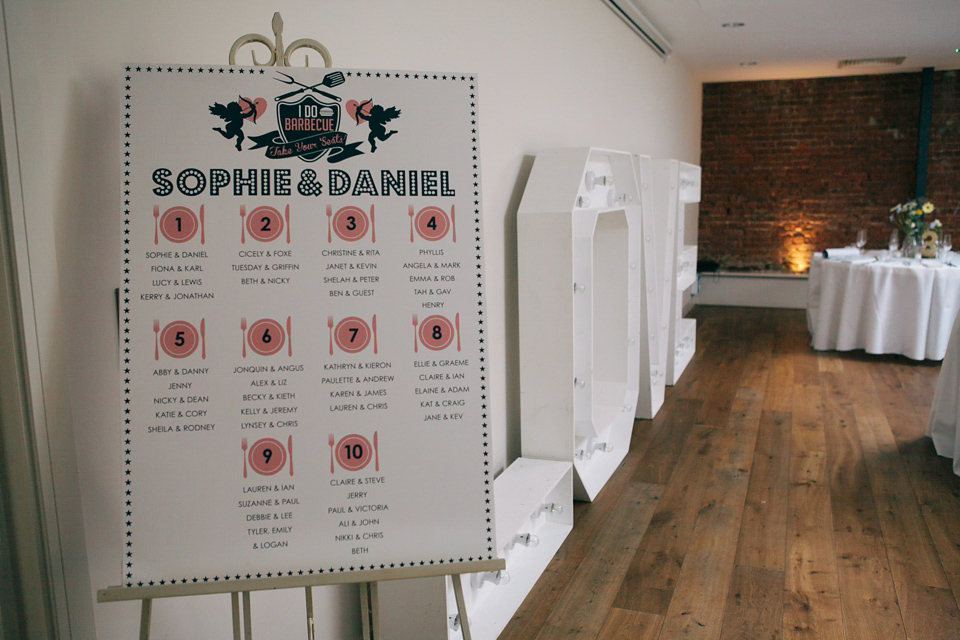 For their wedding breakfast, Sophie and Daniel opted for a barbeque cooked in the venue's walled gardens by Norfolk Mead's proprietor and head chef Anna Duttson. Our couple's giant lemon, white chocolate and caramel fondant cake was created by Nicky of Little Millie's. Yum!
"Our evening disco was one of my favourite parts of the day. I loved dancing and being surrounded by the people who mean the most to us in the world all having fun with no inhibitions or formalities. I'd have a party like that every year if I could! For our first dance we chose Paloma Faith's 'Only love can hurt like this'. It's a beautiful song but also has a good beat for non-dancers to plod to! I love music and we practiced at home in the kitchen many times before the wedding.
The hens and I also performed a dance to The Nolan's 'I'm in the mood for dancing' after hiring a choreographer to teach us a routine on the hen weekend. We did it about three times and it was great fun.  Although I don't think we nailed it technically, we all thought we looked amazing!"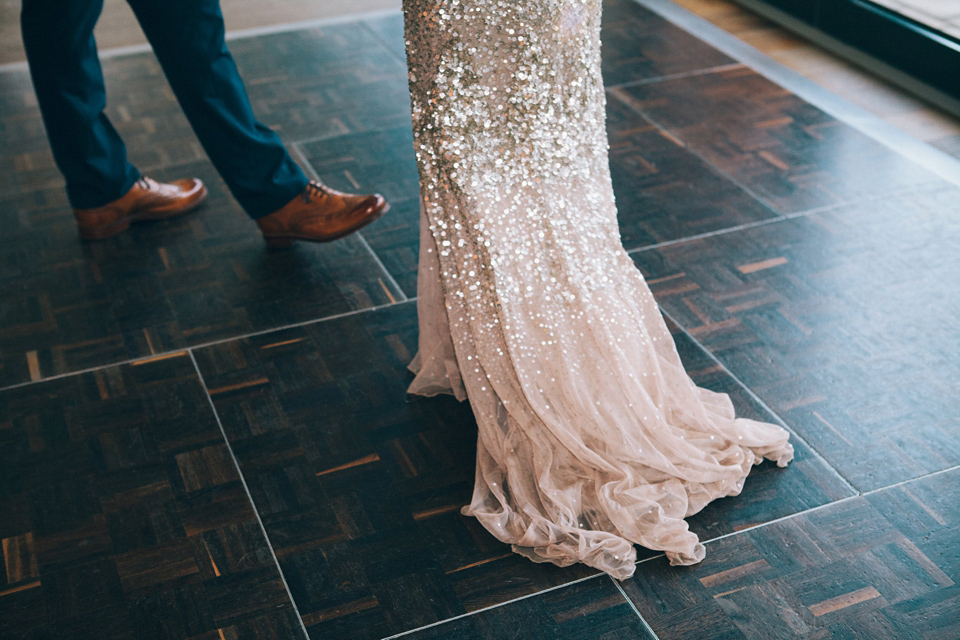 Words of Wedded Wisdom
"Relax and enjoy it, it's meant to be fun not a performance. There's no such thing as something going 'wrong'. Nothing can really be that bad on the day surely?
I also think it's important to really enjoy having all your closest friends and family together – that happens so rarely in life so it is very precious. I loved seeing friends from different backgrounds chatting together and getting to know one another."
A huge thank you to both our happy couple and to Joanna Millington for the wonderful images. You can find more beautiful Phase Eight brides here. If you'd like to see other brides wearing sequin gowns on the blog, please follow this link.
Have you been inspired by today's wedding? Perhaps you too are considering adapting a high street gown or like the idea of a table cloth 'guest book'? Do get in touch in the comments section below – we'd love to hear from you!
Have a great week!
Annora x
Photographer – Joanna Millington Photography
Venue + Catering – The Norfolk Mead Hotel, Coltishall Norfolk
Wedding Dress – Phase Eight gown customised by dressmaker Theresa Andrews
Headpiece – Custom made gold and crystal headband by Halo & Co
Shoes – Terry de Havilland
Accessories – Bracelet by Rachel Entwistle
Bride's Scent/perfume – Fleur De Portofino by Tom Ford
Groom – Next suit + Grenson brogues
Flowergirls – Monsoon dresses + sequinned hair slides by Ruby Lovely via Etsy + pearl, ribbon and rose corsages created by Bramble & Berry
Page Boys – Next suits + denim shirts by Zara
Florist – Bramble & Berry
Cake – Little Millie's
Entertainment – DJ Gary Sulter via East Anglia Events
Rings – Anna Sheffield, New York
Stationery – Designed by the bride
Hair & Makeup artist – Flamingo Amy