Good afternoon lovely ones, and a happy Monday to you – sending love to any and all of you who may have been affected by the terrible storms this weekend across Crumbria and The Lake District. Today's fabulous wedding includes a handmade bar, flowers arranged by family and a specially made dog bow tie, as well as a most beautiful gown by Belle and Bunty that was purchased from the infamous Miss Bush Bridal in Surrey – two suppliers we are both so pleased to be recommending through our wedding directory, Little Book For Brides.
Anna, a primary school teacher, and Chris, who works for an airline, married in style on Saturday 18th July 2015- one of the sunniest days of this year.  Making their day individual and retaining the quirky air of their chosen venue was very important to them and, in my opinion, they did both beautifully.
"The main thing for us was that we didn't want to do anything for the sake of it, or because 'that's what you have at a wedding'.  With that as part of our brief, we also wanted to do justice to the venue's own style, and we realised that with all the will in the world, we wouldn't be able to transform the room into something that it wasn't already, with all of the Victorian machinery in situ, so we concentrated on making a good job of the smaller details – the table plan, the crockery and the centrepieces etc."
Photography by Howell Jones Photography
Anna wore the delicately beautiful 'Lace Willow' by Belle and Bunty, purchased from Miss Bush Bridal, which works wonderfully with her slim frame.  Emma, the fabulous MD of Miss Bush, has featured on Love My Dress many times over the years, offering advice, insider knowledge and exciting offers to our readers, and is now also a member of our Little Book for Brides®.  It was in fact through Love My Dress that Anna discovered Miss Bush Bridal, which makes us very happy.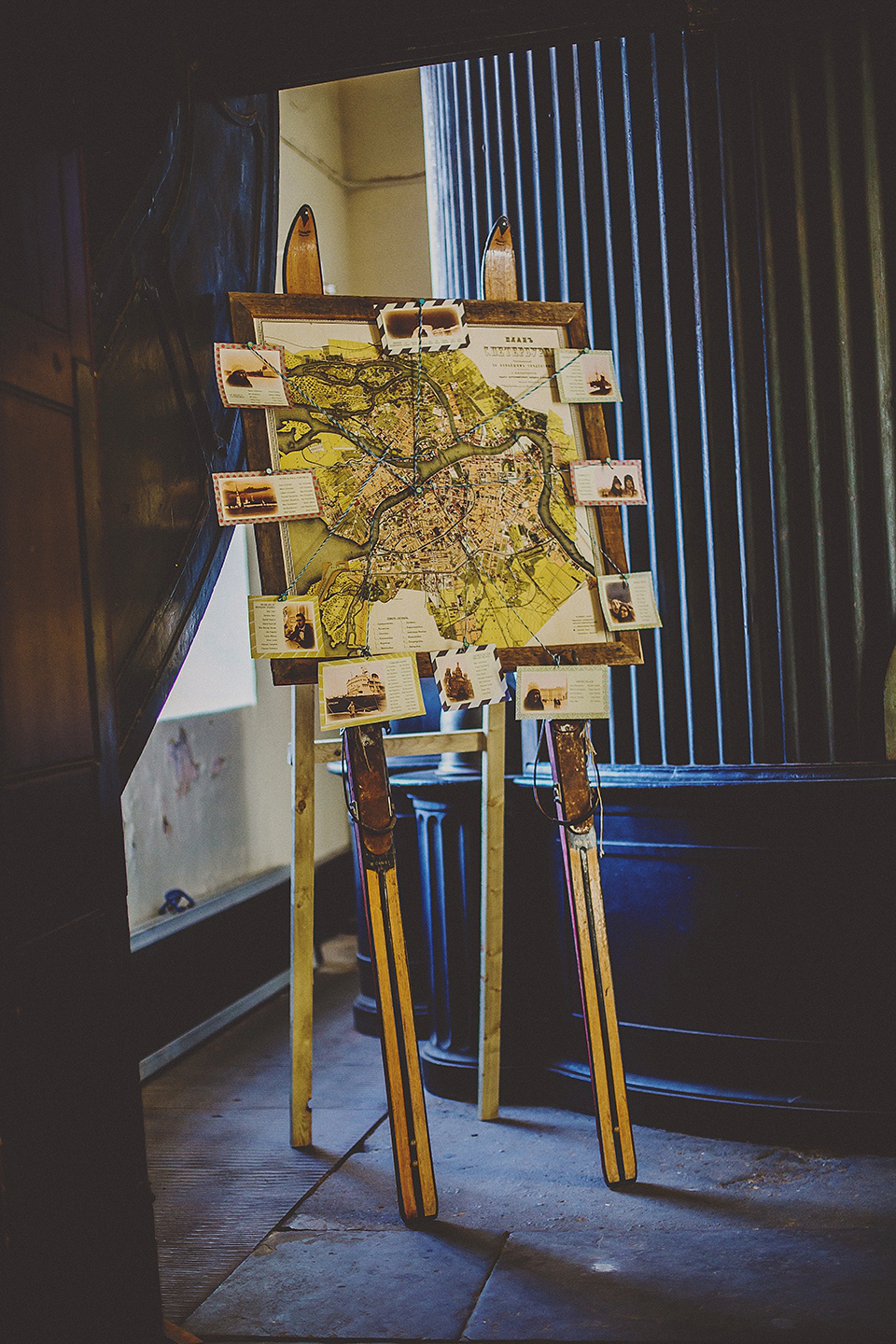 "My gown was the first dress I tried on.  Shortly before the appointment, I started to get really nervous about dress shopping- the pressure seemed huge – but as soon as I walked into Miss Bush, my anxieties were gone.  I talked Emma through my usual style and she bought 'Lace Willow' for me to try on."
"I fell in love as soon as I put it on and I knew that no other dress was going to compare (even though I went on to try on several more just to check).  There were no tears from my Mum or bridesmaids, but it just felt right. The dress fell in such a way that it looked stunning and I was completely comfortable."
We've posted it up several times before- but have a read through this article on dress shopping if you haven't already done so.  For what it's worth, my Mum and bridesmaids didn't cry when I found my dress either- instead they sat and grinned, so don't worry if you don't get tears!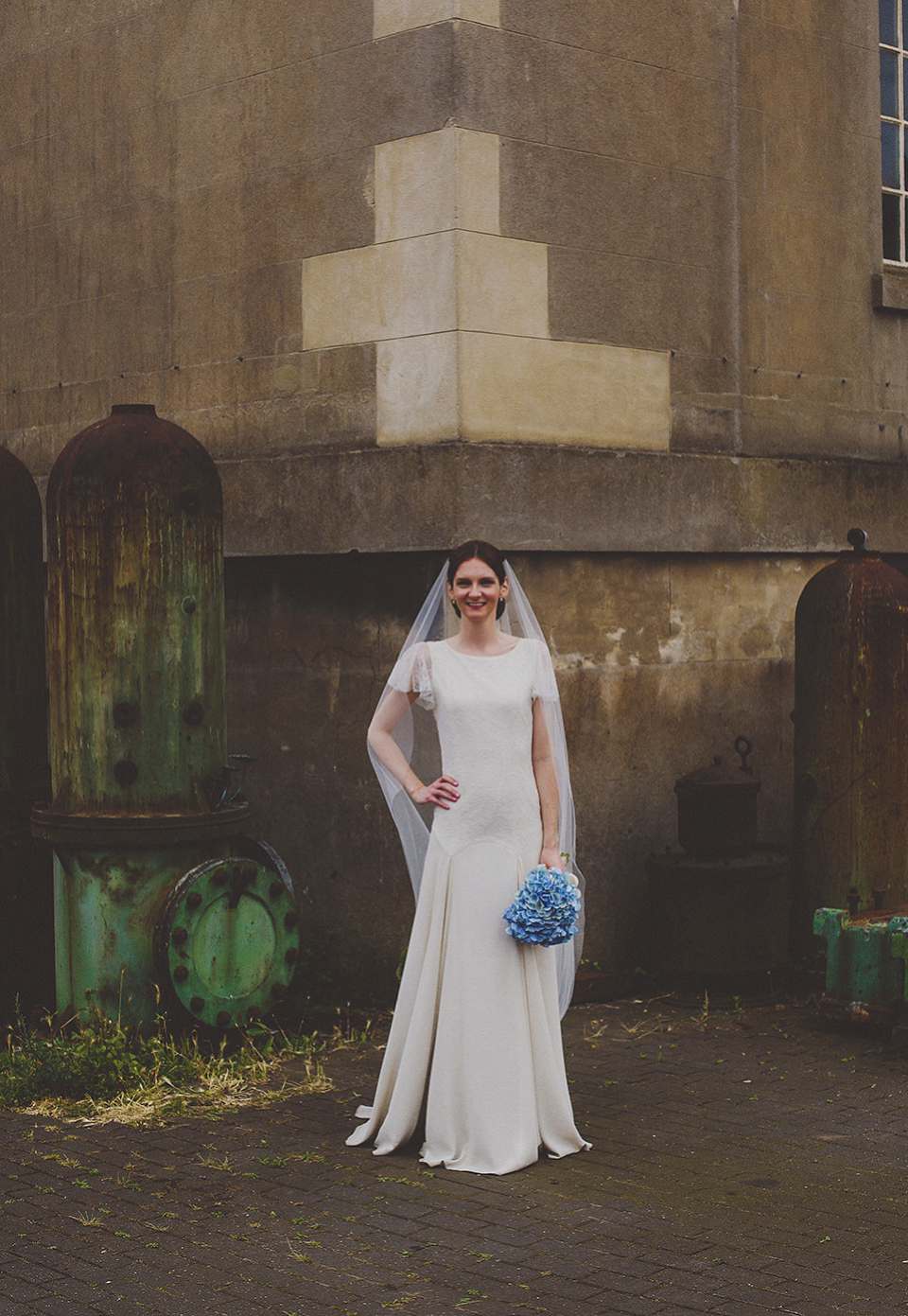 "Chris and I met while we were both living in London.  He was about to go to France to work for six months, so we had to make a quick decision as to whether we saw a future in 'us'….. luckily we both did.  Several visits and daily phone calls kept us together and we moved in together when he returned.
We had been together for just over five years when he planned a surprise trip to St Petersburg in Russia. In the city, couples on their wedding day are taken to four or five of the top 'sights', have a blessing at each and pose for photos – this is said to bring good luck for them in their marriage.  Fittingly, he proposed by one of these– the statue of The Bronze Horseman. I said yes pretty quickly (although when he first tried to propose I wandered off to take in a different view of the statue, and he had to pluck up the courage to ask again!)
We were engaged for 18 months before we got married – and just as well, we wouldn't have had everything organised in time for sure if it had been shorter!"
"Lucy Hayward of Hair That Turns Heads was the most wonderful hairdresser.  I've met her before- she styled my hair for my 30th Birthday and when I was a Bridesmaid last year. Other than the photographer, she was the first person I booked for the day.  I'd had a rough idea of how I wanted it styled, and Lucy listened and made some other suggestions. The bridesmaids, my mum and I were all really happy with our styles.
My good friend Lisa did my make up for the day. I don't wear much make up and the thought of having it caked on for my wedding day scared me.  I really wanted to feel like me, just a bit nicer."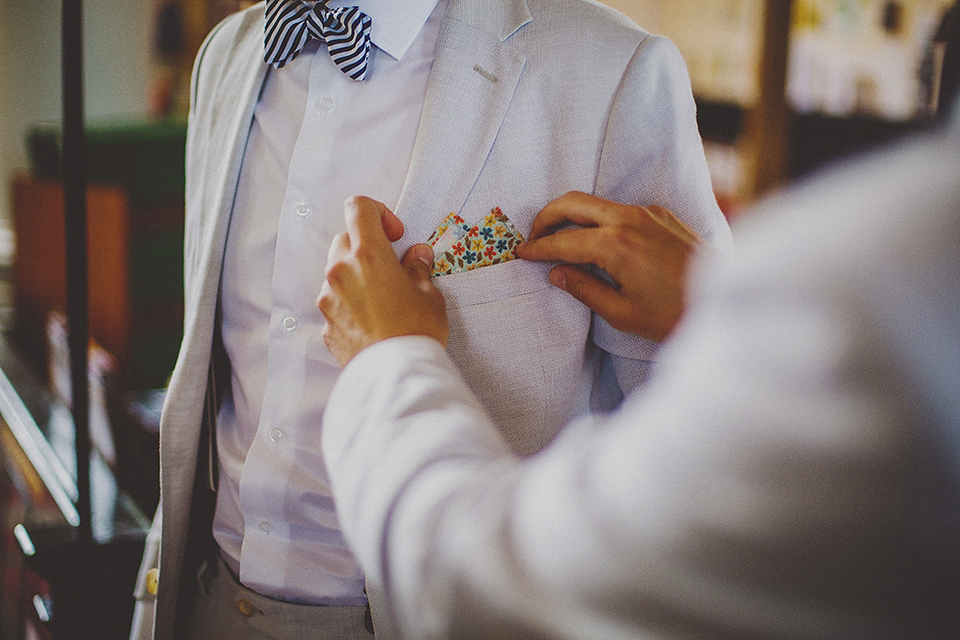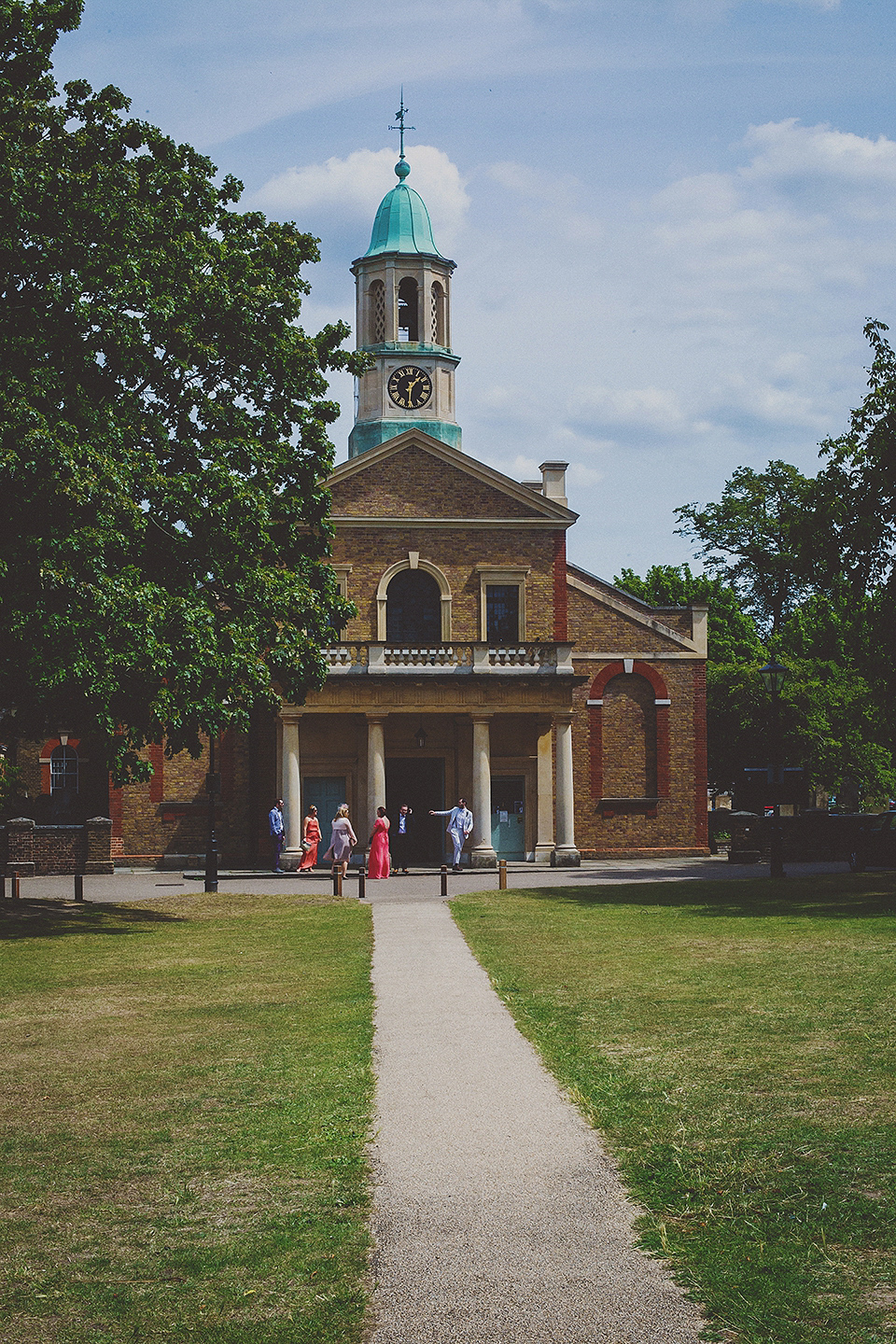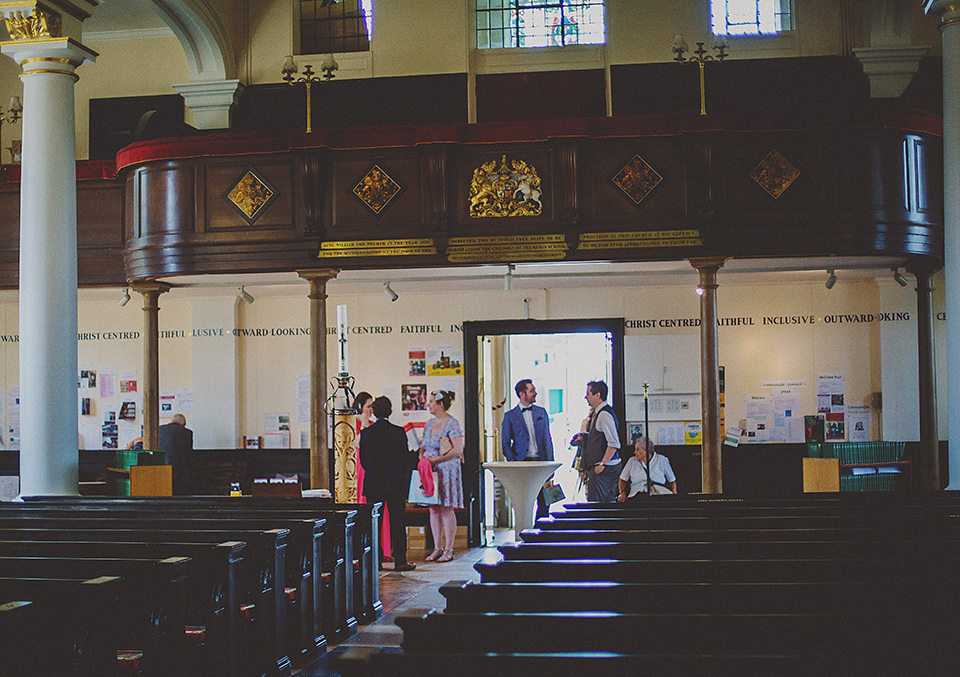 "We didn't hire a florist; instead my Mother In law ordered all the flowers online to be delivered the day before the wedding. Along with my sisters in law, she created the bouquets and button holes the afternoon before the wedding.  I only ever wanted simple Hydrangeas as my bouquet, but the buttonholes had more to them (thistles, rosemary etc) and these also looked fantastic."
"We were married at St Anne's Church on Kew Green and we held the reception at the London Museum of Water and Steam.   For our reception, we were looking for somewhere different, interesting and inherently cool – and we found it at the museum.  It just happened to be in the area in which we spent our first couple of years living together, which helped with our choice of church immensely, as it allowed us to already have a connection.
We chose St Anne's as it was the most beautiful church, in a wonderful setting (on Kew Green itself, often in the midst of a game of cricket) and it allowed us to simply walk across the Thames and Kew Bridge between church and reception venue  and we did so en-mass with our guests – it was great!"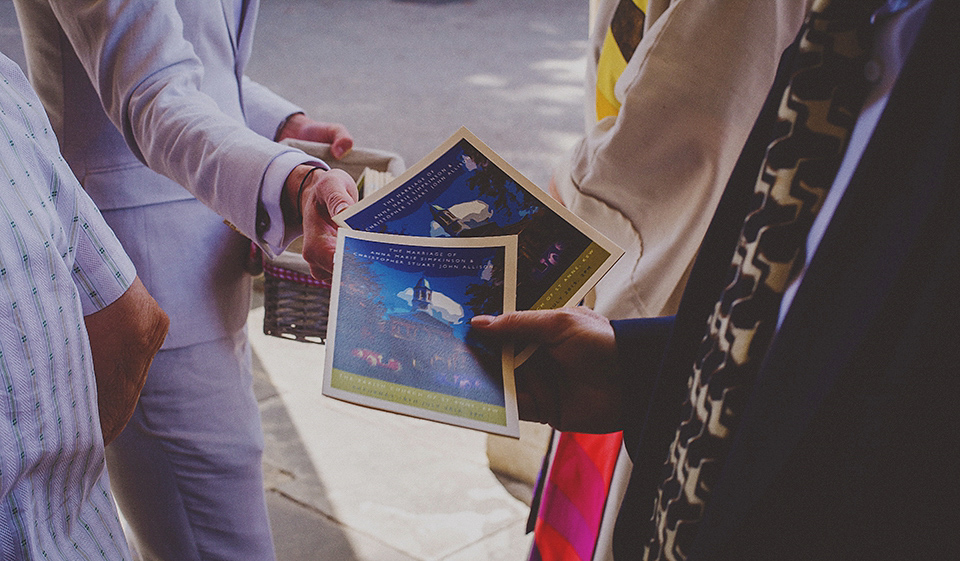 Anna and her father processed down the aisle together to 'I was Glad' by Charles Hubert Hastings Parry.
"It was such a special moment to share with my Dad and something I'll never forget"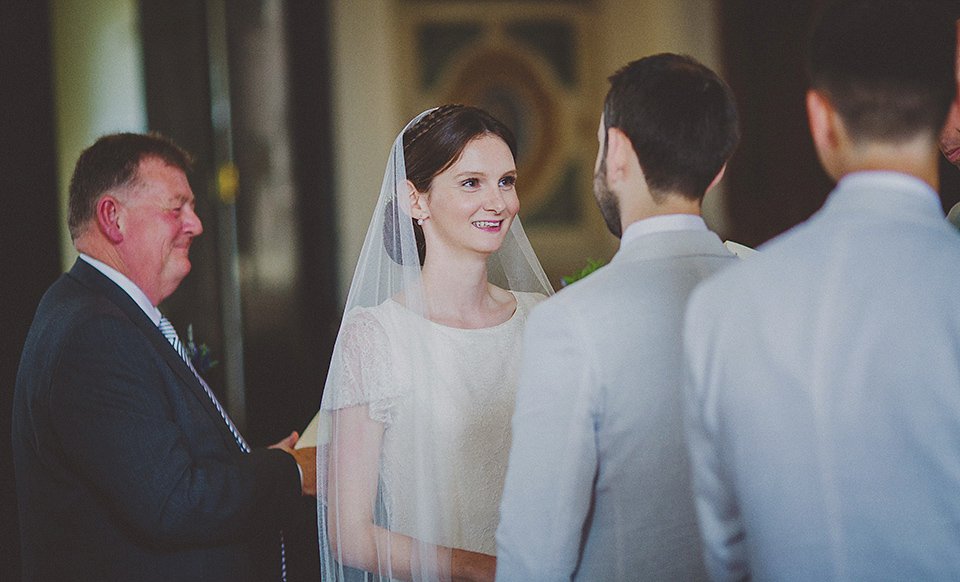 Instead of a more traditional reading, Anna's brother spoke the song lyrics to 'You only Live Twice' by Nancy Sinatra.
"Chris is a huge Bond fan, and when I read the lyrics they seemed perfect for our ceremony"
You only live twice or so it seems
One life for yourself and one for your dreams
You drift through the years and life seems tame
Till one dream appears and love is its name
And love is a stranger who'll beckon you on
Don't think of the danger or the stranger is gone
This dream is for you, so pay the price
Make one dream come true, you only live twice.
"Our good friend Rob read John 2.1-11 (the Wedding at Cana/Water in into wine) and it formed the basis for part of the sermon, which we felt was quite apt for us.  Little did Father Peter know at the time that we had almost the 180 gallons of wine/beer/cider mentioned in the passage…"
"Chris bought my 1920s engagement ring in Amsterdam, and my wedding ring needed to be made to fit around it. We met with Ian Towning from Bourbon Hanby in Chelsea and he created the most beautiful platinum and diamond wedding band for me. He also made Chris' gold band using gold from a pair of his father's cufflinks and from a ring of his late uncle. 
As Chris didn't really have an idea of what kind of ring he wanted, the fact that he's now wearing gold that has meaning rather than just a ring from the sake of it makes it extra special. It was also very interesting to be involved in the design process and see the rings at different stages of completion."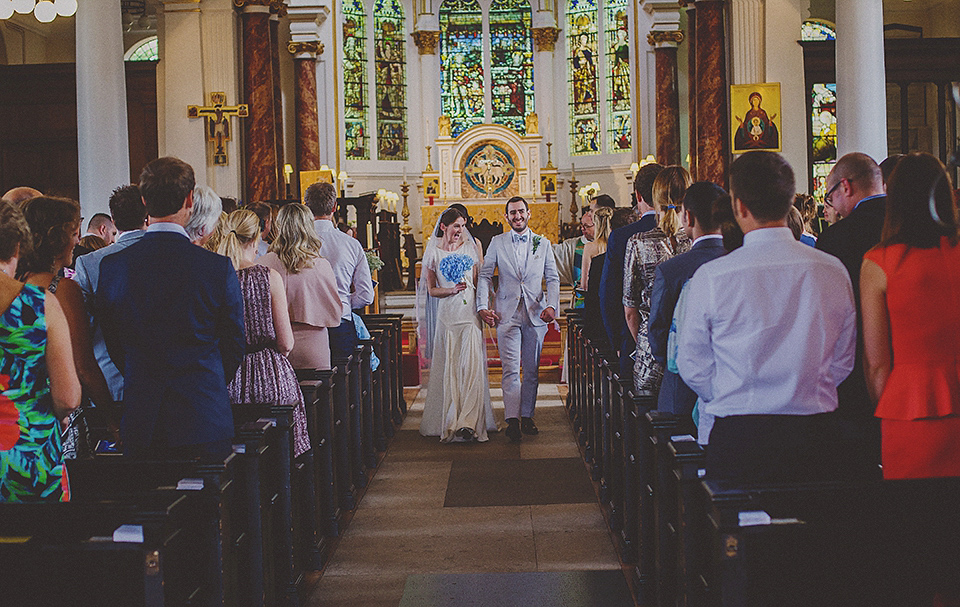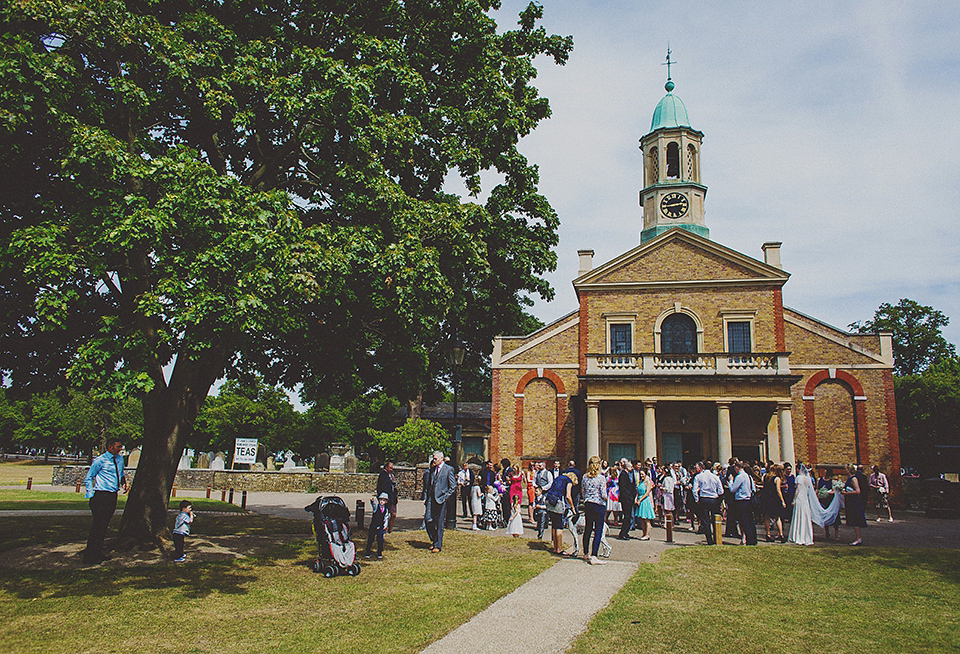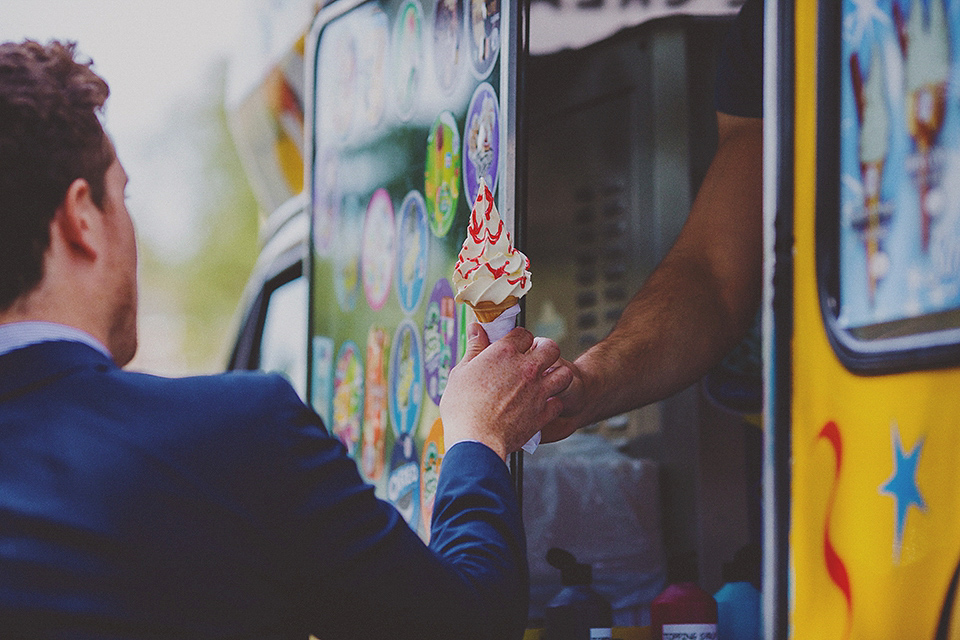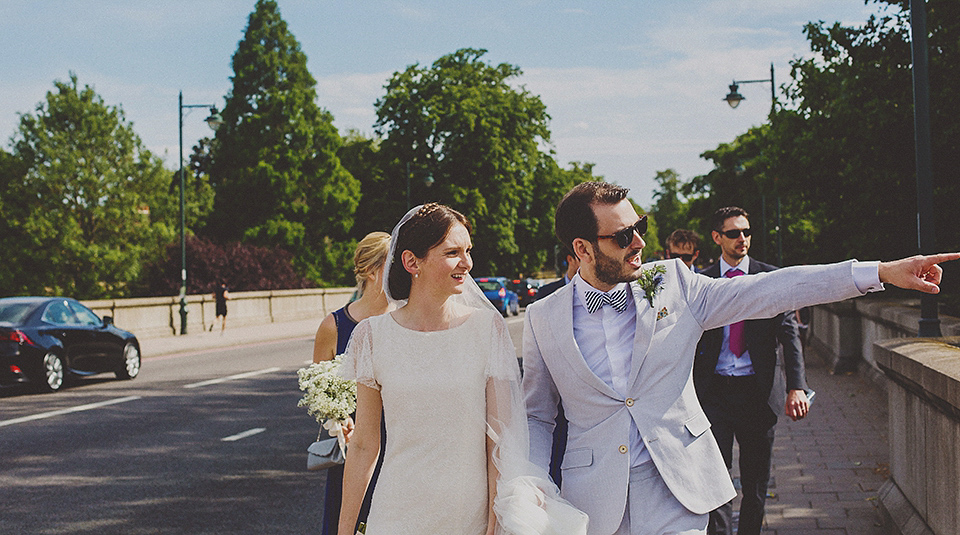 "One of the best things about the Church and Venue being so close was that we could walk between them together with our guests. Walking across Kew Bridge and the Thames on a beautiful sunny day with so many of our friends and family behind us was incredible! The toots cheers from cars passing by made us smile – I even got a 'hot stuff!' from one of the passing cars (although to this day Chris still believes it was aimed at him!"
I just love it when couples are able to walk between their ceremony and venue- it's such a relaxed and friendly sort of way to travel between sites.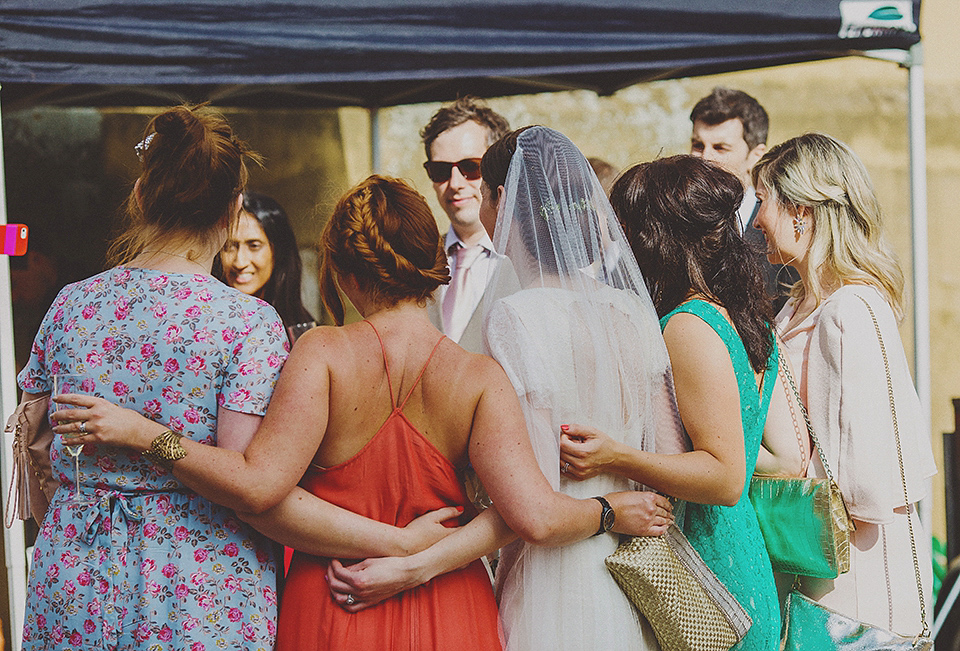 The couple chose Warren Grimes of Howell Jones Photography to capture their important moments.
"Chris and I had spent quite some time looking through various photographer websites- with either one or both of us not liking what we saw- often too stiff and posed.  Howell Jones was the first photographer that we both loved.  We arranged a chat with Warren and knew instantly that he was the photographer for us- even changing our preferred wedding date so that we could have him!  He blended in on the day, and the photos we have are a reflection of the fun we all had on the day. We can't recommend him enough!"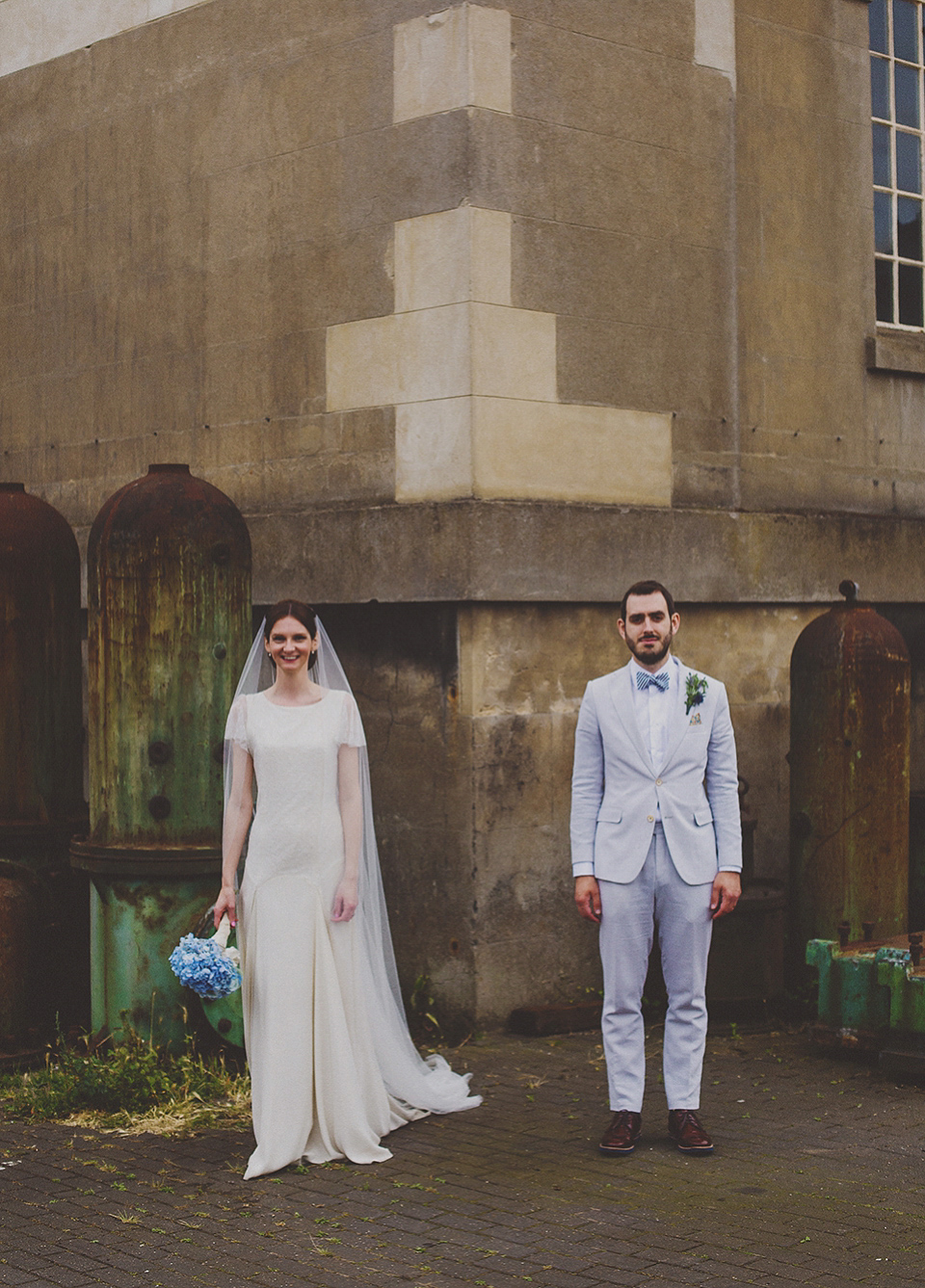 Chris did not have a good time searching for his suit, but he got there in the end and looked very cool in a suit from Zara, with a shirt made by a tailor in Hong Kong, a bow tie and pocket square from Mrs Bow Tie, and shoes from Ted Baker.
"The suit search was a nightmare, far more difficult than finding Anna's dress.  It felt like I'd visited every tailor and every high street store in and around London, until randomly one day I popped into Zara in our home town and found the one."
"It turned out that because I'd looked in winter, it was simply the fact that the summer ranges weren't out yet, and that had been the difficulty.  Because it were such good value, the groom, best man and groomsmen were able to match – which wasn't necessarily the original plan.  The men all wore a navy bow tie but each with different white patterns (various combinations of spots and stripes).    
Everyone's shoes had crazy blue soles, and much care was taken selecting a pair of socks for each of the men to reflect their personality (dinosaurs, mountains etc)."
 Lionel the dog had a bow tie to match the Groom made by Chris' Mum.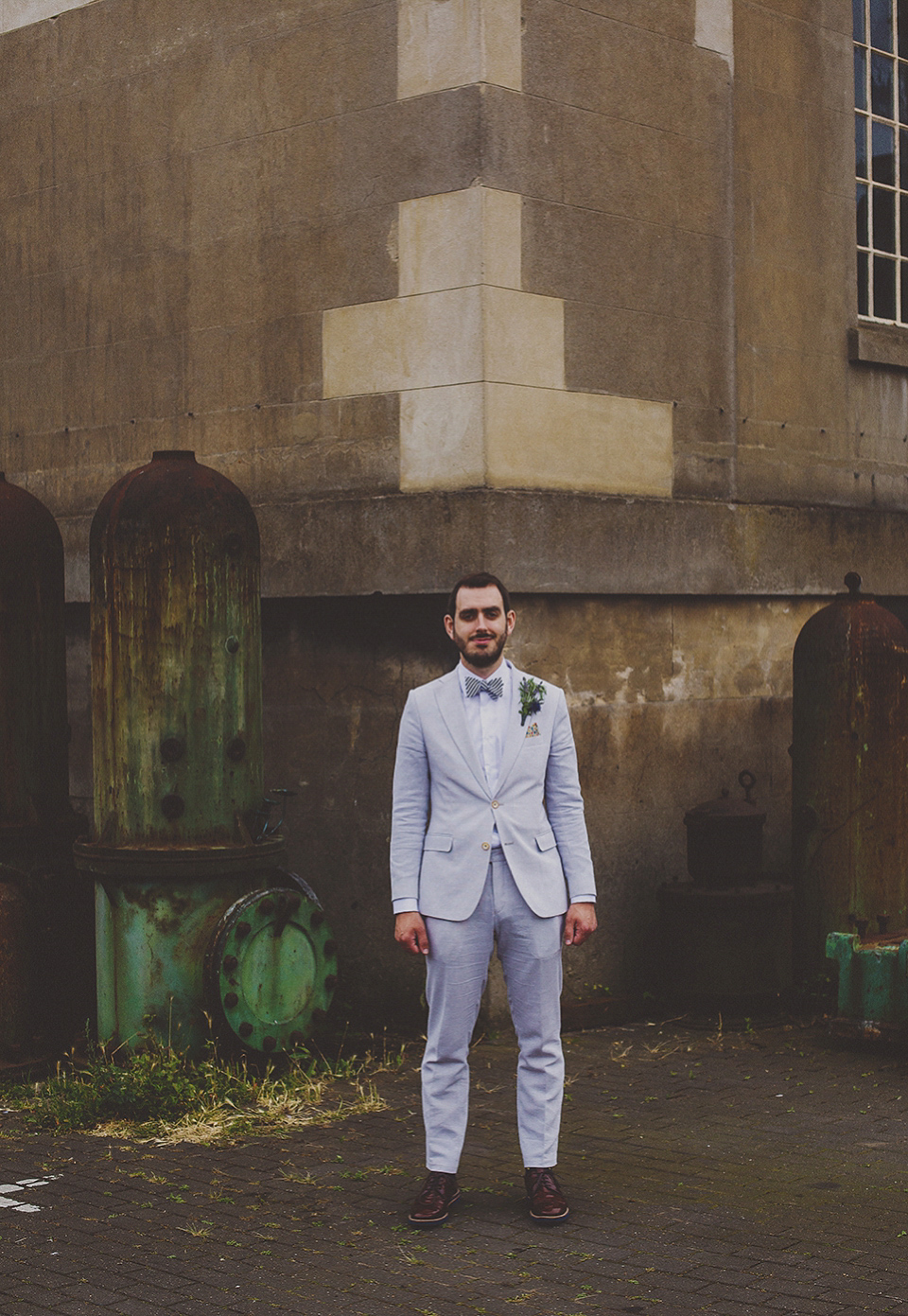 "We managed to pick up a job lot of wooden, vintage skis with no real idea what to do with them (thanks to Chris's dad taking a trip to the Scottish borders).  Luckily, as I was flicking through Pinterest one day I spotted a table plan mounted on skis- that got rid of one pair. We used another set as our guest book and now have them hanging in our house. Another two pairs were used as a set of shelves on which to serve the scotch eggs and pork pies in the evening."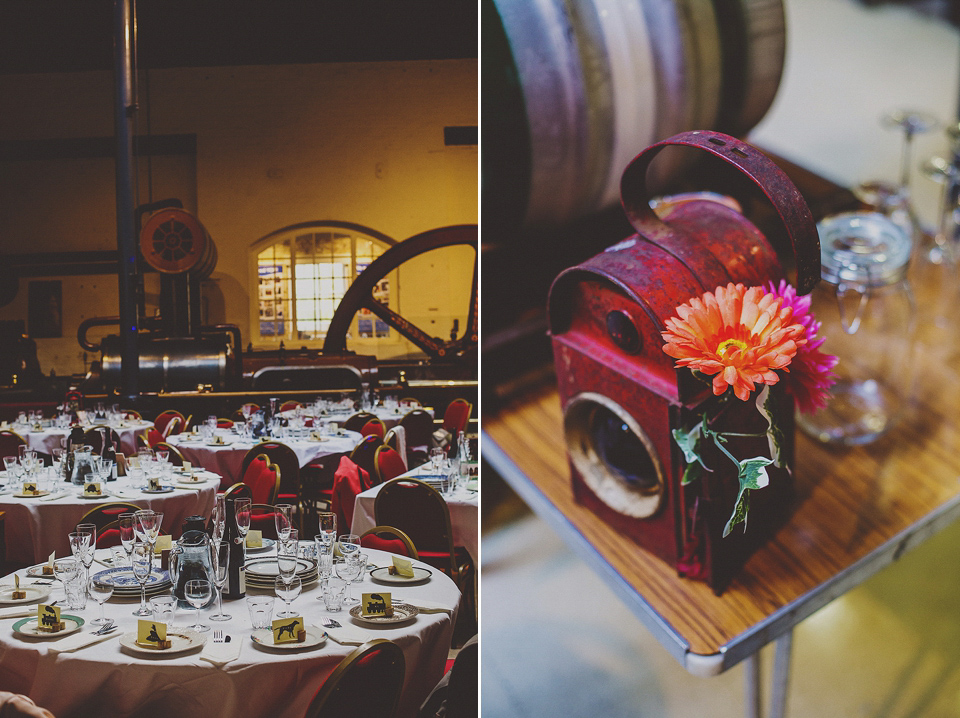 Chris had a ridiculous idea of building the bar for the evening reception, and then spent several evenings in the two weeks before the wedding with one of his ushers making this ridiculous plan into a reality! However, I am so glad he did. It looked fantastic and we now have the bar from our wedding in our garden ready to use for barbecues in the future.
The pièce de résistance a "shot ski" – four shot glasses glued to a ski, and I don't think there was a moment from when the music started where someone wasn't filling the glasses with Jaeger and lining up four unsuspecting participants – including the father of the bride!"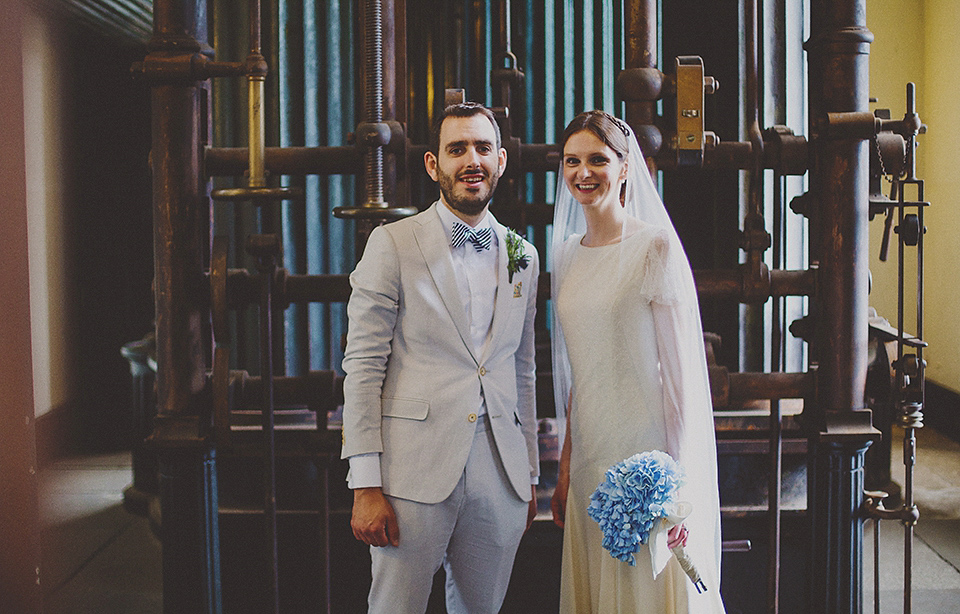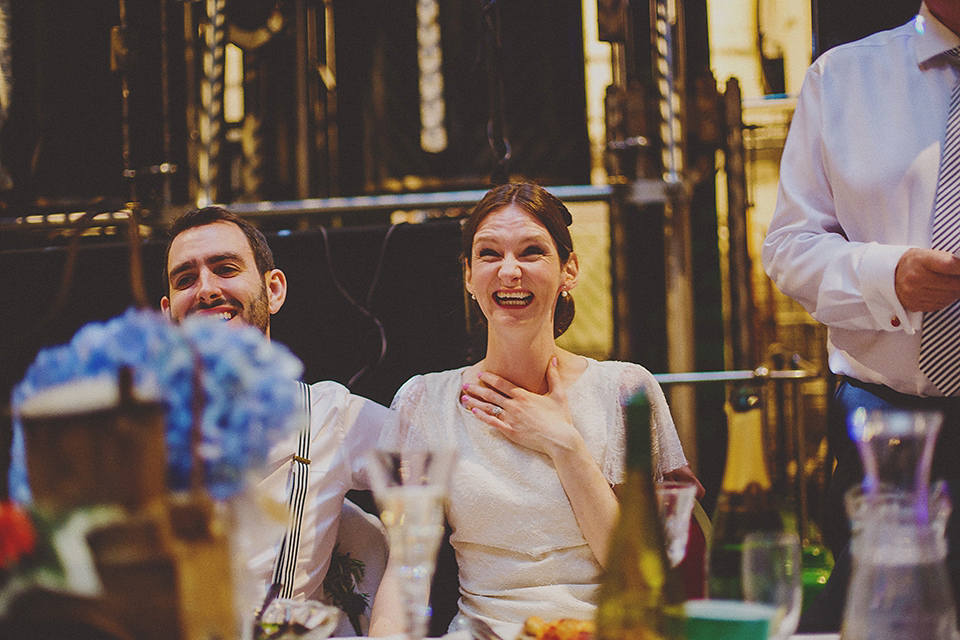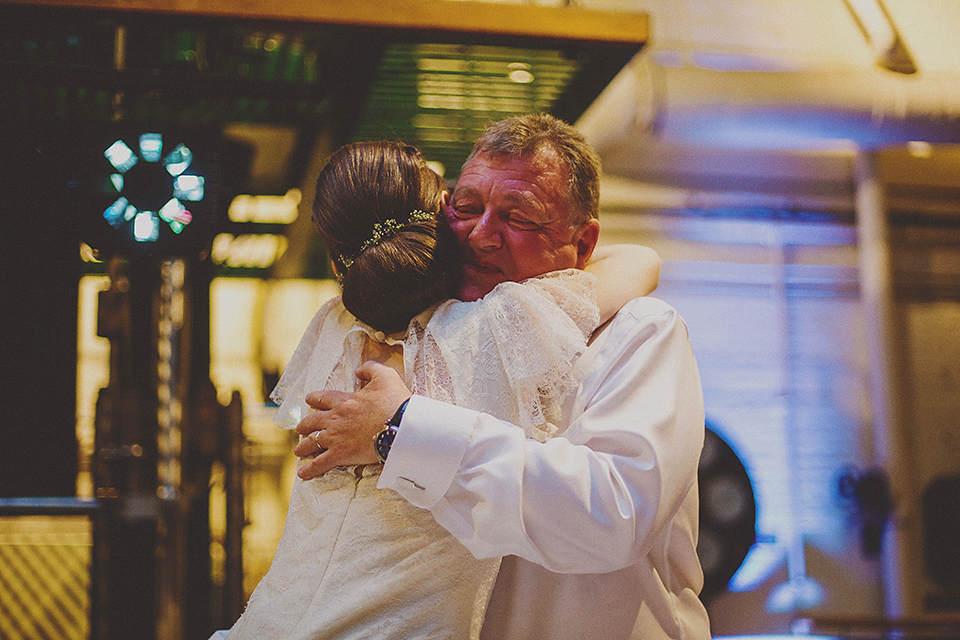 "We didn't want to have a really formal 3 course meal, so Dough Bros brought a wood fired pizza oven to the venue and guests had a choice of 4 pizzas on the day. The starter was a sharing antipasti platter of meats, cheese, olives, garlic bread and salad, followed by the pizza and then the cakes made by friends for dessert.  Scotch eggs and pork pies were provided as evening munchies."
The newlyweds, wedding party and guests danced the night away to music provided by DiscoWed– Anna tells us the dance floor was full all night, and judging by the pictures, she wasn't wrong!  Guests were also treated to a bar created by Chris and his ushers, and the dubious charms of the 'shot ski'….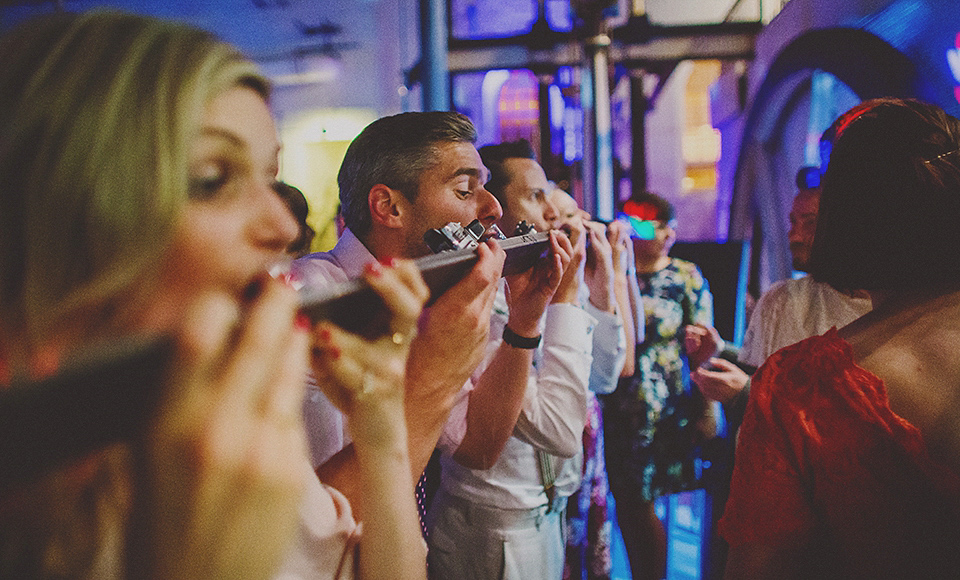 "Apart from seeing Chris' huge smile as I walked down the aisle, my favourite part of the day would have to be the evening reception.  Seeing so many friends and family all in one place, dancing and enjoying themselves made all of the stress more than worth it!  We'd like to think the day, apart from being a celebration of our marriage, was also a thank you to our friends and family for their support over the years."
"Because we'd organised everything ourselves and not having a central event planner as such, it did make staffing the day difficult.  With the best will in the world, we gave Chris's sister and mum a really tough task in bringing everything together and we didn't have quite enough staff on the day- we could have done with a few more hired pairs of hands.  There isn't really anything about the day we'd do differently, other than maybe hiring an event planner with access to their own staff, just to take away some of the burden on Chris's sister and Mum.  We can't stress enough how indebted we are to them for what they managed to achieve, but it would have been nice for them to chill out more on the day."
Words of Wedded Wisdom
 "Involve your Fiancé!  Chris did so much of the planning and organising for our wedding (possibly more than I did) and it meant that the day was very much 'us' and not just my ideas."
Thank you thank you Anna and Chris, and of course, Warren of Howell Jones Photography for sharing these lovely words and wonderful images.  I feel rather inclined to throw a fabulous party after looking through those reception photos!
All love,
Shona x
Photographer – Warren Grimes of Howell Jones Photography
Venue – St Anne's Church on Kew Green + London Museum of Water and Steam
Wedding dress – Lace Willow by Belle and Bunty purchased from Miss Bush Bridal
Veil – Richard Designs, also purchased from Miss Bush Bridal
Shoes – Aldo
Accessories – Vintage pearl earrings
Perfume – Ellie Saab
Bridesmaids' dresses – Oasis
Shoes – Each wore their own
Groom – Suit, Zara, shirt made by a tailor in Hong Kong, bow tie and pocket square from Mrs Bow Tie, and shoes from Ted Baker
Rings – Bourbon Hanby, Chelsea
Cake – Made by friends and family
Catering – Dough Bros Pizza
Hair stylist – Lucy Hayward of Hair That Turns Heads
Entertainment – Disco Wed
Stationery- Designed by Chris