Hello again, it's great to be back on Love My Dress and sharing the next feature in my down-to-earth guide to wedding planning. Firstly, I just wanted to start by saying a huge and heartfelt thank you to you all for your continued support, comments and positive feedback to my rather lengthy (!) and slightly controversial two-part January feature – things to watch out for when planning a wedding.  I do so hope that you found both part one and part two enlightening and useful.
Let me reassure you right now that today's feature isn't quite so hefty in terms of the word count but, in many ways, it's equally as informative as I'm guiding you through ten common wedding planning mistakes and how to avoid them.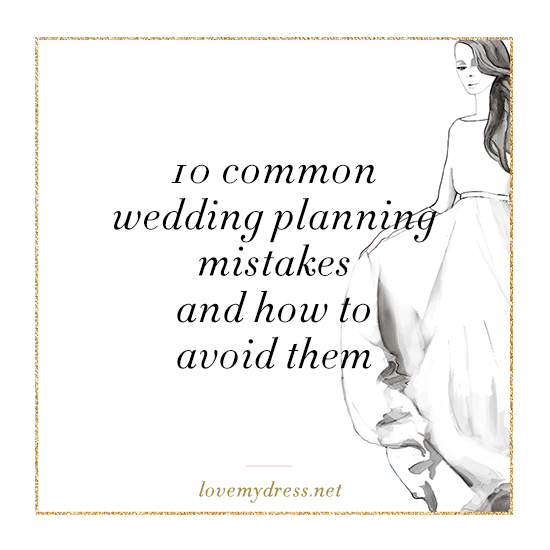 So what exactly do I mean by the word 'mistakes'?  In a nutshell – I'm covering the fundamental errors, misconceptions and oversights that can and do make the experience of planning a wedding, and as a result, the Big Day itself, a lot less enjoyable.
It's important to remember however that these mistakes are as easy to rectify as they are to make in the first place.  If you read this feature and catch yourself thinking 'oh help, I've done that!' then please don't panic as you're certainly not alone – most of us would admit to regularly making at least a couple of these mistakes.  Just take a little bit of time out to read my advice and see if there's anything you can adjust or change.  If you're stuck with what to do next, simply leave me a note in the comments box and I'll do what I can to help you out…
Planning, Not Thinking
Let's start with an all-too common and relatively easy mistake to make – planning without thinking.  You know, with the excitement of it all when you just start ticking things off the wedding planning to do list without really thinking things through or considering what you're doing. You might fall in love with a venue and book without considering how this might affect the number of guests you can invite, the amount of money you'll have for catering or even how the venue will influence the style of your day.Do you remember those school science lessons when you were told that everything action has an equal and opposite reaction? The same is true with wedding planning – everything you do will have consequences further down the line so don't sleepwalk into things without having consciously decided that this is what you really want.So, if you can, try to start out on the right track.  Before you start booking or even researching your venue and key suppliers take time to think about what kind of wedding you want, number of guests, locations, your budget and budget priorities.  Thinking about and understanding your requirements from the outset will ensure you that you have a solid planning foundation with less risk of consequences later down the line.
Panic Booking
Now I have to admit that perhaps the wedding industry itself is partly to blame for this common planning mistake, especially when we repeatedly tell you to book your suppliers as early as possible.  And, whilst this is true, it does not mean that you should rush out and book the first suppliers that you see.Yes, a friend might have used them for their own wedding, their price might be what you'd budgeted for or they might have a photo of your wedding venue on their website but these reasons alone are sometimes not enough, especially as your dream team of suppliers will have a huge impact on your happiness both before your wedding and on the day itself.If you have the luxury of time on your side then I'd thoroughly recommend using it to make enquires with between 2-4 suppliers per supplier category and then comparing portfolios, styles, prices, packages, client feedback, social media accounts and terms & conditions before signing on the dotted line.  This way, you'll be choosing the suppliers that are the best fit for you, your wedding and your budget.
Not Having A Plan B
Whether the notoriously 'interesting' British climate gets in the way or something doesn't quite work out as you'd hoped, wedding plans are only ever perfectly infallible on paper.  Whatever you do, make sure you have a Plan B because then, and only then, can you face down those wedding day hiccups with a smile and a shrug of the shoulders before heading onwards to something you're equally happy with.  You might have dreamt of drinks on the lawn or an outdoor ceremony but which space inside your venue would be your first choice should you need a wet weather alternative?  If you make these decisions before your wedding day you'll be sure of getting the day you'd hoped for, whatever might crop up.
Time Troubles
This is certainly an easy mistake to make because let's face it, until you start planning your wedding, how on earth would you know how long it takes to serve a three course meal to 120 people, how long it takes to organise and arrange group photos, or how much time to allow for hair and make-up for your bridal party?!  Of course you don't, which is why it's absolutely essential that you ask your wedding suppliers, as early on as possible, for advice on the key timings of your day as you don't want to be rushed and neither do you want long lulls.If you want your wedding breakfast to start at 5pm, ask your caterers when dinner should be announced to make sure that everyone's seated in time.  Check in with your hair and make-up artists and photographer to ensure that there's enough time for photos once you're all ready in the morning etc. etc.!
Overcomplicating & Second-Guessing
Again, this is another all-too common mistake and one you'll probably find yourself doing over and over again, especially in the middle of the night! Stressing about the small stuff, doubting your decisions, over thinking and over complicating every element of you wedding planning will certainly suck the enjoyment right out of the planning process and there's really no need.If you've done all of the preparatory work (setting your budget, deciding on your priorities etc.) have chosen your suppliers with care, have done your research and have stuck to your budget then you've done everything right.Make your decisions carefully and then try to leave them be as you may end up falling out of love with your wedding if you go over everything time and time again.
Trying To Please Everyone
This is a mistake that we all make with the very best of intentions!  We desperately want everyone to enjoy themselves and we often want to give those closest to us what they want, sometimes at the expense of our own happiness.One of the biggest flashpoints can often be as a result of the difference between tradition and modern wedding etiquette.  Yes, your Mum might have mentioned how lovely receiving lines are at least forty times but that certainly doesn't mean that you have to have one!  If you want your Mum and Dad to walk you up the aisle, then it's your wedding and you can do whatever you want!  And you know what… if someone doesn't like it, then so be it.I'm not advocating horrid selfishness at the expense of manners but I am urging you to make sure that you get the wedding that you want, not a hybrid of a hundred expectations.
Wearing Wedding Planning Blinkers
I know that wedding planning can be an exciting experience but life does go on whilst you're planning your wedding and losing yourself in the world of wedmin for months on end can actually be a pretty lonely experience.Remember your friends, remember your family and most of all, remember the person you're marrying! Your wedding certainly is a big occasion but the marriage that comes after it is really is what it's all about so do make sure that you look after your relationship as well!
Trying To Be Wedding Superwoman
Let's not beat about the bush here, weddings involve a lot of hard work and take up a considerable amount of time.  Whether you're running around in the days before your wedding collecting suits, moving signage, stationery and accessories to your venue or finalising all of those last minute details, your wedding can be a like a spoiled child, demanding your time and attention, even on the big day itself.Don't fall into the trap of trying to do everything yourself or of being afraid to ask for help – your wedding day won't be any better if you've run yourself ragged and you definitely won't enjoy your wedding anywhere near as much if you're trying to manage the day itself.  Whilst it might feel like no one can possibly understand your plans or be trusted with jobs, they can and your friends and family will probably jump at the chance to help… if you asked.  Go through your to-do list, find the things that take up a lot of time or are easy to delegate and ask for help.There are no awards for the bride who does every single thing herself but the reward for the bride who can delegate is the one that's really worth having because you'll be chilled rather than frazzled.My guide to jobs you can delegate here on Love My Dress really is a must read if I do say so myself!
Ignoring Your Budget
If there's one thing that can suck the joy right out of wedding planning, it's the budget. The thought of sitting down and deciding how much you can afford to spend and what your priorities are isn't going to make anyone's list of great wedding planning experiences. However, if you ignore your budget, you really do run the risk of not enjoying your planning at all.  It costs a lot of money to have a wedding and your wedding budget is your bank account without the overdraft – you simply shouldn't spend more than you have, unless you can cut costs elsewhere.My top budget planning tip is to build in a contingency fund of around 5-10% of your budget for any unexpected costs.  So, if your dress alterations cost a little more than you thought, you hadn't accounted for supplier meals or you've spent a little more on details and décor, then having a contingency fund will mean that you're (hopefully) covered and that you won't go over-budget as a result.
Planning On Pinterest
Used in the right way, Pinterest is an invaluable and essential planning tool as it provides an easy-to-use platform to source inspiration and advice, determine your style and preferences, compile and share your ideas and visualise the details and design of your day. However, please do remember that planning your wedding with Pinterest solely as your guide is not a great idea.Firstly, so many of those beautiful images aren't from real weddings, they're from styled shoots where a huge team has taken hours setting everything up perfectly for each shot without 'real life' intruding.Also, try to remember that although your pins might look pretty on Pinterest are they stylistically consistent, realistic / practical and can they be achieved within your budget?Pinterest is a wonderful source of inspiration, it's a starting point for your own plans and it's a great confidence boost if you'd like to do something different, but it's not and simply can't be your step-by-step guide to a personal and individual wedding.
So, have you caught glimpses of yourself in this feature at all? Is there anything else you'd like some advice on? It would be great to hear from you so please do leave a comment below and I'll be more than happy to help.
Love Kat x
Wedding & Event Planner Katrina Otter specialises in bringing beautiful, timeless and classically elegant wedding design to life, adding a touch of contemporary styling to create exquisite, perfectly organised weddings throughout the UK.  Whether you'd like help organising your entire wedding, managing the day itself, creating the design for your day or finding the perfect venue or team of suppliers, Katrina can tailor her planning services to provide precisely the right level of support you require. Katrina is a regular contributor to Love My Dress. Visit her webpage at katrinaotterweddings.co.uk.