Happy Thursday lovely ladies, we've nearly made it to the end of the week and I have a gorgeous winter wedding to share with you all, sure to coast you beautifully into the weekend. Did you catch the gorgeous Christmassy love affair featured by Emily B on Tuesday? All of these wintery delights are making me long for crisp mornings and steaming hot chocolate.
Today's couple, the beautiful Shani-Marie, owner of a British made home and gift website and Chris, owner of an air conditioning company, orchestrated a truly stunning winter wedding weekend commencing on 19th February at Dewsall Court in Hereford. Let's start by taking a peek at their touching wedding video created by RL Films Co.
https://vimeo.com/157714661
"My favourite colour has always been purple so I had the idea that I'd like a winter wedding with different tones of purple. I noticed berries and metallics featured significantly in my favourite Pinterest images, which led me to choose a 'winter berries and sparkle' theme for our wedding. We even asked our guests to dress with the theme in mind and they wore some beautiful outfits which looked great in the photographs."
Photography by Melissa Beattie
As a petite bride, the brand new Mrs Adams was worried about finding a non-traditional dress she loved that would also suit her. Then she discovered the beautiful embellished designs of Anna Campbell and much as she and Chris 'just knew' when they visited Dewsall Court, Shani-Marie had found her dress designer in an instant.
"Our wonderful photographer was Melissa Beattie, who I'd met at a bridal fair that I went to with a friend before I was even engaged. Her romantic, fine art images stood out to me instantly so I secretly kept her card until Chris proposed. She was the first person I contacted when we had our date. Melissa's images are so beautiful that I actually would have changed our wedding day if she couldn't make it."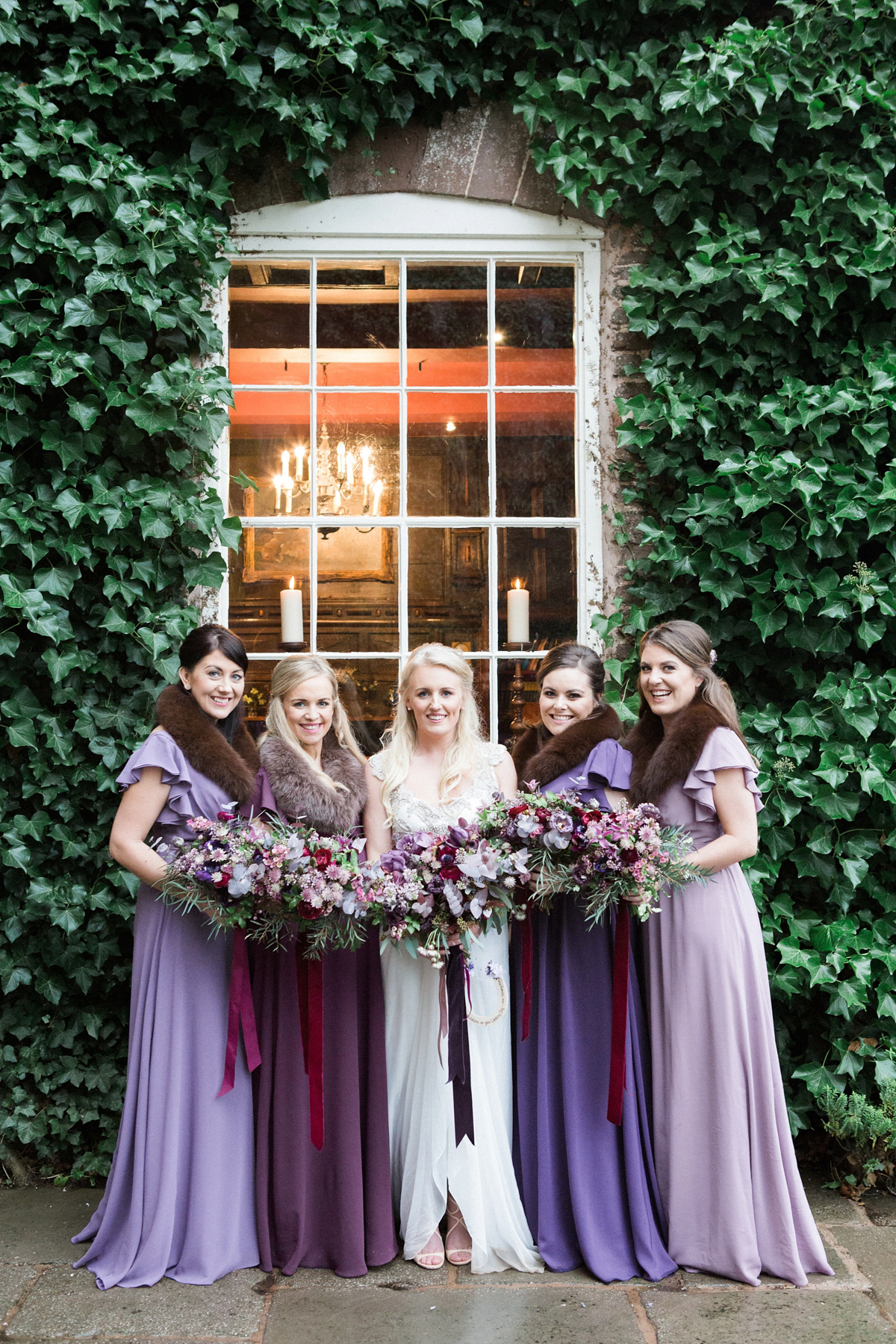 On the advice of her married friends and worried that the day would fly by too quickly, Shani-Marie discovered the concept of the 'wedding weekend' and it all flowed from there in four short months of planning.
"I came across the beautiful Dewsall Court and fell in love with the idea that we could take over our own country house for the whole weekend. I quickly arranged a visit and Chris, my bridesmaid Lucy and I drove three hours one rainy Sunday. The lovely staff made us so welcome and I loved that it was family-owned and quirky. As we drove away, Chris said 'we have to get married there.' I didn't think he'd be too bothered about the venue so the fact that he loved it made me want to turn back and book it there and then."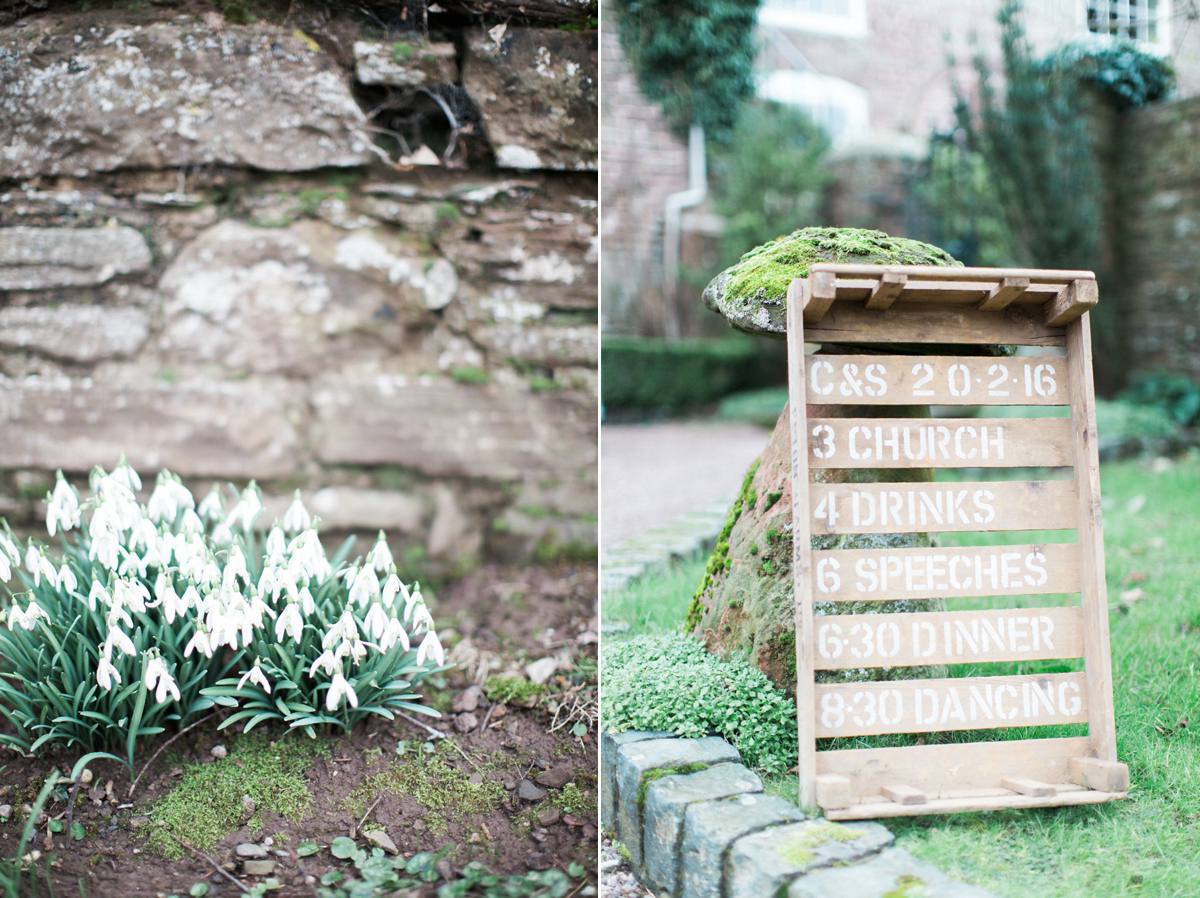 "We settled on a weekend in February, less than four months away. I'd always liked the idea of a winter wedding and didn't want to wait another year seeing as we'd been together for eight years. Because we weren't from the parish we couldn't legally get married in St Michael's church on site, but the staff at Dewsall turned this into a massive positive as they suggested a private legal ceremony in the house the evening before. Joined by thirty of our closest family and friends we had a short ceremony  followed by elderflower prosecco and a relaxed meal in the beautiful conservatory."
"Chris and I met whilst on holiday in Mallorca almost nine years ago – me on a family holiday, he on a boy's trip to Magaluf. One of Chris's friends happened to be my cousin Adam who introduced us. At nineteen, I'd never had a boyfriend before but he made me feel comfortable and treated me like a princess – I knew he was the man I wanted to be with forever.
The proposal story I tell is that we landed on a glacier and Chris gave me a rock! Whilst on holiday visiting family in New Zealand we went on a helicopter trip to the beautiful Mount Cook. As we took off, Chris looked grey and sweaty but I thought he was scared having never been on a helicopter before. However, as we walked out onto the snow, Chris asked me to take a photo of a random rock whilst he got down on one knee behind me. He presented me with the most beautiful ring and of course I said yes and we enjoyed two weeks in New Zealand celebrating (and drinking lots of locally made wine) with family."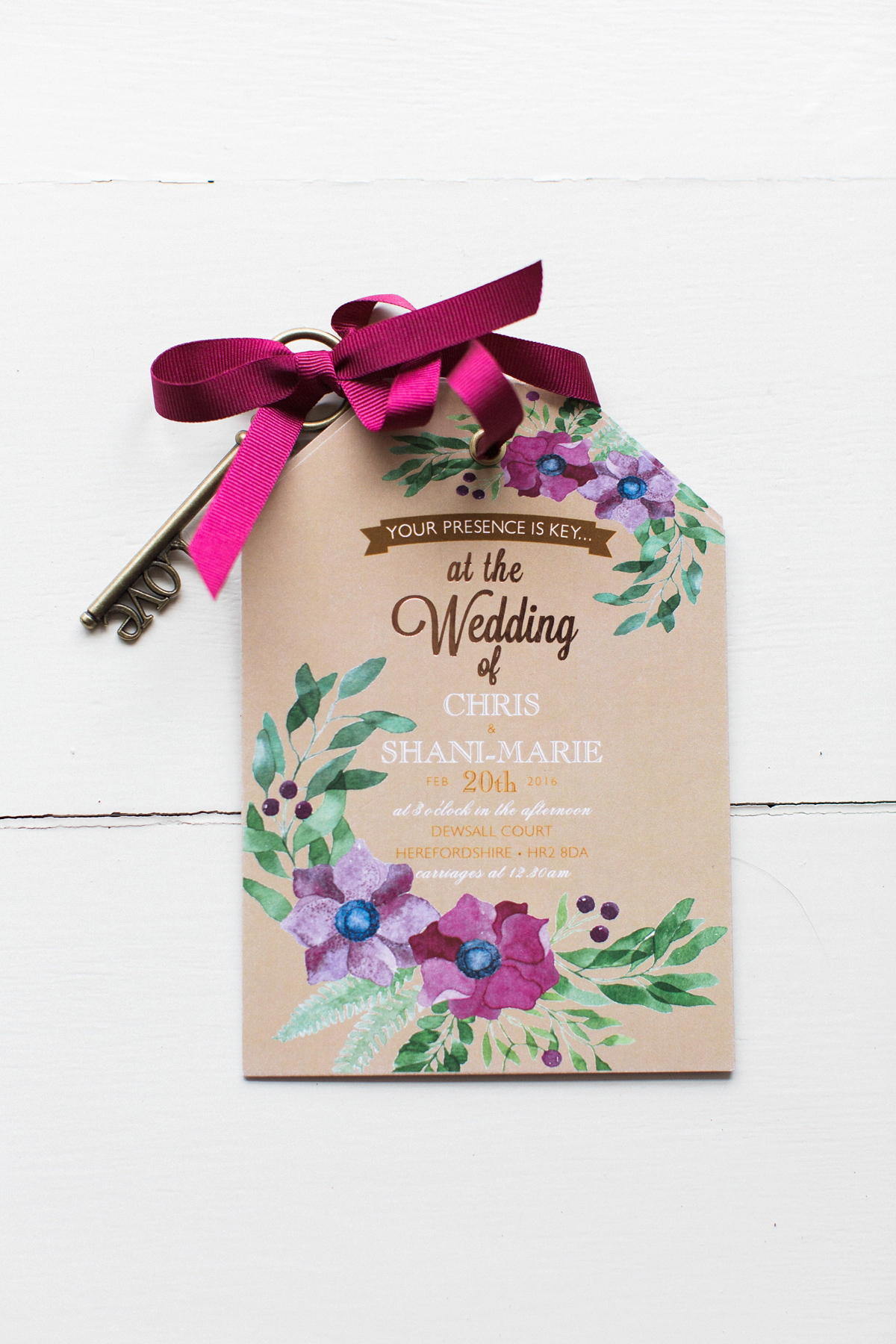 A school friend and hairdresser, Rosie Palmer, added volume to the bride's flaxen locks with discreet extensions and created a softly tumbling style which perfectly complemented the natural, pink-hued make-up, applied expertly to Shani-Marie's sensitive skin by Liz Clough.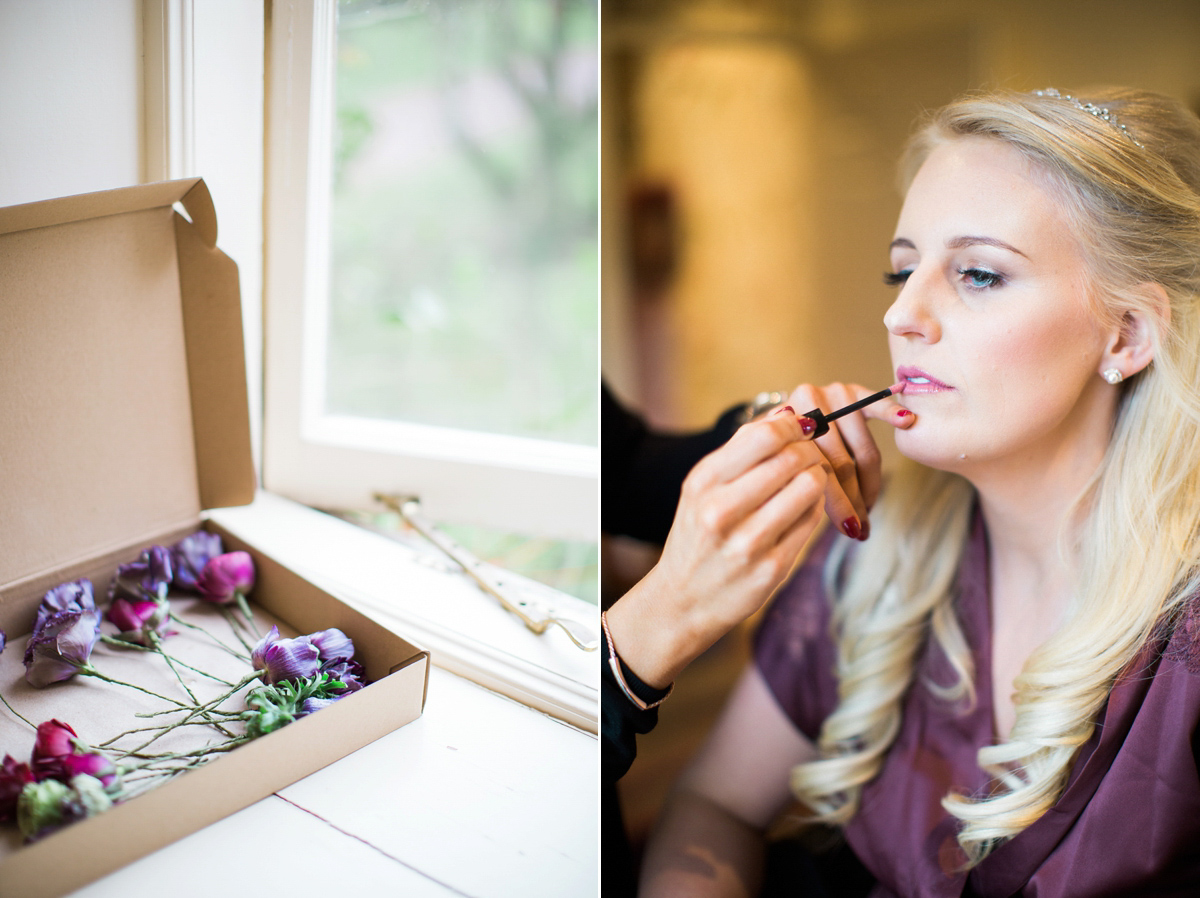 "Before Chris proposed, I'd been helping an engaged friend look online for potential wedding dresses. We had the conversation about what style I'd like to wear, hoping Chris would propose one day, and I thought I'd find it difficult to find a dress that I loved because I'm small and didn't like traditional wedding dresses. We came across Anna Campbell and I loved every one of her designs. I remembered the name but thought I'd never be able to wear one as they are made in Melbourne."
"After Chris's proposal in New Zealand a few months later, we just happened to visit Melbourne before returning home. I made an appointment with them and found my perfect dress 'Tallulah' with the help of the lovely shop assistants. Before I ordered it, I also managed to try it on at a shop in the UK, taking my maid of honour, my cousin Melanie, and her two year old Maggie. I just wanted their seal of approval and certainly got it when Maggie smiled and shouted 'primpess;' her version of princess."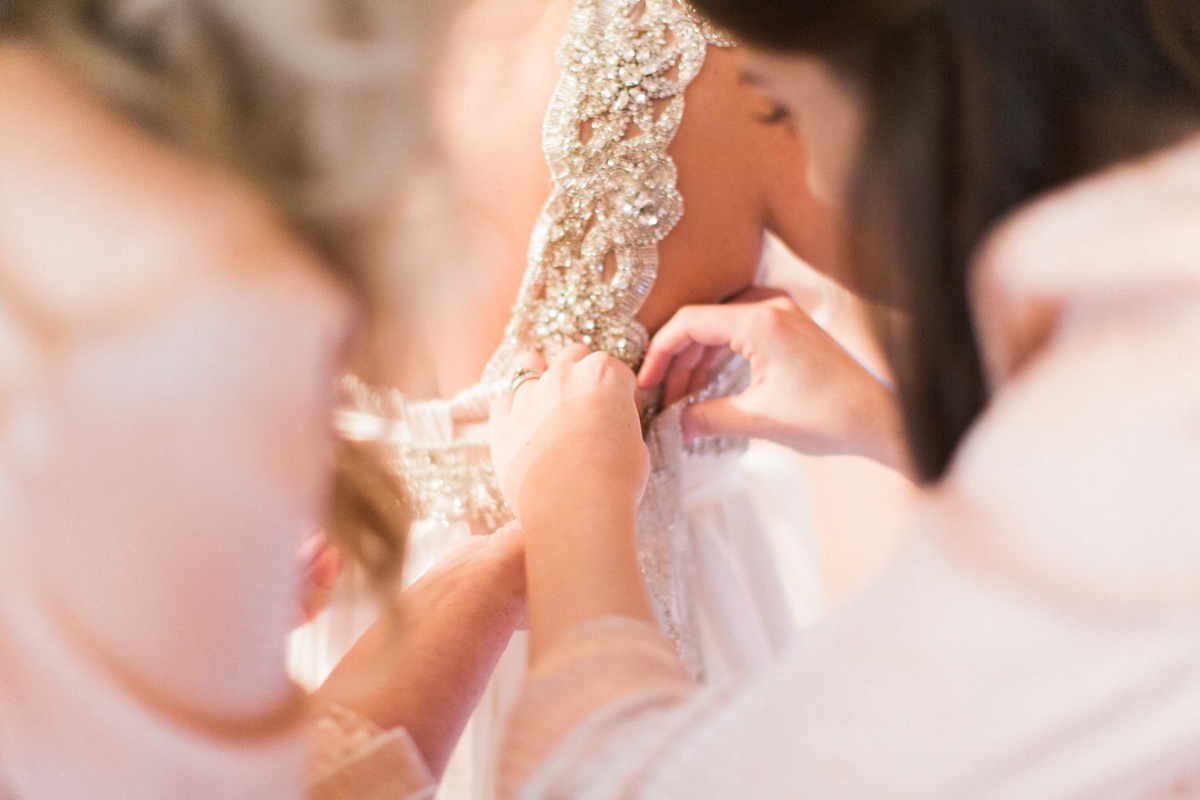 "I knew the gorgeous embellishments and delicate silk tulle fabric would suit my shape and style and I also like that the beading has a classy, vintage feel. Considering the detail and work involved in making the dresses, I was also pleasantly surprised at the cost compared to some more well-known brands. The Tallulah dress felt like it was made for me and I particularly loved that it had beautiful shoulder straps. It was also really light which meant I could dance the night away. Brodie, the shop assistant, also suggested I add the Zoe belt by Anna Campbell which perfectly finished the dress off and brought in my waist."
Shani-Marie added a delicate veil from Dream Veils, made bespoke with leftover embellishment from her wedding dress alterations, and a beautiful diamante tiara by Amanda Wyatt, borrowed from her maid of honour, Melanie.
"As my maiden name is Chew, I had to walk down the aisle in 'Choos'. Luckily, the day I went to try some on, they had all the custom order options in store so I picked the Ivette in blush pink leather (a colour I could wear again). I personalised them by adding gold letters on the bottom with our initials and a heart."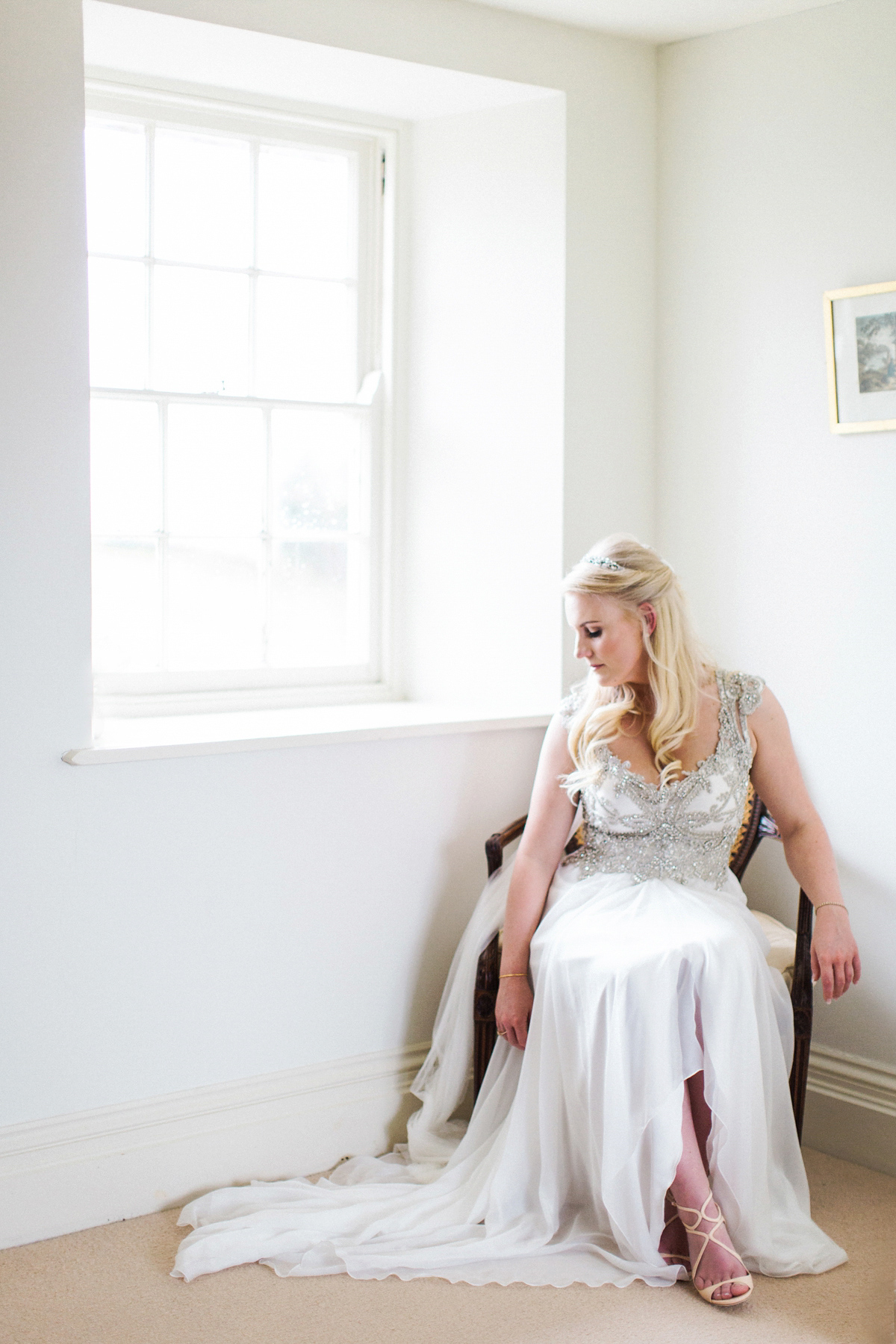 "Juliet Glaves was on the recommended supplier list from Dewsall Court. As soon as I saw her Instagram and heard that she grew lots of her flowers at home, I couldn't wait to discuss my ideas with her. She sent me some beautiful visuals of her ideas to use fruits among the flowers and ivy. My Mum nick-named Juliet our 'flower fairy' as she brought lots of magic to our wedding."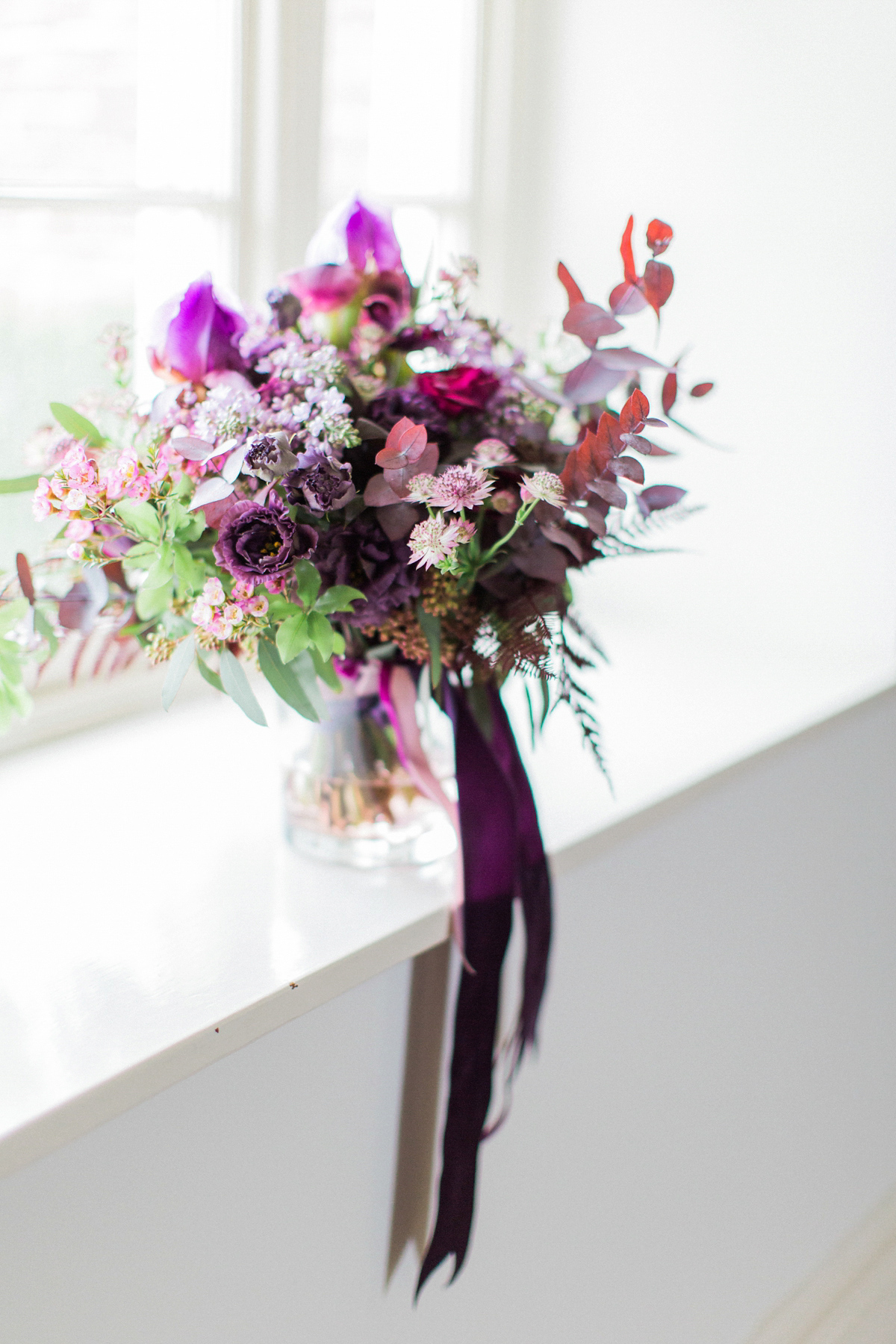 To finish off her bridal ensemble, Mrs Adams spritzed on amber and sandalwood rich Desert Rose by Chandrika Thomas London, an Astley Clarke bracelet gifted by her maids, a borrowed diamond tennis bracelet belonging to her mum and a blue garter from The Wedding Garter Company; a present from her bridesmaid Joanne. Lastly, on the morning of the wedding, the thoughtful groom sent his best man to present the bride with a pair of beautiful rose gold, pearl and diamond earrings, handmade by Guy & Max, who also created the couple's wedding rings.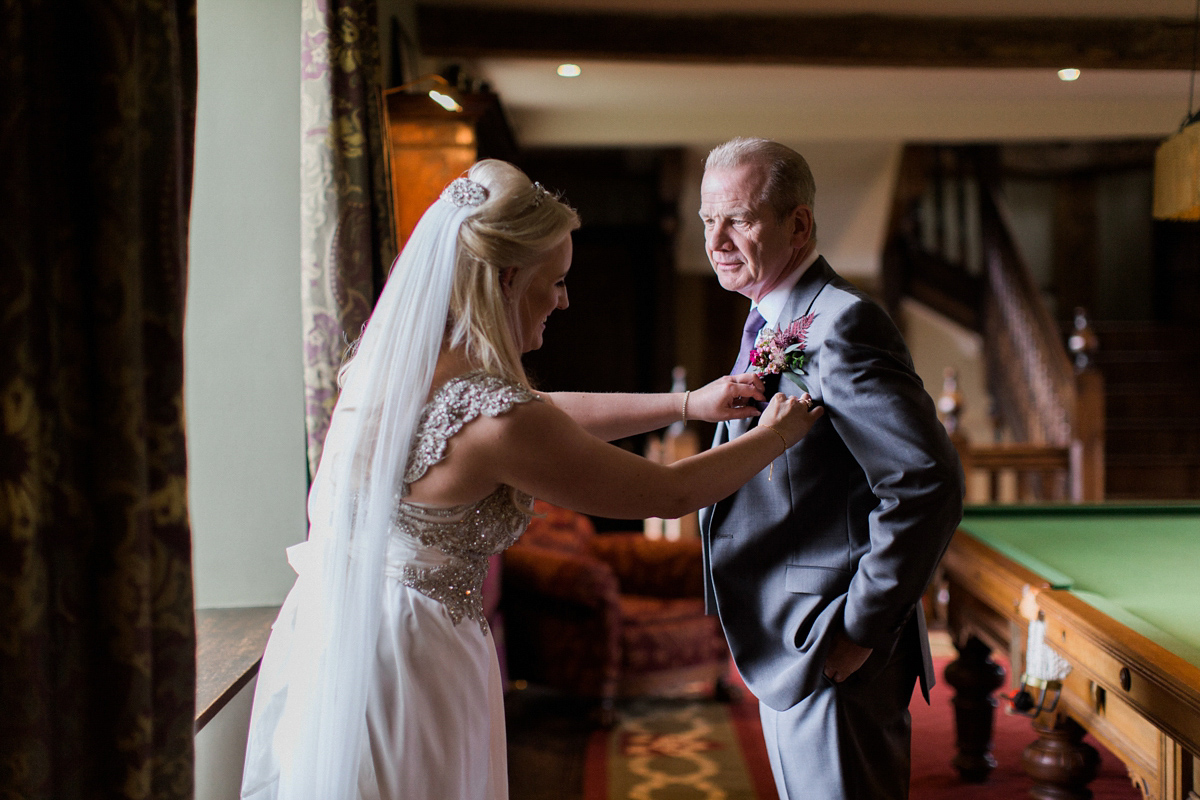 Monsoon, as with so many of our brides, was the first port of call for dressing those all important wedding little ones. We're proud to list Monsoon in our Little Book for Brides; a curated directory of wonderful wedding suppliers.
"My two goddaughters Amelia-Rose and Maggie were my flower girls and they wore Monsoon Estella dresses in pale pink. We also added little fur shrugs to keep them warm. The page boys' five-piece suits were also from Monsoon. The grey herringbone fabric with maroon monkey design ties were perfect for our three little monkeys – Alfie, Henry and Hugo."
Those mini maids look absolutely angelic and super cosy in their cute shrugs and pretty floral headbands. Shani-Marie and Chris' talented photographer,Melissa Beattie, has caught some beautiful fleeting moments of the littlest guests; such beautiful keepsakes to document their childhood.
"On my birthday weekend in January we also had a pre-wedding shoot in the Lake District. It was snowing heavily and although we worried we may all get stranded, Melissa got some beautiful winter wonderland shots. The shoot also broke the ice with us all (especially after I fell on my bum in the snow so many times) so on our wedding weekend I already felt like Melissa was a friend. She is a gorgeous person who I would recommend to anyone."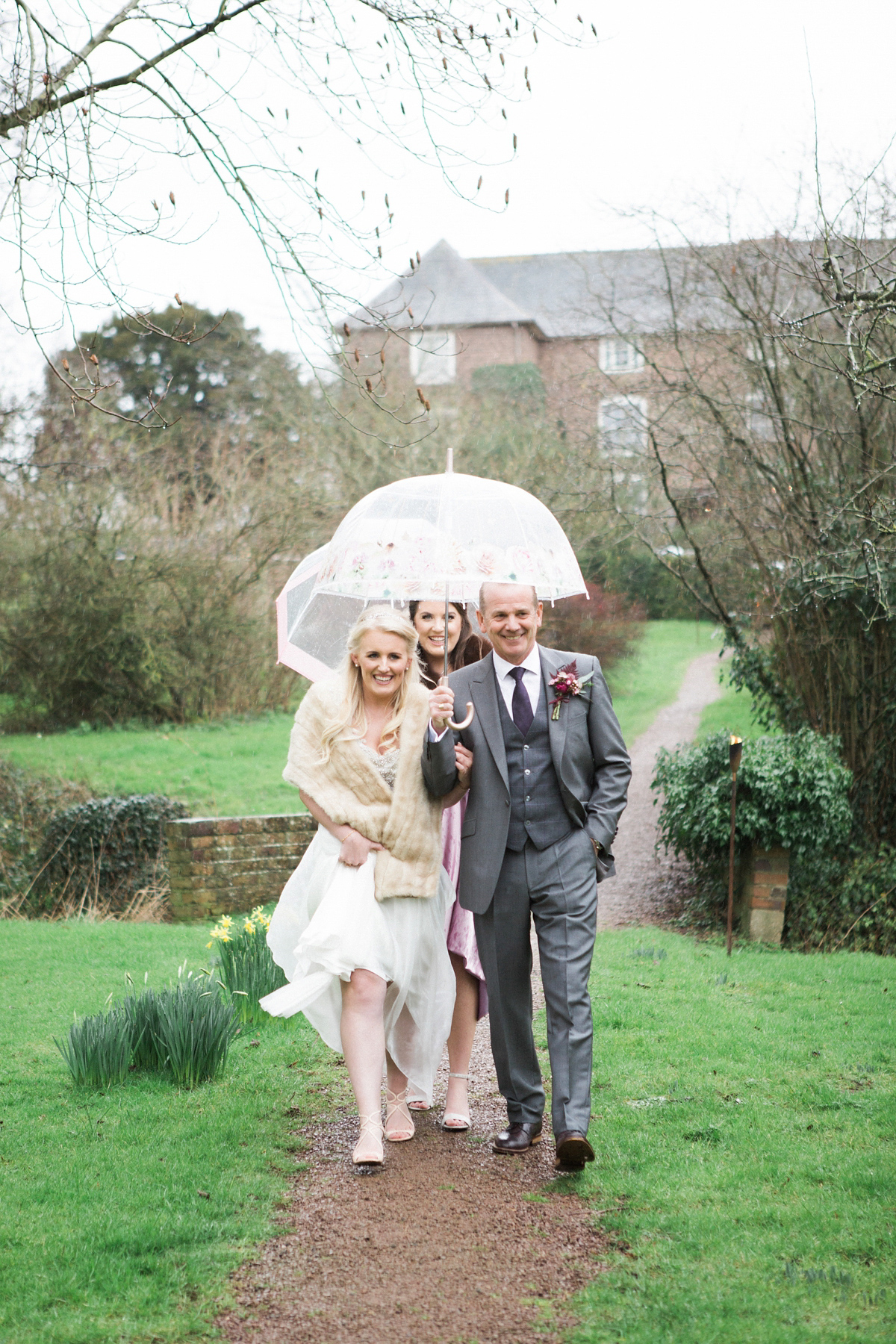 With everything, even the church, onsite at Dewsall Court, Shani-Marie's dad had a very short walk to give her away to the sounds of Trumpet Voluntary by Jeremiah Clarke played on the organ.
"We had traditional Christian vows and my bridesmaid Natasha stepped in to do a reading at the last minute when we were let down by another guest. She had heard the Bob Marley reading at another wedding and thought it was very appropriate for us and we completely agreed."
"My vintage style rose gold engagement ring was handmade by Guy & Max in London so we asked them to make our wedding rings too. My wedding ring is a simple thin rose gold band with diamonds and Chris chose his rose gold ring from their unusual honeycomb collection. It's a real work of art and he gets lots of compliments for it."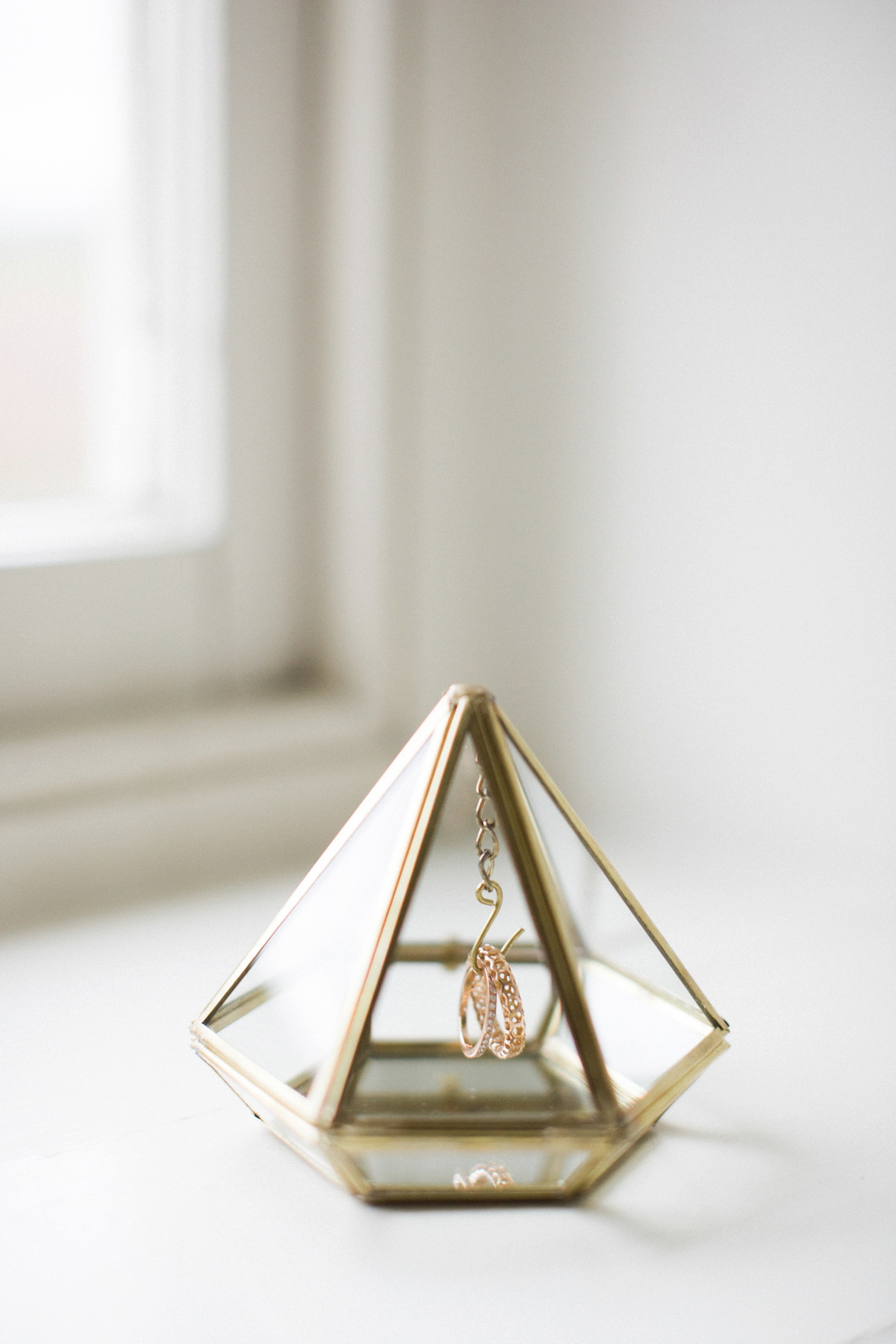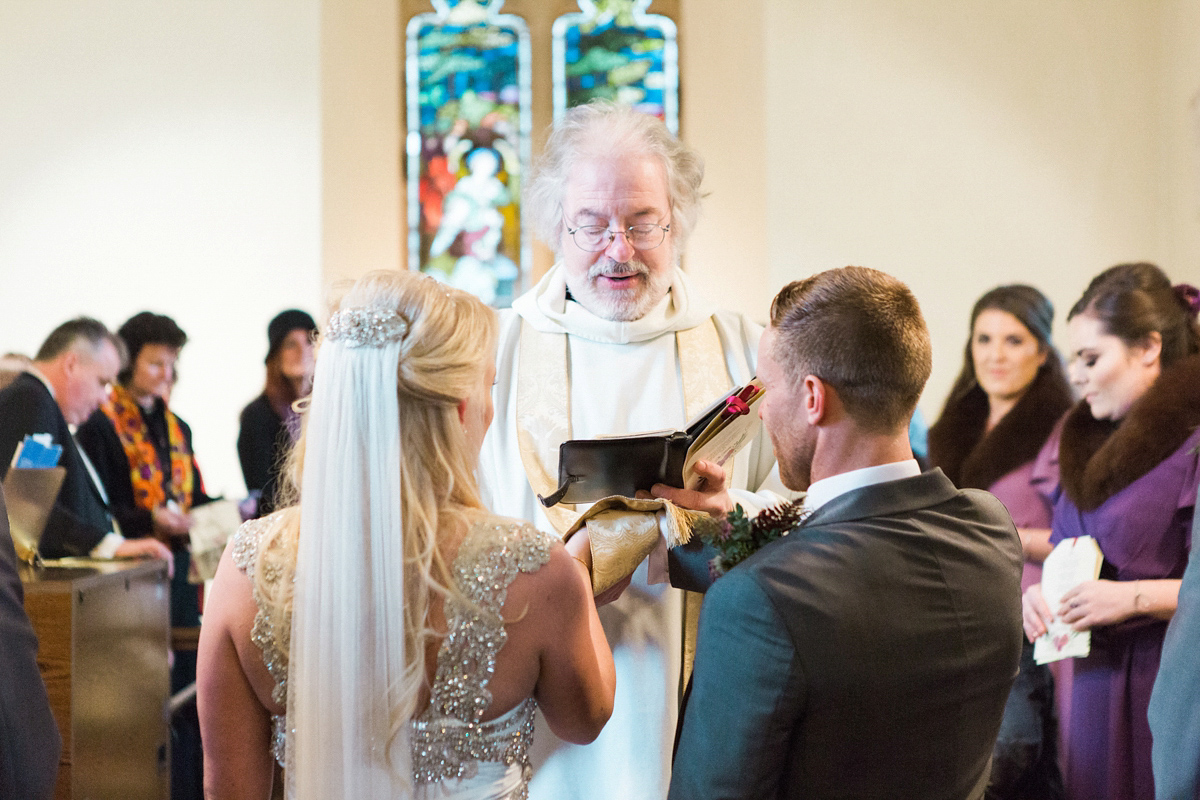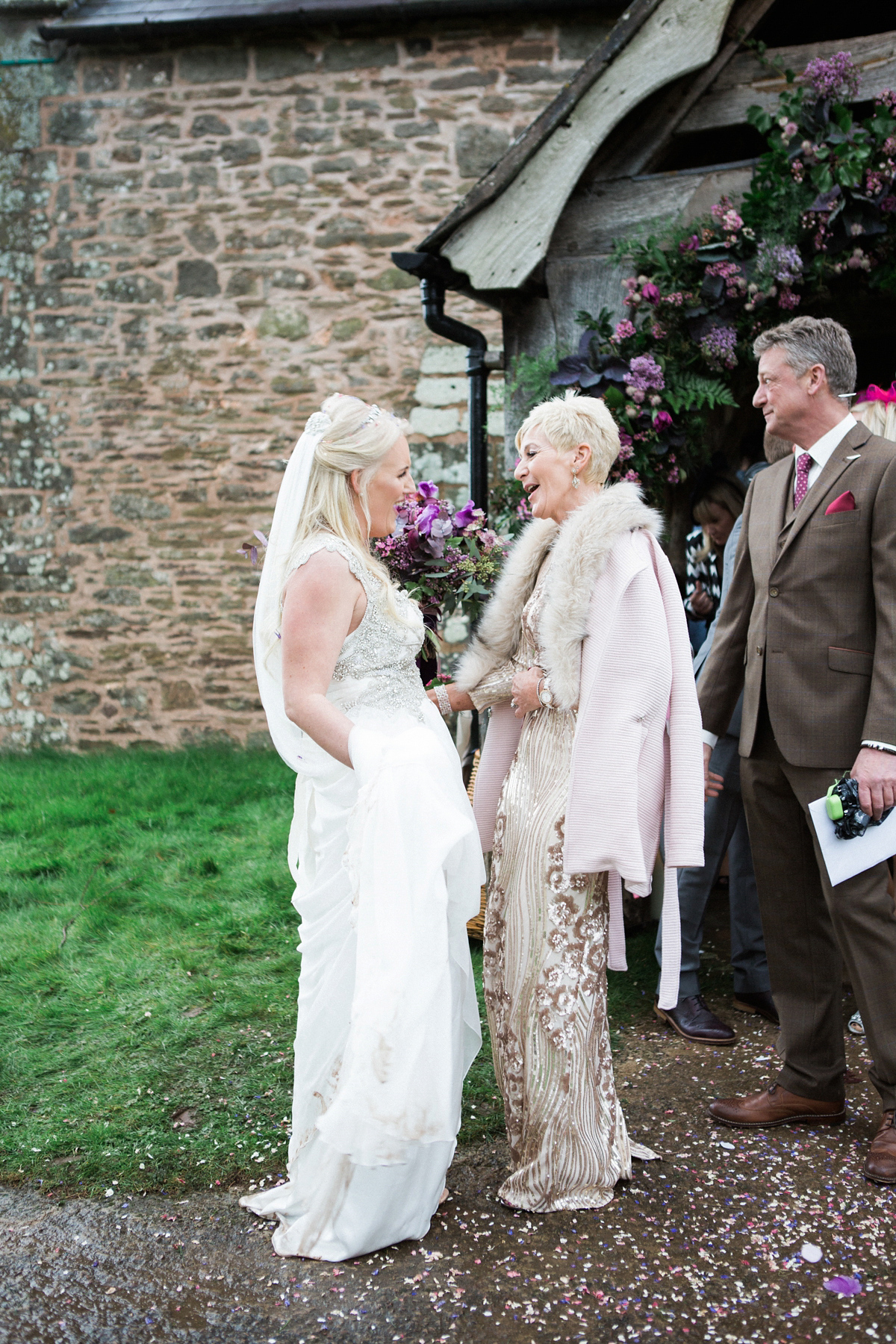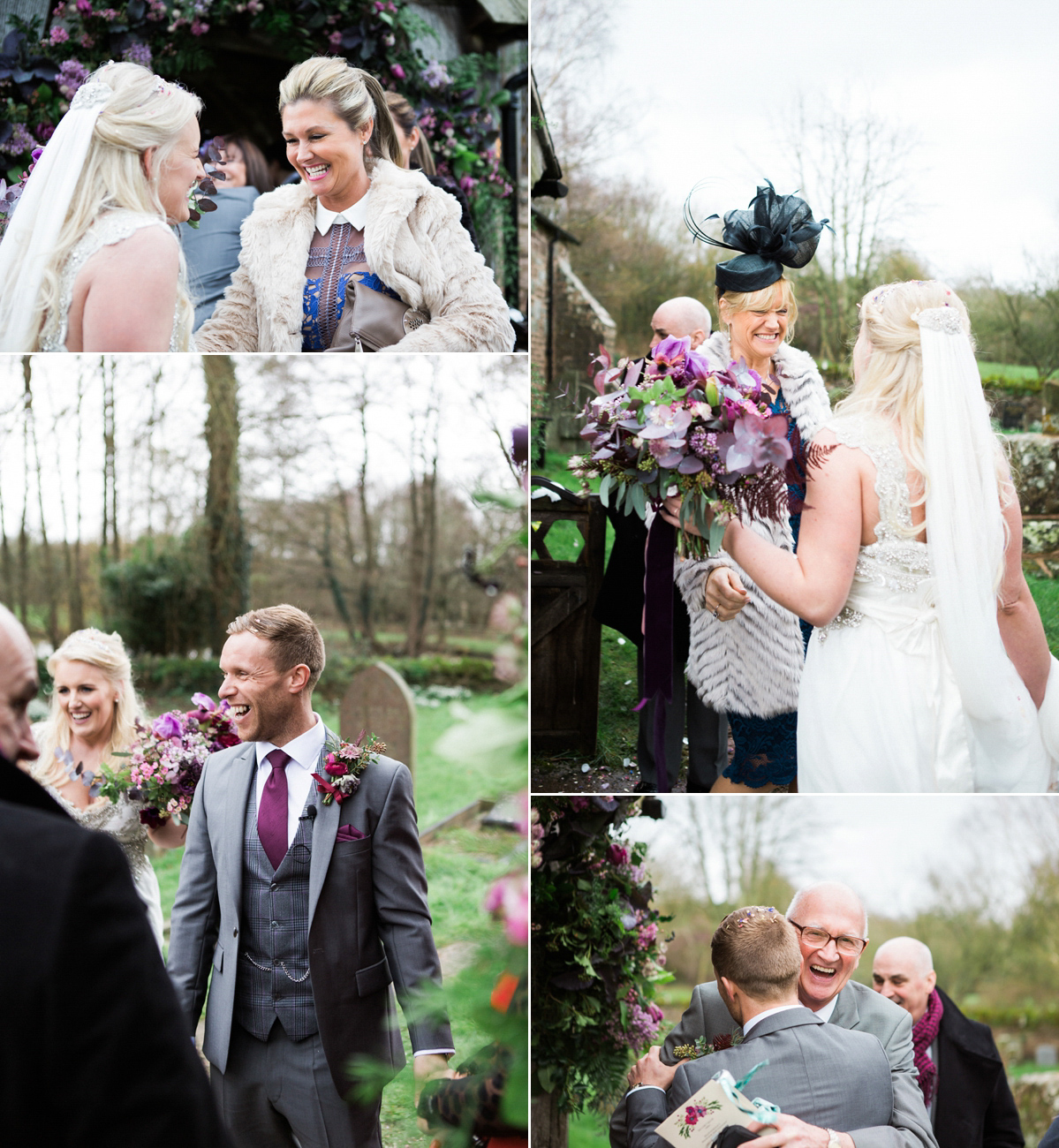 "To suit the relaxed style of our venue, I wanted my bridesmaids to wear different berry colours. However, I found nothing I liked on the high street and quotes for having them made were expensive. I then came across Aisle Style's professional looking website and with extra discount for a large order, I managed to get all four for £268! The website also made us a maternity version of the dress as my maid of honour was seven months pregnant with a big bump. She looked beautiful."
Chris looked the total gentleman that his bride describes in her gorgeous proposal above, in a tailor-made suit from Whitfield & Ward. He added burgundy leather brogues from Marks & Spencer and a rose gold Breitling watch gifted to him by his bride via her mum on the morning of their wedding.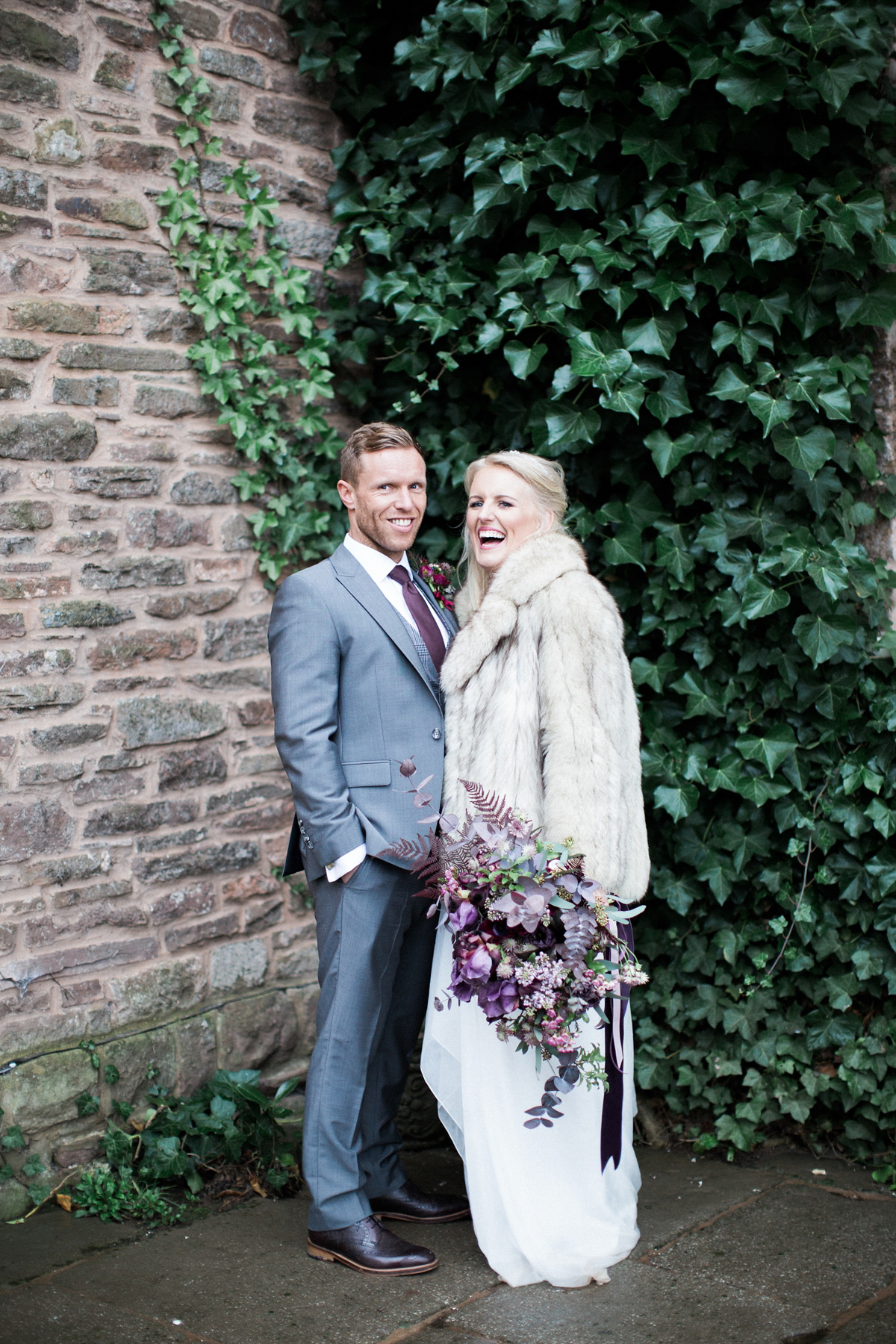 "As I used to be a homeware buyer for B&M, I sourced my favours from there for only 69p per jar. I filled them with a hessian bag from eBay and a miniature blackberry brandy or raspberry gin. The copper lanterns filled with candles and foliage on our tables were also a bargain from B&M."
The couple's foliage-filled, atmospherically lit reception is a thing of astounding beauty. With the help of Jackie from THP Events, the talented Mrs Adams created a personal, intricately detailed haven of berry-toned loveliness.
"Having done a degree in interior design and a masters in buying I wanted to style our wedding myself, however I had to realise that I would need some help. Jackie at THP events has been a friend of mine for a few years, having planned events together in the past. Everyone commented what a relaxed bride I was during our four months of planning and mostly this was down to having Jackie by my side. Our invitations were designed in collaboration with Jackie and her husband and we also had fun making a frame for the table plan that featured beautiful false flowers and fruits in our theme colours."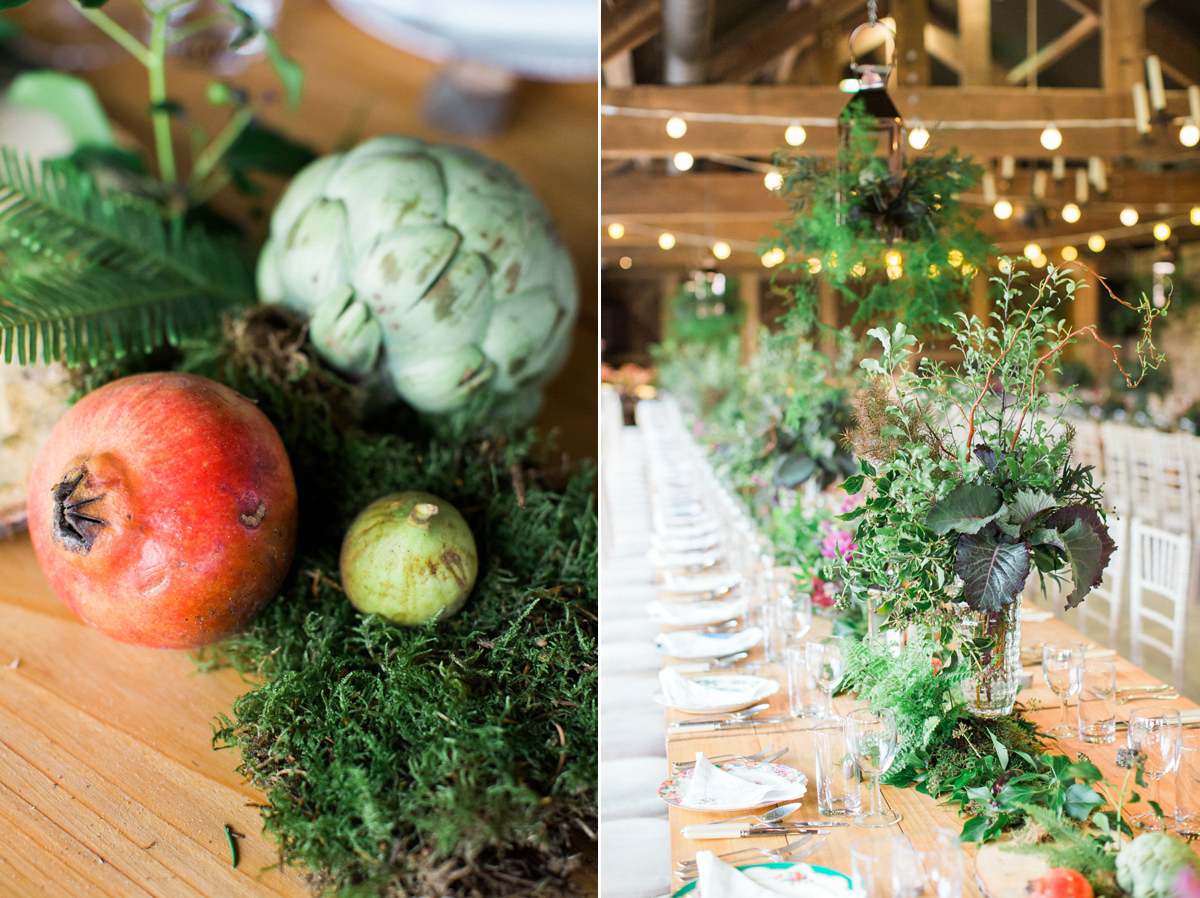 Mr and Mrs Adams served a traditional menu of beef stew with dauphinoise potatoes (yum, is it dinner time yet?) with berry crumble and custard, preceded by a British sharing platter starter, all catered by Dewsall Court.
"I'm not a great lover of icing so knew that I wanted a naked cake. Janet from Emily Rose Cakes delivered some gorgeous samples for us to taste. It was a difficult choice but we eventually decided to go with a four tier cake of alternate Victoria sponge and chocolate orange."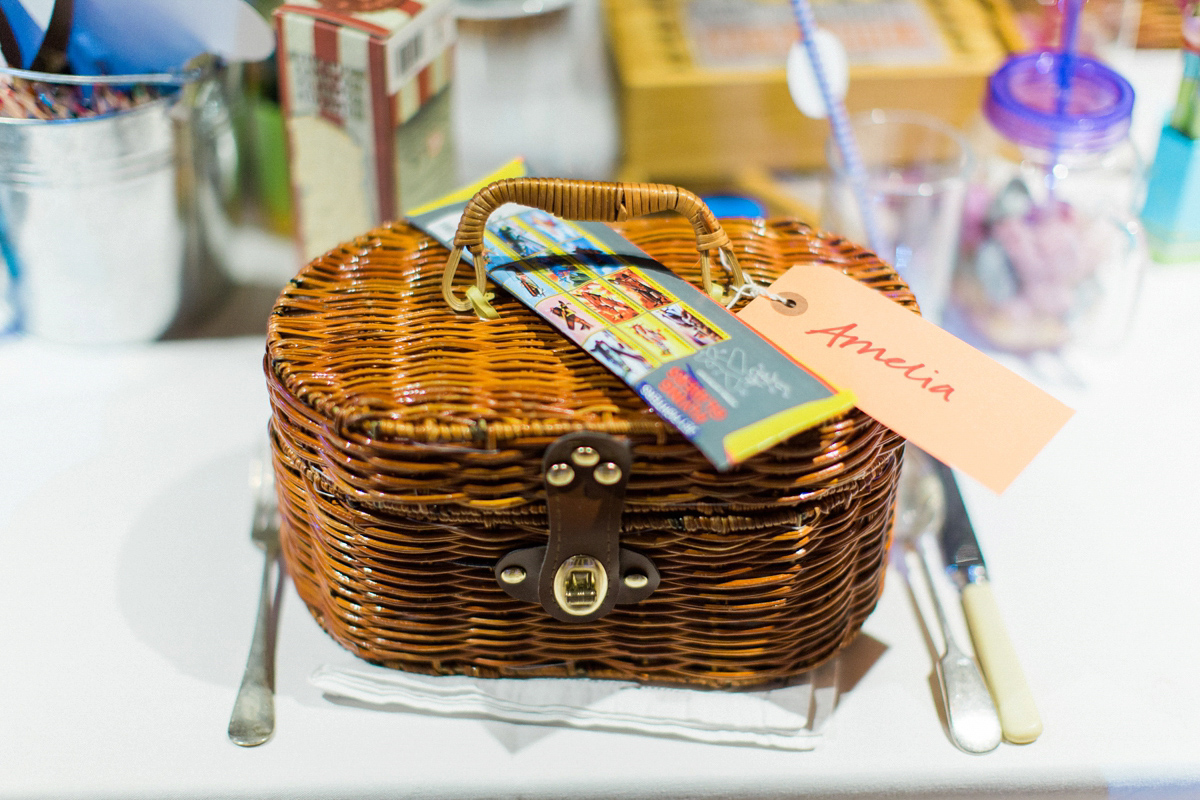 "Chris and I had different favourite parts of the day. His was the reception just after the ceremony when we sipped cocktails and spoke to all our guests for the first time. My favourite part had to be dancing to the band with all our loved ones.
One slight problem on the day was that we had too many guests. The tiny church was overflowing with people so when I walked down to it, there were still people outside who couldn't fit in (not good as it was raining). We also had a small drama during our legal ceremony the night before the wedding. Thirty of our guests piled into a little room inside Dewsall Court, making it very warm. Just after our vows and ring exchange, Chris passed out; something he'll never live down with his two best men! Other than that, our day went perfectly."
Shani-Marie and Chris chose A Million Love Songs by Take That for their first dance as husband and wife, surprising their guests with a few fancy moves practised in their living room.
"Our wedding entertainment was provided by the fantastic eleven-piece funk band Salut. As we both love a good party and dance, we knew our band would be the biggest expense but wow were they worth it. All our guests commented on how brilliant they were and partied the night away to old and new party anthems. We didn't want the night to end and kept trying to think of an excuse to hire them again."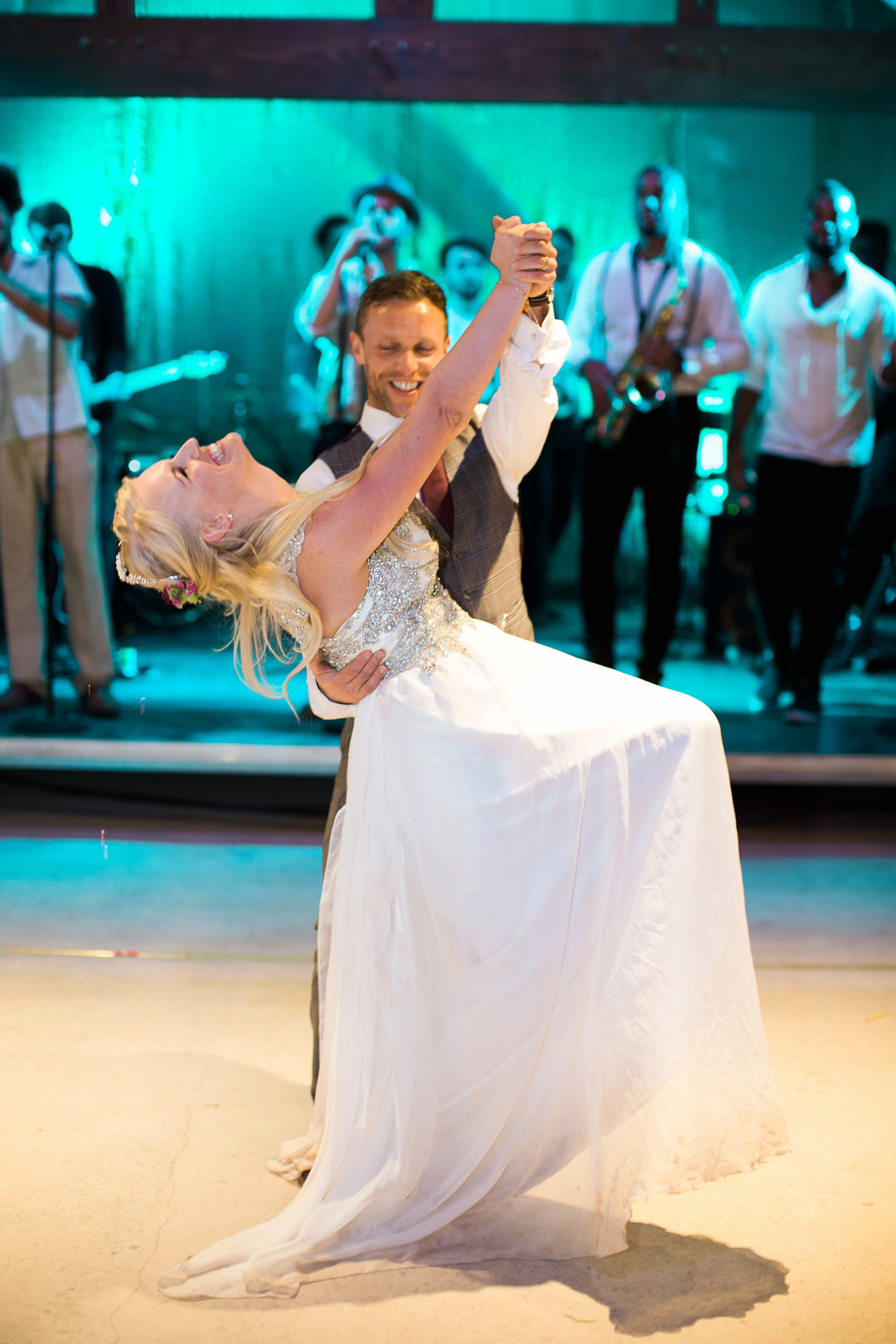 Words of Wedded Wisdom
"I would advise brides to do as much as you can yourselves; that was the fun part for me. I loved sourcing all my own decorations, outfits and suppliers but also recognised that I couldn't do it all on my own. I would definitely recommend using a wedding co-ordinator, even if it is just for extra help on the day.
The other thing most brides don't warn you about it the post-wedding blues. After returning from our fabulous honeymoon in the Masai Mara and Mauritius, I came back down to earth with a bang, realising I had nothing to plan. I'll be honest, I felt a little lost but I've found a new challenge in deciding to move house. I'm sure that'll keep me busy for a while!
It also didn't help that my beloved Nanna passed away two weeks after we got back from our honeymoon. She was a massive part of my life and I was so glad that we hadn't waited any longer to have the wedding. So my biggest piece of advice has to be, don't put your wedding off if the time feels right.
Our videographer was Richard at RL Films Co; a fabulous recommendation from our photographer. Richard was so lovely and a really calming influence. We actually hardly knew he was there which has resulted in a beautifully natural film and the fact that he used my dad's speech as the narrative for the video makes it really personal and emotional too."
Thank you so much Shani-Marie for those very wise words of wisdom. If you're suffering from or worried about the post wedding blues, I really recommend you read this brilliant feature by one of our very own Love My Dress readers and for all those beautiful brides feeling the absence of a loved one, our thoughts are with you and hopefully you can find some solace in this beautifully written piece.
A massive thanks to the happy couple for sharing their day with us; you can find the lovely Shani-Marie on Instagram here and here and both Mr and Mrs Adams on Twitter here and here. A very big thank you too to Melissa Beattie for these love-filled images.
Love, Em x