Happy Tuesday lovelies! Today I'm taking you all on a trip to Wood Farm Barn in Benacre, Suffolk. This delightfully picturesque setting hosted the wedding of Saul, who works in Insurance and his beautiful new bride Alice, who works in Retail. Joyously celebrating the best of rural England, Wednesday 11th May 2016 was a day filled with Downton Abbey inspired glamour, warm spring showers and even an egg and spoon race.You'll see why we saved this little gem for your Tuesday treat as your eyes feast on an eclectic mix of vintage glamour and pretty, rustic touches.
"We both knew we didn't want a traditional white wedding. Together we have a passion for all things eclectic and vintage, we didn't want a themed day so we just filled the day with things we love that are personal to us and reflect our personalities."
Photography by Andy Davison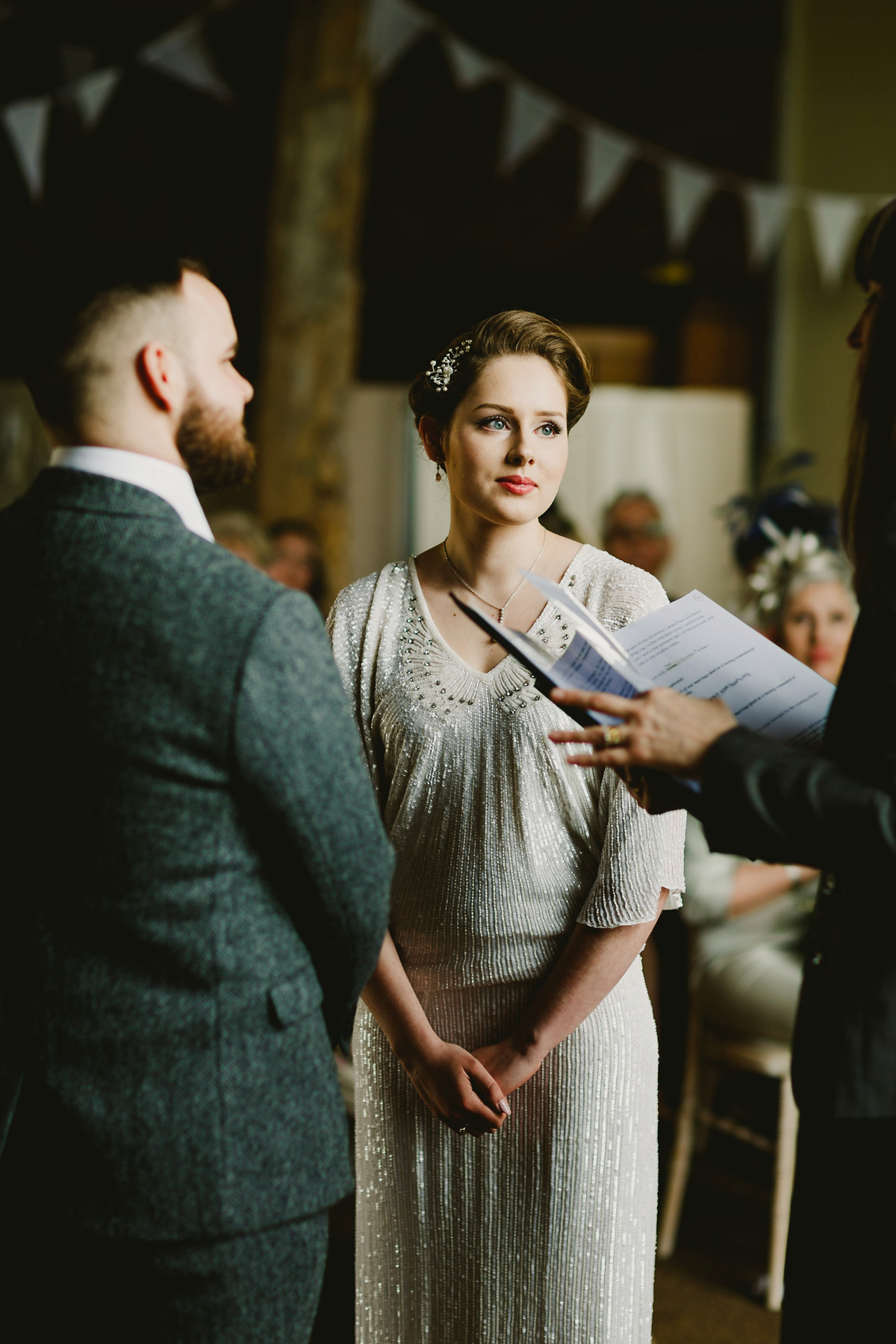 Alice slipped on a pointed pair of Paradox Pink heels and added a Pearl and Swarovski Crystal hair comb by Flamingo Amy Designs to complement the Deco glamour of her dress.
Scent was kept simple, elegant and floral with Jo Malone  favourite Peony and Blush Suede. Delicate Pearl earrings and a necklace from Simply Pearls added the icing onto the already very opulent (bride) cake.
I spy some *serious* eyeliner goals! That exquisite Eliza Jane Howell gown was enhanced with vintage inspired make up by Love Moi Make Up and hair by Flamingo Amy, both of which are completely flawless.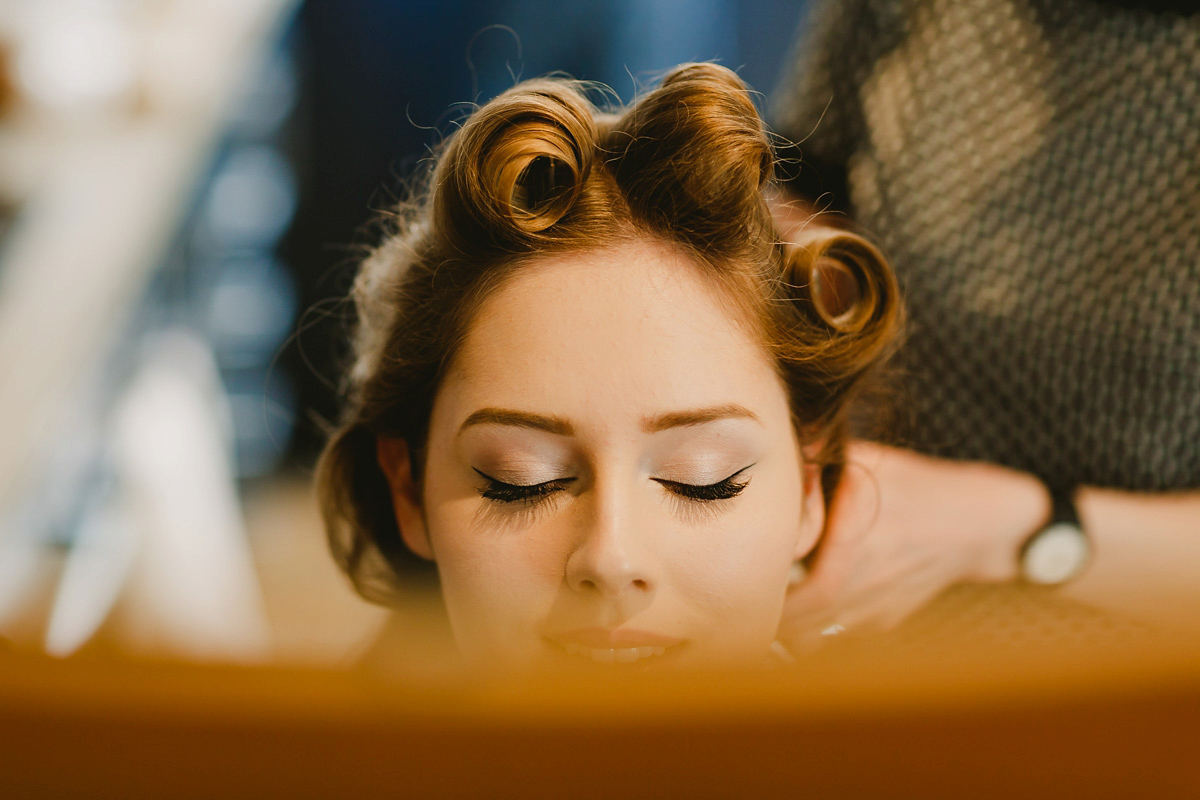 Pick A Lily Flowers had, quite literally, been under these lovebirds noses the whole time. A palette of soft blush and blue tinged grey were intermingled with masses of foliage and gorgeous ferns. The thistles add a new dimension of texture to the delicate roses and rustic wooden backdrop.
"Pick A Lily is our local florist which we walk past on a daily basis and has always managed to catch our eye. We wanted grey foliage and dusty, romantic tones to compliment the rustic barn venue and decorations. Nothing too neat or compact."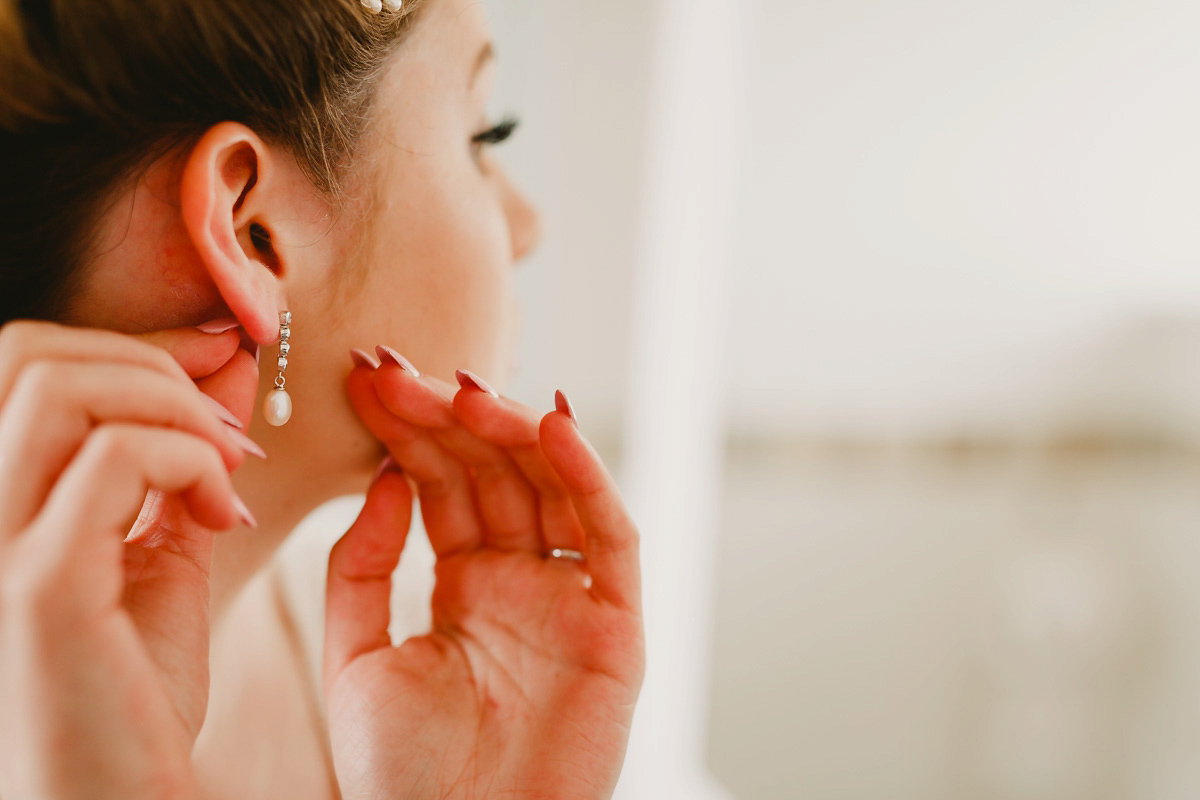 A dress that owns with such breath-taking decadence and sophistication  is unmistakably from the Eliza Jane Howell collection. So many of our style savvy brides choose to wear these twenties inspired pieces that, quite frankly, look incredible at the centre of any style of wedding. As we're a Blog that's in the know, Eliza Jane Howell is championed on our Little Book for Brides site and you can read Annabel's piece on the inspiration behind this label here. Alice wore 'Miriam' from the Debutant Collection, and glowed with the knowledge of how completely fabulous she looked.
"I knew from the start I didn't want a traditional white dress. Firstly white doesn't suit me and one of my pet hates in life is having the same thing as someone else."
"I realised what I really wanted was more of a ball gown than bridal dress. At the same time I didn't want a second hand pre-worn vintage gown so this is when I did a bit of online research and found the fabulous designer Eliza Jane Howell and there was no going back."
To truly appreciate the versatility of Eliza Jane Howell elegance, have a little click here; so many brides shining bright in the most wonderful range of settings.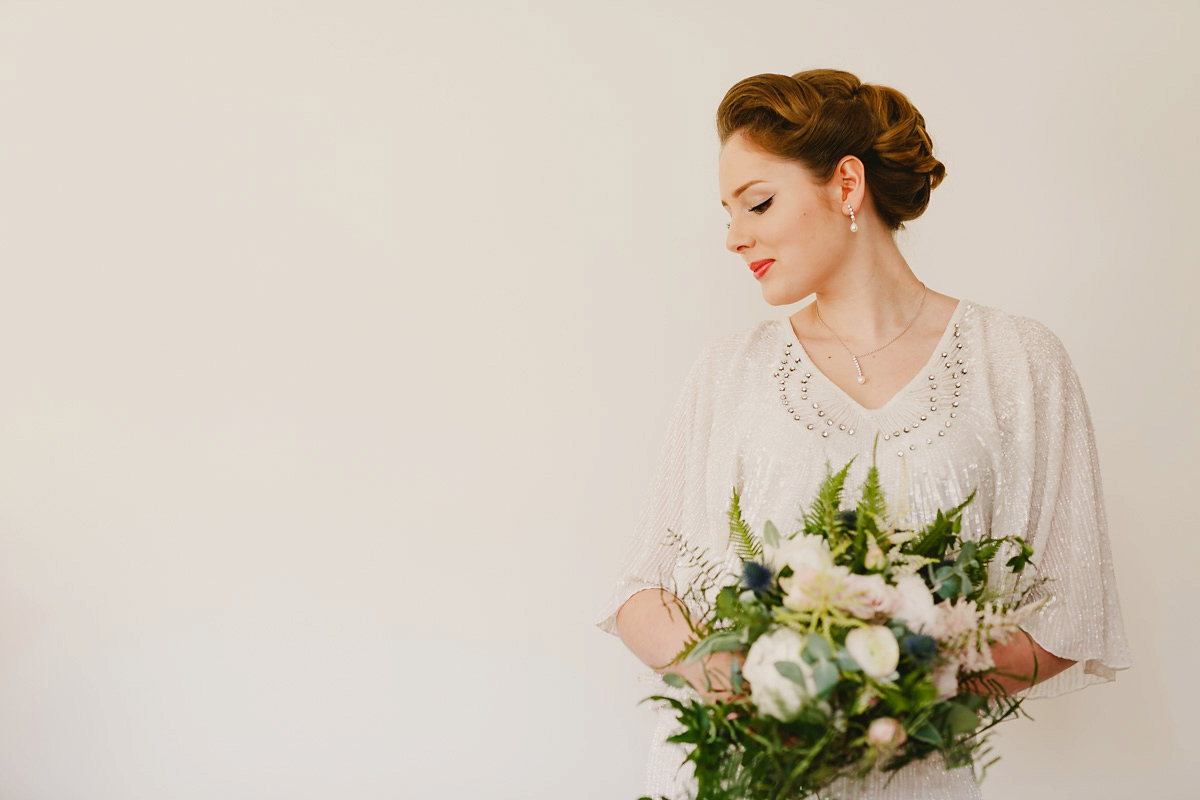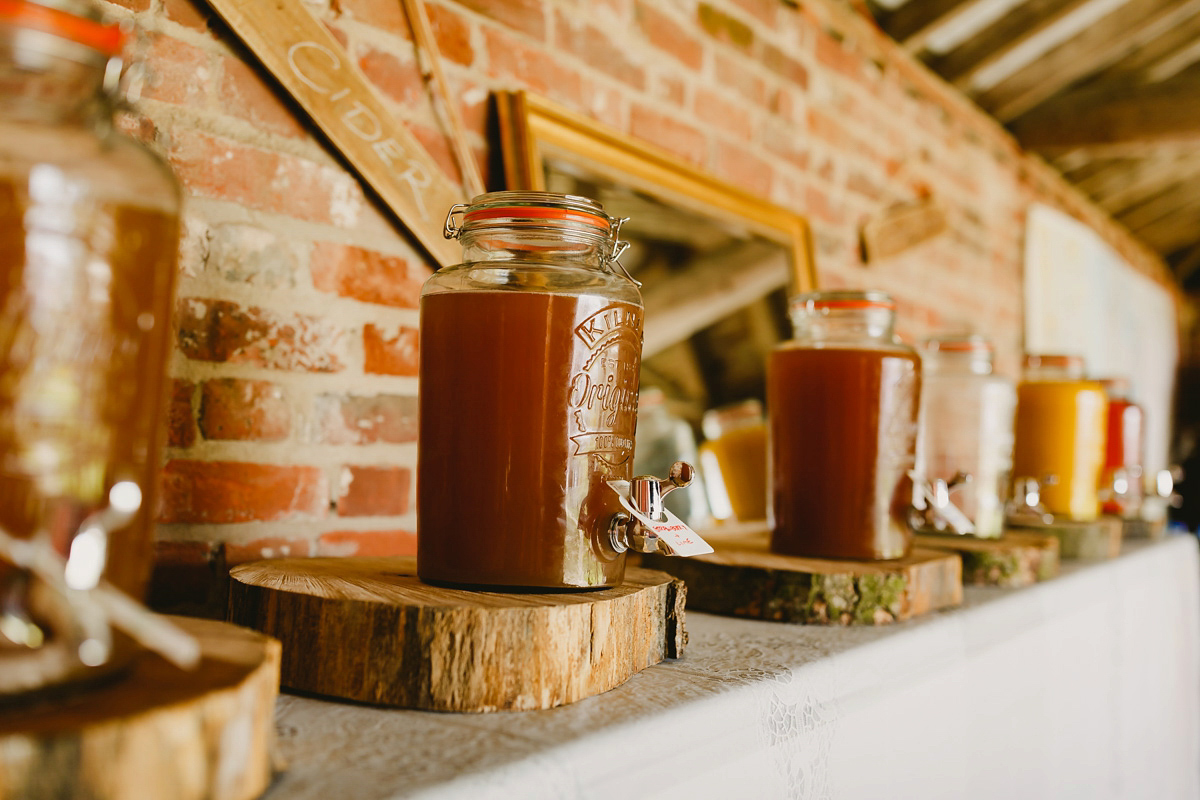 Groom Saul rocked a Harris Tweed Herringbone three piece suit, which was accessorised with Dune brogues and a Jaeger tie. He chose the rare, smoky scent of Tom Ford's Oud Wood.
Alice walked down the aisle with her Dad to the a violin version of 'Thinking Out Loud' by Daniel Jang – originally by Ed Sheeran. Its so moving to see groom Saul feeling such a rush of emotion when he sees his gorgeous bride for the first time; I do love sharing in so much love here on Love My Dress!
Saul and Alice wrote their own vows, something I am completely struggling with at the moment! I wanted to include their vows as they are completely beautiful, and should remind us all why we are planning a wedding in the first place.
From this day forward
I promise to you Saul/Alice
To love and care for you always,
To be faithful to, to trust and to respect you.
To inspire and encourage you.
May we look to our future
with hope and with happiness,
And cherish each other
for the rest of our lives together.
The venue was styled with an eclectic mix of charming pieces that gave the wedding even more heart. The seating plan was a stroke of genius, using potted plants as a fresh take on rustic styling. An iconic post-box was on hand to keep the mountain of congratulatory cards safe and handmade windmills looked cheerful against the brickwork of Wood Farm Barn.  Cupcakes were supplied by family member, VIP cupcakes and looked delicious surrounded by more fern heavy foliage.
"Having eaten out several times at Byfords of Holt we knew their catering company Back To Your Place would be perfect. We had canapés and a sit down meal for our wedding breakfast and then an evening BBQ. The food was delicious, it went down very well!"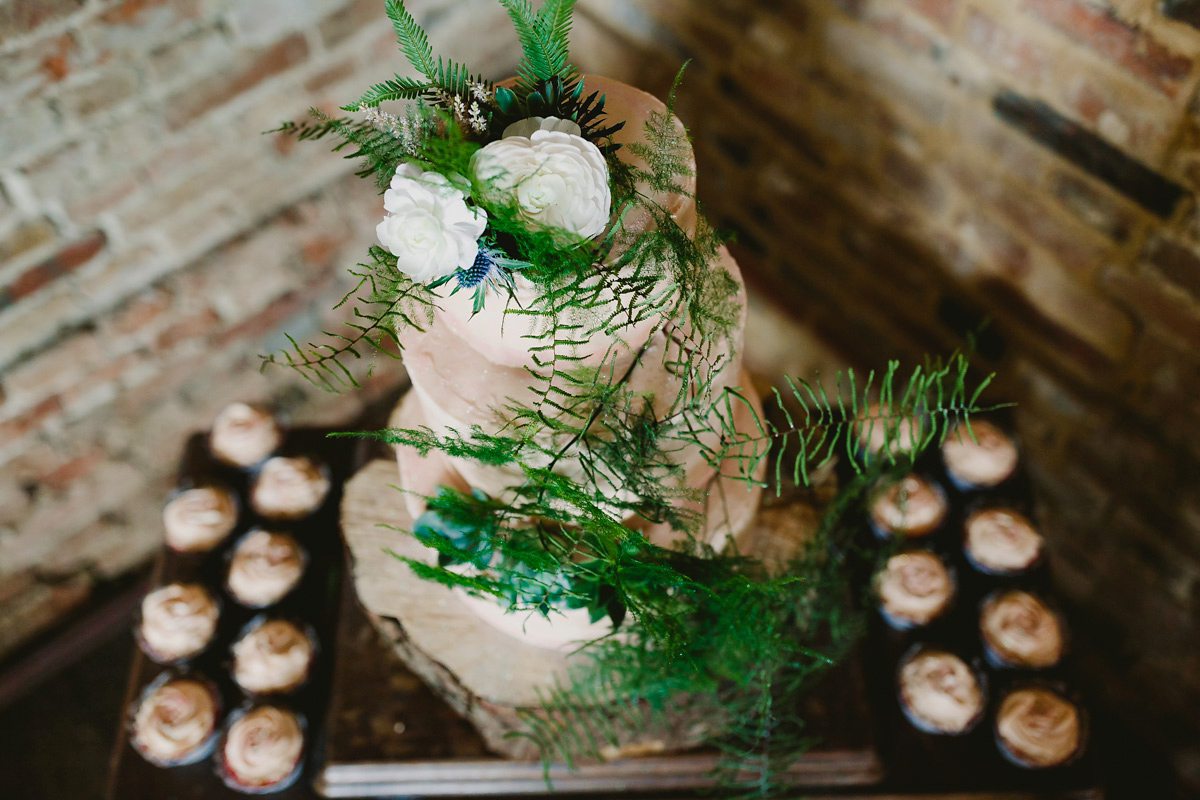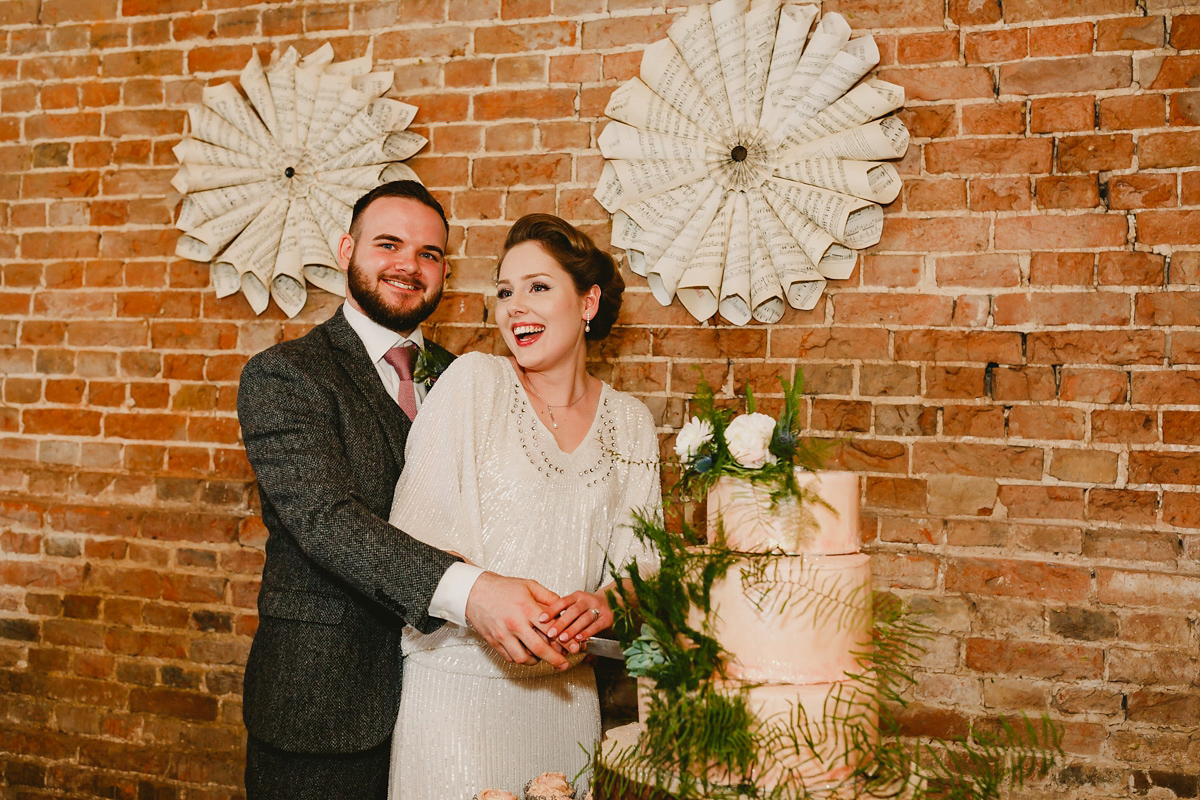 "Our first dance was to 'Loving You' by Paolo Nutini, it's the song we used to play constantly when we first got together. It was played by Bill Downs who we had seen on The Voice UK and found that he was local to us after seeing him play nearby. We wanted someone that could play modern songs that we loved and would get everyone up and dancing."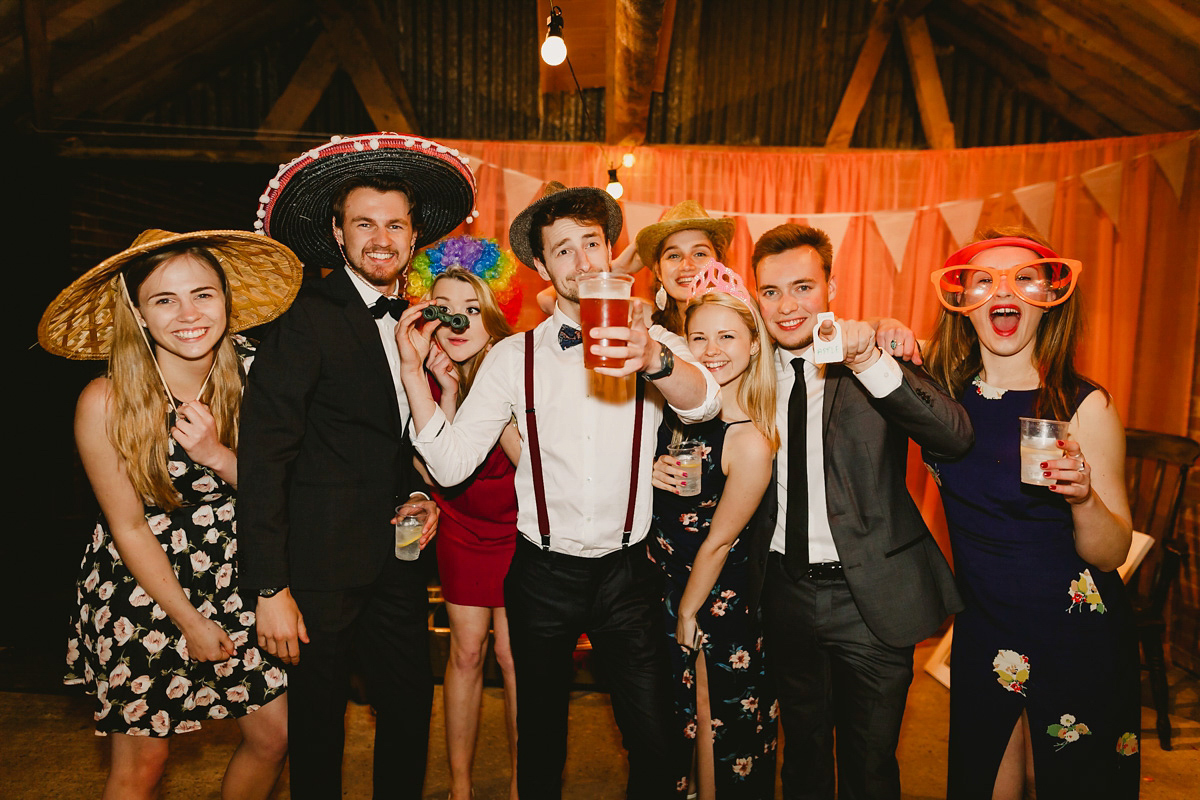 Andy Davison is the man behind these magical shots, capturing the emotion of the day in his trademark relaxed and characterful way. I'm such a sucker for a woodland shot, and these are completely enthralling.
"We chose Andy as our photographer as we were looking for a documentary style of photography rather than staged photos. He was so professional throughout the day and you wouldn't have even realised he was there. During our day he was on ladders, on his back in a muddy field and crawling on the floor and put so much effort into making sure they were amazing photos and not a single person was missed. We would recommend him every time!"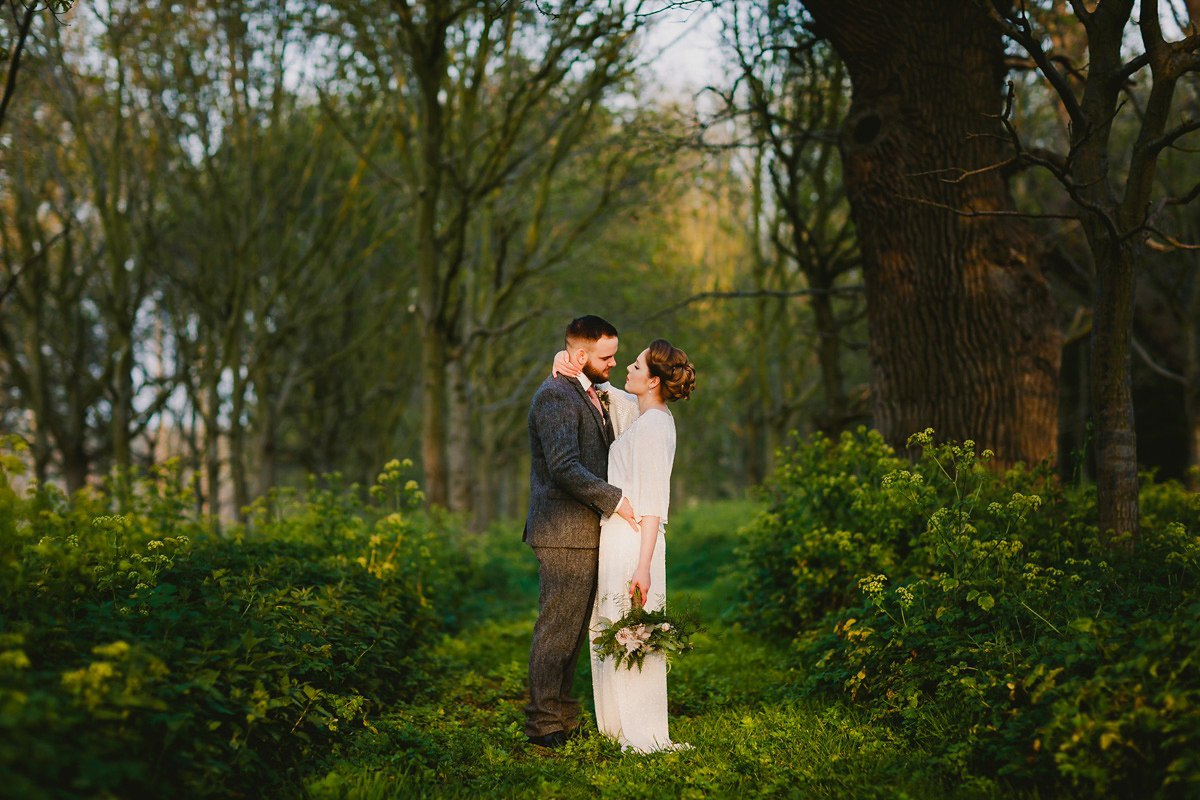 I've long been a fan of Adrianna Papell's beaded visions, and did consider one as my own bridal gown, so its wonderful to see the golden tones of this bridesmaid gown perfectly complementing the glamour of Alice's dress.
I'm sure I'm not the only one adding 'bubbles' to my increasingly long To Buy list after these golden hour shots from Andy Davison, how simply charming! Beer from The Nags Head Mobile Bar and dancing with Bill Downs saw the festivities into the night, with no better way to celebrate Saul and Alice becoming Mr & Mrs.
Deciding to add a great big dollop of old school fun into the mix, guests competed in sack races, egg and spoon races and built giant Jenga towers. Beautiful bride Alice has made all at Love My Dress HQ smile by citing this very blog as a source of inspiration to be bold in her choices (I am in total agreement Alice, I've certainly pushed the boundaries of wedding planning propped up by so much spectacular motivation).
"I visited Love My Dress often; I loved seeing all the beautiful and unique dress styles and colours and the fact you feature REAL brides and weddings rather than just magazine edits. It really inspired me to try something a bit different."
Words of Wedded Wisdom
Now today, we have a different take on things as our revered 'Words of Wedded Wisdom' have been supplied by groom Saul. Not only do they give us all a little insight into what the men in our life may be concerning themselves with, they also really make me want to know the ring story!
"Do the speeches before the meal if you are not used to public speaking, the nerves may get to you and you may struggle to enjoy your meal. Also, don't forget the rings – there is a story to accompany this but I'm sure you can imagine. Having a weekday wedding is great as you tend to get your first choice of venue and suppliers who can often be booked well in advance."
I'm in total agreement with Saul; having immersed myself in this wonderful world of weddings since we got engaged 18 months ago, I would now choose a mid-week wedding if I had to start planning again. If this fine day is anything to go by, a mid week wedding is just the ticket for a day filled to the brim with total joy. Huge thanks go to the gorgeous newlyweds Saul and Alice and the highly talented photographer ninja Andy Davison for letting us share this smile friendly day. If you're totally feeling all of this country-chic, barn party beauty, take a peek here.
So, I've come through to the other side of my two consecutive hen weekends, and apart from feeling insanely tired, I also wanted to reassure those of you with hen weekends looming that there is nothing to fret about! My belly had been doing little flips and it wasn't just the heat wave making me all hot and bothered; I was nervous to be the centre of attention and worried about what was in store! As usual, I was worried about nothing and I had two of the best weekends of my entire life laughing with some of my favourite people. Keep relaxed and enjoy every precious second fellow brides-to-be.
Oh, and if you're missing the sunshine, catch some rays with last Tuesday's treat from my computer to yours – this Spanish Fiesta was quite something.
Love, as always
Emily B xxx