Today, I have the pleasure of sharing a celebration that I feel would sit comfortably in the 'dream' vault of how many of us picture the biggest day of our lives. Accountant Hannah should implement her financial prowess by bottling that pretty impressive bridal glow of hers and selling it, I would snap that up in a heartbeat. Groom Sai, a Project Manager, looked equally handsome in his The Kooples suit and this gorgeous pair spent their autumnal day gazing at each other with such deep affection and unbridled joy that I felt a little bit intrusive whilst admiring the resulting snaps. The couple chose the beautiful St Marys Church, Weybridge for their ceremony, a wonderfully quaint and gloriously green place of worship in the town where bride Hannah grew up. Botleys Mansion provided a breathtakingly grand backdrop for the ensuing merrymaking and oodles of photo ops for photographer Jacqui McSweeney.
Every single bride I know (and those I feel like I know through their Love My Dress questionnaires) has had a completely different experience with finding The Dress. Similarly, no two tales of finding love are ever the same, much less the moment when you knew he/she was the one to keep and plan a big old love party with (yes, I do mean wedding). My fiancé and I told each other we would get married one week after our first kiss whilst covered in fake blood (it was Halloween, promise) and I ordered my wedding gown from ASOS, in the wrong size and without ever seeing it in the flesh, with the surest of thoughts that it was the one for me.
The key is to not overthink or put any sort of pressure on your decision; trust the little voice inside you reserved for solo shopping trips and wrestling difficult menu choices ("I knew I should have ordered two desserts"). Don't drown that little voice out with expectations or thoughts of other peoples little voices. Trust your own instincts and gut and you will make your own, wonderfully 'you' decision.
Thankfully, Hannah and her little voice got all the feels and decided on an elegant, quietly glamorous gown with the most delectable low back from Gemy Maalouf, purchased at Surrey Brides.
"Before I started looking for dresses I didn't really have an idea of what I was looking for and hoped I would know once I found 'The One'. Thankfully, this is exactly how I felt when I tried my dress on, I hadn't seen a dress like it before and I loved the cut of it."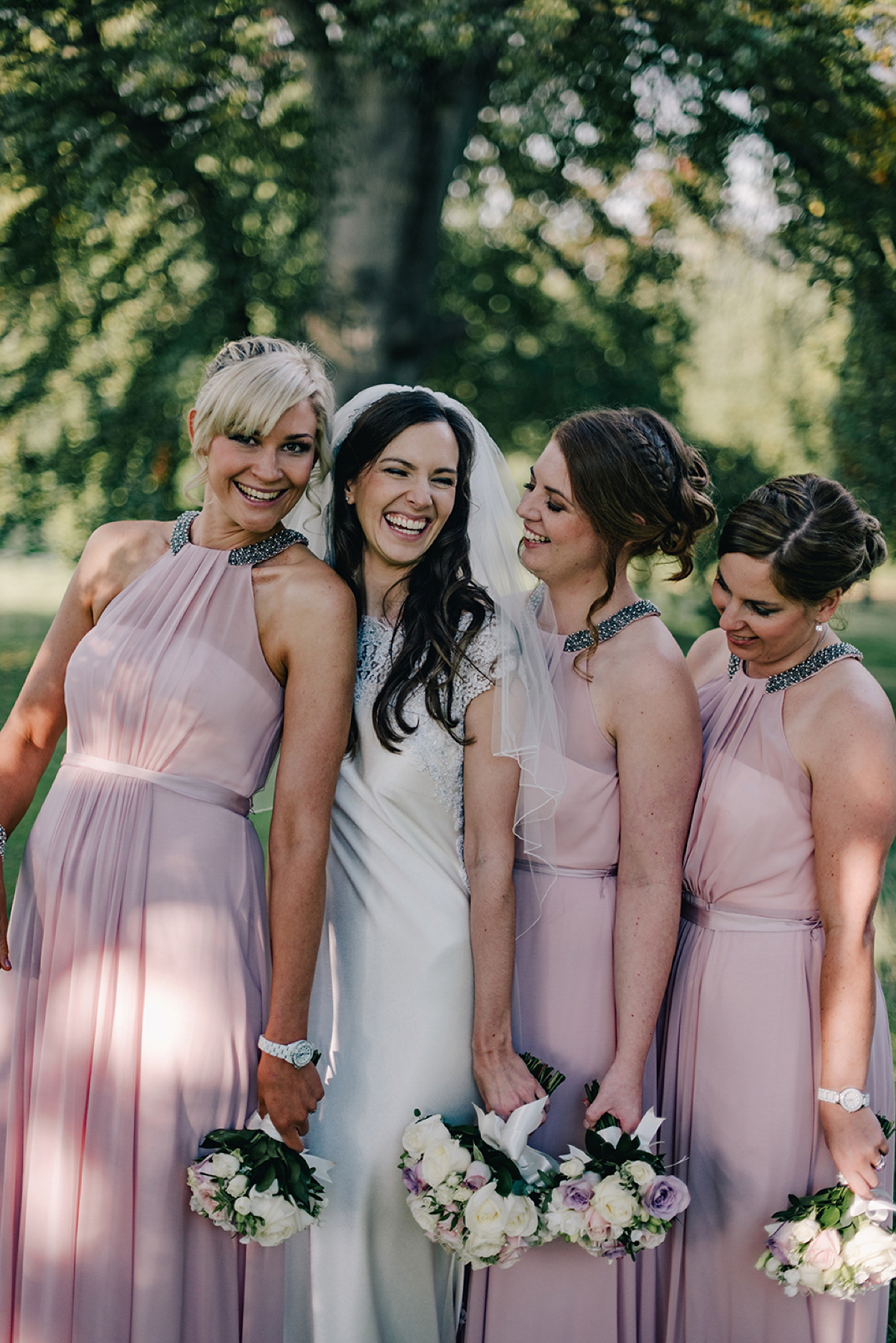 Hannah chose to wear Flowerbomb by Viktor & Rolf as her softly sweet and moreish scent. She completed the look with highly sentimental jewellery that twinkled in the autumnal sunshine.
"I wore a Tiffany heart necklace that Sai got me on our first holiday to New York, I've worn it everyday since. My earrings were small diamond studs that I bought when my grandmother died as I knew once day I would wear them on my wedding day and a part of her would be there. Sai also bought me a silver bracelet which he gave to my parents to give to me as a present on my wedding day."
Splashes of metallic joy are very welcome here at Love My Dress; as soon as I took a peek at these pictures my eyes were drawn to Hannah's Jimmy Choo silver shoes. Matching their subtle sparkle was a simple headband from Ivory & Co, purchased along with the veil at Surrey Brides. Escape Hair & Beauty took their time to perfect Hannah's soft, glowing make up and stunning cascading waves (hair goals anyone?!).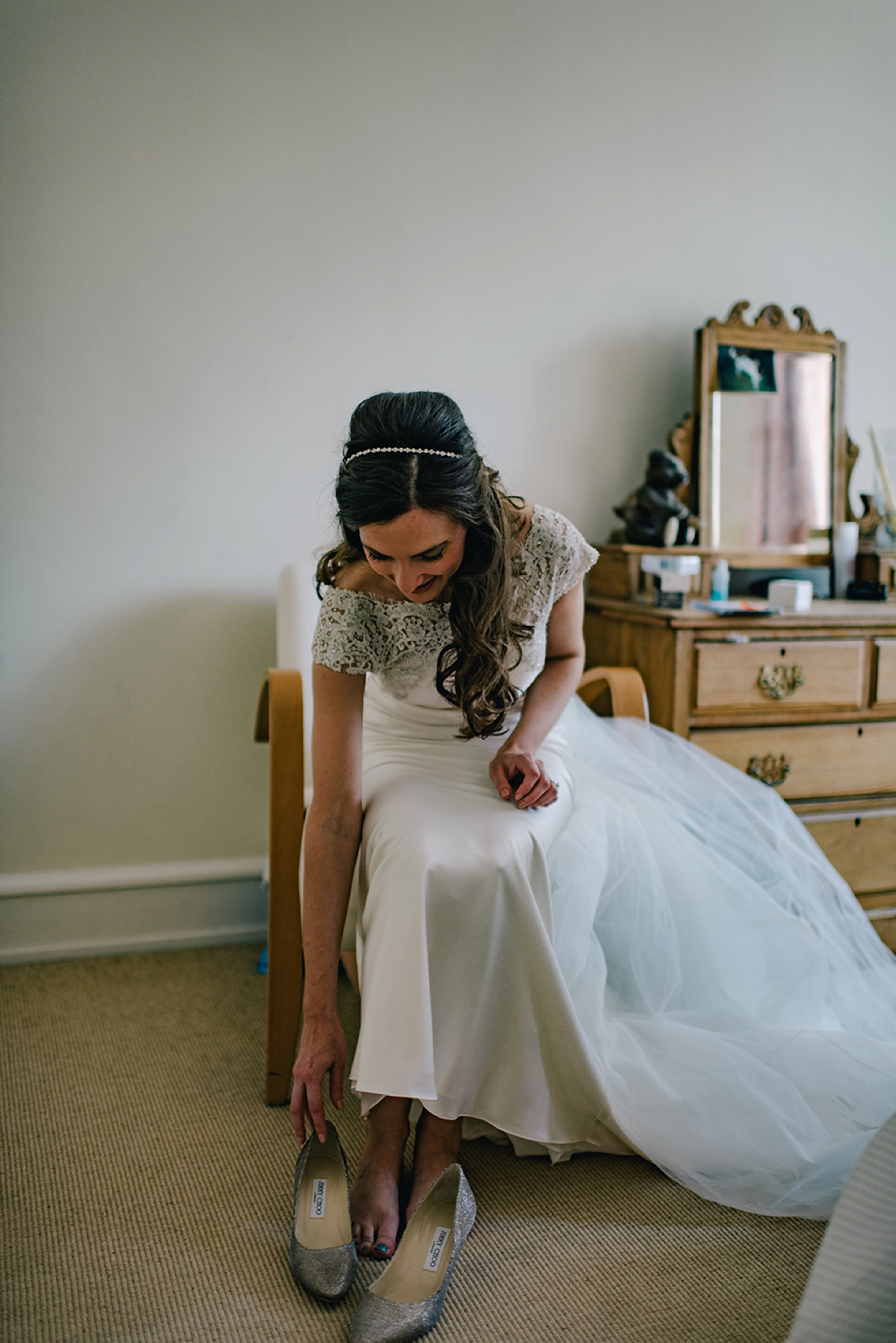 Bridesmaids joined in with the understated glamour and added their own metallic twist in the form of pretty pastel dresses from Coast. I love the neckline and the way the gowns hang just right. Further high street finds completed their looks with footwear from New Look and hair accessories from Accessorize.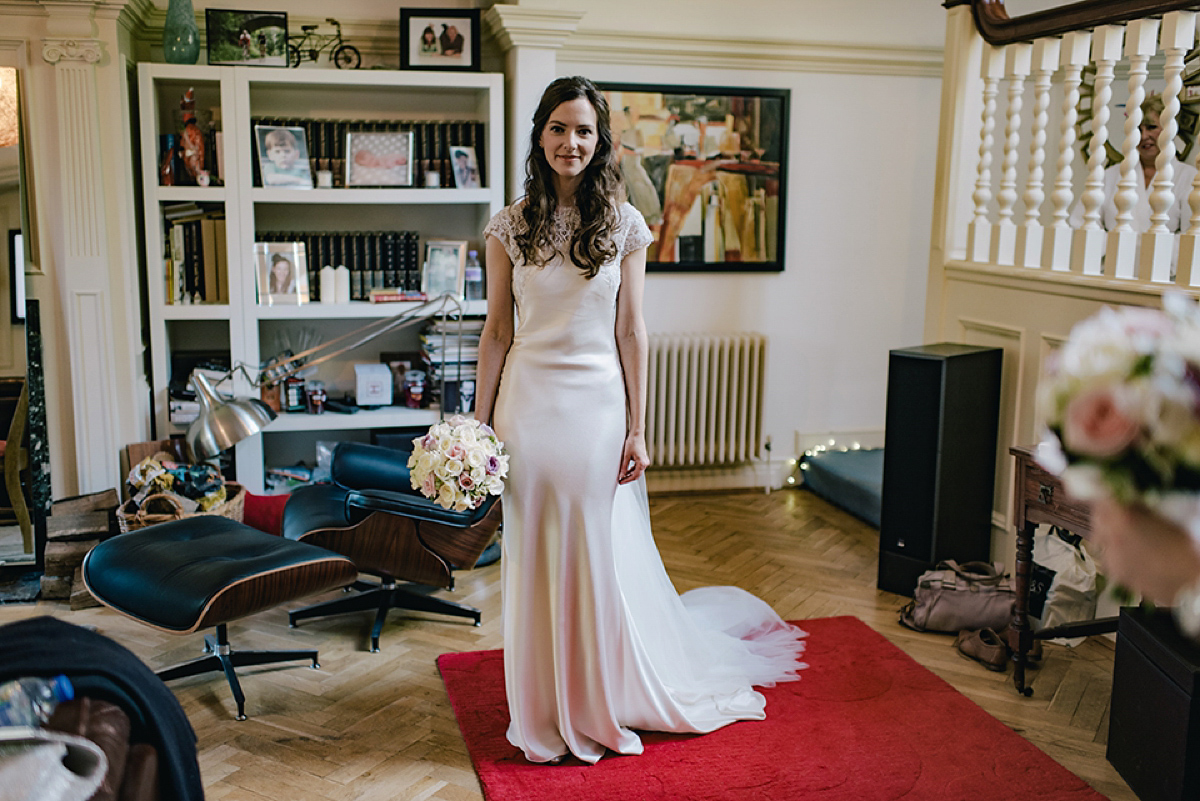 "We first met at work but it took two years until we had our first date. Sai proposed on our third anniversary in March 2015 and we were married seven months later on the 9th October 2015. Initially we didn't have any particular ideas or specific style in mind but we both knew that we wanted something elegant and simple."
After arriving to the church in a vintage Rolls Royce, Hannah walked down the aisle with her Dad to the sounds of 'The Wedding' by Julie Rogers. Our bride later cited walking towards Sai as her favourite moment of the day.
"As we got married in a church we did not tailor our vows, however I did cry as we said them!"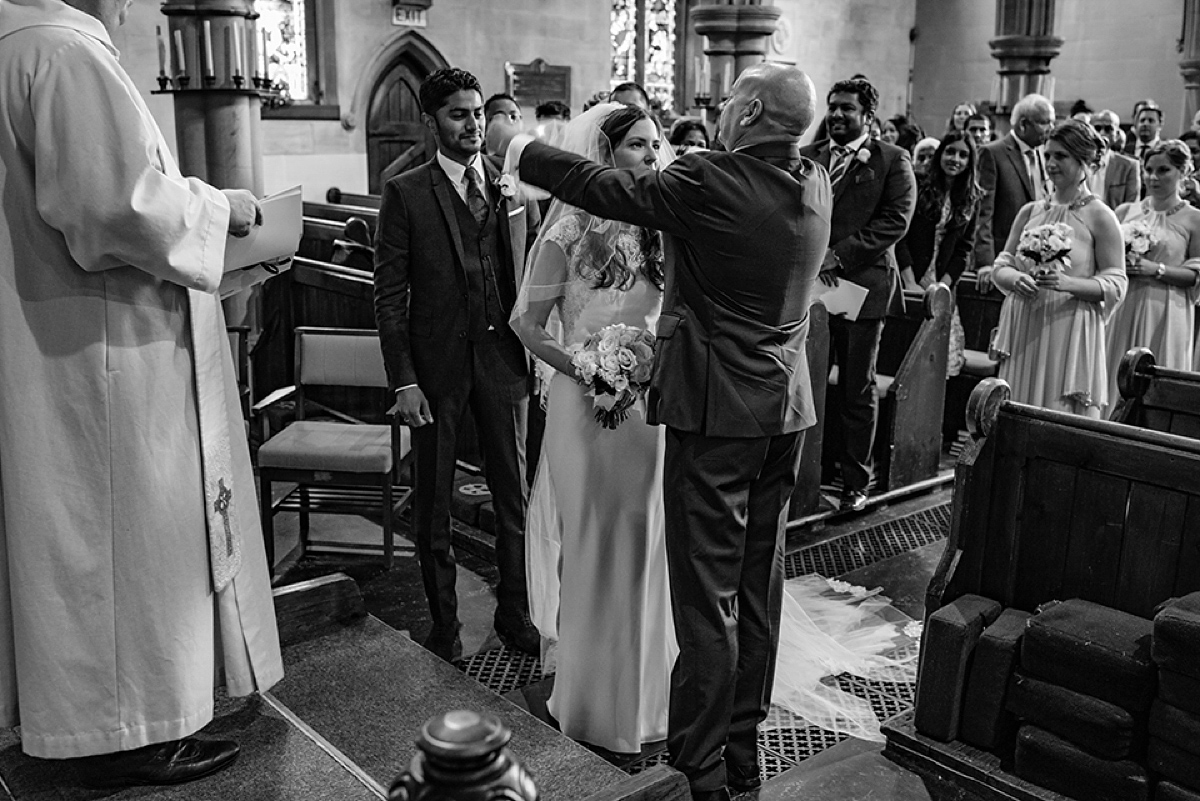 Some readings are classics for a reason. When looking for readings I feel certain words and phrases really hit home and sum up your relationship in unexpected and poignant ways; I've found myself sobbing at readings on this most glorious of blogs that put into words what I never could.
"Corinthians is a fairly unoriginal choice but the words are still beautiful. We chose a Bob Marley quote as a reading for the last line: 'perfect guys don't exist, but there's always one guy that is perfect for you'. This really sums up how we feel about each other ; we know were not perfect but I couldn't imagine anyone more perfect for me."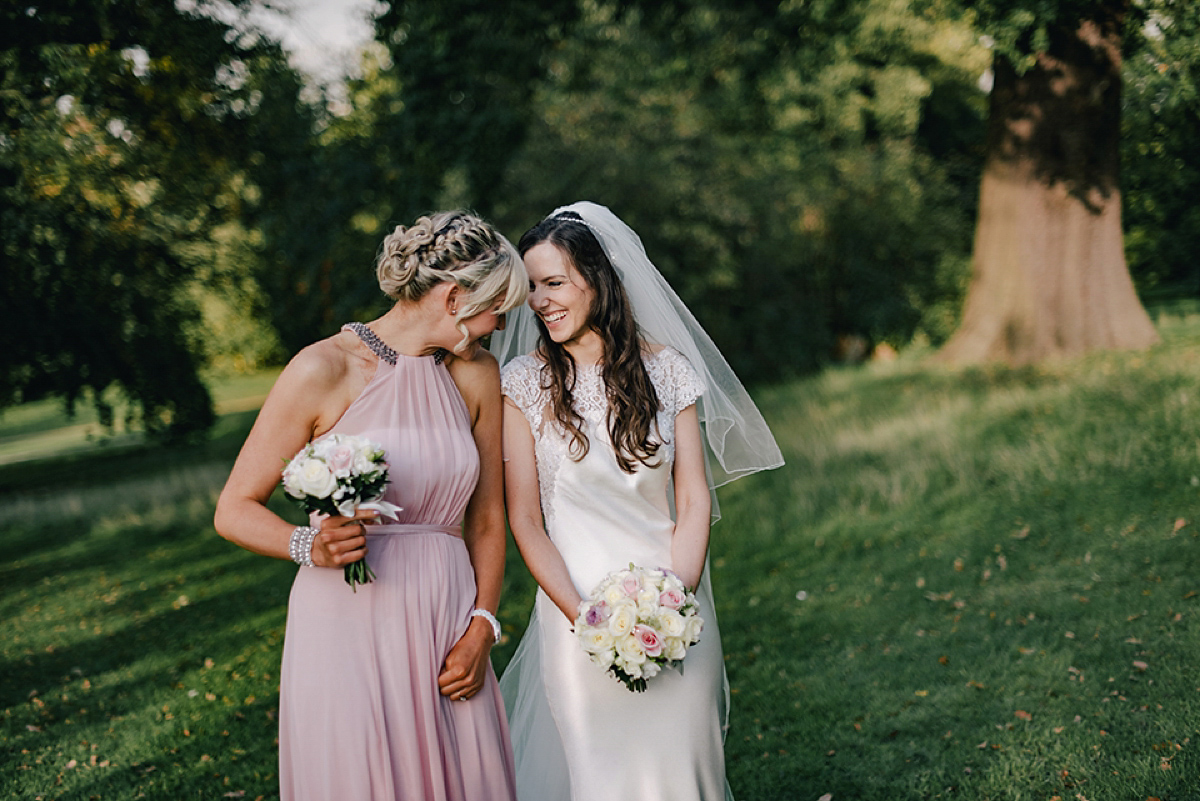 Feast your eyes on the prettiest of posies by Dandini Flowers. Roses unabashedly encourage my inner romantic to break out (already weeping and searching for my The Wedding Date DVD), especially in such silky tones. These iconic little blooms coupled with all of the twinkly lights ensured Botley Mansion  brought to life the elegant atmosphere Hannah and Sai had envisioned.
"Linda at Dandini's could not have been more helpful! She already knew the church I was getting married in and had several ideas on small touches to decorate it. She also suggested buying a plain cake which she could then decorate with flowers and was so helpful in taking it to the venue and assembling it. My flowers were predominantly roses in shades of cream, pink and lavender. We didn't have a set colour theme so I didn't have to stick to a certain shade and wanted something soft and subtle."
Little Book for Brides reserves its stamp of approval for only the most deserving wedding lovelies and Jacqui McSweeney Photography is no exception. Jacqui's work first came to my attention when I fell head over heels for this showstopper of a retro treat in 2015 and you can see even more awesomeness captured by Jacqui here. Hannah and Sai booked Jacqui after being guests at a friends wedding that she shot; how handy to have met and witnessed your photographer in action before booking!
"We had been to a friends wedding where Jacqui had been the photographer and thought her photos were amazing, as soon as we got engaged I asked for her contact details. Jacqui is so friendly and relaxed and the engagement shoot definitely helped put us at ease before the big day. We are so pleased with the photos from our wedding and couldn't have asked for more."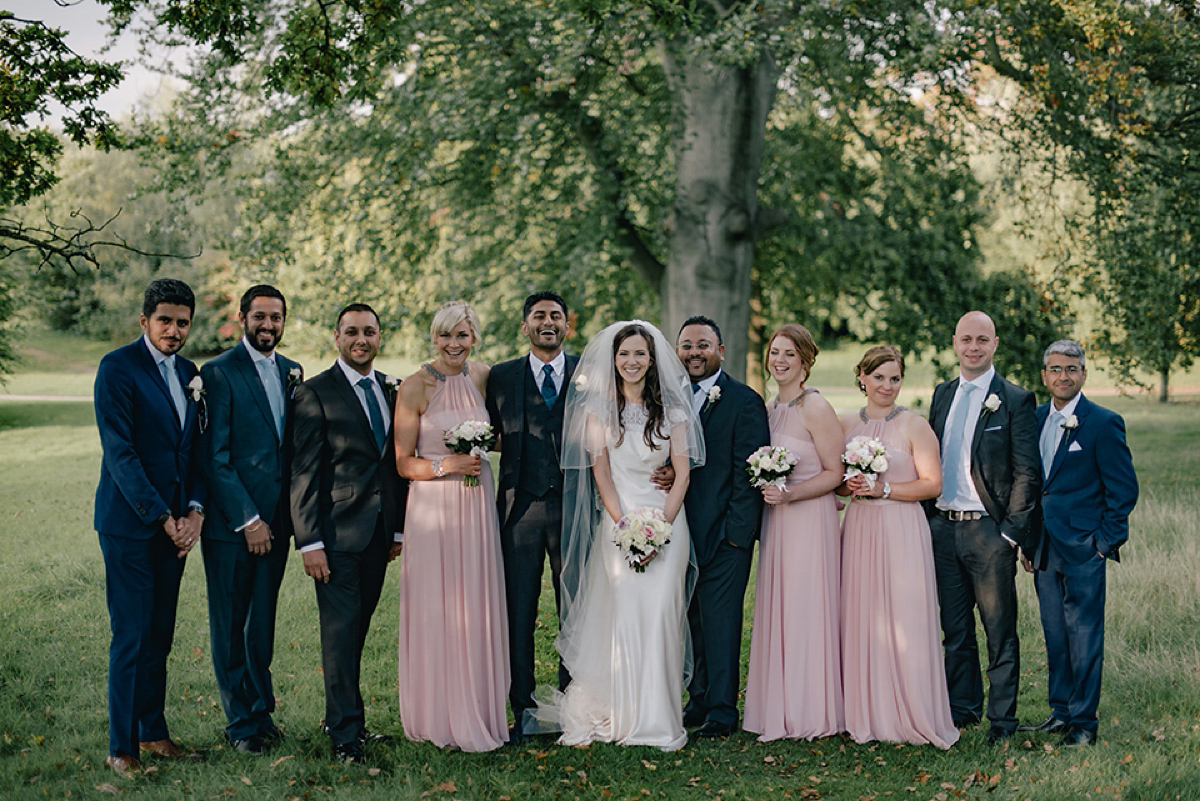 The plain cake was purchased from Marks and Spencer and I love florist Linda's top tip of using fresh flowers to decorate a simple, budget cake. There is so much scope for customisation when starting with a blank and delicious canvas.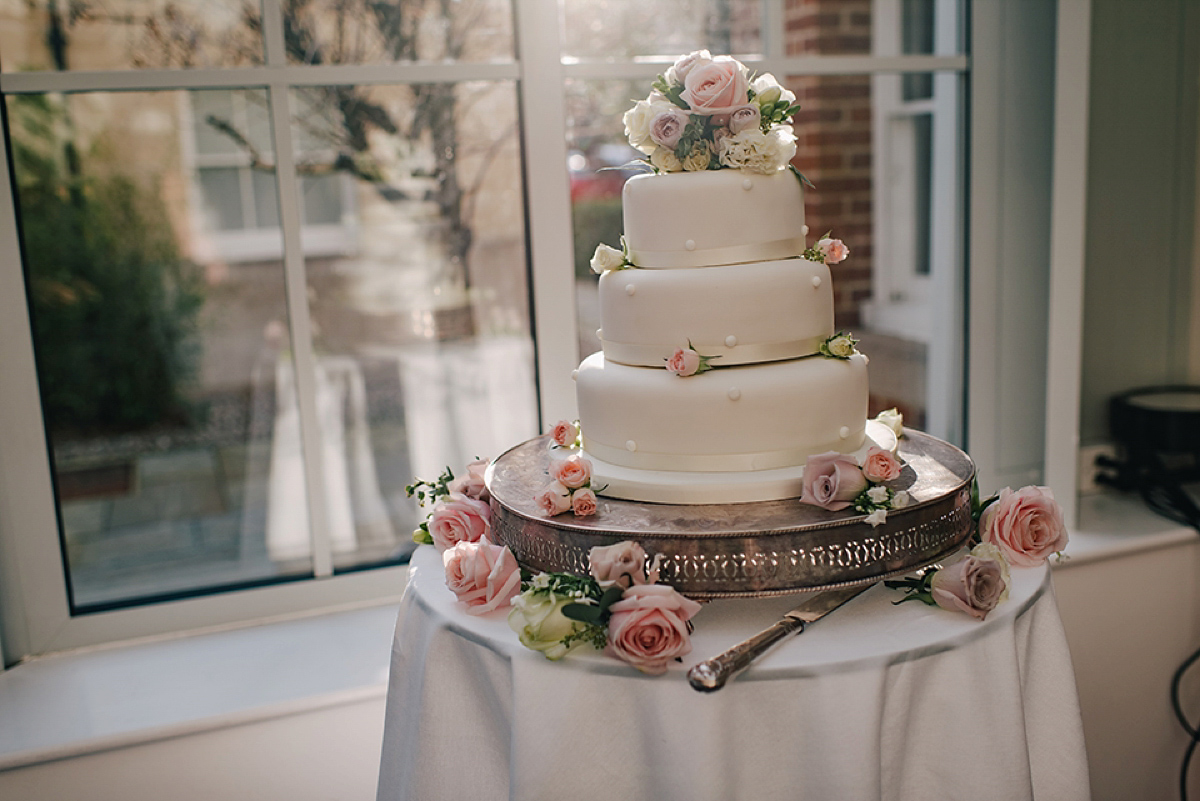 Readers, you might want to pop by our 'wedding cake Q&A' feature with Marks & Spencer Wedding Cakes. There is also an interesting feature here on 'wedding cake and traditions'.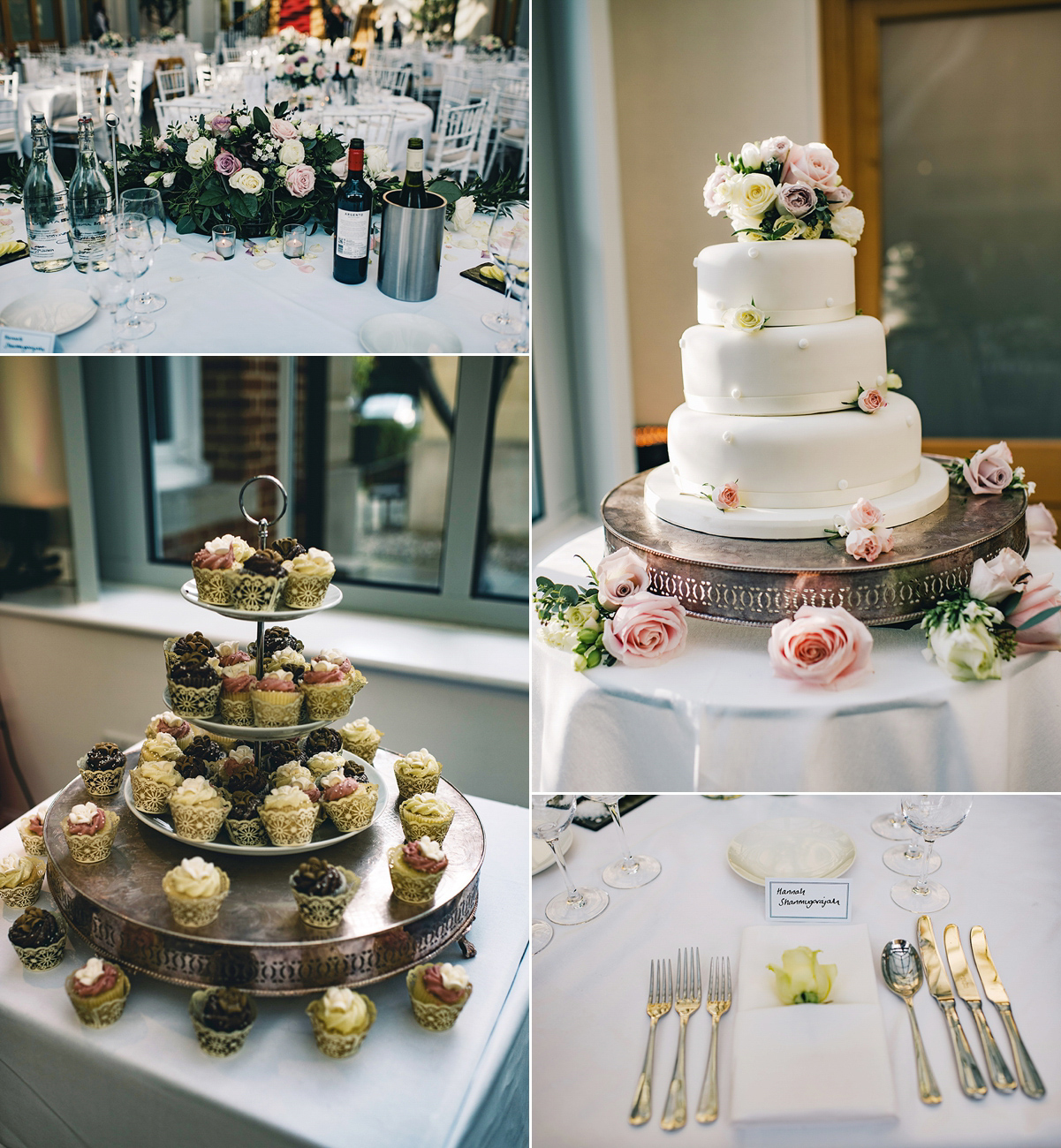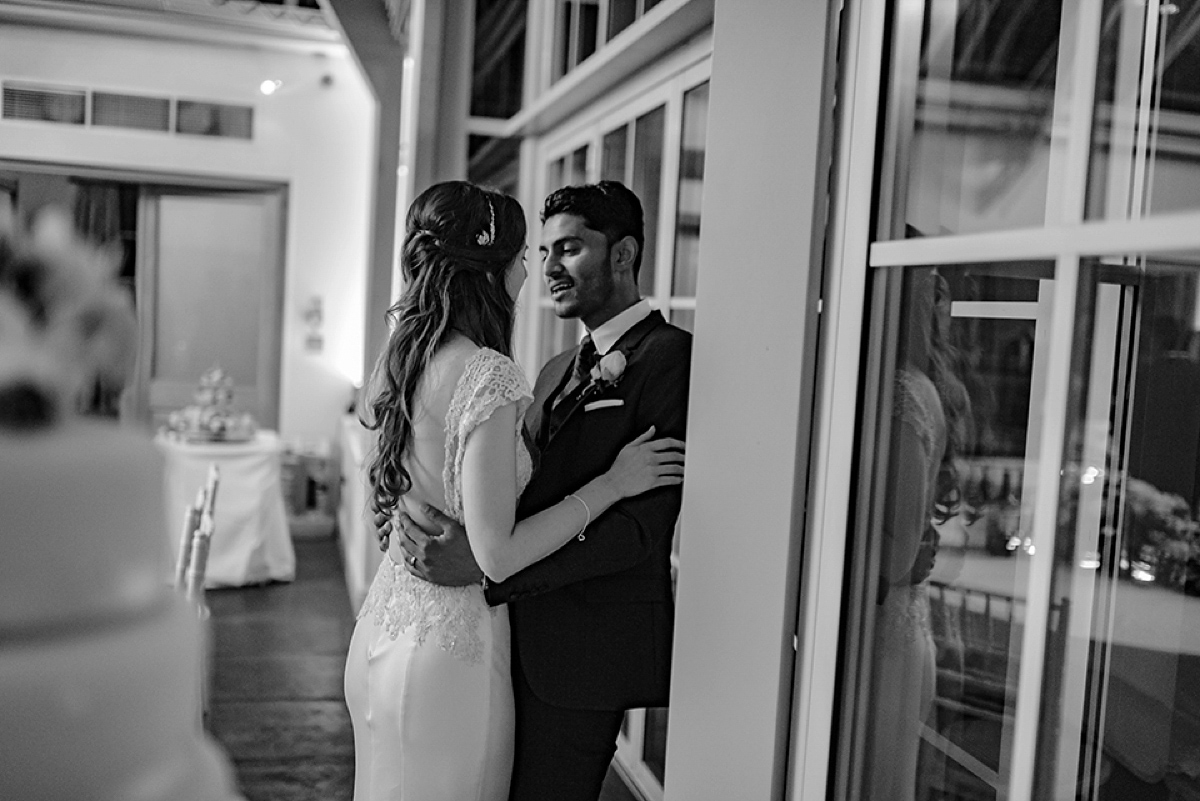 Guests were treated to lucky sixpence chocolate coins as favours and Botleys Mansion provided in house catering and a DJ. Our blushing bride Hannah made all of the wedding stationery herself, enjoying the chance to get creative for such an exciting reason!
"Our first dance was 'My Girl' by The Temptations, Sai is a huge Motown fan so we knew it would be something from the genre."
Words of Wedded Wisdom
"Get ready earlier. Everything felt like such a rush towards the end and to top it off we forgot to take my overnight bag to the venue. My Mum popped out during the evening reception to go and get it otherwise I would have been coming down to breakfast the morning after still in my wedding dress!
The pre-wedding shoot was a really good idea as it allowed us to get comfortable with the photographer, after all they are about to spend one of the most important days of your life with you!"
Thank you for the scheduling advice Hannah; something that many of our brides (including me!) will be remembering. I've so enjoyed sharing Hannah and Sai's big day with you lovely lot, such a perfect example of a traditional celebration with a modern and stylish twist. Of course, a huge thank you also goes to Jacqui McSweeney for allowing us to share her work yet again!
Enjoy your Thursday  my loves, I'm already dreaming of lie ins and pancakes at the weekend.
Emily B xx