Has anyone got any idea where the weekend went? I swear it was Saturday five minutes ago? Well, time seems to gave slingshotted us forward into Monday but fear not – I have a simply sublime celebration to inspire you this morning on our much loved wedding blog. The gorgeous red-lipped bride you see before is Alison, and today I'm lucky enough to be sharing her whimsical, coastal inspired July wedding to husband Barnaby.
We're absolutely delighted that two of our Little Book For Brides wedding directory members played such an important role in this wedding; Tom Ravenshear captured these beautiful images and designer Eliza Jane Howell created the glamorous beaded gown.
"I'm not a fan of a themed wedding, so I wanted to avoid that feel,  I just followed my personal taste and as a result, things came together naturally and harmoniously. The wedding was by the sea, but it wasn't a 'seaside wedding'. My dress and bridesmaid dresses had a Golden Age vintage feel, but it wasn't a 'vintage wedding'. There were Canadian animal themed tables and a turquoise canoe full of beer and poutine as a midnight snack, but it certainly wasn't a 'Canadiana wedding.' I like to think that the mix of all of these intuitive decisions created a beautiful whimsical feel overall."
This lovely blend of inspirations certainly combines to create a special, individual feel; paying homage to a medley of heritages, interests and styles. Alison and Barnaby married in a church on Thorney Island and held their reception in the groom's parent's garden; both venues situated on the pretty Chichester harbour.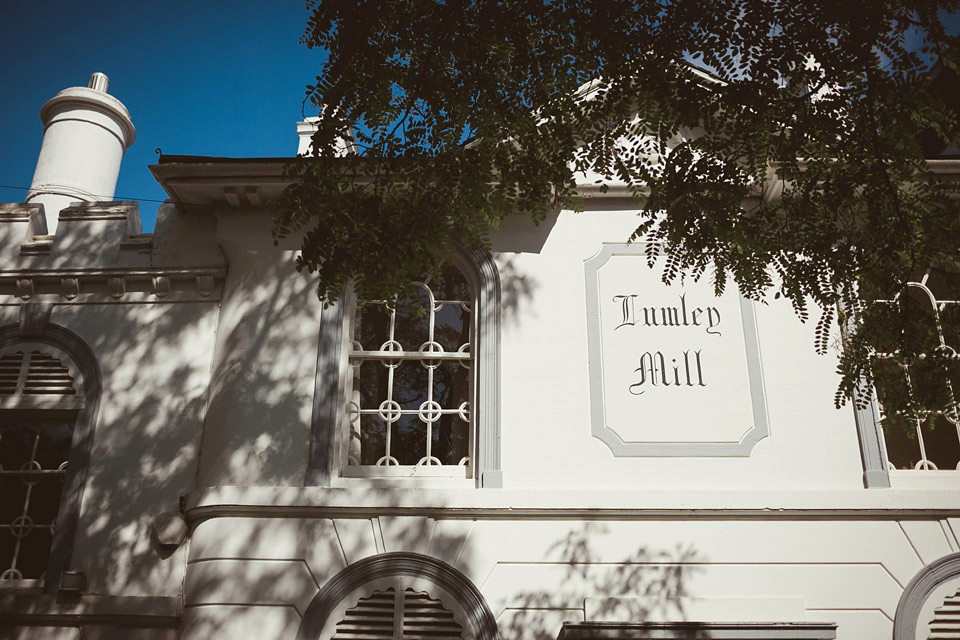 Now I'm afraid I can't wait a second longer to gush over Alison's beaded Eliza Jane Howell beauty. If you haven't already read Tamryn's low-down on the brand new Stardust Collection (showcased right here on the very day it launched don't you know) be sure to feast your eyes on all the gorgeousness this talented designer and Little Book for Brides member has to offer.
The sumptuous luxury of Alison's gown, combined with her tumbling, vintage-style waves, expertly coiffed by Fleur Rosa, a flick of eyeliner and a bold lip, our Mrs is a vision of elegance and sophistication.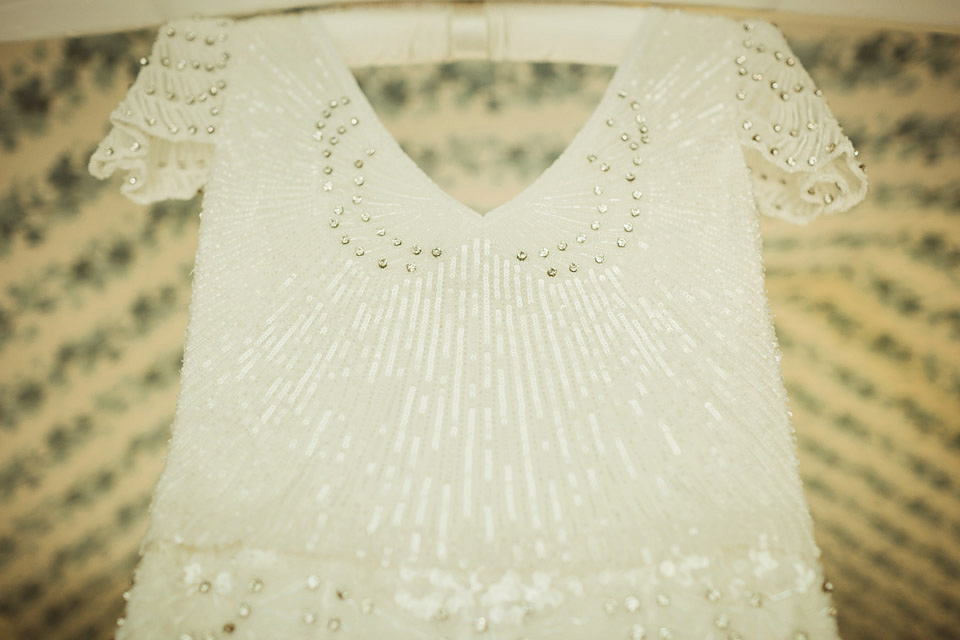 "My shoes were Matilda by Rachel Simpson Shoes, bought from the same shop as my dress, and were ivory satin with a silver leather trim, a medium sized heel and a peep toe."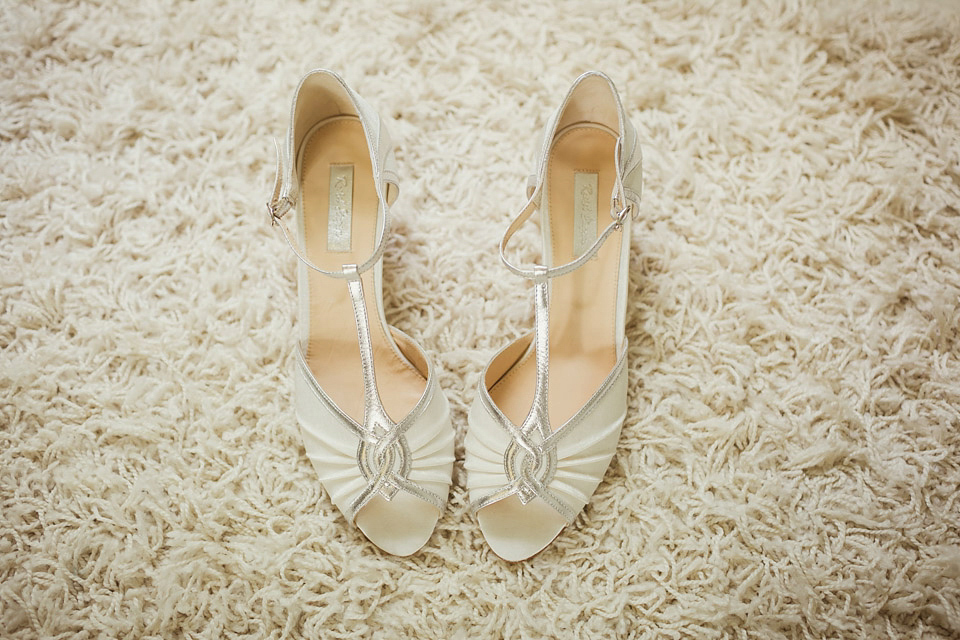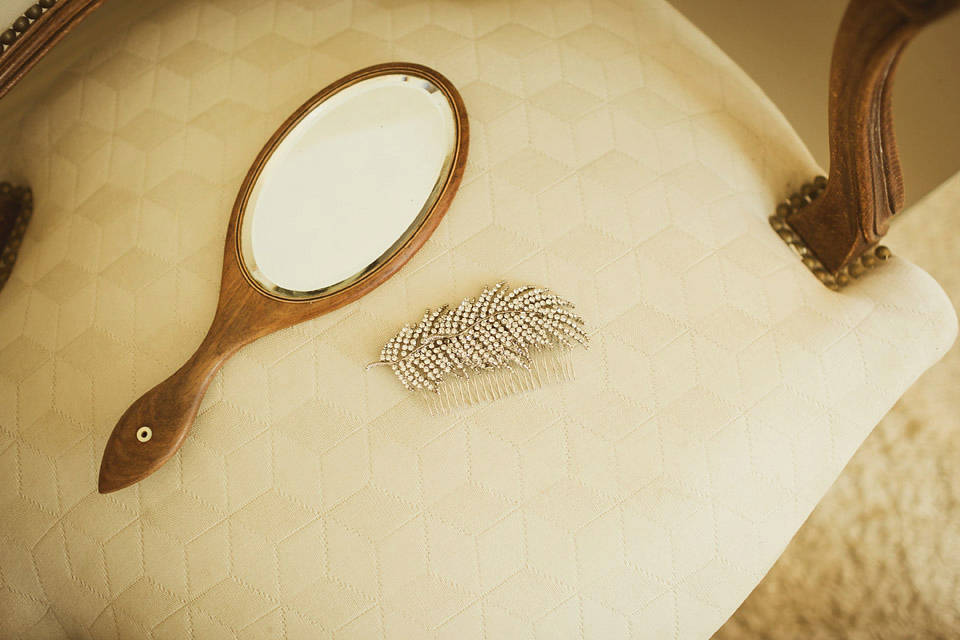 "A lovely and talented young lady named Fleur in Chichester did my hair and make-up and also the hair and make-up for my bridesmaids. Her business is called Makeup by Fleur Rosa."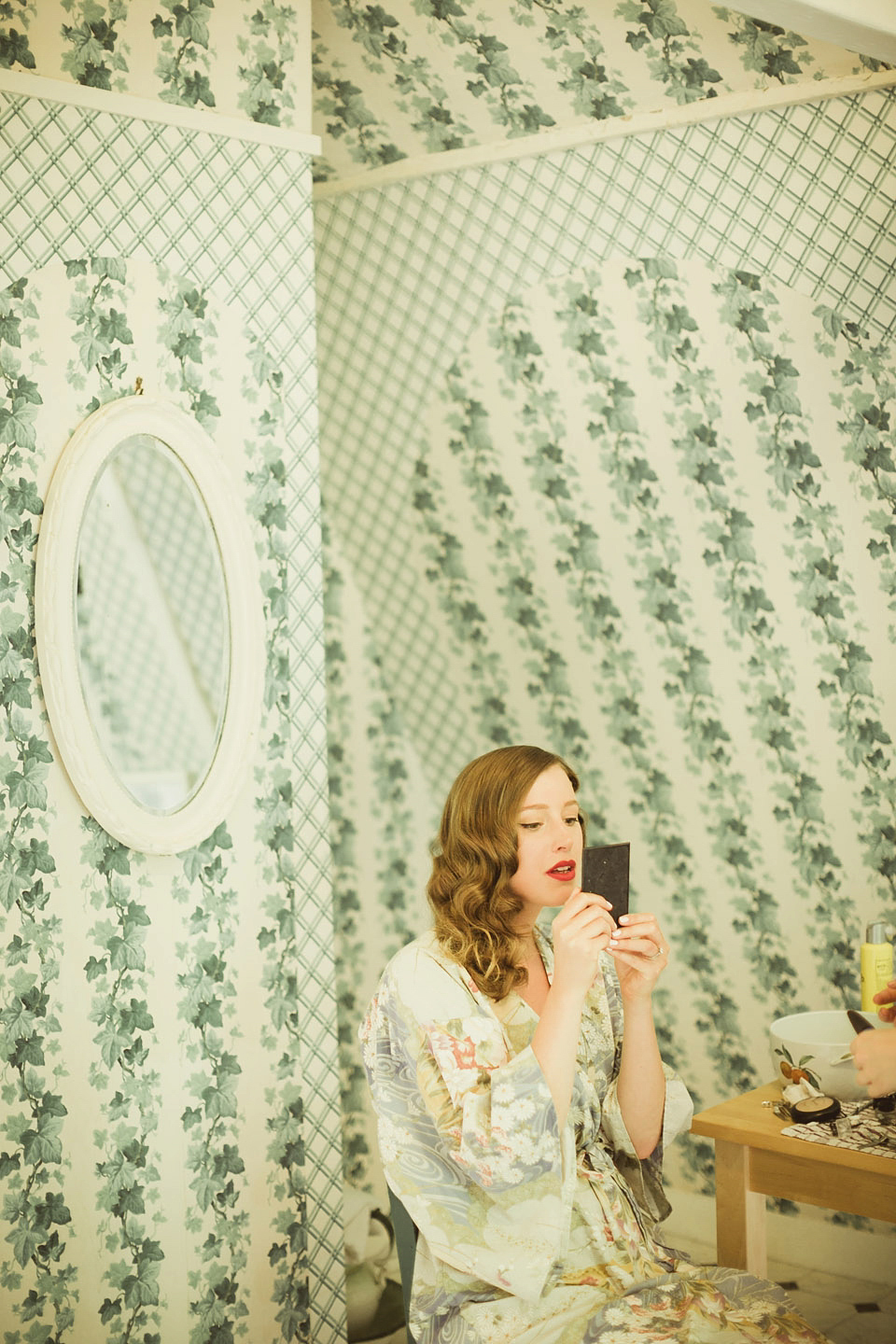 The images Tom has captured of Alison getting ready are works of art; beautifully composed shots with an aura of old-school glamour and femininity. The contrast between the soft green of the ivy-patterned walls and the pop of red from the bride's lipstick lends an entirely fine art quality to these already beautiful frames.
"The designer of my dress is Eliza Jane Howell, and I purchased it from Bridal Rogue Gallery in Marylebone, London. I saw it in the window of the shop when I went to try on other dresses by the same designer."
"I hadn't even noticed it before then, and it felt perfect when I tried it on. It was completely different from what I was expecting to wear at the beginning of my dress search."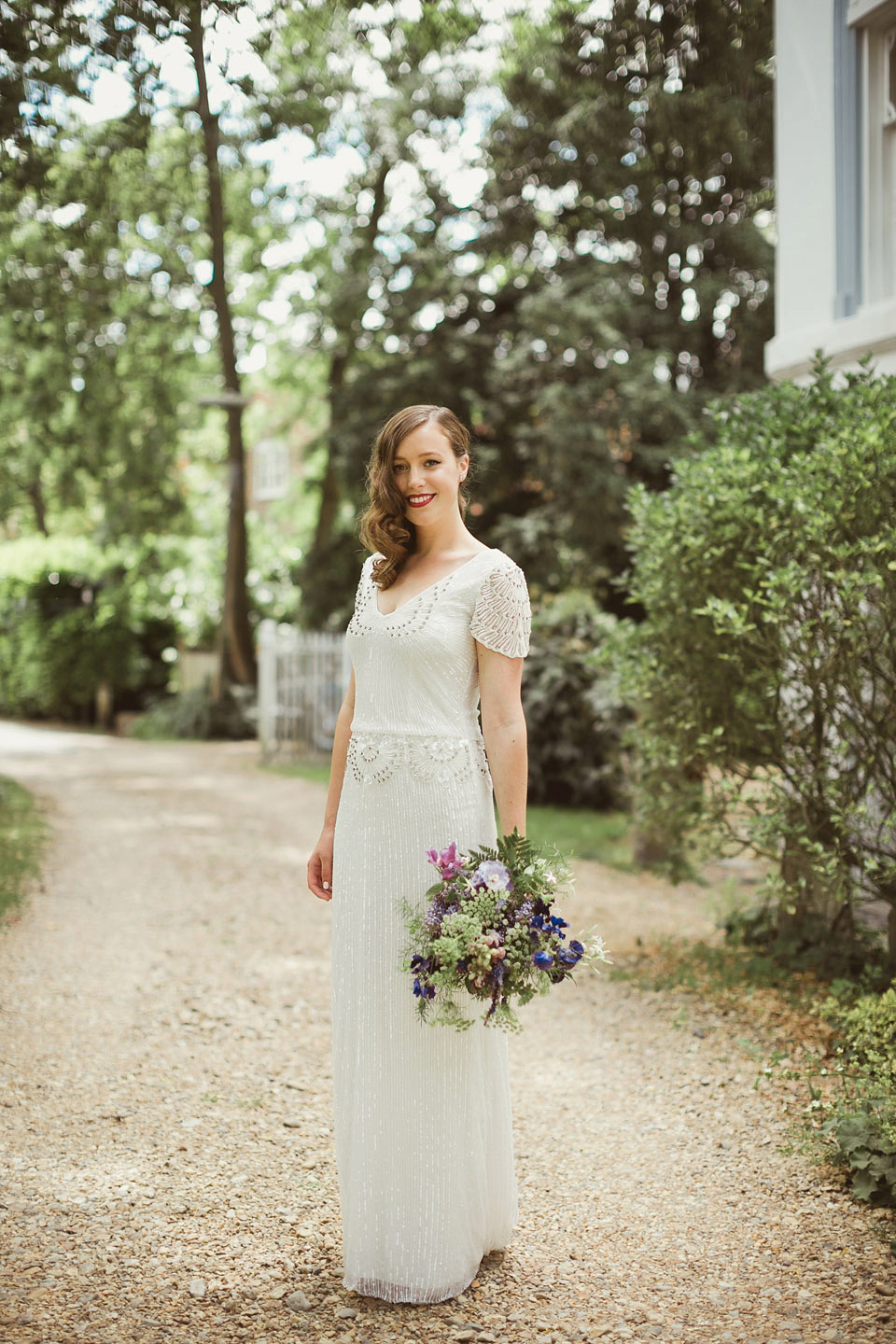 Alison chose not to wear a veil and instead swept her tresses to one side with an ornate, organically-inspired hair comb. Her only other accessories were a pair of diamond earrings and a pearl and sapphire ring on her right hand. This minimal approach allows her truly stunning gown to shine in all it's glory; the detail that goes into crafting these designs is breath-taking.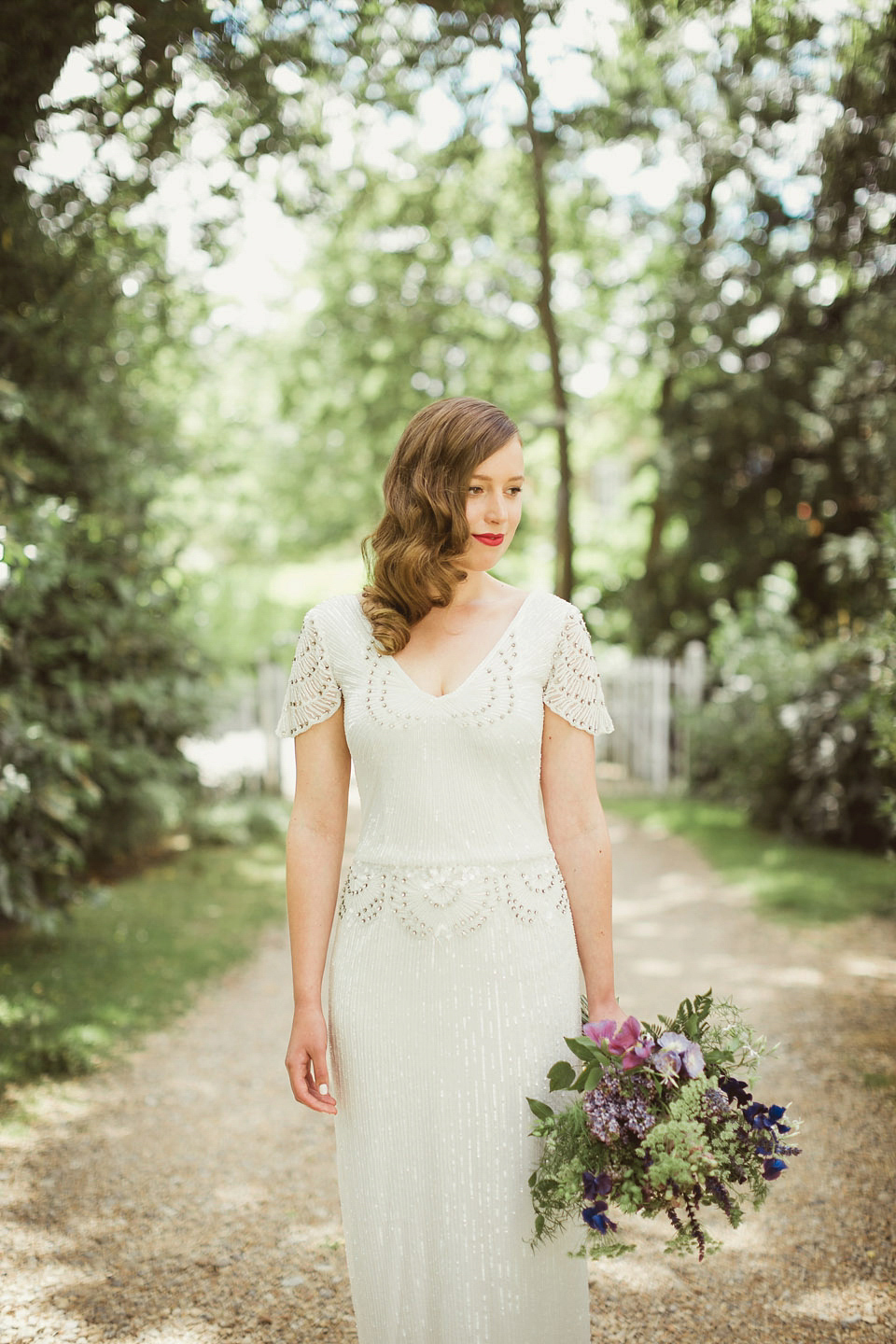 "Our florist was local; Angel Like Flowers. I showed her pictures of seasonal wild flowers, and pictures of bouquets for myself and bridesmaids that I liked which she matched exactly.
I let her have creative license within the type of look and flowers that I wanted for the rest of the church and marquee, and she did a stunning job putting it all together. I wanted wild flowers, definitely no roses, and olive leaf garlands."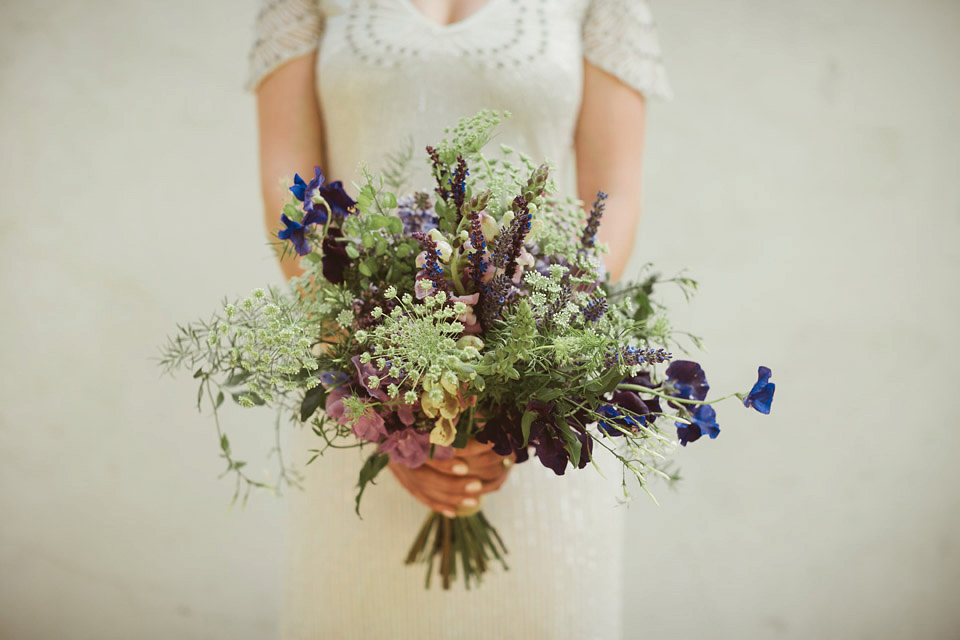 Alison's bridesmaids looked stunning in Virgo Lounge gowns purchased from ASOS. I adore the deep blue colour of the fabric, embellished with glistening gold beading and sequins. The girls wore ballroom dancing shoes from Light In The Box and silver and gold daisy earrings gifted to them by the bride.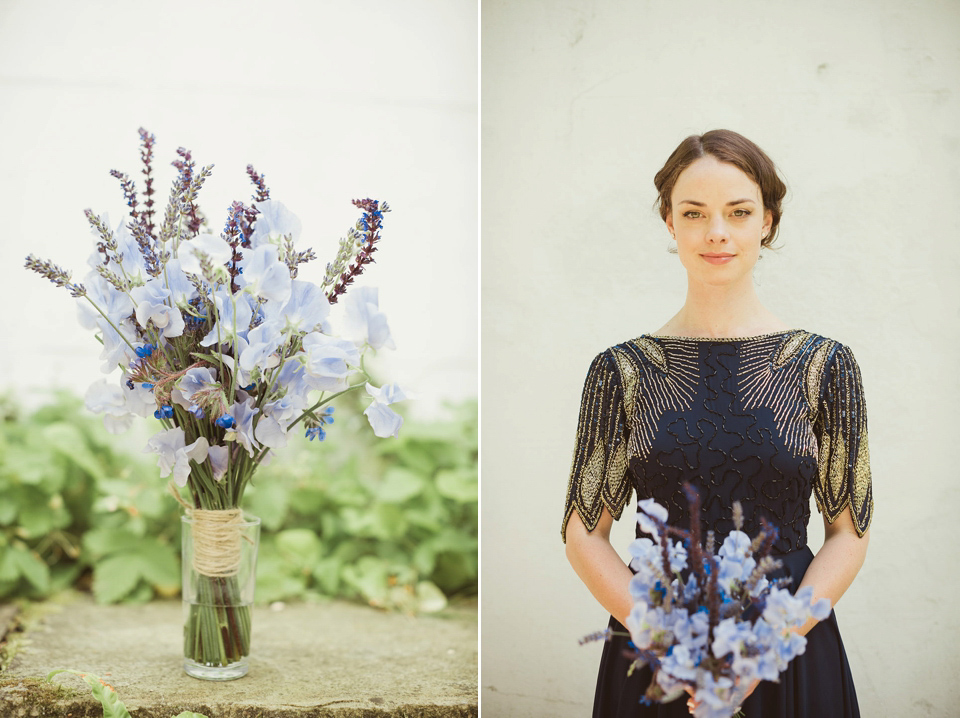 Alison's adorable flower girls were crowned with circlets of olive leaves and lavender, set off perfectly by their pretty white dresses entirely made by the bride's super talented mum. The olive leaf motif was continued in Barnaby's buttonhole; a simple and elegant addition to his black morning suit.
"My mum is an incredible seamstress. I showed her a picture of a dress that I Ioved and she made three for my flower girls. For the page boys again my Mum made the waistcoat and bowties to match the ushers, and the trousers, shirts and shoes were from John Lewis."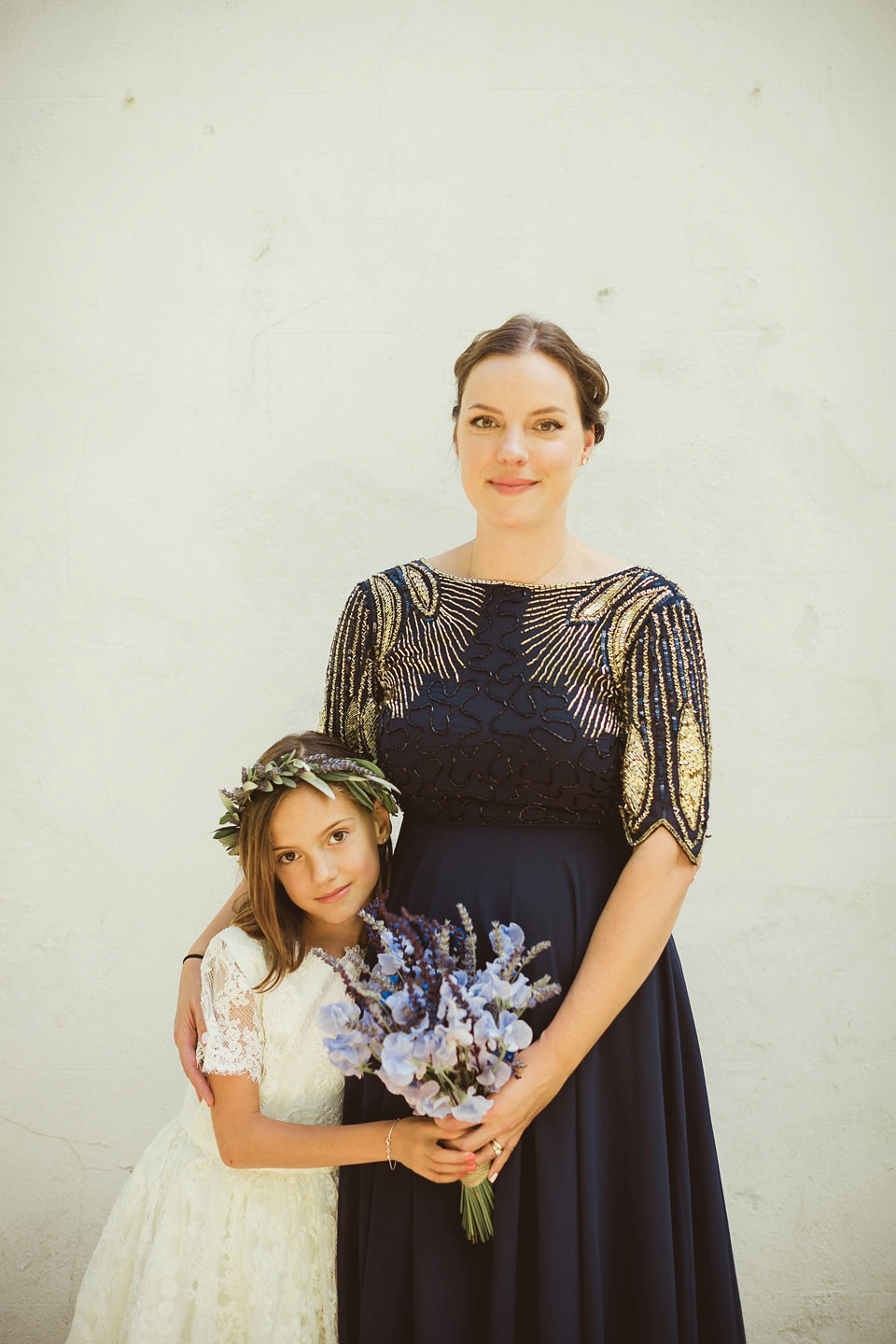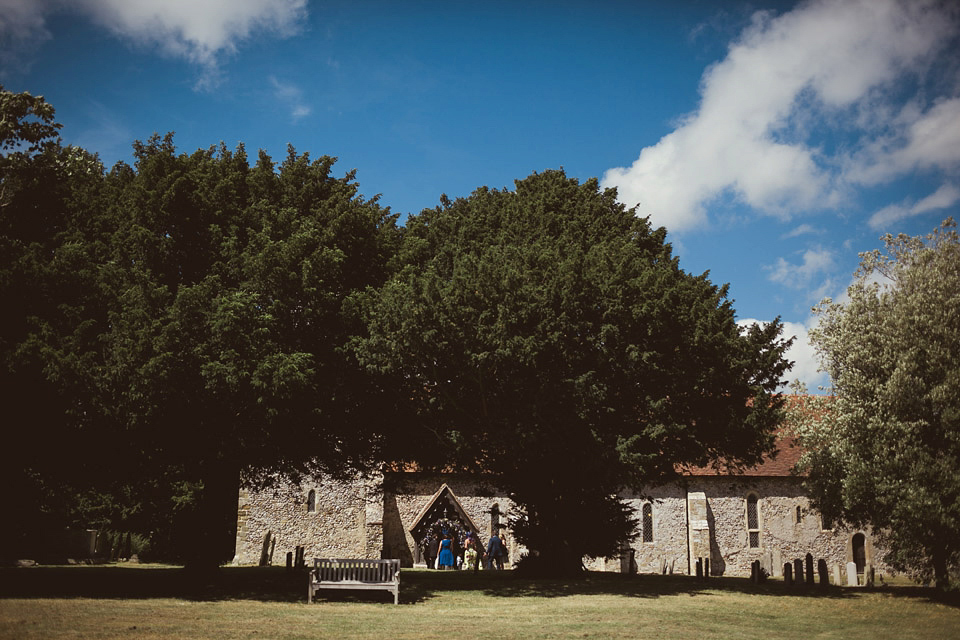 Alison's father walked her down the aisle towards her expectant fiancé and this first glimpse of her love was our bride's very favourite moment of the day.
"Looking back, I genuinely wouldn't have changed a thing about the day. We were lucky to have high tide during and after the church ceremony; as we spend a lot of time there and both love the sea, it only made sense for us to have the wedding at the seaside. It's such a beautiful part of the world."
"I am Canadian, and moved to the UK almost five years ago to do my Masters Degree in History of Art. Before I arrived my Mum asked some of her English friends if anyone they knew had a flat with a spare room they would be willing to rent to me. One of her friends said that her Godson did, and she would ask if he was interested in having a flat mate."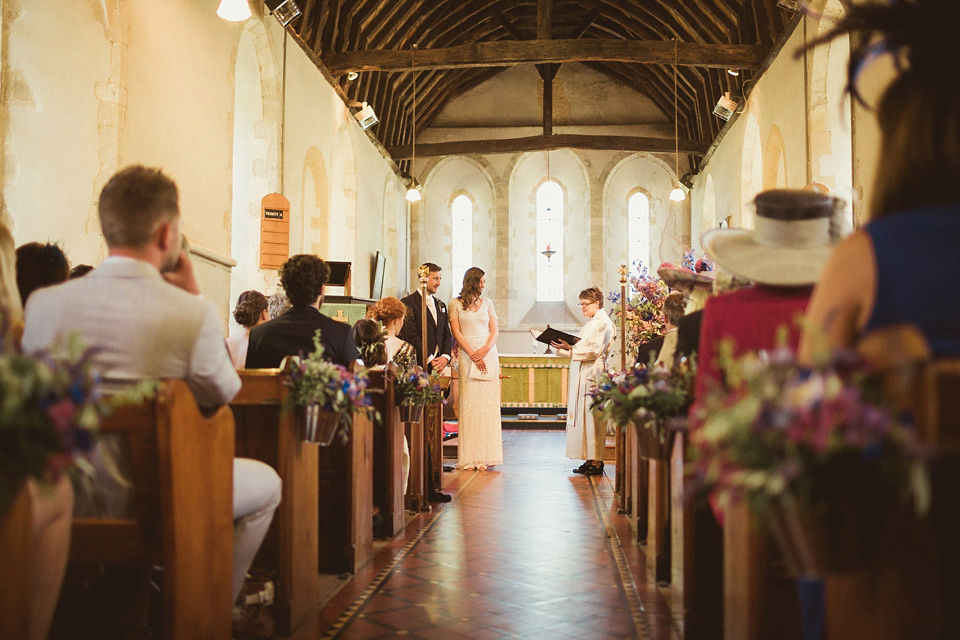 "I moved in with him, and a few weeks later he introduced me to Barnaby, one of his old school friends. We all went out for curry and laughed all night and really hit it off. A few months later things got serious. My old flatmate, Tim, was the best man at our wedding."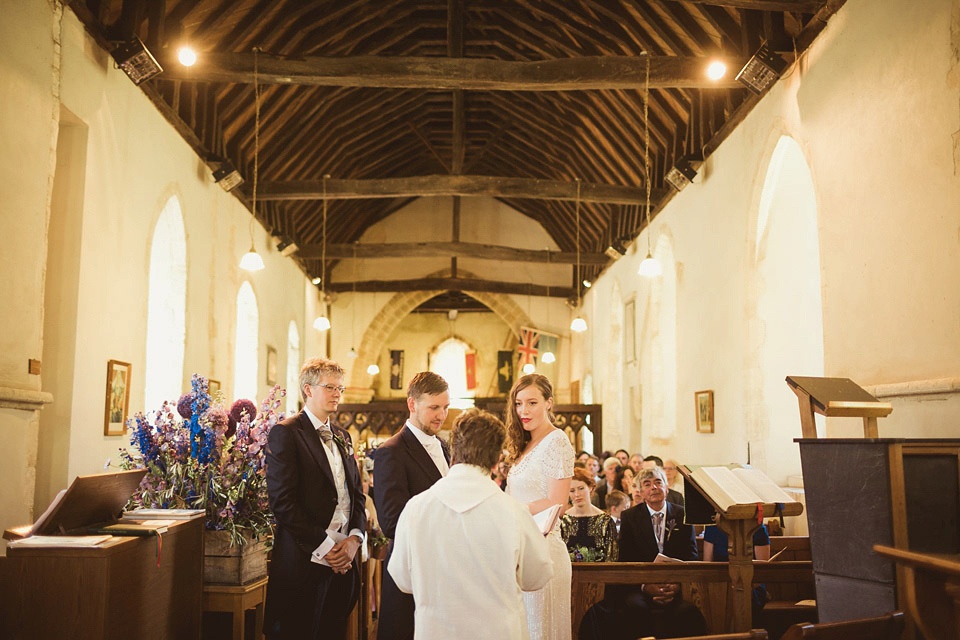 "The day that Barnes proposed to me was a beautiful sunny warm Saturday at the end of March. We were staying at his parents house at the seaside that weekend. We woke up and he said 'lets go for a walk around the island' (Thorney Island). I remember being in a really great mood that morning."
"We took the family dog, Xsara, a Golden Retriever, and set out for a two hour seaside walk, past the church we would eventually get married in. 
At the half way point there were two benches overlooking the sea and the beach. We had a break there and enjoyed the view, and after a while he stood up and said he had a question to ask me. I was oblivious so it completely took me by surprise. It wasn't until he got down on one knee that it occurred to me what was happening. Of course I said yes and the wedding was a year and three months later."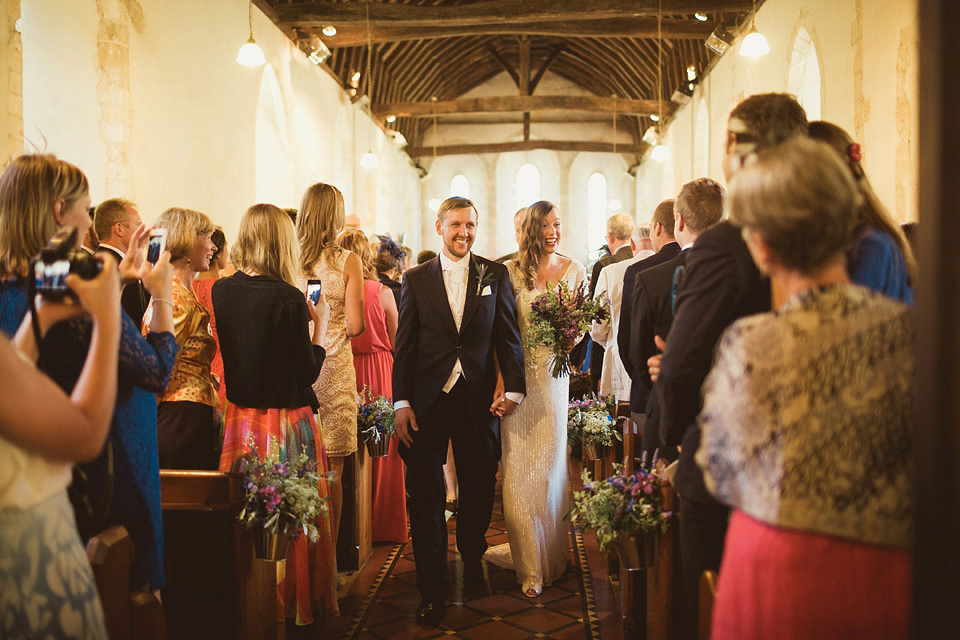 And it goes without saying that these beautiful, whimsical images, captured so perfectly by the exceedingly talented Tom Ravenshear, (I apologise in advance for your lack of productivity today as you endlessly peruse Tom's work) are rather blooming gorgeous. Tom is rather unsurprisingly one of our all-time fave Little Book for Brides creatives.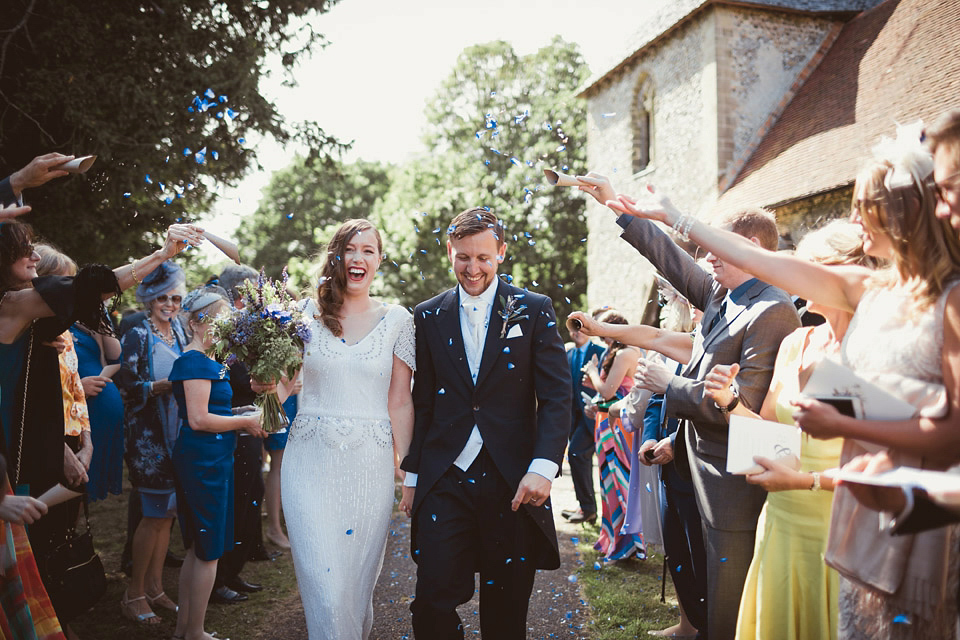 "Our photographer was Tom Ravenshear. He was absolutely brilliant on the day, and the pictures turned out better than I could have ever imagined. He captured such a variety of intimate and beautiful moments; I don't know how he is one person. The overall look of the photographs captured the day perfectly."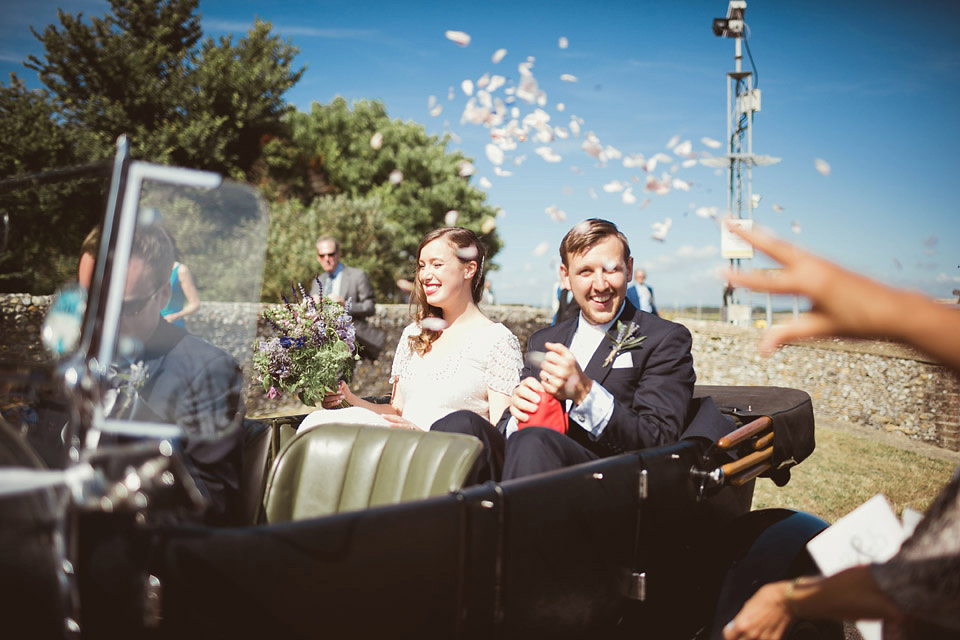 Following the ceremony, the newlyweds and their guests drove under blue skies through quaint country lanes to Barnaby's family home where a traditional marquee was bedecked with whimsical wildflowers, beautiful stationery designed by the bride herself (Alison is an artist and a super talented one at that) and endless garlands of olive leaves.
"We were lucky enough to borrow a vintage Bentley, which we were driven away from the church in, and a 1960's mustang, which my Dad drove me to the church in, from a friend of ours with an amazing family car collection. We transported our guests to and from the church in vintage green and cream buses."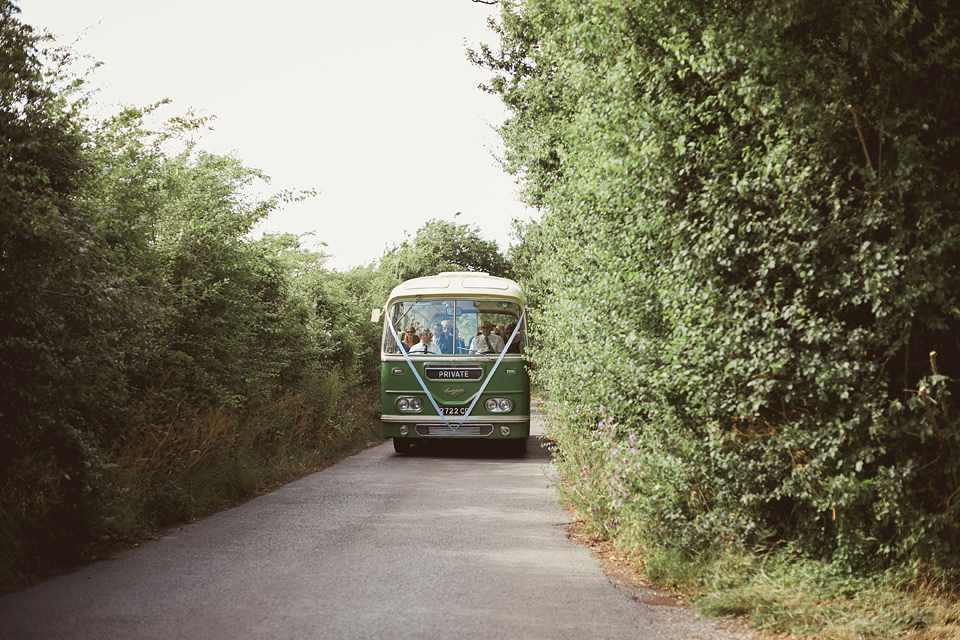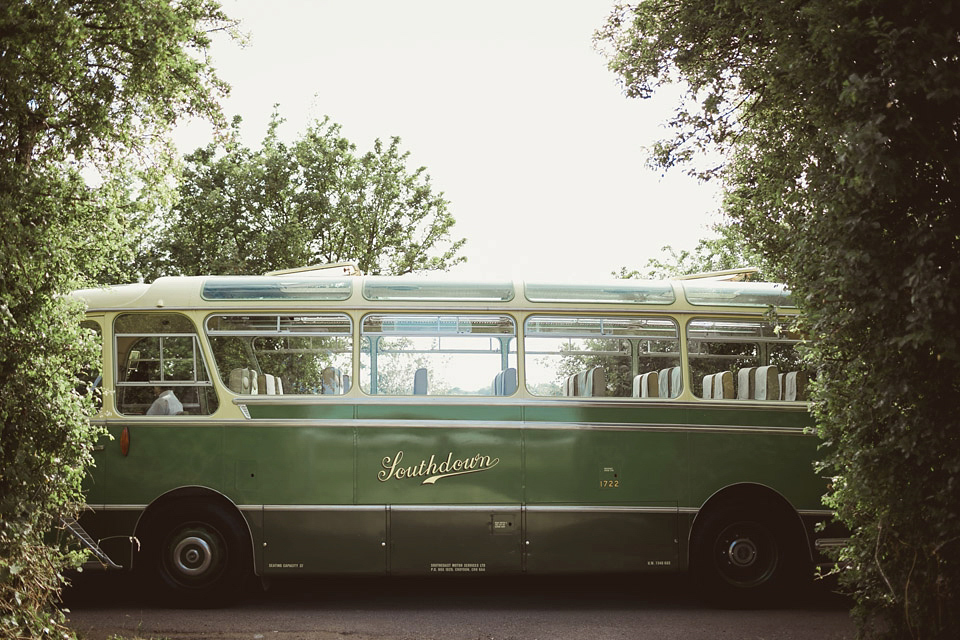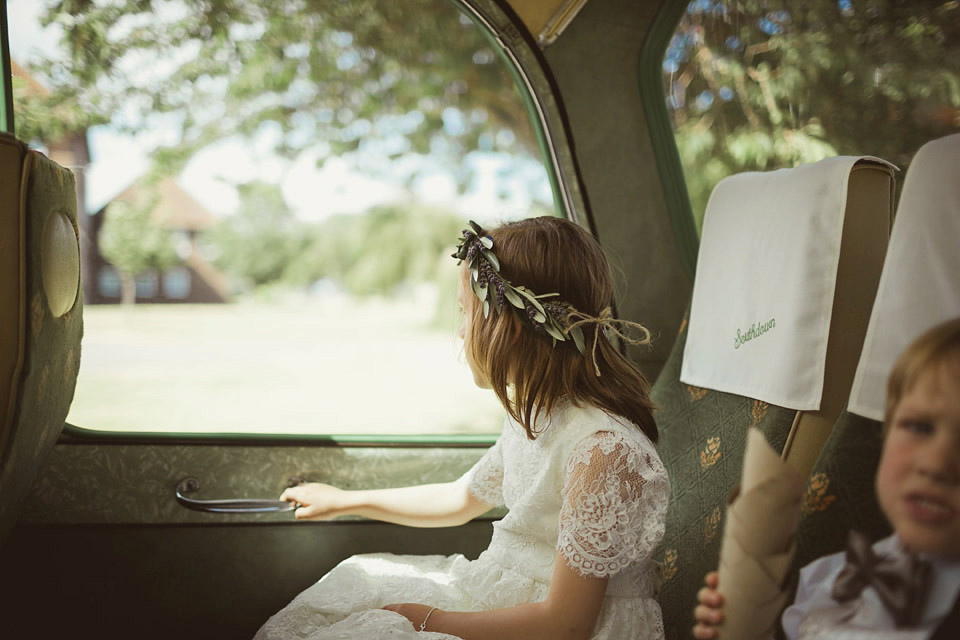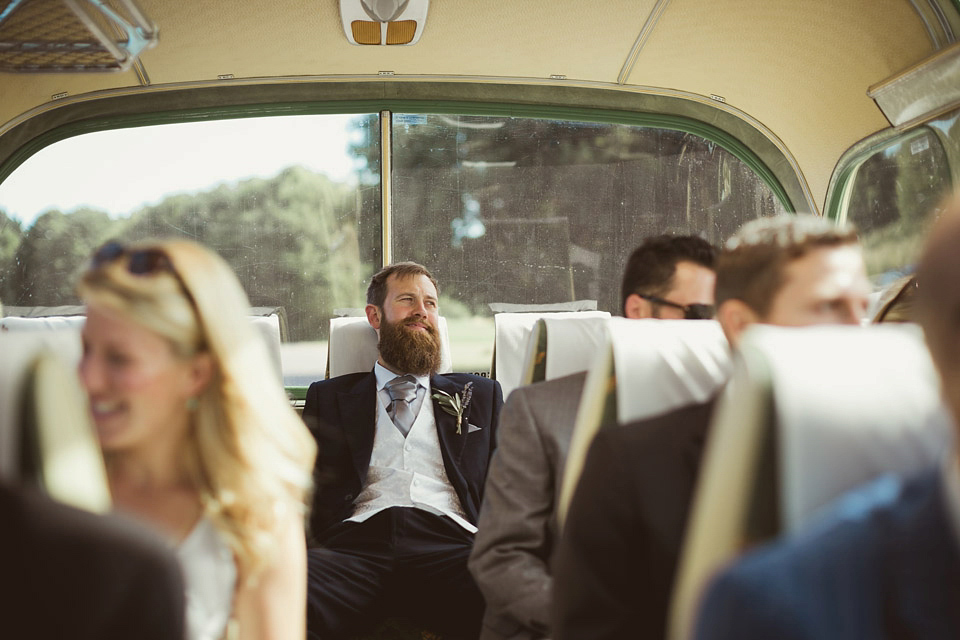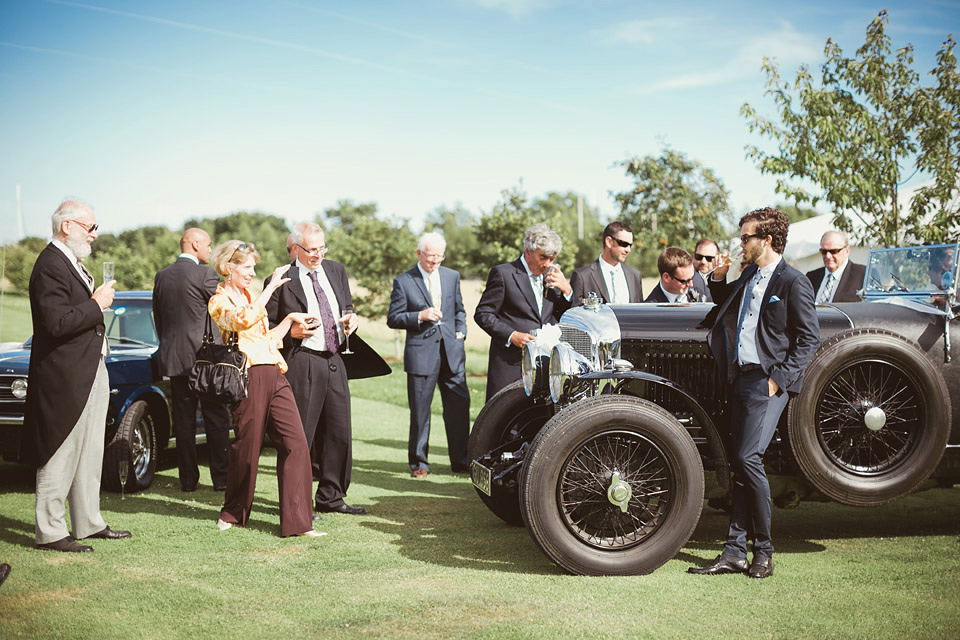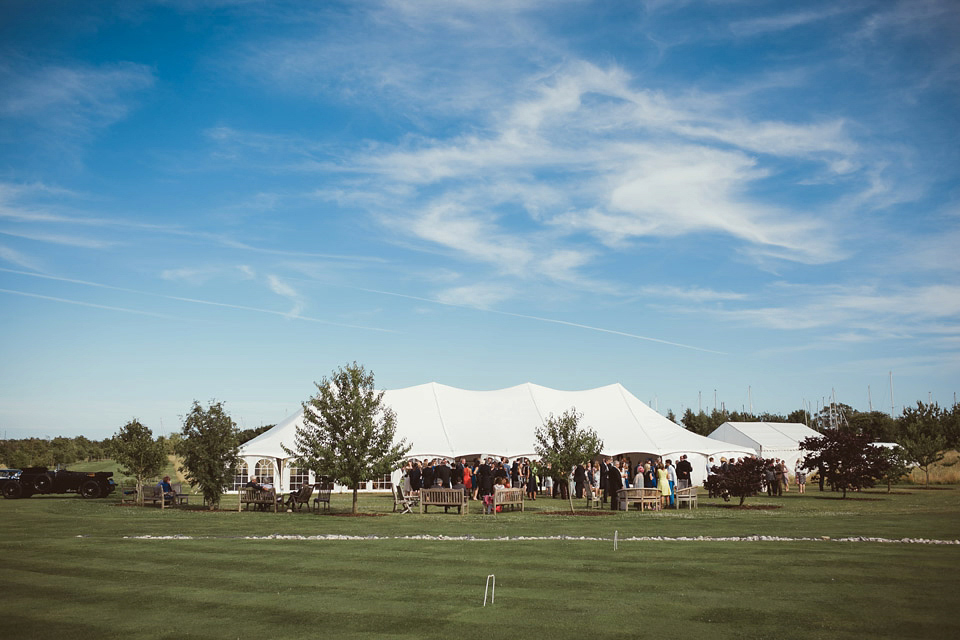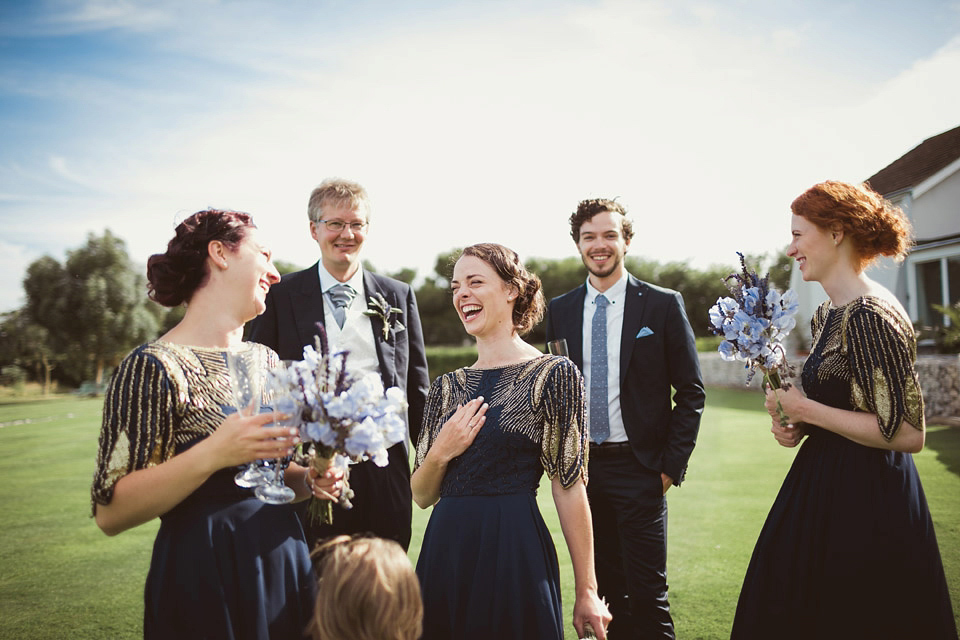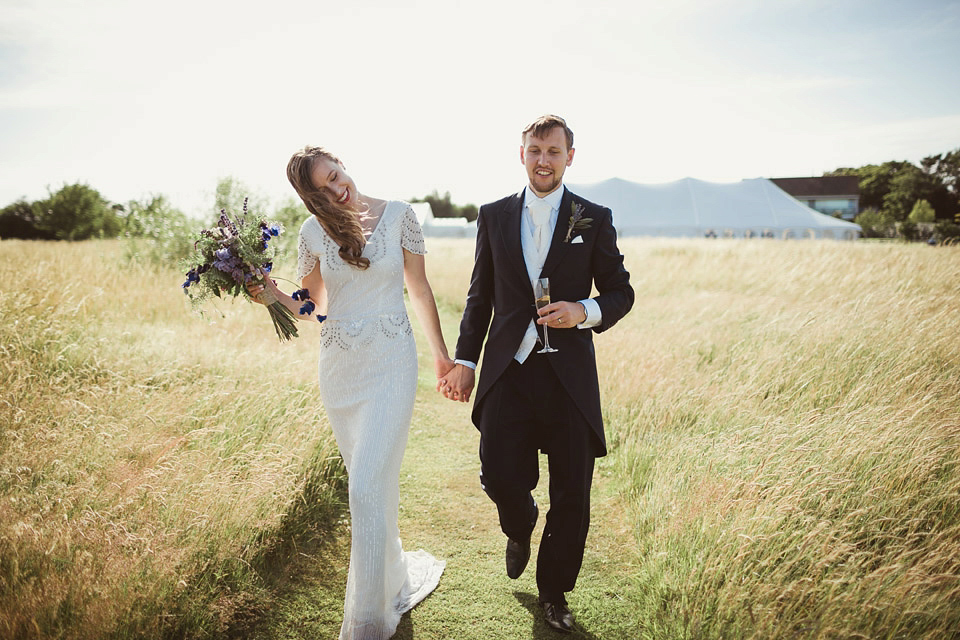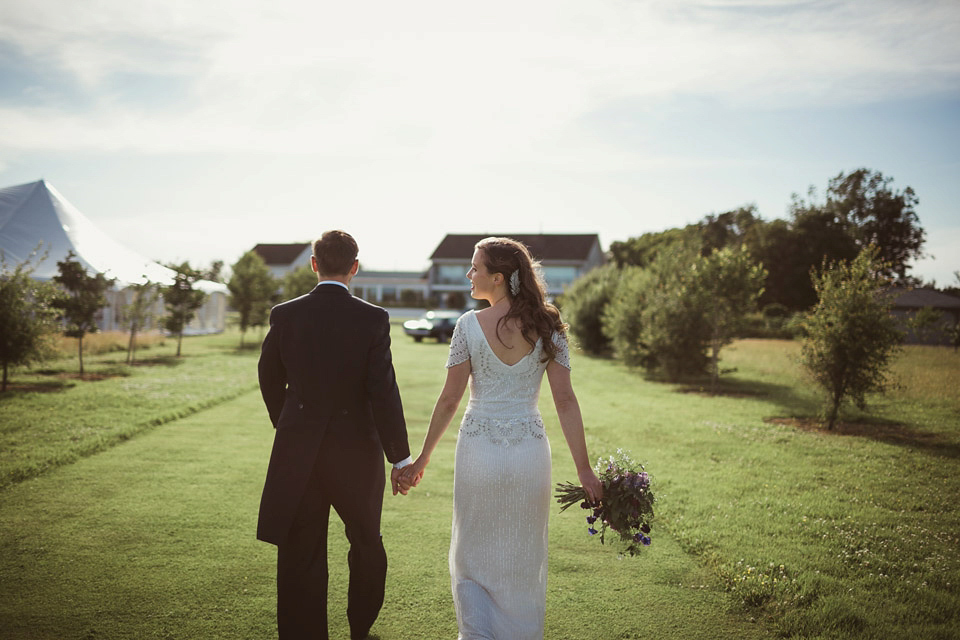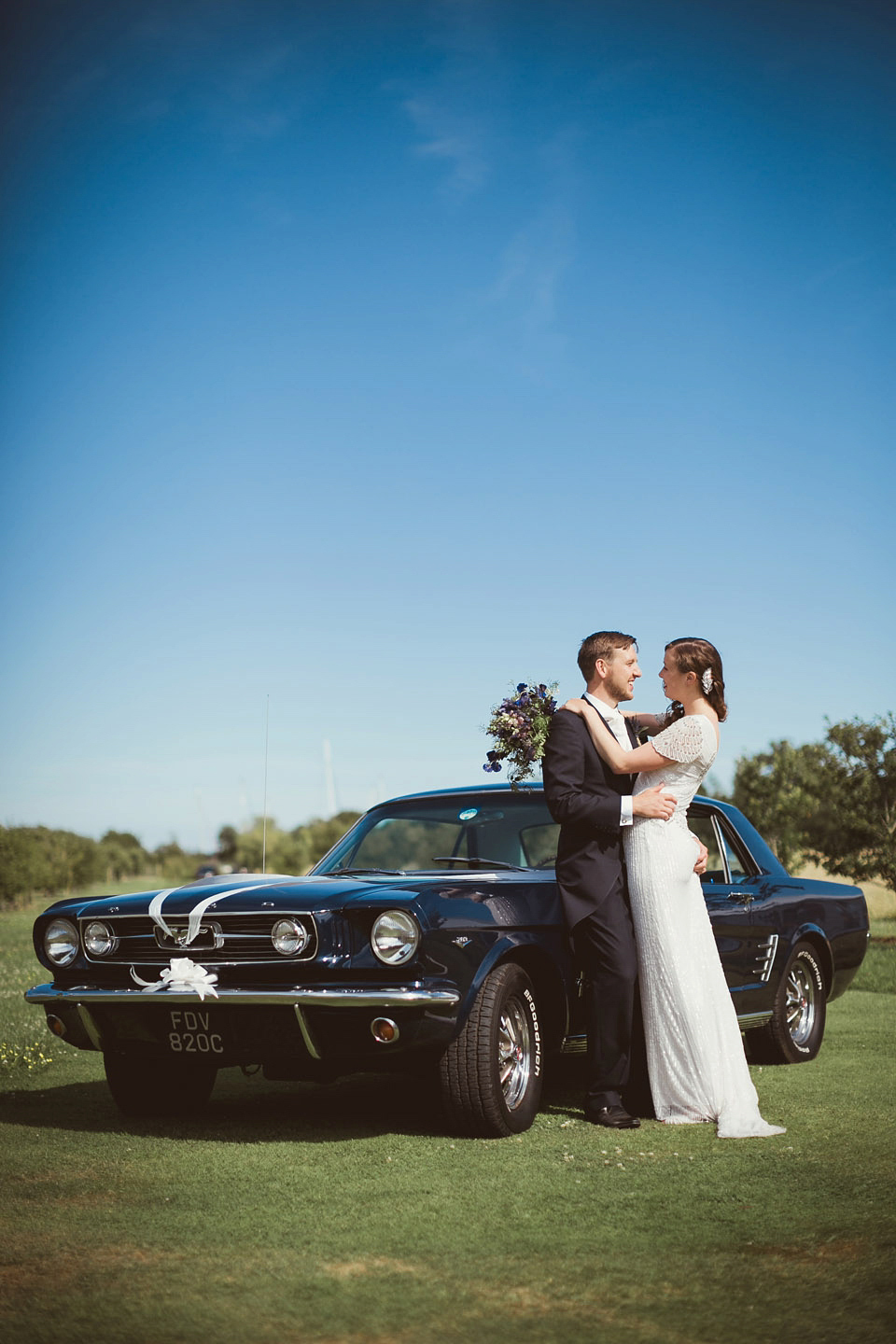 "We had a traditional four poster marquee. I insisted on having no lining, which was like pulling teeth with the marquee company, but it gave it a beautiful rustic, white circus-like feel.
We draped some simple festoon lights throughout it as the only lighting, covered the tables in various sized glass jars with candles, and draped olive garlands up the marquee poles. The turquoise Canadian canoe full of beer by the bar was very popular!"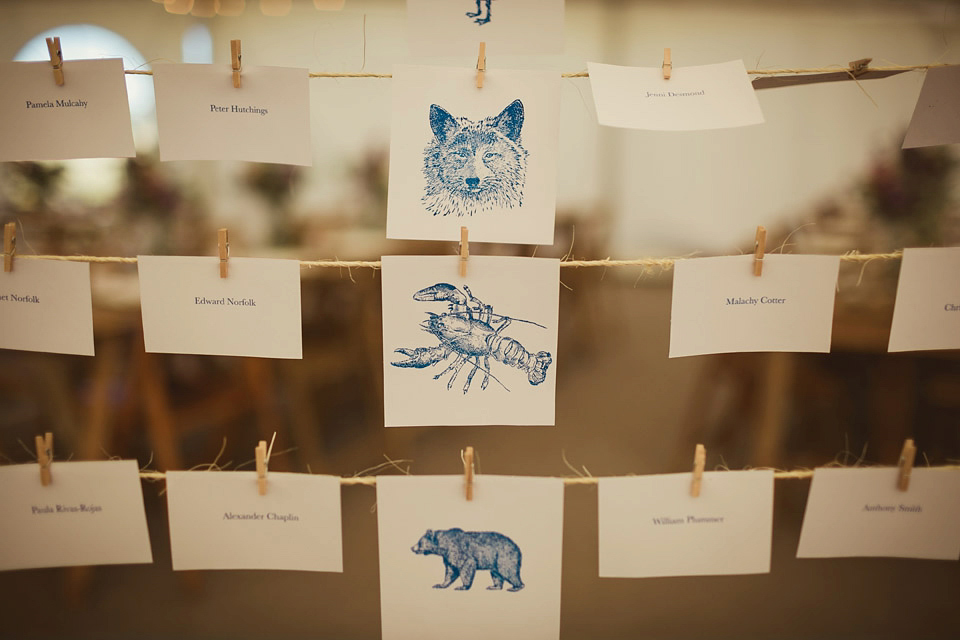 Alison and Barnaby lovingly crafted their own favours for their guests; sweet keepsakes honouring the bride's Canadian roots and the groom's Austria heritage. I love the thought that went into these creations and they look just beautiful.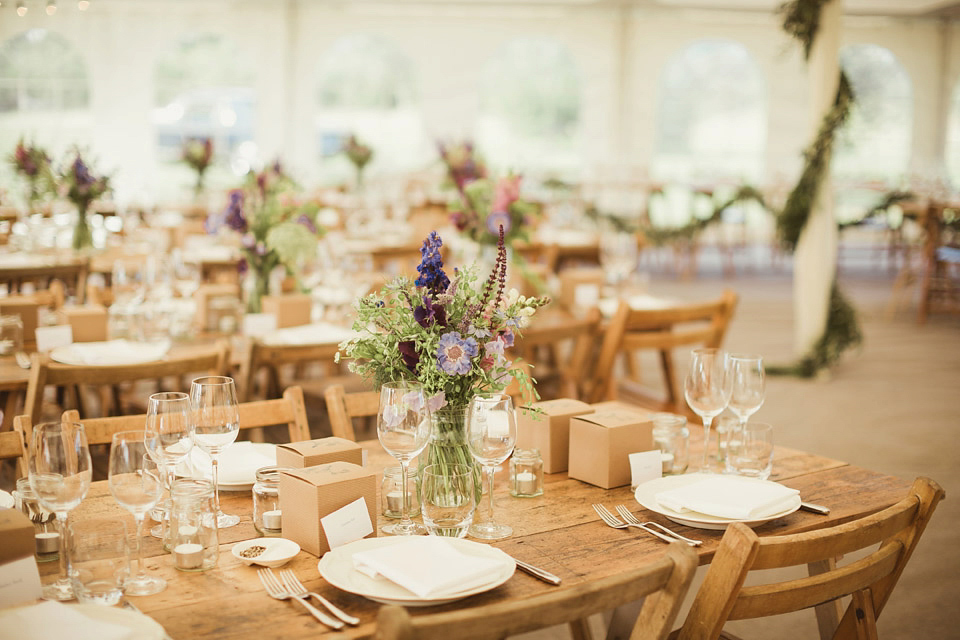 "My husband is a quarter Austrian, and I am Canadian, so we wanted the party favours to reflect our heritage. We got simple rustic cube shaped boxes, filled them with wood shavings and put a stamp on the outside which matched the Canadian animal of the table that the guest was at."
"Inside each box we put a small pot of Austrian honey and some leaf shaped maple syrup sweets."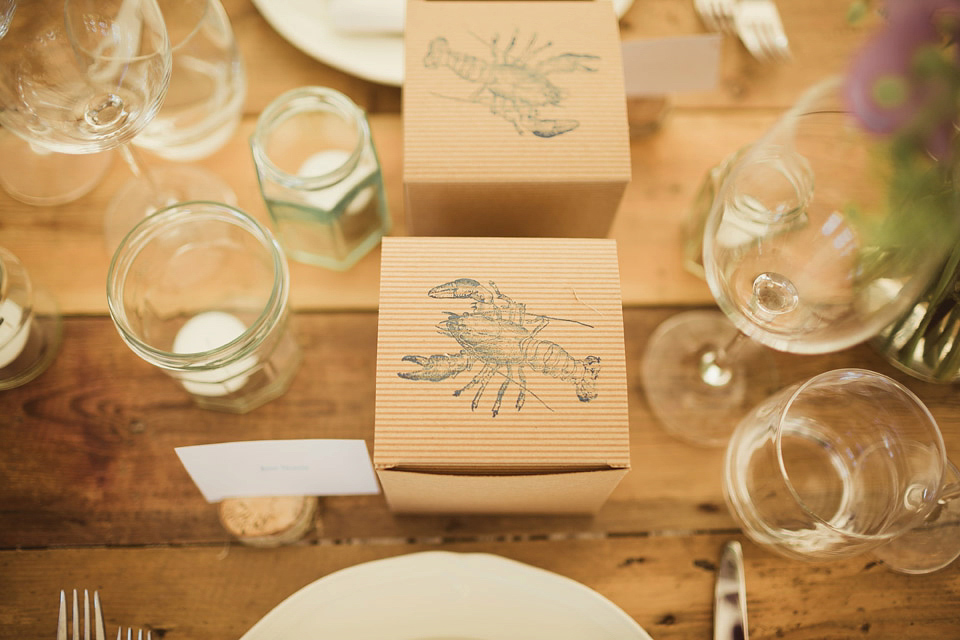 Guest's enjoyed catering by Abi Brown of Abi's Party and I'm sure eagerly anticipated a slice of the beautiful white wedding cake. Just reading Alison's description of it's three scrumptious flavours had my mouth watering more than I'd care to admit.
"I saw a picture of this cake and stand on Pinterest and fell in love with it. It was a vintage Danish cake stand that I somehow managed to track down on Etsy, and I had a local lady named Julie on Hayling Island create the cake. She has incredible attention to detail and basically made an exact replica. Both Barnes and I hate traditional wedding cake, so we had three different flavours; lemon with buttercream, chocolate with chocolate buttercream and vanilla with raspberry jam and buttercream. It was delicious!"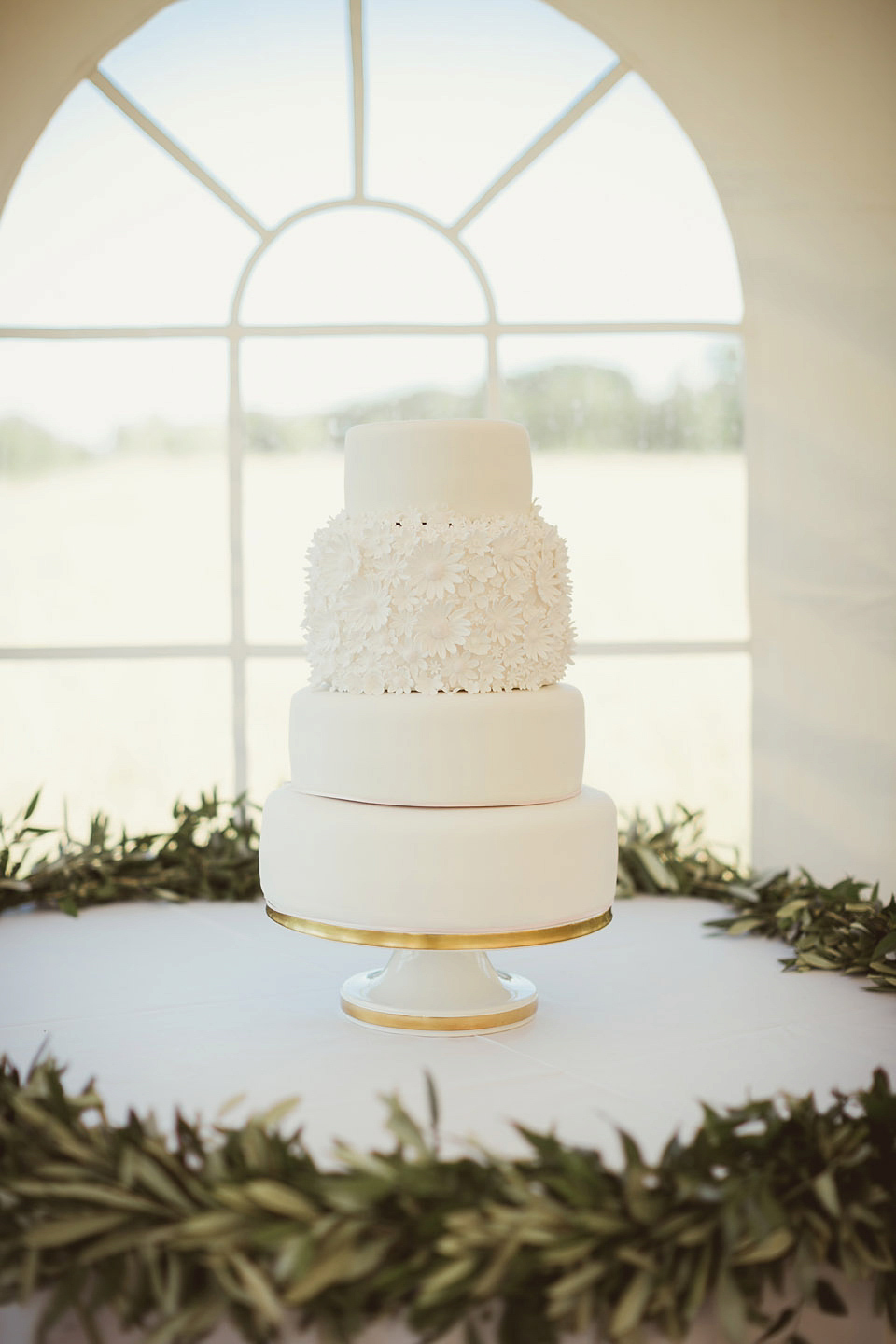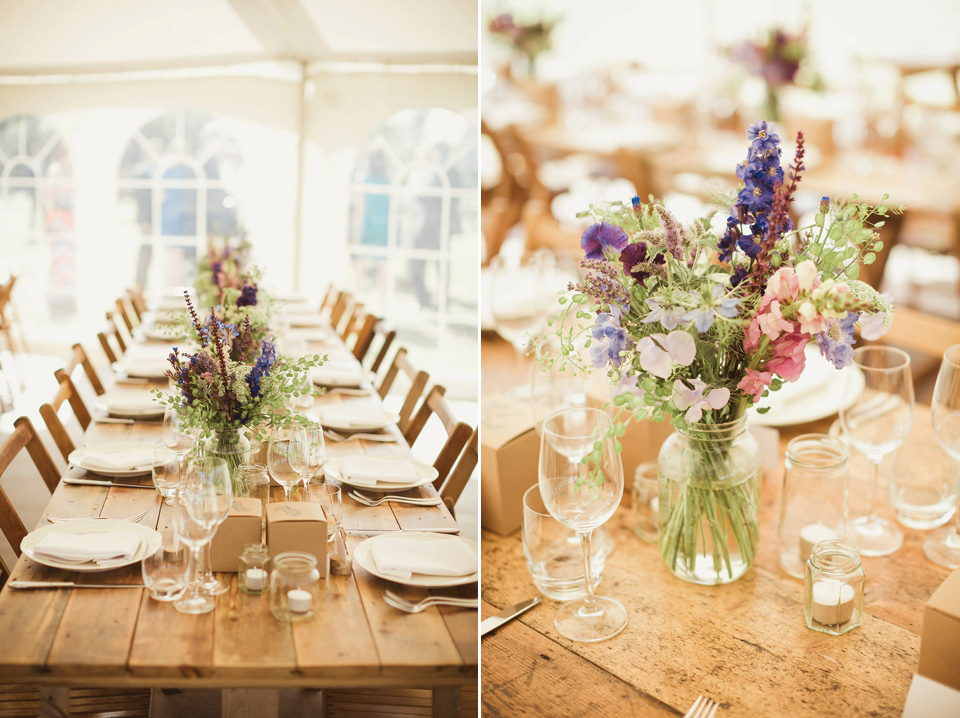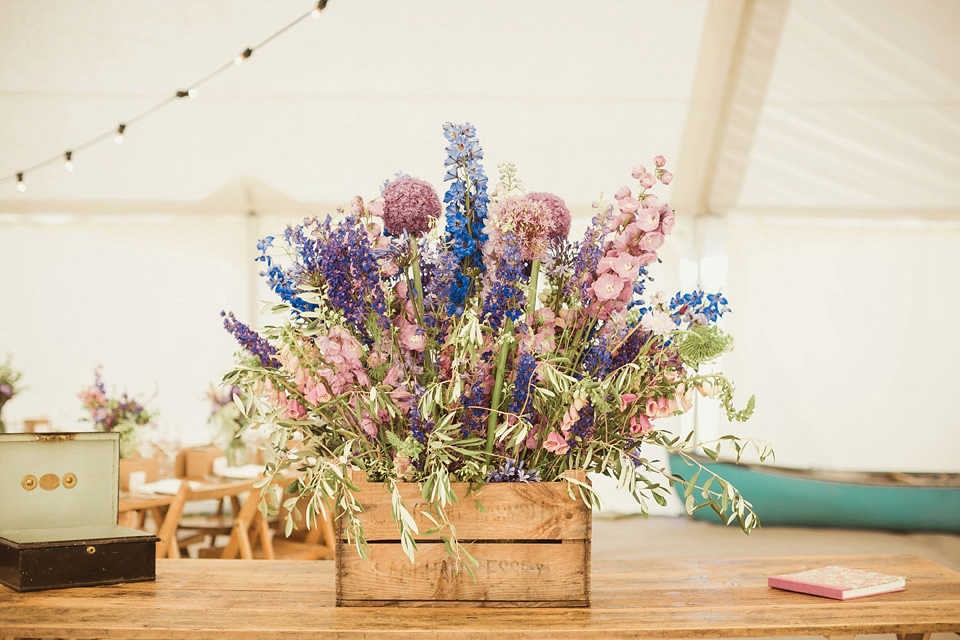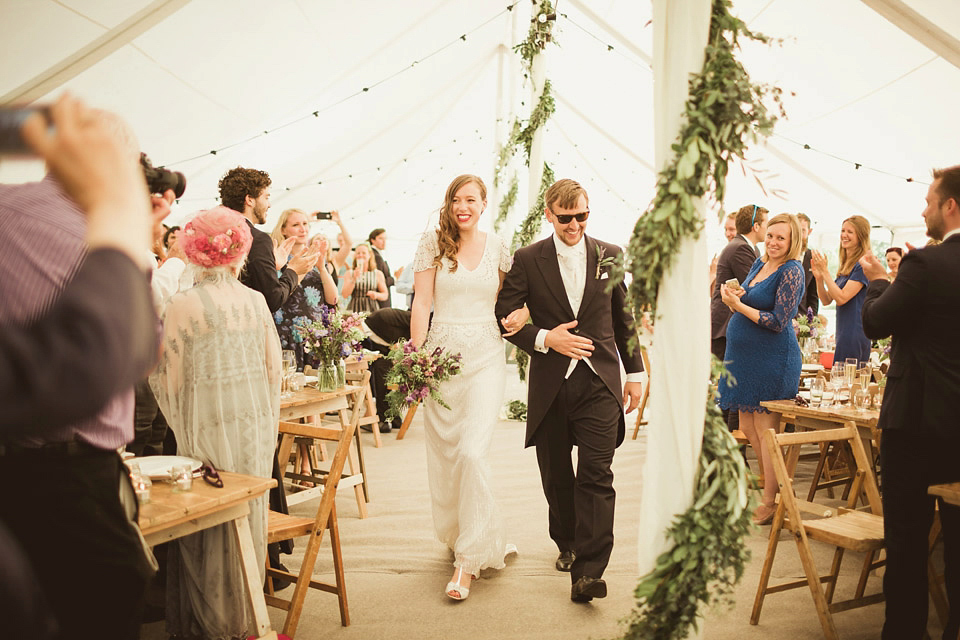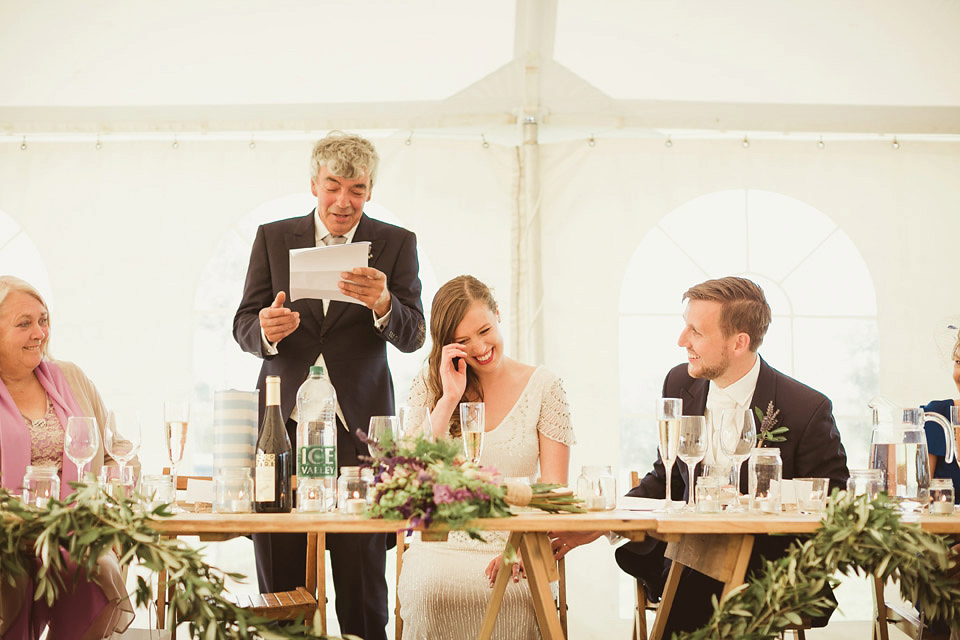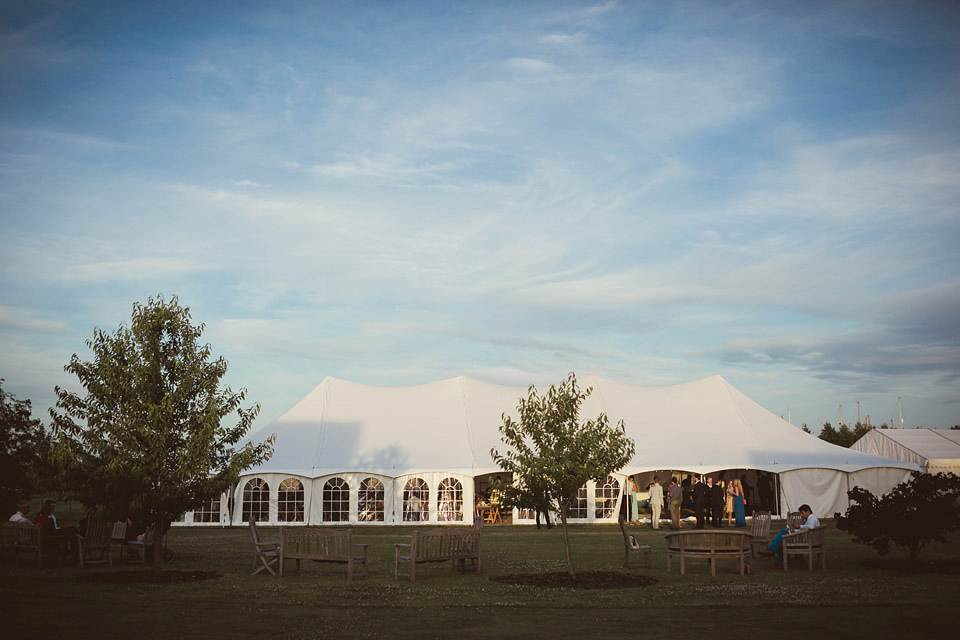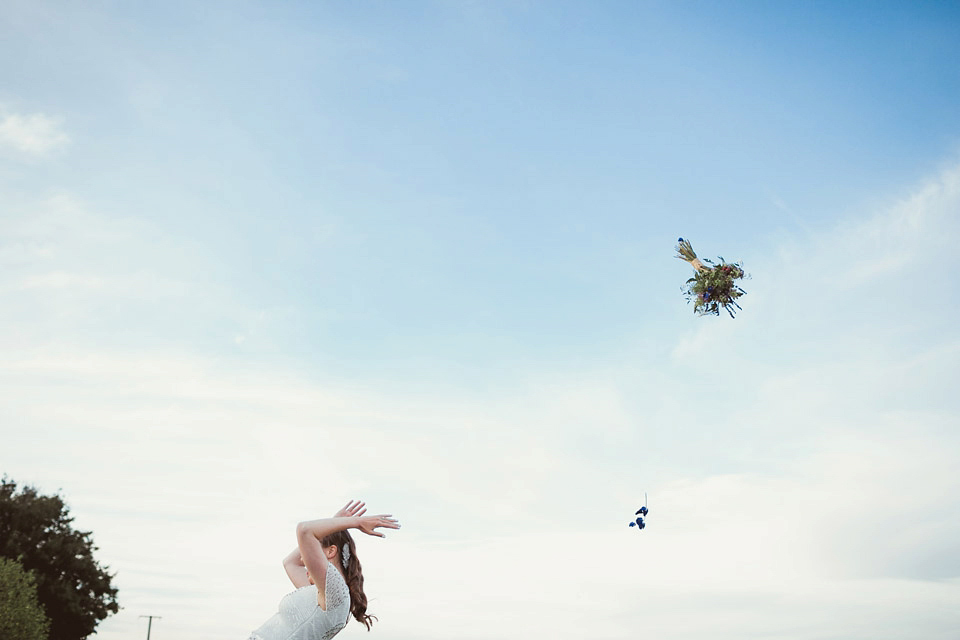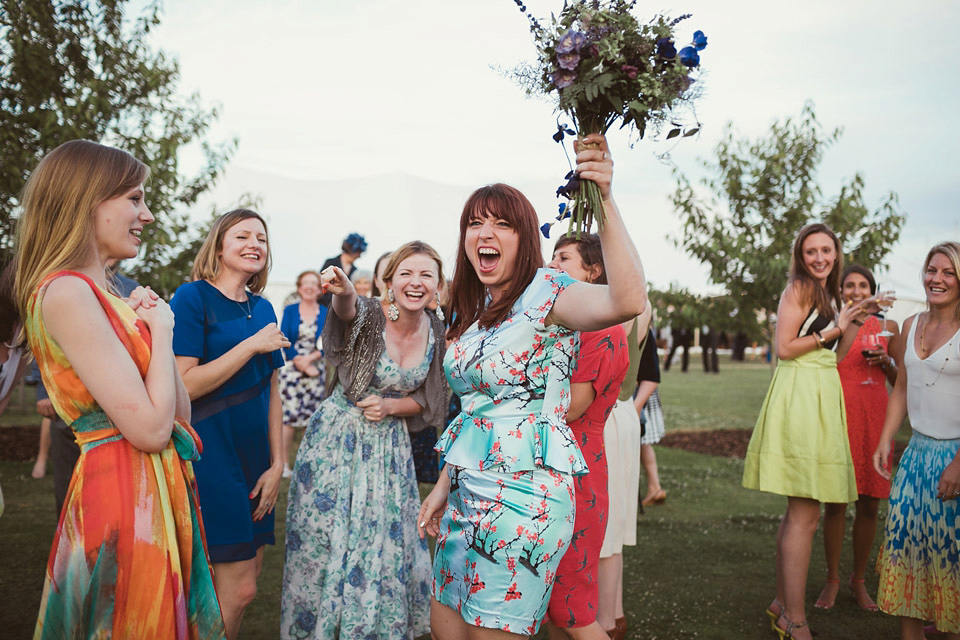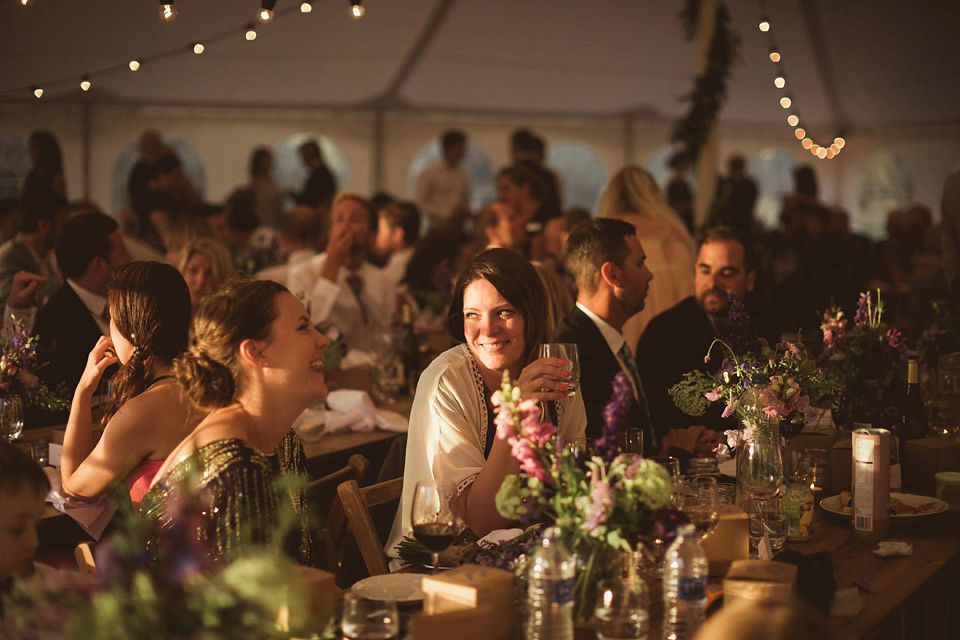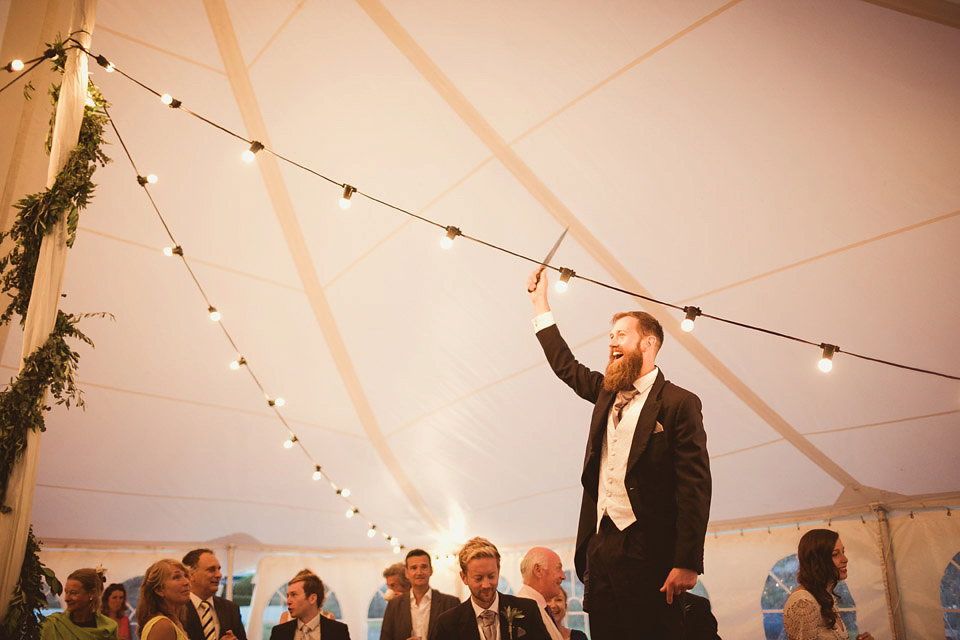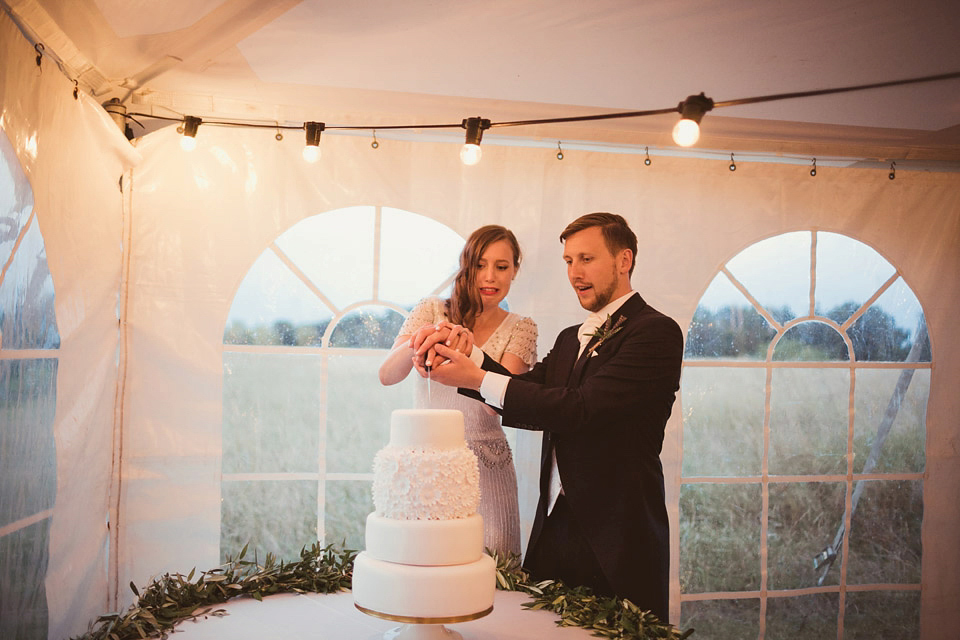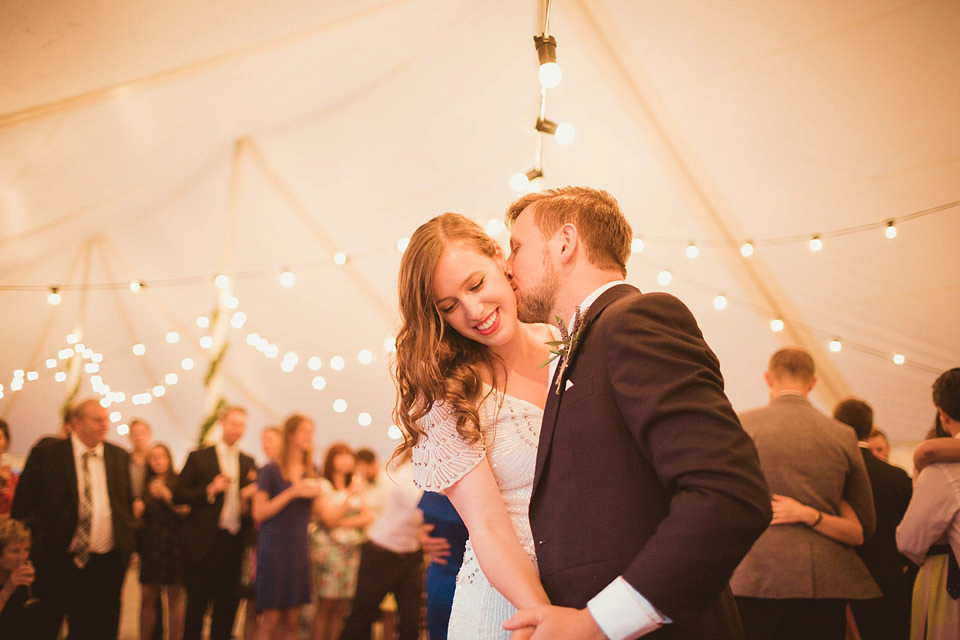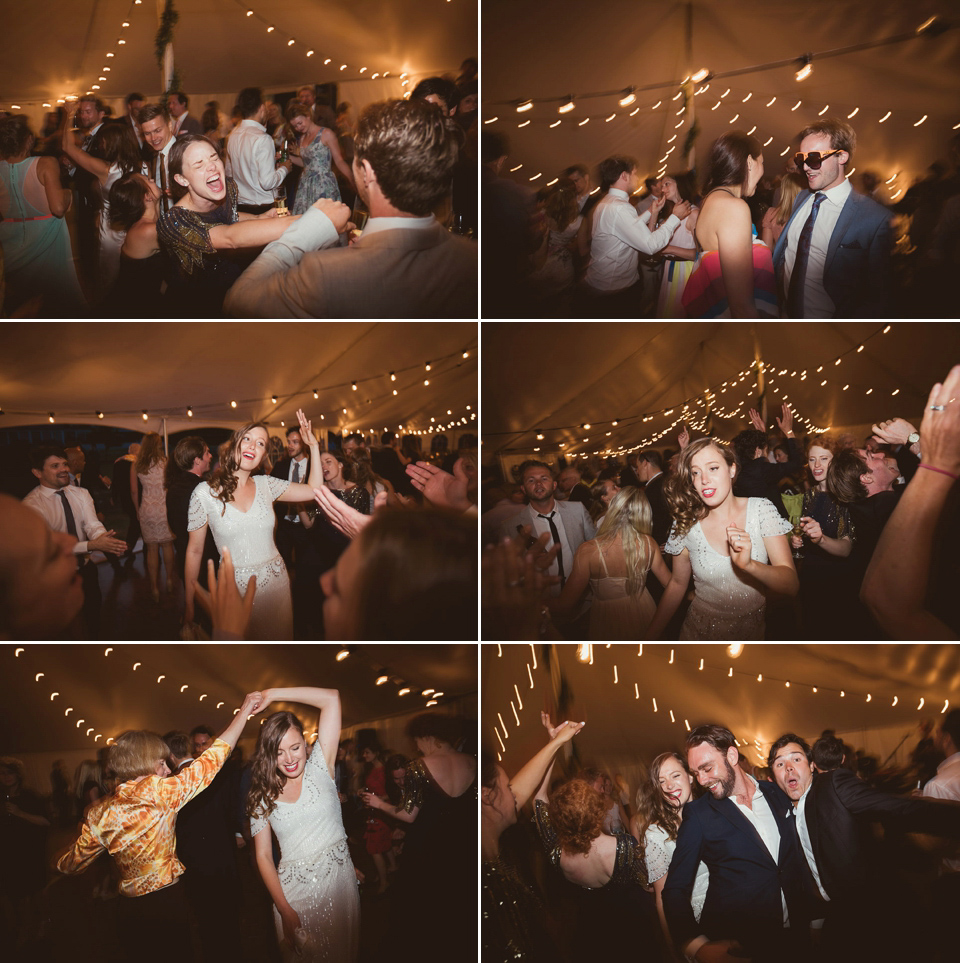 Words of Wedded Wisdom
"My best advice is trust that you have organised everything well and chosen the right people to help, and forget about the rest on the day. Just be yourself, smile, laugh and take at least ten minutes to sit somewhere with your other half and just watch and take it all in. It will be over before you know it, and it really is such a magical day full of love."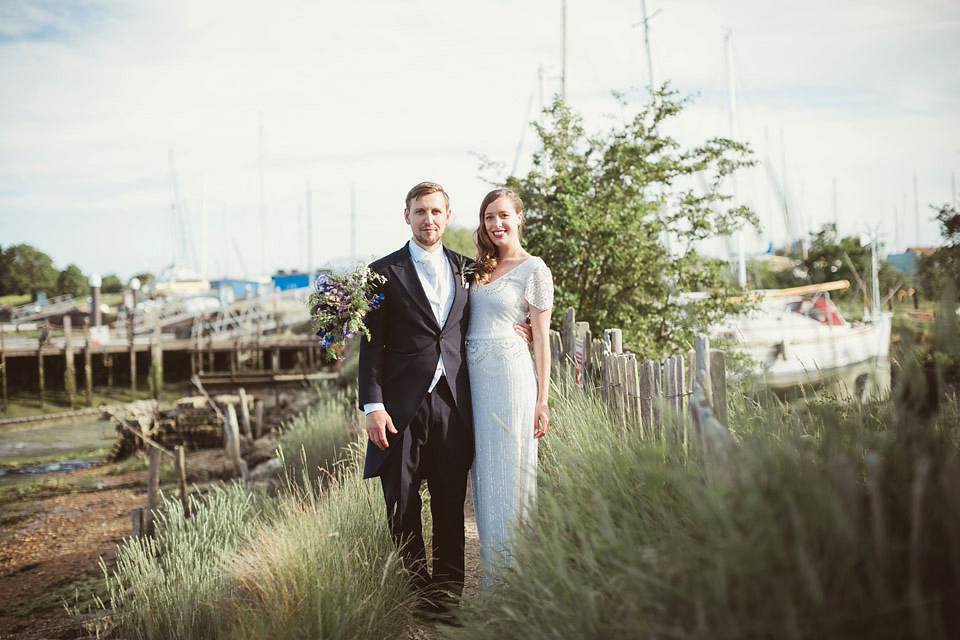 Thank you so very much to Alison and Barnaby for allowing us to share in their coastal romance and of course to the wonderful Tom Ravenshear Photography for these beautiful captures. If you wore or you're thinking about wearing an Eliza Jane Howell gown, let us know in the comments box below – mainly because I'm incorrigibly nosy of course. And in the meantime, feel free to swoon over our ranks of gorgeous Eliza Jane Howell brides.
Have a fantastic week lovlies,
Em x