Hi there! Thanks for joining us on Love My Dress this Monday morning. Now we don't promise to work miracles, but I'm positive the glorious celebration I'm about to share with you will at least put those sniffly noses and cold fingers to the back of your minds for a little while. I'm easing you into the new week with the gorgeously relaxed East London wedding of Web Developers, Dany and Chris. This laid-back and lovely couple tied the knot at the incredibly atmospheric Asylum Chapel in Peckham on 24th October 2015 – marking the fourth anniversary of their first date.
"We wanted the day to be relaxed and informal, and wanted to inject a few details that matched our favourite things; namely pineapples and American barbecue. We met whilst working at Ralph Creative Agency and dated for four years before getting engaged in May 2015 at the top of Mount Bonnell in Austin, Texas. We were on a US barbecue road trip and Chris was on a meat high having visited Franklin Barbecue in Austin, supposedly the best barbecue in the world! We had a short engagement of just five months."
Photography by Naomi Jane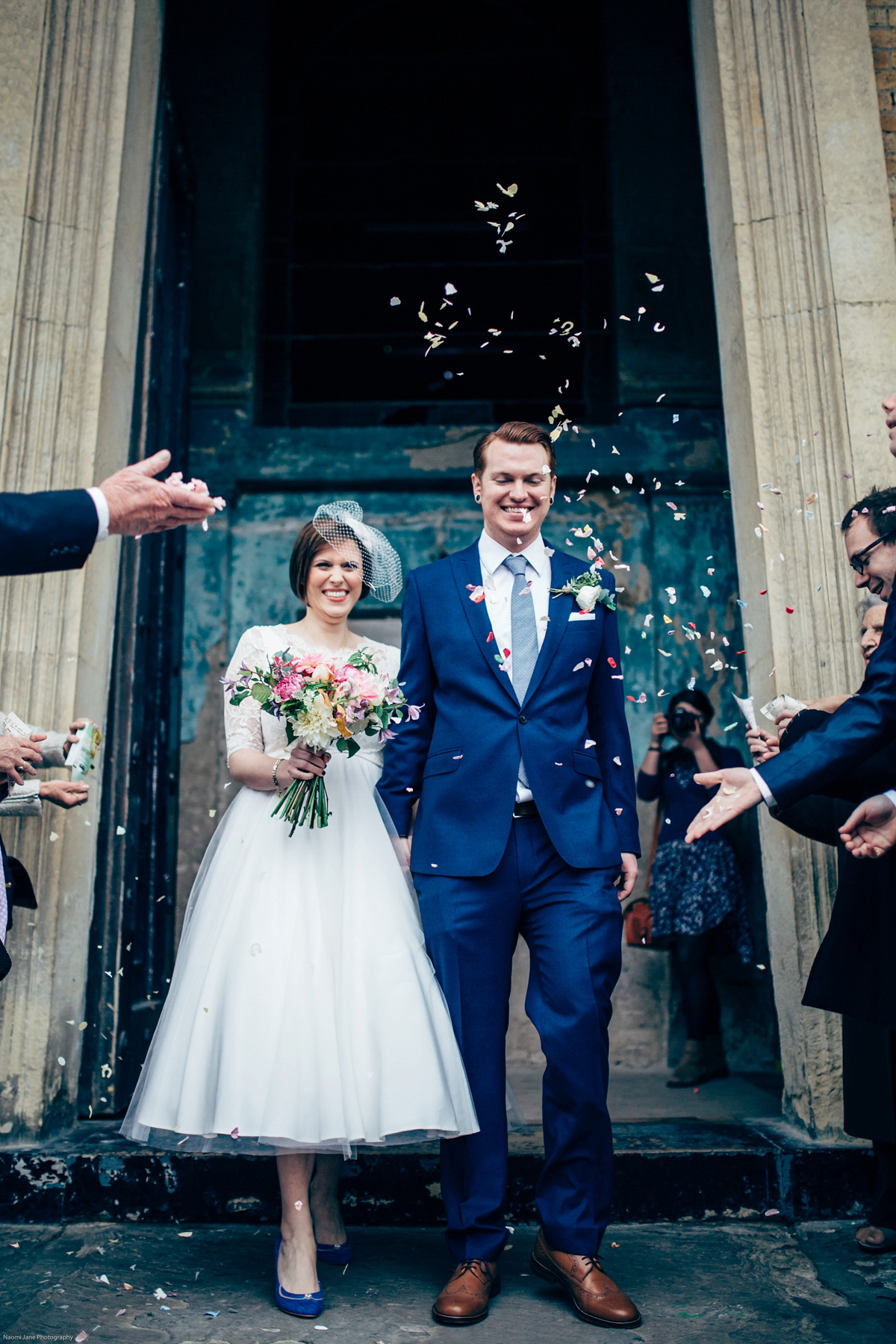 Dany always knew she wanted to be a vintage style bride, and with a five month planning period in which to find her dream dress, she decided to head down the bespoke route to create her gorgeous 5os style frock with friend and Costume Maker, Eve Collins ([email protected]). Full tulle skirts and delicate lace were perfectly set off by a birdcage veil, made using lace and silk off-cuts from her wedding dress by Rachel Thomas of Cloth and Notions.
"I had my heart set on a vintage style dress but none of the bridal shops I contacted could accommodate me as they needed a minimum of six months lead time. Luckily my friend Eve, who happens to be a costume maker was able to help out. Eve was amazing and didn't even bat an eyelid when I discovered that I was pregnant part way through the planning process!
We worked out a timeline so that we could make last minute adjustments to accommodate my changing body shape and I felt confident that I would end up with something I was happy with."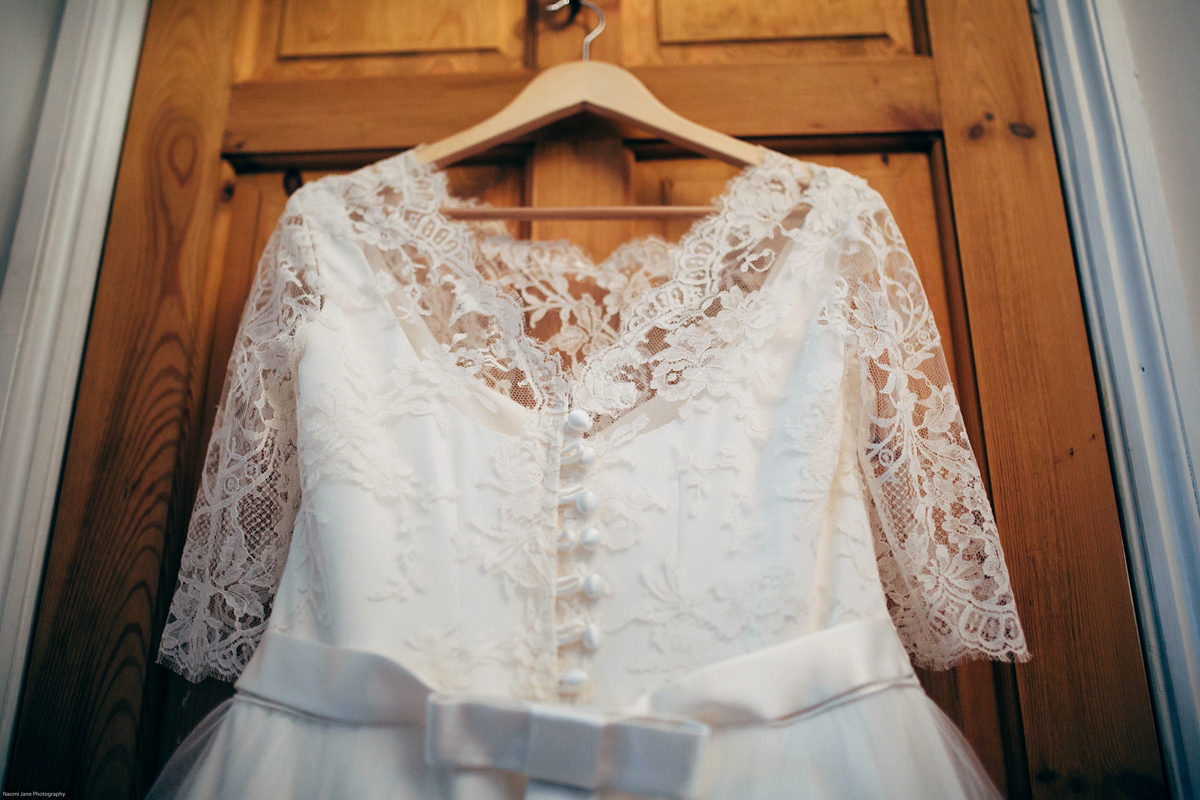 "I discussed options with Eve and showed her a collection of photos that I had put together. I decided to go for a 50s style dress with a lace bodice and flowing tulle skirt. Eve and I spent a fabulous morning lace shopping in London's Soho where I chose a Chantilly lace with a lovely scalloped edge and paisley detail. We opted to style the waist with an empire line to flatter my growing bump, the bodice featured silk covered buttons down the back and a silk sash with mickey mouse bow.
I had so many lovely comments about the dress, Eve did a fantastic job and created a dress which was just as I had imagined."
Congratulations Dany, Chris and bump! Doesn't our bride look simply radiant? I love the little silk-covered buttons and sweet bow detail, and the shorter full skirts mean Dany's vibrant Rachel Simpson suede heels are shown off to their fullest, prettiest extent.
Dany's gorgeous smokey eye make-up and sleek bob were expertly styled by Rebecca Richards and a spritz of deliciously refreshing Earl Grey and Cucumber perfume by Jo Malone finished off her vintage-style ensemble.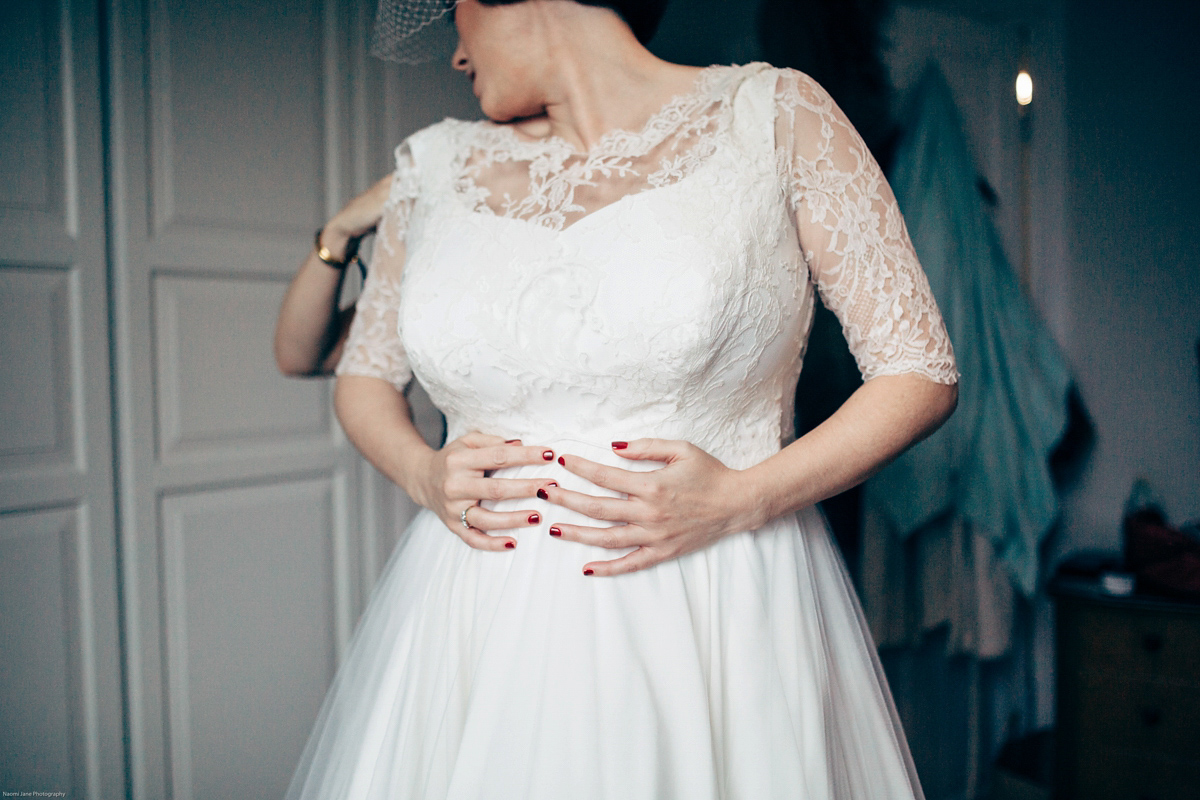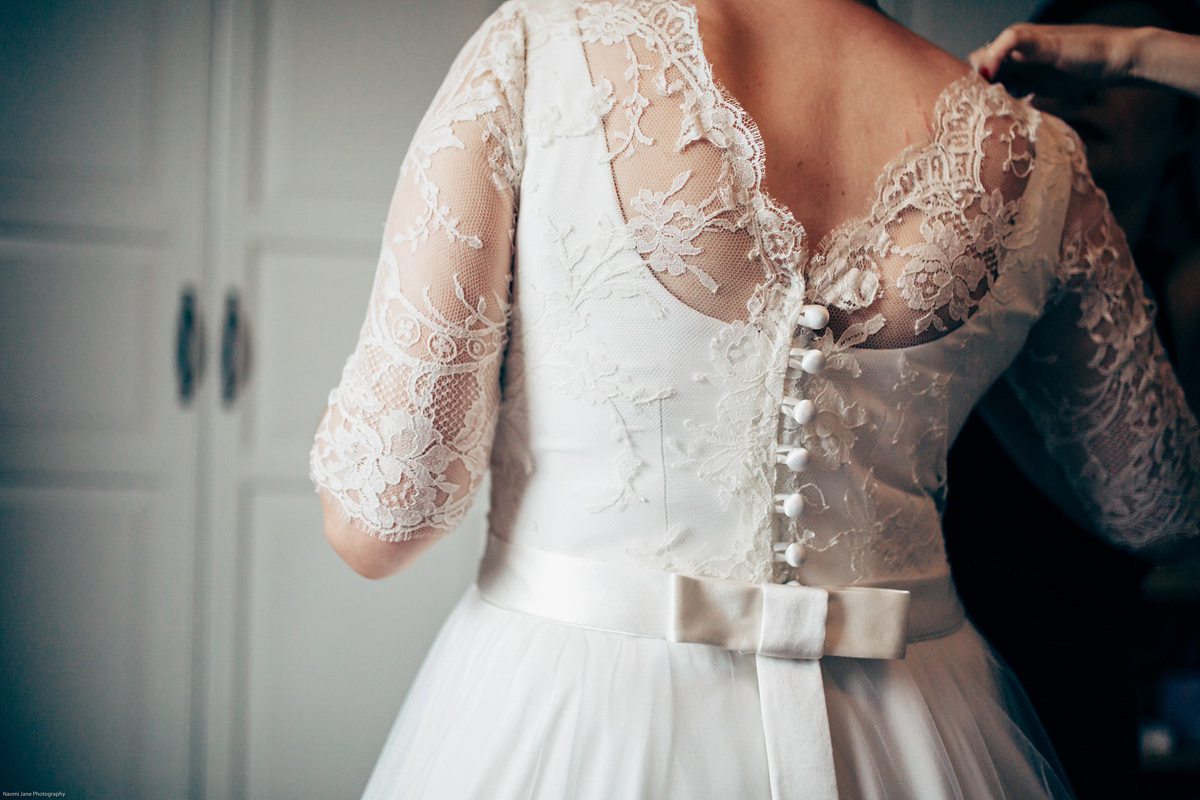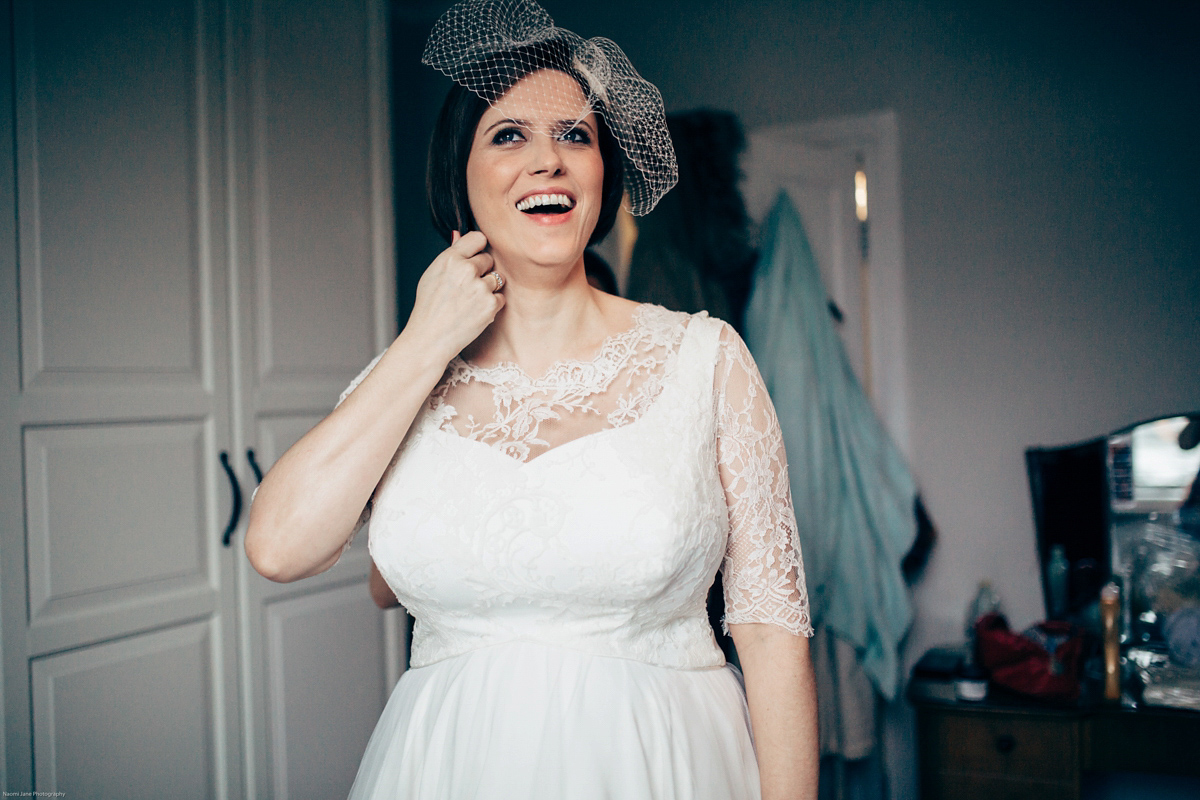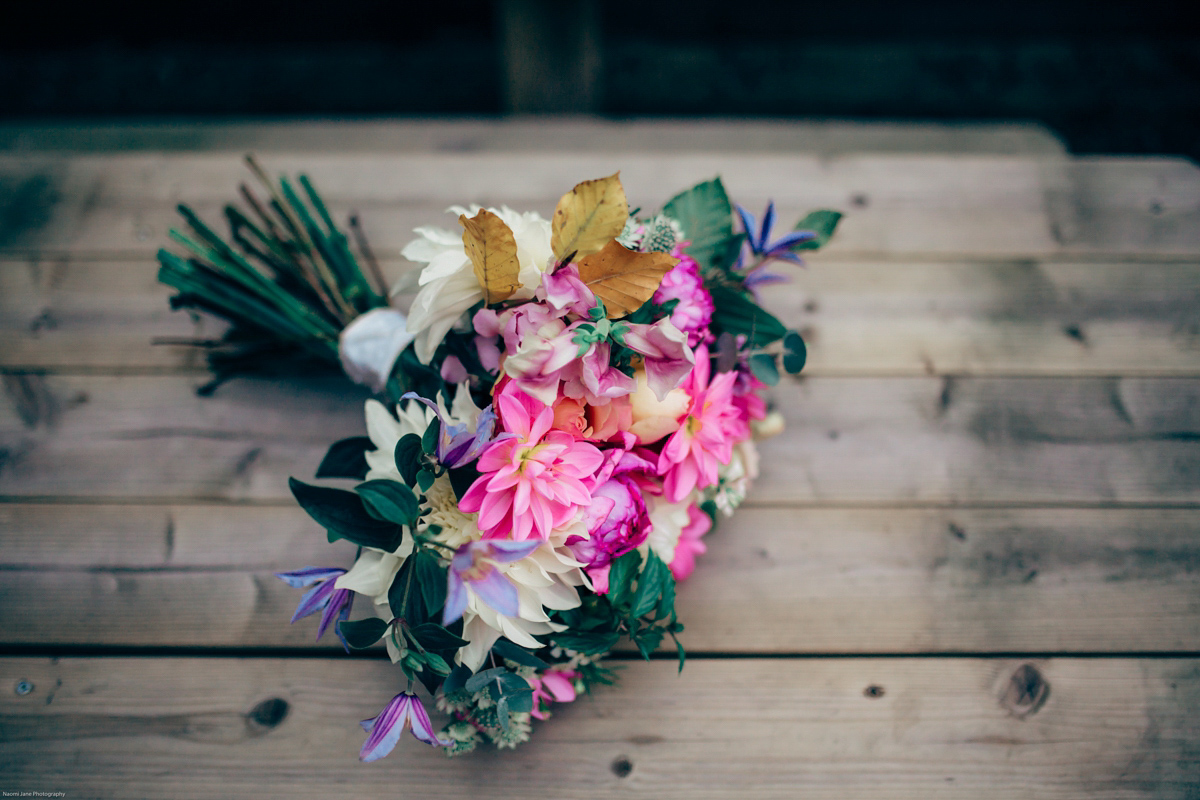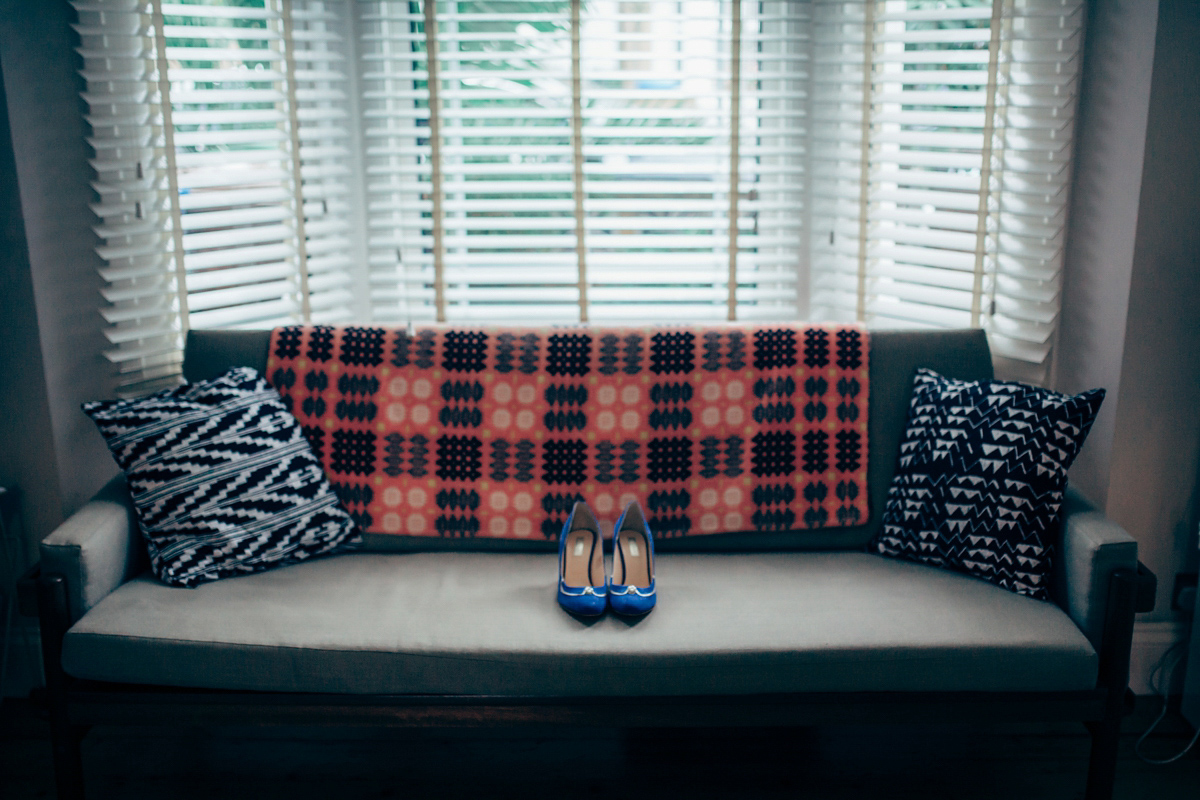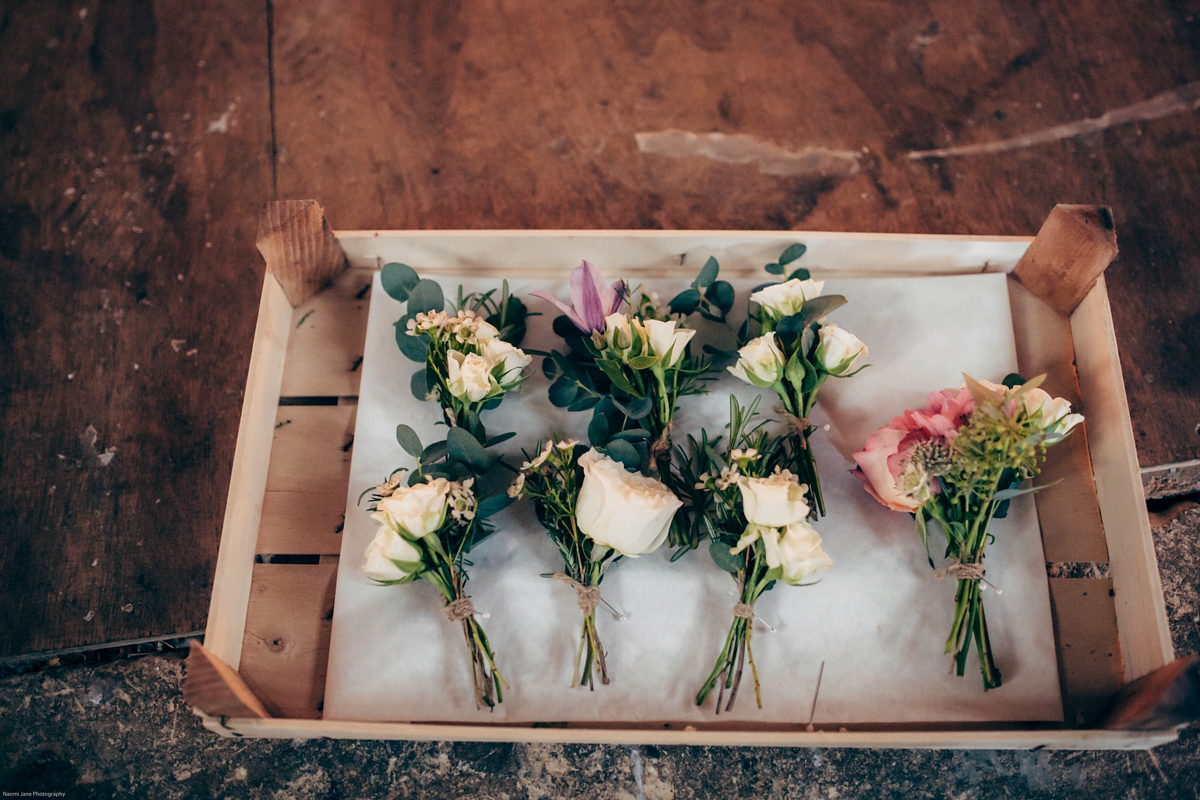 "One of my bridesmaids was pregnant and I found it a real challenge to find a maternity bridesmaid dress. Finally I found a solution at In One Clothing. I liked these dresses as each bridesmaid could style the dress in a way that suited them, and also as they offered a maternity dress in the same style. It was really important to me that my bridesmaids felt comfortable in what they were wearing."
"They wore their own gold shoes and a pineapple necklace by Estella Bartlett, that Chris and I bought as a thank you gift."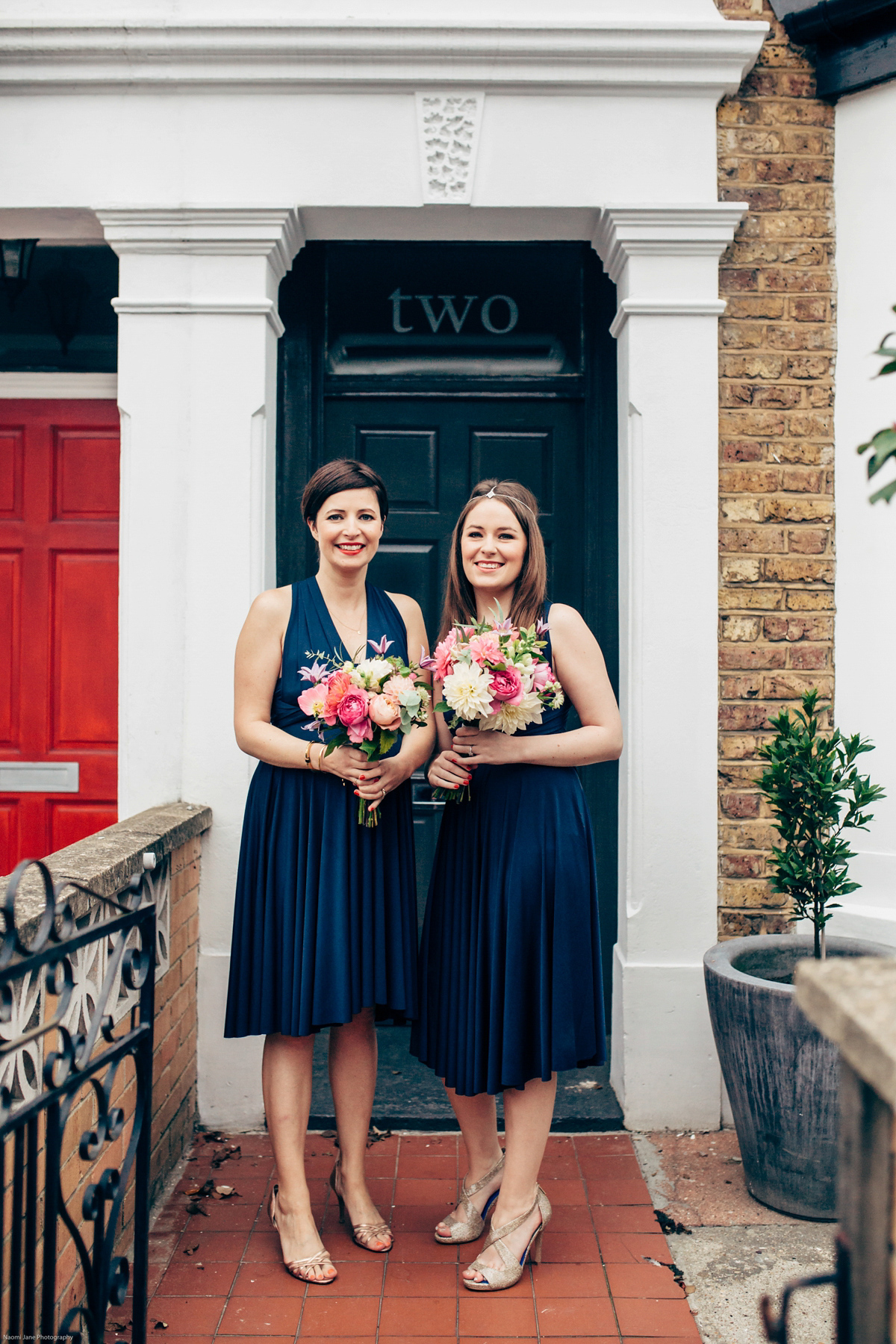 That deep midnight blue is such a beautiful colour, particularly impactful next to the vibrant tones of the stunning bouquets arranged by The Flower Appreciation Society. If you're looking for gorgeously flattering and comfortable gowns for your pregnant maids, or searching for dresses to suit an array of wonderfully diverse shapes and sizes, you simply must read this wonderful feature on the incredibly versatlile wrap gowns by twobirds. I have to say I'm a teensy bit jealous that both my gorgeous besties will be rocking one of these styles on my wedding day – I know it's greedy but I want one too!
"Our flowers were from The Flower Appreciation Society. We requested flowers that were not too formal, described as 'lovely, loose and just picked from the garden.' They also have a lovely selection of vases, which complimented the features of the chapel really well."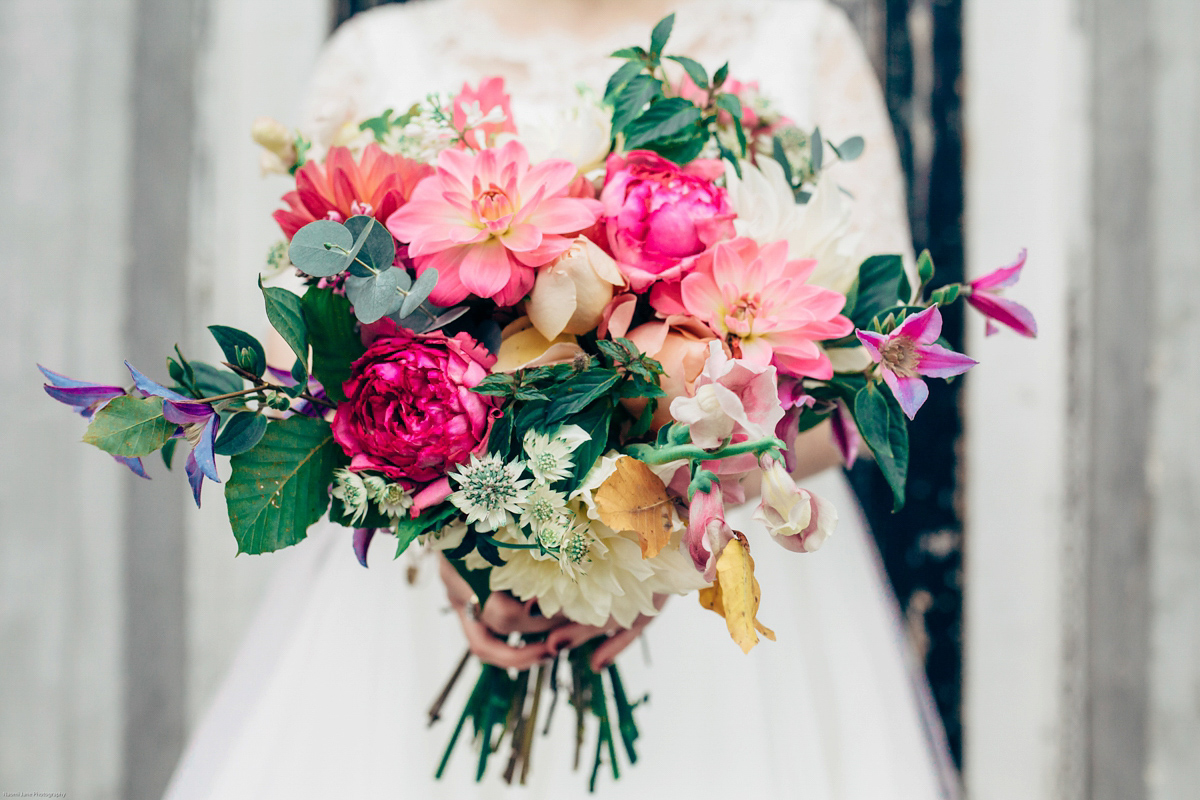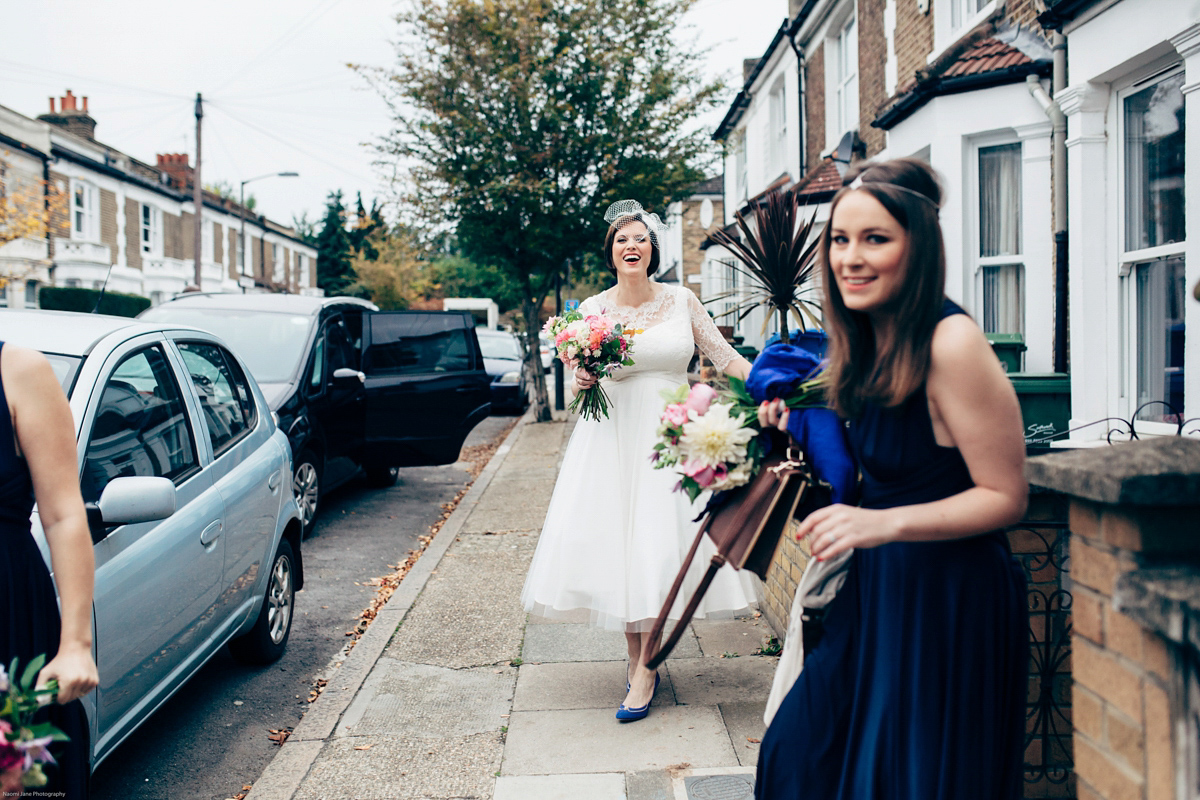 I'm a little bit in love with this couple, and totally in awe of how passionate Dany and Chris were about making this day a true reflection of themselves and their relationship. (Also barbecues are one of my fave things ever.) For this London-local duo, finding a local venue for their ceremony was key, so when they discovered The Asylum it was love at atmospheric first sight.
"The ceremony was at The Asylum, Caroline Gardens Chapel in Peckham. We live in Peckham and were keen to find somewhere local and after visiting an open day at Asylum we fell in love with the atmosphere of the building and grounds. It felt very calm and restful; a little oasis in inner city London."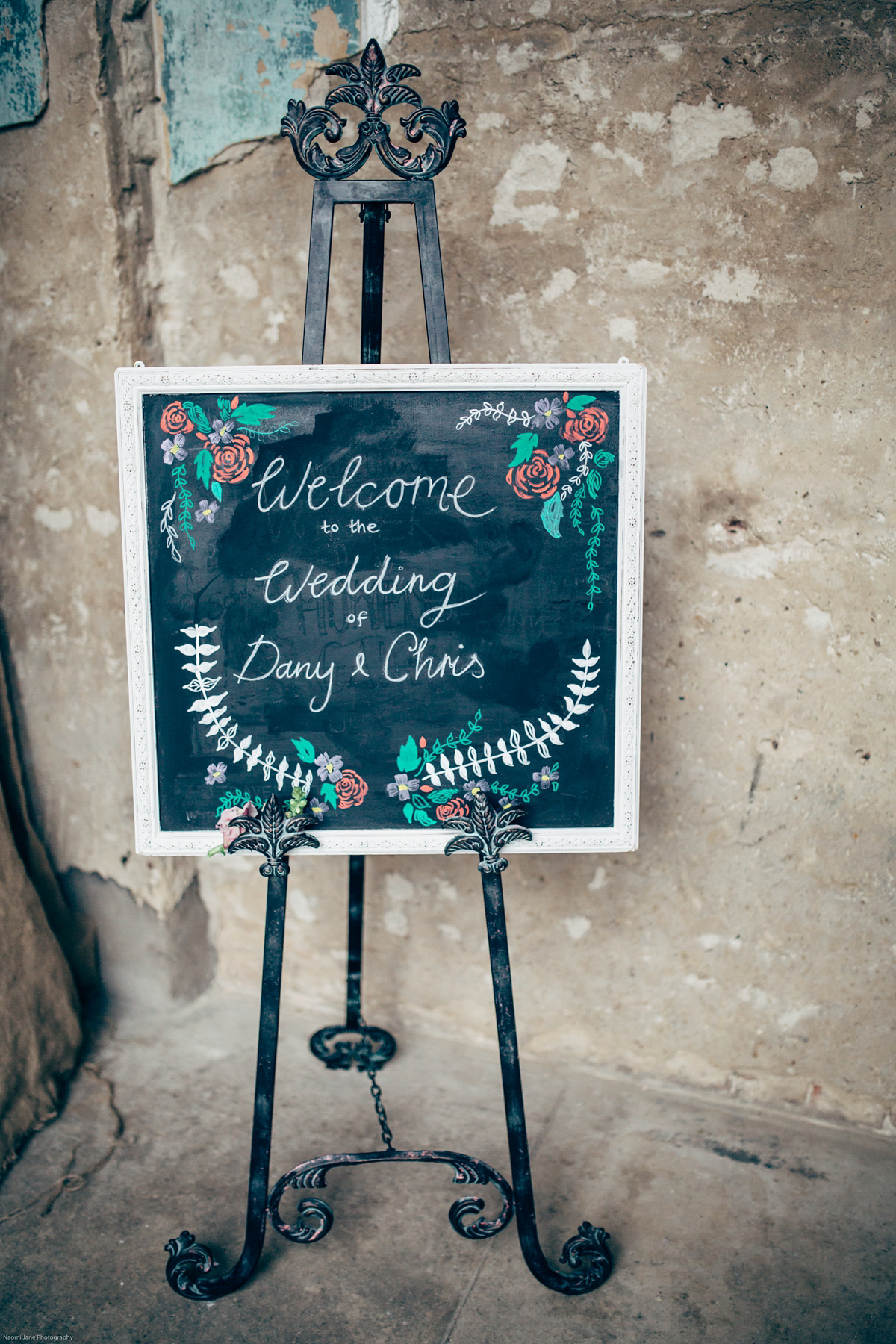 I adore this venue – it just effortlessly oozes laidback style and the fading glamour of a bygone era, and its textured walls make for the most incredible backdrop. The name 'The Asylum' has its roots in the word 'sanctuary' and indeed this effortlessly cool but totally charming grade-II-listed building does exude an air of tranquility and serenity.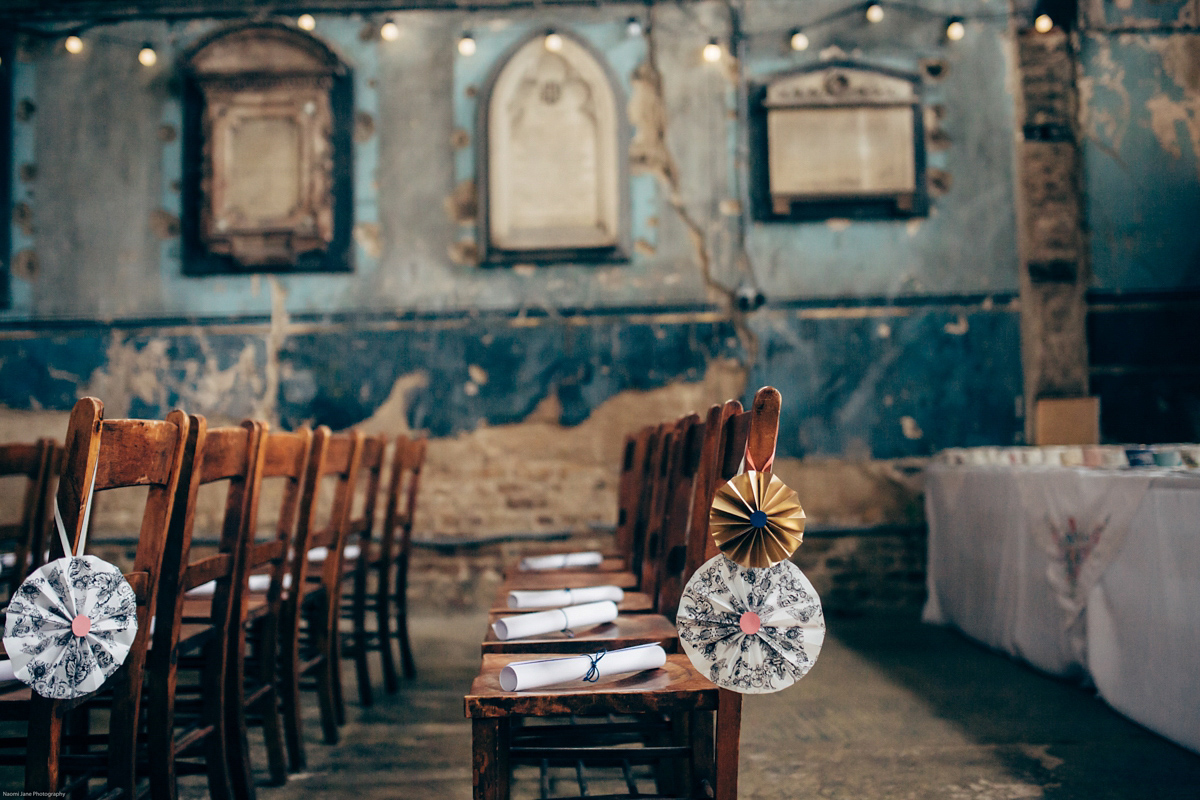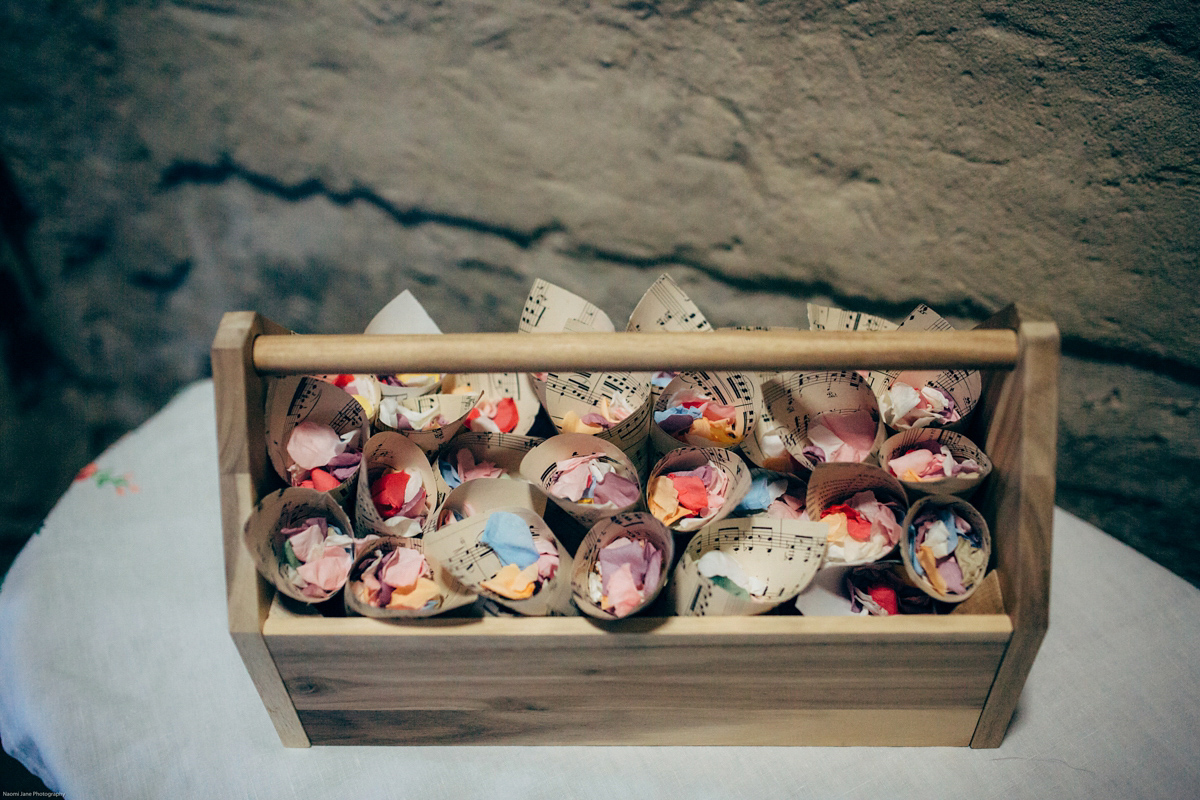 Warm candlelight, vintage-style vases filled with colourful blooms and draped festoon lighting certainly add to the already amazing atmosphere of The Asylum. And I so love the beaming smile on Chris's face as stands at the top of the aisle awaiting his bride. Chris wore a suit from Richard James, bought from John Lewis, paired with shoes from Marks & Spencer. Touchingly he finished off his ensemble with custom-made cufflinks, which featured his and Dany's initials in Arabic, bought by his mum who has lived in Kuwait for twelve years.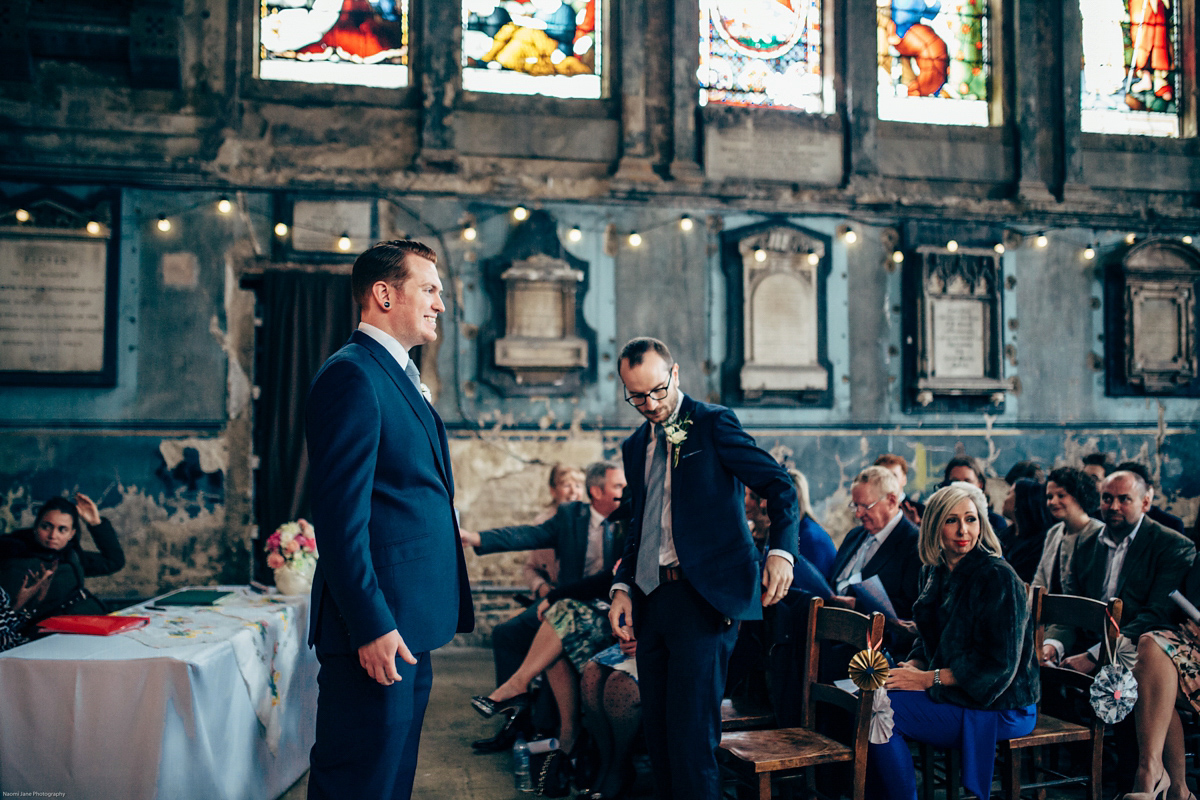 Dany walked down the aisle with her dad to Vitamin String Quartet's cover of Don't Stop Believing by Journey. She and Chris exchanged the standard vows of marriage in front of their friends and family and in a touching tribute to her mother, Dany wore one of her bracelets alongside her inherited engagement ring.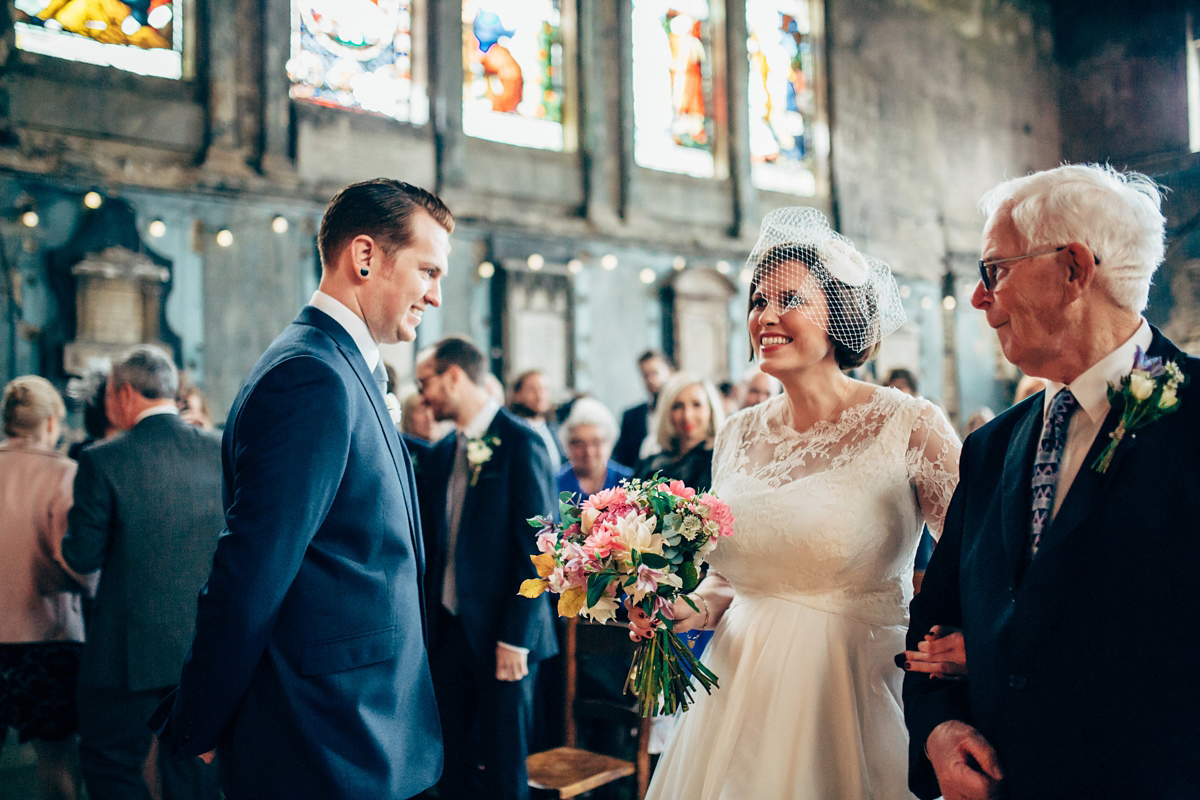 "I inherited my mum's engagement ring and had it rebuilt by Jeremy France Jewellers. I chose a wedding ring from the same jewellers to complement the engagement ring. I wore a vintage gold bracelet with a heart shaped padlock that belonged to my mother, who passed away when I was very little. Her jewellery box is something I have always treasured and it was important for me to wear something of hers on my wedding day.Chris specifically wanted a titanium ring for its strength and weight, and chose one from Fraser Hart."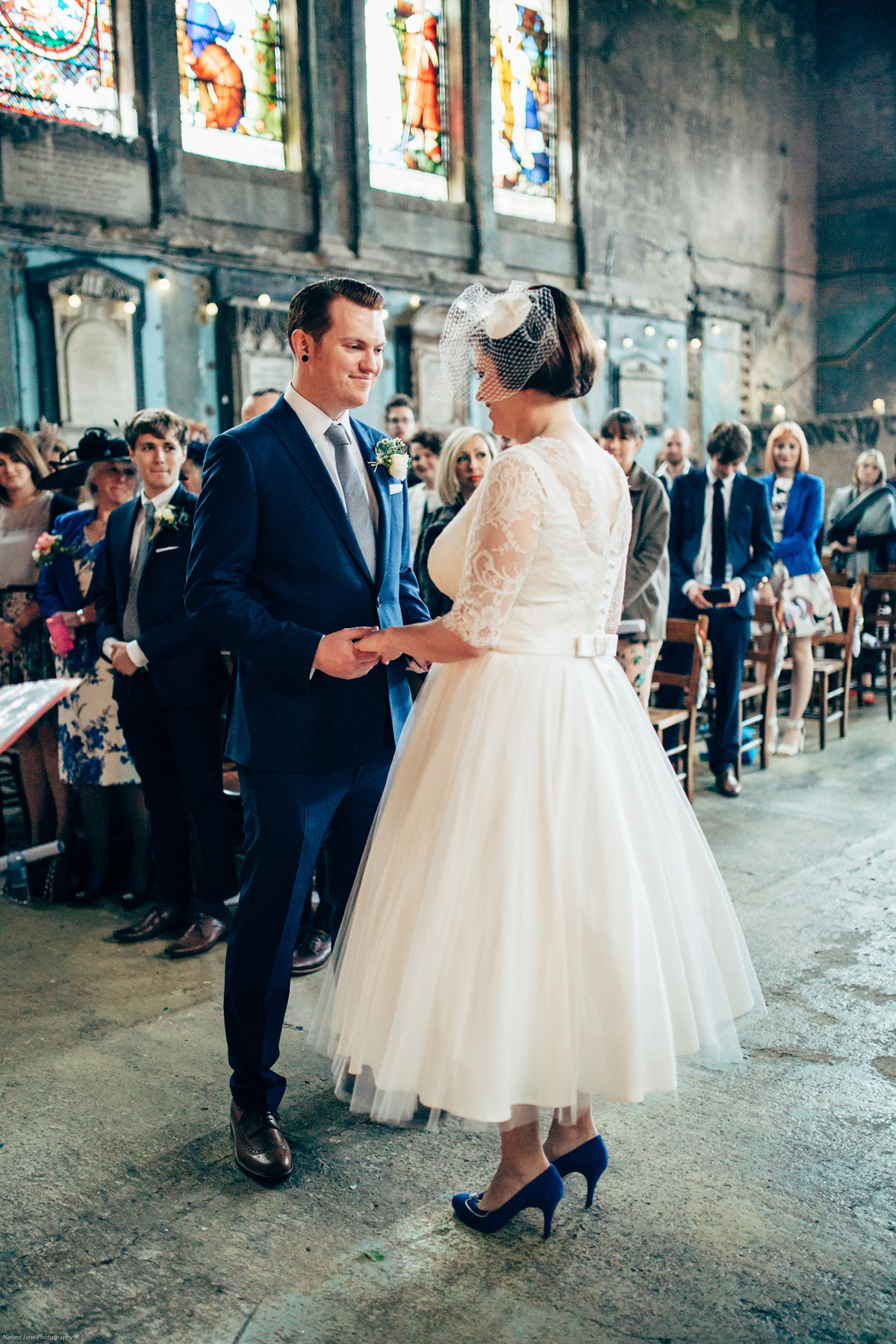 The couple spent a long time trying to find an unusual reading that they both loved without any religious affiliations. Dany and Chris wanted something that wasn't likely to have been heard at many other weddings and eventually chose a reading by Rob Ryan; a story of running away together for a brief adventure.
Can we? Shall we? One day very soon, let us go away together just you and me. Can we? Shall we? Call in sick one day and travel to the sea and hold hands all day. Can we? Shall we? Eat our sandwiches on the train, get drunk on fresh air and come home tired and never tell anyone…ever.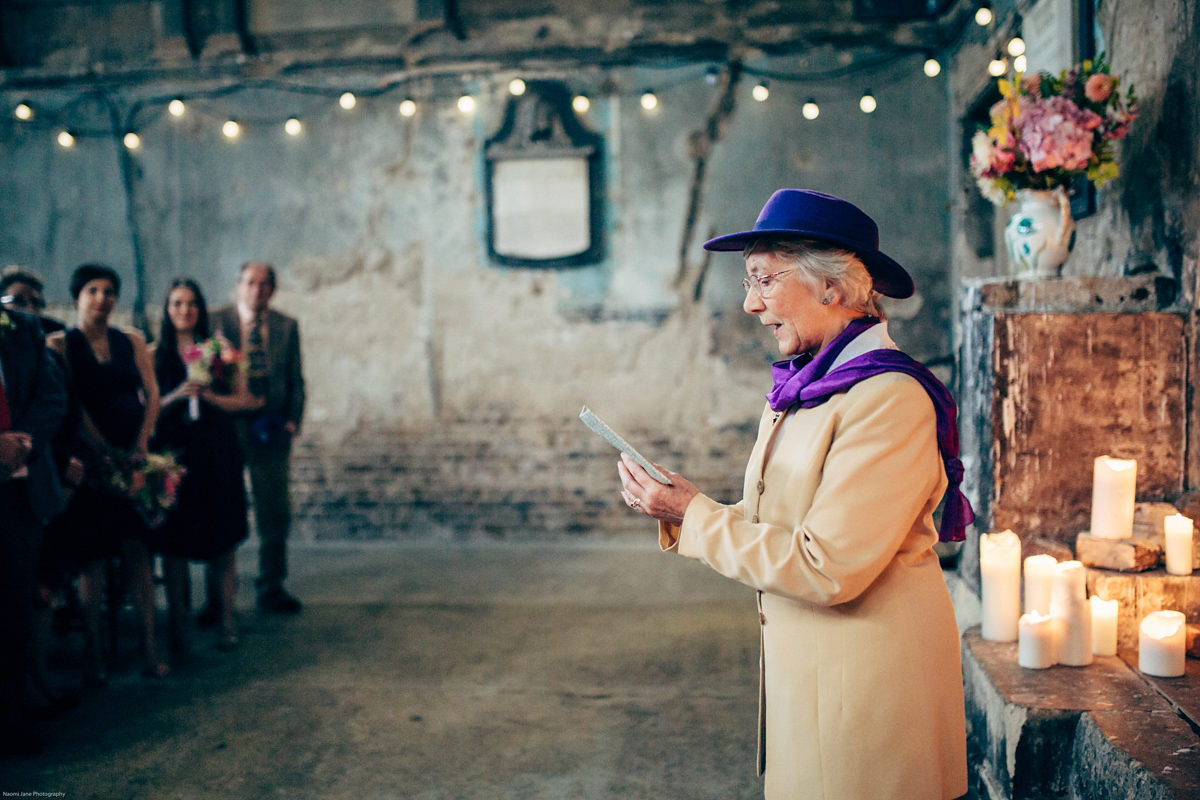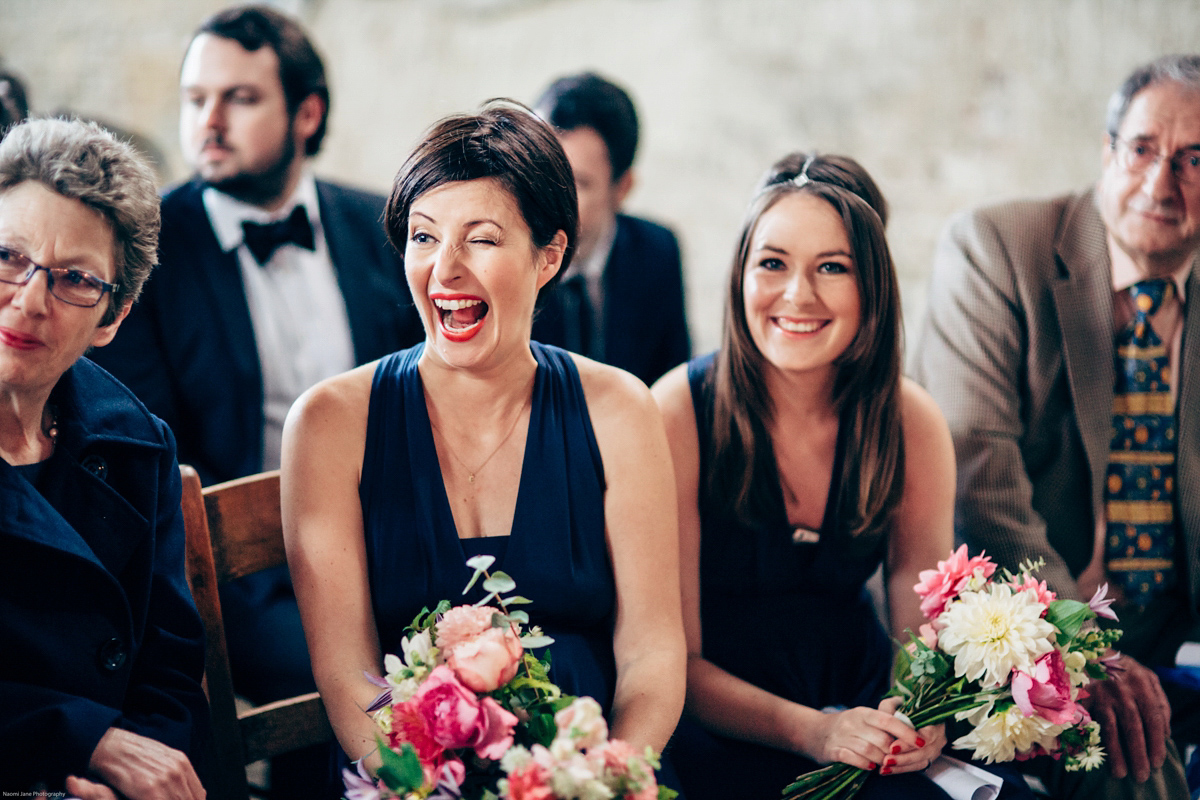 "The ceremony was my favourite part, entering the room to such a lovely atmosphere was wonderful. Walking down the aisle I found that none of my preceding nerves mattered anymore and it was the most fantastic feeling to see all of our family and friends, everybody was so happy."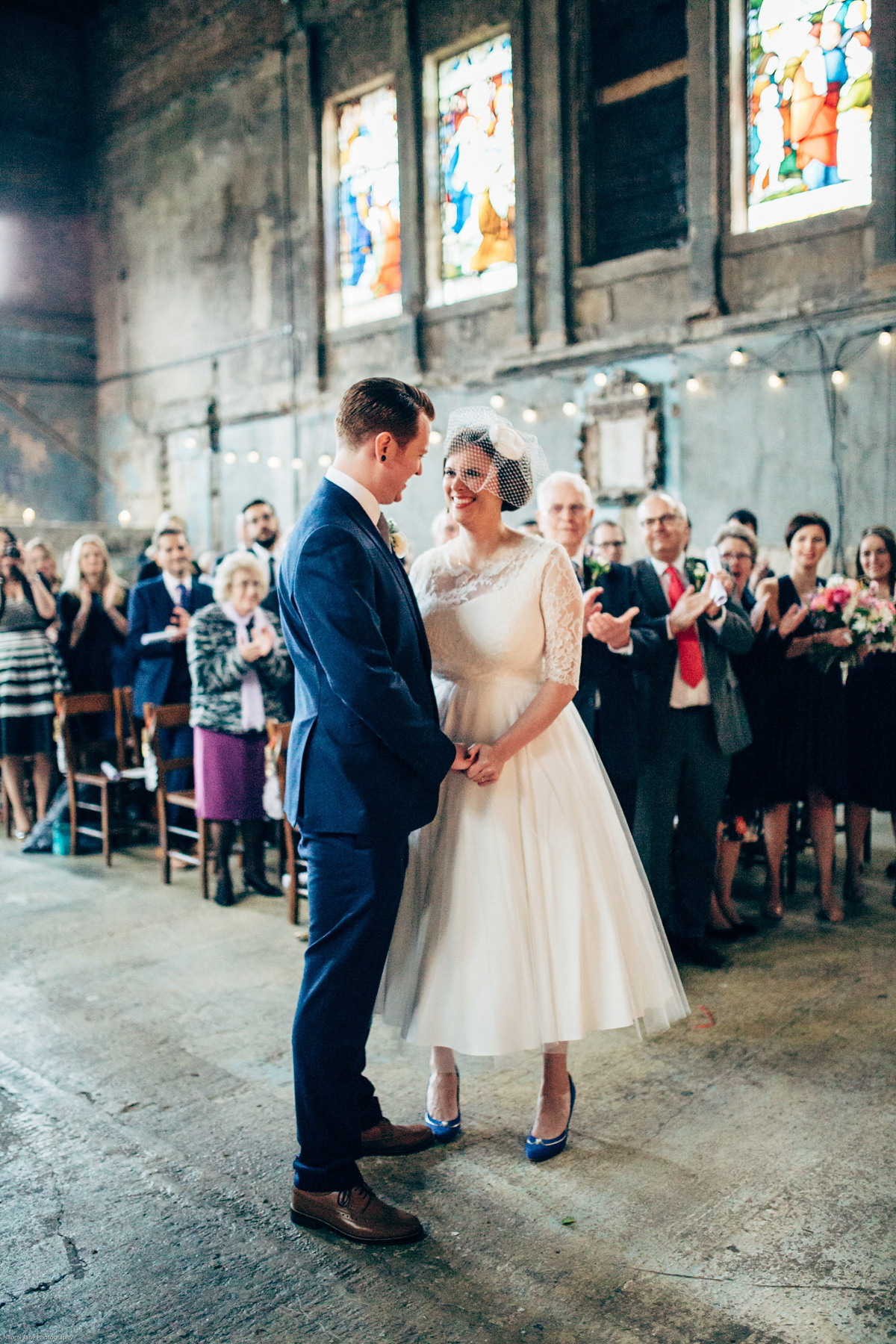 Dany and Chris chose close friend and wedding photographer Naomi Jane to capture their day. Naomi has worked so well with the amazing light in The Asylum and documented so many smiles and touching moments for the couple to cherish in years to come.
"Naomi has been a close friend of ours for years and, having followed her photography career closely, we were delighted that she was available to take our photos. Both Naomi and Florence, who assisted on the day, were fantastic at fitting in around our plans and produced some amazing images that we'll enjoy revisiting for many years to come. Naomi also did a particularly good job of wrangling the many branches of our families for the group shots. We couldn't be happier with our photos."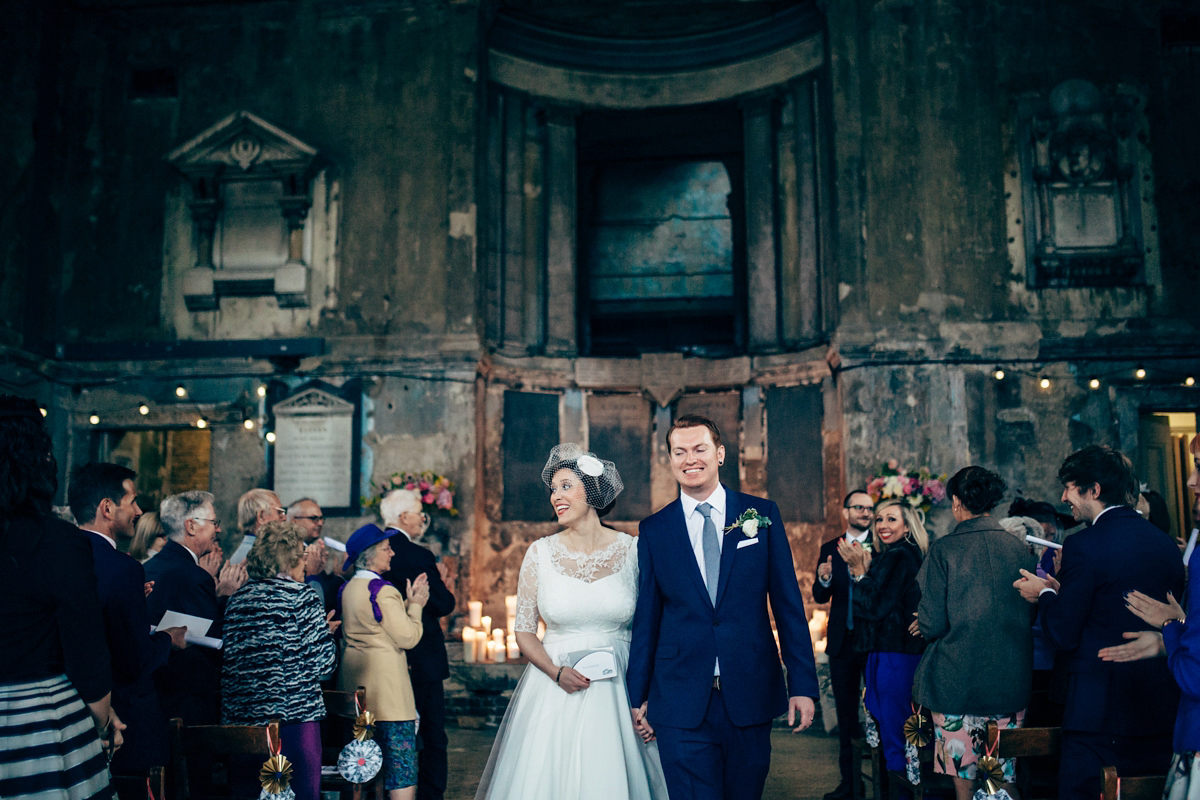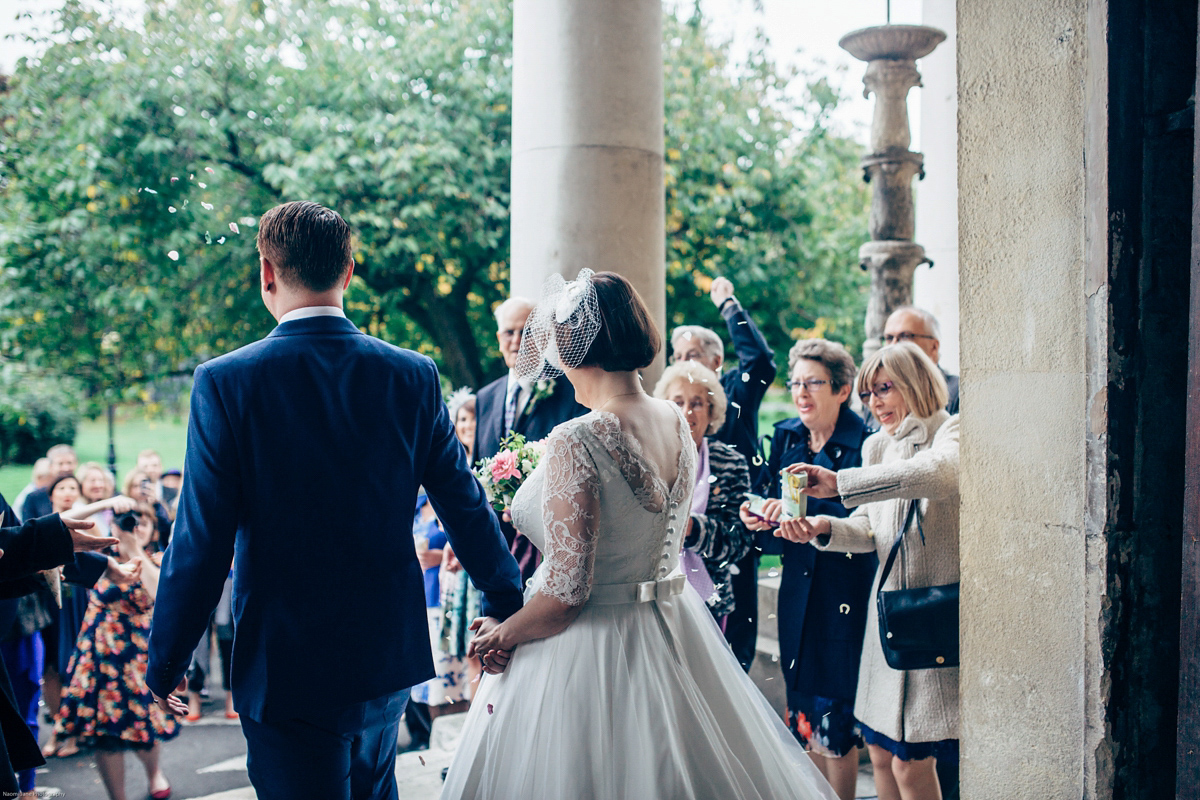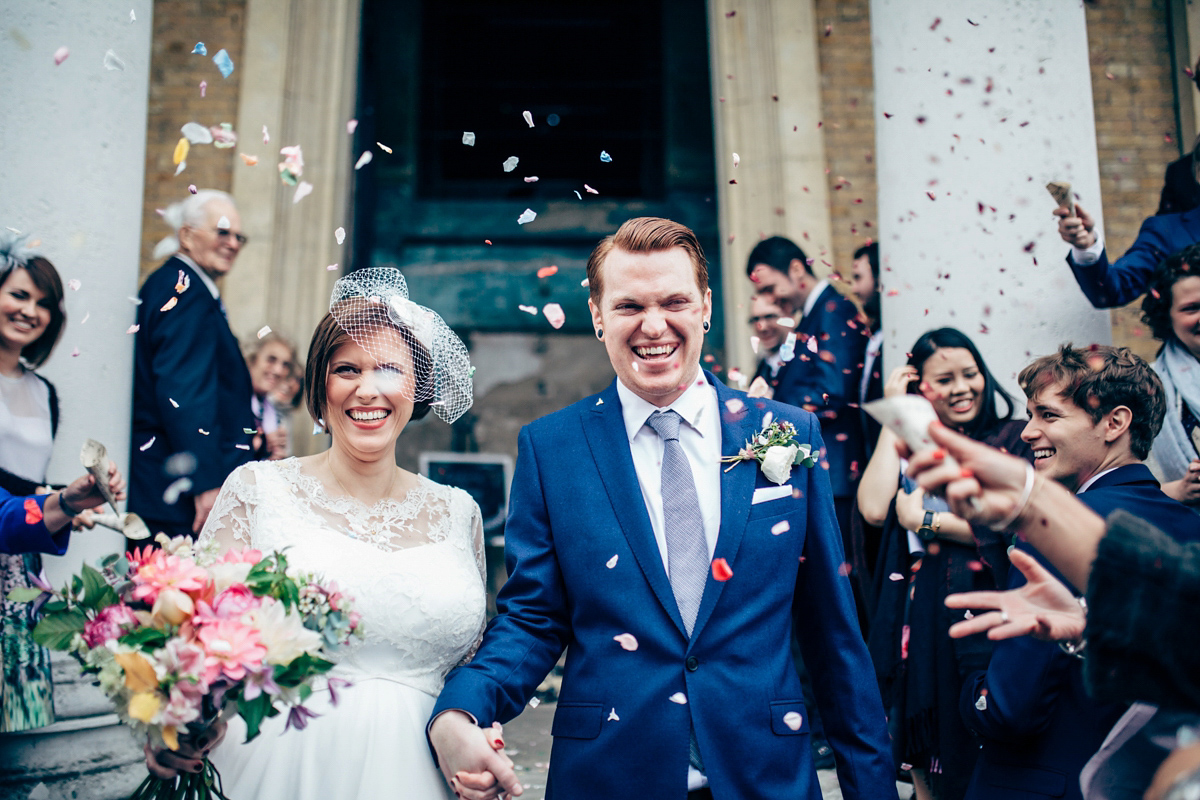 After the ceremony, guests were treated to a drinks reception of tea and biscuits served by TheVintage Sisters, before bundling onto an iconic Routemaster bus to whisk them off to the cosy environs of The Lordship Pub.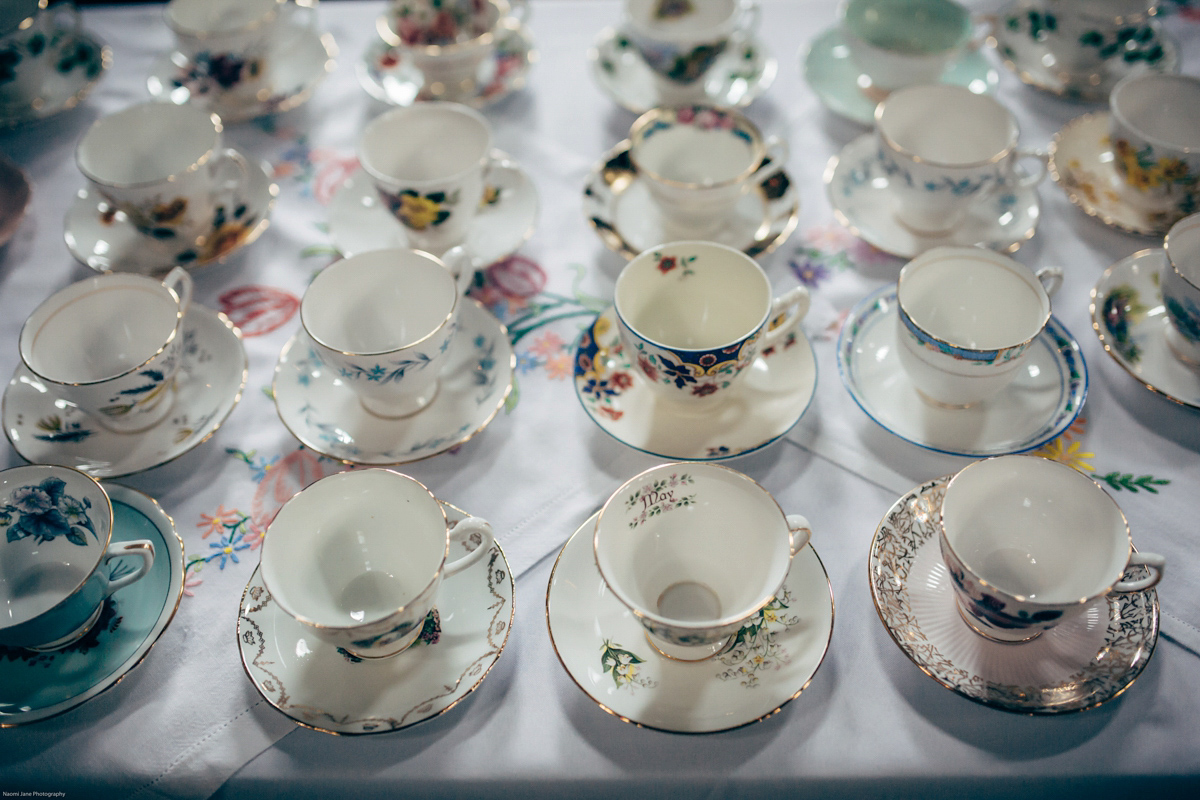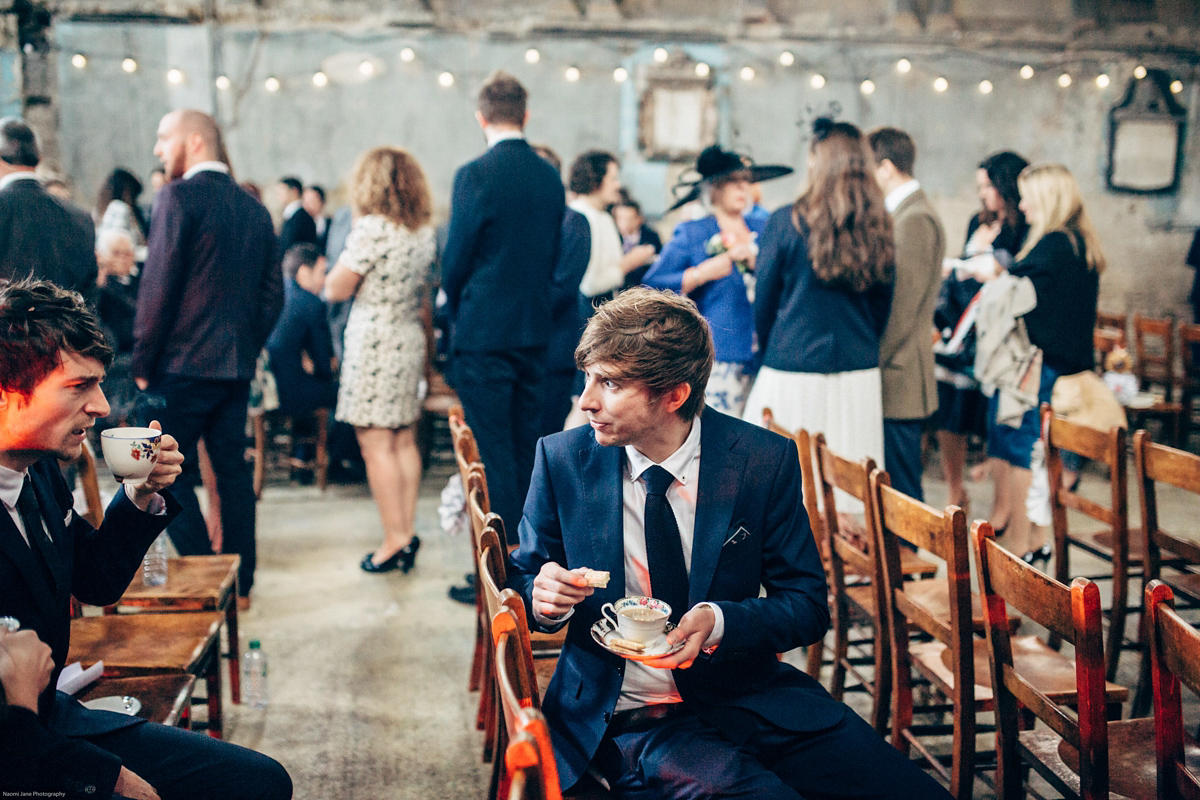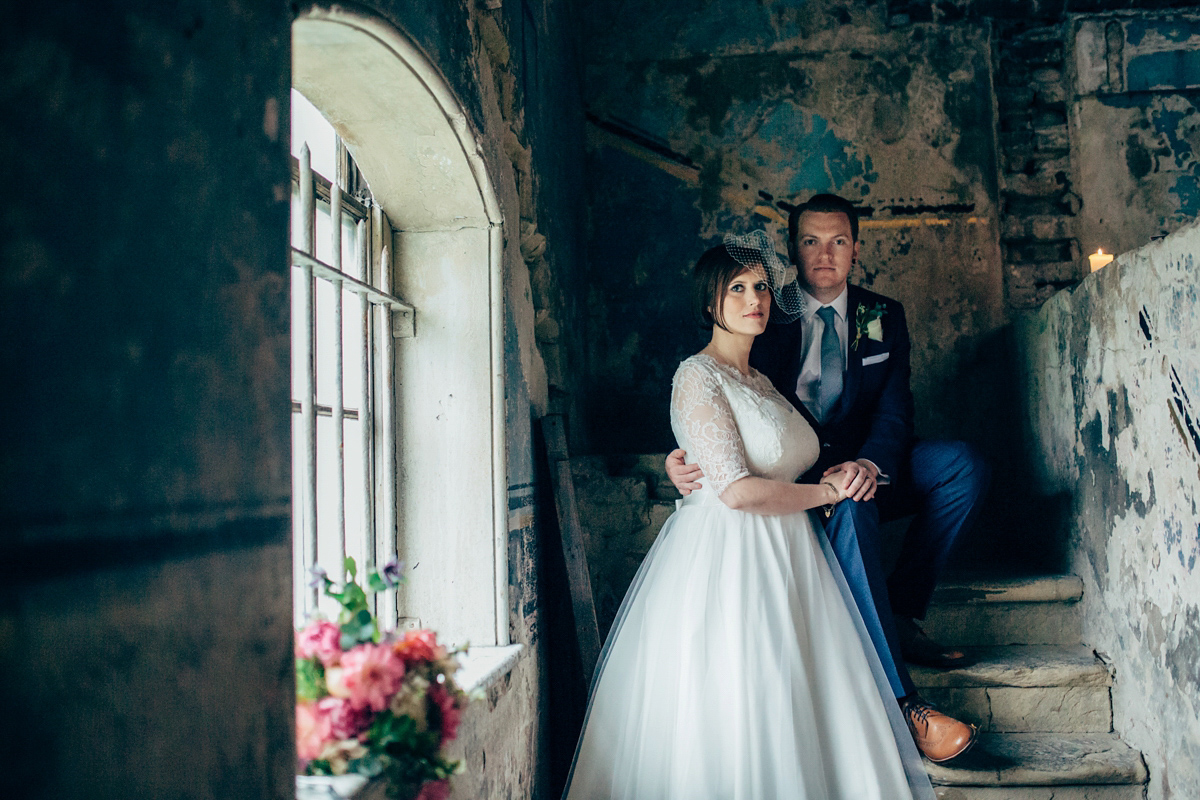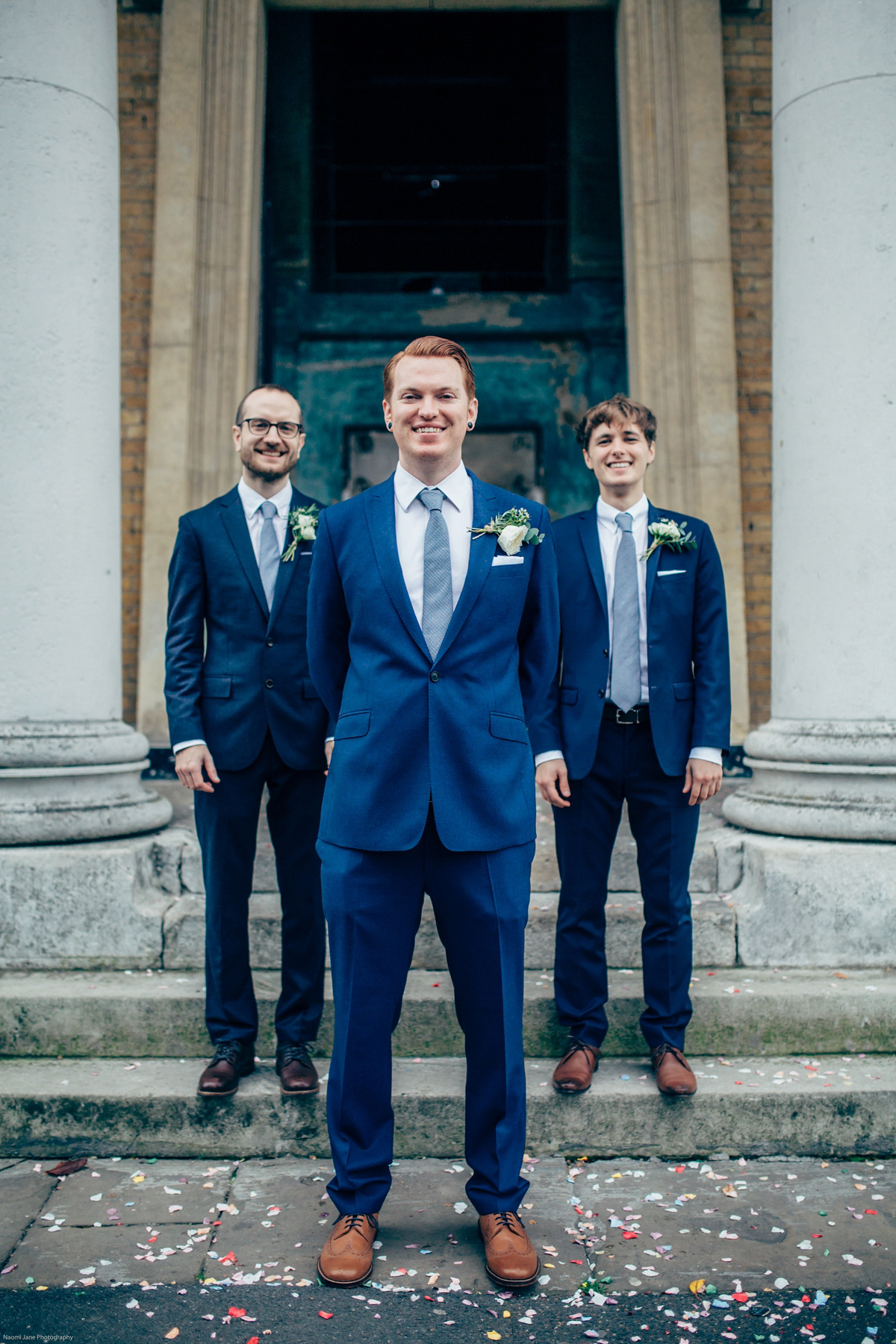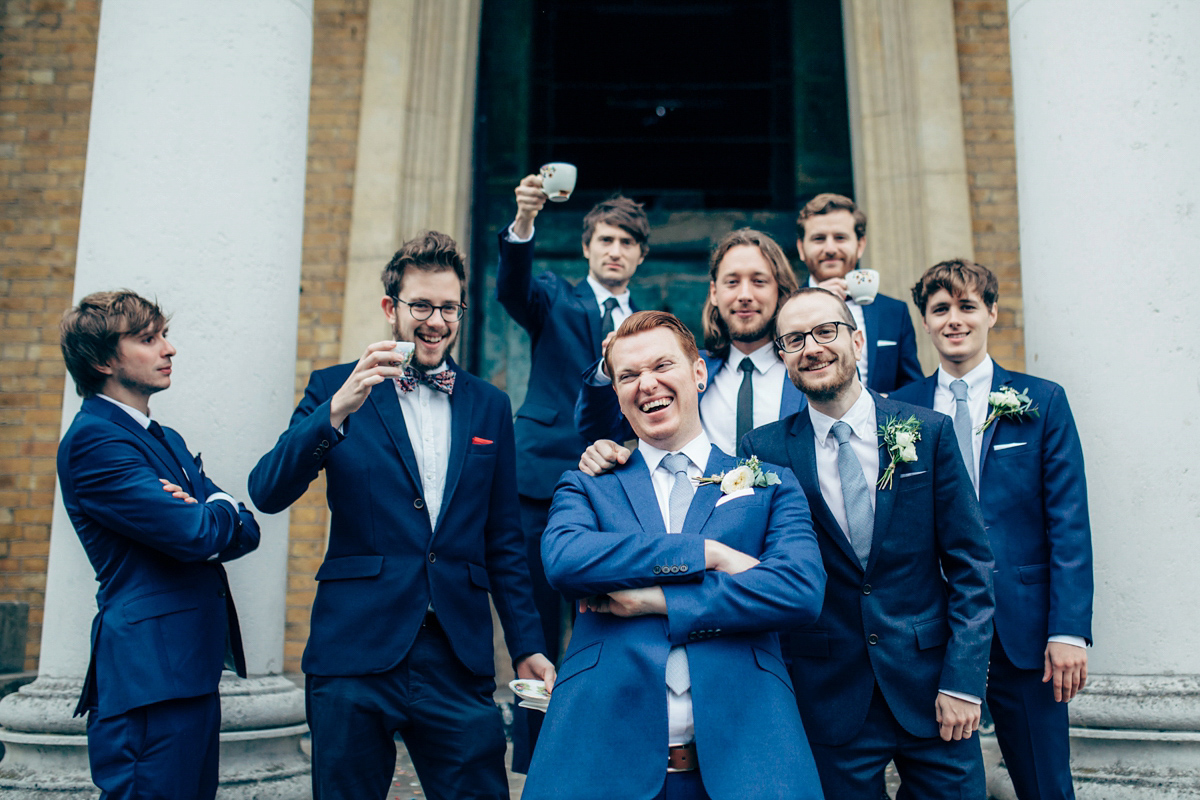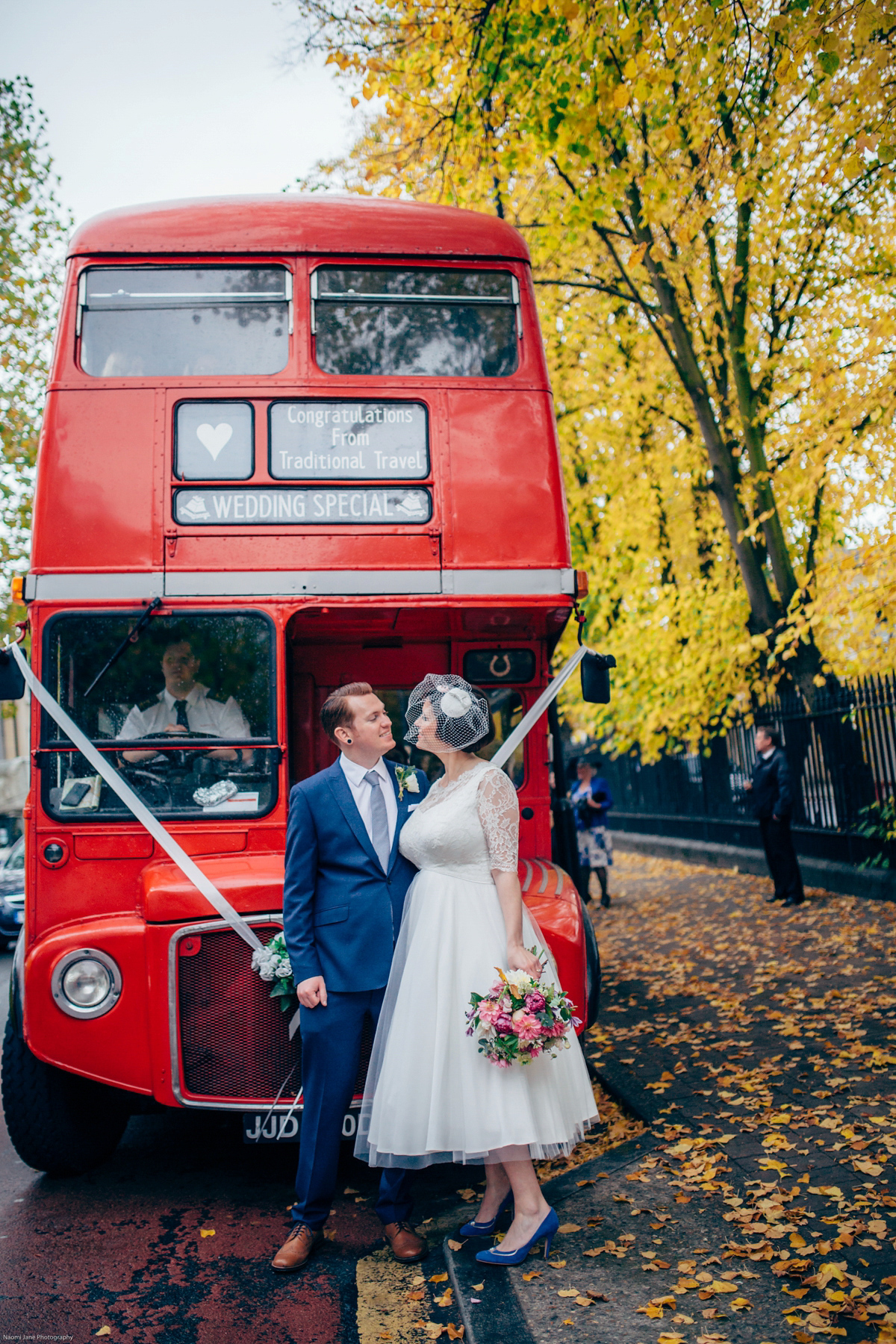 "We wanted something very relaxed so chose to have the reception at a local pub, The Lordship Pub in East Dulwich, which had been recently refurbished. Andrew, the manager, was brilliant and so accommodating, and we knew he would do everything possible to make our day special."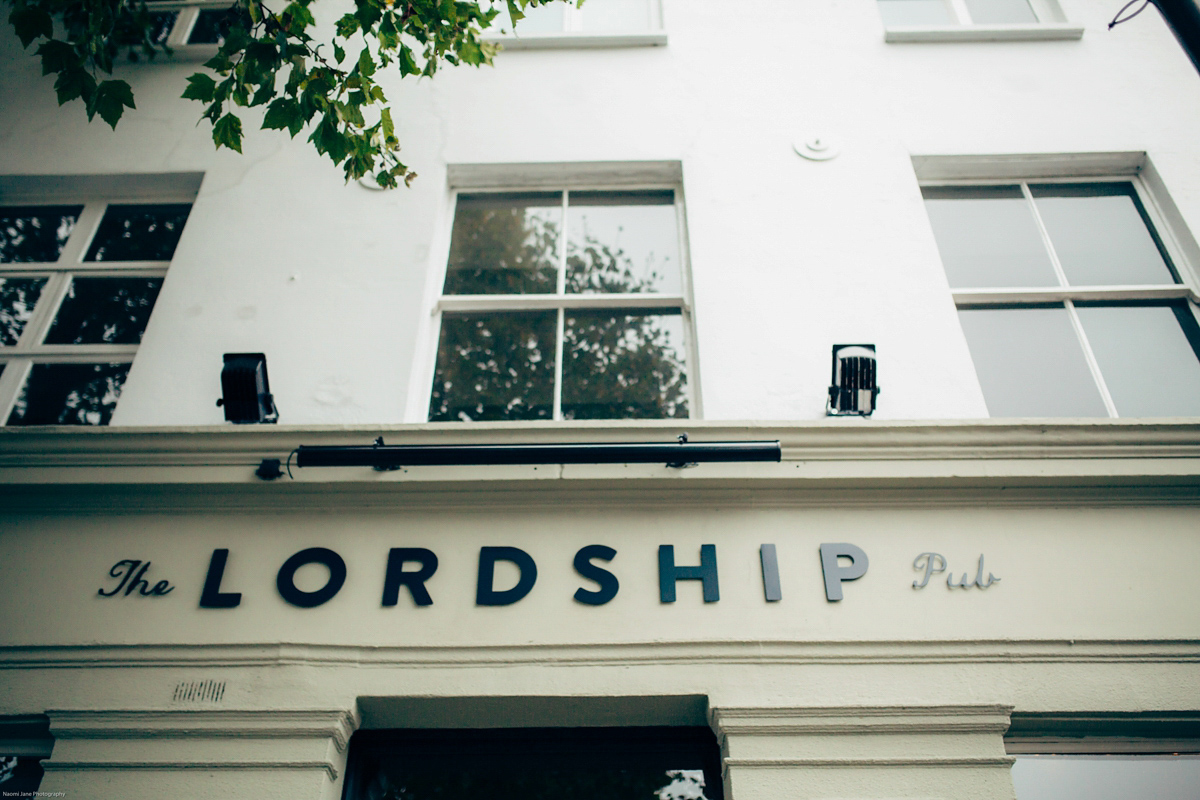 Both Chris and Dany were immortalised in illustration form by Seb Challoner, and using their tech-savcy skills as Web Developers, the couple built their own website to allow their guests to RSVP. Have you opted to go down the paperless route? My fiancé is a bit of a technological genius and has crafted us a beautiful, very clever website, but I (who prefers letter-writing to emails) could not be dissuaded from stationery to go alongside it. Be sure to take a look at our Little Book for Brides listings if you're after some gorgeous paper-based inspiration.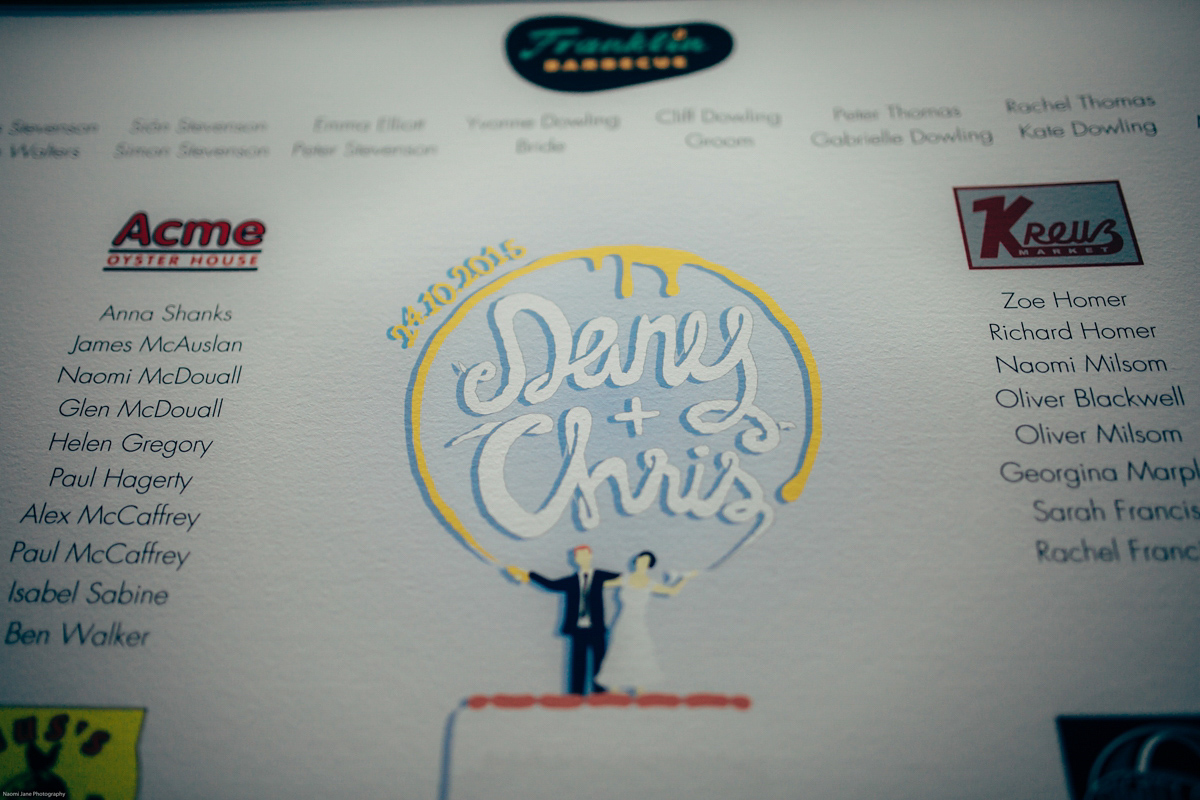 "We're very lucky to count Seb Chaloner as a close friend who's also a very talented illustrator and designer. Seb drew an illustration of us, me with a piping bag to show my love of baking and Chris with a mustard bottle symbolising his love of barbecue, standing on a cake with sausage piping and a meat interior. This illustration became the focal point of our invitations, website and table plan."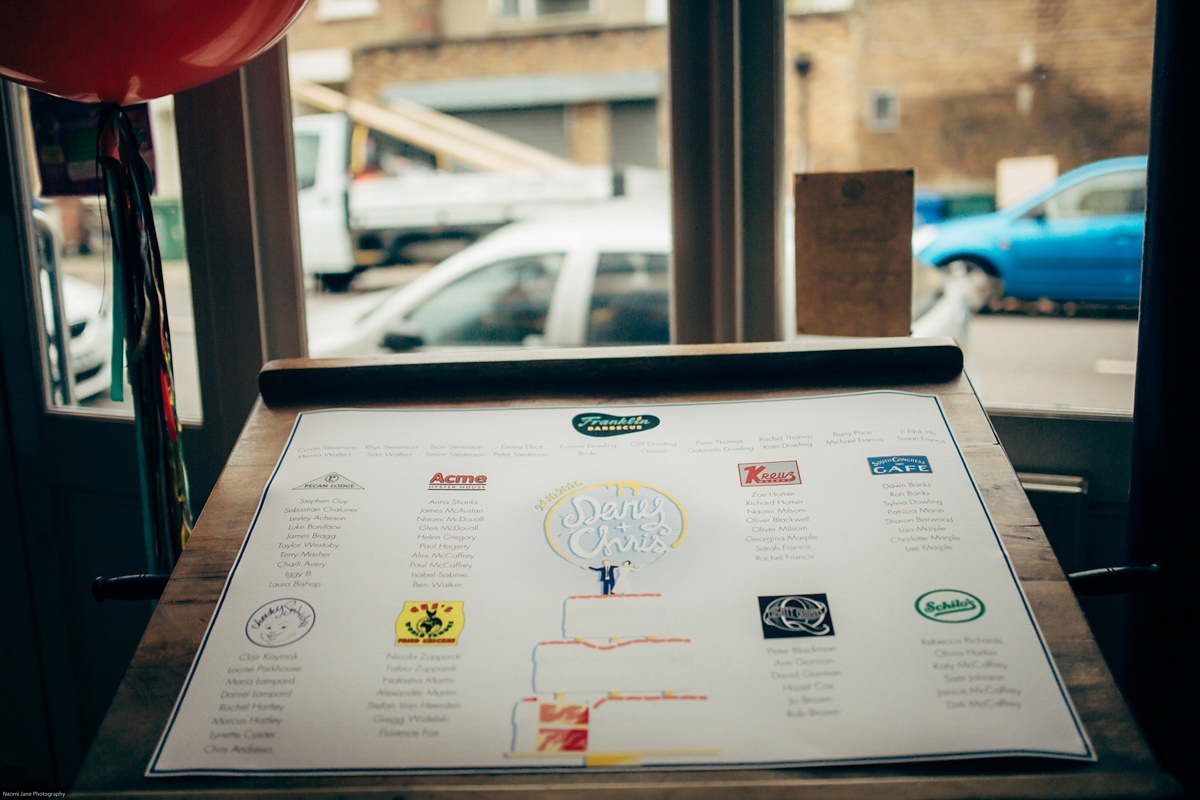 Dany and Chris decorated the pub with a fabulous array of bright and colourful props and personal items. Giant balloons floated above gold pineapple candles from H&M and photo props from eBay, with cards on each table explaining how to use the couple's home-coded photo printer app.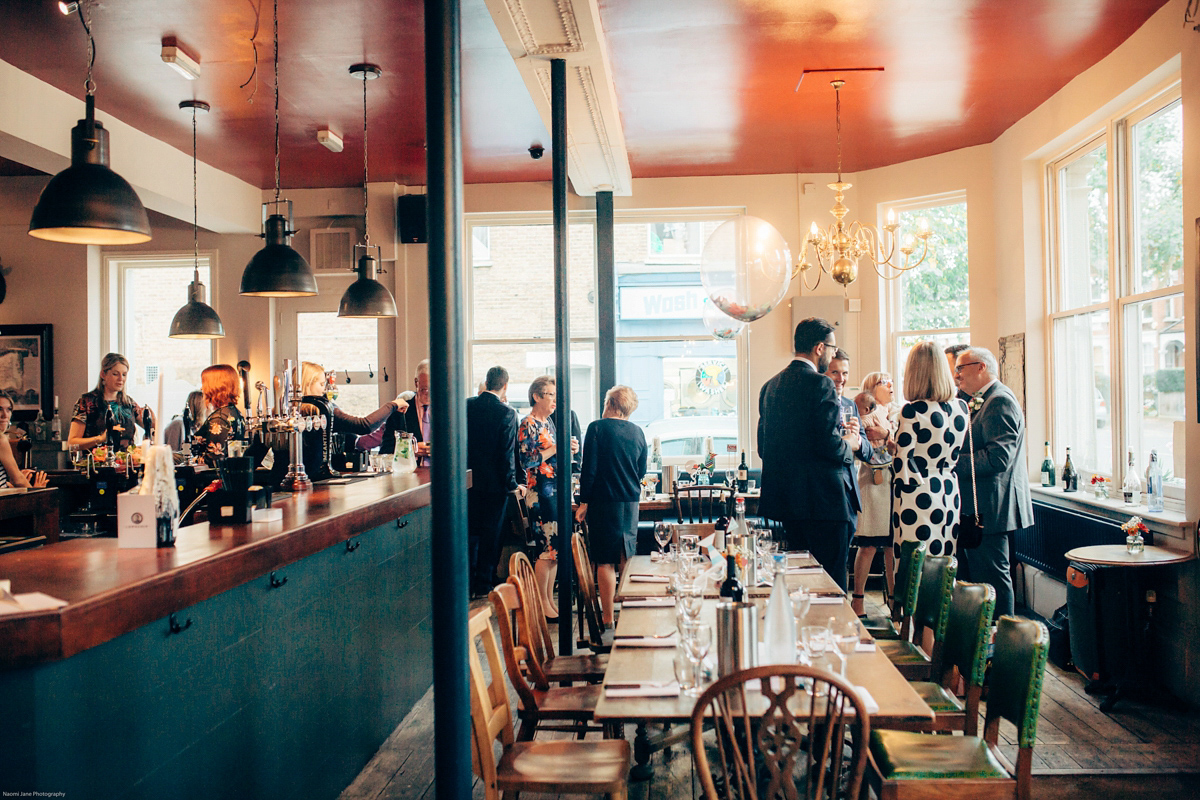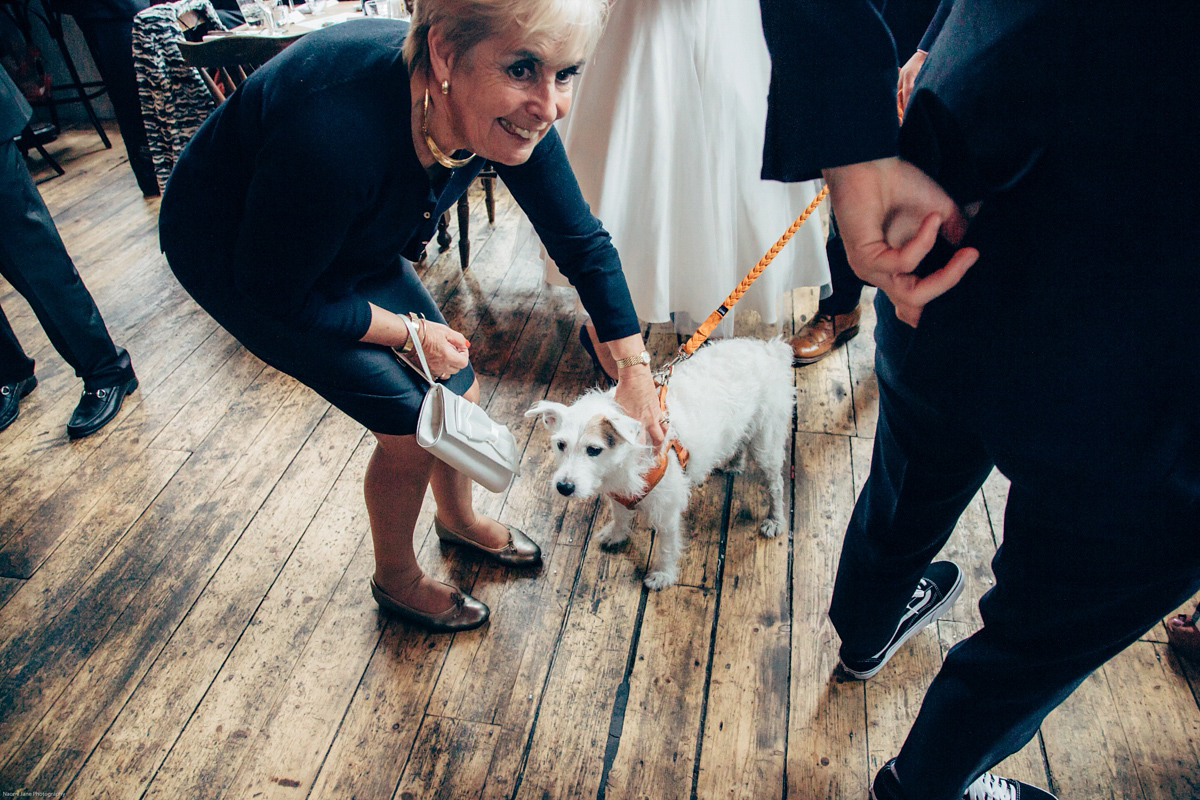 "For the wedding breakfast, we selected a three course feasting menu from The Lordship Pub and evening food was supplied by Abiye of Big Apple Hot Dogs, a street food hot dog trader that Chris has become friends with through being a regular customer for years. We wanted our evening hotdogs to be a surprise for our guests, but on reflection we should have made a bigger deal of this as a few people left before the food was served, or missed out because they didn't know what was going on."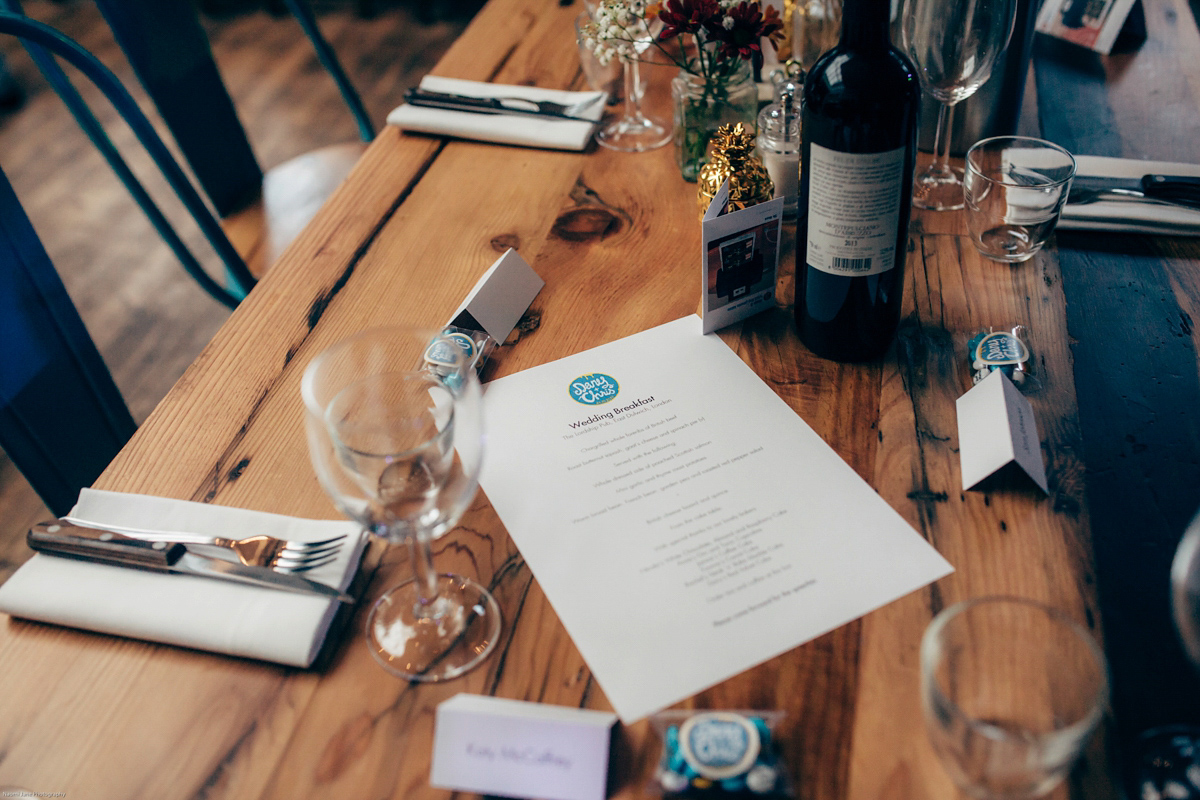 The newlyweds made table signs to match the restaurant each table was named after and the gifts and cards table was thoughtfully decorated with Dany's mum's vintage suitcase and old family wedding photos. Their sweet favours were M&M's personalised with their wedding date, names and a 'just married' graphic.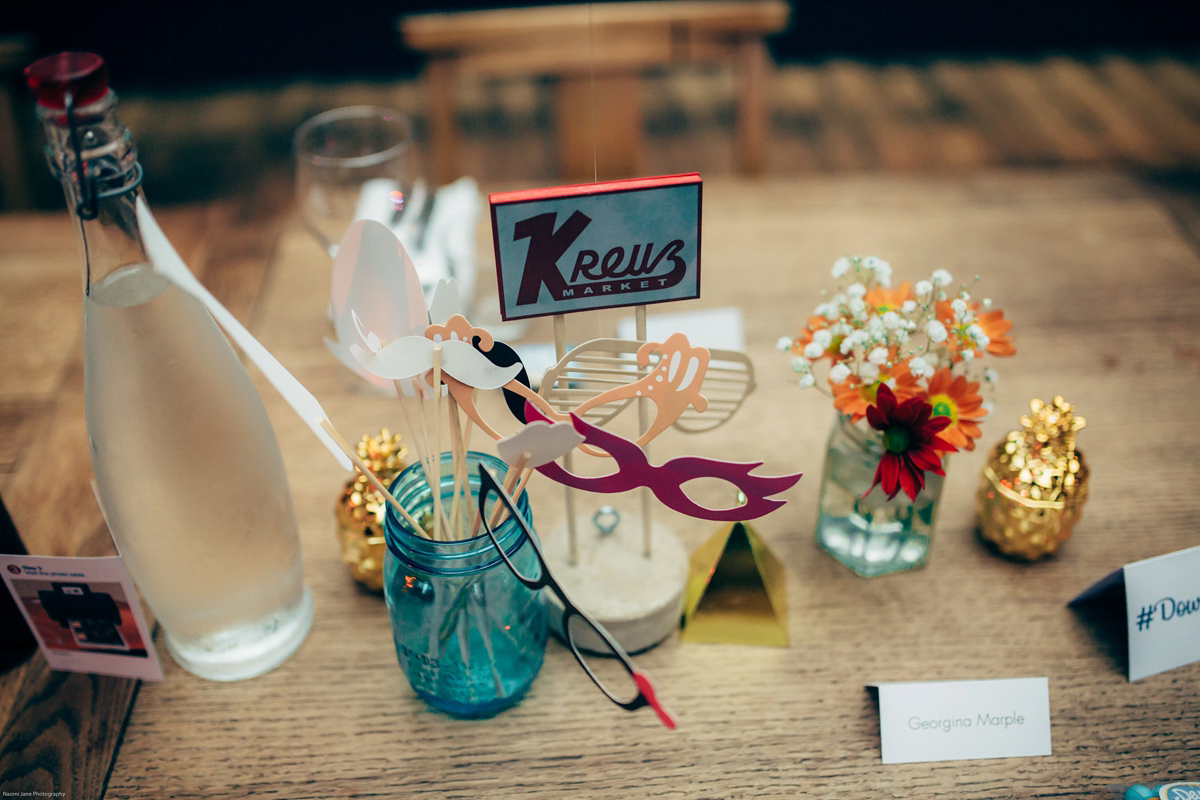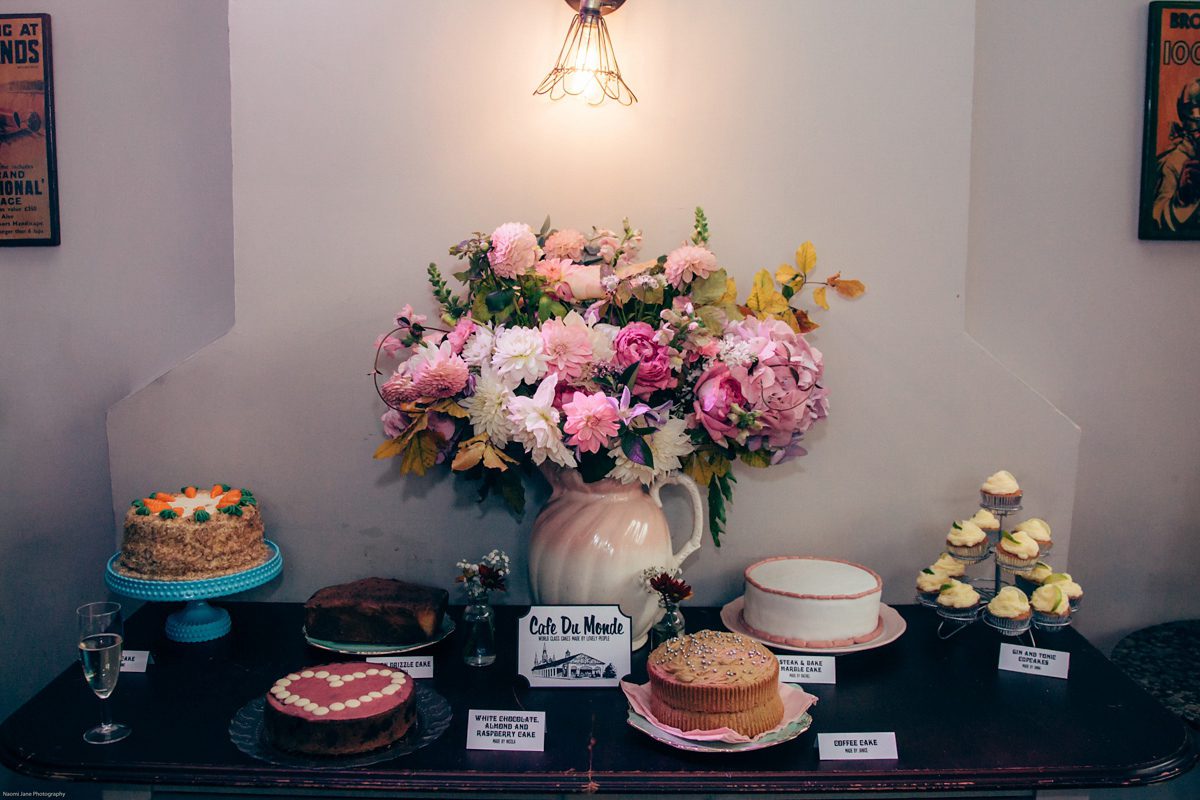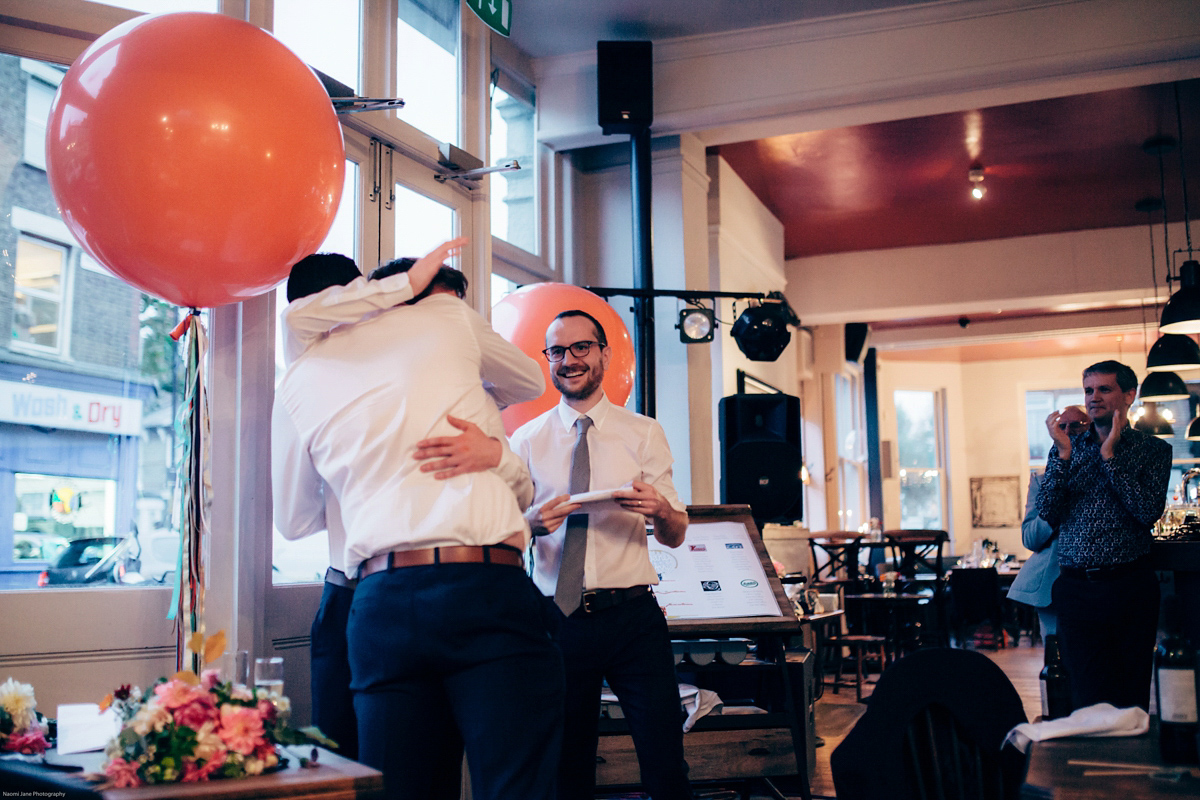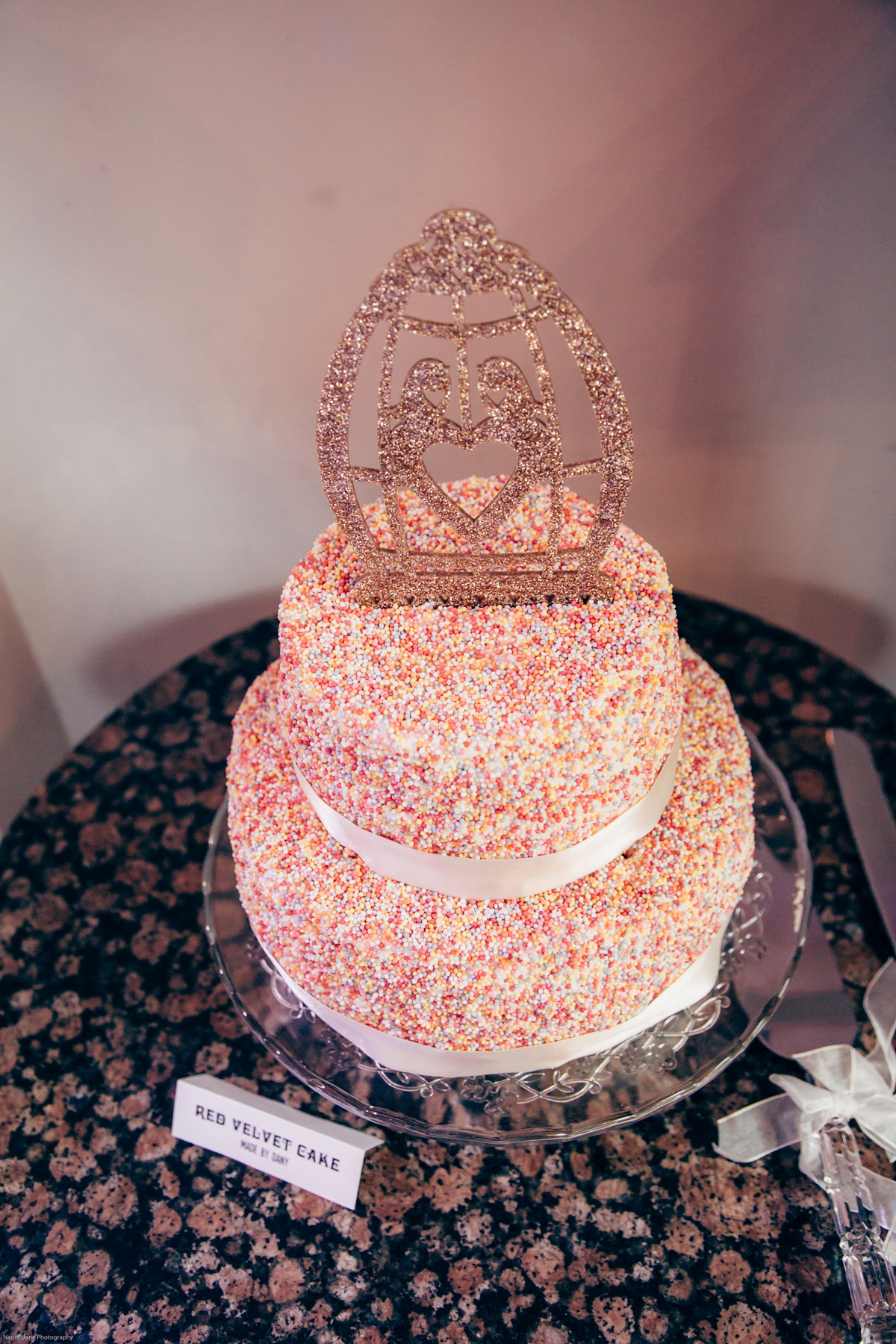 "We have some very talented bakers amongst our friends and family, so asked a selection of them to contribute to our cake table. I made the wedding cake myself as I'm also a keen baker."
"It was a red velvet cake covered in a cream cheese icing and rainbow sprinkles for a bit of fun. It was topped with a bird cage cake topper by Miss Cake."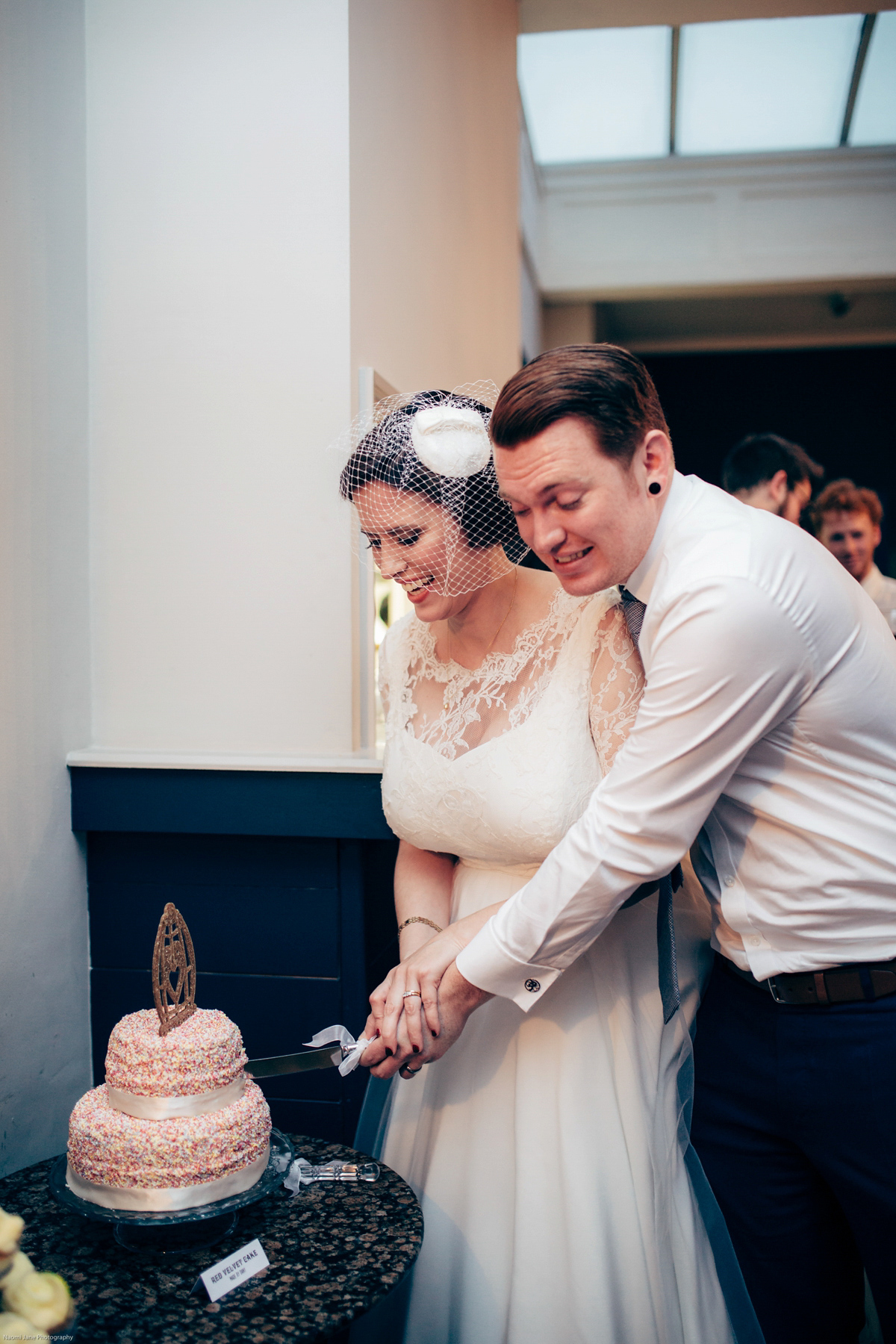 "DJs Charli Vos and Ste-V-Something are both close friends of ours and kept our guests dancing all night with DJ equipment, lights and speakers hired from Hire Frequencies. Our first dance was to Jessie Ware's cover of What You Won't Do For Love. I liked the original version and we're both fans of both Jessie Ware and Sampha who produced this version.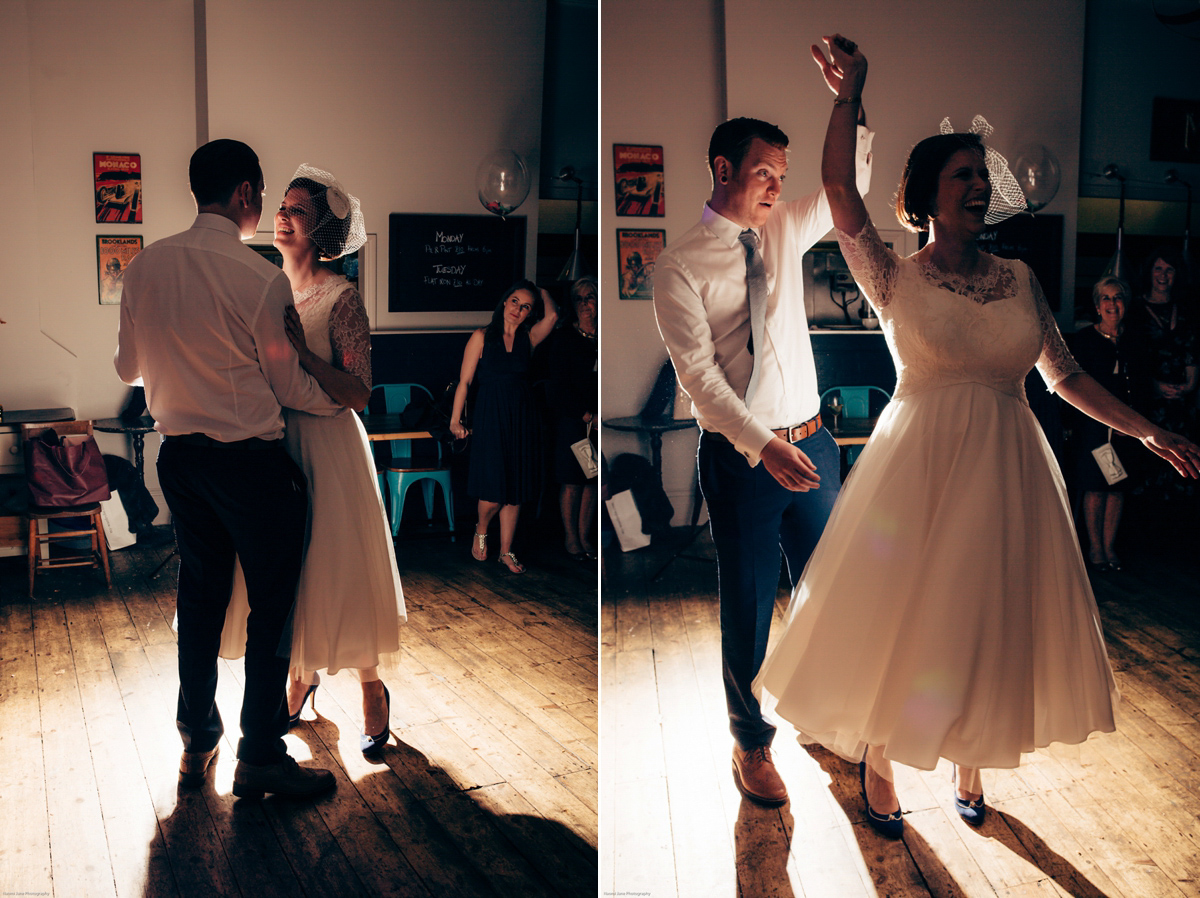 Words of Wedded Wisdom
"Listen politely to any advice offered by friends and family, but feel free to completely disregard it and concentrate on making the day how you want it to be. We only had five months to plan our big day but still managed to fit in everything we wanted and make our day perfect."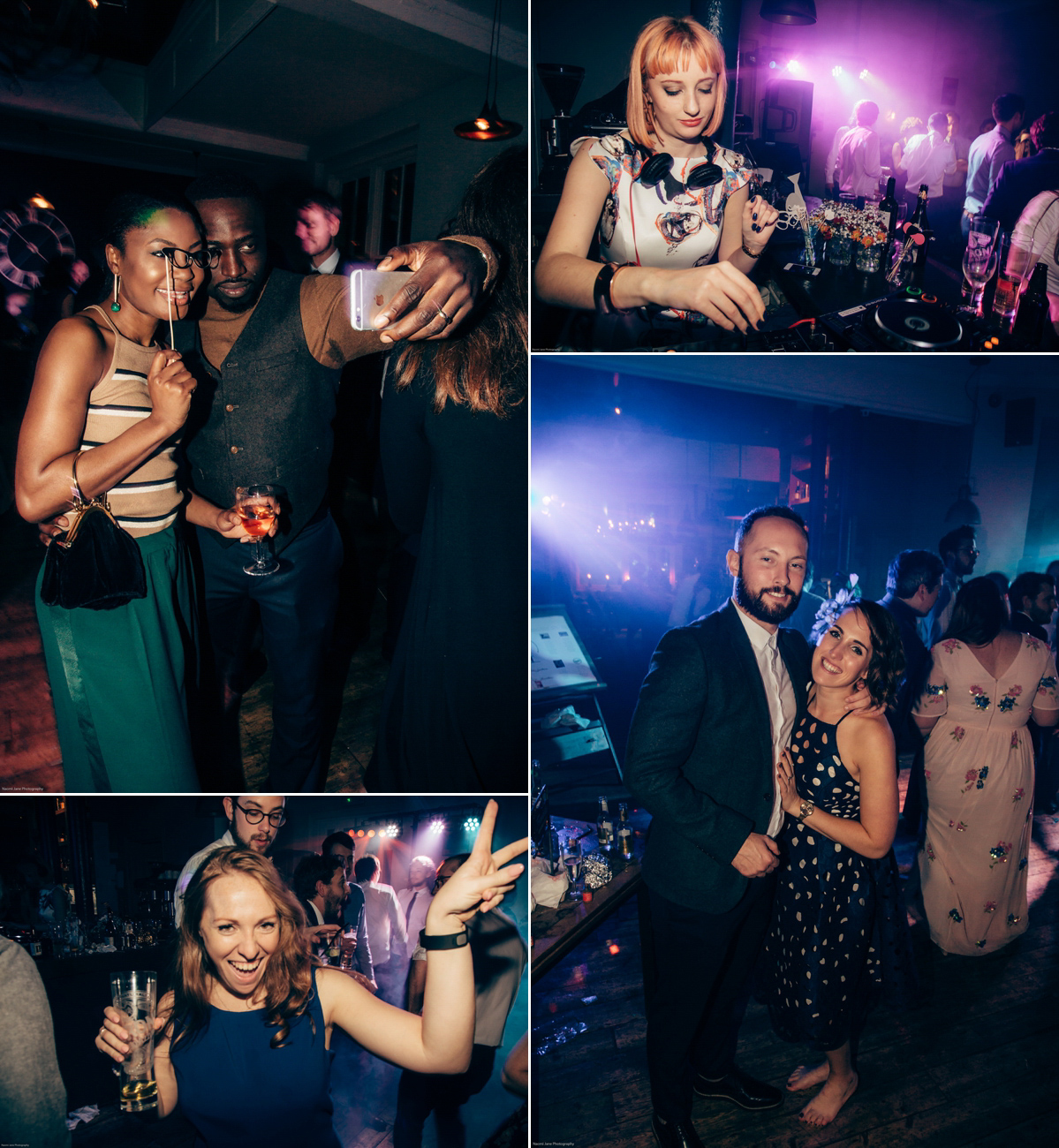 I can't thank Dany and Chris enough for sharing their wonderful relaxed and intimate day with us, and Dany's words of wisdom ought to be a mantra for all of us brides to be! Also our very huge thanks of course to the wonderful Naomi Jane Photography for these beautiful images. If you've fallen in love with The Asylum, or just fancy scrolling through our gorgeous archives, here you'll find more Love My Dress brides saying 'I Do' in this most awesome and atmospheric venue.
Love, Em x