Where is this year going? We're almost into November already!  I love the cosy things about this time of year- scarves, walks in the woods and apple crumble, but I'm less of a fan of the dark, wet mornings. That said, is there anything better than an evening by the fire with a mug of hot chocolate?
Today's wedding takes us back to early summer, still fresh with the promise of warm nights, and is just so lovely- you're going to adore the cool style of the bride and the photos by Love My Dress newcomers, September Pictures.  Meet Ash, an events planner, and John, a pub owner, who married on the 14th May 2016 at Islington Town Hall, followed by a pub reception at Brixton East. Ash wore a beautiful long-sleeved, flowing gown by Jesus Peiro, purchased from the wonderful staff at Morgan Davies Bridal.
"It was the first dress that I tried on, but I kept coming back to it and I knew I was putting on MY wedding dress as opposed to just A wedding dress.  I'm very much a jeans and t shirt kinda girl, but I felt so feminine and it was the right amount of 'bride' for me too."
Photography by Carr & Senteno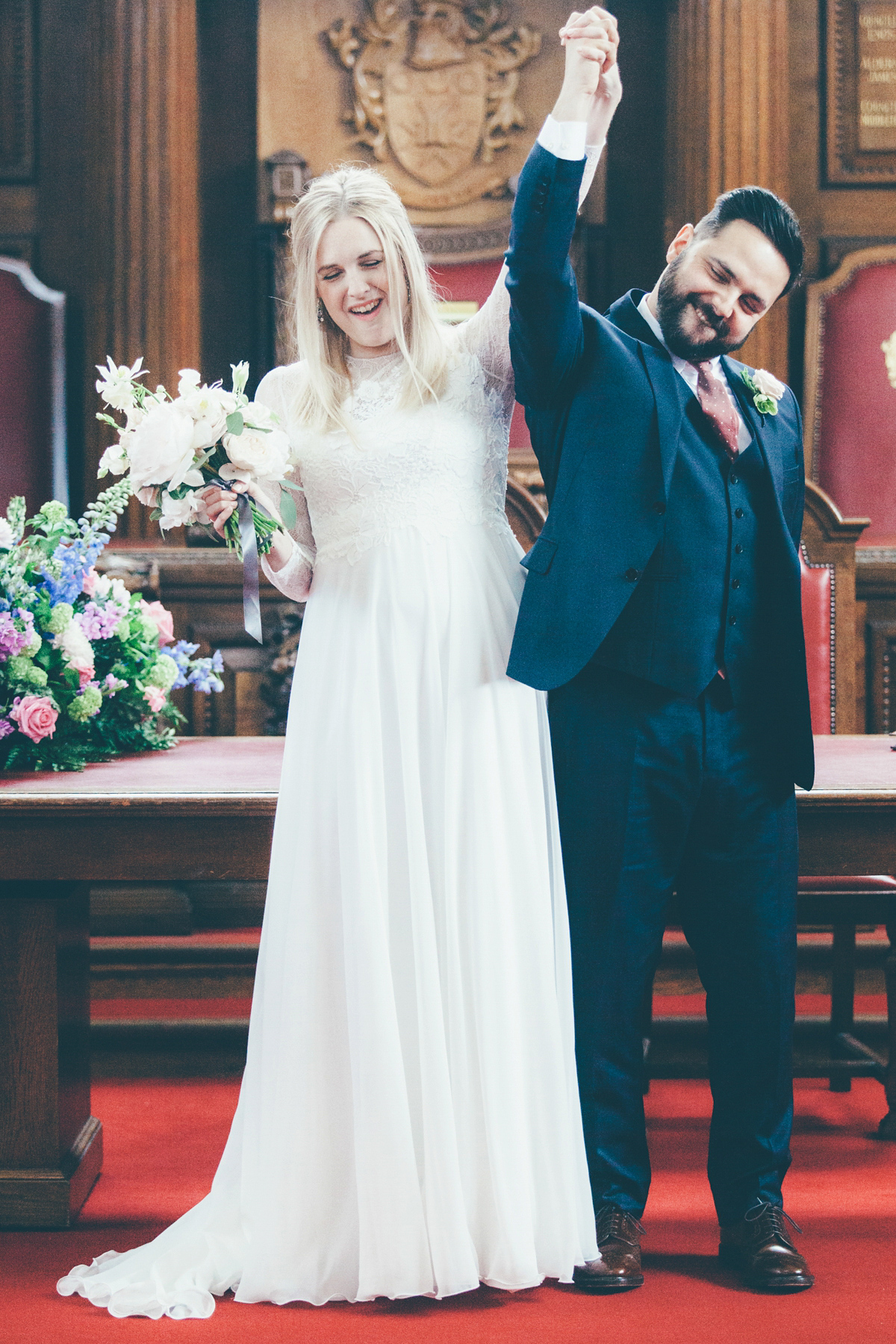 "When we first started planning the wedding, we were very much 'we can do this ourselves' – we were so wrong.  Dita Rosted, our planner, is actually friends with the Brixton venue and contacted us directly and as soon as we met her we knew she would be brilliant.  I am somewhat of a control freak and I was able to let go completely and let her do her thing.""We were very conscious that we didn't want to have anything too over the top, we wanted it all stripped back to just the bare essentials and we wanted the day to reflect our relationship and who we are together.  There are no real rules anymore which makes it all the more fun, its about what you love."
"John is slightly smaller than me so I didn't want to tower over him in a pair of killer heels.  I found it quite tricky to find nice mid heels, but when I saw 'Angelo' by Sophia Webster I fell in love (plus they were pink, which gave a nice flash of colour as I walked). They're actually discontinued now, so I feel even more special to have them."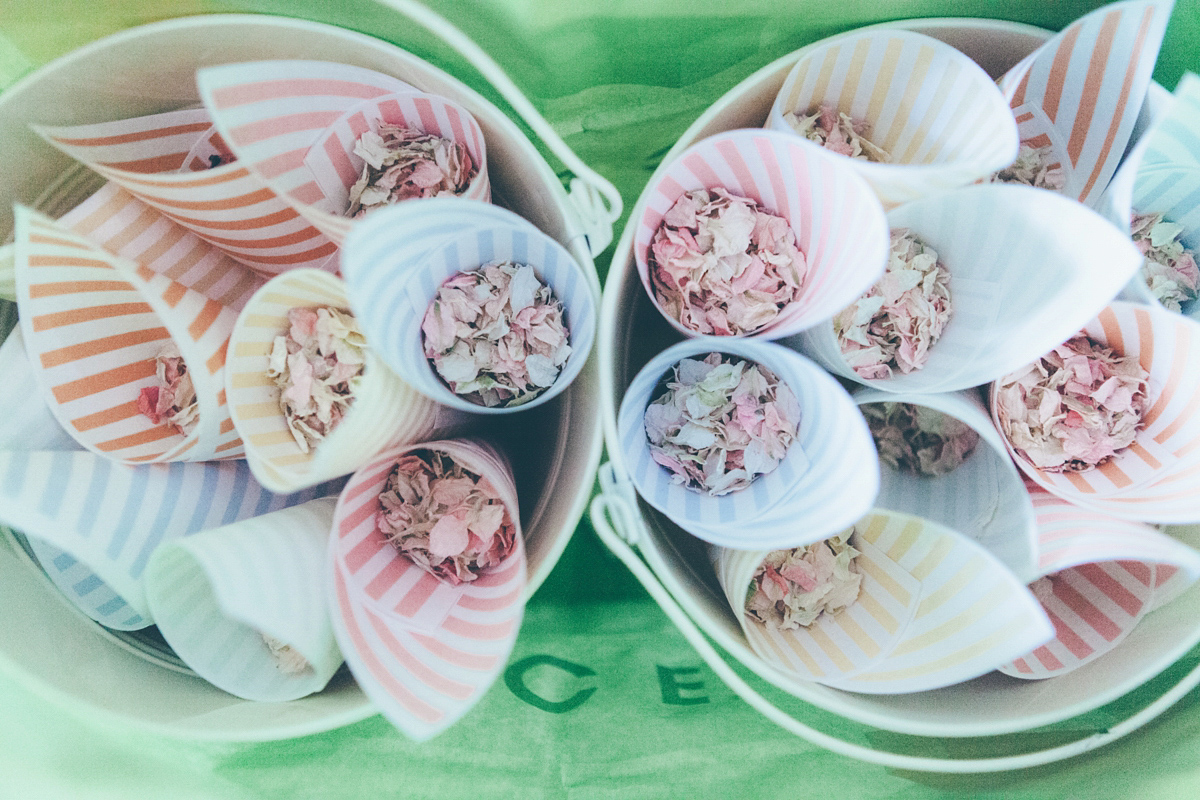 The three bridesmaids looked beautiful in black Vera Wang gowns, purchased from Davids Bridal, worn with jewellery from & Other Stories.  John, meanwhile, looked very smart in a  three piece suit from Reiss and dark brown brogues from Grenson.
The ladies did their own make up and hair was styled by Samantha Cusick London.
"My hair is normally a bit of a birds nest so I was keen to have it straight for the wedding.  I bought some clips from Claire's Accessories the day before and by complete accident they matched my drop earrings (from Lulu Frost) and it all really looked like I'd planned it."
"For perfume I always wear 'Lola' by Marc Jacobs – John used to always say he could smell me even when I wasn't there because of it so I wasn't going to change for the wedding."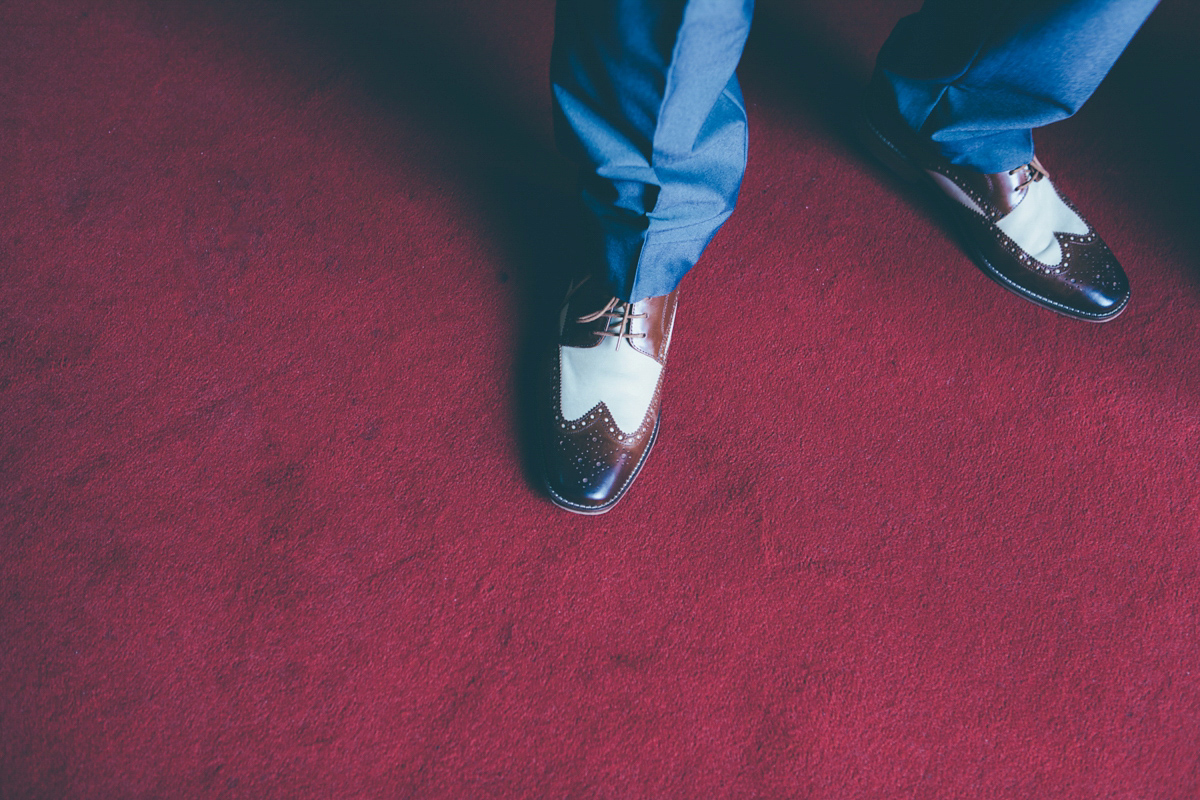 The couple said their vows in the grandeur of Islington Town Hall's Council Chamber, then moved their guests to the very cool Brixton East for their reception celebrations.
"Choosing Brixton East was just a no-brainer.  The owner, Andy, is one of the nicest people we've ever met and we had use of two floors and a small roof terrace, plus access for the whole weekend."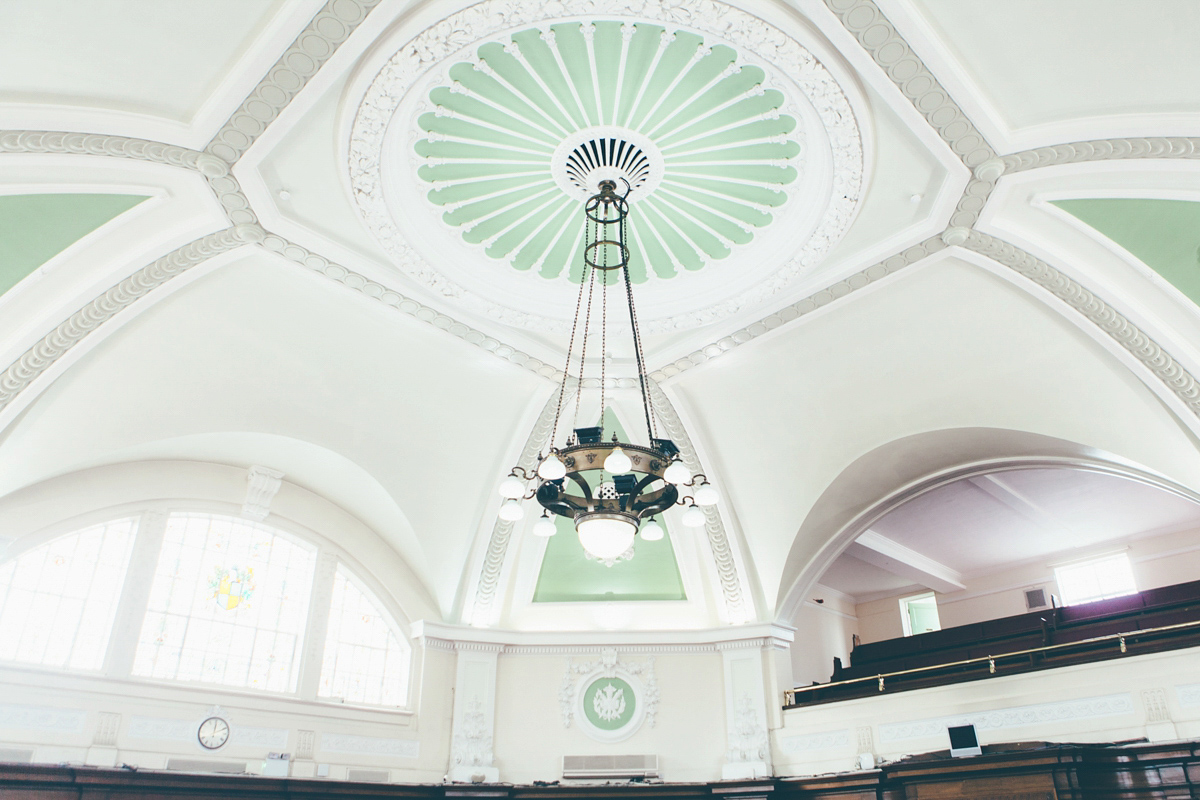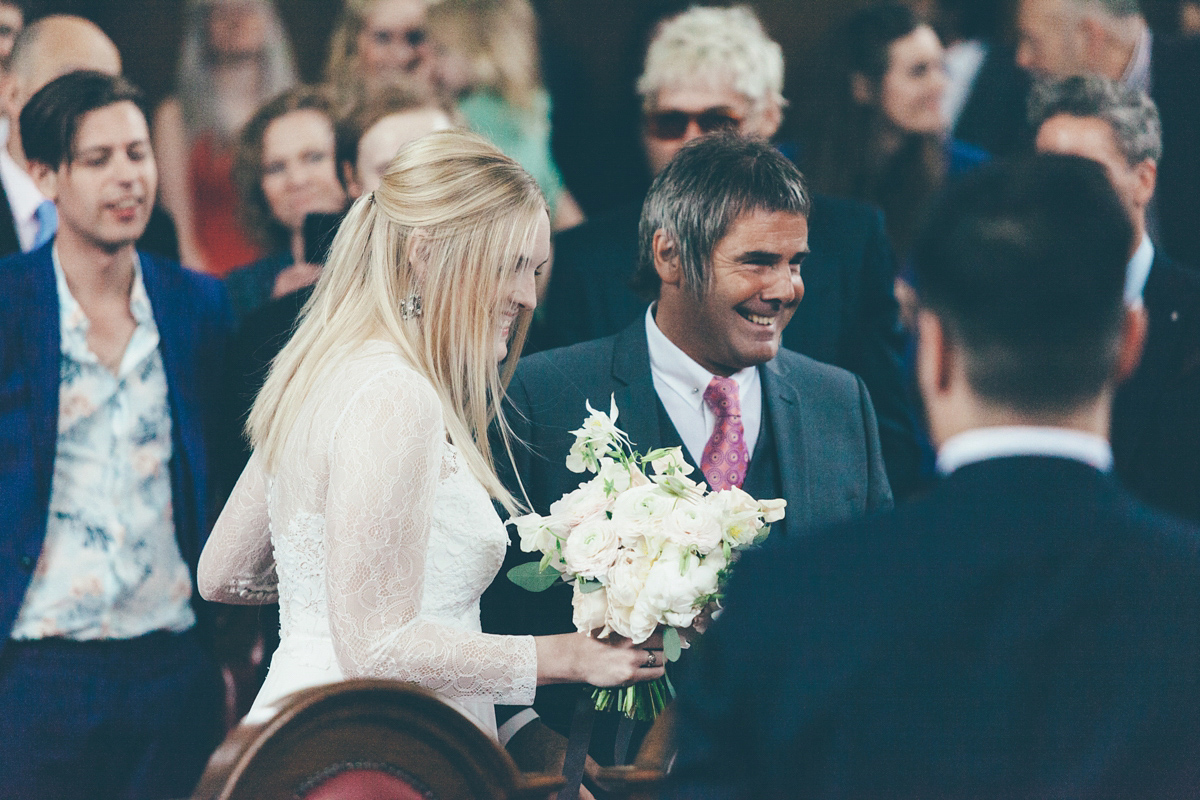 Ash walked down the aisle to 'Today I met the boy I'm gonna marry' by Darlene Love, accompanied by her Dad, who had flown in from Abu Dhabi for the occasion.
John and Ash chose two readings;  'Northern Sky' by Nick Drake and 'You are the bubbles' by Rachel Bright and exchanged rings from Hatton Garden jeweller Alistair Stewart, both choosing simple bands.
Once pronounced husband and wife, the newlyweds danced back down the aisle to 'You make my dreams come true' by Hall and Oates.  I just love the photos capturing this moment- so much happiness and so many smiles.
"The best part of the day for us was having everyone we love in the same room"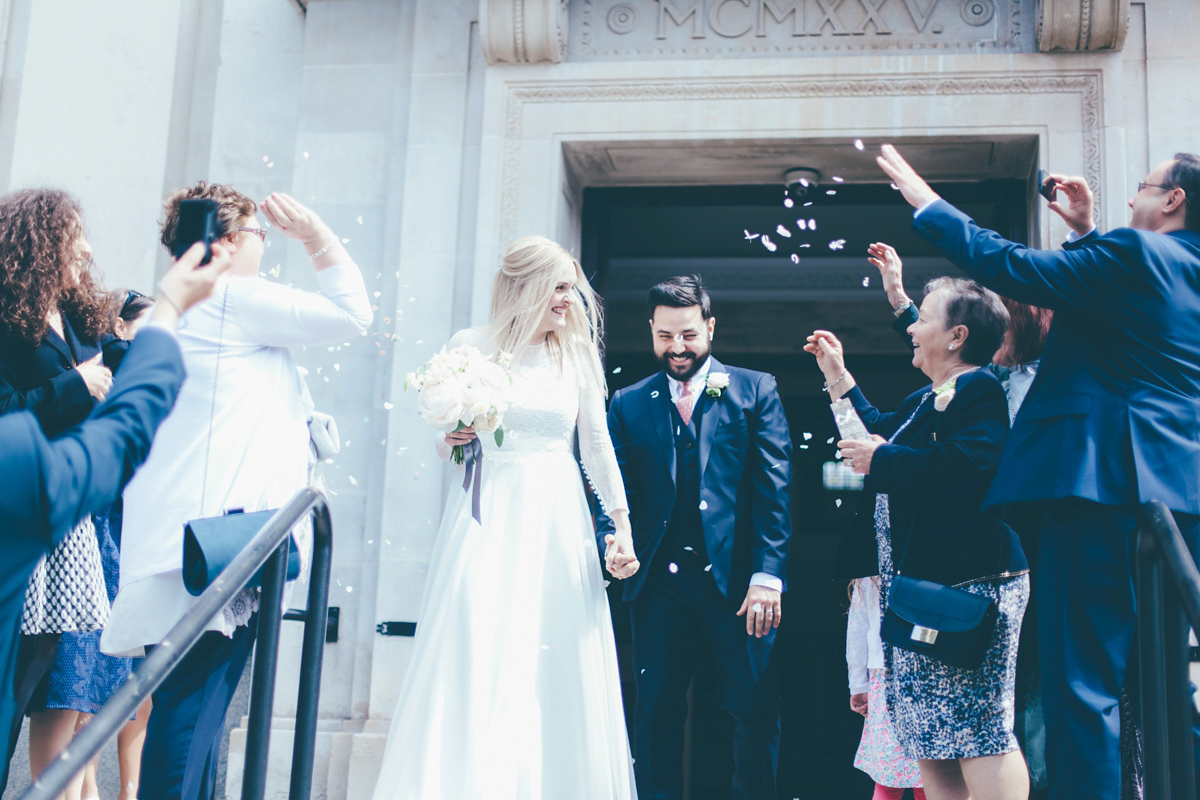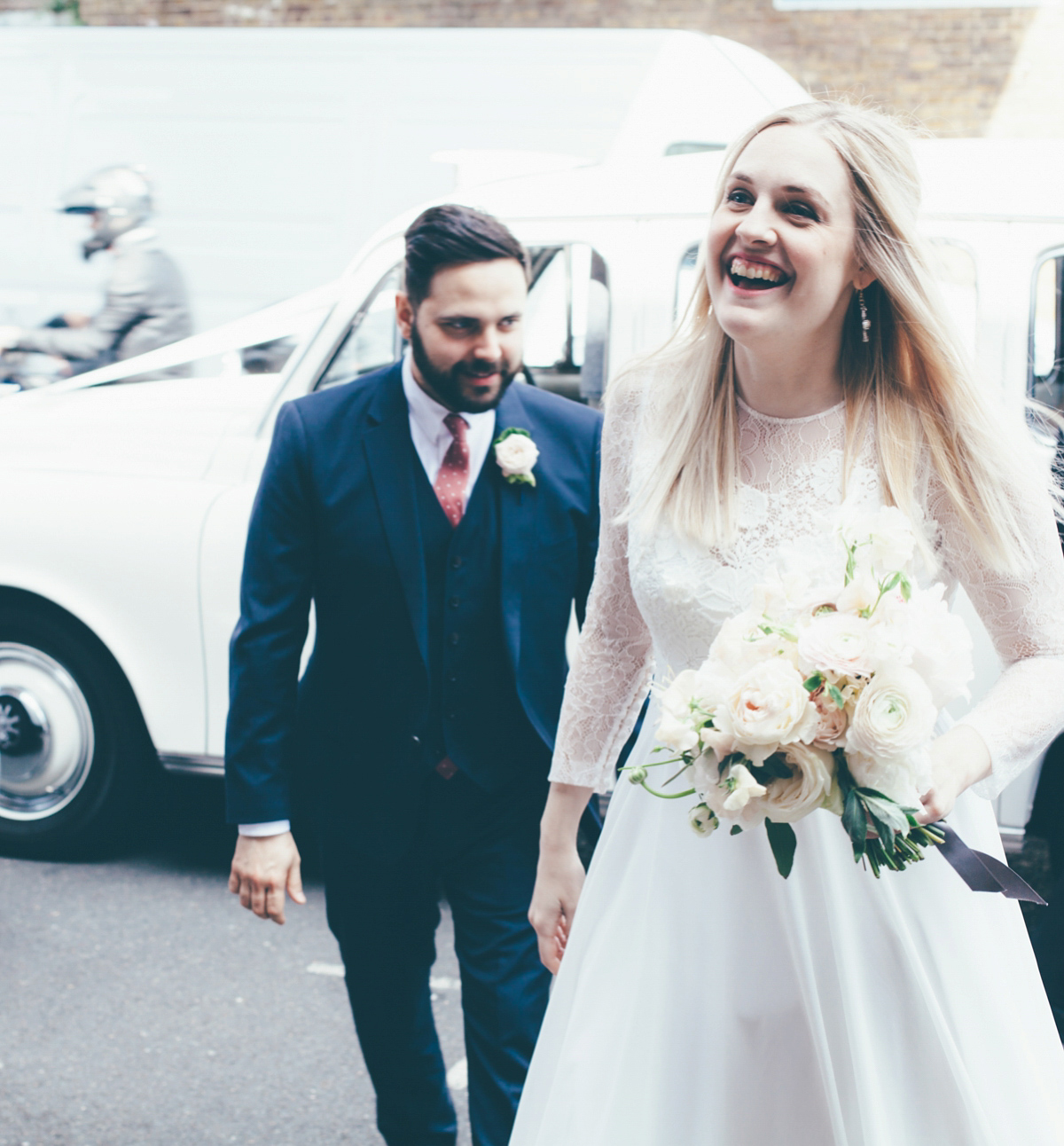 For decor, Ash and John used items from their flat and John's pub, giant balloons with tassels from Pop Pop Papier, picture frames from Tiger and film posters for each table.  I love their eclectic and fun style.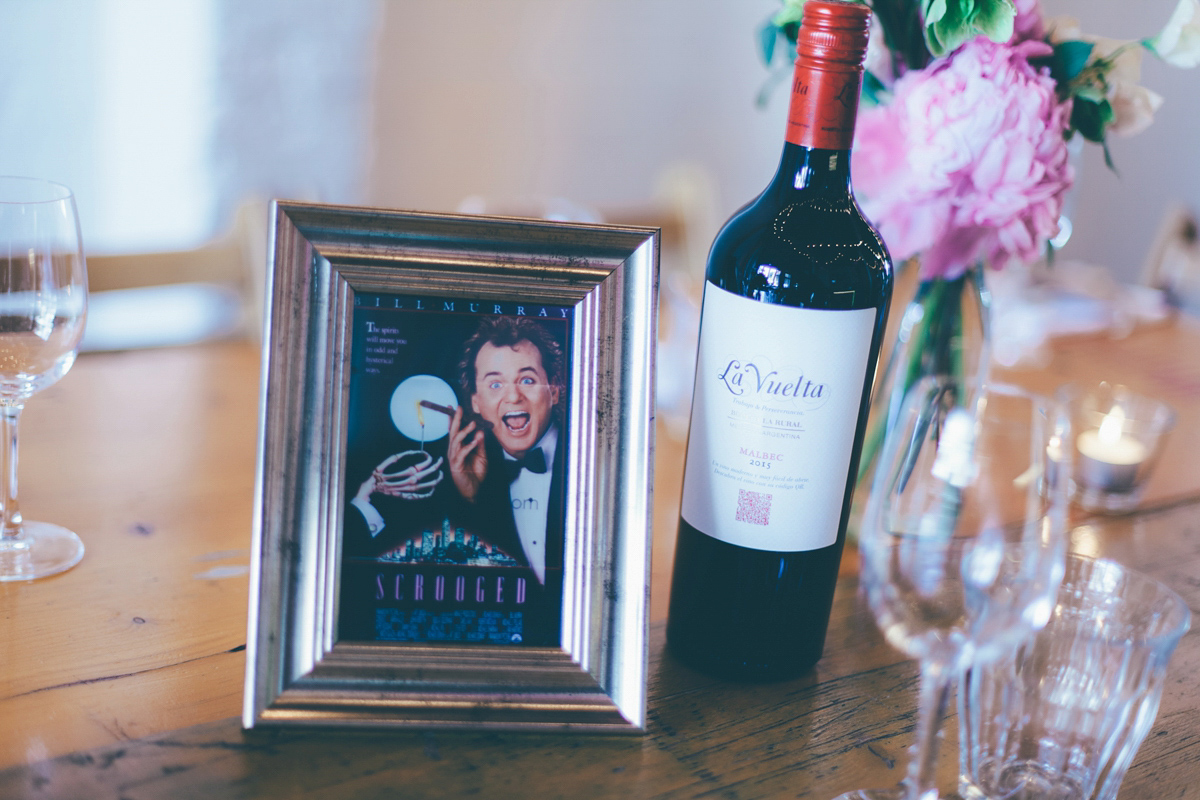 We often read that couples have had incredible amounts of help from friends and family with the decor, music, flowers and suchlike (which is fabulous) but its quite rare we read that one of them catered the whole day, as one of Ash's colleagues did.  What a star!
"The food was definitely a highlight of the day for most people.  There was so much left over and people took whatever they wanted as they left. We were getting messages for days after saying how we were still feeding them."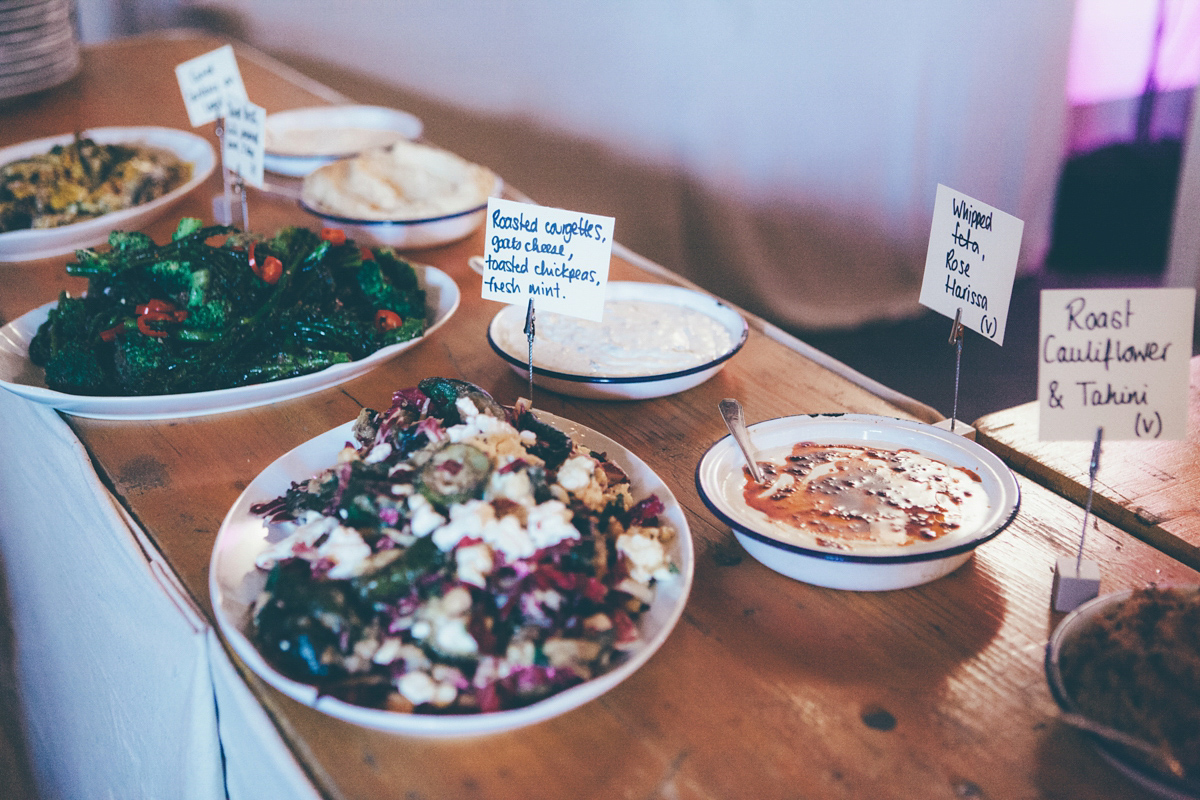 "We used Lola's Paperie for the invitations. They were brilliant and even managed to get some for us in Portuguese for John's non-English speaking family."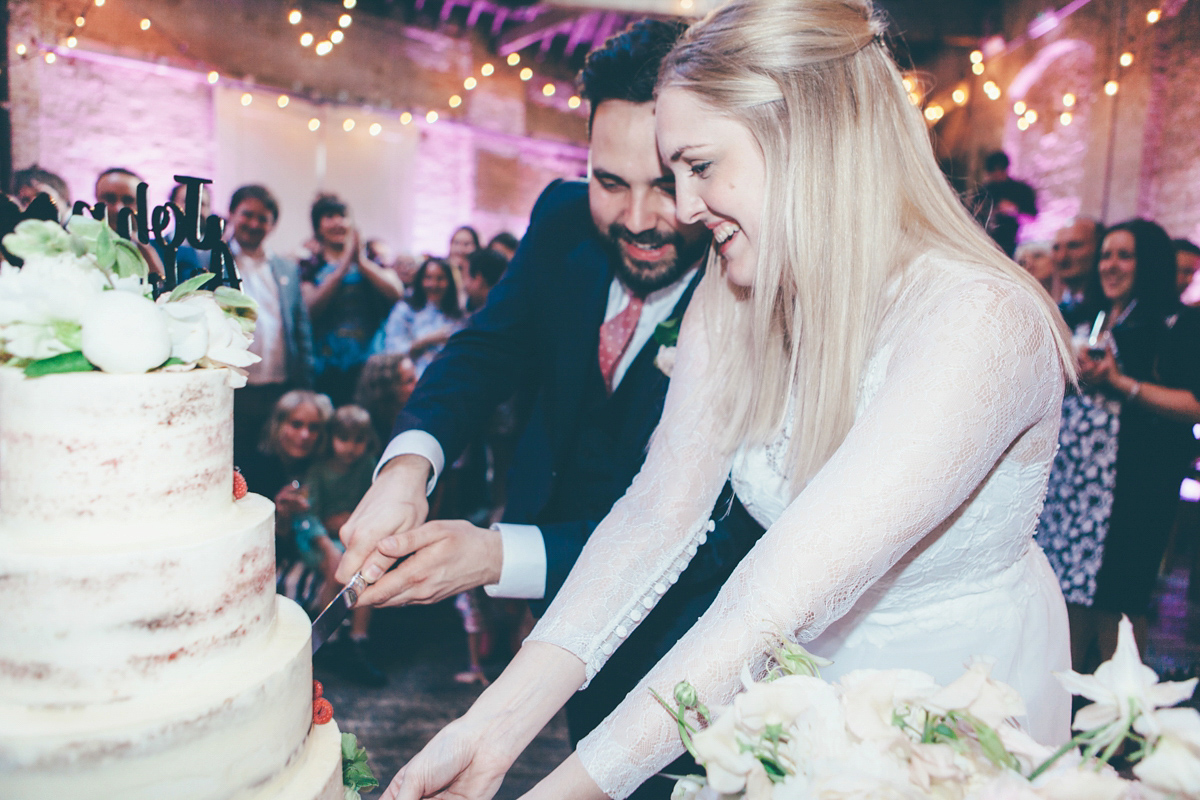 "I loved Carr & Senteno' photos from the second I saw them- they do really lovely and casual shots, but still really special. We didn't like the idea of having to leave our wedding to do pictures on our own and there are plenty of personal snaps of us even though we're in a crowded room- that's what makes Carr & Senteno so special. Rachel and Chris were so lovely and they captured the day perfectly for us."
Similarly, Ash and John called in favours from friends to DJ different parts of the day.  These included Radio Arkham, Sauce DJs and Ixtanova.
"We only decided to go ahead with a cake a month before.  I found Fondant Fox on Instagram through the collaborations Carla does with The Meringue Girls. We loved her cakes immediately and decided to go for a three tier 'almost finished' cake.  I wish I could say I scoffed it but I didn't actually manage to get a slice (although I have it on good authority that everyone loved it)."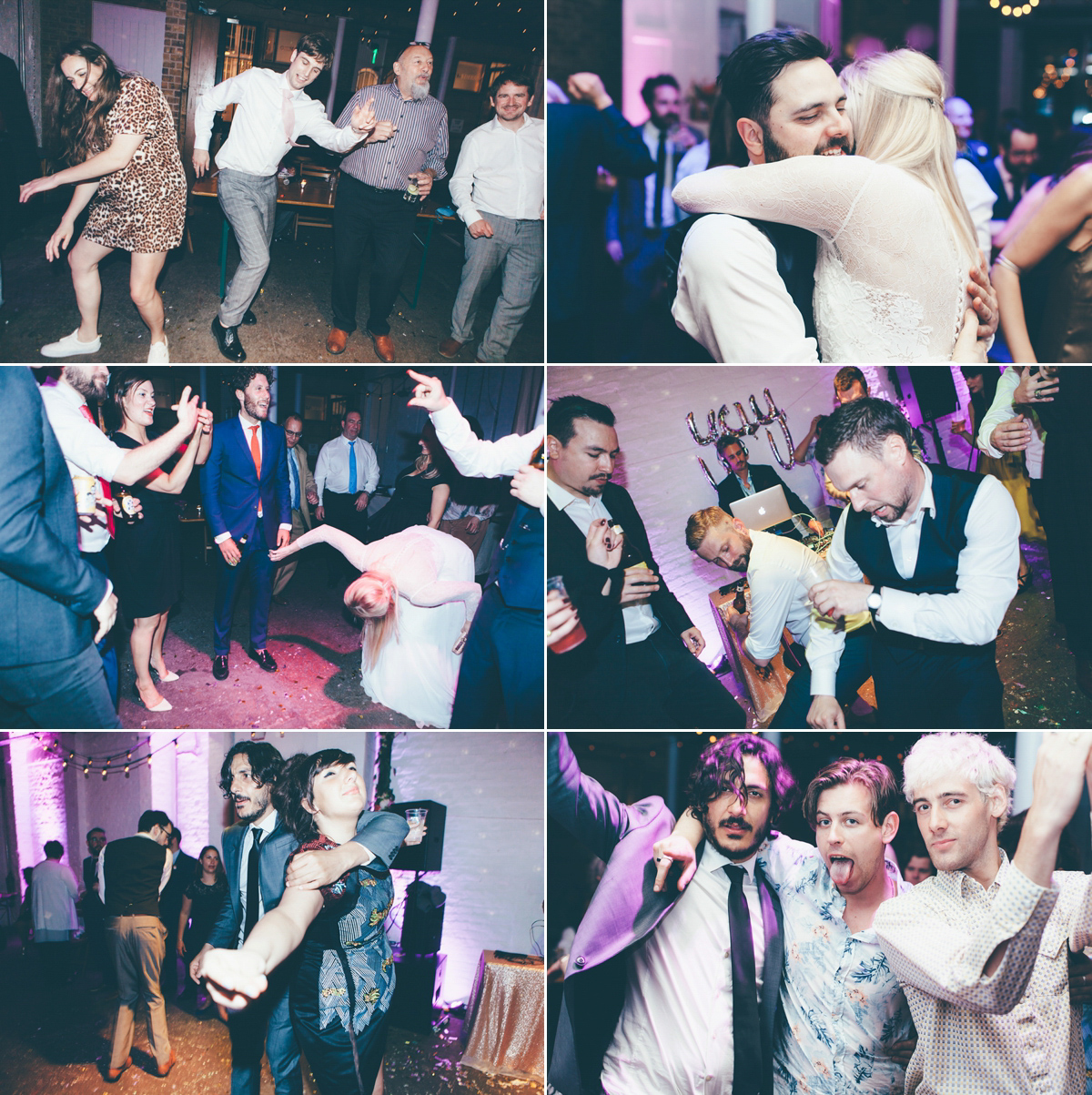 Words of Wedded Wisdom
"Try and stick to your budget. We wouldn't change any part of our day looking back on it, but we went so over budget it was scary.  Also, make sure you try to pay for things as soon as you can, rather than when you're prompted.
Get people involved. One of my bridesmaids handmade the table plan, our message board and one of the venue decorations too.  People want to help if they can.
I read everywhere that you need to 'take a moment' with your groom and appreciate everything going on.  I thought that we would do that but we didn't- we barely saw each other after our first dance.  If you can, work the room together saying hello to everyone."
So many thanks to Ash and John for sharing their day with us.  I just love how on the blog we can go from destination weddings in Ibiza one moment, to a super-cool celebration in a London pub the next.  Life is about difference and interest and weddings seem to be a microcosm of all that, isn't it great?
Do you we have any other Jesus Piero lovers?  Have a peek here if so, or here for more London wedding inspiration.
Much love,
Shona x