Good evening lovelies, how are we today?  Are you gearing up for the festivities or secretly sick of it already?  Whether you need an escape from relatives or just want to pretend it's still summer, today's second wedding feature is the perfect tonic and super-pretty to boot.  Meet Katie, a bridal sales consultant and embroiderer for a bespoke wedding dress shop and Nick, an entertainment coordinator, who married at the beautiful Nymans Gardens on the 6th August 2016.
Katie wore the most gorgeously ethereal gown by Catherine Deane, purchased from our Little Book For Brides wedding directory member, Leonie Claire Bridal Boutique, located in Hove, East Sussex.  Doesn't she look fantastic?  A wonderful mix of elvish princess and Edwardian glamour.
"My dress was my wildcard choice  – I always thought I wanted a fishtail gown, but once I started trying on that shape, it really didn't suit me. I only knew I wanted to feel ethereal but very comfortable as well, which my dress was.  I just felt so beautiful and slightly elven-like in it – it was also the only dress my mum cried over."
Photography by Manon Pauffin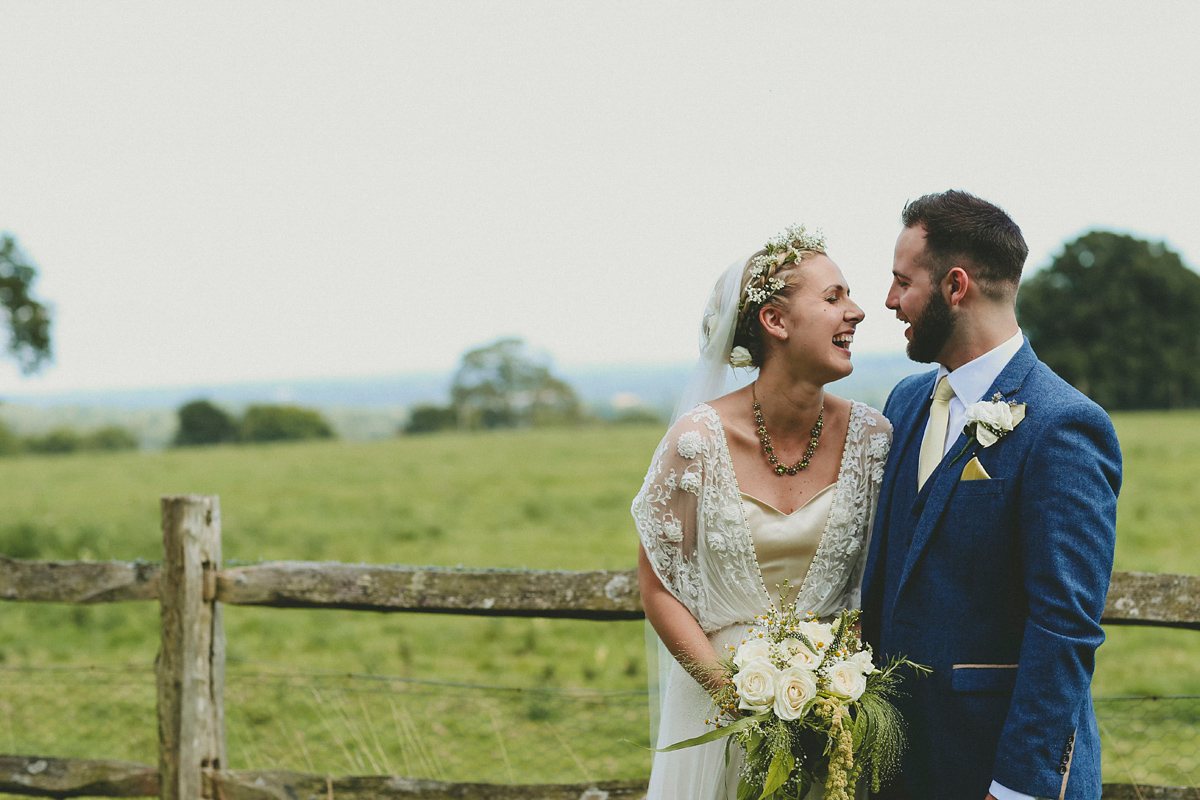 "It was just a Nick and Katie day – everything there was inspired by our favourite things, from a fish and chip van for the catering (our favourite food) to the cheesecake cake with a Day of the Dead topper.  The minister even altered the ceremony to include some quotes from our favourite books, so we had no real theme, but it worked well as all of our friends and family could see us in every part of the day. We also had our friends do things for the day where we could, which made it more personal, including the canapés and cake, as well as the editing of the first dance song.""Our friend works at Nymans Gardens and when we got engaged she suggested we go and take a look.  Once we had seen it nothing could compare – even in mid-winter it took our breath away. We also liked the fact they charged the same price whatever time of the year so we could afford to have the wedding in August."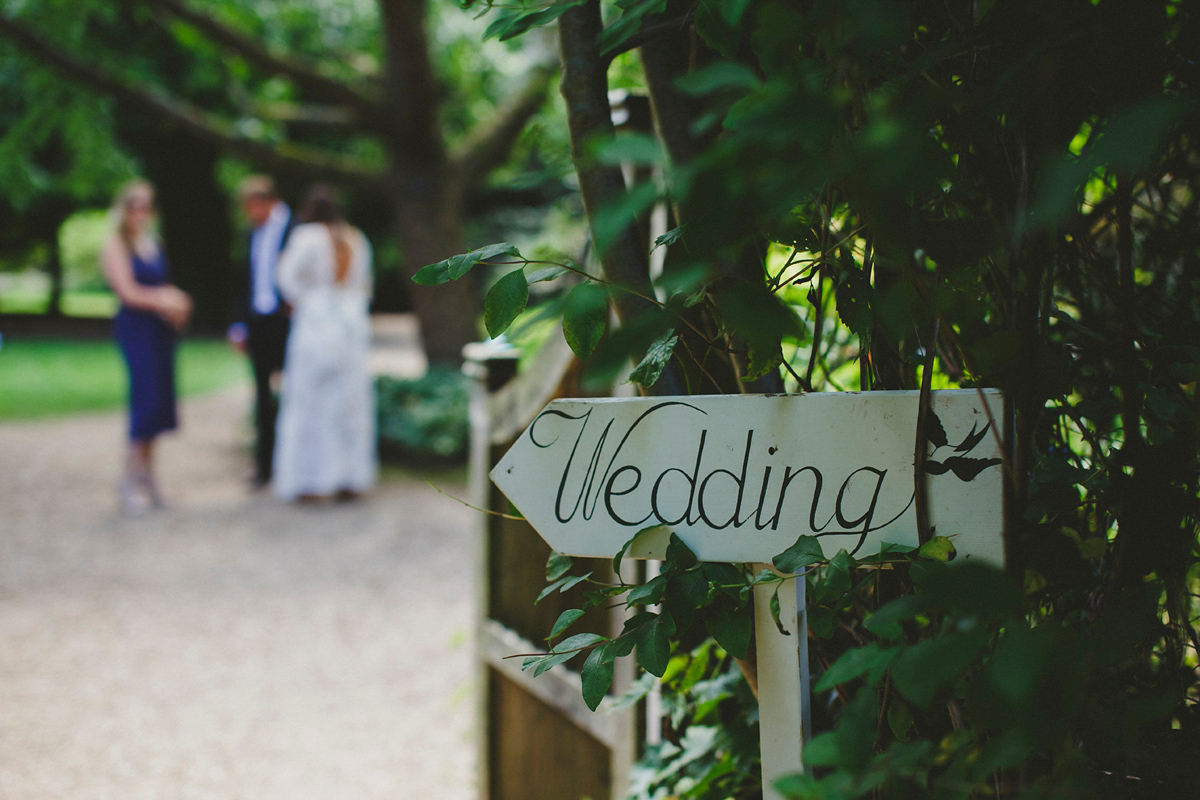 "We got engaged in Mexico. Our official anniversary falls on Mexican Day of the Dead so it's always been a dream of ours to go there and in 2014 we had finally saved enough money."
"On the day we ate at an incredible seafront restaurant that went out over the beach and sea on a jetty and afterwards he took me for a walk on the beach to a small tiki hut, where he pretended he wanted a picture of me but instead of pulling his camera out of his bag he pulled out the ring."
"It was incredibly romantic.  Afterwards we went out to the Day of the Dead festivities and it felt like a huge party just for us."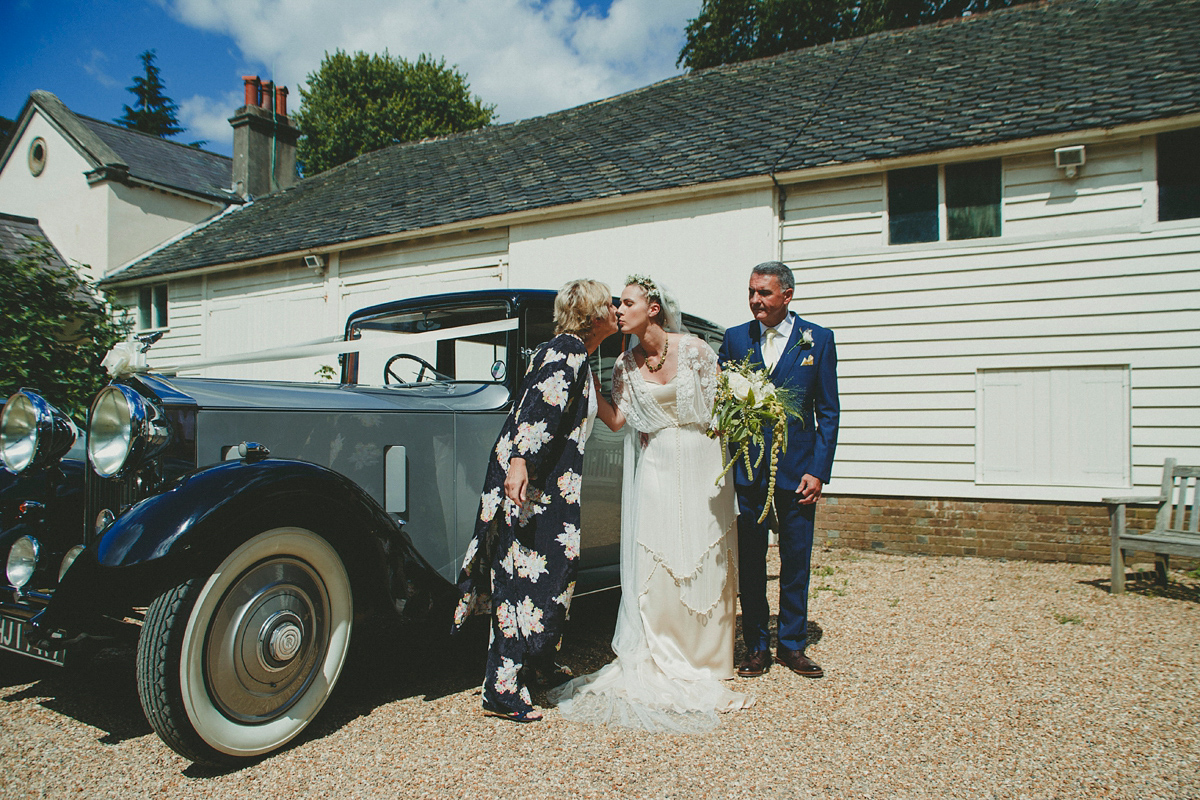 Katie teamed her gown with a floaty veil (also purchased from Leonie Claire), fresh flowers in her hair, a pair of shoes from Irregular Choice and an heirloom necklace borrowed from Nick's Mum.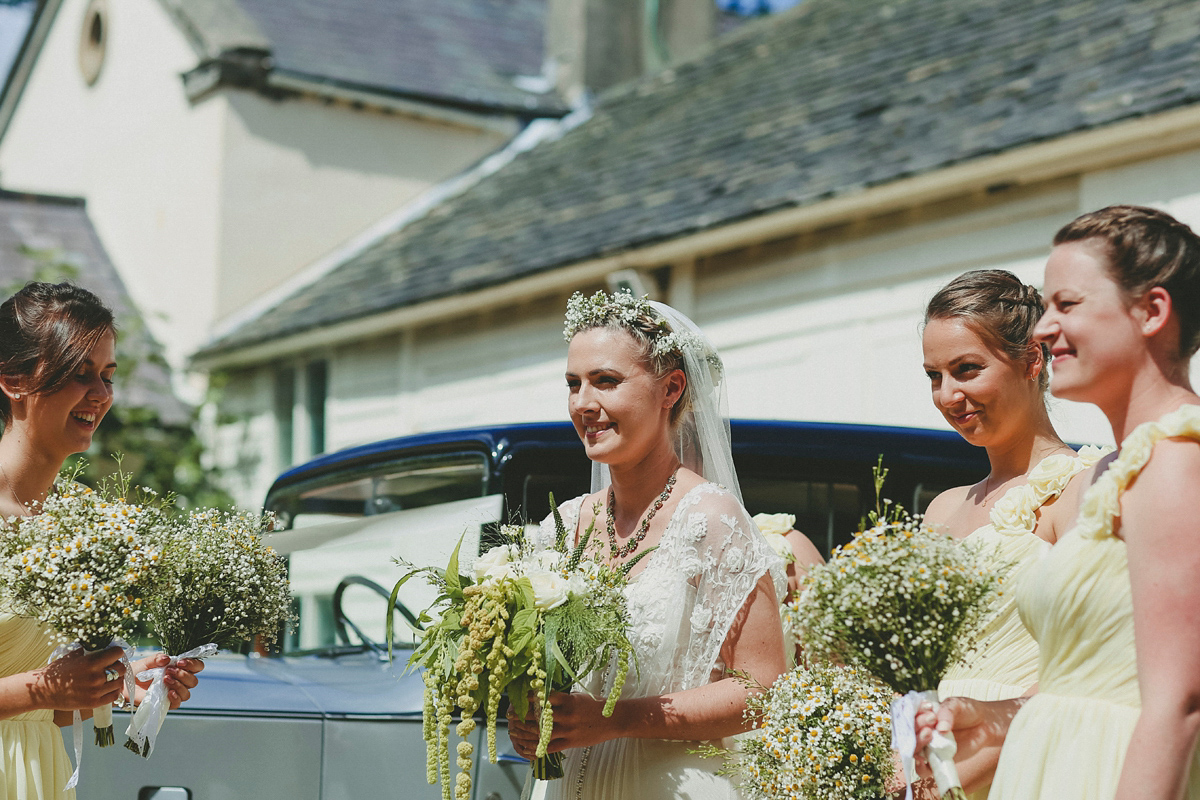 "Nick's Mum wore this necklace on her wedding day to his dad (given to her from her mother) and it just went so perfectly with my dress. It also matched the emerald in my engagement ring.  As it has small turquoise stones it was able to be my something old, borrowed and blue."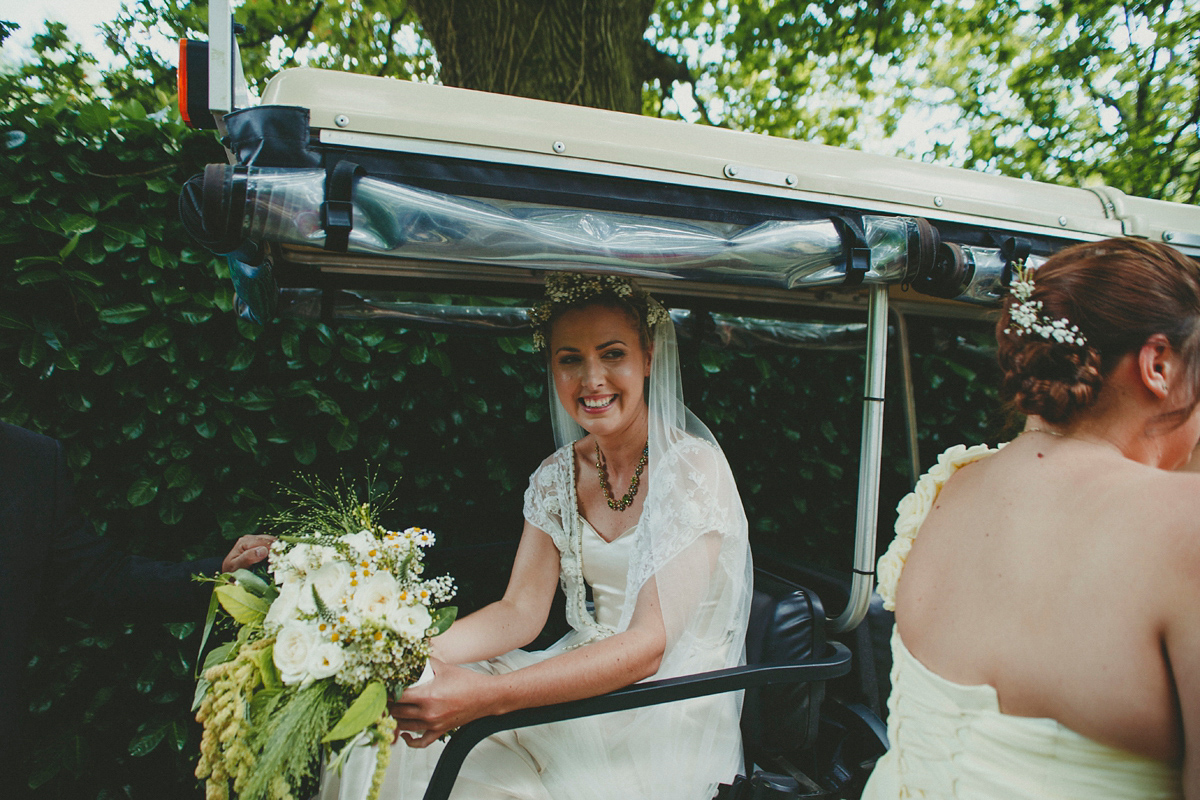 The bridesmaids looked fresh and pretty in pale yellow gowns purchased from eBay, worn with fresh flowers in their plaited hair.
"I used to work in the buying department for a jewellery company called Orelia and on the day each bridesmaid picked a piece from my collection to wear and keep after."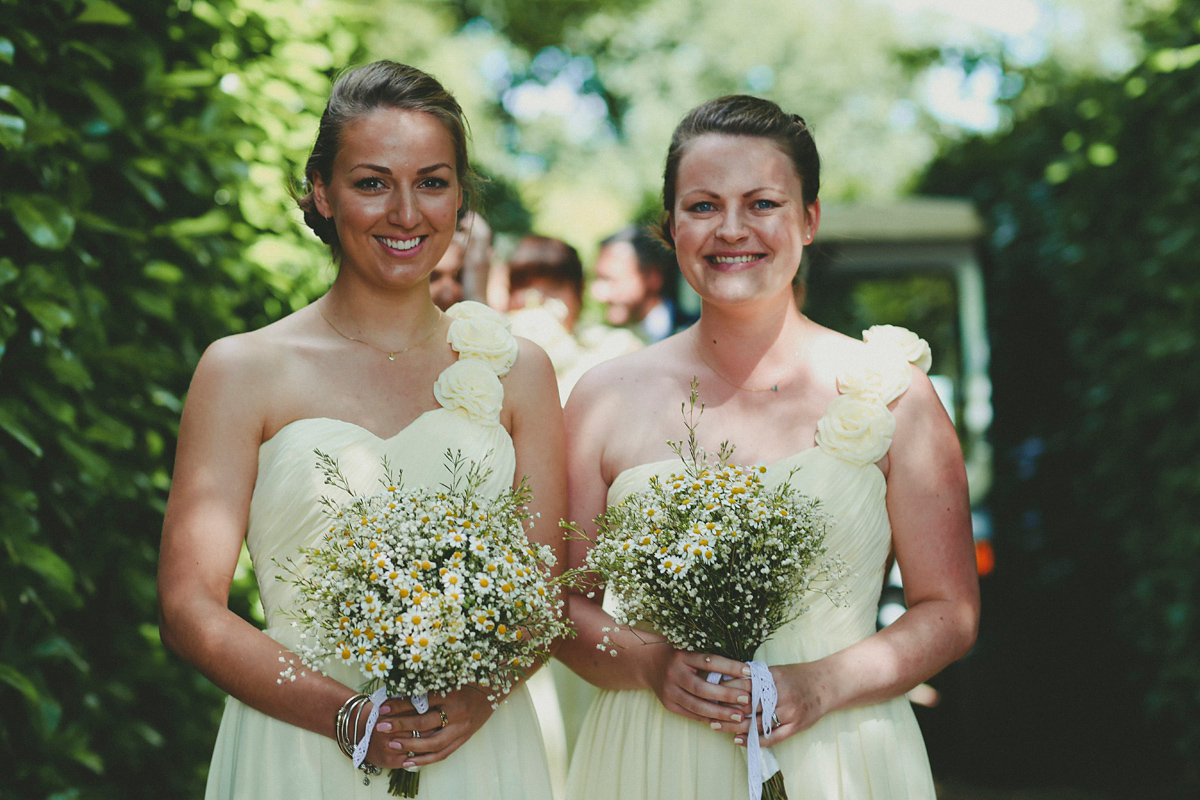 Nick arrived in a black 1968 Mustang driven by Alan at Sussex Mustang Hire while Katie's dad booked her a 1930's Rolls Royce (details unknown).  Dad and daughter then walked through the trees and down the aisle to 'All I Want Is You' by Barry Louis Polisar.
Nick looked smart and summery in a blue three-piece suit by Marc Darcy, paired with silver fox cufflinks (a gift) and a yellow tie and pocket square, purchased from Amazon.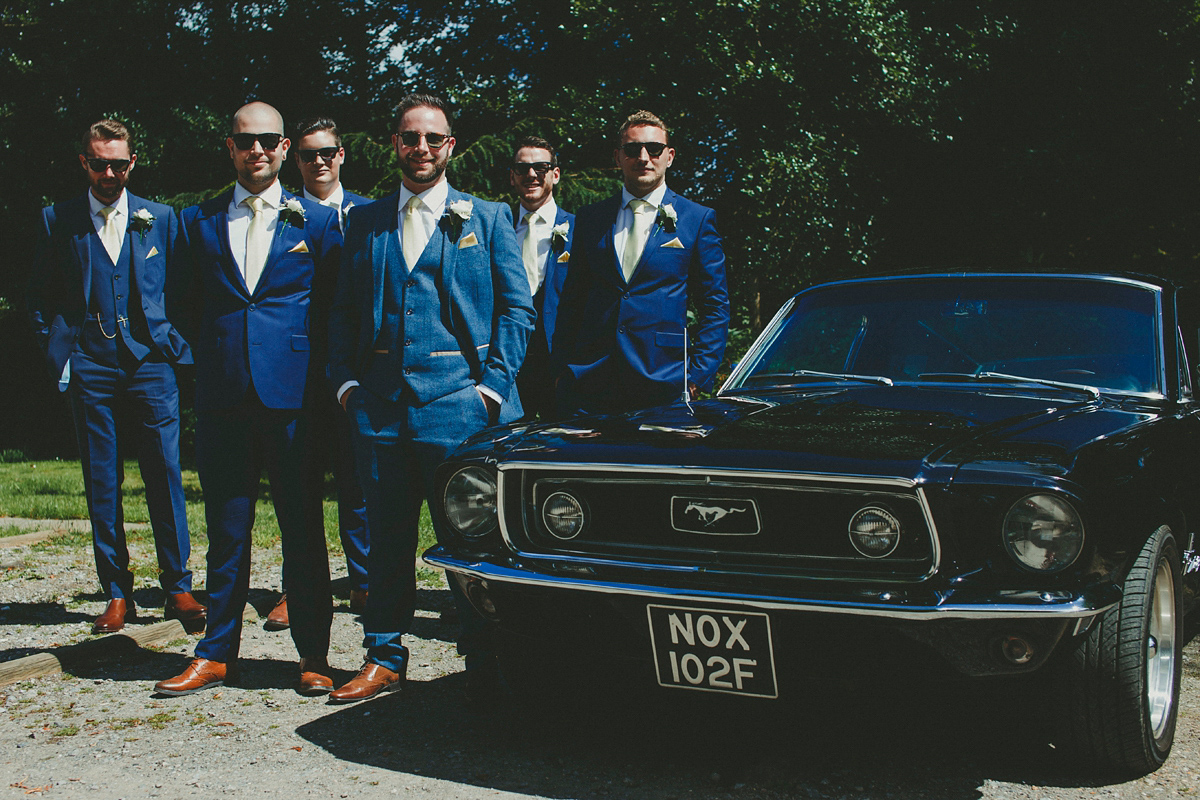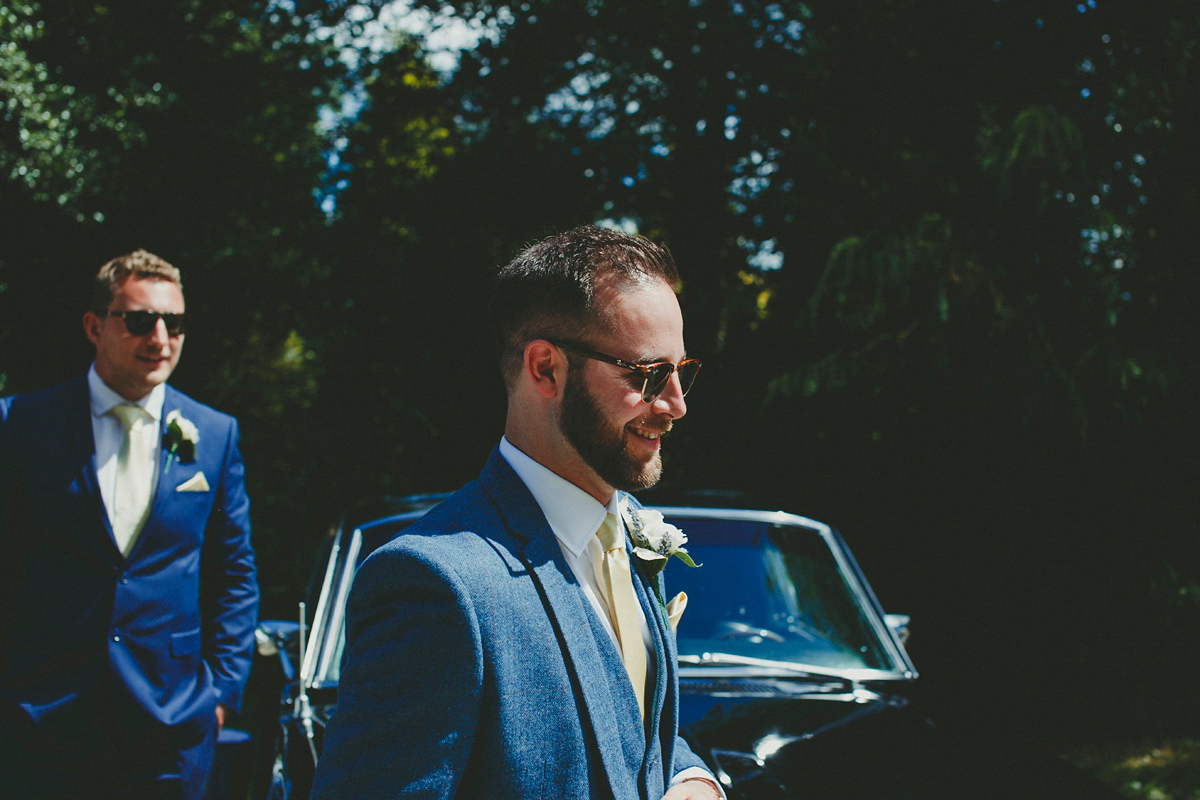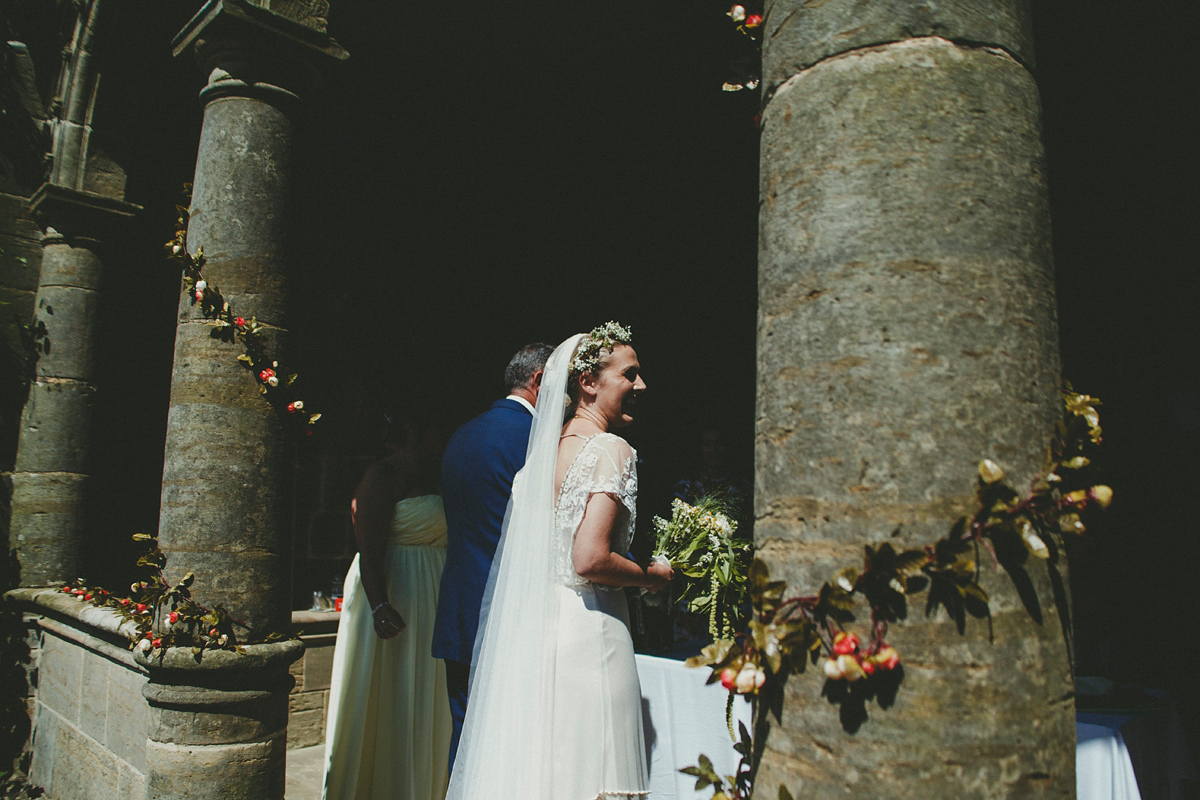 "When I was walking down the aisle I felt quite nervous but as soon as I saw Nick I knew it was going to be ok – it's a great feeling."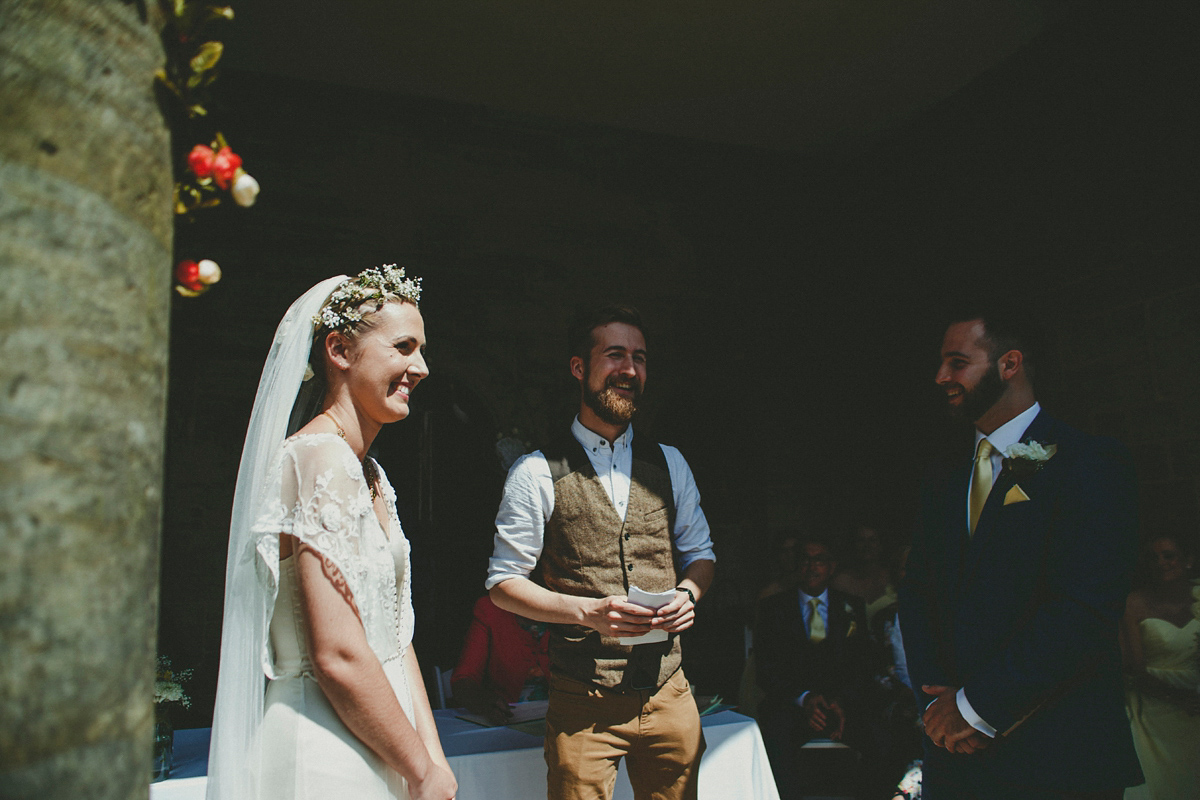 "We had a really lovely minister who let us tailor our ceremony.  I didn't want to write my own vows as public speaking is not my forte so I just wanted to keep it simple.  Instead, as 'The Lord of the Rings' is my favourite book, once we had exchanged rings he said 'One ring to rule them both, one ring to guide them, one ring to bring them close and in marriage bind them'."
(As someone who walked down the aisle to 'Concerning Hobbits', I heartily approve of this!)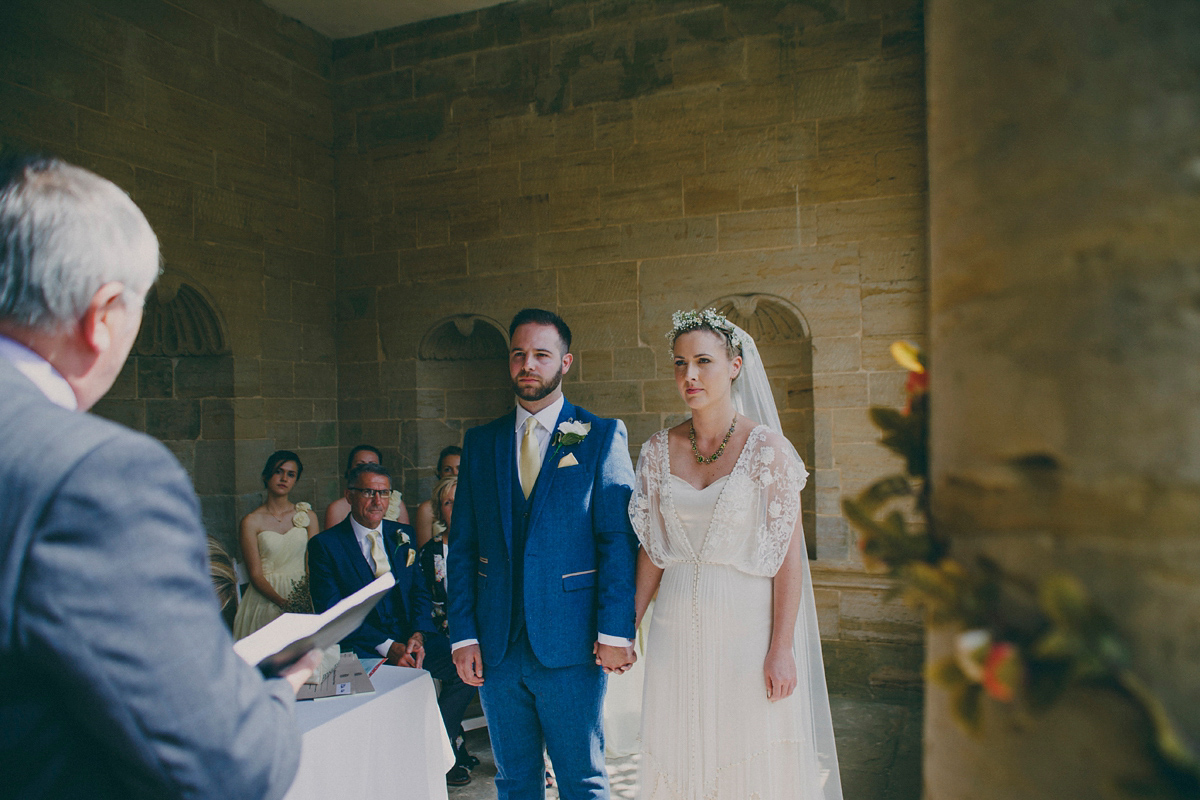 "Nick is an actor and particularly loves Shakespeare, so I left him in charge of finding readings and he picked some incredible ones: Sonnet 116, 'Yes I'll Marry You' by Pam Ayres and an extract from the introduction to 'Twelfth Night'."
What is love exactly? It's a very old question. One of the most influential answers comes from Ancient Greece in Plato's 'Symposium'.  Love is a quest, a journey in search of our lost other half.
The couple then exchanged gold bands from Ernest Jones.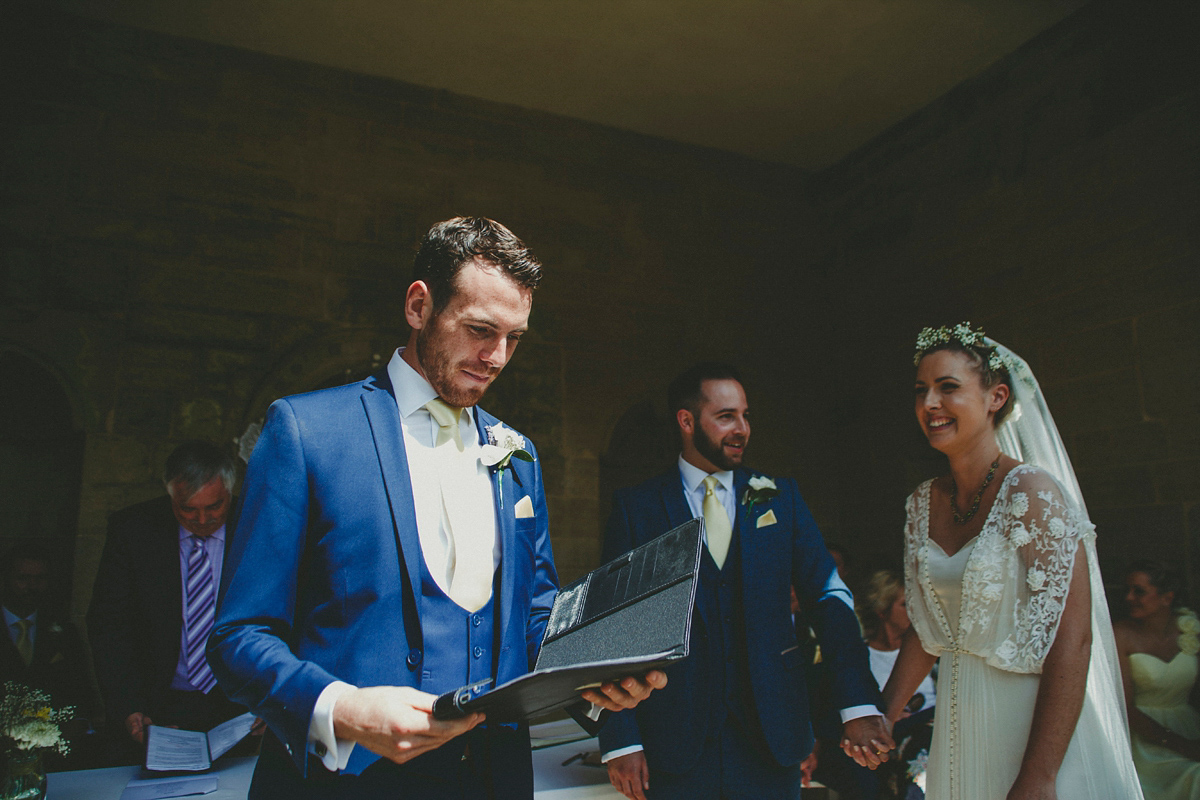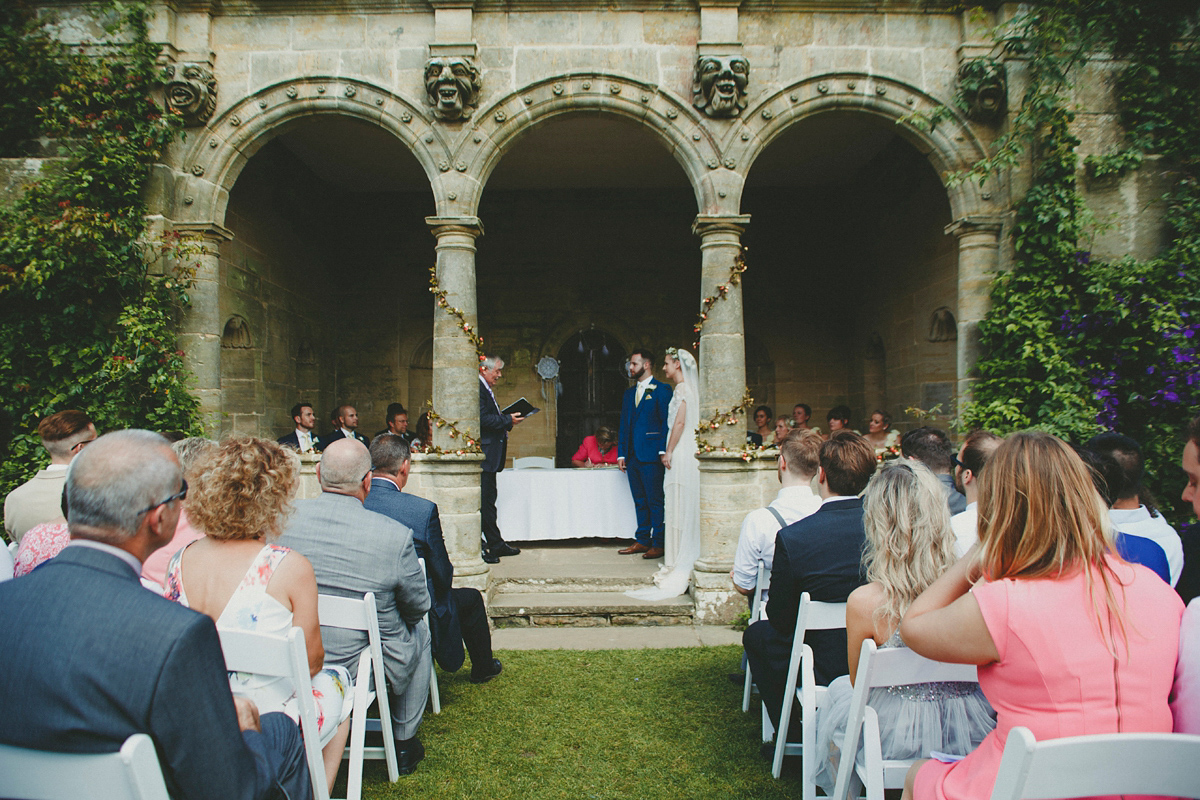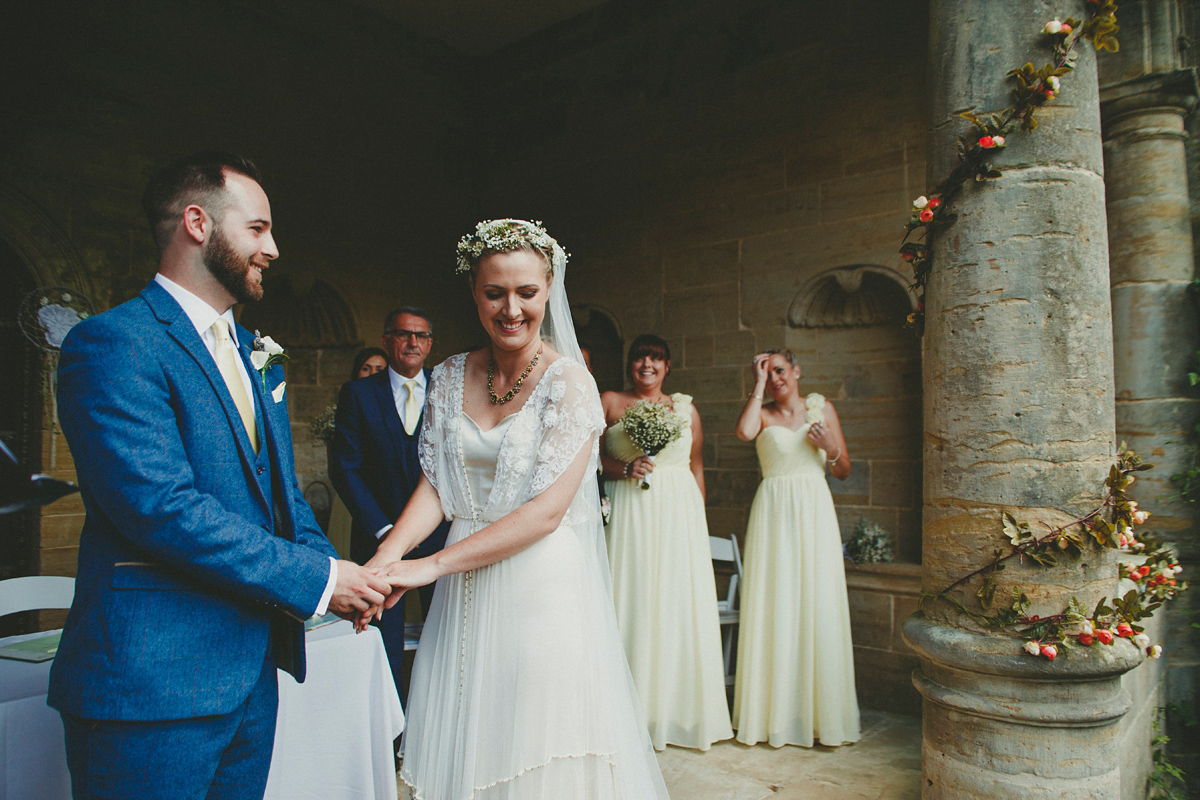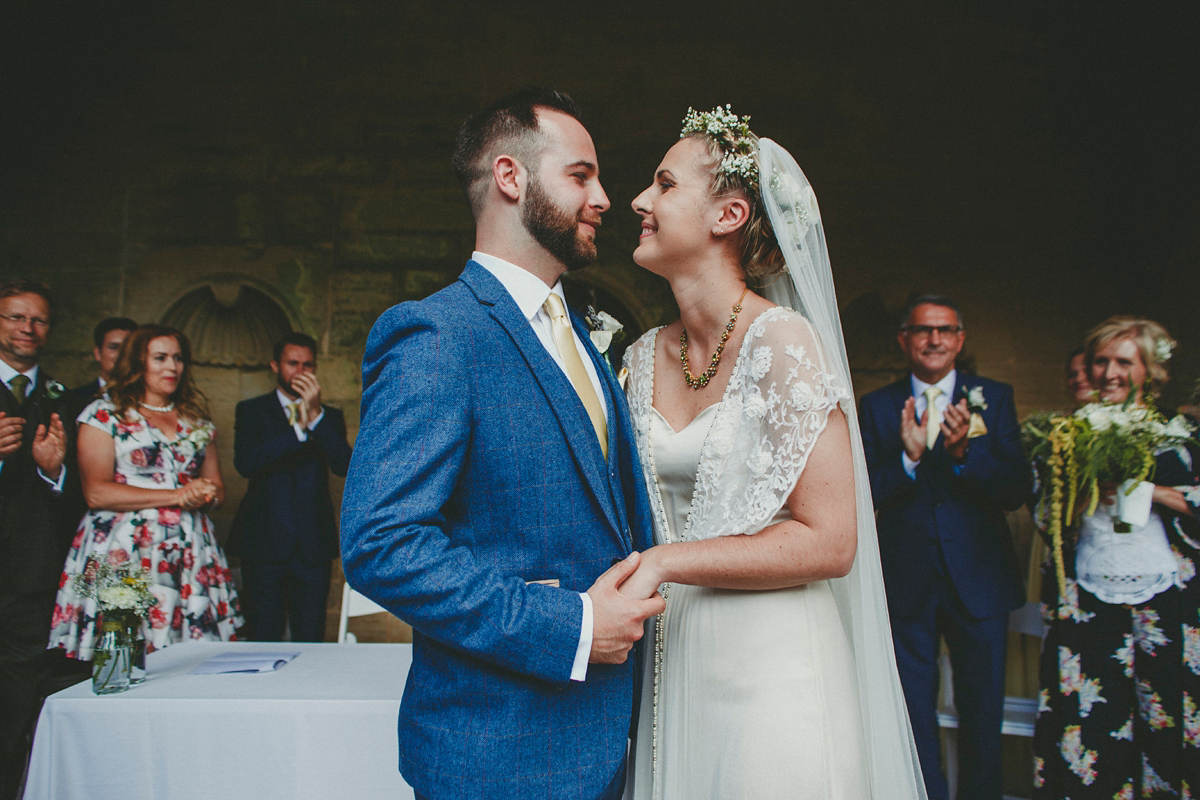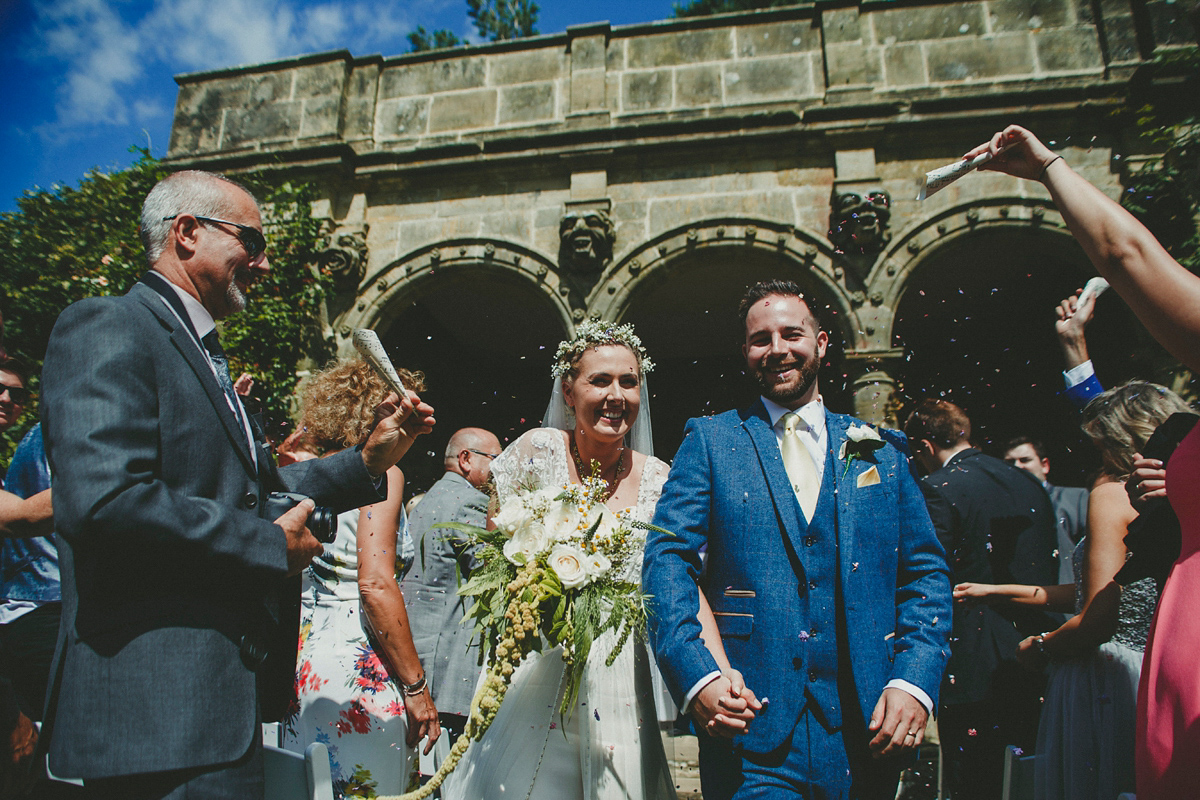 Flowers were the work of Kate Langdale, who created beautiful floral arrangements and bouquets for the day in shades of cream and green – beautifully fresh for a summer wedding.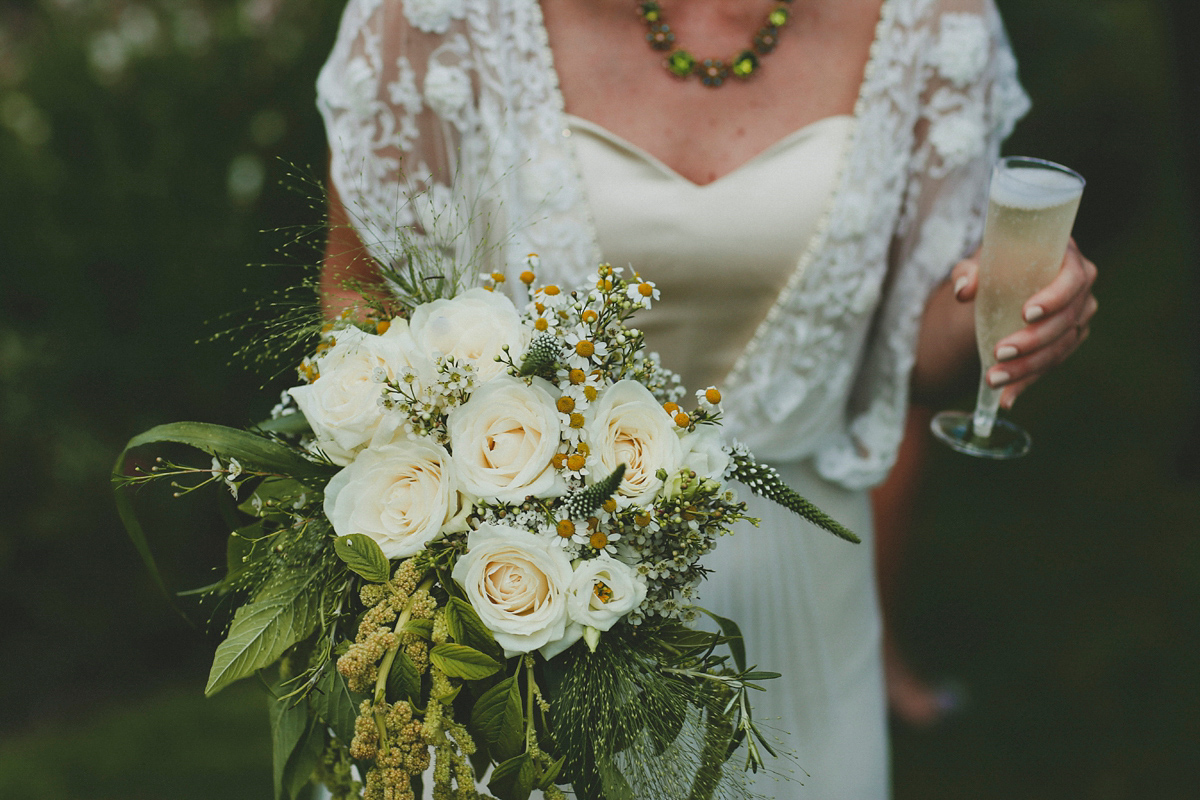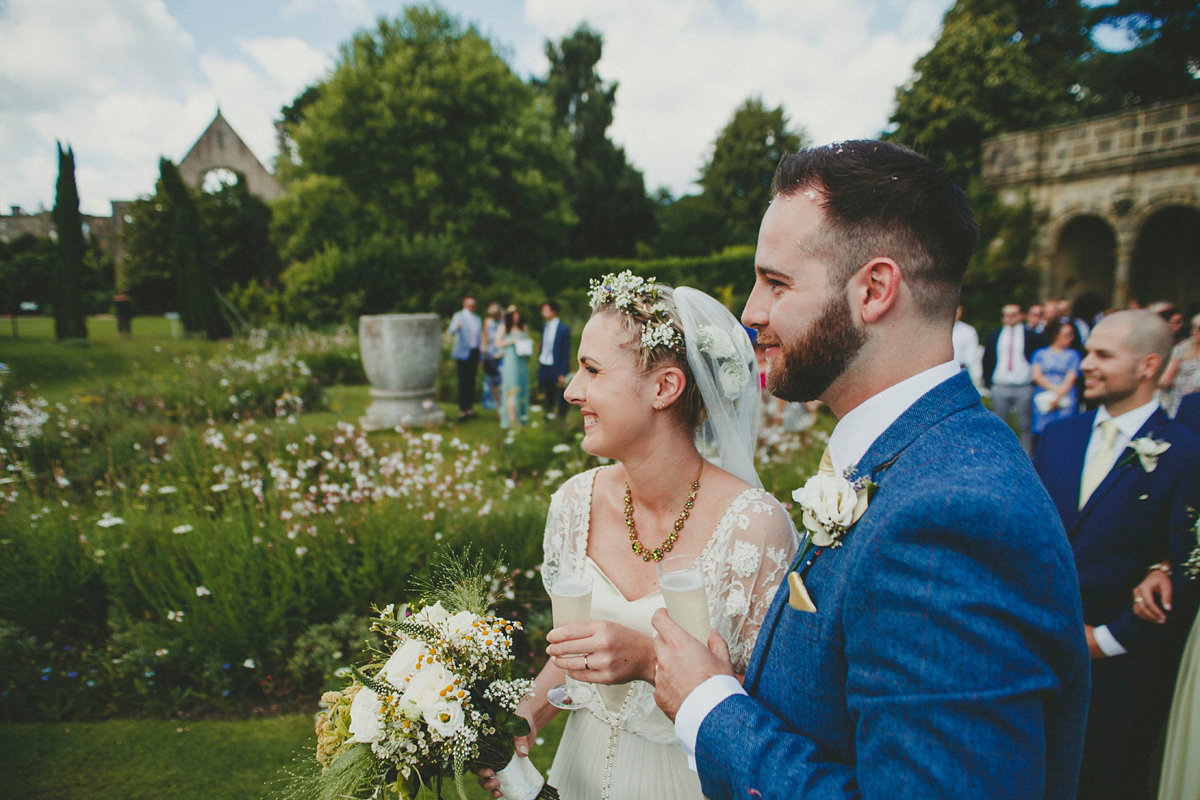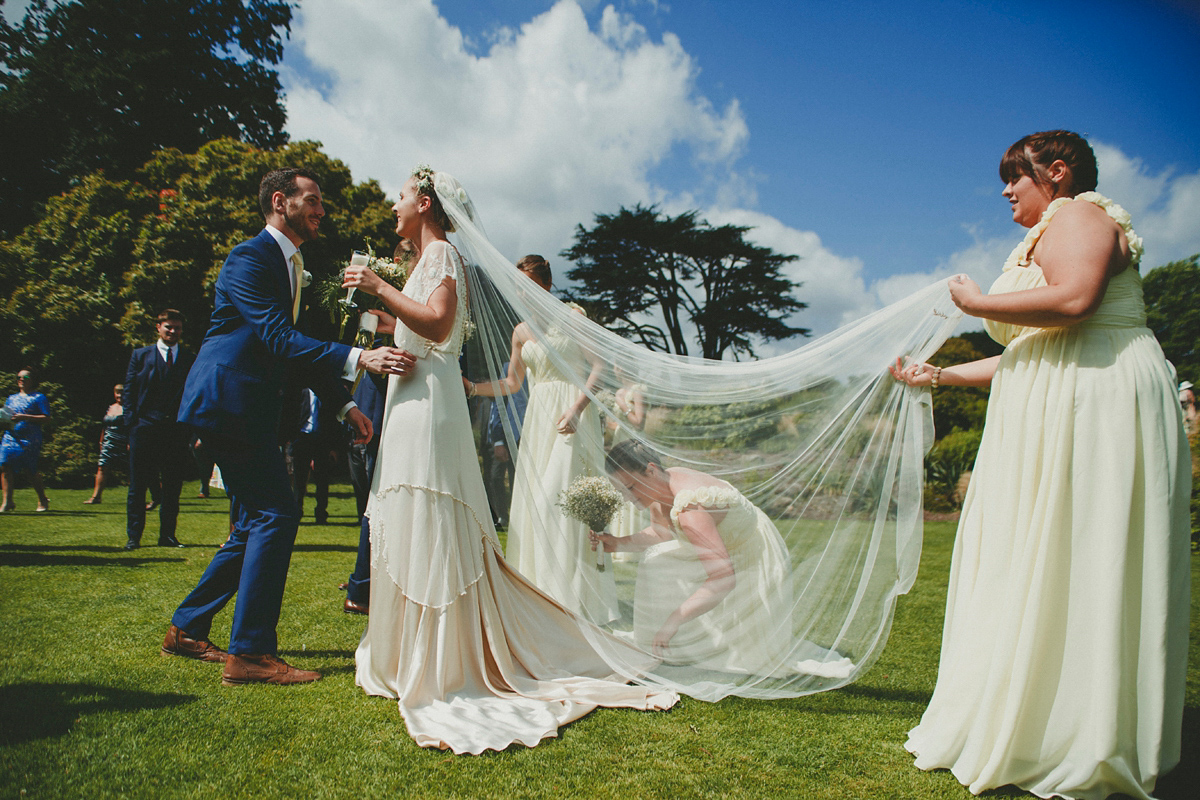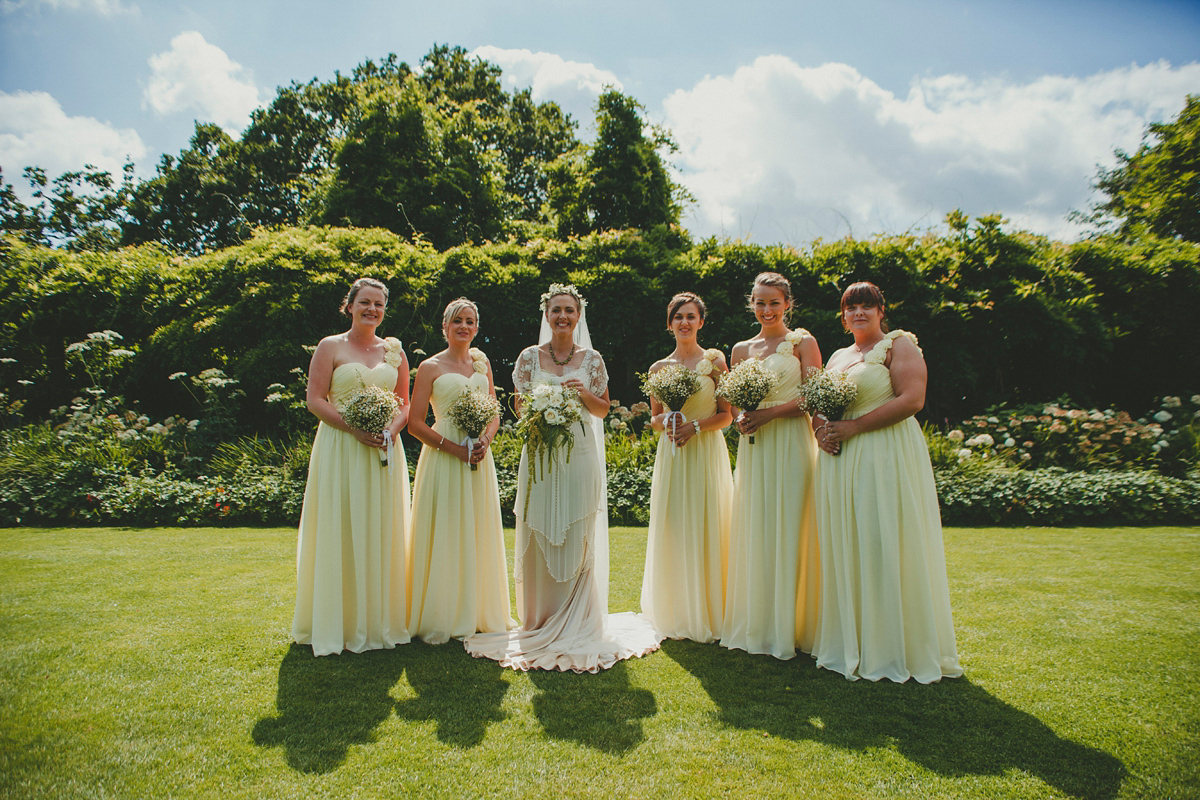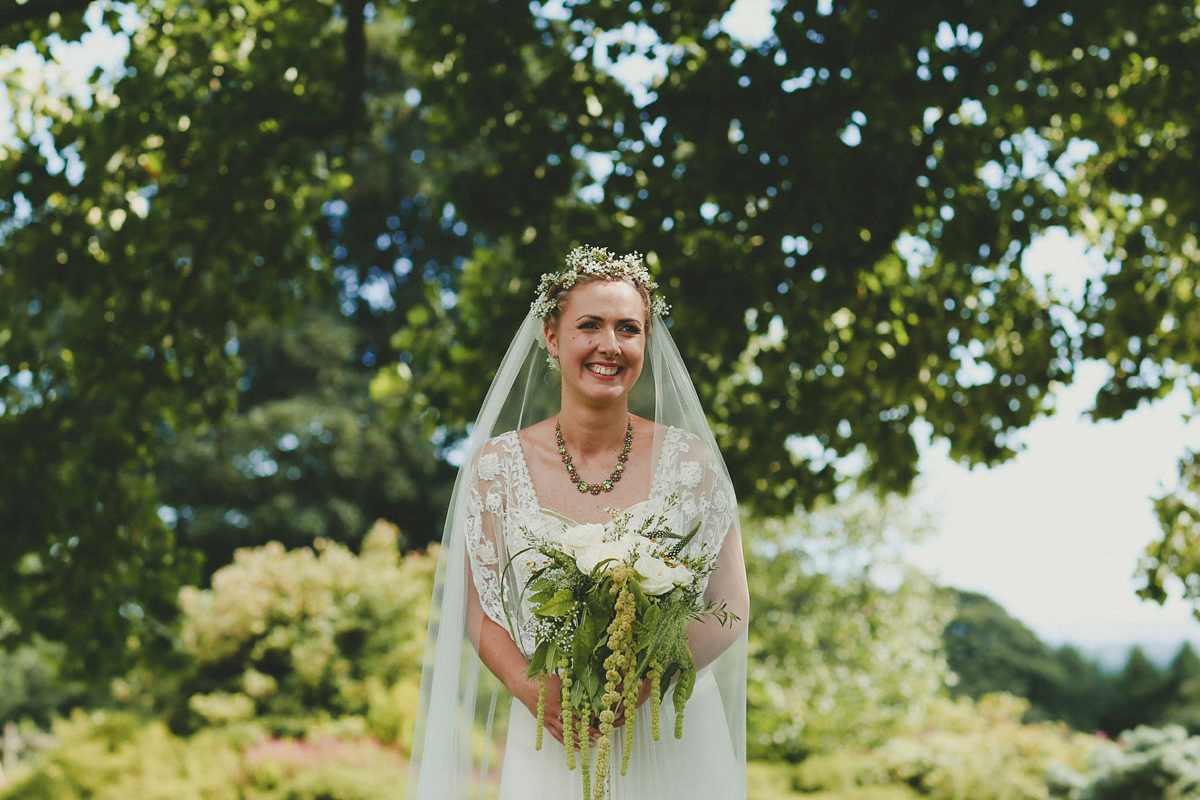 These lovely photos are the work of Manon Pauffin.  I just love the light and relaxed style and am delighted to welcome her to the blog for the first time.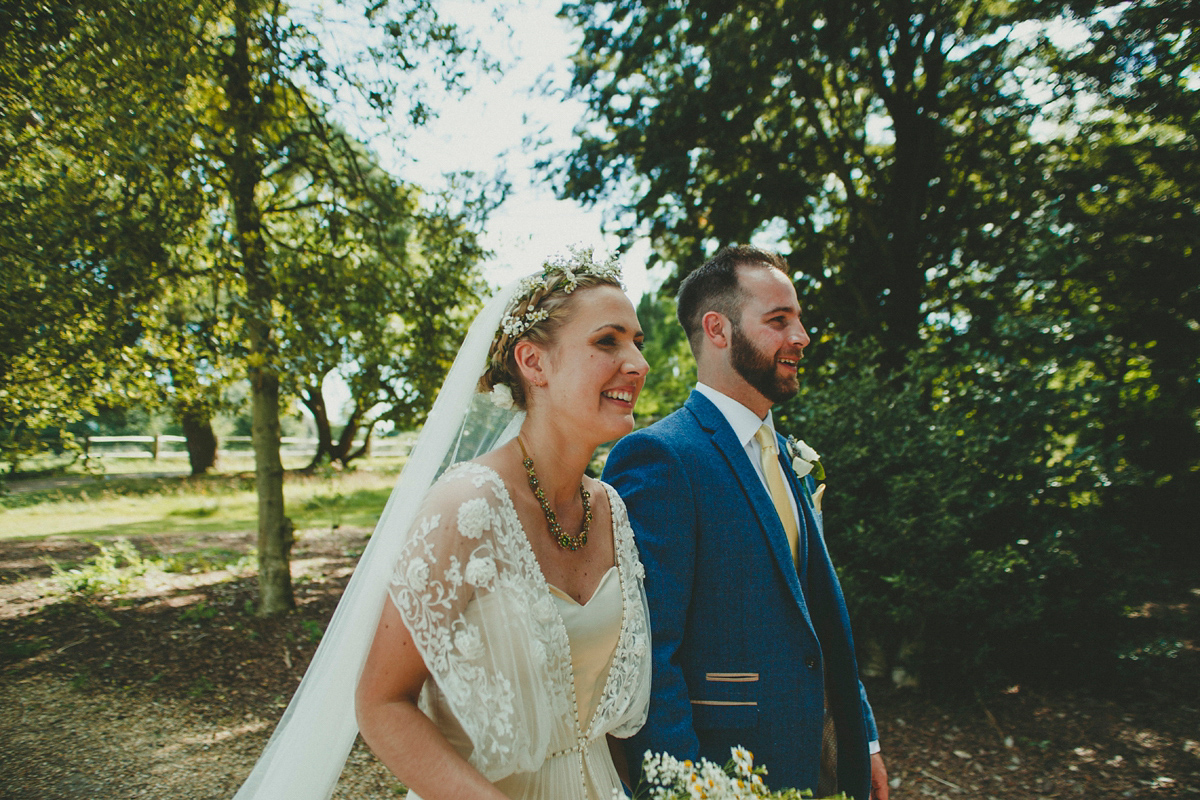 "Manon is both friendly and passionate about her work.  She really wanted to capture us as a couple without having to stage any shots and we both feel she took the time to get to know us, as well as finding out what worked for us."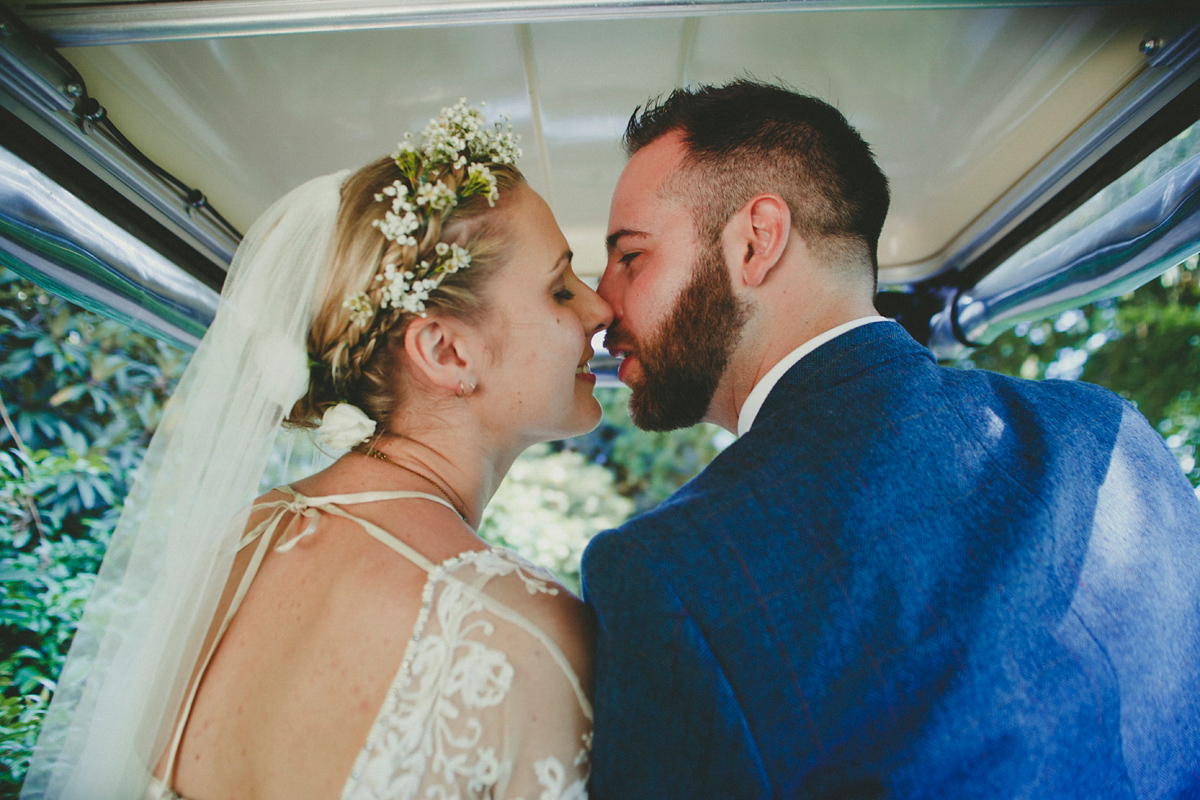 "From the day we got some amazing shots that captured real moments, which we will both treasure (and bore people with for many decades).  We wanted a very natural documentary reportage style for our photographs and Manon was perfect for this."
"She was unobtrusive and I honestly hardly noticed that she was there which allowed for much more relaxed photographs of us and our guests.  We have nicknamed her the 'photo ninja'.  We would recommend Manon to anyone."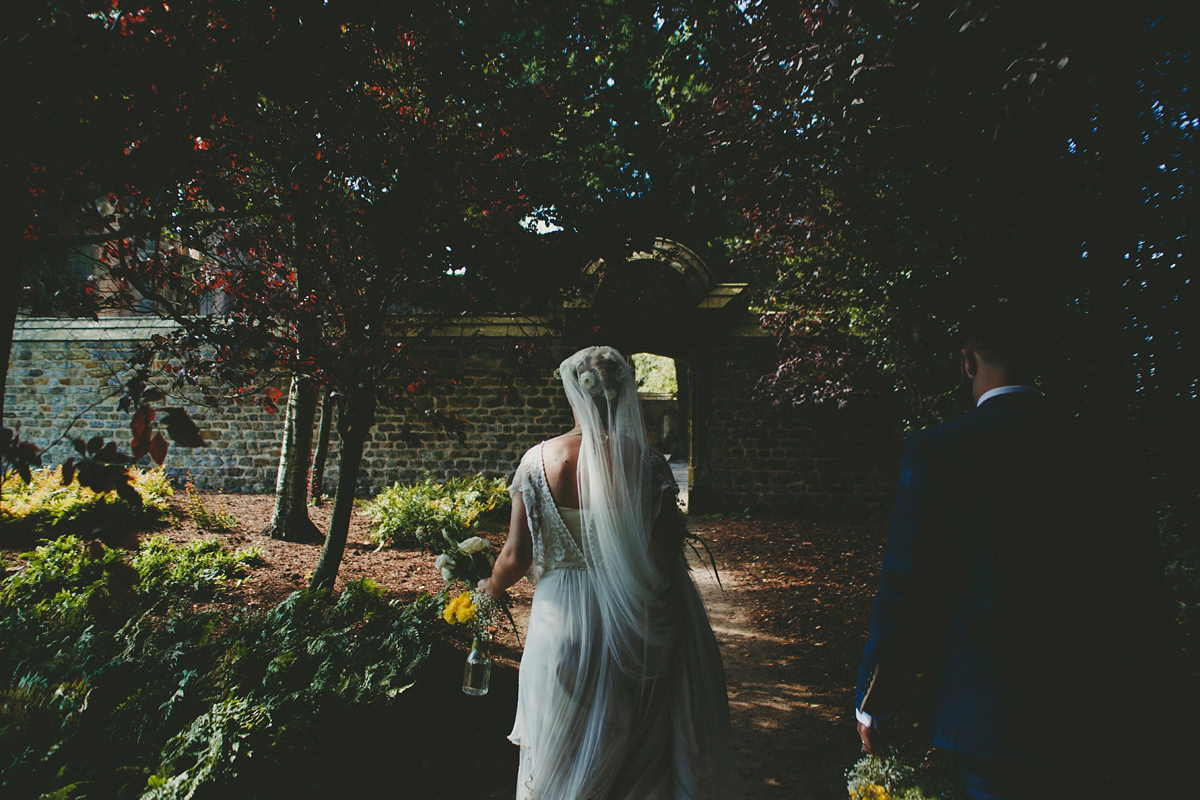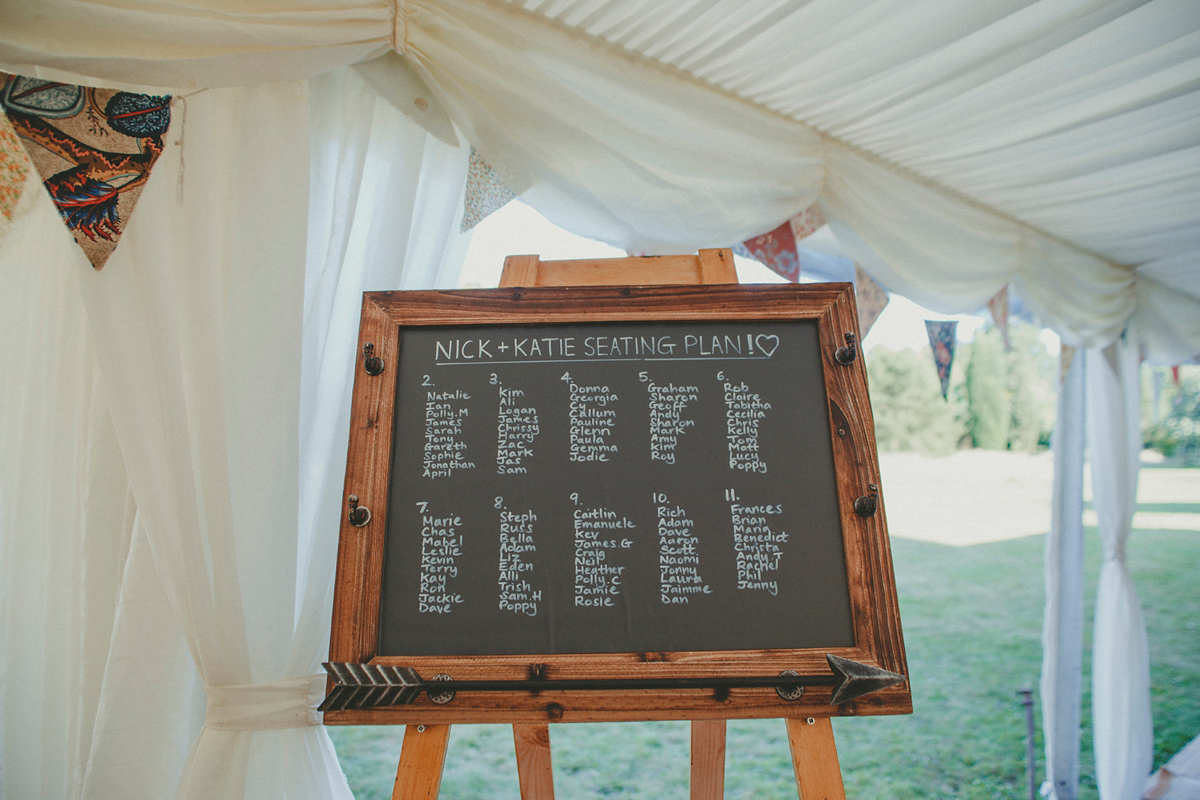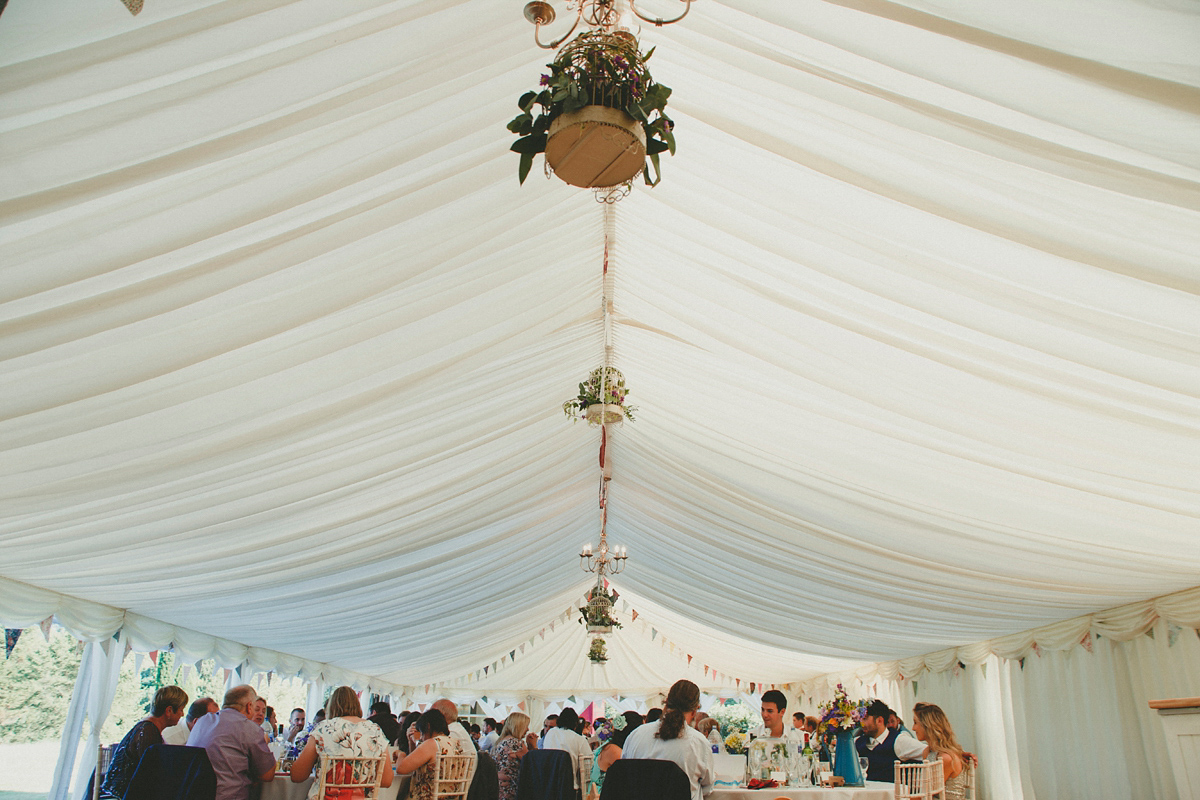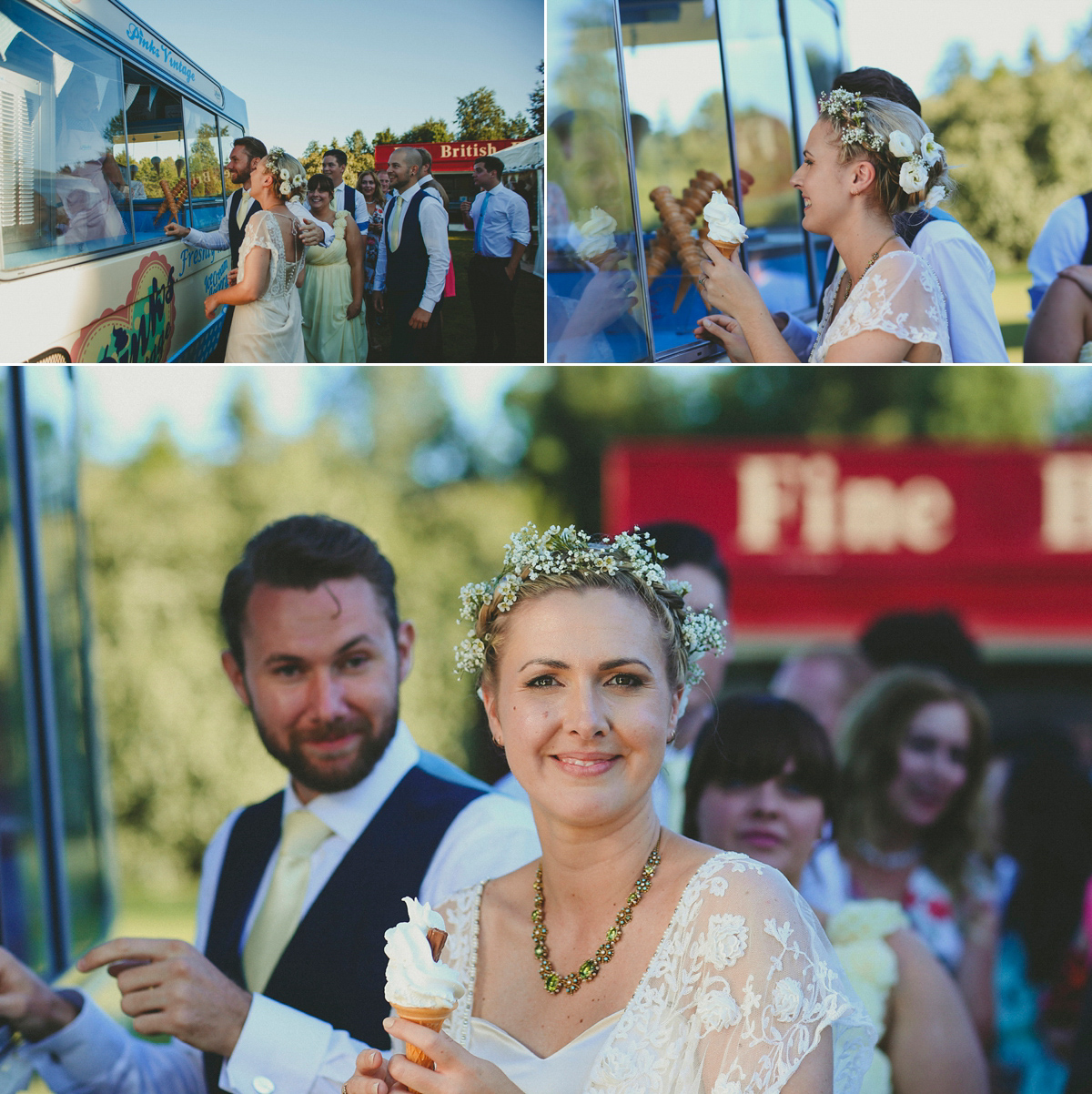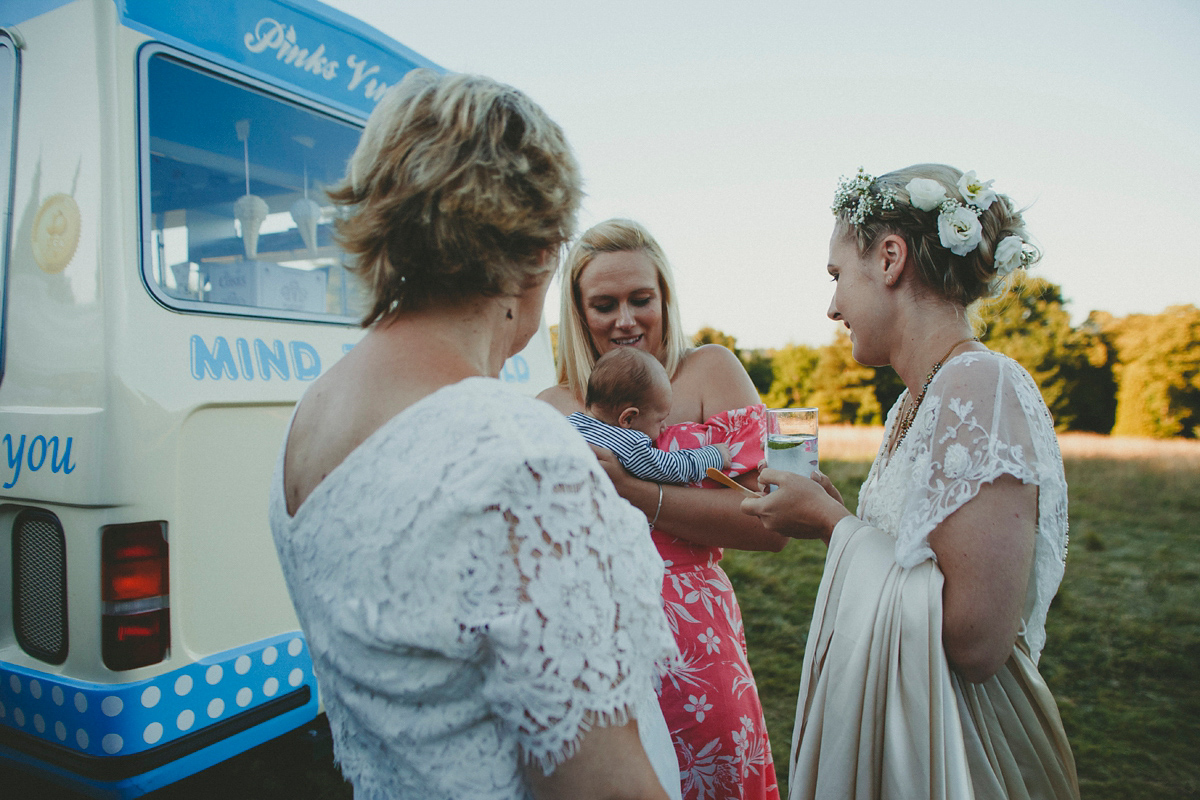 To make things a little easier, Katie and Nick hired venue stylist Freya Huxtable of the Wealden Vintage Crockery Company to set up and decorate the reception – an absolute lifesaver when you have a lot to do.
"Freya was great value for money and took away a lot of stress on the day before the wedding when we were setting up.  I told her what I wanted (bell jars, hanging bird cages, bunting and wild flowers) and she came back with incredible centrepieces exactly as I had asked."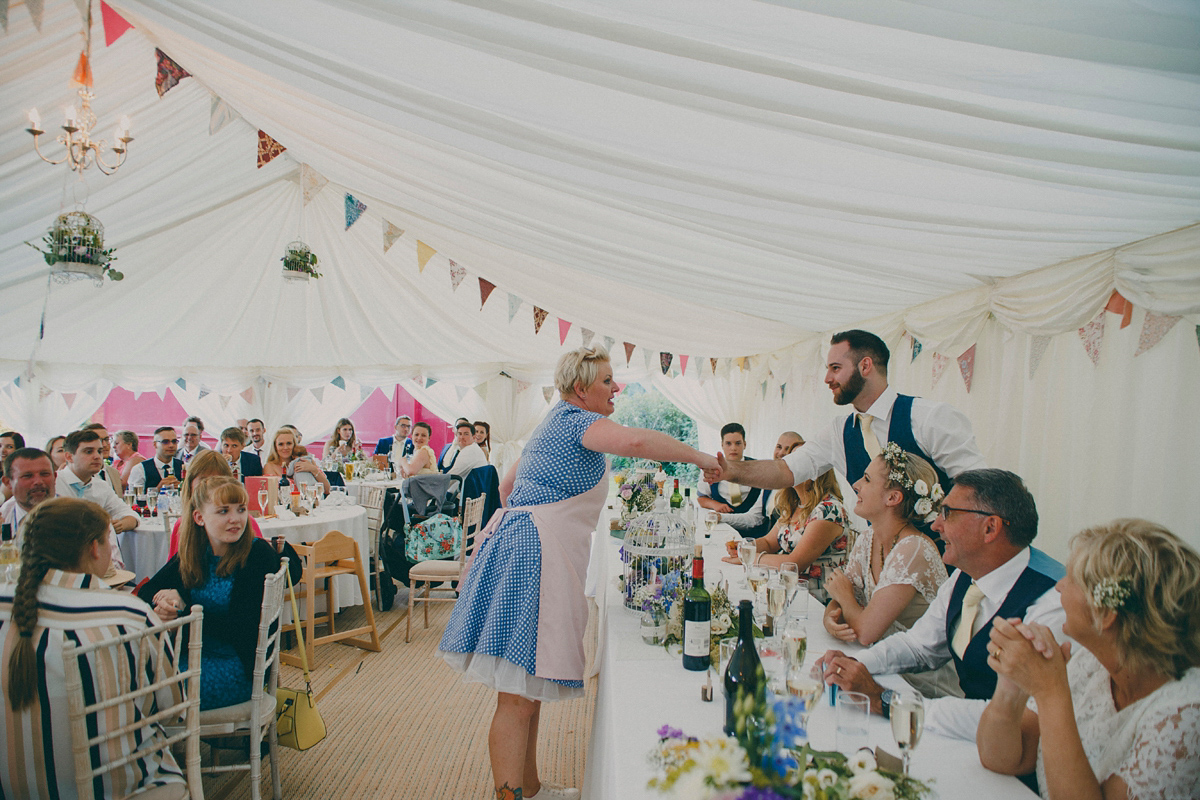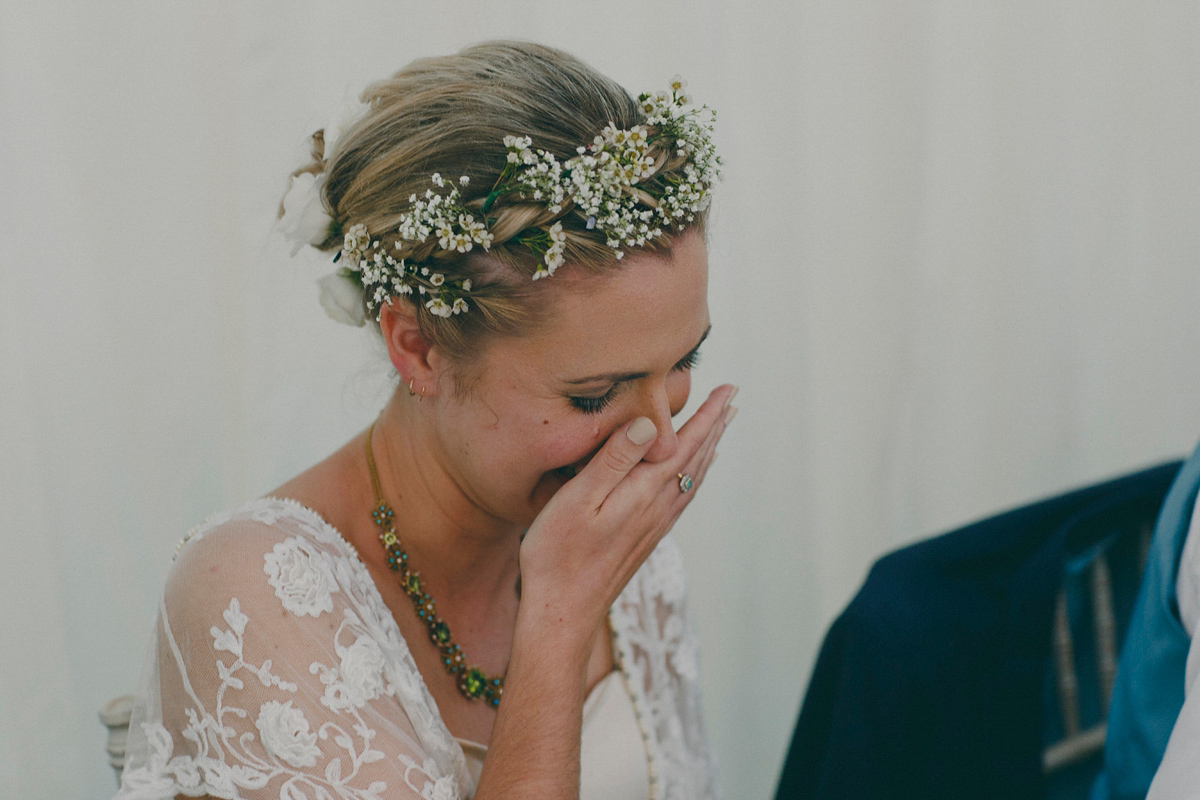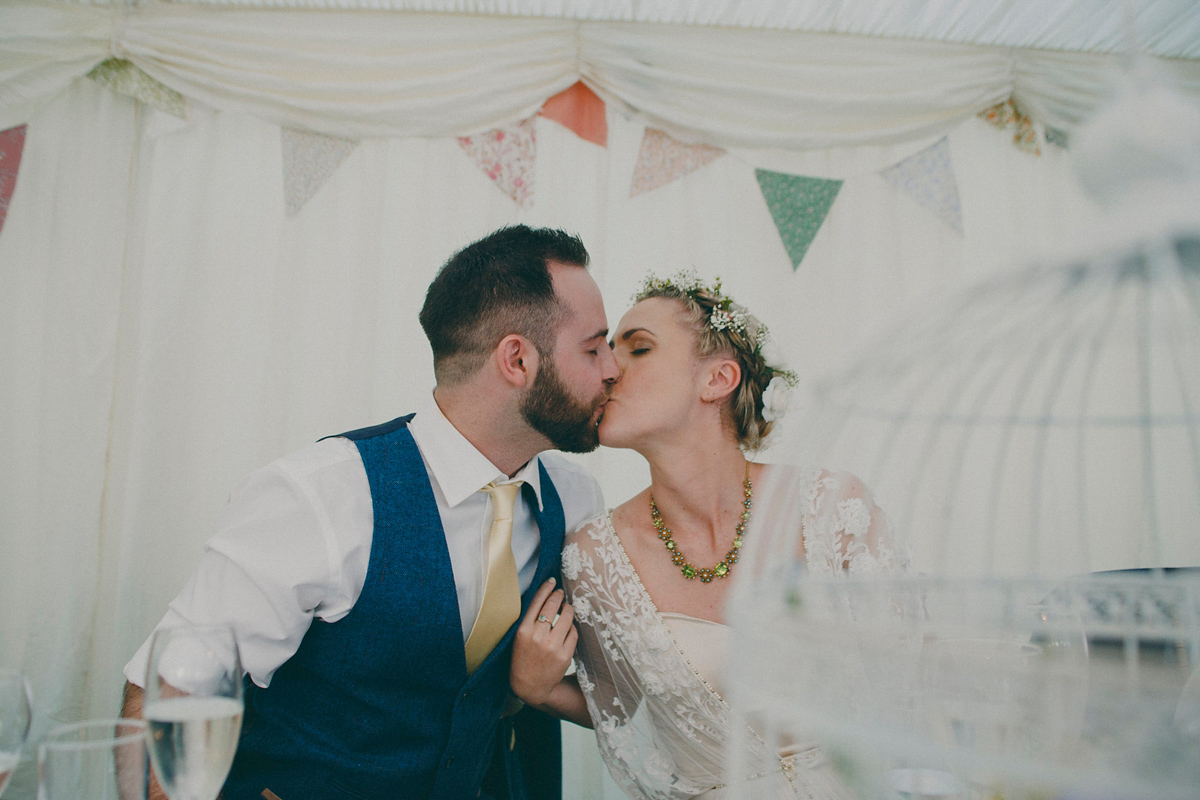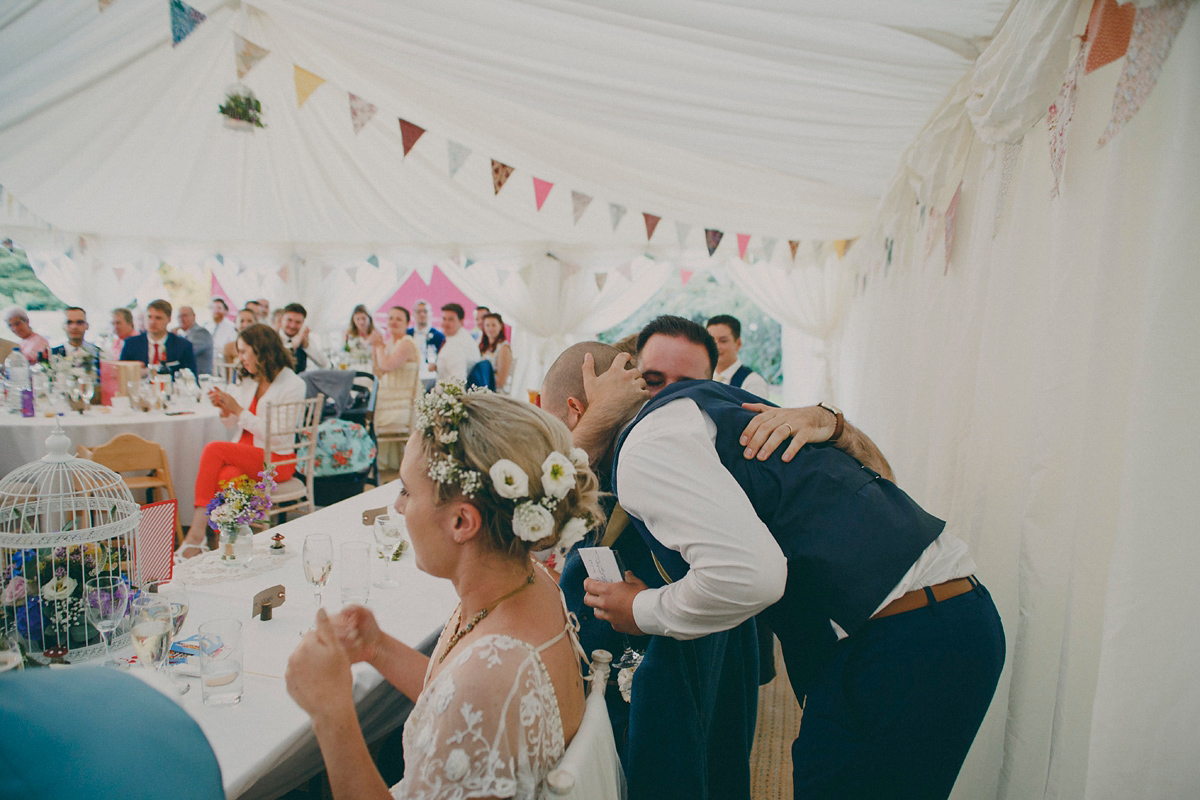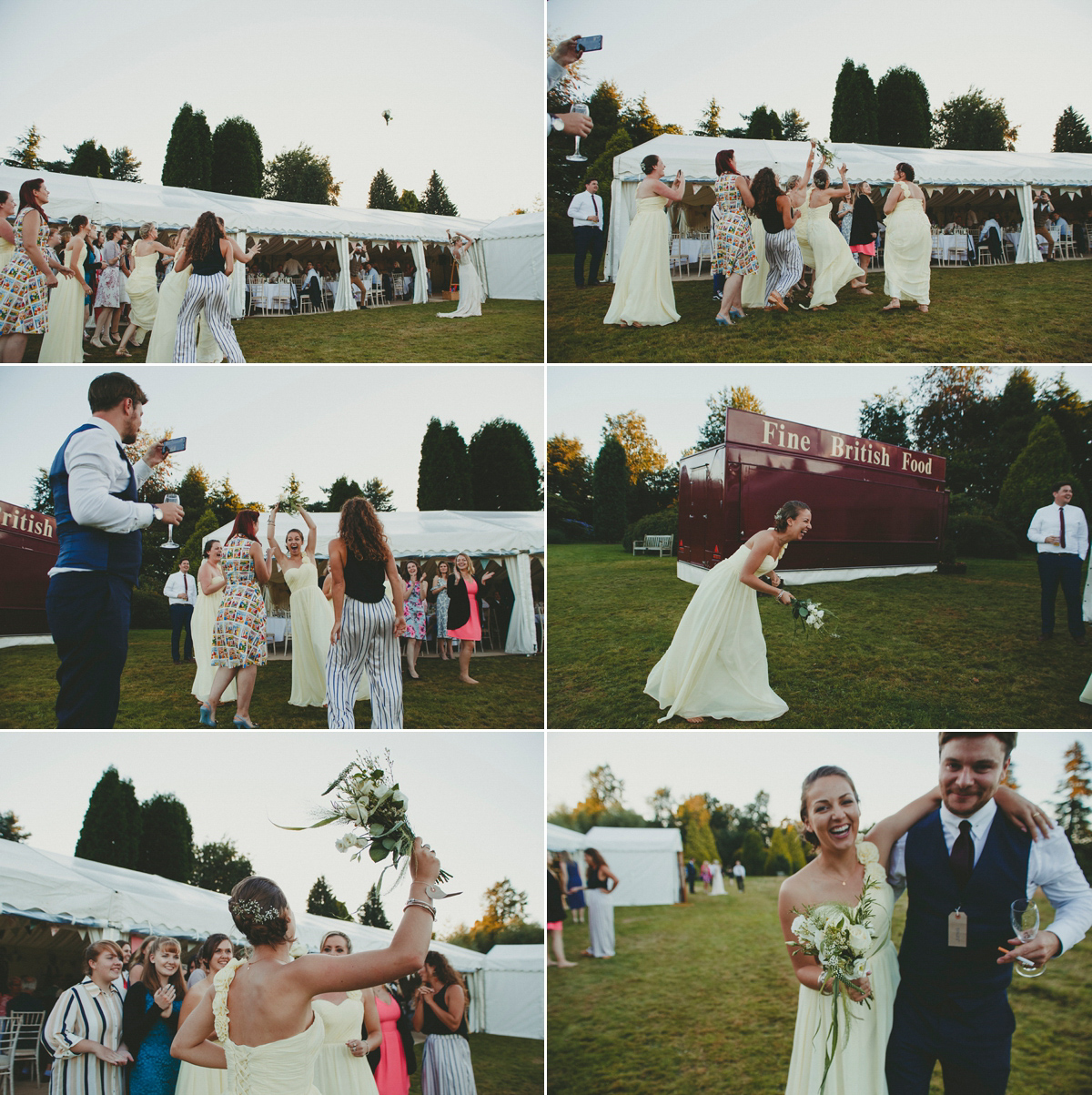 "Our very lovely friend Sophie Simms of Miss Simms Bakes, baked our cake for us. I'm not a huge fan of regular cake but love vanilla cheesecake so she make us a four tier baked vanilla cheesecake with three sauces – chocolate orange, salted caramel, and summer fruits so guests could pick their own flavour.  Needless to say it was gone in about ten mins or less once it had been cut."
The rest of the food sounded utterly delicious as well, with canapés from Smoke and Salt, fish and chips from Wynnings and to finish, an ice-cream van provided by Pinks Vintage ice-creams.  I'm very envious of these guests.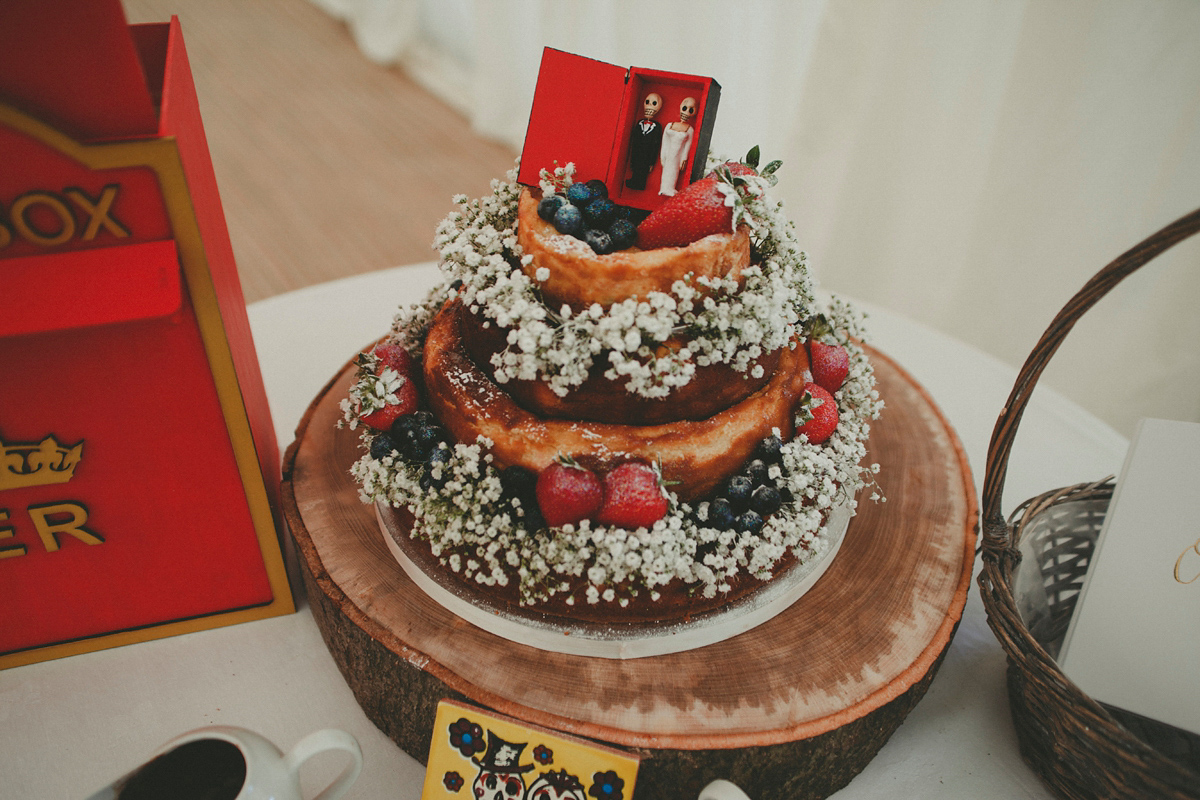 After a digestive pause, guests danced the night away to the sounds of The Soultastics – a swing, soul and funk band who got every single person up and dancing.  The newlyweds had their first dance to an acoustic version of 'You've Got the Love' by Florence and the Machine, which looks as though it was huge fun.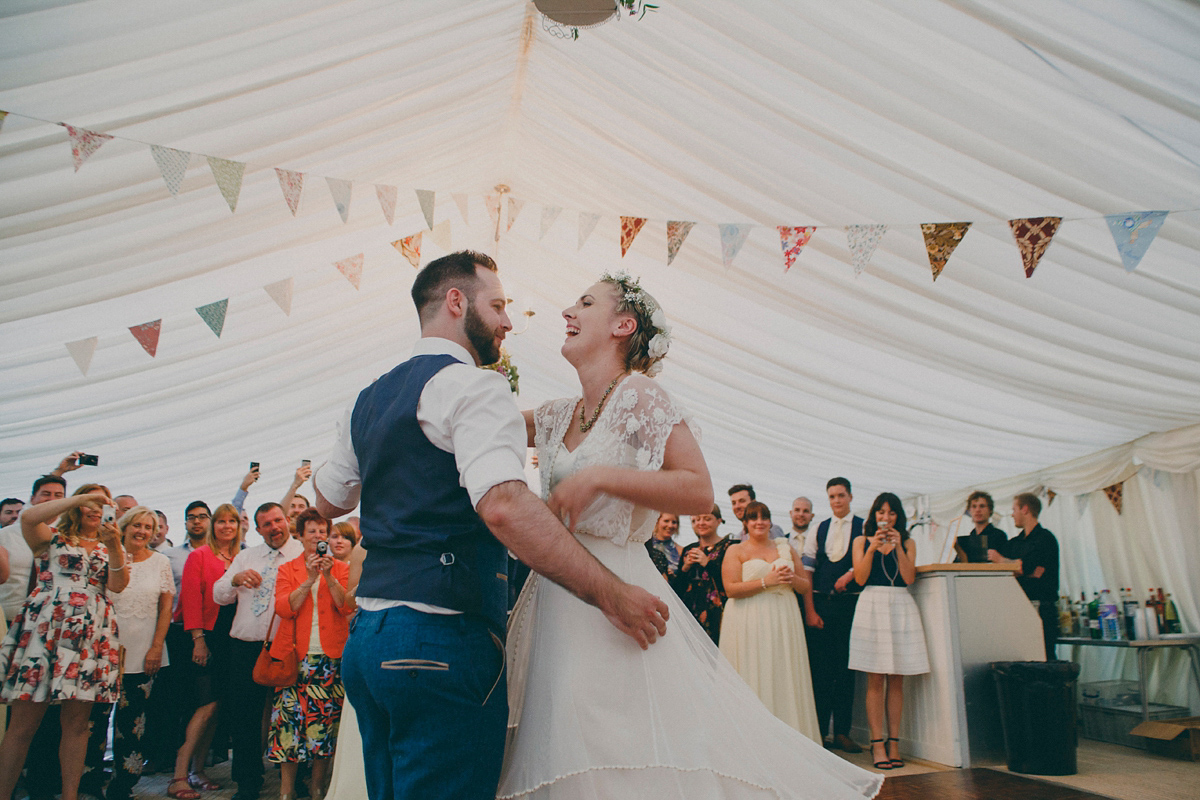 "Taking on a venue where you have to bring in everything yourselves is incredibly stressful. We would never change our venue but in hindsight, not being the most naturally organised people, it was a lot of work for me and Nick and took up a lot of our time.  We were speaking to around ten suppliers rather than dealing with a venue that does everything in-house where you only have to deal with one person. It gave us creative freedom and control of our budget, however it's a lot easier to go with a venue that has a set caterer etc, so if you're not organised that's the route for you!"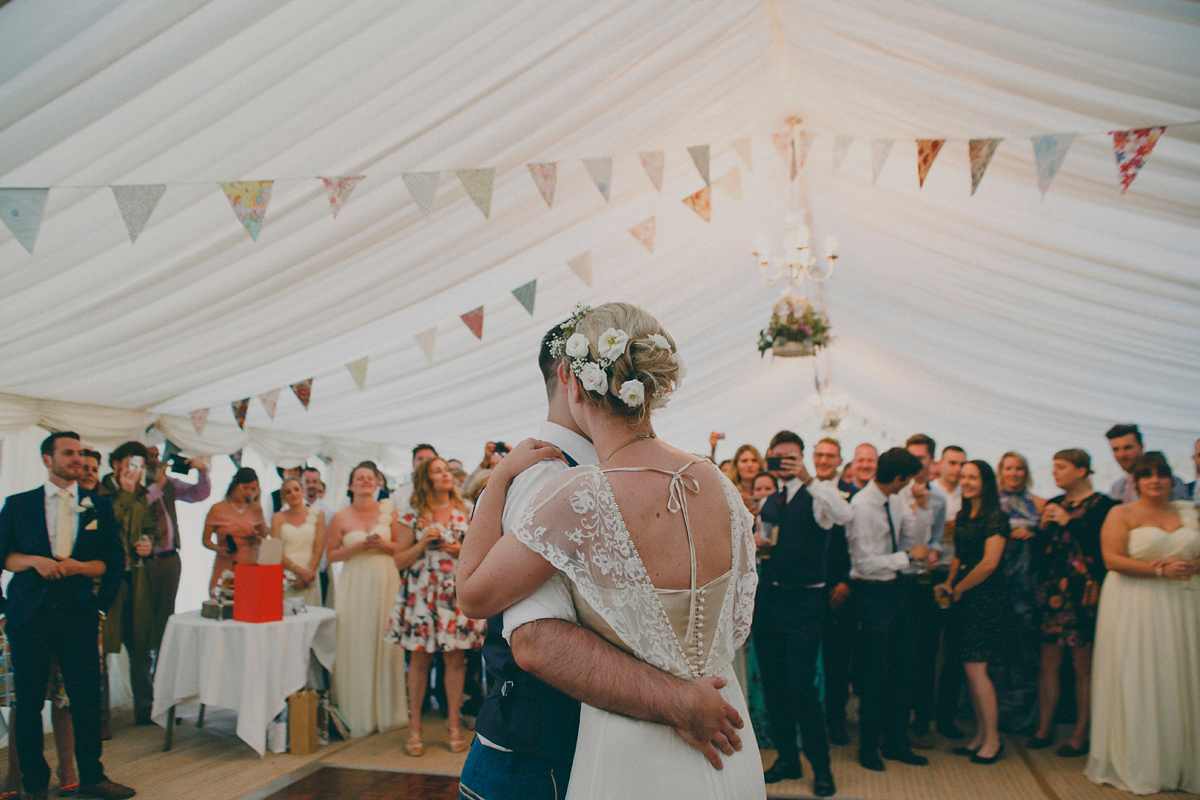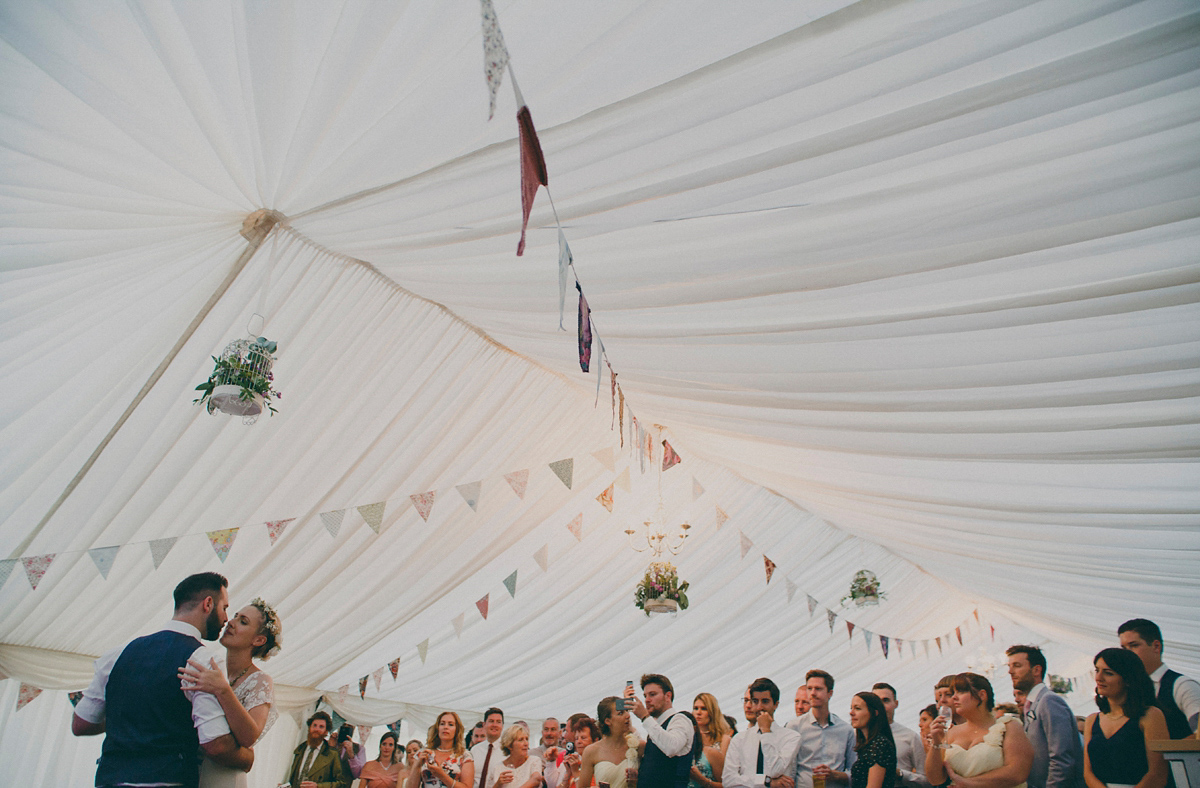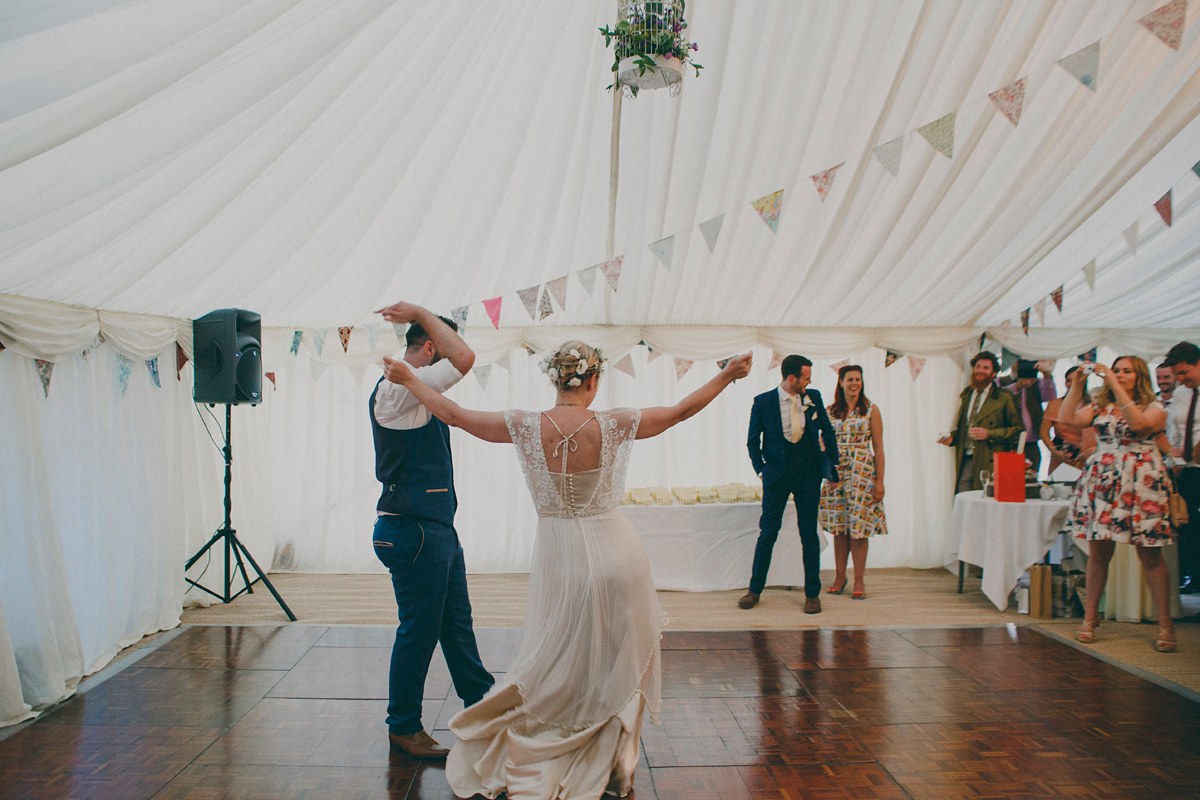 Words of Wedded Wisdom
"The things that seem big and stressful seem so insignificant on the day it really isn't worth worrying about.  I know people say it lots but none of your guest or family know how you wanted the day to go so if anything goes wrong it really doesn't matter – it often leads to a far funnier and more memorable story in the end. Don't worry, be happy."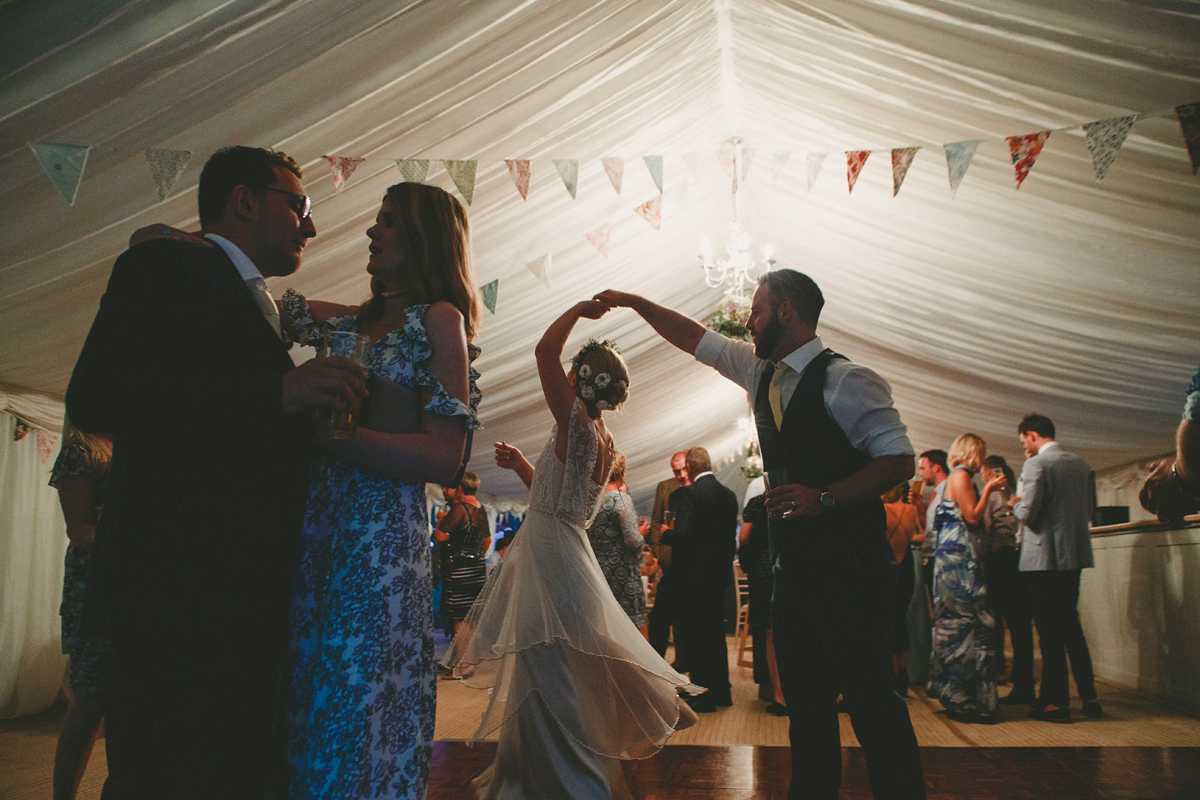 Congratulations Katie and Nick and thank you for sharing your gorgeous garden wedding with us today.  Fancy marrying in the open air?  Take a look here for past garden weddings for inspiration.
Much love and Happy Christmas- see you in the New Year!
Shona x