Hi lovelies, I wonder whether you caught our editor Annabel's piece on the importance of storytelling through social media; a candidly honest and personal account of how this beloved blog came to be seven whole years ago (flippin' heck!). I'd absolutely love you to take a few minutes with a brew and a Bakewell tart (current fave cake) to peruse these reflections – they speak volumes to the kind, open nature of our community of brides, including today's gorgeous newlywed, Emily.
"I've been having a look at some of the other weddings you've documented and I love how you tell stories alongside the photographs. You really seem to create a sense of what the day not only looked like, but also felt like, which is quite an achievement. I also love how diverse the weddings are that you showcase; it's so nice seeing people do their own thing and celebrating their individuality."
Photography by Ian Weldon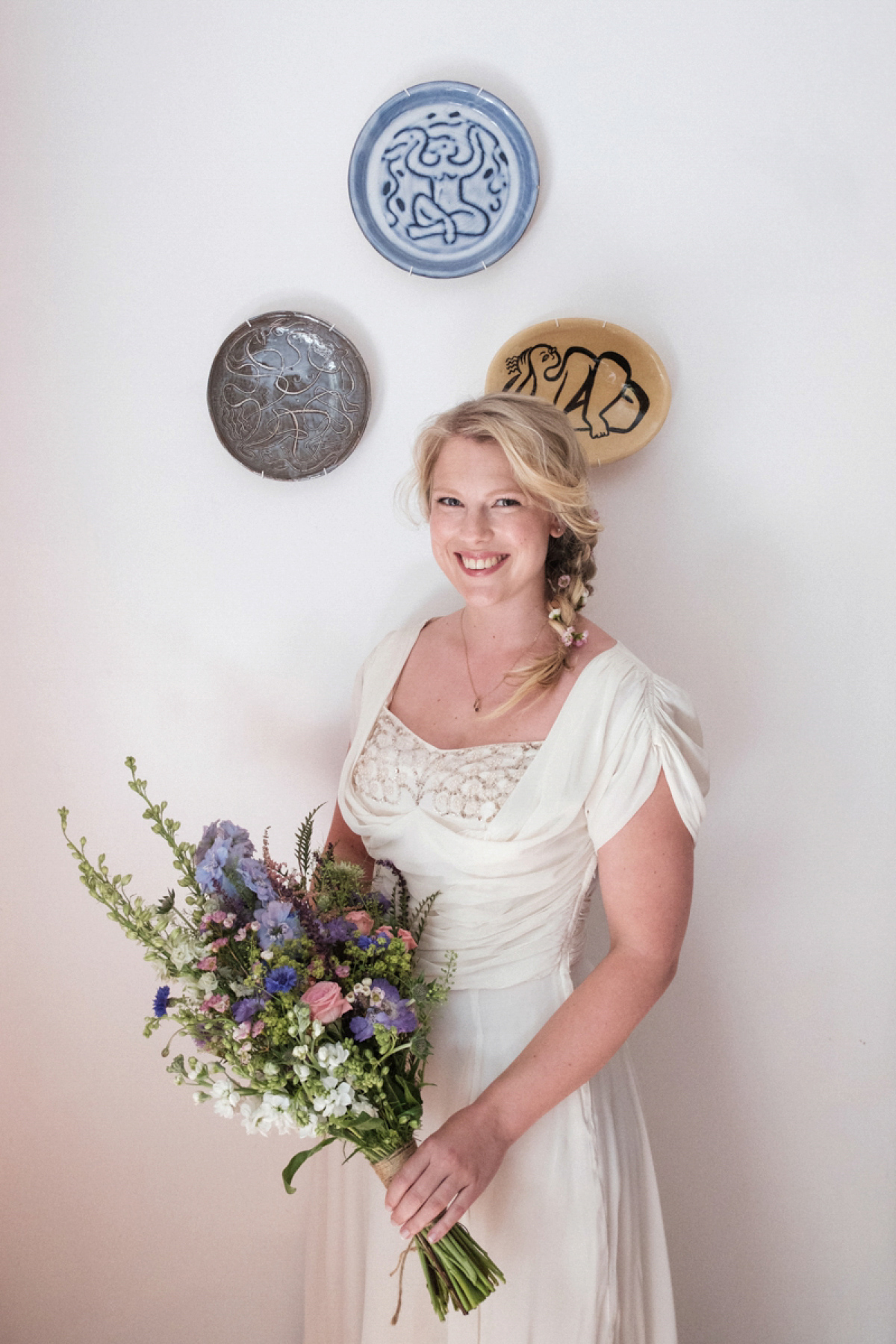 Adding to the ranks of wonderful couples who made their day the truest and most beautiful reflection of themselves, Emily, who works for a theatre, and husband Nick, a university lecturer, wed in summer on 25th June in an intimate library ceremony followed by a blissful stroll in the park and a cosy buffet tea at their local pub. Just heavenly. Emily wore a sublime vintage 1940's gown bought from Elizabeth Avey's Greenwich boutique – we are long time Elizabeth Avey aficionados here at Love My Dress; just take a look at Annabel's interview with the lady herself."I wore lots fresh wild flowers woven into my hair from my local florist, You Don't Bring Me Flowers. I've kept lots of them to press and keep in a scrapbook of the day. You Don't Bring Me Flowers is a fantastic café and florist in Hither Green. I wanted wild flowers to fit with the relaxed vibe and park setting of the wedding."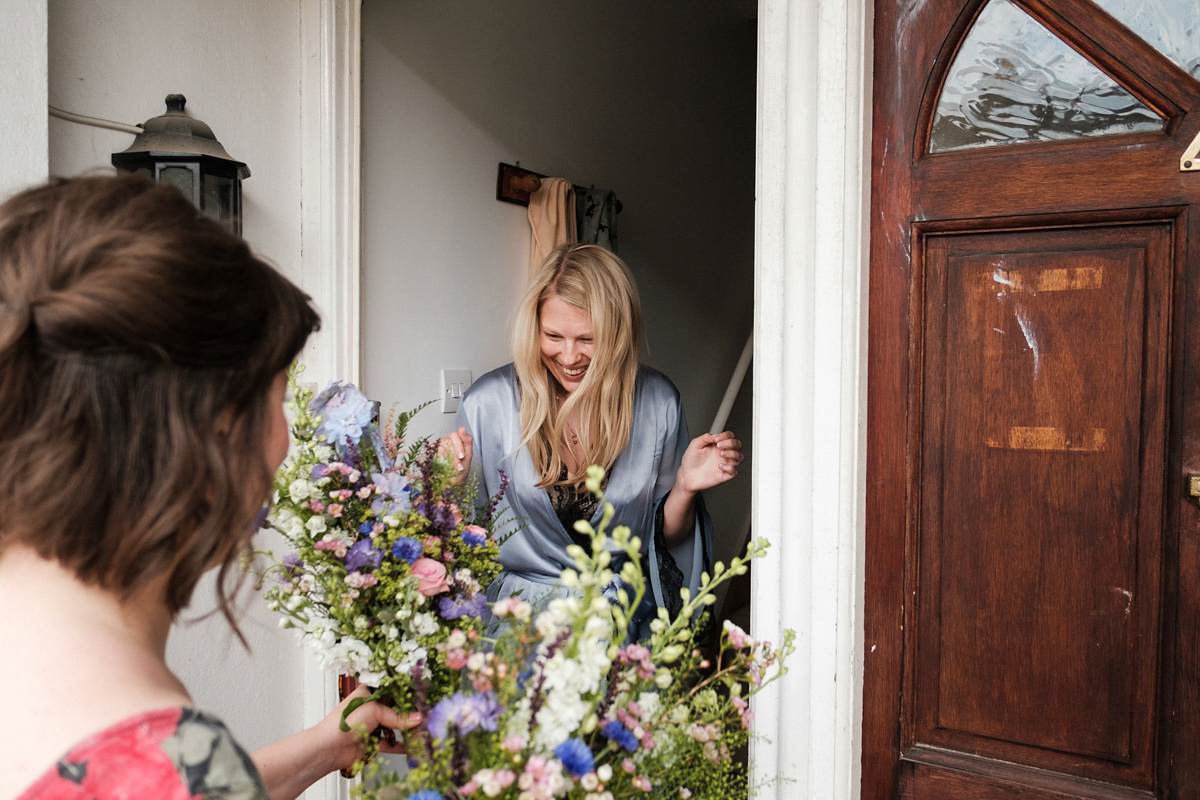 "I absolutely adored our bouquets and Nick and Ben's button holes. The colours were perfect with the bridesmaid dresses and the boys' suits."
"I loved having such a huge bouquet – it felt like such a treat! And having wild flowers in my hair felt so bohemian and decadent."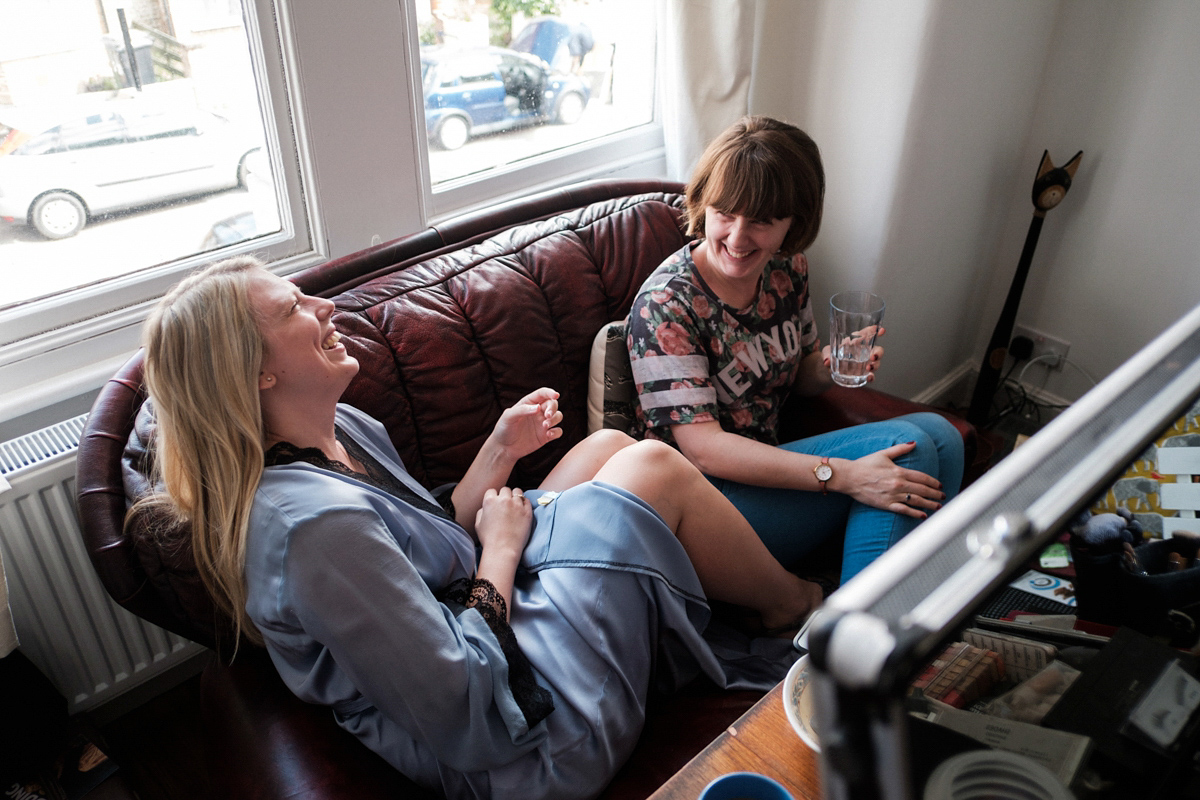 Emily chose a beautiful 1940s vintage gown, originally from New York, found at the vintage bridal boutique (read treasure trove) of Elizabeth Avey in Greenwich. The soft ruched waist, delicate beading and flowing romance of the skirts are just divine, and I so love the pretty draped cap sleeves.
Metallic 'Bowie' t-bar heels from Russell & Bromley were an elegant and comfortable addition, with a hint of vintage style to complement that stunning dress.
"I've always loved vintage clothes and old school glamour so I was thrilled to find this 'one off' piece with lots of history. I wanted something that felt light and comfortable and that I could move it. I don't get on well with corsets so I liked that this still showed off my waist without being constricting. I felt so comfortable all day but still really elegant. I particularly loved the beautiful gold beading detail and the gorgeous 'swish' of the skirt when I moved. It made me want to twirl – a lot."
Emily's soft, unstructured braid and dewy, barely-there make-up were the work of stylist Amanda Roberts from East Dulwich. This type of un-done bohemian styling steals my heart every time. A spritz of Classique by Jean Paul Gautier and a sweet necklace gifted by the groom completed Emily's whimsically elegant ensemble.
"I wore a gold horn motif necklace, handmade by fantastic young designer, Emily Sidwell. Nick bought it for my birthday a few years ago because my maiden name is Horn. It felt particularly appropriate to wear it the day I took his name. Nick wore a three-piece made to measure suit from Beggars Run in Bethnal Green and a pair of toe-cap Oxford brogues by Italian designer Moreschi from Russell & Bromley. His lovely gold tie pin was a vintage find that I gave him as a birthday present several years ago."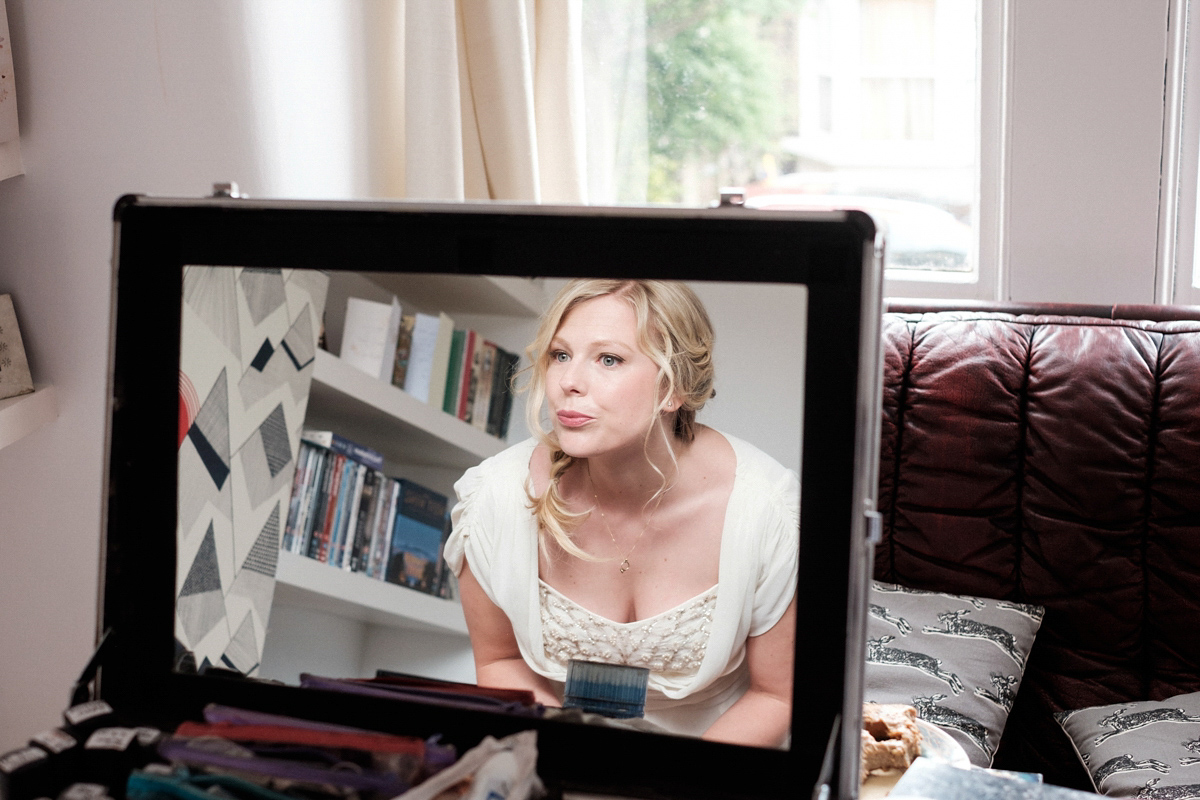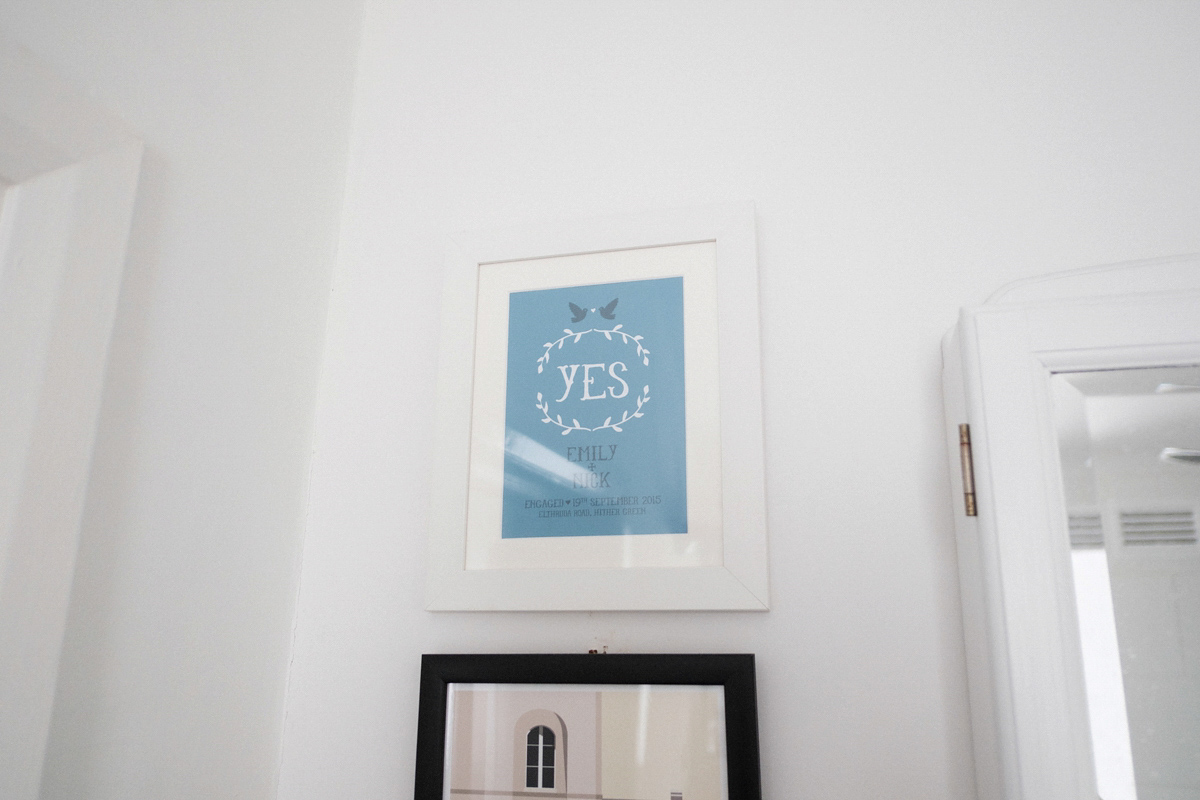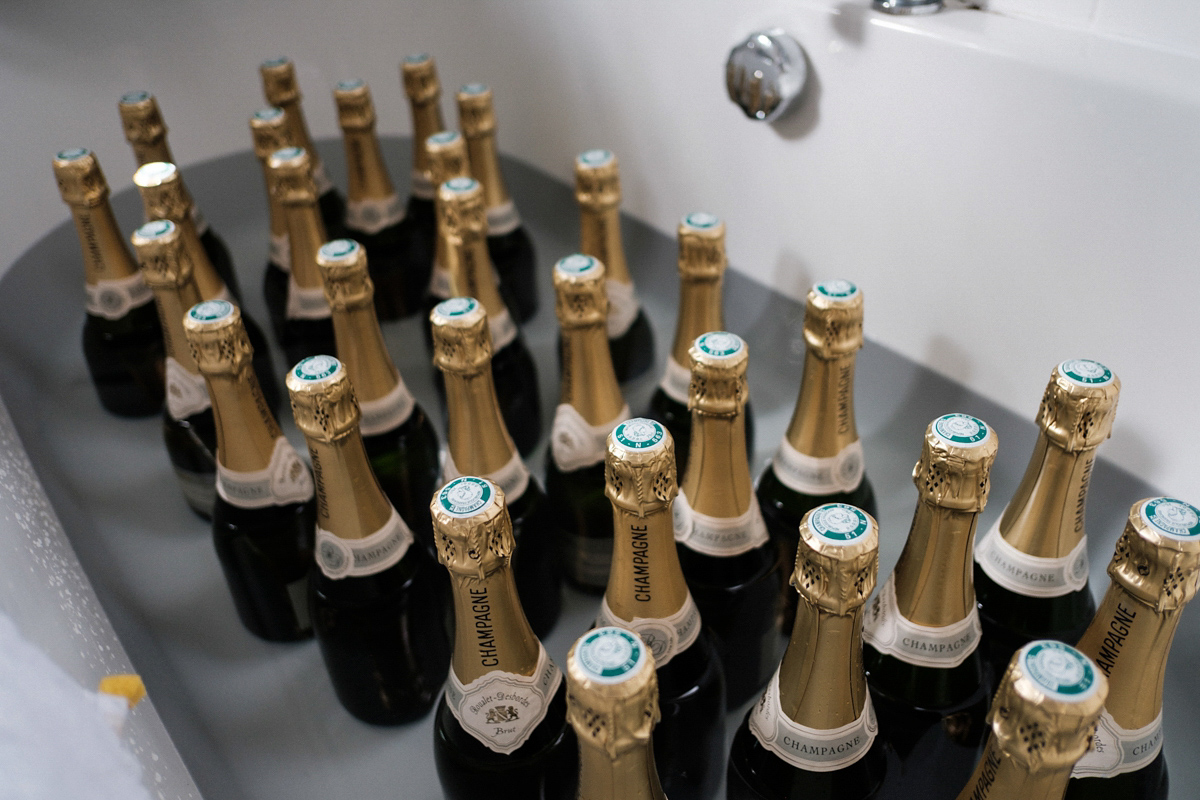 The two lovely bridesmaids wore matching Anthropologie maxi dresses, Emily's dad drove her to Manor House Library in his very smart Audi, painstakingly decorated with ivory ribbons. I just love that Emily and Nick chose to marry in a place holding all the great love stories of the ages, and in a community that means so much to them as a couple.
"We got married in our local library in Manor House in South East London. We had an intimate ceremony with family then joined the rest of our friends in Manor Park Gardens (a park where Nick and I have spent many a happy sunny Sunday afternoon) for champagne and retro party snacks."
"Nick and I have lived in London together for over five years and consider it our home. A couple of years ago we bought our own little flat in South East London and have totally fallen in love with the area. My mum grew up here, so there's lots of family history too. It just felt right to get married in the place where we have built a life together."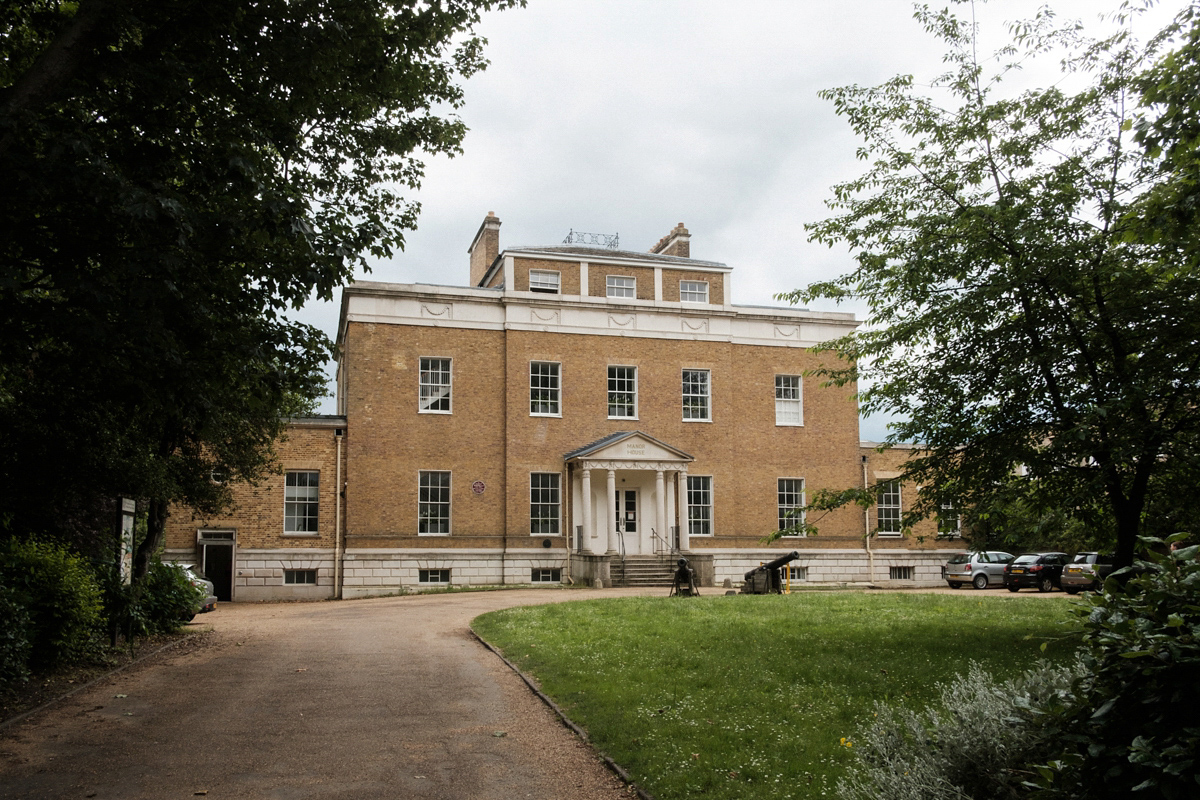 "We spent an hour enjoying the park and feeding the ducks before heading to our local pub, The Station Hotel, for speeches, bubbles and a buffet tea. Spending our wedding day in our local community felt really special and created so many happy memories which we can re-live simply by walking round our favourite local haunts."
"Our invitations were postcards of Penguin book covers. We thought it was fitting since the ceremony took place in our local library. The envelopes were sealed with a sticker that read: 'Reader, I married him', a quote from my favourite book, Jane Eyre. We included a map of Hither Green showing our flat, the library, the park and pub, drawn by our talented bridesmaid, Georgina."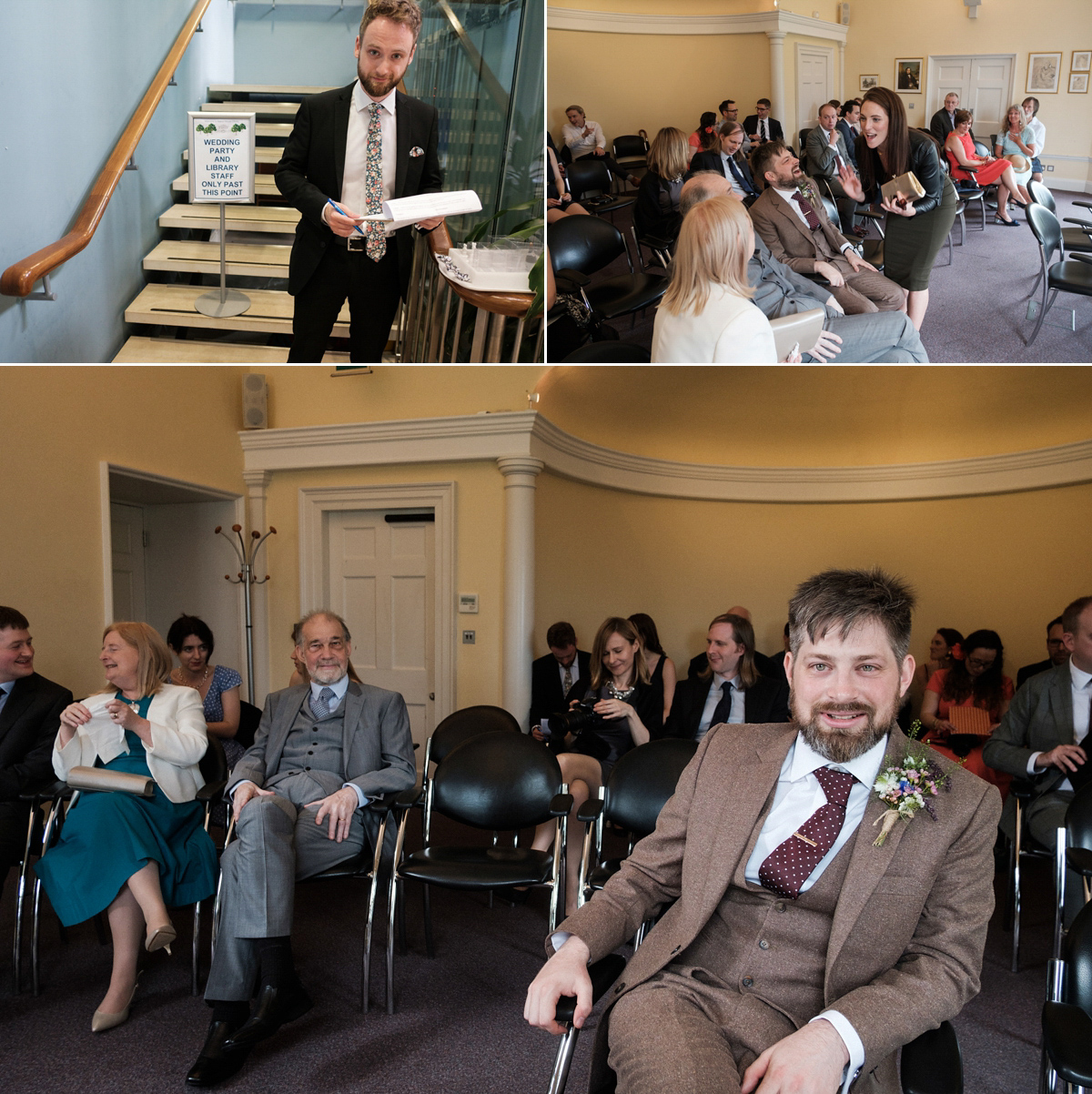 After being set up by their friends, Tim and Lucy (the latter plays a starring role as one of Emily's bridesmaids), Emily and Nick just knew they'd found their perfect match. With Emily based in London and Nick working and finishing a PhD in Norwich, months of emails passed back and forth before their long-awaited first date in the capital.
"By the time we met in person, it felt like we already knew each other and we spent hours chatting over a bottle of wine in Gordon's Wine Bar in Embankment. We had our first kiss at Embankment tube station and the rest is history. When Nick proposed (six years later), he got me a present for each year we'd been together. One was a book of all our emails to each other in those first few months. Another was a beautiful framed print of Gordon's Wine Bar and another was an Embankment tube sign. The final present was a bottle of champagne, which is when he got down on one knee. We were in our bedroom at home after a lovely relaxing summer evening spent enjoying cocktails and dinner in our local area – it was perfect. We married nine months later."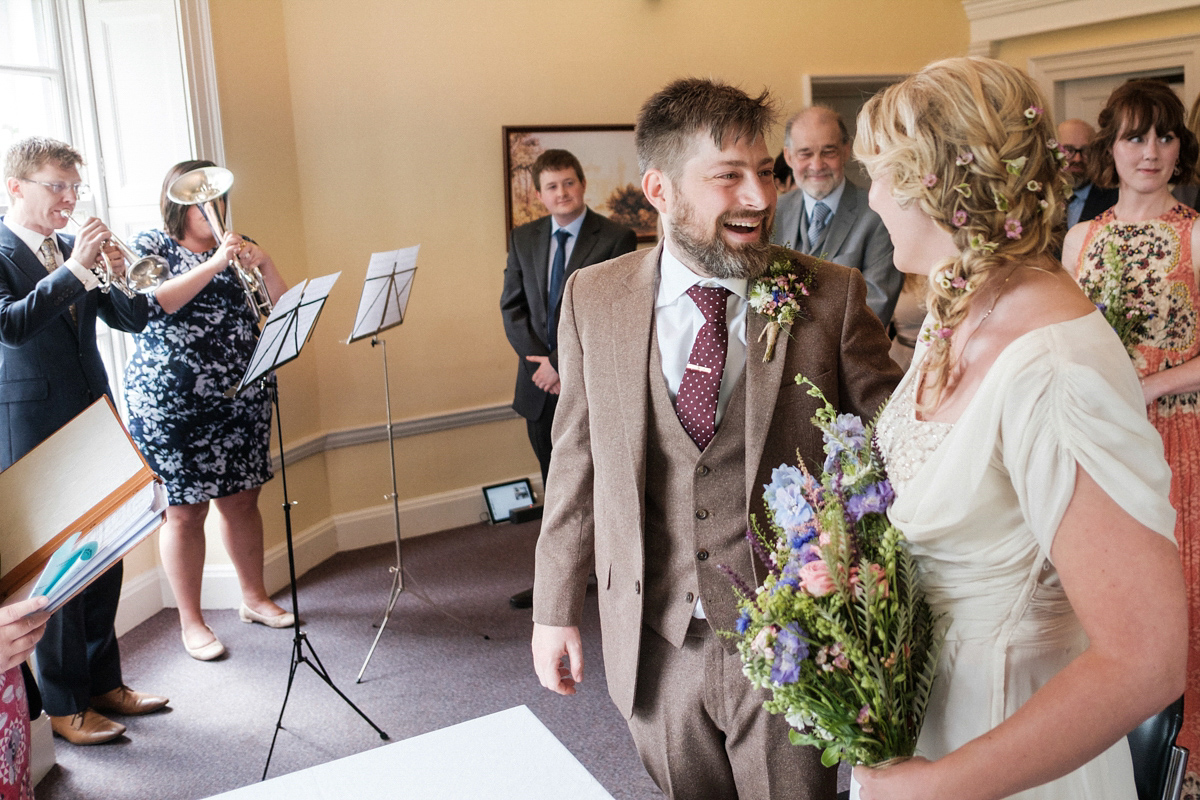 Guests arrived at the library to a sweet playlist of songs from mix tapes that Nick and Emily made for each other when they first started dating – such gems as 'Is This Love' by Bob Marley and Kate Bush's 'Wuthering Heights' featured – a perfect nod to the literary setting. Emily's dad Dennis walked her down the aisle to musical accompaniment from the couple's friends Andy and Ally.
"They played 'It Must be Love' on the cornet and the horn (another link to my maiden name!) as I walked down the aisle. Then they played their own brass arrangement of Pharell's 'Happy 'as we walked out of the library to be greeted by all our friends and LOT of confetti."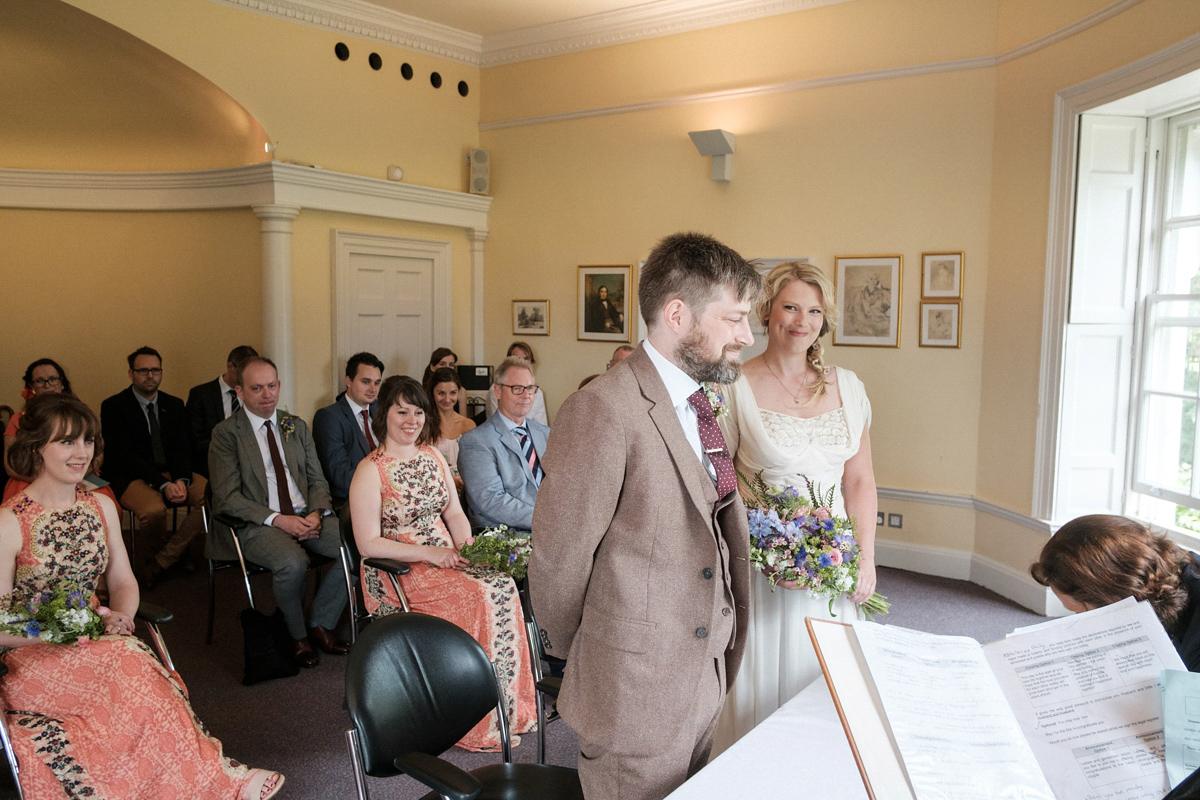 The couple chose two beautiful and incredibly meaningful readings to include in their ceremony; the first an extract from Doctor Zhivago by Boris Pasternak, read by Nick's brother Edward, selected to reflect Emily's love of Russian literature; and the second A Vow by Wendy Cope, an honest and romantic poem recited by the bride's schoolfriend Jenni, prompting many a misty eye. I just couldn't resist sharing them both with you.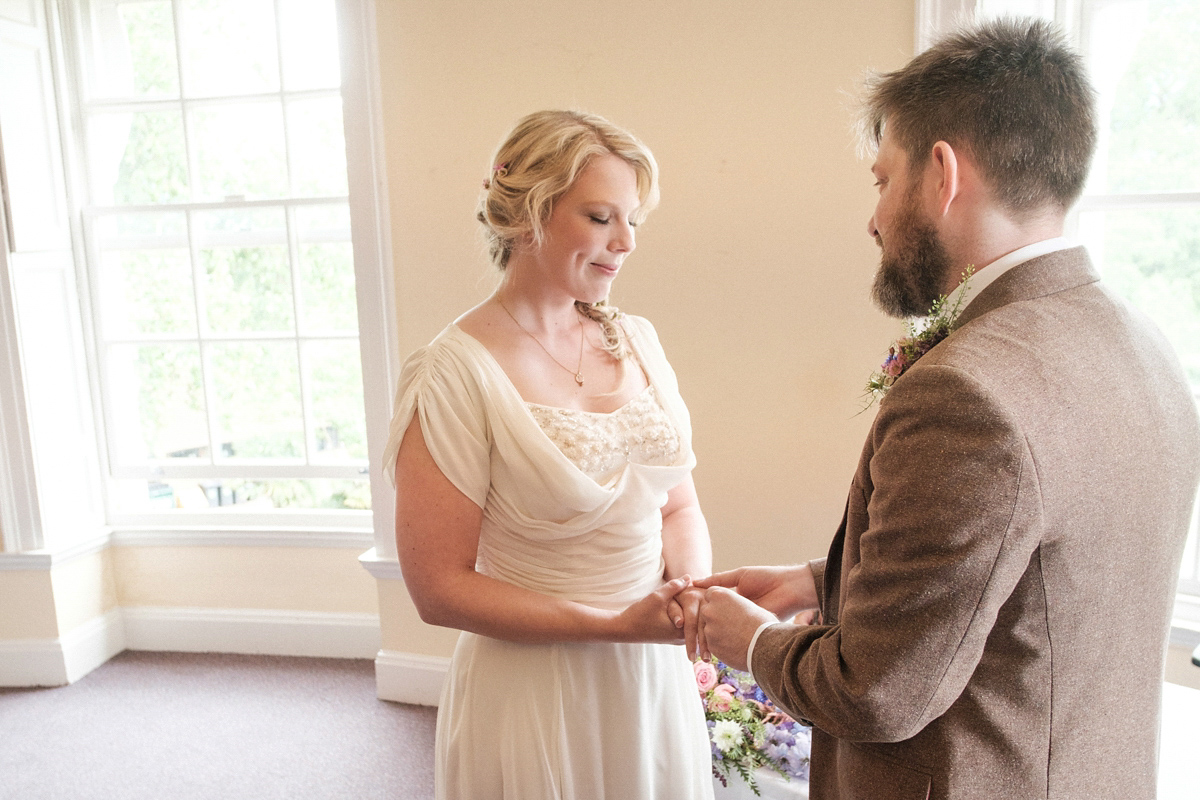 An extract from Doctor Zhivago by Boris Pasternak
Oh, what a love it was, utterly free, unique, like nothing else on earth! Their thoughts were like other people's songs. They loved each other, not driven by necessity, by the 'blaze of passion' often falsely ascribed to love. They loved each other because everything around them willed it, the trees and the clouds and the sky over their heads and the earth under their feet. Perhaps their surrounding world, the strangers they met in the street, the wide expanses they saw on their walks, the rooms in which they lived or met, took more delight in their love than they themselves did.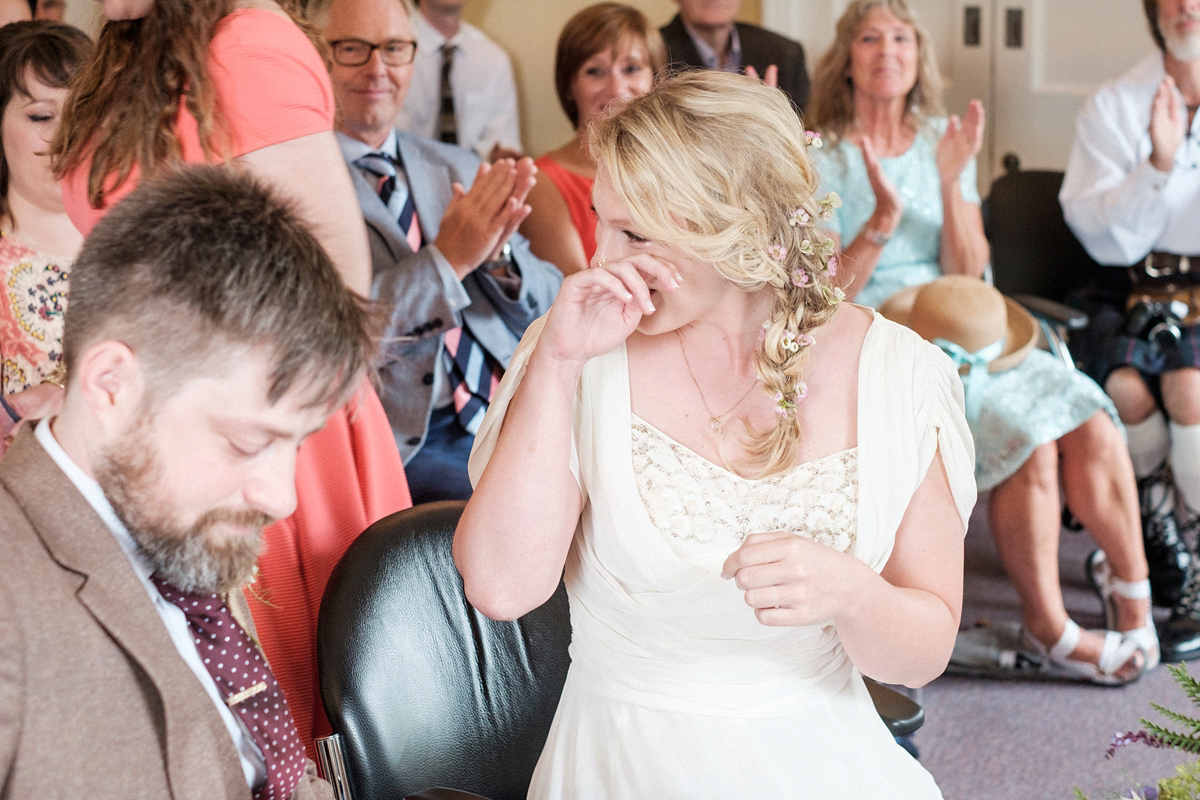 A Vow by Wendy Cope

I cannot promise never to be angry;
I cannot promise always to be kind.
You know what you are taking on, my darling –
It's only at the start that love is blind.
And yet I'm still the one you want to be with
And you're the one for me – of that I'm sure.
You are my closest friend, my favourite person,
The lover and the home I've waited for.
I cannot promise that I will deserve you
From this day on. I hope to pass that test.
I love you and I want to make you happy.
I promise I will do my very best.
Emily and Nick exchanged rings bought in the Lanes in Brighton; Nick's a yellow gold band and Emily's a rose gold beauty designed to match her engagement ring. This moment was one of our bride's very favourites of the day.
"Holding Nick's hand and looking in his eyes – I felt like it was just the two of us. The whole ceremony was quite emotional. My engagement ring and wedding band were both designed and made in rose gold by Jason French at Baroque Jewellery in Brighton. Nick and I chose them together on a romantic weekend in Brighton, shortly after he proposed.  It is one of our favourite places to go for a getaway so it felt appropriate to get both our rings there."
One confetti-strewn exit later, the beaming newlyweds and their guests took a blissful stroll through the nearby park, buoyed up on love, champagne and retro party snacks. These images are just filled with unstaged, candid joy and laughter and it's an absolute delight to (repeatedly) admire these stills by photographer Ian Weldon.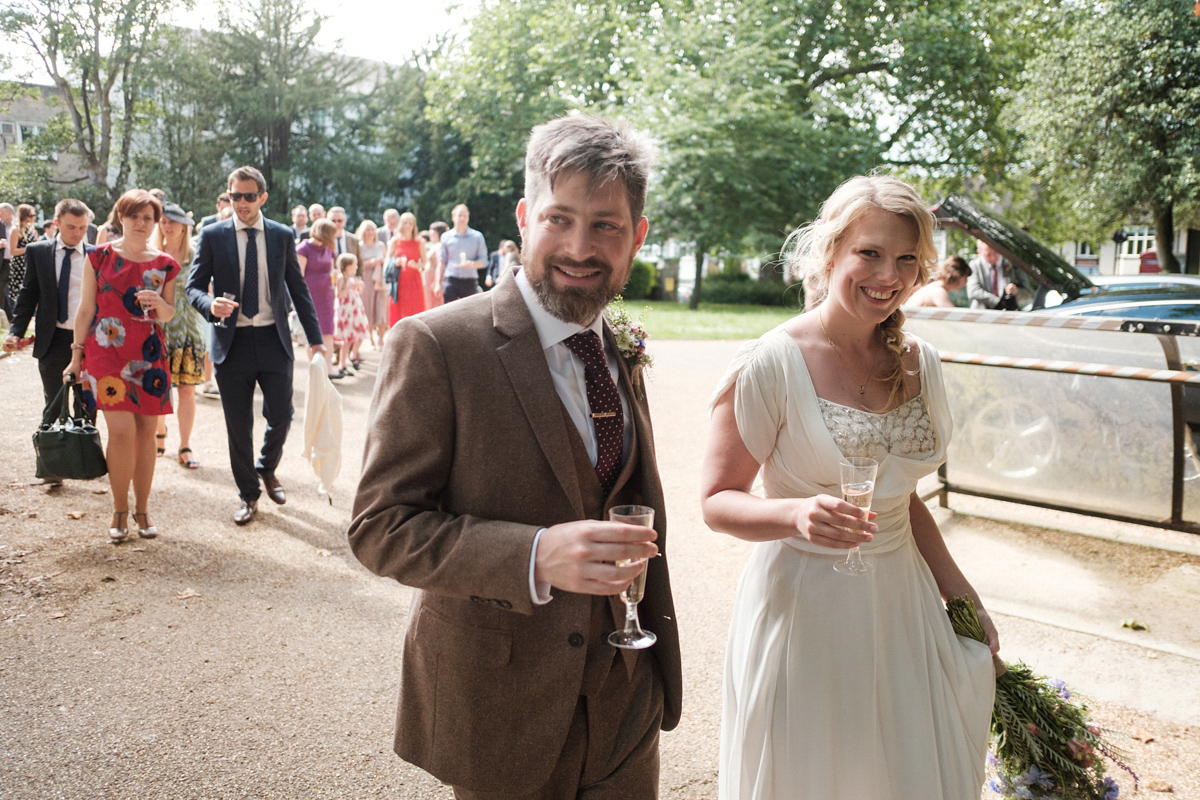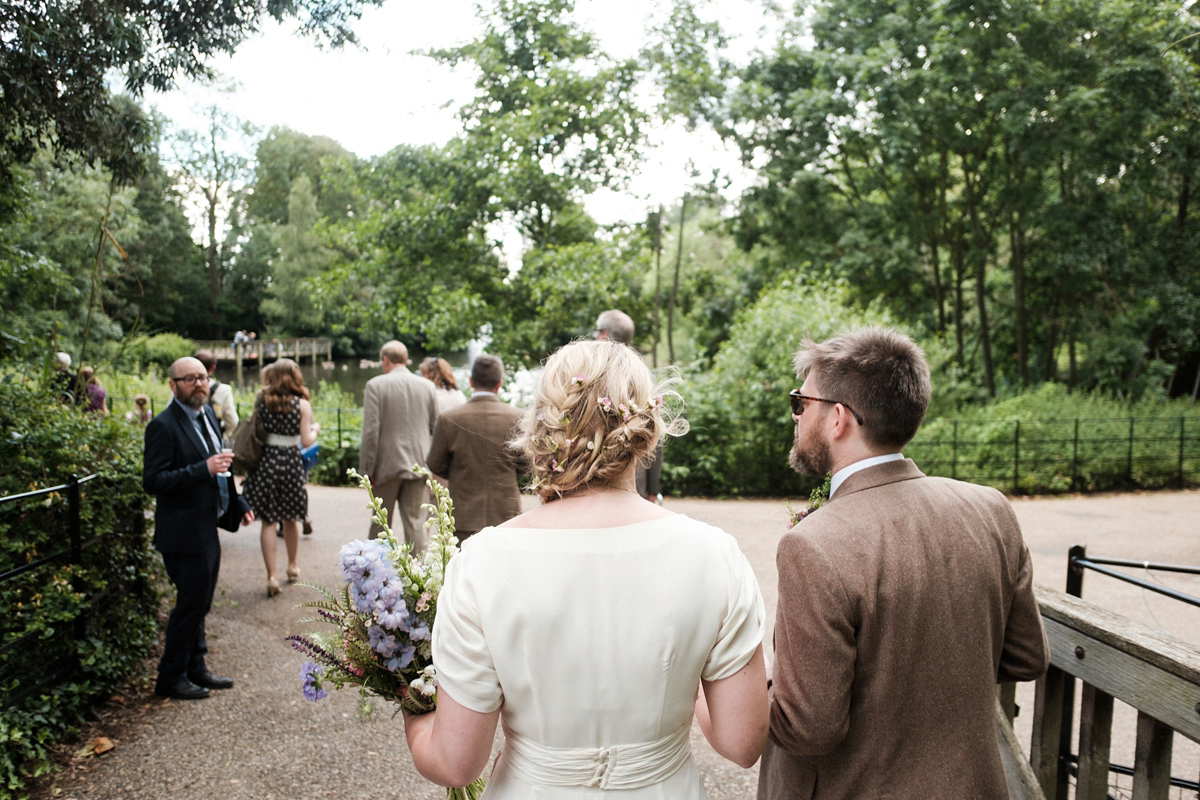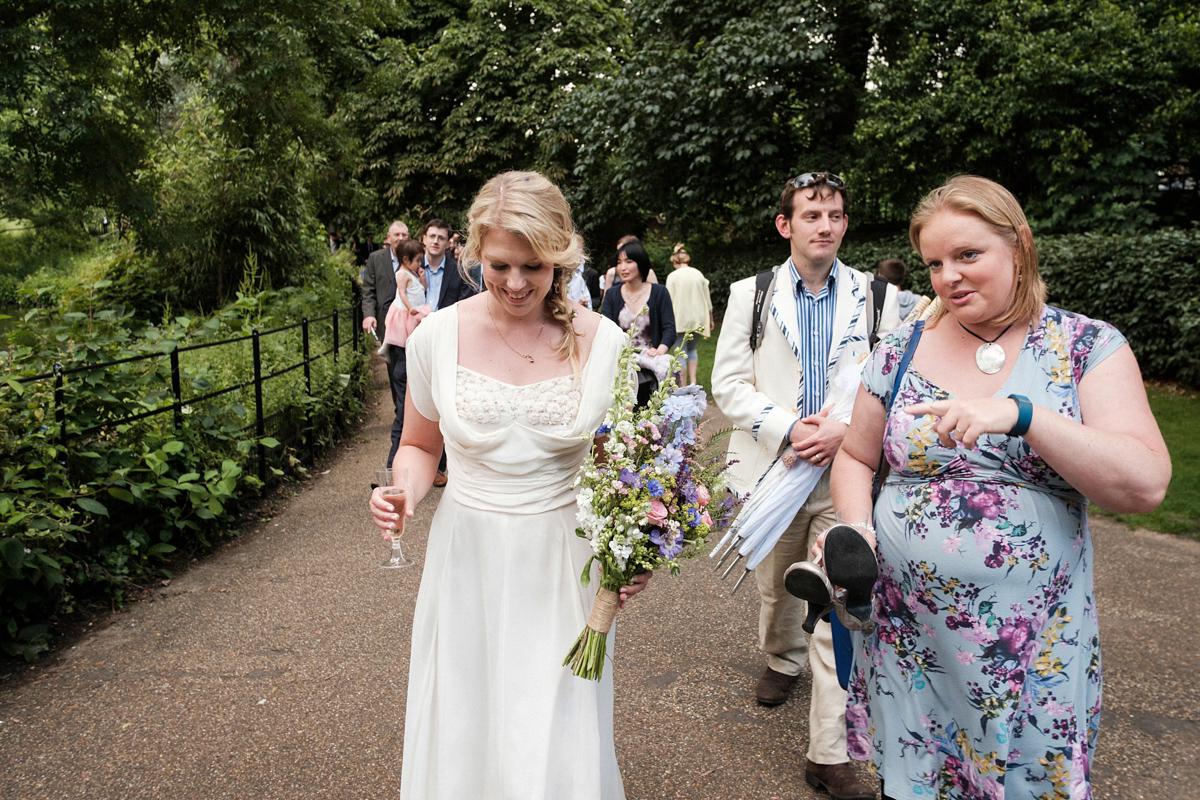 "Our photographer, Ian Weldon, was charming company and we had a good giggle, especially when we were getting ready in the morning. There were so many funny moments that Ian managed to capture – from my face when my dad tucked into the cakes before us, to our bridesmaids and best man all crammed under one umbrella with the picnic hamper, to random people in the pub coming up and drunkenly wishing us well! The whole day felt silly and fun, but still really special and with a sense of occasion."
"We bought the champagne that we enjoyed in the park on a day trip to France, and kept everyone fed on retro snacks from the supermarket (hula hoops, party rings, pom bears, love hearts), served from a lovely old Fortnum & Mason picnic hamper. Everything took place locally so we were able to walk from the park to the pub through the streets of Hither Green. It was raining a little by then, so we made quite a procession with our colourful umbrellas to our local, The Station Hotel, who provided the buffet tea."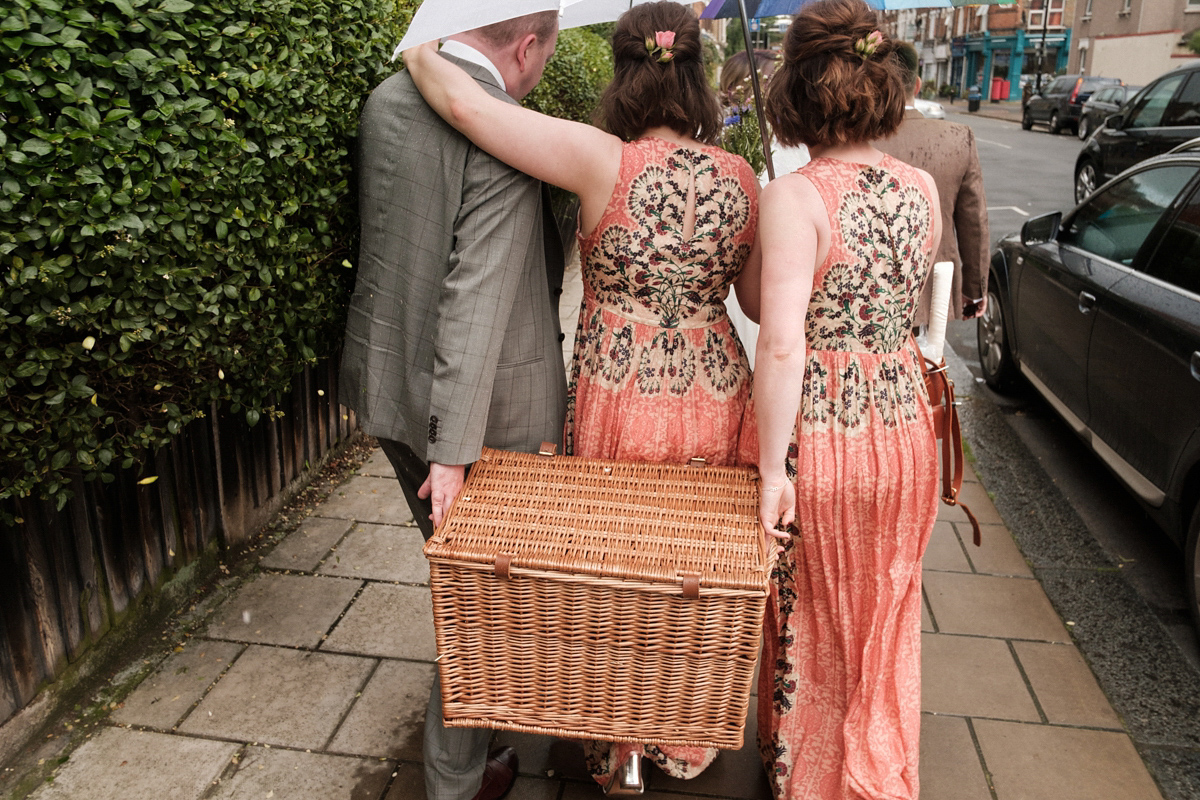 "We probably should have had a 'wet weather' alternative, but we were very lucky! The sun came out just long enough for us to enjoy champers in the park and for the kids to play in the playground and for us all to feed the ducks. Then there was an almighty storm, which was really exciting and dramatic, and made for some great photos from the walk to the pub!"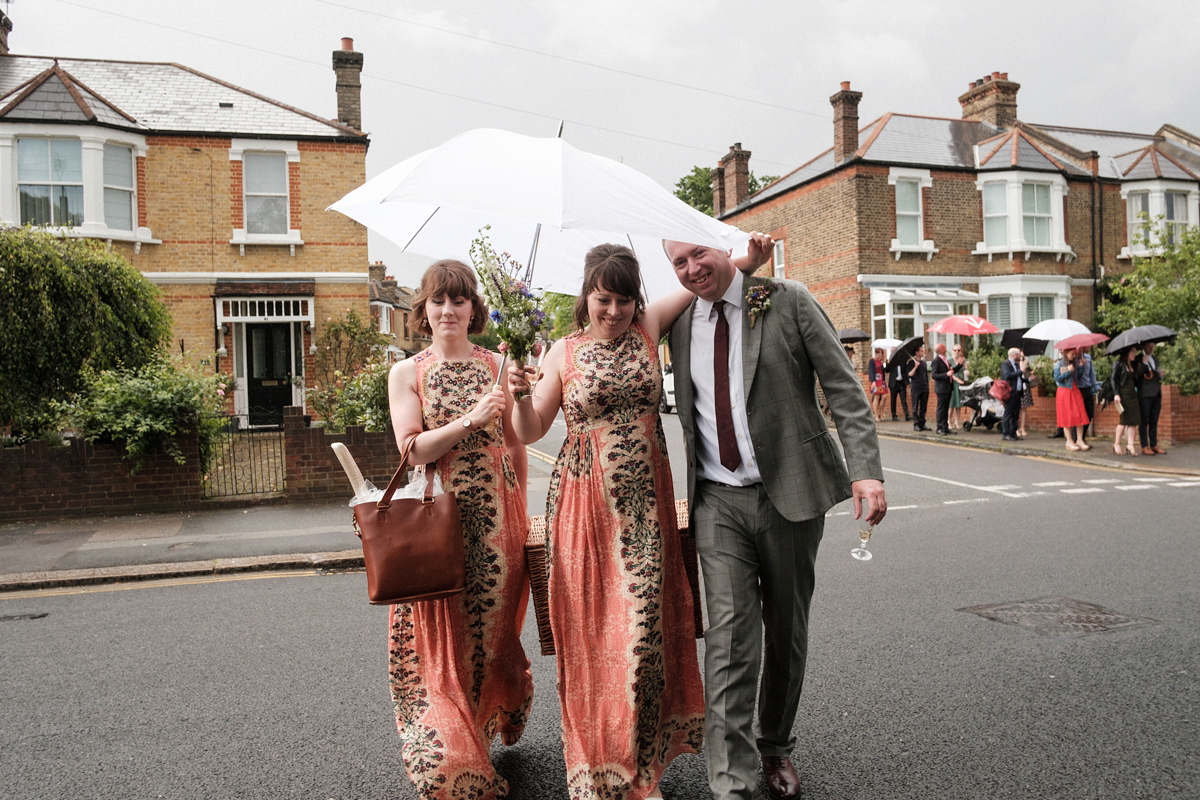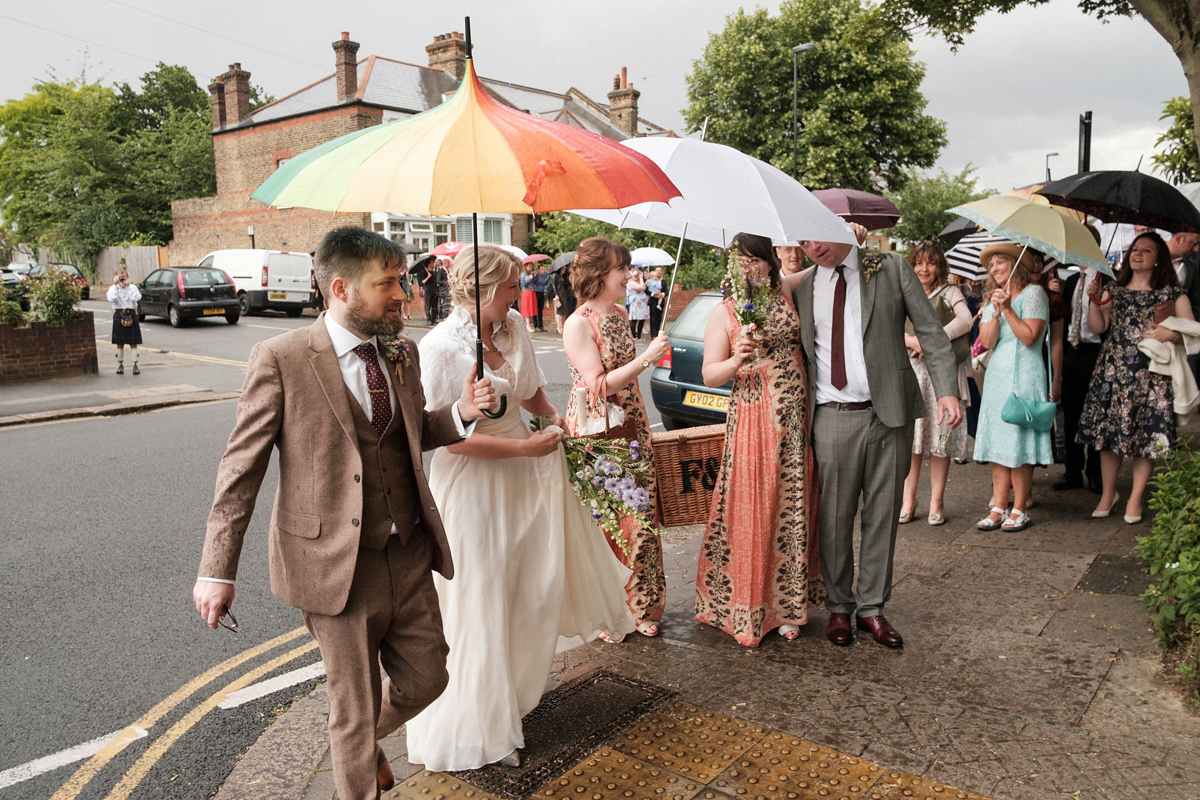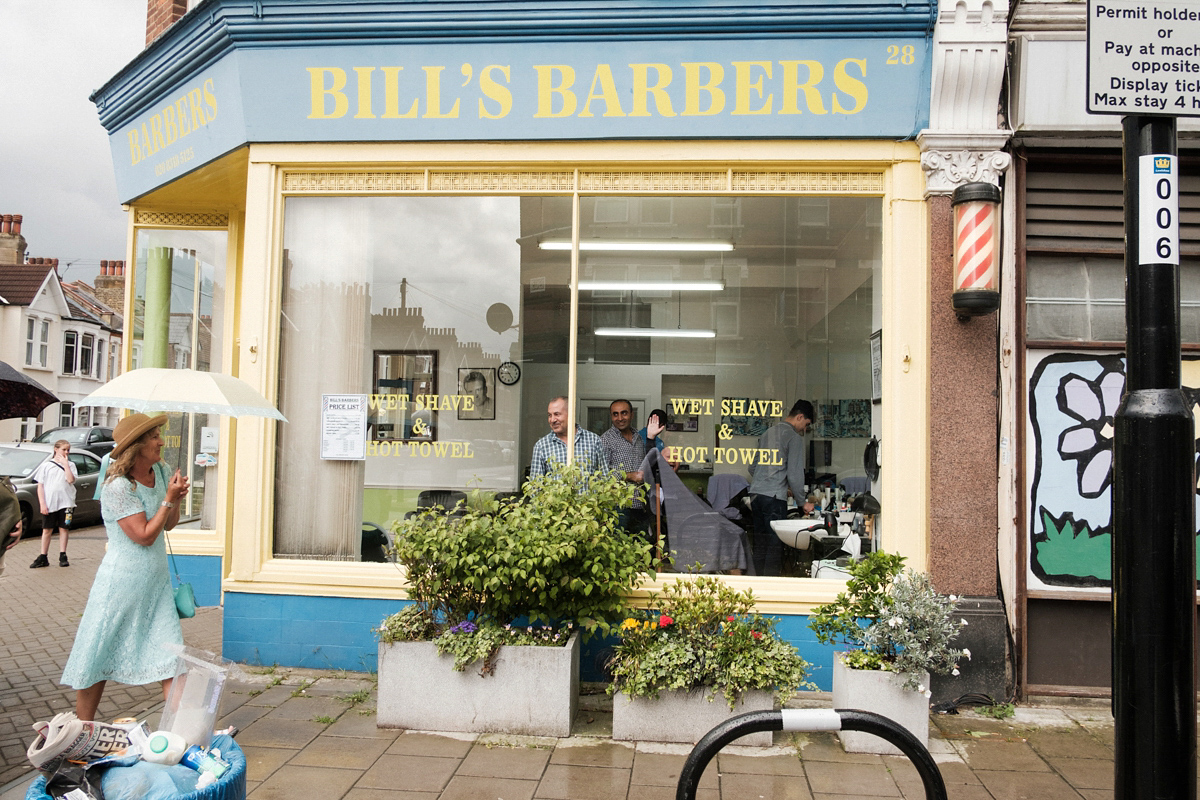 Friends Jo, James, Lindsay and Mark arrived early to help decorate The Station Hotel with fairy lights, tea candles, balloons, heart bunting and fun paraphernalia from the couple's joint stag and hen do.
"It was all very relaxed and made up from bits we had lying around, but the effect was really personal and fun. They did an amazing job of transforming our bit of the pub into a magical space."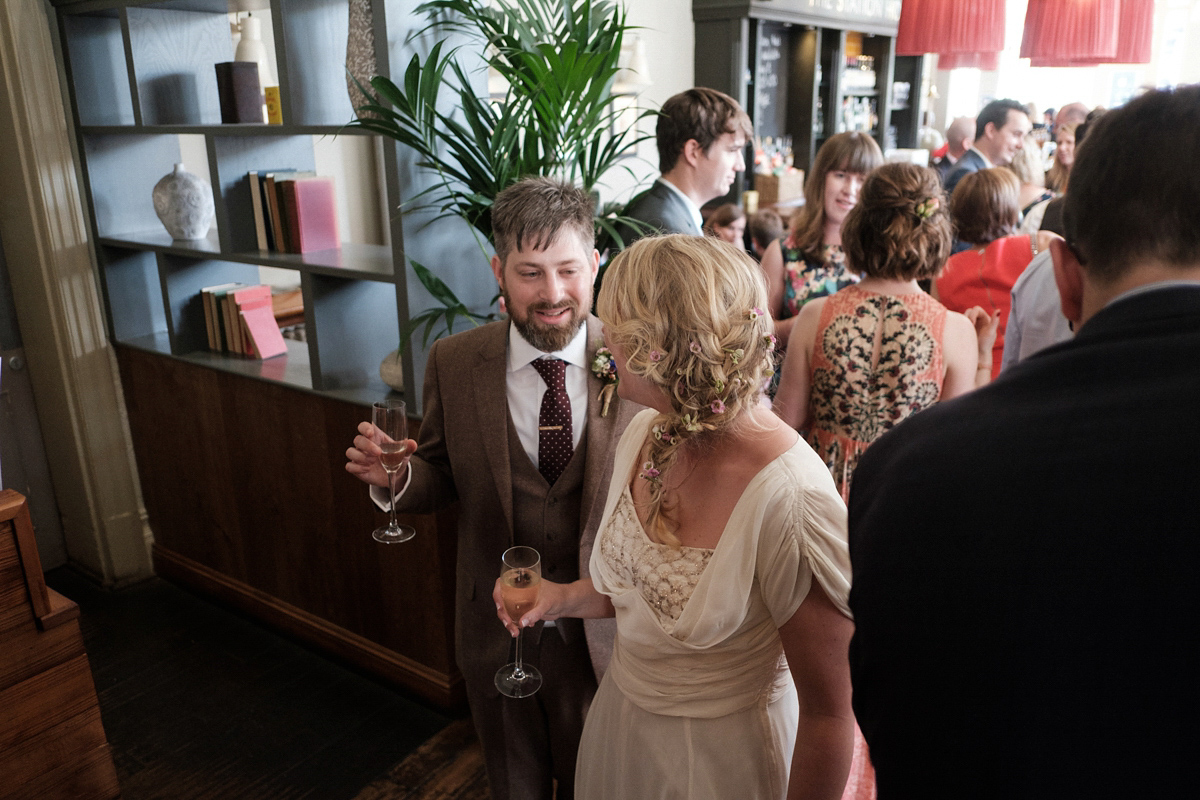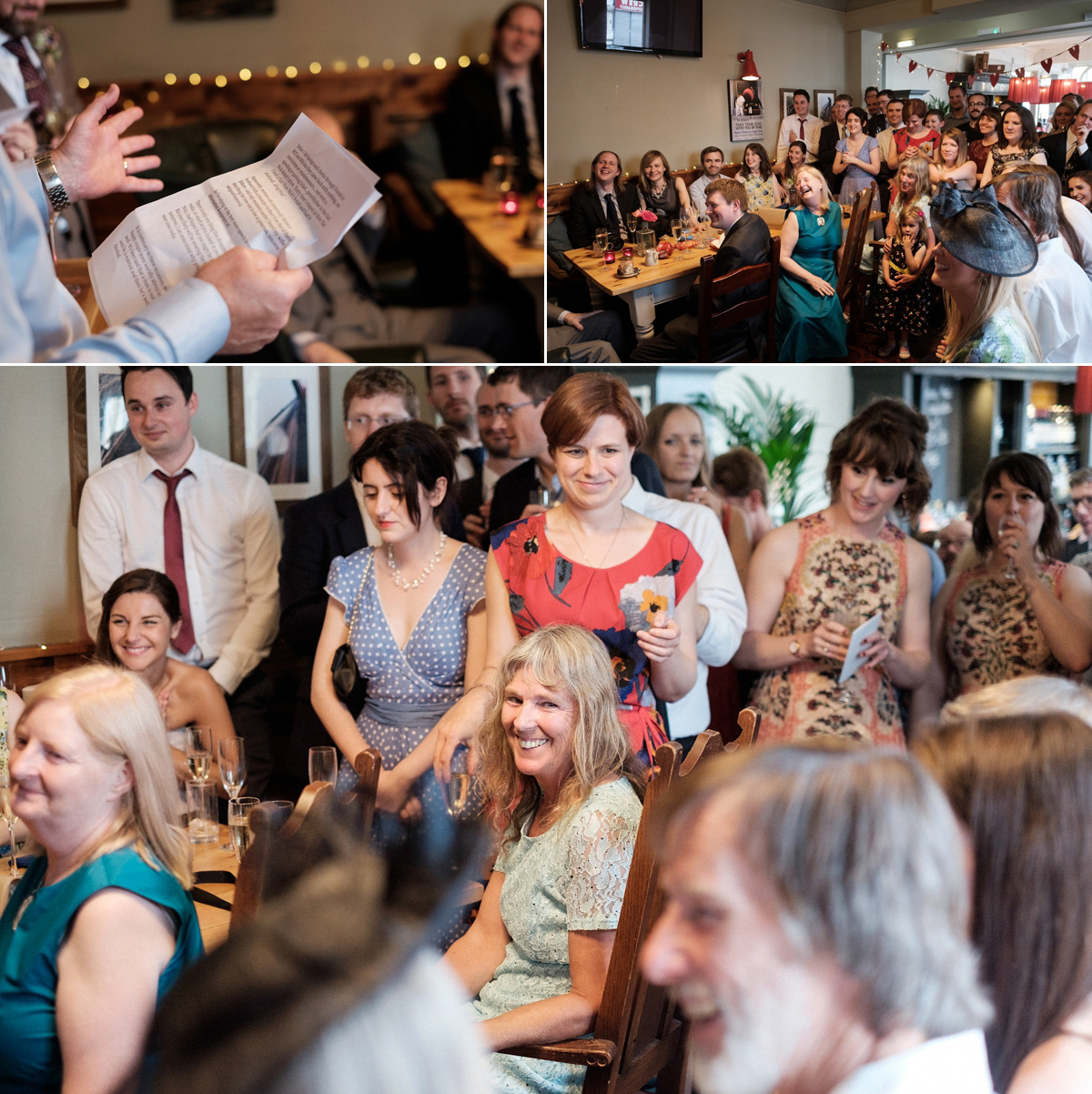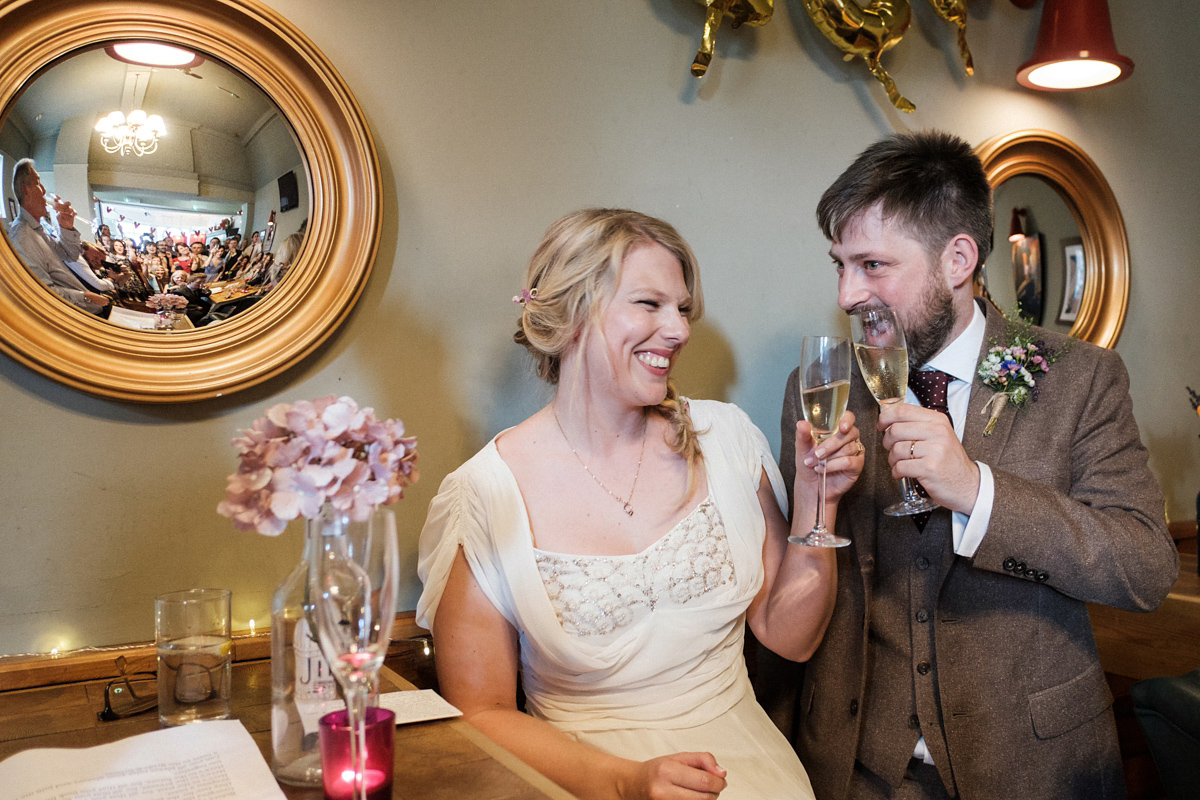 Another of Emily's favourite moments from the day was her dad's lovely speech, followed by a hilarious joint effort from bridesmaid, Georgina and best man, Ben. Our bride also chose to deliver her own speech as well as her husband; both Emily and Nick felt it was very important to have women speaking.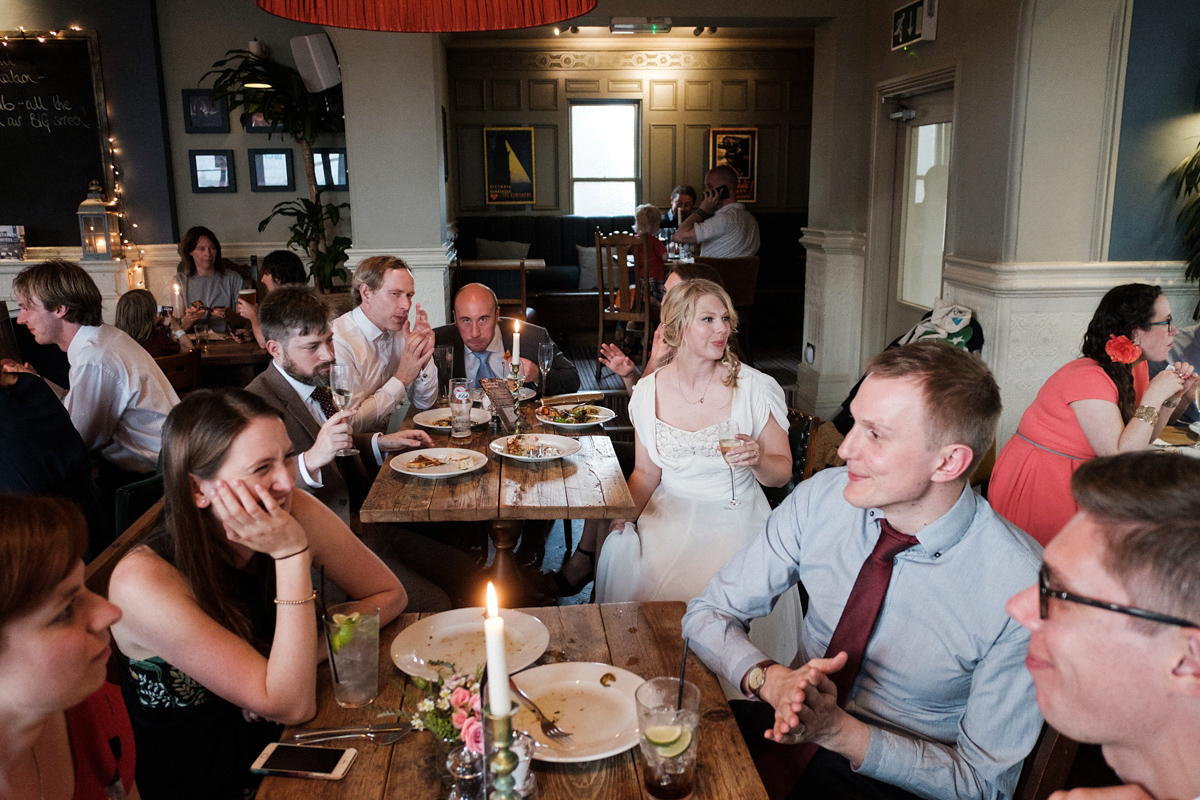 "Rather than having a formal cake, we asked several of our friends to bake cakes for the wedding. We didn't give them any specific requests, we just asked them to bake something they enjoyed making. We were blown away by the quality and quantity of cakes that turned up. Everyone had plenty to take home, and we were grazing on lots of different delicious cakes for days afterwards."
"We were overwhelmed with people's creativity and talent but we have to make special mention of the incredible rainbow cake that our friend's David and Damian made in honour of Pride, which was happening on the same day in London. We were also blown away by our friend Caroline's culinary recreation of a fairground slide, complete with lego figures! The slide was an exact replica of the one at the retro amusement park, Dreamland in Margate, which is where we spend our 'Sten Do' (joint hen and stag do) with our friends and family the month before."
That is one scrumptious looking cake table! Don't things seem to taste just that little bit sweeter when crafted with love? Emily and Nick's guests enjoyed an abundance of cakey goodness and laughter in the cosy surrounds of The Station Hotel, with a iPod playlist created by the newlyweds playing in the background.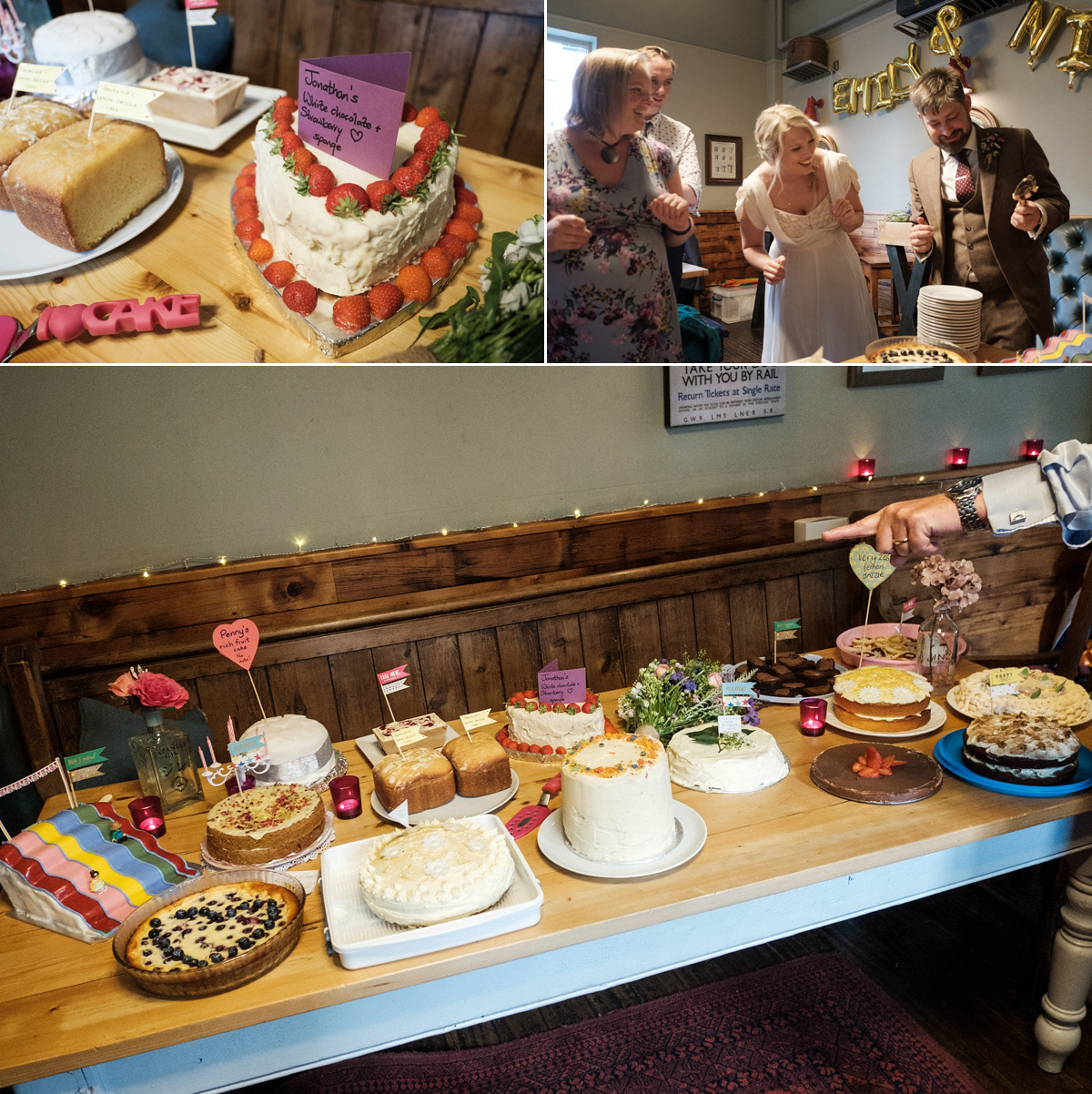 Words of Wedded Wisdom
"Just do what you want to do. There's sometimes a perception around weddings that you MUST do or have certain things but I realised there really are no rules so don't let anyone tell you otherwise! I love going to big white weddings, but that was never going to be us so we just went with what felt right. I'm so glad we did our own thing and stuck to our guns. As a result, we both felt comfortable and happy all day – as you can probably tell from the big grins and giggles."
Thank you so much to the newlyweds and to Ian Weldon Photography for sharing this blissfully romantic day with us all. If you've been inspired by Emily and Nick's gorgeously personal celebrations, take a look at our glorious archives of literary-themed weddings and our ranks of stunning Elizabeth Avey brides.
I'm flying off to Tuscany tomorrow to visit my soon-to-be-in-laws and for a tasting with our wedding caterer, so I'll check back in with you on Monday, hopefully deliriously food-happy and definitely just that little bit heavier after being force-fed pasta for several hours straight.
Love, Em x