Sundays have become unequivocally linked in my mind with wanderlust-worthy, sun-drenched, destination weddings. And today's beauty will not disappoint. It's my very great pleasure to share with you the travel-inspired, French union of Kevin, who worlds in the oil & gas industry, and Marlie, who works for NGOs in humanitarian aid and health. The lovebirds wed on 30th July 2016 at the stunning Château de la Bourdaisière in Montlouis-sur-Loire; an absolute gem nestled in the Loire Valley.
"Being from different cultures (I am Senegalese-Canadian-American and Kevin is French, from Brittany) and with friends and family from all over the world, we wanted to incorporate our diverse backgrounds and also involve our loved ones in the ceremony. We are both obsessed with travelling and our relationship has spanned four countries and three continents). Plus the wedding was a destination wedding, so that became our theme along with our favourite colour accents of peach, coral and gold."
Photography by Helen Abraham
I just love the gorgeous array of J. Crew  gowns worn by Marlie's beautiful bridesmaids, the colours tie in perfectly with the accents of peach and coral running through the day – I feel warmer just looking at these images, beautifully captured by Helen Abraham. Marlie's best girls wore bracelets by Links of London for the ceremony and then joined the bride in donning colourful Bissap Bangles for the reception.
A spritz of Coco Mademoiselle by Chanel floated around our bride in a heavenly cloud and her only other accessories were her signature Bissap Bangles from Senegal, which she put on after the ceremony. Poor Marlie suffered such a stressful ordeal at the hands of a rogue supplier, but luckily the couple's co-ordinator stepped in and saved the day, calling upon a friend t to take care of hair and make-up for the bridal party.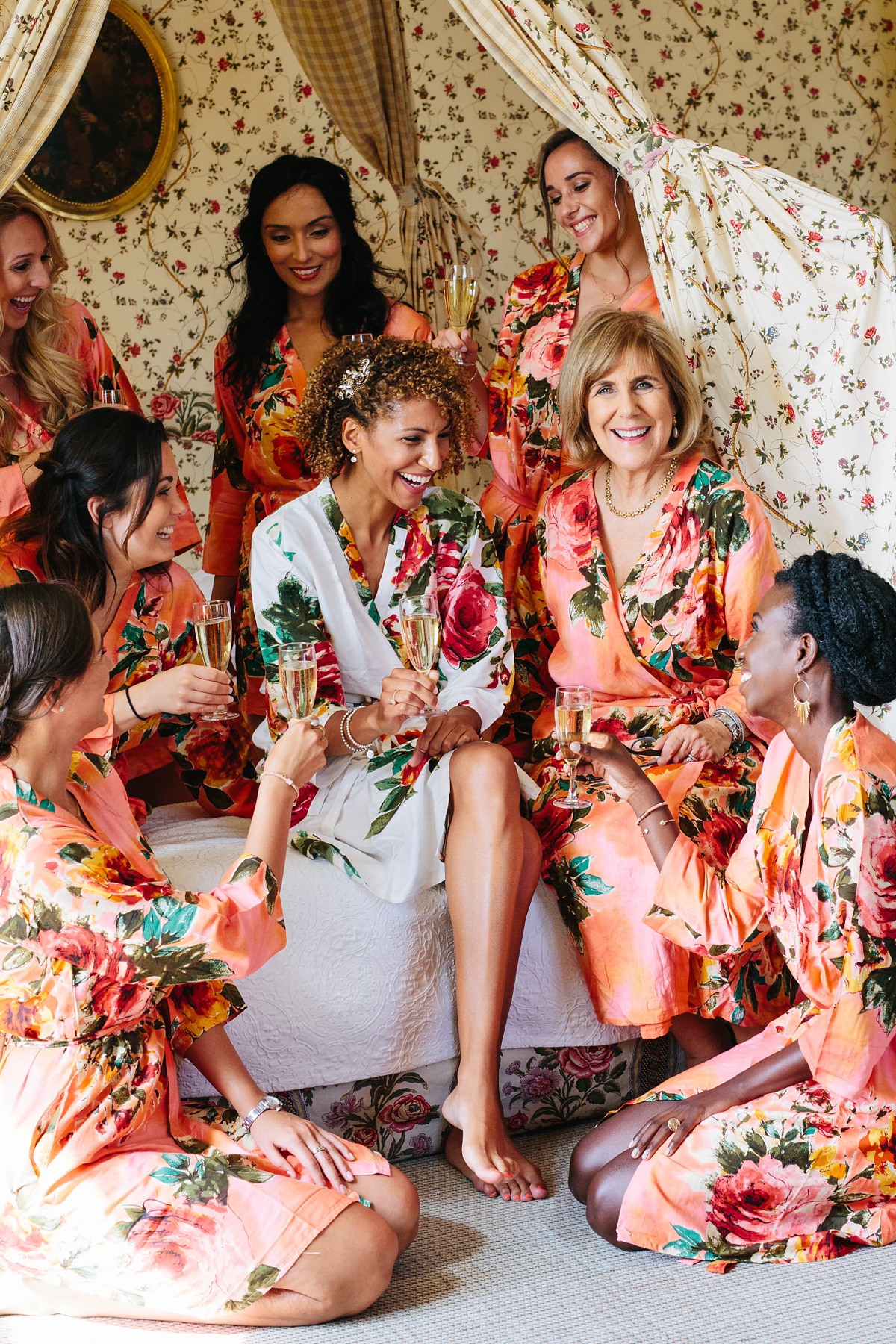 "Hair and make-up ended up being the most stressful part of the day. The make-up and hair artists who had been booked seven months in advance cancelled for absolutely no reason the morning of the wedding – by email! Thankfully, our day-of coordinator, Alexa saved the day and called her incredible friend Sylvia who came to our rescue. It ended up being for the best as she was incredibly sweet, talented and super quick."
Marlie chose the gorgeously beaded 'Portia' gown by Jenny Packham, which she purchased in their Parisian boutique. Its delicate, shimmering fabric catches the golden French sunlight so beautifully and it's a beautiful pairing with the bride's embellished Badgley Mischka shoes and BHLDN hair comb.
"I loved that my dress had a very Art Deco, elegant feel, and that it was sleek and comfortable while still being bridal, due in part to all of the beautiful sequin details. A puffy princess dress wasn't me, and I felt that it would have been too much for the venue. A priority was that I would be able to dance in the dress, so this lightweight gown was perfect for that. I did have a few mishaps with the shop (they originally ordered it in a length that was much too short so it had to be reordered two weeks before the wedding day – stressful!) but in the end it worked out."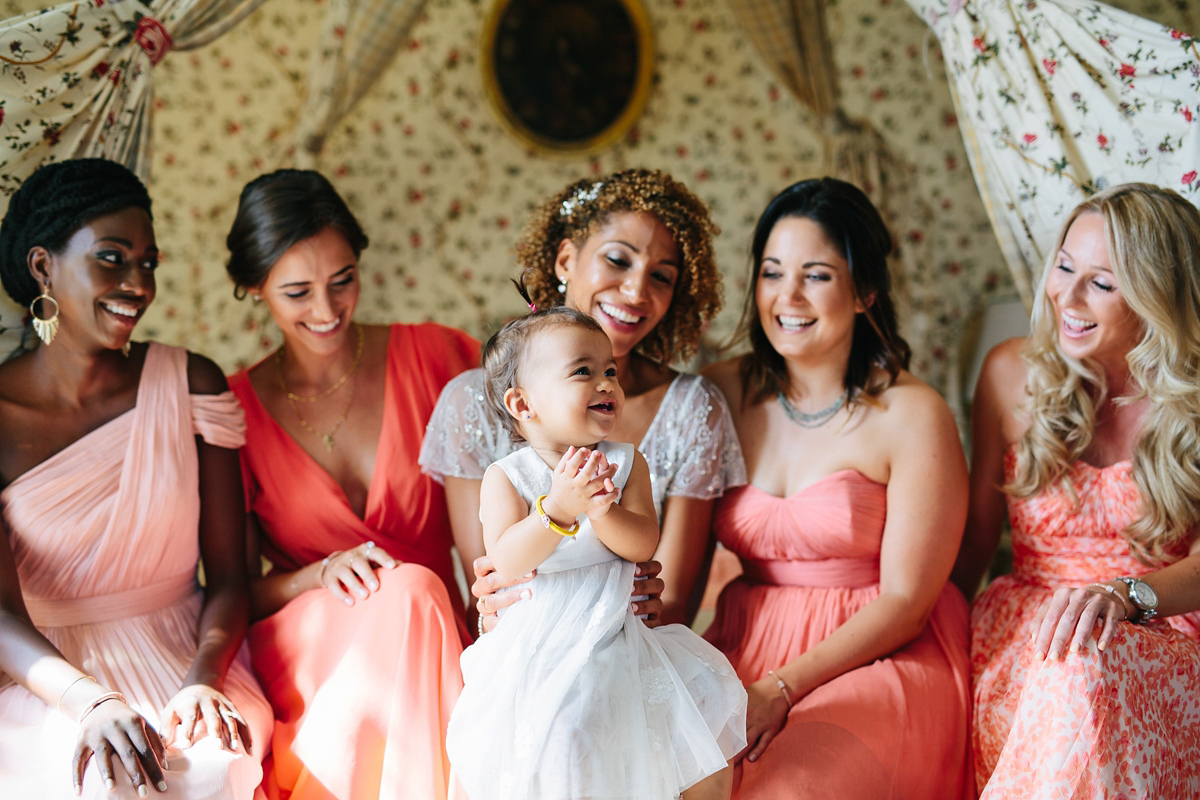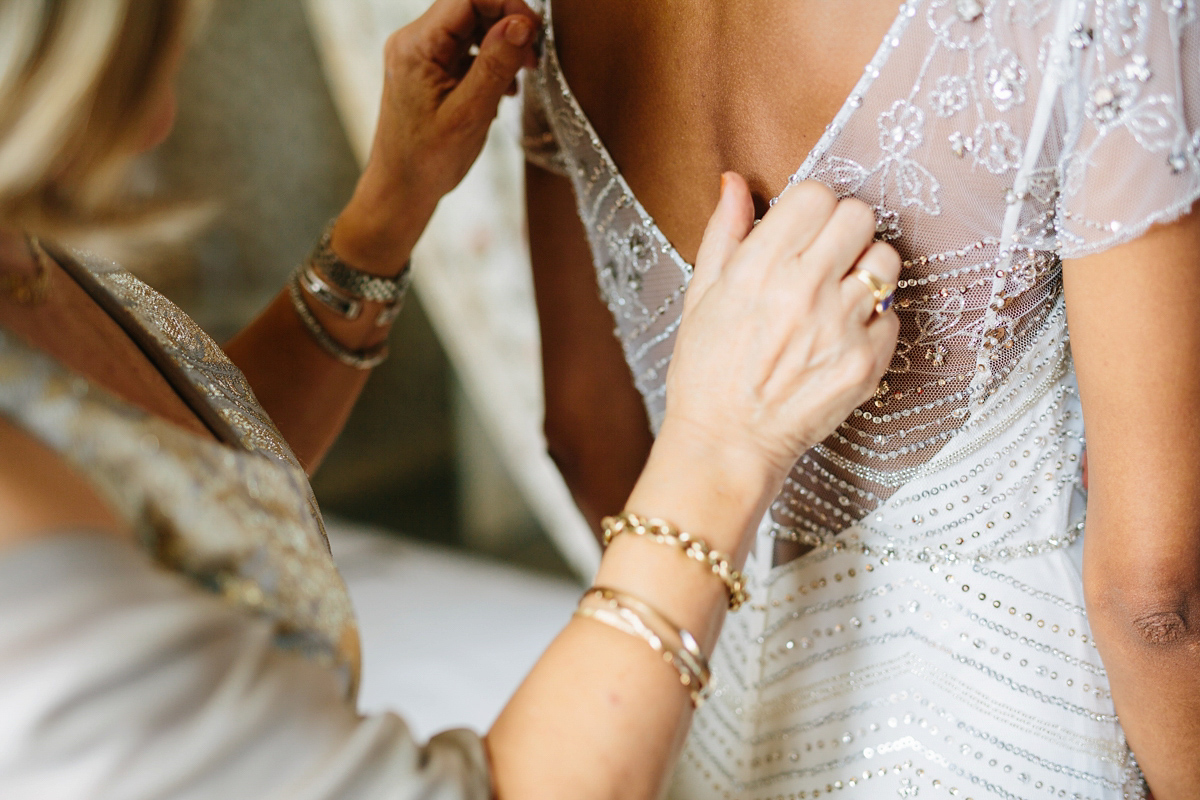 "We met our florist and decorator Delphine, owner of her own company Nivéole, and we hit it off instantly. She understood exactly what we wanted, and was always available for us to send her every single one of our ideas and didn't mind that we would frequently change our minds. She was so patient and kind throughout the whole process."
"In the end she went above and beyond our expectations  – I almost cried when I saw all of the flower arrangements and decorations she put together."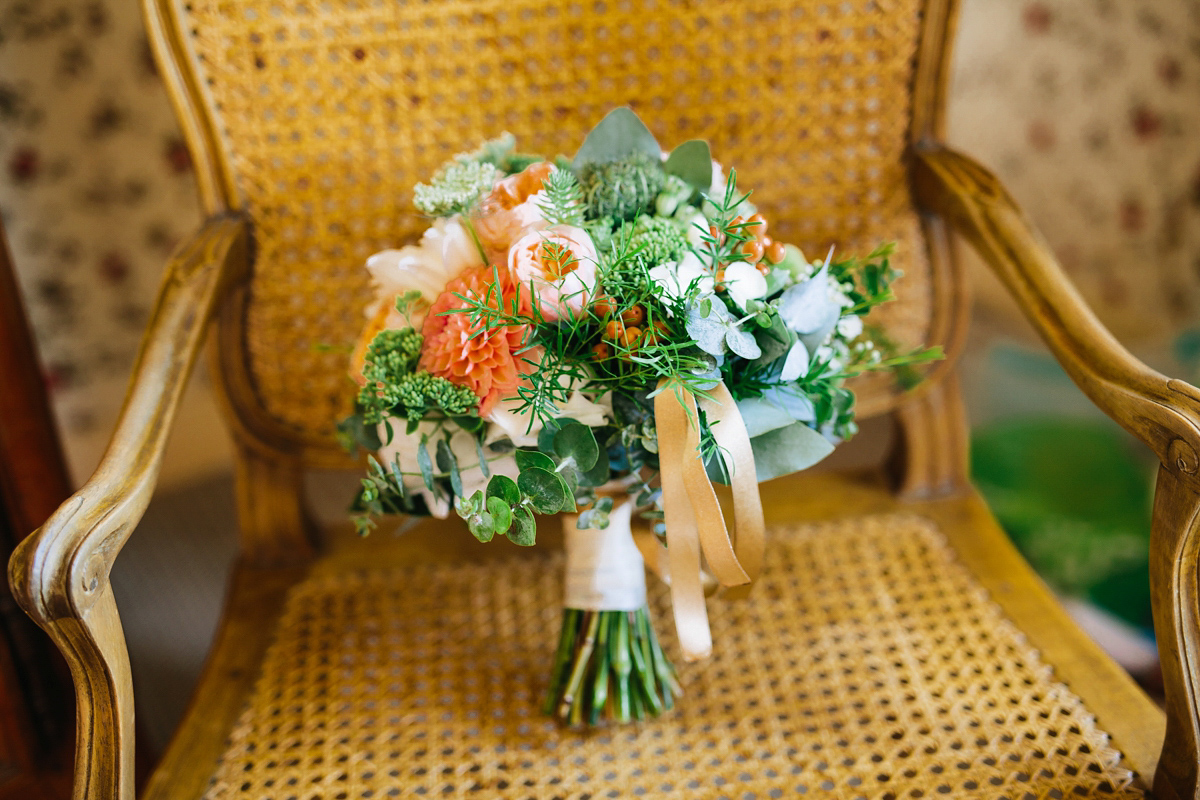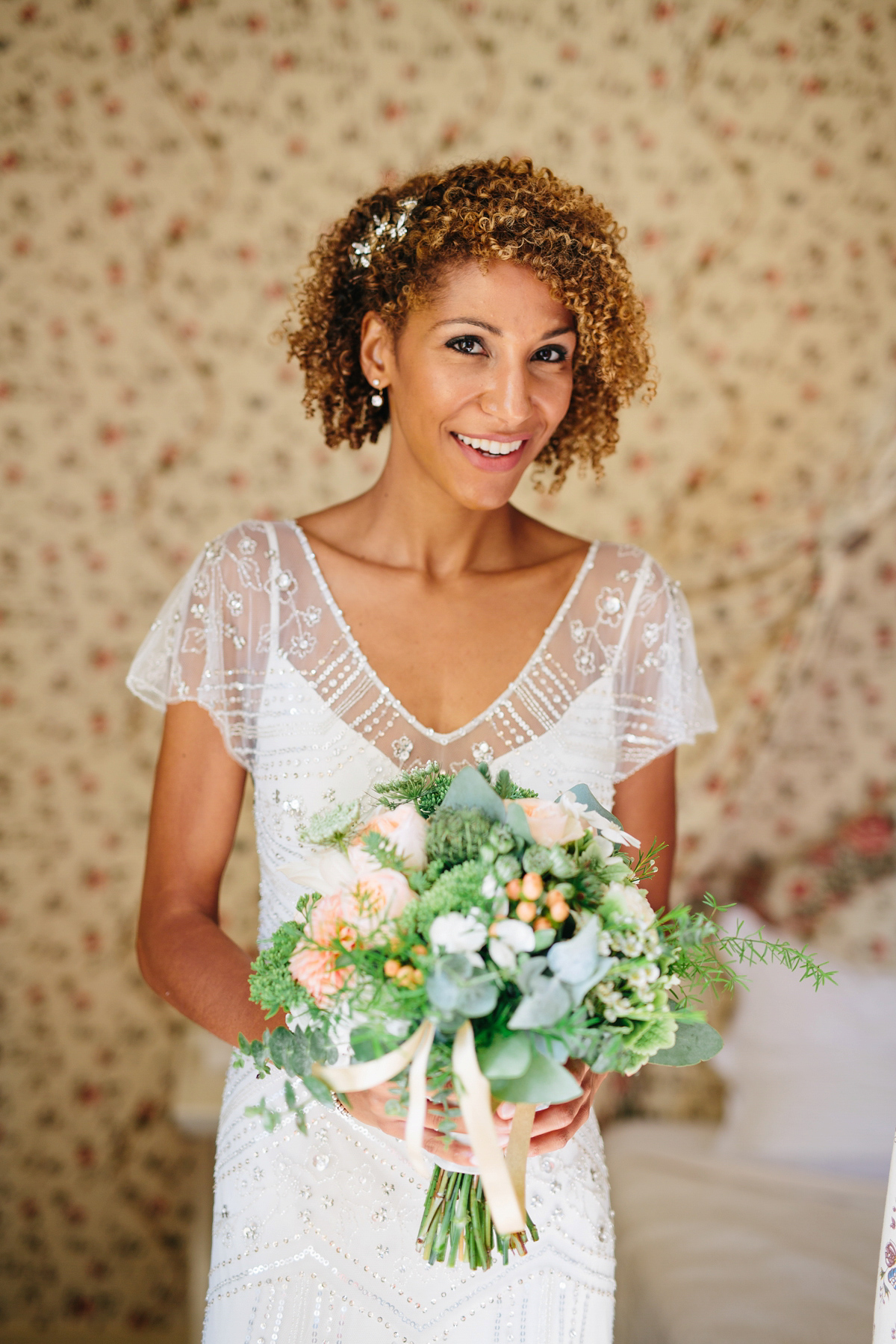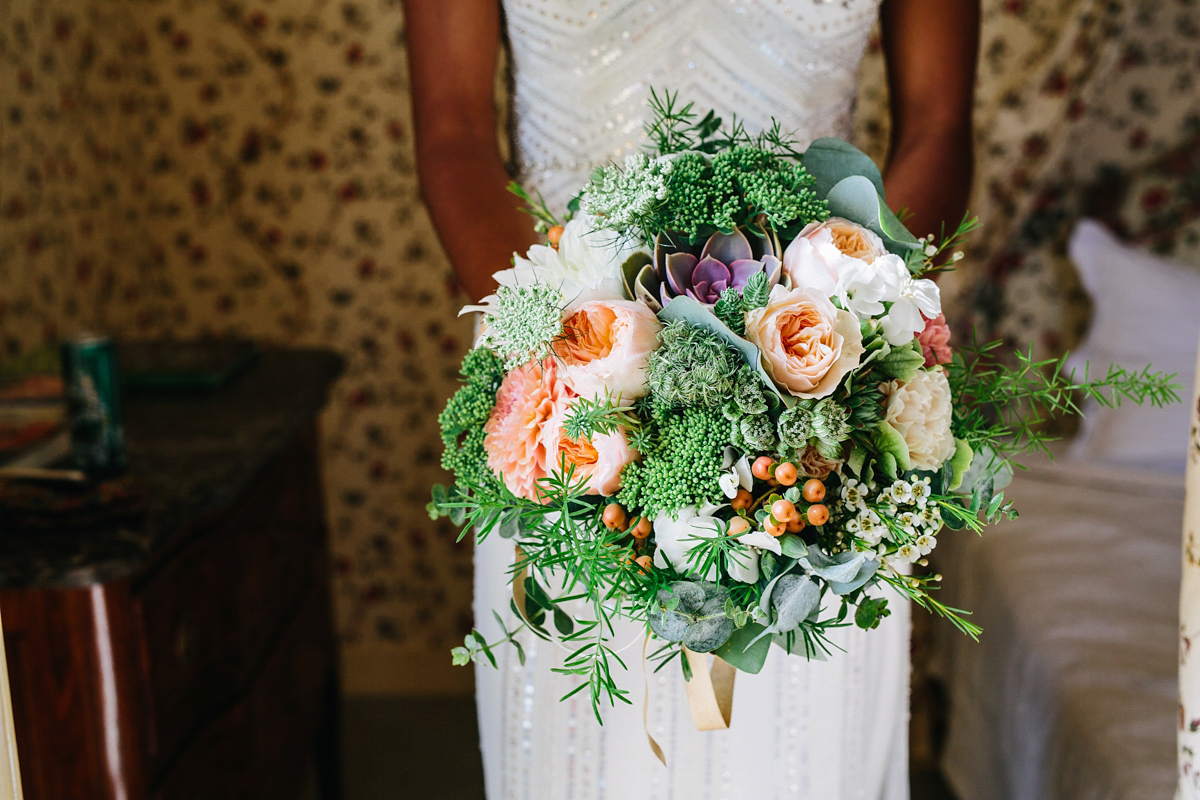 Marlie and Kevin did find it challenging planning their day while living in the UK and only having visited their overseas venue once during this process. They chose to contract a 'day-of' coordinator, Alexa Réception, to execute their months of preparations and treat their guests to a real French château experience.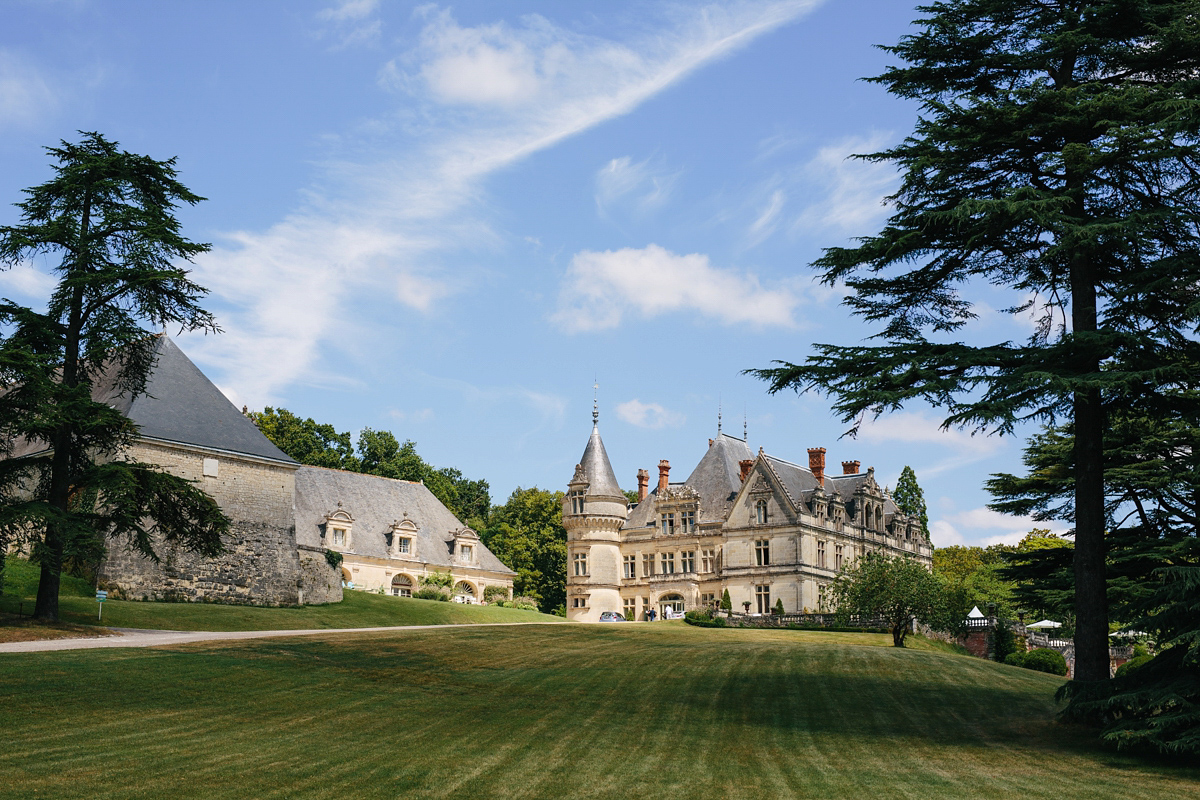 Kevin looked extraordinarily dapper in a suit from De Fursac, in Paris and bow tie by Colonel Moutarde.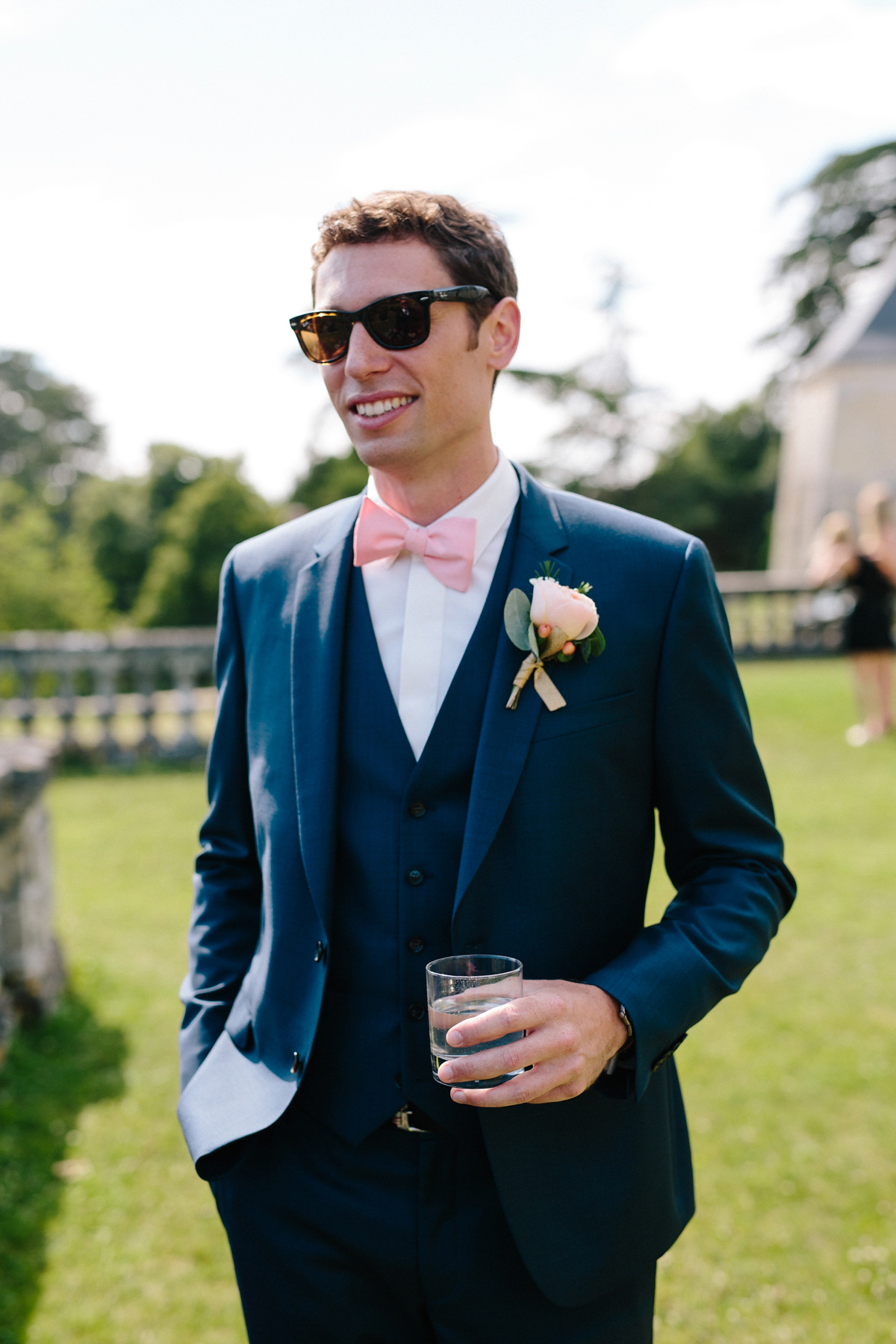 "As ridiculous as it sounds, we actually met on the Pont des Arts in Paris in 2010. A mutual friend of ours had organized a picnic on the bridge and we ended up sitting next to each other  – there was an immediate connection. Unfortunately, I was finishing my masters programme in a month and had planned to move back to the US, so we became very close very fast and then had to do over three years of long distance before finally moving to Cameroon together. After two years there, we moved to Norwich 2014 and a year later, it was during a surprise trip to Paris, back on the Pont des Arts, that Kevin proposed."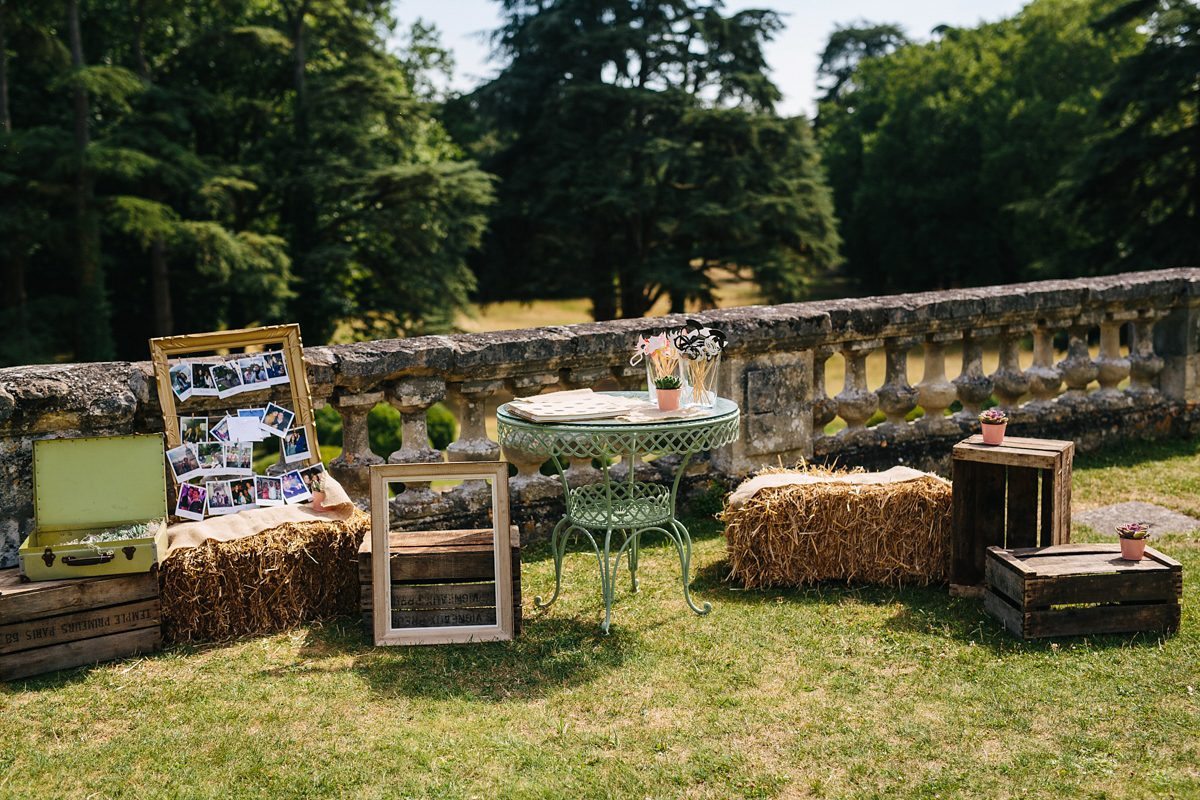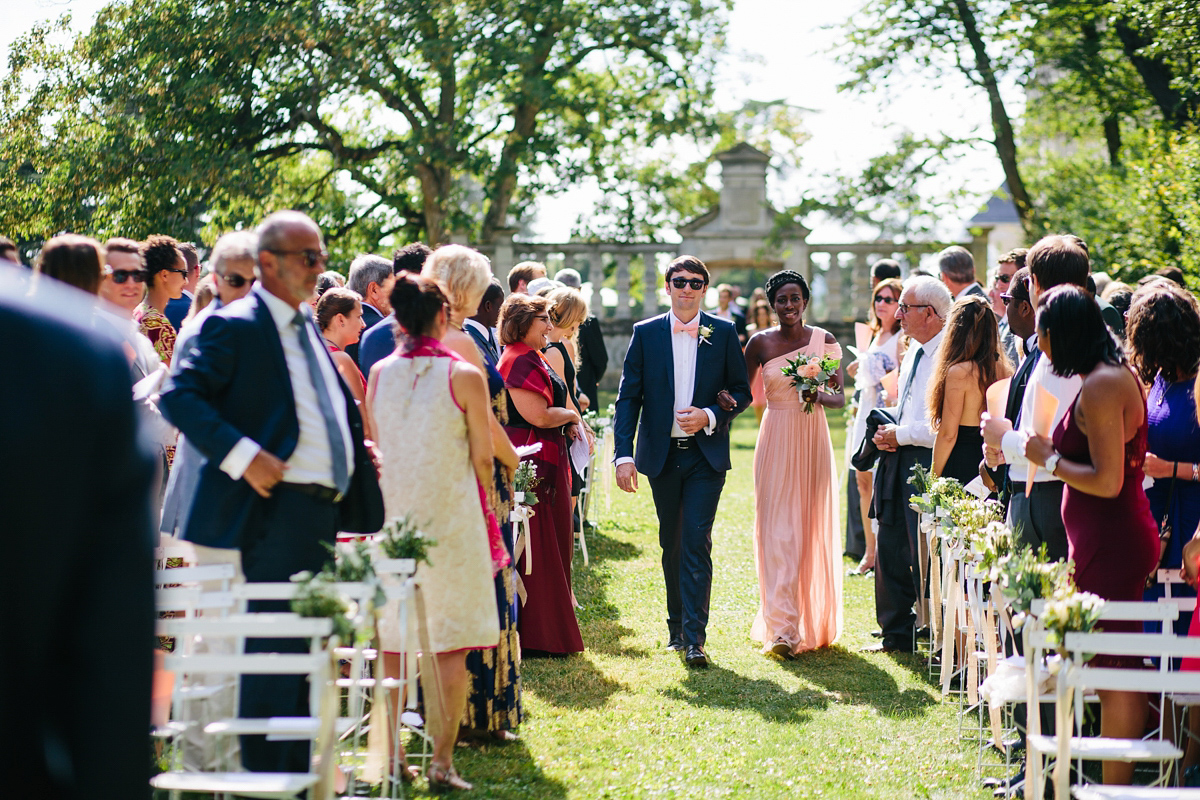 Under an azure blue sky, Kevin walked down the aisle with his mother to My Girl by Otis Redding, and Marlie followed on the arms of both her parents to the sounds of There Will Be Time by Mumford and Sons featuring Senegalese artist, Baaba Maal.
"We are not religious, so we had a civil ceremony in London earlier in the week, but we wanted  a ceremony that represented us so we had a bilingual ceremony where my best friend's (and maid of honour) dad was the master of ceremonies, and the bridal party read quotes about love and marriage. My best friend's dad is from Serbia and he chose a famous Serbian reading about marriage that he translated into English and French for our ceremony. Each member of our bridal party read a quote that we assigned to them. The quotes were both in French and English on the theme of love and relationships, and sources ranged from Leonardo Da Vinci (who built the archway at the Château de la Bourdaisière) to Antoine de Saint-Exupéry to Will Ferrel."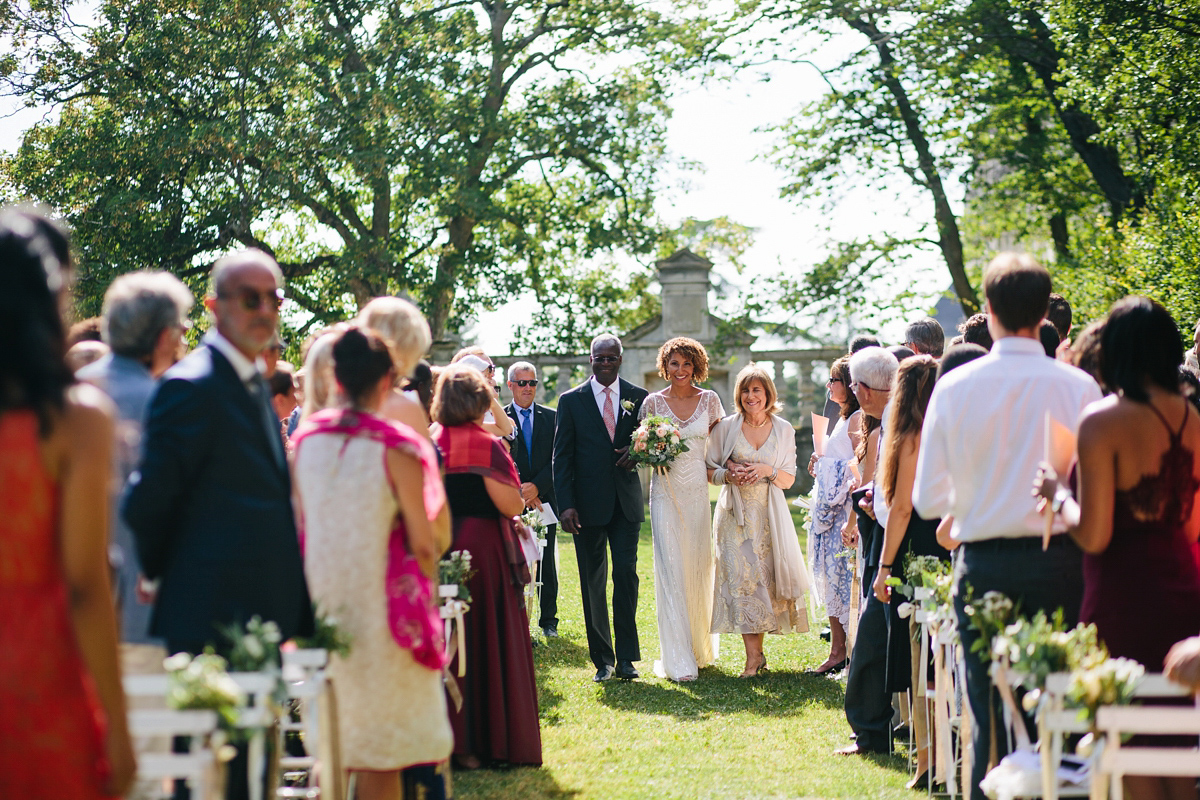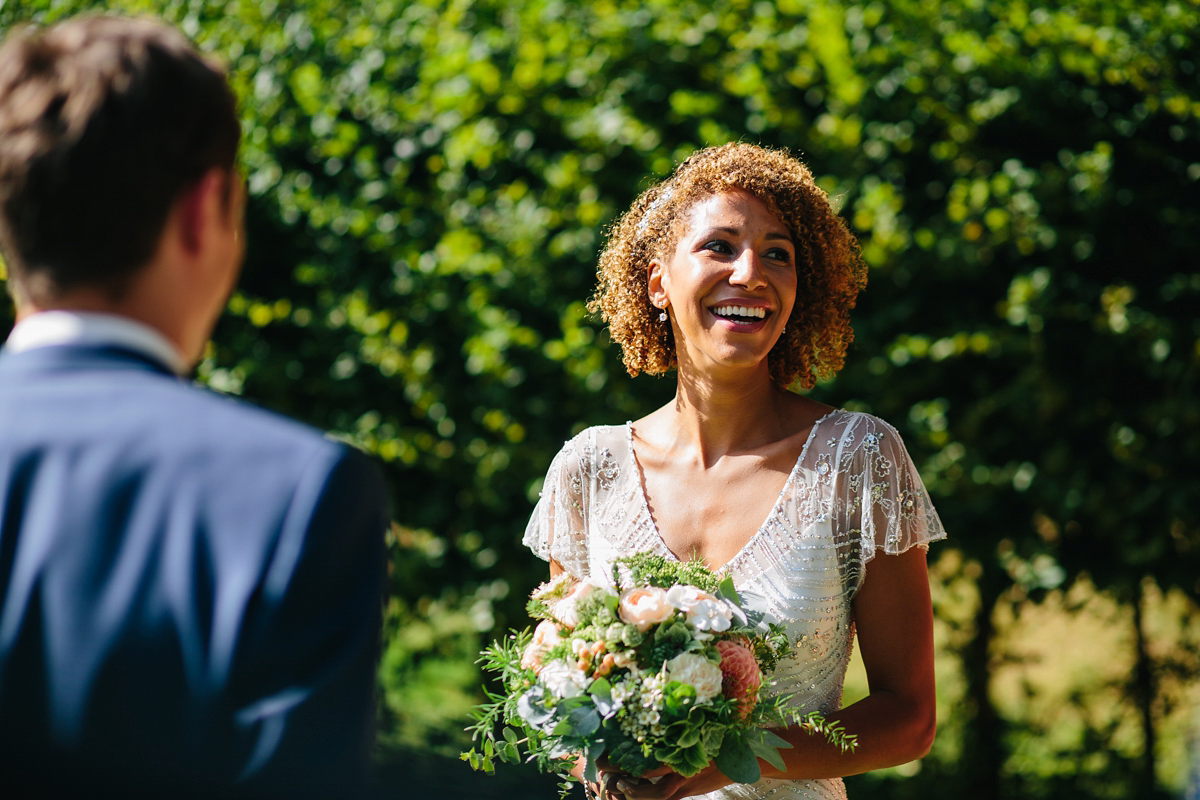 "We wrote our own vows, Kevin in French and me in English, and read them to each other at the end of the ceremony. It was nerve-wracking but we were so happy to have done it, it was the most personal, romantic part of the wedding for us. Plus the 'Venetian alley' at the Château de la Bourdaisière, decorated by their talented and lovely florist, provided the perfect backdrop."
The newlyweds exchanged rings from Waskoll, the only independent jewellery shop on Place Vendôme in Paris, and a supplier of certified conflict-free diamonds, something which was very important for Marlie. The floral arch under which the couple pledged their forevers is the stuff of dreams, in fact every single one of these fresh, sunny blooms fills me with joy from the peachy bouquets to the rustic, natural reception arrangements.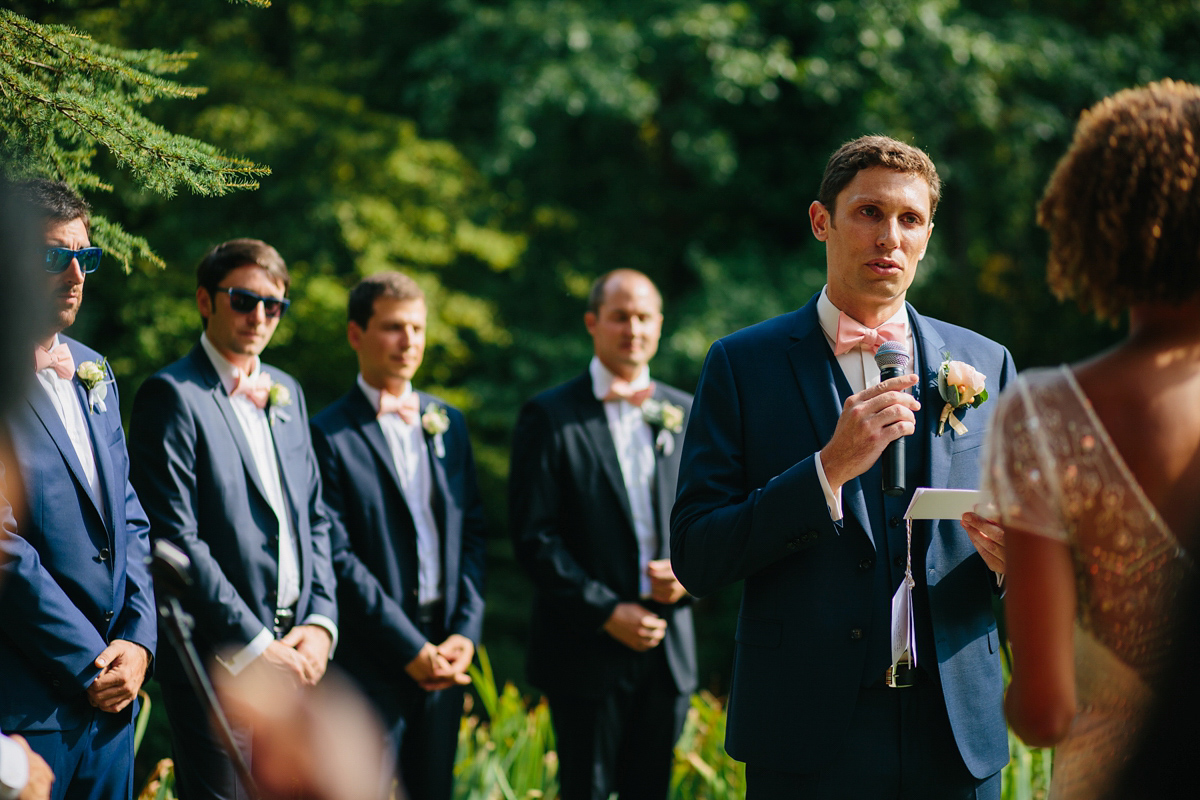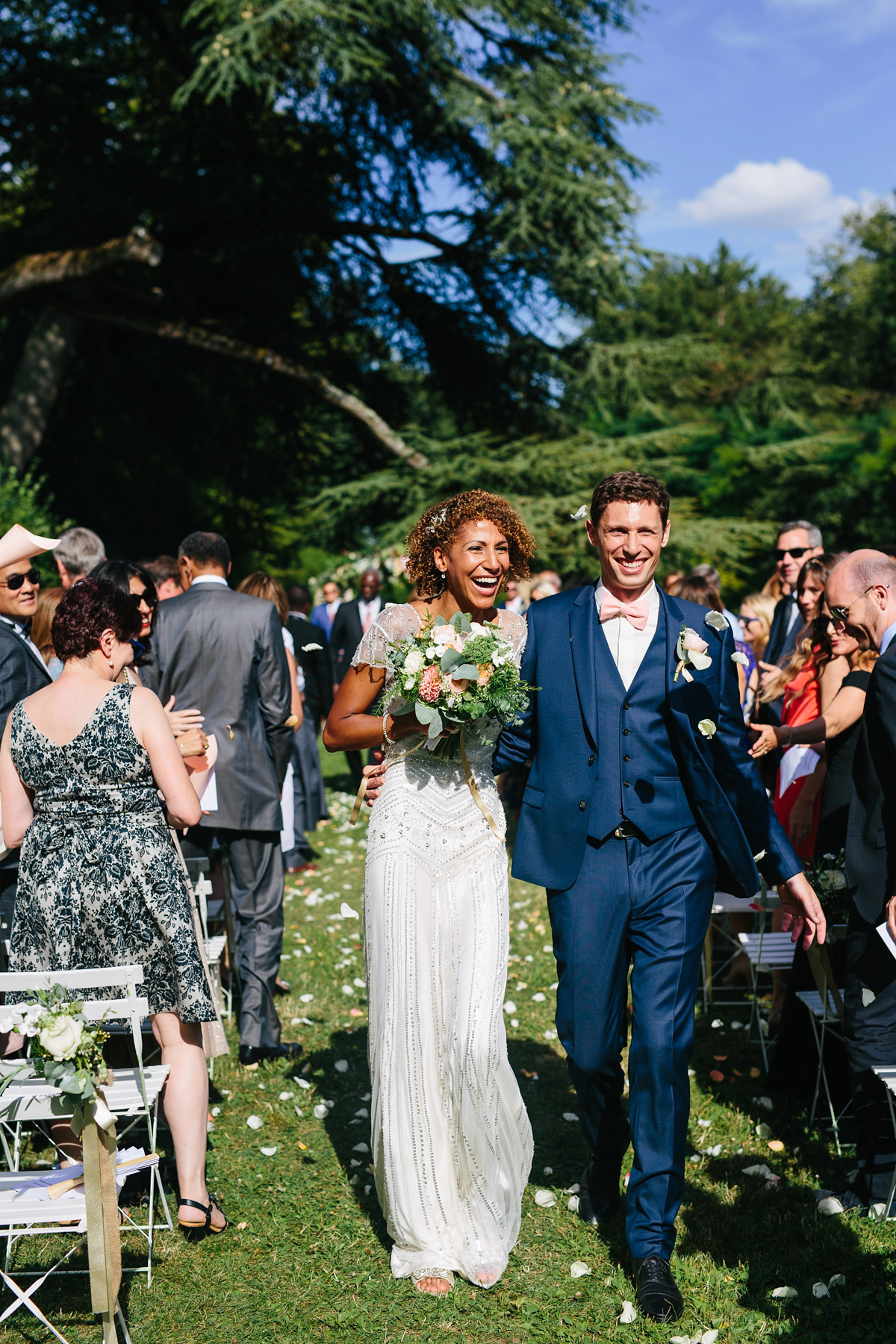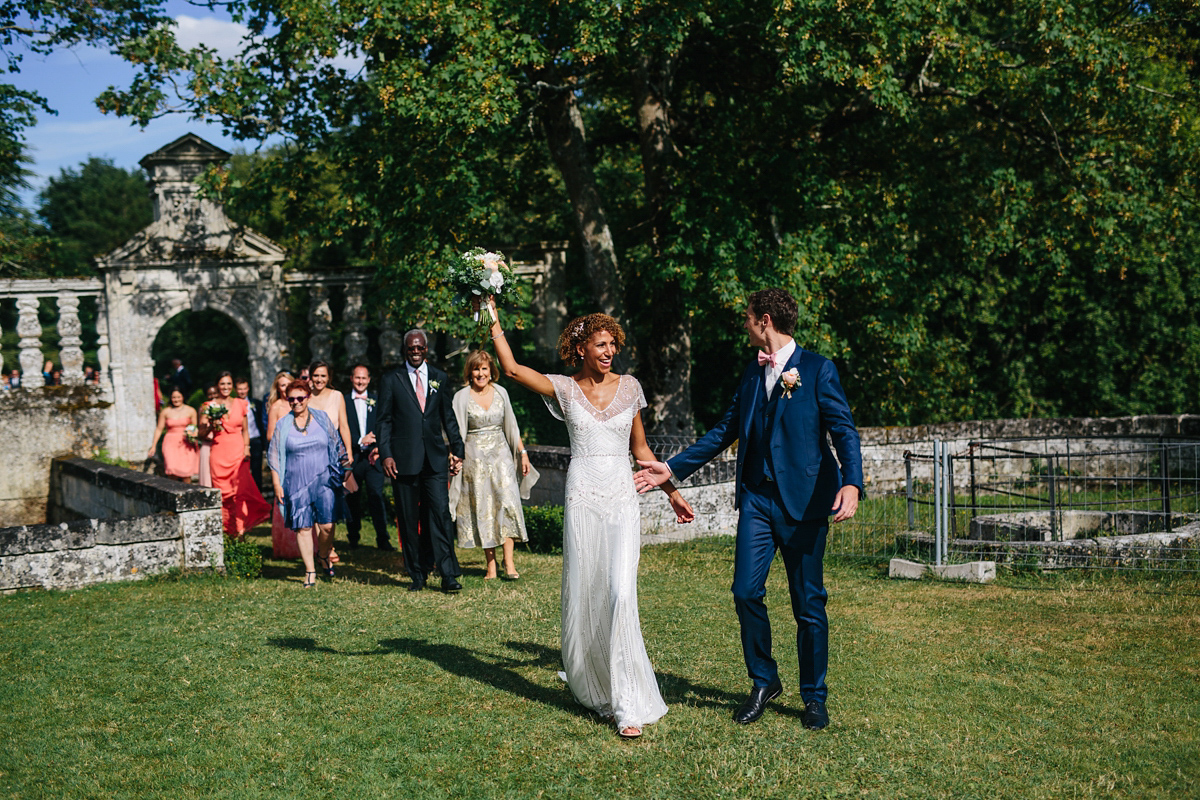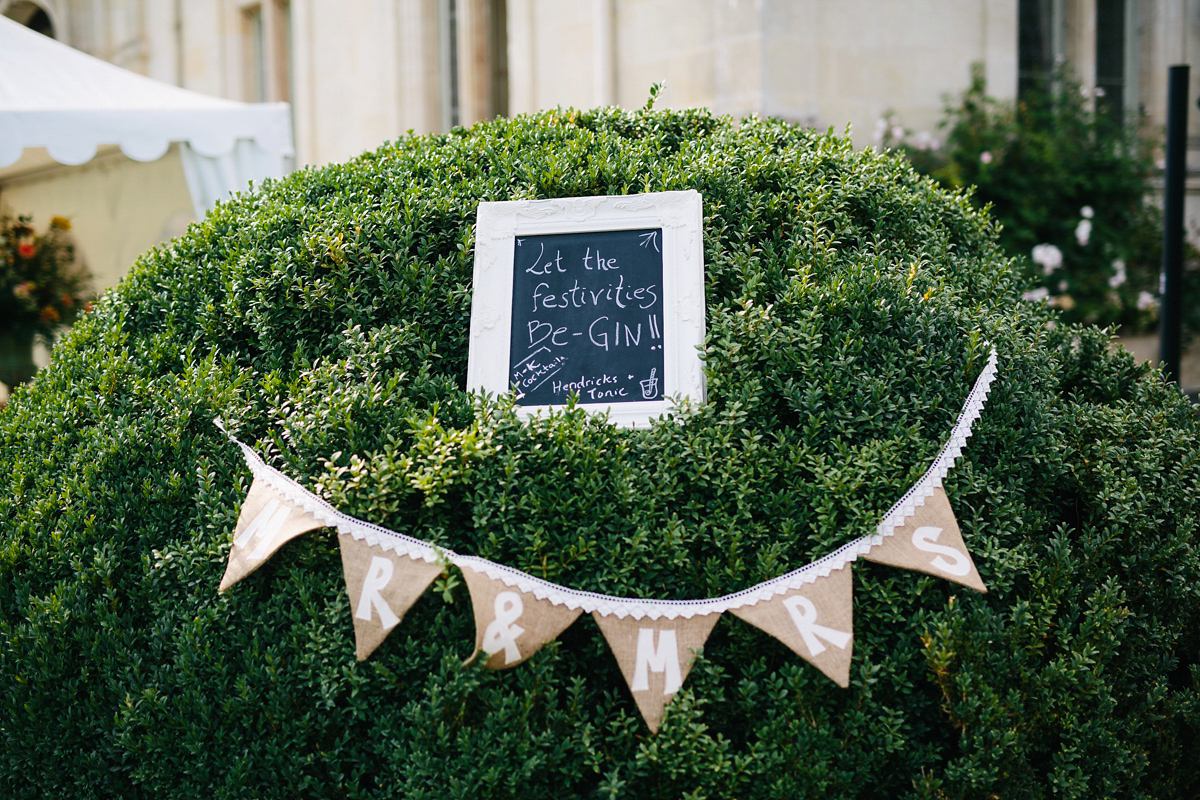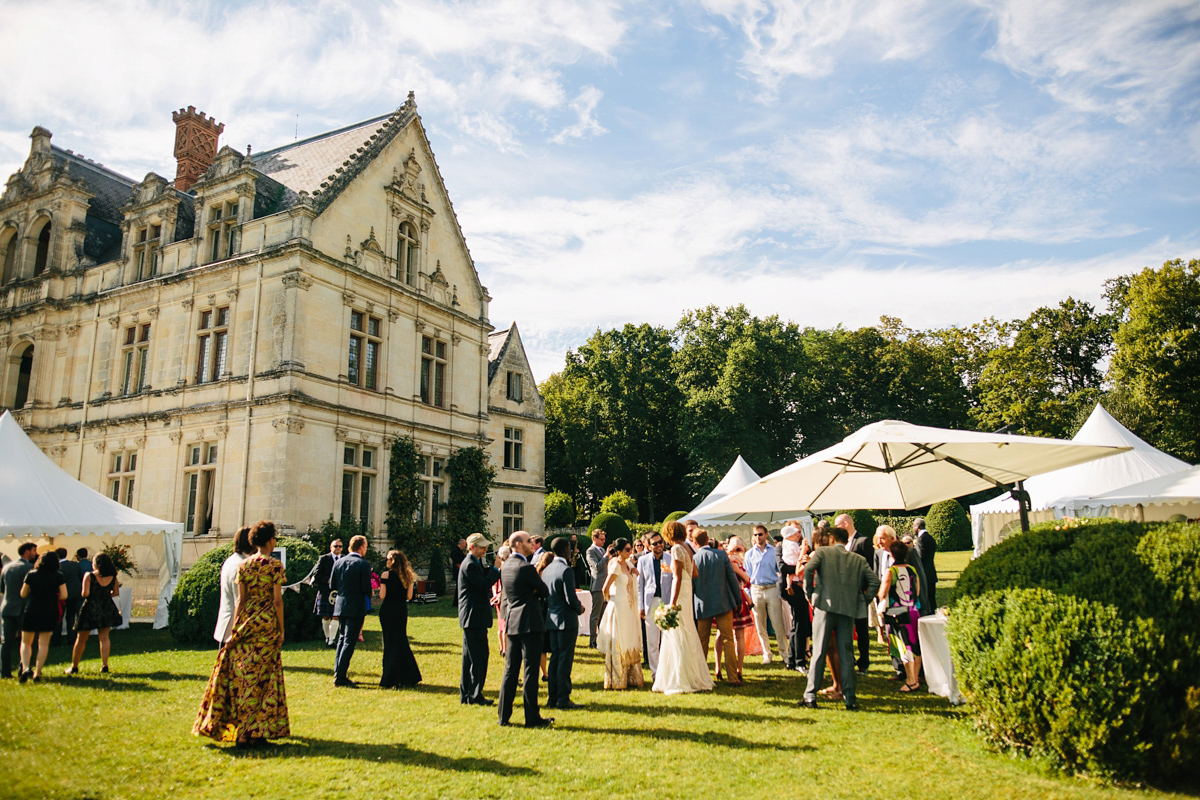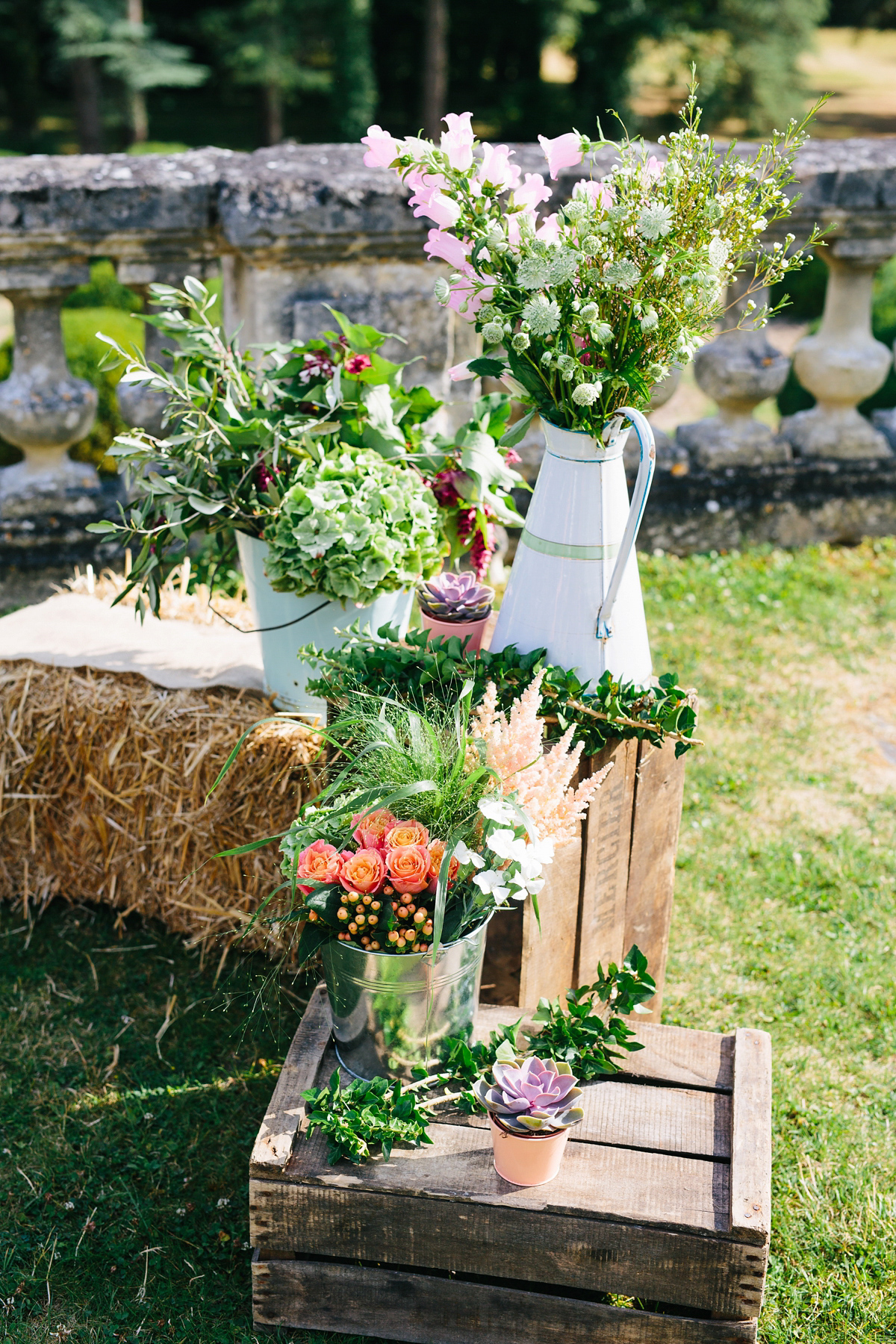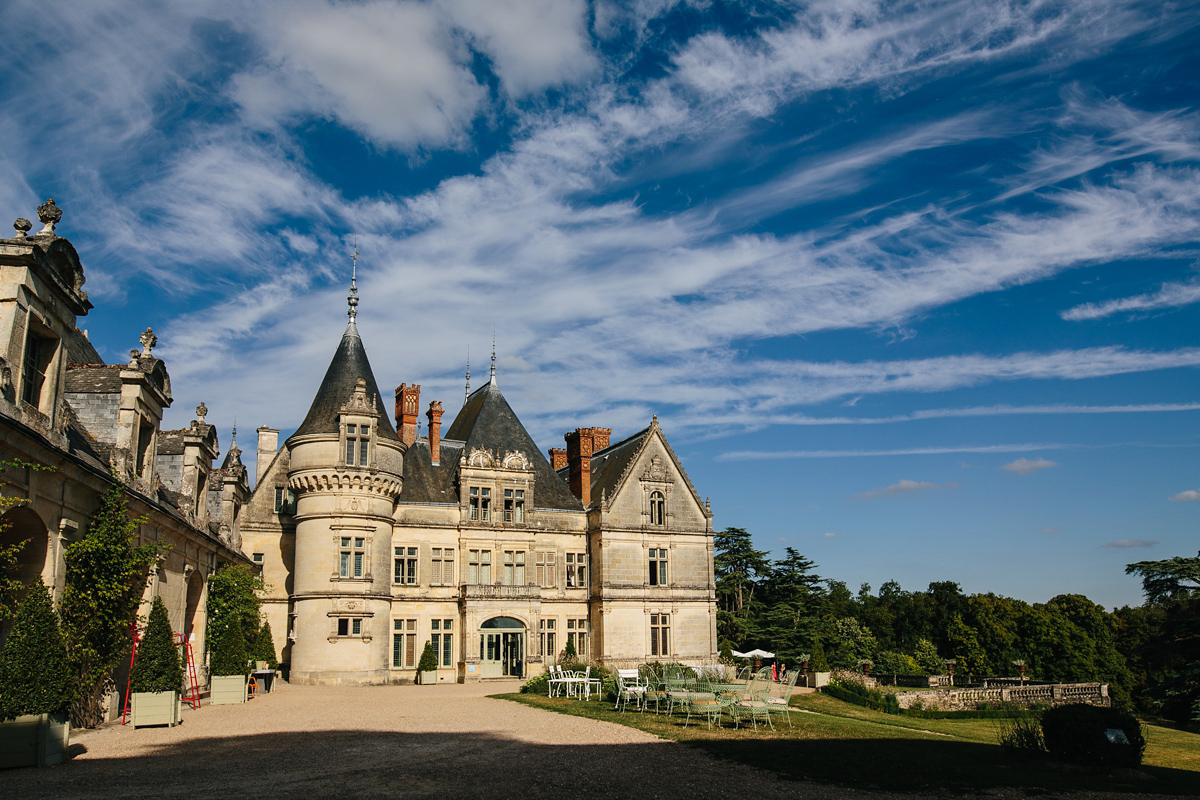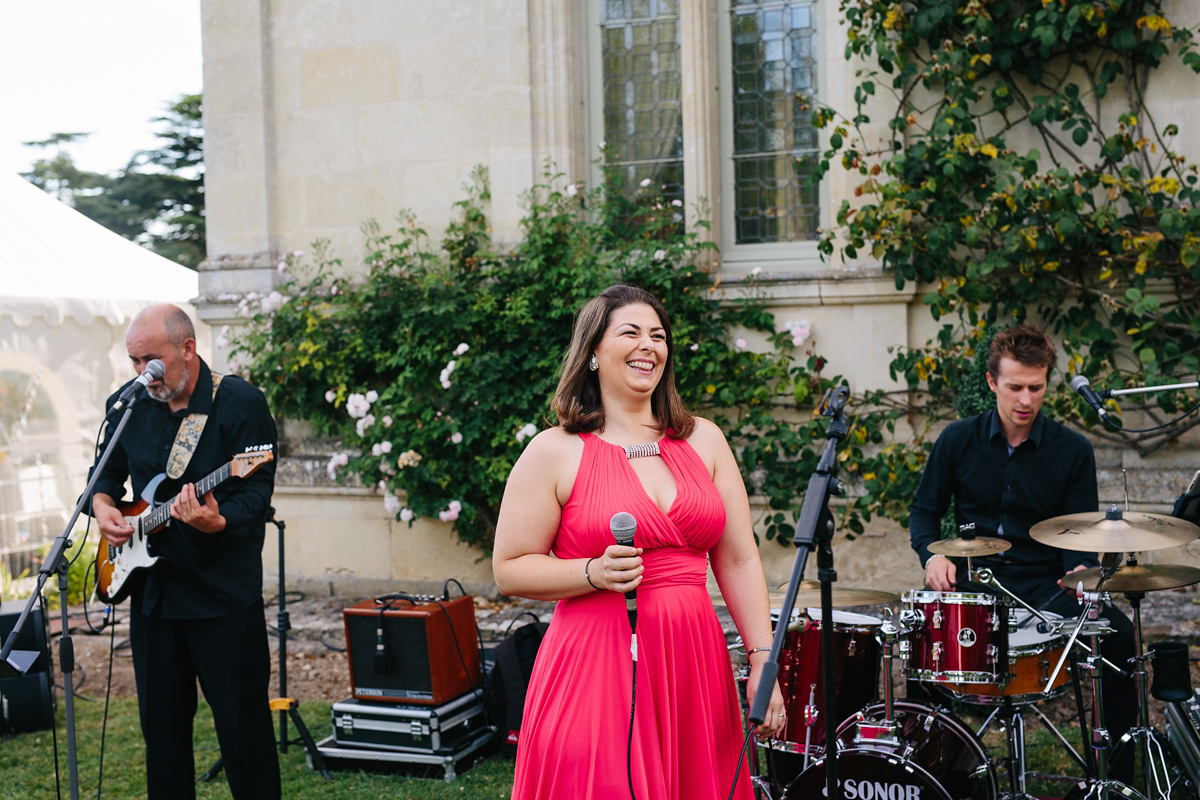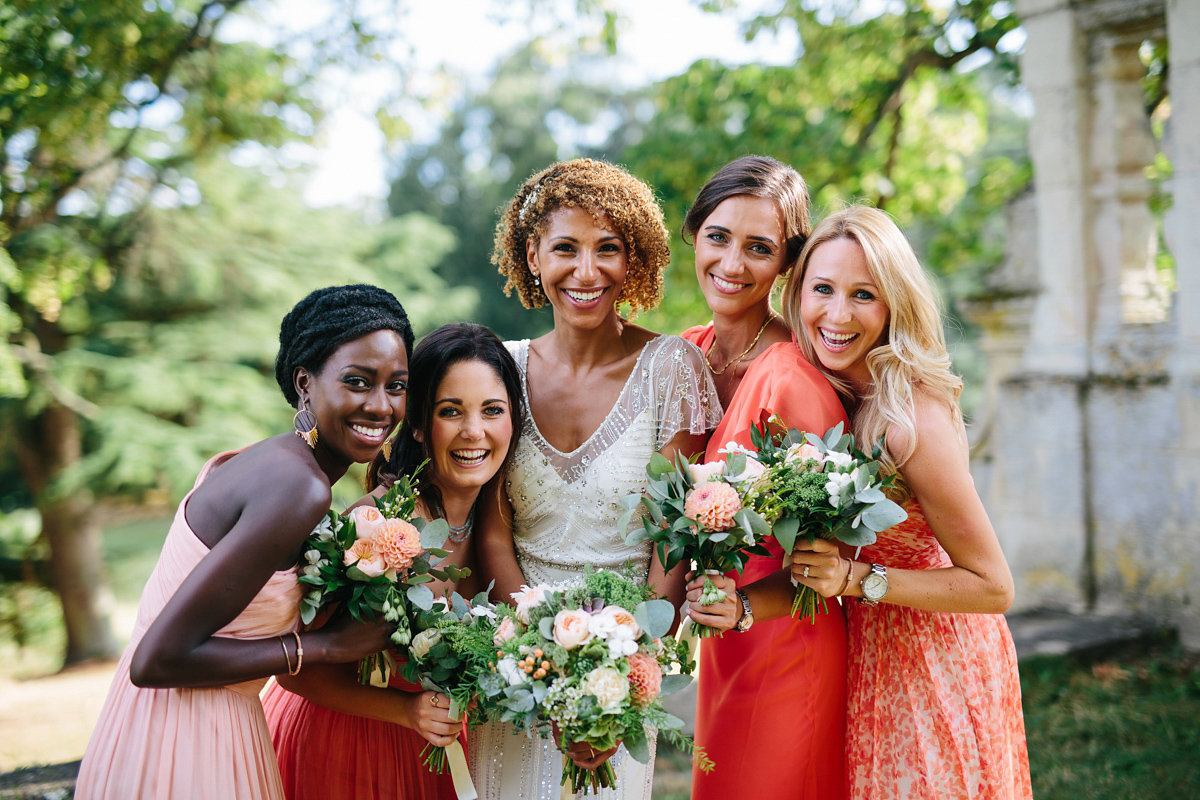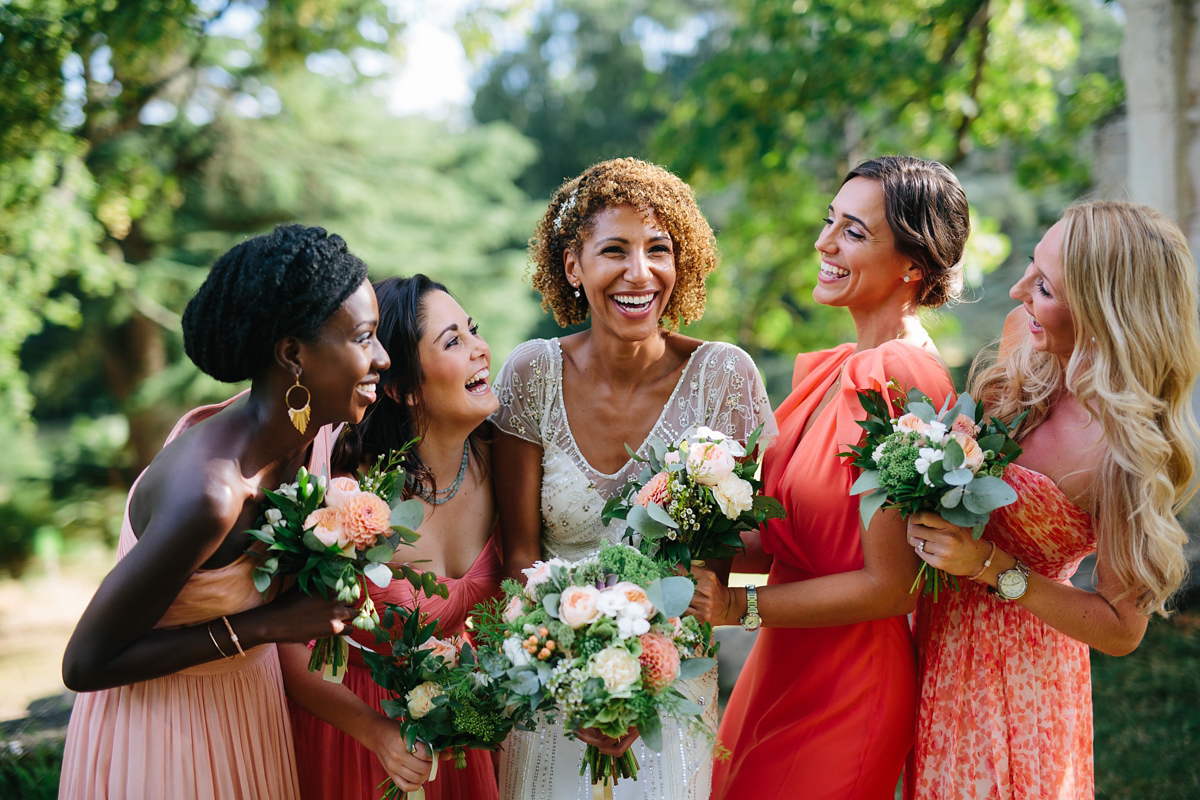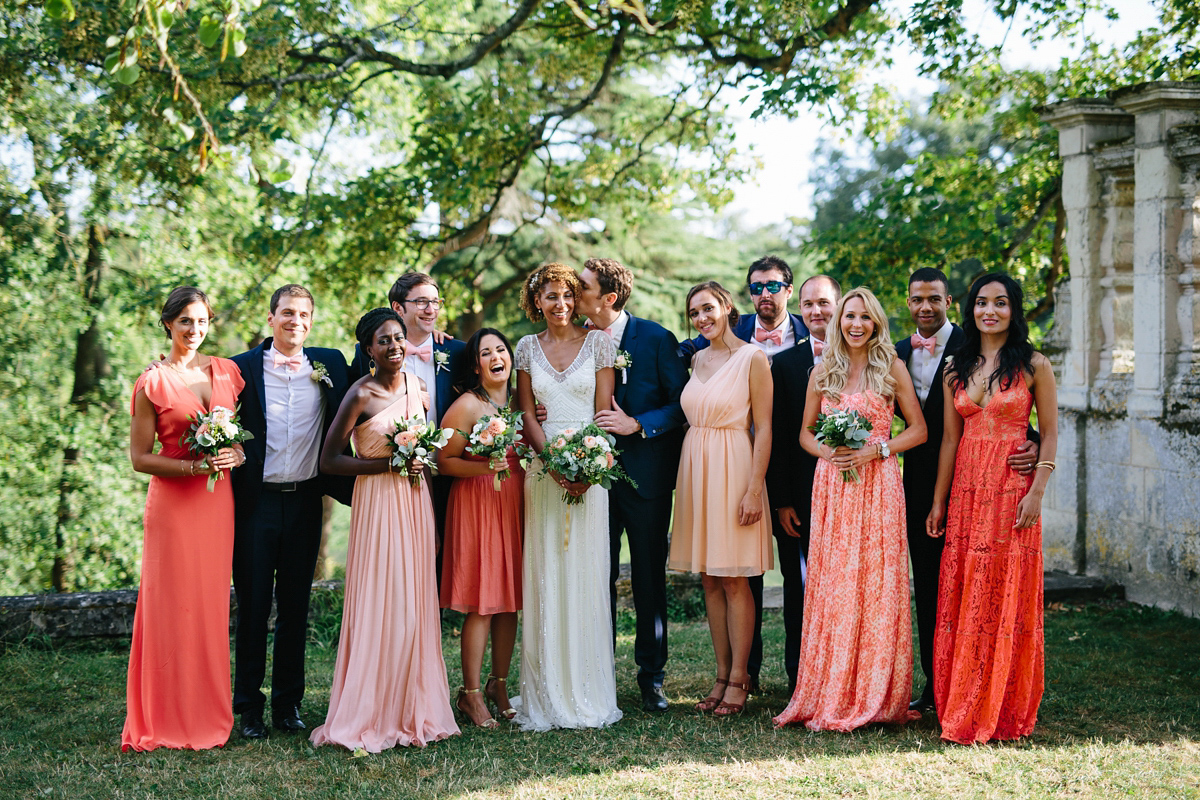 "Helen Abraham was the perfect photographer for us. She somehow managed to be everywhere at once while still being discreet, and we felt extremely comfortable around her, which so important in order to get those natural couple shots that everyone dreams of."
"Even our guests remarked on how genuinely sweet she was. We were so grateful to have her there to capture the best day of our lives and we were beyond thrilled with every single one of the photos that she sent us. Highly recommended!"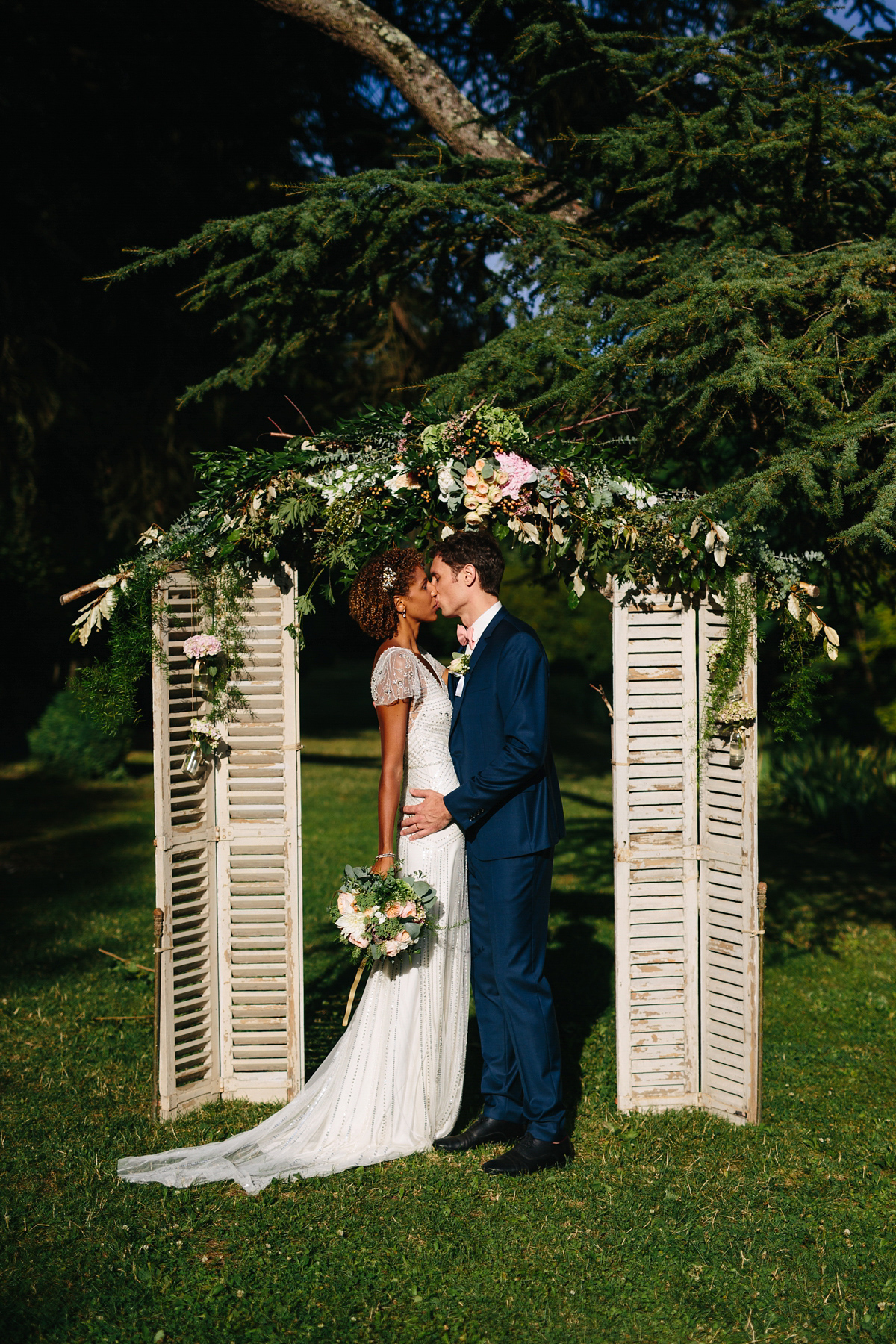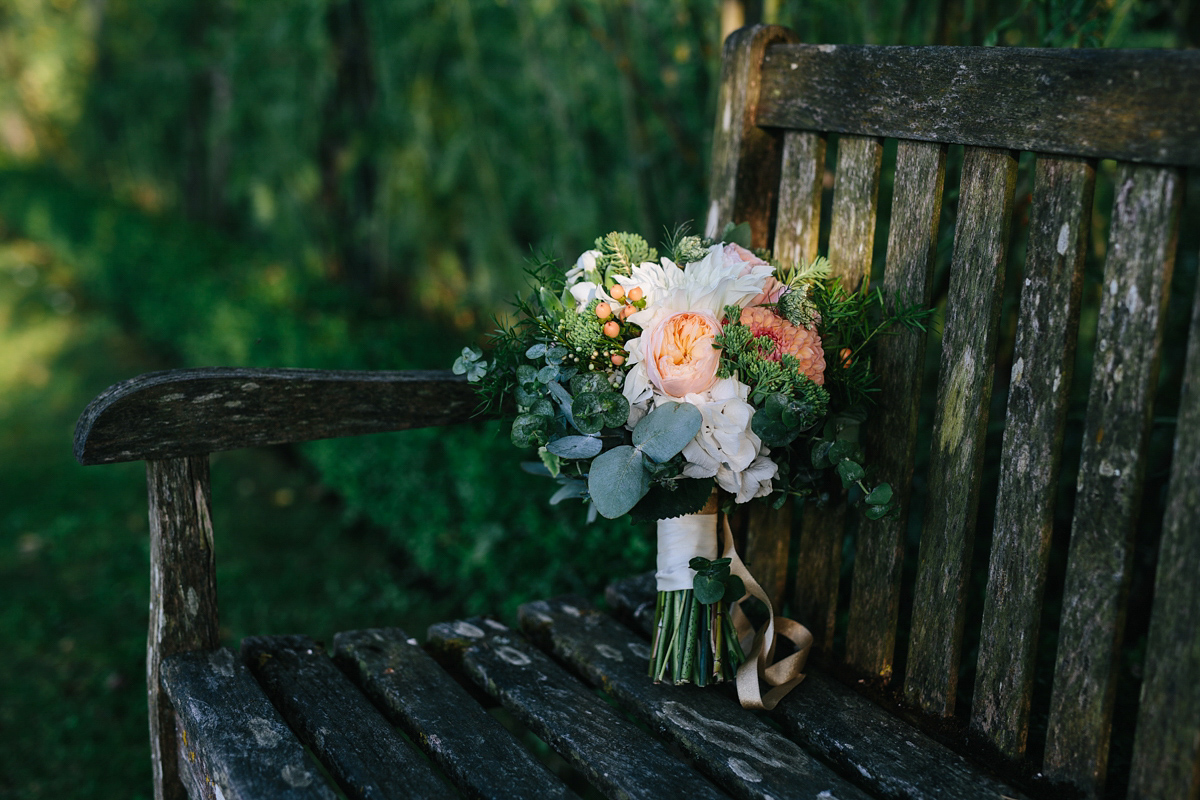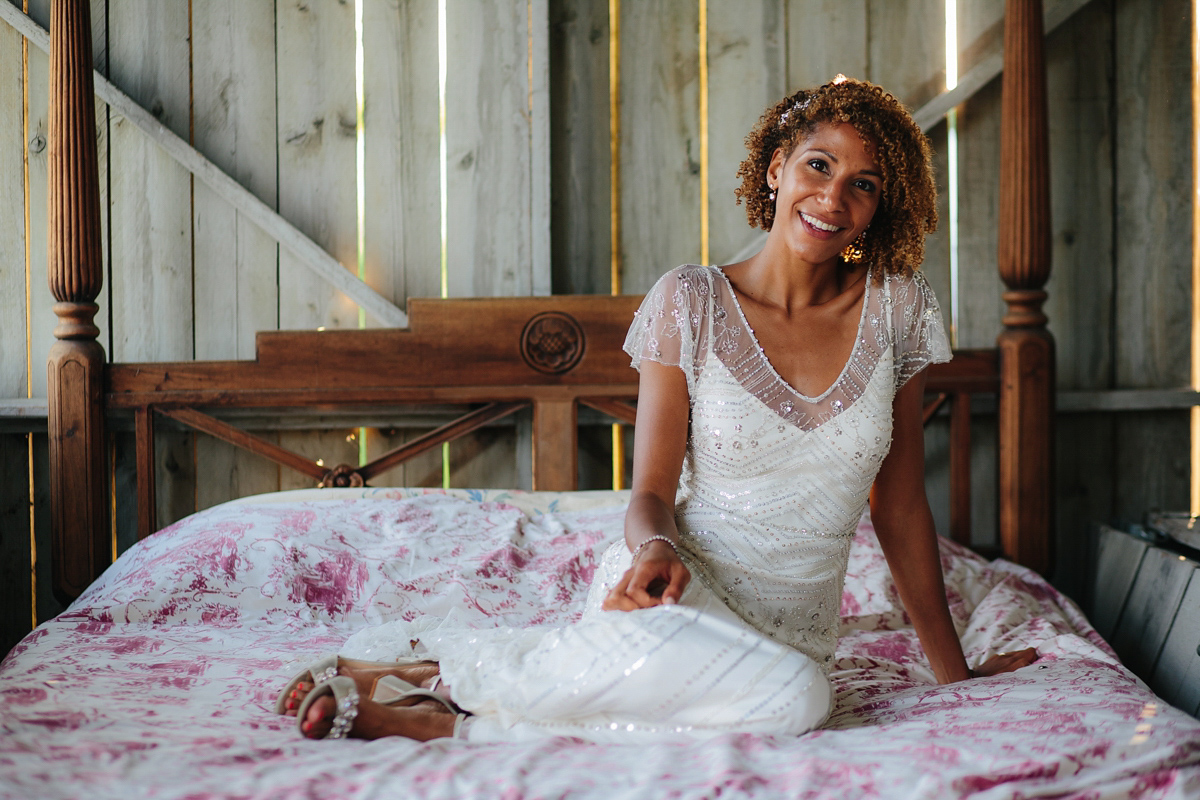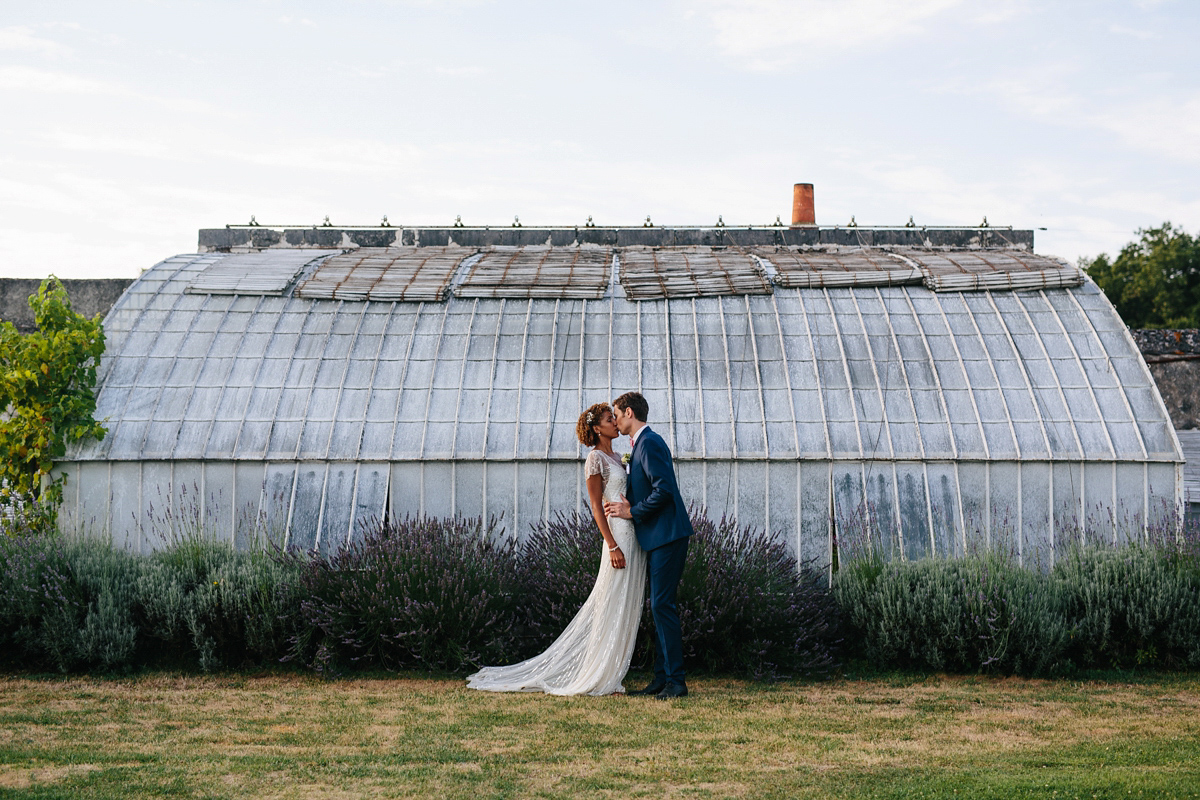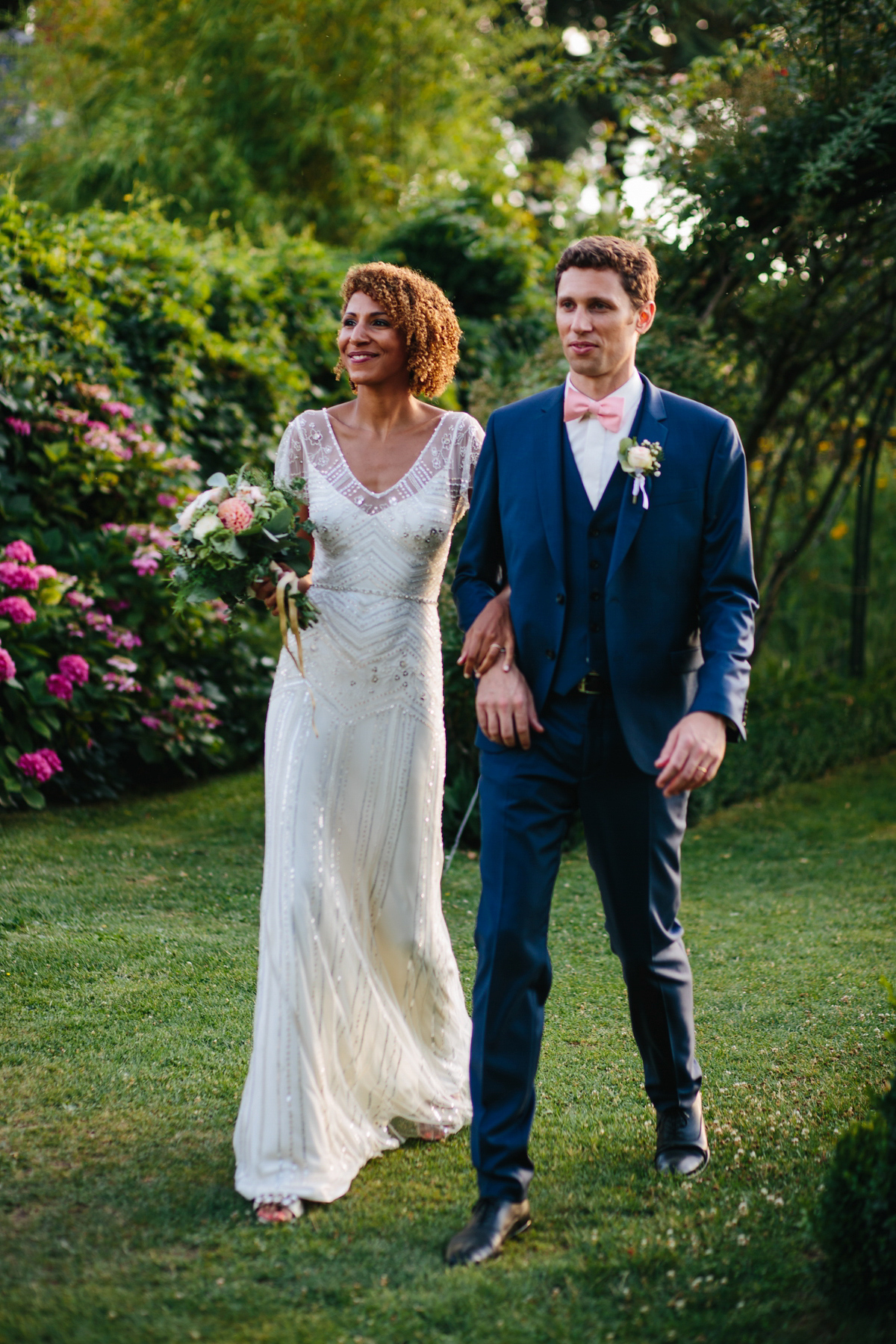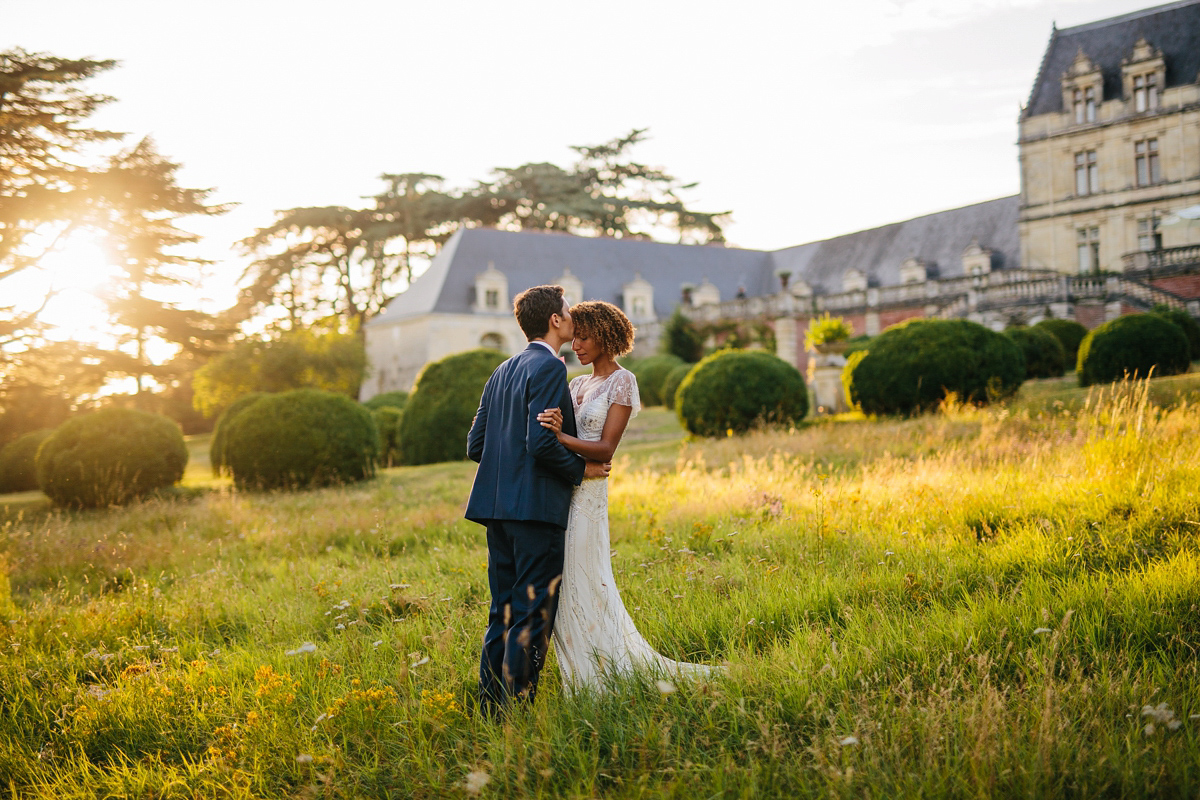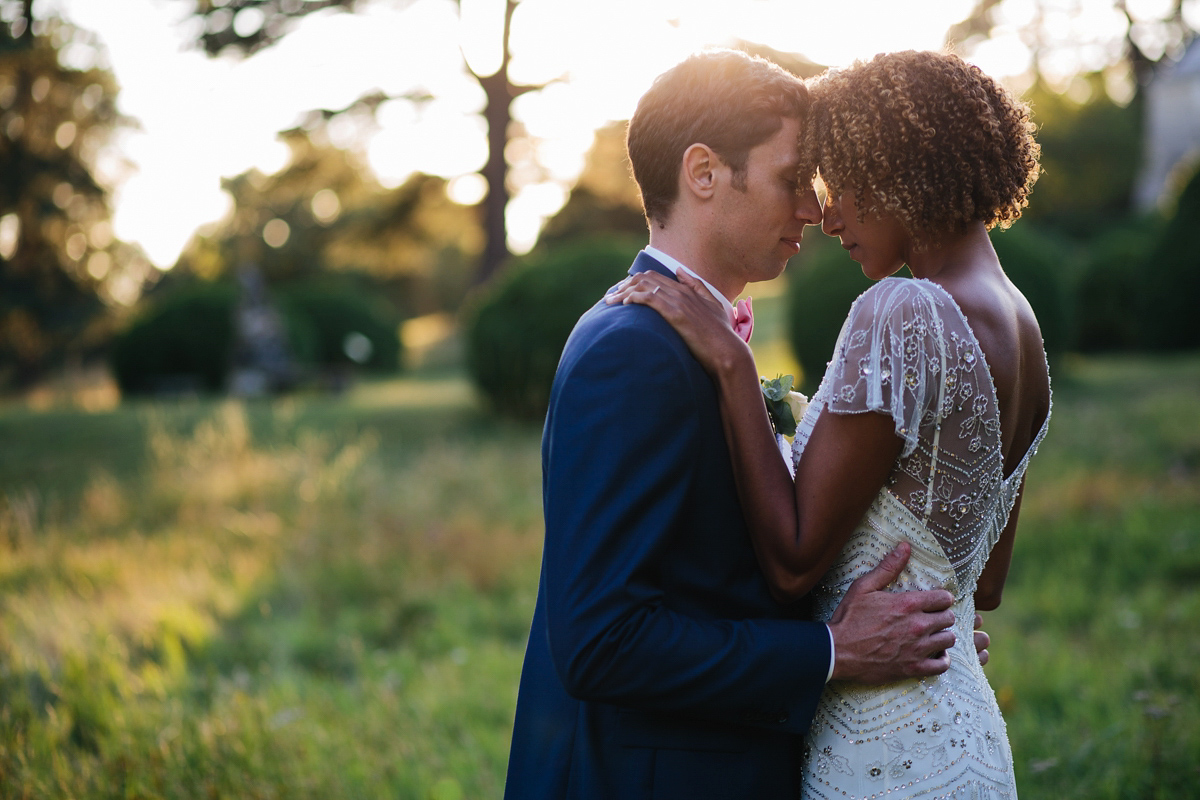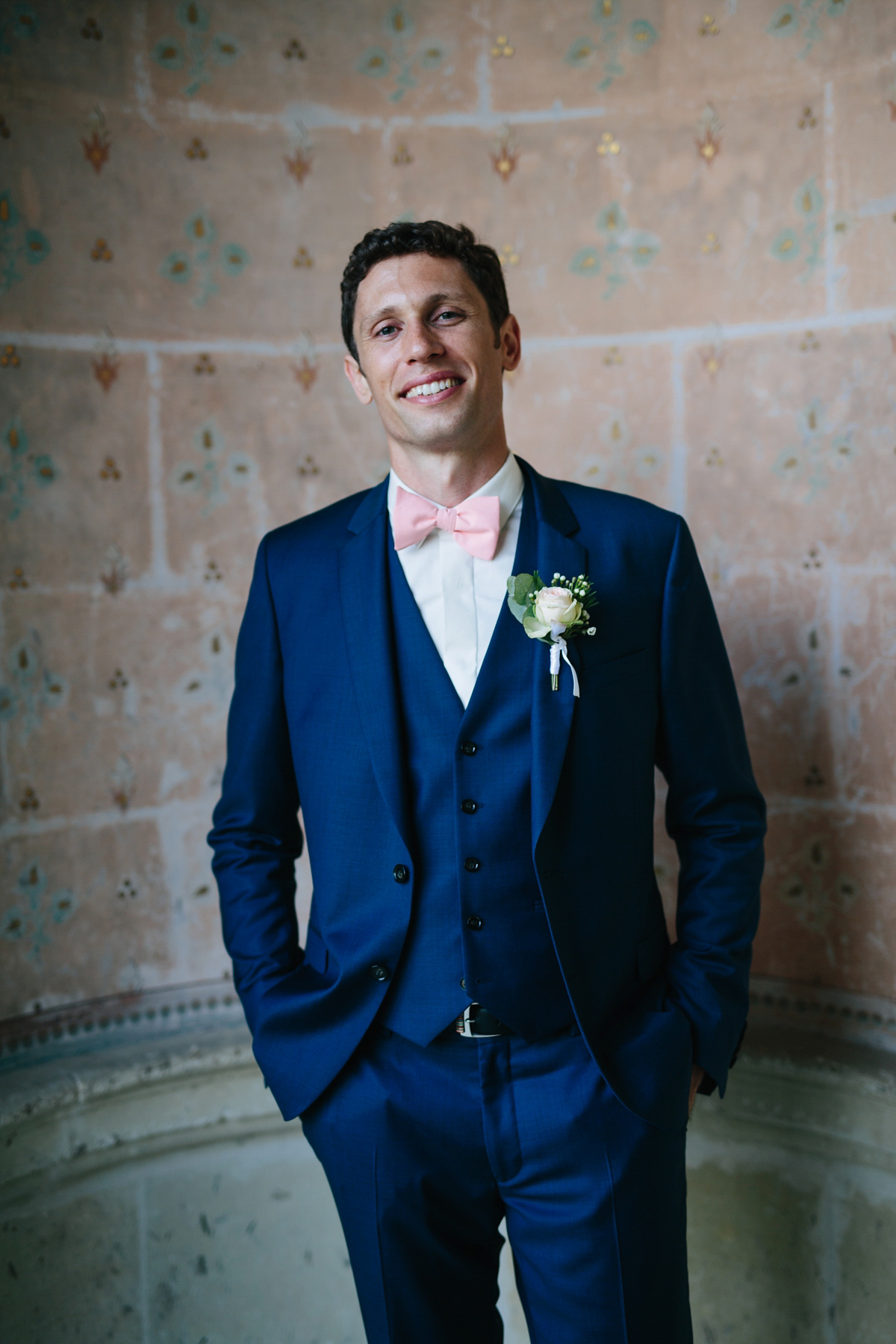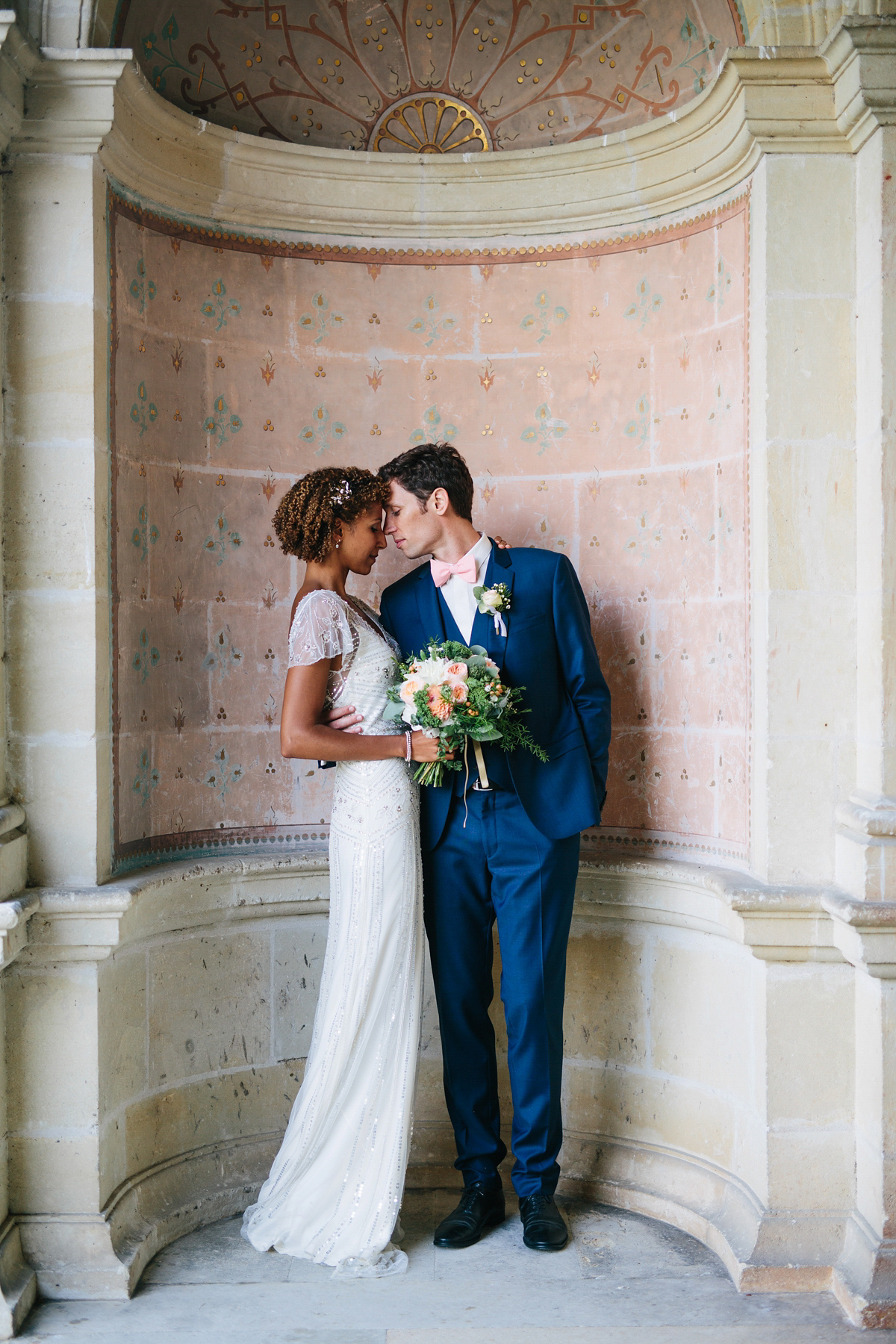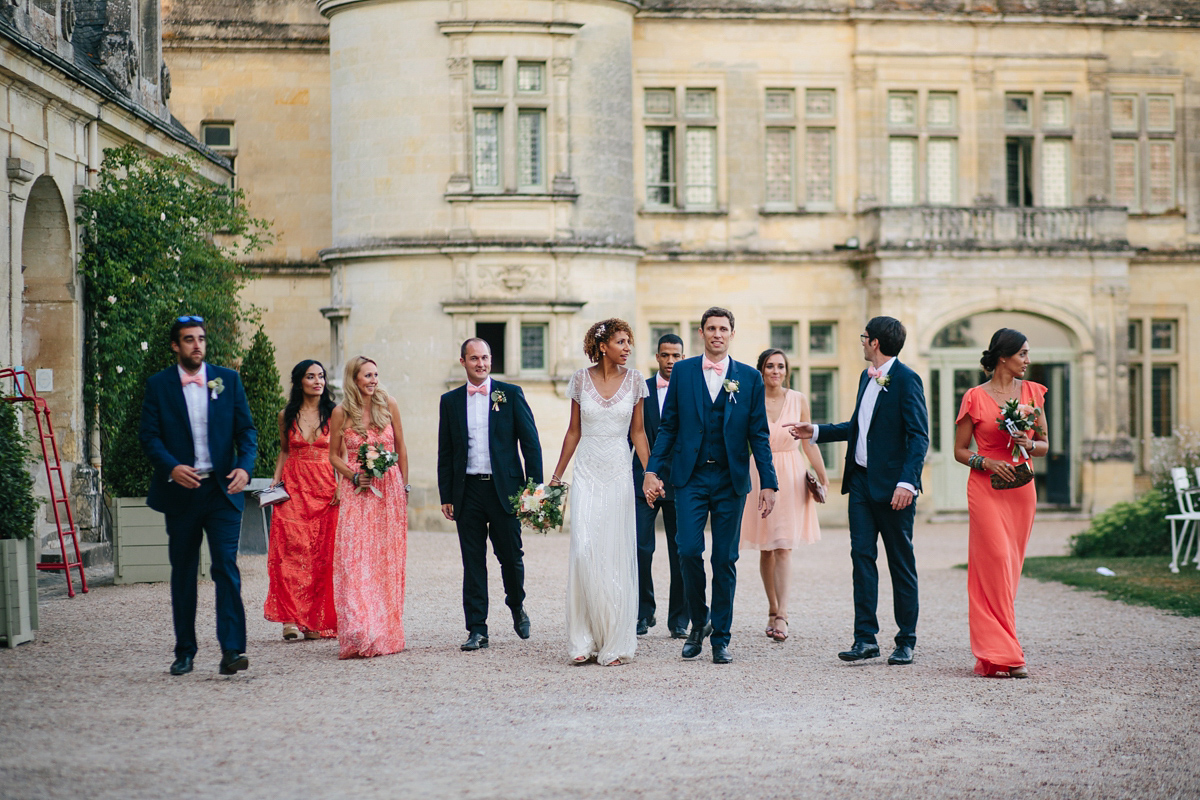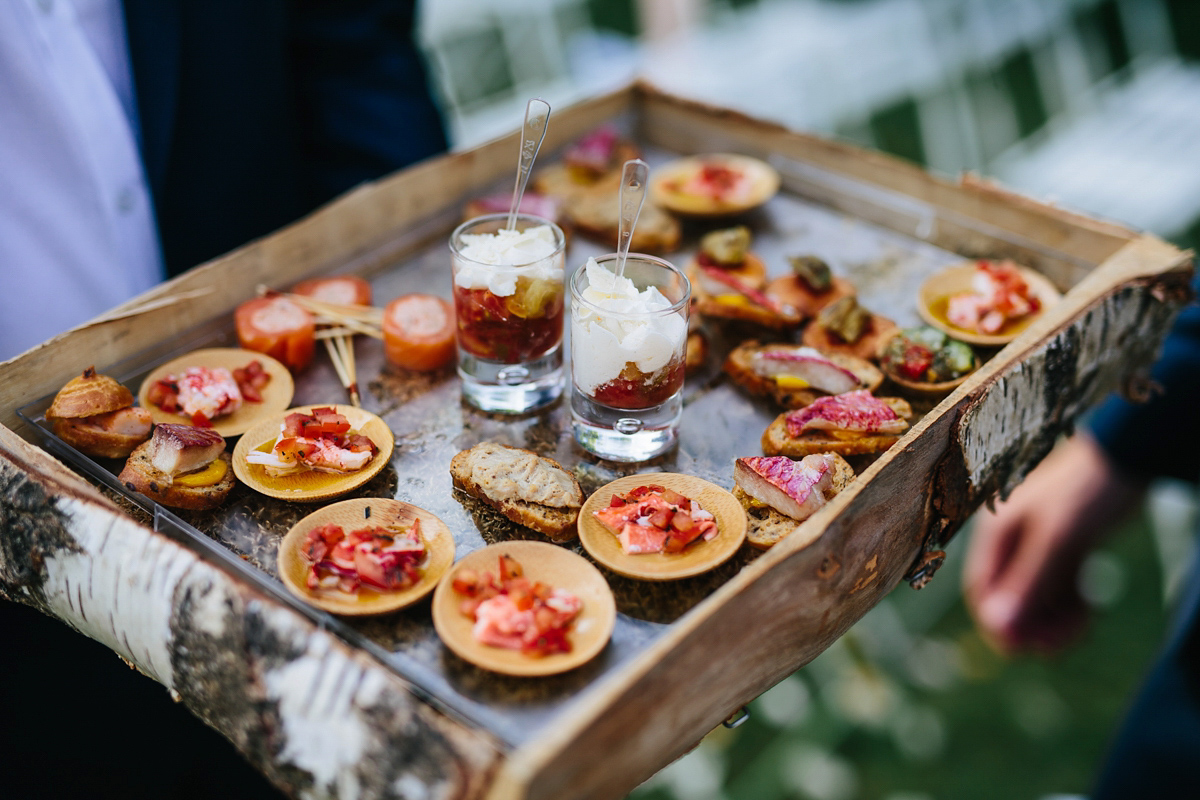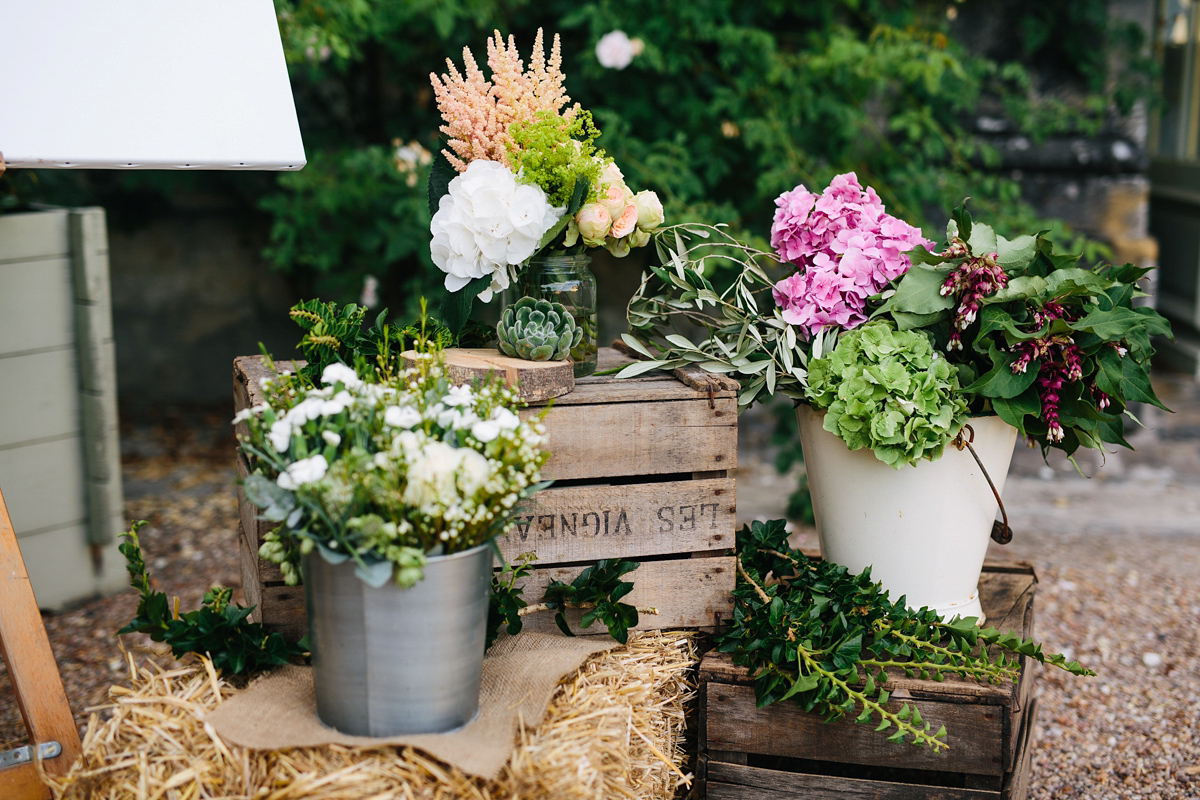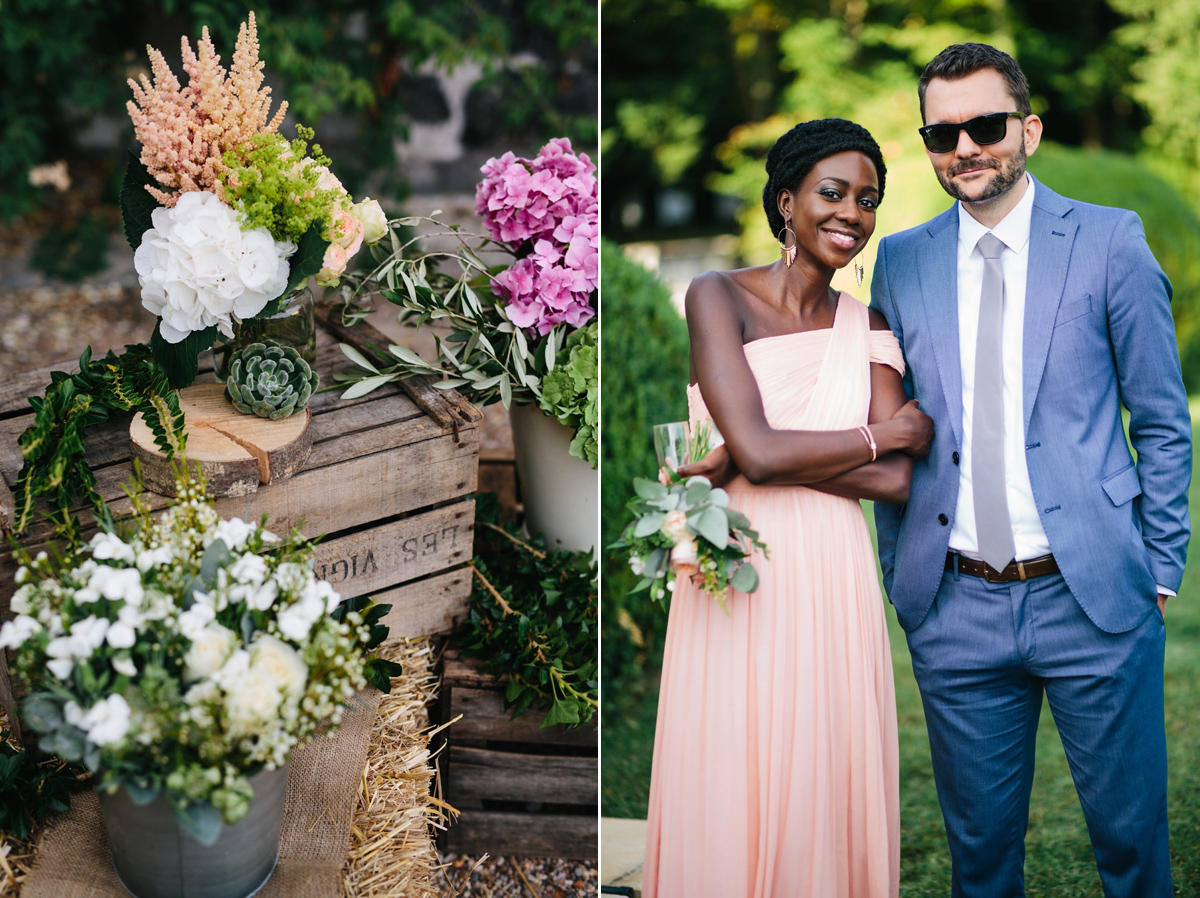 Fredeville Organisation catered a delicious dinner and a cocktail hour which ended up being three hours long! Marlie and Kevin were blown away by the quality of the food and the presentation they provided, including a mouth-watering macaron cake (which was originally supposed to be a traditional croquembouche). Luckily the patisserie confection provided by the caterers more than lived up to expectations.
Kevin's mum crafted table settings and painted a map which the couple used as their seating chart for their wedding breakfast, while Marlie and Kevin used Paperless Post for their e-invites. DIY printable stationery from Clementine Creative was super handy when creating their day-of programmes. An abundance of bright blooms, fresh greenery and glimmering golden highlights nestled alongside vintage travel-inspired décor in the most charming way.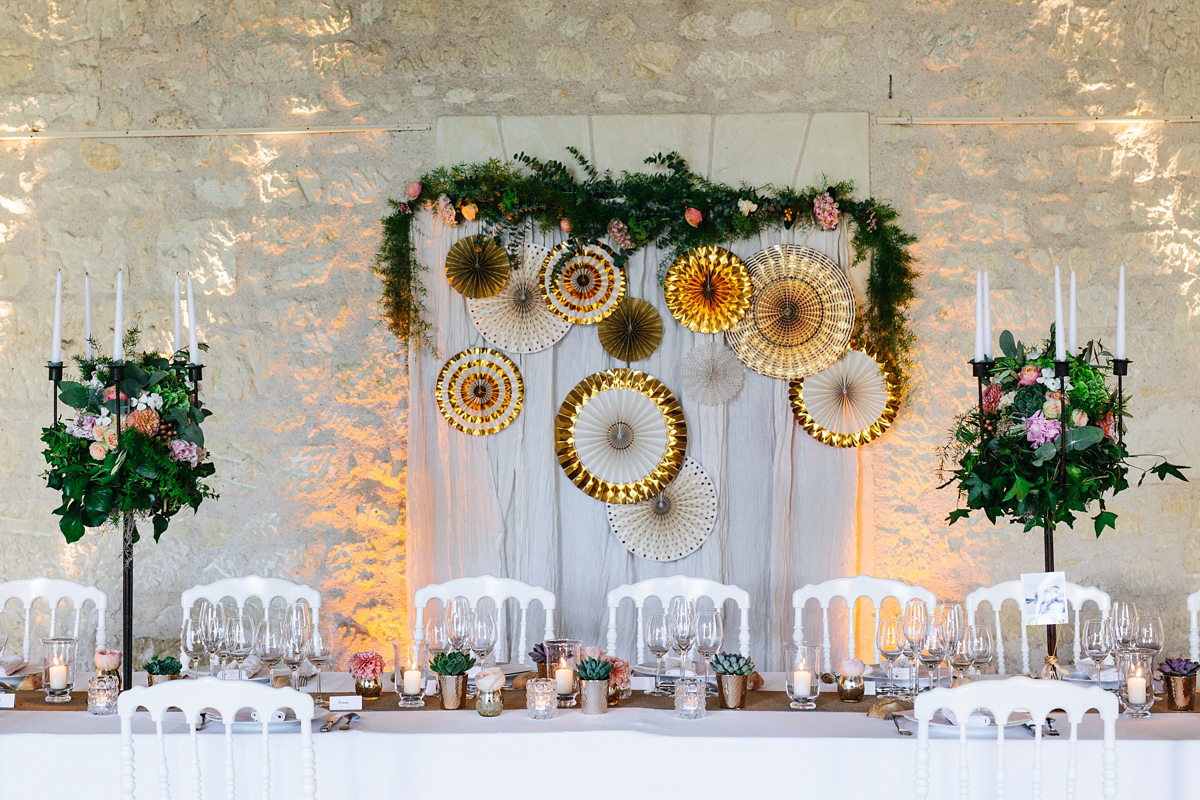 "The venue itself is gorgeous so we were fortunate that we didn't have a million things to add to it, but our focus was on a vintage-style travel décor, including vintage suitcases, an old-fashioned camera and wooden crates, with a variety of white, coral and peach flowers and greenery with gold accents. Instead of a traditional guest book we had a polaroid camera and some little party favour disguises and asked people to take fun photos, stick them in the book and write us a note. We loved that our friends took the time to do this and are so happy with the final result."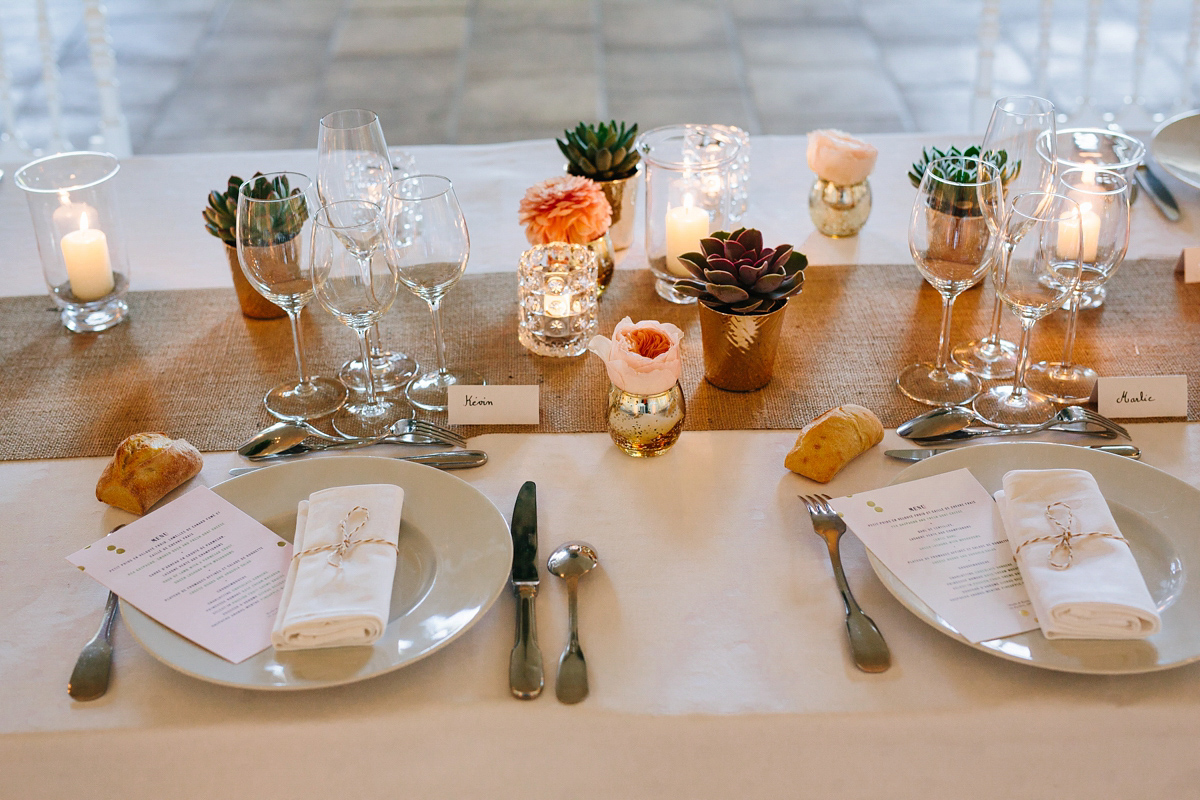 "We had gift bags made in Senegal from Senegalese wax fabric and inside we had keychains from Senegal, luggage tags, white paper fans, Perrier, a variety of sweet treats from Brittany (salted caramels, shortbread cookies) and a pouch filled with the sugar-coated almonds (dragets) which are traditionally offered at weddings."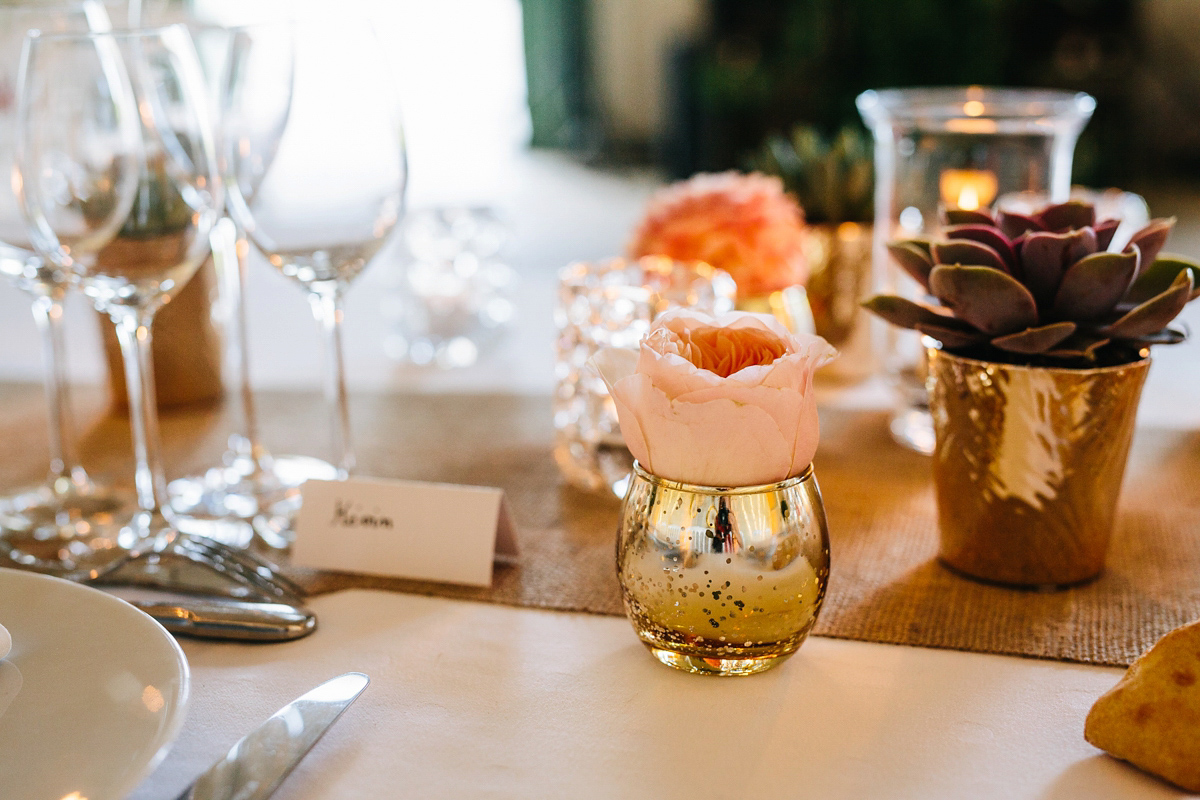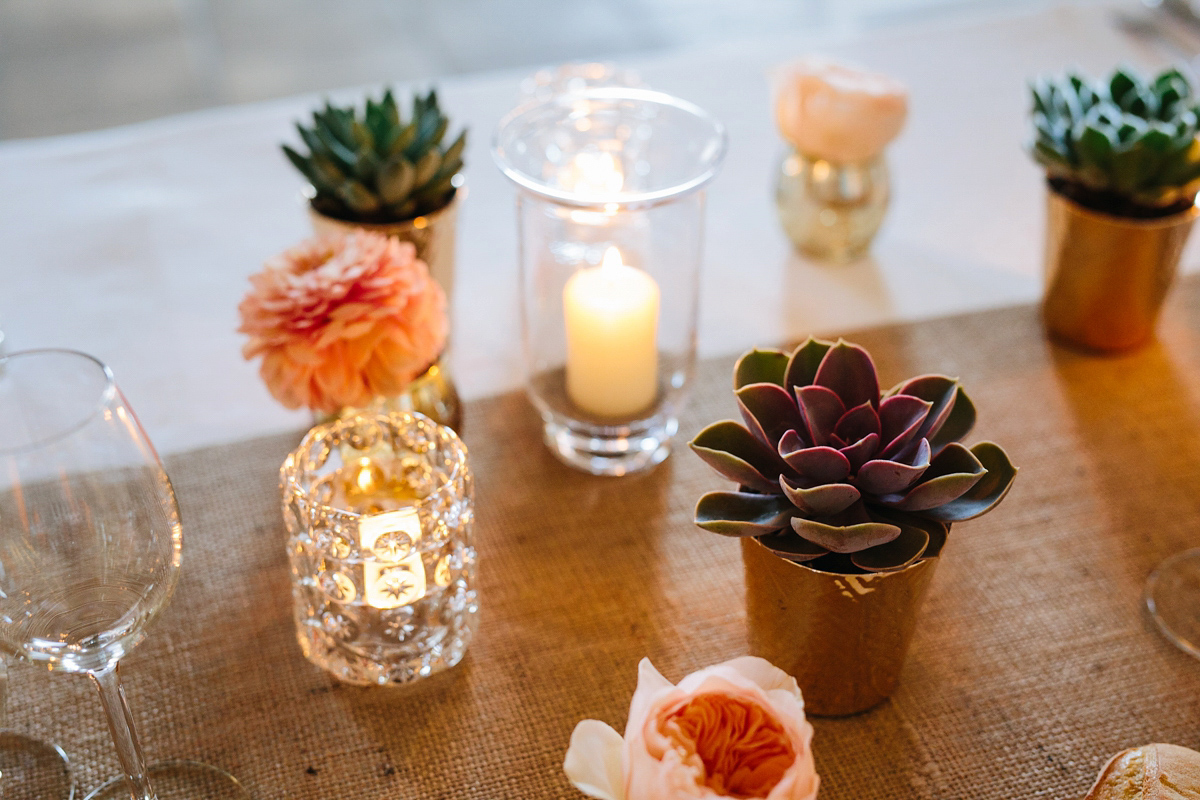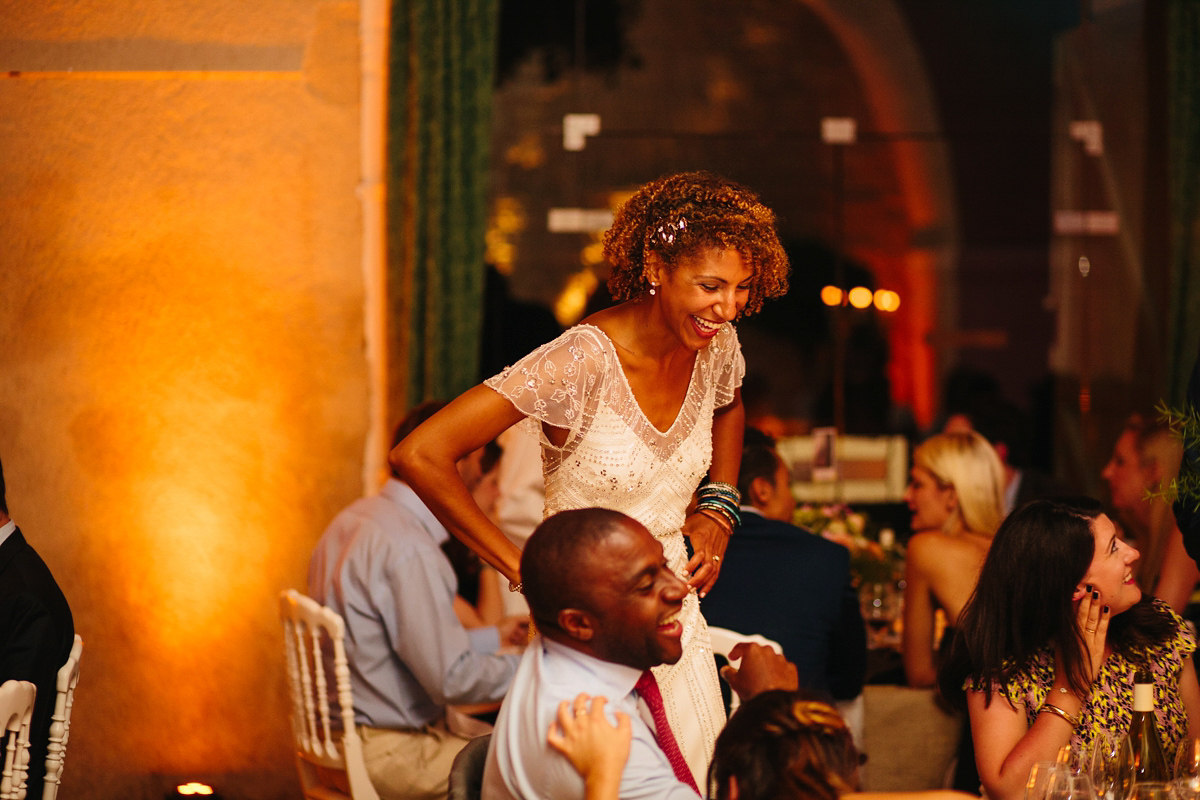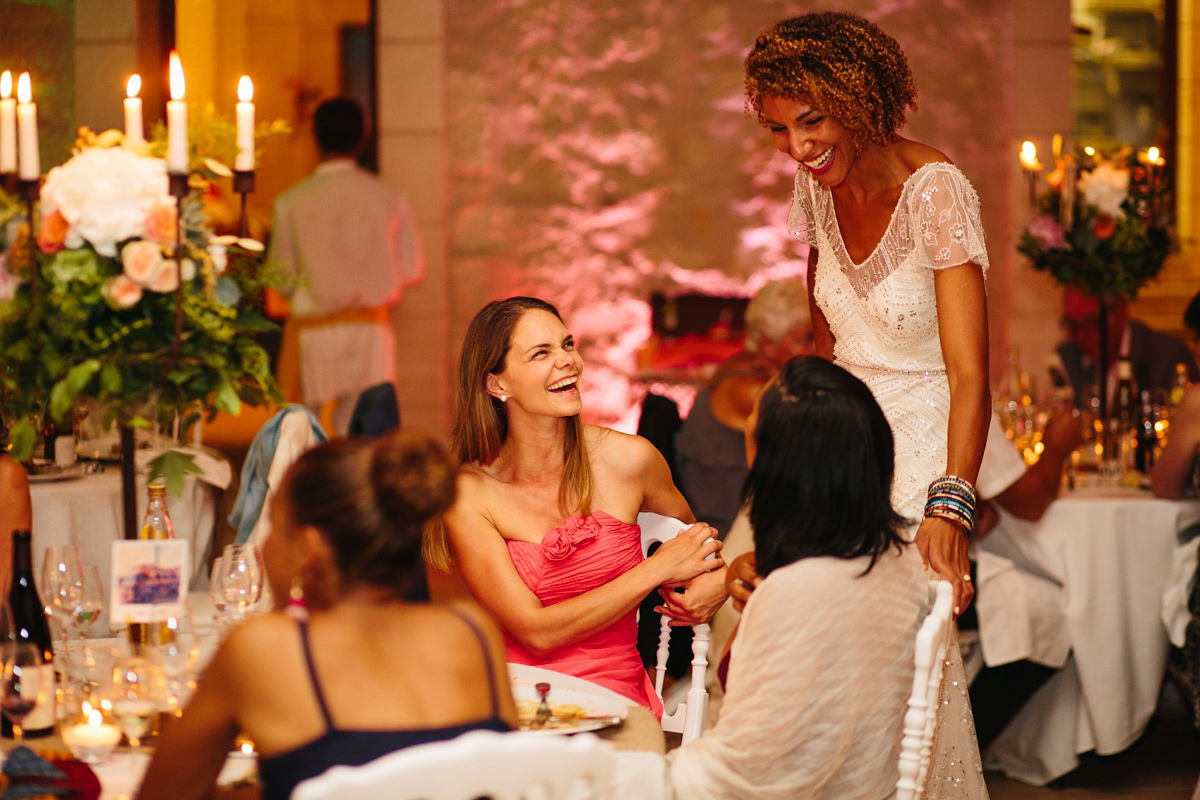 Orchestre Philippe Lebel provided the soundtrack to the newlyweds' cocktail hour(s!), and a DJ kept guests dancing until 5am. Marlie and Kevin chose the Montmartre remix of Bob Marley's Is This Love for their first dance – a take on the beautiful classic that they both love, and our bride also had a sweet father-daughter dance with her dad to Wonderful World by Louis Armstrong.
"The entire day was an absolute dream. It sounds cliché when people say that your wedding day is 'the best day of your life,' but it truly was – we have friends and family all over the world, and this was the one time in our lives where they could all come together in a beautiful venue to celebrate love and friendship. Our most memorable moment was after the cocktail hours and couple shots, when the guests had been seated we came into the reception hall dancing (to Rihanna's 'We Found Love') with our entire bridal party and then all of the guests joined in – a great way to set the tone for the rest of the night!"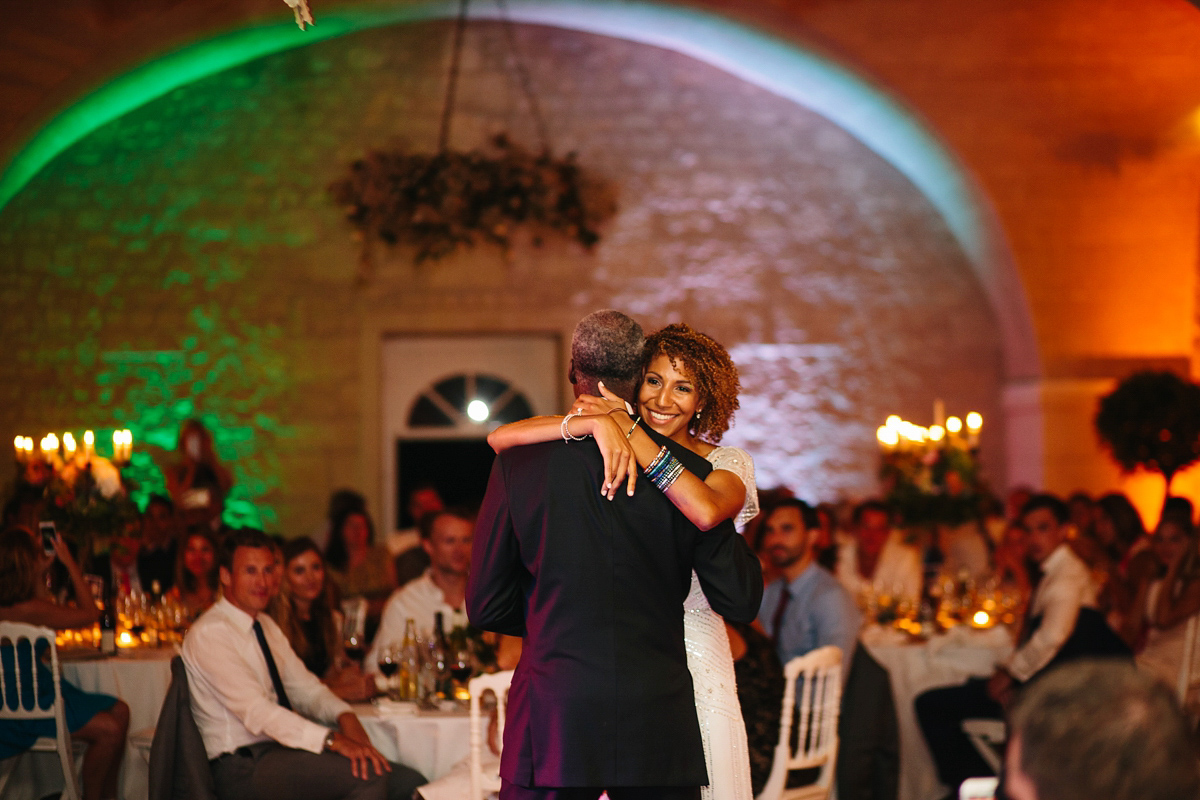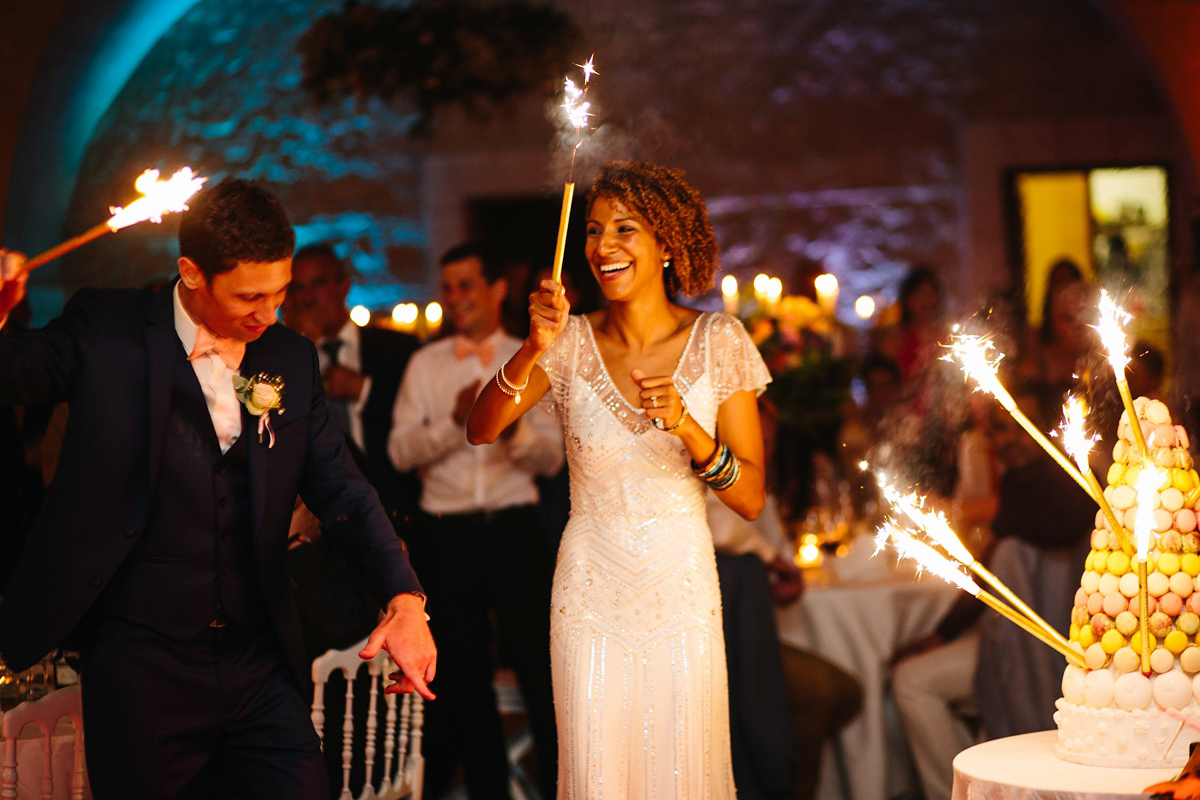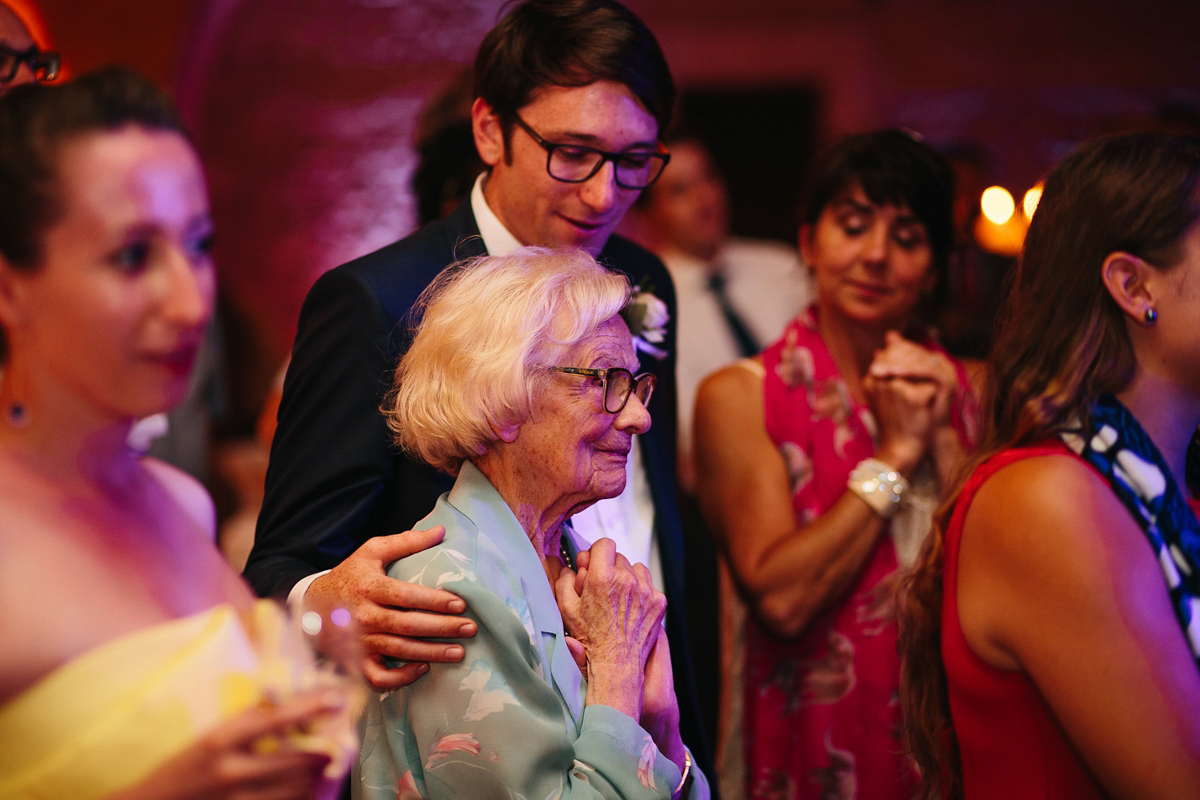 Words of Wedded Wisdom
"Our main focus was for our guests to have a good time because people were flying in from all over the world to come to our wedding. We put a lot of pressure on ourselves to make sure that everything was perfect. We don't regret anything about how we planned our wedding day, but perhaps we should have put things into perspective a bit more to be a bit less stressed. I think that in the end your guests will have a good time as long as they feel that you are having a good time as well. I most definitely should have gone with my gut and not booked the make-up and hair artists that I did when I got a bad feeling about them – it ended up being correct!"
"I will pass on the words of wisdom that my married friends gave me: take the time to be in the moment. Realistically you won't able to have in-depth conversations with each and every one of your guests but try to take the time to be present in every moment and soak it up, because even though our wedding lasted until 5am, it still felt as though it flew by."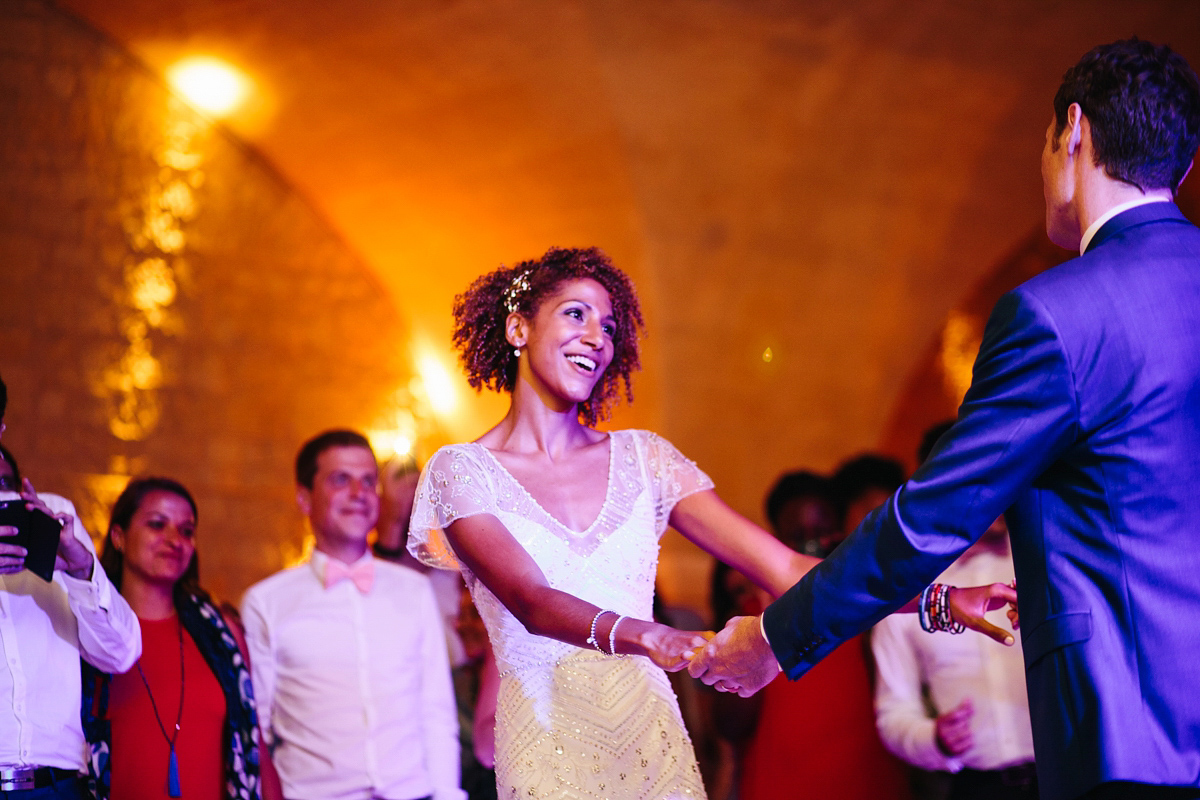 That just leaves me to say a huge thank you to Marlie (who you can find on Instagram by the way), Kevin and Helen Abraham Photography for allowing us an insight into this gorgeous day. We have a stunning array of French weddings for you to peruse in our archives if you're planning a destination celebration too, or if you're just dreaming if some golden European sun.
With love,
Em x